Women 'forced to change in public' to board American Airlines flight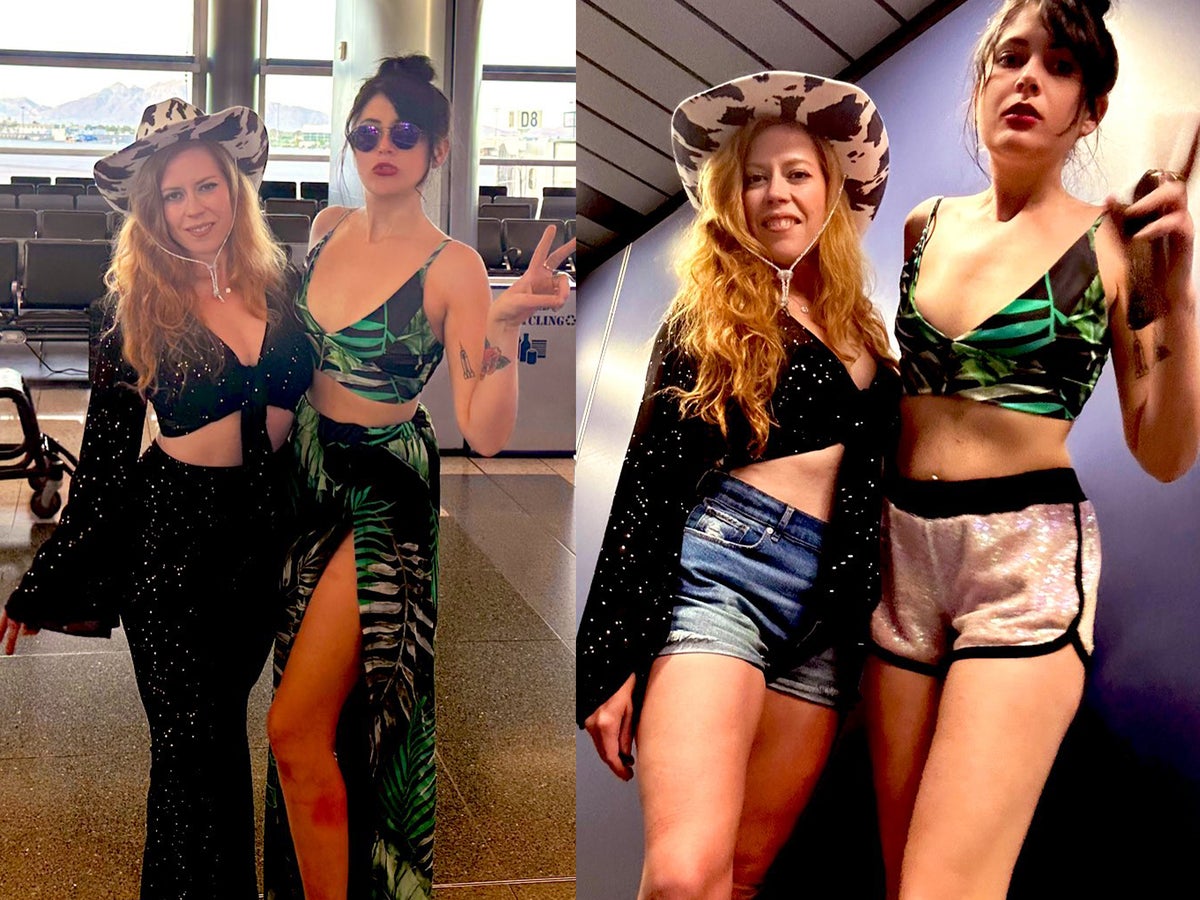 Two women claim they were forced to change their clothes in public "with no cover" to board an American Airlines flight.
Passenger Chrissie Mayr tweeted about the incident, which she says happened at Harry Reid International Airport in Las Vegas.
On 2 May, American comedian Ms Mayr shared: "Omfg an @AmericanAir employee forced me and @keanuCthompson to change our pants before getting on the flight which actually turned out to be MORE REVEALING."
Alongside the tweet is a picture of the outfits Ms Mayr and Ms Thompson arrived at the airport wearing, alongside a snap of what they were allegedly asked to change into before boarding.
It appears that the pair's original outfits included a maxi skirt and trousers, while they both ended up in shorts instead.
After posting: "THIS IS NO WAY TO TREAT A REWARDS MEMBER," Ms Mayr added more information in a follow-up tweet.
"LITERALLY HAD TO CHANGE AT THE GATE WITH NO COVER," she claimed.
American Airlines' social media account responded to the thread, asking for Ms Mayr to send over further details: "Your comments concern us. Please join us in DMs, we're here and ready to listen."
"This was really humiliating and I'm very loyal to you guys, I have the credit card and everything," Ms Mayr replied.
Meanwhile, a user who is thought to be the boyfriend of one of the women said: "Hey how about you start 'digging' in Vegas at @LASairport and find the misogynistic creep employee that took their pants AND THEN THEIR LUGGAGE so they couldn't change back on the plane. Start there @AmericanAir."
People were quick to comment underneath the post, with one user writing: "Wait… what??? They made you change from left to right?"
"Talked with a former executive of AA who now works at a different airline and she is completely baffled as to why the gate agent made you change," another commented.
"Because he was a creep," Ms Mayr replied.
Ms Mayr's travelling companion Ms Thompson then alleged: "He had Chrissie in underwear and me butt f**king naked from my waist down at the gate…. How is this okay?"
The Independent has contacted American Airlines for comment.
It's not the first time female passengers have been asked to amend their outfits before boarding a flight.
In May 2022, a woman claimed that she was told to "cover up" by Alaska Airlines staff when preparing to board a flight.
Tiktok user @badbish1078 shared a video on the social media site showing her sitting in a plane cabin, alongside the caption: "Alaska Airlines just told me I had to 'cover up' if I wanted to get on the plane."
The video, filmed in selfie mode, shows the passenger dressed in a zebra print top and denim shorts.
In January the same year, a former Miss Universe, Olivia Culpo, was allegedly told to cover up by American Airlines staff, or risk being unable to board her flight to Cabo San Lucas in Mexico.
The model was wearing a pair of skintight black shorts with a crop top, which showed her midriff, and a long black cardigan.
News & Advice,Travel, #Women #forced #change #public #board #American #Airlines #flight,