UK air traffic control failure as holidaymakers flying on bank holiday warned of long delays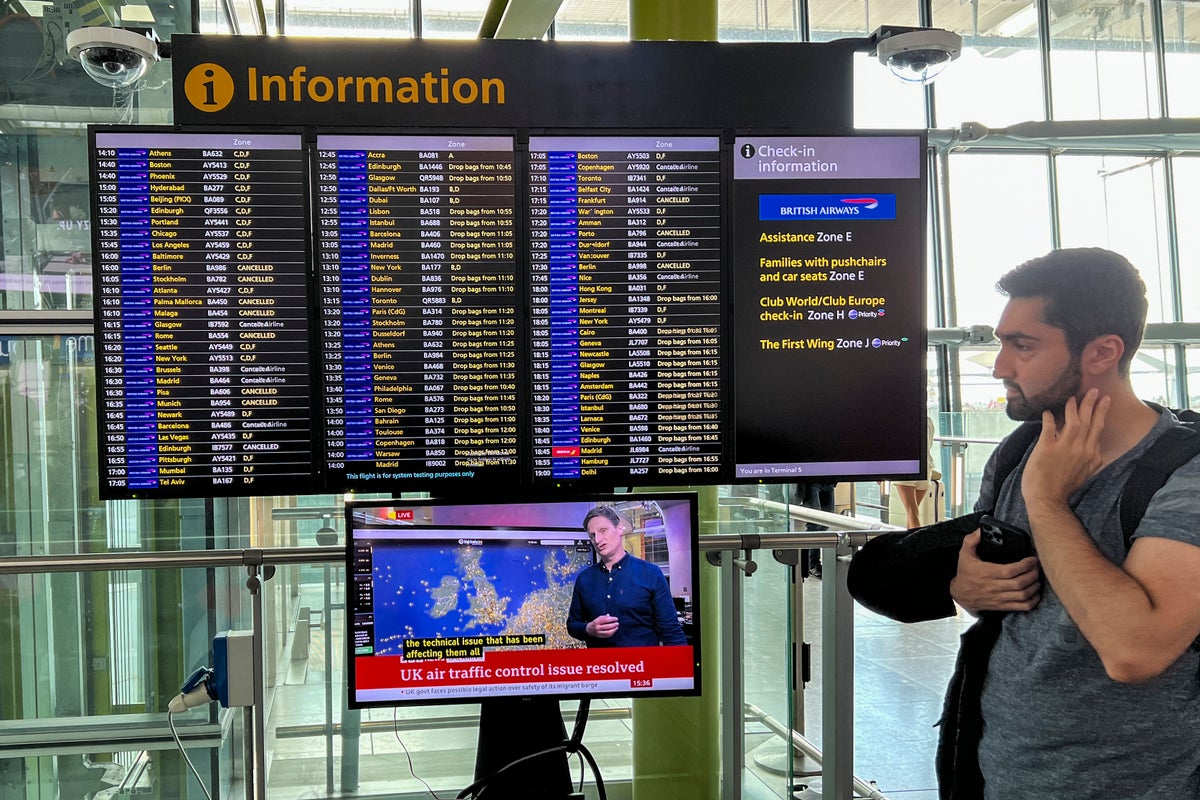 Hundreds of thousands of airline passengers are facing lengthy delays and cancellations on bank holiday Monday due to a fault in the UK's air traffic control.
The main system used by NATS, the national air-traffic service, failed earlier this morning, with an estimated one million travellers potentially facing delays of up to 12 hours. Airlines such as EasyJet, Loganair and TUI have warned of delays and possible cancellations, while Gatwick and Belfast airport are among those affected by the "technical issue".
Follow our live updates here
NATS has since stated it has "identified and remedied" the issue, which has sparked chaos across the travel industry.
Families and holidaymakers have reported being stranded on the Tarmac with little information, while others have been held at the gates for hours with young children in tow. With aircraft on the ground being held, planes already in the air are likely to be diverted to airports on the continent.
Have you been affected by flight delays? Email holly.evans@independent.co.uk
According to the aviation analyst Cirium, a total of 6,103 flights were due to arrive or depart from UK airports today – with a combined capacity of 1,083,000 seats. Many of those include families returning from holidays in the Mediterranean or beyond, who are due to return to work on Tuesday.
UK aviation today is working at full stretch, with very little slack in the system particularly at Heathrow and Gatwick – respectively the busiest two-runway airport in the world and busiest single-runway airport.
In a statement, NATS said: "We have identified and remedied the technical issue affecting our flight planning system this morning. We are now working closely with airlines and airports to manage the flights affected as efficiently as possible.
"Our engineers will be carefully monitoring the system's performance as we return to normal operations.
"The flight planning issue affected the system's ability to automatically process flight plans, meaning that flight plans had to be processed manually which cannot be done at the same volume, hence the requirement for traffic flow restrictions."
Gatwick Airport has issued a statement to say that cancellations are likely due to the air traffic issue.
"We are aware NATS is currently experiencing a technical issue," they said. "We are seeing delays, and cancellations are likely.
"We apologise for any inconvenience and ask you contact your airline for further information."
Flights are likely to be diverted to continental airports such as Amsterdam or a location in Ireland. The technical difficulties facing air traffic control would not cause safety issues as the system has been designed to cope with a shutdown, and aircraft carry contingency fuel.
British Airways said it has had to make "significant changes to its schedule" and warned passengers against travelling to the airport until checking the status of their flight.
Airline Loganair posted on Twitter: "There has been a network-wide failure of UK air traffic control computer systems this morning.
"Although we are hopeful of being able to operate most intra-Scotland flights on the basis of local coordination and with a minimum of disruption, north-south and international flights maybe subject to delays.
"If you are flying with us today, please check our website for the latest information about your flight before setting off for the airport."
A message sent to travellers from EasyJet, said: "We have been advised of an air traffic control issue currently affecting all flights due to fly into or out of United Kingdom airspace.
"We are working with the relevant authorities to understand the impact of this issue and the timescale for normal operations to resume.
"If you are already onboard one of our places waiting to take off then our crew will keep you updated.
"If you are in one of our airports waiting to board then please continue to check the flight information screens in the terminals."
The company added: "Whilst this disruption is outside of our control we sincerely apologise for the disruption to your travel plans today".
Dublin, Belfast and Edinburgh Airports have warned passengers to check the status of their flights and to liaise with their airlines with delays expected.
Michele Robson, former air traffic control worker, said that it was "unusual" for failures to last this long.
She told BBC Radio 4's World at One programme: "There was a flight planning system failure this morning which affected both centres in the UK."
Speaking from Jersey Airport while waiting to fly to London, she said: "Now they have enough data for four hours for controllers to work normally. After that point, they have to go manual which means that they work at a much slower rate so they can handle far less aircraft.
"So it looks like there's been what they would call a zero rate put on, where it means that no aircraft can take off inbound to the UK or probably outbound. It would generally be them trying to land things that were already in the air."
Speaking to The Independent, Erica Francker said that she and a group of students were stuck in Marseille and have been informed their earliest slot for departure is 7pm.
She said: "We'll get vouchers, which are £3 to £4.50 for EasyJet, for food after three hours delay, but we're also told to not leave the gate for too long. We also have members with a limited diet who might not be able to find suitable food for a reasonable sum. We also can't leave the airport.
"The issue is also crew time, as by the time we're ready to go, the crew will have worked too long and a new crew will have to be switched in. And as this is happening nationwide, the vibes here is that the flight will be cancelled."
Gordon Wheeler said that his daughter, her partner and two young children were stuck in Alicante, having already had their original EasyJet flight cancelled last Thursday.
They have had to pay for emergency accommodation and food for four days, and are now facing further delays which means their five-year-old son is likely to miss his birthday party tomorrow.
One passenger said that they were being held on the tarmac in Palma, Mallorca, since 11am and had been informed by the captain that only 300 planes per hour could land in the UK due to ongoing issues.
Another woman is currently stuck in Montenegro with a 13-month-old baby, while another family with two young children have been told they are facing a 12-hour delay in Rome.
Broadcaster Gabby Logan is among those stuck on a flight after being informed that UK airspace is "shut".
She tweeted: "On a plane on the runway at Budapest airport. After almost 3 weeks away from home I am hours from hugging my family. And have just been told UK airspace is shut. We could be here for 12 hours. So we sit on the plane and wait."
More follows on this breaking news story
News & Advice,Travel, #air #traffic #control #failure #holidaymakers #flying #bank #holiday #warned #long #delays,