Train strikes December 2023: Everything you need to know about rail disruption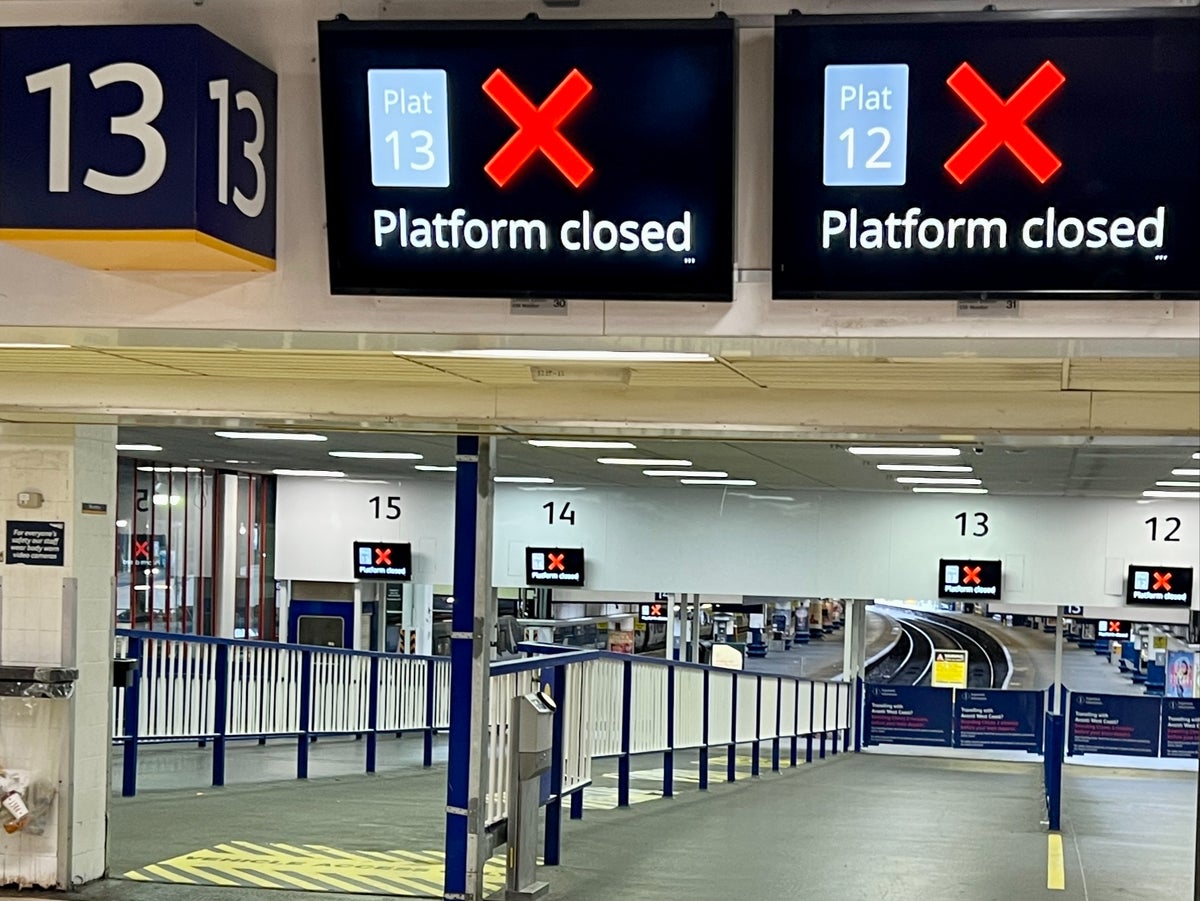 The train drivers' union, Aslef, has announced the latest round of industrial action in its long and bitter dispute with 14 English train operators over pay, jobs and working conditions.
Union members will walk out on a range of days from 2 to 8 December.
Each day (apart from Monday 4 December), a different part of the country is to be targeted to cause maximum disruption.
In addition, a nine-day overtime ban will cause extra cancellations from 1 to 9 December inclusive.
These are the key questions and answers on the rail strikes.
What is planned?
Train drivers belonging to Aslef will walk out on the following days:
Saturday 2 December: East Midlands Railway and LNER.
Sunday 3 December: Avanti West Coast, Chiltern, Great Northern, Thameslink and West Midlands Trains
Monday 4 December: no strikes
Tuesday 5 December: C2C and Greater Anglia
Wednesday 6 December: Southeastern, Southern/Gatwick Express, South Western Railway
Thursday 7 December: CrossCountry and GWR
Friday 8 December: Northern and TransPennine Trains
Neither ScotRail nor Transport for Wales is involved in the dispute.
What will the effect be?
Based on previous experience, these are the likely impacts when drivers walk out. Please check closer to the day of travel to be sure.
East Midlands Railway: No trains.
LNER: Regular trains on core routes linking London King's Cross with Leeds, York, Newcastle and Edinburgh.
Avanti West Coast: No trains.
Chiltern: No trains.
West Midlands Railway: No trains.
Great Northern: No trains.
Thameslink: No trains.
C2C: No trains
Greater Anglia: Limited service linking London Liverpool Street with Norwich, Ipswich and Colchester; Southend Victoria; and Stansted airport.
Southeastern: No trains.
Southern: No trains except a nonstop shuttle service between London Victoria and Gatwick airport, from 6am to 11.30am.
Gatwick Express: No trains but the Southern airport shuttle will cover the ground.
South Western Railway: A core service of up to four trains per hour between London Waterloo with Woking, with one train each hour extended to both Guildford and Basingstoke.
CrossCountry: No trains.
Great Western Railway (GWR): A core service will run between London Paddington and Oxford, Bath and Bristol, with a link from Bristol to Cardiff. A very limited service on some branch lines. The Night Riviera sleeper service from London to Penzance will not run until Friday 6 October.
Northern: No trains.
TransPennine Express: No trains.
In addition to the disruption on strike days, trains on adjacent days may be affected. Trains on these days are also likely to be extremely busy due to passengers moving their journeys to avoid industrial action.
What about the overtime ban?
The impact on each train operator will depend on the extent to which it is dependent on overtime – as well as the degree of staff sickness, which is likely to be higher in winter than in summer.
Some operators may make pre-emptive cancellations to take account of the overtime ban and reduce on-the-day disruption.
Will all trains be affected at some time or other?
No. On all the strike dates, passengers can expect normal service on ScotRail, Transport for Wales and these operators:
Caledonian Sleeper
Elizabeth Line
Grand Central
Hull Trains
London Overground
Lumo
Merseyrail
ScotRail
Transport for Wales
On days when rail firms that operate parallel services are on strike, trains are likely to be more crowded.
For example, on Saturday 2 December Hull Trains, Lumo and Grand Central may be busier than normal because of the strikes on East Midlands Railway and LNER.
Transport for Wales services between Newport, Cardiff and Swansea, and between Crewe and Manchester, could be busier than usual when GWR and Avanti West Coast are on strike.
Some trains may restrict either boarding or leaving trains at certain stations to avoid overcrowding.
What is I need to reach an airport?
London Heathrow will remain accessible at all time on the Elizabeth Line and the Tube.
London Gatwick is likely to have a skeleton service on Wednesday 6 December.
London Stansted is likely to have a skeleton service on Tuesday 5 December.
Luton airport will be accessible, at least from London, on all days: on the strike days. On Saturday 2 December when East Midlands Railway (EMR) is on strike, you can use Thameslink; the following day, Thameslink will not be running but EMR will be.
Birmingham airport will be inaccessible by rail, except for Transport for Wales from Birmingham New Street, on Saturday 2 December.
Manchester airport will be inaccessible by rail, except for Transport for Wales from Manchester Piccadilly, Chester and North Wales, on Sunday 3 December.
Will Eurostar be affected?
No, trains will continue to run as normal between London St Pancras International and Paris, Brussels and Amsterdam. But connecting journeys could be difficult on strike days.
Could the strike be called off?
Most unlikely. The sides are far apart. Since the national strikes began in the summer of 2022, train drivers belonging to Aslef have walked out on 14 previous occasions.
Aslef says it is seeking a no-strings increase for "train drivers who have not had an increase in salary for four-and-a-half years".
An earlier offer from the Rail Delivery Group (RDG) was contingent on reforms to working arrangements and was rejected by the union leadership without being put to a vote.
Mick Whelan, Aslef's general secretary, said: "We are determined to win this dispute and get a significant pay rise for train drivers who have not had an increase since 2019 while the cost of living, in that time, has soared.
"Our members have spoken and we know what they think. Every time they vote – and they have voted overwhelmingly – for strike action in pursuit of a proper pay rise it is a clear rejection of the offer that was made in April.
"The RDG's offer – a land grab for all our terms and conditions – was made in the full knowledge that it couldn't – and wouldn't – be accepted."
He accused the transport secretary, Mark Harper, of going "missing in action during this dispute".
A Department for Transport spokesperson said: "It is disappointing that Aslef are targeting the public and hospitality businesses at the beginning of the festive period.
"Taxpayers contributed £1,000 per household to protect train drivers' jobs during the pandemic. Instead of going on strike, Aslef should be following in the footsteps of the other rail unions and giving their members a vote on this fair pay deal."
A spokesperson for the Rail Delivery Group said: "This wholly unnecessary strike action called by the Aslef leadership will sadly disrupt customers and businesses ahead of the vital festive period.
"The fair and affordable offer made by industry, which would take average driver base salaries for a four-day week from £60,000 to nearly £65,000, remains on the table.
"We urge the Aslef leadership to put it to its members, give Christmas back to our passengers, and end this damaging industrial dispute."
Is there any other trouble ahead?
The main rail union, the RMT, is still in dispute with the train operators. But it is balloting on a pay offer that would see members get a no-strings 5 per cent pay offer followed by local negotiations. The signs are that this will be accepted.
What are the alternatives?
As always, long-distance coach operators – National Express, Megabus and FlixBus – will keep running, though seats are becoming scarce and fares are rising.
Domestic air fares on links from the London airports, Bristol, Exeter and Southampton to Newcastle, Edinburgh and Glasgow are likely to increase on the relevant strike days.
News & Advice,Travel, #Train #strikes #December #rail #disruption,