Train strikes and cancelled flights spell Bank Holiday travel chaos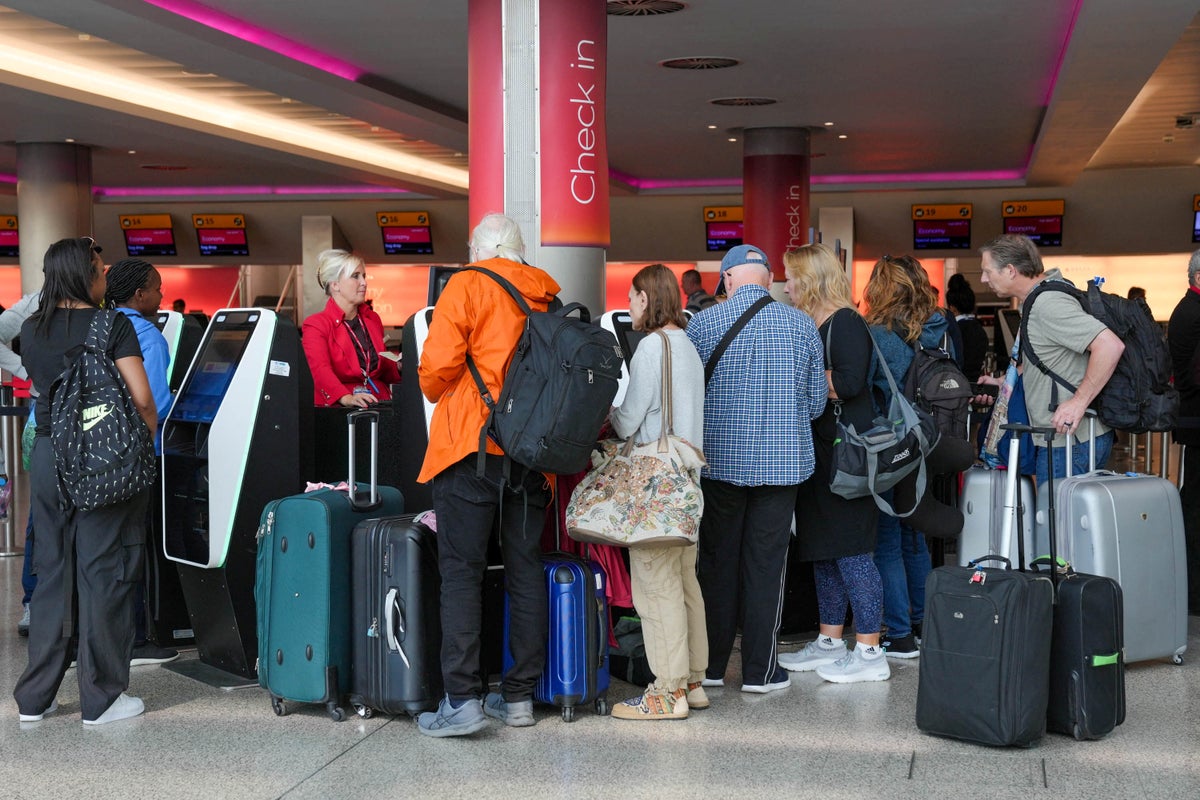 Passengers have been left stranded after dozens of flights were cancelled from two major airports ahead of one of the busiest travel weekends since 2019.
Travellers are facing air, rail and road chaos this weekend, with train strikes, heavy traffic and flight cancellations set to cause disruption across the country over the Bank Holiday.
The lack of resilience in British transport began to be exposed on Thursday, when the main airlines at Heathrow and Gatwick airports cancelled or delayed dozens of flights.
On Friday, British Airways passengers flying on domestic and European routes to and from London Heathrow were worst affected. BA cancelled more than 70 flights to and from its main base, affecting an estimated 10,000 passengers.
Motorists travelling between Dover and Calais also experienced waits of up to an hour for border controls. Since Brexit, French frontier officials must inspect and stamp every British passport.
Meanwhile, train cancellations began on Friday evening as the latest round of rail strikes got underway. The RMT union has called out up to 20,000 members working for 14 English train operators with the walkout set to hit those attending Leeds and Reading festivals, as well as rugby fans watching England take on Fiji at Twickenham.
Drivers have also been warned to expect busy roads on Saturday, with traffic expected to peak between 10am and 3pm each day of the three-day weekend, according to the RAC.
At Heathrow, the first flight of the morning, to Madrid at 6.15am, was cancelled – setting the tone for the day.
On some routes, multiple flights were axed: they included Amsterdam, Brussels, Copenhagen, Edinburgh, Glasgow, Jersey, Marseille, Rome and Stockholm. Key Mediterranean flights from Athens and Olbia in Sardinia were also cancelled.
Pressure on the busiest airport in Europe led to many other flights being delayed. The final BA departure of the night, to Abuja at 10.35pm, was rescheduled to depart in the early hours of Saturday morning.
One passenger on the cancelled British Airways flight to Basel told The Independent: "Woke up at 4.45am for my 8.15am flight and saw an email from 4.20am saying our flight had been cancelled and we were rebooked into another nearby city tomorrow! British Airways are refusing to cover our-non cancellable hotel costs."
Under European air passengers' rights rules, any airline cancelling a flight must get travellers to their destination on the same day if any departures on any airline are available. They must also provide accommodation and meals for those stranded overnight.
The broadcaster Sangita Myska was booked on one of the three British Airways flights cancelled from Edinburgh to London on Thursday.
Addressing BA on X, formerly known as Twitter, she wrote: "You cancelled our Edinburgh to London flight with 2 hours notice.
"An entire plane-load of people (inc a v frustrated elderly lady) are at the airport now stuck trying to find last minute hotel rooms during the busiest part of the year – when those rooms are at their most expensive.
"The ground staff have given no reason for the cancellation, and passengers have been told to make their own hotel arrangements. Seems particularly unfair on those who aren't used to travelling, older people or those that don't have ready cash."
Another passenger, Debra England, told The Independent: "BA went out of their way not to help us. Supervisors instructed the desks not to help re-book flights and direct everyone to web/call centre – who said they couldn't help and to go back to the desk."
A spokesperson for BA said: "Like other airlines, we've made some minor adjustments to our short-haul schedule due to adverse weather conditions across Europe.
"We've contacted affected customers to apologise and offer them rebooking options or a full refund."
At London Gatwick, easyJet grounded many flights late on Thursday evening, blaming poor weather and air-traffic control restrictions.
With planes and pilots out of position, a further 10 flights to and from the Sussex airport were cancelled on Friday.
Flights on easyJet from other airports were also affected, including the Manchester-Marrakech link. On X, a grandmother named Pauline contacted The Independent to say: "My grandson is desperately trying to get back for his wedding reception tomorrow. Why has this happened FGS [for God's sake]? His flight from Marrakech is cancelled."
The airline told passengers: "The aircraft that is planned to operate the flight is unavailable."
On the Greek island of Corfu, easyJet flights to Edinburgh and Manchester were delayed overnight.
Initially passengers were told: "We'd like to offer you a hotel room for the night, if you need one. We're working with our hotel partner to book rooms."
But shortly afterwards, the airline said: "Due to extremely high demand, unfortunately we're unable to find hotel rooms in the area."
Passengers were due to arrive back on Friday evening, 17 hours late – many having slept on the airport floor.
An easyJet spokesperson said: "Due to the impact of ATC [air-traffic control] restrictions across the network yesterday caused by adverse weather conditions across the UK and Europe which also resulted in the temporary suspension of operations at London Gatwick, some flights yesterday evening have been unable to operate as planned.
"We have been doing all possible to minimise the impact for our customers, providing those on cancelled flights with options to rebook or receive a refund as well as hotel accommodation and meals where required and we advise any customers who source their own that they will be reimbursed."
Airlines will not pay compensation for delays and cancellations that they attribute to adverse weather and air-traffic control delays.
An easyJet flight from Rhodes to Gatwick was cancelled due to a technical fault. The mother of one passenger wrote that her daughter was being re-routed via Scotland and the west of England: "My daughter is stuck in Rhodes, flight cancelled. She will fly to Edinburgh tomorrow morning, then fly to Bristol, no trains Saturday, so not sure how easyJet will get all the passengers to their destination – London."
On strikes, the RMT has chosen to strike on two successive Saturdays – 26 August and 2 September –in order to cause disruption to the maximum number of passengers.
Mick Lynch, general secretary of the largest rail union, said: "The government is not serious about settling this dispute which is leading to further disruption for passengers.
"Rail operators are not being given a mandate to make a new offer that we can put to members in a referendum to settle this dispute.
"Our industrial campaign will continue as long as it takes to get a negotiated settlement."
No trains will run in Cornwall on days when many families would normally be returning from holidays on the coast.
But the Rail Delivery Group, representing the employers, believes more than half of the usual service will run.
A spokesperson said: "The industry will be working hard to keep as many services running as possible."
National Express says it will run an extra 10 per cent of services over the bank holiday weekend, adding 15,000 seats to cater for travellers whose trains are not running.
The extra services will connect London with Bristol, Birmingham, Manchester, Leeds, Southampton and Cardiff. The coach firm will also have vehicles and drivers on standby to run to and from Stansted, Heathrow and Gatwick airports to meet demand.
News & Advice,Travel, #Train #strikes #cancelled #flights #spell #Bank #Holiday #travel #chaos,