Top Lake Geneva Lodging ✔️ 20 Stunning Options!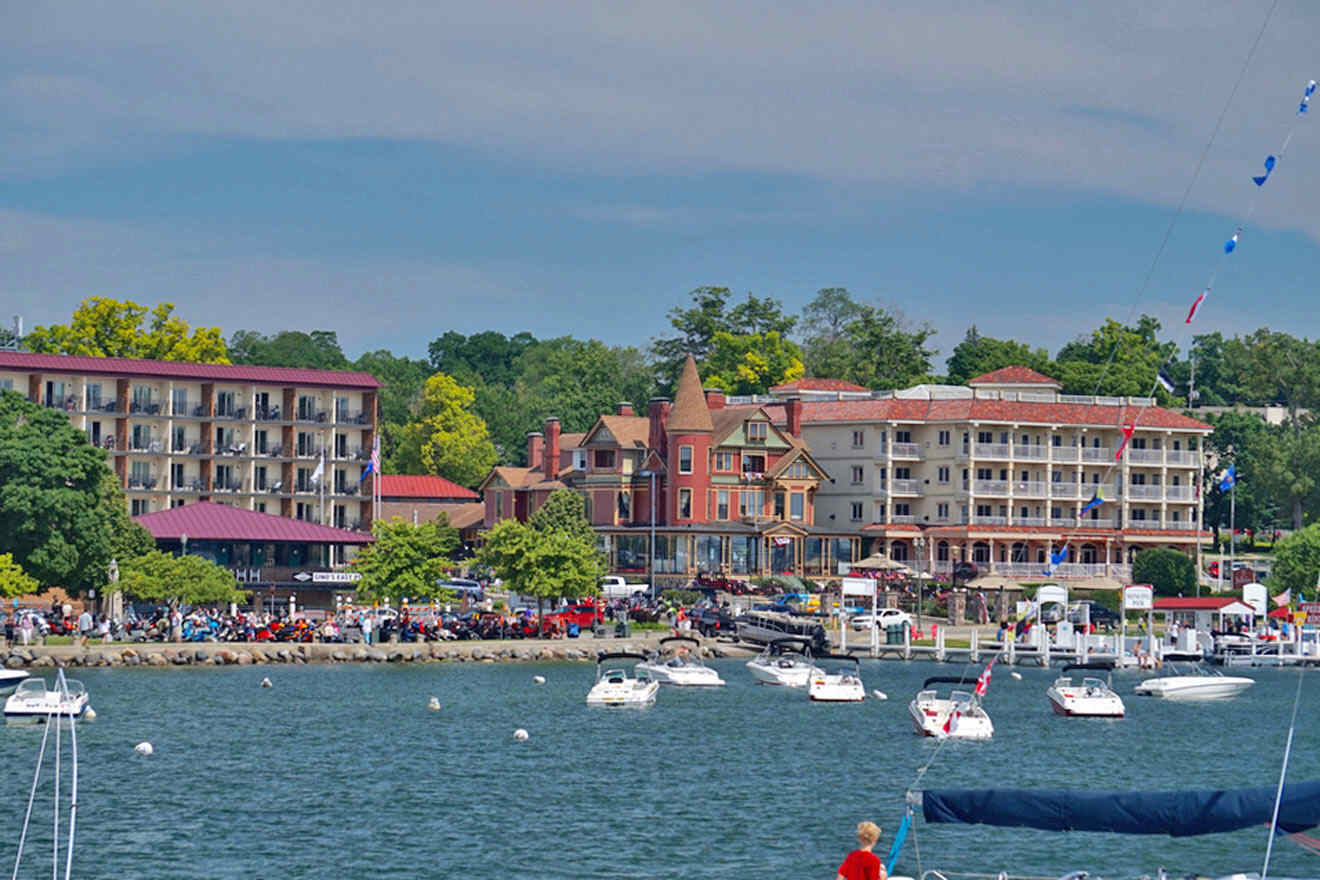 Are you looking for the best Lake Geneva Lodging? Then you came to the right place, because I have been looking for the best hotels in Lake Geneva for the last few hours, and I came up with the most AMAZING list of hotels to make your stay in Lake Geneva memorable! So stay with me because the adventure is just about to start!
I have 20 amazing hotel options for you, which are arranged to start with the most luxurious Lake Geneva hotels first; at the end, you have the best affordable hotels which are as good as the luxury options! It doesn't matter which hotel you choose, you always will be staying at one of the best hotels in the area!        
Lake Geneva is quite a popular place, and a lot of people travel here for a relaxing and wholesome time with their partner or family, so if you want to catch the best hotel deals, you need to book your hotel room in advance!
Ready to check out the best Lake Geneva hotels?
Let's dive in, Shall we?!
If you are in a hurry
If you don't have time to read the entire article, don't worry, I've got your back! Here are the top 3 Lake Geneva Lodging so you can click and book!
1. The Geneva Inn – stunning lakefront hotel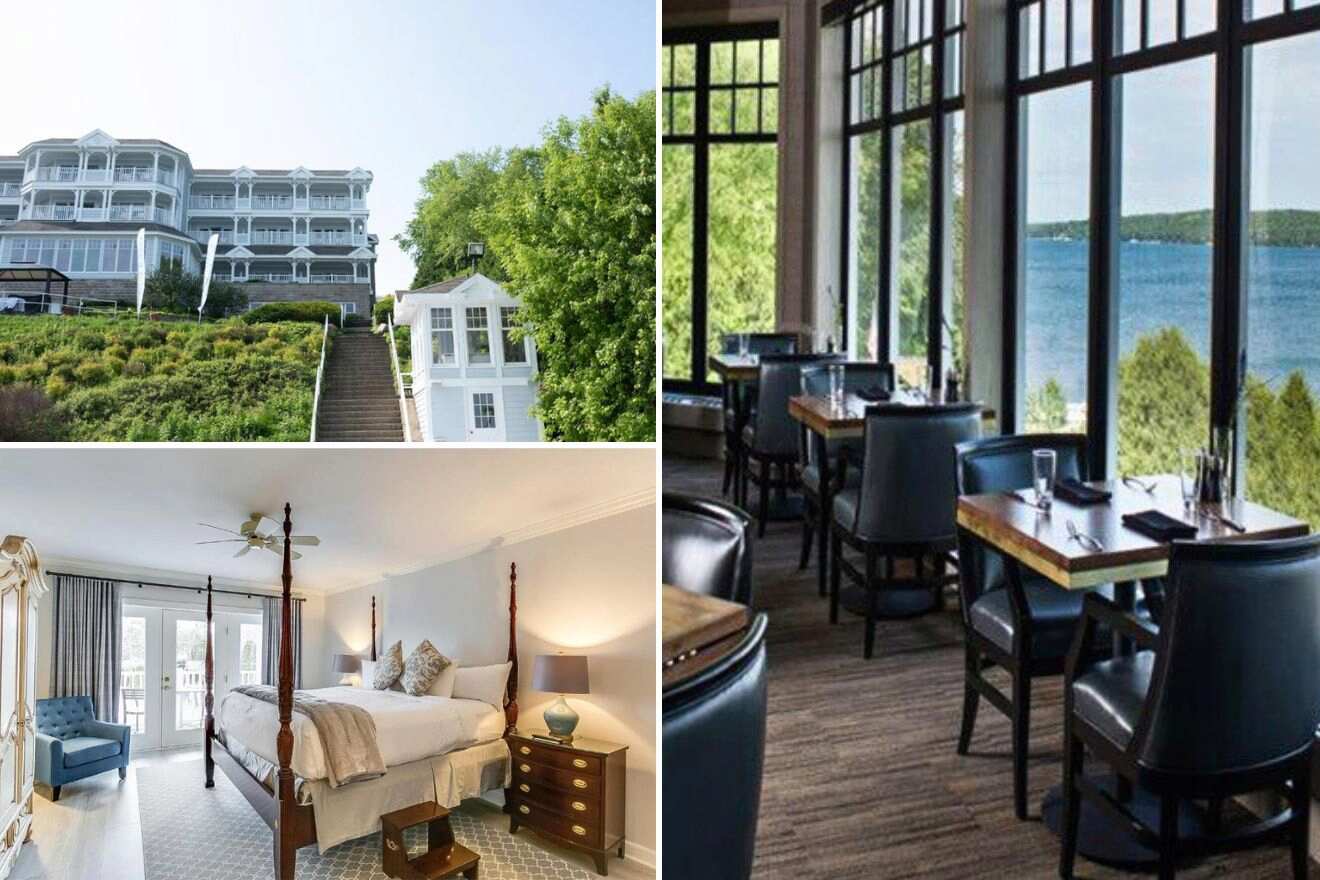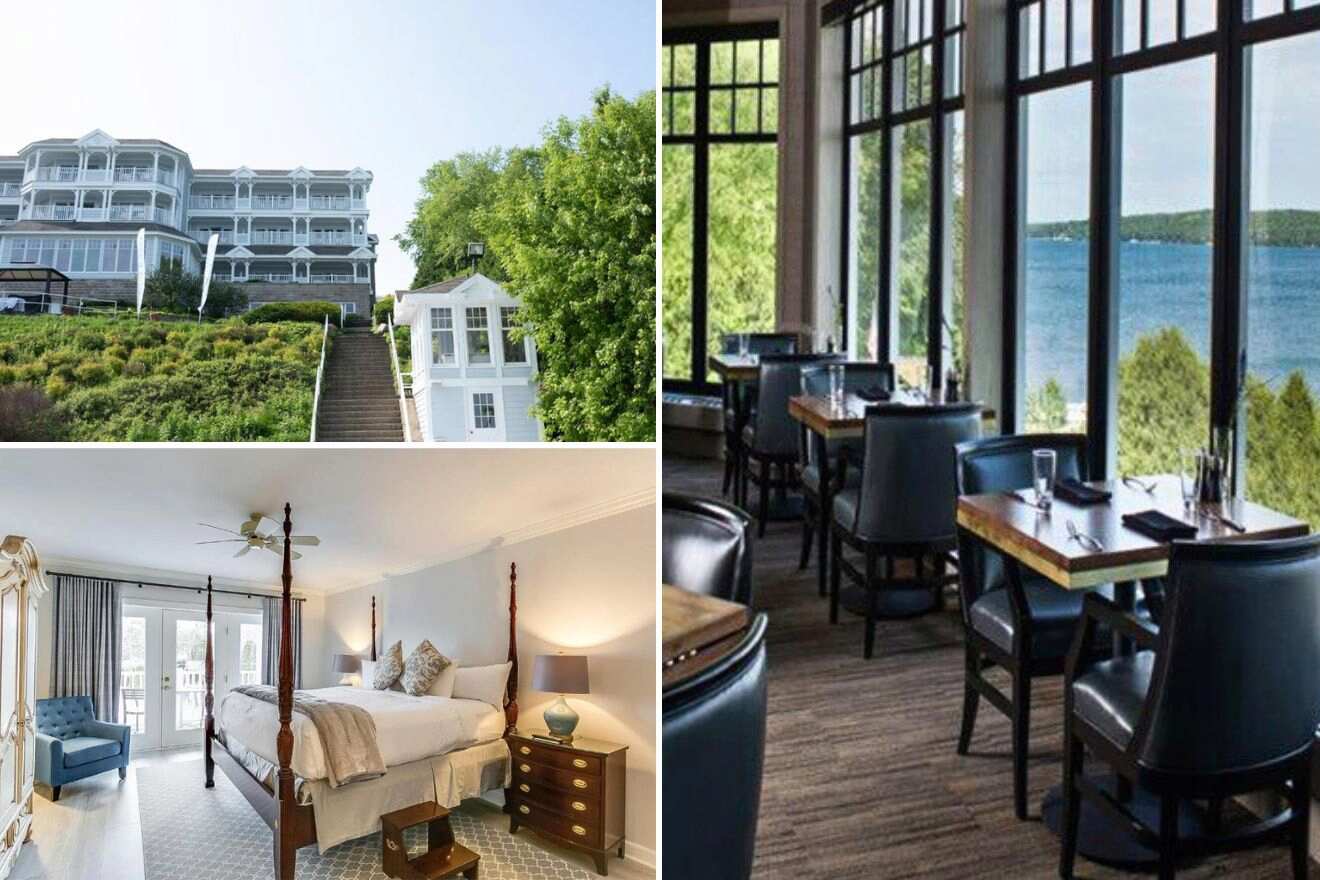 Wow! I cannot think of a better place to spend a weekend getaway than this luxurious hotel set in front of Geneva Lake. This hotel offers its guests the chance to have an amazing meal in the onsite restaurant with amazing lake views, free parking, which is super useful if you are traveling by car, and the chance to explore the beautiful natural surroundings and hiking trails.
Williams Bay is only a short drive away, and Lake Geneva city center is only a 5-minute drive away. If you'd like to indulge in a city day trip to Milwaukee, which is less than an hour's drive away, here you have an amazing guide with the best areas to stay in Milwaukee!
2. Grand Geneva Resort & Spa – with 2 golf courses nearby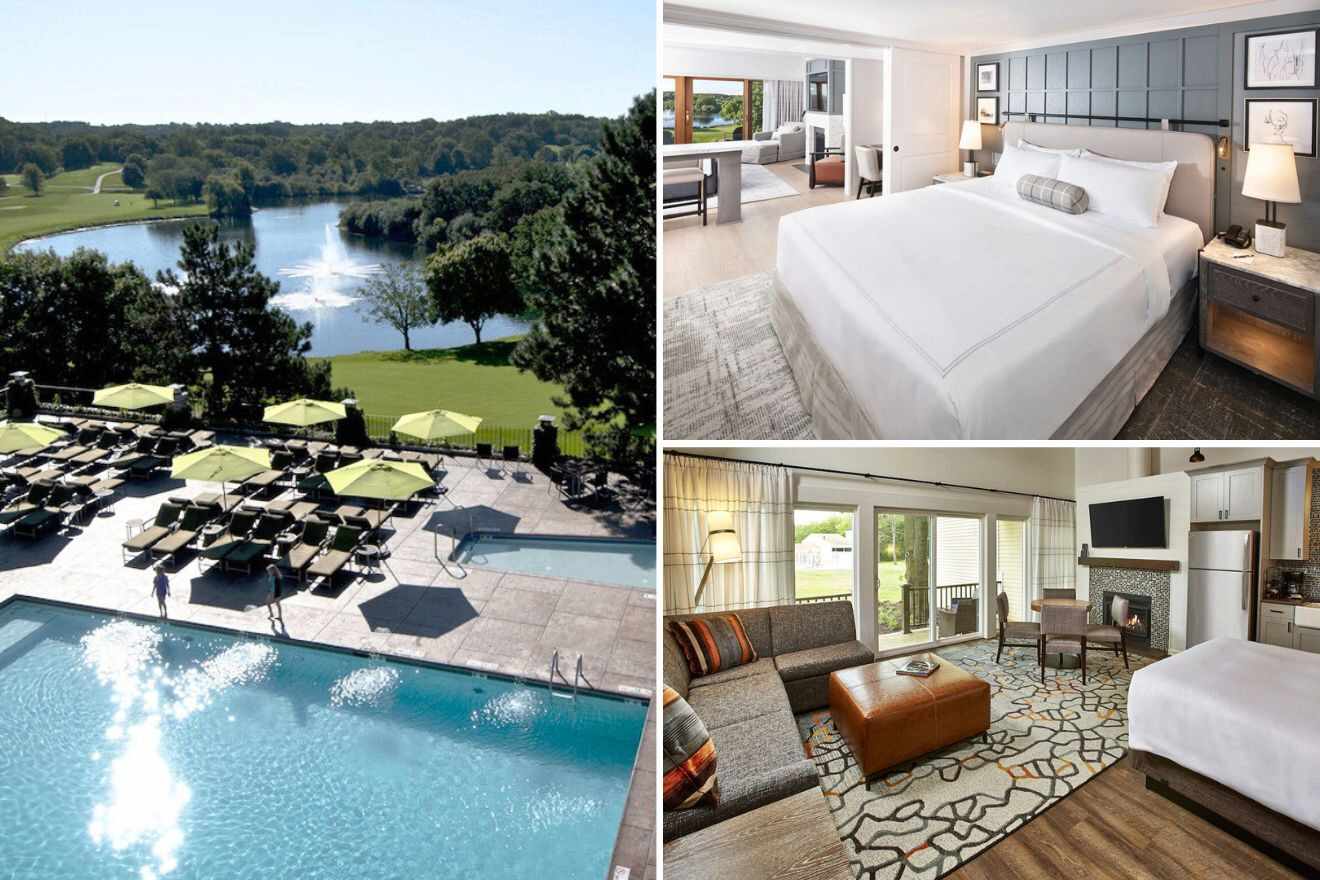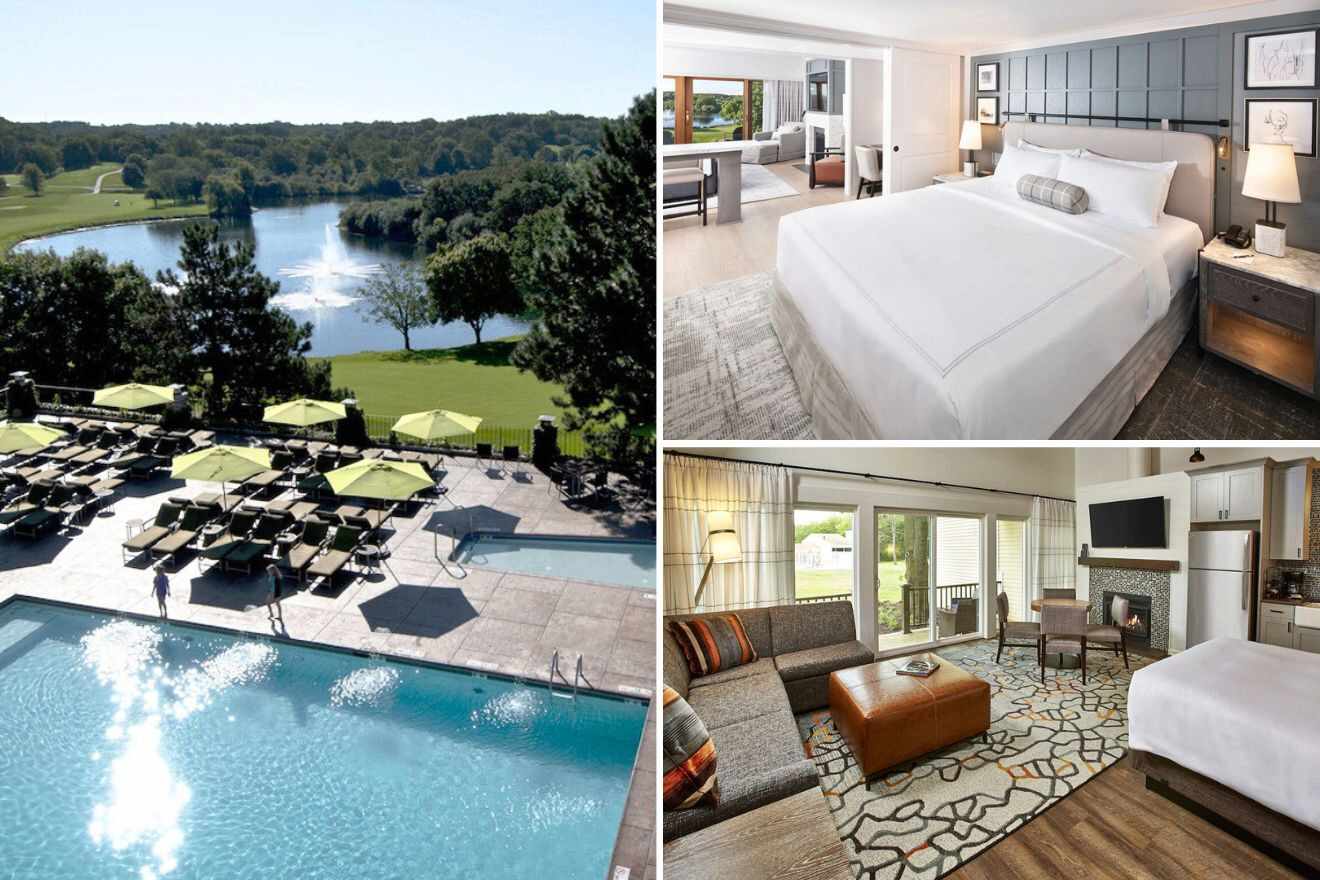 What an incredible hotel! It has everything you need to spend the most relaxing and wholesome vacation with a partner or your family! The hotel is beautifully decorated and has a cozy fireplace in the lobby. You can enjoy a pleasant game on the tennis courts, a workout in the fitness center, or relax with any of the spa services, outdoor pools, and hot tubs. And don't forget about the golf courses only a short walk away!
There is also family fun available! If you travel during the winter, you can play winter sports such as skiing or snowboarding or enjoy the indoor pool. In the summertime, you can go horse riding, hiking, or enjoy the water park for a fee!
3. Geneva National Resort – luxury and comfort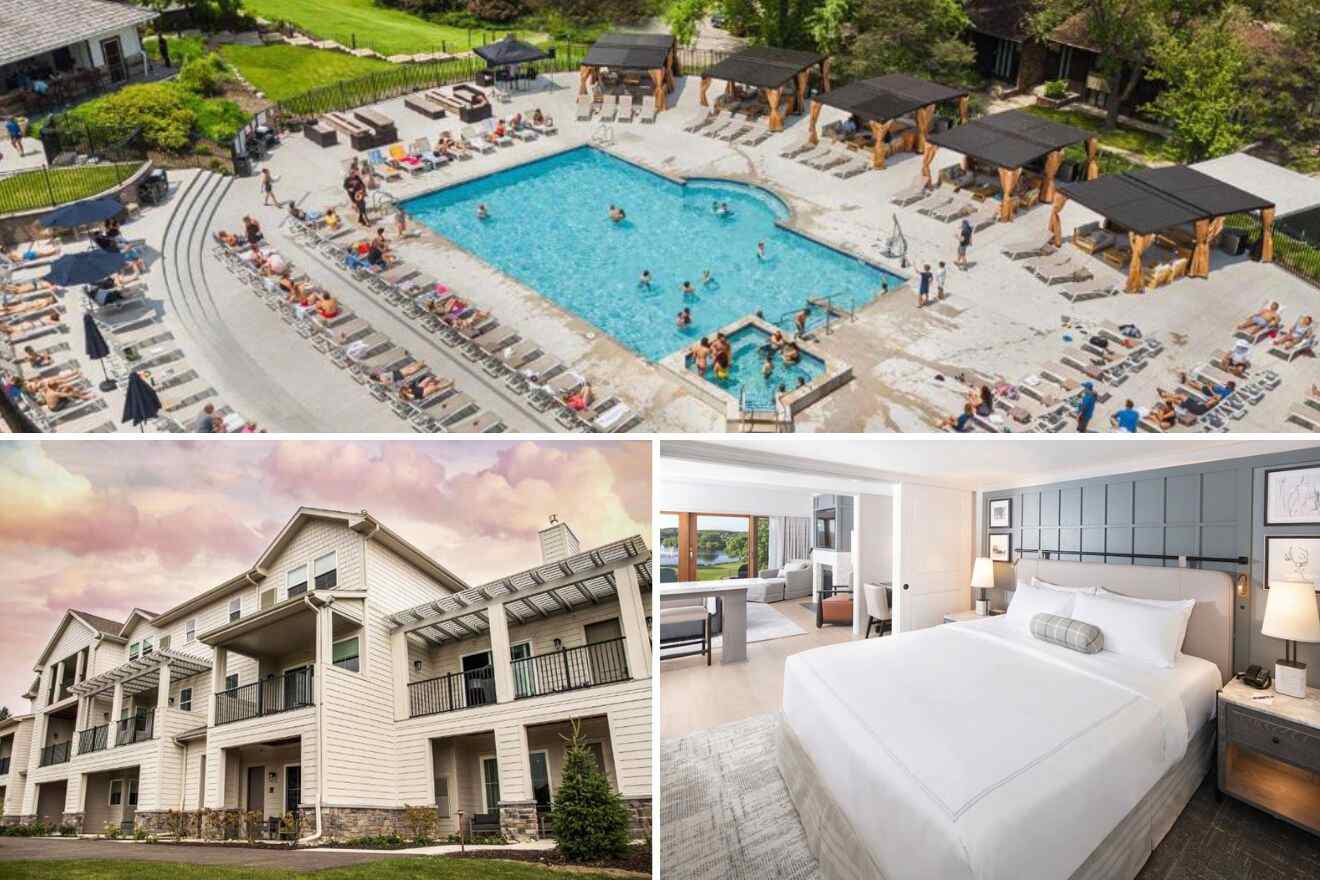 Oh, la la! What splendor! This hotel is located in close proximity to Lake Como and just a few minutes drive away from downtown Lake Geneva and a short walk to Geneva National Golf Club! The property has an old-world charm; it looks like an estate mansion and has the most amazing amenities, starting with an incredible garden with a pool and hot tub with a furnished deck, an onsite restaurant and bar, and a heated saltwater indoor pool!
The resort offers 3 types of rooms hosting from 2 to 4 guests. All the rooms are super spacious and come with free Wi-Fi. I highly recommend the suite for couples, it comes with a spacious living room!
4. Mill Creek Hotel – in downtown Lake Geneva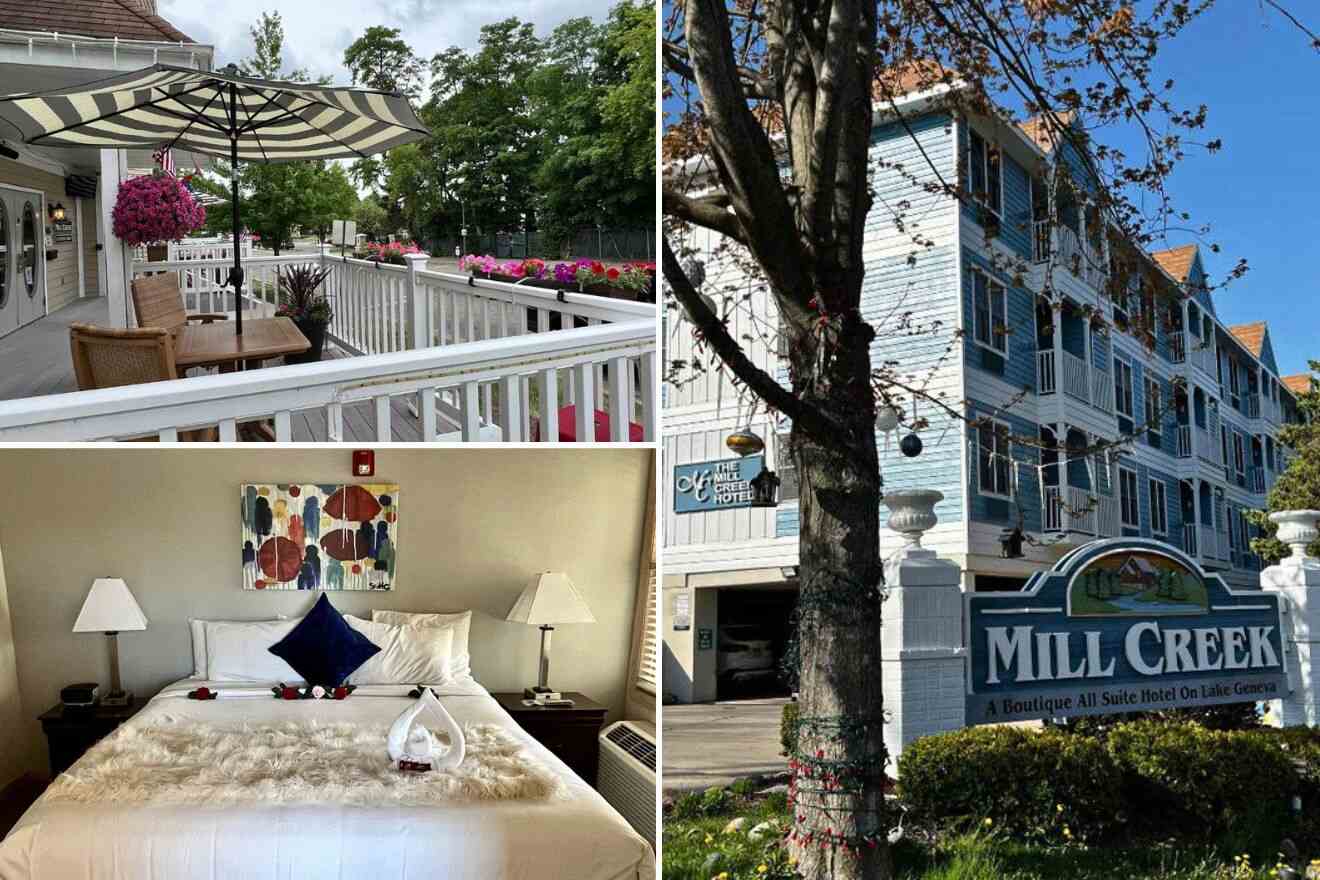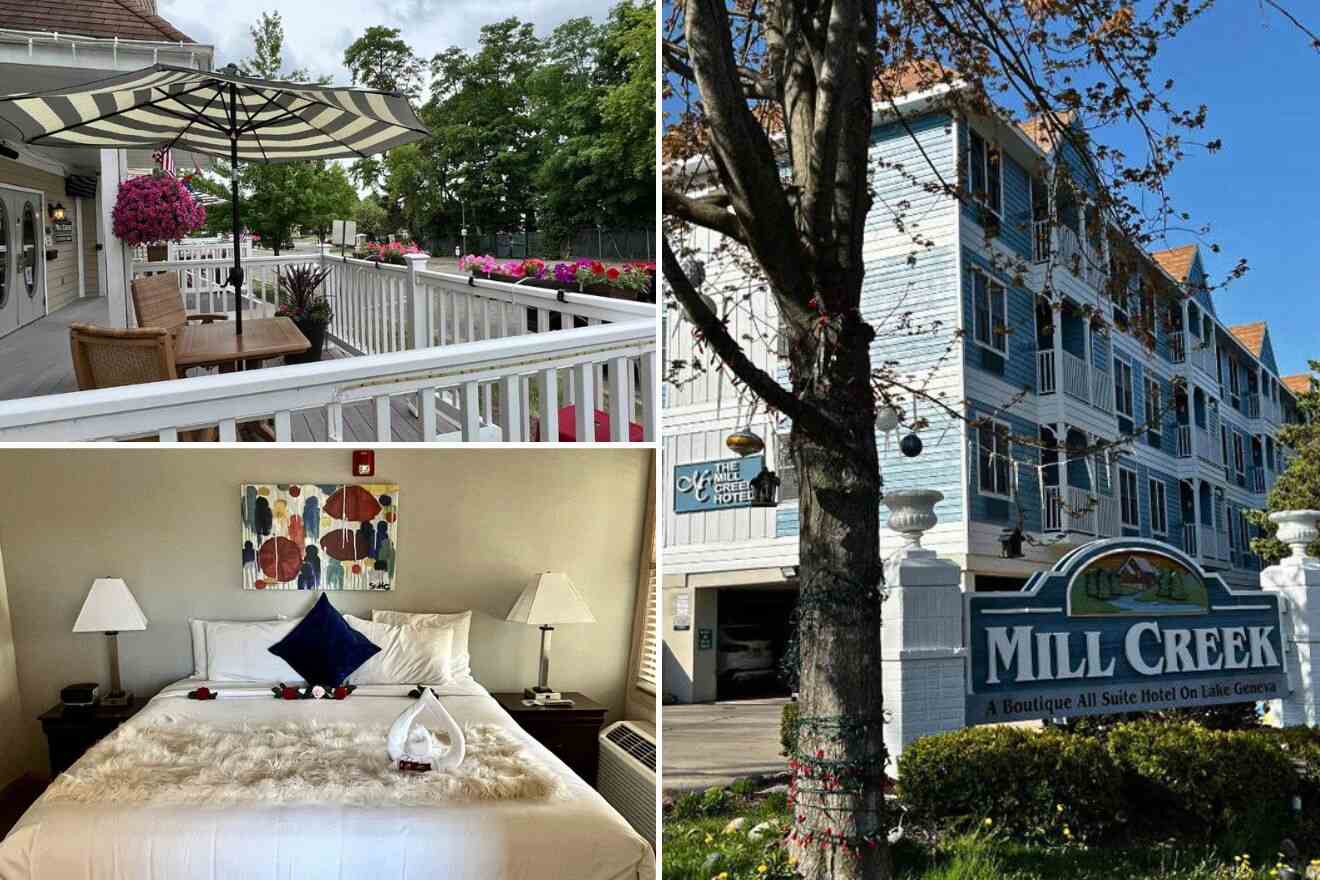 What a classic-looking hotel! On the common grounds of the hotel, you can find an indoor swimming pool and hot tub, a fitness center, and laundry facilities you can use for a fee. Every morning, you can enjoy a lovely breakfast at the hotel, so you can muster the energy to discover downtown Lake Geneva or drive to Black Point Estate which is only 15 minutes away!
All the rooms at this cozy hotel come with a private kitchenette with a dishwasher and a separate bedroom and living room, and private bathrooms with hot tubs. One of the best things about the accommodation? All the rooms have private balconies with a view!
5. Maxwell Mansion Hotel – for a speakeasy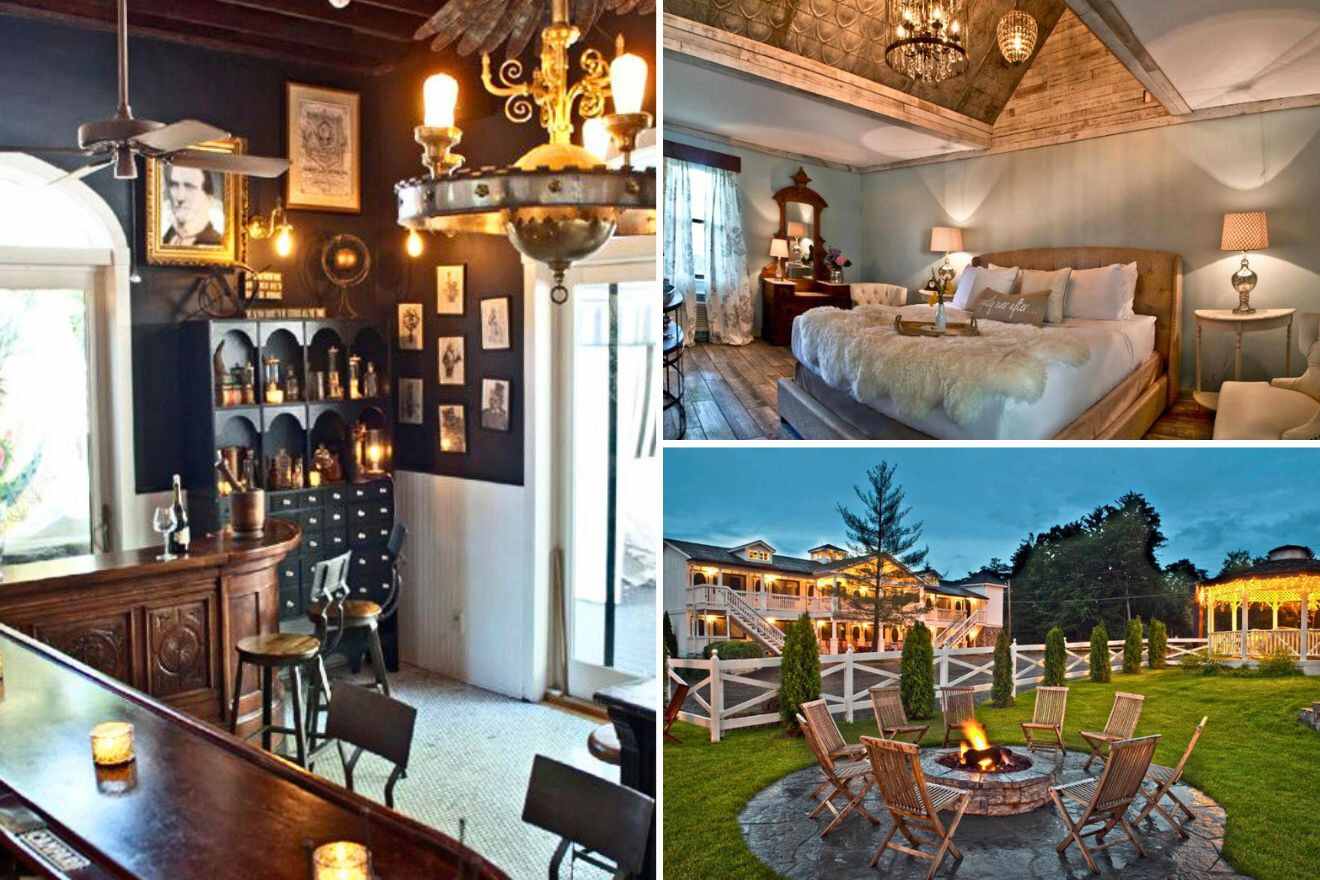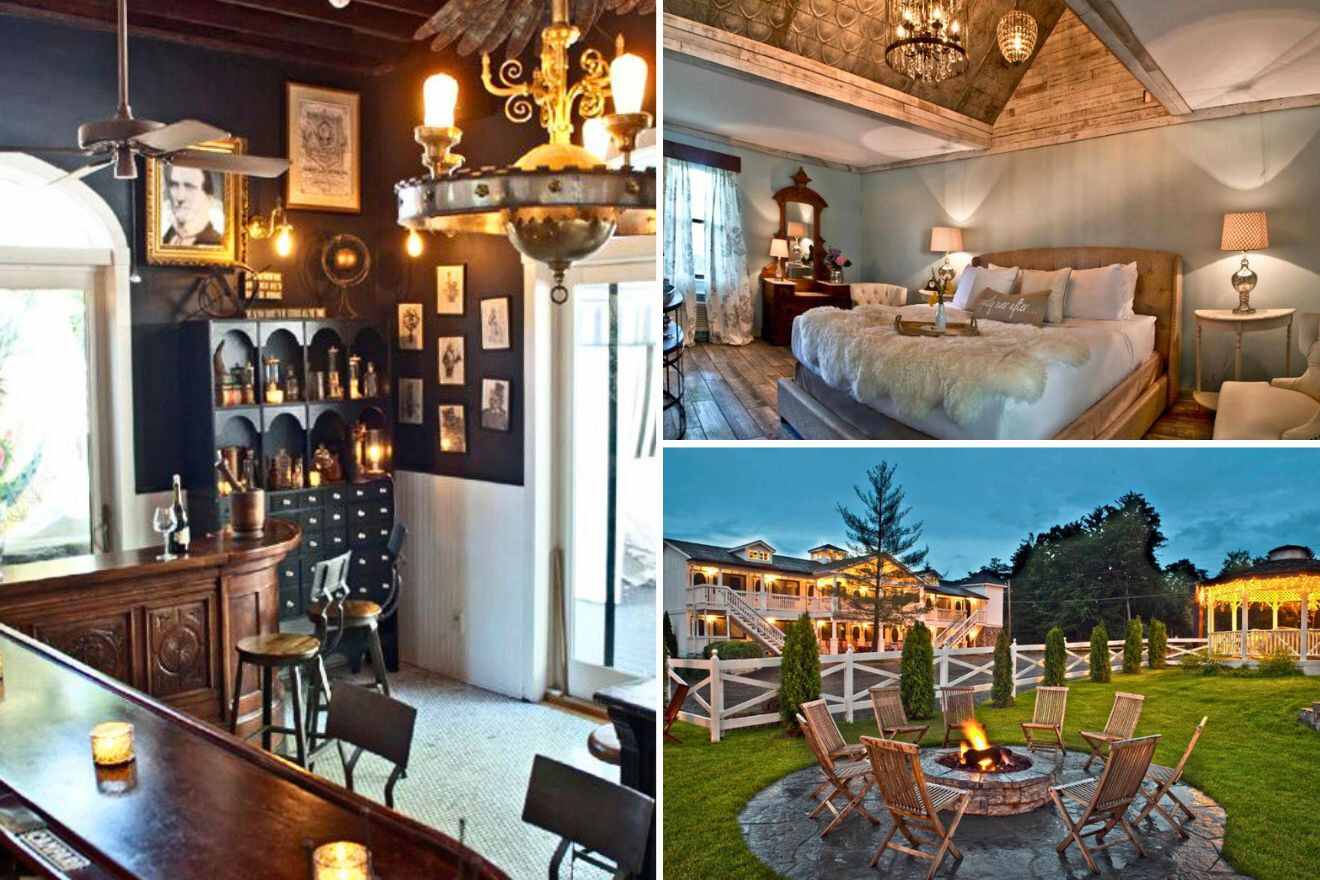 What a charm! This hotel is truly beautiful, it has a vibrant and cool old-fashioned vibe that will transport you to the Jazz Age! The location of the hotel is simply incredible, it is downtown Geneva Lake, perfect to see what Lake Geneva offers to visitors, and Riviera Beach is only a 10-minute walk away. I recommend checking out the hotel's speakeasy on Fridays and Saturdays; dress up and treat yourself!
The hotel offers live music and evening entertainment to all guests, and there is an outdoor swimming pool and a gorgeous garden! All the rooms are beautifully decorated and come with upscale vintage furniture and either a hot tub or bathtub depending on your preferences.
6. Harbor Shores on Lake Geneva – with amazing views!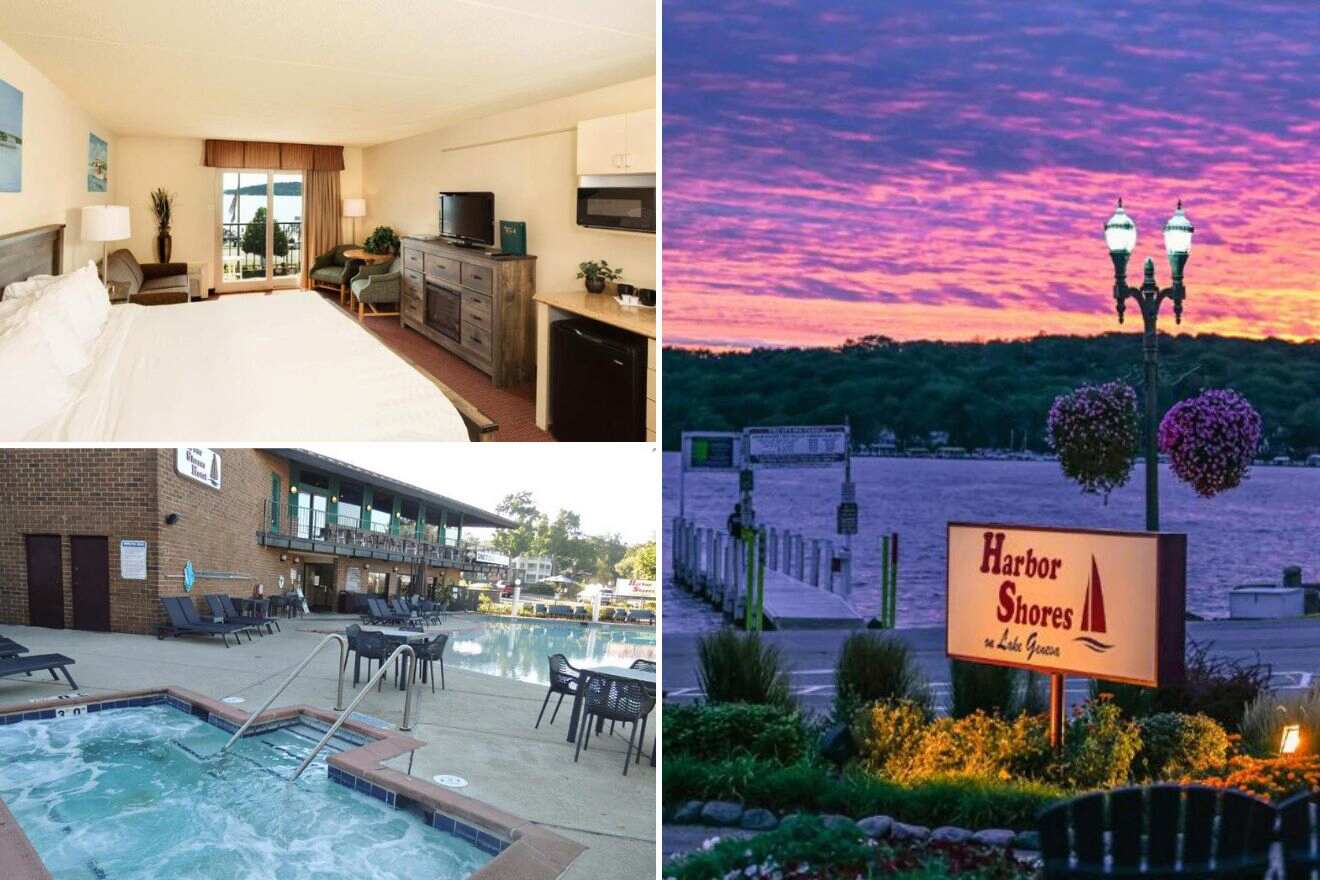 POV: Once you arrive at Harbor Shores, you leave your car in the free parking space available for all guests and head inside the hotel, where the helpful and charming staff will accommodate you and help you check in! With room keys in hand, you head to your little piece of paradise for the following days, which comes with stunning views and a small kitchenette, some come with a balcony.
The hotel grounds are simply beautiful, there is a fitness center and a wellness center with hot tubs and even a relaxing sauna, an indoor and outdoor pool, and a children's playground. You can dine in the onsite restaurants or the nearby city dining options!
7. The Ridge Hotel – for a terrace fire pit!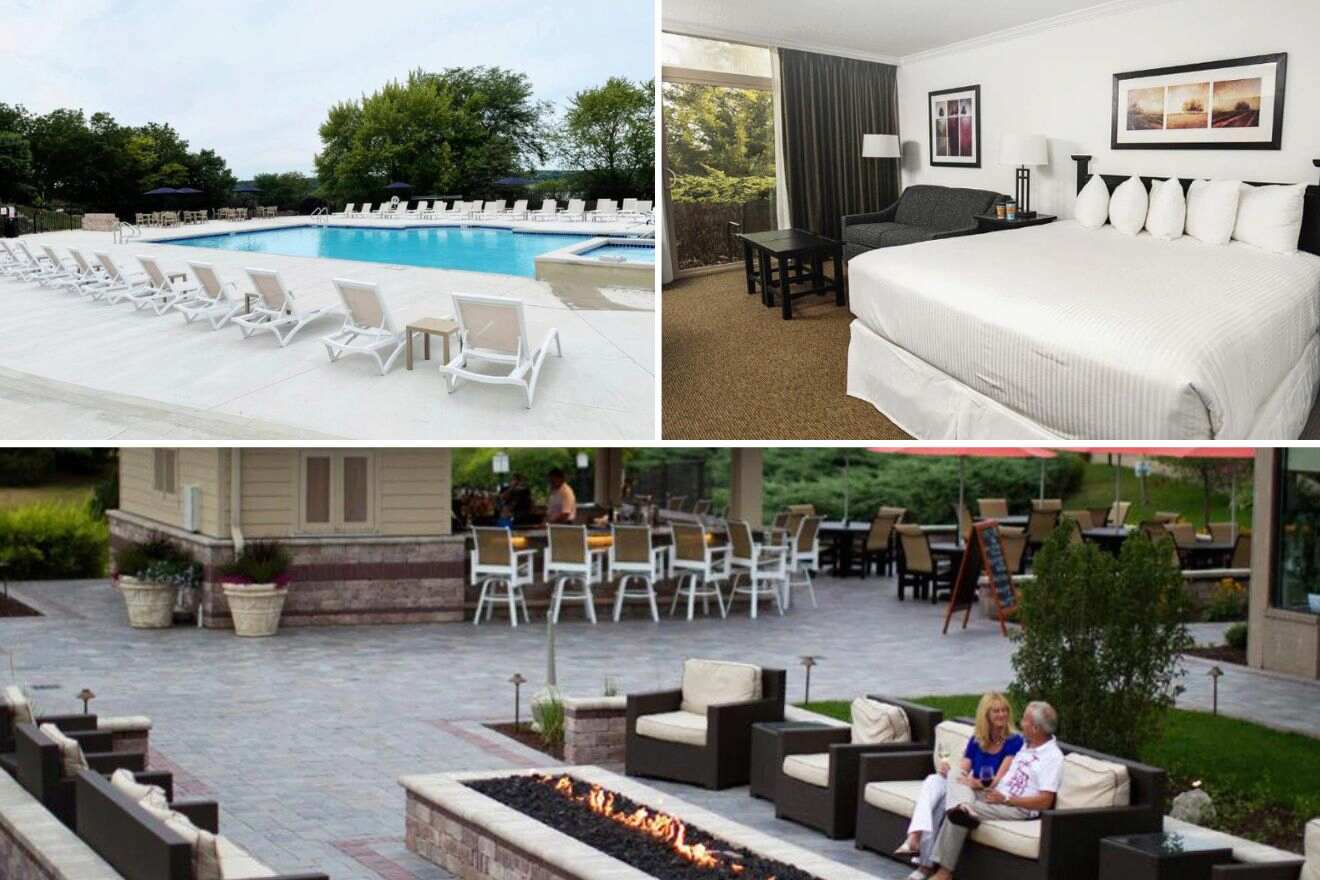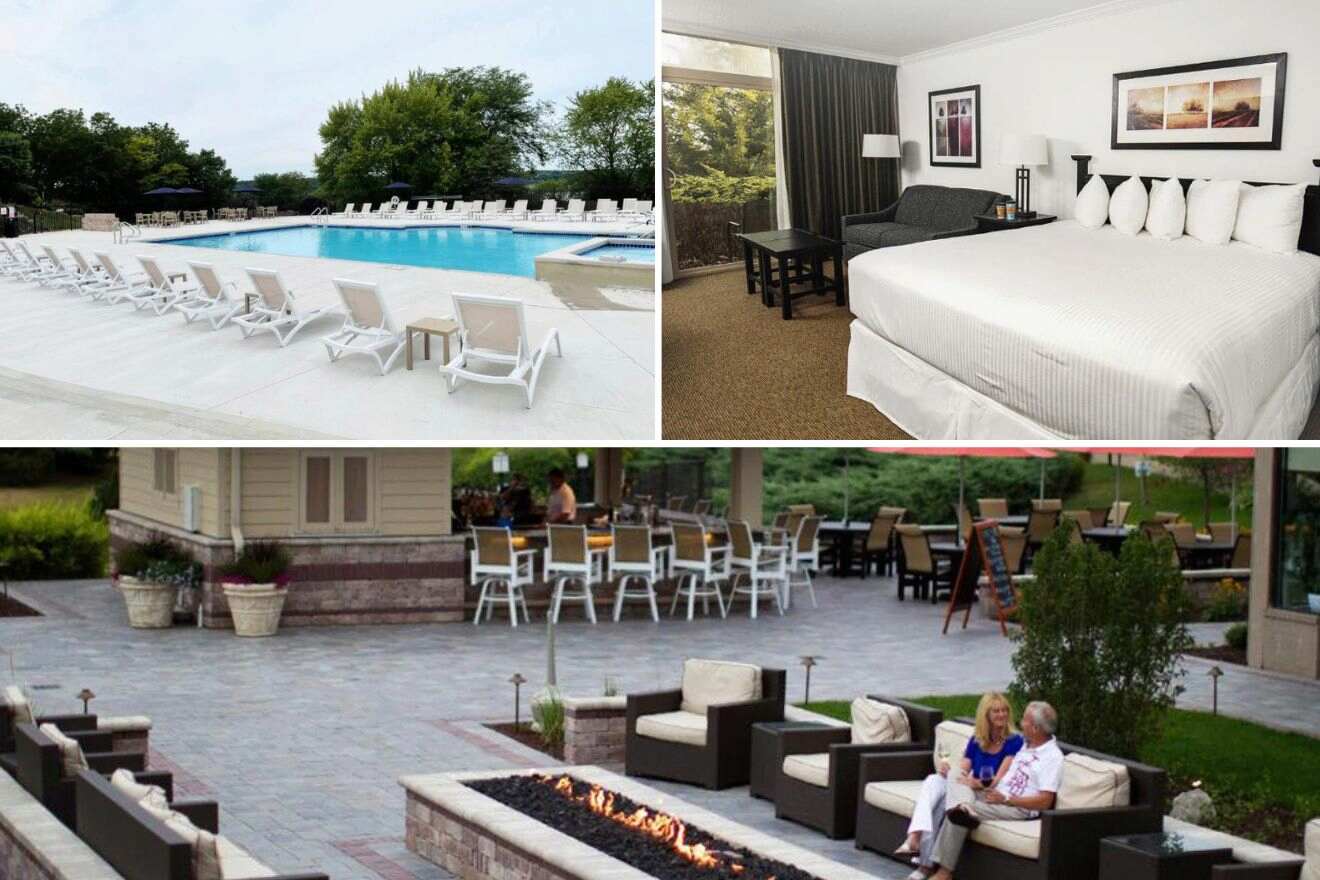 This hotel looks incredible! What an amazing place to spend a wholesome weekend getaway or an extended holiday romanticizing life in the countryside! The amazing has a lovely modern vibe and deluxe amenities that will make you feel like a celebrity, the hotel features an indoor pool and an outdoor pool with heated salt water, a beautiful terrace with a bar and a fire pit, perfect to relax with a drink watching the sunset!
There is a golf course nearby, and the possibility to go hiking in the hotel surroundings after a long day in nature. Have a delicious meal in the hotel's restaurant, and enjoy the complimentary evening entertainment! This hotel offers rooms for 2 guests and big rooms for families of up to 4 guests!
8. Lake Lawn Resort – explore Delavan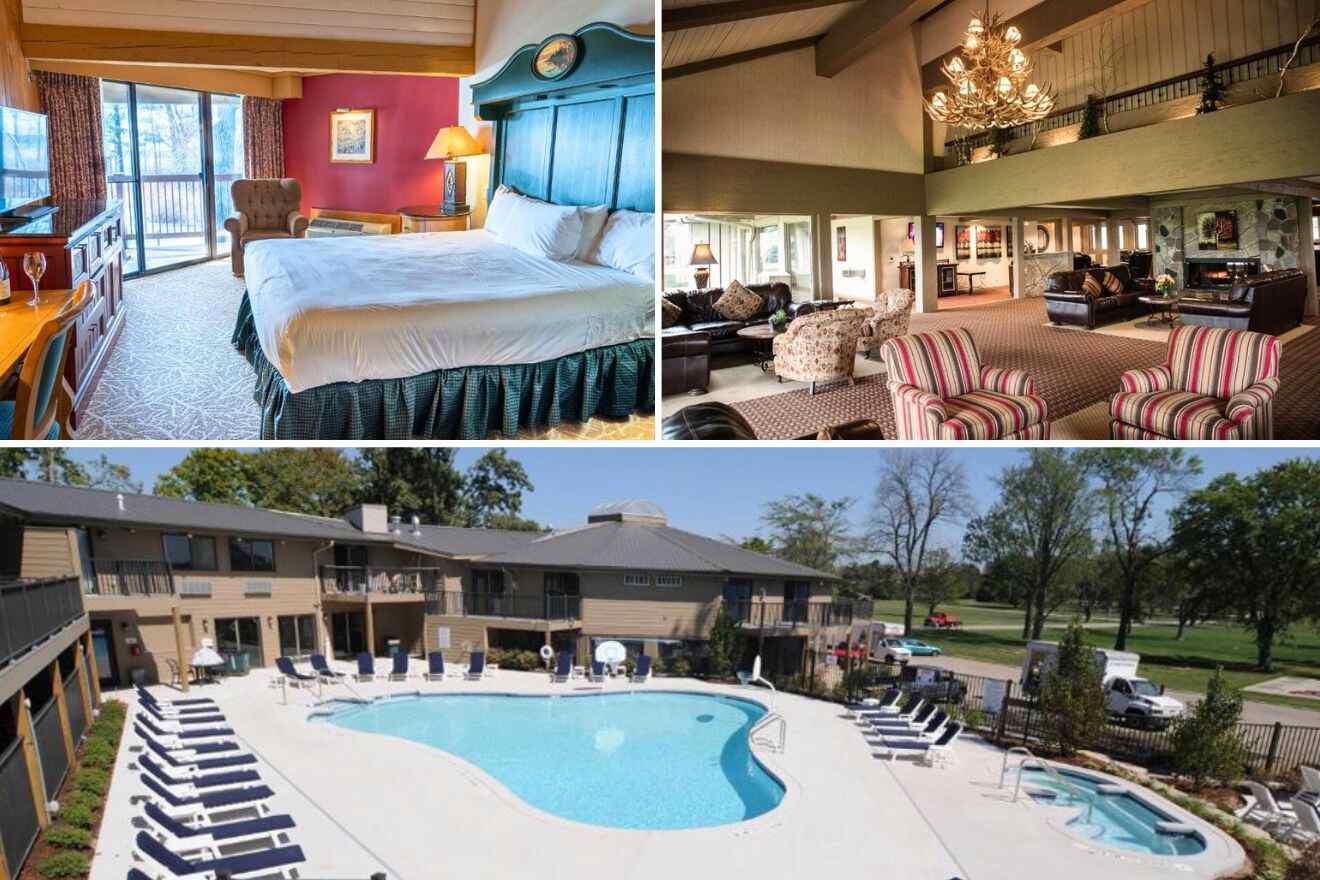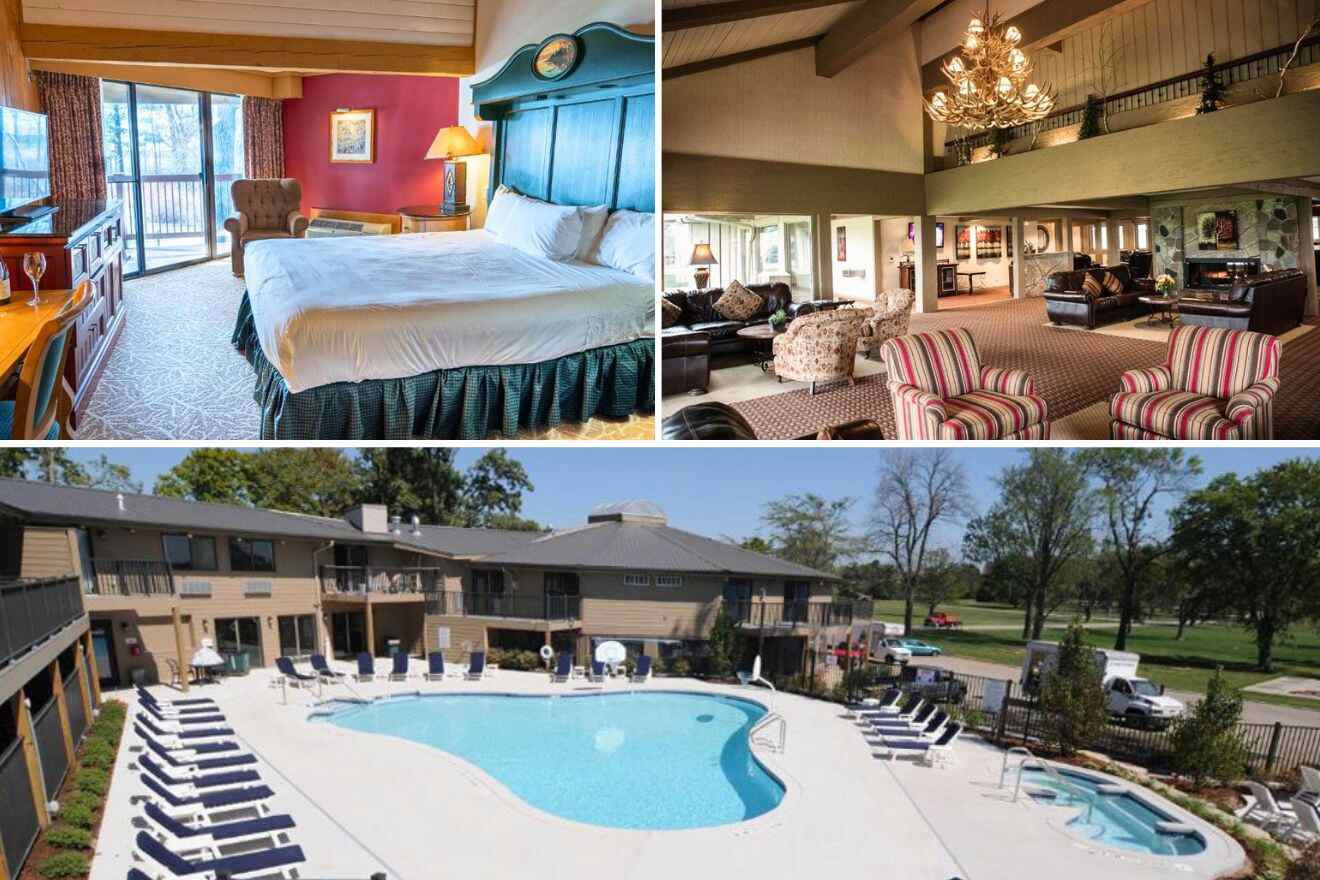 What a cute hotel located in Delevan and with downtown Lake Geneva only a 15-minute drive away! The hotel features amazing cabin-style decoration and the most amazing amenities to make your stay a dream. It comes with a tennis court, a game room, and an amazing fitness and spa center, and its proximity to Delavan Lake makes it the perfect place to practice water sports. Why not try paddleboarding?!
There are also 3 swimming pools available for guests, as well as 3 onsite restaurants; you will feel pampered in this hotel! If you are traveling with your family, I suggest booking the queen or king loft, which can accommodate 6 guests, and comes with a balcony and a bathtub!
9. Bella Vista Suites Lake Geneva – by the beachfront!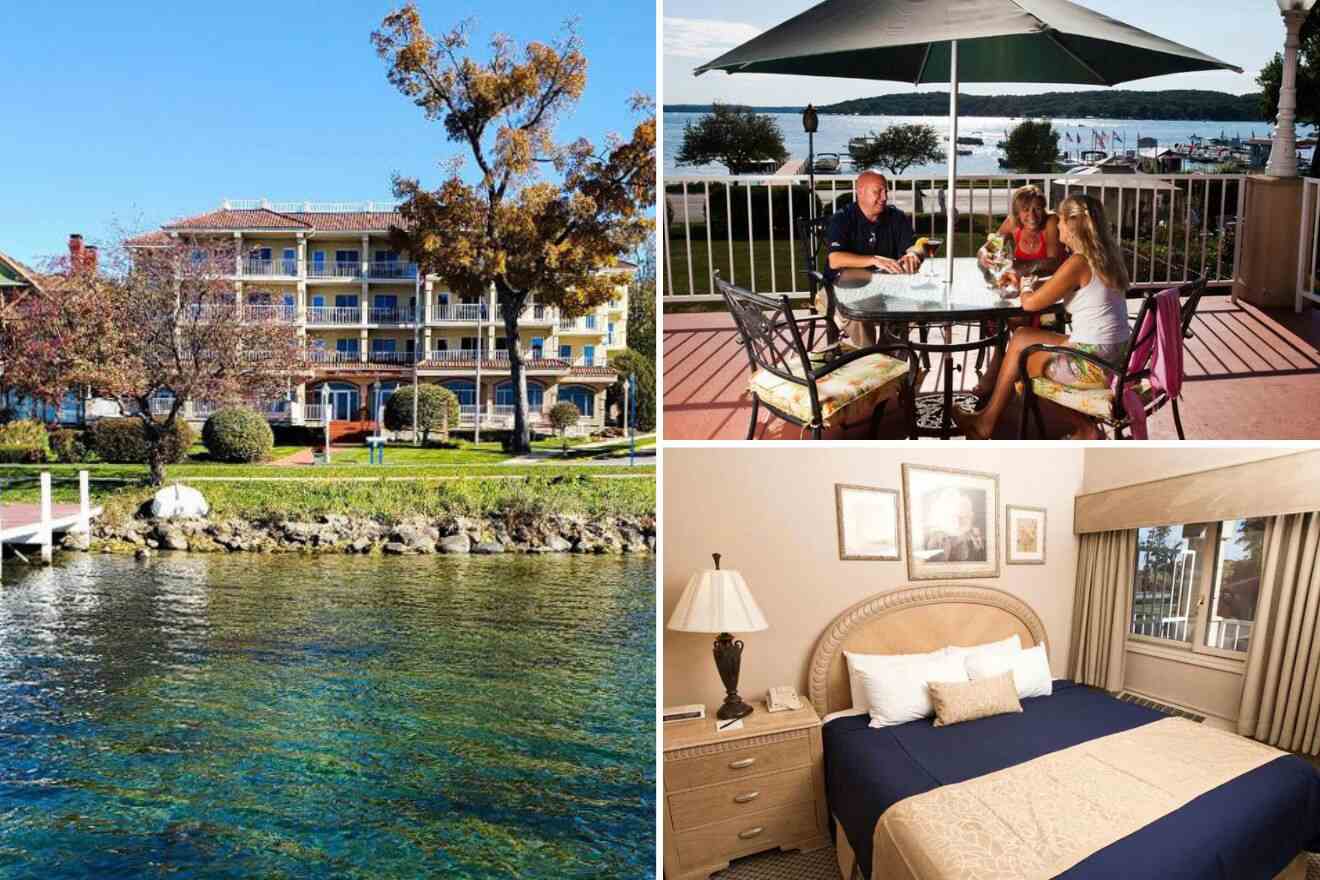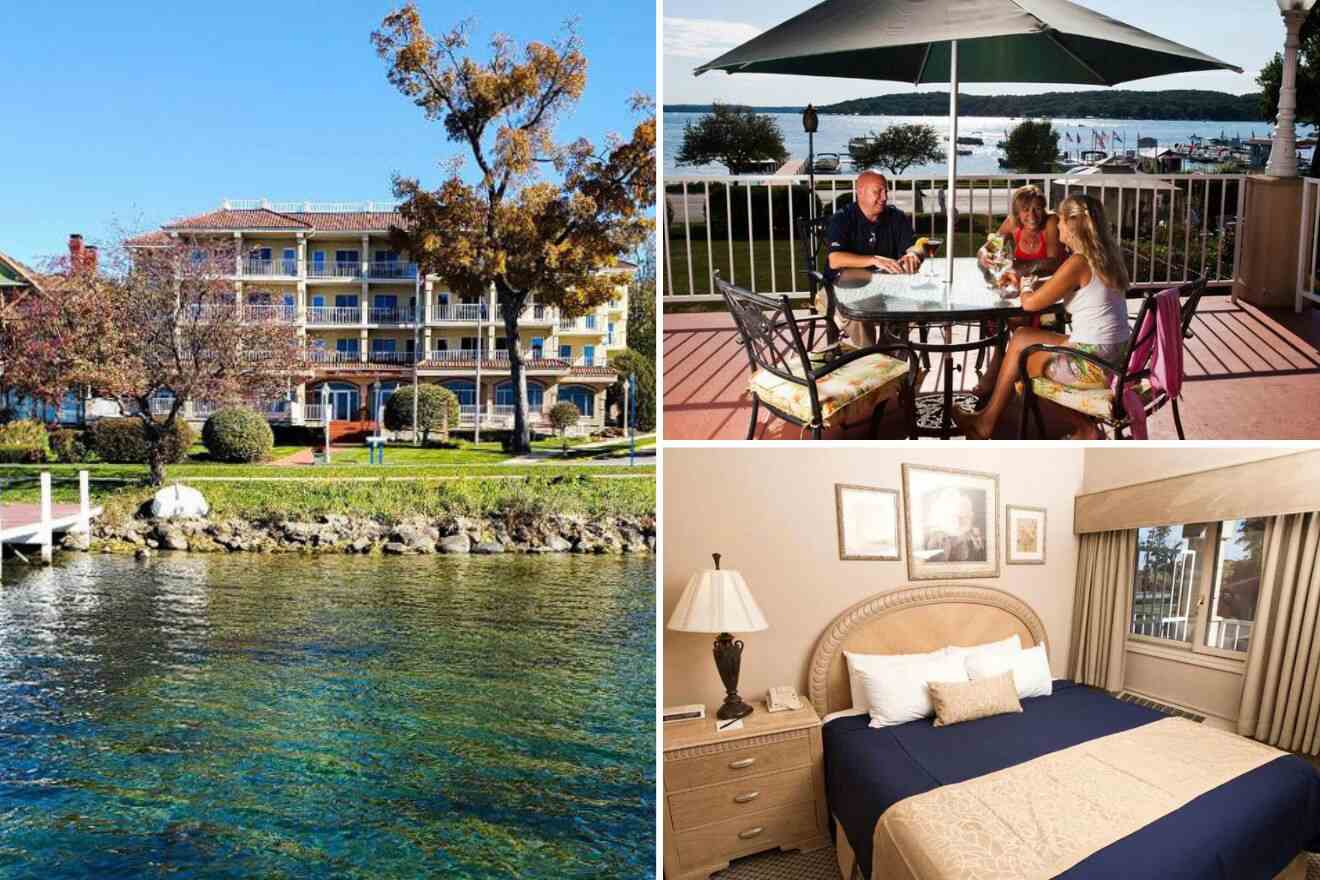 What a charming hotel! Located in downtown Lake Geneva and right by the beachfront, this hotel will make your holidays feel like an easy breeze! Is there anything better than relaxing on the beach with the sun warming up your skin and then jumping into the lake to freshen up? I don't think so! If you rather enjoy some time on the hotel grounds relaxing, you can use the indoor pool or the amazing spa center!
The rooms are spacious and comfortable; they have a nice classic style that will make you feel at home; all rooms come with a wet bar and an amazing balcony with views. Additionally, most of the rooms come with a bathtub which is perfect to end the day with a bubble bath!
10. Timber Ridge Lodge and Waterpark – for family fun!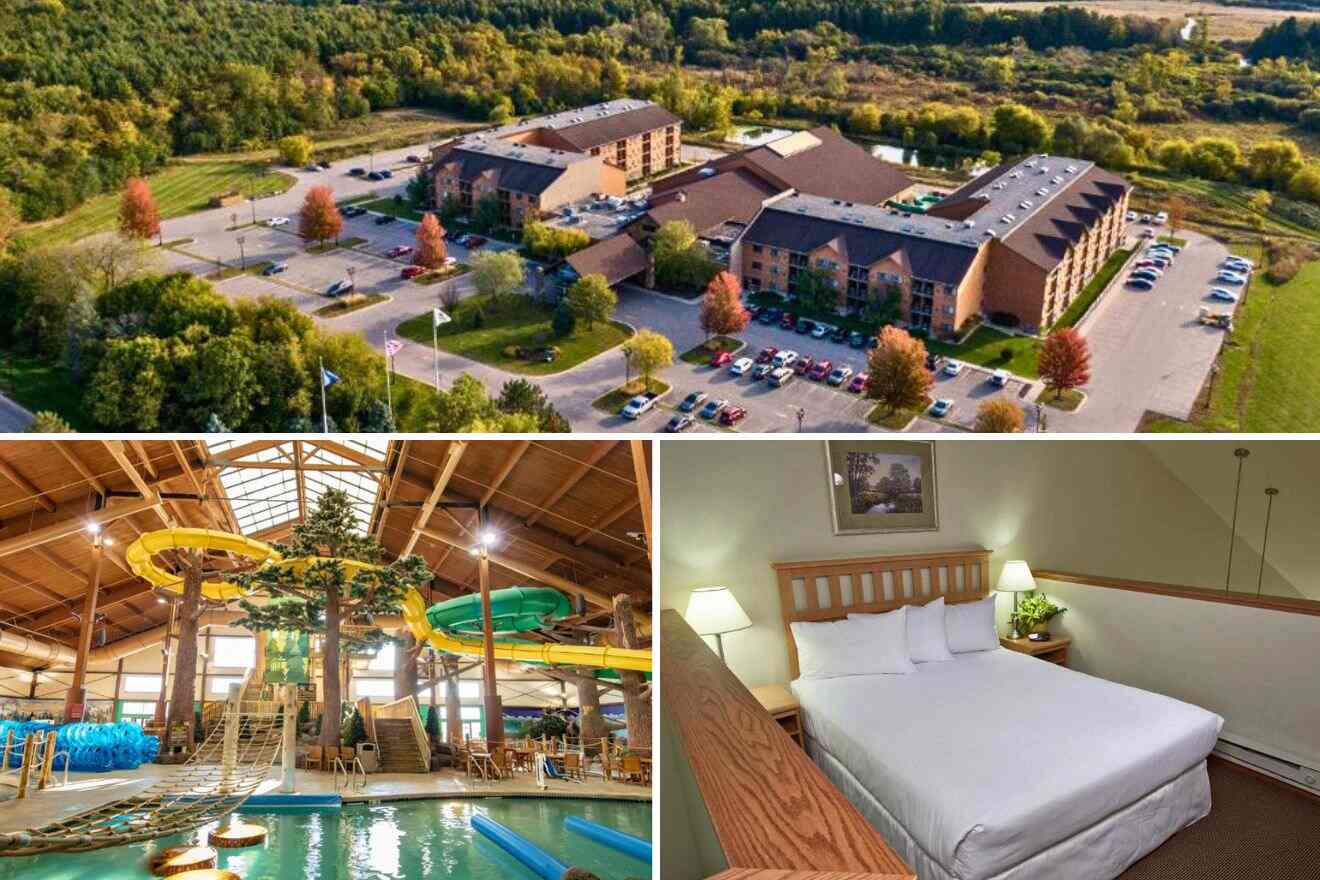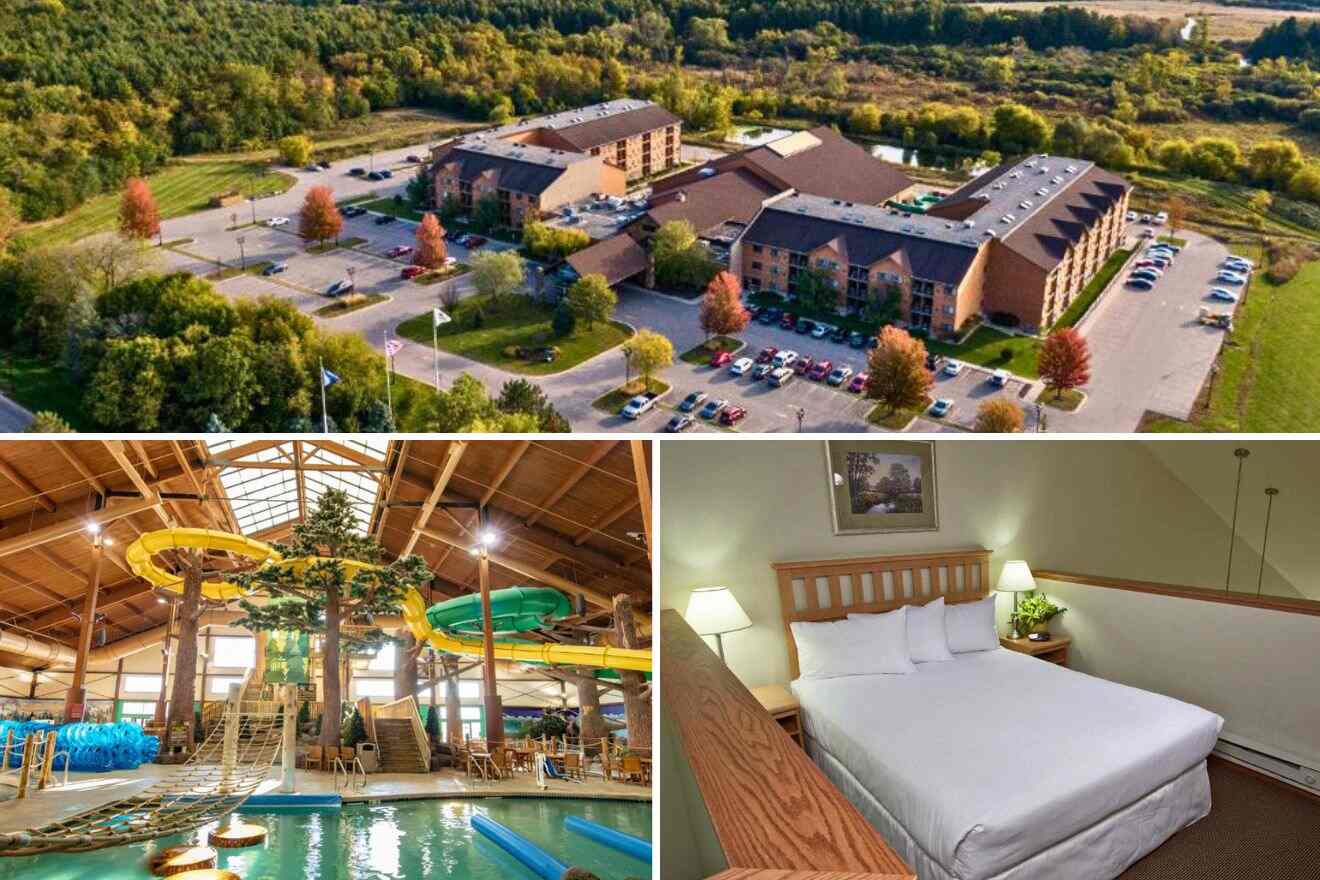 Oh my god! This place looks so much fun; what an incredible hotel to spend the most amazing time with the family. It doesn't matter how old you are, you will find something to keep you entertained here! There is a big indoor water park with loads of games, an outdoor pool with a slide and basketball hoops, and the most amazing game room with arcade games!
Guests staying at the hotel have access to 2 amazing golf courses, and there is a chance to go skiing in the wintertime! I highly recommend the 2 bedroom suite to families; it comes with 2 separate bedrooms and a living room, making it perfect for families of up to 5 members!
11. The Cove of Lake Geneva – relax in style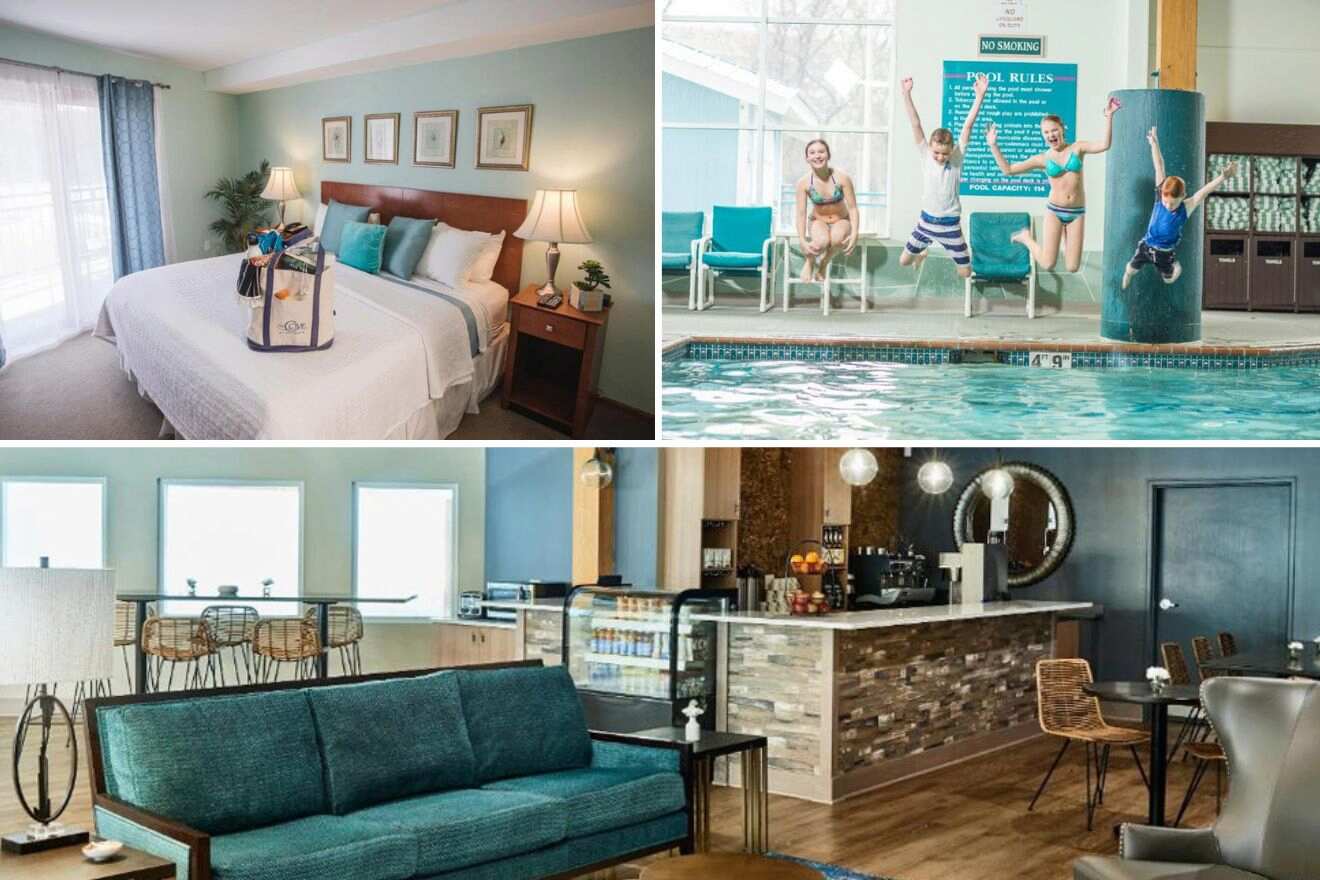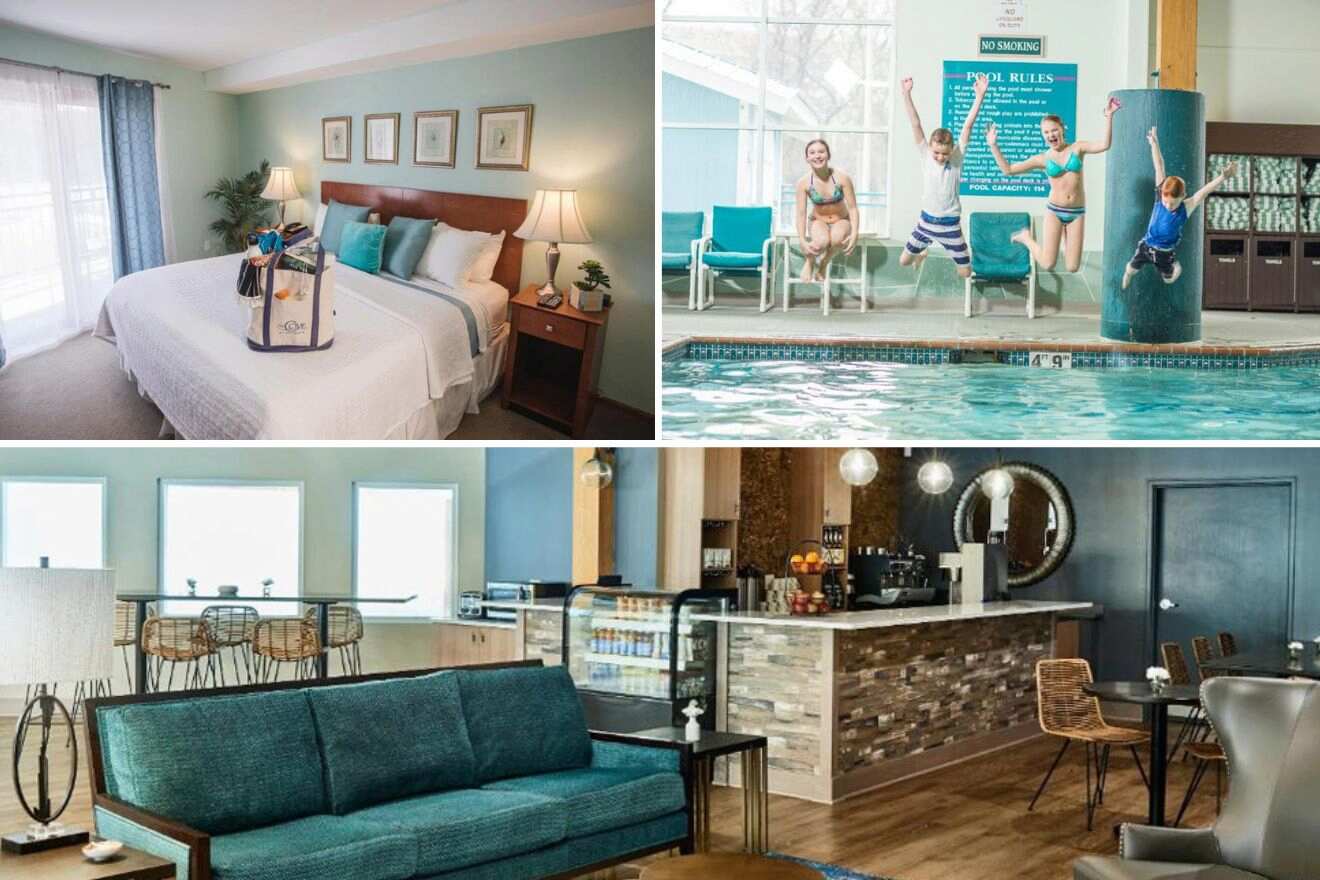 I love the color theme going on in this accommodation! It is a nice mix of earthly tones with a nice turquoise blue, the perfect color pallet to relax like no other! There is a massive heated outdoor pool, an indoor pool, and an outdoor kids' pool so everyone can enjoy a lovely swim! The hotel also offers a game room so kids can play while the parents indulge in a lovely spa treatment. Want to do something with your family? Spend some time in the hotel's tennis courts! There is an onsite restaurant serving American and German cuisine – what better way to end a fun day outdoors than with soft pretzels and burgers?
12. The Abbey Resort – explore Fontana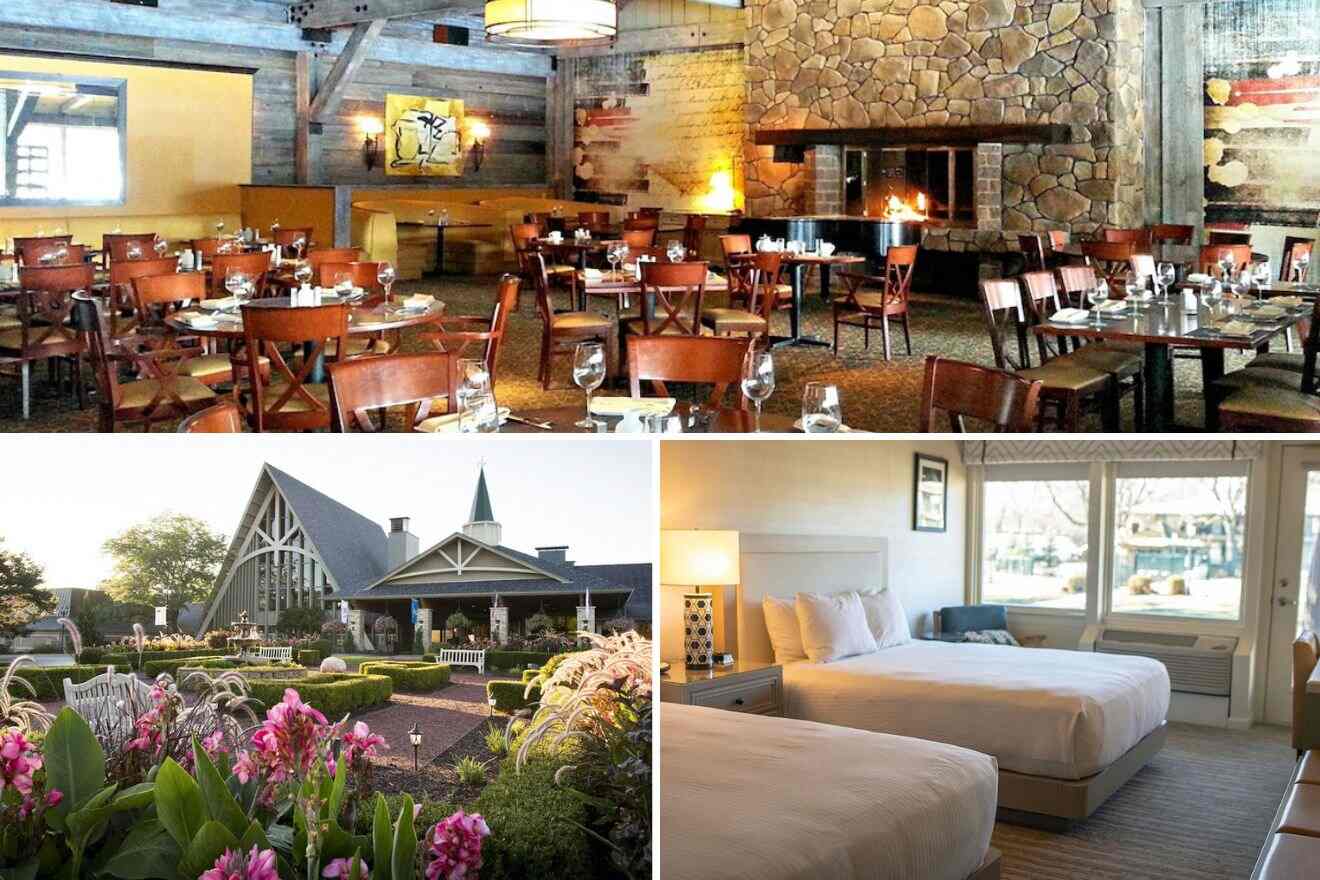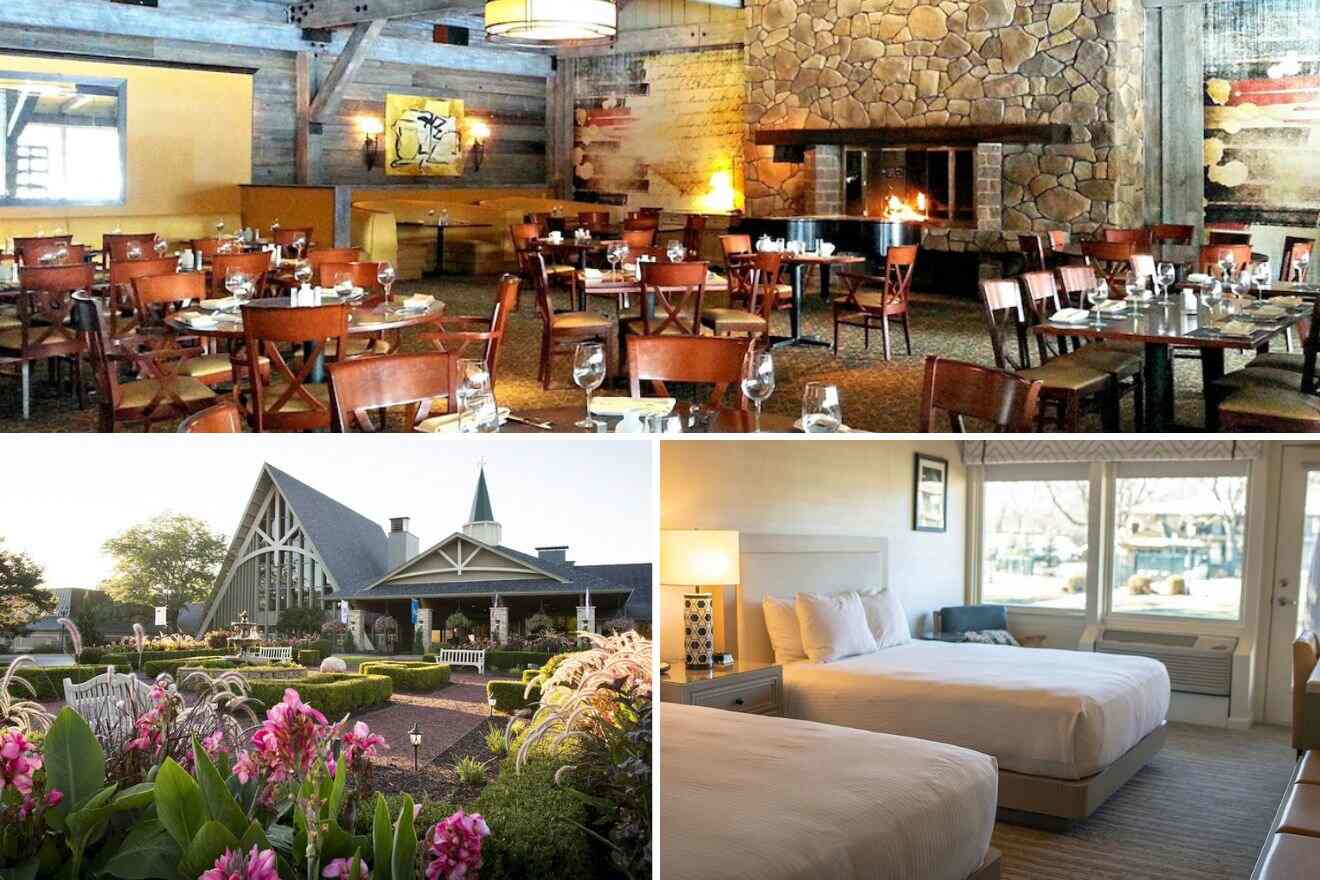 This lovely hotel, located in Fontana, is the perfect place to enjoy a relaxing and fun weekend, whether you are traveling in the summer or wintertime! If you are traveling in the winter, you can enjoy the amazing indoor pool and hot tub, indulge in a spa session, or relax by the outdoor fire pit after a fantastic ice skating session!
In the summer time enjoy the amazing outdoor pool, the water park, and the neverending outdoor activities options, such as hiking, paddleboarding, cycling, and even yoga classes! There is something for everyone! Their biggest rooms can host up to 4 guests, which is super nice for families and friend groups!
13. The French Country Inn – romance in the air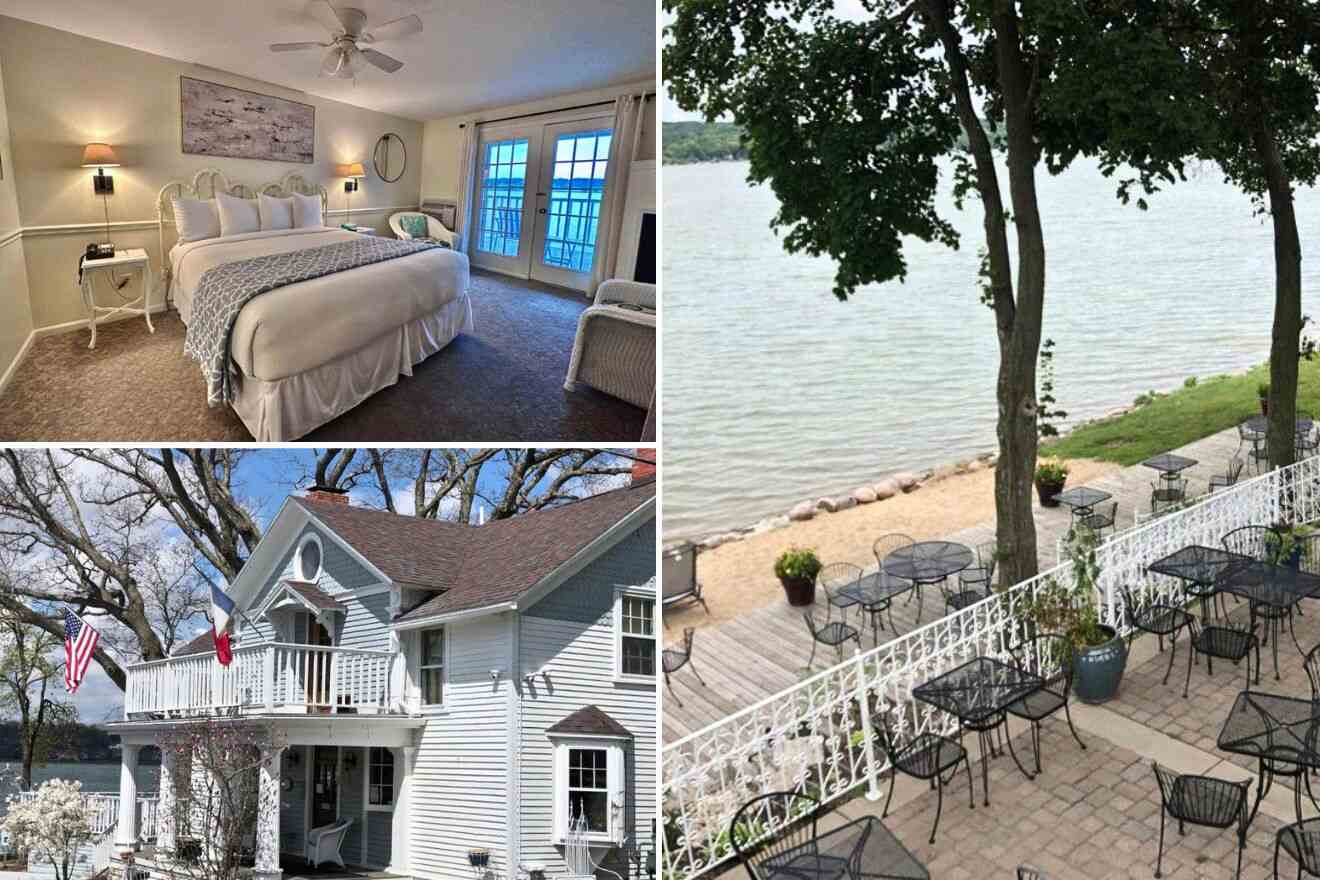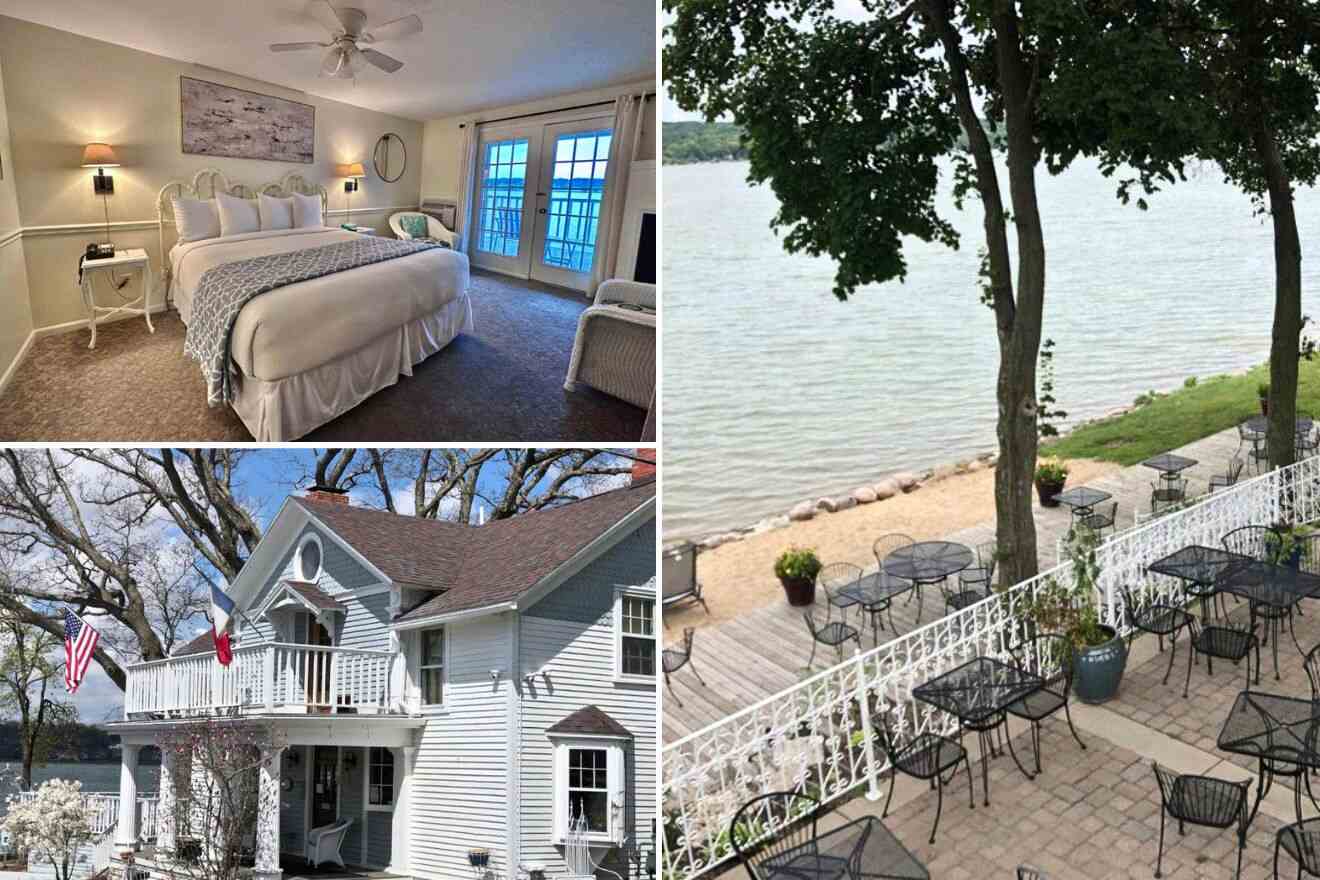 Located in front of Lake Geneva and with a beach area in front of the property, this hotel is perfect for a relaxing weekend getaway with your partner. The area is super tranquil, and it gives you the opportunity to spend time in nature while you let go of all of your everyday worries, and give in to relaxation!
If you are traveling in the summer, you can jump into Lake Como and freshen up. If you are traveling in the winter, put on the coziest winter coat and drink cocoa while admiring the landscape covered in white snow! The rooms are spotless and come with balconies and amazing views!
14. Lazy Cloud – cozy cabin style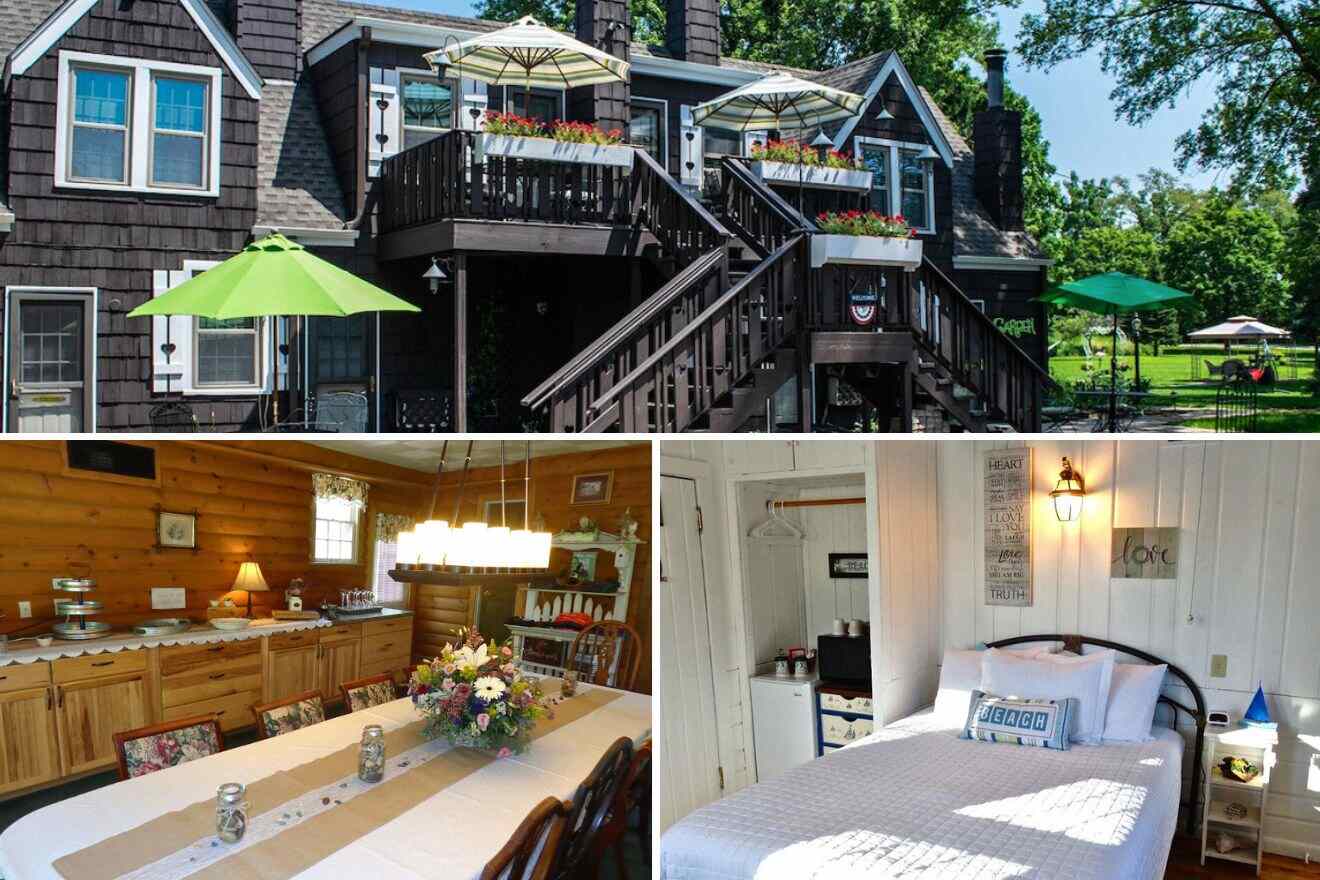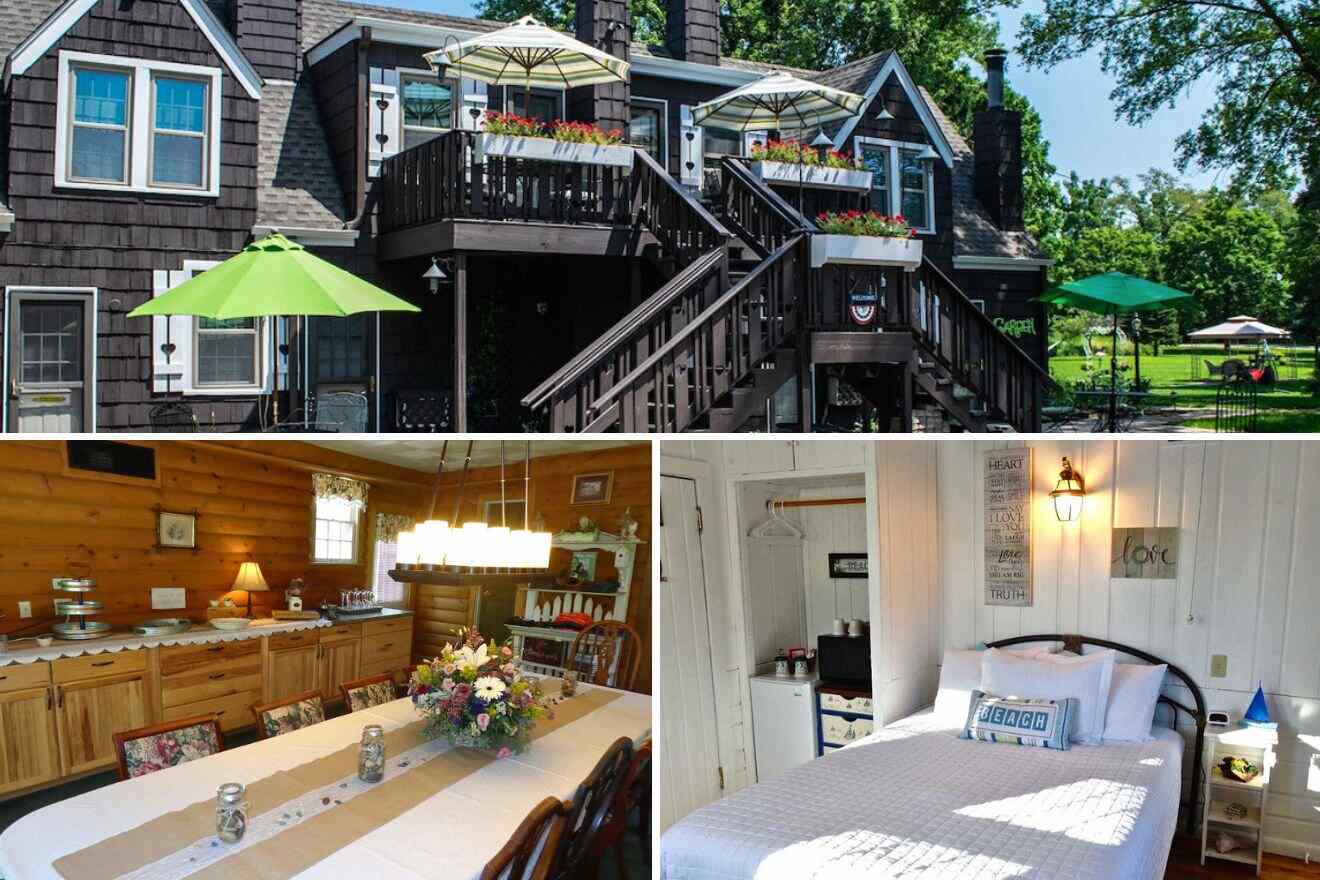 How cute is this hotel? I am completely in love with the homey style of the rooms; they all have a lovely cabin style going on, perfect for spending some comfy time indoors! All the rooms come with a fireplace, and a hot tub, which makes it perfect for couples looking to spend some time alone connecting with each other!
The hotel's garden is simply a dream, it has a beautiful gazebo, flowers of all colors and sizes, a pond with koi fish, and even a life-size chess board! One pro about this hotel? Breakfast is included; nothing nicer than a warm meal after the greatest slumber of your life!
15. Holiday Inn Club Vacations – beautiful landscape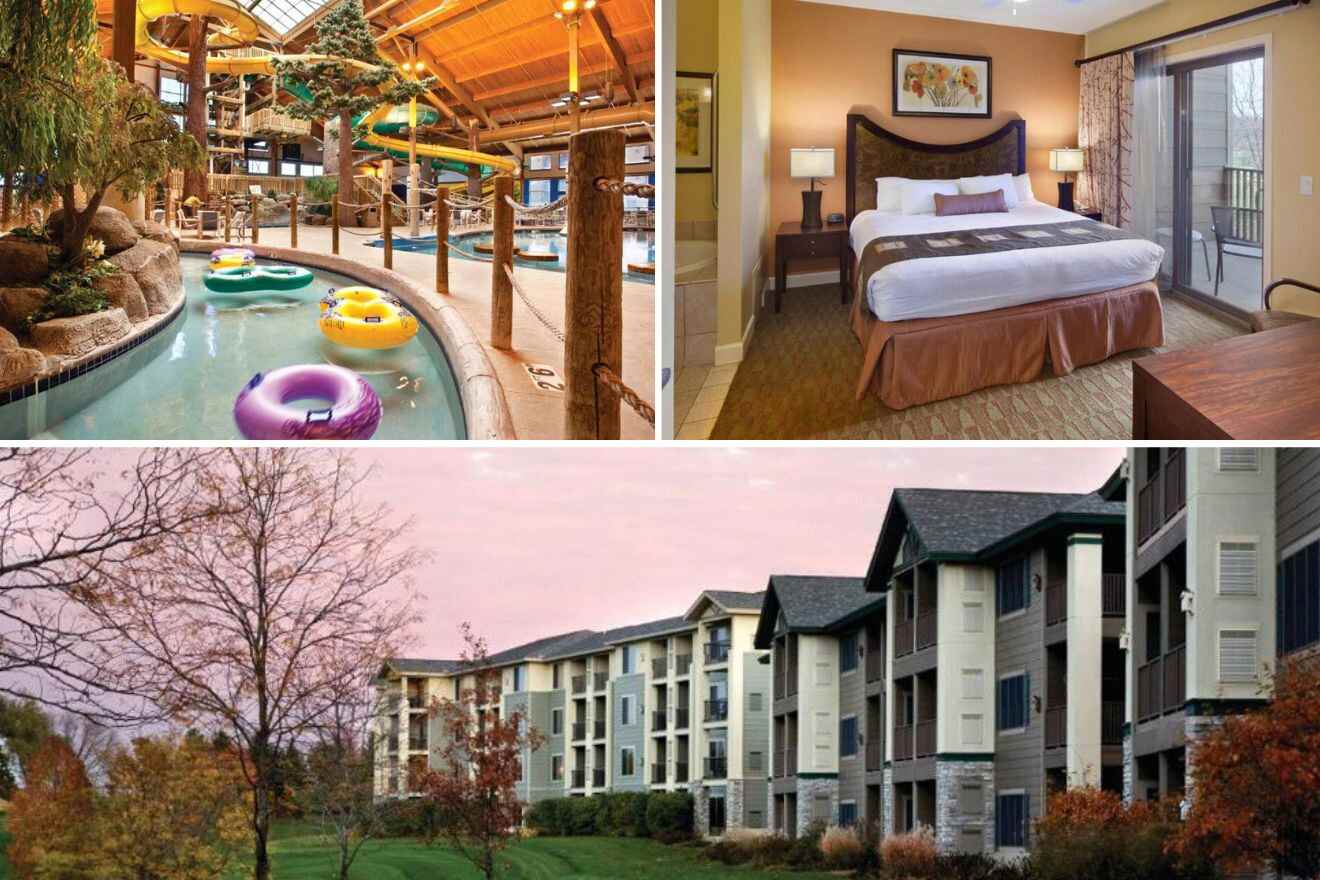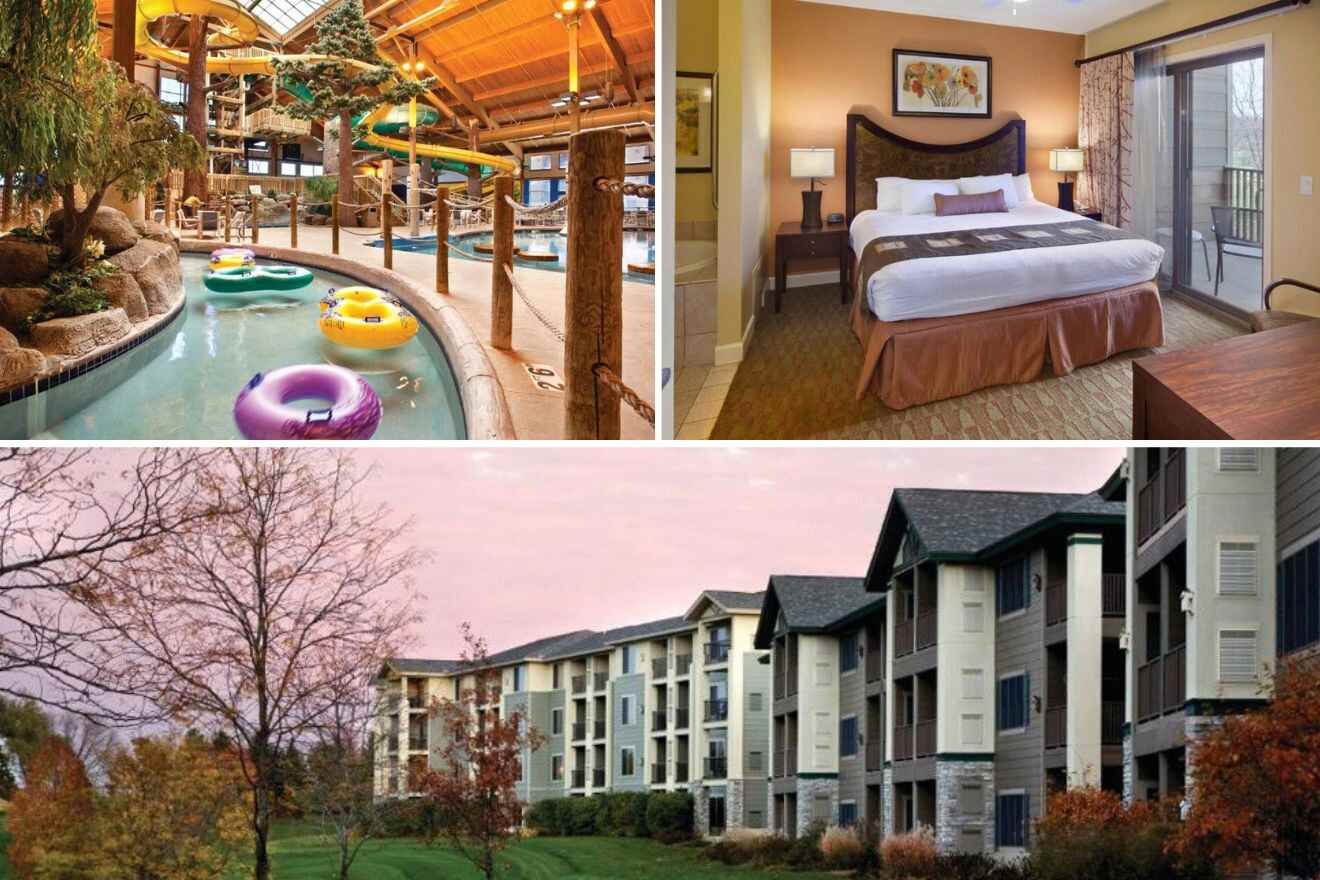 This Lake Geneva resort is located only a 10-minute drive away from downtown Lake Geneva and is surrounded by the most stunning natural landscape. This hotel comes with a tennis court, and they have tennis equipment rentals for a price, an indoor water park you can use for a fee, an outdoor swimming pool, and a water playground for kids.
The hotel's spa offers complimentary fitness classes, and you can use the sauna for no extra fee! The 2 bedroom villa can host up to 8 guests and comes with a balcony, a terrace with a view, a washing machine, and a kitchenette. Literally, everything you could wish for on vacation!
16. Comfort Suites Lake Geneva East – value for money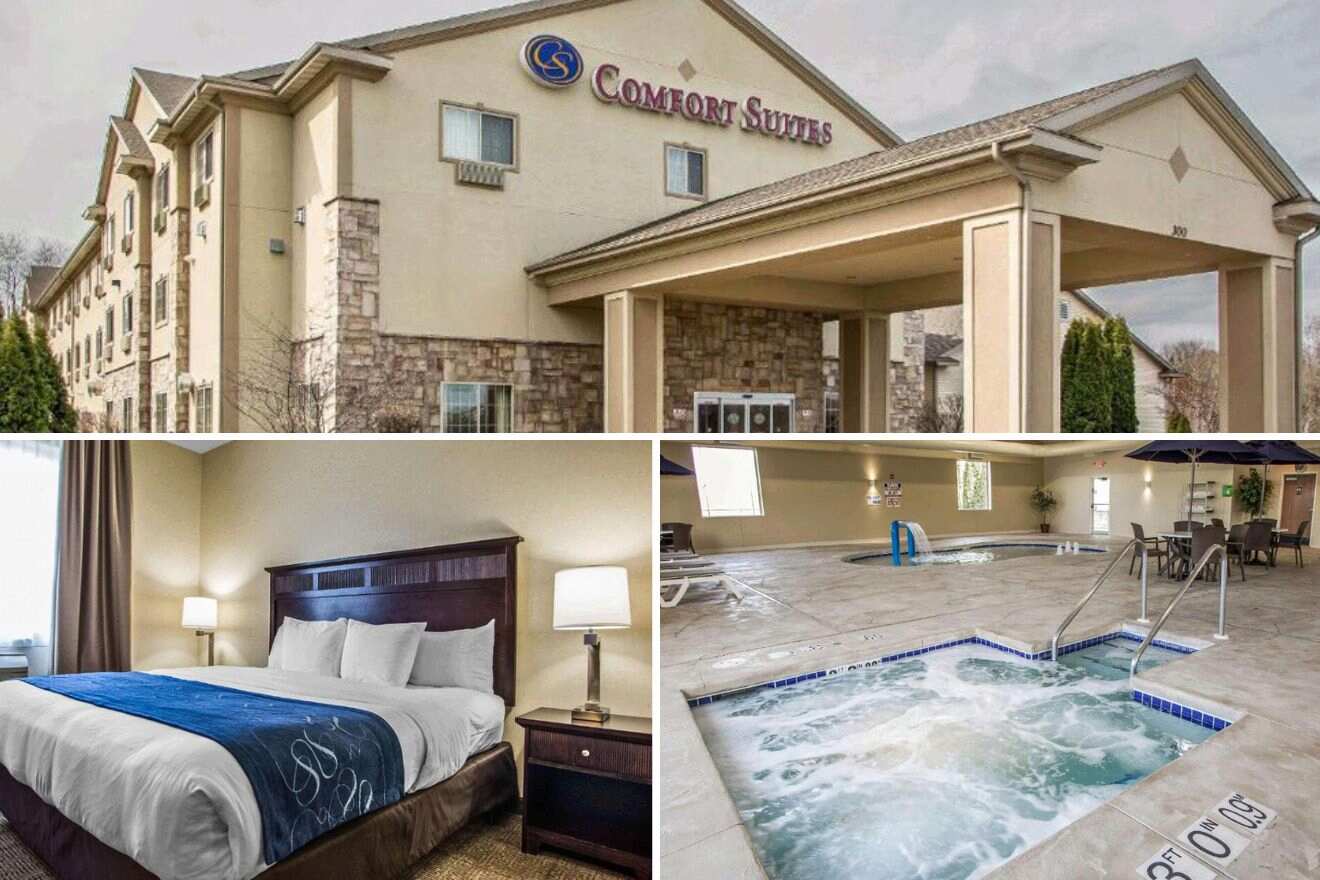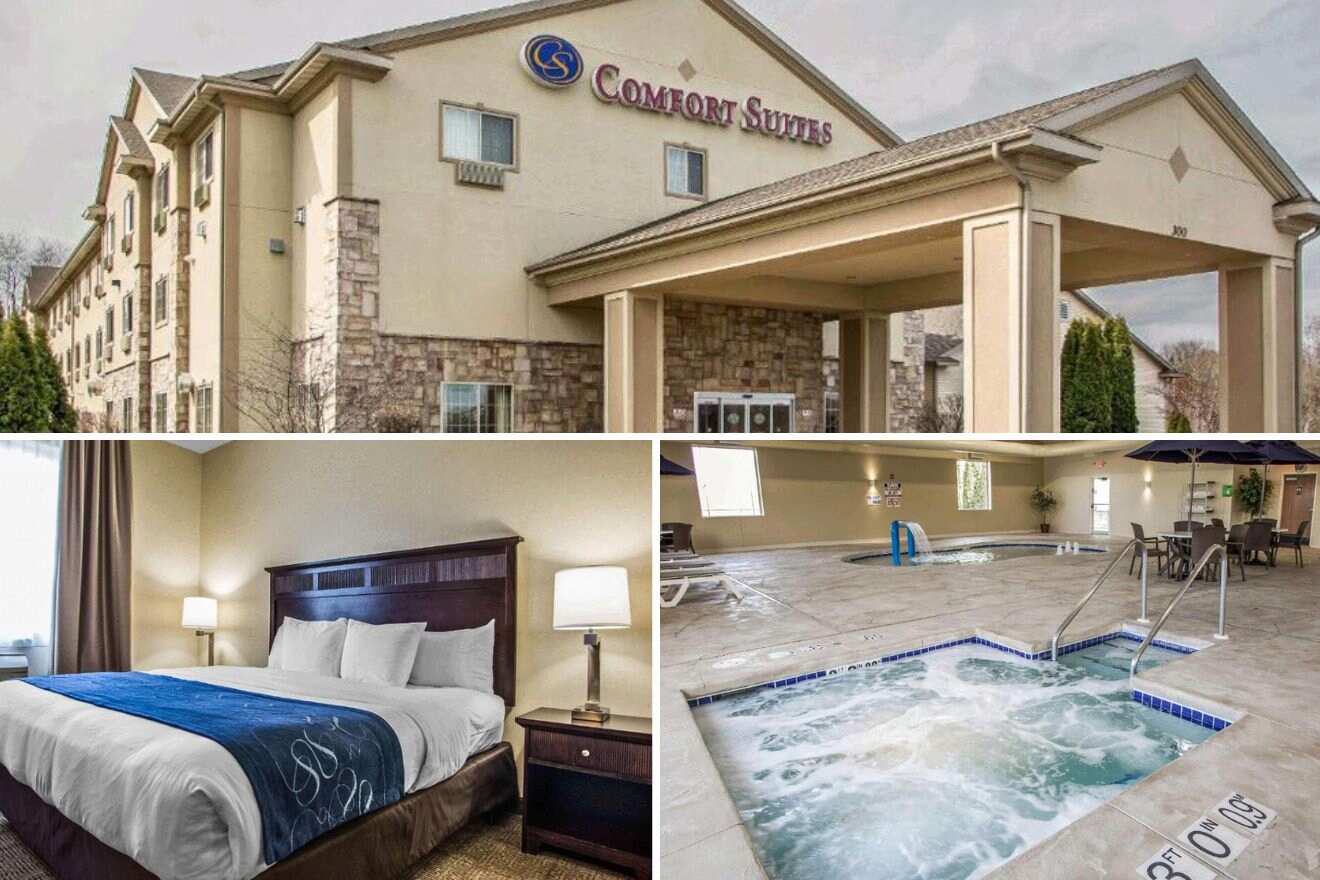 This hotel is the perfect option for those looking for convenience and great amenities. The property is located only a 15-minute walk away from downtown Lake Geneva and all the main attractions, as well as bars and restaurants. The hotel offers its guests a free to-go breakfast, including vegetarian options.
On the hotel's grounds, you can find 2 indoor pools, a hot tub, a snack store, and laundry facilities. If you are interested in practicing outdoor sports, you can inquire at the 24-hour front desk, and they will help you choose from a wide range of options for all of you nature lovers!
17. Geneva Wells Motel – where city and nature converge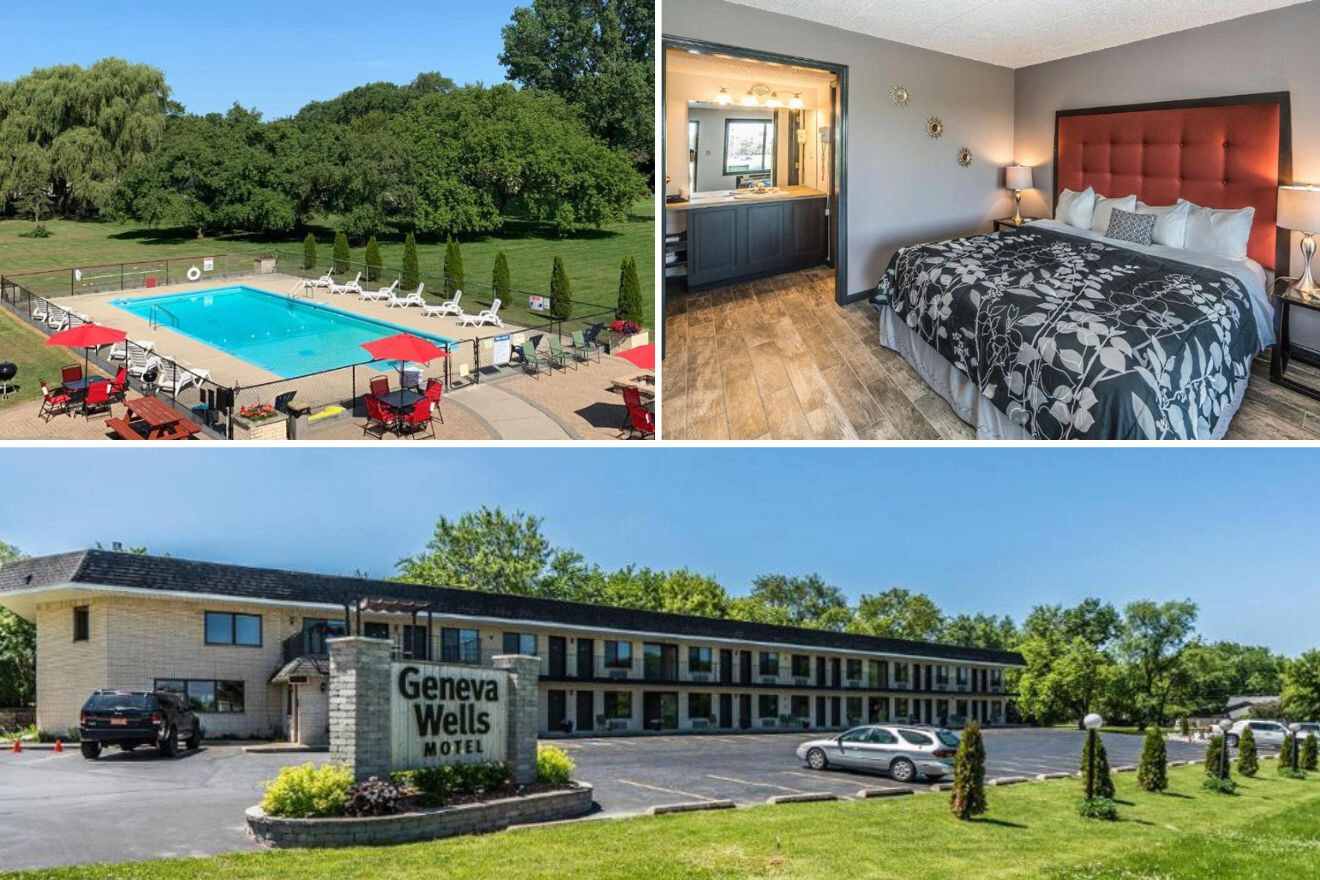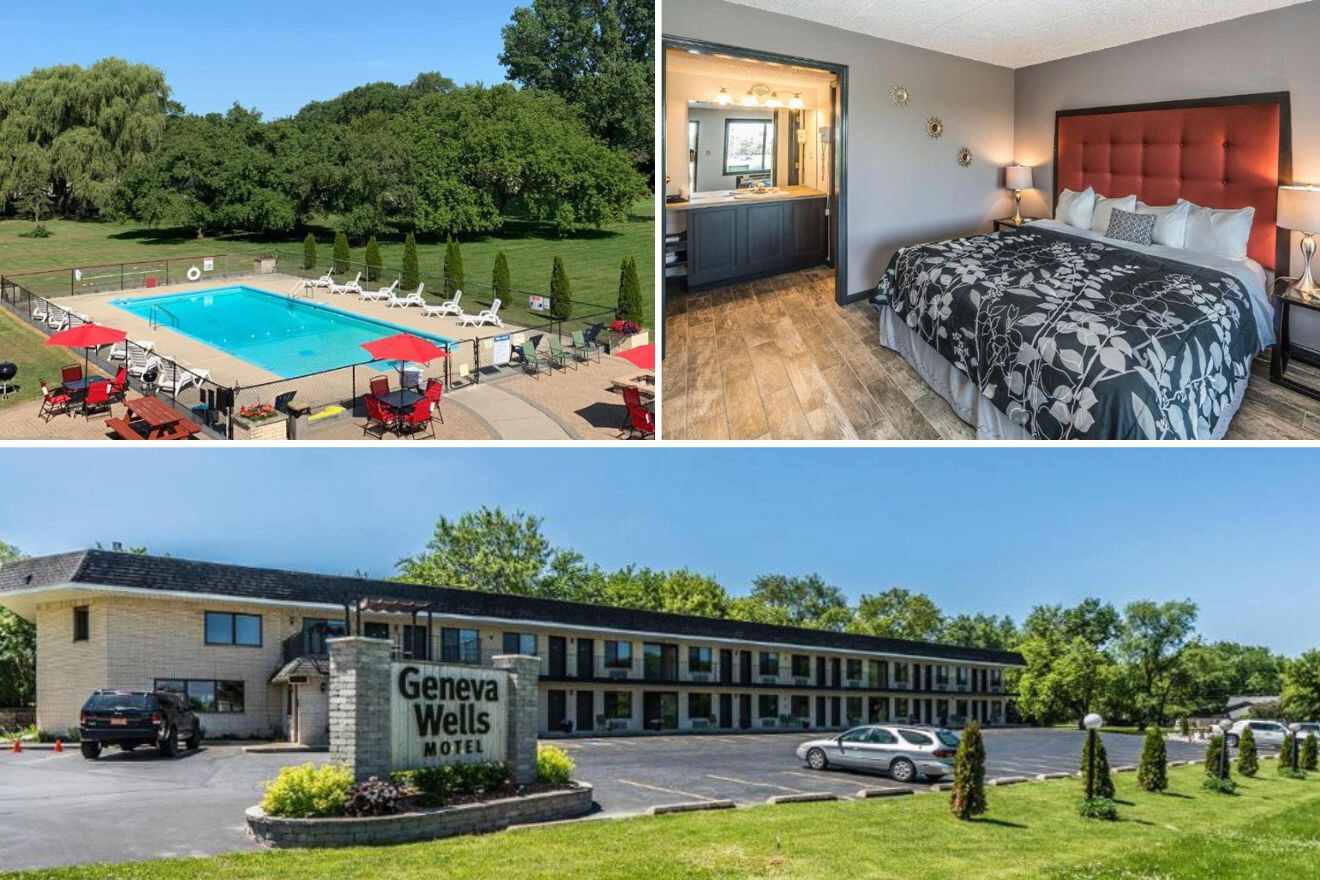 The greatest thing about this motel? Downtown Lake Geneva is only a 20-minute walk away, and Big Foot Beach State Park is only a 30-minute walk away, so you basically have the wilderness and the city just a short walk away. Either way, this hotel comes with everything you need!
There is a big swimming pool in the garden with a deck where you can relax after a swim. The rooms can host a maximum of 4 guests and come with a flat-screen TV, complimentary Wi-Fi, air conditioning, and a mini fridge, select rooms come with a kitchenette.
18. Holiday Inn Express & Suites – convenient stay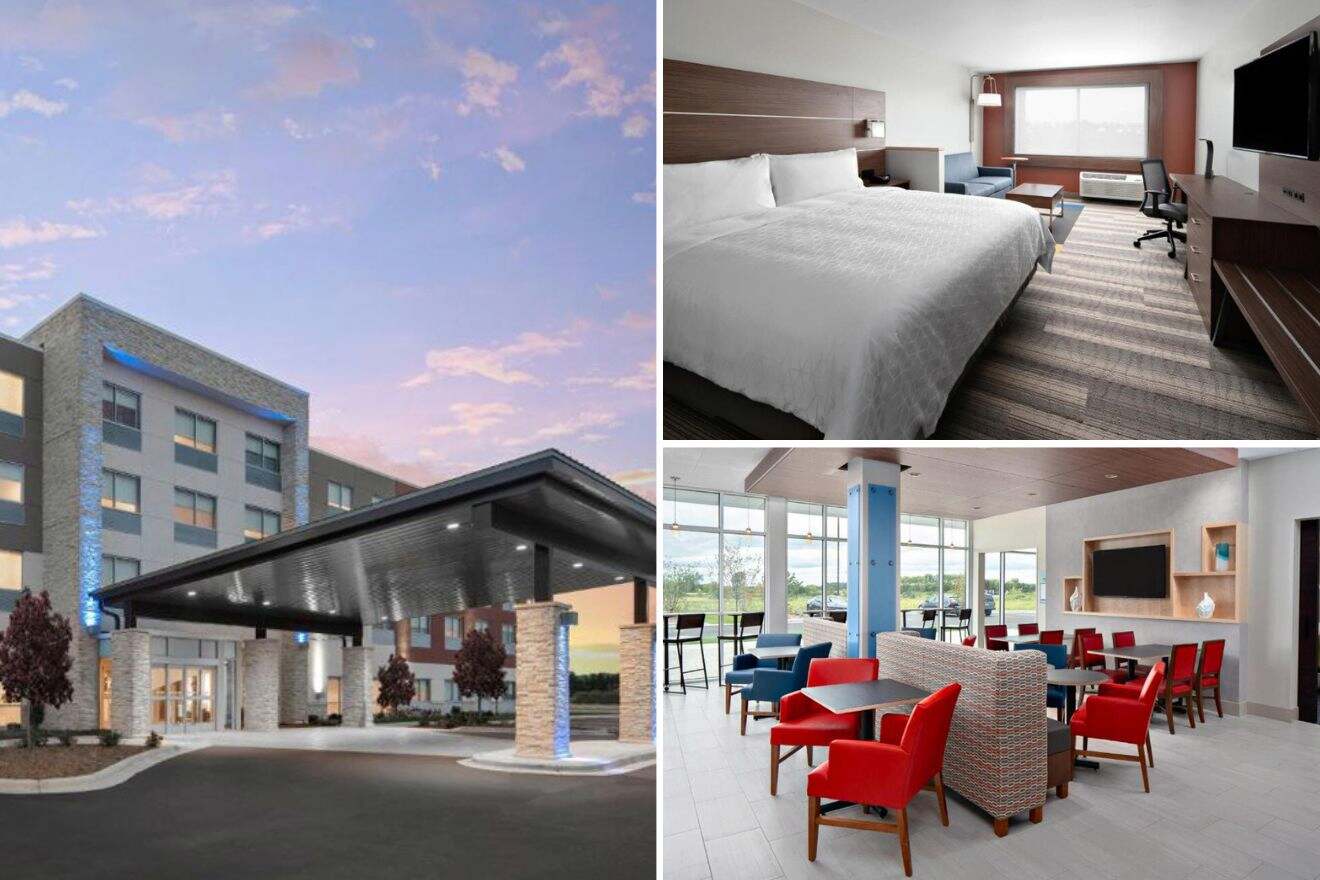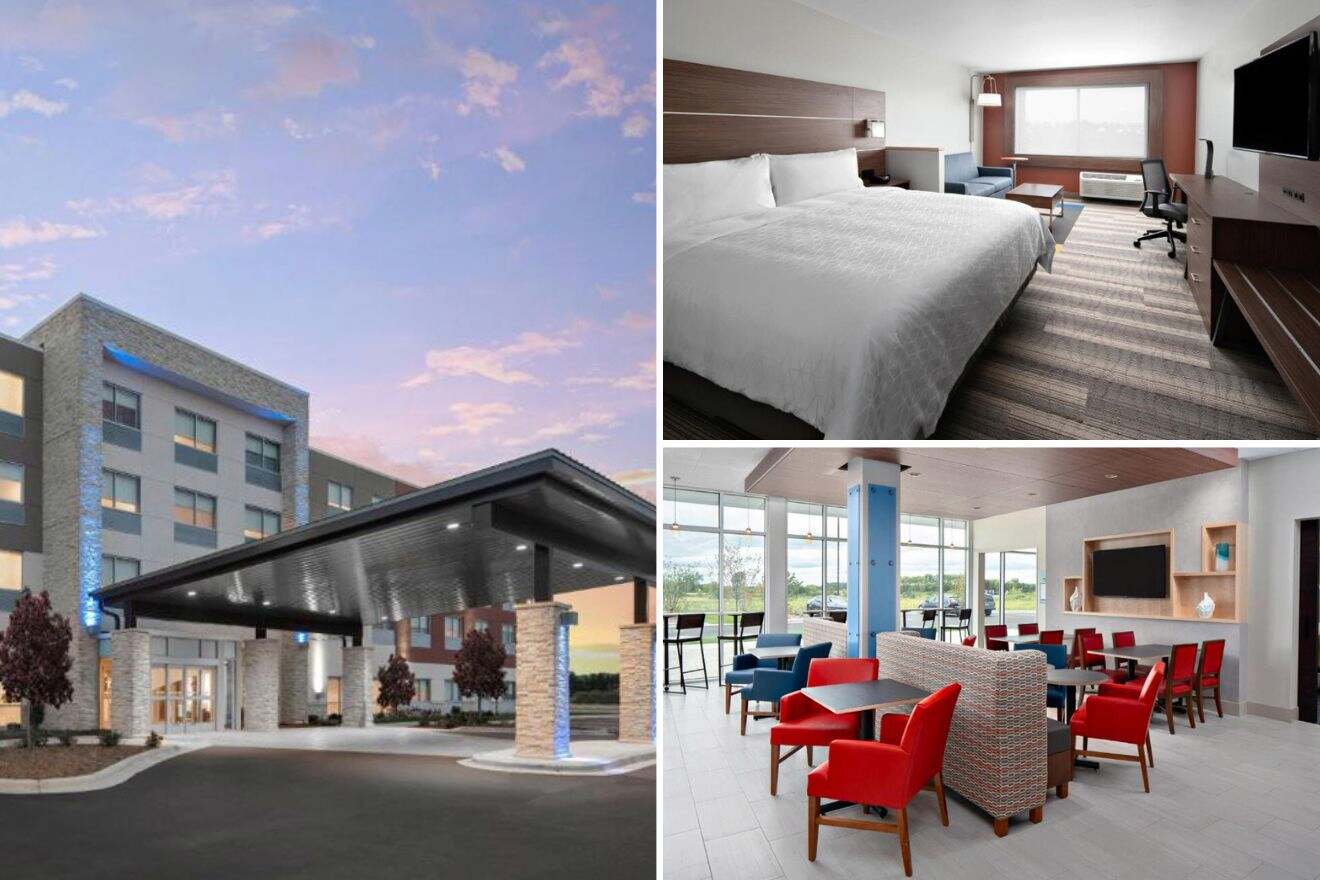 Located in Elkhorn, this hotel is only a 15-minute drive away from Lake Geneva and a 15-minute drive away from Delavan Lake. The hotel comes with amazing amenities, from an indoor swimming pool to a complimentary breakfast serving hot meals, juices, coffee, and bagels! Nothing better than starting the day with the right food… I mean foot! 🙈
There is a grill in the hotel, which means you can make a barbecue and eat it under Milwaukee's sun! For 2 travelers, I highly recommend the king suite – it comes with a king bed, a seating area, and a coffee station with a microwave, coffee maker, and mini fridge!
19. Comfort Suites Delavan – simple and complete!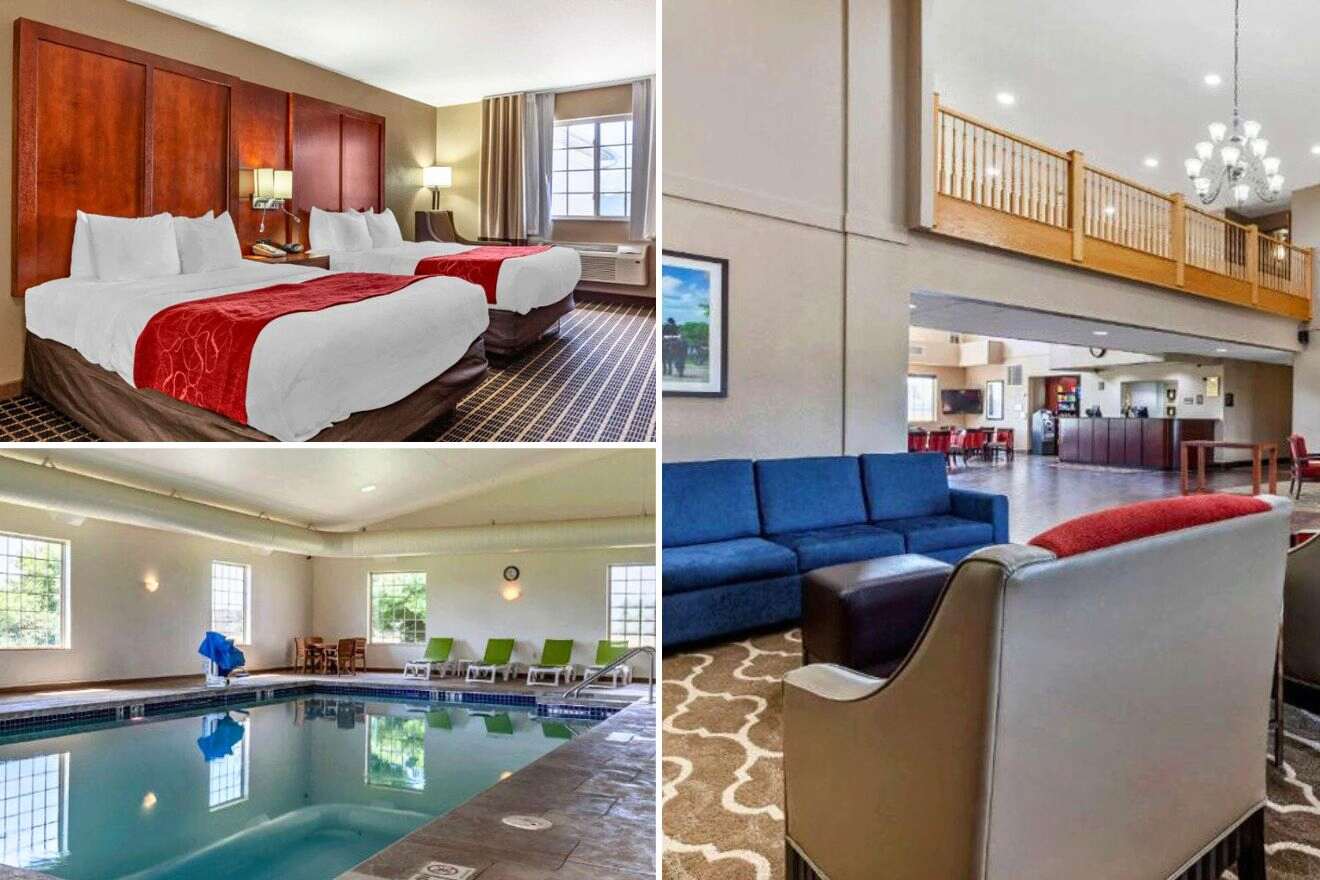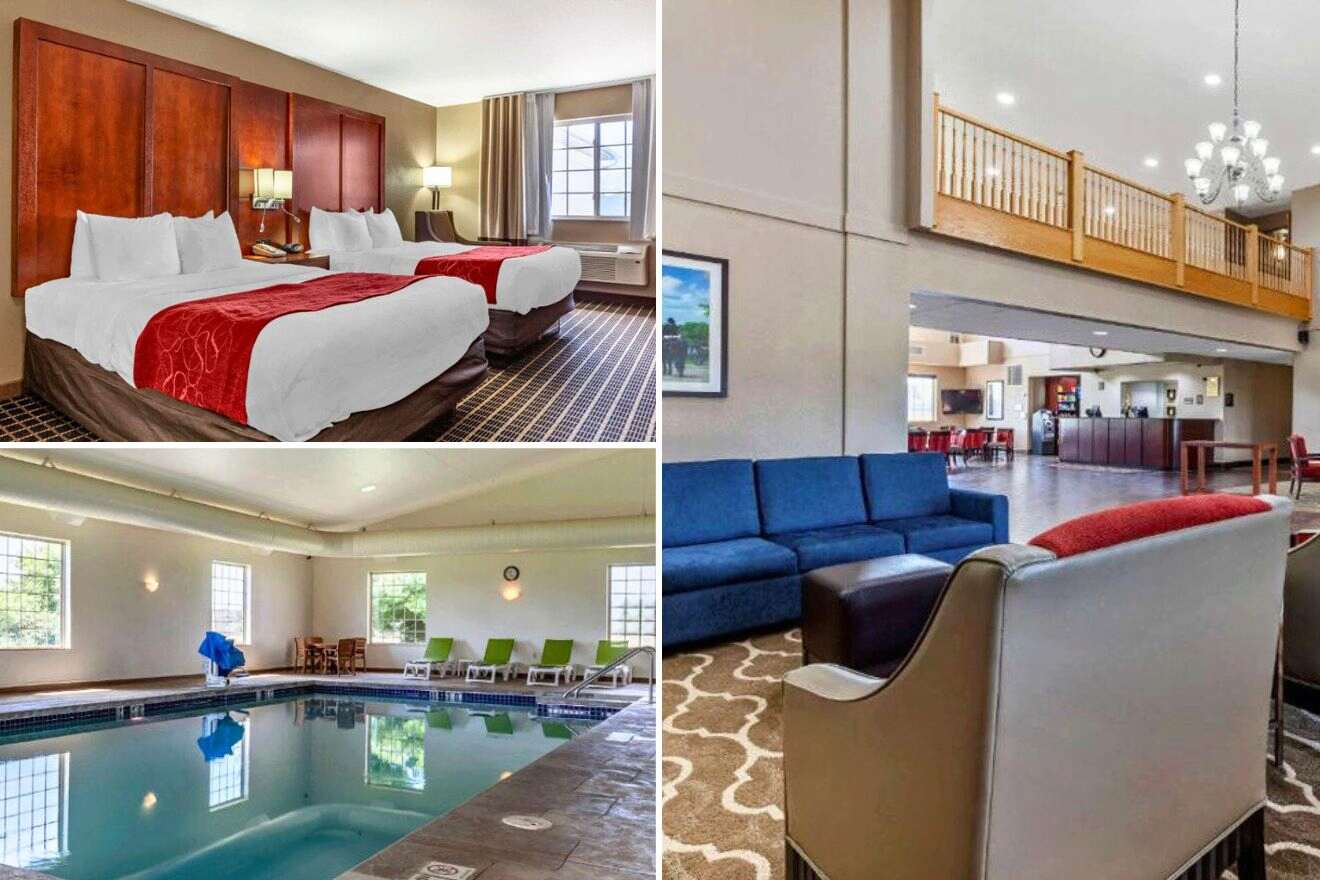 This hotel is super convenient; it is located in Delevan, with the lake very close by, just a 12-minute drive away, and Lake Geneva downtown is only a 20-minute drive away. There is free parking available to all guests, which makes everything super easy! The hotel has a garden with a BBQ area, so what better way to enjoy the sun than having a picnic with your loved ones?!
The rooms are spacious and comfortable, the biggest rooms can host up to 6 guests. I recommend staying at the comfort suites for a complimentary breakfast at the hotel or staying at the select rooms, which come with a whirlpool tub or jacuzzi!
20. Sky Lodge Inn & Suites – vintage vibe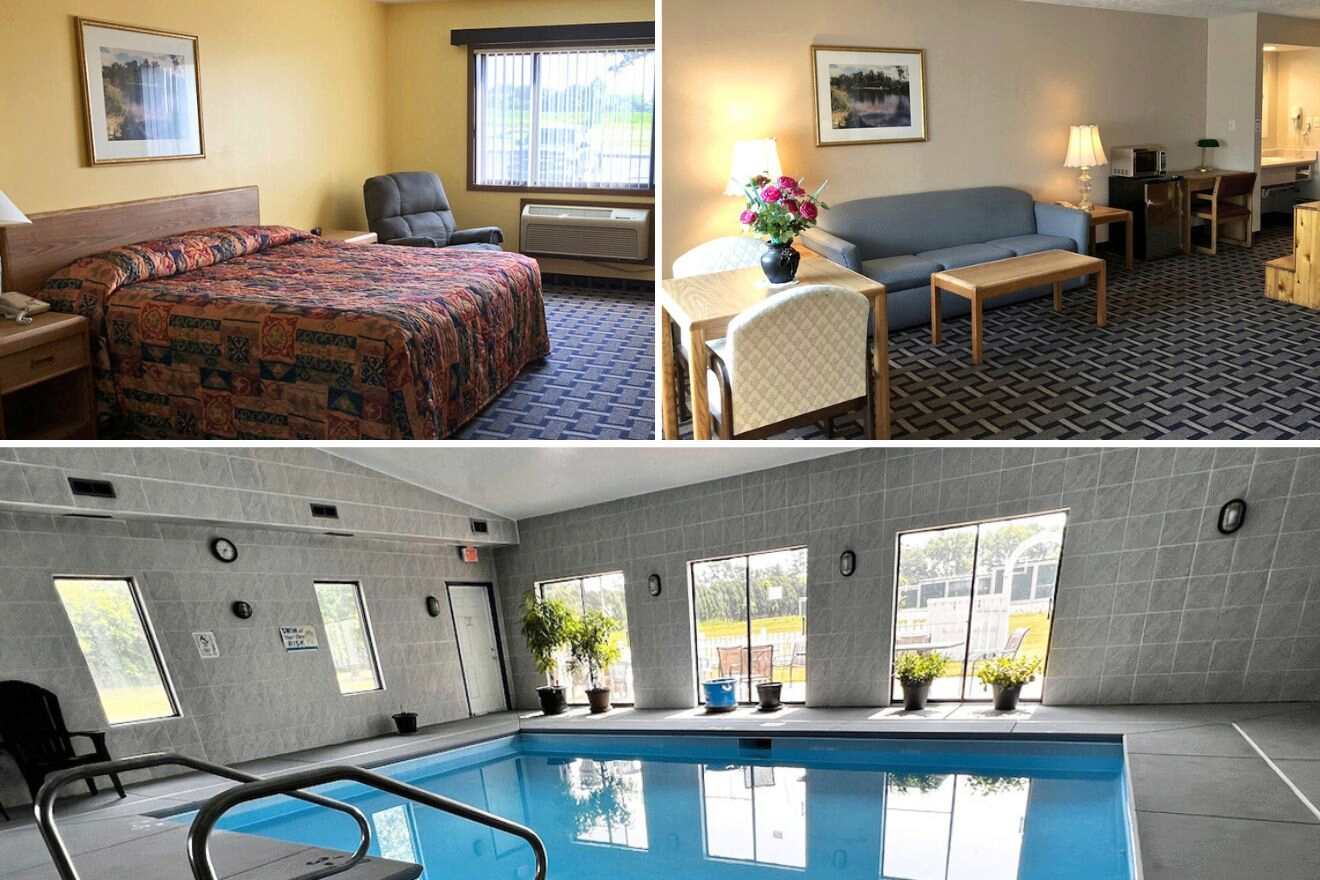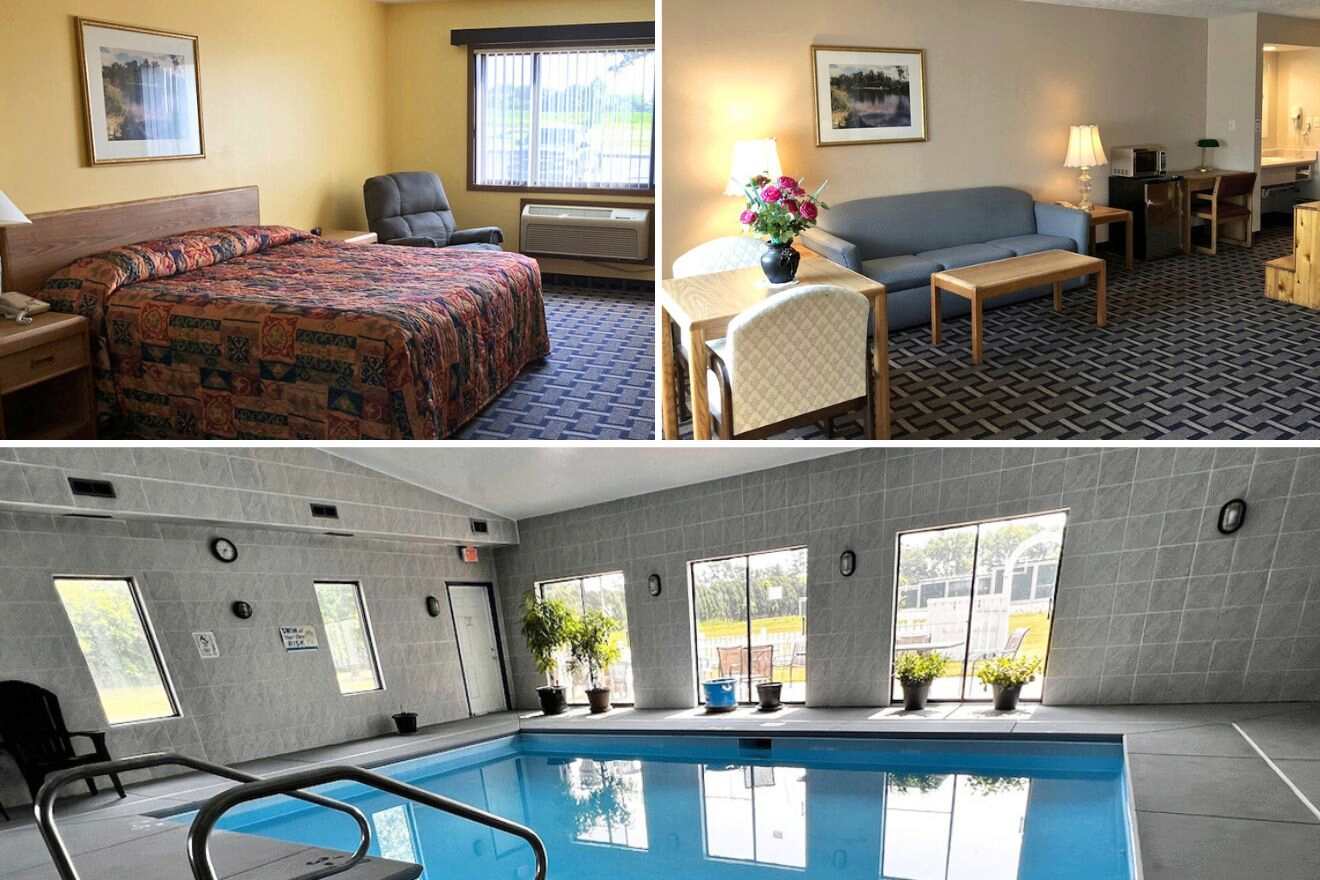 Looking for a hotel with a vintage and classic vibe? Then this is the one for you, the hotel comes with an indoor pool open to all guests and the chance to eat breakfast every morning at the hotel for a very low fee! Lake Delavan is the nearest lake, and there are a few restaurants a few steps away from the property.
All the rooms are spacious and come with a flat-screen TV, and can host up to 4 guests. I highly recommend staying in the king room with a spa tub to enhance the holiday experience. Imagine ending the date relaxing with warm bubbles and room service!
FAQs about Lake Geneva lodging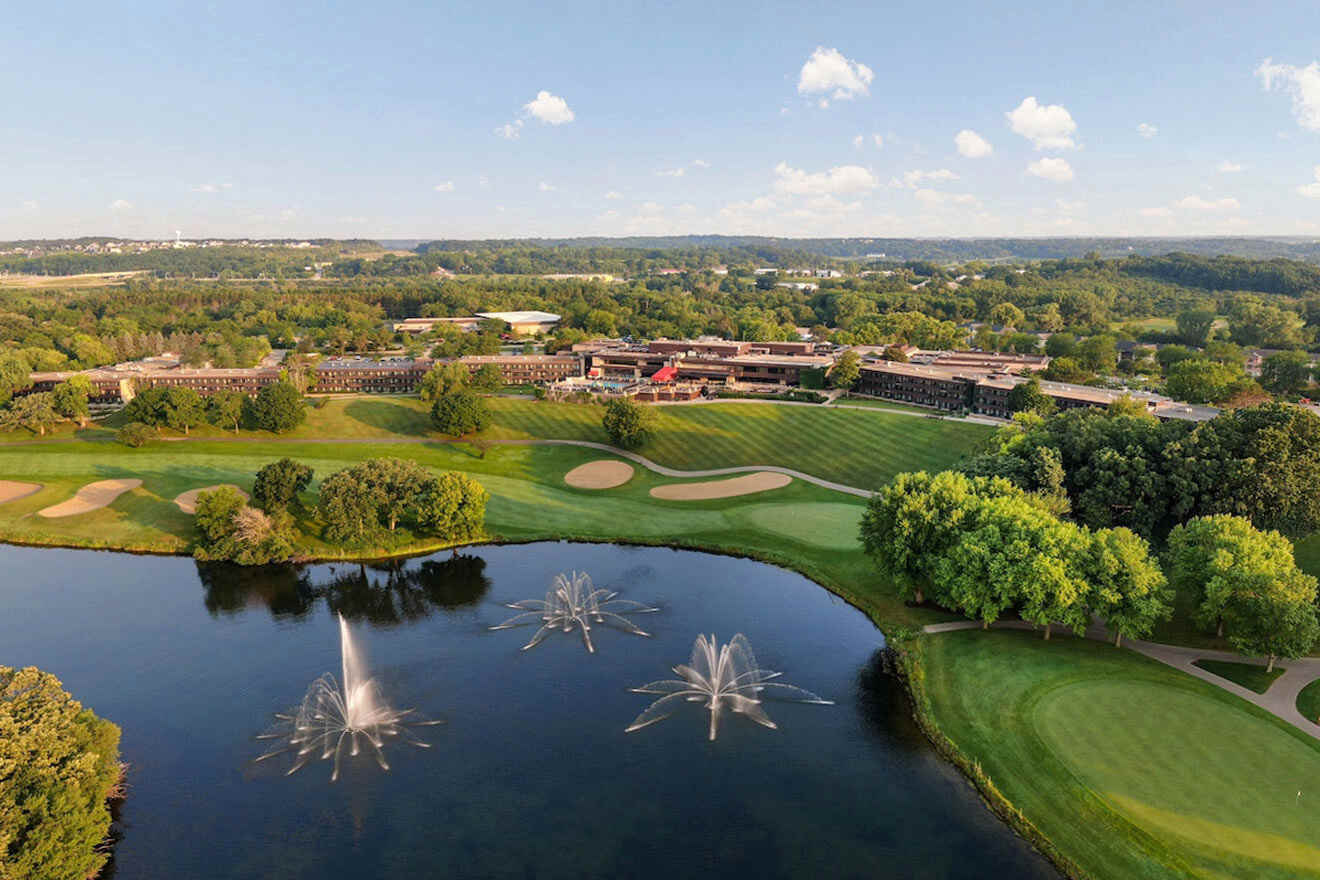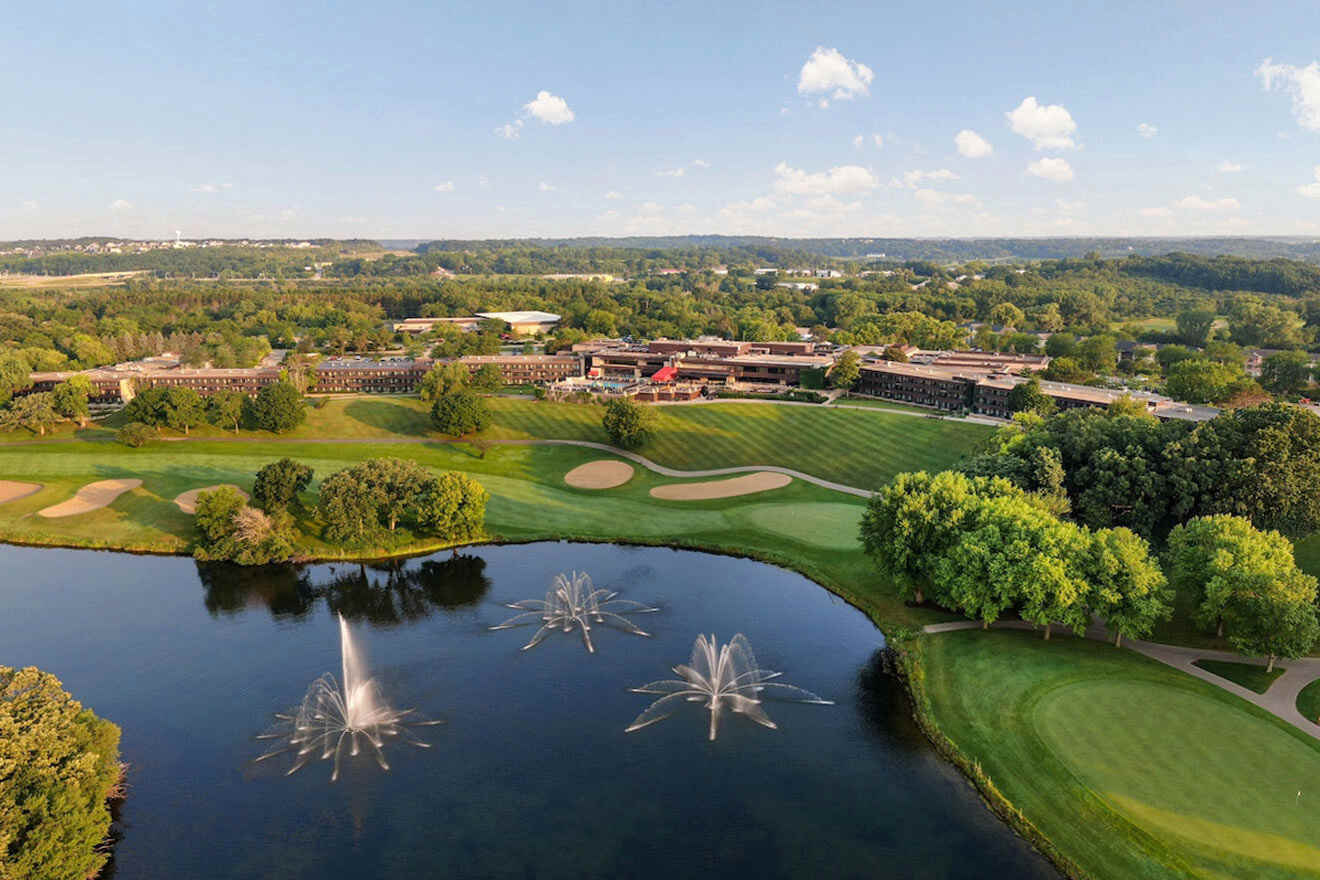 🌇 Which Lake Geneva hotels are near the downtown area?
💑 Which are the best hotels in Lake Geneva for couples?
🏊 Which hotels in Lake Geneva come with pools?
🐕 Which Lake Geneva hotels are pet-friendly?
Conclusion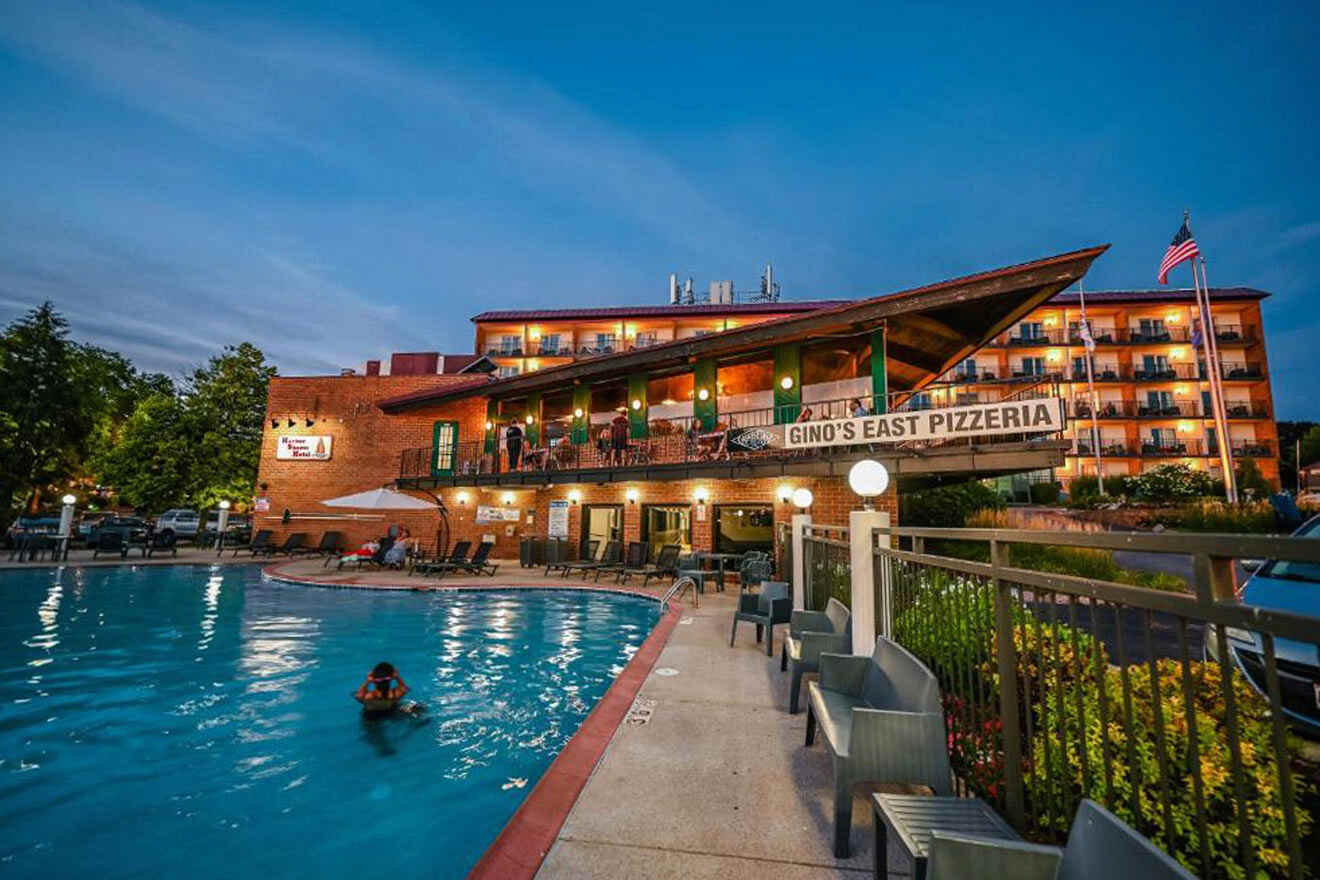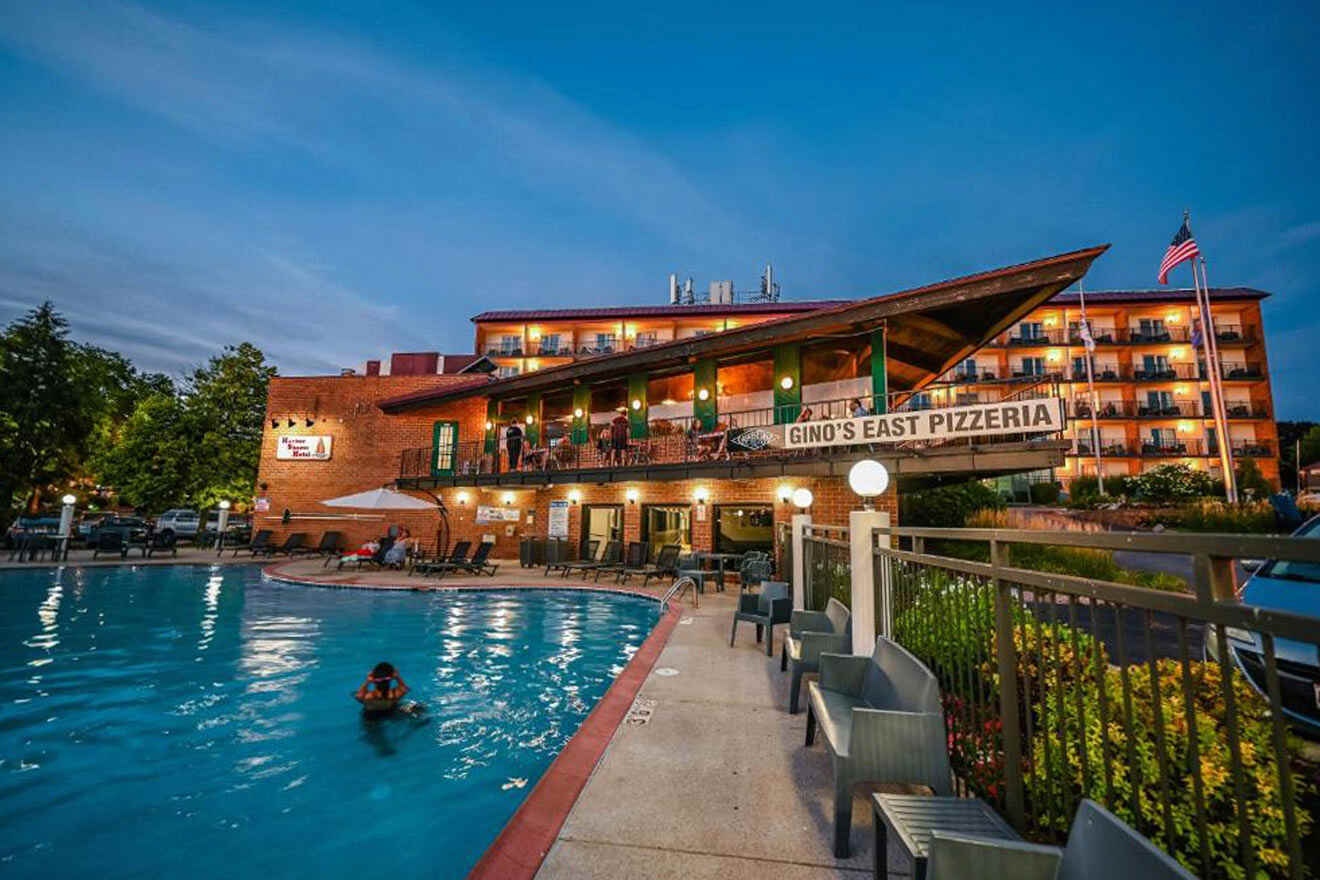 That is all for today, folks! Those were the best Lake Geneva Lodging, you have plenty of good options in this article, so I am sure you will find something that fits your preferences and pocket!
Honestly, all of the hotels featured in this post are simply amazing, and I would be more than happy to stay in any of them, but if I had to choose my top 2 Lake Geneva stays, I would go with:
Maxwell Mansion Hotel – I am obsessed with the Jazz Age vibe, and I would love to have a drink in the hotel's speakeasy!
Timber Ridge Lodge – Have you seen that game room with arcade games? Childhood dreams!
Which one was your favorite hotel in Lake Geneva featured here? Have you ever stayed in any of these hotels? Let me know, and if you have any questions about the hotels and area, ask away in the comments section; I am here to help!
This location is super popular, and so are these hotels, so if you want to get the best deals and stay in the room of your dreams, go and book it now before someone else does!
Have an amazing time,
Daniela
---
Pin it for later!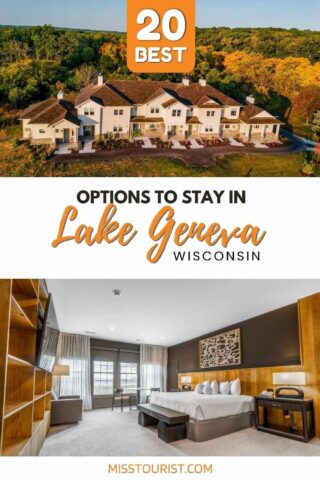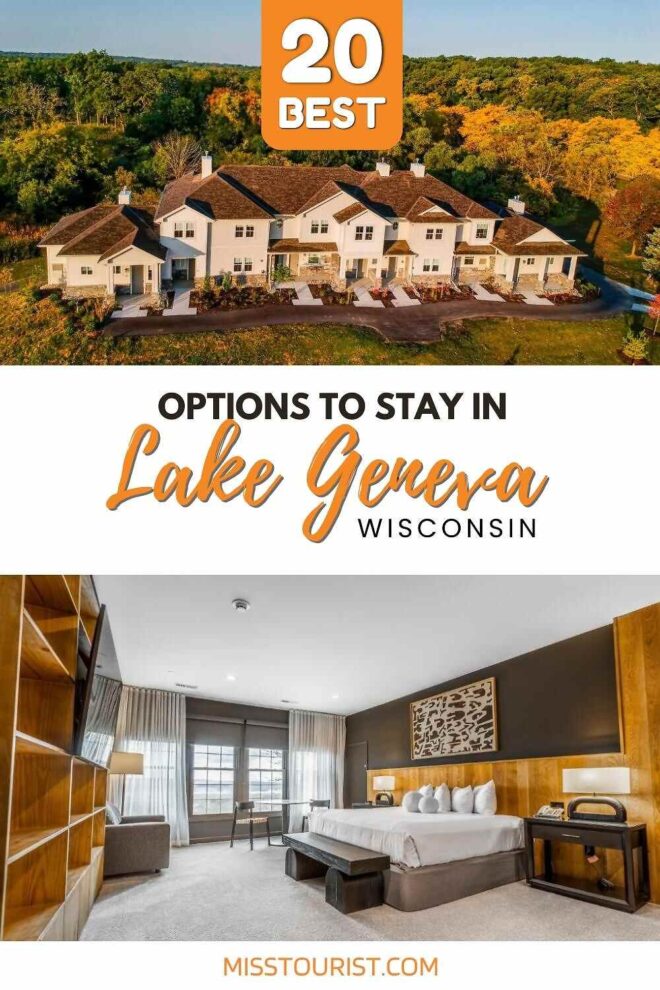 Pin it for later!