Top 5-Star Reykjavik hotels ✔ 15 EPIC Luxury Options (2024)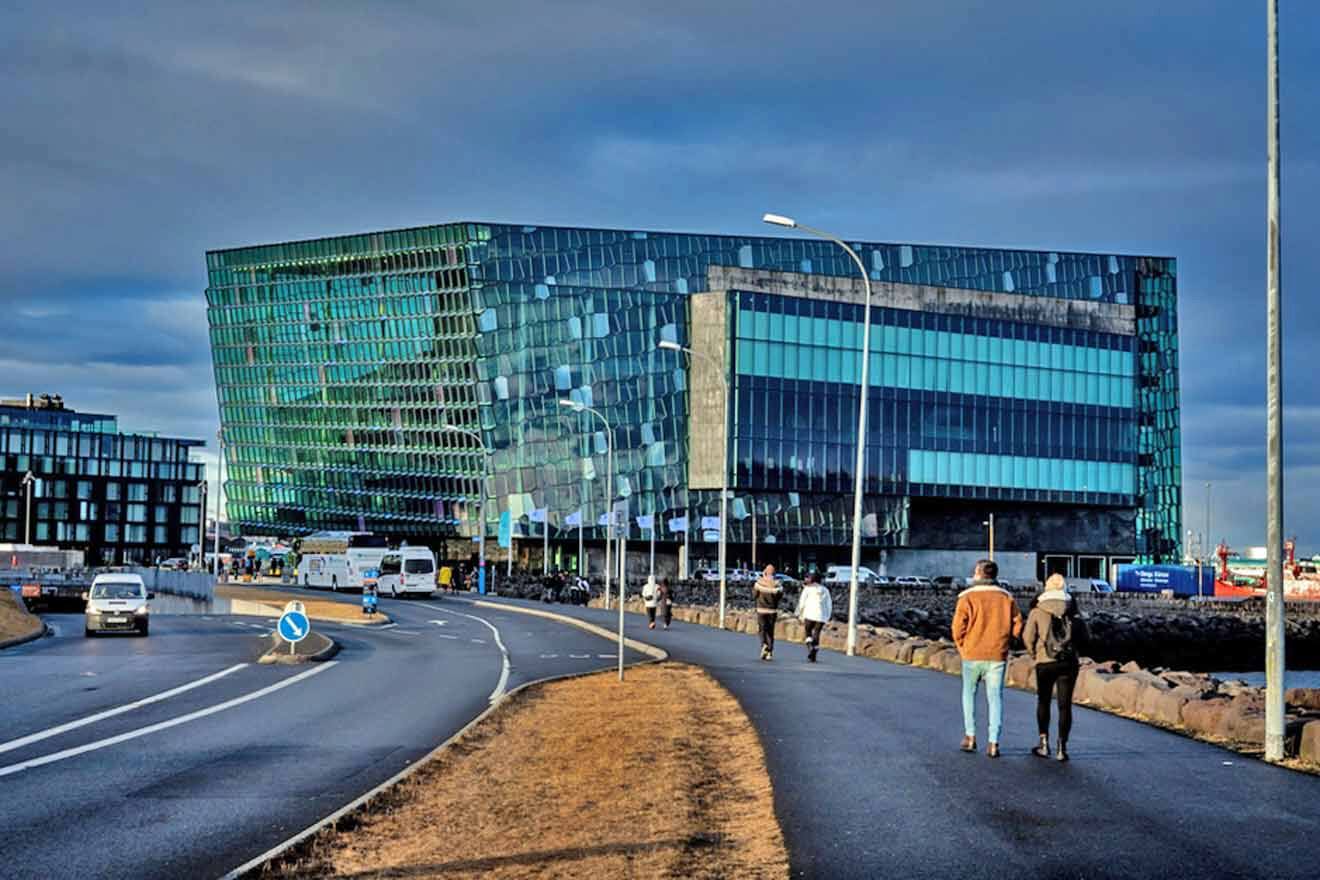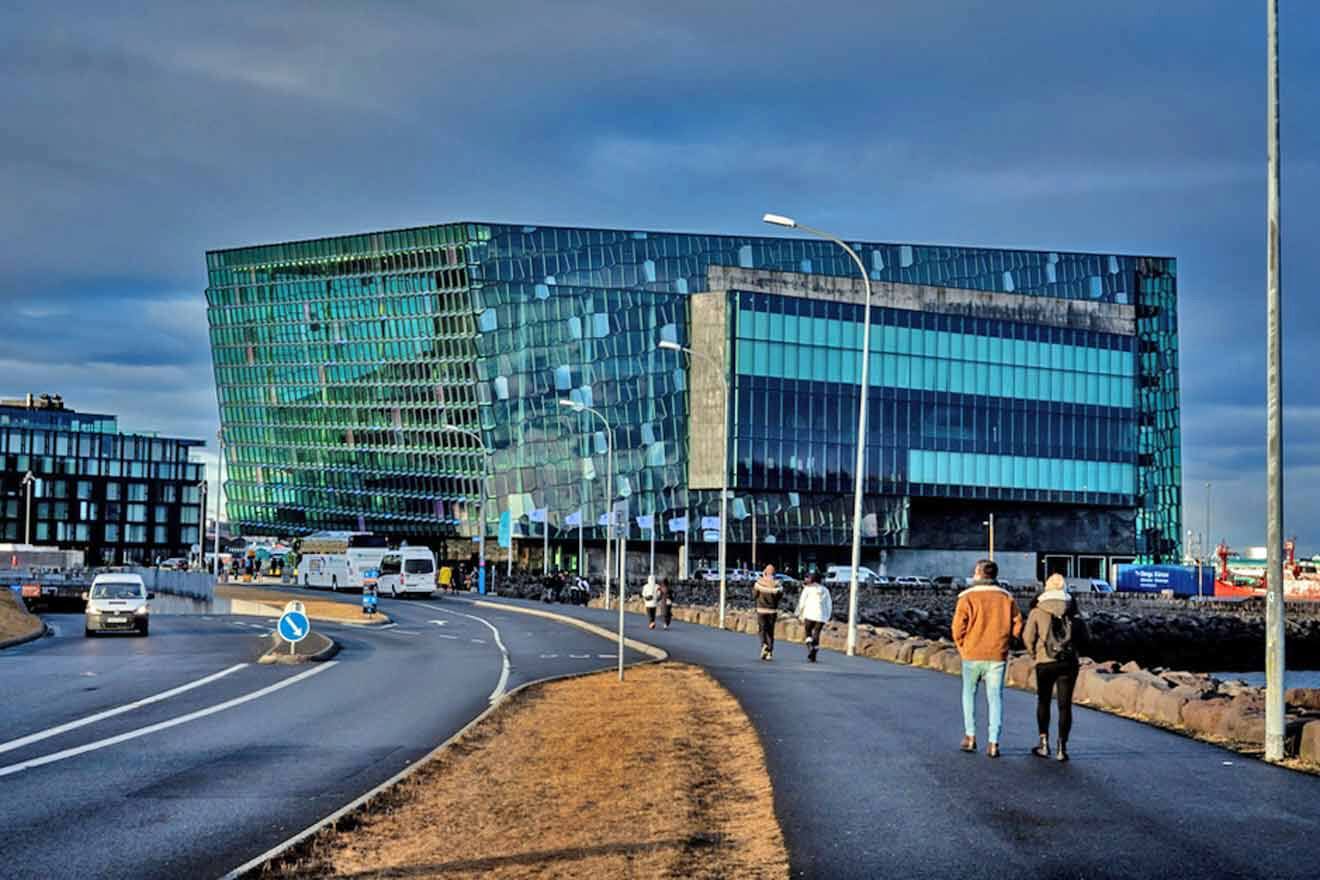 Are you looking for the best Reykjavik hotels with 5 stars? Great! I have compared ALL the best options for you and compiled this stunning list of all the TOP Reykjavik hotels for your vacation!
Since there were only 3 hotels that were 5-star, I added 12 other luxury options with great reviews.
The article starts with the 5-star hotels, followed by the luxury options. All of them feature high-end amenities and a stylish design. With all these options, by the end of the article, you will be booking the hotel of your dreams!
These accommodations tend to book fast, so you should book ASAP after choosing one from this list!
If you are in a hurry
If you don't have enough time to read the whole article and need to book your Reykjavik hotel 5-star fast, here are the top 3 options to click and book!
Reykjavik 5 star hotels
Looking for 5-star hotels in Reykjavik? Here are all the options for you!
1. The Reykjavik EDITION – with suites with private balconies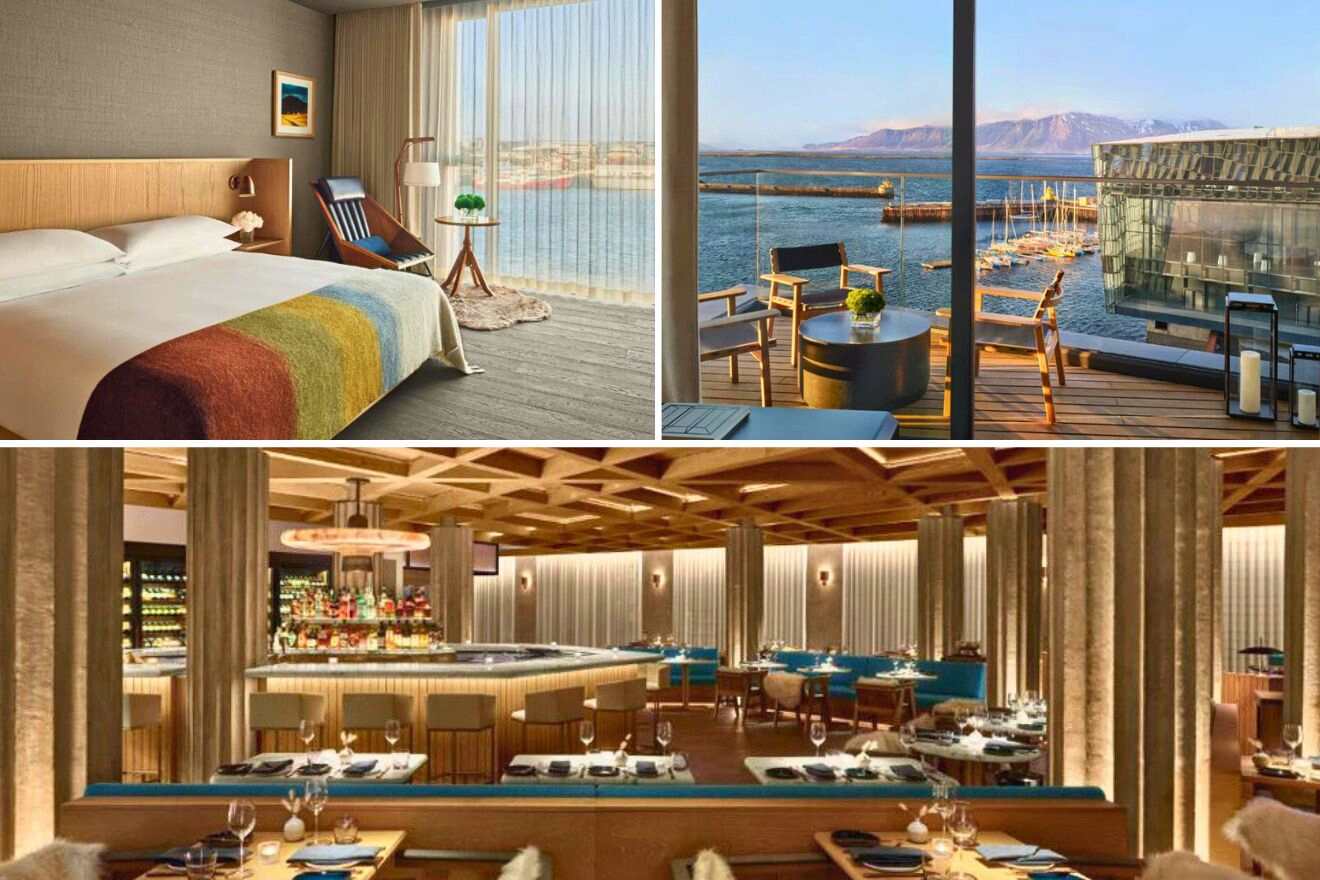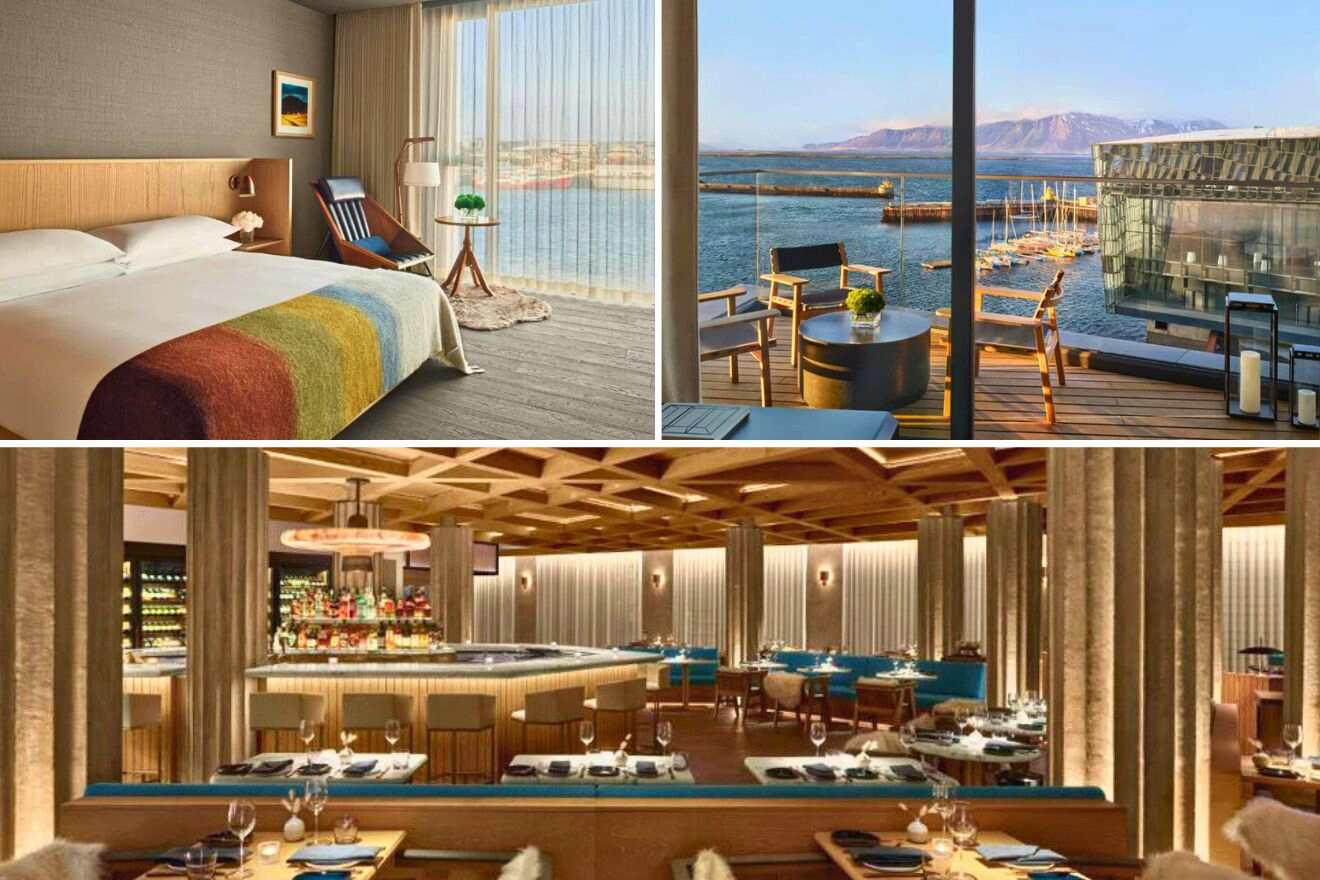 This hotel looks completely stunning! The style is elegant and luxurious, and the location is unbeatable. Right by the waterfront and a short walk away from the main shopping street. This hotel offers the opportunity to indulge in luxurious spa treatments. Use the sauna and hot tub, and admire the ocean and mountain views.
Savor gourmet Icelandic cuisine at the onsite restaurant, and enjoy the nightclub at the hotel. Revel in rooms with panoramic city views and benefit from personalized room service. All the rooms at the hotel are spacious and feature a delightful decor. I recommend the high-floor rooms for your stay; most of these rooms come with a private terrace and views.
2. Black Pearl Apartment Hotel – with Nordic charm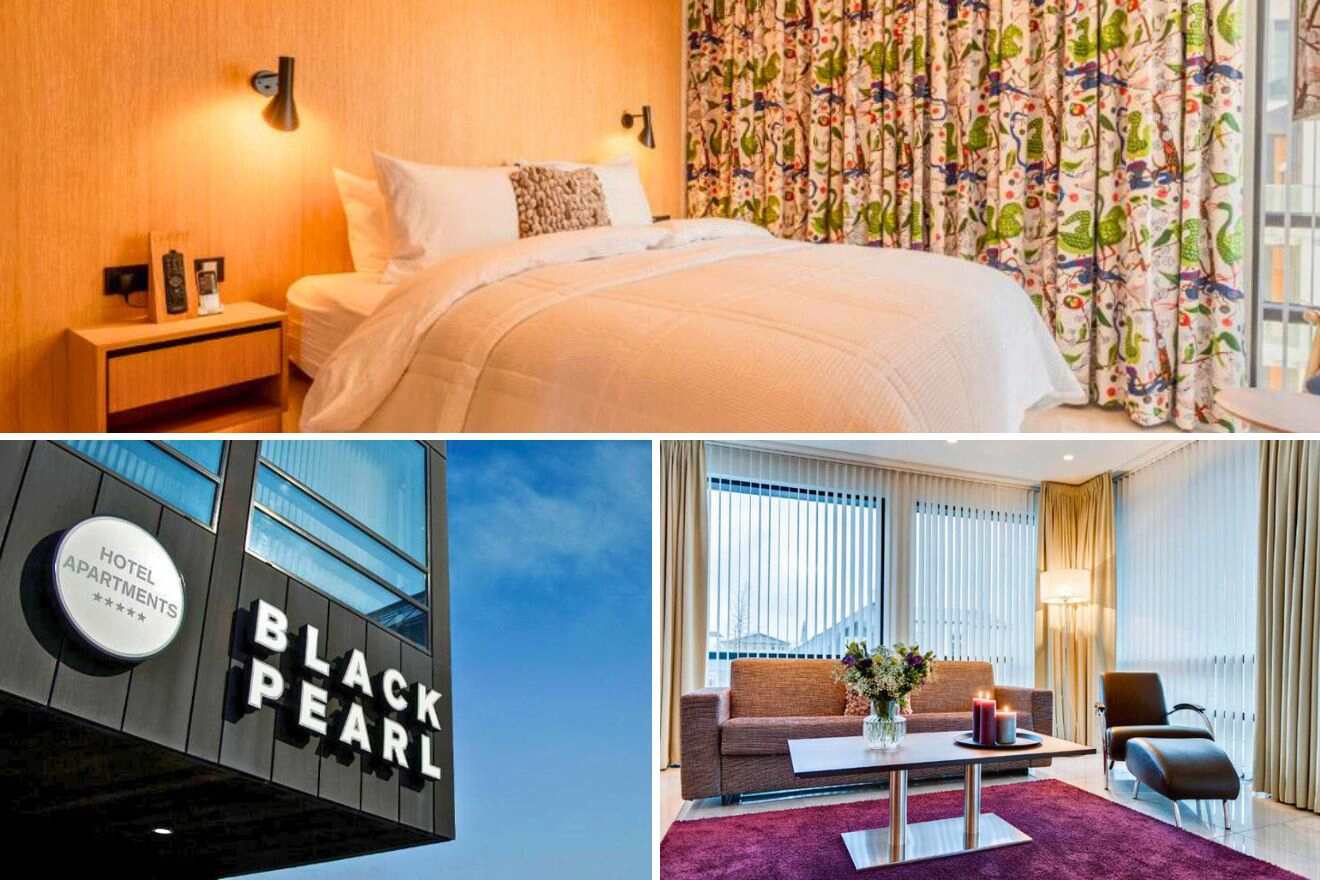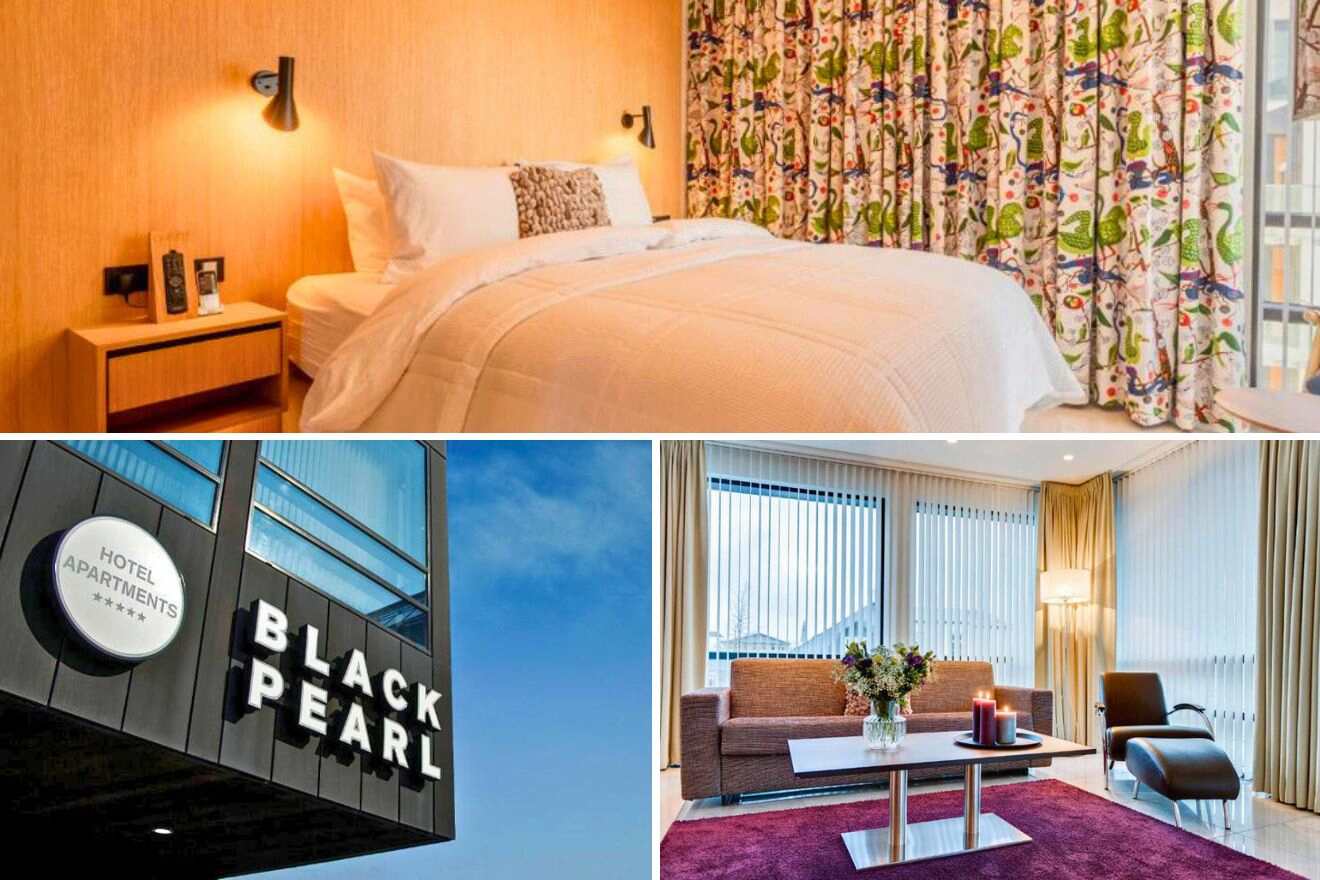 Wow! This boutique hotel offers stunning apartments with amazing facilities and heated marble floors. Here, you can enjoy proximity to Reykjavik's main attractions! The property is located a few minutes walk away from downtown Reykjavik. All the apartments are equipped with a kitchen and blackout curtains so you can sleep even during the bright summer nights!
I suggest you choose the breakfast option upon booking to indulge in daily gourmet breakfast buffets. The properties can host from 4 to 6 guests, and the biggest apartment comes with 3 separate bedrooms, a living room, and a private balcony with views. If you have kids, they can provide cribs.
3. Hotel Grimsborgir – with northern lights wake-up calls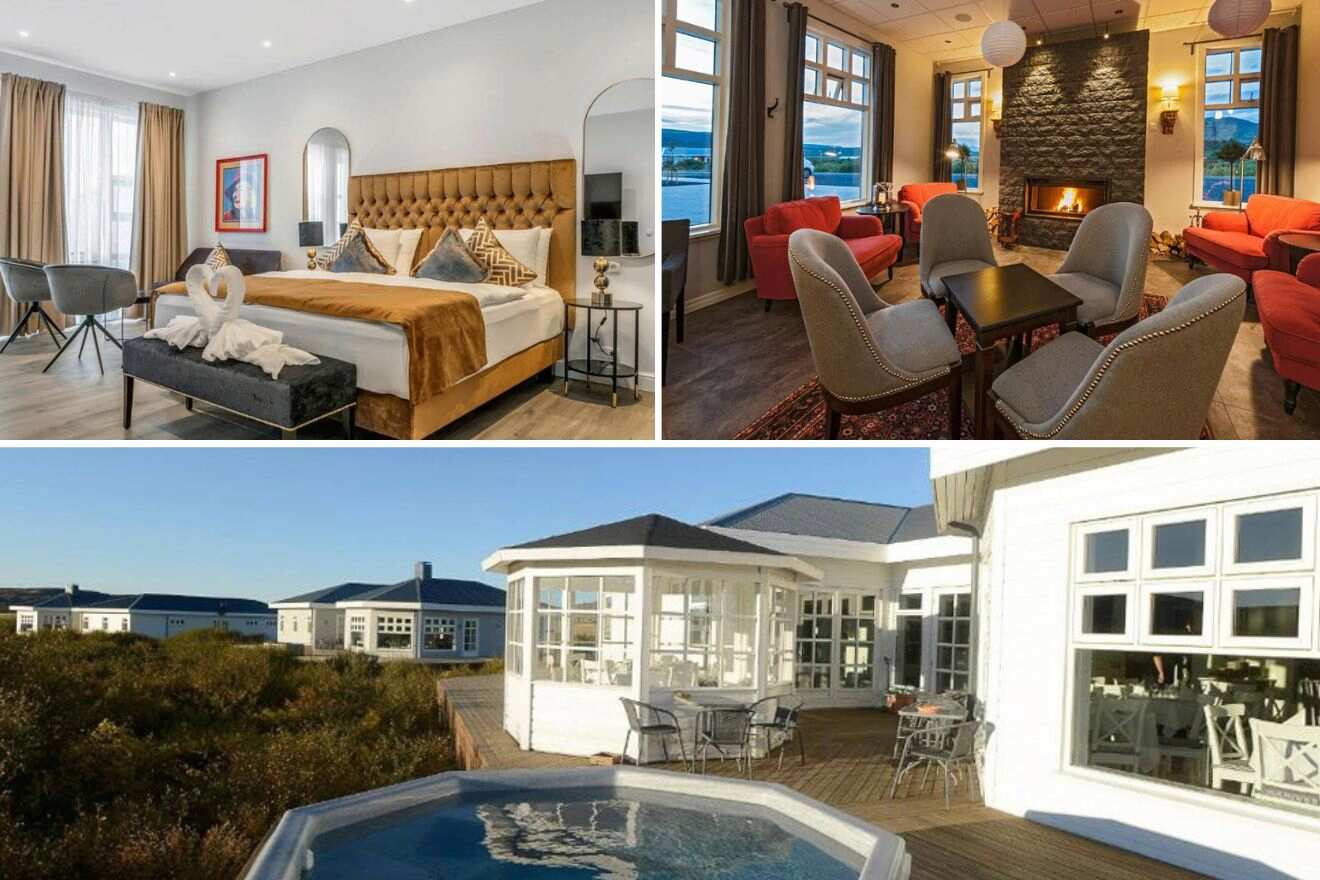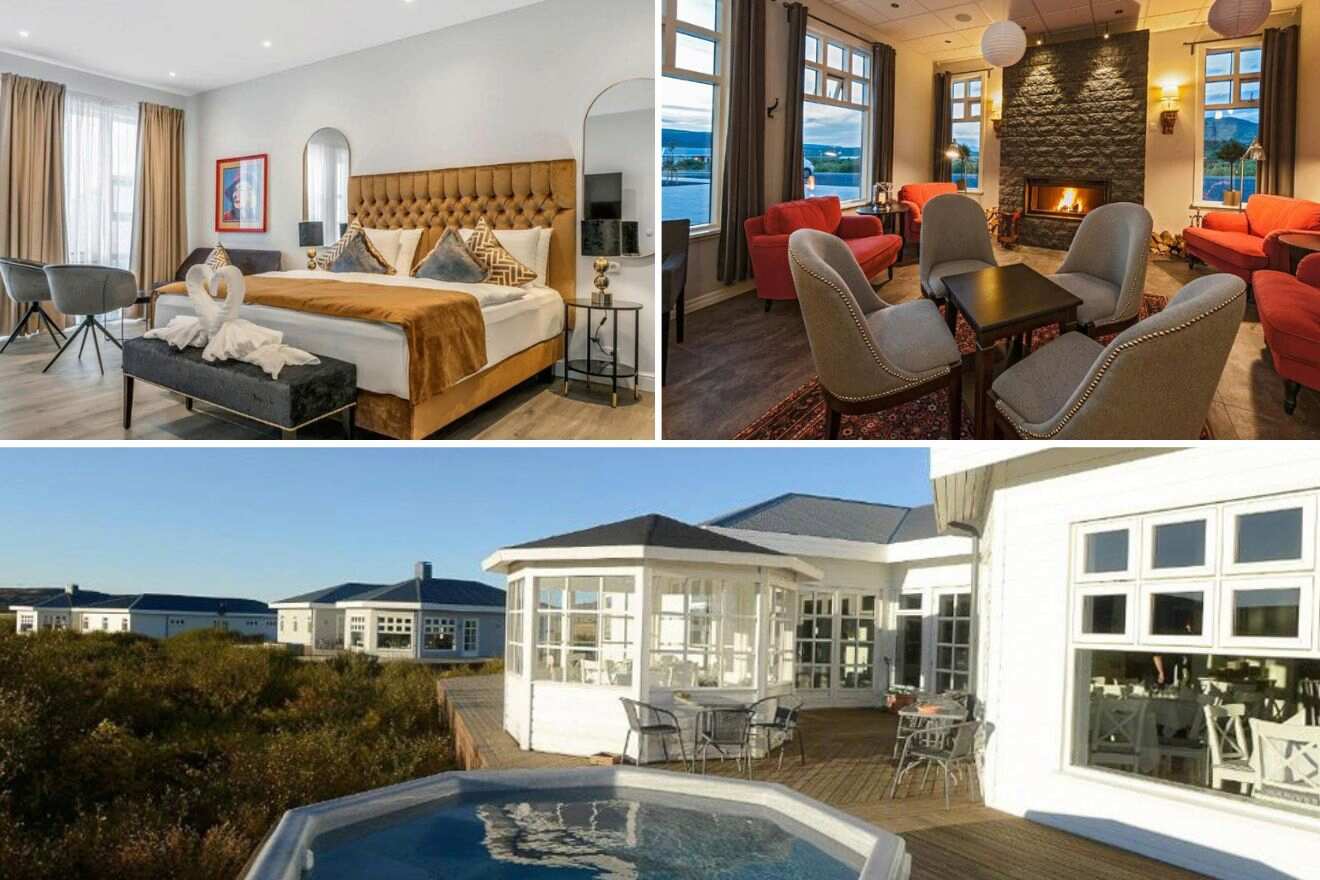 I am in awe of this hotel! It is located within the Golden Circle, in Ásborgir, and with easy access to Reykjavik city center by car. This hotel is in the great outdoors, in a perfect area for hiking, and within the locations where you can see the northern lights. They even offer wake-up calls for it! They offer a complimentary breakfast each morning, which you can enjoy with a view!
At this hotel, you can experience attentive multilingual staff and concierge-crafted local tour services. The properties in this room are contemporary and offer comfortable beds for a relaxing night. I highly suggest the 2 bedroom and 4 bedroom apartments since they come with outdoor hot tubs.
Reykjavik Luxury Hotels
Need more options? Searching for even more luxury hotels? Check out these 12 EPIC options!
1. Tower Suites Reykjavík – boutique luxury and exclusivity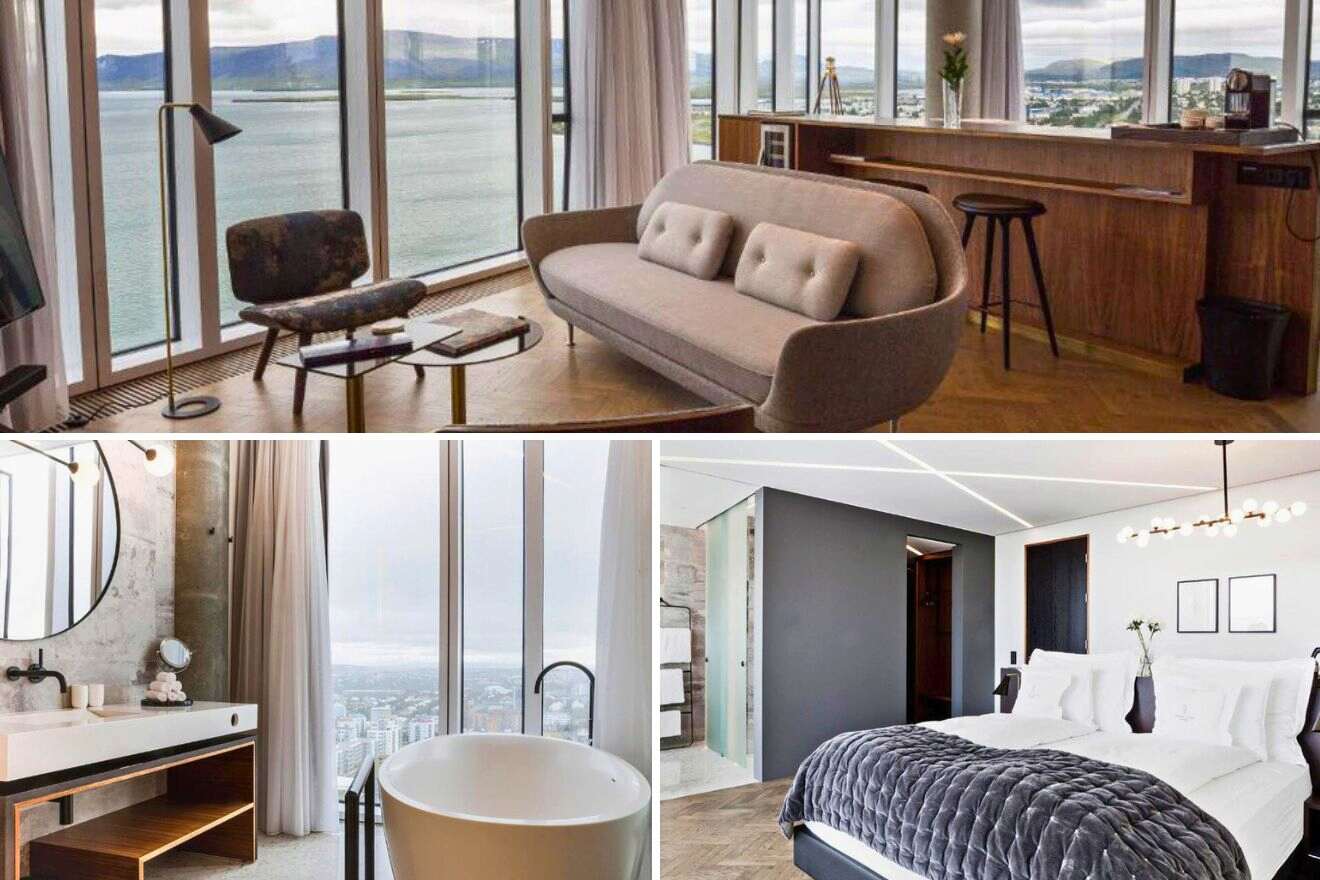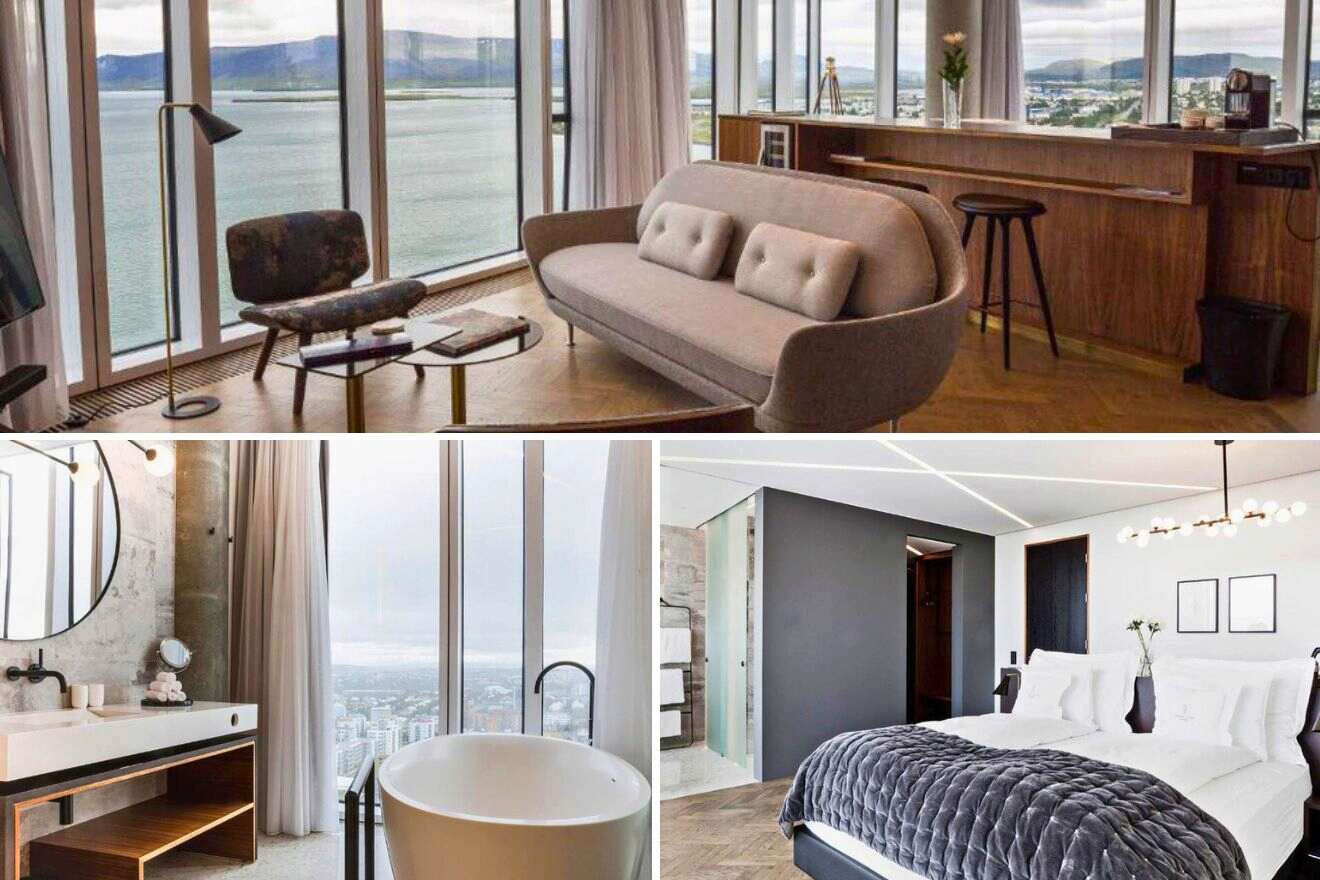 This beautiful hotel is located just a few steps away from the city center and features an incredible chic style! Here, you can enjoy panoramic views and lounge in an elegant honesty bar. The property offers a free breakfast every morning; there is nothing better than having fresh coffee and pastries with views of the mountains and the ocean.
Relax in modern, designer-decorated rooms with floor-to-ceiling windows. All the rooms come with a mini bar, a telescope, and a Nespresso coffee maker. I highly recommend the suite with a bathtub to enhance your trip!
If you want to learn more about the city neighborhoods, check out our Reykjavik area guide.
2. Iceland Parliament Hotel – with a classic vibe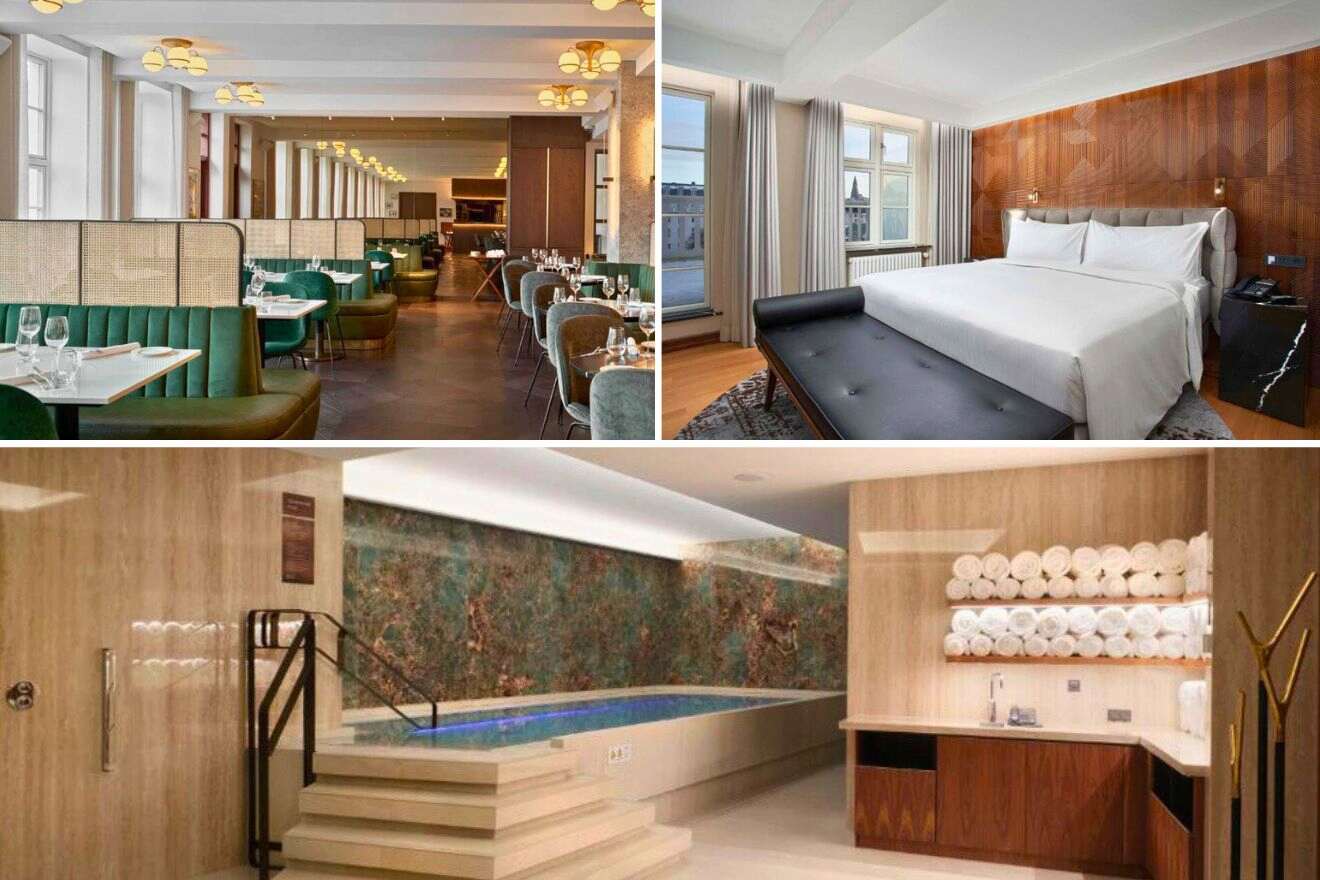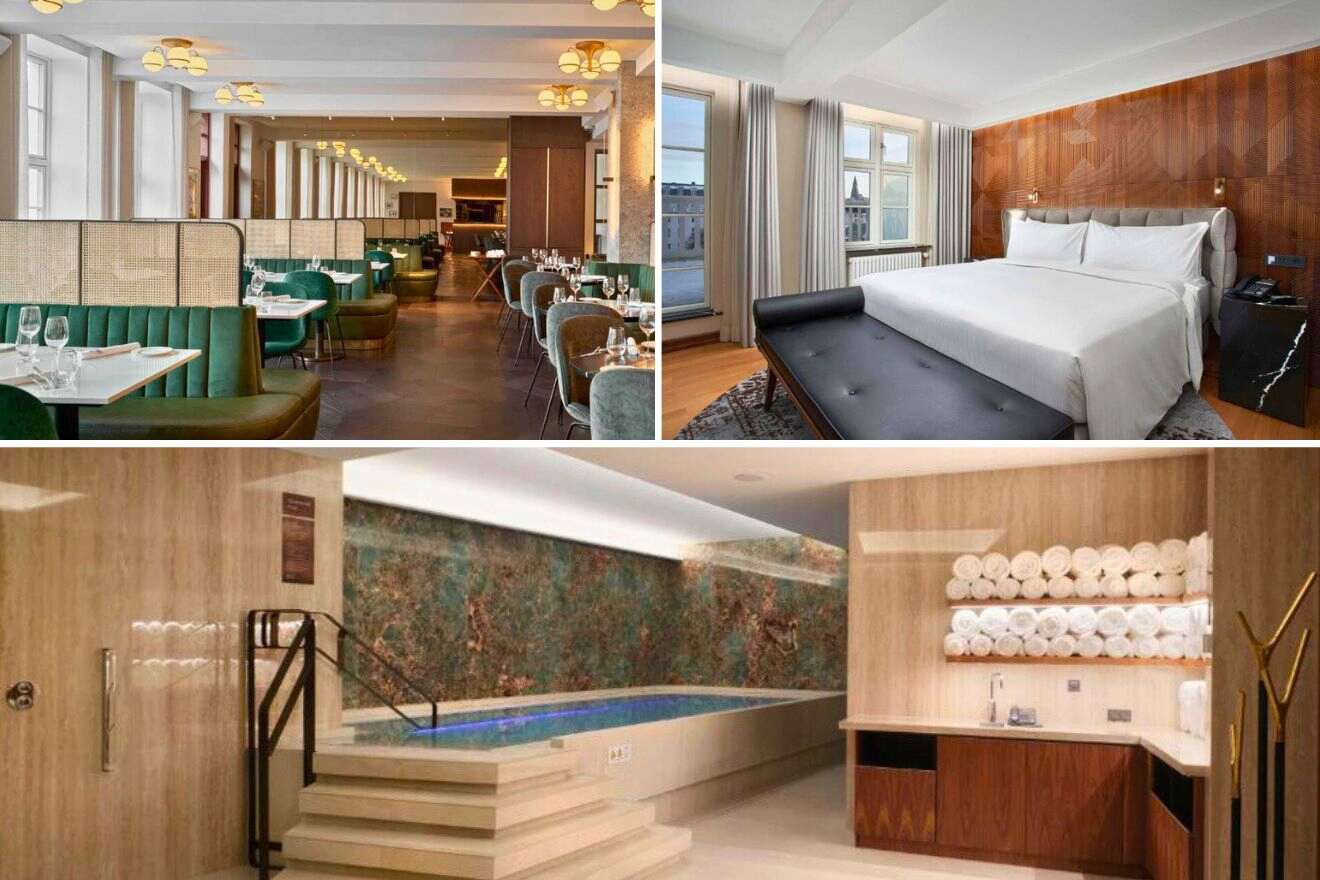 I am in love with this amazing hotel! It looks trendy, it looks modern! It features an onsite restaurant offering a dinner service, and a free breakfast is served to the hotel guests in the morning. The property comes with a spa center where you can dive into indoor heated pools and jacuzzis.
The hotel offers a wide range of rooms for a quiet and restful night's sleep. The rooms can host from 2 and up to 4 guests, and all of them come with impeccable style and marble bathrooms. For families, I highly suggest booking the family connecting room.
3. Sand Hotel by Keahotels – with top-tier facilities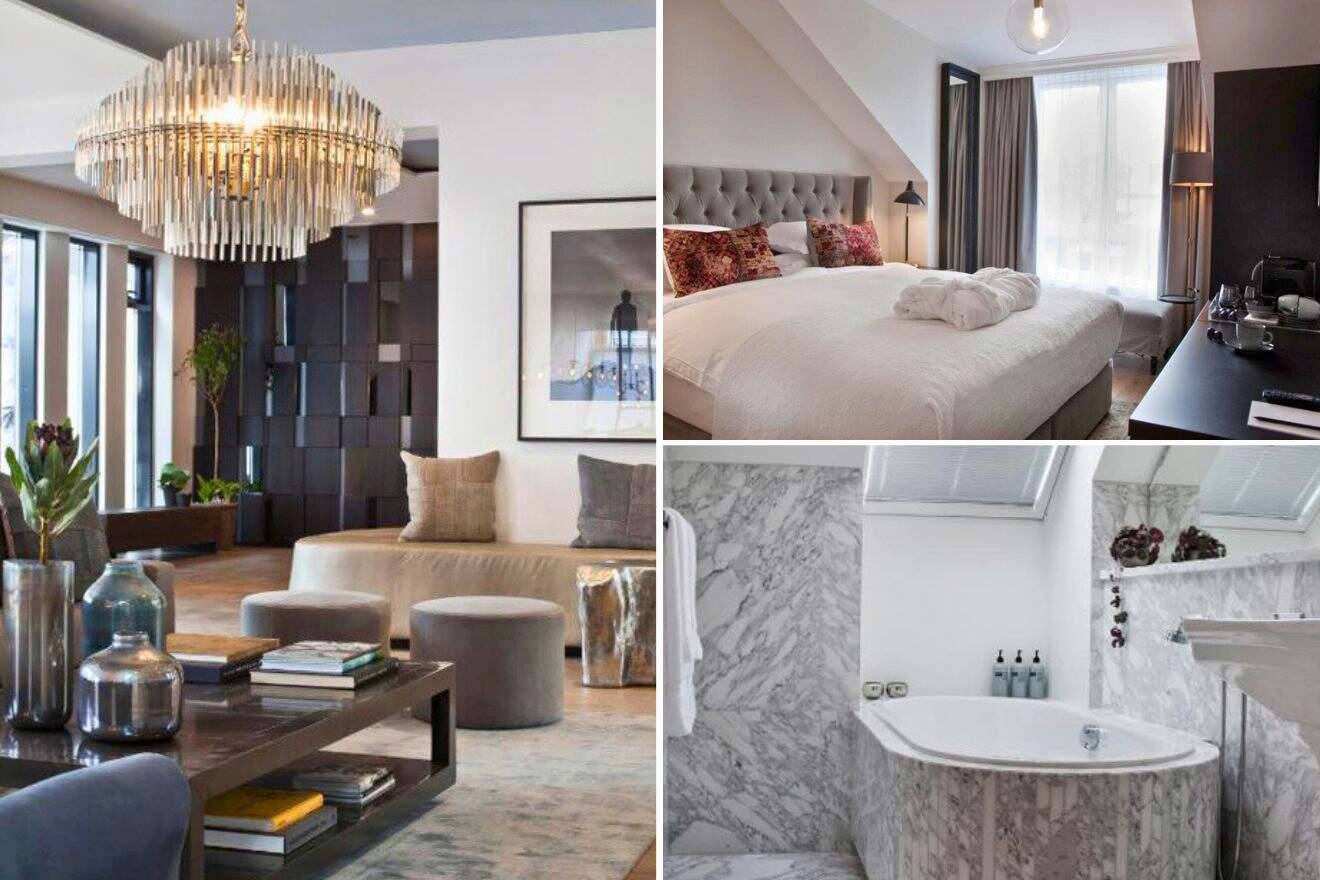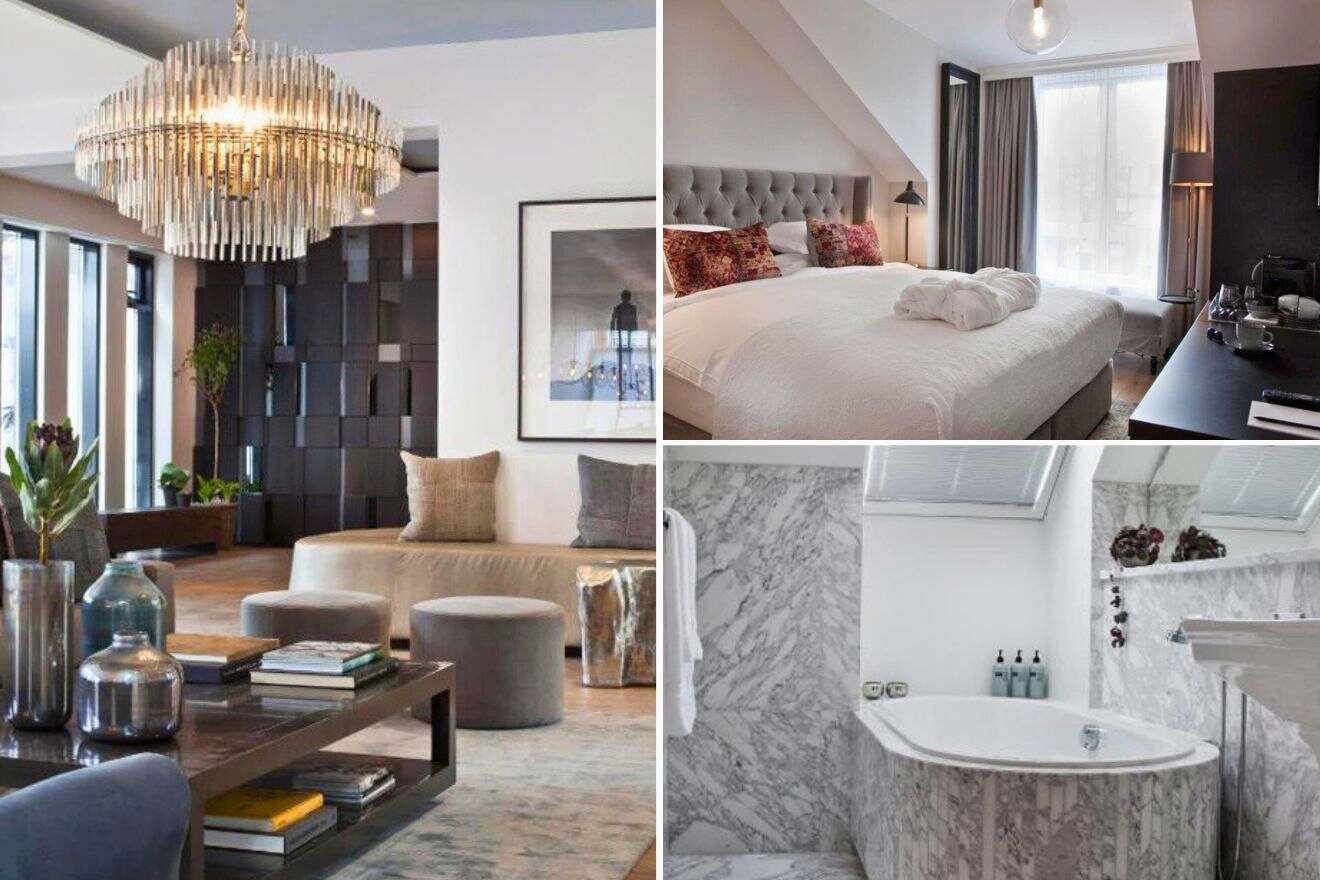 This hotel is located right on Laugavegur Street, the main shopping street, and with the city hall a 10-minute walk away. This hotel features design and elegance. You can enjoy a gourmet breakfast every morning and savor the best cinnamon rolls you've ever had in your life!
The staff will make sure you feel comfortable and have everything you need at any hour of the day. And you can book amazing tours at the onsite tour desk. All the rooms have elite decorations and private bathrooms. I suggest the suite which comes with a bedroom and a separate living room. Perfect for families or couples.
4. Hótel Reykjavík Saga – indulge in gourmet dining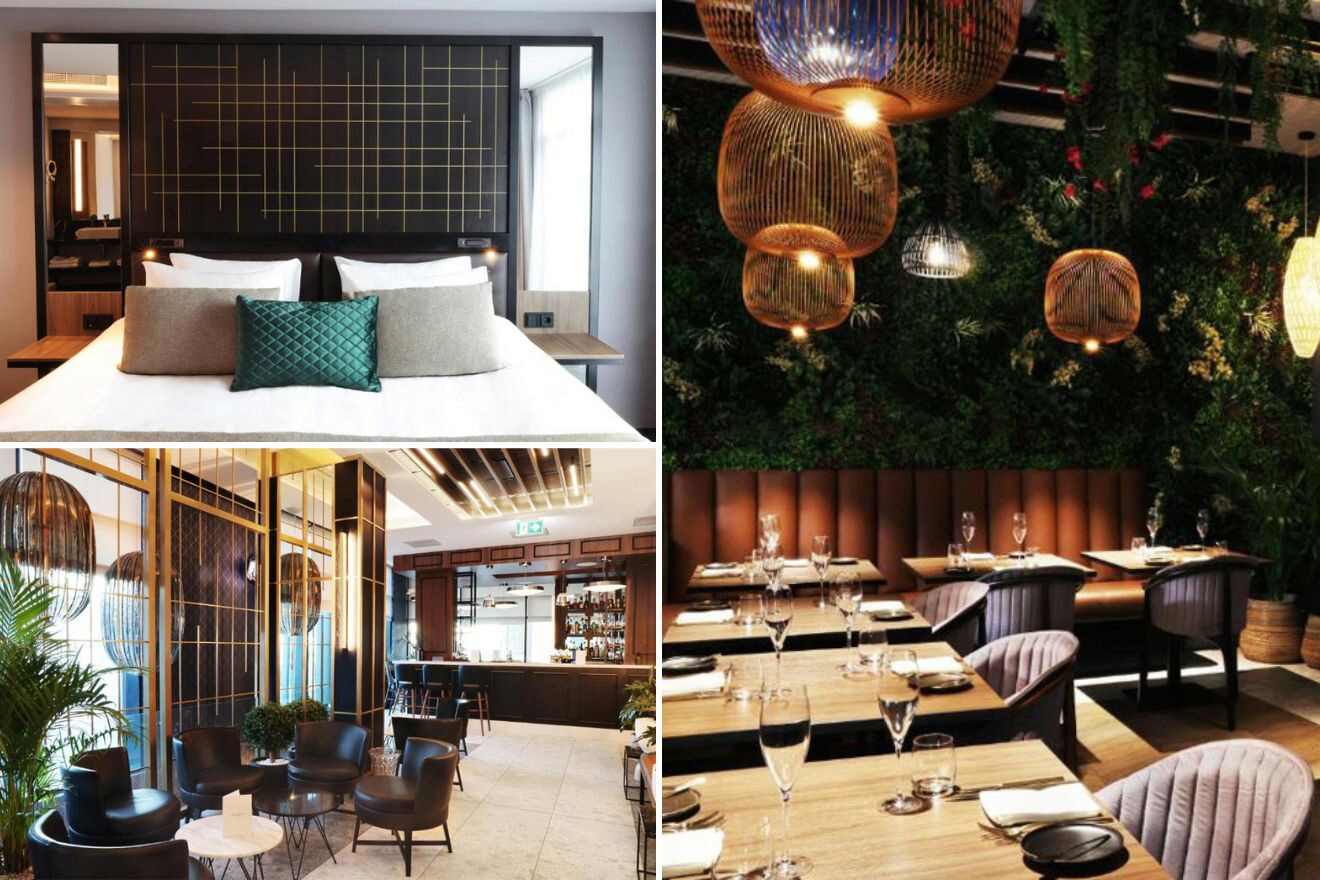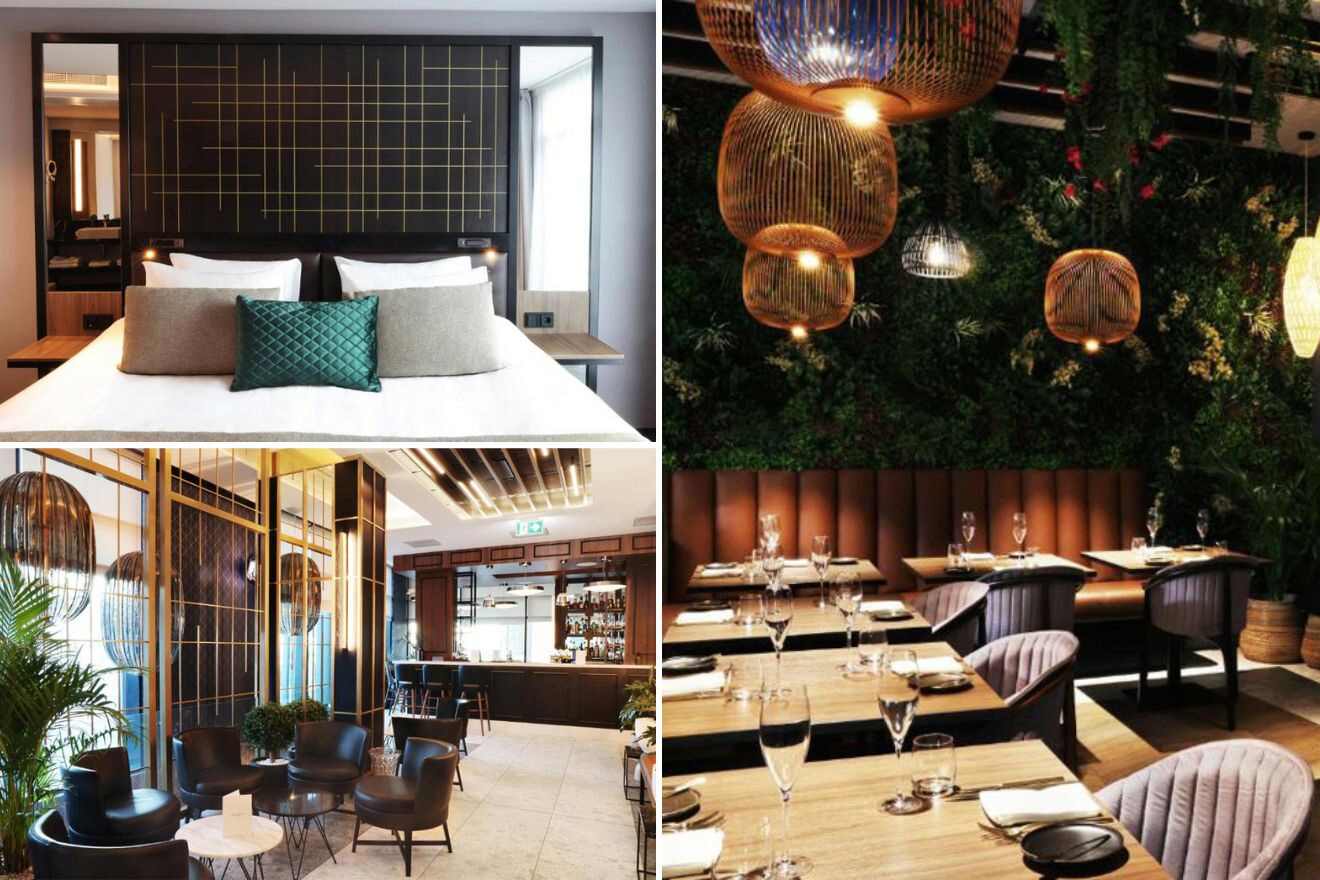 Oh, la la! I love the Nordic style this hotel features! It is the perfect place to experience modern elegance. The property is located steps away from The National Gallery of Iceland and the city's main square. The hotel offers a top-class restaurant offering local cuisine and vegan and vegetarian options. After a long day walking in the city and experiencing nature, relax in the hotel's spa with a sauna.
All the rooms have a unique splendor and exude elegance. The suite comes with a living room and a separate bedroom on the second floor. It comes with a walk-in rainfall shower and a separate bathtub, so you can have a relaxing bubble bath.
5. Hotel Borg by Keahotels – Art Deco hotel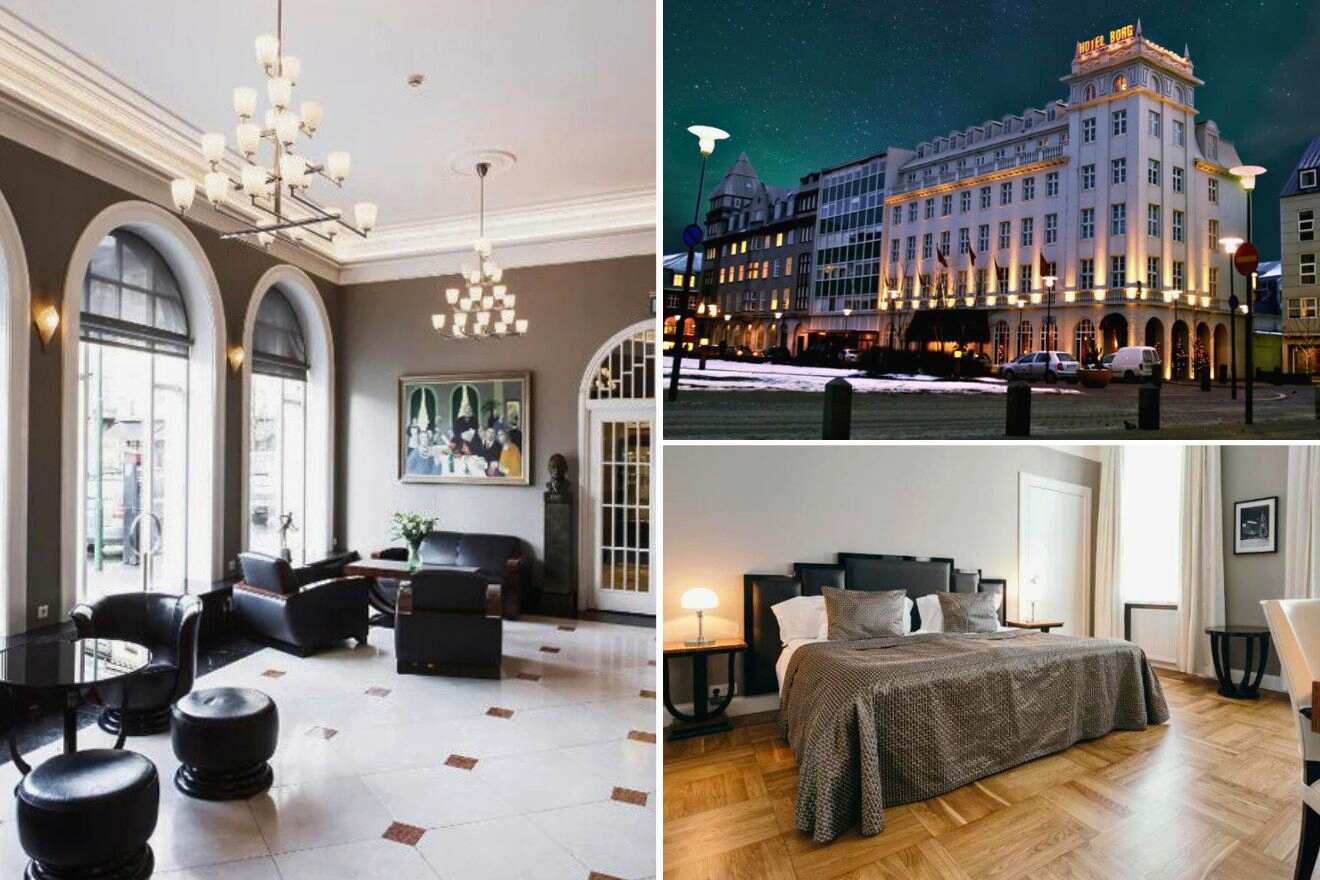 Wow! This hotel looks incredible; as soon as you walk in, you will feel like you are staying in the Great Gatsby mansion! The Art Deco style is simply stunning! The property is located just steps from the main street and attractions. There is a deluxe spa center on the property offering a wide range of treatments. You can use the sauna and jacuzzi for a fee. You can also enjoy the state-of-the-art fitness center!
All the rooms at the hotel are modern yet classic! They come with parquet floors, wooden furniture, and spacious bathrooms with marble floors. If you want to make the best of your stay, book the suite, which comes with exclusive access to the spa center and other facilities.
6. Eyja Guldsmeden Hotel – with organic dining options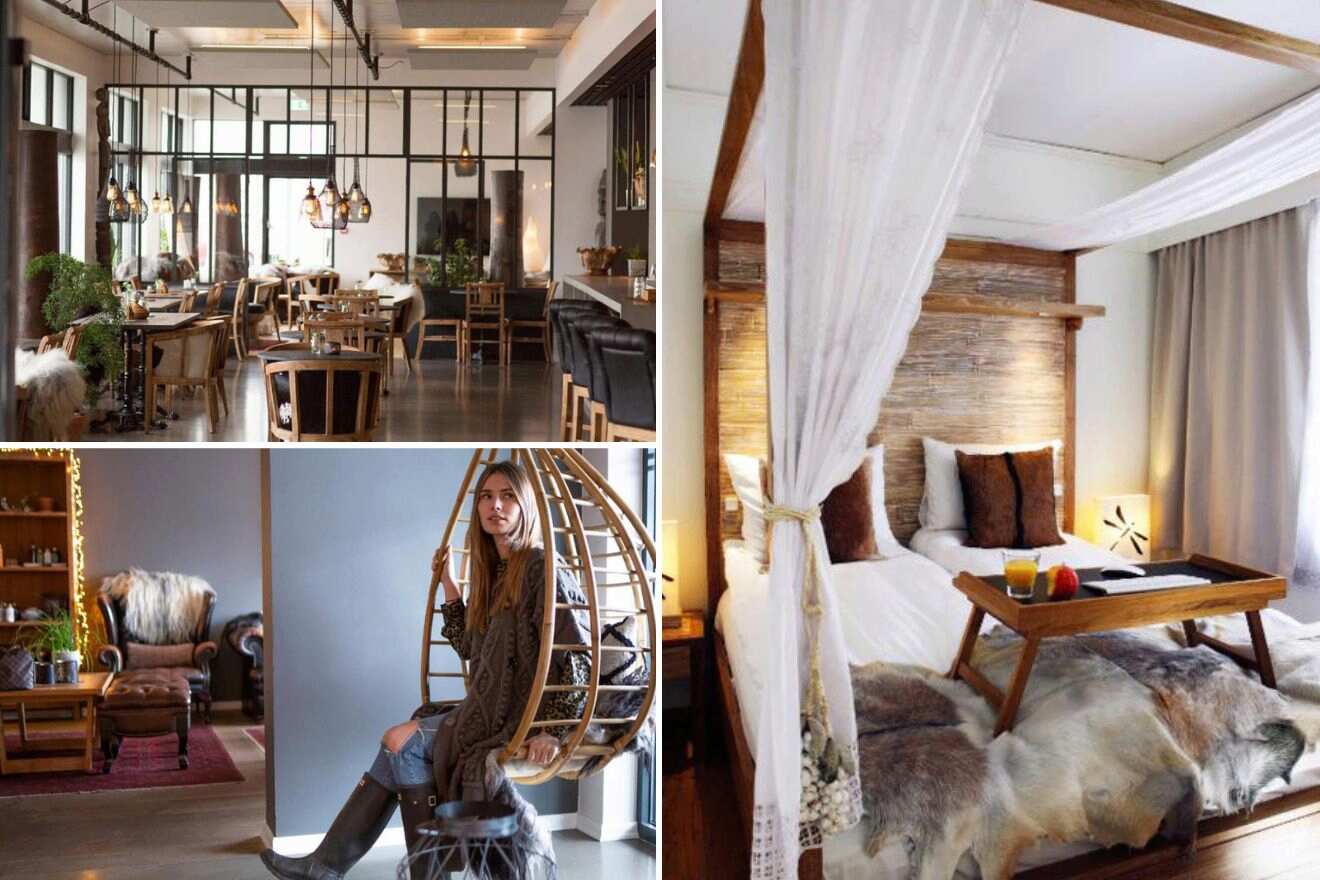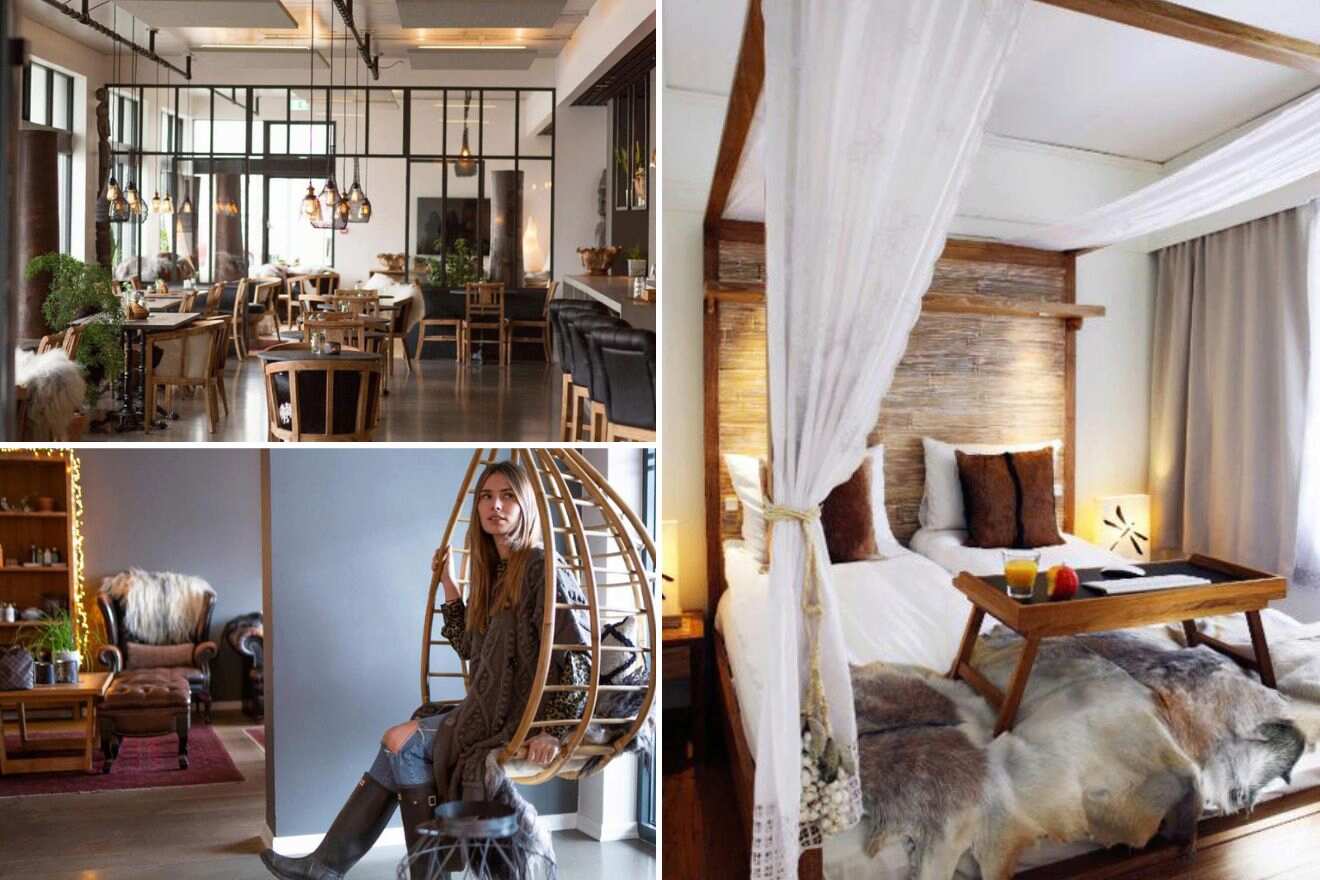 If you are in the search for a hotel in the Holt area, this property is the one for you! The hotel is near the city center and the main street. And, if you wish, you can use the bike rental service the hotel has to discover the surroundings. The hotel has an onsite restaurant offering local dishes and dining options made with organic products. There is also a complimentary breakfast served every morning to guests.
There is free parking available for guests at the hotel and a fitness center to keep fit even on holidays! All the rooms are completely lovely and feature a style inspired by Bali. All the rooms come with organic toiletries and amazing views of the mountains or the city.
7. Hotel Kriunes – perfect views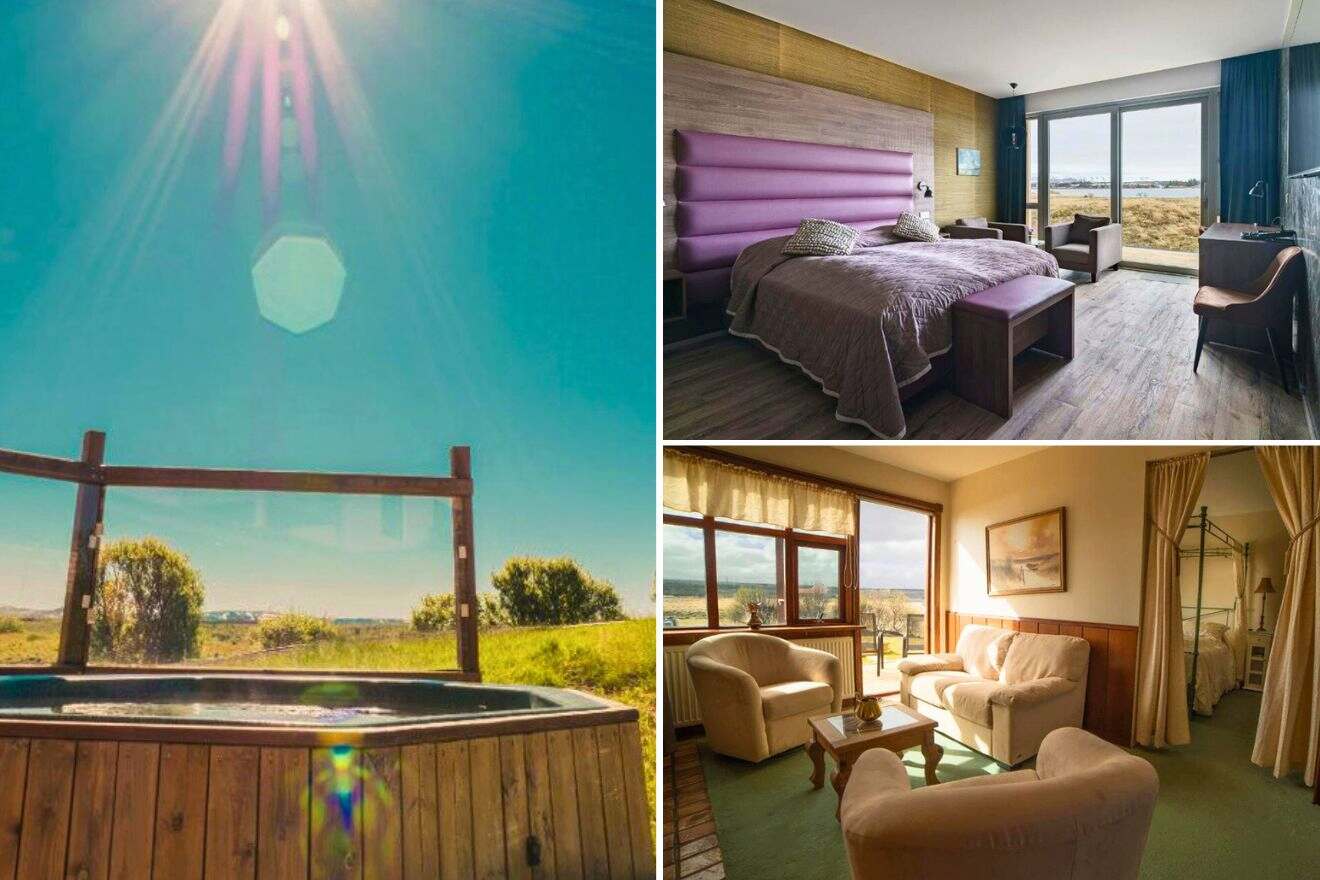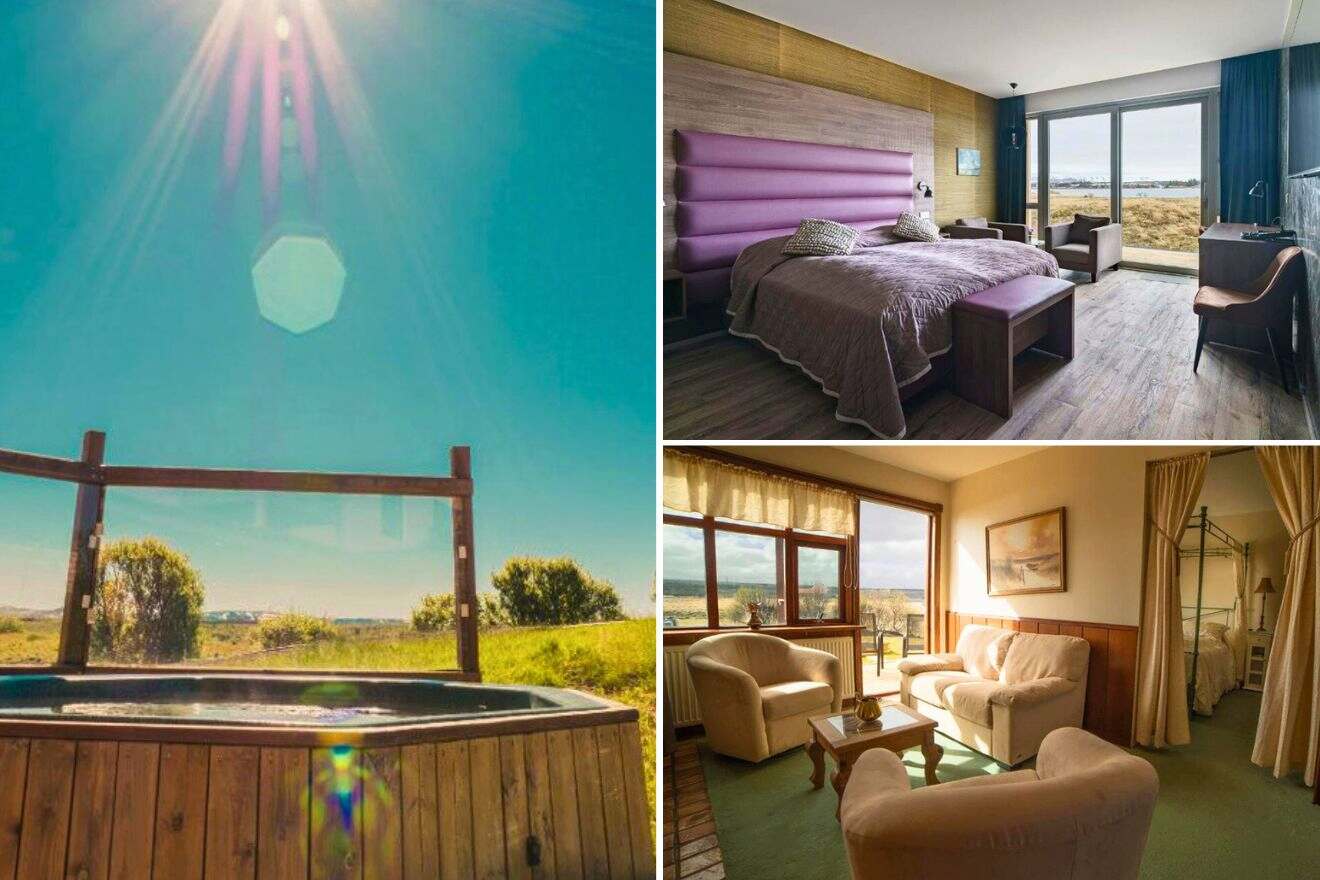 This hotel looks exactly what I imagine a hotel in Iceland looks like. First, the surroundings are unbeatable. The hotel is located in Kópavogur, in front of a lake, and all you can see is wholesome nature. On top of this, the area is great for spotting the unique northern lights! You can enjoy a free breakfast every morning in the breakfast room, which features perfect views of the natural landscape.
The hotel comes with a spa, which has a sauna and hot tub. There are many activities you can do onsite. You can rent free bikes and explore the area. Practice complimentary water sports like canoeing. And go on walking tours! Rooms like the superior suite feature lake views. The family rooms can host 5 people.
8. Radisson Blu 1919 – with a tour desk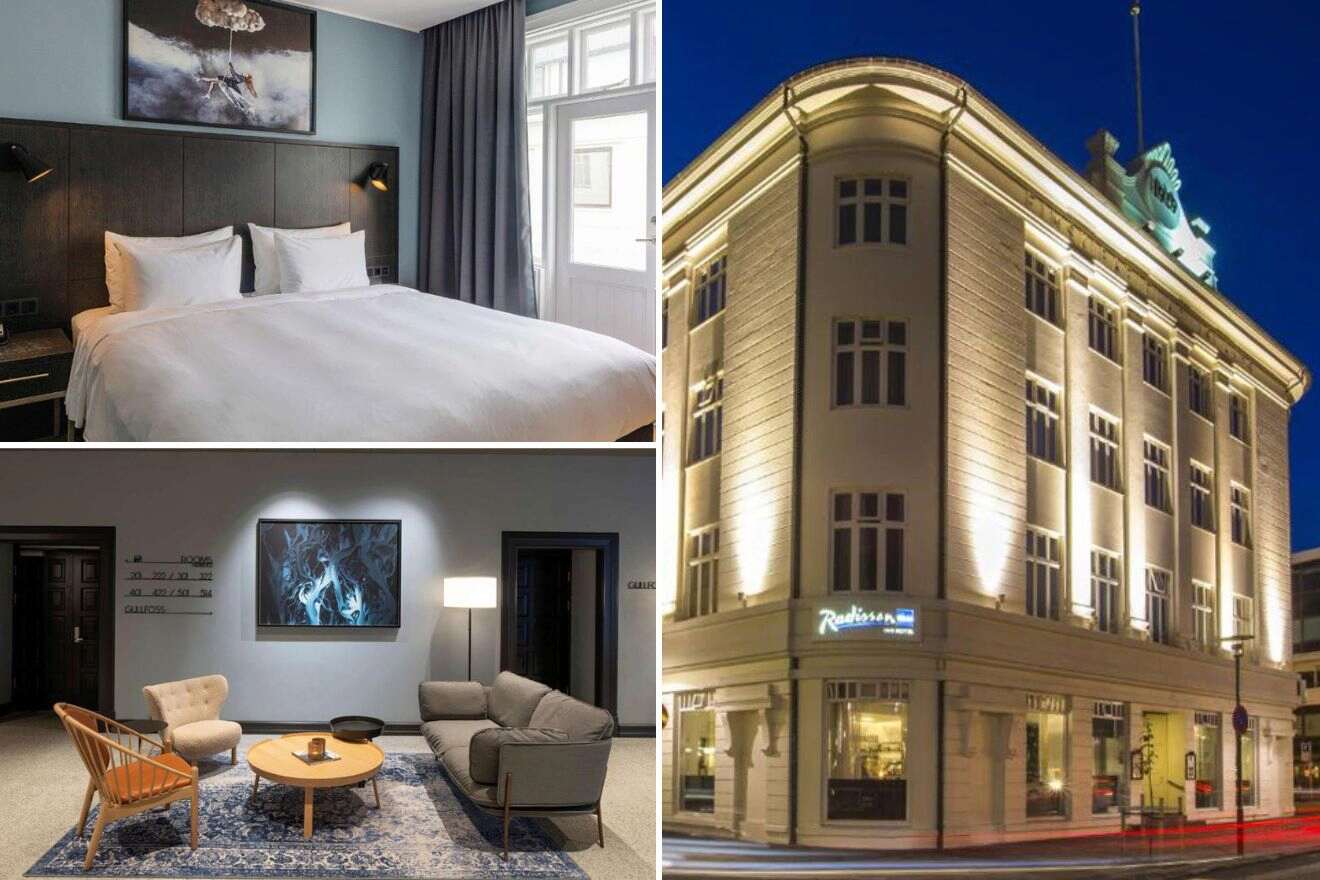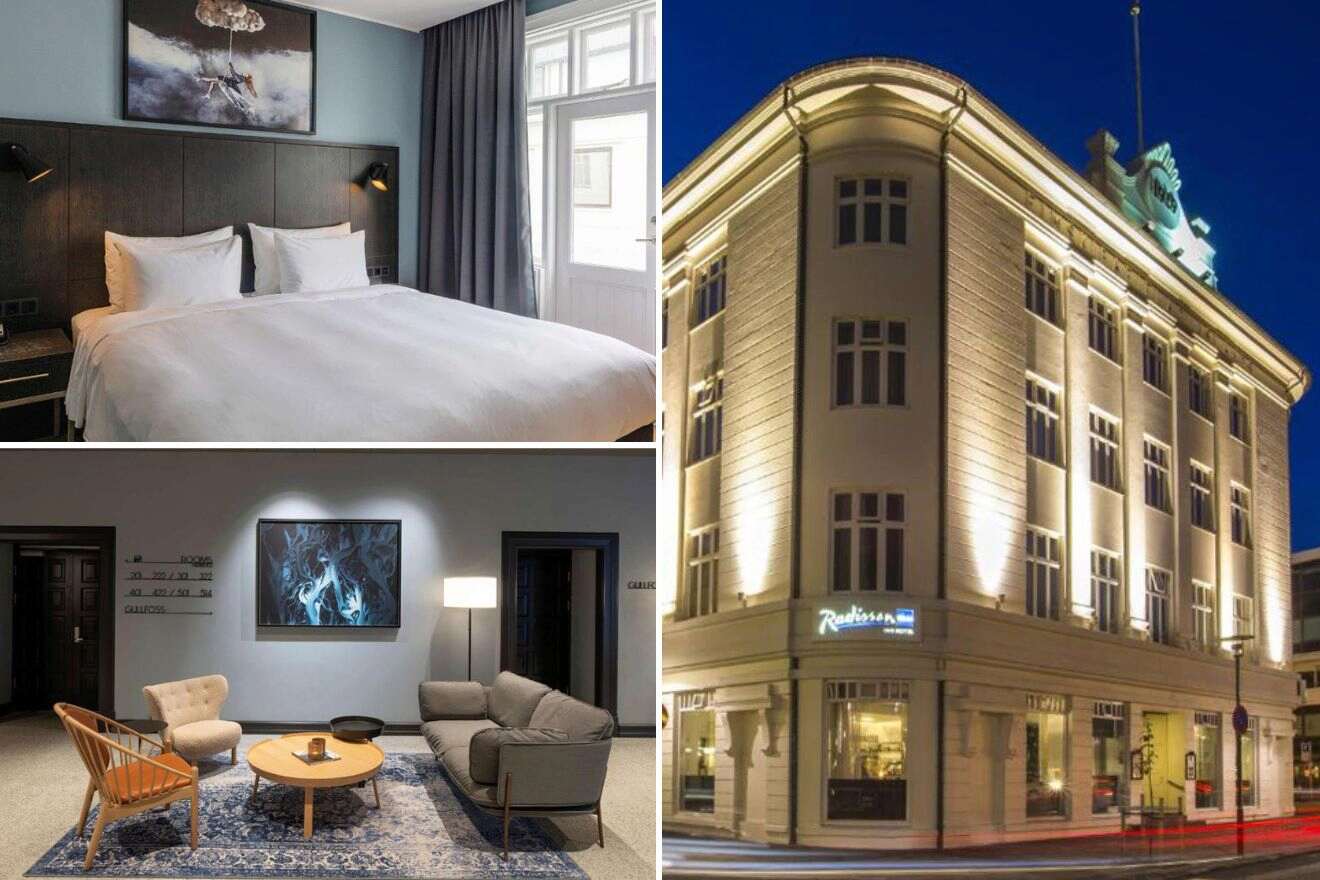 What a fantastic and luxurious hotel located in Reykjavik city center! The property looks minimalistic and bright, which is the perfect combination. There is a restaurant on site offering upscale meals. The fitness center is open to all of the hotel guests, and there is a free breakfast every morning. Nothing better than starting the day with a nice meal!
If you want to explore all of Iceland's wonders, the tour desk at the hotel will help you book the tours that fit your preferences. All the rooms feature elegant decorations, and rooms like the premium room are super spacious and offer views of the city.
9. ION City Hotel – with a private sauna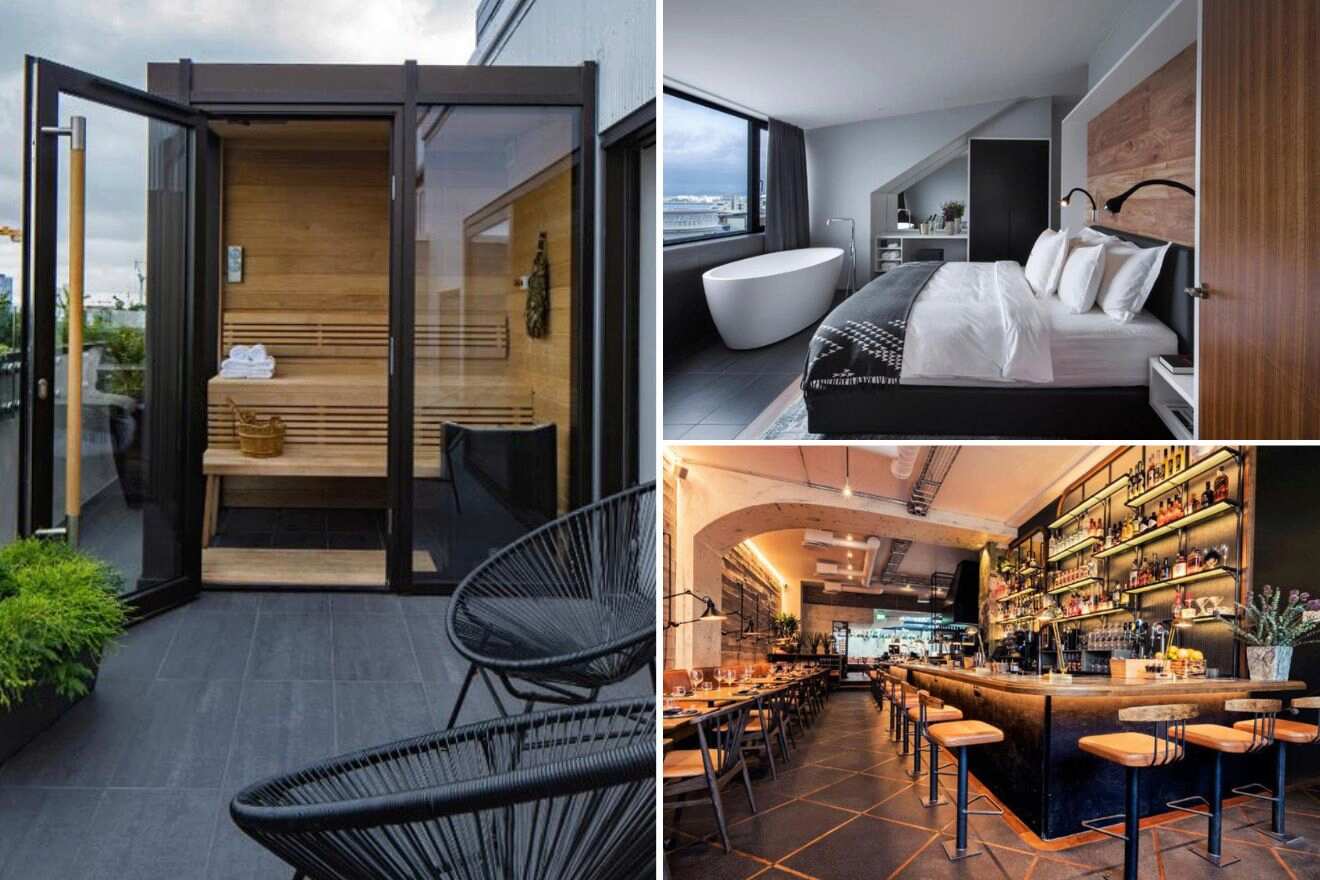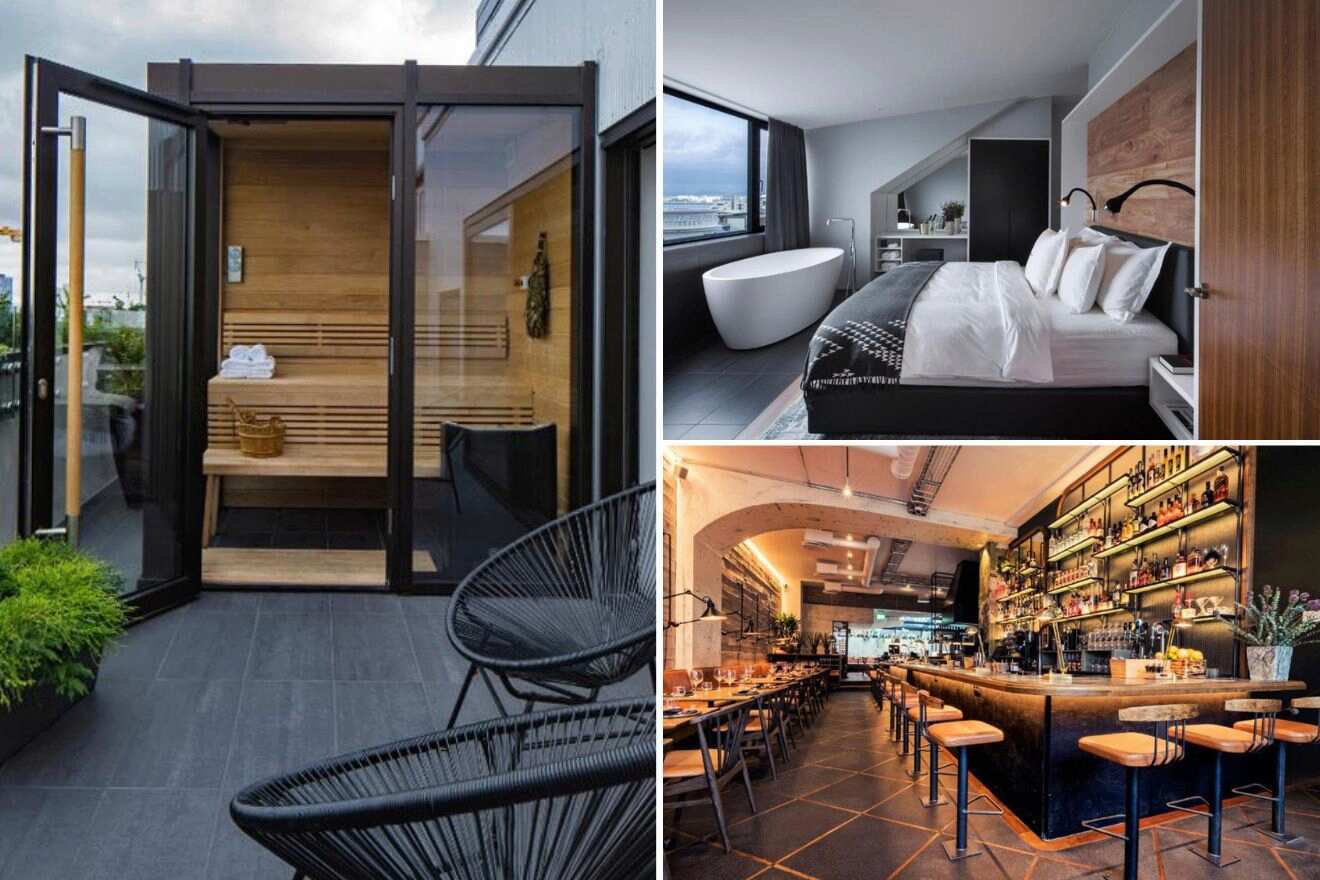 Wow! This hotel looks absolutely dreamy. It has a modern cabin vibe with elegant sprinkles. The property is located in the city center and has many cool stores, cafés, and restaurants just steps away from the property. Still, you can enjoy delicious meals at the onsite restaurant. A 24-hour front desk with staff is ready to help you with everything you need.
Have a workout session at the fitness center, and end the day with a lovely drink at the onsite bar. All the rooms at this property look fantastic, with elegant designs and upscale furniture. Select rooms, like the junior suite, come with a private sauna on the room's private balcony. Such a treat!
10. Exeter Hotel – with modern industrial style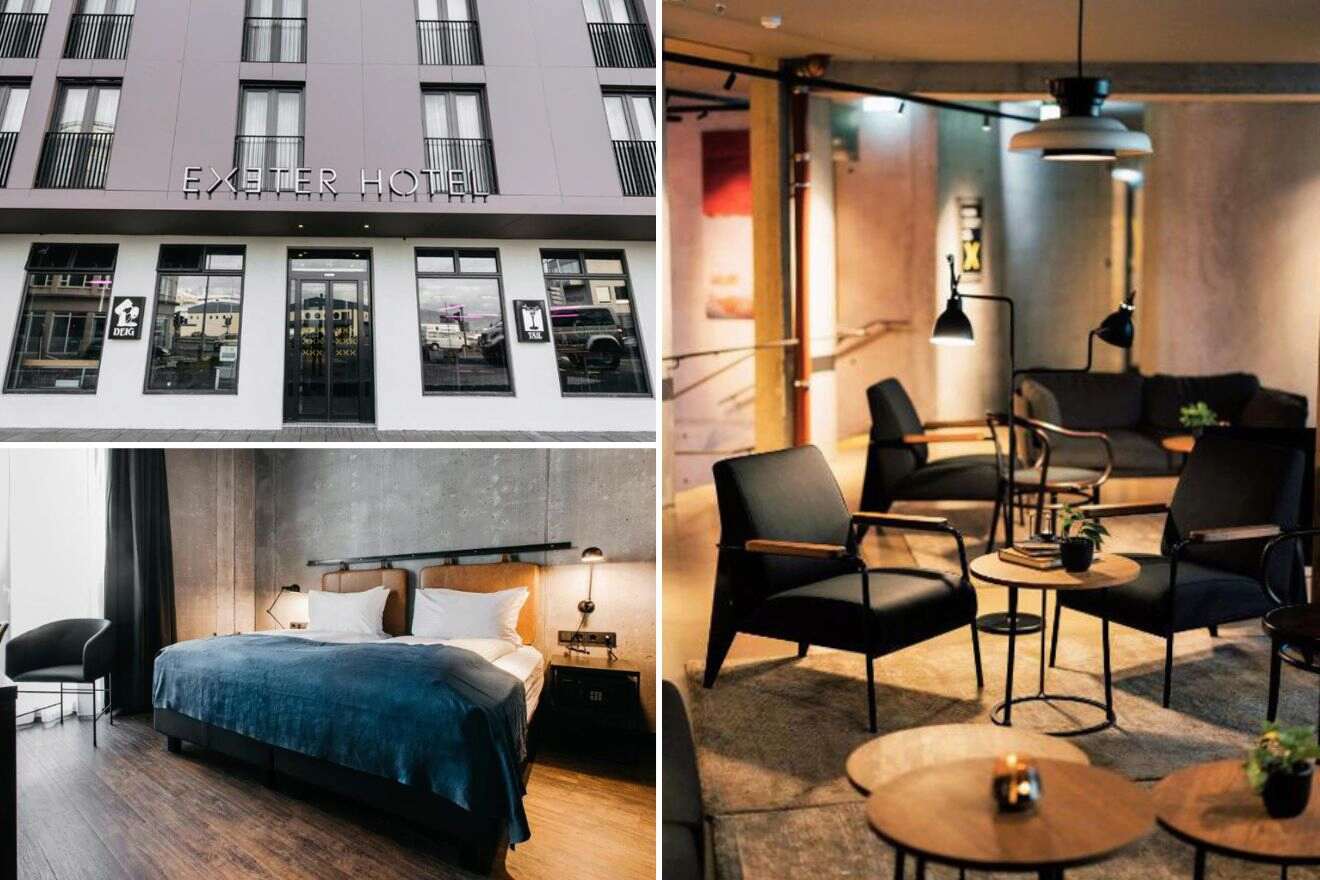 I love this hotel style! It is located only steps away from the city and the main attractions. If you want to try restaurants during your stay, you will be spoiled with the number of options just outside the hotel. If you prefer to stay on property grounds, there is an onsite restaurant serving lunch and dinner and offering vegan options.
The views from the hotel are unique; you can see the harbor and the mountains. Other great amenities of the hotel are the 24-hour front desk service, a fitness center, and a tour desk. All the rooms feature a flat-screen TV and beautiful views. I suggest the suite with a harbor view; it comes with a private sauna!
11. Hilton Reykjavík Nordica – discover Holt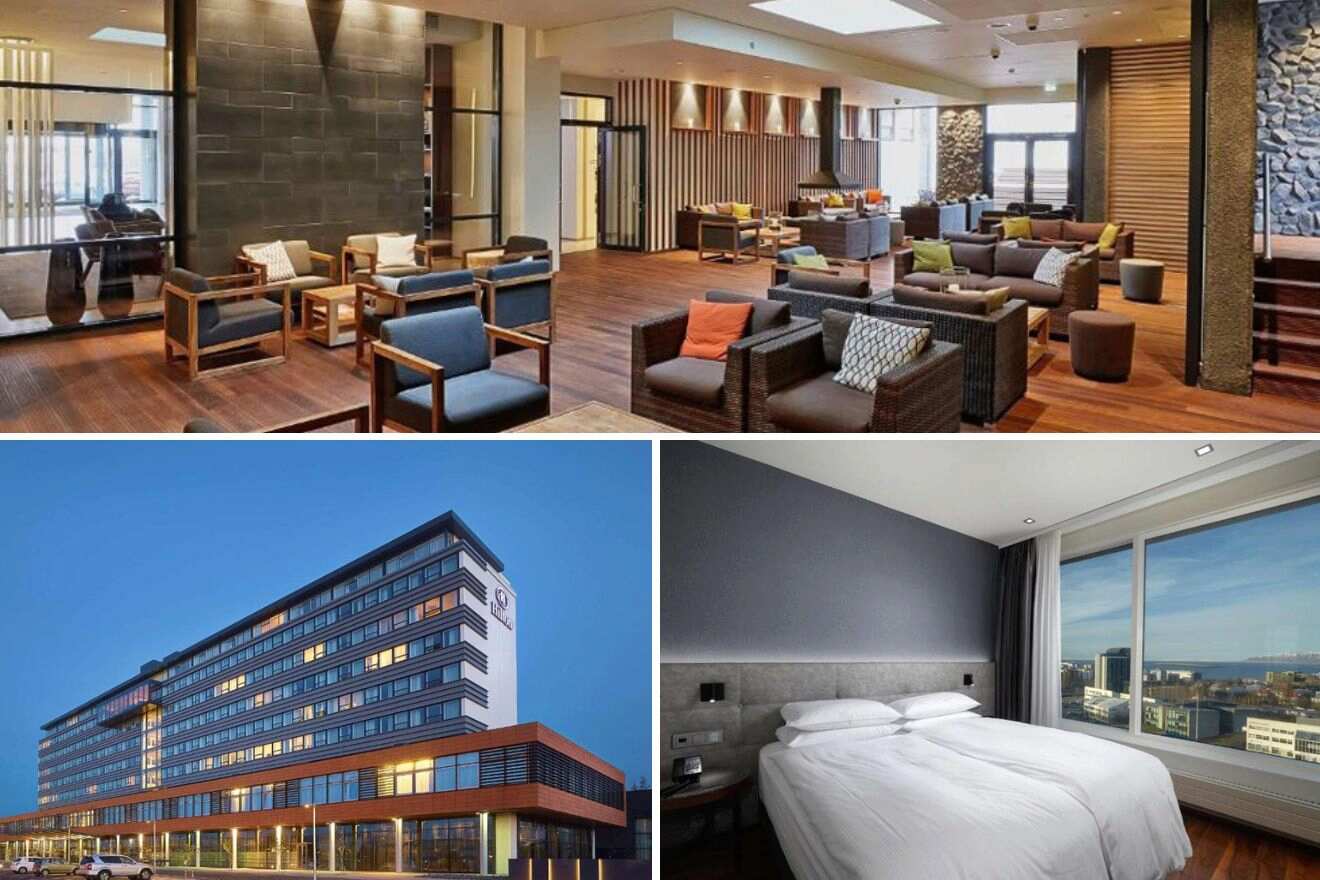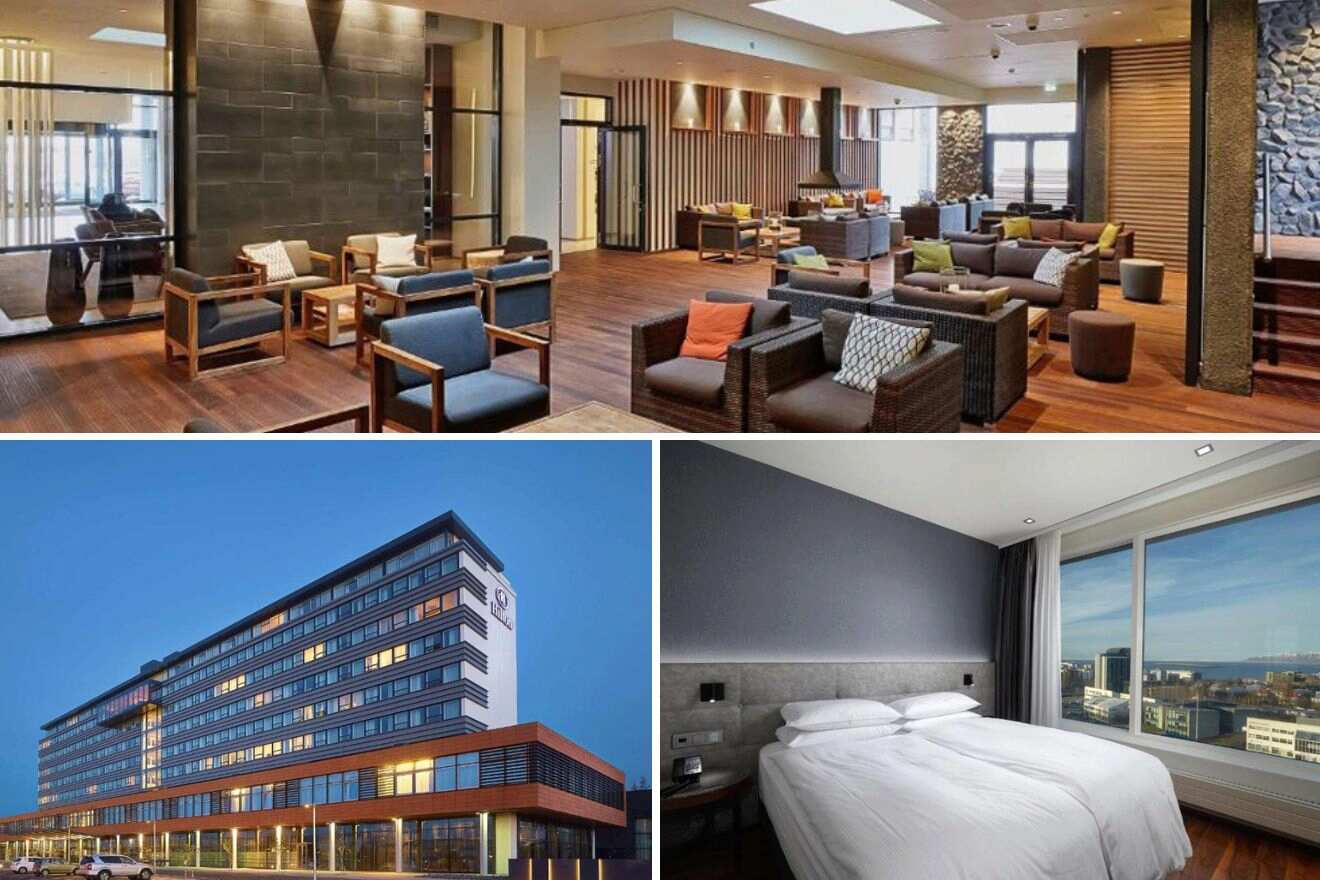 Located in Holt and just a short walk away from the city center and all the main attractions, this hotel looks classic and bright. The property comes with a mini market, which is super convenient if you ever need anything. It also comes with a nice collection of bead games and puzzles. The complimentary breakfast offers pastries, fruit, fresh coffee, and more!
There is a spa and wellness center onsite, offering hot tubs and sauna sessions; if you want to use them, you need to pay a fee, but it is absolutely worth it! If you are traveling with your family, the family rooms are more than spacious and can host up to 4 guests.
12. Alda Hotel Reykjavík – cozy and stylish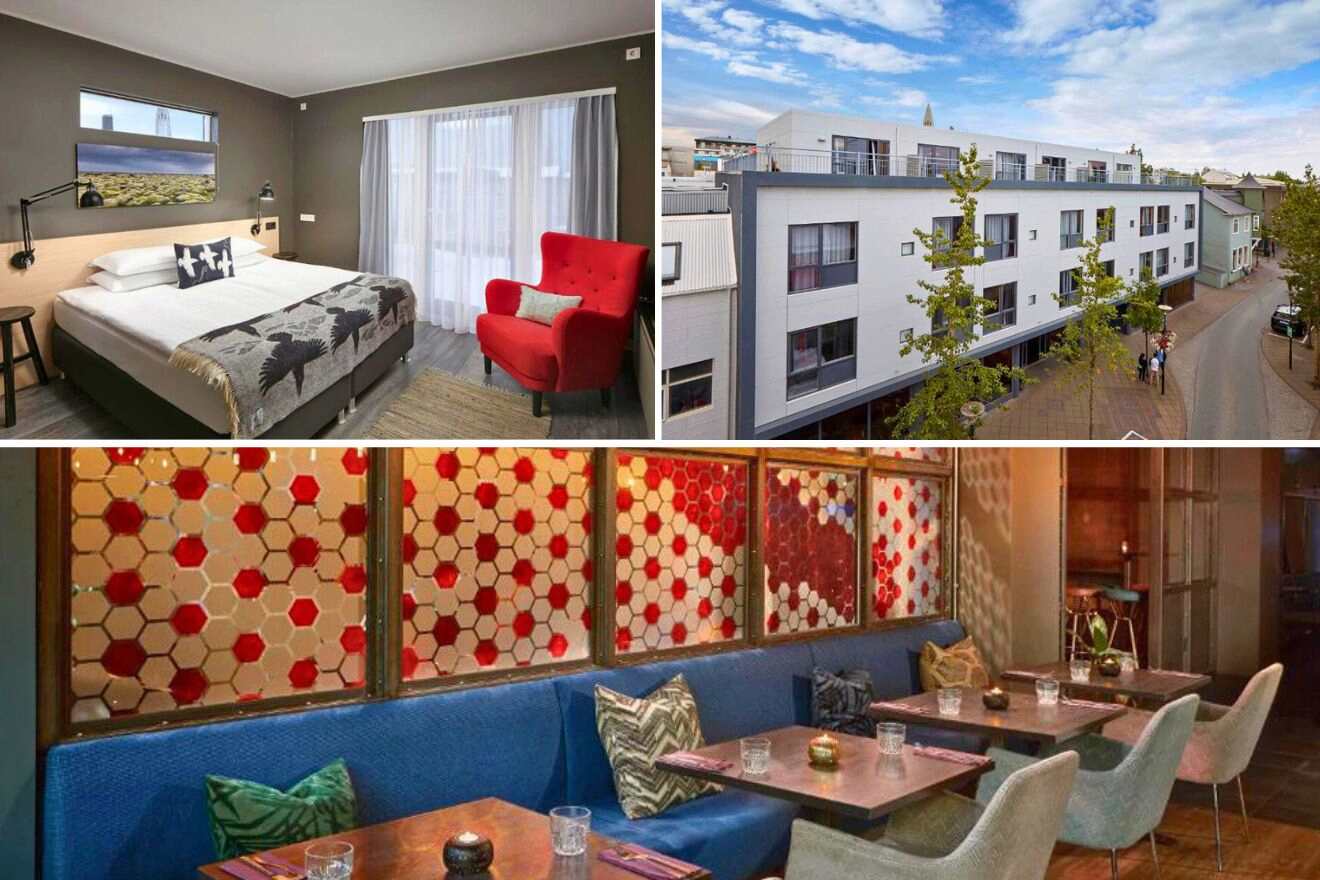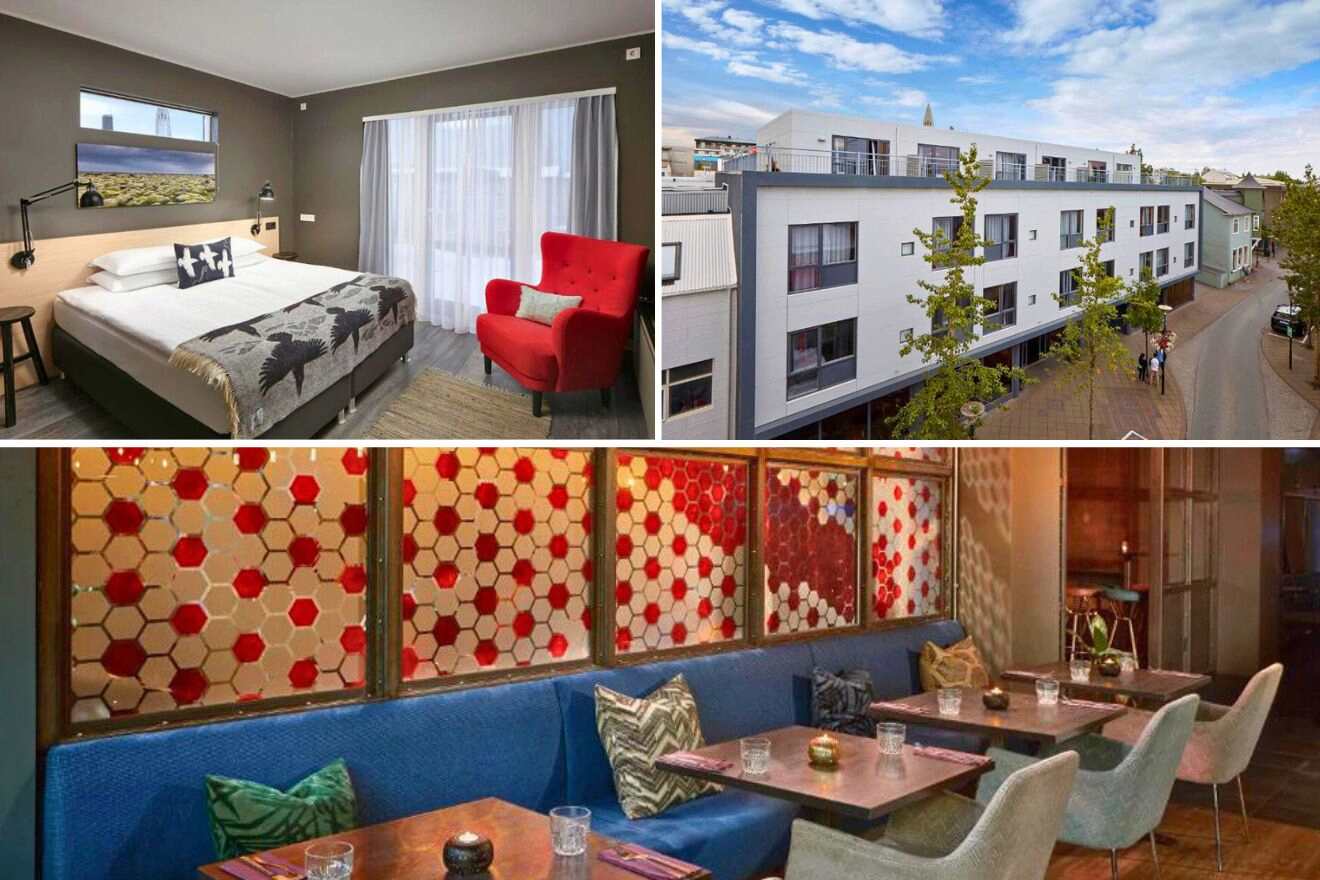 This amazing hotel is located right on the main shopping street, with all the main attractions, such as Hallgrimskirkja Church, just steps away! The property comes with an outstanding spa and wellness center with a sauna, hot tubs, and beauty treatments! The onsite restaurant comes with a trendy vibe, and it is open for dinner service.
There is also a bar at the hotel if you want to relax and have a drink. They offer a lot of different types of rooms; for example, the double deluxe room comes with a huge balcony with views. Rooms like the king suite have a unique design, are spacious, and there is a soaking tub in the bathroom.
FAQs about 5-star hotels in Reykjavik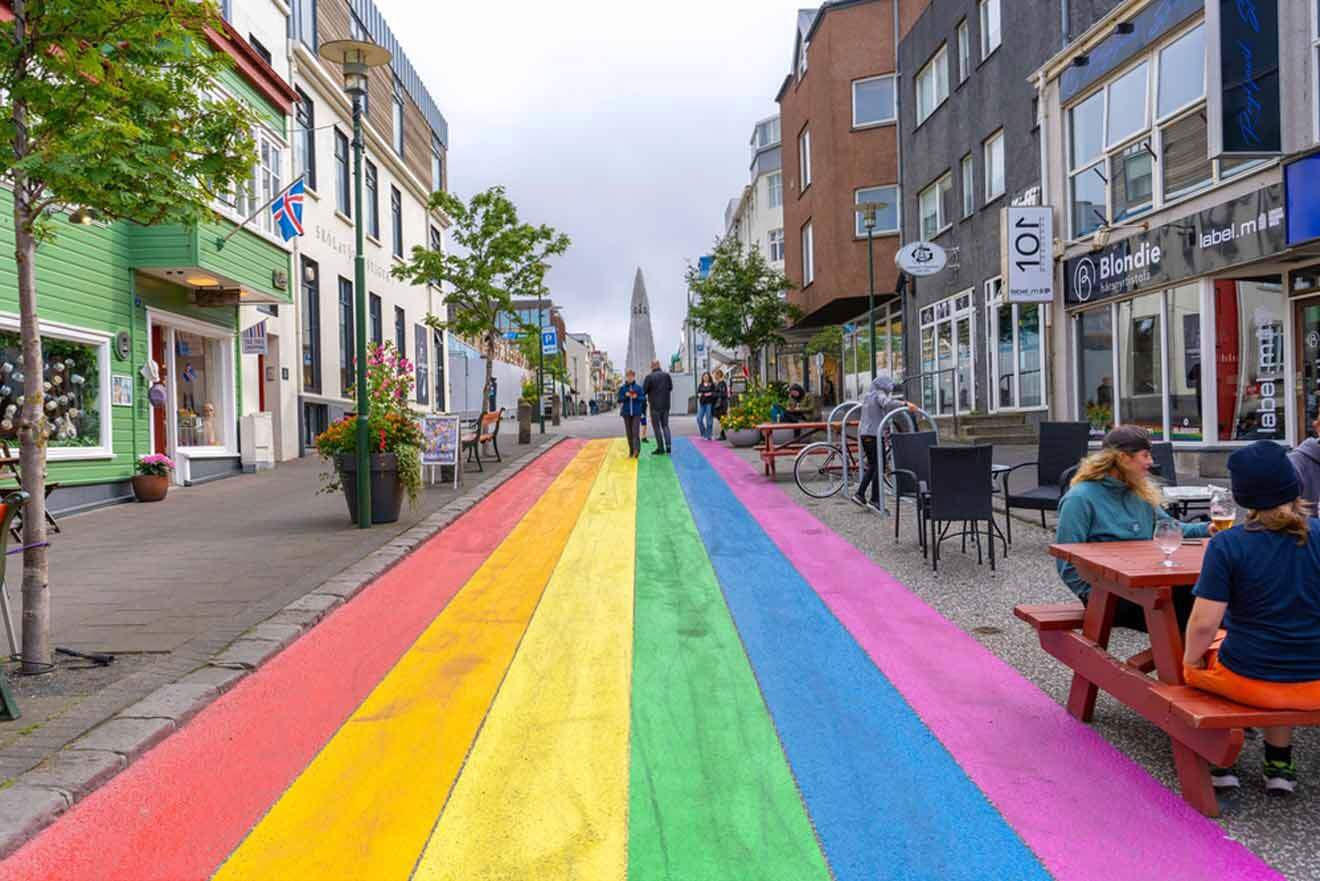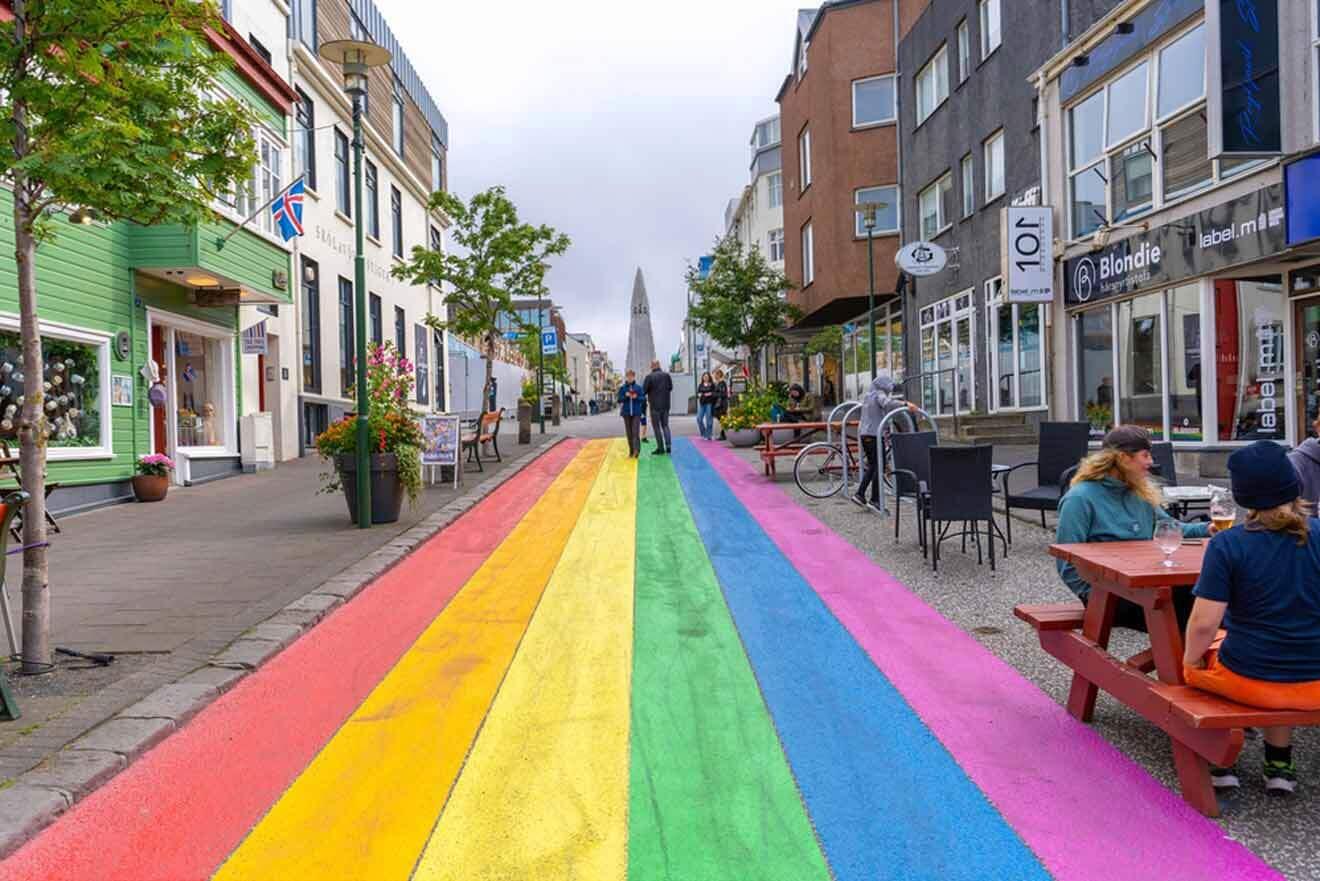 🌆 What is the best area to stay in Reykjavik?
If you are staying in Reykjavik for the first time, the city center is ideal. But if you want to learn more about what each area offers, check out our Reykjavik area guide.
👪 Which are the best hotels in Reykjavik for families?
🏙️ Which are the best hotels in Reykjavik city center?
🌌 Which is the best hotel in Reykjavik for the northern lights?
The best hotel in Reykjavik to see the northern lights is Hotel Grimsborgir, which even offers a wake-up service so you never miss them!
Conclusion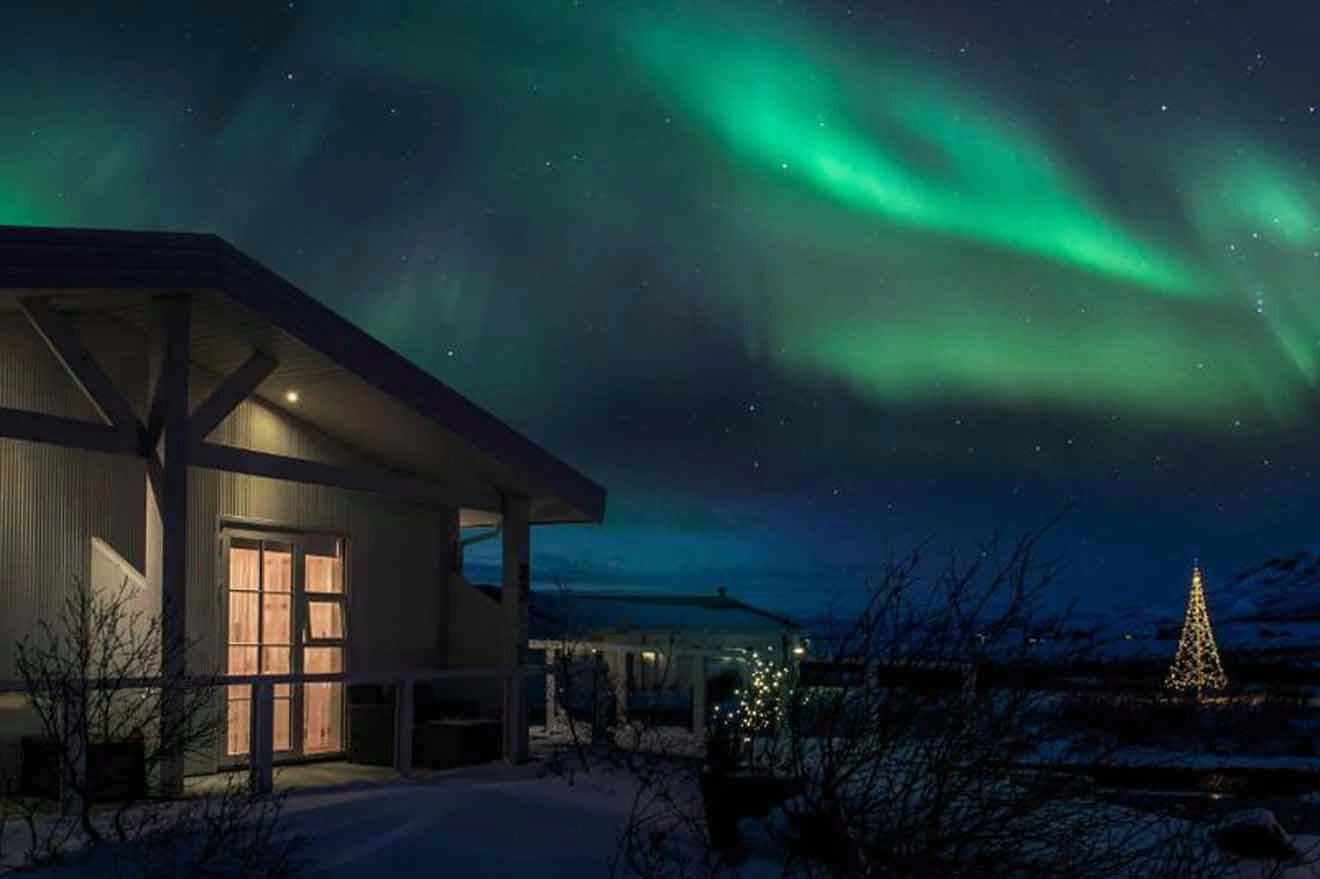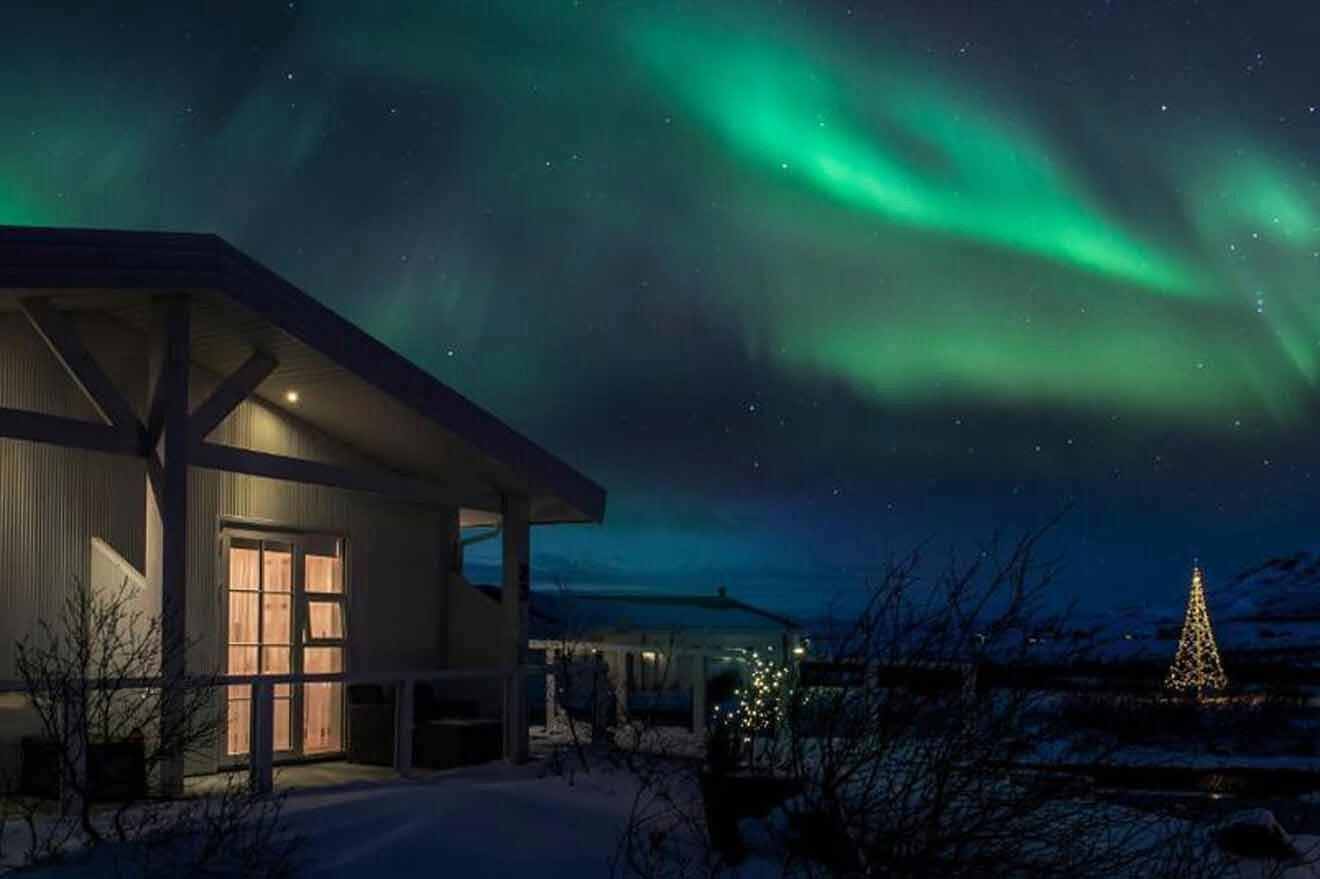 That is a wrap for today, my lovely people! Those were the best 5-star hotels in Reykjavik, and the best luxury hotels in Reykjavik! Honestly, all of them look fantastic, and I am sure you know exactly which hotel you want to book by now!
To be completely candid, I would be more than excited to stay in any of these hotels, but if I had to choose my top 2 favorites, I would go with:
Hotel Grimsborgir – I love the wake-up service to see the northern lights; once in Iceland, it is something you can't miss. And the surroundings are perfect!
ION City Hotel – I want to stay in a room with my own private sauna. Another Nordic tradition you need to try out!
Which of these Reykjavik luxury hotels was your favorite? Let me know in the comments!
These hotels are super popular and book super fast. To secure the hotel room of your dreams and get good deals, book in advance!
Until our next expedition,
Daniela
---
Pin it for later!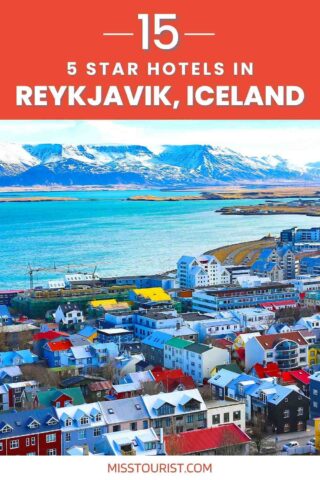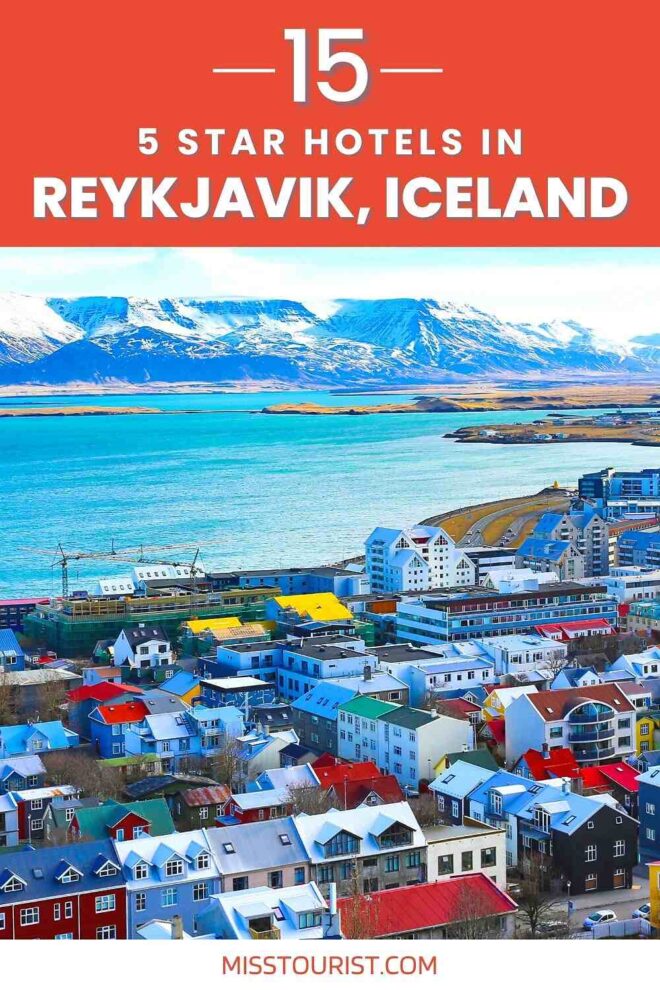 Pin it for later!