Top 18 Hotels in Dreamy Provence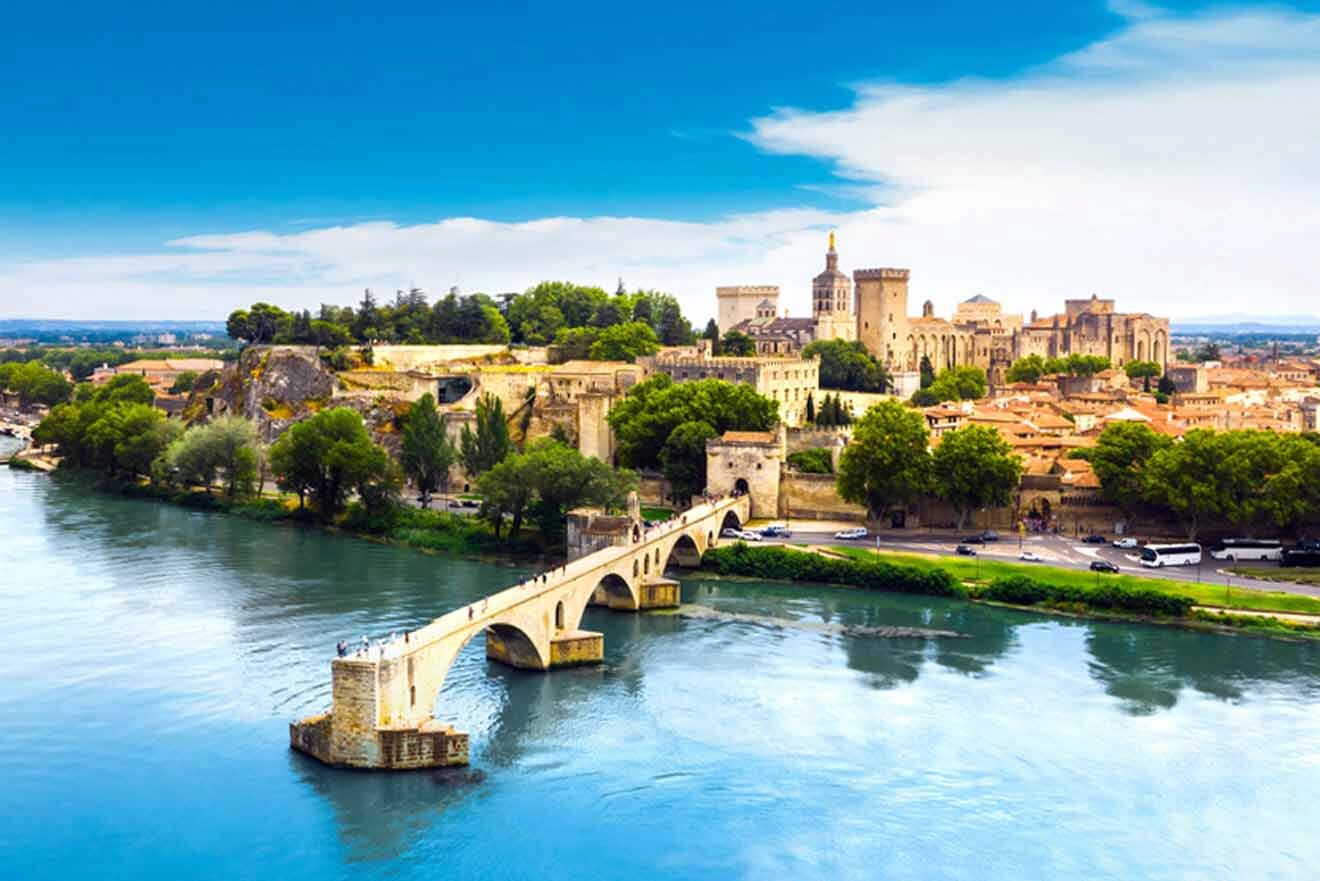 Bonjour & welcome to another very well-researched guide on where to stay in Avignon! I just returned from a trip there with lots of tips in my luggage, but I also searched the web for hours to find the top places!
Since Avignon abounds in incredible boutique hotels, I also made 2 bonuses with the best hotels near the train station and some unique 5-star hotels!
All you've got to do is pick your favorite! I've already made sure to order the hotels from most to least expensive, so all you have to do is book! Once you decide which hotel is perfect for your dreamy French holiday, I recommend booking it in advance!
Yep, Avignon is one of those places in the South of France that is always busy, especially during the summer season, which is their high season (June, July, August).
Now, let's check out these charming hotels!
If you are in a hurry
Don't have time to read the whole post? Not to worry! I've made this short list of the best hotels in Avignon, just for you:
Luxury (€200 and up)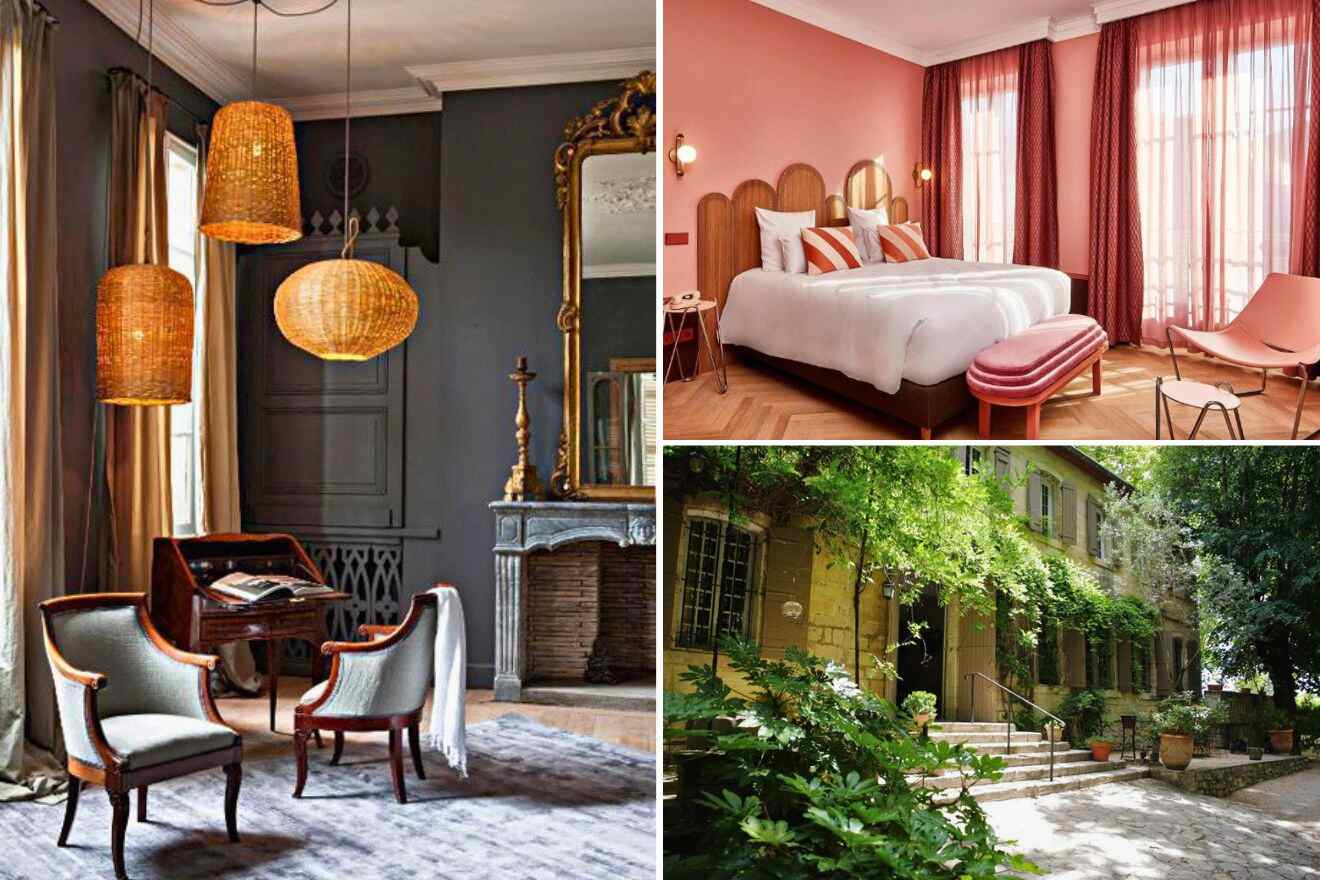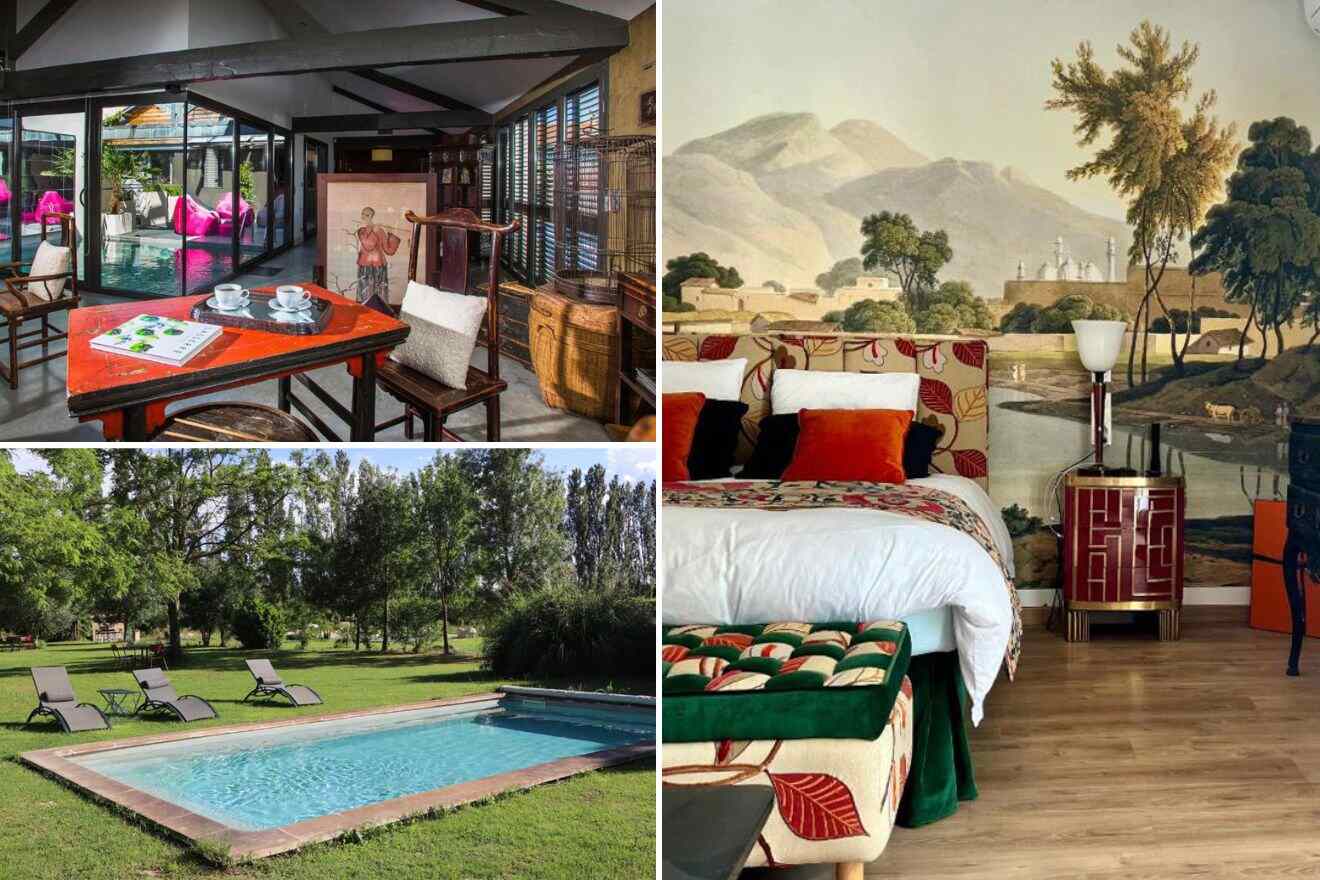 Mid-Range (from €130 to €200)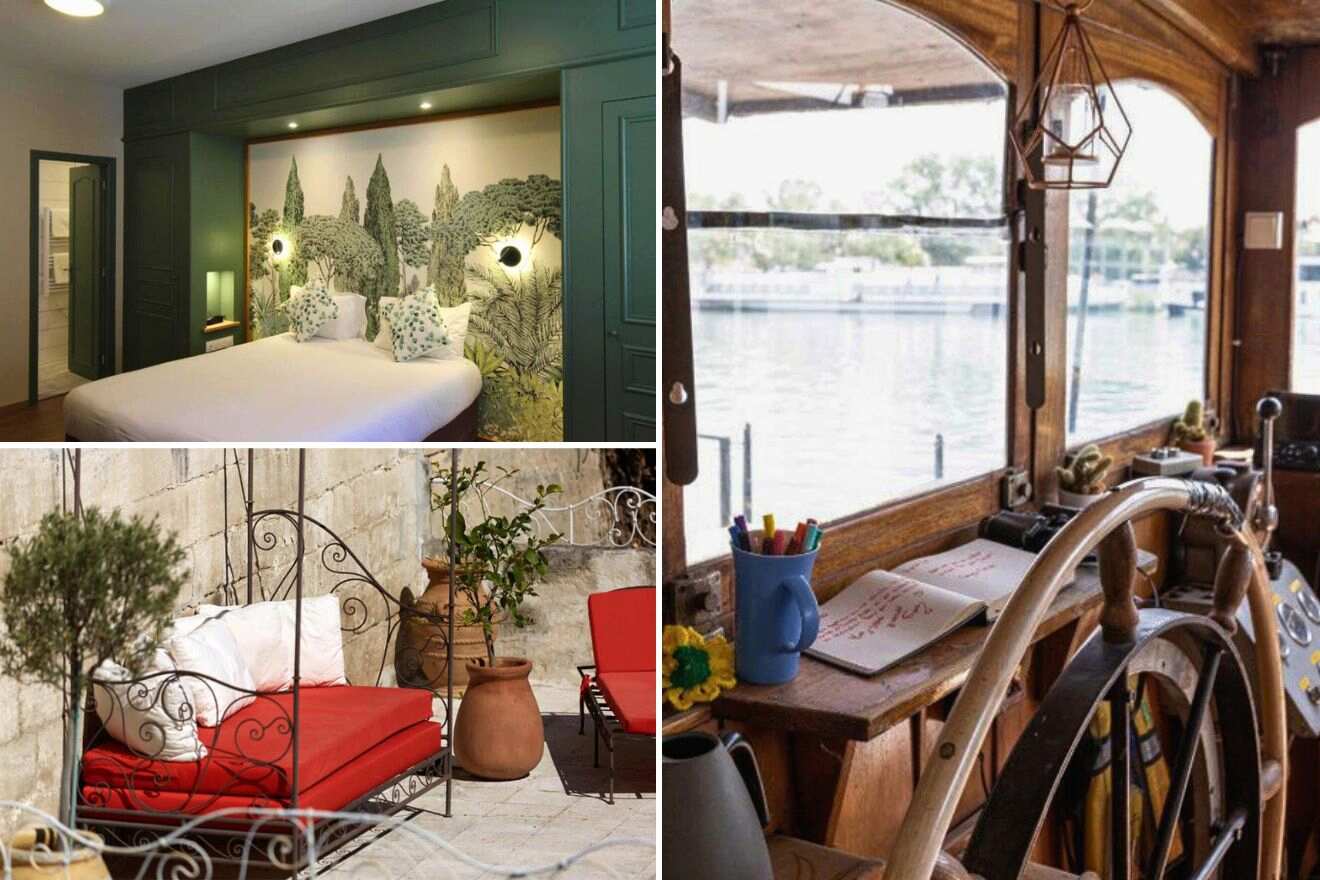 Budget (up to €120)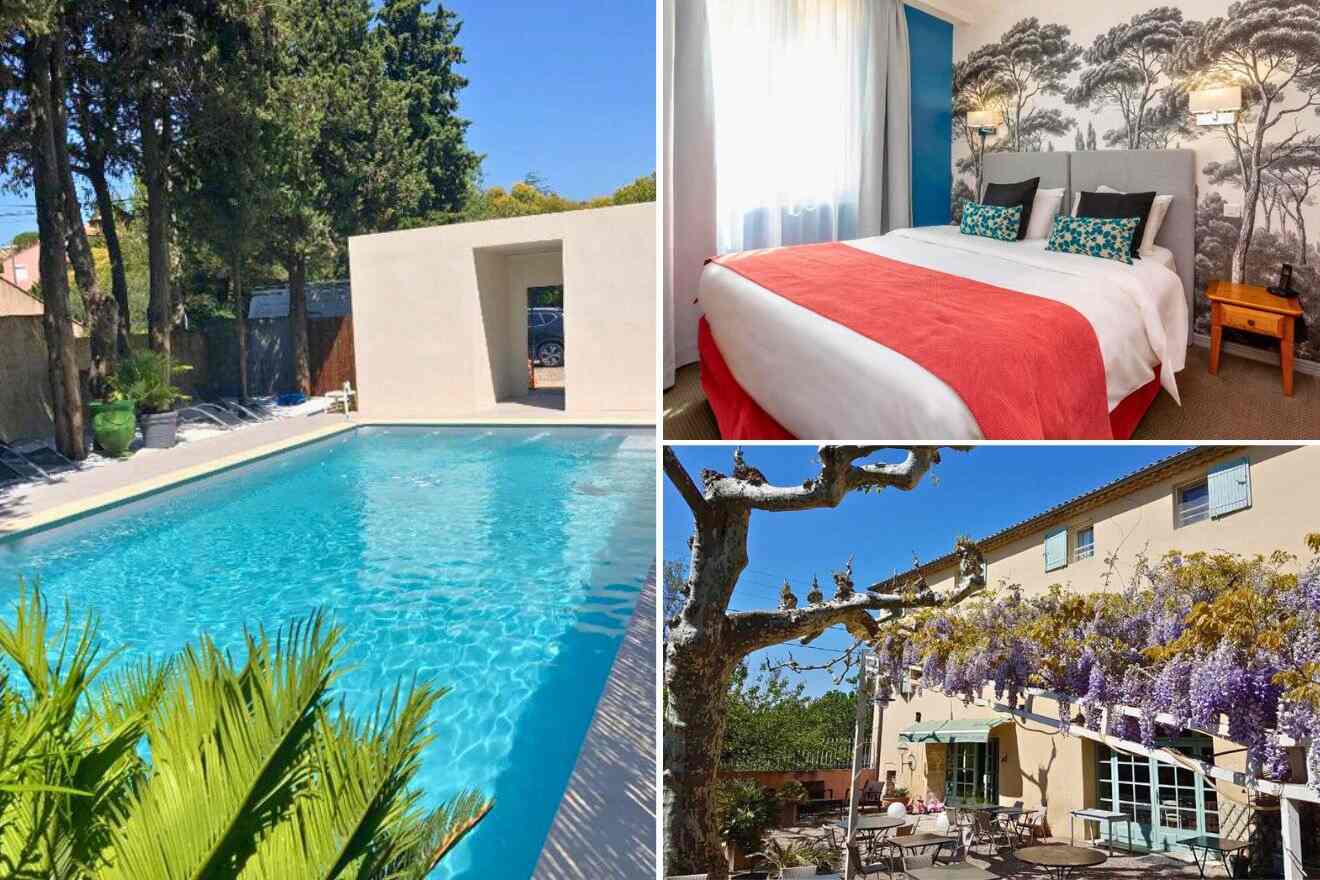 Check the rates for your dates
BONUS 1: Best hotels near the train station
As I mentioned, I've recently stayed in Avignon, and honestly, I highly recommend it as a base to explore the area as its train station has connections with most of the touristy places in Provence!
So if you're thinking of doing the same as me, then this bonus is for you! Here you'll find the best hotels near the train station, which I ordered from most to least expensive, and the costs start from €110 to €190: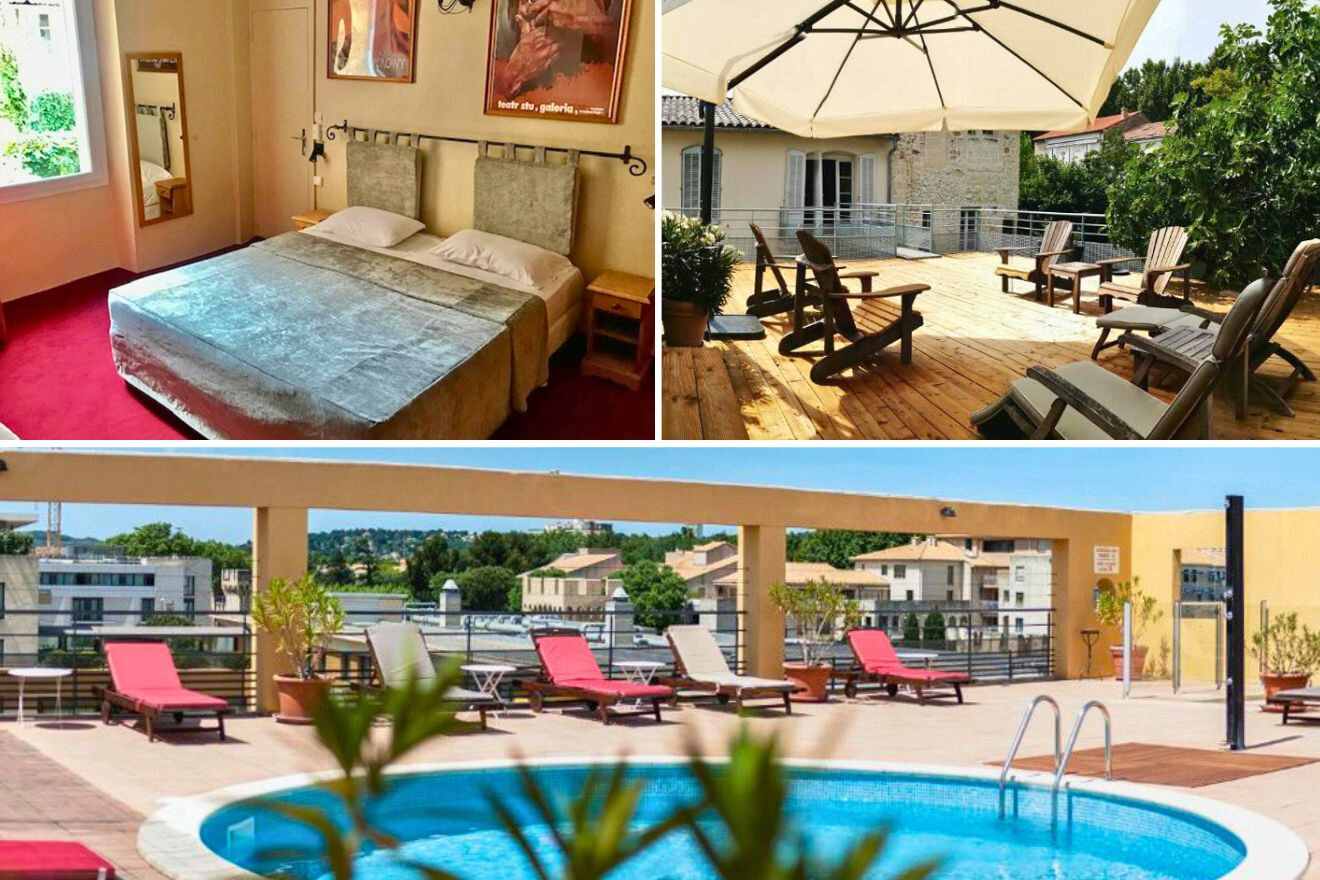 1. L'Observance Bed & Breakfast 
Gotta love a place that offers a fusion of old and new! This accommodation is set just 8 8-min walk away from the station, and it has a swimming pool, a garden, and a terrace, all in true Avignon style! Their rooms are comfortable, and each offers a flat-screen TV and free Wi-Fi.
2. Avignon Grand Hotel
Located just outside the ancient city walls and just a 2 min walk away from the station, this hotel has bright rooms with a lot of space and a balcony, a pool that you can use on sunny days, and a lovely garden where you can spend some relaxing time!
3. Hôtel Le Colbert 
Feel at home at this hotel that's just a 4-min walk to the station, which is super cozy and features a terrace. The hotel is decorated with lots of paintings and pictures, even in the rooms which have free Wi-Fi. Guests can always rent bikes out if they want to explore the Villeneuve lez Avignon area.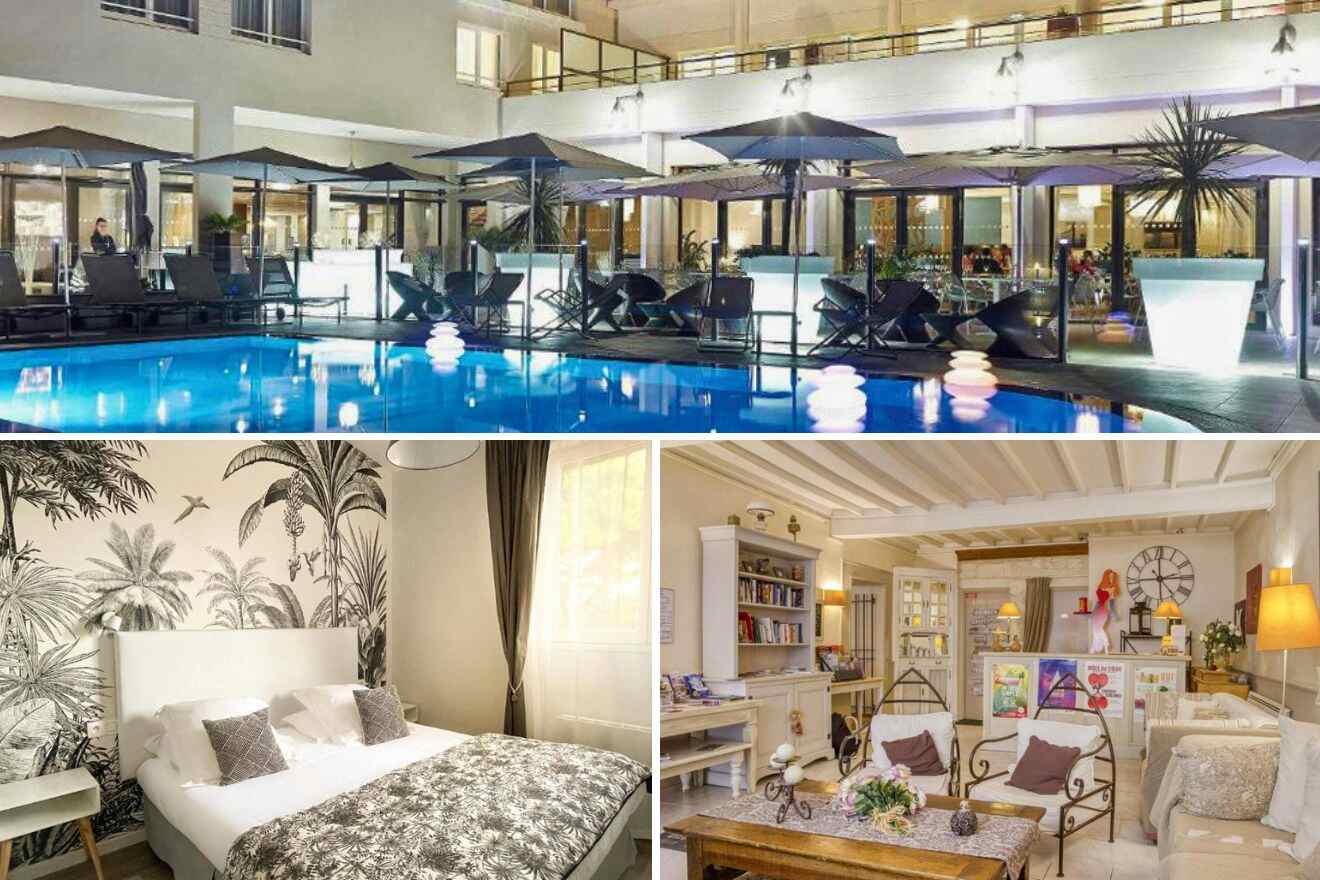 4. Hotel Boquier 
Phew, loving the modern Provencal style of this hotel in Avignon that is a 5-min walk to the station. Featuring white painted wooden-beamed ceilings, rooms with a private bathroom, and a terrace!
5. Novotel Avignon Centre 
There's nothing like a holiday filled with fun attractions and relaxing at the spa! This hotel, which is set right next to the train station, offers lots of spa facilities like massages, a sauna, a hot tub, and also an indoor swimming pool!
6. Le Magnan 
Such a charming place which is located within the historic city walls just a 10 min walk away from the train station. This hotel offers a breakfast which you can enjoy on the outdoor terrace, family rooms, and private parking.
BONUS 2: Unique 5-star hotels in Avignon
This town in the South of France is one of those places that you'll never forget visiting (that's how it was for me) and if you want to make this holiday even more special then book a hotel where you'll feel like a king or queen!
Below, I've gathered the best 5-star hotels in Avignon that feature incredible amenities! As always, I've ordered them from most to least expensive, and the prices start from €200 to €500.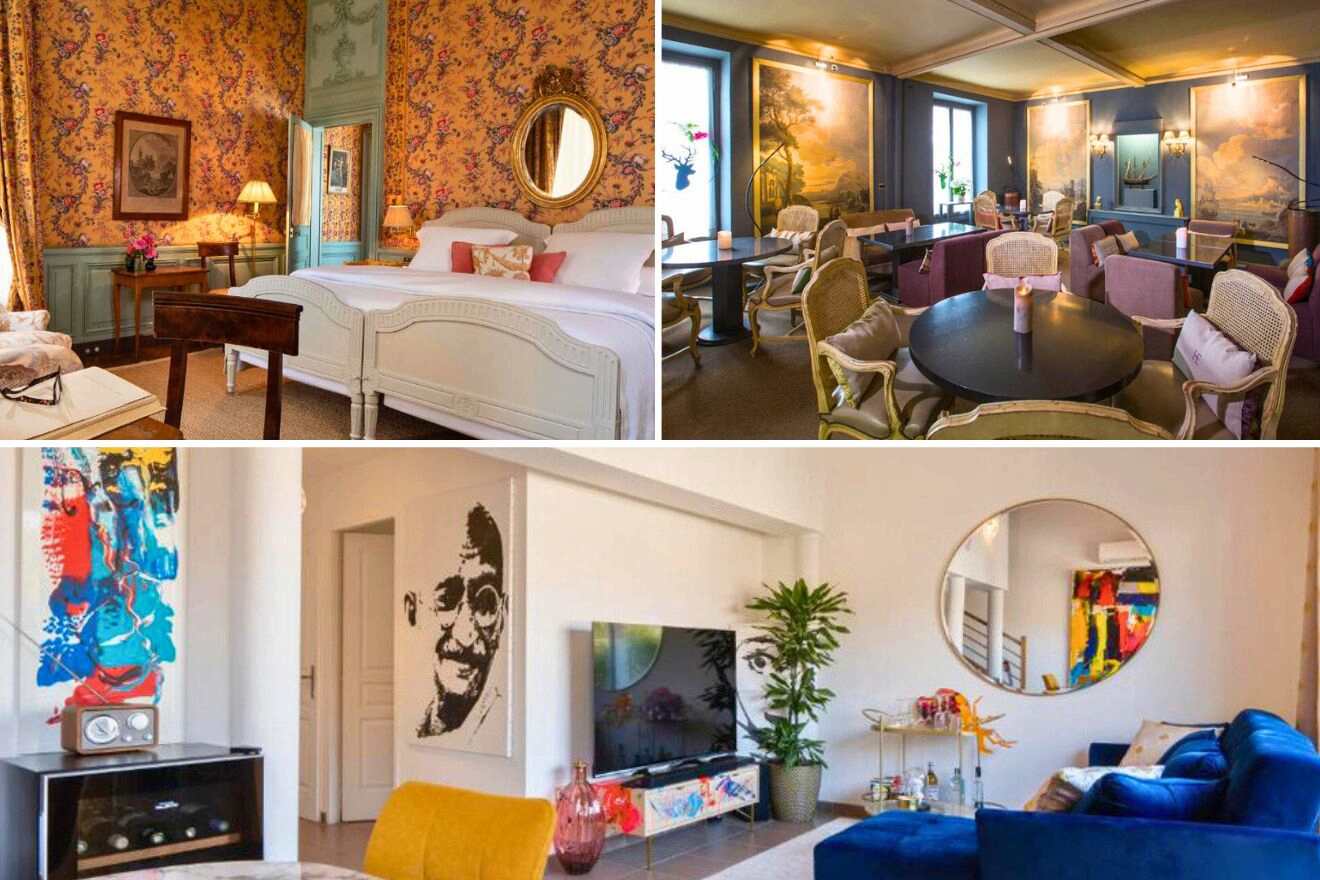 1. La Mirande
Conveniently situated near Avignon's top attractions, like the Petit Palais, this hotel will make you feel like you've landed in a French period drama movie! Decorated with stunning artwork and stylish furniture, the boutique hotel dates back to the 1300s, and it features rooms with oak-wood parquet flooring and silk-lined curtains, a restaurant, and a lovely courtyard.
2. Hotel d'Europe
Enjoy proximity to gourmet Provencal cuisine, Michelin-star restaurants, and important attractions like the papal palace, which is a UNESCO World Heritage Site, while staying at this hotel, which is set in a 16th-century building! The hotel features elegantly decorated rooms with lots of space and panoramic city views, plus a quaint outdoor terrace!
3. L'Avant Scène
Find comfort in chic, modern apartments that combine modern with vintage aesthetics! This hotel in Avignon is perfect for your holiday as it features suites with a kitchen, free private parking, and a hot tub.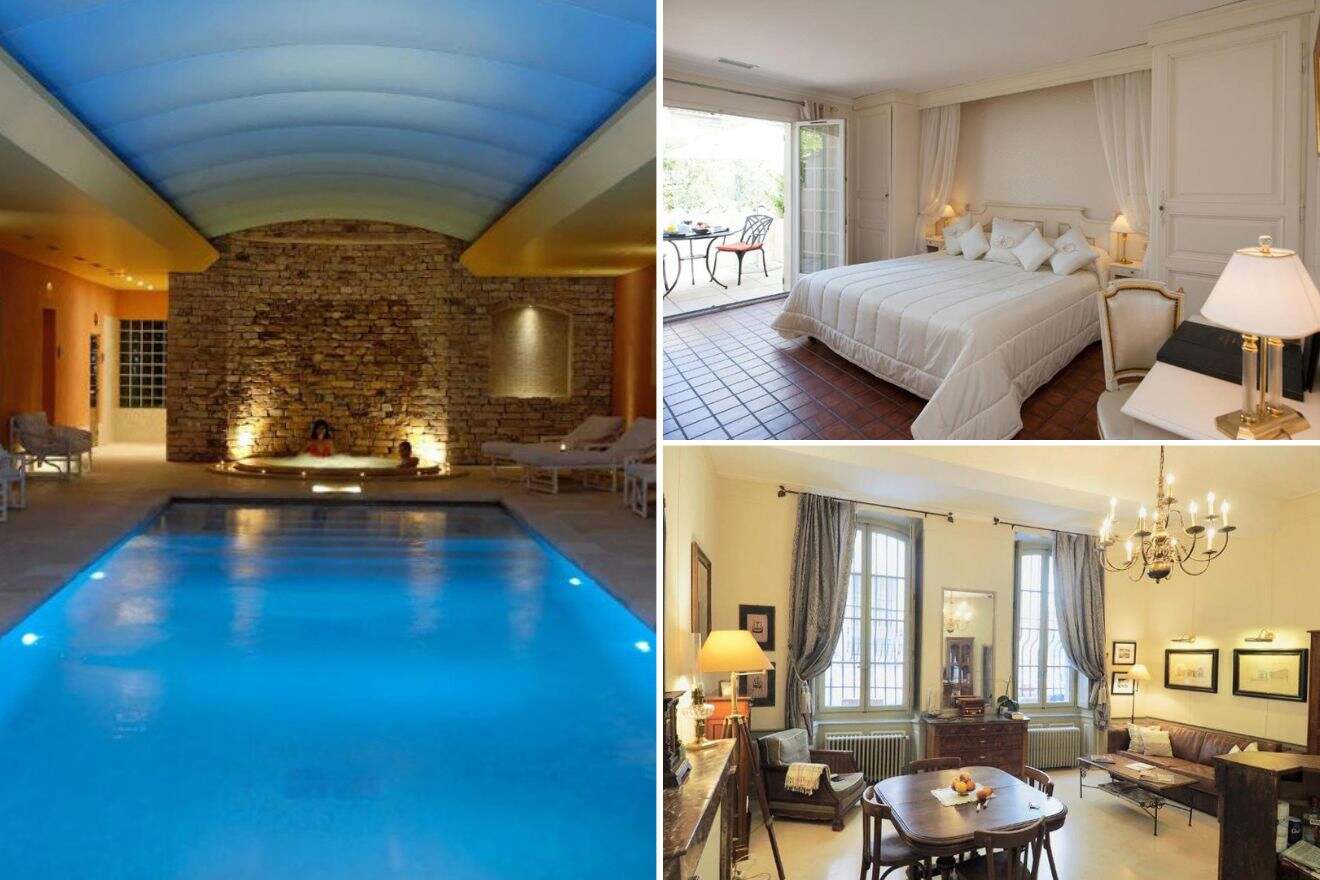 4. Auberge de Cassagne & Spa
Indulge in French dishes prepared by chef Philippe Boucher while staying at one of the best hotels in Avignon that has a classy decor, an outdoor and indoor pool, a spa center with a eucalyptus steam room, and gardens filled with Provencal lavender!
5. Palais des Papes – Havre de Paix III
Stay amidst the buzz of Avignon's festivals and attractions at this hotel, which has a central location near Pont Saint Bénézet! The apartment is beautifully decorated, with a fully equipped kitchen, air-conditioning, and free Wi-Fi.
FAQs about where to stay in Avignon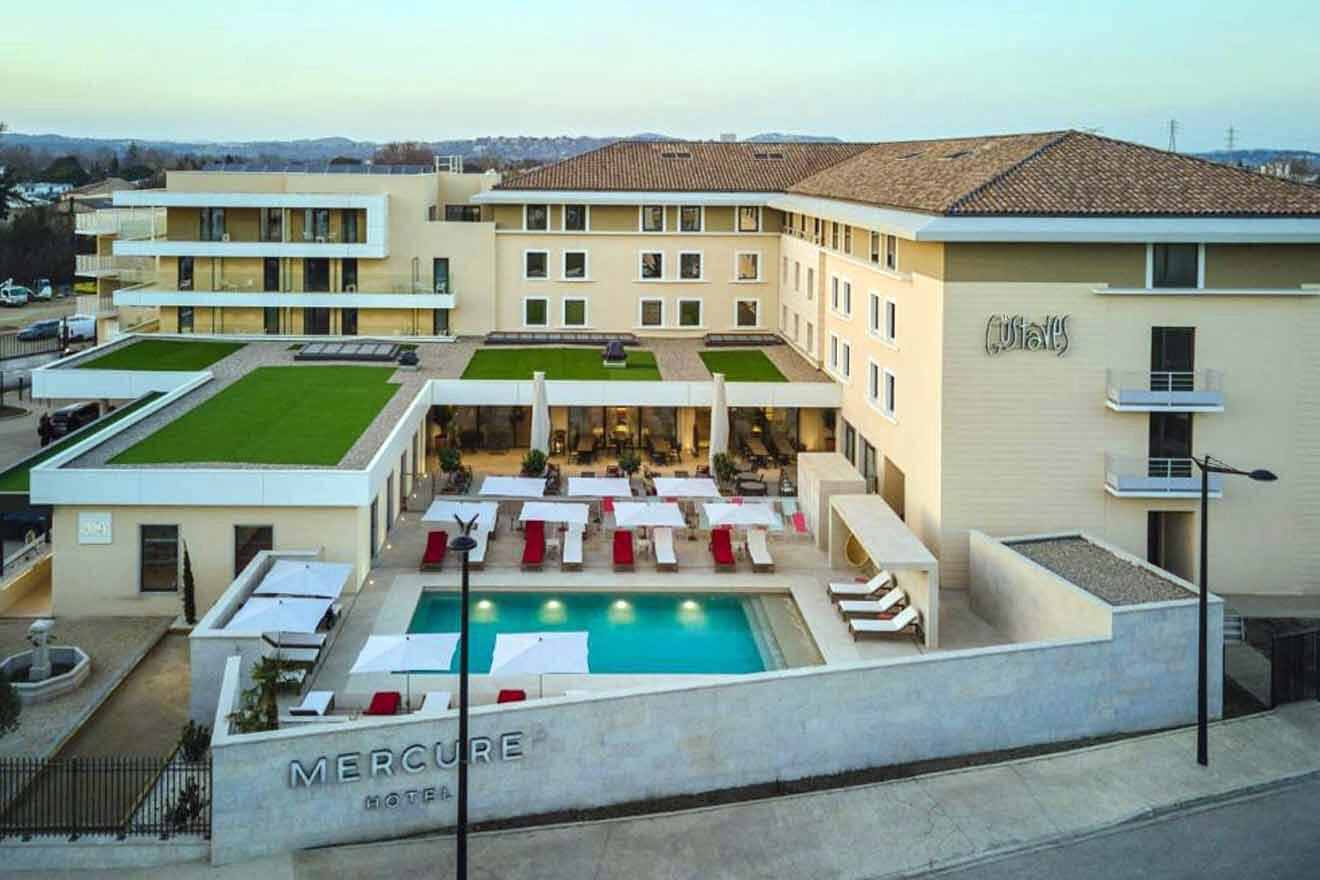 🤩 Is it worth staying in Avignon?
Absolutely! Avignon is a gorgeous city that feels like an open-air museum with numerous attractions, restaurants, luxury hotels, and a beautiful historic centre!
🚶 Is Avignon a walkable city?
Yes! You can walk to pretty much all the attractions in Avignon, and you definitely don't need a car to get around the town (except if you want to take day trips to other places in the area).
🤔 Is it better to stay in Arles or Avignon?
It depends! I visited both, and I'd say that Avignon features many more attractions than Arles and better travel connections. But Arles is pretty close to Avignon, so you can visit it whenever you want!
📅 How many days do you need to see Avignon?
I would recommend spending 3 to 4 days in Avignon, that will give you plenty of time to explore the town, visit its museums and even some day trips to places like Saint Rémy de Provence.
Conclusion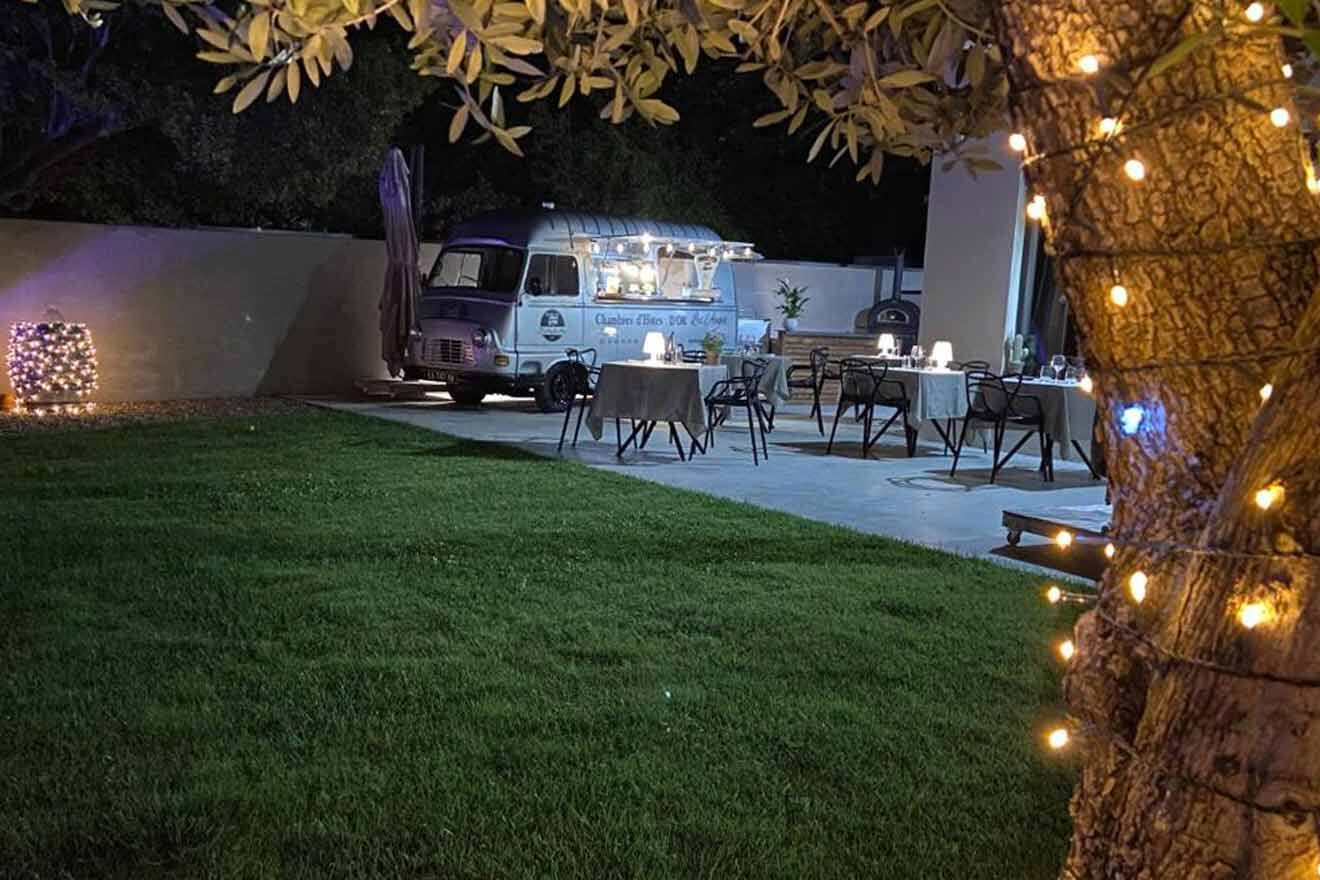 Although I just came back from Avignon, I already miss its mesmerizing atmosphere and unique architecture!
Today I got to offer you a list of the best hotels where to stay in Avignon! Plus 2 amazing bonuses with the top hotels near the train station and some unique 5-star hotels in town that I know you'll love!
I don't like being repetitive but honestly, it's important to book your hotels in Avignon in advance! No matter if they're budget hotels or some of the best luxury hotels, these places will sell out super fast, so it's better to secure your spot early, as the city gets many tourists all year round!
But don't rush into anything! Take your time and consider all the options! After that, if you're still not sure, then have a look at my 2 favorite hotels in Avignon:
Et voila! There you have it!
Have a fabulous vacay in Provence! And don't forget that I've already been there, so I can definitely help you out with some tips. Don't hesitate to reach out in the comment section below!
Safe travels,
Victoria
---
Pin it for later!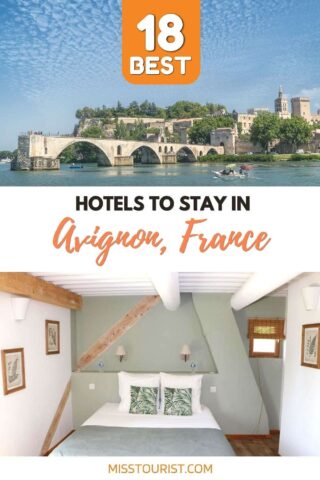 Pin it for later!