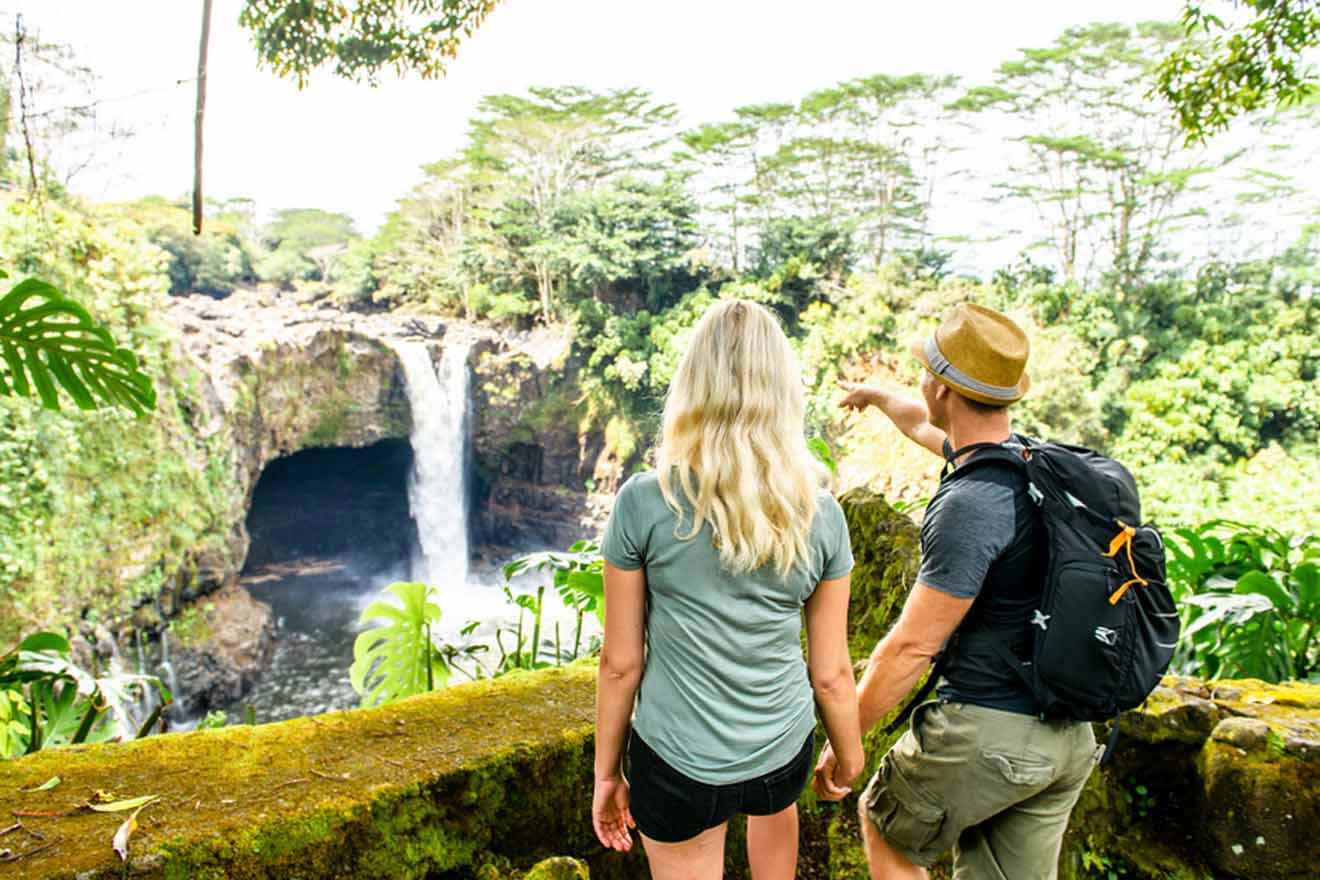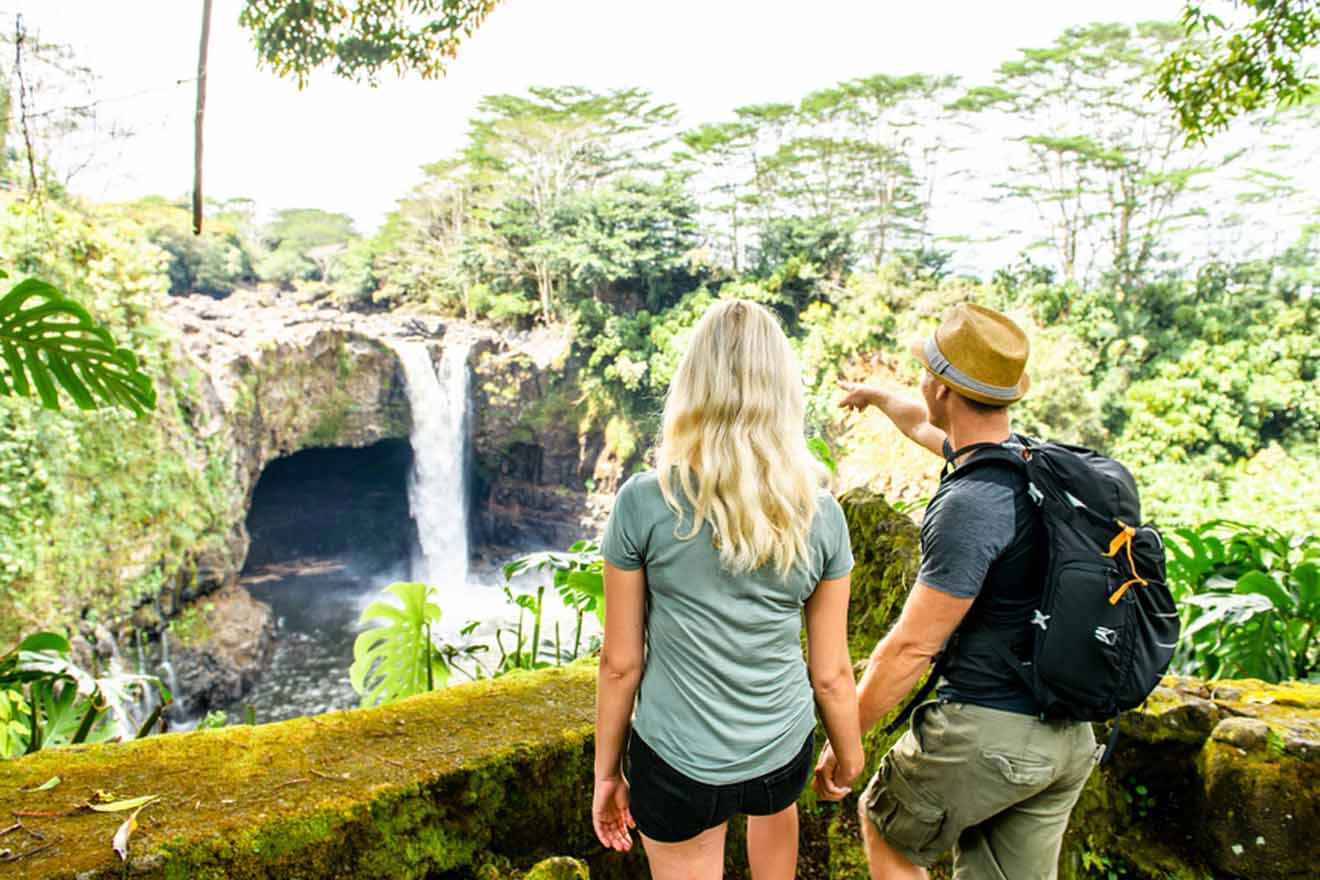 Aloha, dear reader, and welcome to this carefully curated guide on where to stay in Hilo, Hawaii! I've spent hours looking for the most incredible Hilo hotels on the web, and now I feel more than ready to show you my list, which I already ordered from most to least expensive!
That's right, I've done all the work and only left you with the task of picking your favorite Hilo hotel on the beautiful Big Island! And once you do, I recommend securing it right away!
Why? Because the Big Island is such a popular destination the hotels in areas like Hilo sell out months in advance! No pressure, though! Take your time and consider all the accommodation options!
Alrighty then! Let's get straight into it!
If you are in a hurry
I made this amazing short list of the best hotels in Hilo, Hawaii, for everyone who doesn't have the time to go over the whole list. So have a look:
1. Island Goode's – for a couple's getaway in Hilo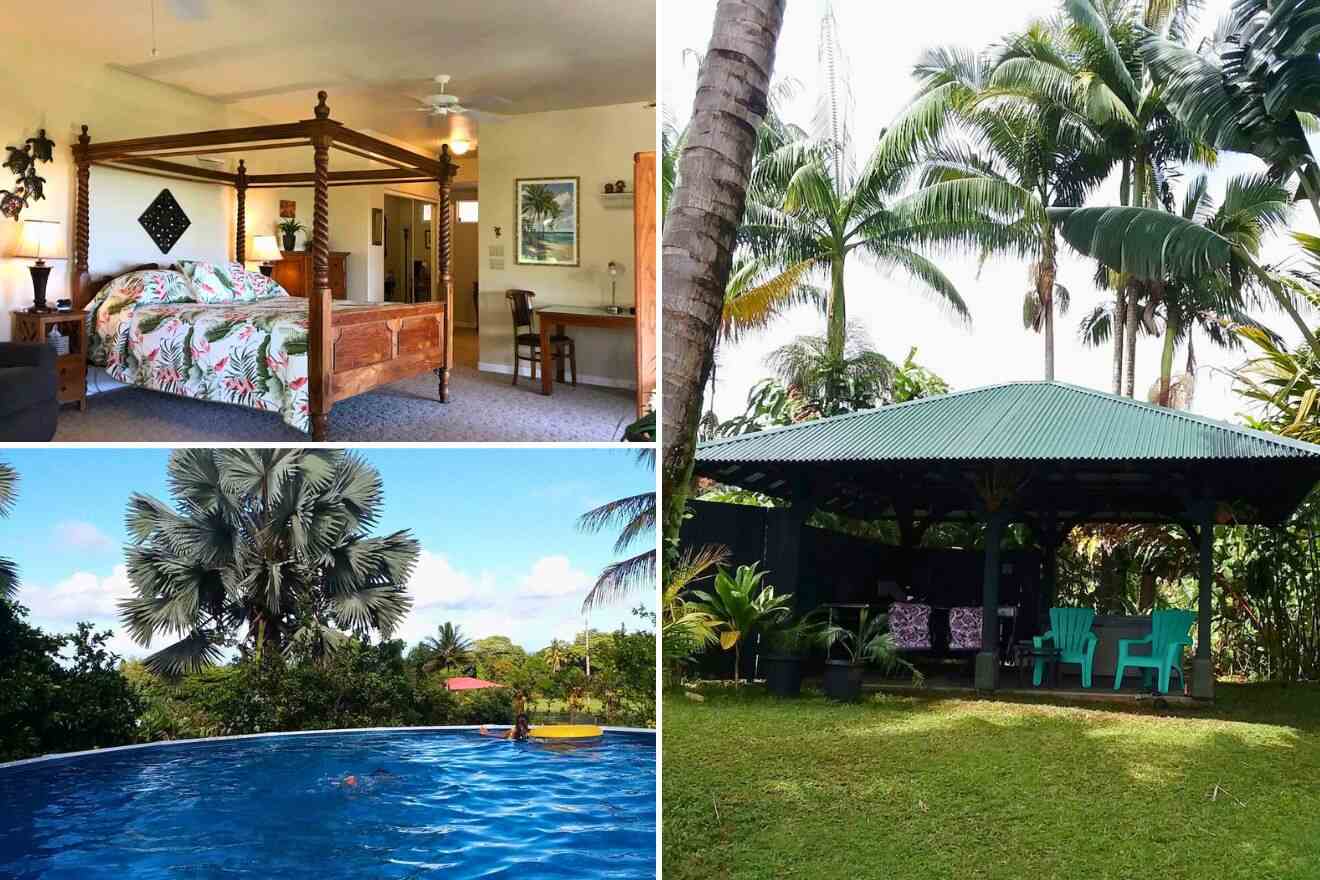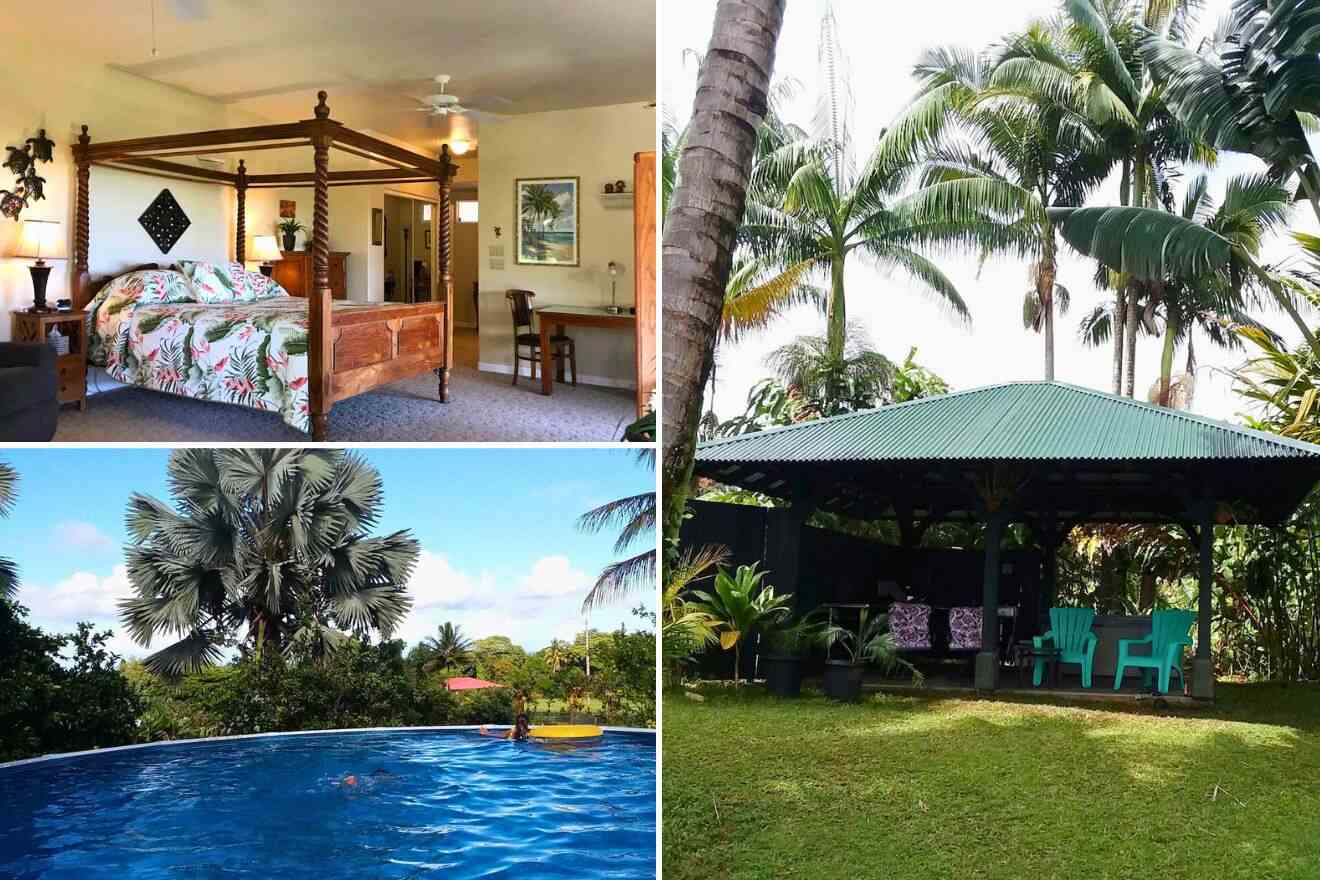 Ready for your tropical getaway? Who wouldn't be, since you're going to Hilo, Hawaii! And here's a great hotel perfect for nature lovers, surrounded by palm trees and lush grounds! Start your mornings by the swimming pool with a nice cup of Hawaiian coffee and then head out to the gardens to enjoy the sun.
The hotel is adults-only, making it perfect for a couple's getaway, and it features some amazing rooms with so much space. When you're not out and about exploring places on the Big Island like Hawaii Volcanoes National Park or shopping for goodies at Hilo Farmers Market, you can relax in the spa tub!
2. Grand Naniloa Hotel Hilo – for golf enthusiasts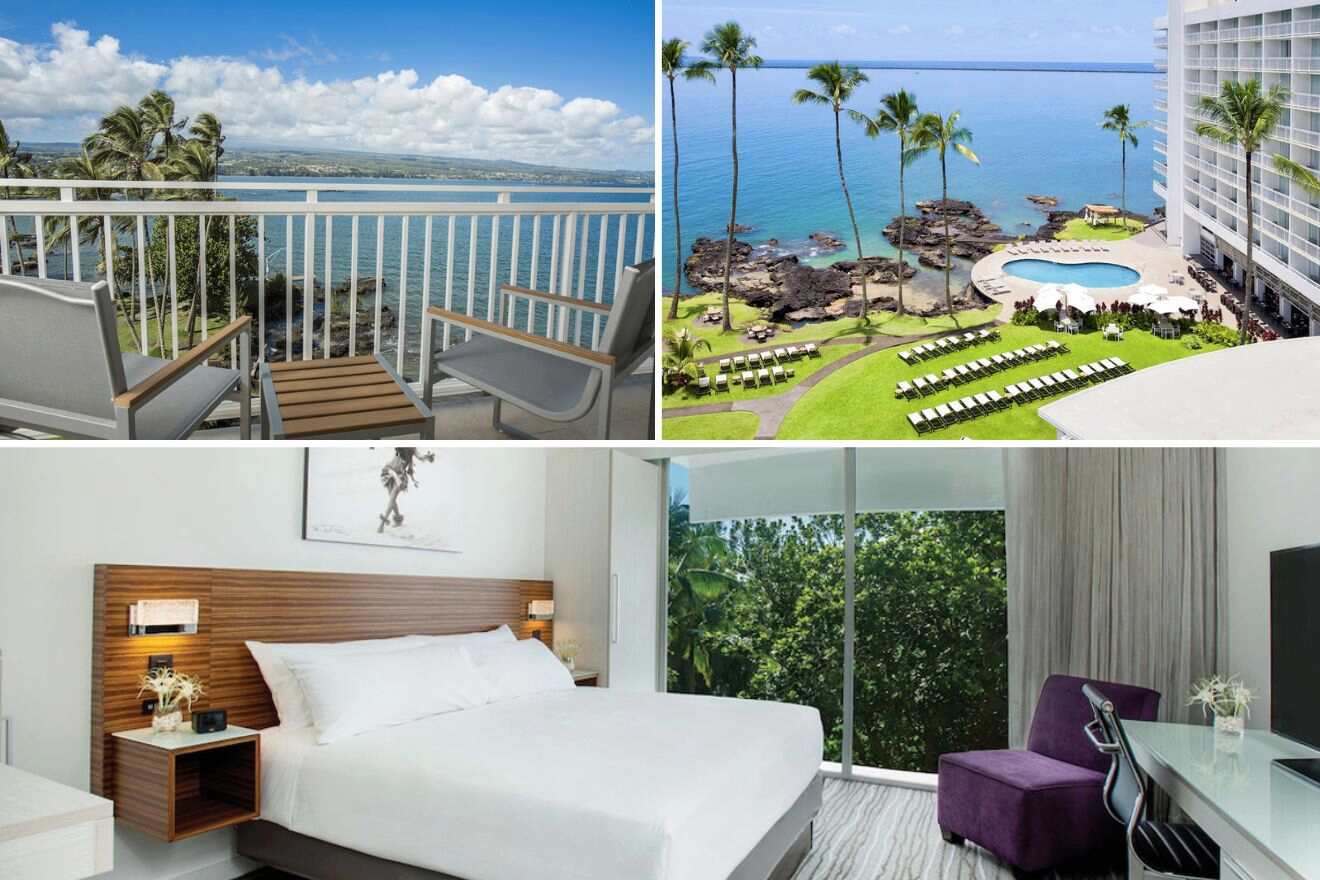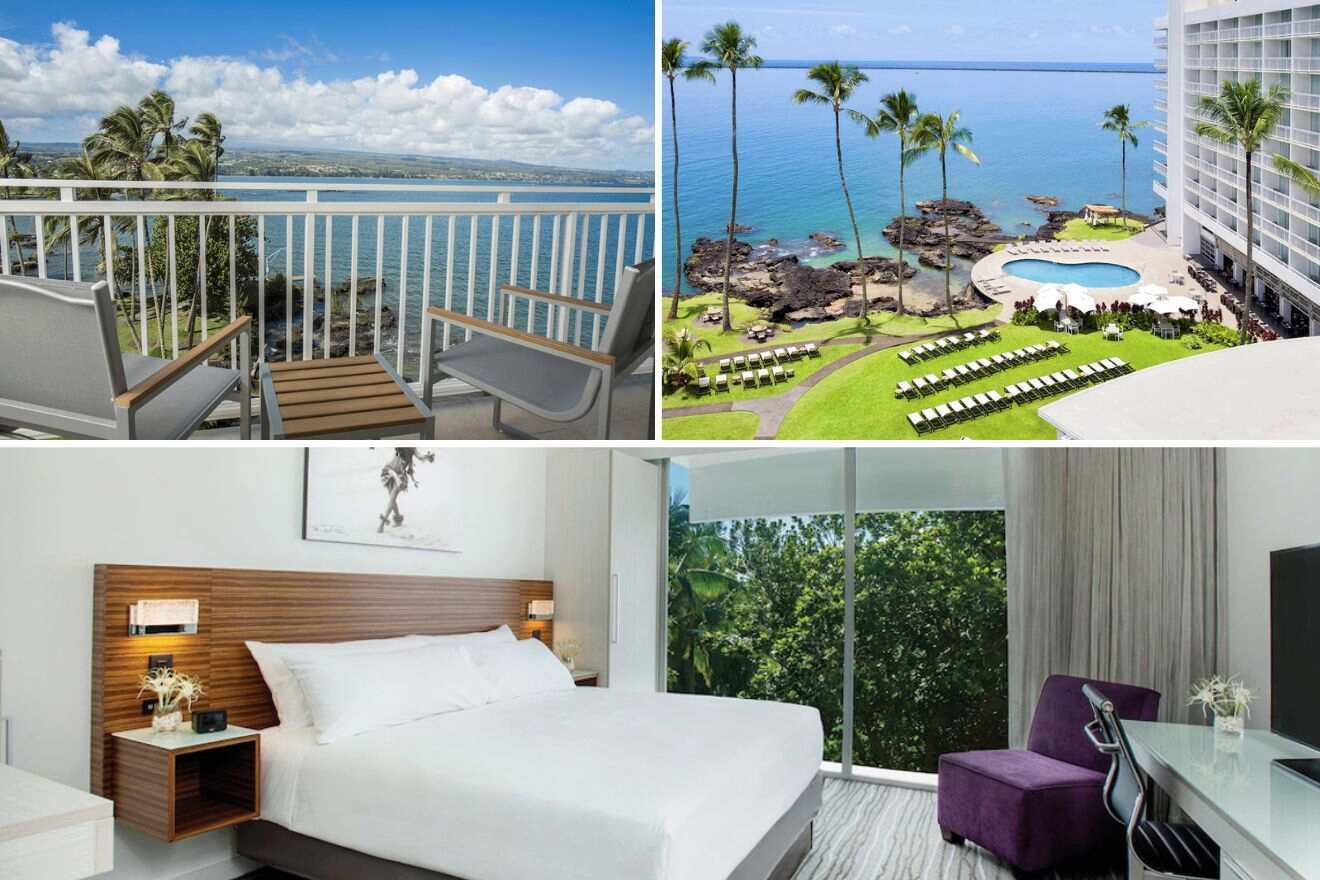 With a convenient location overlooking Hilo Bay, this hotel is surely a keeper! Not just because of the views, but the accommodation offers some amazing rooms with a private lanai, a gold course, and an outdoor swimming pool with sun loungers where you can relax.
There are lots of places to discover on the Big Island, like the Hawaii Volcanoes National Park and the Hilo City Center, but definitely take some time to enjoy all the activities and facilities on-site. These include water sports, a gym, and the off-site ones as well, like boat tours, and surfing! Although this hotel is rated lower than I usually recommend, I decided to add it because of the superb amenities.
3. Hilo Bay Oceanfront Bed and Breakfast – with a sea view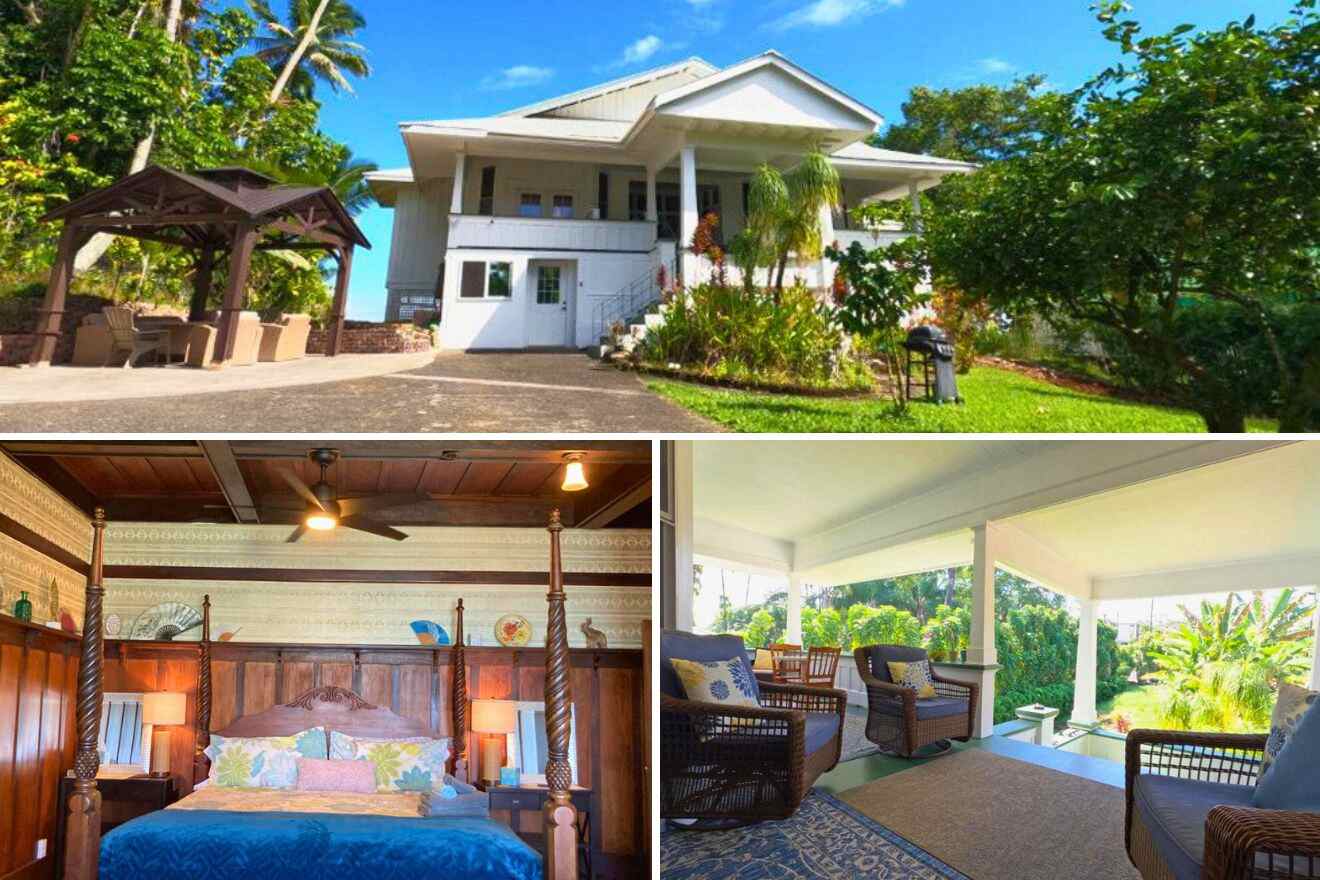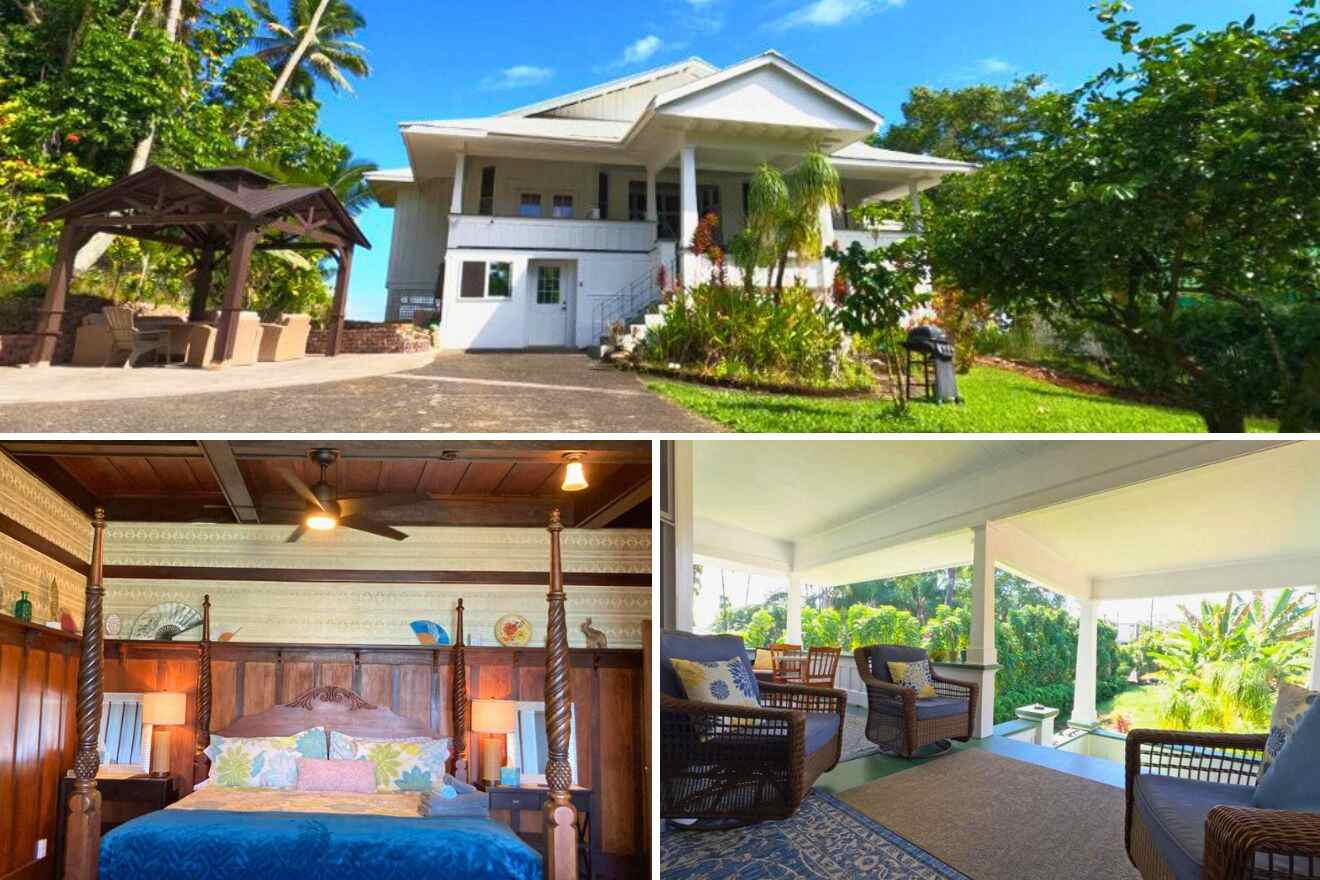 Wake up to a stunning view of Hilo Bay while staying at this charming accommodation! Each room at Hilo Bay Hale Bed and Breakfast is beautifully decorated with wooden-made furnishings and comes with a seating area and all necessary facilities. By the way, if you're looking for more incredible hotels on the island, check out our post with the best places to stay on the Big Island!
Among all the other amenities, you'll also find on-site laundry facilities (perfect for those longer holidays), a lovely garden where you can relax when you're not exploring all the attractions or surfing, and a shared kitchen, great for those on a tight budget or want to eat at home while traveling. Do remember that the Big Island is super popular, and the Hilo area is no exception to that rule, so I recommend booking your hotels here in advance!
4. The Inn at Kulaniapia Falls – for outdoorsy people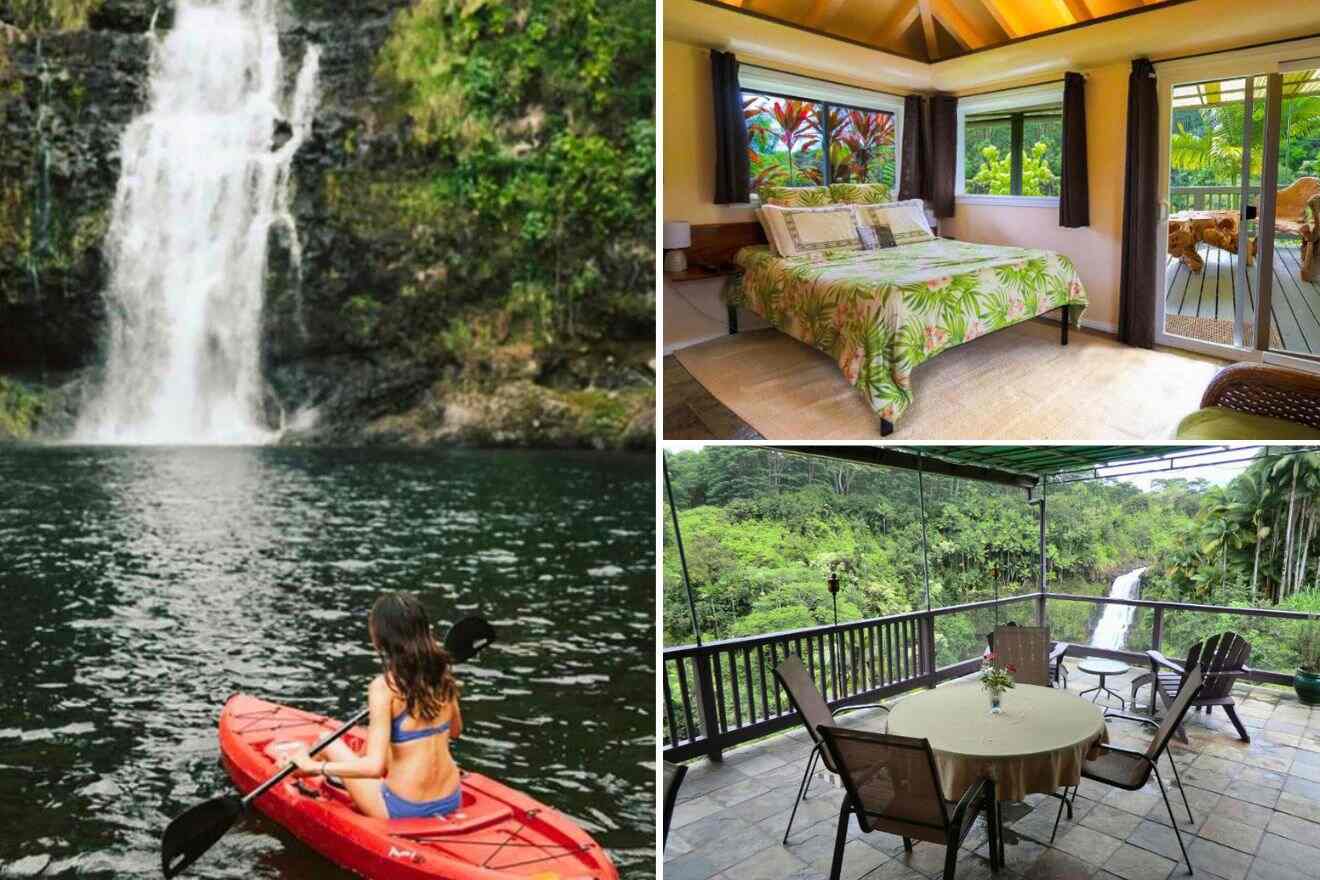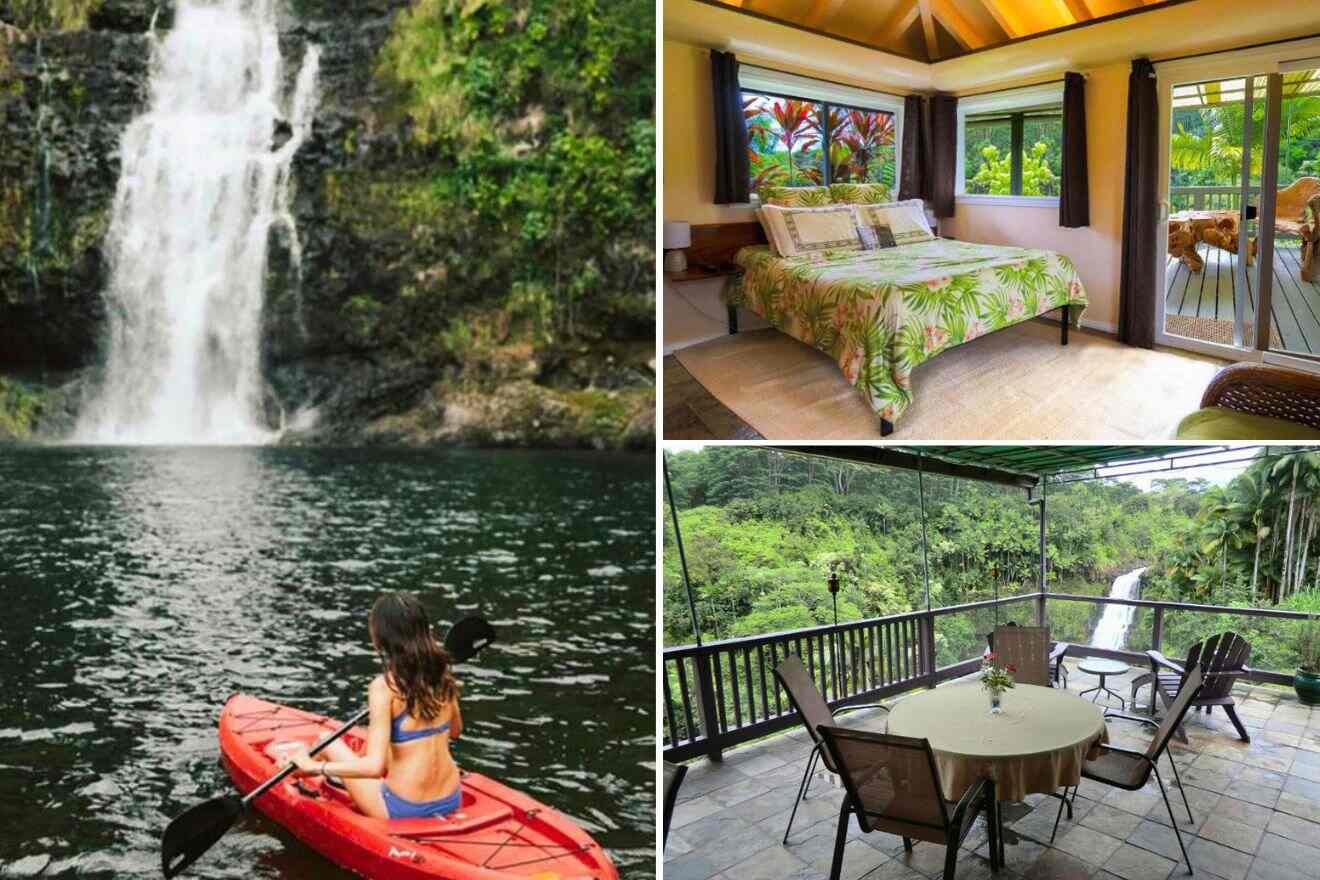 Do you love remote locations surrounded by natural beauty and waterfalls? Say no more! This place in Hilo, Hawaii, is surely for you. The inn sits among 22 lush, natural acres surrounding Hawaii's largest privately accessible waterfall (mic-drop), and it offers some comfortable accommodations with private balconies and some even offer waterfall views!
You'll definitely fall in love with this place! They also offer a daily breakfast prepared with locally sourced ingredients (yum) and lots of fun activities nearby, like hiking, kayaking, and swimming! Some of you will be happy to know that the inn is an eco-friendly and sustainable property that generates power from a hydroelectric system powered by the waterfalls.
5. Castle Hilo Hawaiian Hotel – with views of Mauna Kea Peak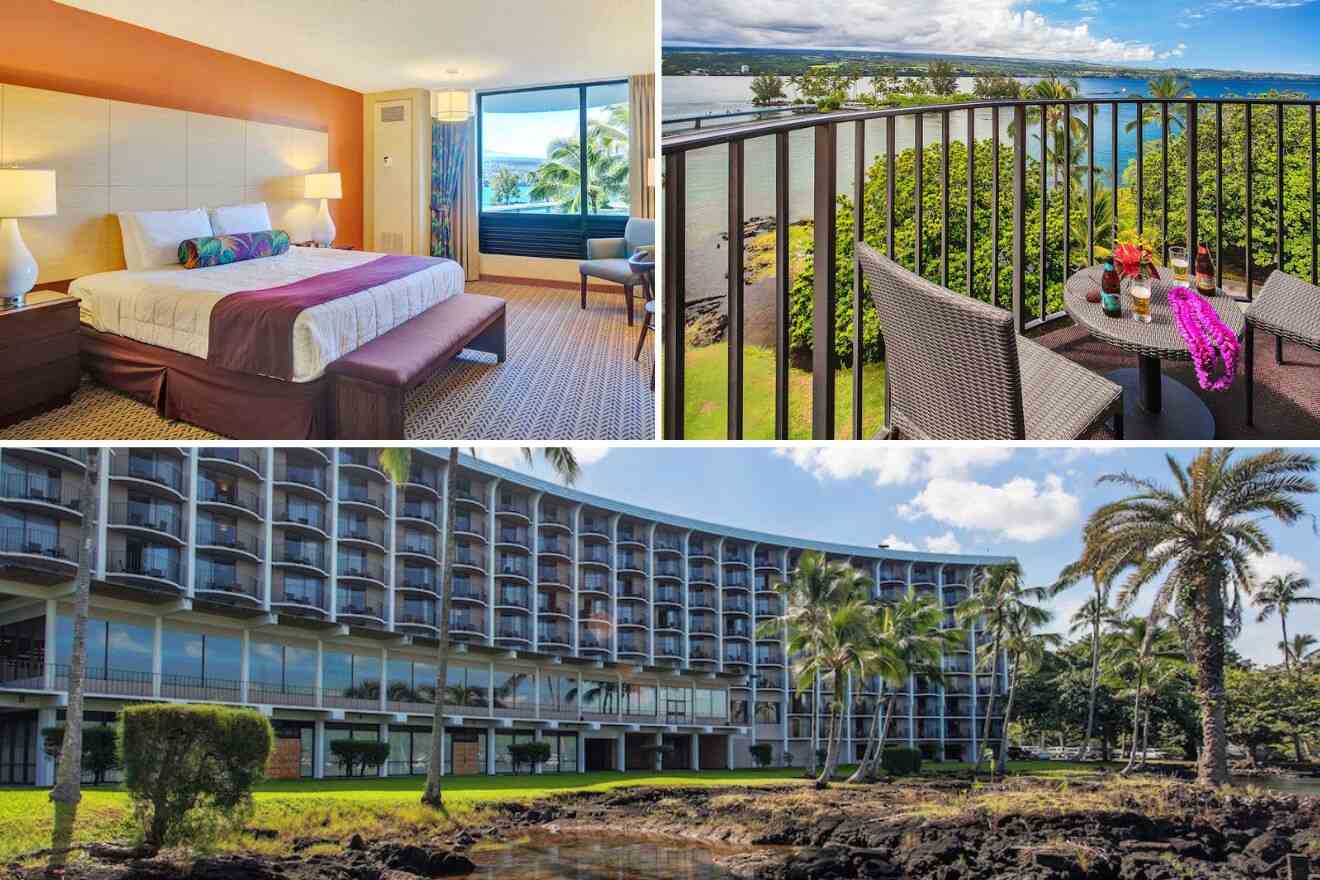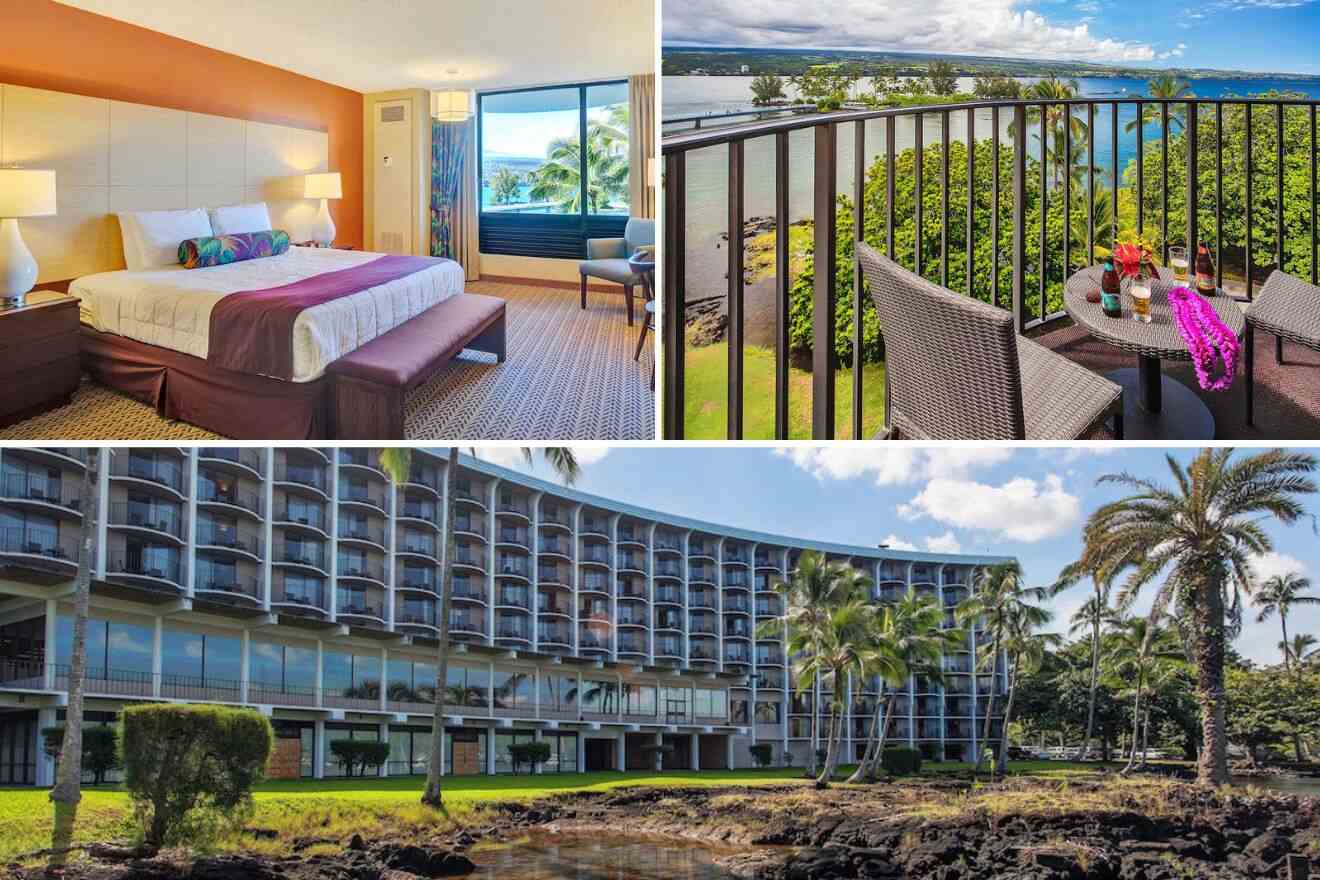 Enjoy your cup of coffee on the balcony of your room while staying at this hotel, which has a great location overlooking Hilo Bay! Afterward, you can get all dressed up and head out to explore downtown. Alternatively, you can stay in and have a day of doing absolutely nothing by the swimming pool, you're on holiday after all!
The accommodation offers private rooms with much space, a seating area and a flat-screen TV. Guests can rent out bikes from the hotel, and you can always hit the fitness center (we all know how important gym day is!
6. Dolphin Bay Hotel – for a relaxing holiday in Hilo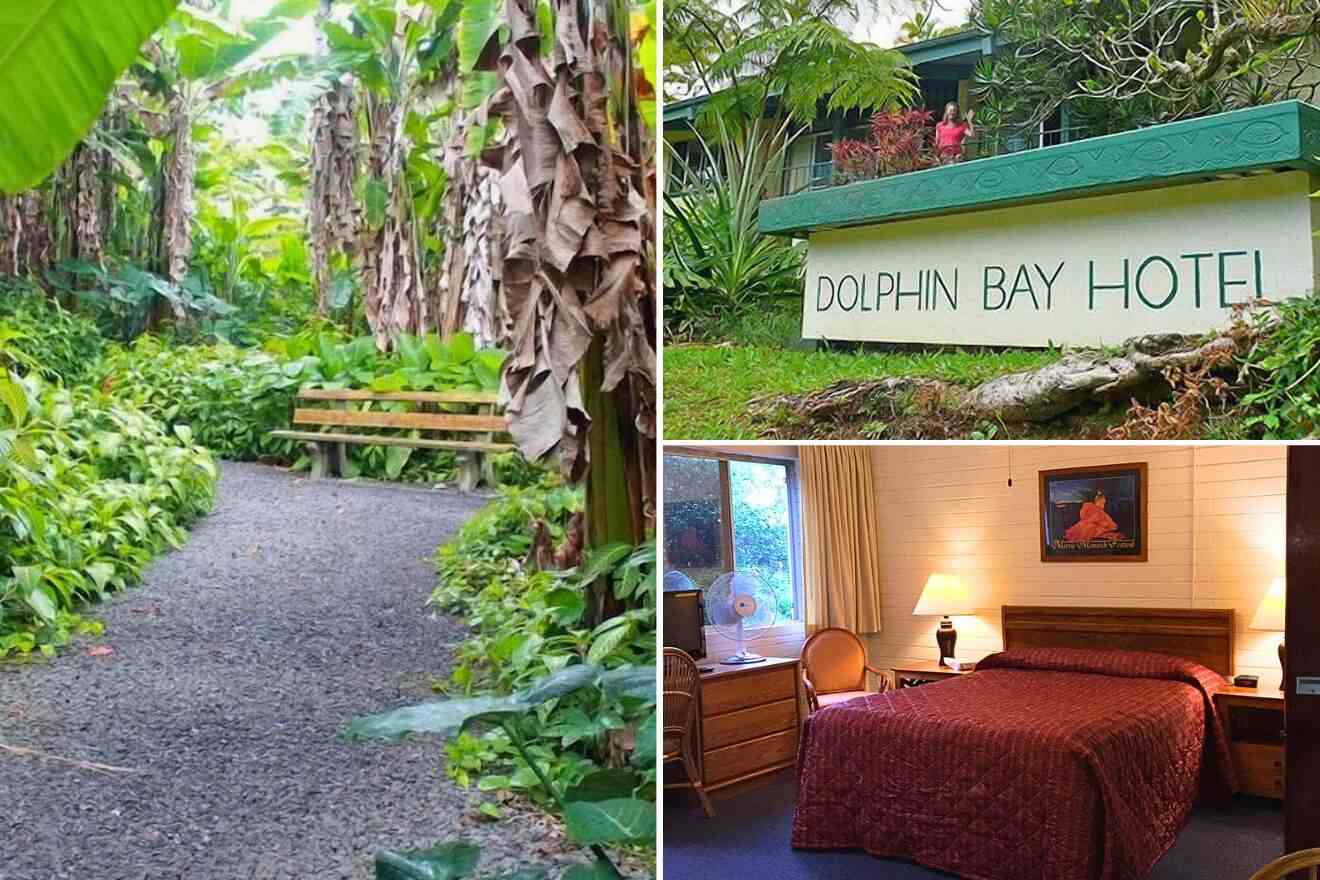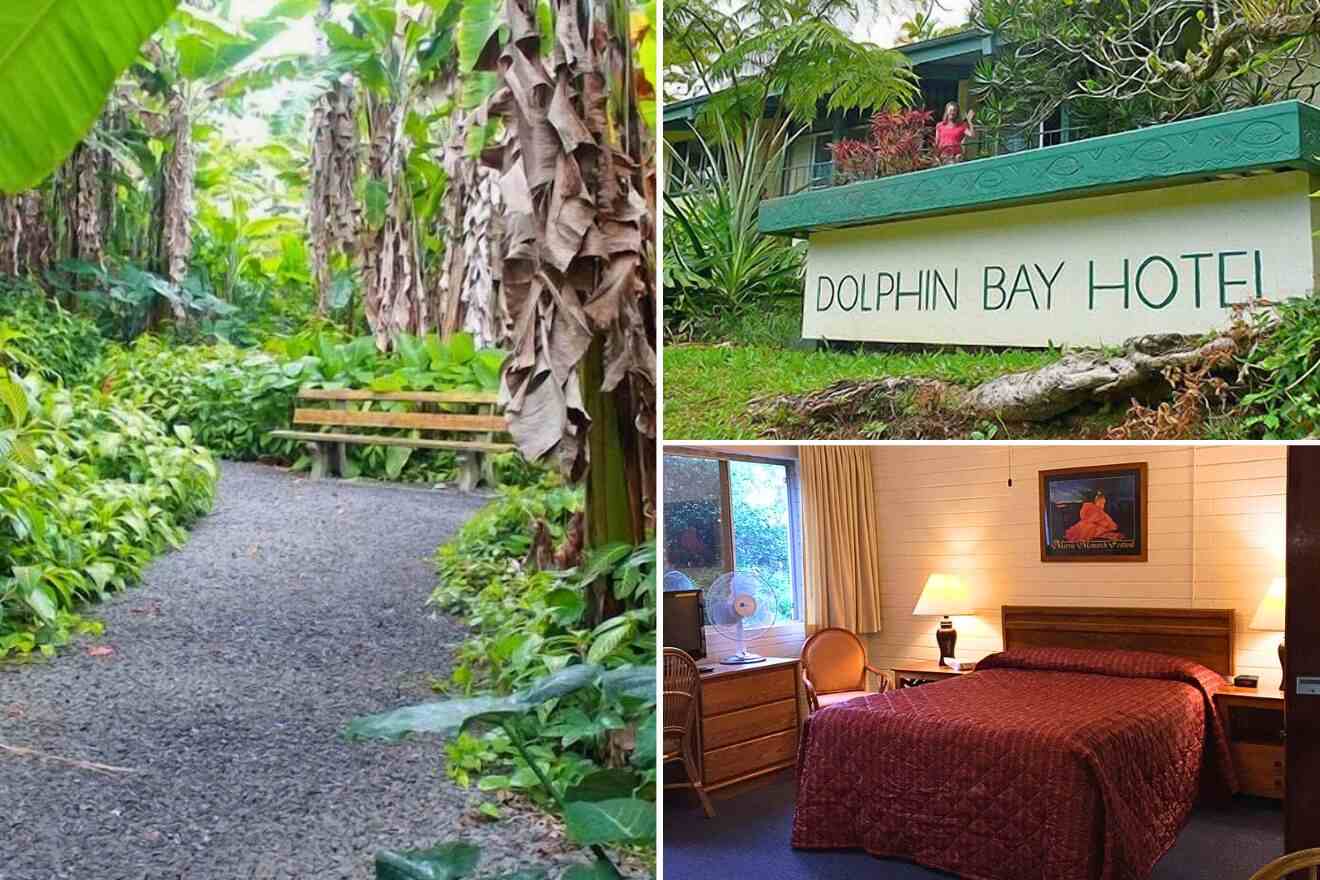 Simple but oh so cute! You'll never want to leave this charming Hawaiian hotel that's located a 10-min drive away from Hilo International Airport and just within walking distance of the Mokupapapa Discovery Center! Their rooms will make you feel right at home, and they come with a kitchen and free Wi-Fi.
Guests will have access to the laundry facilities on-site and free parking! On the days when you don't feel like doing anything, grab your favorite book and head outside in the garden for a bit of relaxation!
7. Hale Kai Hawaii Bed & Breakfast – for beach lovers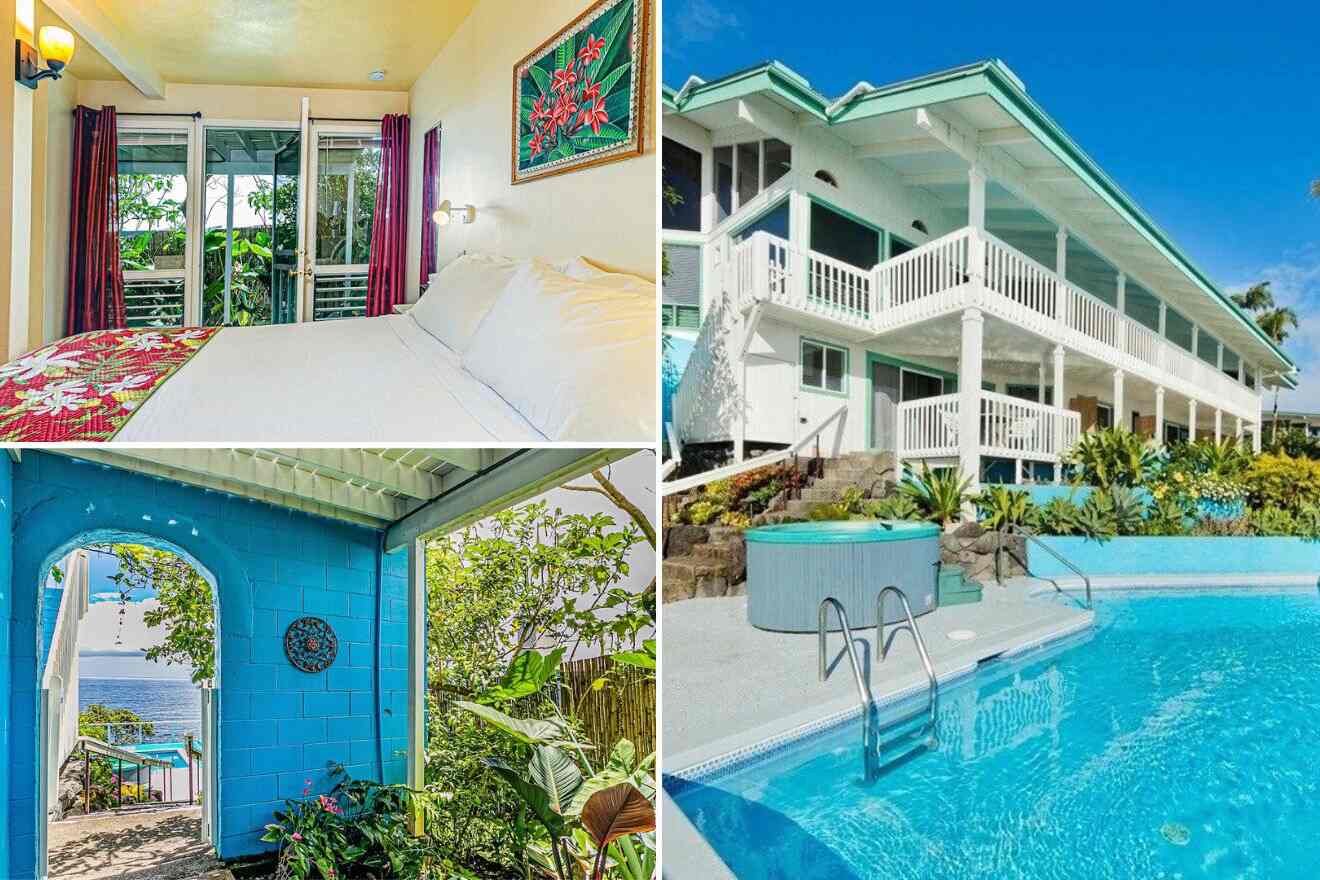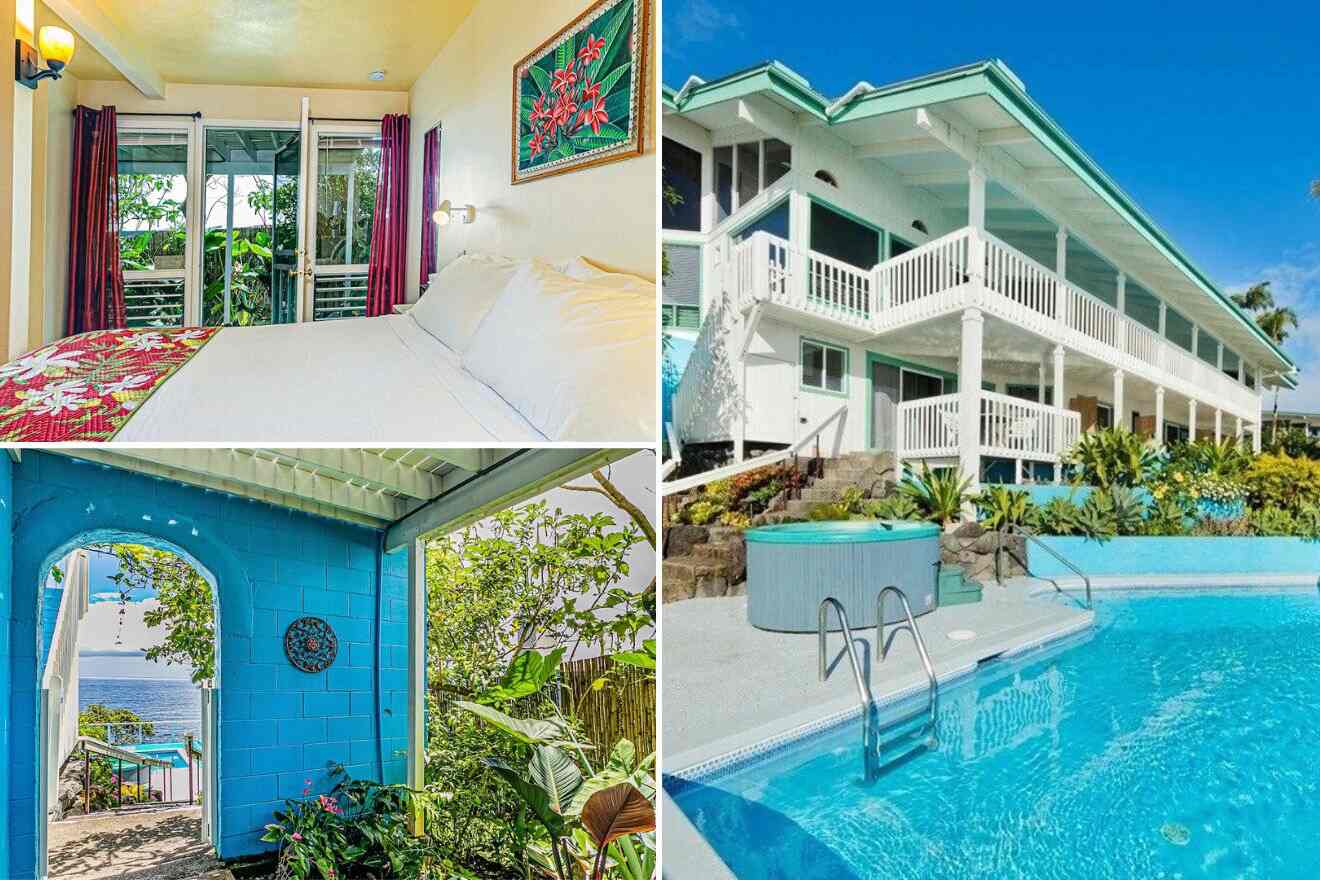 Still looking for a gorgeous oceanfront hotel in Hilo, Hawaii? Then check out this accommodation, which is just a short walk away from Honoli'i Beach and offers some gorgeous rooms with so much space, an outdoor terrace, and a restaurant.
Boasting the usual Hawaiian islands charm, the hotel is beautifully decorated with colorful flowers! While here, you'll be surrounded by lush tropical gardens, and you'll also have access to a swimming pool that overlooks Hilo Bay. So pack your swimsuits and get ready for an incredible holiday out in the sun!
8. Orchid Tree B&B – a Hilo hotel with stylish rooms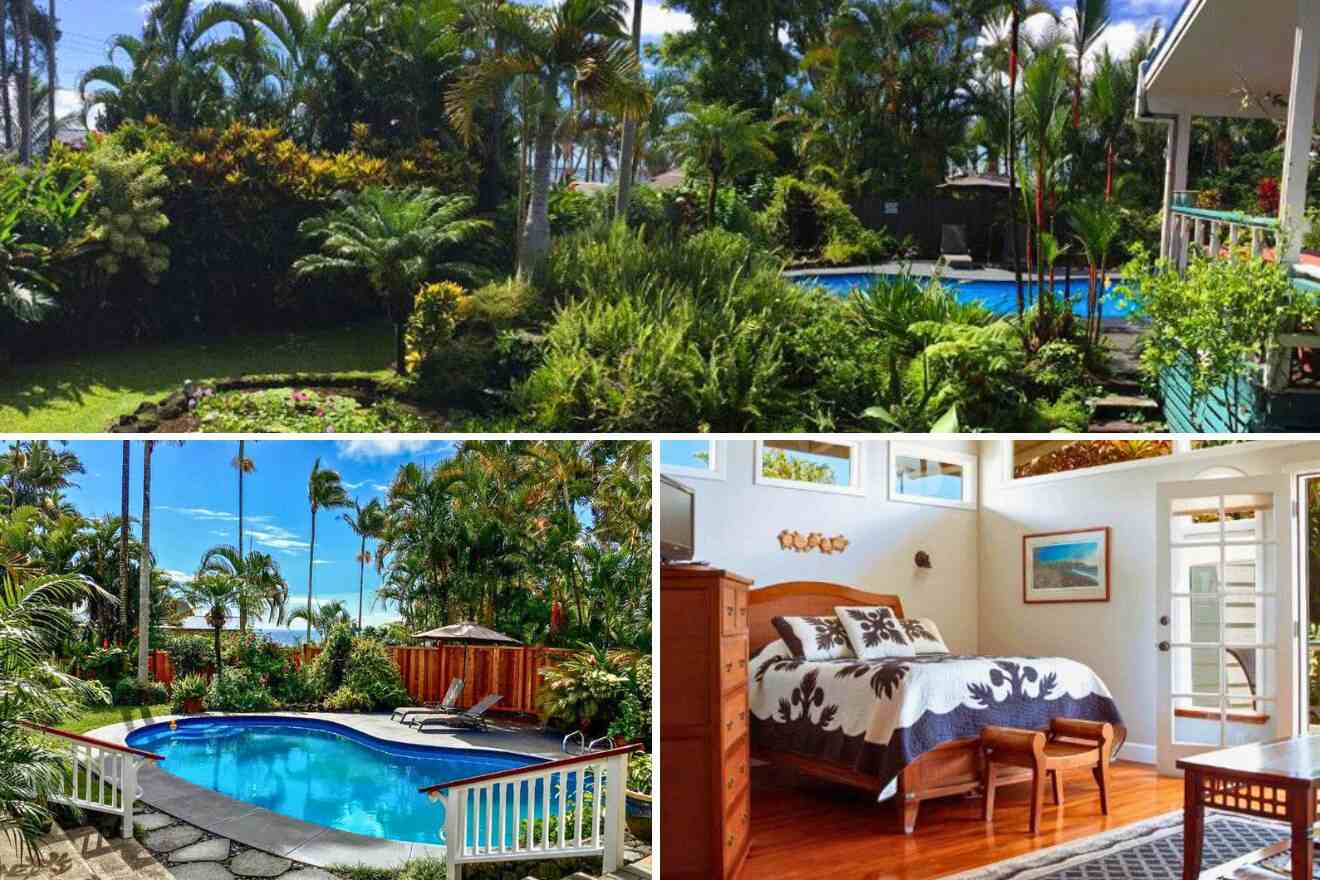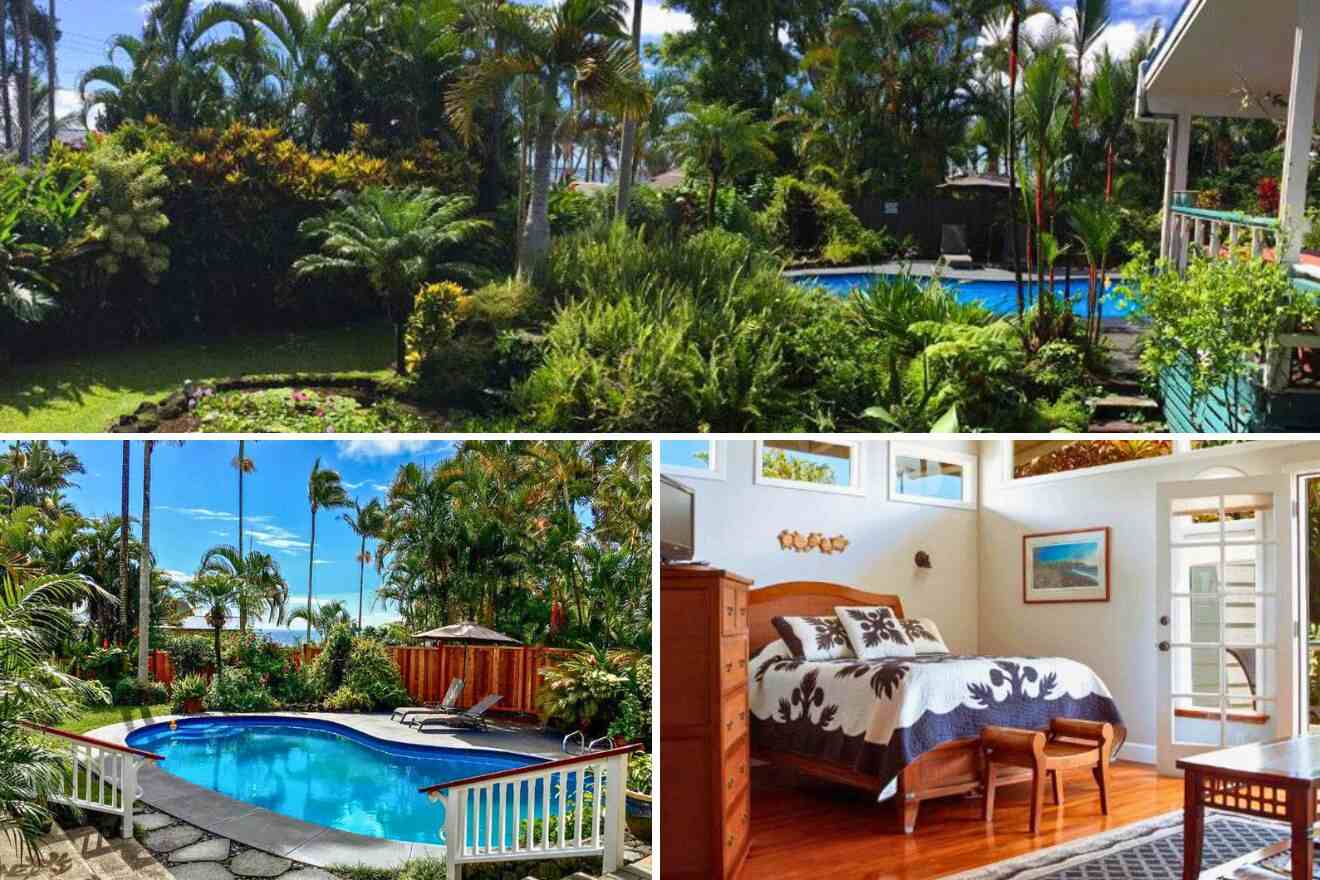 Loving the design of this hotel that's set a 5-min drive away from Downtown Hilo! Each piece fits perfectly, which creates such a nice ambiance! I'd definitely pick the room with an ocean view, which also comes with a balcony, a flat-screen TV, and free Wi-Fi.
Each morning you can enjoy a continental breakfast, and then get your swimsuit on and relax in the hot tub or go for a swim in the pool. The bed and breakfast offers easy access to Honoli'i Beach Park, so you can escape to the beach whenever you feel like it, as it's only a 15-min walk away!
9. Hilo Luxury Suite – for adventurous travelers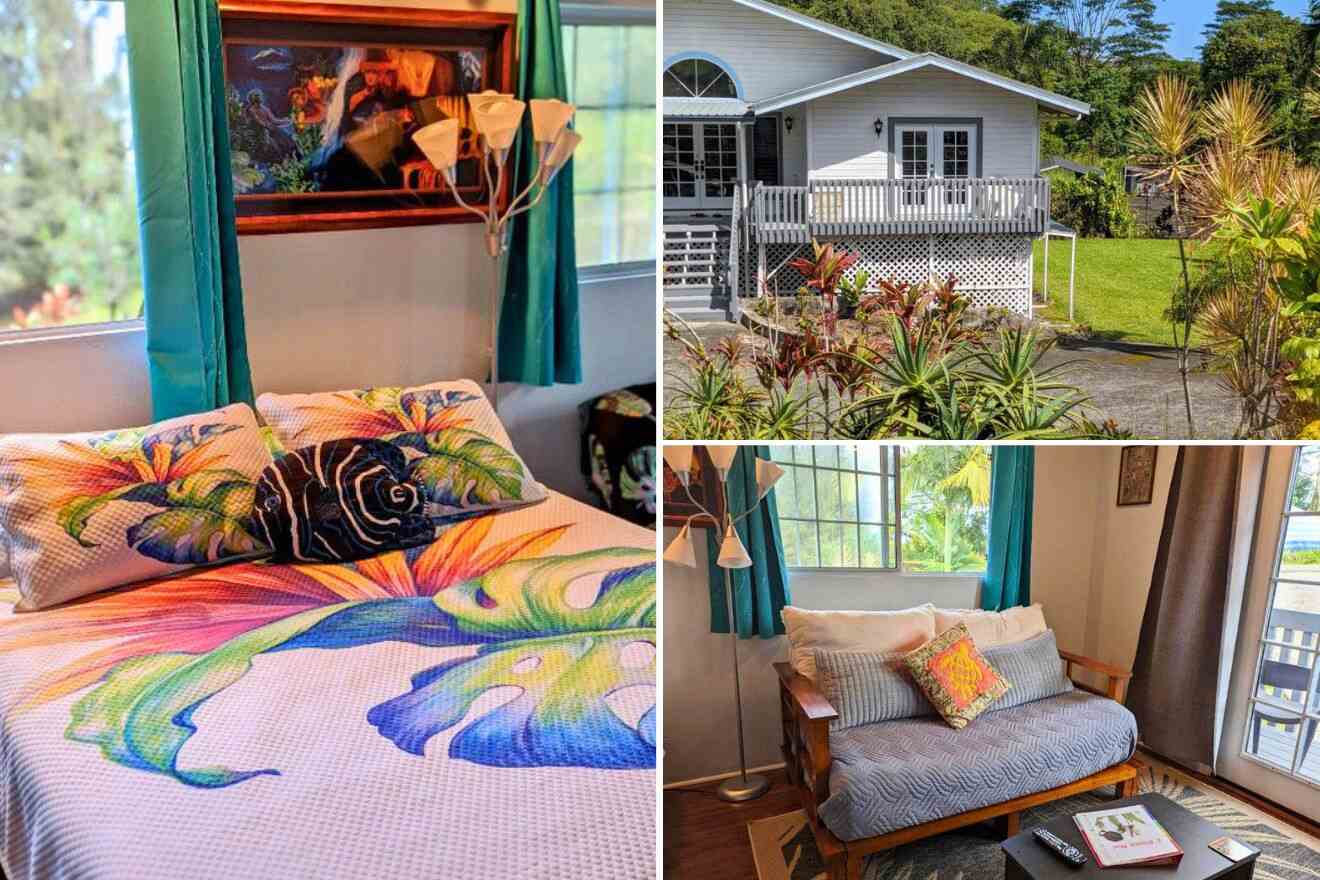 Is it really a hotel in Hawaii if it's not super colorful? Although this place is not centrally located (there's like a 15-minute car drive to Downtown Hilo), it offers such cute decor and lots of fun activities in the outdoors, like hiking (perfect for adventurous travelers).
If you're coming with a family or 2 other friends, then the apartment will be perfect for you as, unlike other hotels, it features so much space, a fully-equipped kitchenette, a balcony with garden views, and a dining area as well. Besides all the hiking, you can also try diving, windsurfing, and snorkeling near the hotel.
10. SCP Hilo Hotel – offers free bikes and SUPs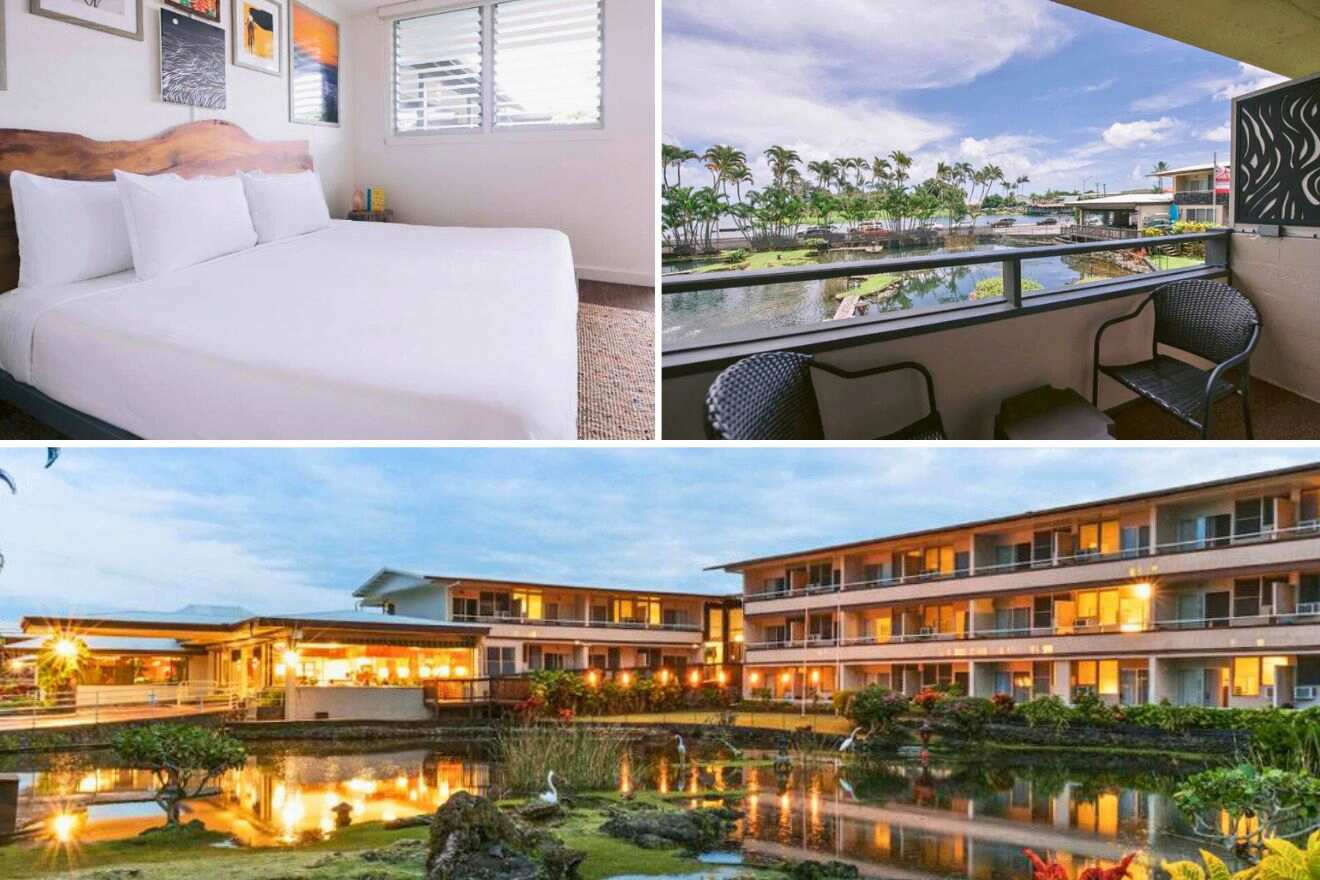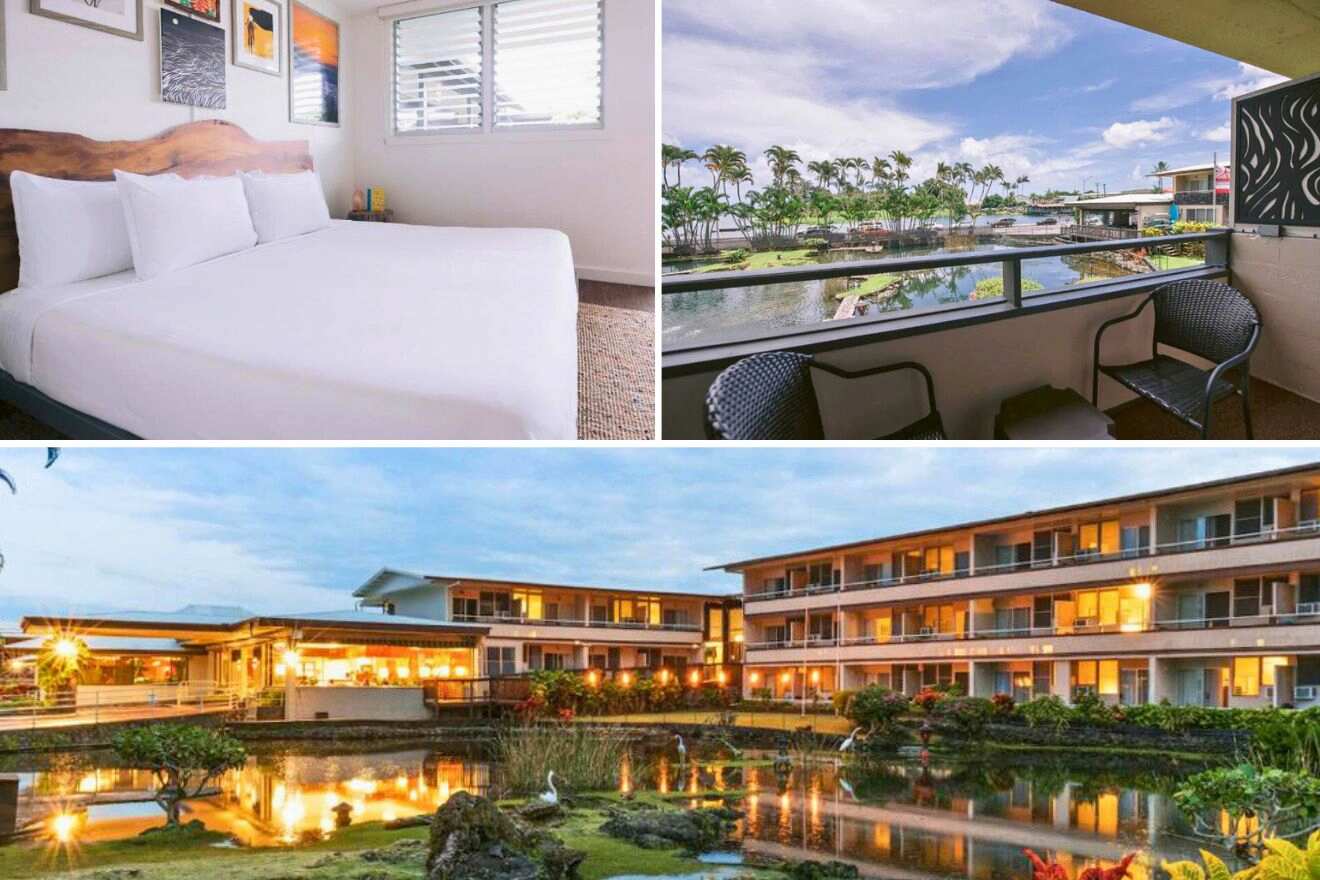 Located within driving distance of Hawaii National Volcanoes Park and offering easy access to Downtown Hilo, this accommodation (the former Hilo Seaside Hotel) is modern and simple but super chic. Perfect for those who like minimal decor, the hotel offers rooms with a ceiling fan and free Wi-Fi, and some even come with a private balcony. 
All guests will get free bicycles to explore the area and stand-up paddle boards. While here, you can chill by the swimming pool, hit the gym, and indulge in all their yummy food locally sourced from the Provisions Market. Gotta love a place that tells you where the food is coming from!
11. Paradise Cottage at Anthurium Hale – in a quiet area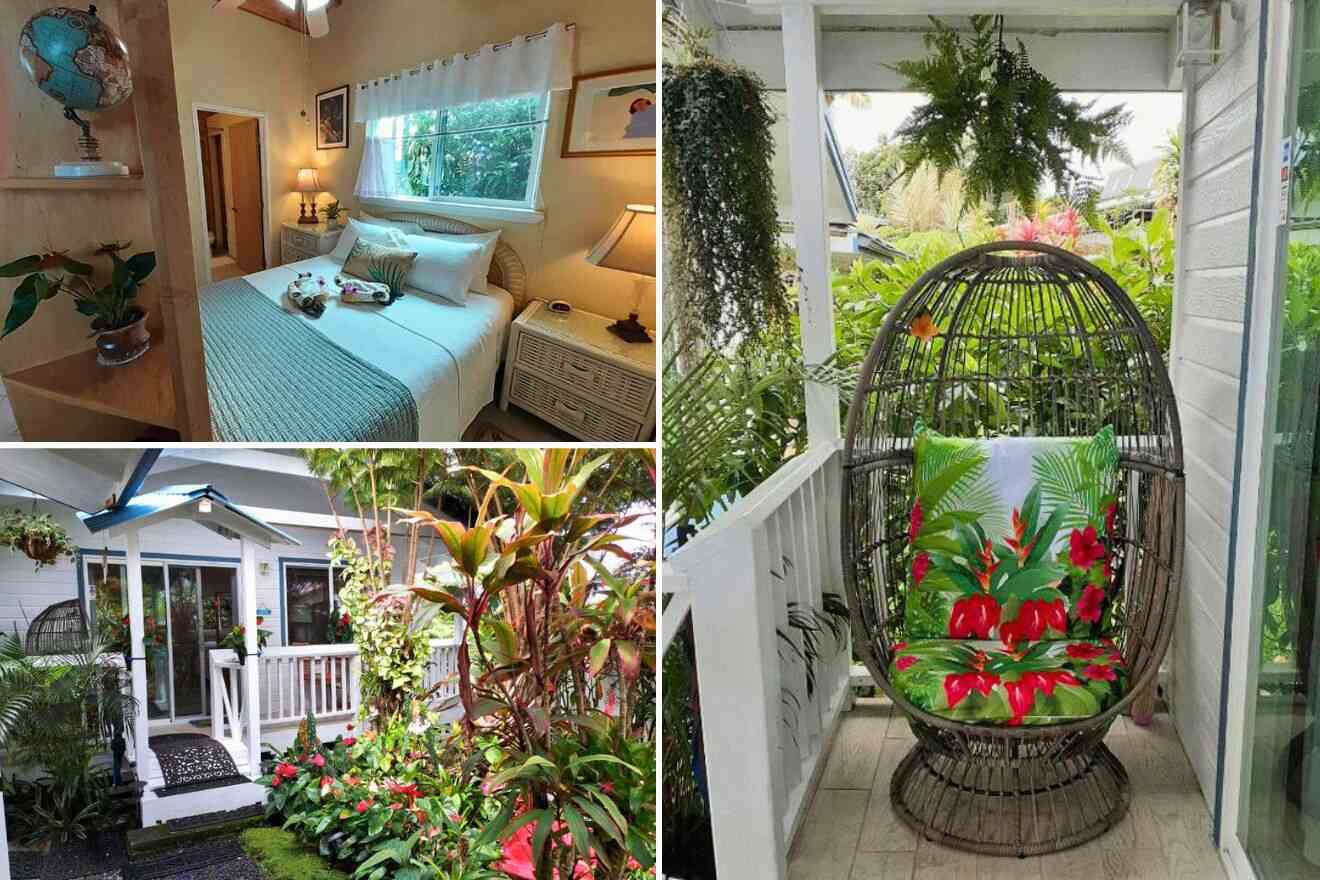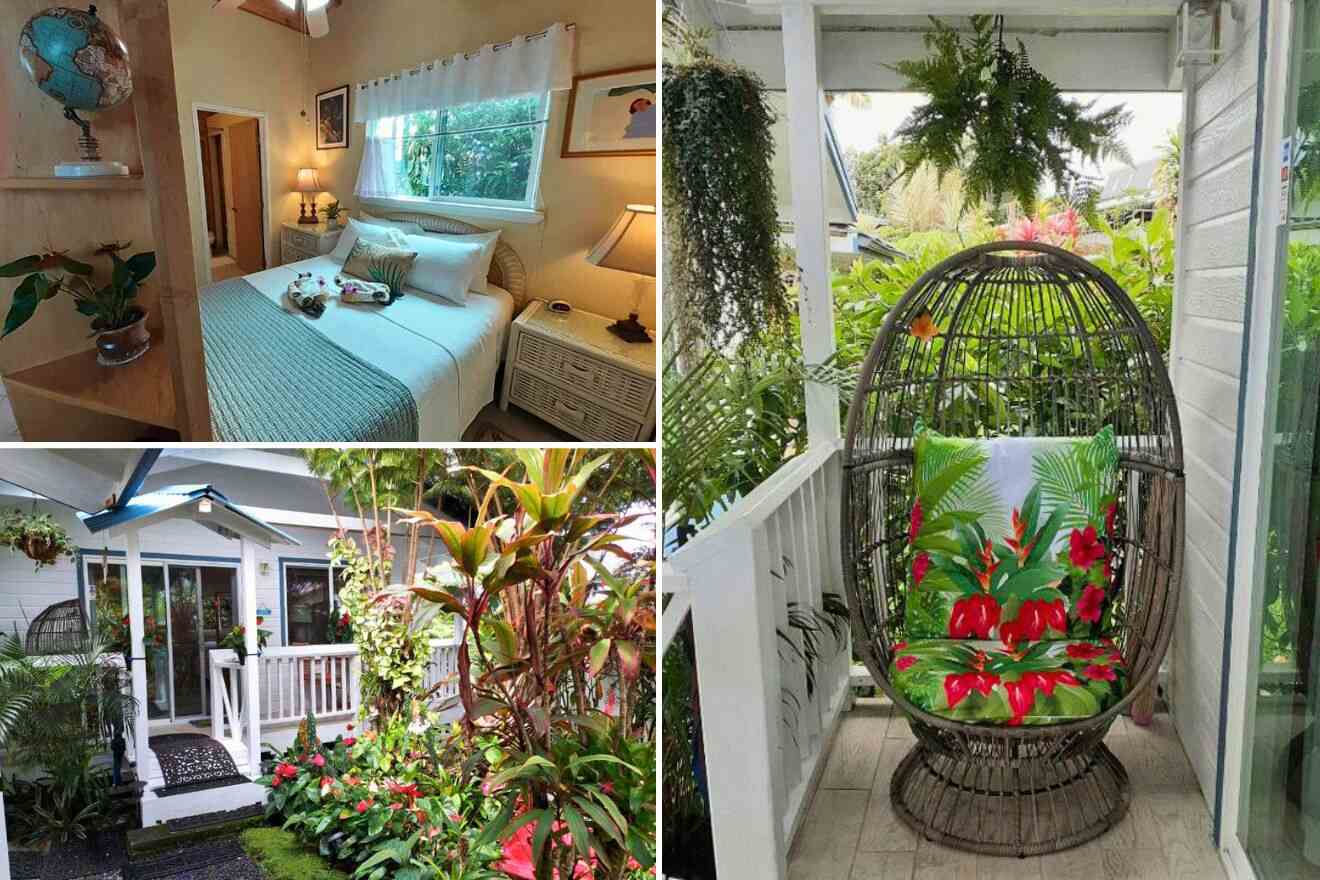 Would you prefer a more quiet location for your holiday on the Hilo side of the island? Then have a look at this place, which offers private rooms just a 10-min drive away from the downtown. Surrounded by tropical plants and flowers, the little cottage is super cozy and comfortable! Their studio comes with a kitchenette, a balcony, and a flat-screen TV.
All guests will have access to free parking, and you'll also get some board games for those days when you just want to stay in and have some fun while playing games. Once you're ready, all the outdoor adventures will be waiting for you: hiking, diving, snorkeling, you name it! You'll find it all here!
12. Hale Kawehi B&B Guesthouse – for budget travelers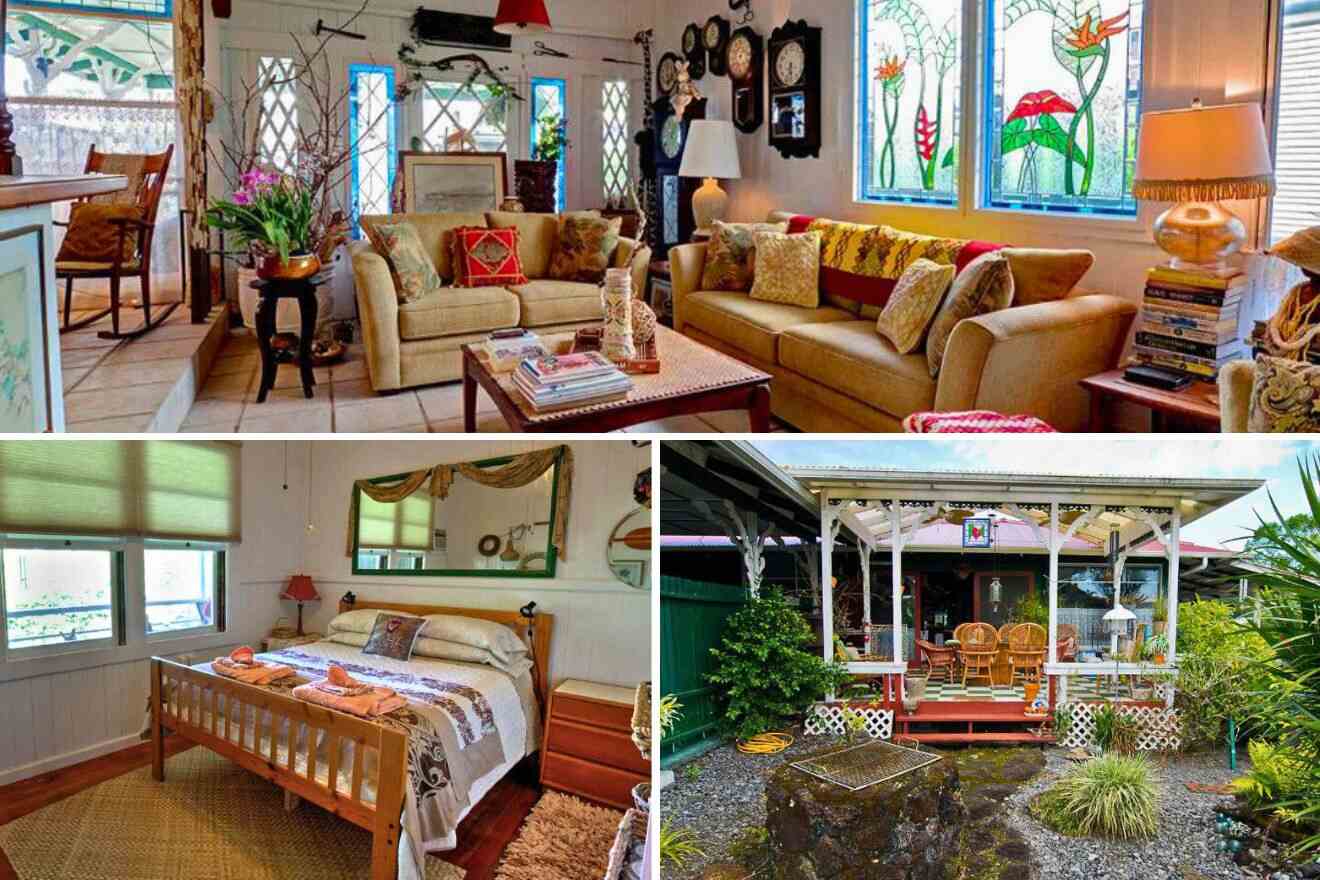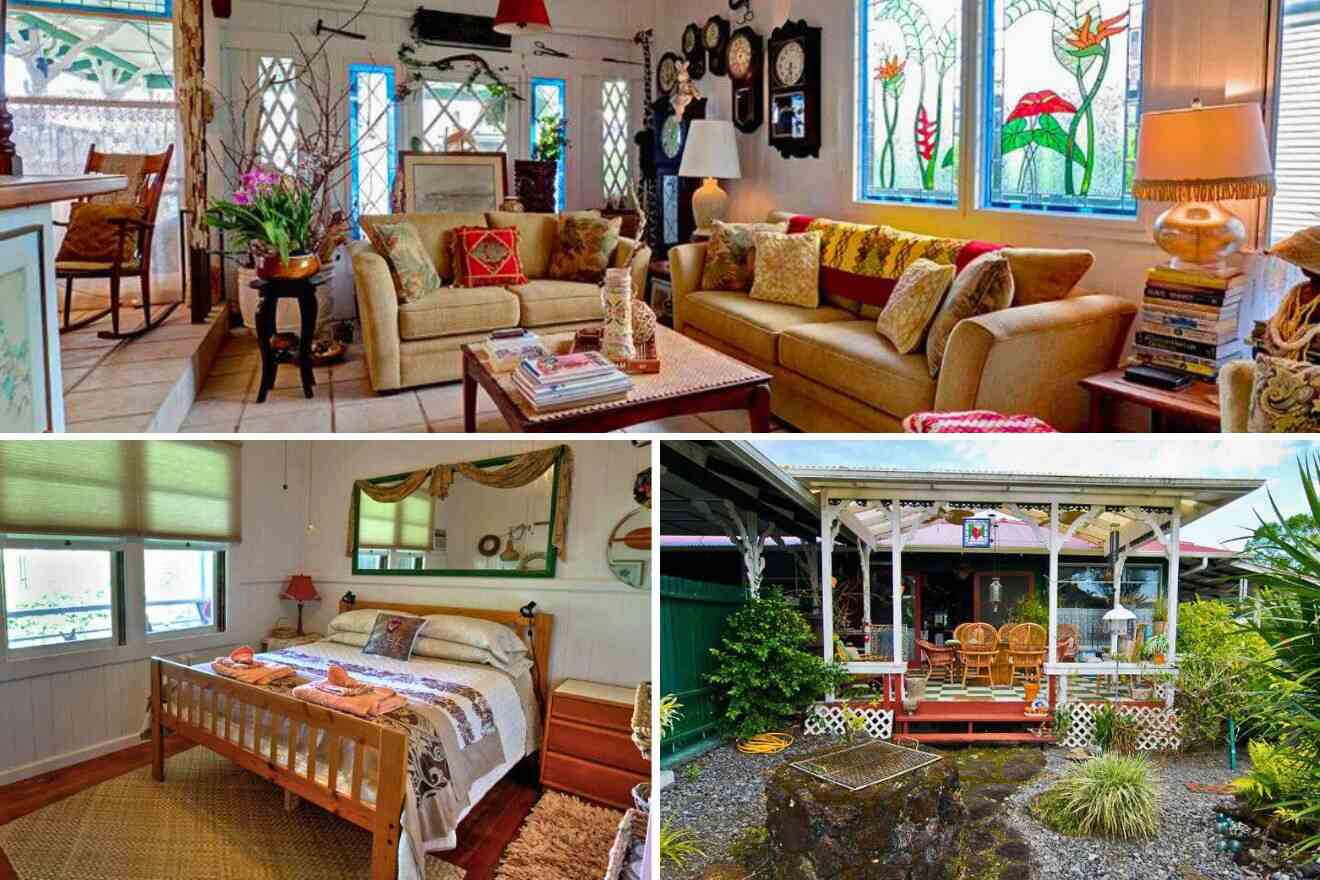 Who would've thought you could get a taste of Polynesia in a Hawaiian accommodation?!
Located just a 30-min walk to places like Hilo Shopping Center and the Pacific Tsunami Museum, the guesthouse has a very cool decor, but I've got to warn you, they've got lots of stuff (I don't recommend it to the minimalists out there)!
The guesthouse features a room with a flat-screen TV, a private bathroom, and free Wi-Fi. It also comes with an open kitchen (perfect for those who don't want to waste a lot of money on restaurants) and a garden with sun loungers where you can relax when you're not out and about visiting the Hawaii Volcanoes National Park and its active volcano or the Akaka Falls State Park.
13. Old Hawaiian Bed and Breakfast – for a tranquil trip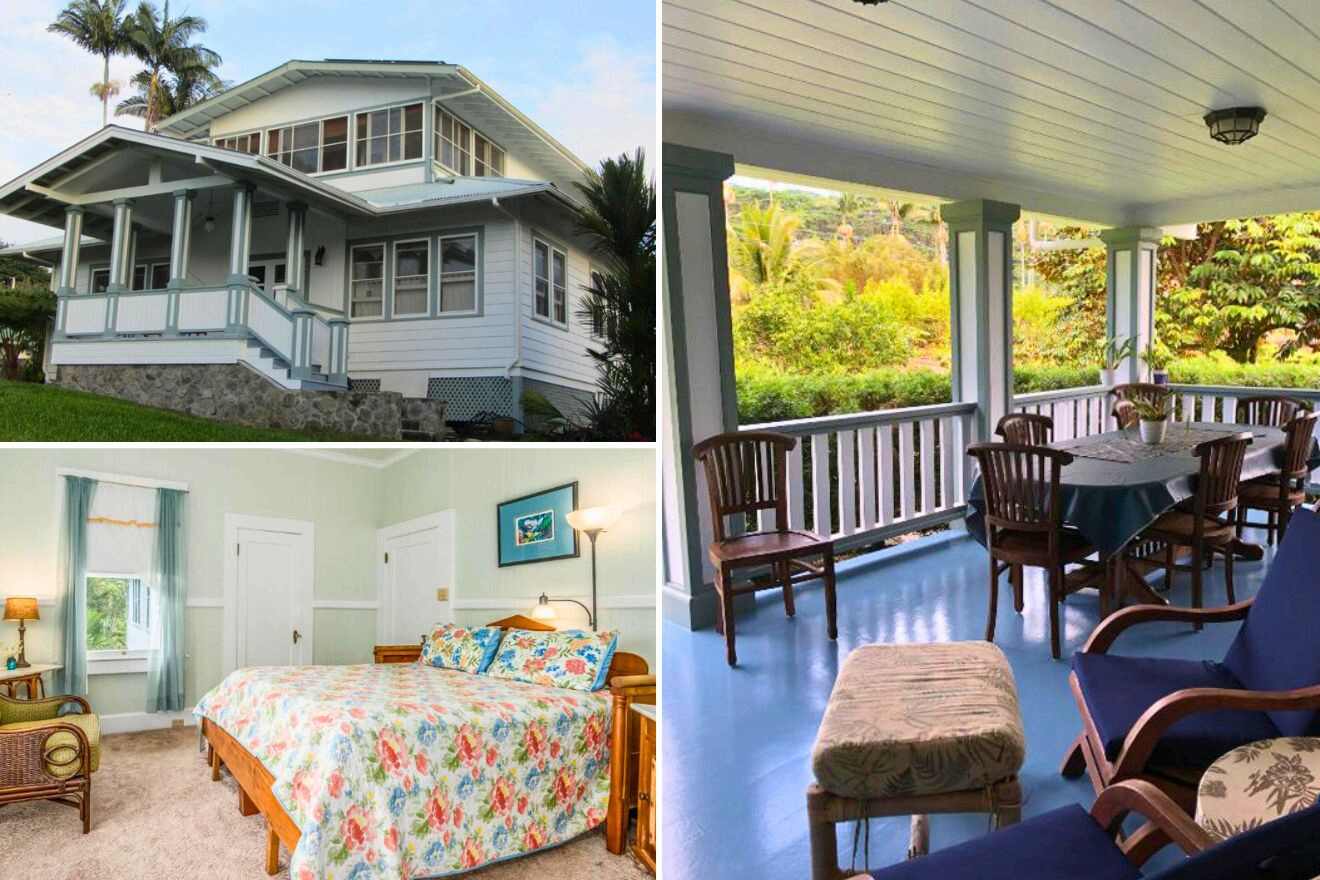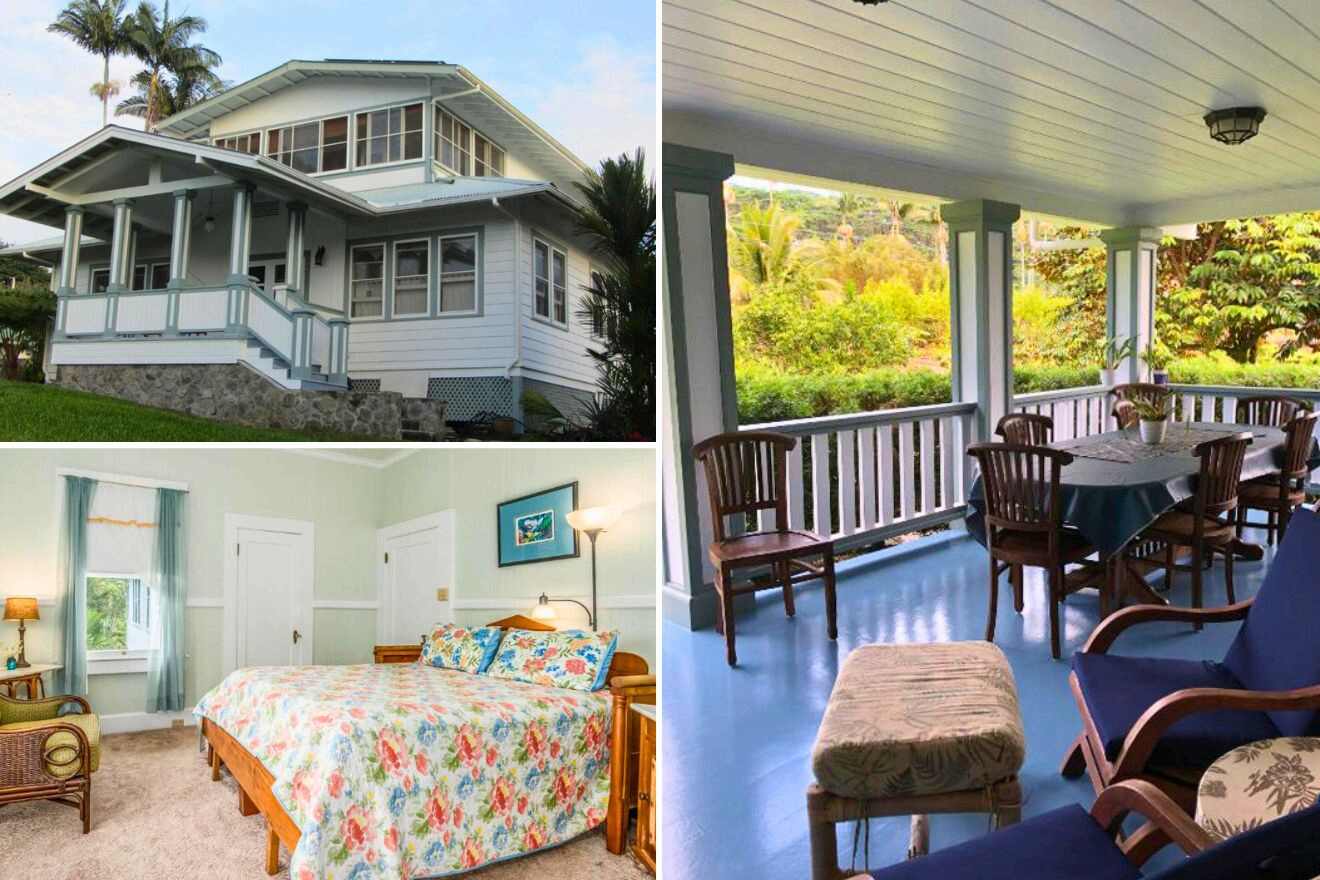 Hello holiday, goodbye daily routine! Who's in the mood for a few days of doing absolutely nothing but discovering waterfalls on the Big Island and chilling in a tropical garden? If that's you, you need to check out this hotel, which offers rooms with a walk-in shower, free Wi-Fi, and board games. 
Located near the Wailuku River State Park, the accommodation offers typical Hawaiian decor and a garden where you can sit and contemplate the beauty of it all! Each morning you can enjoy breakfast at the accommodation before you start visiting all the attractions on the Big Island.
14. Hilo Couples Retreat – with serene atmosphere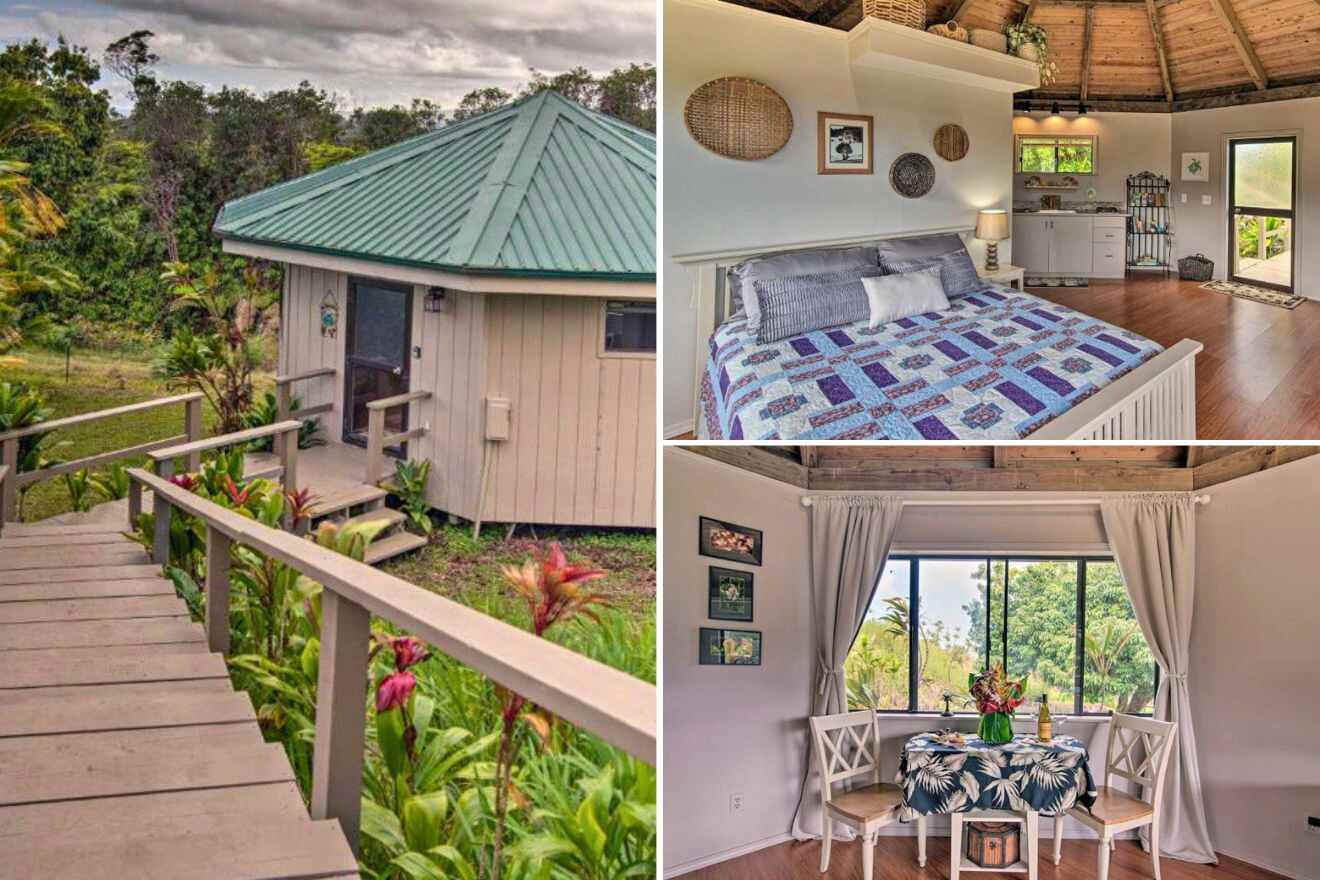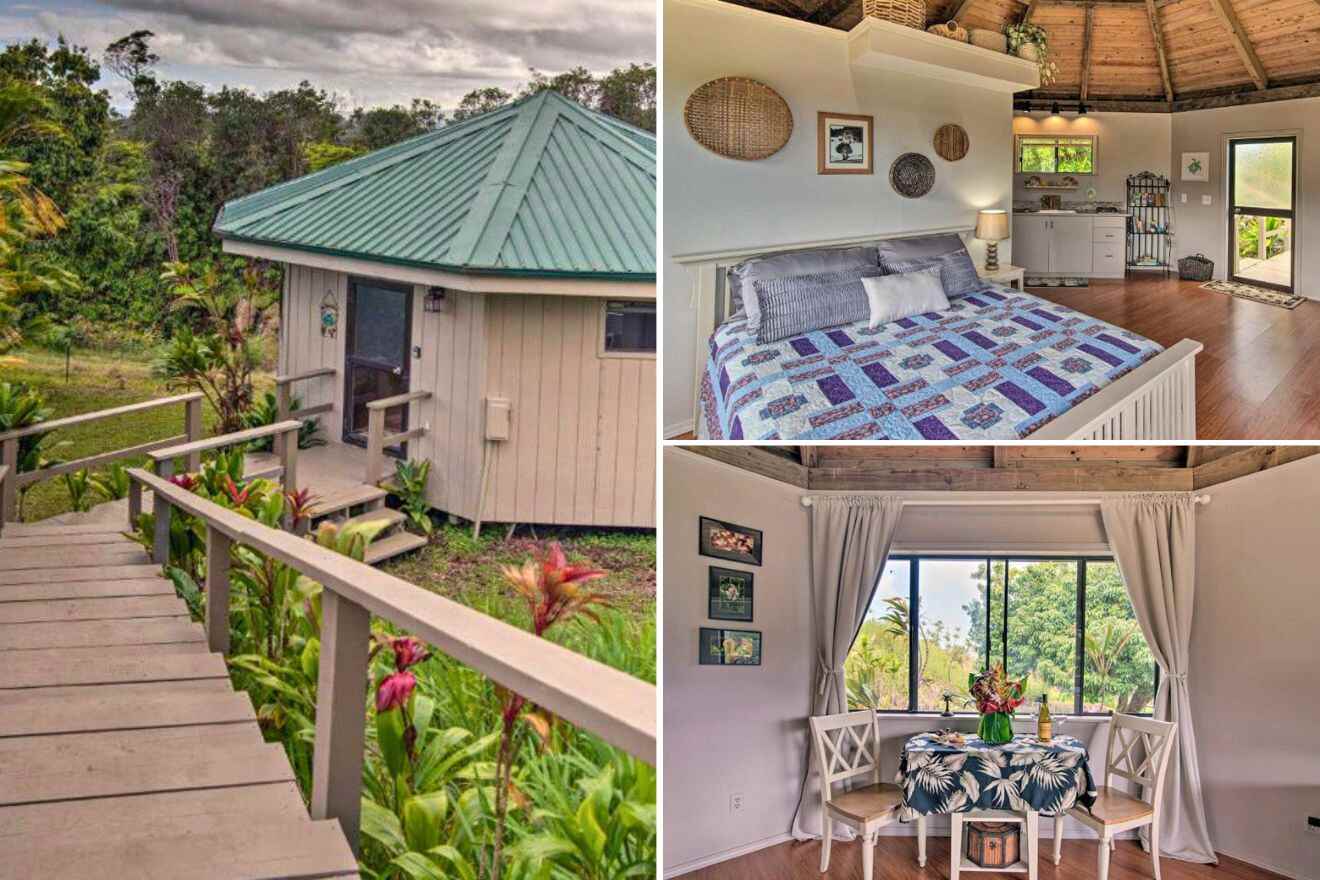 What a dream place! As you can tell by its name, this accommodation is perfect for a couple's getaway on the Hilo side of the island! Its location is pretty remote, around 20 min away from Hilo Bay, but it's perfect for those who want their fair share of privacy! The apartment has everything you need for your holiday, including a kitchen, free Wi-Fi, and a TV.
Each morning, you'll wake up to a stunning view of the tropical forest and drink your coffee in the most serene atmosphere while listening to the birds chirping and the whole of nature waking up! What a dream! Although it's not centrally located, this place is surely a keeper!
15. The Big Island Hostel – with great amenities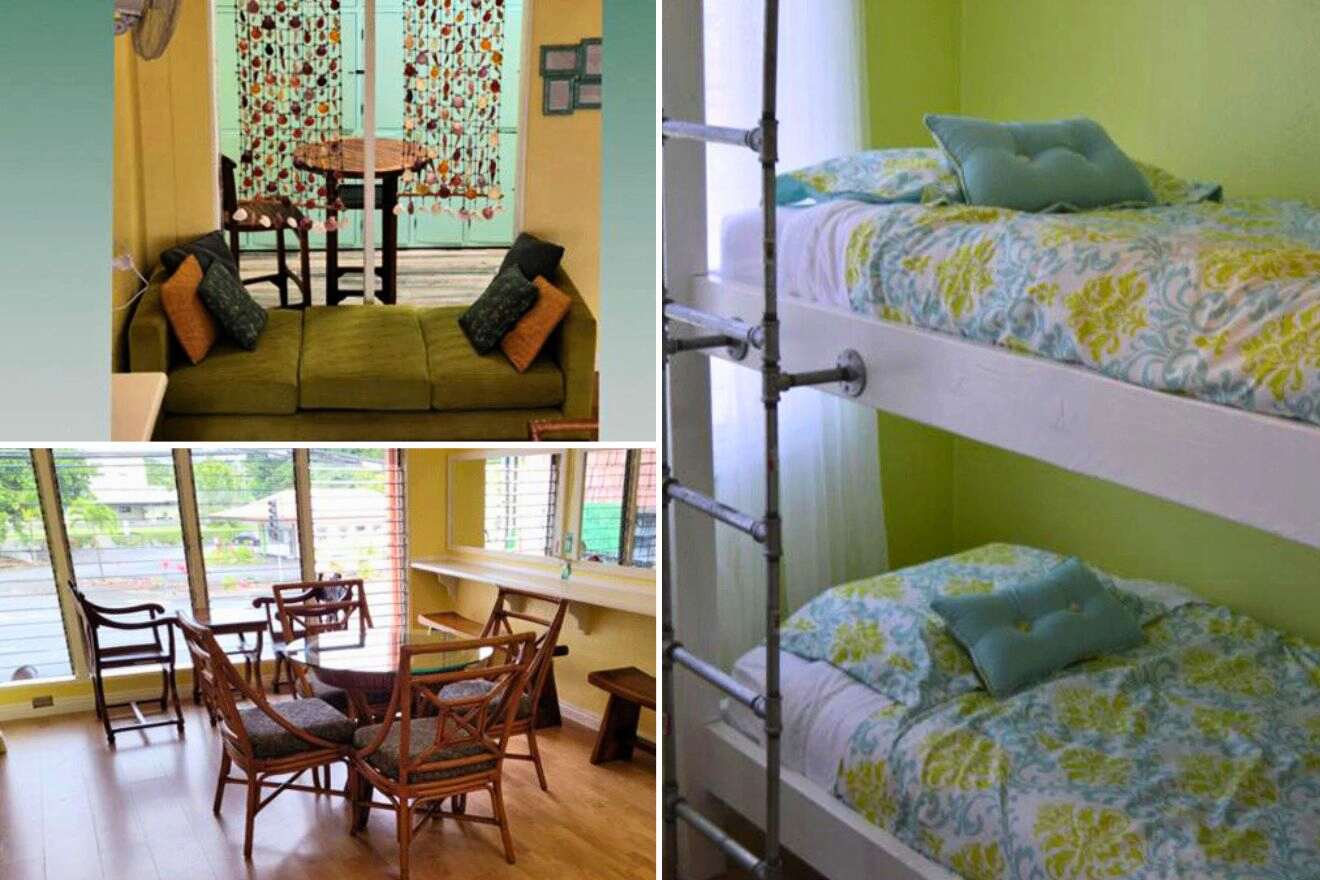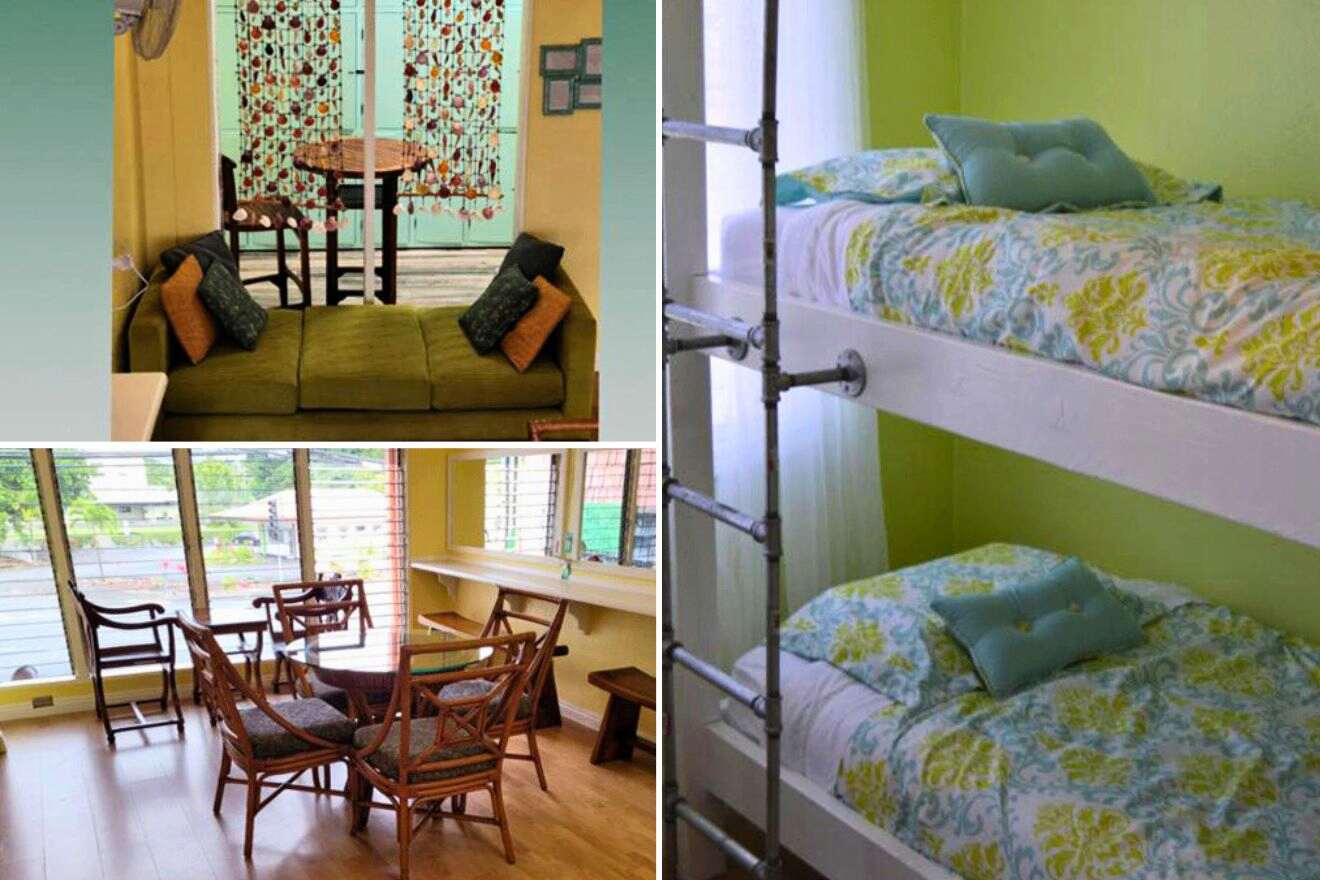 Looking for some cheap hotels? Don't worry everyone, I've got you! Here's a fabulous hostel on the Hilo side of the Big Island, which is not too far from attractions like Coconut Island Beach and the Pacific Tsunami Museum and offers amazing amenities! Their shared and private rooms come with free Wi-Fi and a shared bathroom.
You'll also get access to a lounge area, where you can make some new friends, chill out in your spare time, and borrow the board games offered on-site. The hostel also provides lots of activities like snorkeling and horse riding!
16. Hawaiian Ohana Home – great for families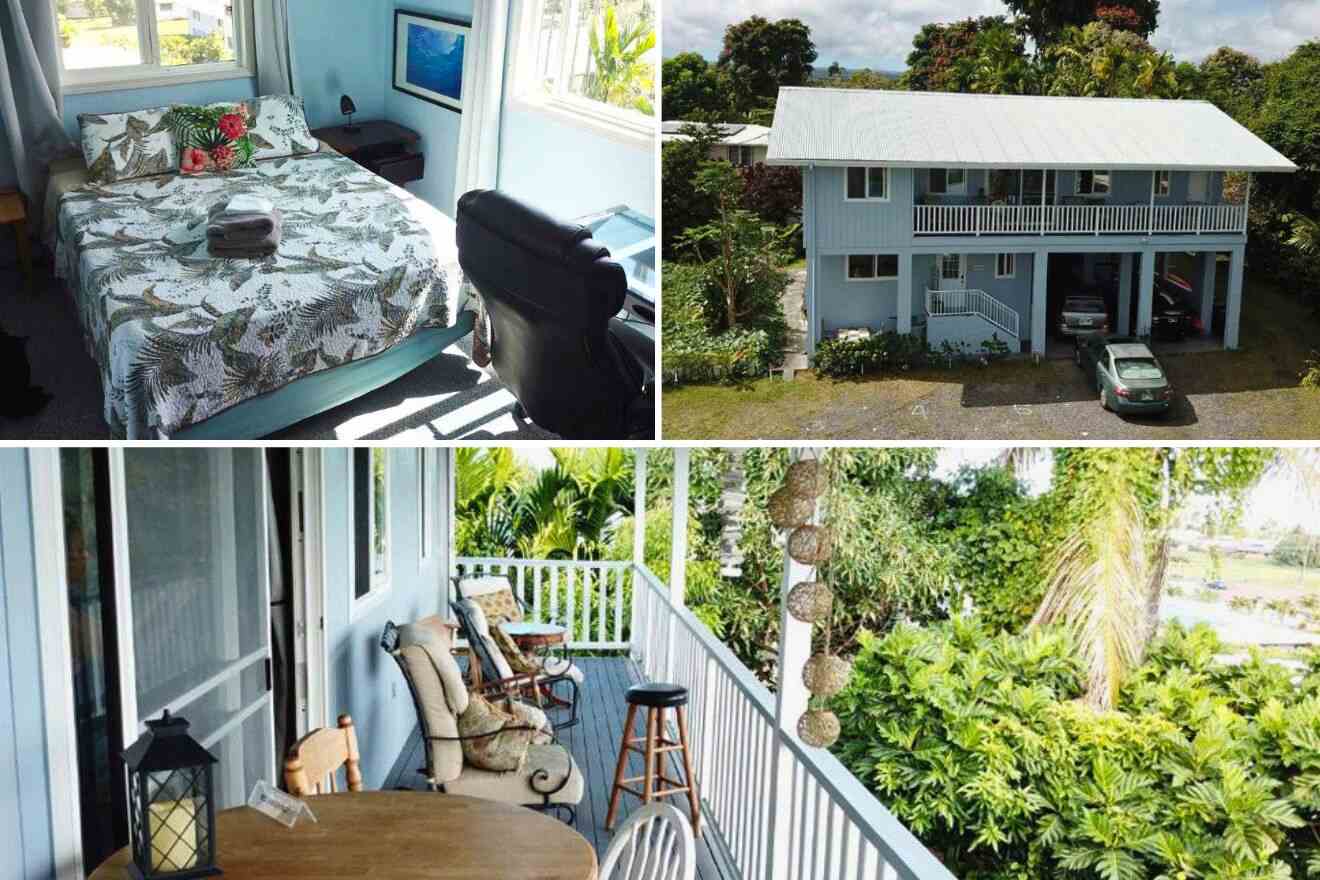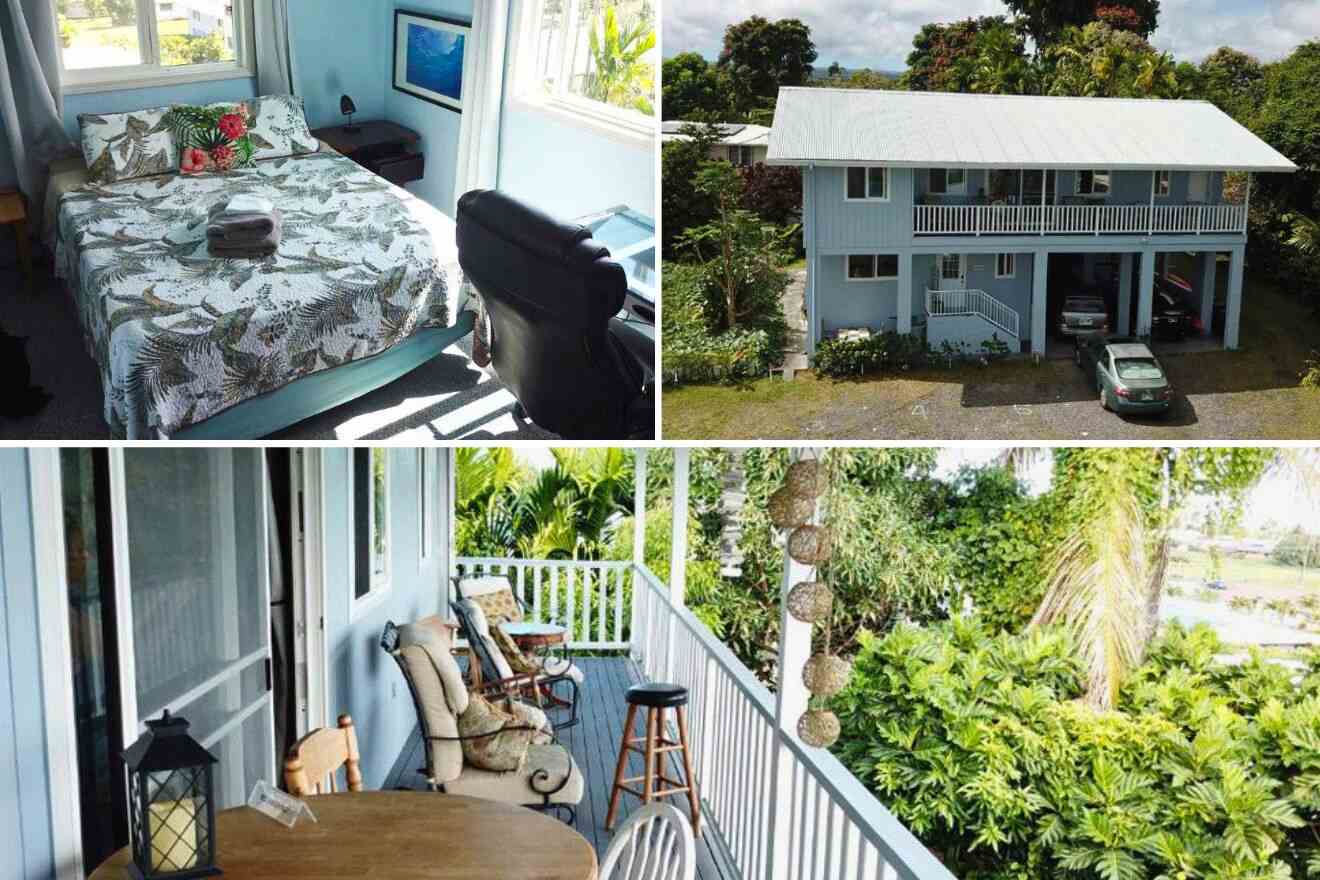 If you want to feel at home and not pay a fortune, then you might like this accommodation, which is a 10-min drive from the Rainbow Falls on the Big Island! The accommodation offers different rooms and bungalows which come well-equipped with all the facilities you need, like free Wi-Fi, a balcony, and garden views.
You'll also find a shared kitchen here and free private parking. If you want to try some fun outdoor activities like snorkeling, horse riding, and hiking, you can ask the staff to help you out, as they offer loads of things!
17. Pakalana Inn – a historic place with a central location
Looking for a place to stay right in the middle of all the action on the Hilo side of the Big Island? Then check out this cute inn, which is located right near the Farmer's Market and just a 40-min drive away from Hawaii Volcanoes National Park.
The accommodation features rooms with all the necessary amenities like a private bathroom, a comfy bed, and a small kitchenette. And if you want to learn something new this holiday, you can call in advance and arrange with the staff to take some guitar and ukulele sessions!
FAQs about hotels in Hilo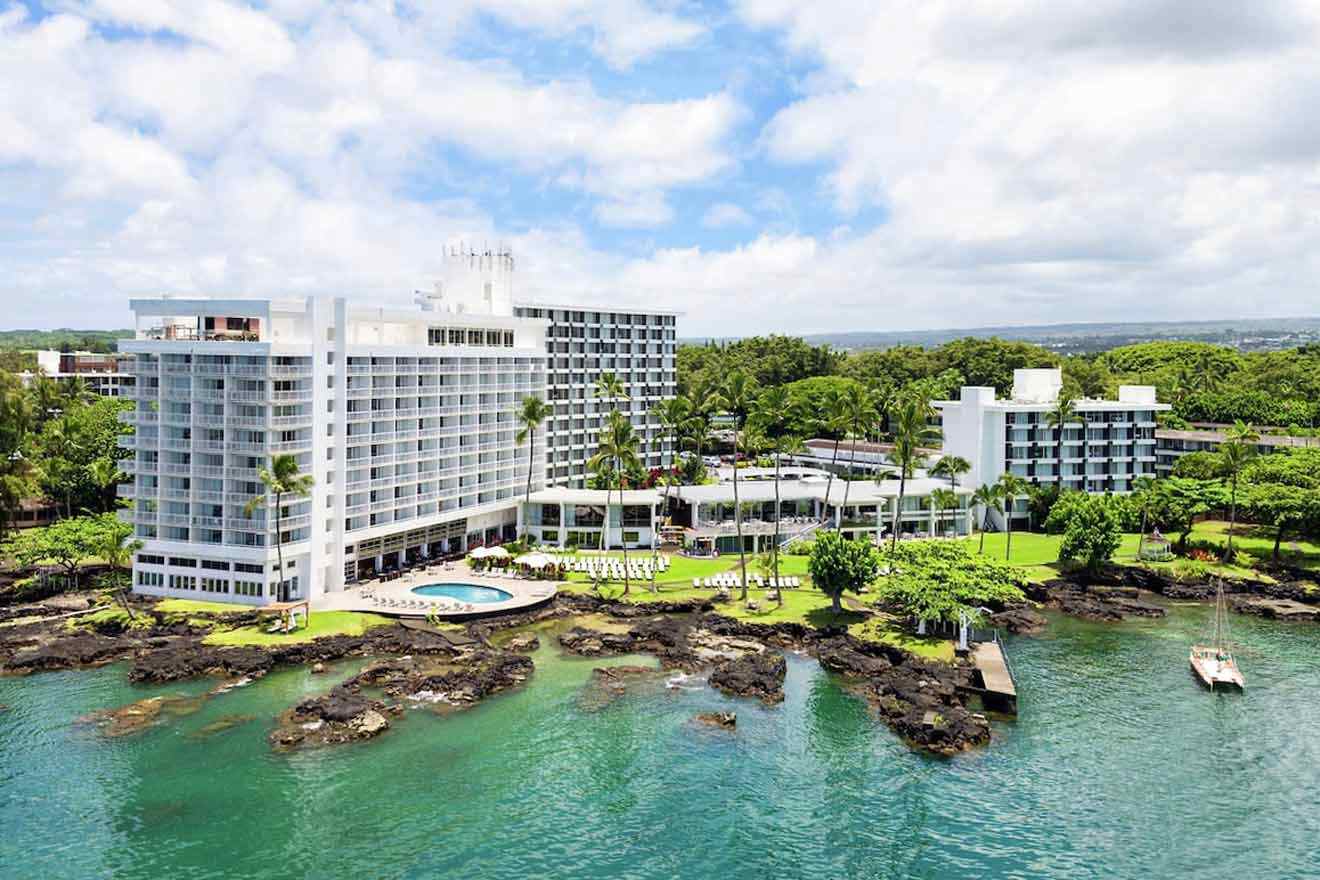 😍 Is it worth staying in Hilo?
Yes! Hilo is an amazing area with gorgeous beaches, waterfalls, and hotels like Hilo Bay Oceanfront Bed and Breakfast! It's also the perfect base for exploring sites like Hawaii Volcanoes National Park, Reeds Bay Beach, Mauna Kea, and the Hamakua Coast.
🤔 Is it better to stay in Hilo or Kona?
It depends, Kona offers a much wider variety of things to do, so if you have a limited time on the Big Island, head there, but Hilo is also worth the visit as it offers some panoramic landscapes!
🔝 Is Hilo friendly to tourists?
Yes! Although Hilo is not as touristy as other areas on the Big Island, the locals are super welcoming and warm here!
🌺 Does Hilo have a downtown?
Yep, Hilo has a Downtown area near the Bay area, where you'll find attractions like the Farmer's Market, the Pacific Tsunami Museum, and lots of accommodation options nearby.
Conclusion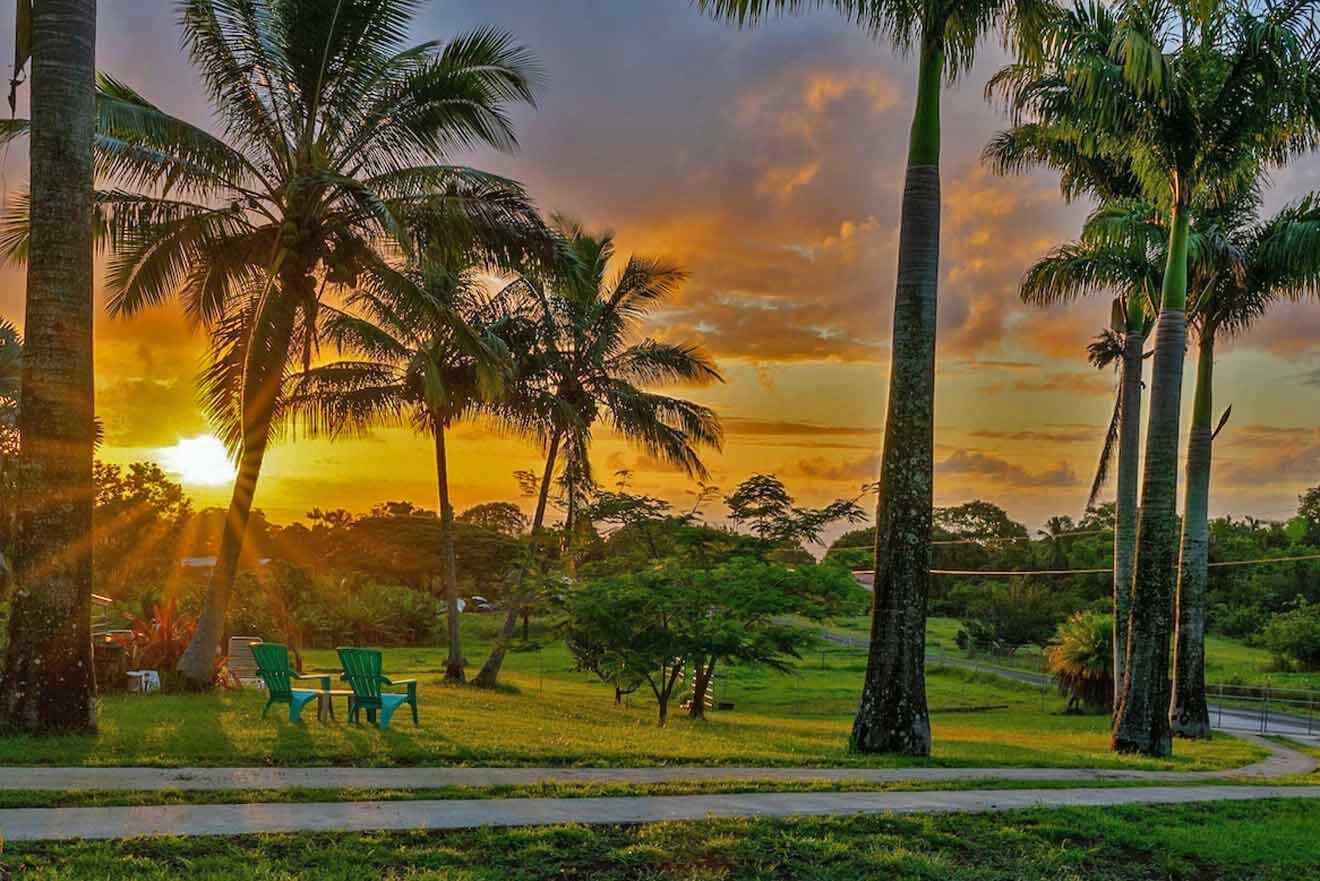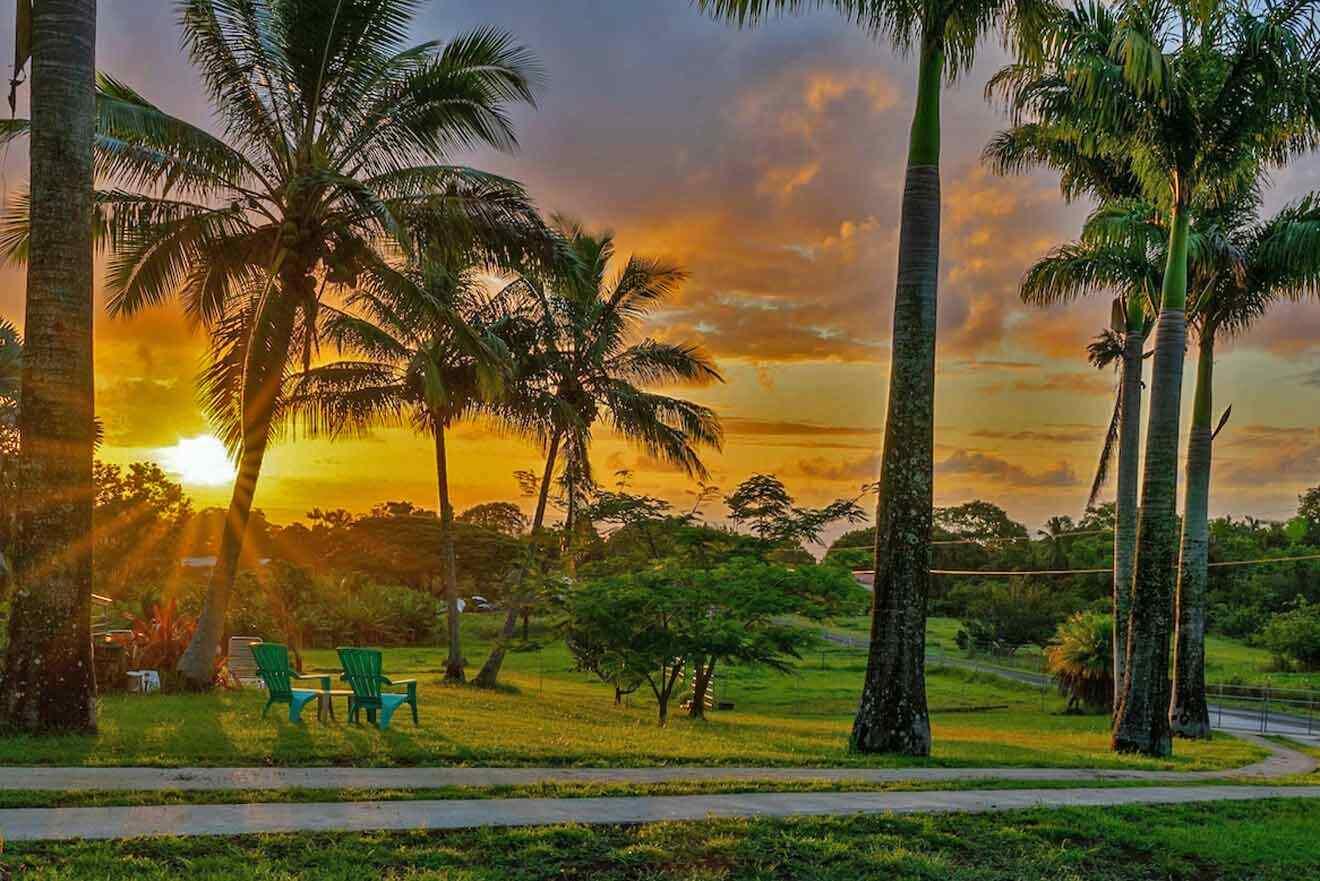 Pardon me while I keep daydreaming about these Hilo hotels set in the most lush and mesmerizing locations!
Just to recap for anyone who just joined, today we've looked at the best hotels where to stay in Hilo! From spots with a private lanai to Hilo hotels in the middle of nowhere, these spots are all so amazing!
That's why I recommend booking your favorite in advance! That's right, the Big Island is so popular with tourists, and all these fabulous Hilo hotels will sell out quickly, that's why it's better to secure your spot early. If you fear plans may change, you can pick a hotel with a free cancellation policy!
Talking about favorite places, if you're still not sure which one to pick, then maybe this short list with my 2 favorite Hilo hotels will help you out:
Hilo Bay Oceanfront Bed and Breakfast – set near Hilo Bay Beach, this gorgeous hotel comes with oceanfront views from your bed, a garden, and a bike rental.
Hilo Couples Retreat – in a remote location this hotel is perfect for your holiday as it comes with a lush garden and free Wi-Fi.
Woohoo, you've made it until the very end of this post with the best Hilo hotels! This is amazing! Have fun preparing for your trip, and if, along the way, questions pop up (they always do), don't hesitate to drop me a comment in the section below!
Safe travels,
Victoria
---
Pin it for later!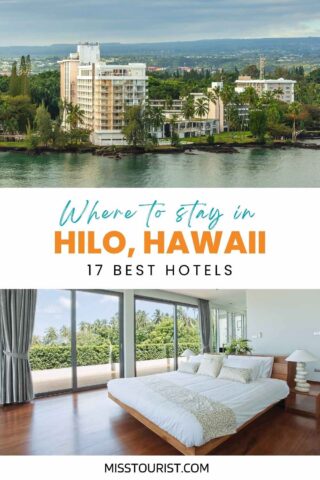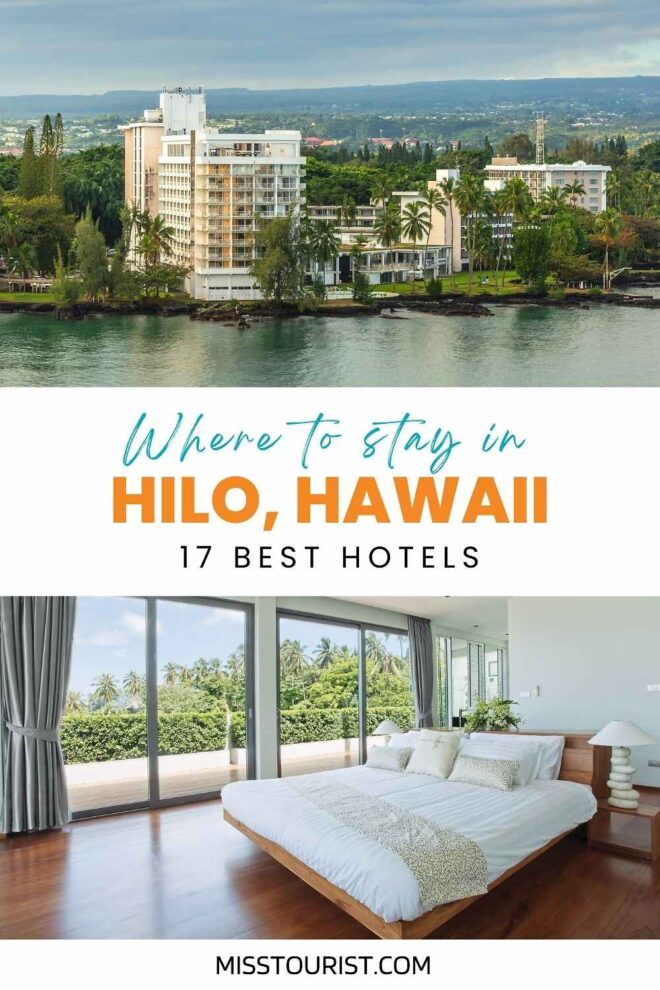 Pin it for later!