The Ultimate Guide for 2024!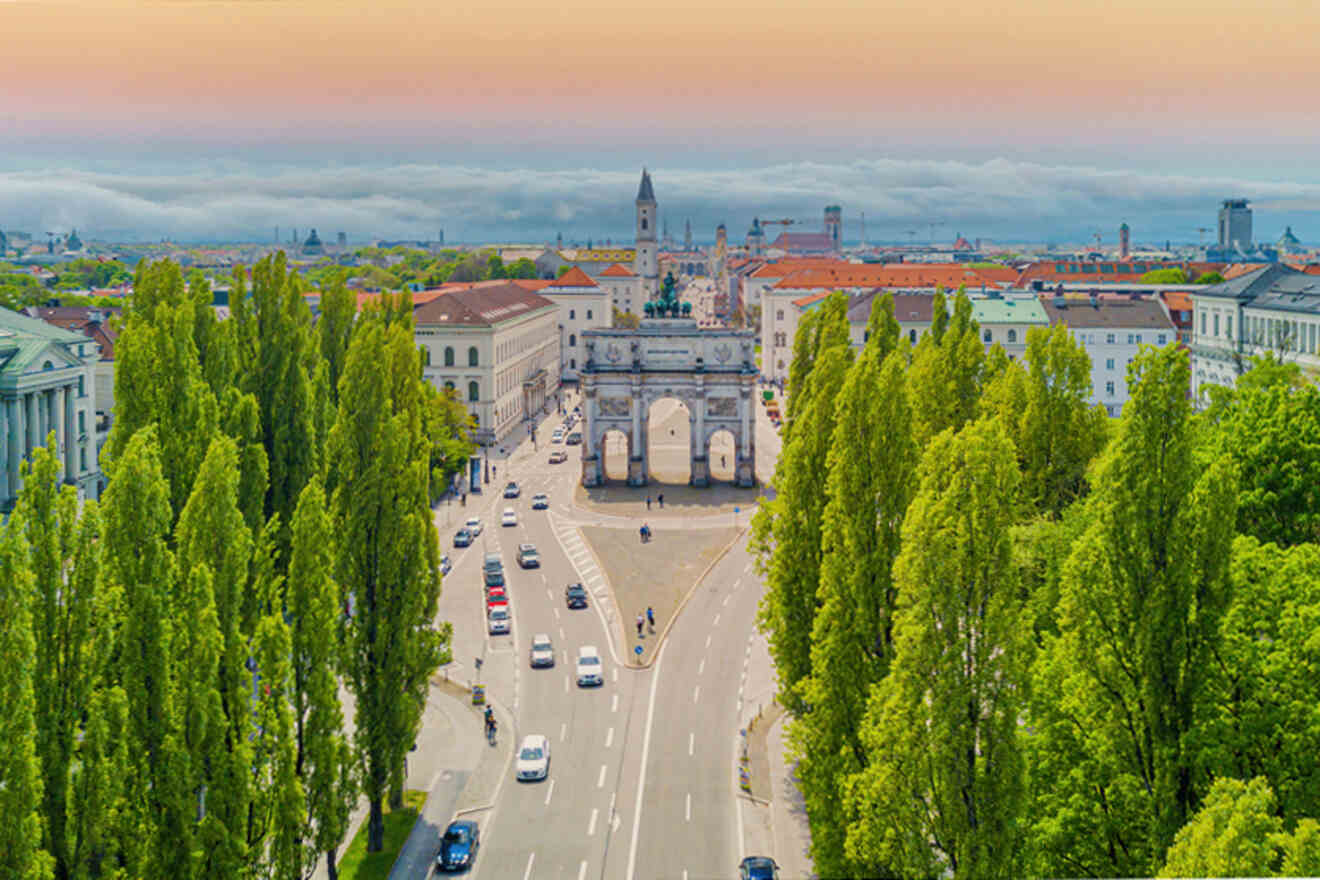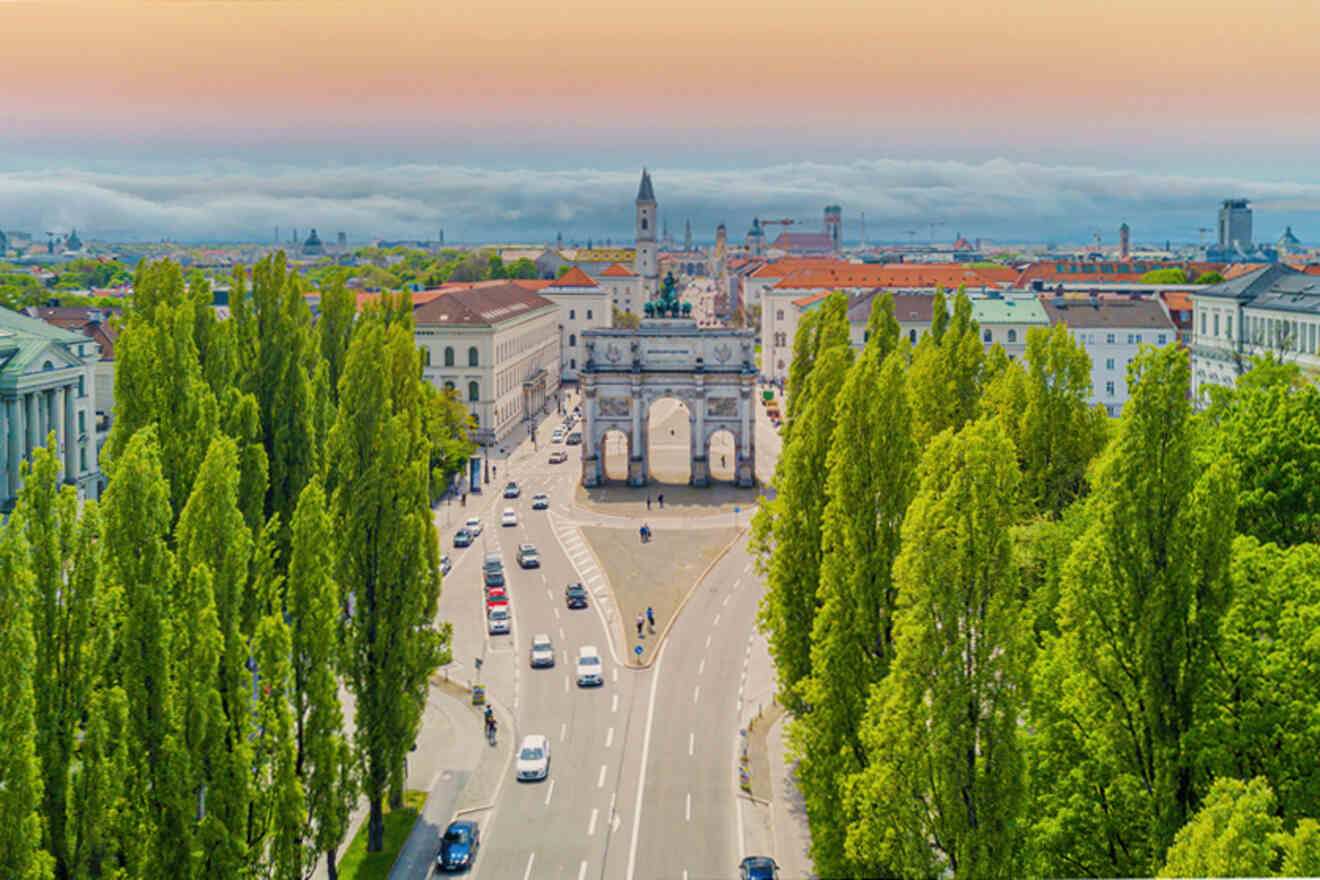 Looking for incredible day trips from Munich? Then you are in luck, because I have compared ALL the possible day trips, and I visited some of these German cities and towns during my years living in the beautiful city of Munich.
I have gathered for you 14 beautiful Munich day trips, organized starting with the most popular ones, but to be honest, all of them are amazing, and just writing about them makes me wish I was living there again! 😍
I have linked a few day trip tours from Munich that are top-tier, and you should book them if you want to travel hassle-free. Those book fast, so it's better to book in advance! And you can find 3 accommodation options for all budgets at the end! 😉
Are you ready to check out the best day trips from Munich?
Let's dive in!
If you are in a hurry
If you need to book the best tours out of the city fast and don't have a lot of time to read the entire article, here are the main things to book in advance:
And here are the best hotels: Rocco Forte, The Charles Hotel (luxury), Scandic München Macharei (mid-range), Bavaria Boutique Hotel (budget)
Here's a map with all the day trips on this list so you can see where you'll be going!
1. Visit Neuschwanstein Castle, a fairytale destination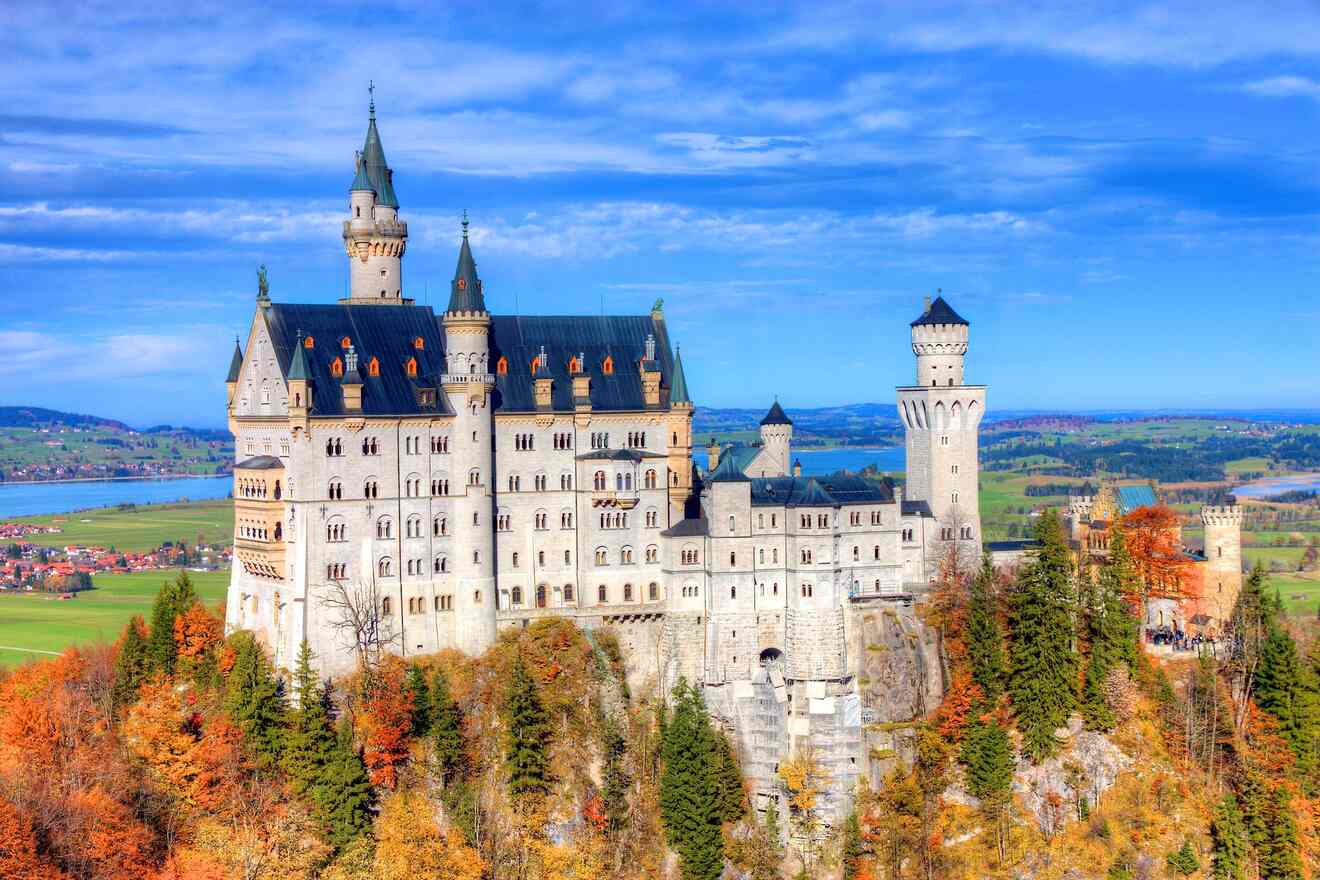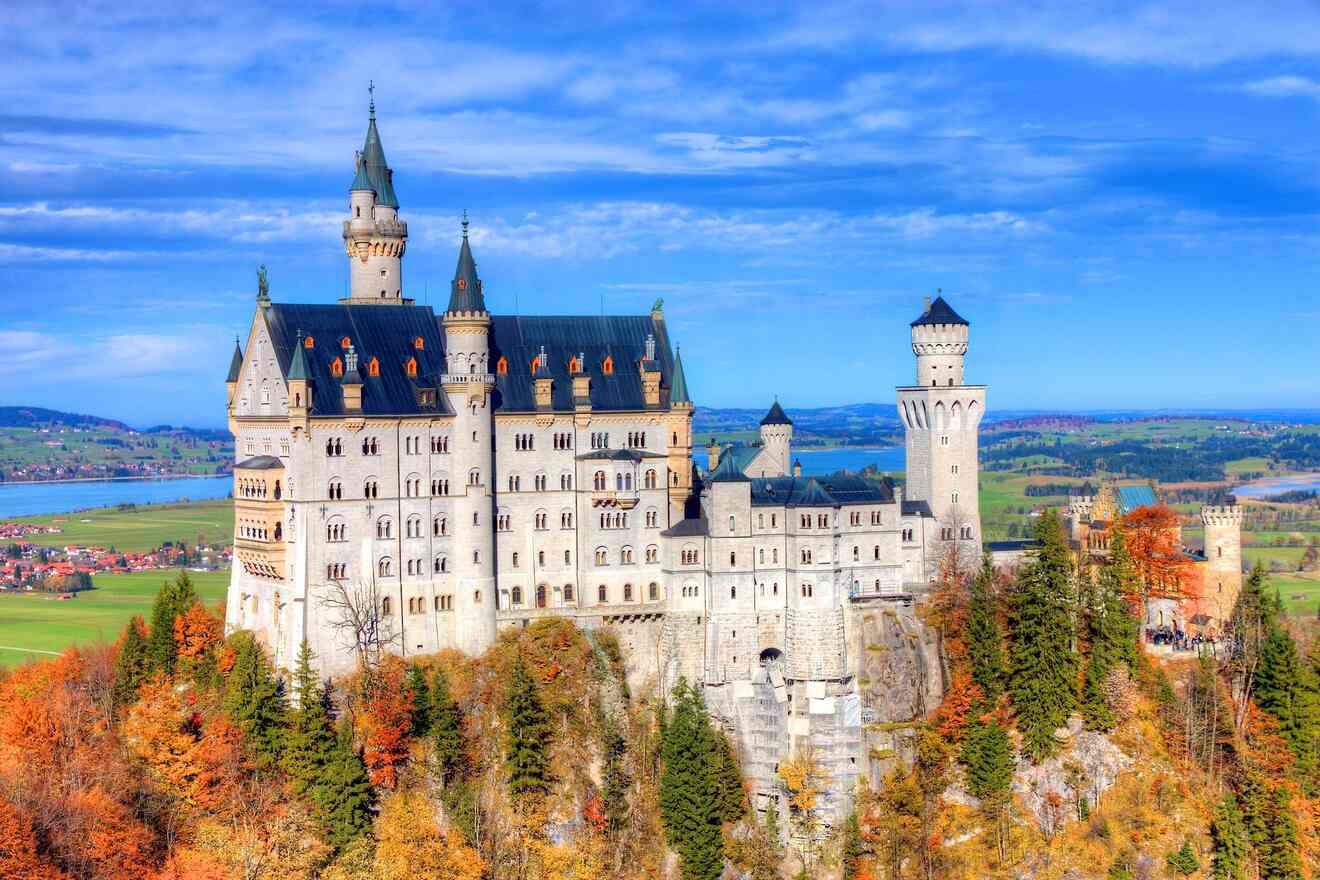 Distance from Munich: 70 miles (110 km)
Drive time: 2 hours
Time it takes on public transport: 3 hours
Did you know that it is said that this castle inspired Walt Disney Classics? Both Cinderella and Sleeping Beauty's Castle are based on Neuschwanstein Castle!
Here, you can savor the medieval charm of Schwangau, delight in the tranquility of the medieval old town and soak in all that Bavarian culture! Marvel at this fairytale castle hilltop views and book your tickets here!
While you are there you might want to visit Hohenschwangau Castle, which is within walking distance from Neuschwanstein. This is another Royal Palace where King Louis II of Baviera lived! You can purchase tickets from the same link above.
If you want to travel to the castle without having to organize anything (it is a vacation at the end of the day), this day tour will take you to Neuschwanstein Castle from central Munich. Plus, you will get a guided tour of the surrounding area and its historical background. Castle tickets are not included.
PRICE: from €70 per person for a guided tour, from €18 per person for basic entry
2. Spend a historical day at Garmisch-Partenkirchen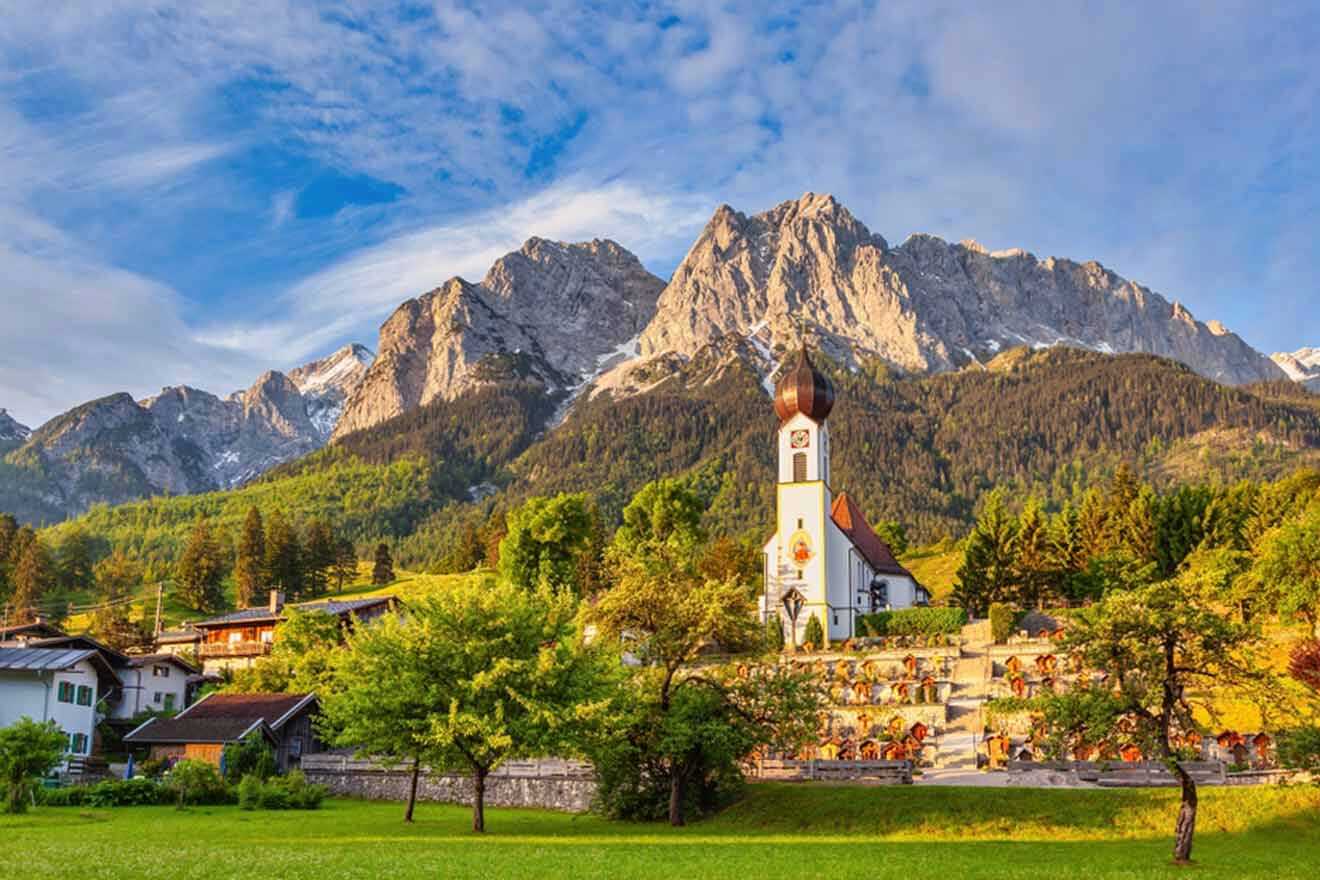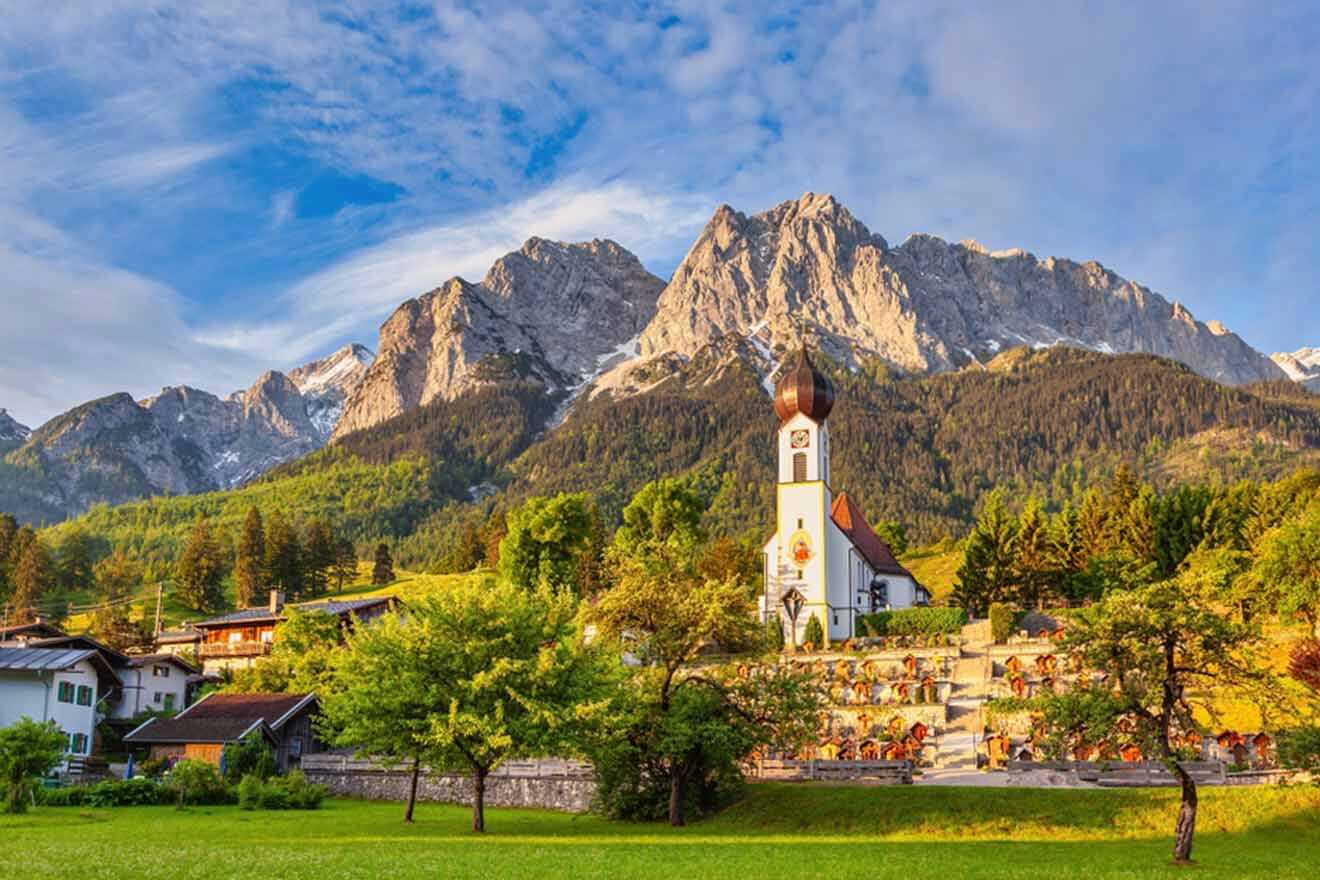 Distance from Munich: 55 miles (90 km)
Drive time: 1 hour
Time it takes on public transport: 1.5 hours
If you want to spend a day disconnecting from the city, then spending it in Garmisch-Partenkirchen, a town full of nature and sports, will do the trick! While you are there you can explore the stalactites of Partnach Gorge, which you can do with an entrance ticket, and it is only a 10 minute drive away from the main town.
You can discover Linderhof Palace, Mad King Ludwig II's Royal Retreat! I highly recommend you visit it and engage in the history of the palace, wander around luxurious rooms, elegant staircases, and the great hall. You can get the tickets here.
While you are there, visit and venture to the world famous Zugspitze, Germany's highest mountain which is 9,718 ft (2,962 meters)!
To see Germany's highest peak, Zugspitze, you need to purchase a ticket. I recommend you do it online to avoid lines. The ticket includes a cable car ride to the highest peak!
NOTE: If you want to visit the peak without worrying about trains and buses and so on, this tour picks you up and drops you off at your accommodation, and takes you for a scenic drive along the German Alpine Road to Zugspitze and other attractions. Peak entrance is not included in the tour.
TOUR PRICE: from €90 per person
3. Revel in Salzburg's musical heritage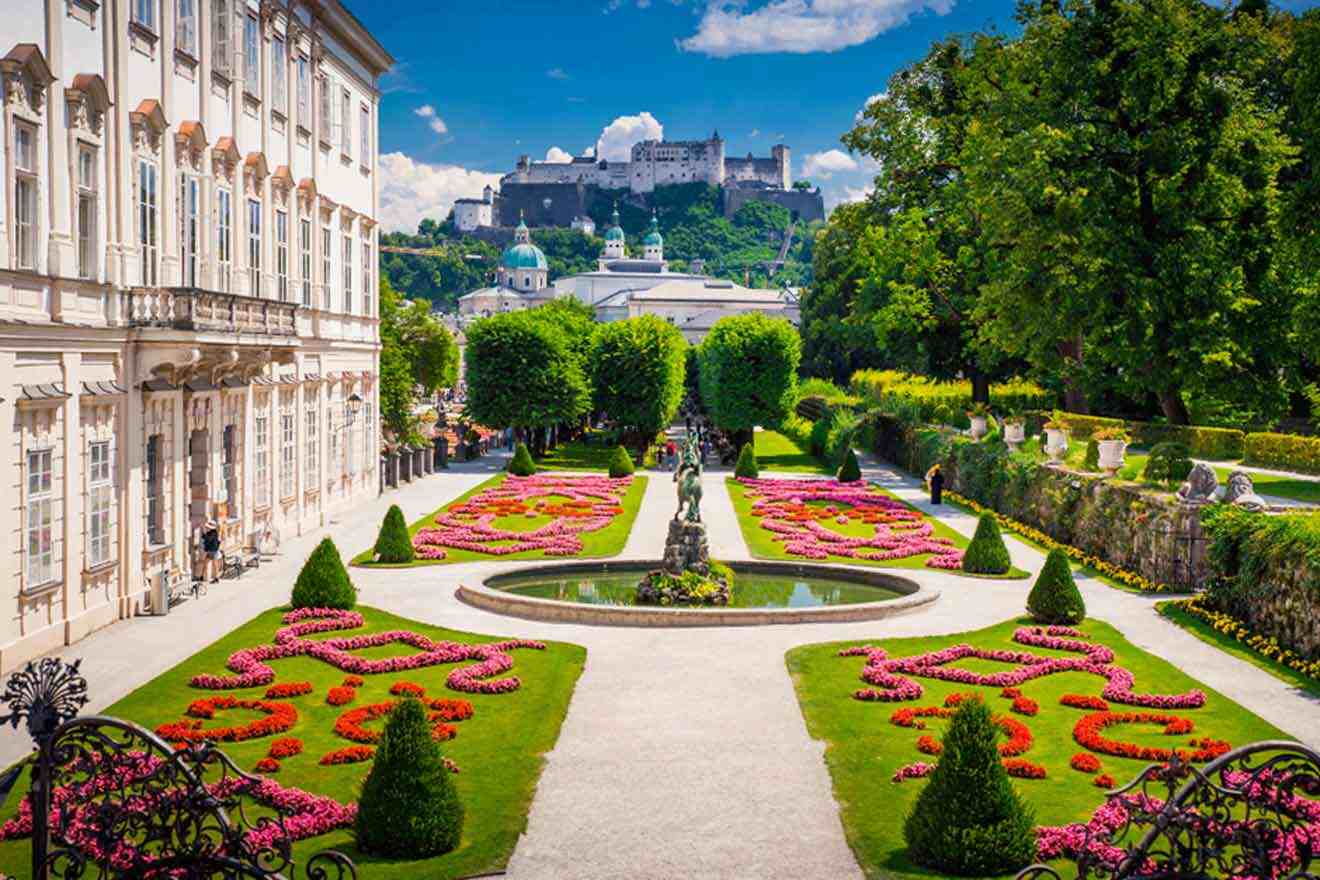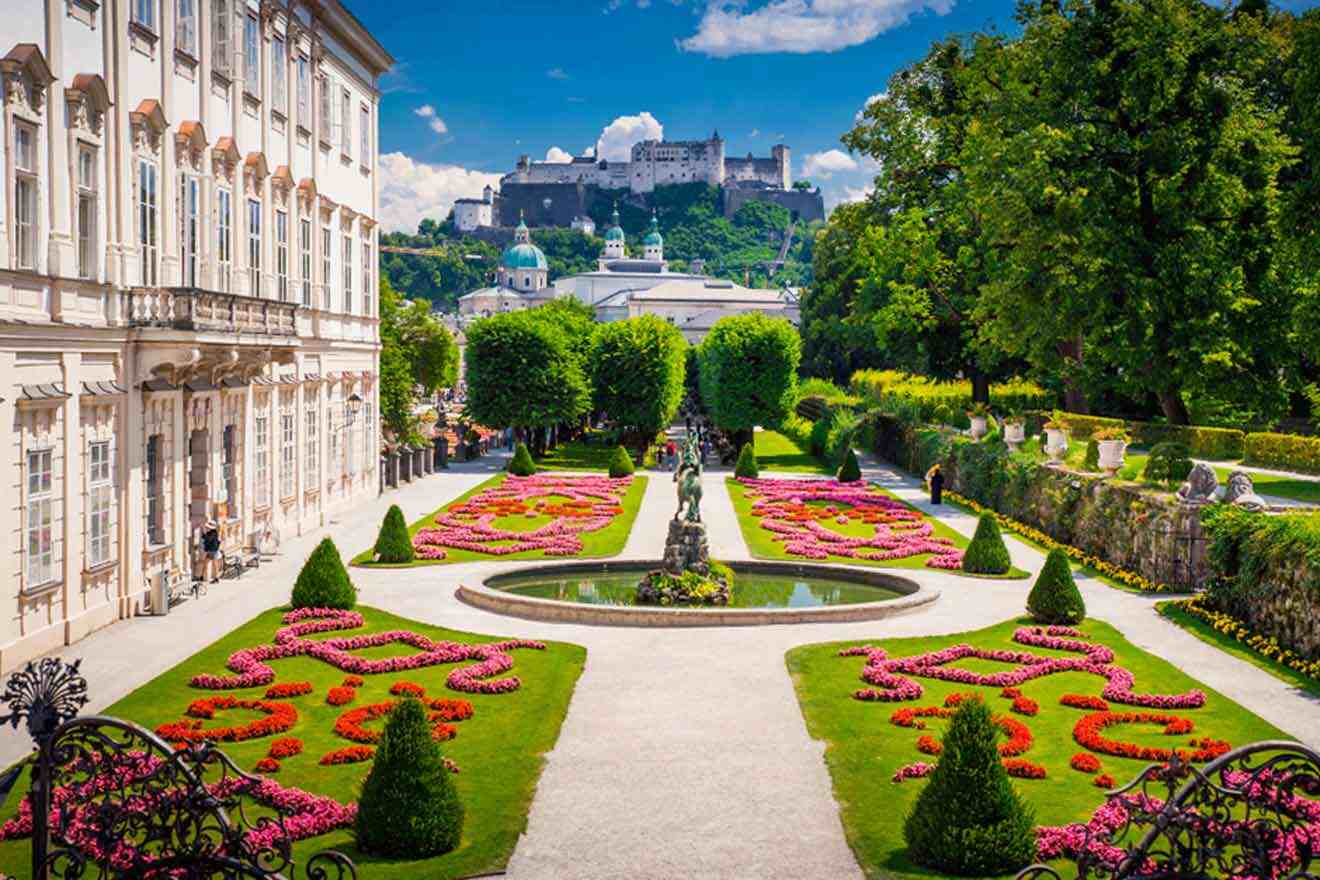 Distance from Munich: 90 miles (145 km)
Drive time: 2 hours
Time it takes on public transport: 2 hours
Explore the city where Sound of Music was filmed and visit Salzburg, Austria, the birthplace of Mozart, on a scenic train ride!
You can visit this medieval city with a direct train ride from Munich Central Station. This amazing city is probably one of the most beautiful ones I've ever seen!
During your visit to the city, you can check out Hohensalzburg Fortress which is one of the largest ones in the whole of Europe from the Middle Ages. Get your tickets to the fortress here!
Mirabell Palace, which is a UNESCO Heritage Site is also a sight to see! (map)
And don't forget St. Peter's Abbey monastery (map), which has beautiful architecture a quirky cemetery, and of course the city center's Old Town Hall. All these attractions are free, except the fortress and Mozart's birthplace. And of course, if you are visiting Salzburg during the summertime, a local beer in a beer garden is a must, and so is visiting the Christmas Market in the winter!
A great way to visit the city from Munich city center is with a day trip, which includes train tickets and an interesting guided tour of the city, plus some spare time to see the city on your own! Nothing like having your day trip planned for you!
TOUR PRICE: from €70 per person
4. Explore the Medieval Rothenburg Ob Der Tauber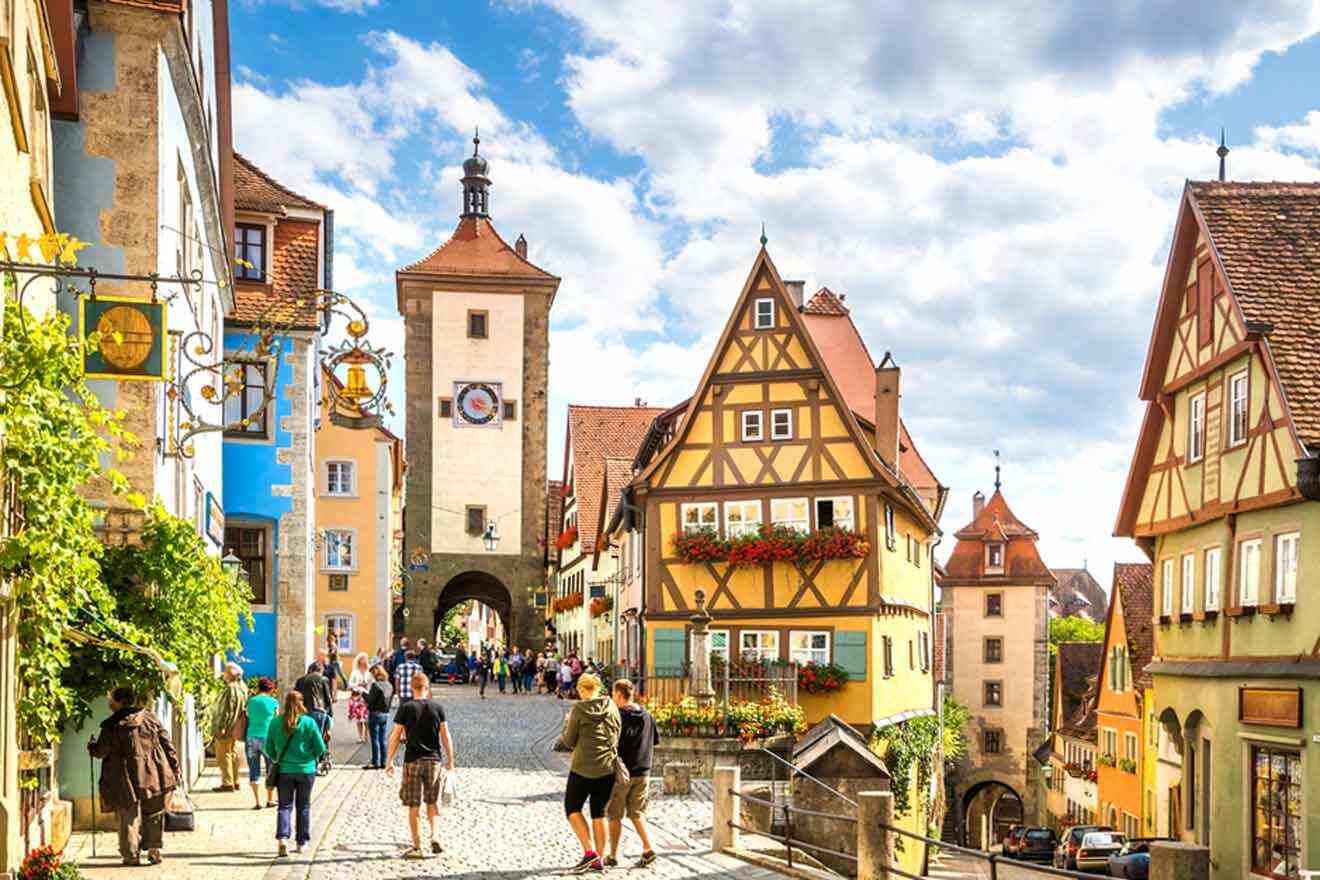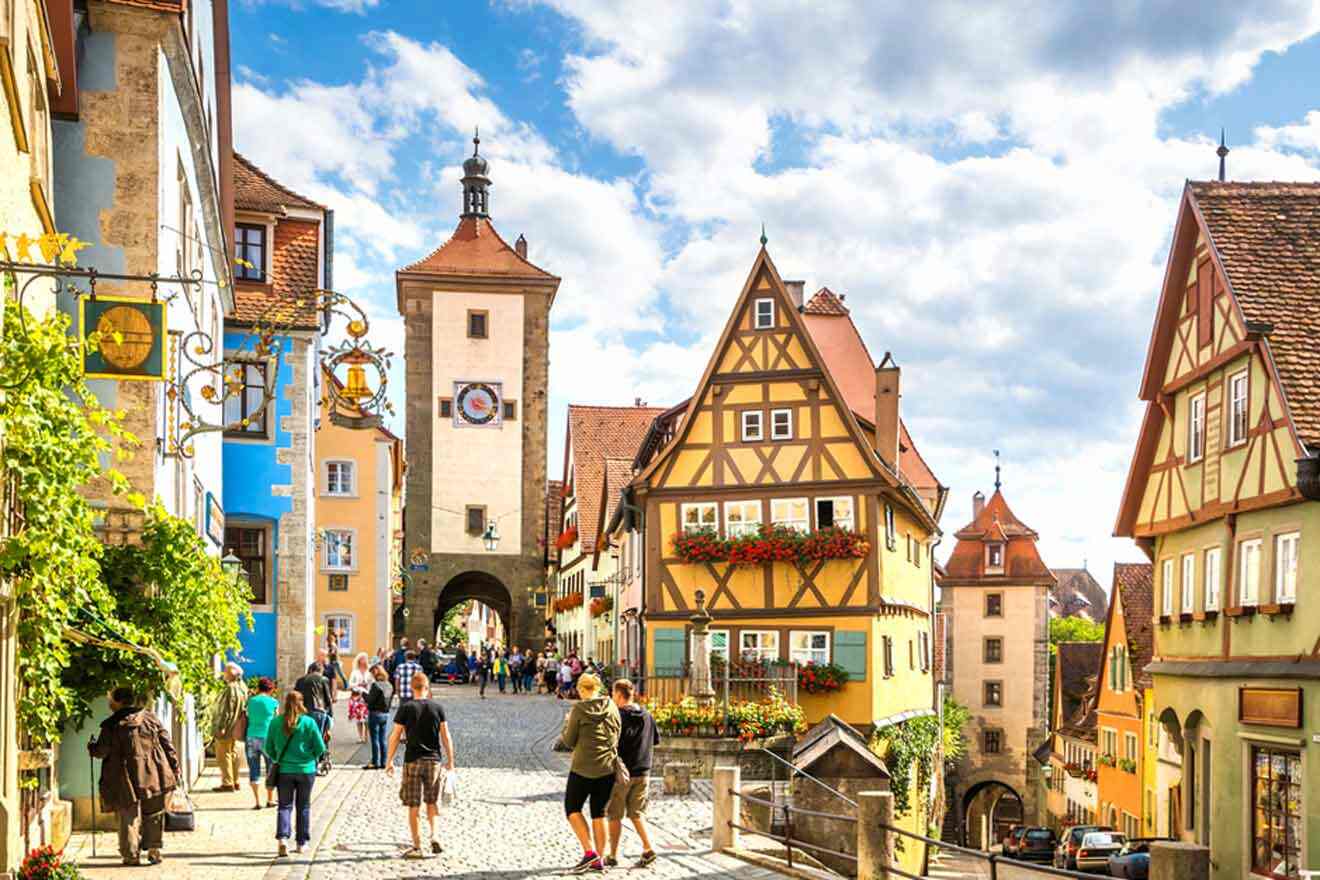 Distance from Munich: 155 miles (250km)
Drive time: 2 hours
Time it takes on public transport: 3 hours
This well-preserved medieval walled town will charm you with its half-timbered houses, picturesque cobbled streets, and cozy traditional beer houses.
One of the main attractions of this medieval town is Plönlein (map). In this public passage, you can see the traditional wooden houses as well as narrow streets, and cute squares with fountains! Such a fairytale!
A few scenes of Harry Potter and the Deathly Hallows: Part 1 were filmed in Rothenburg Ob Der Tauber!
Experience the medieval charm of Rothenburg ob der Tauber on a guided tour, and explore the town hassle-free! This tour will take you from Munich city center to Rothenburg on a bus ride!
I suggest you choose the option to visit the Medieval Harburg Castle, as it's a really cool place to visit on your day trip! The castle ticket is not included in the price of the tour, but it's an awesome extra I highly recommend!
TOUR PRICE: from €70 per person
5. Enjoy the picturesque landscapes of Lake Chiemsee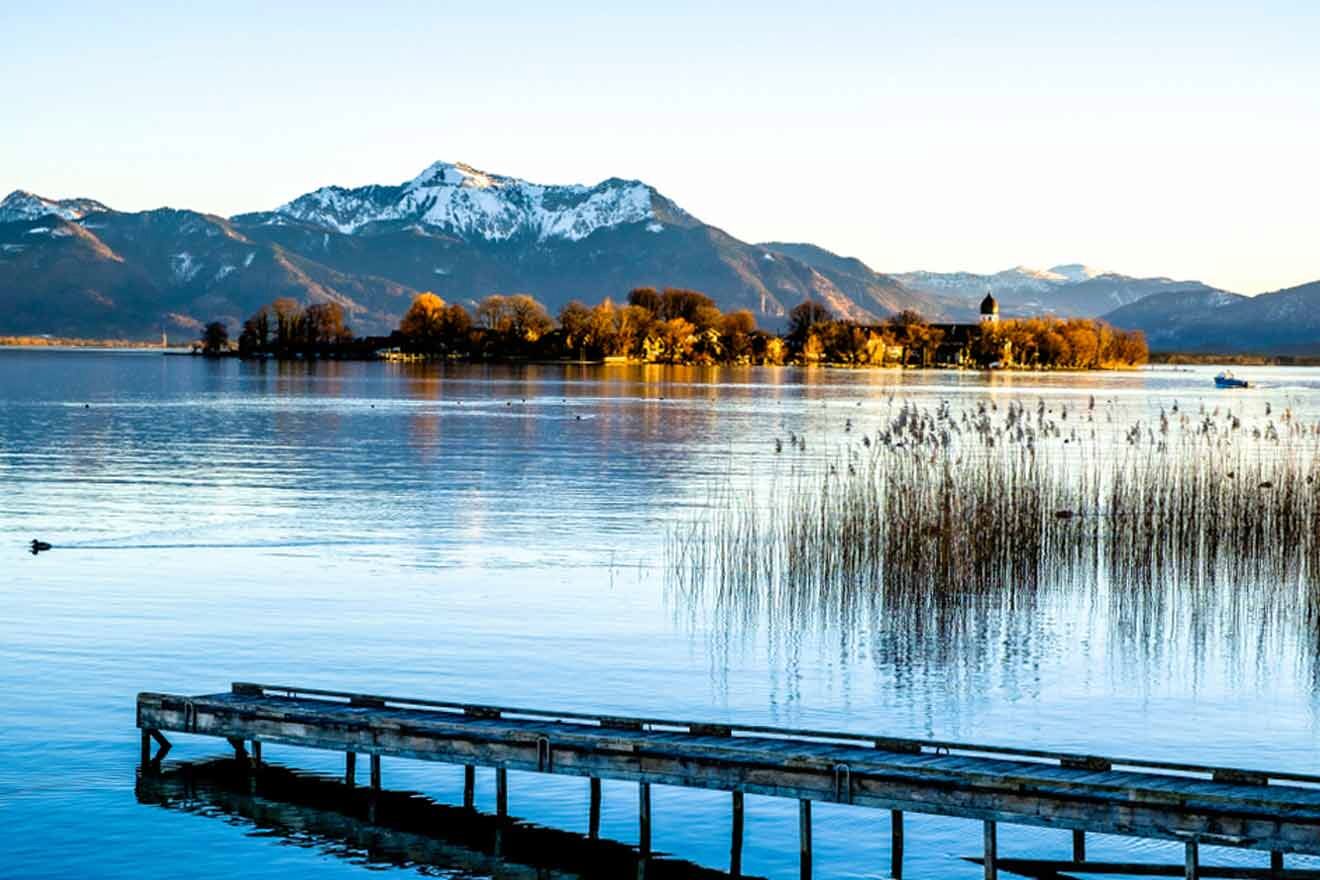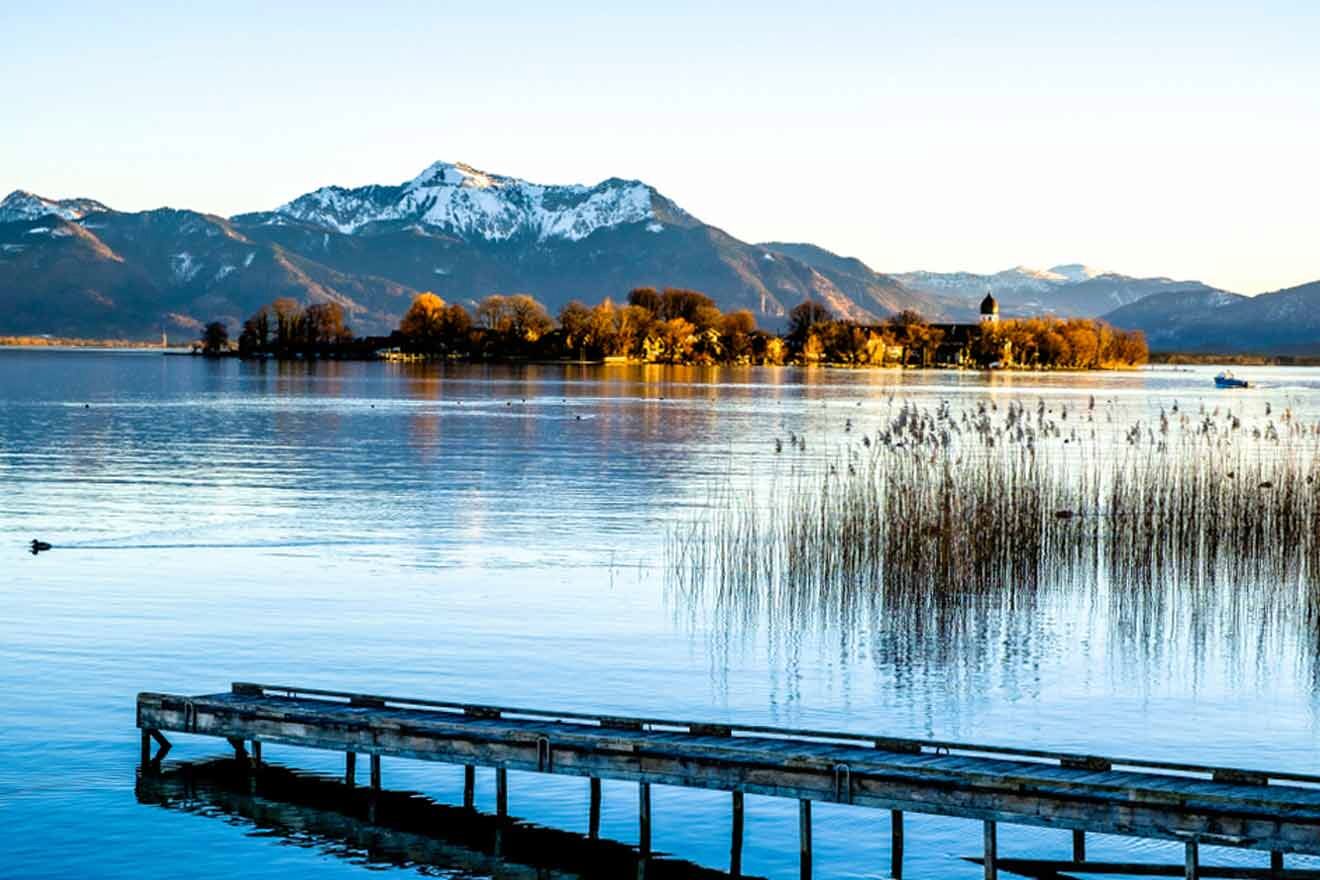 Distance from Munich: 52 miles (84 km)
Drive time: 1 hour
Time it takes on public transport: 1 hour
Discover the beauty of Lake Chiemsee and witness the splendor of Herrenchiemsee Palace (New Palace)!
To get to this beautiful Lake you need to travel to Prien am Chiemsee, which is right by the lake and has easy access from Munich main train station, where you can relax and watch the day go by.
In Prien am Chiemsee, you can play water sports on the lake or simply relax at the beach. If you prefer hiking I recommend you check out Aussichtsplateau am Herrnberg observation deck! (map)
Herrenchiemsee Palace is another of King Ludwig's II! It was acquired in 1873, and it was remodeled based on Versailles . King Ludwig II built it for King Louis XIV of France, but sadly he died before the remodelations were finished.
You can purchase your palace tickets here!
One of the cool things about Herrenchiemsee Palace is that it is situated in the middle of the lake on an island, which is a fun boat ride away from Chiemsee Prien.
PRICE: from €10 per person
6. Visit the salt mines in Berchtesgaden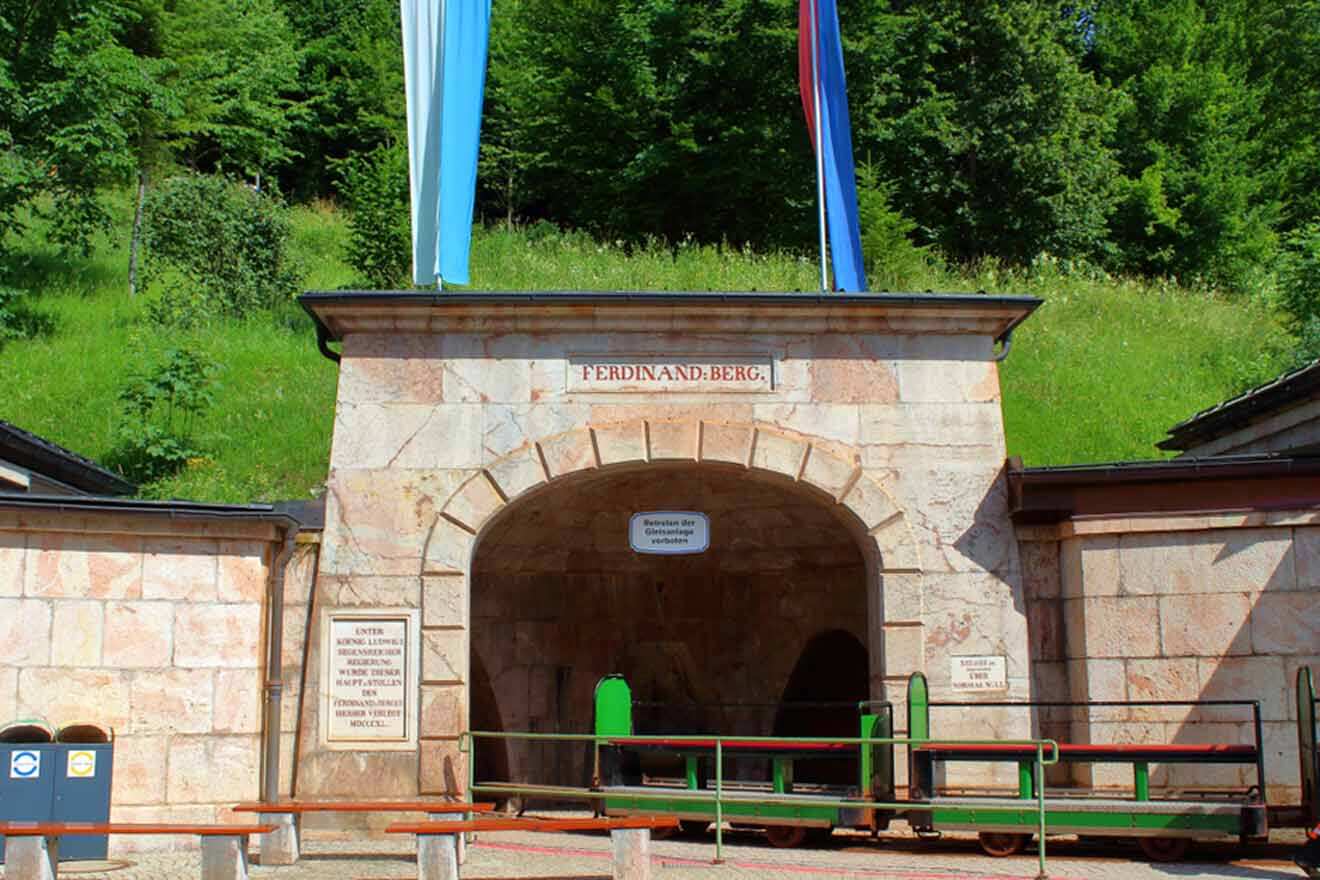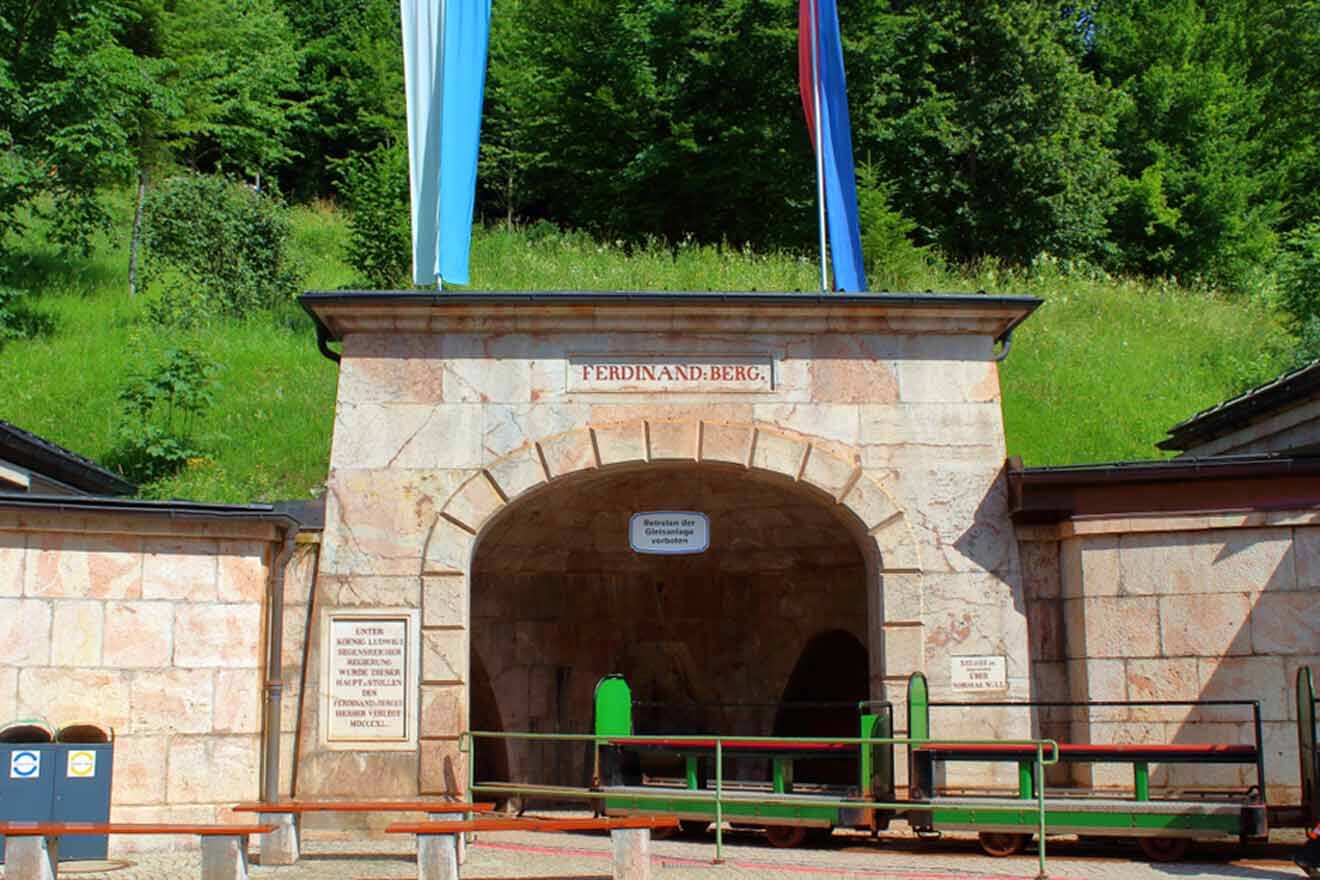 Distance from Munich: 95 miles (145 km)
Drive time: 1 hour and 40 minutes
Time it takes on public transport: 2.5 hours
I highly recommend venturing to the waterfalls of Königssee in Berchtesgaden and hiking in the Bavarian Alps for breathtaking views!
This area is known for its natural beauty, and one of the must-stops is Berchtesgaden National Park, where entrance is completely free! Here, you can relax in the mountains and walk along stunning paths with unique nature. If you visit during the winter, you can even ski down the mountain!
You can also dive into the world of Obersalzberg in Berchtesgaden and visit Hitler's Eagle's Nest! Fun fact: it was actually built for Hitler as a gift, but he only visited a handful of times! You'll love the view from the top though, and now you can enjoy a beer there! (map)
If you want to experience an easy breezy day trip, my recommendation is to get this guided tour with a van to pick you up in the early morning from Munich. It will take you to this historical landmark and some other attractions in Berchtesgaden. The tour doesn't include an entrance ticket to the Eagle's Nest.
TOUR PRICE: from €60 per person
Get your Berchtesgaden day trip
7. Explore the historic city of Augsburg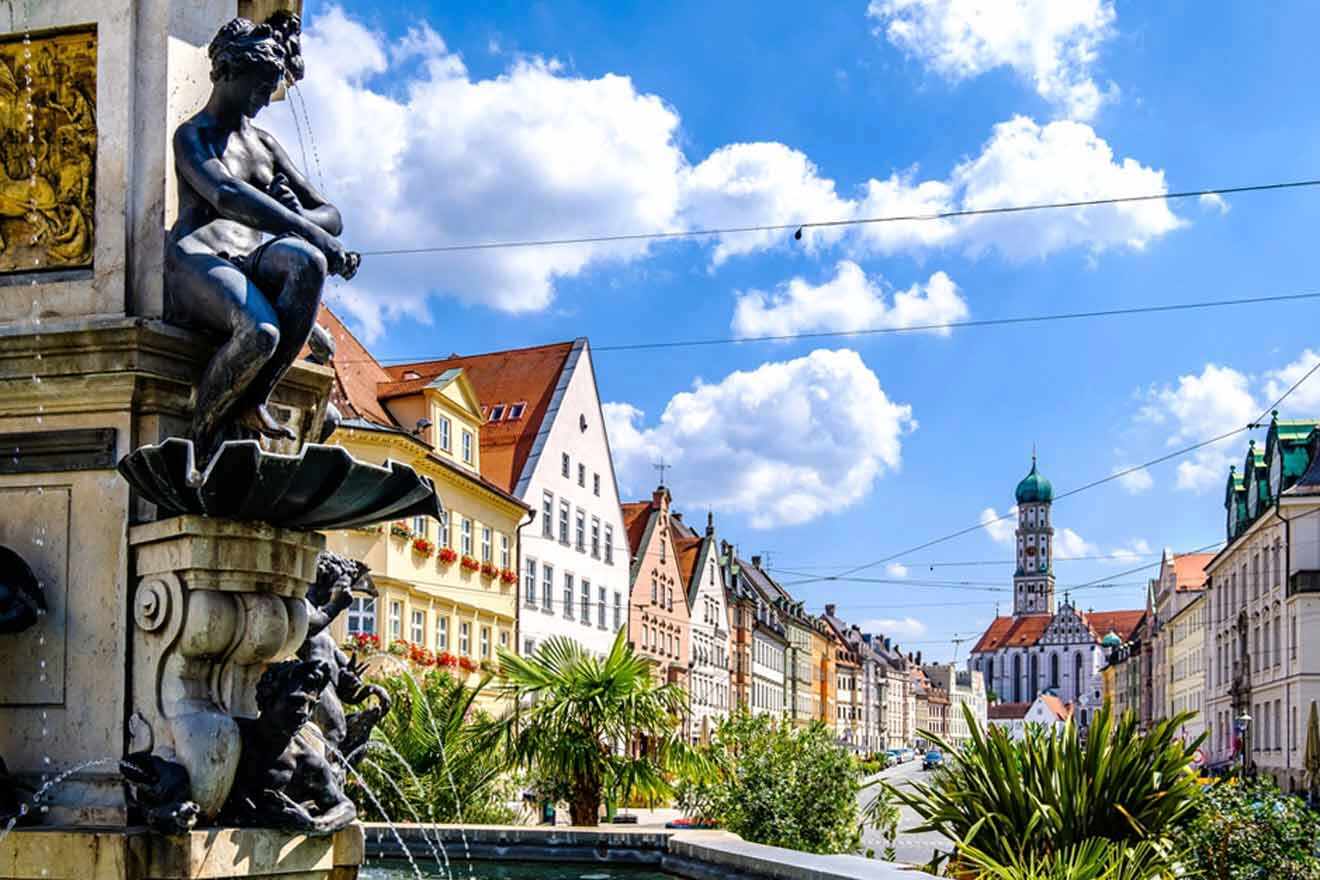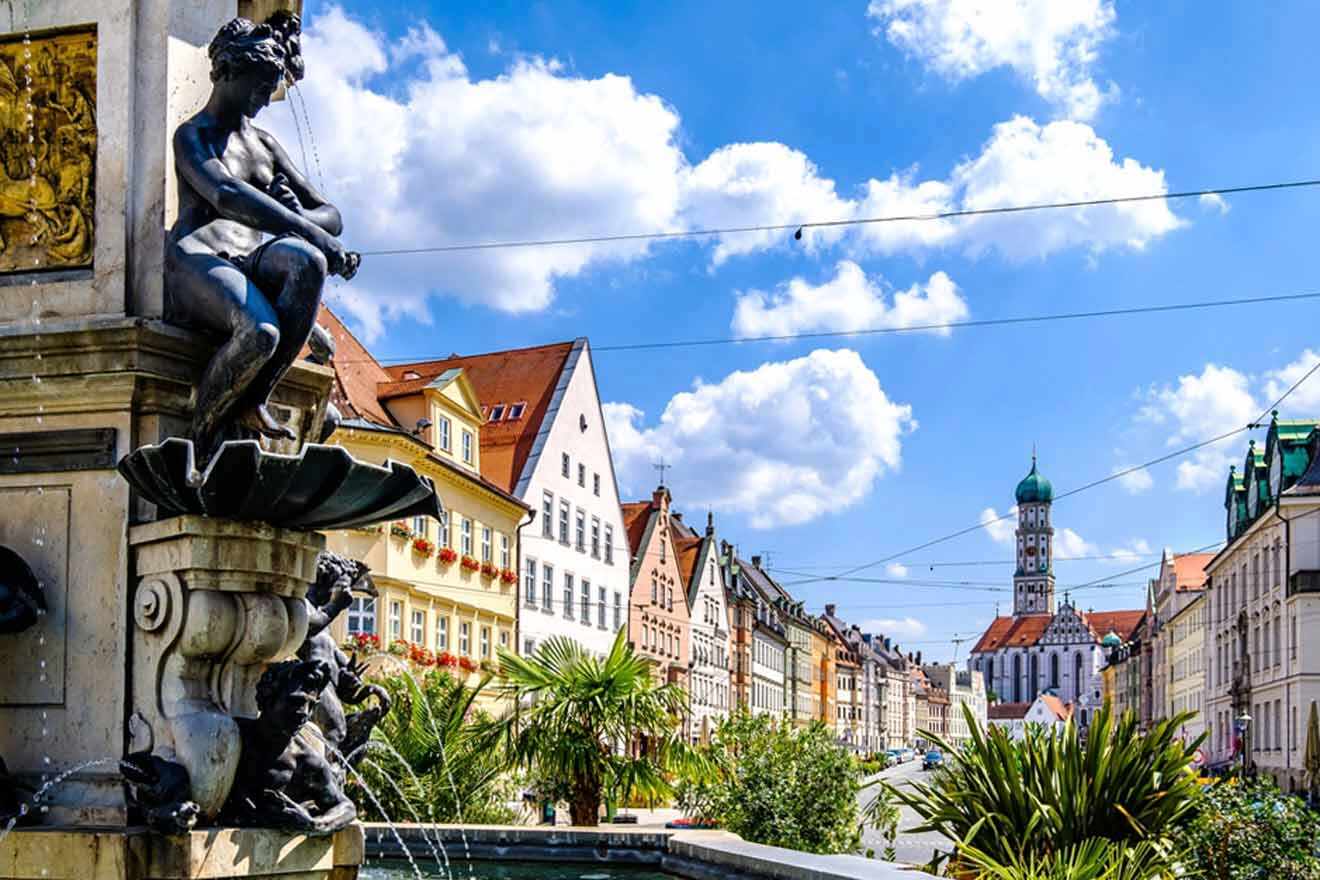 Distance from Munich: 50 miles (80 km)
Drive time: 1 hour
Time it takes on public transport: 1 hour
You'll love experiencing the charm of Augsburg's old town! As the second oldest city in the country, this city holds so much history!
Did you know Augsburg is the second oldest city in Germany? The peace of Augsburg was signed here in 1555, an agreement with the holy Roman empire stating the end of the conflict between Lutherans and Catholics.
Along your walks in the city of Augsburg, you will be able to notice the beautiful blend between medieval times and the Renaissance.
One of the main attractions I suggest you visit is the Schaezlerpalais, an 18th-century palace (here's a map, but you need to buy tickets on-site).
The Botanic Garden (with tickets you can only get onsite), is an excellent choice if you want to relax surrounded by greenery!
Definitely check out Fuggerei as well, which was a social housing complex in the XVI, and the oldest social housing in history still running today!
8. Reflect on history at Dachau Concentration Camp Memorial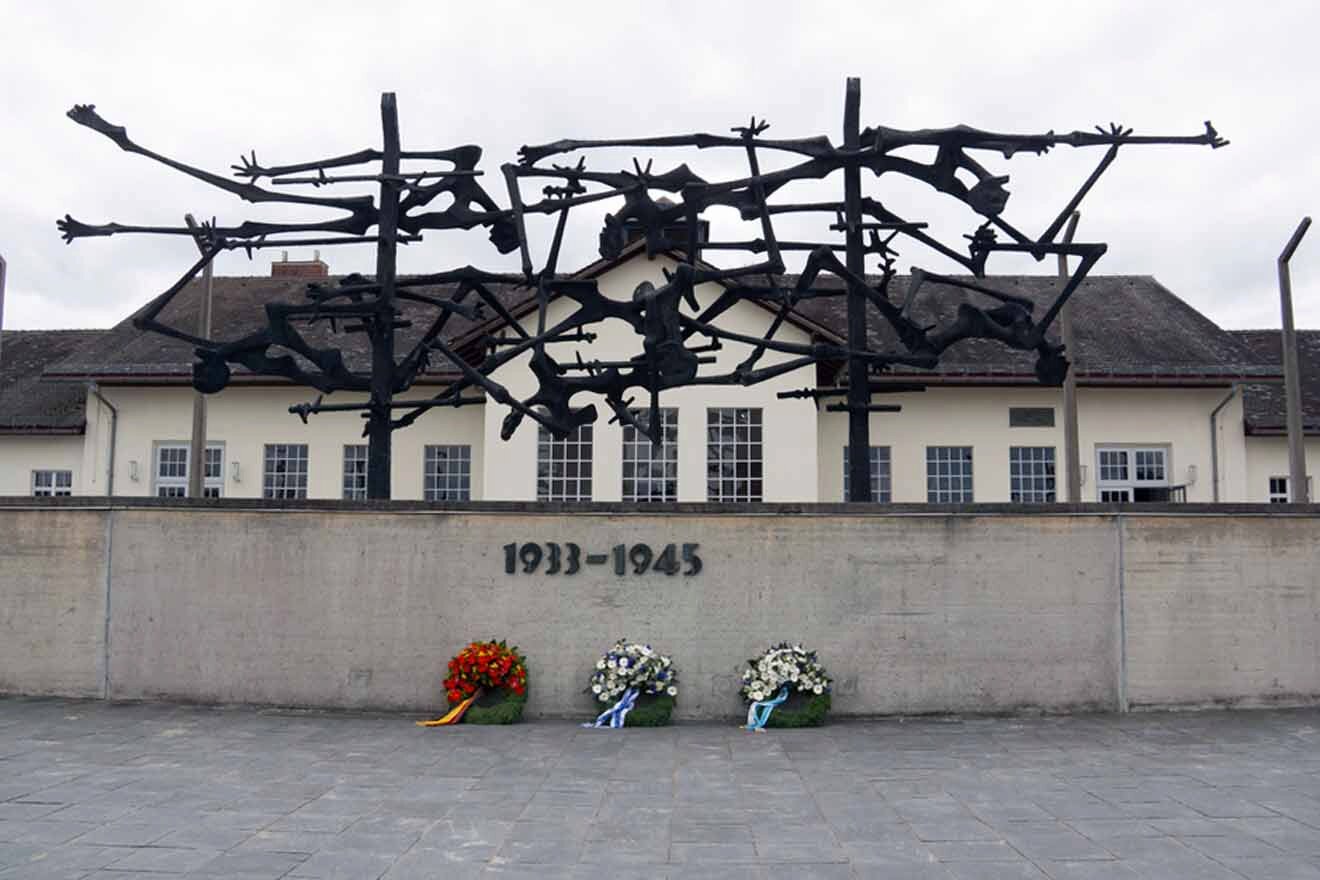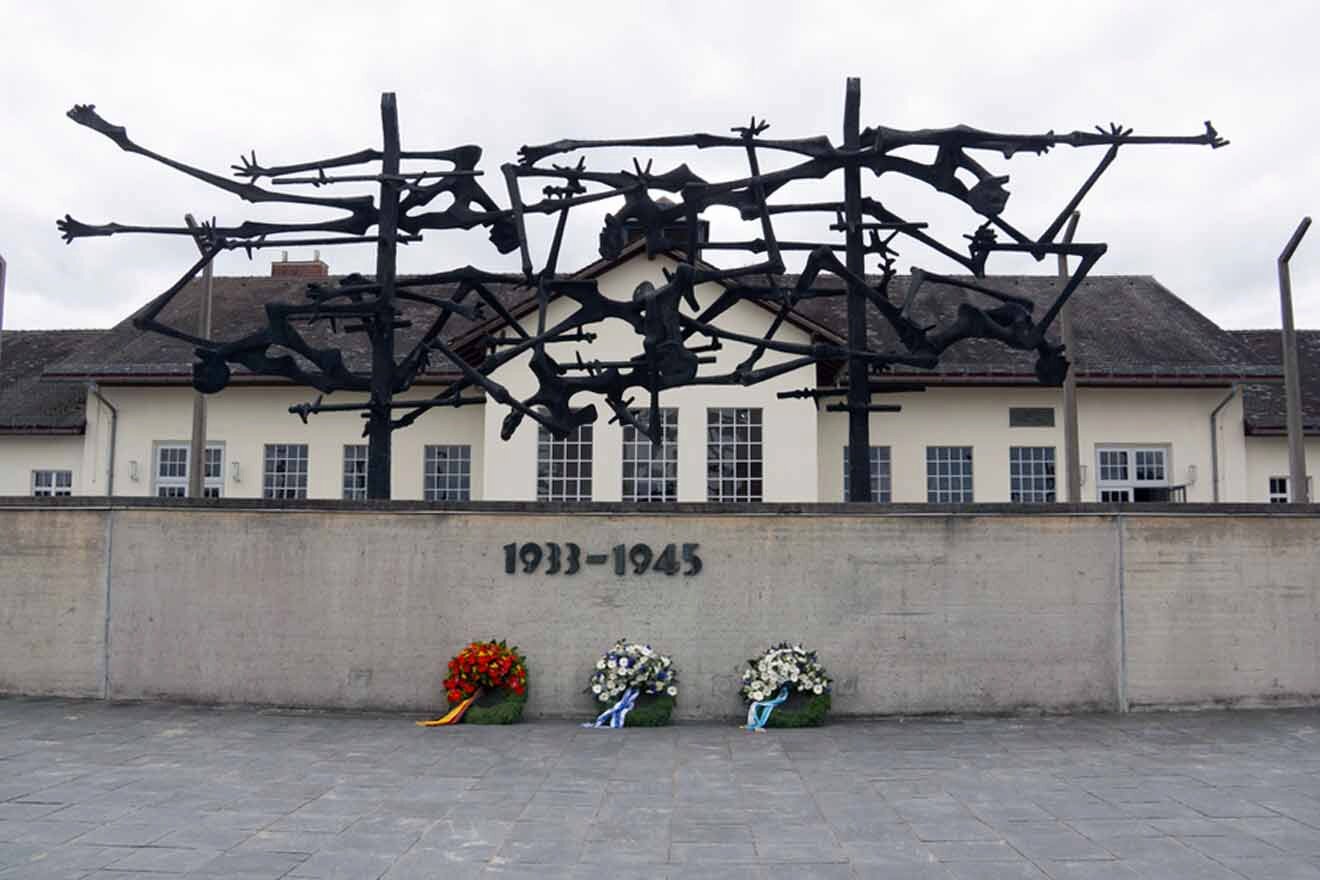 Distance from Munich: 23 miles (23 km)
Drive time: 30 minutes
Time it takes on public transport: 10 minutes
Dachau's concentration camp was opened in 1933 during the nazi regime for political prisoners and stayed open for 12 years until the U.S. army liberated the prisoners in 1945 by the end of World War II. Dachau was opened by the survivors in memory of the suffering and deaths of the victims of the concentration camp.
The entrance to the memorial site is completely free. And the archive and library on the site are open to all, all you need to do is register to use it when you are there.
If you want to get a deeper understanding of German history, I suggest you take a guided tour from Munich. Your tour guide will show you around the site as they share crucial historical knowledge about Dachau and German history. This is one you definitely shouldn't miss!
TOUR PRICE: from €40 per person
9. Dive into Renaissance art in Ingolstadt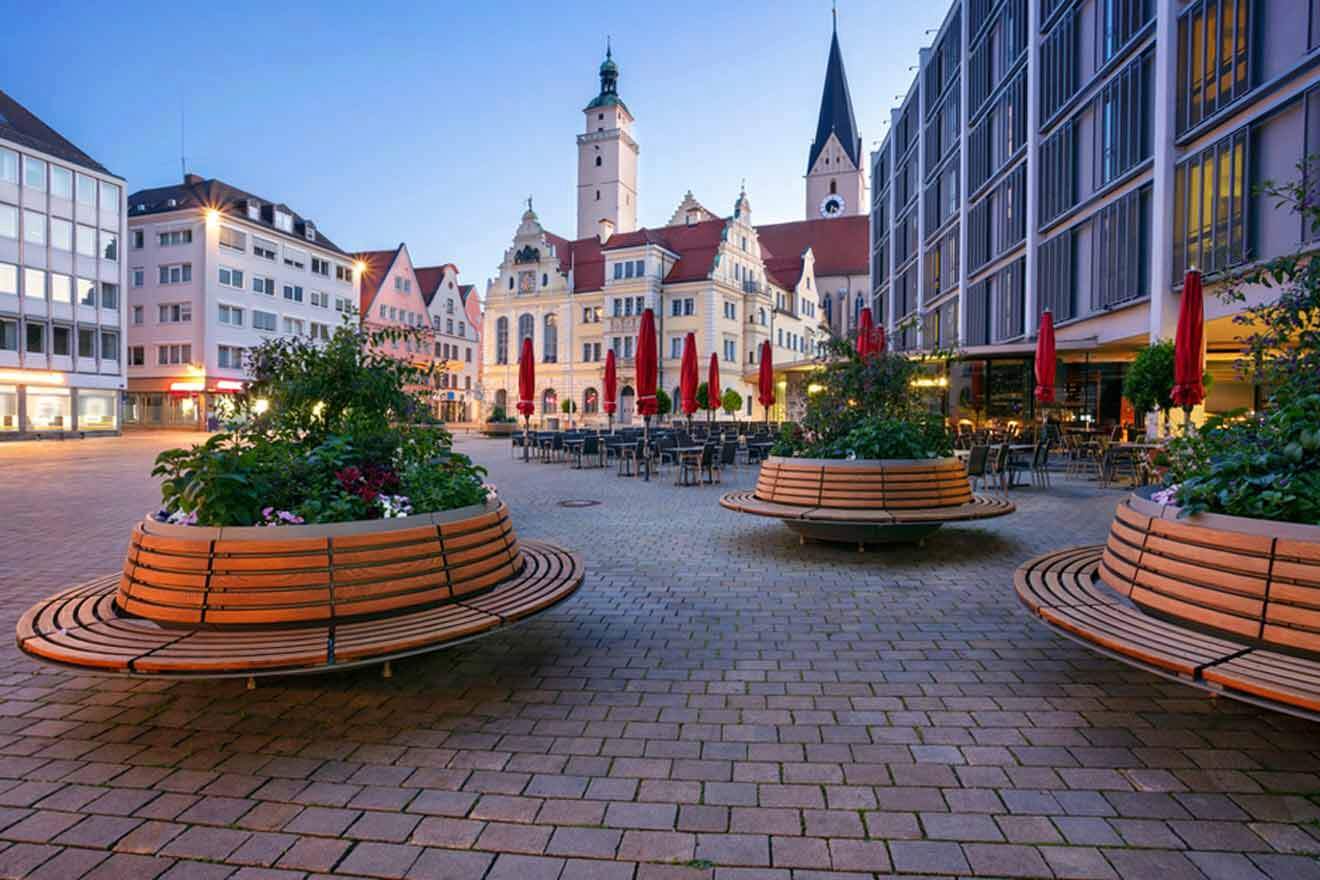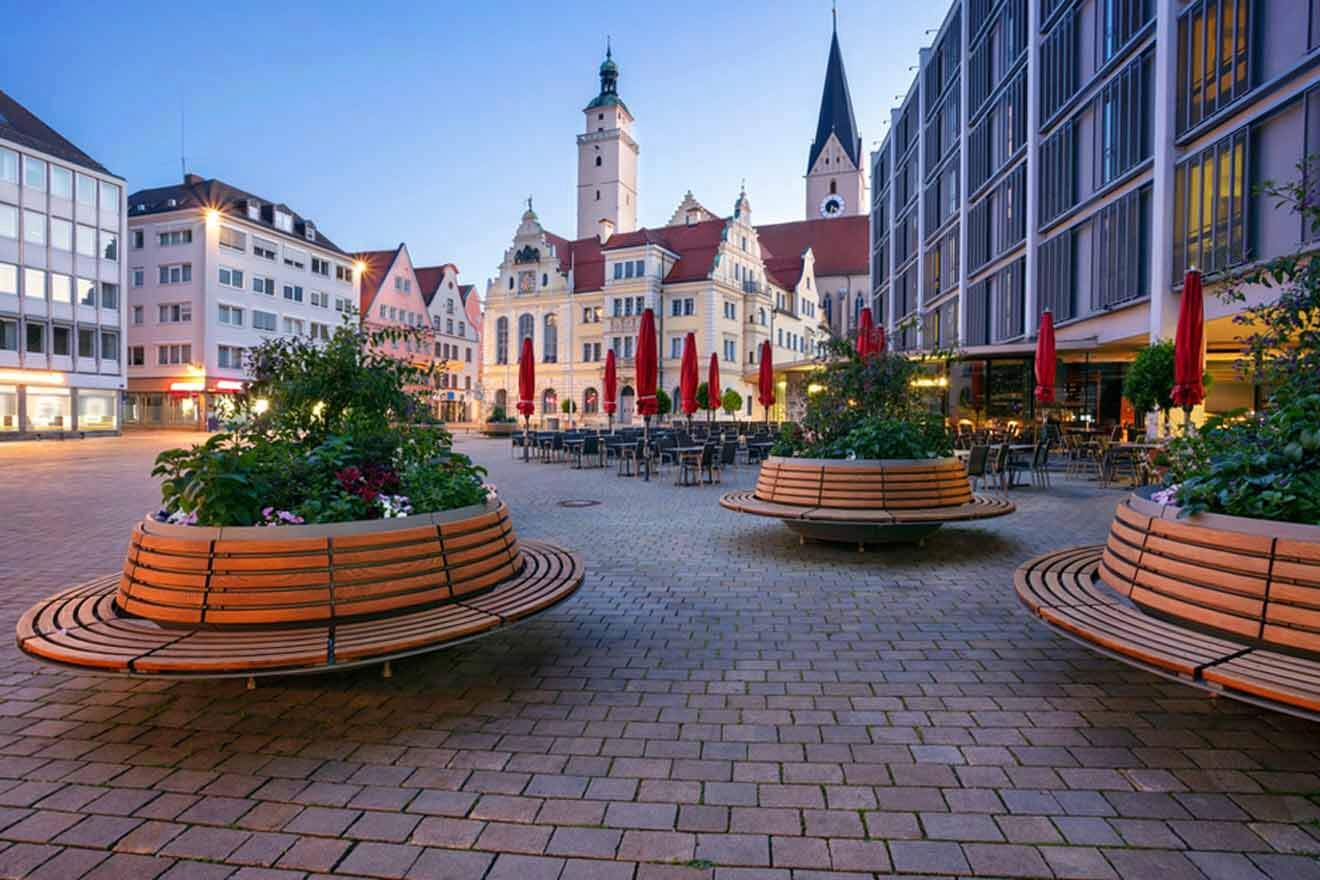 Distance from Munich: 51 miles (82 km)
Drive time: 1 hour
Time it takes on public transport: 40 minutes
Ingolstadt is one of Germany's most beautiful cities, and a fraction of the old town is surrounded by old medieval city walls. Cross Gate is the entrance to the old town, so you better get your cameras ready to snap some pics!
The city has a lot of Renaissance buildings and churches, and during your walks in the city, the architecture will be jaw-dropping! Some examples are Asamkirche Maria de Victoria, a stunning Catholic church which was built in the 15th century and features frescos and exuberant baroque elements (map)
Did you know during the Renaissance, the first university in Baviera was founded here in 1472? The University of Munich was founded in Ingolstadt and in 1826 it was moved to its current location in Munich.
Discover the Audi Museum in Ingolstadt while you're there! This is another must-stop during your visit to the city, this museum displays 100 years of Audi automobiles, as well as the history of the brand! This visit sounds so unique and fun! Tickets to the Audi Museum run from €5 only.
10. Wander through Nuremberg's historic center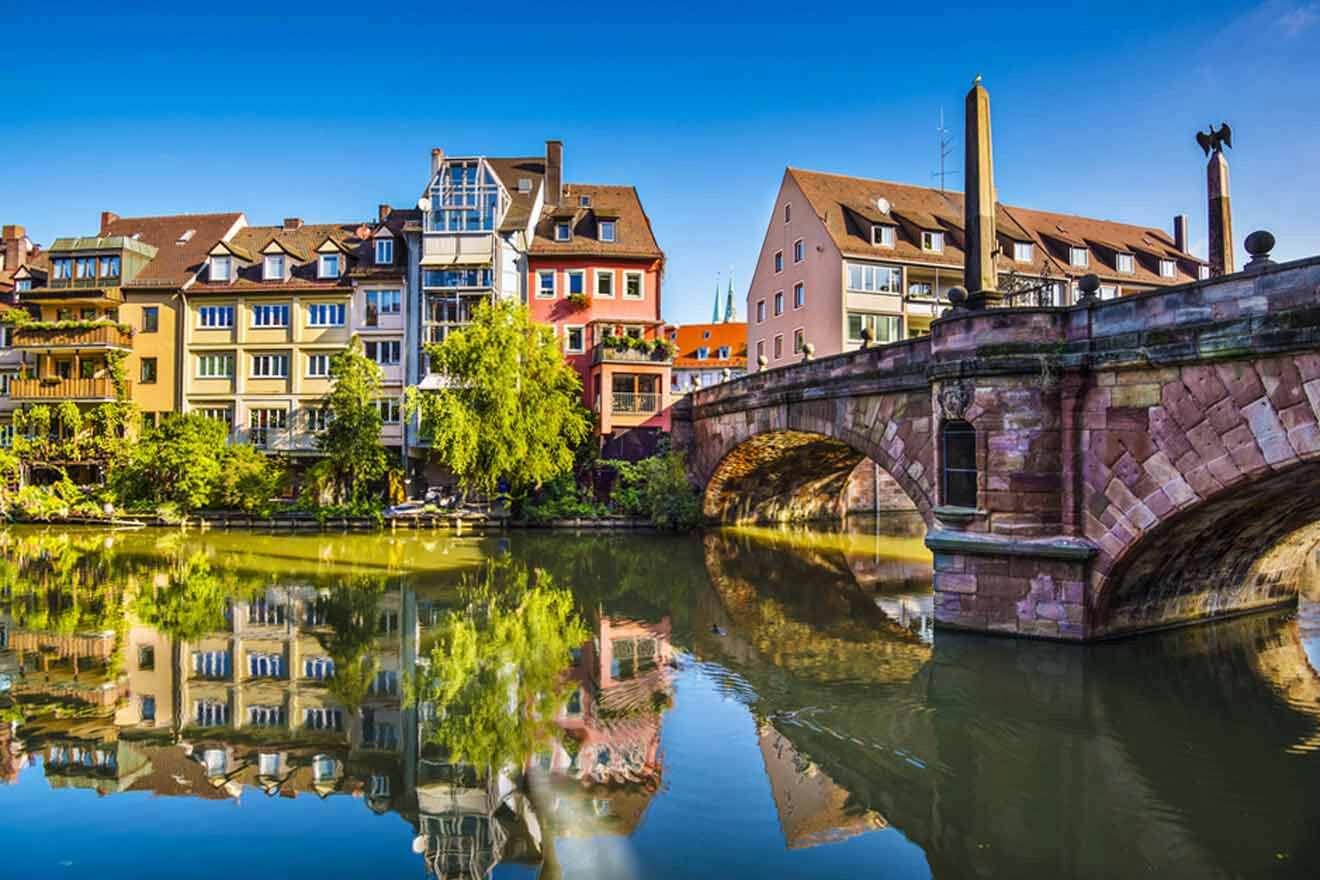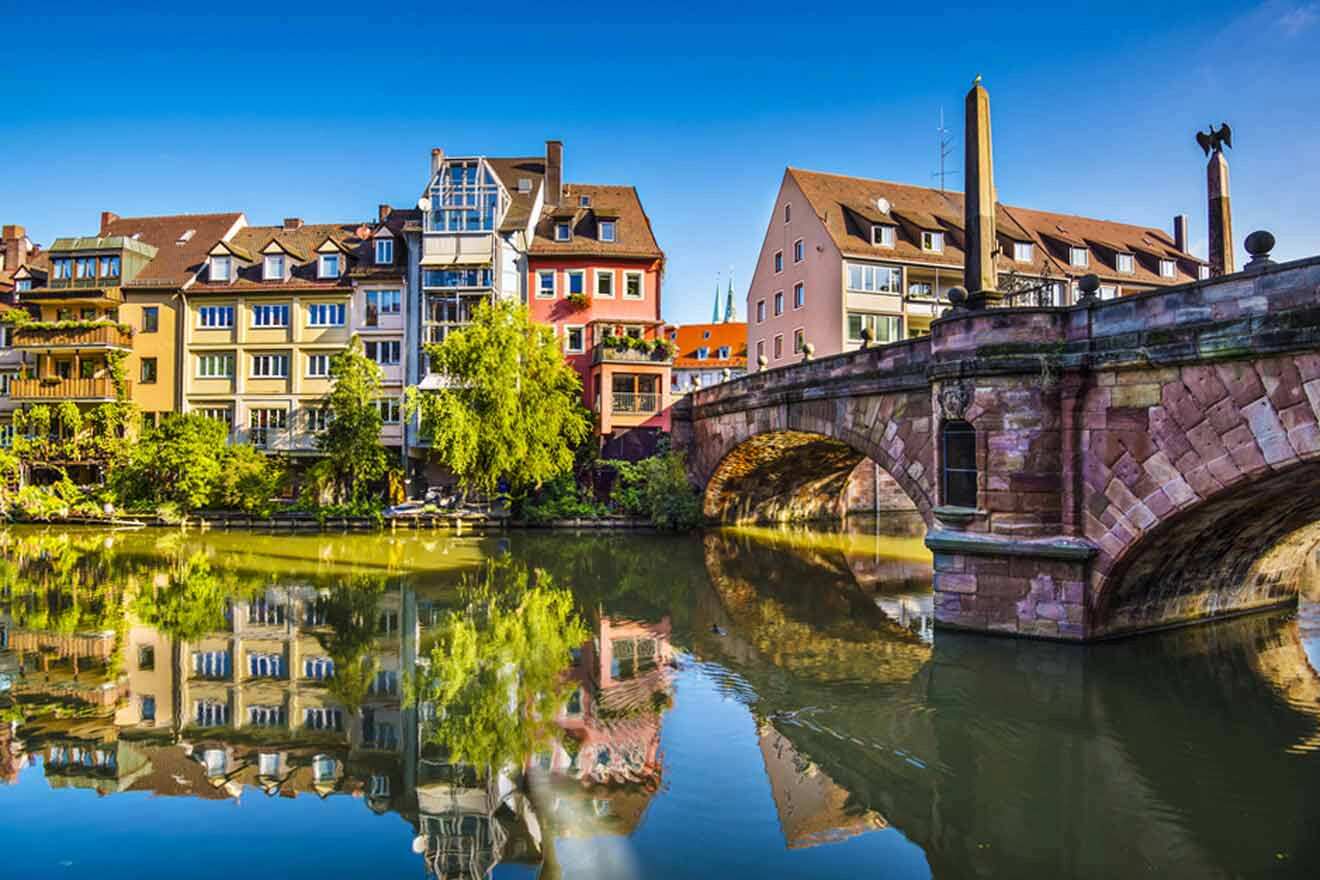 Distance from Munich: 105 miles (169 km)
Drive time: 2 hours
Time it takes on public transport: 2 hours
Did you know Niremberg's the second largest city in Bavaria after Munich?
One of this city's main attractions is Kaiserburg, which was built around 1040 and served as the home of kings, it had great significance during the time of the Romas. That is why a place with such history is a must, so you can walk the ramparts of Imperial Castle and wander in the castle's garden for a bit of inner city peace!
For more info and the opening times, check out their website.
Nuremberg is also a place full of art, and the place where the artist Albercht Dürer was born. One of his most iconic paintings is Adam and Eve. You can even visit his house (Albercht Dürer's House) which is a museum nowadays. For this one, you need to buy the tickets onsite!
If you want to see all the city's main attractions by hand on a knowledge-guided tour, that will spill the beans about all the historical facts, this tour with train tickets to and from Munich is calling your name!
TOUR PRICE: from €70 per person
11. Visit the romantic city of Regensburg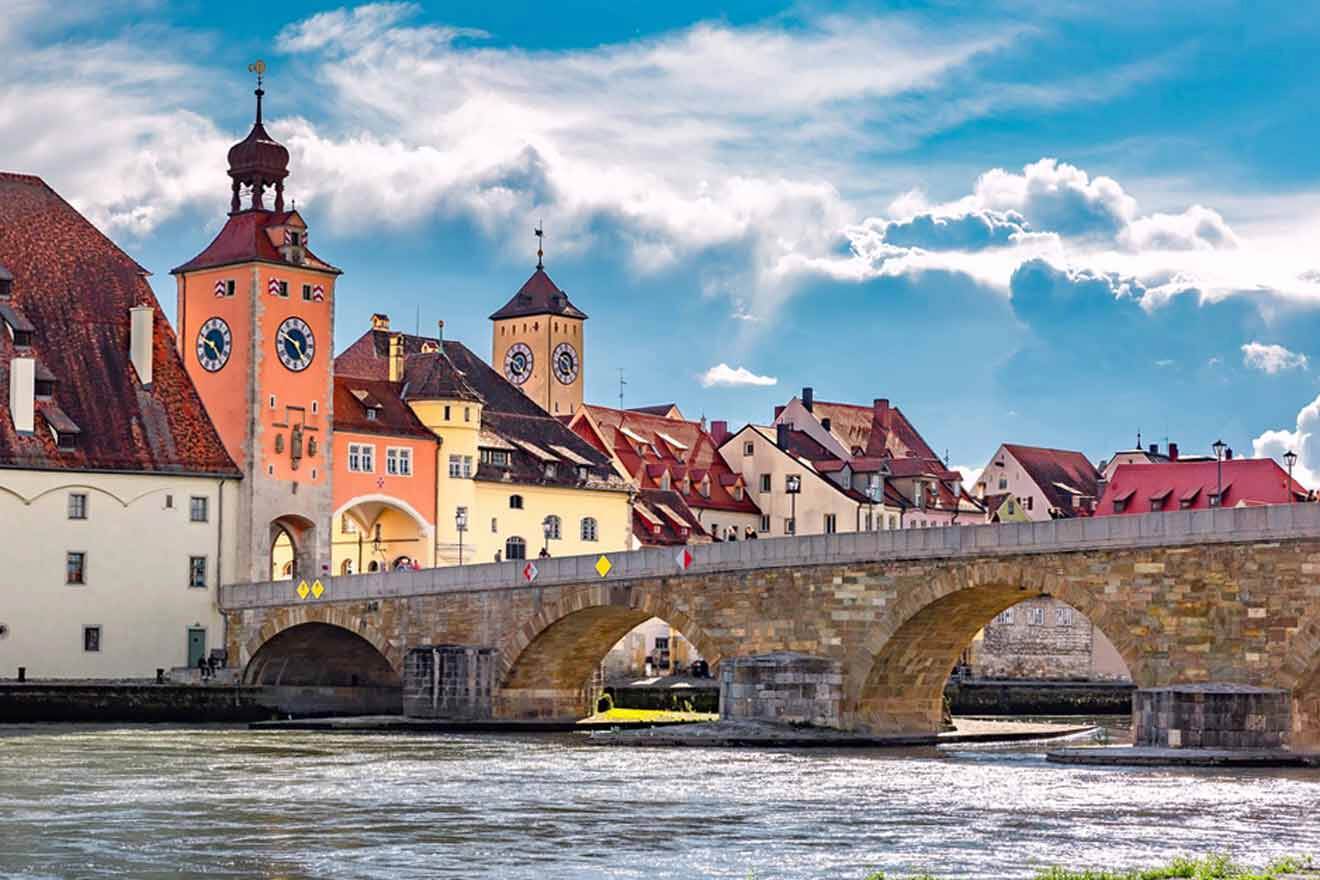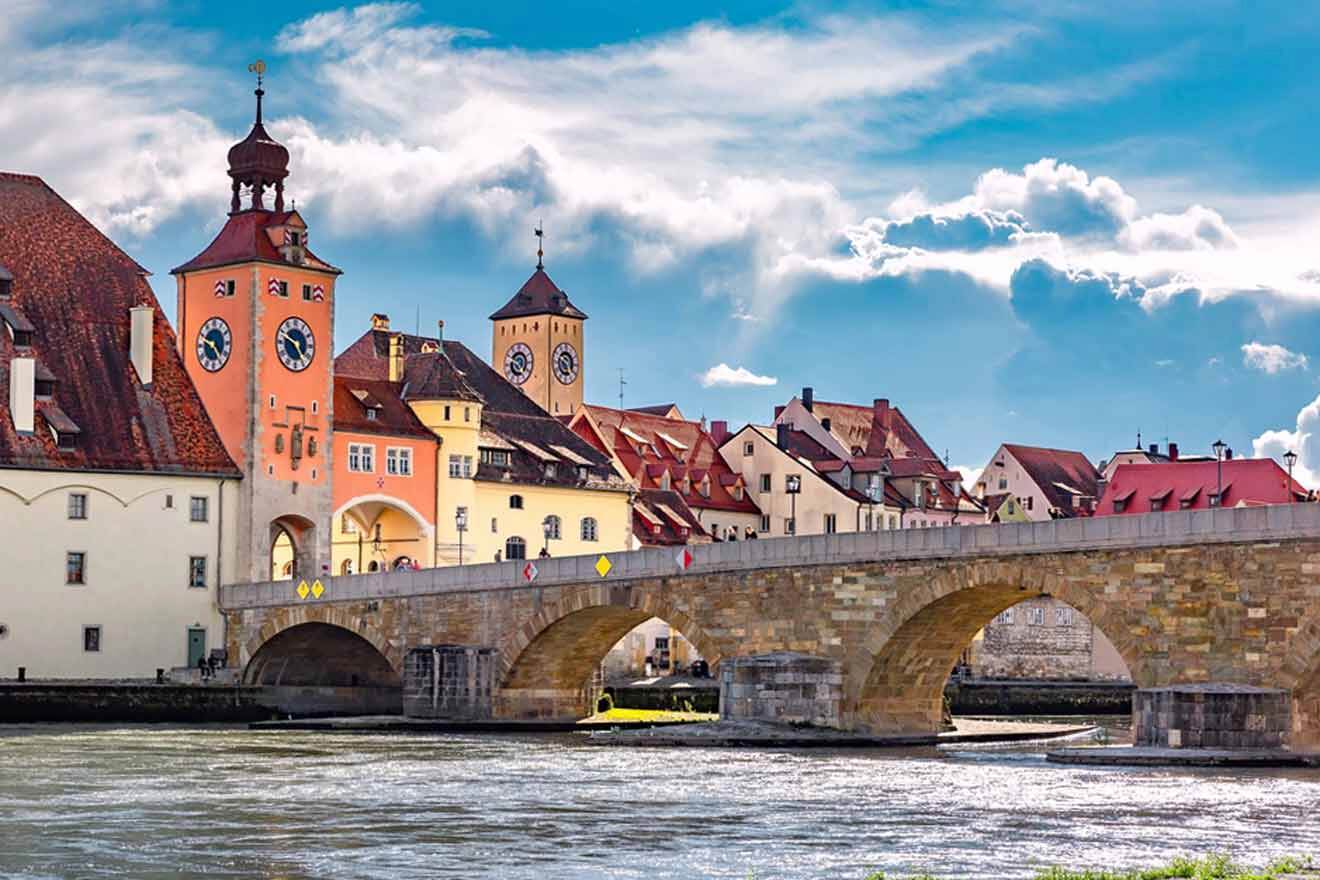 Distance from Munich: 77 miles (124 km)
Drive time: 1 hours
Time it takes on public transport: 2 hours
This beautiful city is known for its well-preserved medieval town, and it is a UNESCO World Heritage site. I invite you to walk along the cobblestone streets, and admire the Gothic architecture the city features!
On your walk around the city, stop by the Stone Bridge, which was built in the 12th century right over the Danube River, making it one of the oldest bridges from Medieval times!
Regensburg Cathedral (map) is a stunning Gothic cathedral built in the 1200's and another architectural wonder in the city!! I highly recommend checking out this place along with the Basilica of the Nativity of Our Lady Regensburg (map), which is absolutely gorgeous!
If you would like to learn more about Baviera and the history of the region, I highly suggest you visit the Museum of Bavarian History, which also comes with kid-friendly exhibitions if you're traveling with the family! Check out their website for opening hours and tickets.
12. Take a boat tour on Lake Starnberg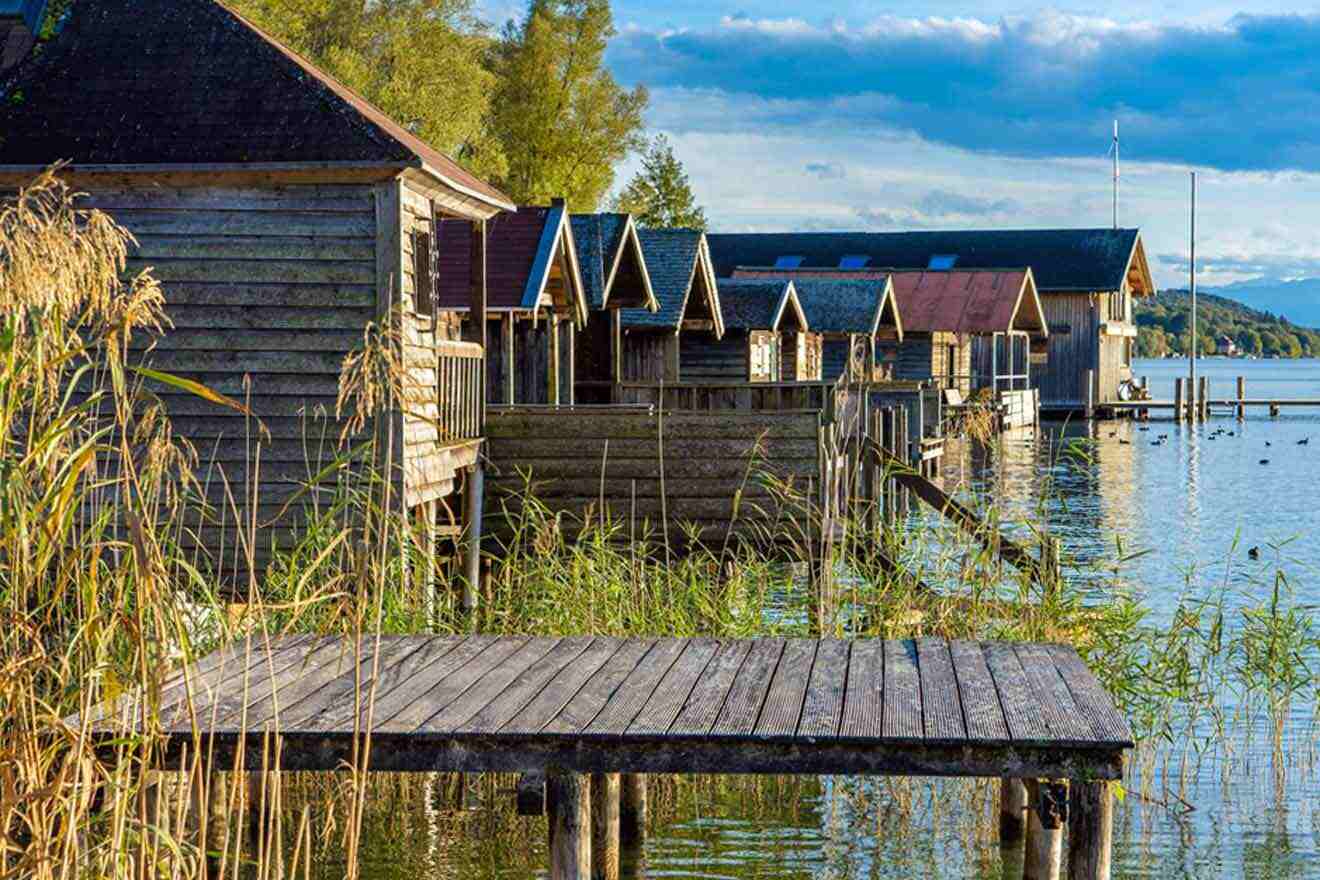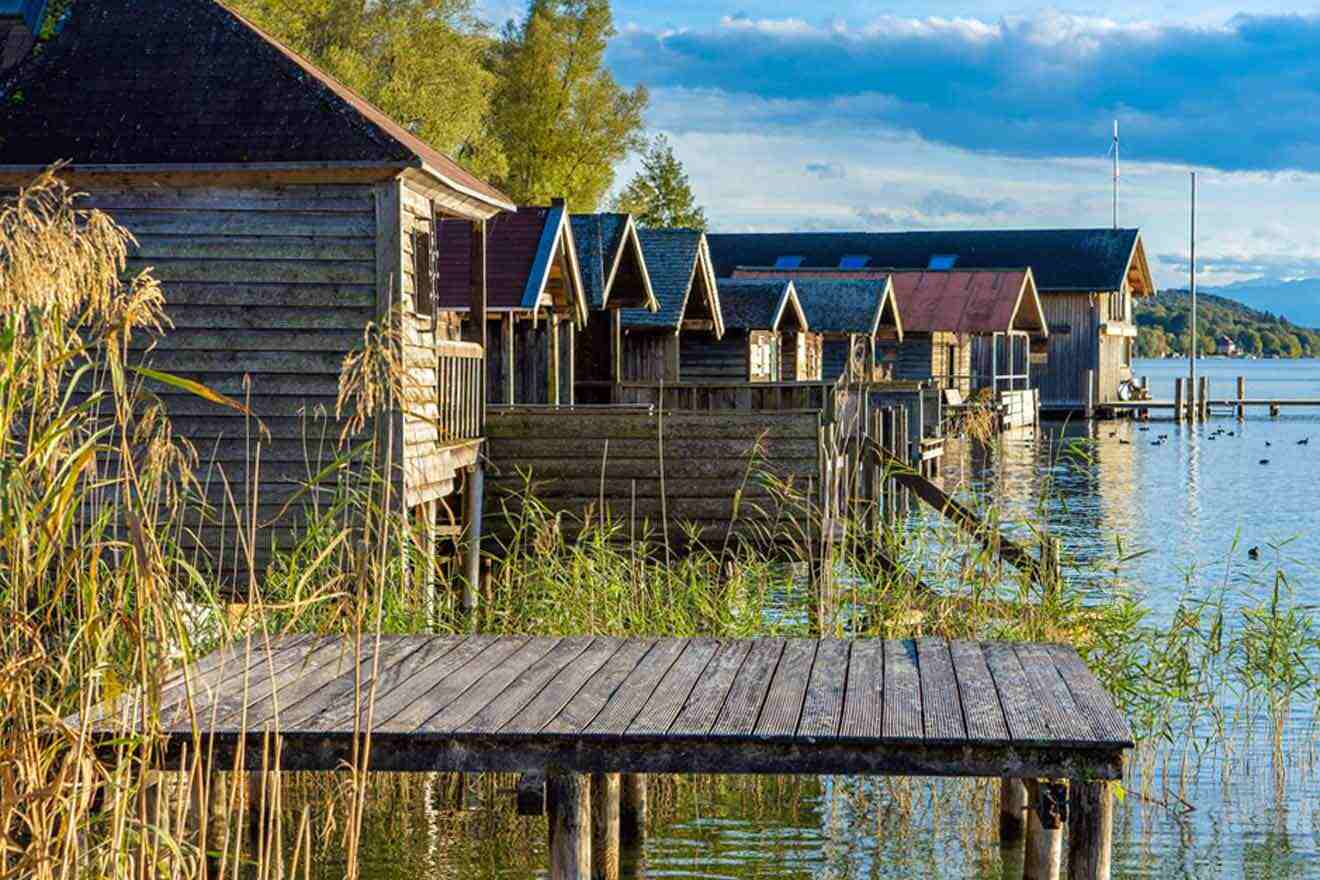 Distance from Munich: 17 miles (27 km)
Drive time: 20 Minutes
Time it takes on public transport: 20 minutes
Experience the serenity of Starnberger See! A visit to this lovely city by the lake is a complete must! The lake is super close to the city of Munich and is a very famous destination even for locals.
During the summer there is nothing better than going for a hike around the lake. When it gets too hot you can rest under the sun and jump in the water to freshen up!
If you stay there the whole day you will get hungry but don't worry if you don't pack enough food, there are many restaurants, ice cream shops, and bars in the area, so your craving will be covered no matter what it is!
I highly recommend Wirtshaus im Tutzinger Hof (map), which serves traditional, regional food and beer, and Starnberger Eiswerkstatt Kirchplatz (map), which is a great ice cream parlor that can satisfy those sweet tooths!
This epic boat tour on Lake Starnberg is definitely worth your time, and will make your day trip so memorable! You'll get a 3-course dinner, hear tales from the time of Bavarian Kings, and champagne to boot! Sounds like a pretty good reason to visit Lake Starnberg if you ask me!
If you want to learn more about the different areas in the city and their main attractions for your next stay, check out our Munich area guide!
PRICE: from €170
13. Explore the UNESCO World Heritage Site at Bamberg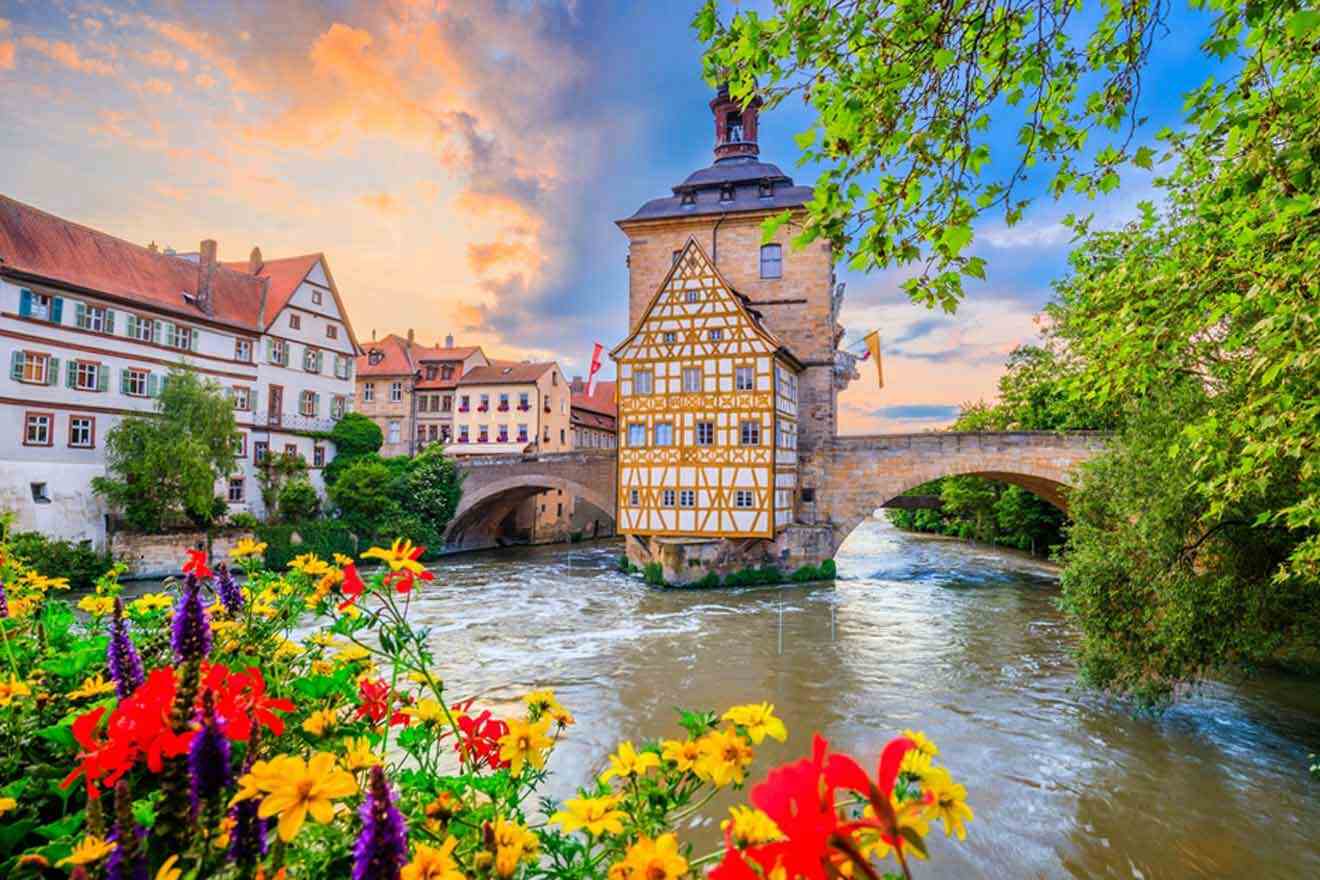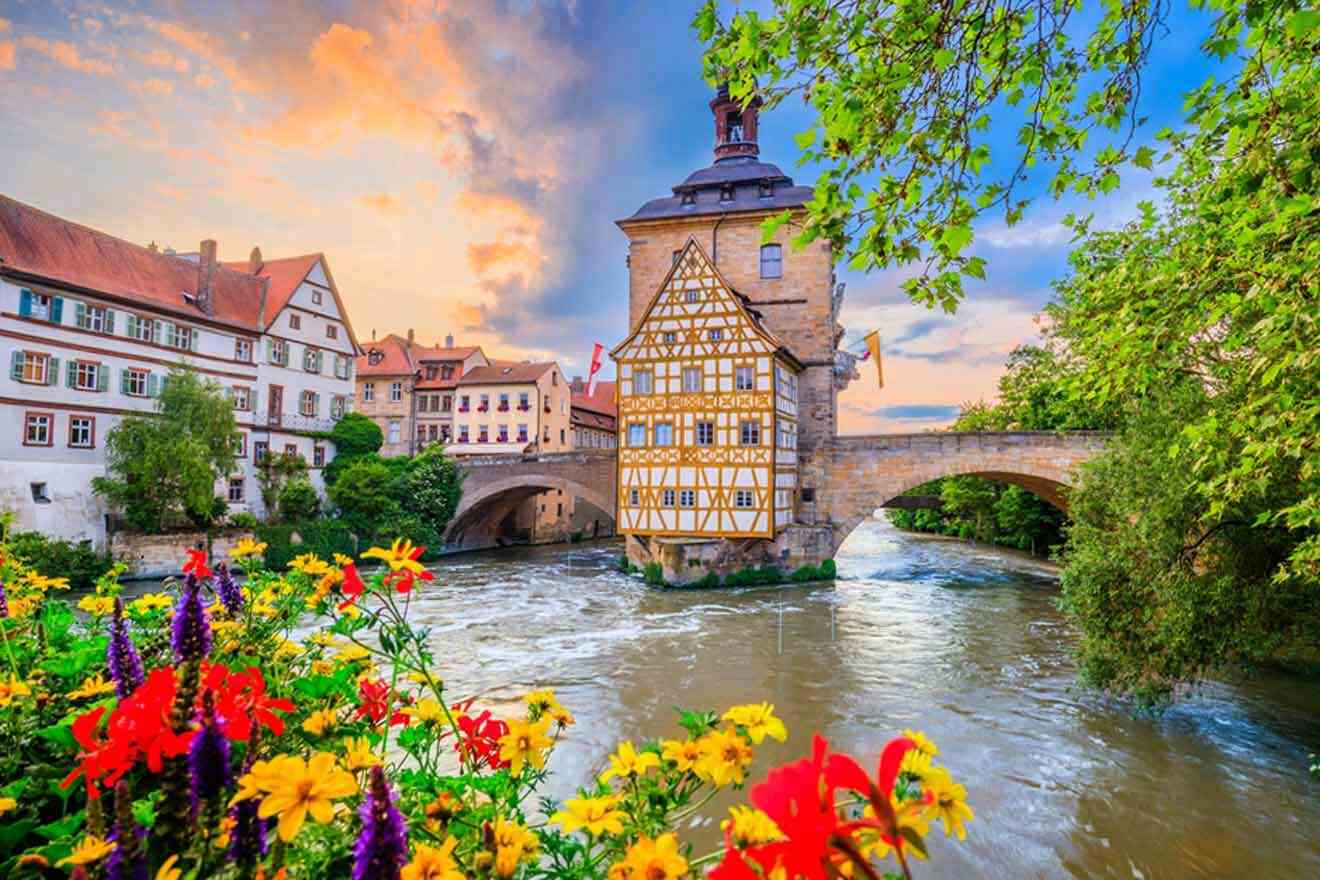 Distance from Munich: 142 miles ( 230 km)
Drive time: 2.5 hours
Time it takes on public transport: 2 hours
Did you know the entire Old Town of Bamberg is a UNESCO World Heritage Site? This is due to its preserved medieval city!
Since you are in Bavaria, why not sit down in a local beer house and try one of the Bamberg-made beers! I recommend visiting Hopfengarten Bamberg (map), which is a local brewery. Here, you can try the Bamber traditional smoked beer and many other types!
Bamberg might not be part of the Romantic Road, but it's so worth the trip due to its history, cute cobblestone roads, picturesque half-timbered houses, and many important monuments.
For example, Bamberg Cathedral, which was built in the 13th century, is one of the most important architectural monuments in Germany and a city symbol! Another landmark are the impressive murals painted on the old town hall, so don't miss them when you go!
14. Enjoy baroque elegance in Würzburg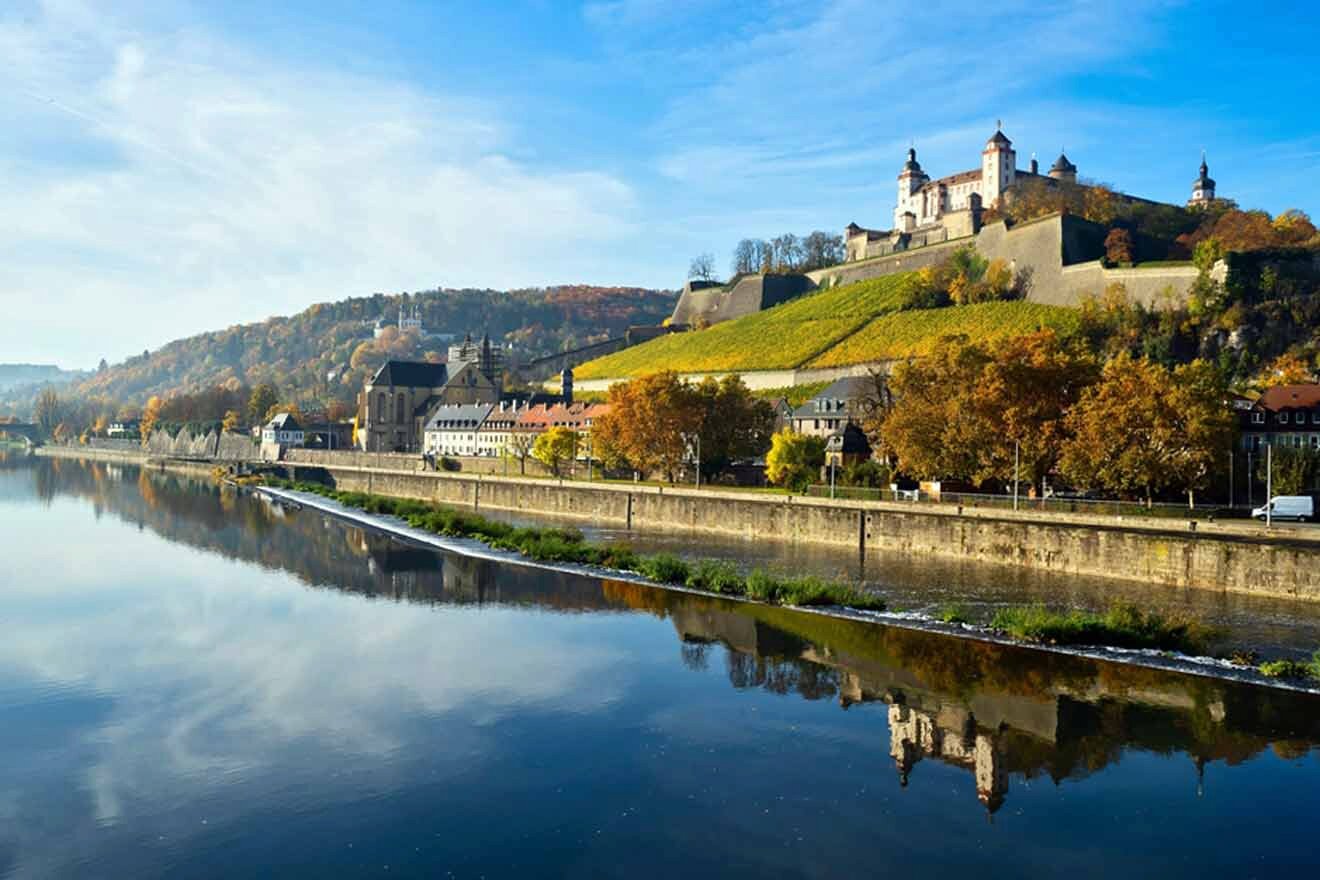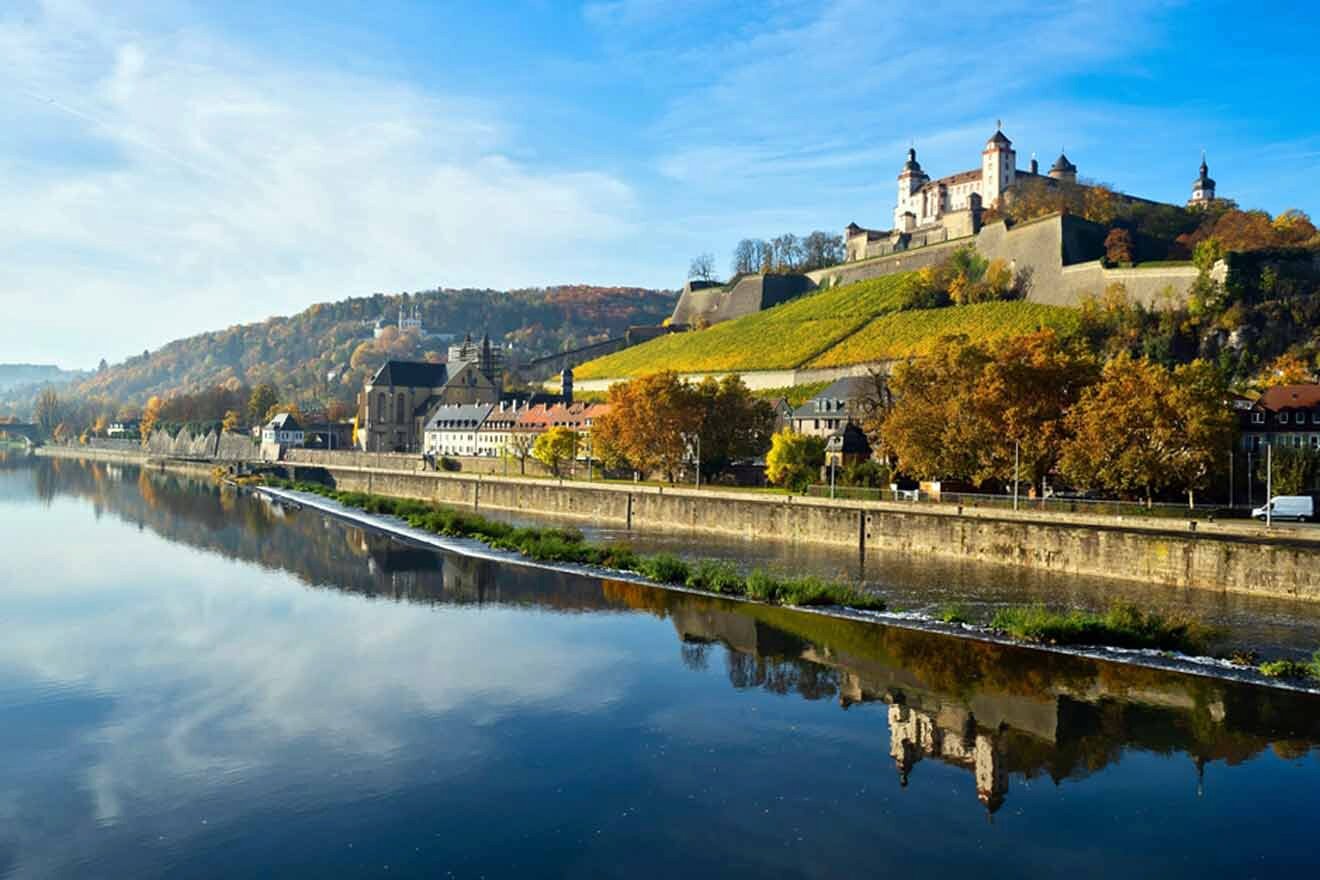 Distance from Munich: 142 miles (277 km)
Drive time: 3 hours
Time it takes on public transport: 2 hours
The city of Wüzburg looks like an outdoor museum, it is really astonishing! Go for a stroll around the city and dive into Baroque and Rococo architecture.
The city is home to very important historical landmarks. One of them is Residenz Wüzburg which is located in the old town.
Residenz Wüzburg was built in 1780, and it took around 60 years to complete the whole building! Back in the day, the main use of this residence was to host bishops.
Another architectural wonder in the city of Wüzburg is Marienberg Fortress. This Fortress is located on a hill where back in the 8th century, the Bronze Age, a Franconian fort was built. This fort was one of the most important in South Germany.
Marienberg Fortress is one of the oldest sets of churches in the entire South of Germany! For more information on location and opening hours, check out their website.
Where to stay in Munich
I didn't want to end this article without sharing with you 3 accommodations of all budgets so you can choose a nice hotel to stay when you visit Munich!
If you're using Munich as a base to go on all your fun day trips, these hotels are the best of the best! If you need more options, don't miss our ultimate guide to all the best neighborhoods and hotels in Munich!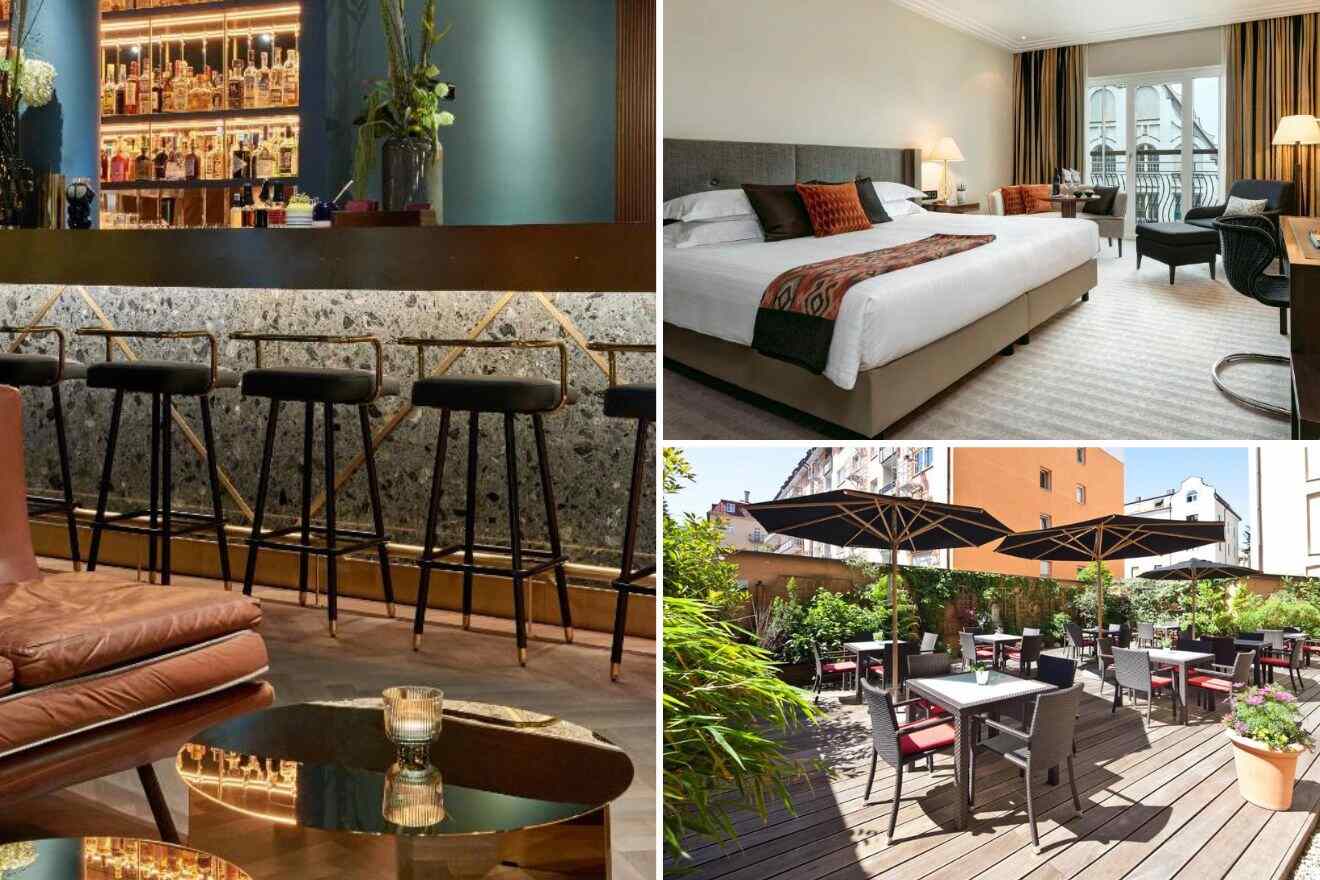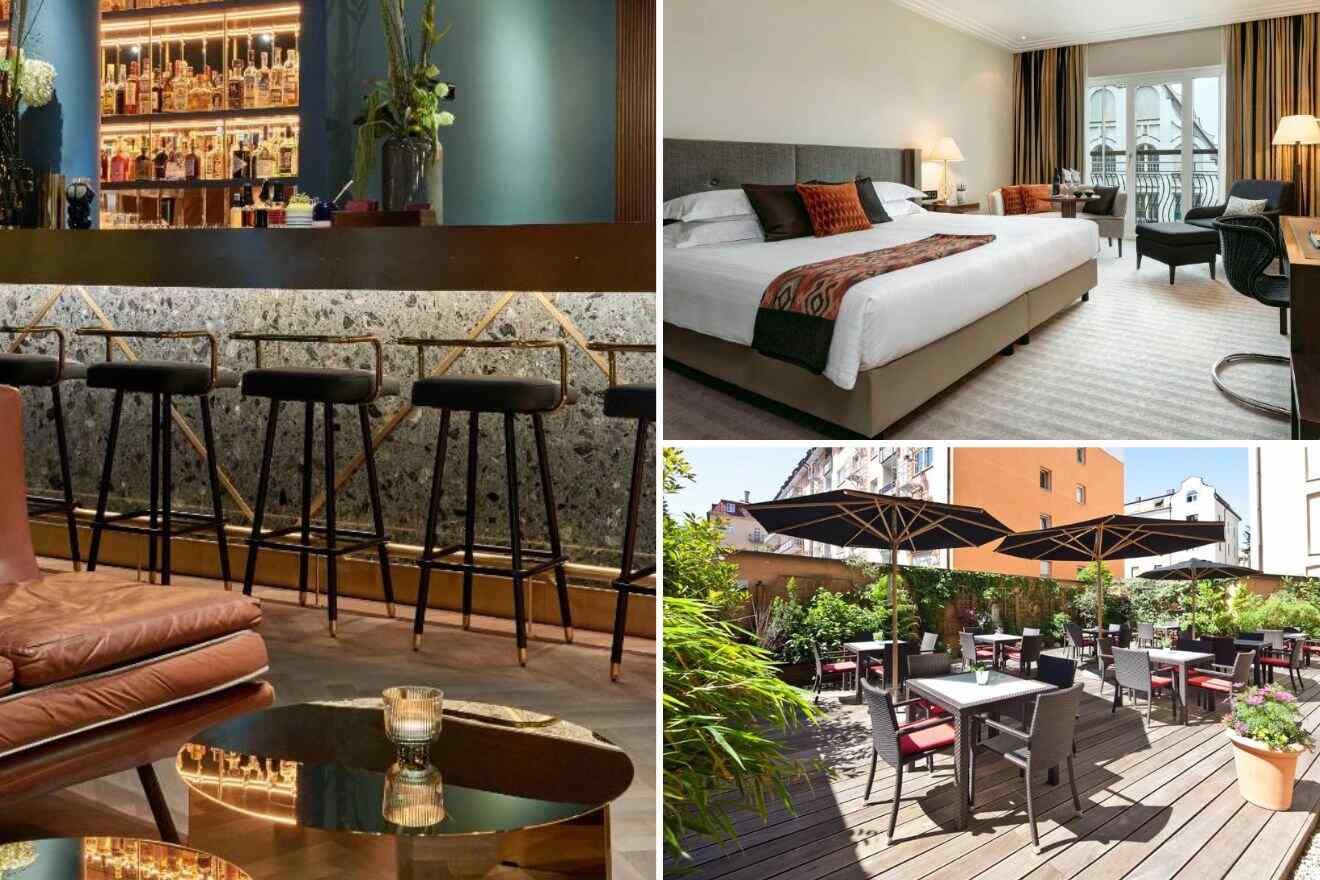 Luxury (from €500 per night):
Rocco Forte, The Charles Hotel – Oh, la la! I love this hotel, the architecture is fabulous and the interior design is a work of art! There is a lovely outdoor terrace where you can have a drink or coffee, and simply relax. The spa center is super complete, it has an indoor pool, a sauna, and a steam room!
Mandarin Oriental – This hotel looks so luxurious! It is the type of hotel movie stars stay at! The rooms are spacious, and everything is decorated to perfection. The bathrooms come with deluxe marble sinks and floors and feature a soaking tub. The outdoor pool on the roof terrace looks fantastic and features views of The Frauenkirche.
Mid-range (from €250 – €500 per night):
Scandic München Macharei – Wow! The style of this property is stunning, it looks like a design hotel! Everything is elegant, classic, and chic. It is located in Berg am Laim, and there is a tram stop near the hotel, getting you to the city in just 20 minutes. There is a fitness center onsite, and free breakfast is offered to all guests. The rooms look dreamy, minimalistic, and artsy!
Hotel MIO by AMANO – Apart from the fashionable and cool style the hotel has. Another pro of the hotel is the location. It is right by Sendlinger Tor and all the main landmarks are outside your door. Looking to try different restaurants and bars in the city? You have them seconds away from your doorstep. The hotel comes with free breakfast and paid bike rentals.
Budget (from €170 per night):
Bavaria Boutique Hotel – This hotel feels trendy and homey. The property is located in Schwanthalerhöhe, and the city is only 15 away by public transport. They serve a complimentary breakfast every morning, which is just a treat! Imagine having pretzels and German bread with coffee first thing in the morning, yum! If you wish to eat in the onsite restaurant, you can enjoy your meal on the terrace!
Mercure München – The location of this property is fantastic! The main train station and old town are only a few minutes walk away, and Marienplatz is only a 20-minute walk away. The hotel is simple, but modern. There is a complimentary breakfast available to all the guests. The rooms look chic, and have everything you need for a comfy stay!
FAQs about day trips from Munich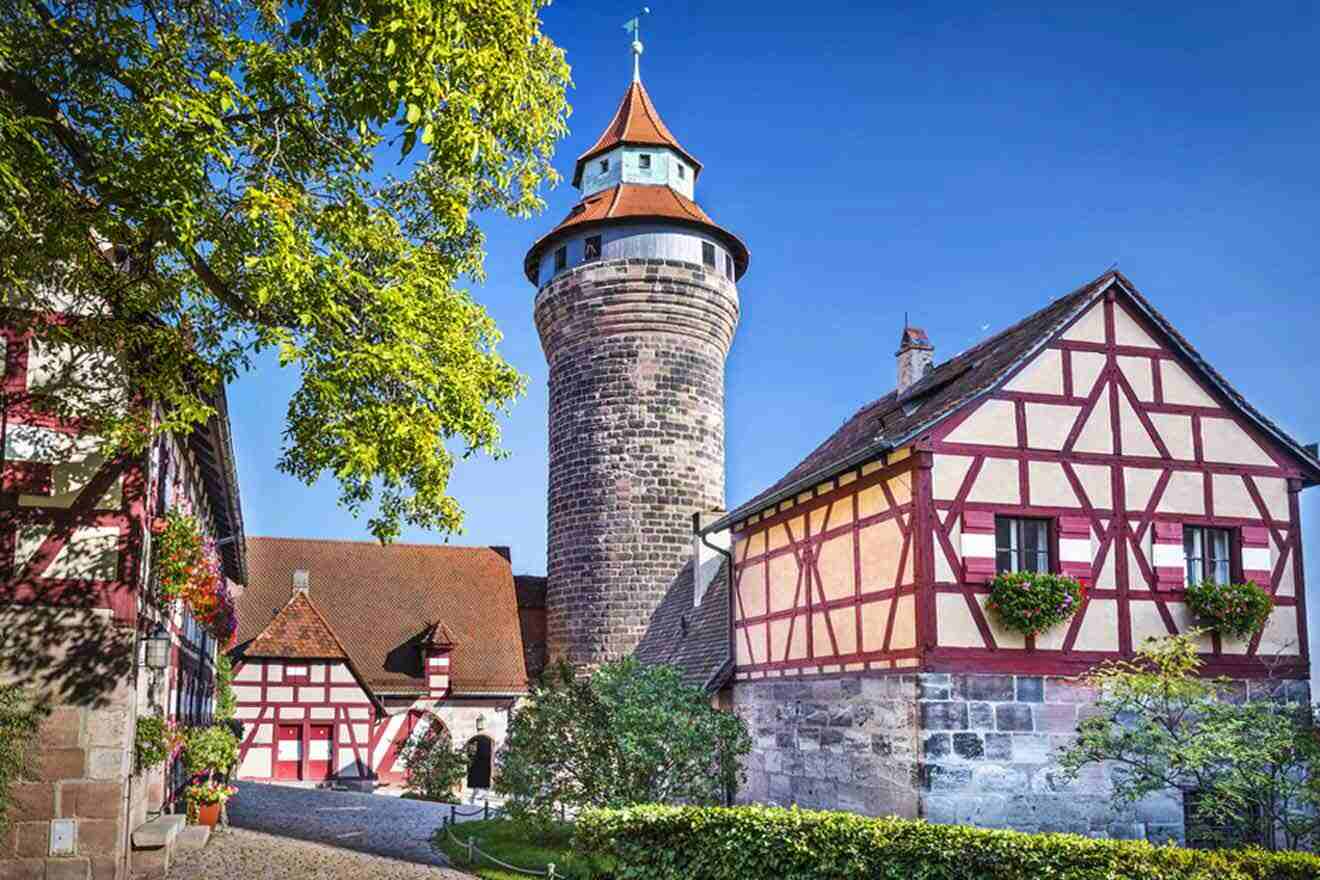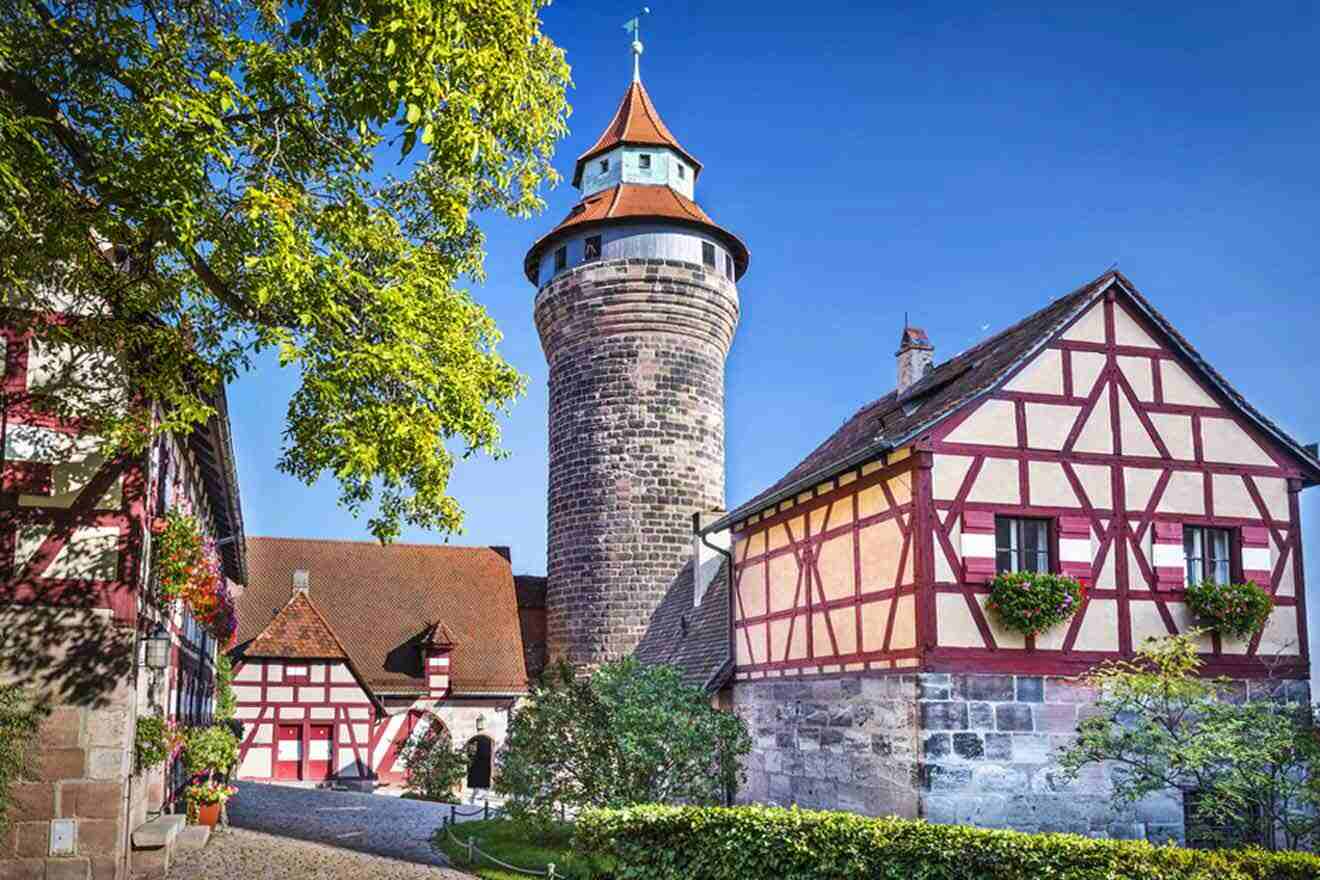 📅 How many days in Munich is enough?
I recommend spending 5 days in Munich, so you can properly enjoy the city and all it has to offer, leaving you plenty of time to enjoy all the awesome day trips you can take from the city!
🗺️ What's the best-guided tour to take a day trip from Munich?
🏰 Which is the best area to stay in Munich?
If you are a first-timer in Munich, staying in the old town is the best option. If you want to get to know what the different areas in Munich have to offer and find all the best hotels, check out our where to stay guide for all the neighborhoods you should stay in!
🌄 Where is the best day trip within 1 hour from Munich?
Looking for quick day trips close to Munich? The best day trips within 1 hour from Munich are Zugspitze and Chiemsee!
Conclusion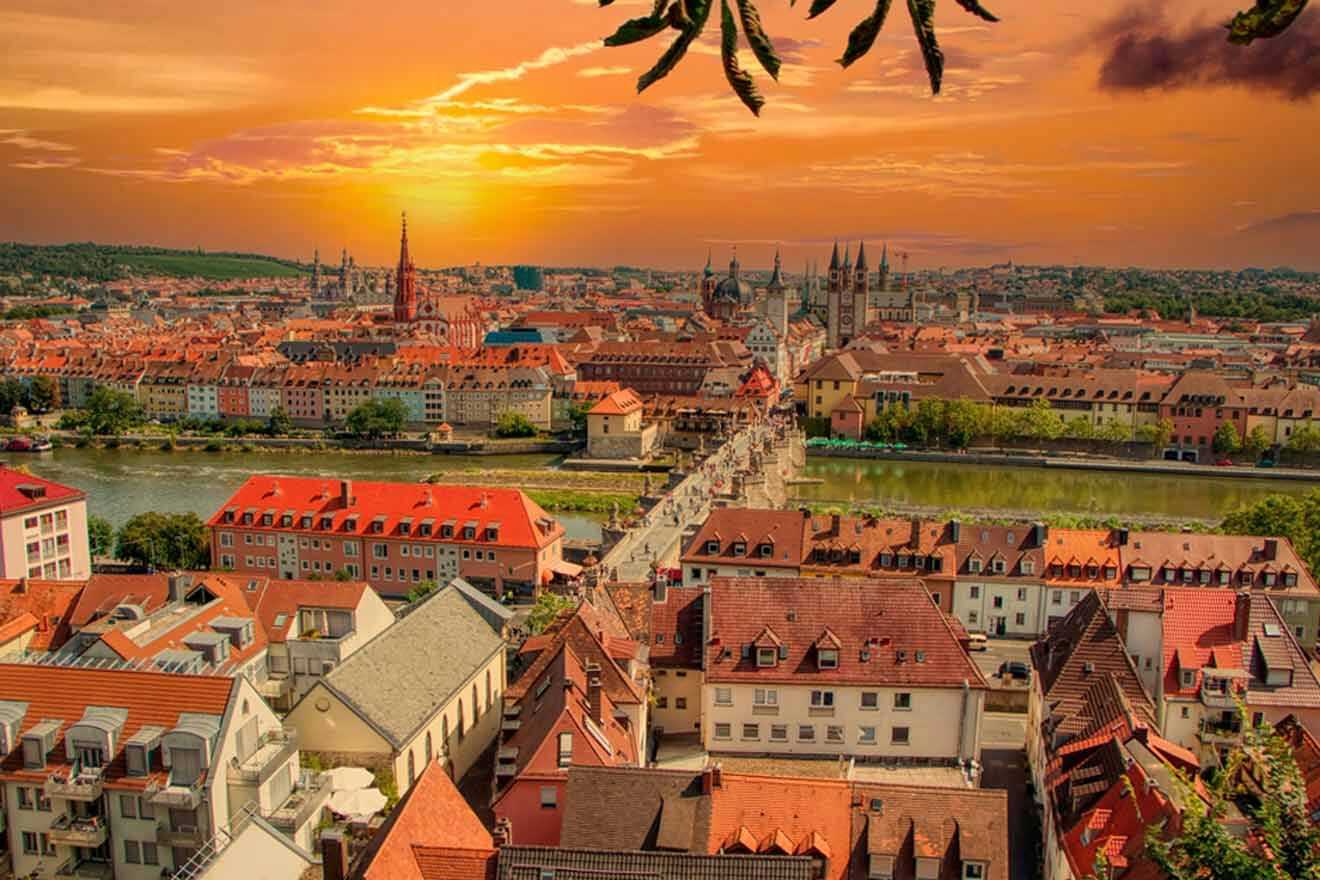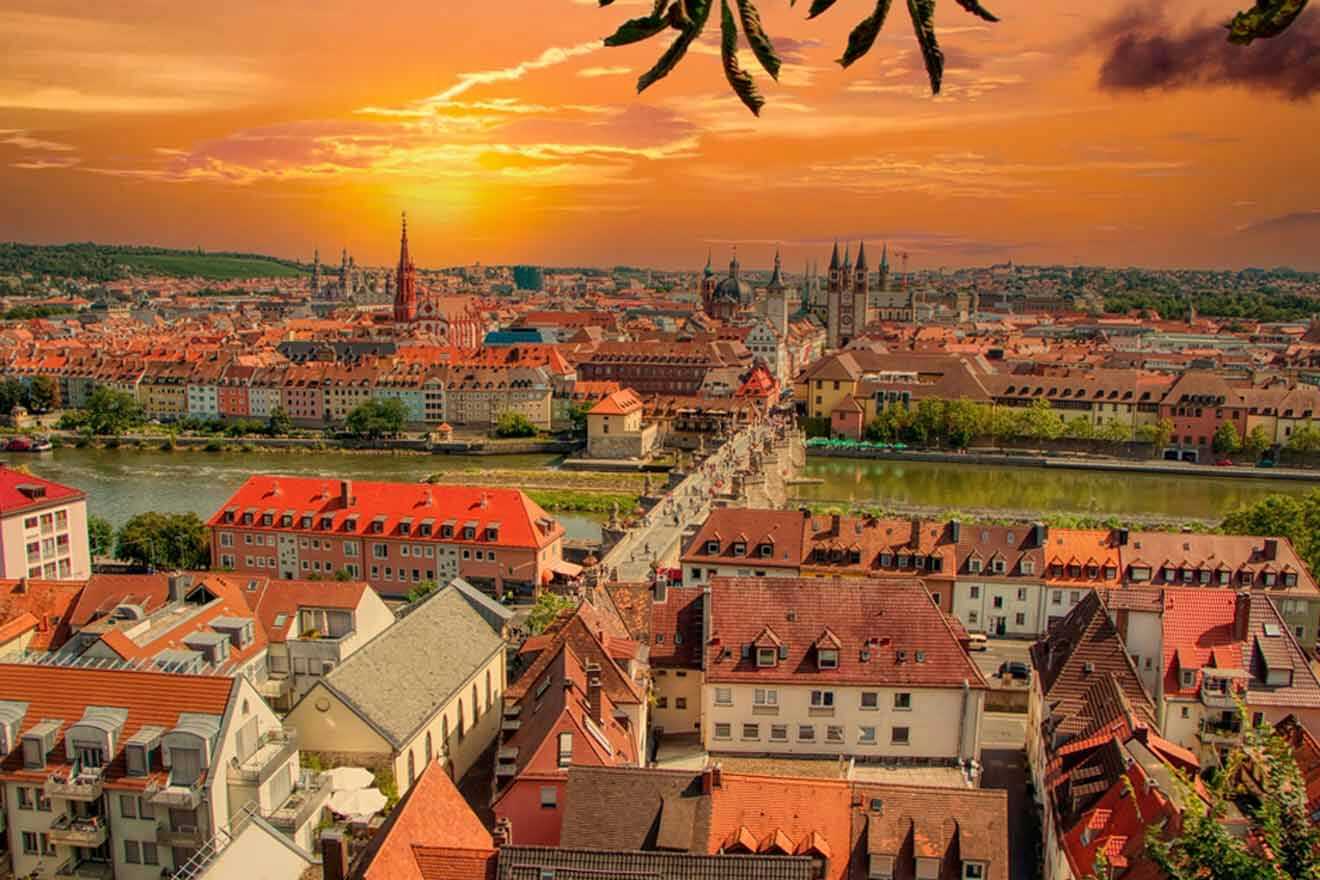 That is all for the best day trips from Munich! It is so cool to see how many beautiful cities in central Europe you can visit from the remarkable city of Munich! I shared with you 14 stunning day trip options from my own experience and research. So I am more than sure, you will love all of them!
If you want to book any of the tours I listed, do it in advance, they tend to book super fast and you don't want to end up without your easy breezy, hassle-free, ready-to-go tour!
Which of these day trips from Munich are you more excited about? Let me know in the comments! If you have any questions just let me know below, I'm happy to help!
Have a lovely trip,
Daniela
---
Pin it for later!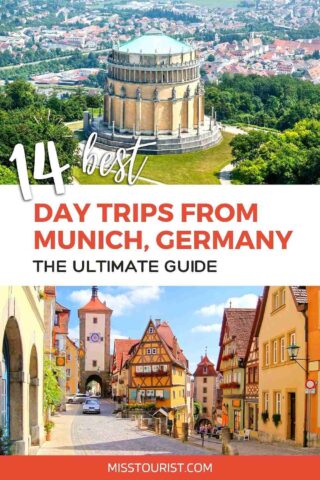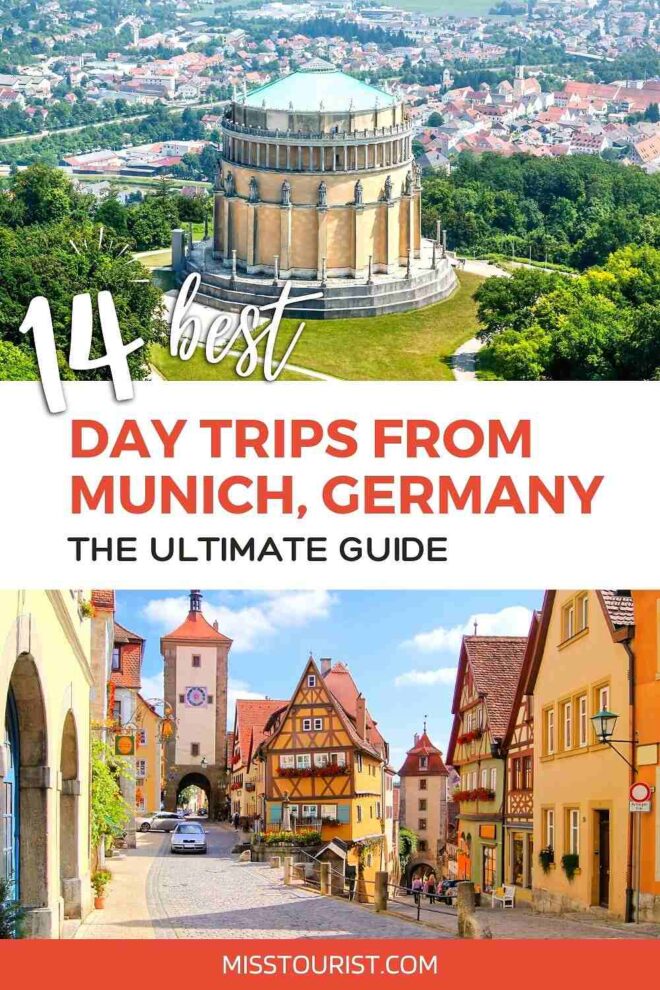 Pin it for later!