Rail passengers face summer of strife as national strikes resume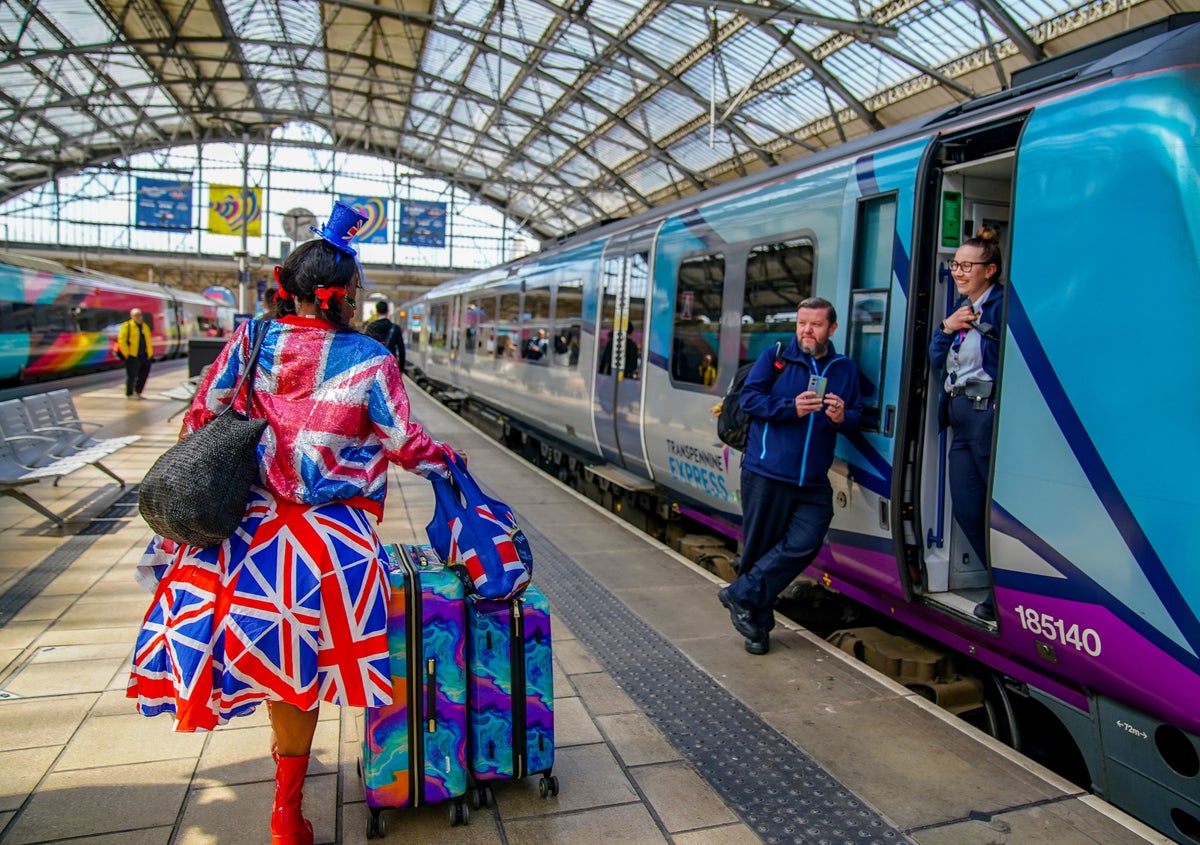 Forty-eight hours of rail chaos is about to get under way. Travellers trying to reach the Eurovision Song Contest this Saturday and, next month, the FA Cup Final by train could find their trains cancelled by a series of strikes.
As the next round of national rail strikes begins, the dispute between rail unions, train operators and ministers appears deeper than ever.
In June 2022, the first national rail strikes since the 1980s began across Britain in a tangle of disputes about pay, job security and working arrangements have caused problems for tens of millions of train passengers. Stoppages have been called frequently, causing massive disruption and making advance travel planning difficult.
Across England – and on some lines in Scotland and Wales – tens of thousands of trains will be cancelled over the next 23 days.
Passengers heading for the final stages of the Eurovision Song Contest in Liverpool will be hit this weekend, while in later walkouts sports fans will find it hard to reach the FA Cup Final and Epsom Derby.
Strikes look likely to continue through the summer of 2023. While the government and the rail unions trade insults, passengers are facing months of uncertainty.
These are the key questions and answers about the disputes.
Who is striking?
All the railway staff who are taking industrial action over the next few weeks are members of the main unions: Aslef, representing train drivers, and the larger RMT, which represents other workers.
Both unions are involved in a long and bitter dispute with all the big train operators in England who are contracted by the Department for Transport (DfT).
In terms of the sheer number of passengers, the London commuter routes are the most significant. They include Great Northern, Southern, Thameslink, Greater Anglia and Southeastern.
Five intercity operators – Avanti West Coast, CrossCountry, East Midlands Railway, Great Western Railway, LNER and TransPennine Express – are also involved. (Unrelated to the strikes, TransPennine Express will be brought into public ownership on 28 May after continual large-scale cancellations.)
Three operators focusing on the Midlands and north of England are caught up in the dispute: Chiltern Railways, Northern Trains and West Midlands Trains.
When are they striking?
Aslef members will walk out on Friday 12 May, Wednesday 31 May and Saturday 3 June. To cause further disruption, Aslef has also banned "non-contractual overtime" on Saturday 13 May, from Monday 15 to Saturday 20 May inclusive, and on Thursday 1 June.
The RMT has called a strike by members working at 14 train operators on Saturday 13 May.
Since June 2022, the RMT has previously staged walkouts on 24 days, with Aslef stopping work on eight previous occasions.
Steve Montgomery, chair of the Rail Delivery Group, representing train operators, said: "While we are doing all we can to keep trains running, unfortunately there will be reduced train services across the network between Friday 12 May and Saturday 3 June."
Will I be able to travel by rail this weekend?
It depends on the journey you want to make, and the day you want to make it. Aslef's industrial action tends to cause more disruption than the RMT's, now that Network Rail staff are no longer involved.
Typically, train operators cancel all or most trains on Aslef strike days, though LNER is likely to aim to run as many as 40 per cent of normal services on the East Coast main line, concentrating on the London King's Cross-York-Newcastle-Edinburgh spine.
The RMT action on 13 May is likely to be patchier: most train operators will generally run a reduced service from around 7am to 6pm.
Travellers trying to reach the Eurovision Song Contest will find that Avanti West Coast, Northern and TransPennine Express are running no trains at all to and from Liverpool on 12 May. Their entire operation has been cancelled due to the drivers' strike, though Merseyrail will be putting on extra services on its small and self-contained network.
On all strike days, passengers can expect a normal service on Transport for Wales and ScotRail, as well as Caledonian Sleeper, Grand Central, Heathrow Express, Hull Trains, the London Overground, Lumo and Merseyrail.
What about the later strikes?
At present only Aslef has called walkouts beyond this weekend.
The 3 June date coincides with the FA Cup Final between Manchester United and Manchester City, which will be staged at Wembley in northwest London. Normally tens of thousands of fans would be travelling by rail to the match. The drivers' walkout on 3 June will also affect racegoers travelling to Epsom Derby.
What do the unions say?
Mick Whelan, Aslef's general secretary, told The Independent: "These are government-led strikes, government-driven strikes, government-organised strikes.
"The proposal – of just four per cent – was clearly not designed to be accepted as inflation is still running north of 10 per cent and our members at these companies have not had an increase for four years."
The RMT's general secretary Mick Lynch said: "Throughout this dispute – which has gone on for over a year – the government has tied the hands of the railway companies and prevented them offering a fair deal.
"We are striking so that the employers and government can see the huge anger amongst rail workers is very real and they need to recognise that fact, face reality and make improved proposals."
What do the train firms say?
Steve Montgomery, of the RMT, said: "The upcoming rail strikes called by the Aslef and RMT leadership will not only affect our passengers' daily commute but will also impact those travelling from outside Liverpool and London to come to Eurovision and the FA Cup final, causing disappointment and frustration for those who have planned to attend.
"It will also further burden our people who have already lost thousands of pounds at a time of financial strain.
"We understand the impact of these strikes on individuals and businesses alike, and we can only apologise for this unnecessary and damaging disruption."
What is the government's view?
Ministers reject Aslef's views and say train drivers are doing very well. A DfT spokesperson said: "In terms of pay, train drivers' national average wage has increased by 39 per cent since 2011, compared to the national average of 23 per cent.
"The very fair pay offer would have seen their already well above average salaries increase from £60,055 to £65,000 by the end of the year."
Addressing the RMT union, Mark Harper, the transport secretary, said: "I'm disappointed by the RMT's decision to continue taking industrial action. Train companies put forward a fair and reasonable pay offer, which the RMT's executive have refused to consult their members on, despite members working for Network Rail voting overwhelmingly to accept it earlier this year.
"The Rail Delivery Group's best and final offer guarantees employees a fair and reasonable pay rise, while delivering the reforms needed to address the long-term challenges facing the industry."
What happens next?
Neither side looks prepared to back down.
All parties will be watching intently to see how effective the weekend walk-outs prove to be. The government and the train operators are pinning hopes on an erosion of support for striking by union members.
If more than half the scheduled trains can run, ministers would conclude that support for strikes is eroding. But the rail unions believe that support for the strikes remains strong, and that eventually ministers will cave in and agree to unconditional pay rises.
Both unions say they are prepared to continue industrial action through the summer and into the winter; in a ballot of RMT members, 91 per cent of those who voted to continue the strike mandate.
The RMT leader Mick Lynch, said: "The huge anger amongst rail workers is very real and they need to recognise that fact, face reality and make improved proposals."
When I asked Mick Whelan of Aslef whether train strikes could drag on through the summer, he said: "I believe so."
News & Advice,Travel, #Rail #passengers #face #summer #strife #national #strikes #resume,