Pregnant woman on anniversary holiday among thousands stranded abroad by air traffic control meltdown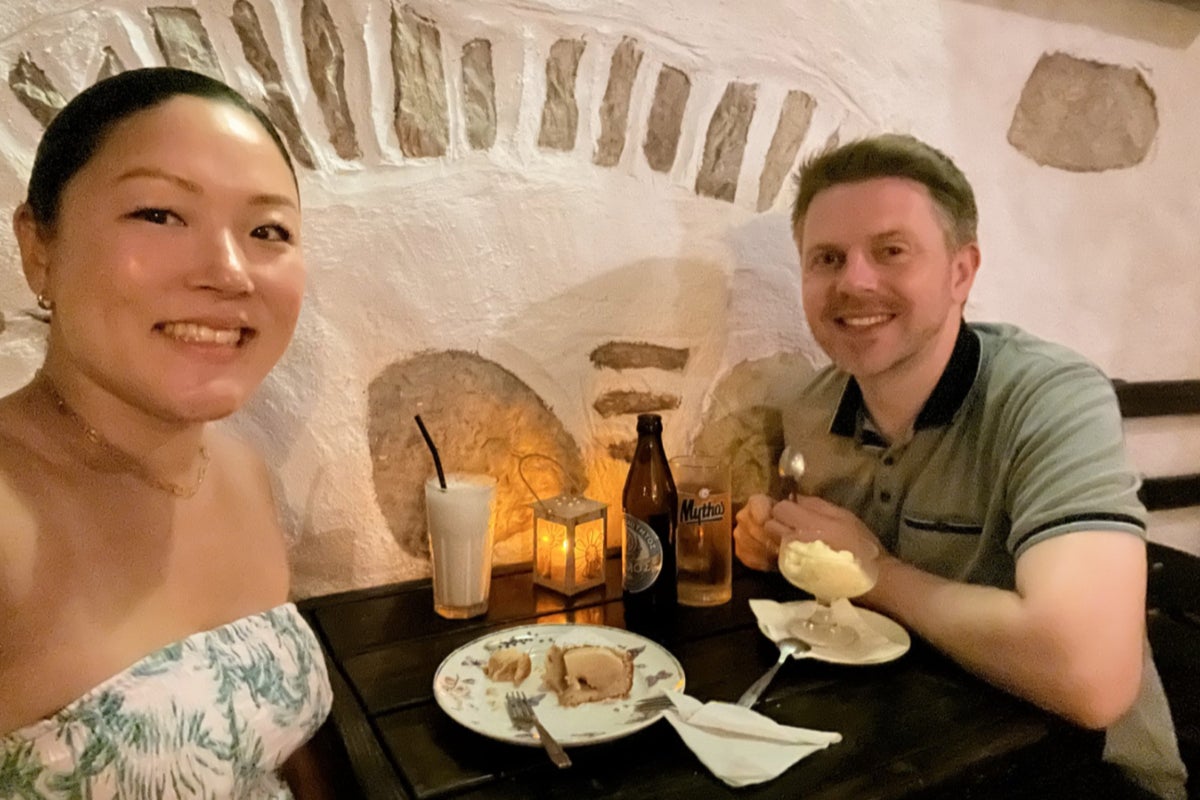 A pregnant woman who travelled to Greece to celebrate her first wedding anniversary is among thousands of passengers left stranded abroad, as UK air travelcontinues to reel from a major air traffic control meltdown.
Around 200,000 people saw their flights cancelled on Monday after a technical fault with National Air Traffic Services systems led to 1,500 planes being grounded and many thousands more delayed.
Despite the issue being fixed on Monday, the major disruption to tightly-packed bank holiday schedules continues to cause chaos in UK flight schedules – with many passengers now facing the prospect of being stuck overseas for more than a week.
Lucy Chang, who is six months pregnant, and her husband Iain Hawthorn initially faced a 10-day wait to return from the Greek island of Rhodes, where they had been celebrating their first anniversary, after their flight to Gatwick on Monday was cancelled.
With no option to book a hotel through the EasyJet app, the couple, aged 35 and 37 respectively, had to arrange their own accommodation – with all of the airline's 29 flights from Rhodes to Gatwick between Tuesday and next Thursday showing on the app as having sold out.
After waiting in the EasyJet chat queue for seven hours on Tuesday, an adviser told them to book with an alternative carrier and submit claims for review. But they were unable to confirm whether their extra accommodation would be compensated.
The adviser then "ended the chat on her own accord without asking if we needed any further assistance", Mr Hawthorn alleged.
The couple has since been able to secure flights on Thursday, but have been forced to pay "well over £1,500" including the additional accommodation, Mr Hawthorn told The Independent. Ms Chang will have to miss a prenatal glucose test and a midwifery appointment, her husband said.
The couple said it had been "an extremely frustrating time", adding: "Ultimately, we wasted a full day seeking clarification on next steps and were essentially told to find our own way home with no support or assurance that we would be reimbursed after being on hold all day."
EasyJet told The Independent it was "reaching out to Ian and Lucy to ensure they are reimbursed promptly".
Meanwhile, Bart Somsen – whose flight from Alicante to Luton was cancelled – was among several to describe "distressing scenes" at airports on Monday.
With the first available EasyJet flight not for seven days – which was "not an option", the 50-year-old marketing manager said he and his wife Sarah had finally been able to secure a new flight to Amsterdam on Wednesday, where they will have to stay overnight before flying home on Thursday.
Mr Somsen, who lives in Milton Keynes, calculated that the new flights, hotels and taxis had left them at least £1,000 out of pocket, but mused that "all in all, a return home on Thursday is not too bad" considering the thousands of UK-bound travellers at Spanish airports caught up in the disruption.
Some have been forced to abandon air travel altogether. Matteo Nicola and his wife had travelled to Albania to visit his dying grandfather, who died last week. But they found themselves stuck in the Netherlands as the air traffic chaos unfolded, during a stopover on their return from Tirana.
Offered the choice by Ryanair of either rebooking onto the first available flight – which was not until Friday – or receiving a refund for their original ticket, they had "no alternative" but to stay the night in Eindhoven and return to the UK by bus.
The whole trip, from Eindhoven to London Victoria by bus, and then a train to Preston, has cost £500 so far, not including their missed salaries.
"I don't think I will get any compensation from Ryanair or anyone else. This was the last thing I wanted to experience after being emotionally broken from the loss of my grandfather," the 30-year-old data scientist told The Independent.
Other holidaymakers have been forced to resign themselves to an unexpected week away from home.
After Monday's 8:10pm flight from Faro to Belfast was cancelled, Martin Andrew Lavelle and his girlfriend were among the passengers to receive an email from EasyJet to say they had been put on a new plane.
However, the flight is not due until next Monday – seven days after their original ticket – and instead lands in Manchester, where they will have to stay overnight before finally flying home to Belfast on Tuesday morning.
Mr Lavelle, who is a self-employed floor layer and whose partner works for the NHS, said he had spent a "soul-destroying" 18 hours at Faro Airport on Monday and had still not slept by 4:30pm on Tuesday, having only just been checked into their accommodation provided by EasyJet – which the company has only booked until Thursday.
While they have looked at alternative flights home, "there just doesn't seem to be much because of everything that's happening", Mr Lavelle told The Independent, with another group rebooked on the same journey finding that renting a car to drive home instead would cost them £4,200.
"It was just a shock yesterday thinking we were going home and then [the flight] got delayed three times and then was cancelled," he said. "We just didn't know what to do. The airport was madness, there was just people everywhere, at every angle."
"I was on the phone to EasyJet all night long and just couldn't get through, nothing," he said. "Every time we went to the [customer service] window, they were just useless, they weren't giving us any help. They were more or less saying 'pick your own accommodation because it's pointless sitting here waiting'."
"It's a terrible thing to go through", Mr Lavelle said of the ordeal, before adding that their new overnight journey home looks set to be "even worse".
EasyJet told The Independent it was "aware of Mr Lavelle's circumstances, and are already reaching out to help extend his accommodation stay and return home as quickly as possible", and in the coming days would be "flying larger aircraft and operating additional flights to repatriate customers".
The airline said in a statement: "Due to the Air Traffic Control systems failure affecting UK airspace yesterday, some flights were unfortunately unable to operate.
"We have been doing everything we can to minimise the impact of the disruption, providing customers with information on their options to transfer their flight for free or receive a refund, securing hotel accommodation where possible and advising any customers who book their own accommodation or alternative travel arrangements that they will be reimbursed.
"While this is outside of our control, we apologise for the difficulty this has caused and we remain focused on doing all we can to assist and repatriate our customers as soon as possible at this very busy time of year."
News & Advice,Travel, #Pregnant #woman #anniversary #holiday #among #thousands #stranded #air #traffic #control #meltdown,