Palm Springs Tours ✔️ 28 Experiences for All Interests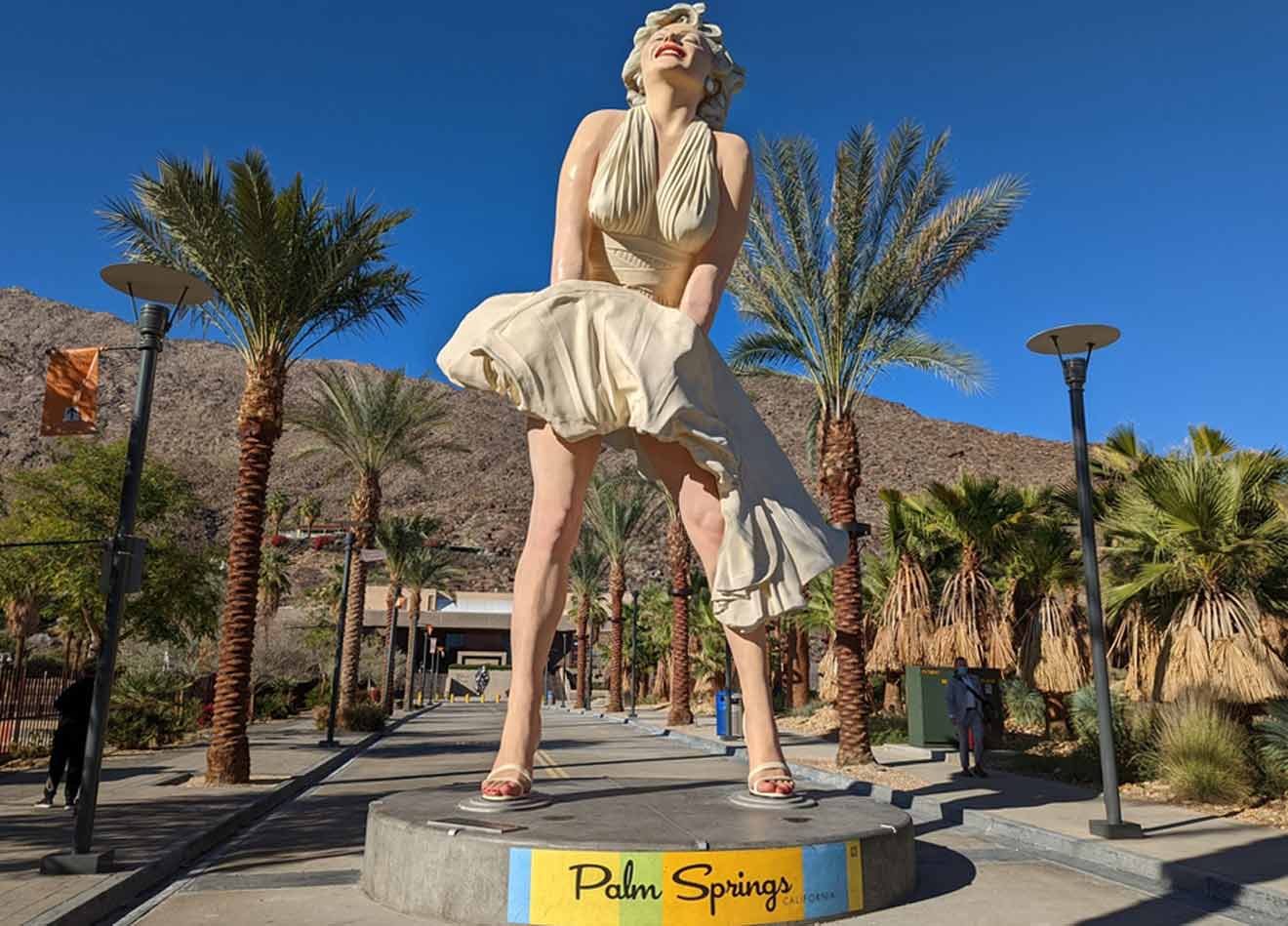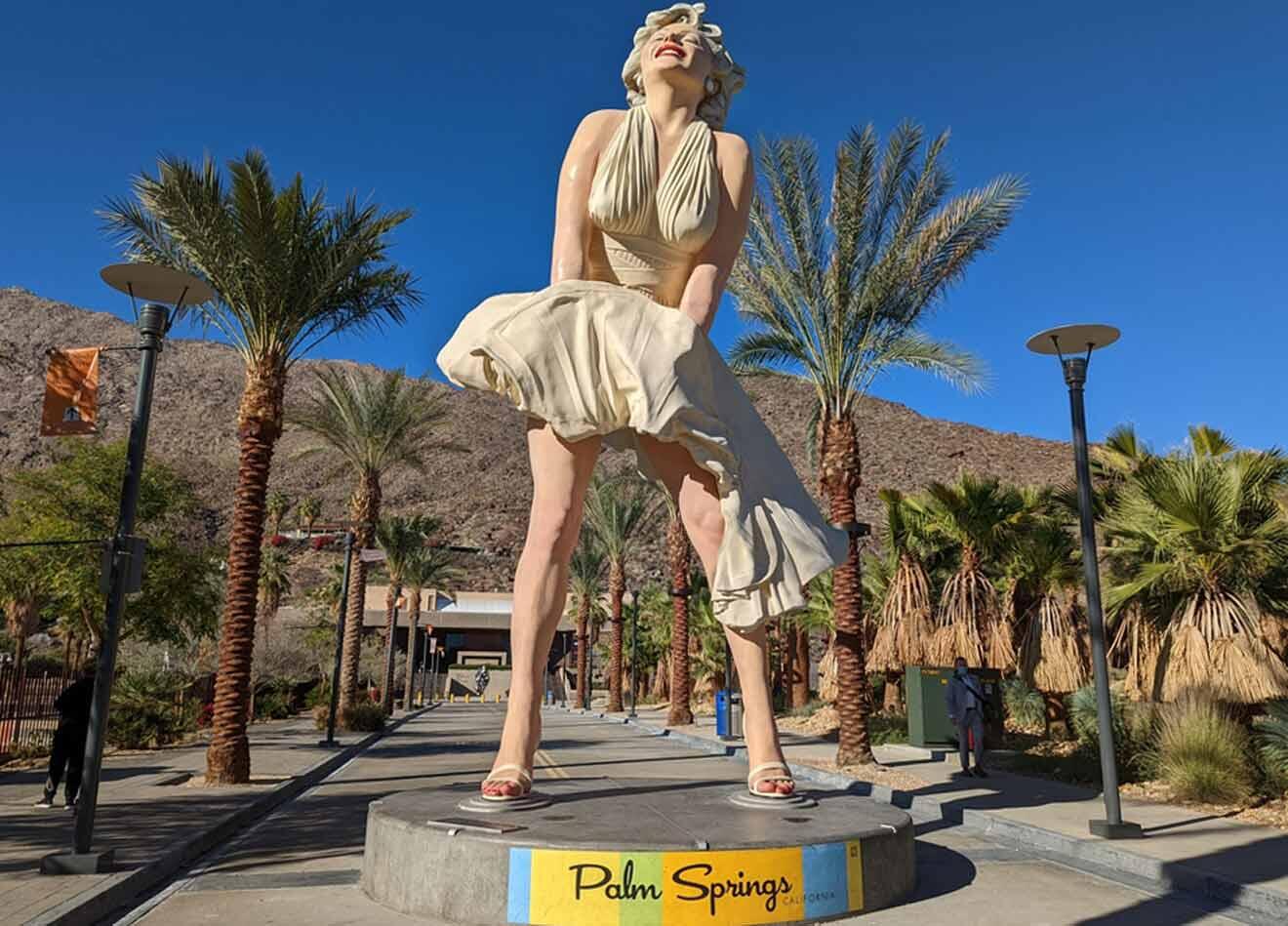 Experience the vibrant and sun-soaked city of Palm Springs, where the fun never ends! If you're seeking an unforgettable adventure, you're in luck because Palm Springs tours are the perfect way to explore this stunning oasis located in the heart of the California desert.
Palm Springs offers an array of activities that cater to the interests of both first-time visitors and seasoned travelers. From biking tours and hiking the rugged trails of the nearby mountains to indulging in world-class dining, this beautiful city has no shortage of exciting experiences to enjoy.
As an enthusiastic traveler and adventure seeker, I've conducted thorough research on all available tour options in Palm Springs. My thoughtfully selected list offers a wide range of options, from exhilarating hot air balloon, rides to educational, historical tours, ensuring that there is something to match every interest and preference.
It's crucial to note that the Palm Springs tours are highly sought after and tend to sell out quickly. To avoid disappointment, I recommend that you book your preferred tour well in advance.
Let's explore the best tours in Palm Springs!
If you are in a hurry
If you don't have time to read the whole post, check out the main Palm Springs tours:
Here are the main tours to book in advance:
1. Embark on an aerial tramway adventure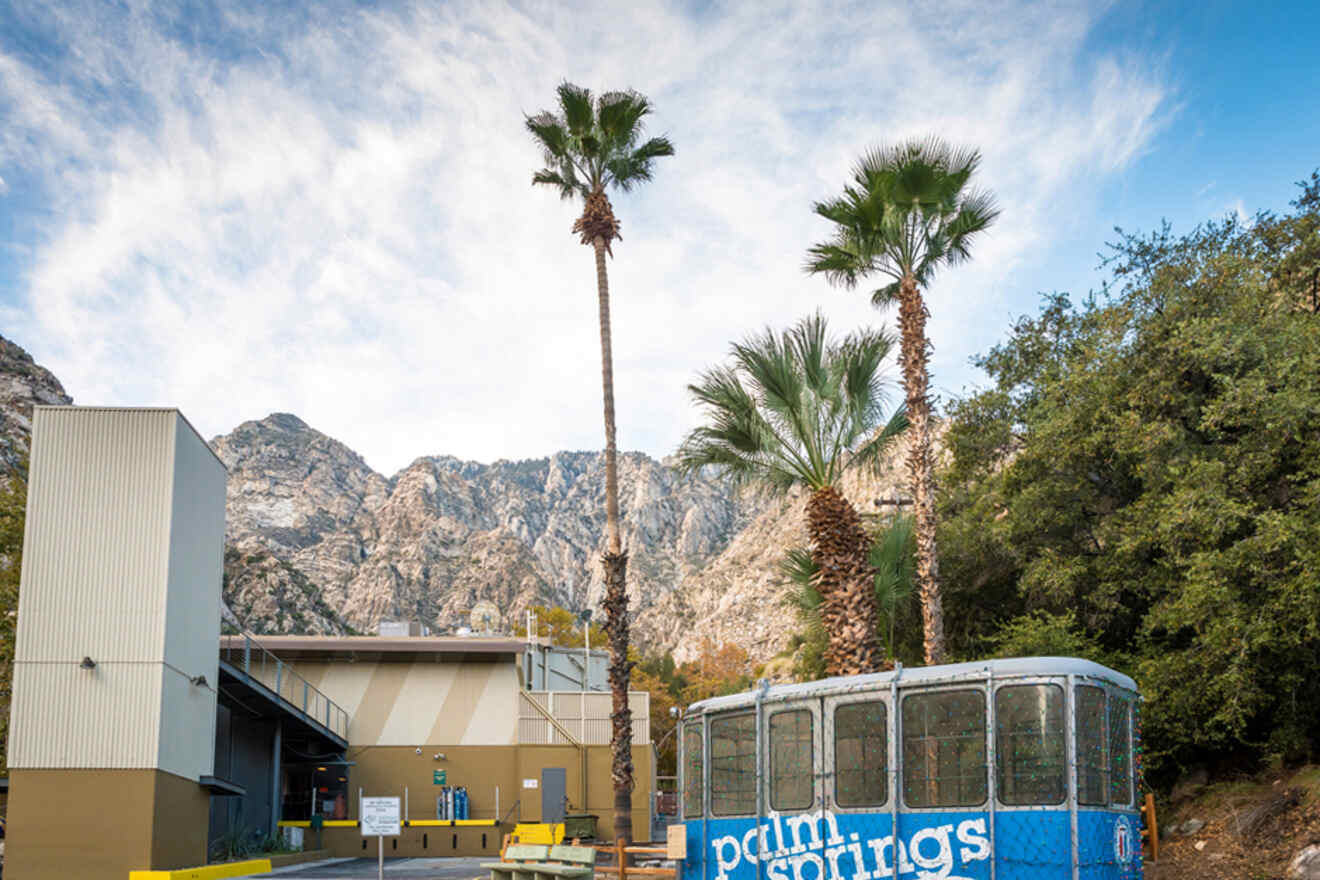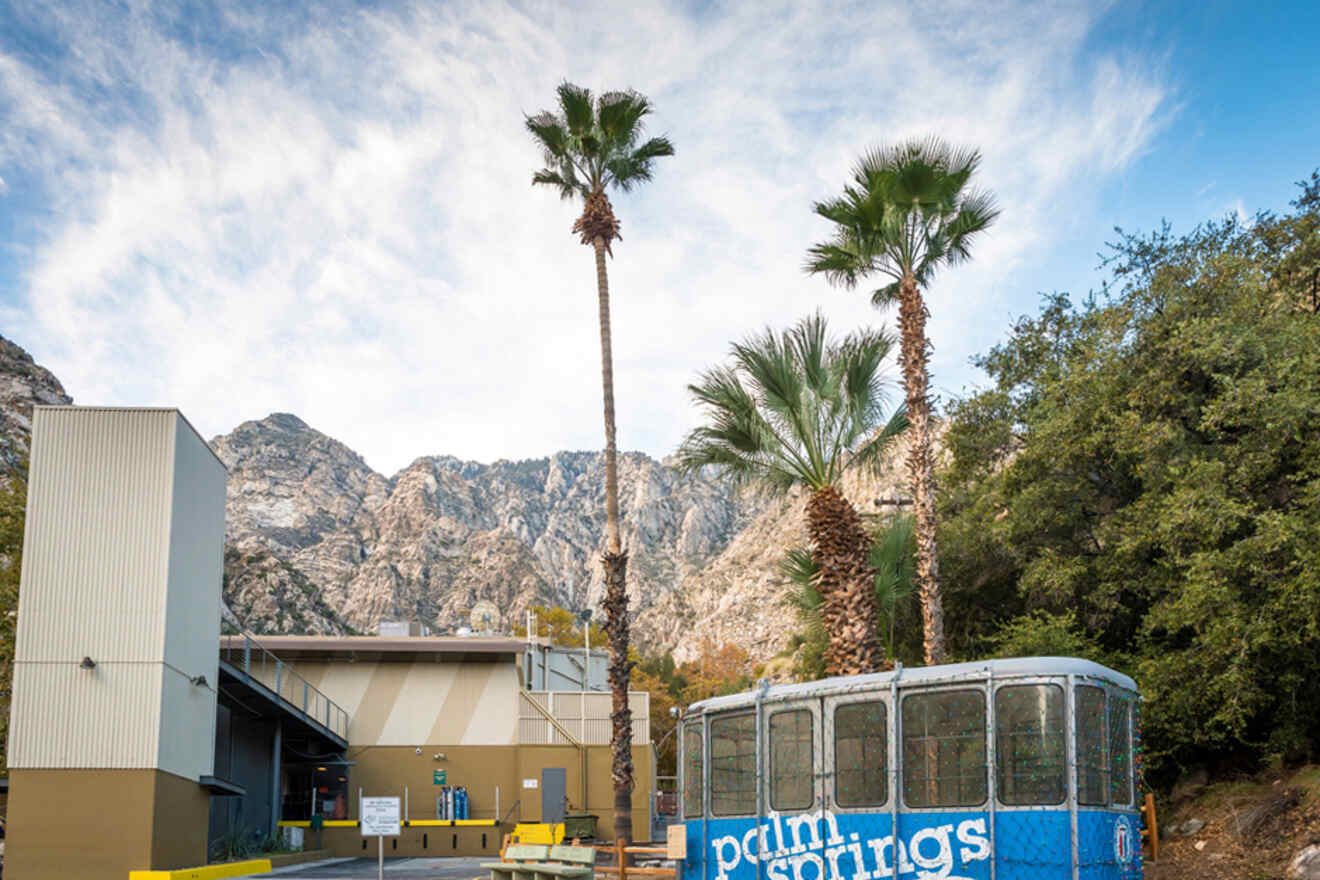 Want to take a journey through scorching desert landscapes and chilly alpine treetops? Look no further than the Palm Springs aerial tramway!
Your 2-hour journey begins at the tram's base station, where you'll board the world's largest rotating tramcars and ascend from the sweltering Sonoran Desert to the crisp, refreshing air of the alpine forest – over 8,500 feet (2,590 m) up! You'll marvel at the breathtaking views of the San Jacinto Mountains and Chino Canyon, passing through towering Ponderosa pines, San Jacinto State Park, and other arctic-alpine wonders.
Once you reach Mountain Station, take a break to explore the observation decks, grab a drink at the cocktail lounge, or enjoy a delicious meal at the dining facilities. And don't forget to check out the short film on the construction of the tramway – it's a fascinating glimpse into the history of this incredible feat of engineering.
2. Take a jeep tour around the San Andreas fault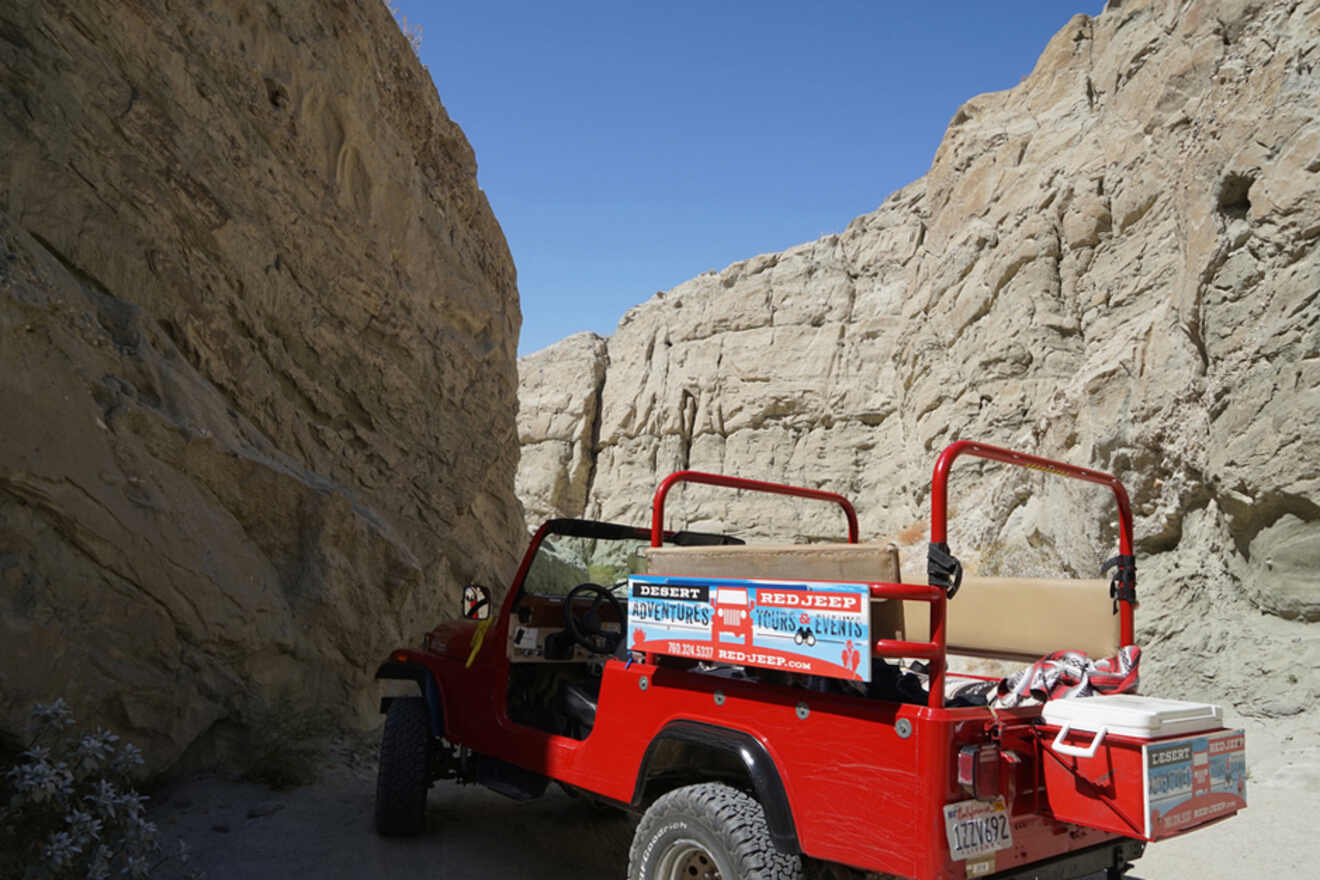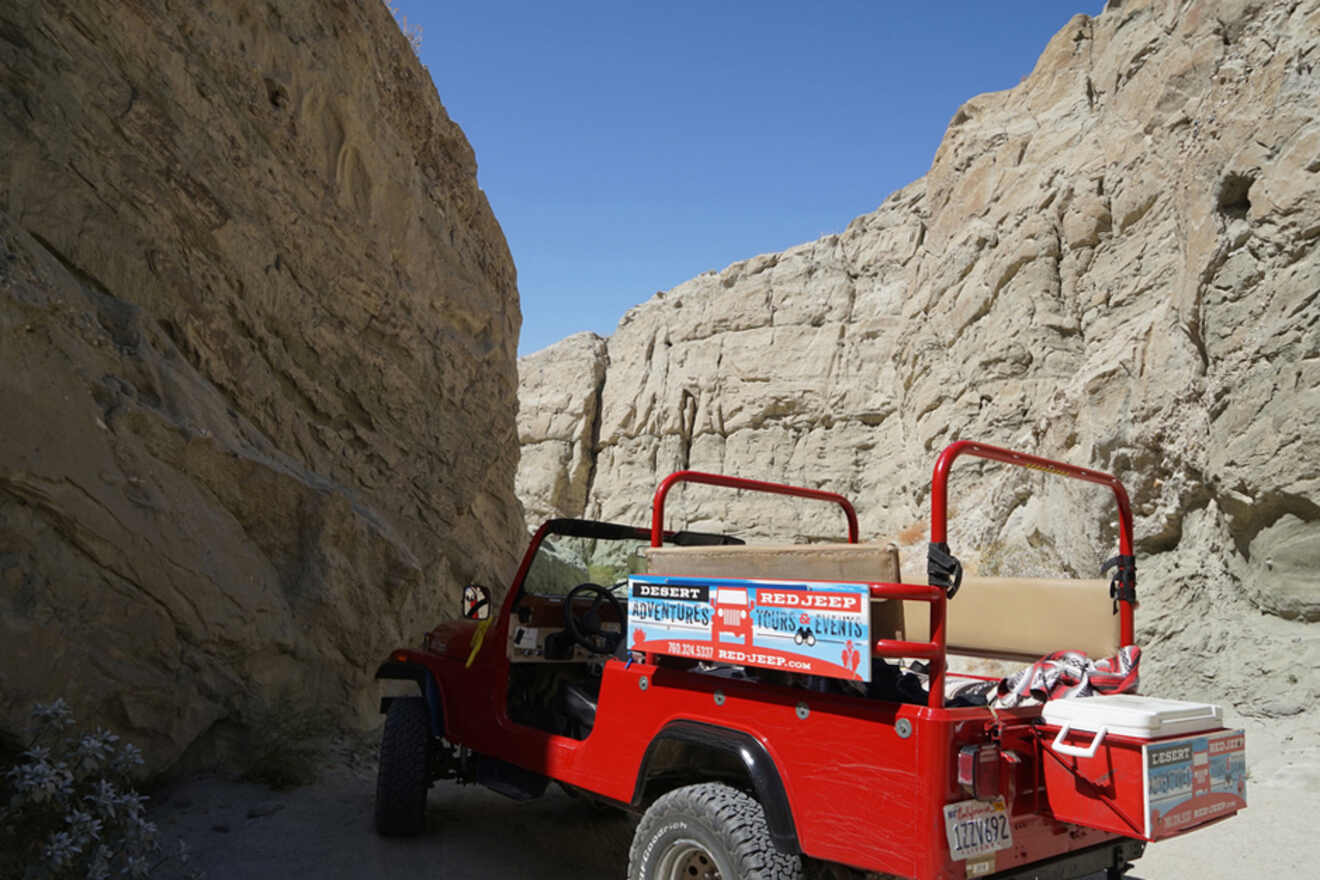 Are you itching for an adventure that will break the monotony of your hotel stay? This 3-hour action-packed day trip lets you explore the geology of California's San Andreas fault on a thrilling jeep from Palm Desert! With a naturalist guide by your side, you'll discover a spring-fed desert oasis and learn how the Native American Cahuilla tribe relied on desert wilderness for food, medicine, and shelter. You'll even get a chance to tour a recreated Cahuilla Indian Village.
You'll also marvel at the twisted rock mountains and steep-walled canyons that dot the landscape and gain a deeper understanding of the plant and animal life that thrives in this unique environment.
Choose from a morning or afternoon tour and savor light snacks and beverages as you set out on your journey. With round-trip transportation from Palm Desert included, all you need to bring is your sense of adventure!
3. See the best parts of Joshua Tree on a 4×4 vehicle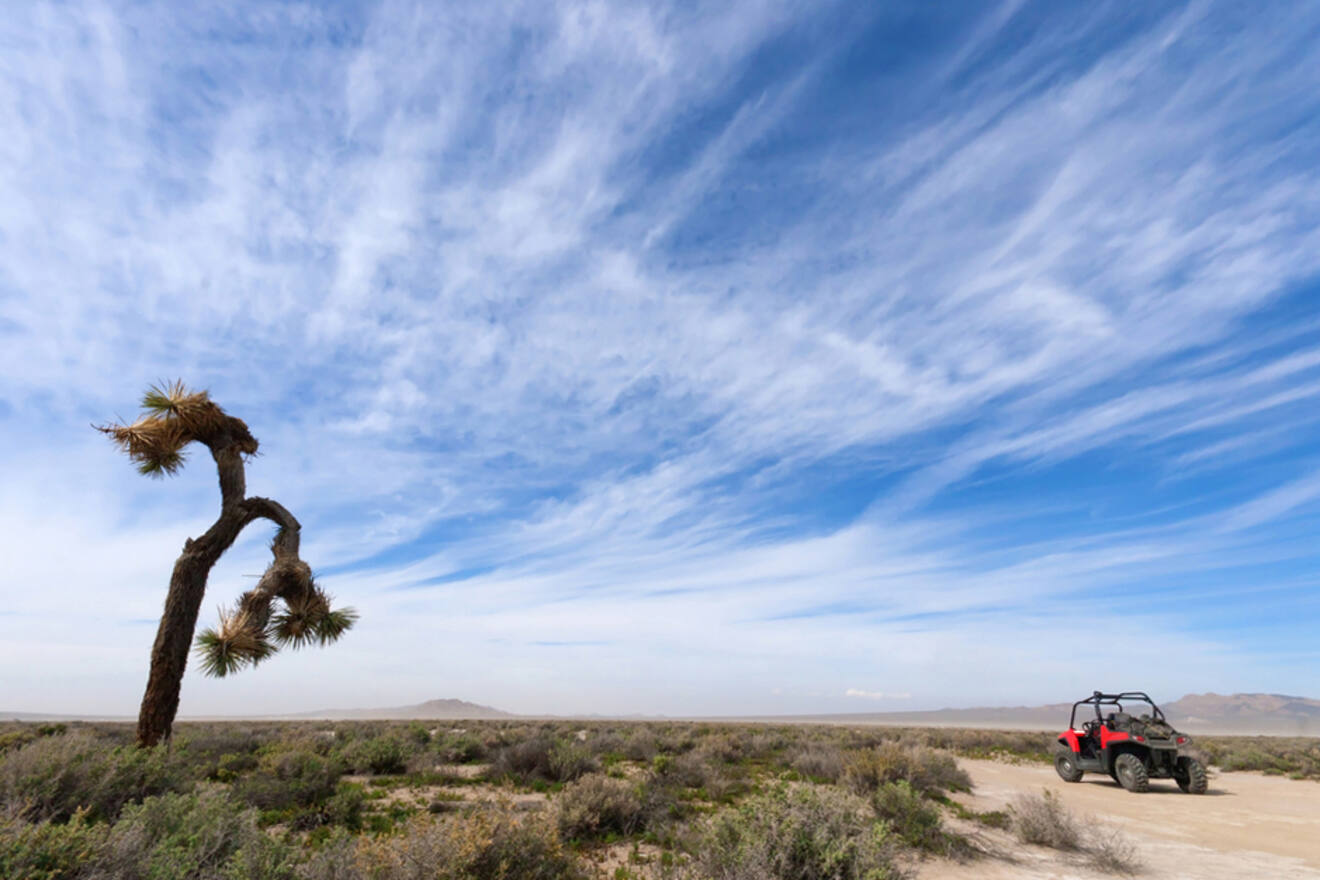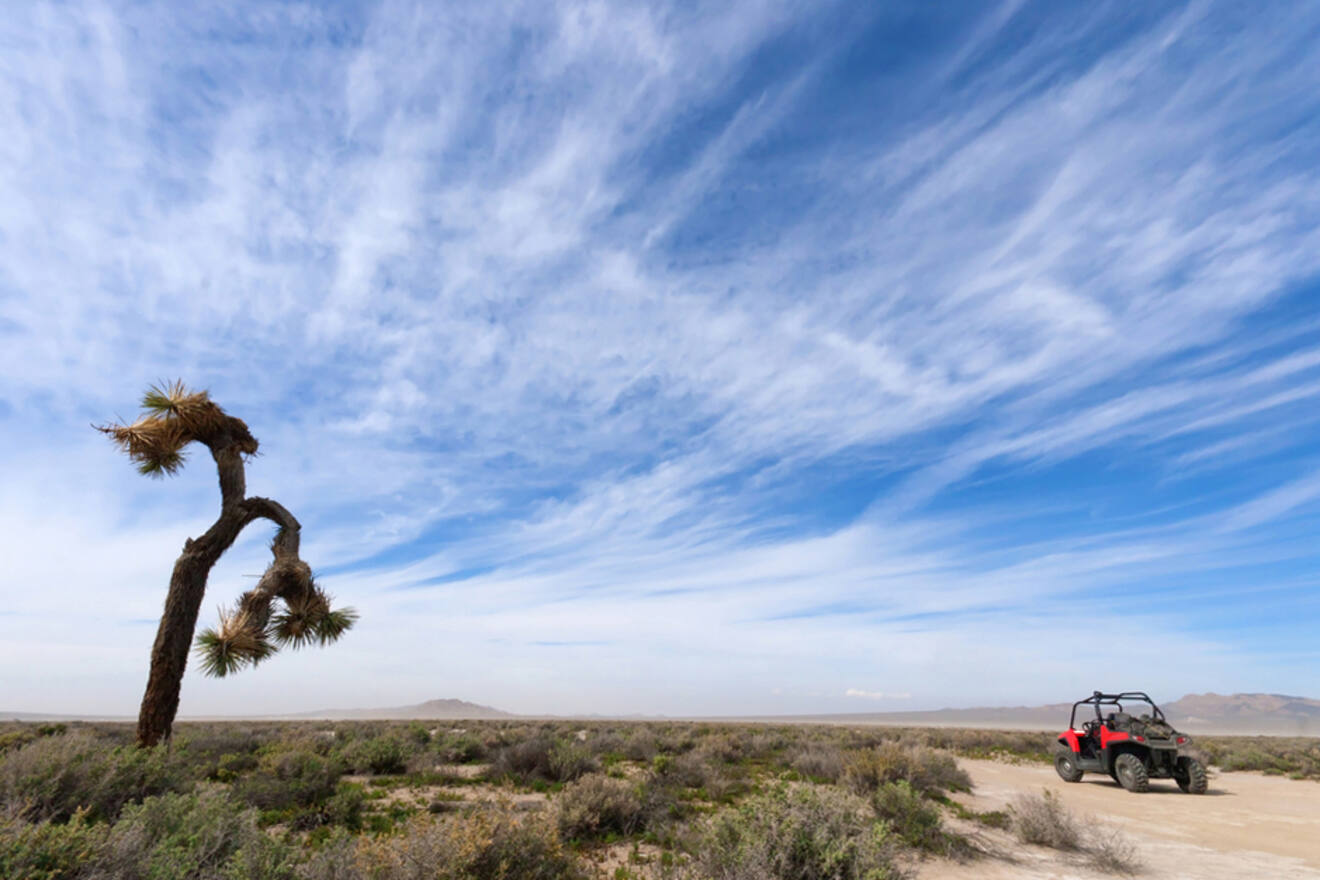 The vast and magnificent Joshua Tree National Park is a sight to behold, with almost 800,000 acres (323,750 hectares) of breathtaking desert terrain that are nearly impossible to fully explore on foot. But fear not, there's a way to see the very best parts of this magical place!
Put on your seatbelt and hop aboard a 5-hour 4×4 vehicle ride because that's the way to see the park's hidden gems. You'll have the chance to see stunning views of the Mojave Desert, the incredible Joshua trees, and wild rock formations that will leave you in awe.
You'll be able to escape the crowds and find secluded spots that are far away from the hustle and bustle of the park. Plus, the entrance fees for Joshua Tree Visitor Center are already covered, so you can focus on enjoying the ride.
This tour is perfect for families, too, as it's kid-friendly for those over 5 years old.
4. Pedal through stunning desert views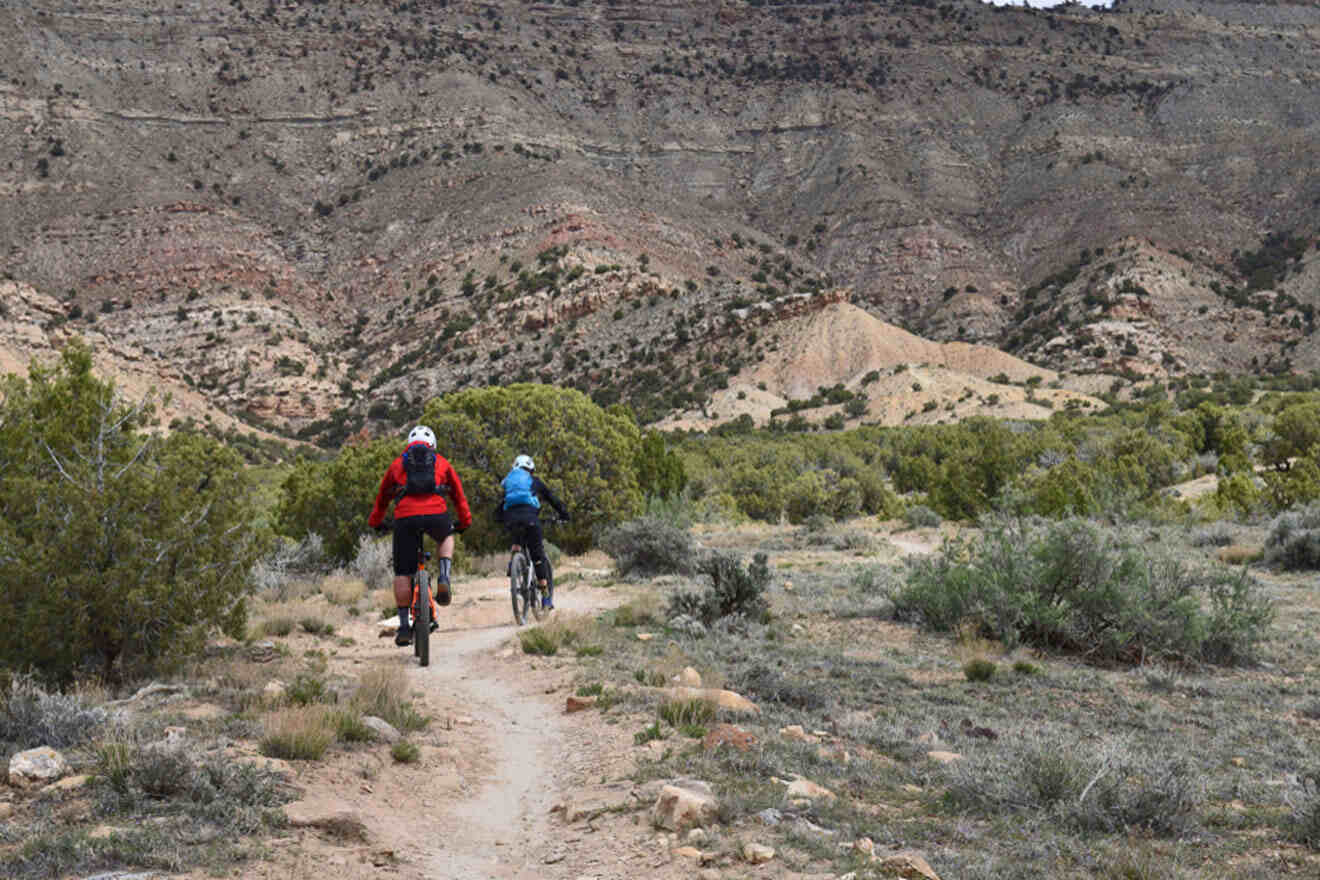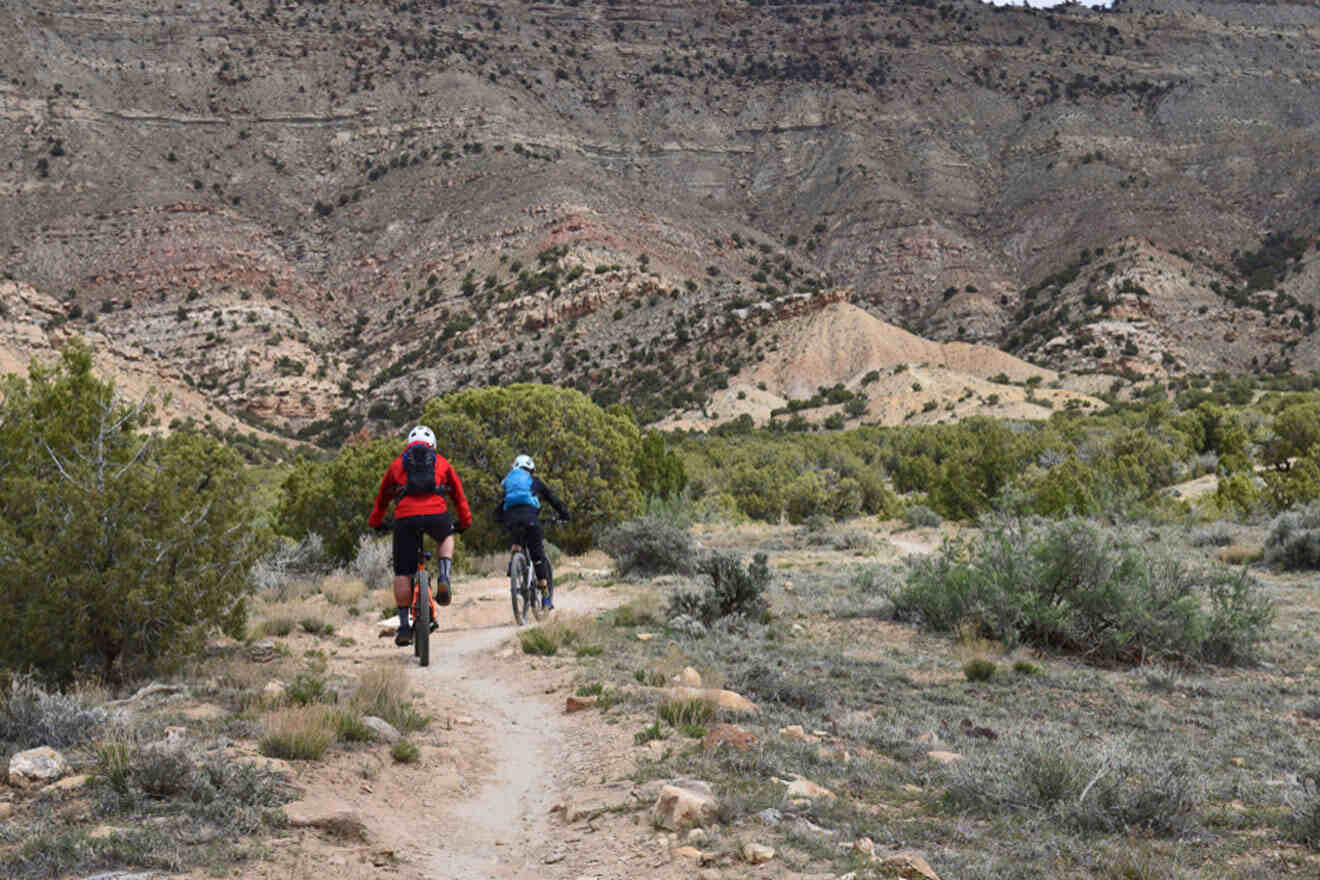 With this 4-hour tour, you'll embark on a leisurely ride across the San Andreas Fault, where you'll witness the magical transition from the Mojave Desert to the Colorado Desert. As you pedal along the paved path, you'll enjoy breathtaking views of the desert landscape and learn all about the area's unique ecology and fascinating history.
And the best part? This tour is suitable for a wide range of ages and biking abilities, so everyone can join in on the fun! Plus, with bike rental, transportation, safety equipment, snacks, and drinks included, all you have to do is show up.
Continuing with bike tours, this half-day tour, you'll explore the stunning beauty of Palm Springs and Indian Canyons by bike and on foot, experiencing the best of both worlds. Whether you're a seasoned pro or just looking for a fun and challenging workout, this tour is a perfect choice.
5. Go stargazing and unleash your inner astronomer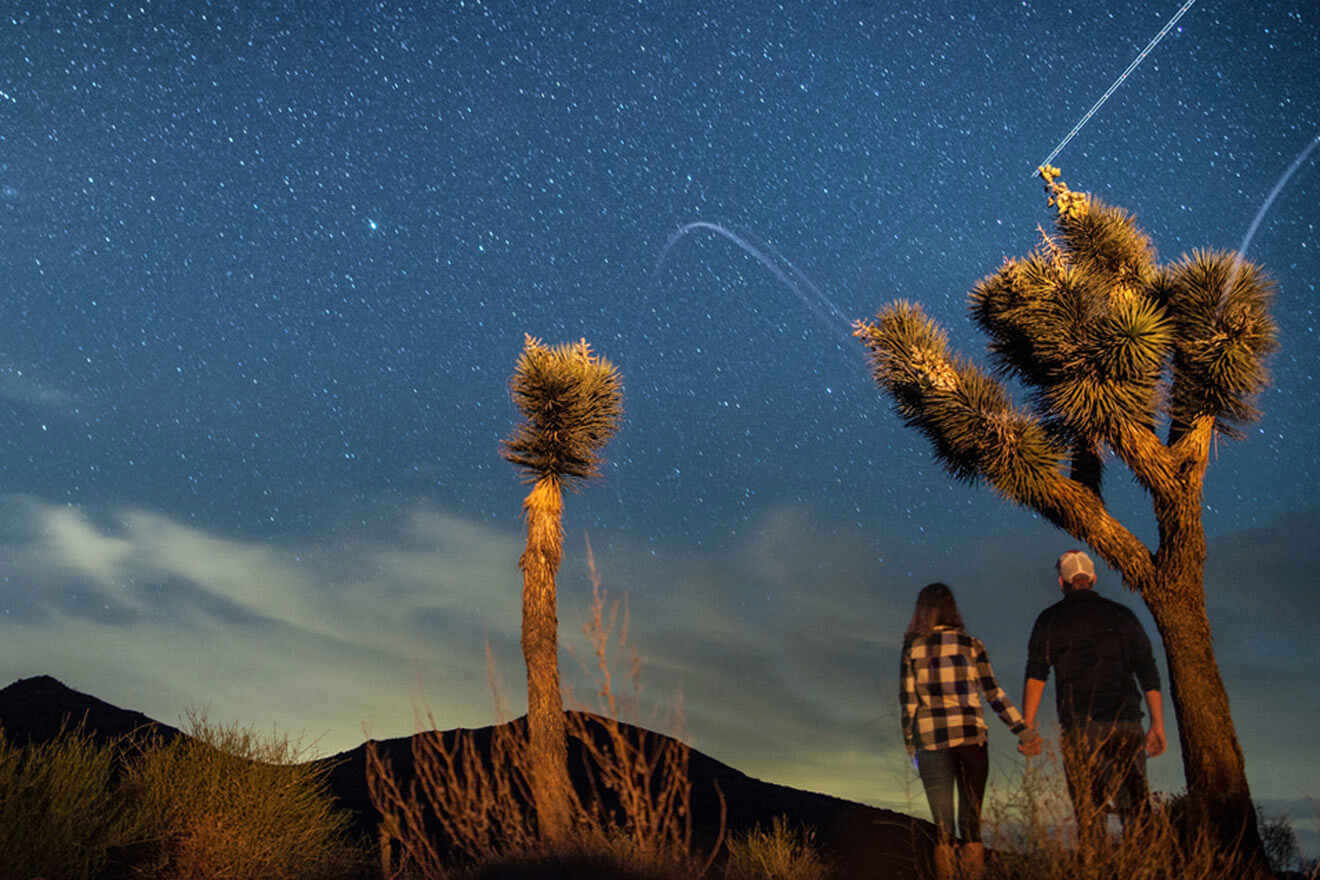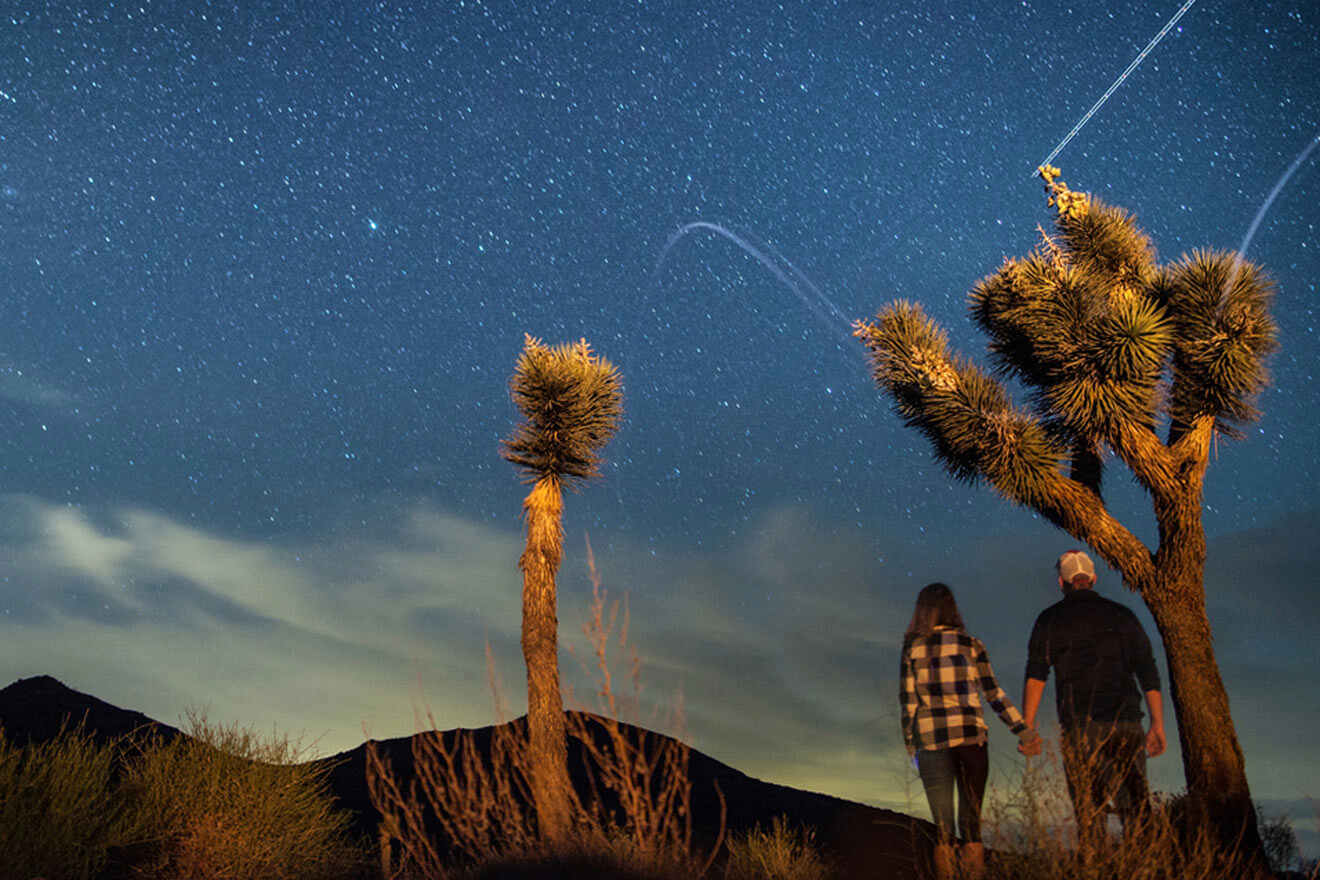 Get ready to embark on an intergalactic voyage like no other! This 90-minute tour will take you to the heart of Joshua Tree for an unforgettable stargazing experience. With state-of-the-art night vision binoculars, you'll get up close and personal with stars, planets, and other celestial wonders that are hidden from the naked eye by pesky light pollution.
You'll also get the chance to learn all about the fascinating science and legends connected to the stars from your expert guide. And with a small-group experience, you'll have plenty of personal attention and time to ask all your burning questions.
So pack your bags, grab your sense of wonder, and get ready to admire the nighttime skies far from the city lights. Viewing locations are about a 90-minute drive from the Palm Springs area, but trust me – it's worth the journey!
6. Savor the delicious delights of downtown Palm Springs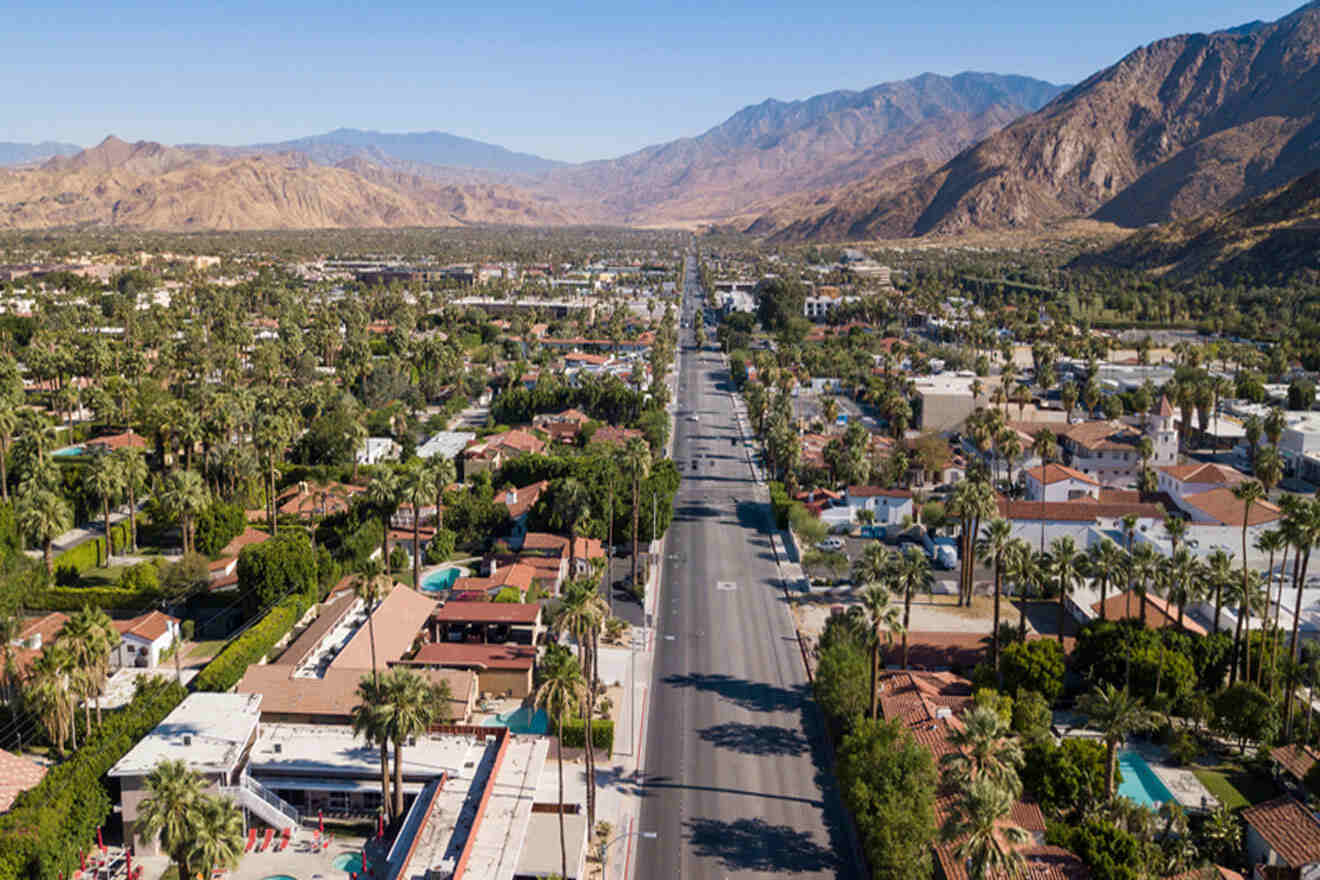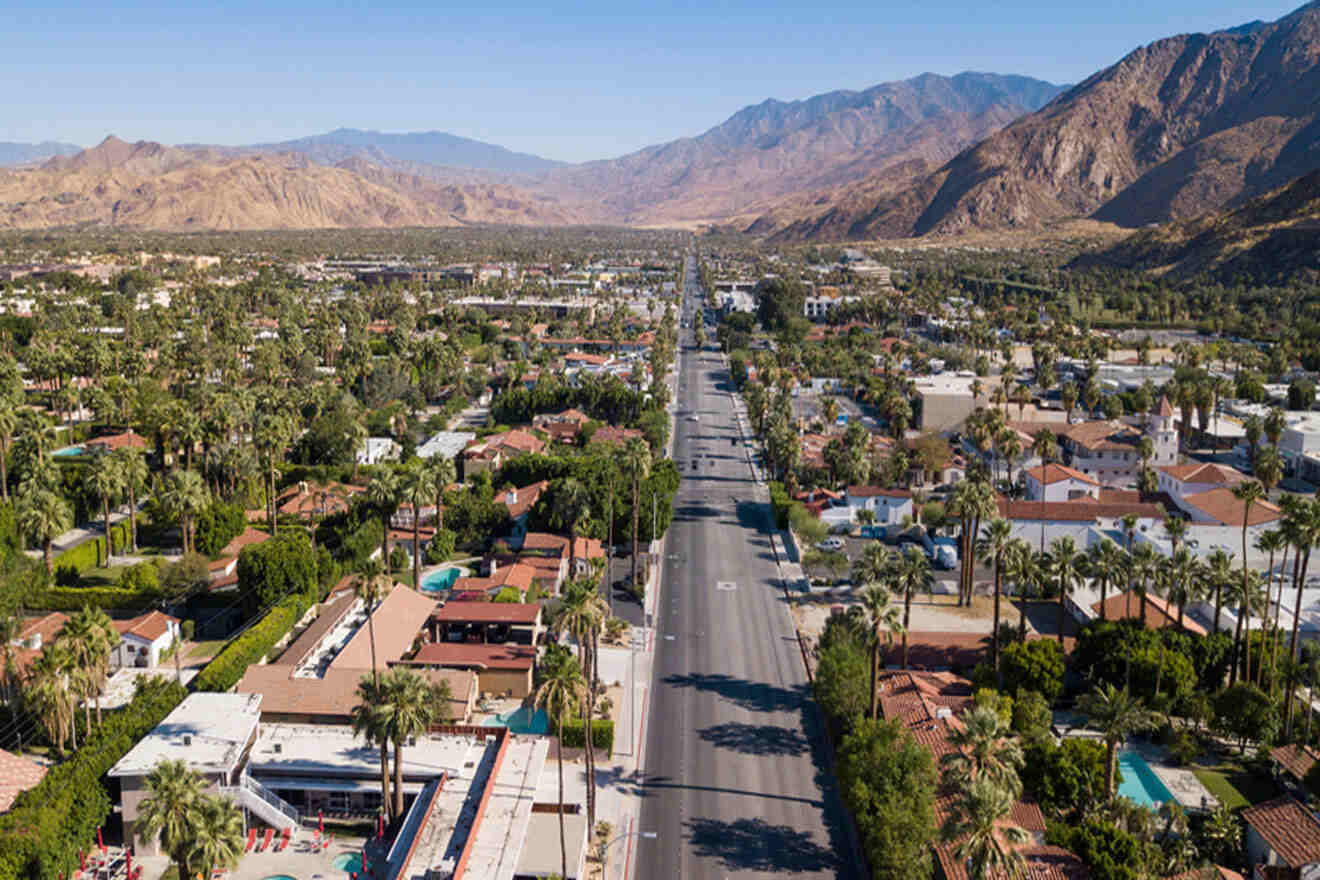 Picture this: You're strolling through downtown Palm Springs, taking in all the sights and sounds of this iconic city. But wait, something smells delicious… it's the aroma of mouthwatering food just waiting for you to sink your teeth into it!
Take off on a 3-hour walking tour of Palm Springs' most delectable destinations, with 4-5 tasting stops along the way (island cuisine with local flavors, award-winning pizzeria, Mexican restaurant, frozen yogurt, etc.). You'll be treated to a smorgasbord of samples that will leave you feeling full and satisfied and ready to take on the rest of your day.
Your knowledgeable guides will take you on a culinary journey through the city, highlighting what makes each location unique and how it fits into the culinary tapestry of Palm Springs. And while you're enjoying your tasty treats, you'll also get to soak up some local history and culture.
7. Explore the city on a treasure hunt walking tour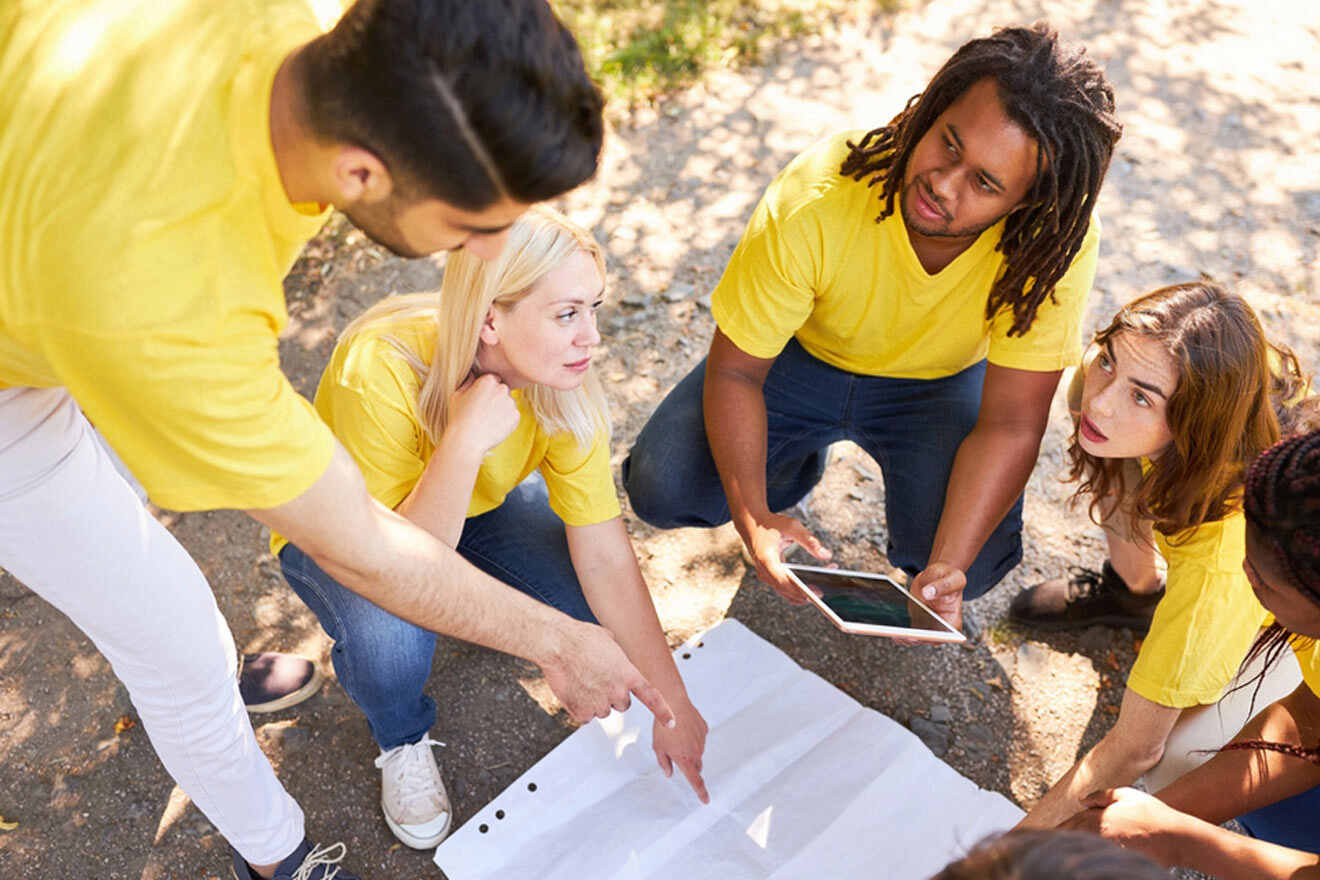 This is no ordinary treasure hunt – it's a smartphone-led scavenger hunt that'll have you cracking codes, solving riddles, and discovering fascinating facts about downtown Palm Springs.
As you follow the clues and unlock each puzzle, you'll journey through the streets of Palm Springs, away from the hustle and bustle of the crowds. Who knows, you might even catch a glimpse of a celebrity or two along the way! Starting at the Palm Springs Art Museum, you'll use your smartphone to guide you to the next exciting location. From historical landmarks to must-see sights, this scavenger hunt will take you on an epic adventure. The hunt will take about 1 to 3 hours.
8. Get a guided audio tour of Joshua Tree National Park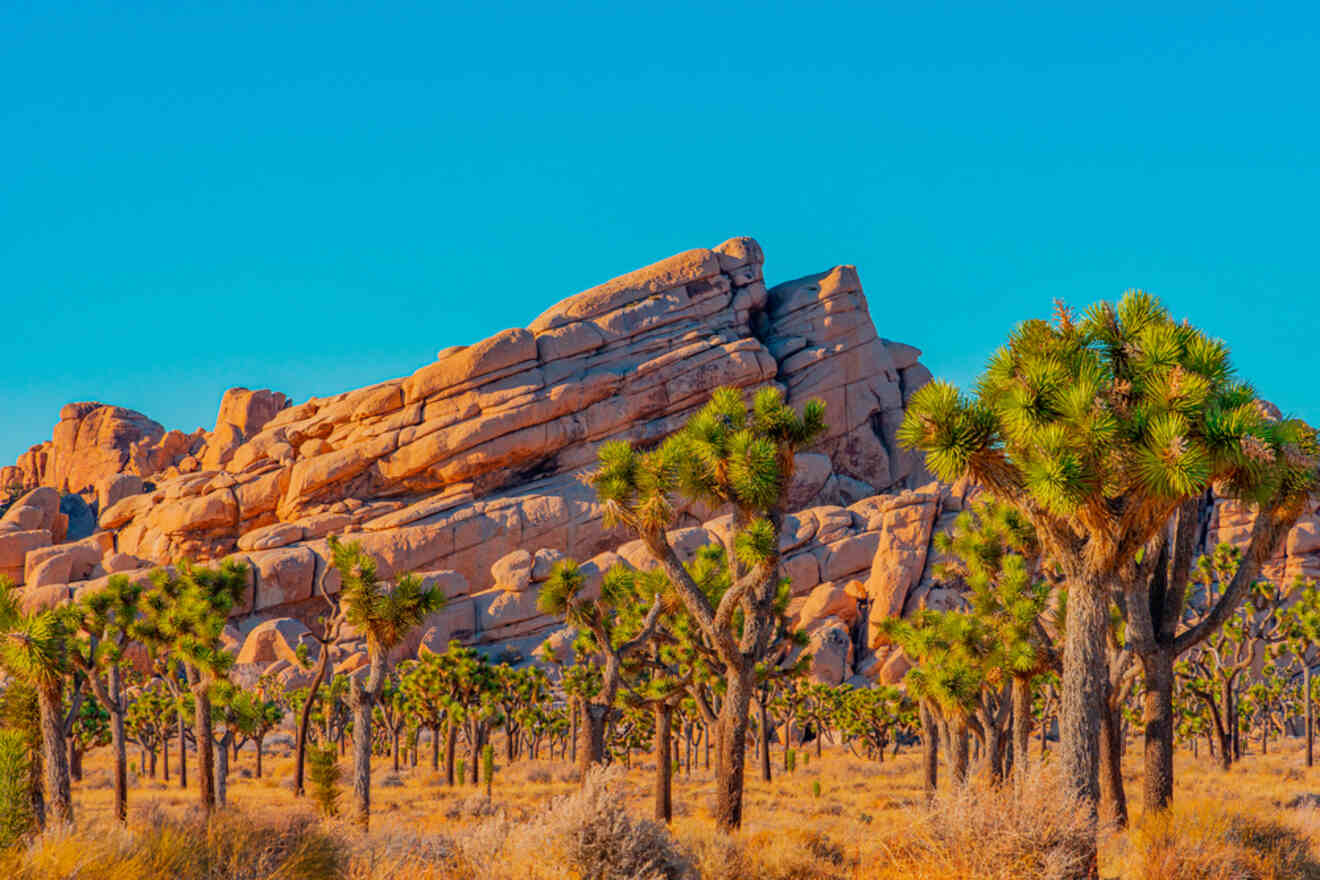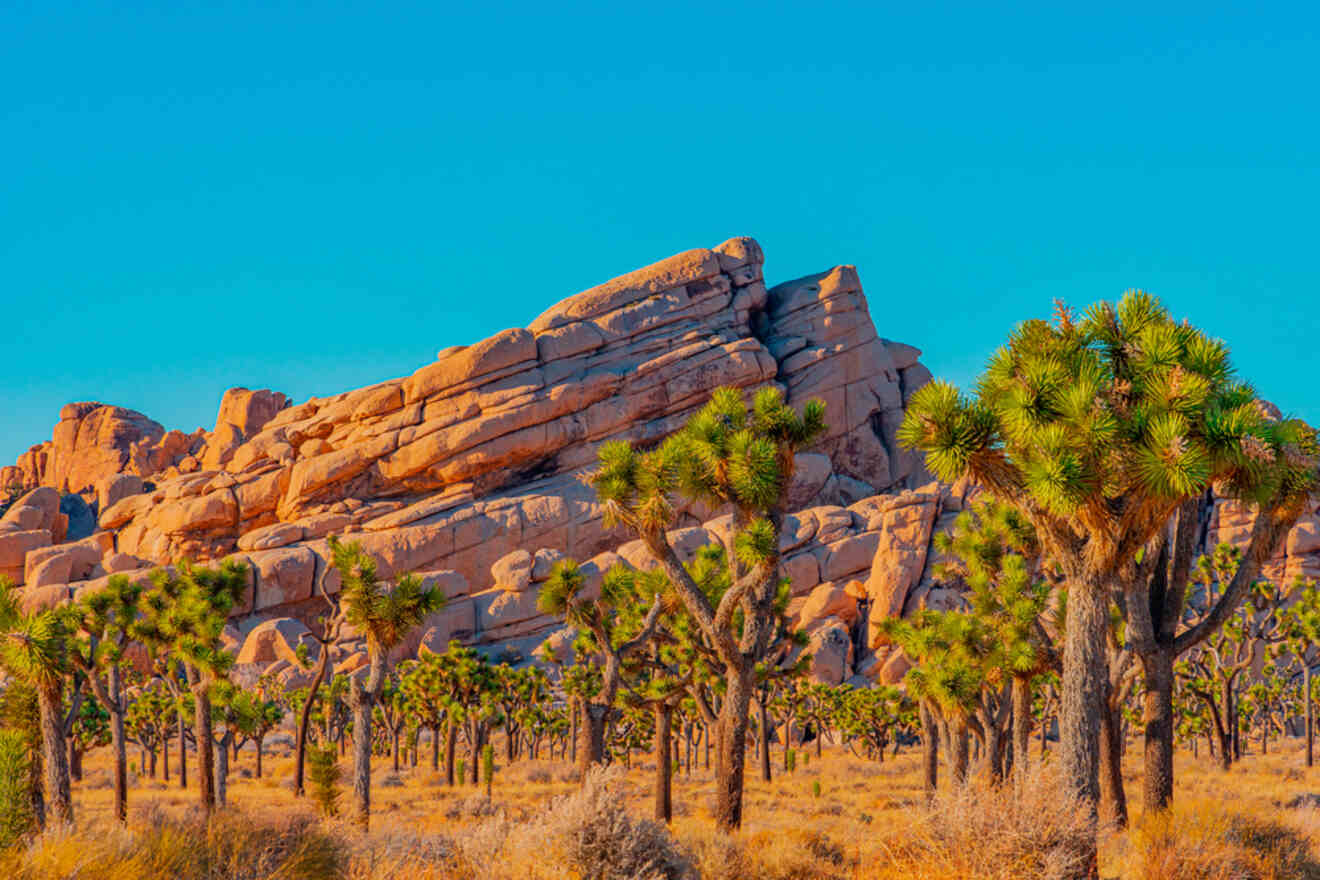 Ready to embark on the ultimate Joshua Tree National Park adventure but not quite sure where to start? Look no further than this self-driving audio tour!
With this 3-hour tour, you'll get to explore the natural beauty of Joshua Tree National Park at your own pace and in the comfort of your vehicle. Simply download the app on your smartphone, launch it when you arrive at the park, and let an expert tour guide lead the way through the hidden valley nature trail.
You'll navigate through the park with ease, following the recommended route and speed limit while taking in all the highlights of this incredible natural wonder.
This personalized tour also includes a bonus tour of the Palm Springs area, so you can explore this iconic city on your schedule as well. It's the ultimate way to experience all the beauty and excitement that Southern California has to offer!
Lacking a vehicle? No problem – simply rent a car.
9. Join a bike tour of Palm Springs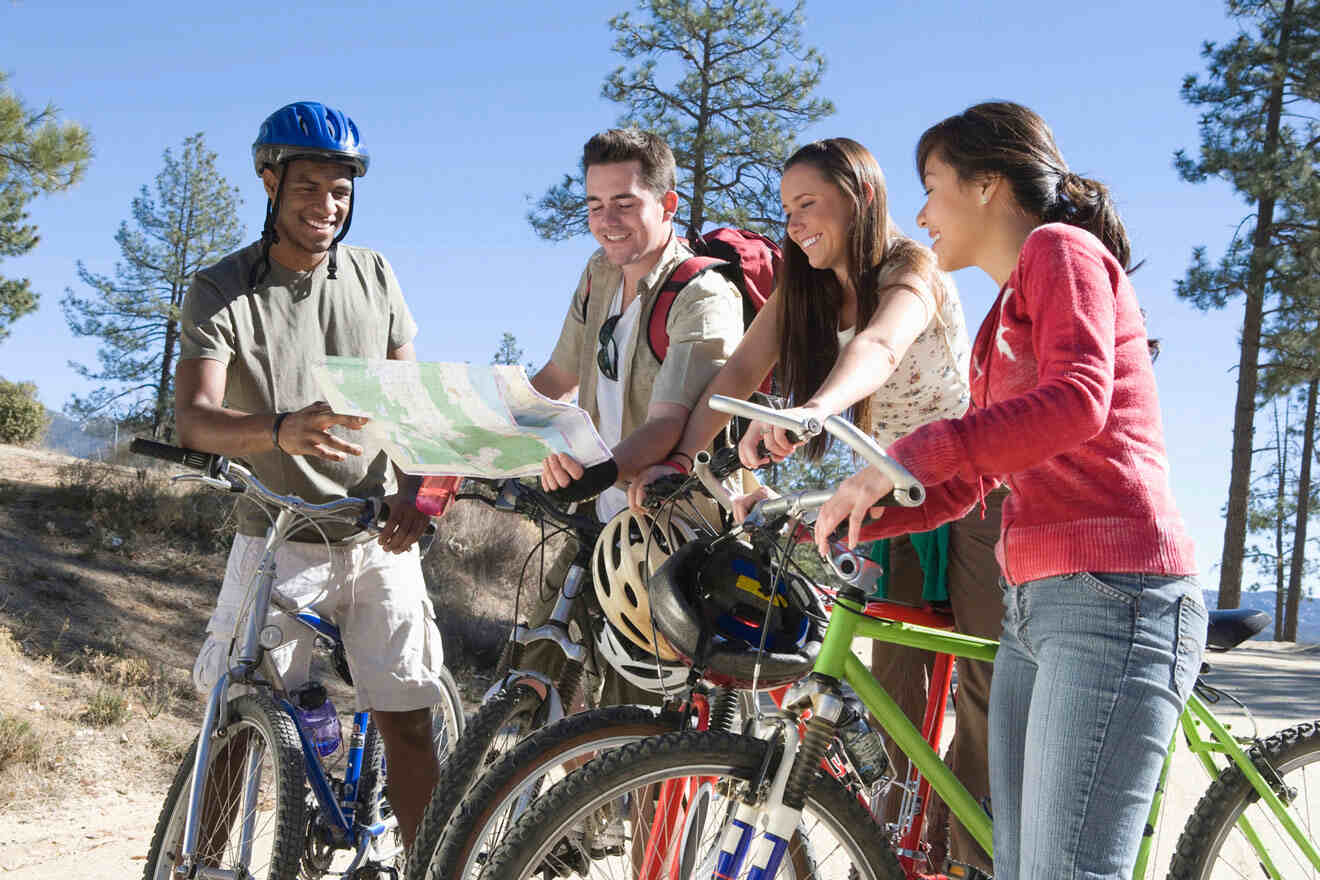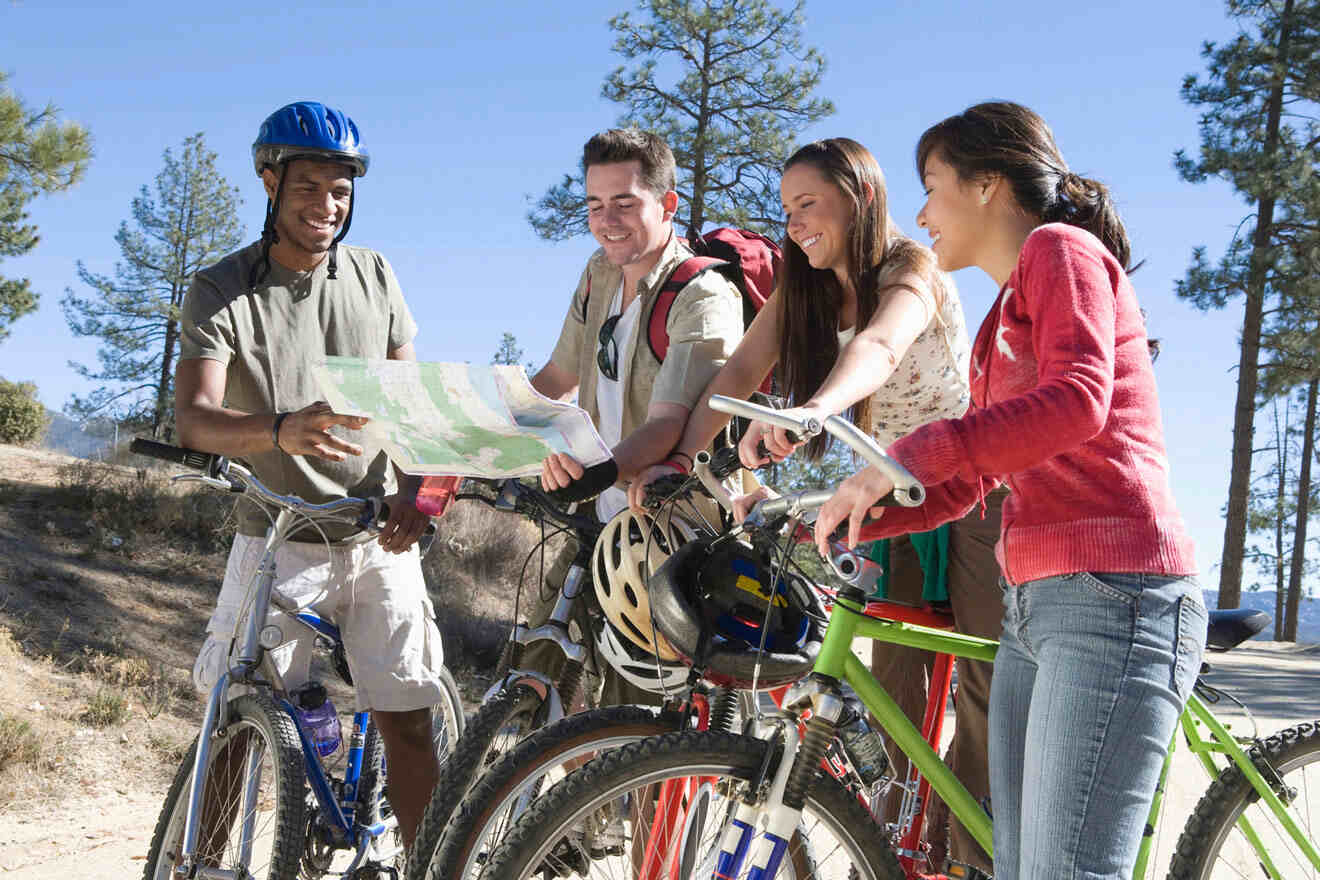 With this 3-hour guided tour, you'll get to explore not 1, not 2, but 3 unique Palm Springs landmarks, all before noon!
You'll start your bike ride early in the morning to your first stop – Deepwell Estates. Here, you'll get to admire the luxurious midcentury houses dating back to 1950 while your tour guide fills you in on the area's rich history.
Next up is the historic Twin Palms neighborhood. You'll have 30 minutes to soak up the unique architecture's hidden gems and take some unforgettable photos.
Your 3rd stop is Canyon View Estates, a condo community and the location where Don't Worry Darling was filmed. You'll wrap up your adventure at the Indian Canyons Golf Resort.
For those who love walking tours, I have the perfect tour for you. With a Palm Springs walk, you'll get a closer look at neighborhoods that were once home to celebrities and some of Hollywood's biggest stars.
10. Rev up on renewable energy at a wind farm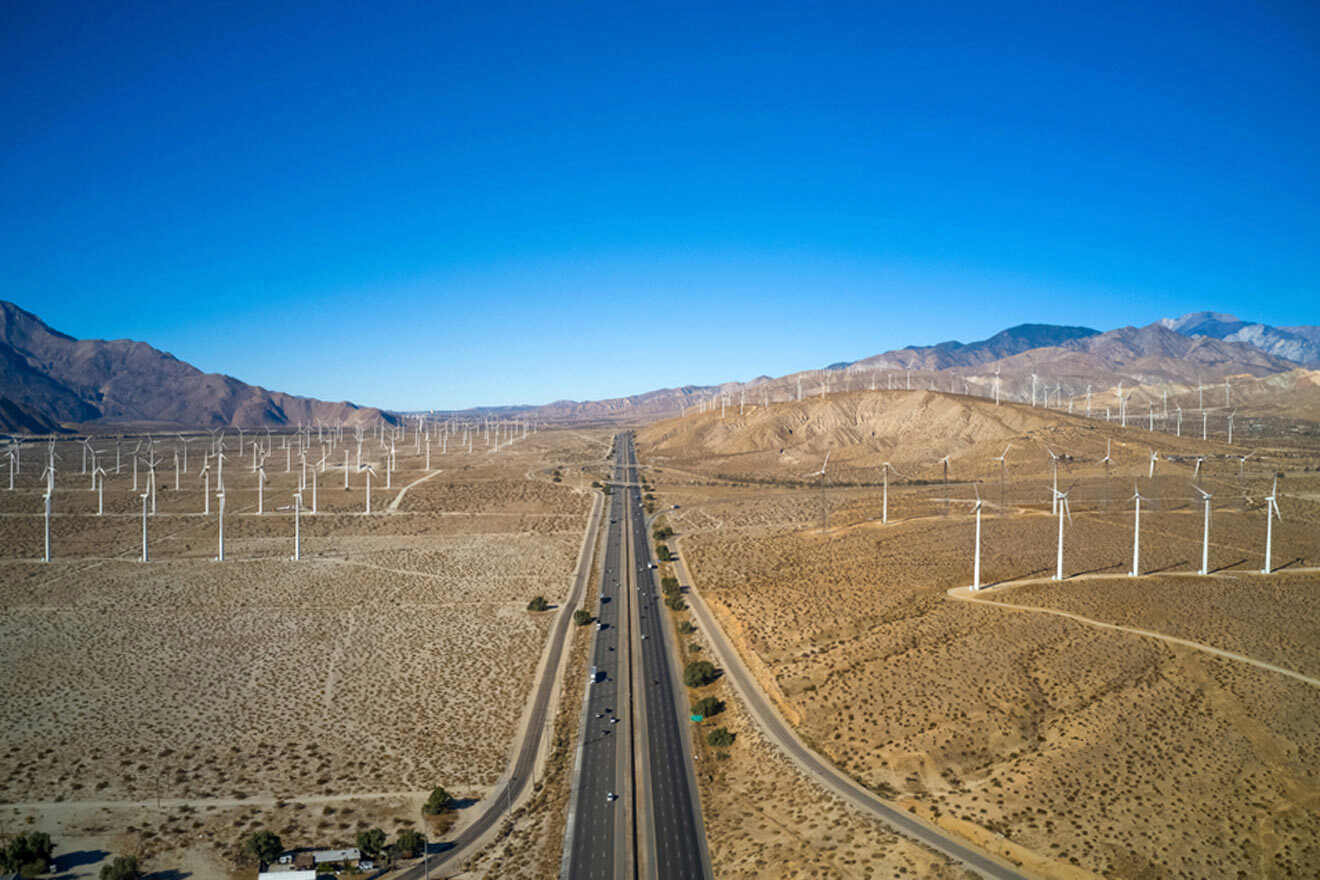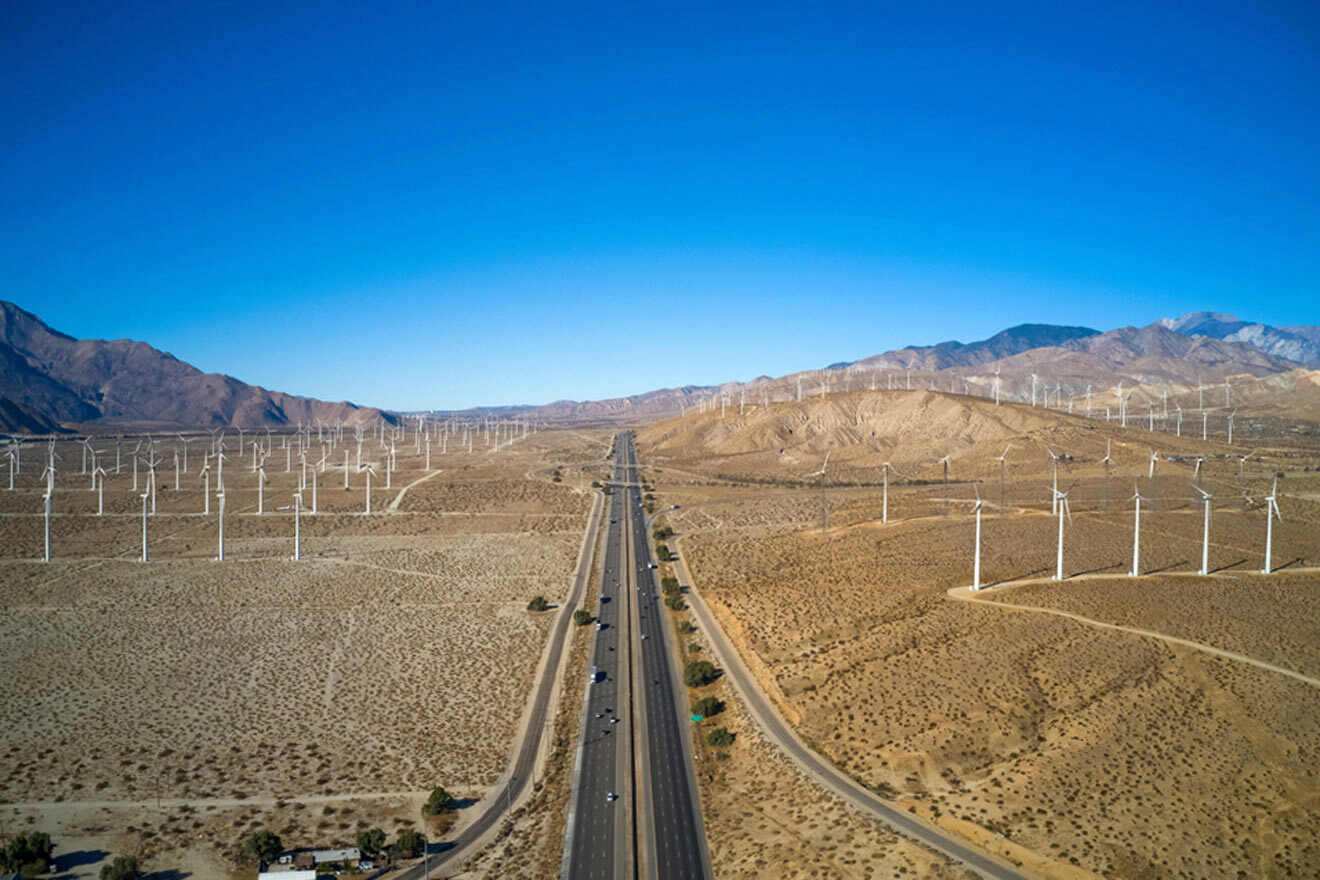 With this self-guided tour, you'll embark on an interactive journey through the evolution of wind turbines, exploring the first commercial wind farm in the United States from the comfort of your vehicle. From successes to failures, you'll get an up-close look at the non-operational wind turbines, along with a stop at a real working wind turbine where you can snap some amazing photos.
But that's not all – this tour also includes a stop at the old Enron machines, where you'll learn all about the renewable energy industry and the fascinating history of these amazing machines. And with a curated audio program and marked destinations throughout the tour, you'll never miss a beat.
And with a tour that lasts roughly 1 – 2 hours, you'll emerge filled with renewable energy knowledge!
11. Hike into the wonders of Joshua Tree on a private tour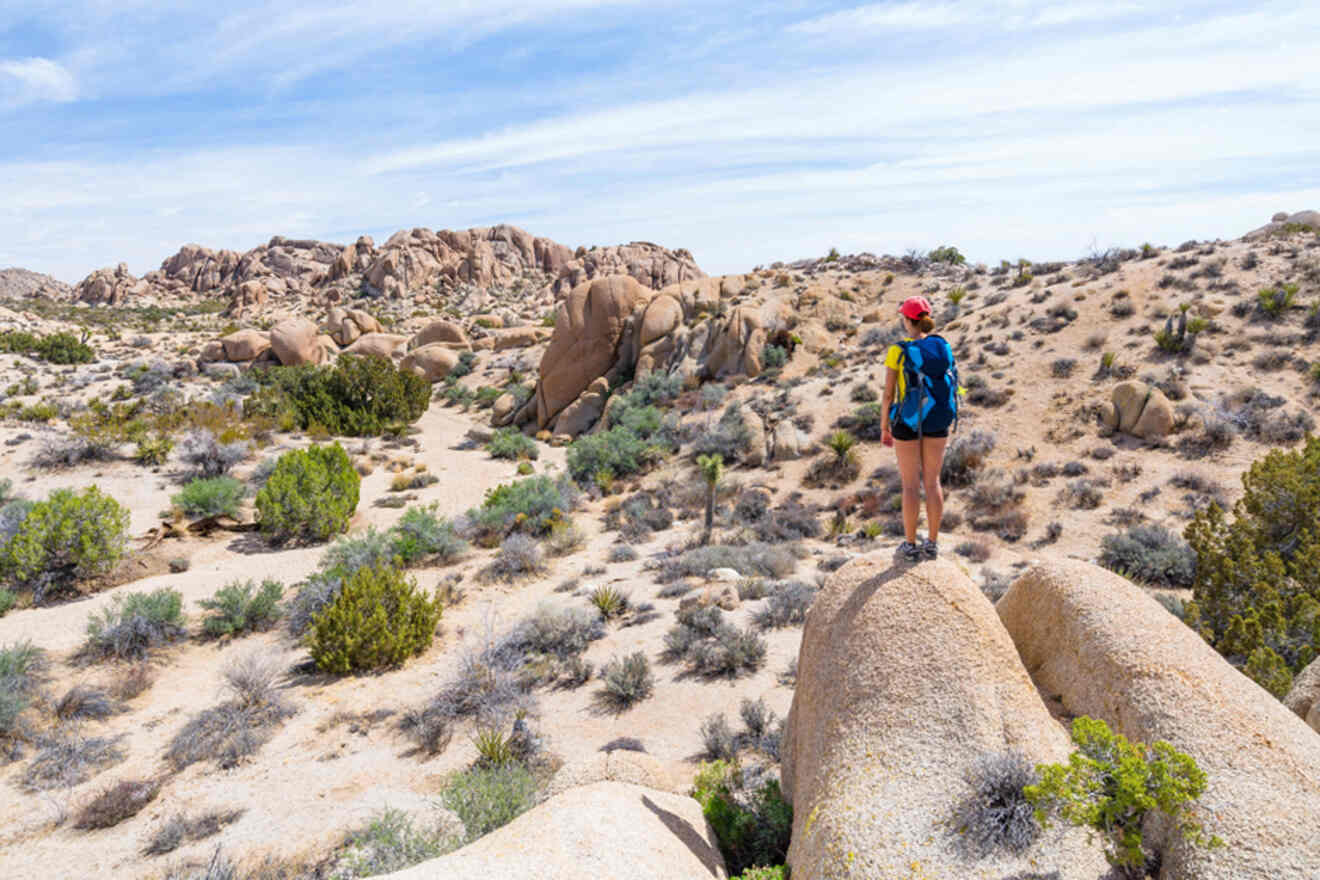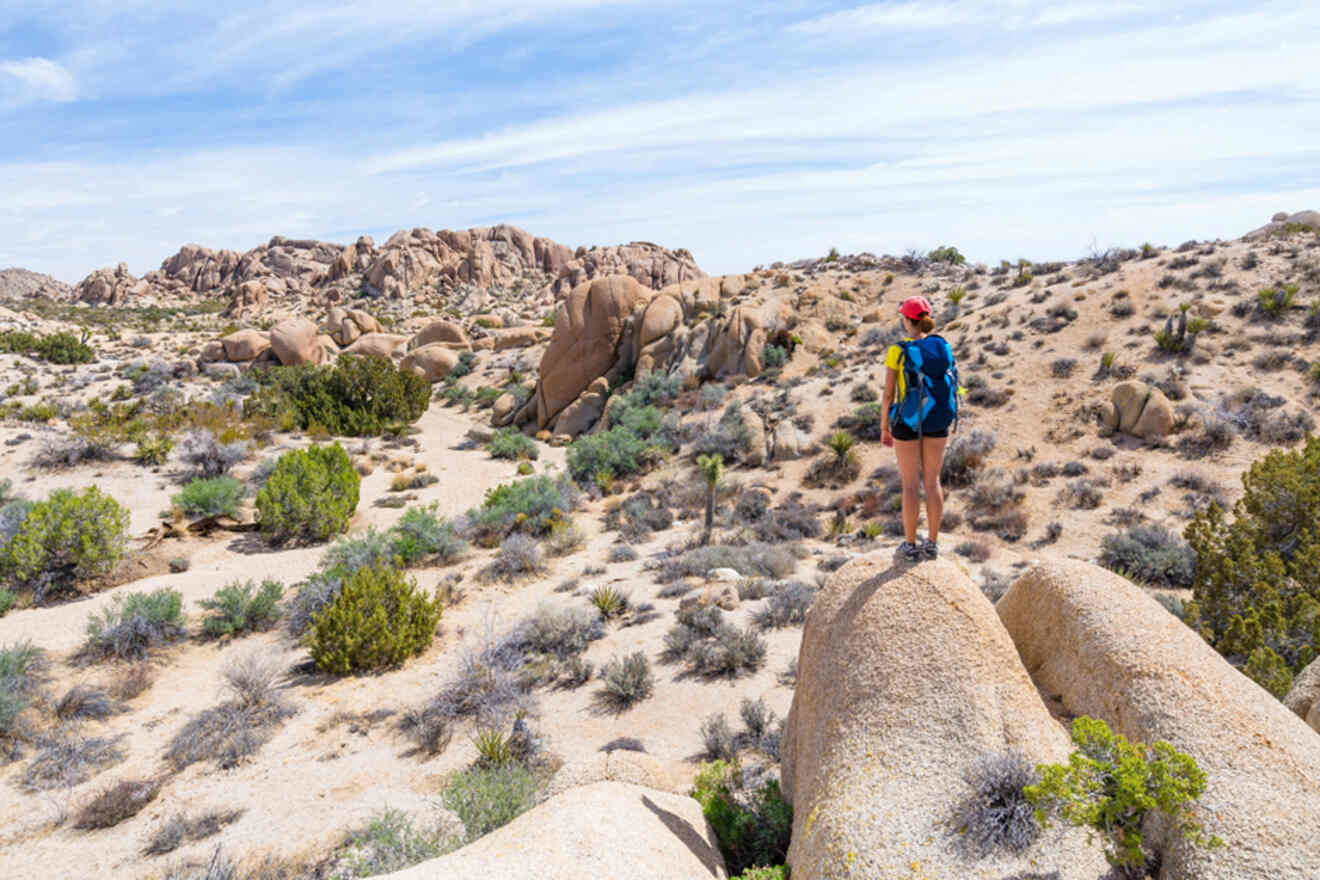 Join a 4.5-hour private hiking tour with a local guide and naturalist who will take you on an unforgettable hike experience. You'll get the chance to explore the park's flora, fauna, geology, and history while following in the footsteps of artists and visionaries who have been drawn to this wondrous place.
This tour is totally customizable to your group's preferences and skill level, so get ready for a personalized adventure beyond the guidebooks. Meet up with your expert guide at a location that works for you, and get ready for a naturalist's perspective on the park's stunning views and hidden gems. You can also take the whole family on this adventure.
12. Meditate in a magical cave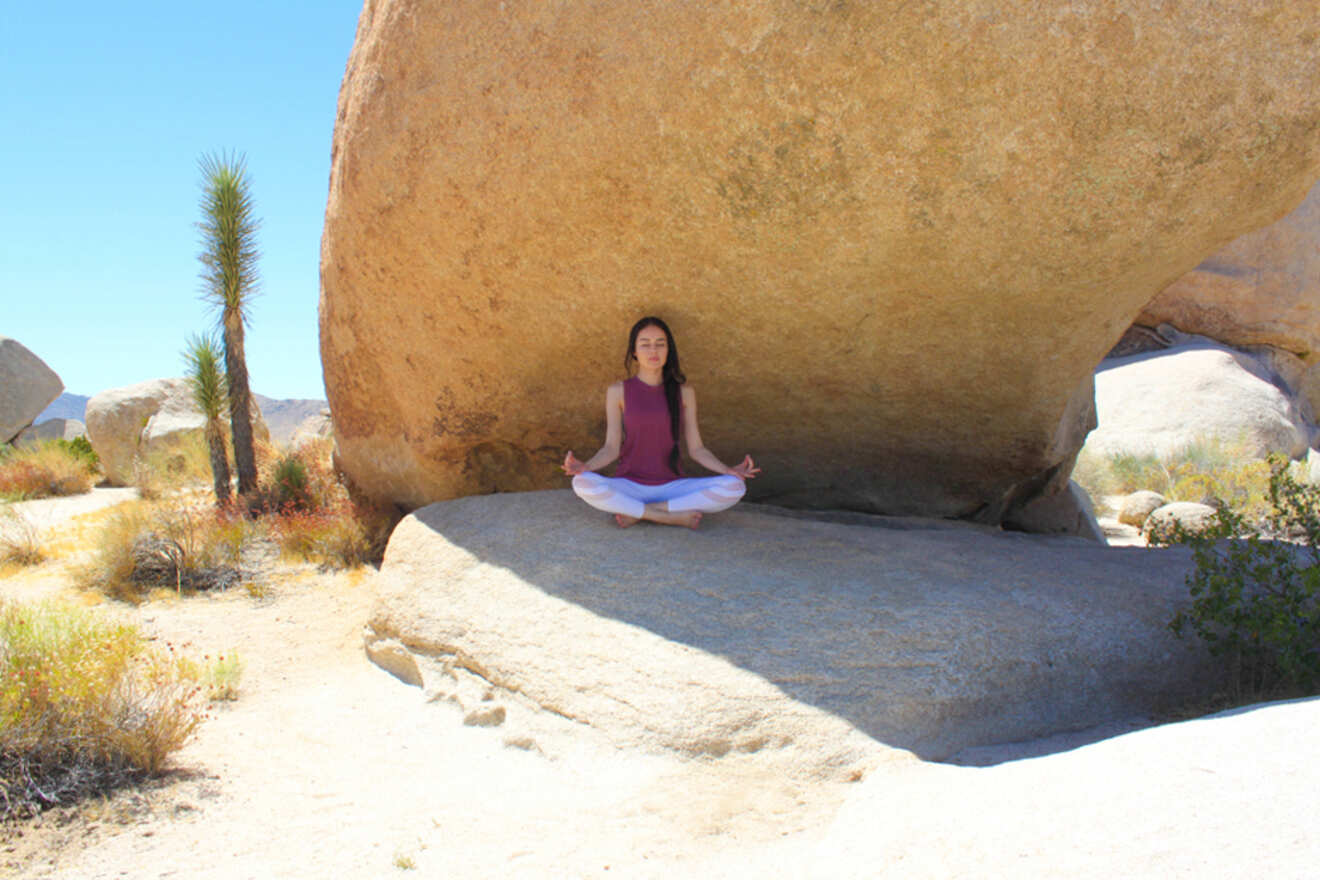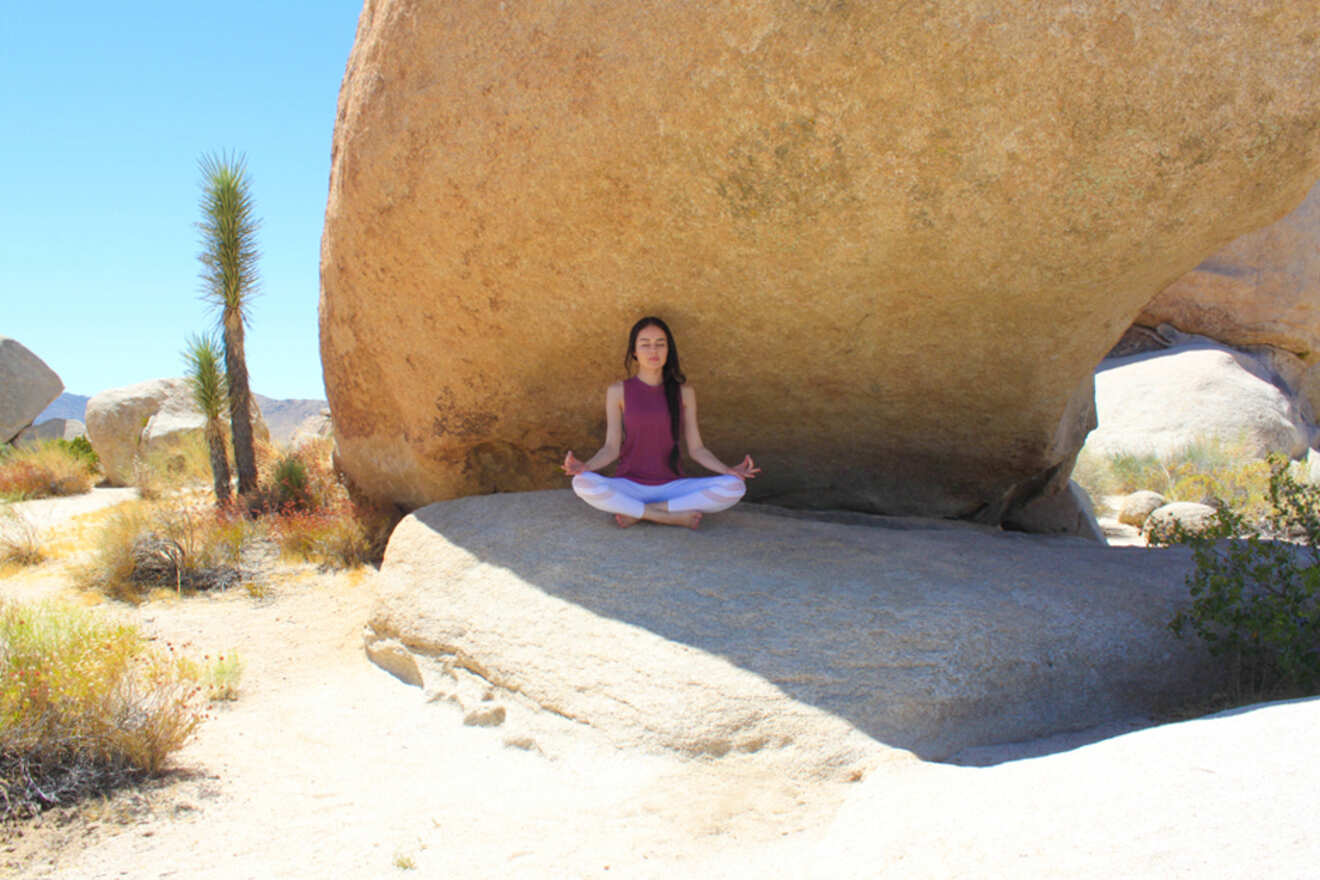 Experience an unforgettable intentional 3-hour-long desert adventure where you'll connect deeply with nature. Meet in a private, energy-rich location in Joshua Tree, and explore the towering boulder stacks, ancient trees, and local fauna.
A local guide, well-versed in the beauty of the sacred land, will lead the nature walk. Discover the remaining petroglyphs and learn about the history of the Serrano and Cahuilla Indians who once inhabited the area.
The highlight of the adventure is a guided meditation in a magical cave. You'll be greeted by a certified sound healer who uses sounds to enhance meditative states. Relax, receive, and connect with yourself in the tranquil space.
The resort also offers hiking, exploring, swimming, and watching desert sunset. Additional charges apply for overnight accommodations.
13. Come and taste the sizzle of drag & dim sum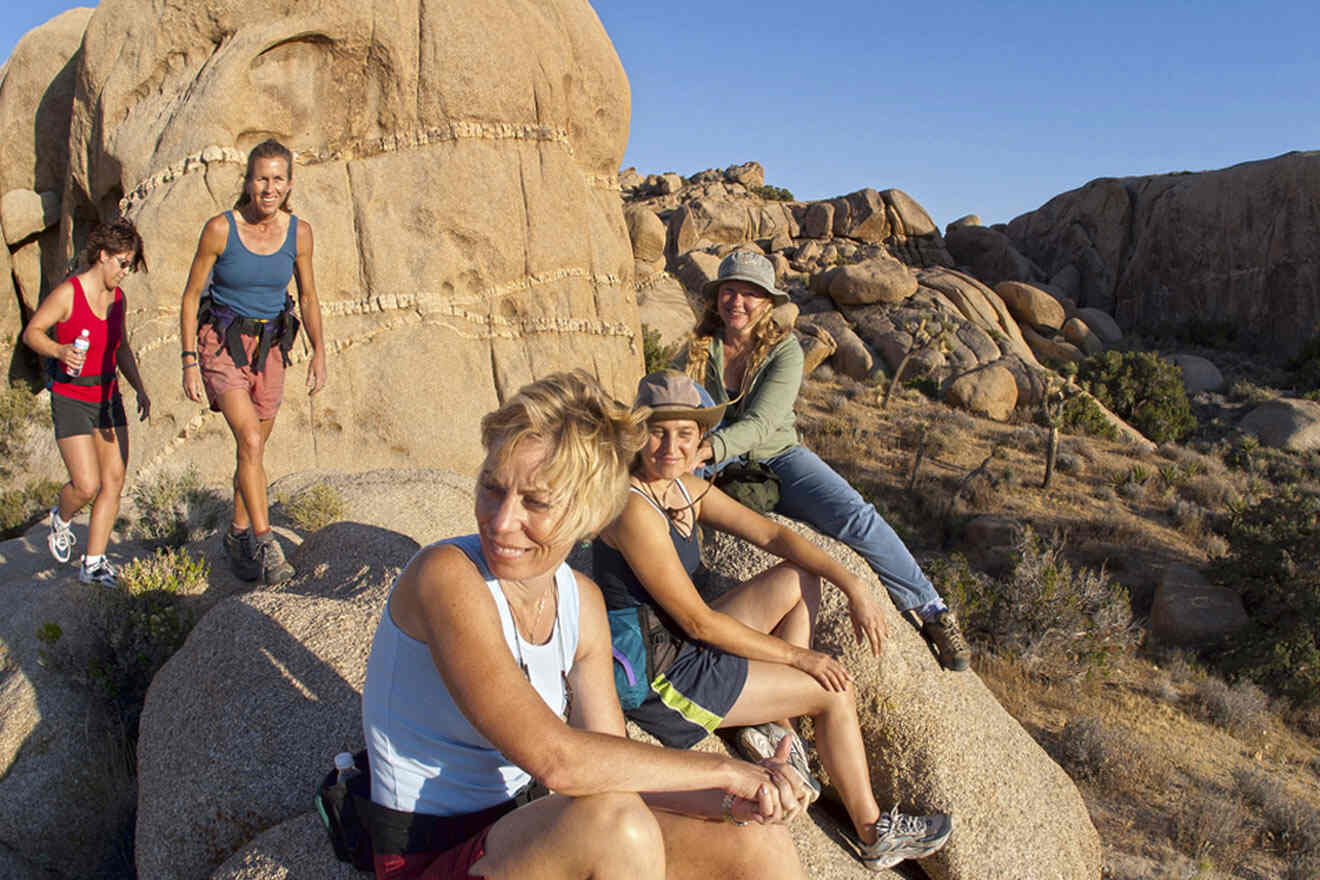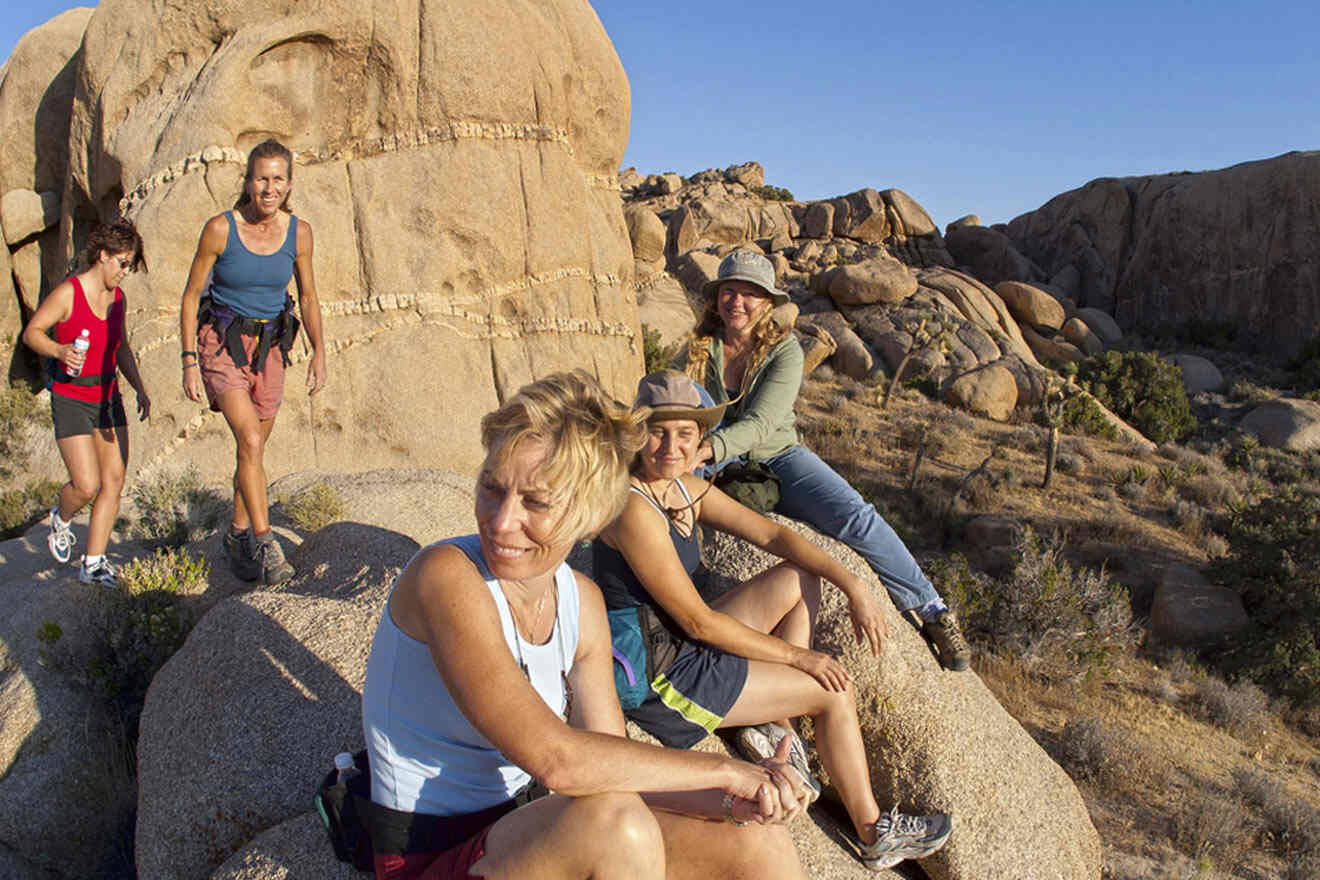 Prepare for an exceptional experience, brunch enthusiasts and drag aficionados! Witness the unrivaled #1 Drag Show in Palm Springs, which earned the coveted Best Drag Brunch Award in 2022.
This 3-hour performance seamlessly blends Burlesque and Cabaret to create a truly unforgettable experience that locals can't stop talking about. However, it's not just about the performance – the food and service are equally exceptional, as guests will be dining at Roly China Fusion, the top-rated Asian eatery in the region.
Guests will indulge in a delectable 3-course feast, beginning with a soup course, followed by unlimited servings of dim Sum, and culminating with a choice of a magnificent entrée. Throughout the show, attendees are encouraged to capture all the incredible moments by taking photos and videos.
After the show, the Queens will graciously pose with you for that coveted perfect shot. This is an opportunity you don't want to miss!
14. Learn about aviation history with a museum tour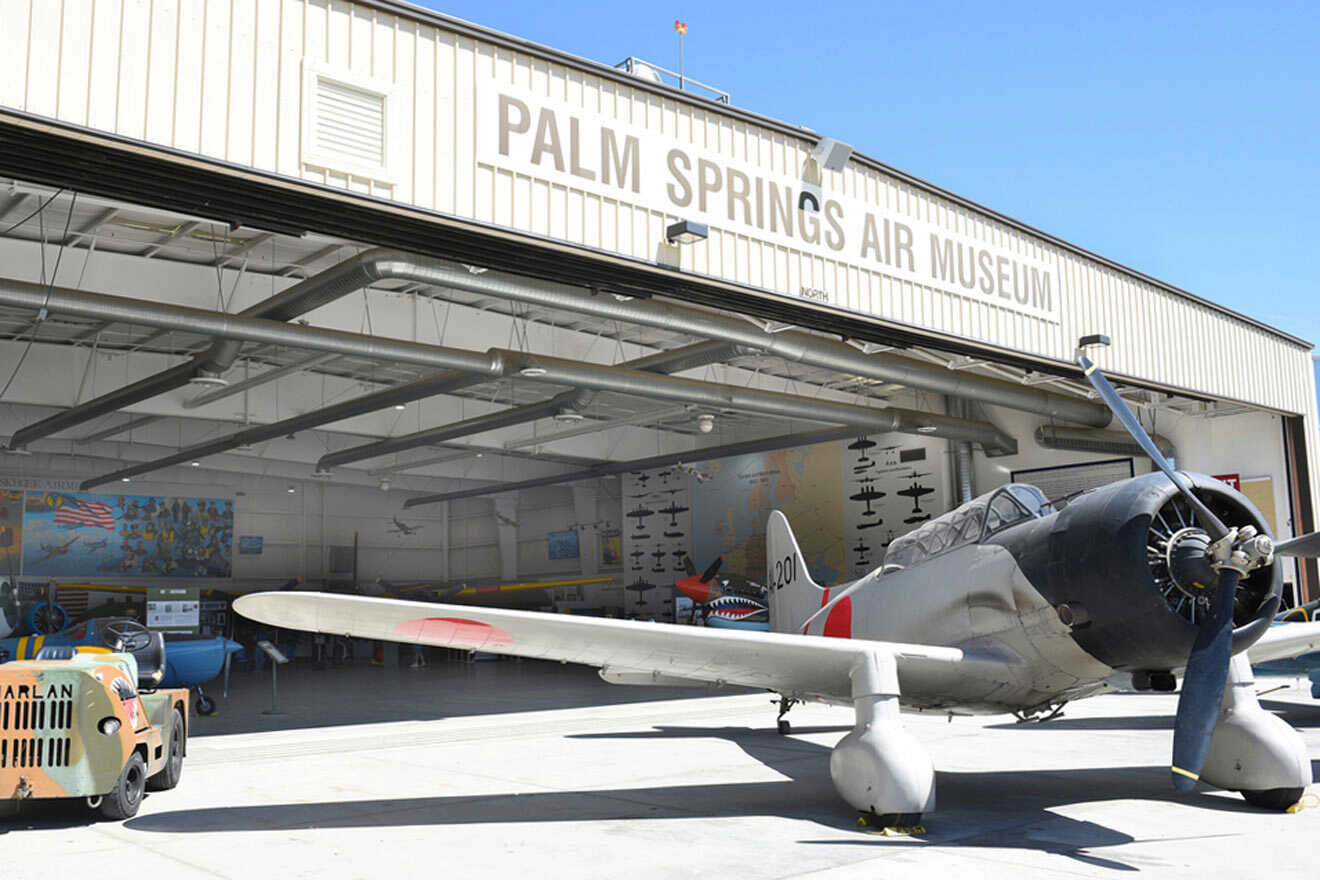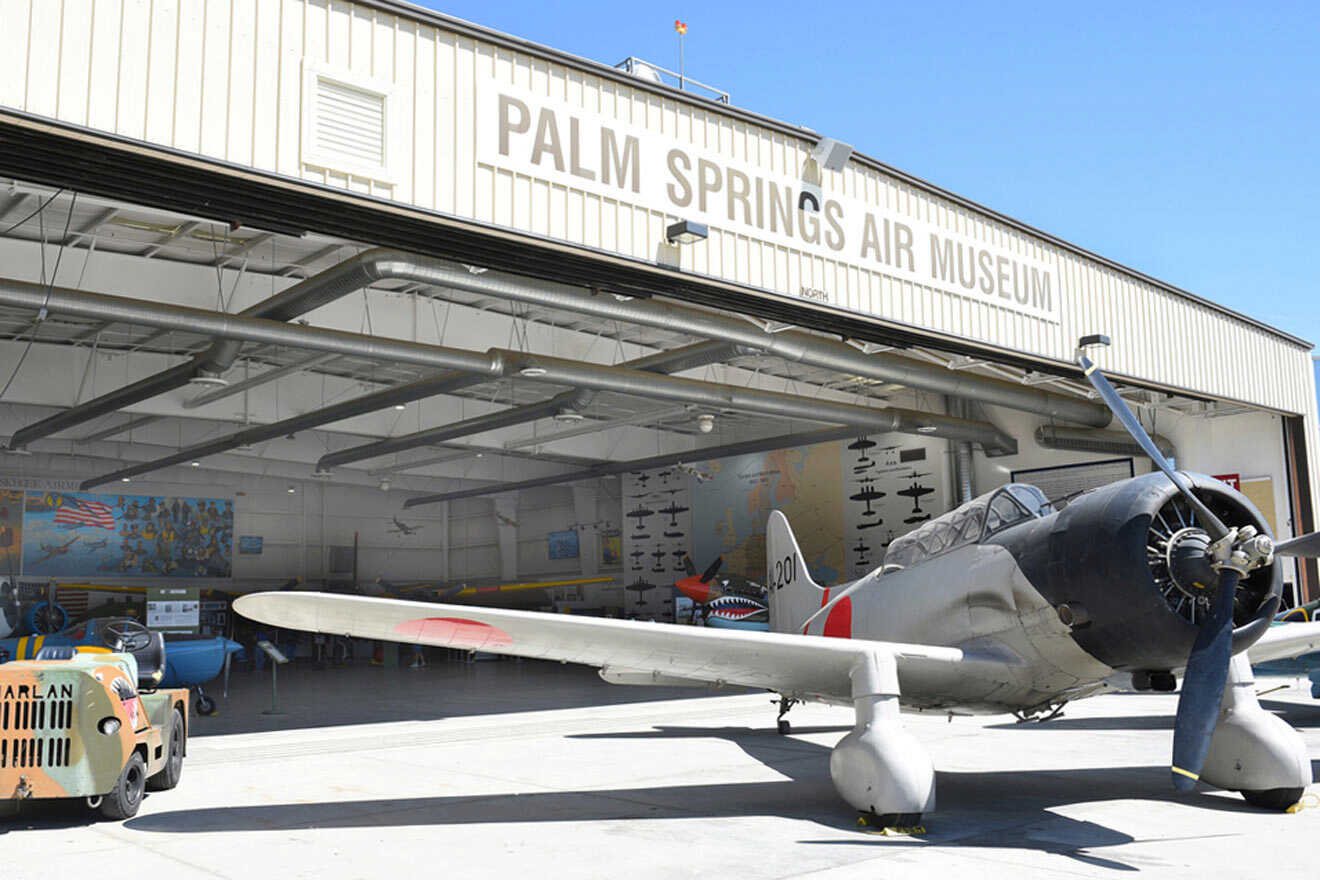 Attention aviation and flight simulator enthusiasts! Prepare for a thrilling 1-hour visit to this amazing museum, open any day between 10 AM and 3 PM for pre-arranged group tours. Your knowledgeable guides, many of whom are veterans and former pilots, will lead you on a fully escorted tour through all 5 of the hangars, discussing the fascinating history and individual backgrounds of each of the aircraft.
Hungry? Stay for lunch and choose from the delicious box lunch menu. Please note that 2 weeks' notice is required for group tours, and be sure to inquire about reduced group admission rates when paying in one transaction.
The tour is wheelchair-accessible and lasts a bit less than 3 hours, with a minimum of 15 people and a maximum of 60.
15. Discover Palm Springs' iconic homes & hotspots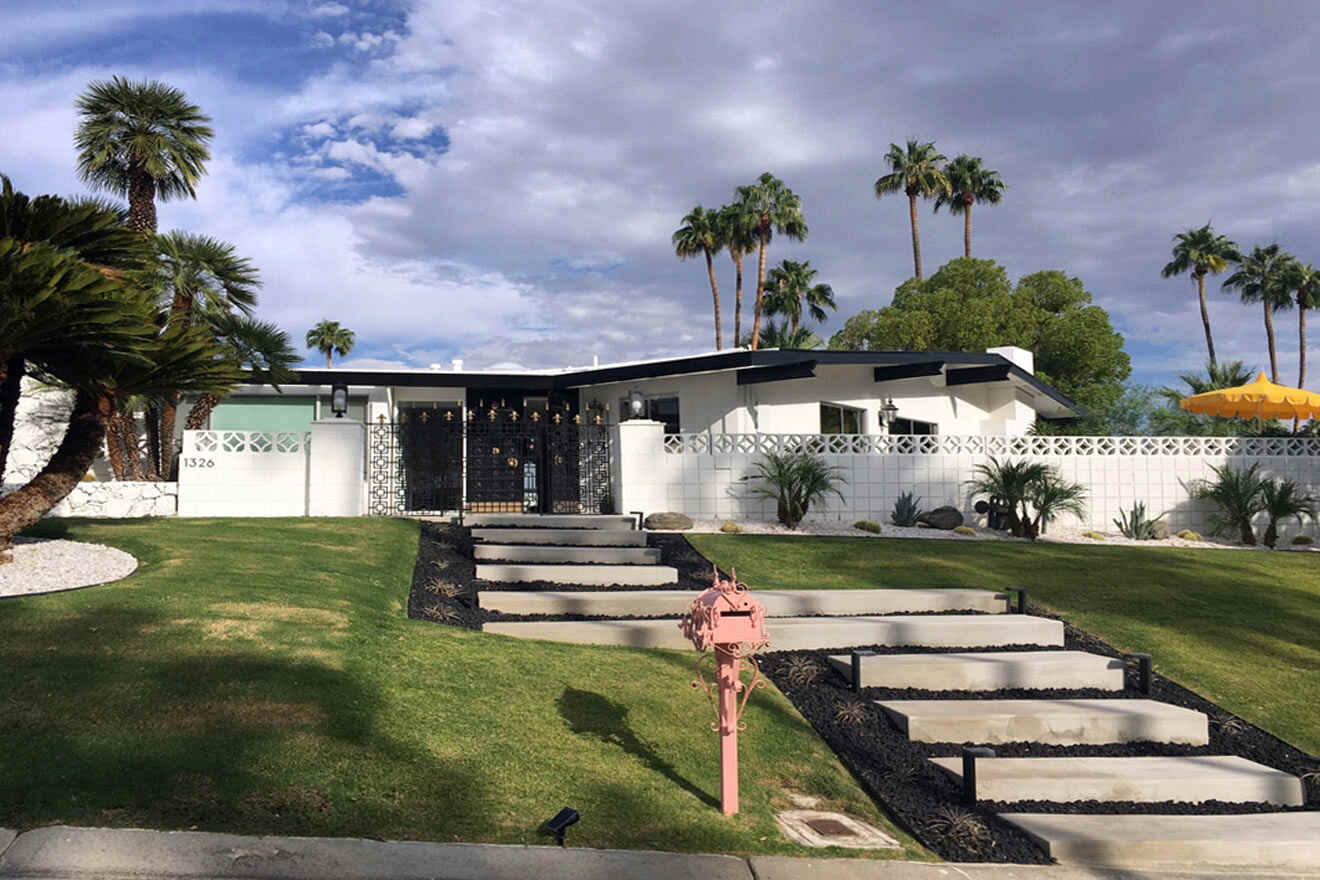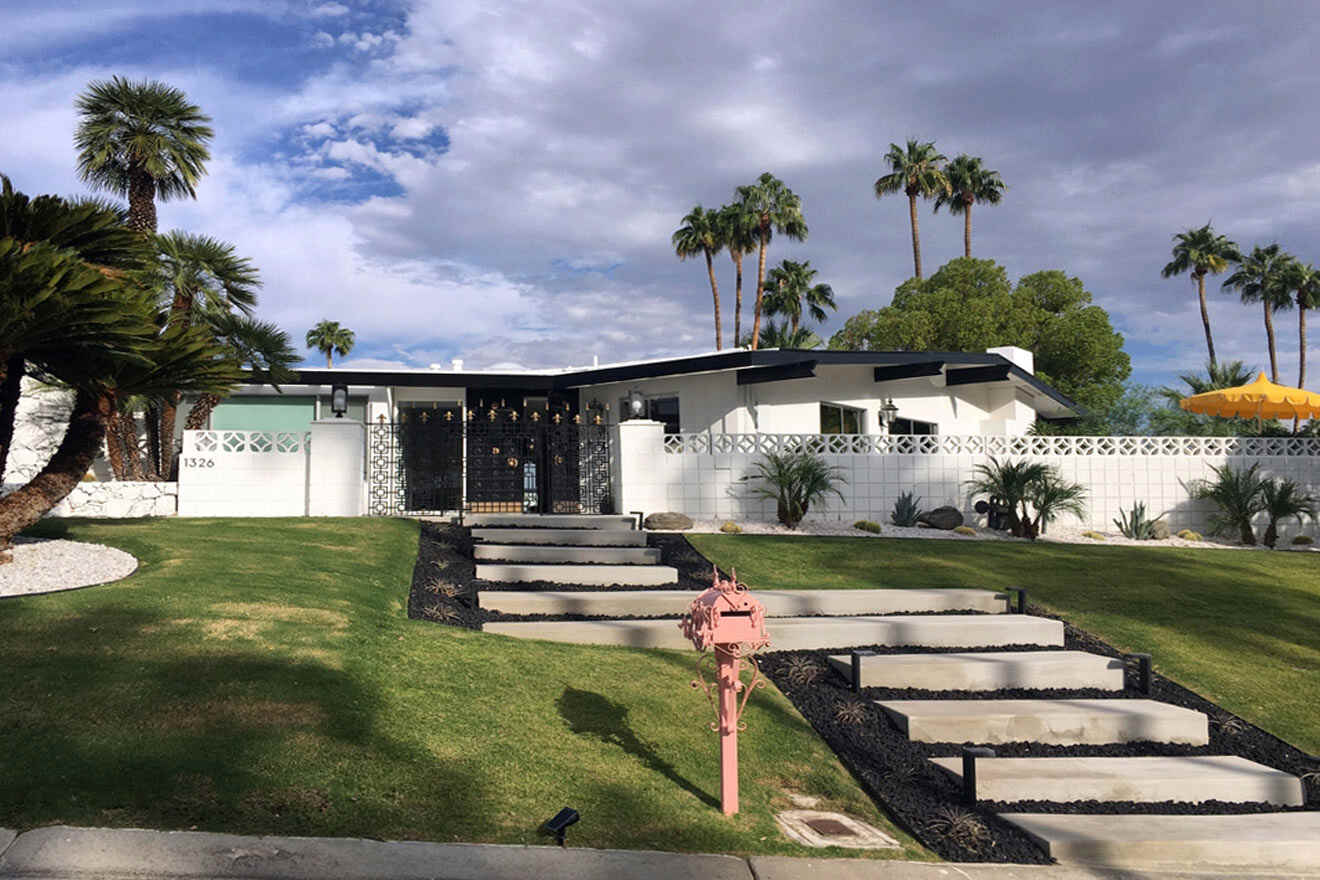 Come along on a 1.5-hour guided icons tour in an air-conditioned van and explore more than 50 celebrity homes, including those of iconic stars like Bob Hope, Frank Sinatra, and Marilyn Monroe. Keep your eyes peeled for some star spotting as you discover where current celebrities reside.
Did you know that many of these stars built smaller getaways in Palm Springs, just east of Palm Canyon Drive? You'll visit Ruth Hardy Park and even stop by the property known as "The Rat Pack Hideaway."
Learn everything you need to know about the Art and Air Museum, The Indian Canyon (home to Agua Caliente Band), Palm Springs aerial tramway, historic inns, and many more. You'll be amazed by the history and beauty of this desert oasis.
As part of the tour, guests will also get a chance to learn about the Cahuilla Indians who inhabited the area and thrived in a harsh environment over 3,000 years ago, before Hollywood's existence.
16. Climb to new heights in Joshua Tree National Park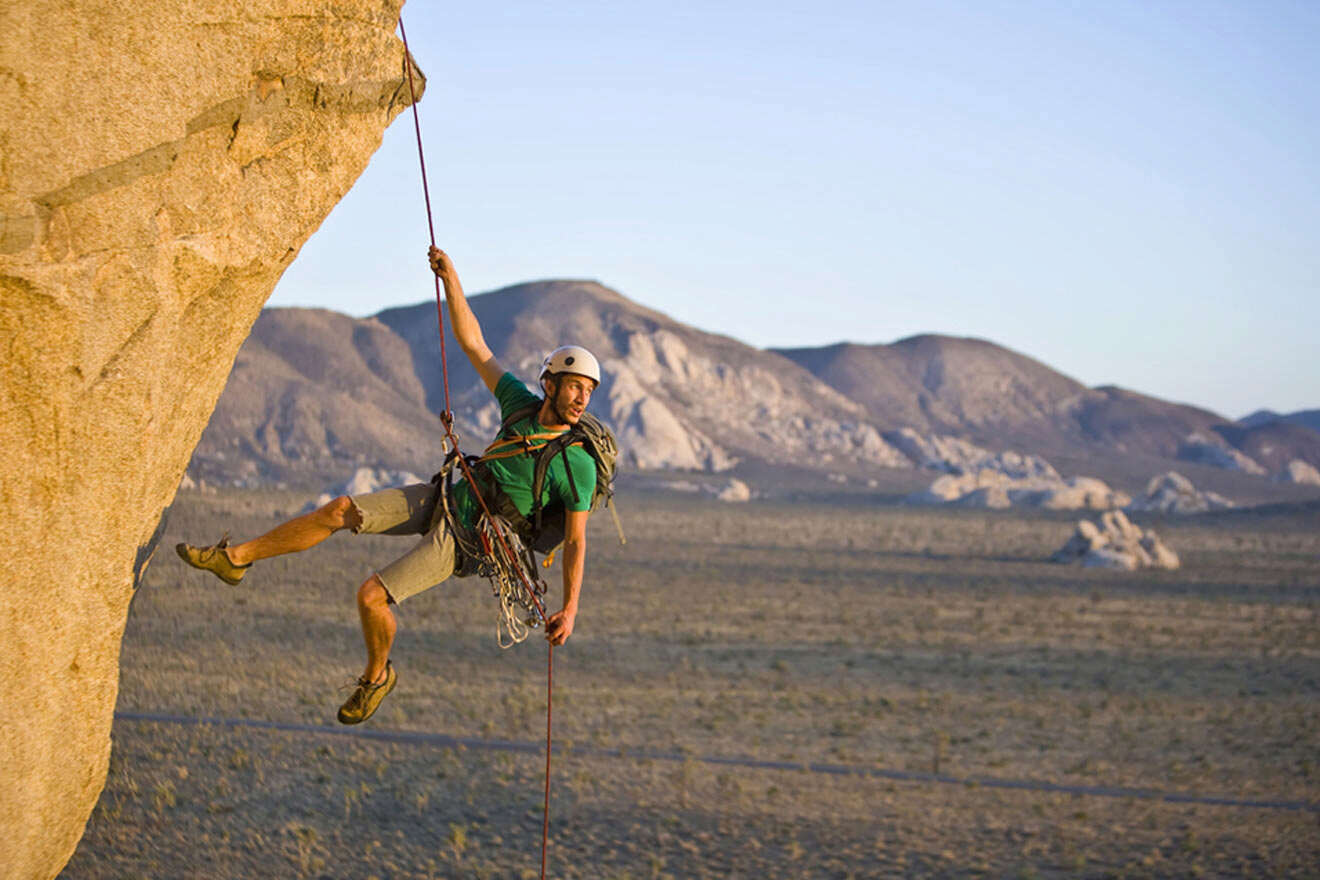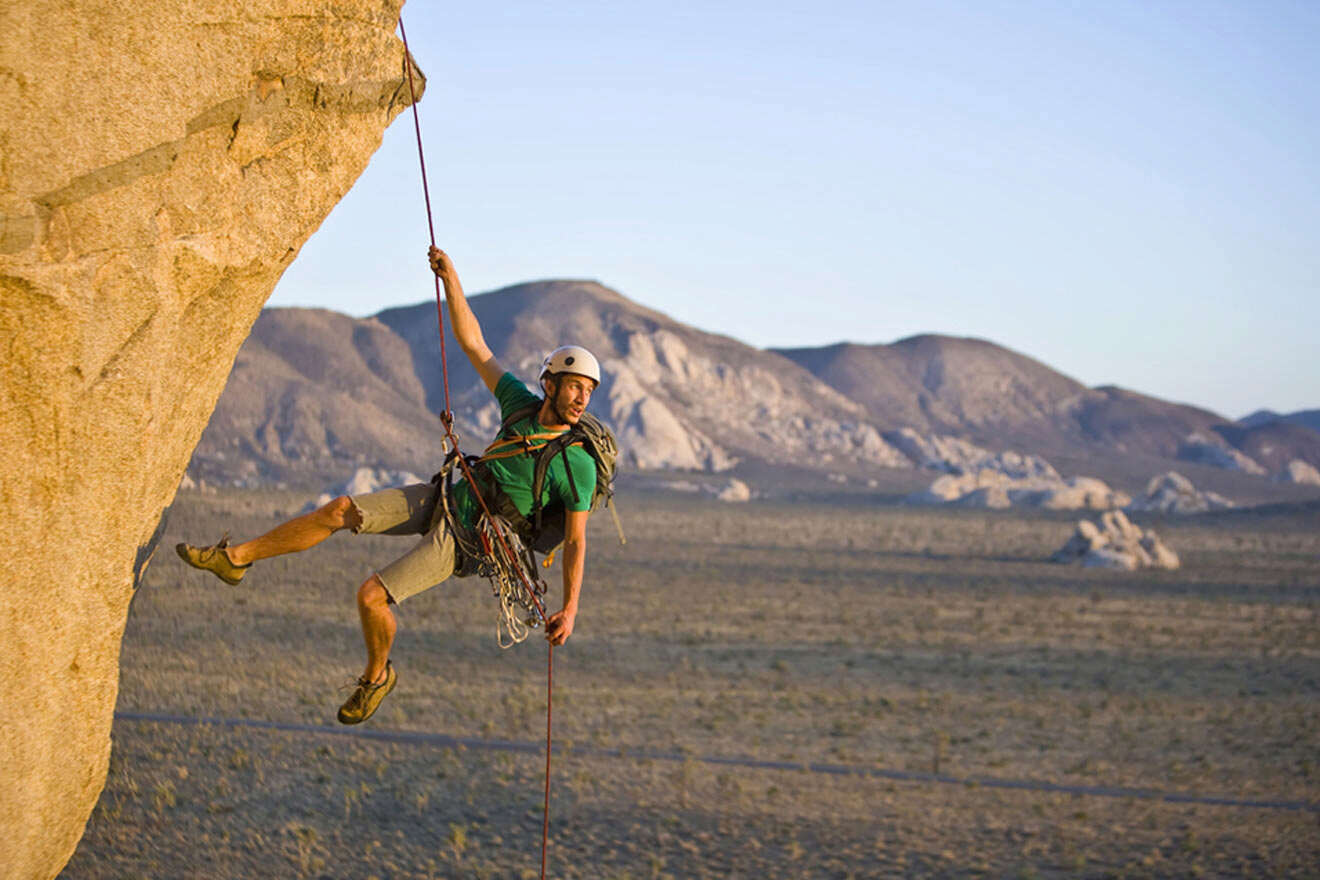 Get ready to rock climb like a pro on a half-day, private trip with a certified guide! And the best part? You don't need to bring or rent your rock climbing gear – everything is included!
This 4-hour tour will be tailored to your preferences and skill level. With one-on-one instruction and gear suited to the local terrain, you'll be climbing rocky terrain like a pro in no time.
Choose between morning and afternoon departures, and enjoy the convenience of a pickup point in the town of Joshua Tree. With over 9,000 climbing routes in the park, professionally certified guides know the area like the back of their hand and will set up the perfect routes for you.
Whether you're a first-time climber looking to try something new, or an accomplished climber seeking a local intro to Joshua Tree rock climbing, this private tour caters to everyone.
17. Soar above the clouds with a hot air balloon ride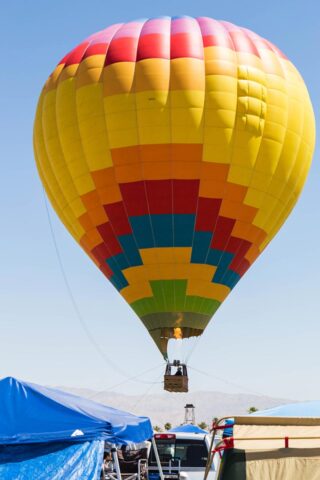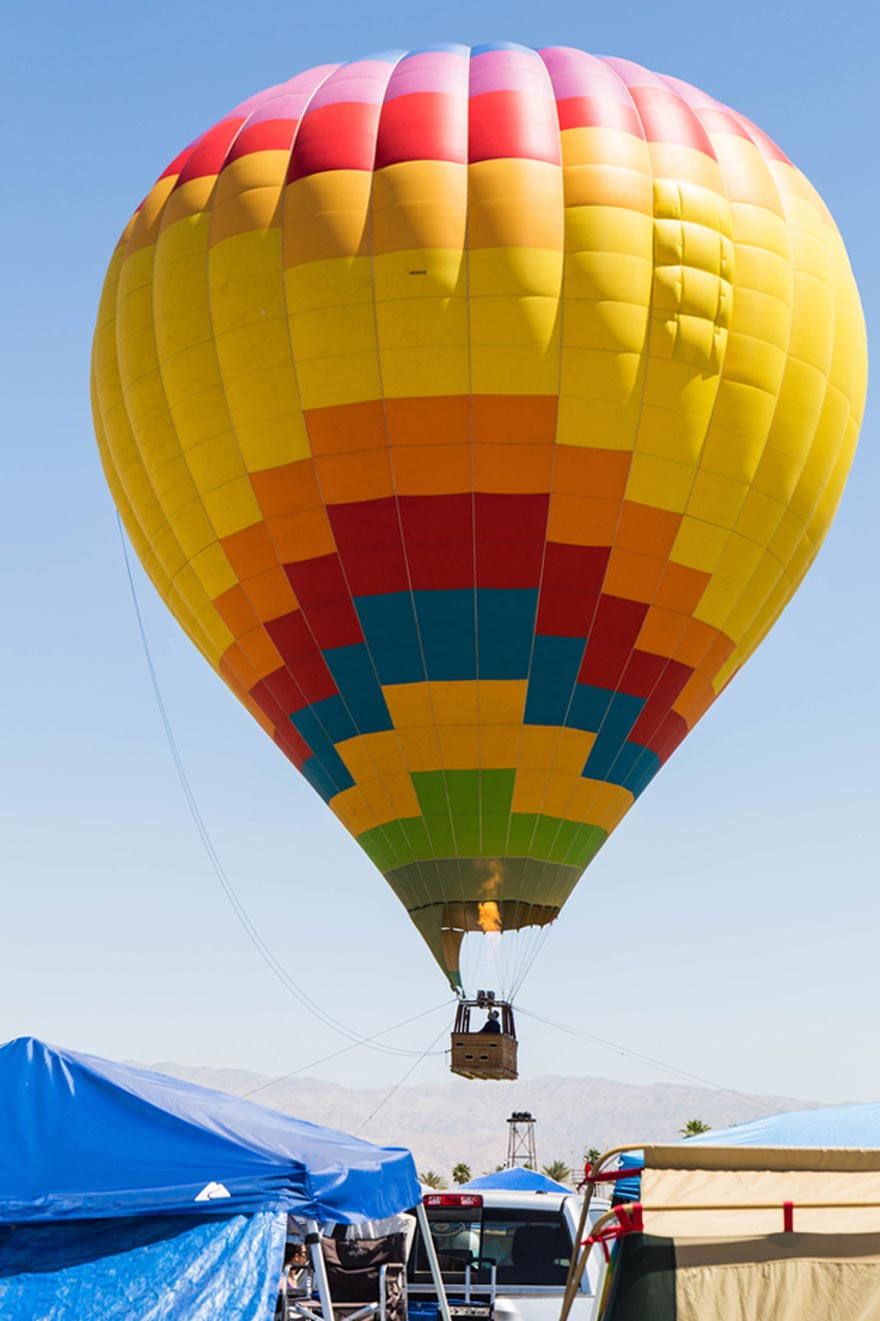 Imagine floating up in the air, above the stunning Coachella Valley, and taking in the breathtaking views of Palm Springs, San Diego, and Los Angeles. It's an unforgettable experience that will have you feeling like you're on top of the world!
Whether you're celebrating a special occasion or simply looking for a unique tourism experience, the tour has it all. It offers hot air balloon flights that are perfect for weddings, birthdays, or any other special event. You'll cherish every moment of the journey as you glide through the skies.
This is one of the most convenient hot air balloon tours around, especially for those with mobility issues. All baskets are easily accessible, with a door that makes getting in and out a breeze. No more awkwardly climbing over the edge!
Most flights are scheduled in the morning and early afternoon, so you can catch those stunning sunrise or sunset views.
18. Go on a scavenger hunt in Joshua Tree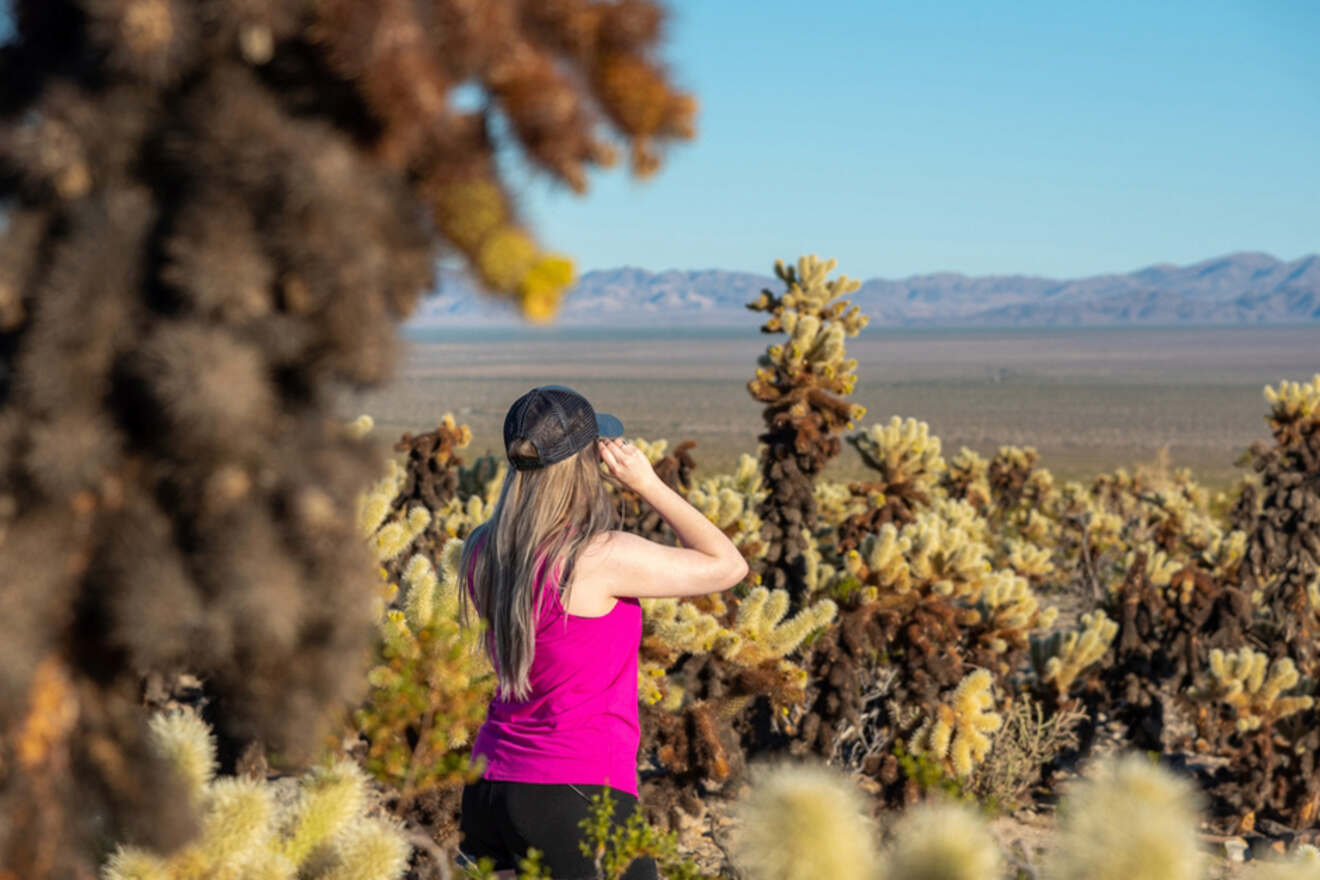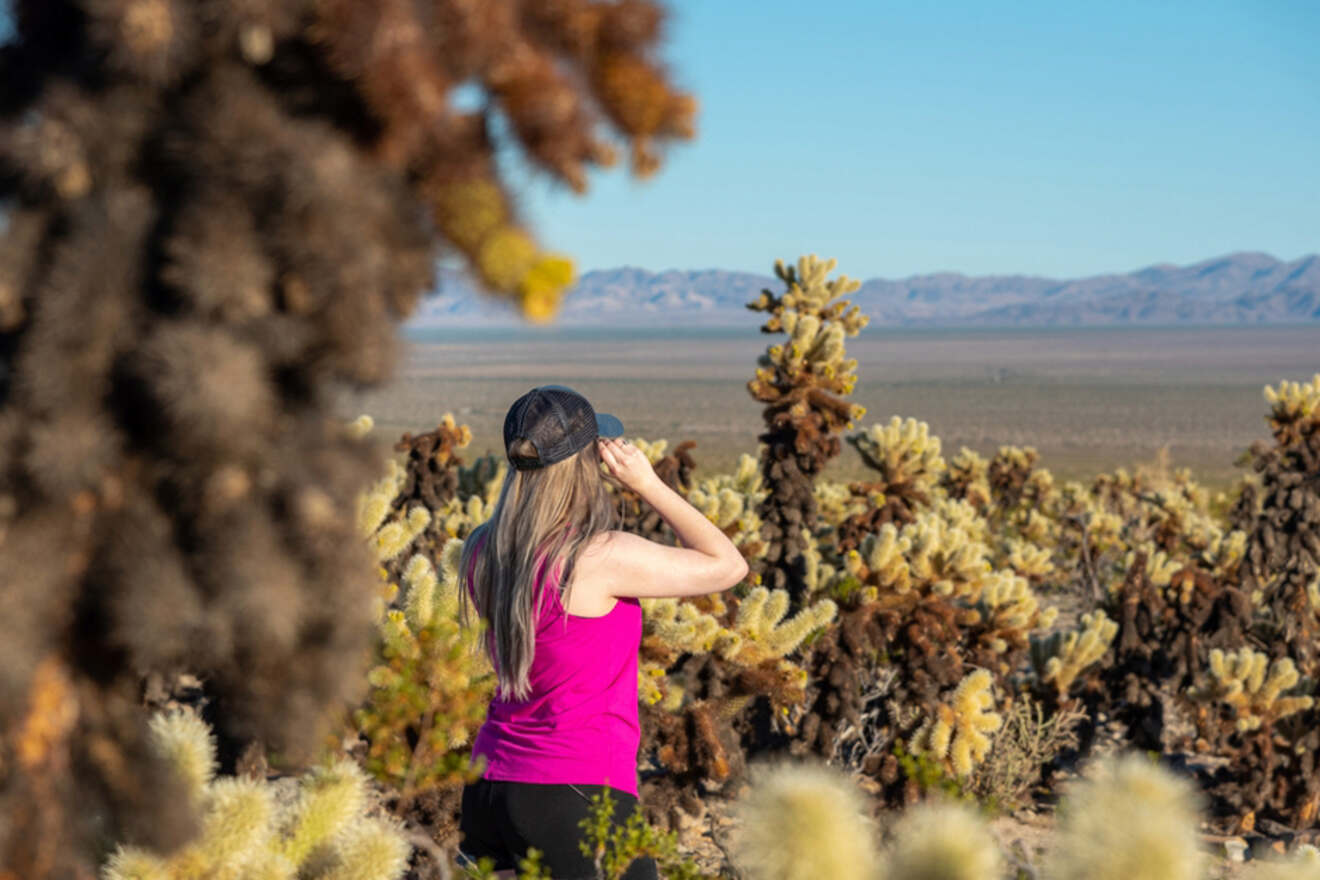 Calling all game fans among you – this is the ultimate scavenger hunt game that you don't want to miss! Embark on a 2-hour game hunt with your family or friends and hunt for art and local stories. 
You will compete against people you know (it's a private tour!) and explore the treasures of Joshua Tree National Park. Your lovely host Tara will personalize the game to the group and you'll get the chance to meet locals. 
The meeting point is at Joshua Tree National Park, and you better come fully prepared with comfy walking shoes and a fully-charged phone with WhatsApp on it!
19. Saddle up for scenic horseback riding
Buying a souvenir at a tribal trading post in Indian Canyons isn't the most memorable experience tours in Palm Springs can offer! With over 150 miles (240 km) of peaceful riding trails, you can experience tranquility while enjoying stunning views. The ride is about 2 hours long.
If you're part of a group looking for some leisure time during your convention, Smoke Tree Stables has got you covered. Take a memorable horseback ride along the Agua Caliente Indian Canyons, complete with streams all year long and lush palm oases. And if you want to spice things up, custom-designed group packages are available, which can include team-building sessions, western cookouts, picnic lunches, and entertainment.
Smoke Tree Stables also offers a therapeutic program that focuses on healing through horses. With group activities centered around themes like boundaries, mindfulness, self-esteem, and relationships, you can experience a unique and transformative journey alongside these majestic creatures.
20. Conquer Joshua Tree on a motorcycle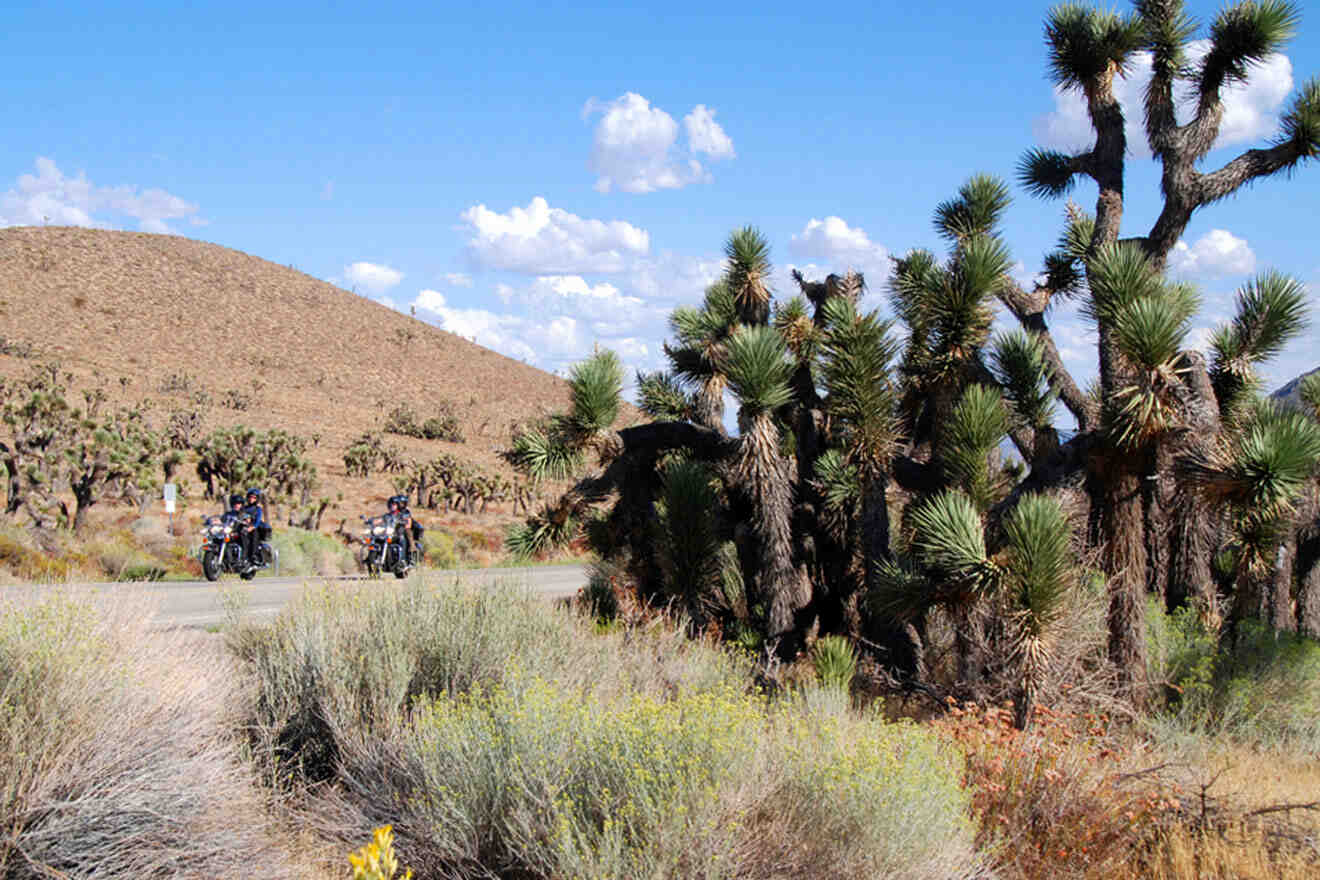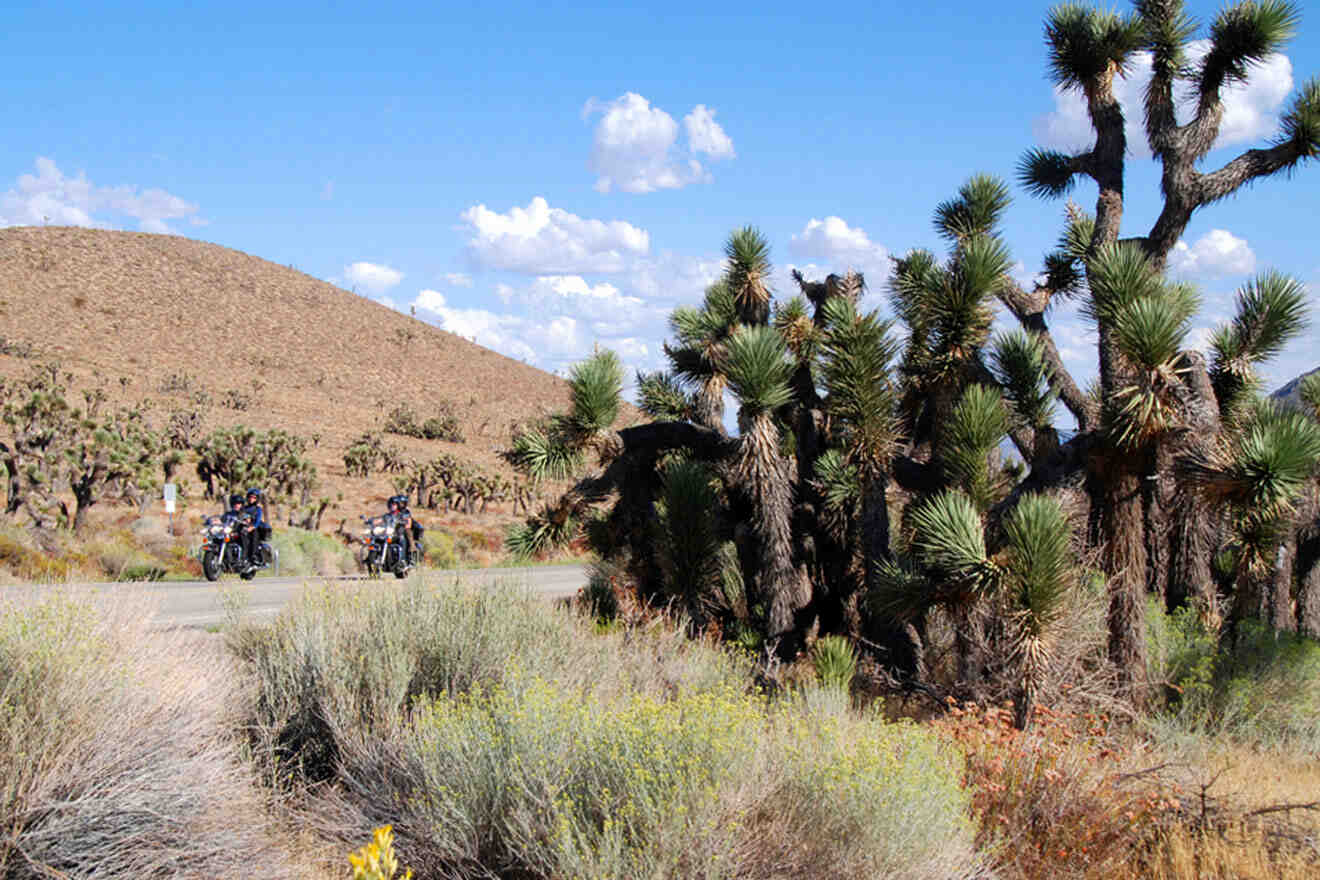 Are you a passionate motorcycle rider? Ready to rev your engine and explore the jaw-dropping beauty of Palm Springs and Joshua Tree? Well, hold on tight because this is the perfect tour for you!
With options for street, adventure, or dual sport biking, there's something for every level of rider. Whether you prefer the smooth pavement or the rugged terrain of the mountains and deserts, this tour has got you covered.
Off-roading enthusiasts, get ready to conquer the wild with a trail that leads you straight to the heart of Joshua Tree. These trails aren't easy to find, but fear not – your guide knows them like the back of their hand! The tour will take about 7 hours.
Just make sure to bring your gear, including a helmet and boots. Participants must possess a valid motorcycle license and can enjoy a 20% discount for groups of 2 or more.
21. Escape the sinking Titanic with a thrilling escape room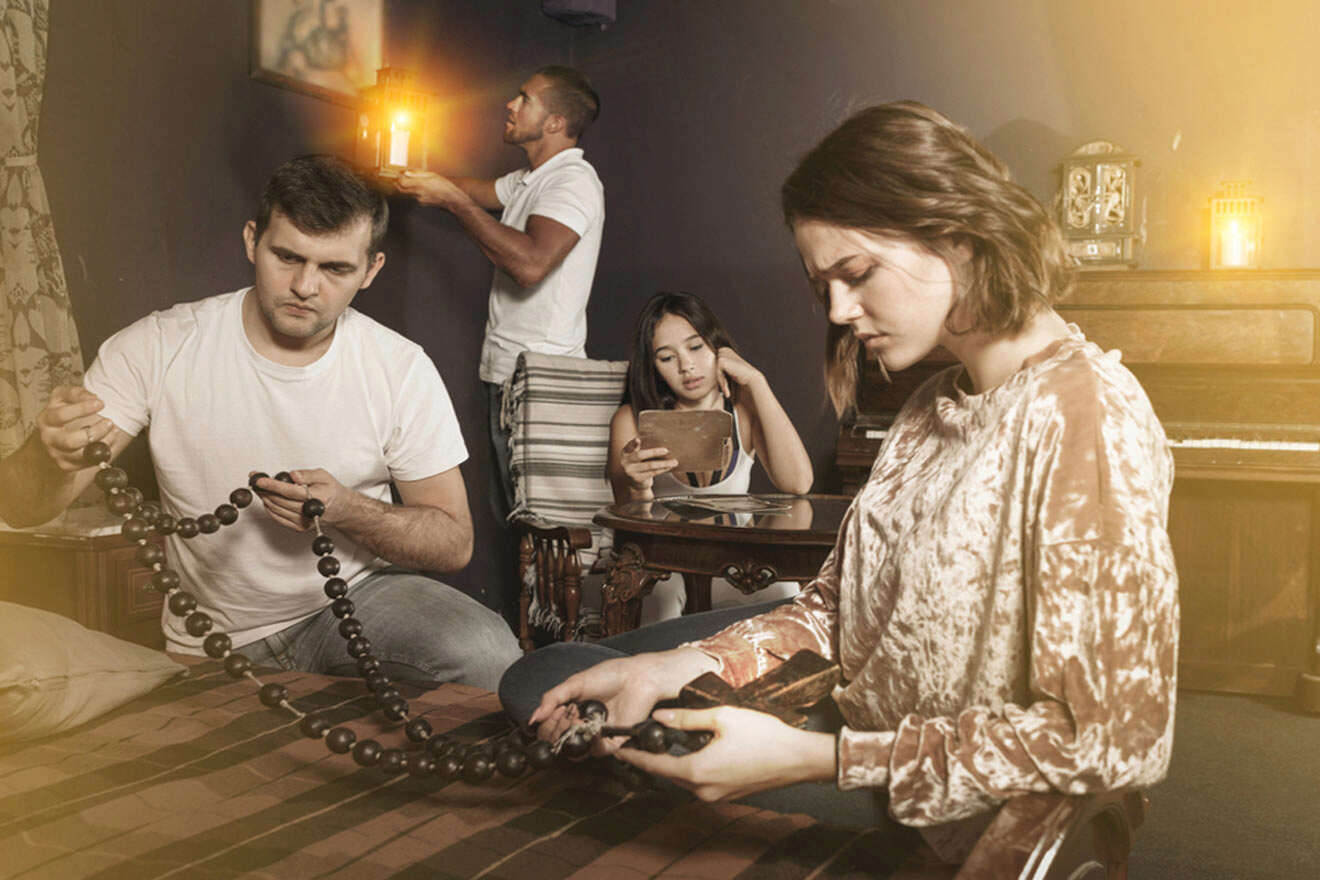 Attention all adventurers! The Titanic is sinking, and it's up to you to find the hidden lifeboat and escape to safety. Do you have what it takes to beat the thrilling Titanic-themed escape room?
Join Palm Springs' largest escape room for an unforgettable night out with friends or family. Take part in Titanic escape room's captivating storylines and plot twists, solving puzzles and making your escape together. The tour lasts approximately 1 hour.
And with a private escape room for your small group, you'll have all the space you need to strategize and collaborate.
Looking for different kinds of escape rooms? You can challenge yourself to a daring bank robbery with this escape room tour! With regular game slots available throughout the day, you can play at a time that suits you best. You'll have a blast with an immersive, private experience, so it's perfect for groups, bachelor parties, and corporate events.
22. Join a hiking tour with Nubian goats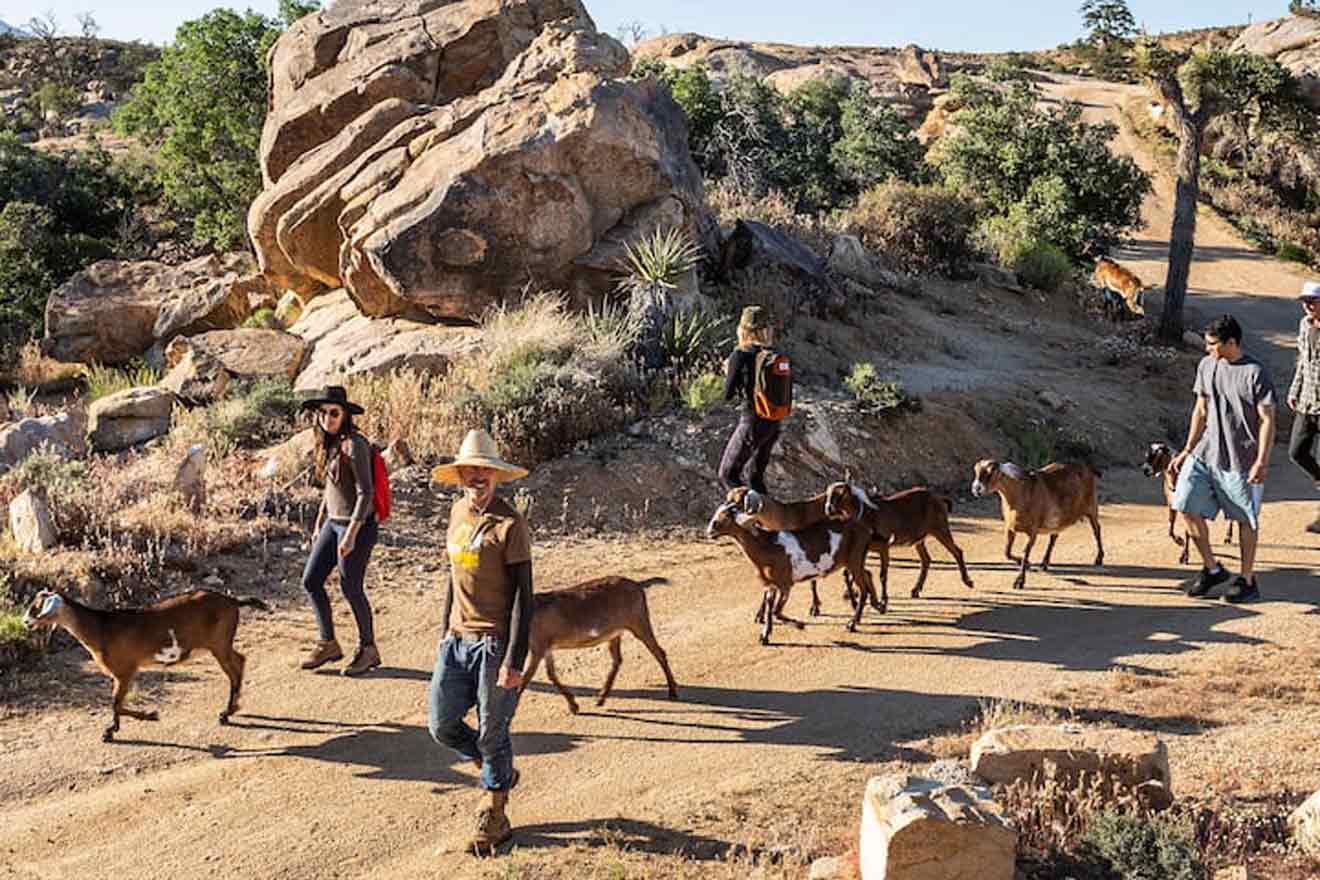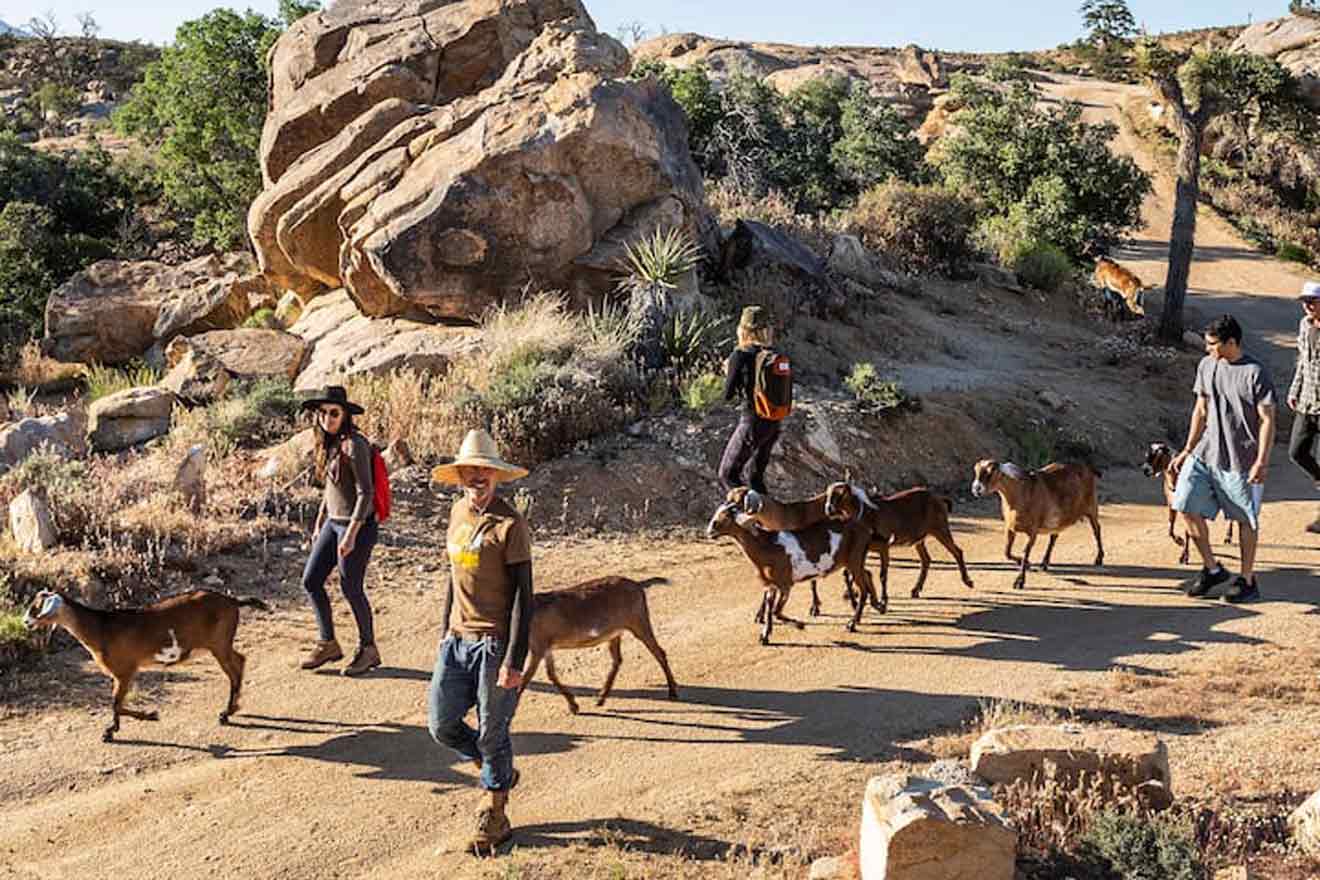 If you wish to experience the captivating Mojave High Desert, I have just the perfect tour for you! How about hiking with a lively bunch of Nubian goats by your side? Sounds awesome!
Your tour will start with meeting 15 fuzzy, affectionate goat pals in their pens. After the gate swings open, goats will lead you through the desert views. As you follow these adorable goats on this 2.5-hour hike, you'll pass through many fascinating hidden gems in which you can relax from the busy schedule and life, all whilst you observe daily life and friendships between different species in the desert.
You'll walk at a leisurely pace, covering around 3 miles (5 km) before returning with the goats after sunset.
One thing to keep in mind, though, the last 5 miles (8 km) of roads leading to the farm have no phone reception, and I recommend wearing long pants and sturdy shoes for hiking.
23. Get some team building archery fun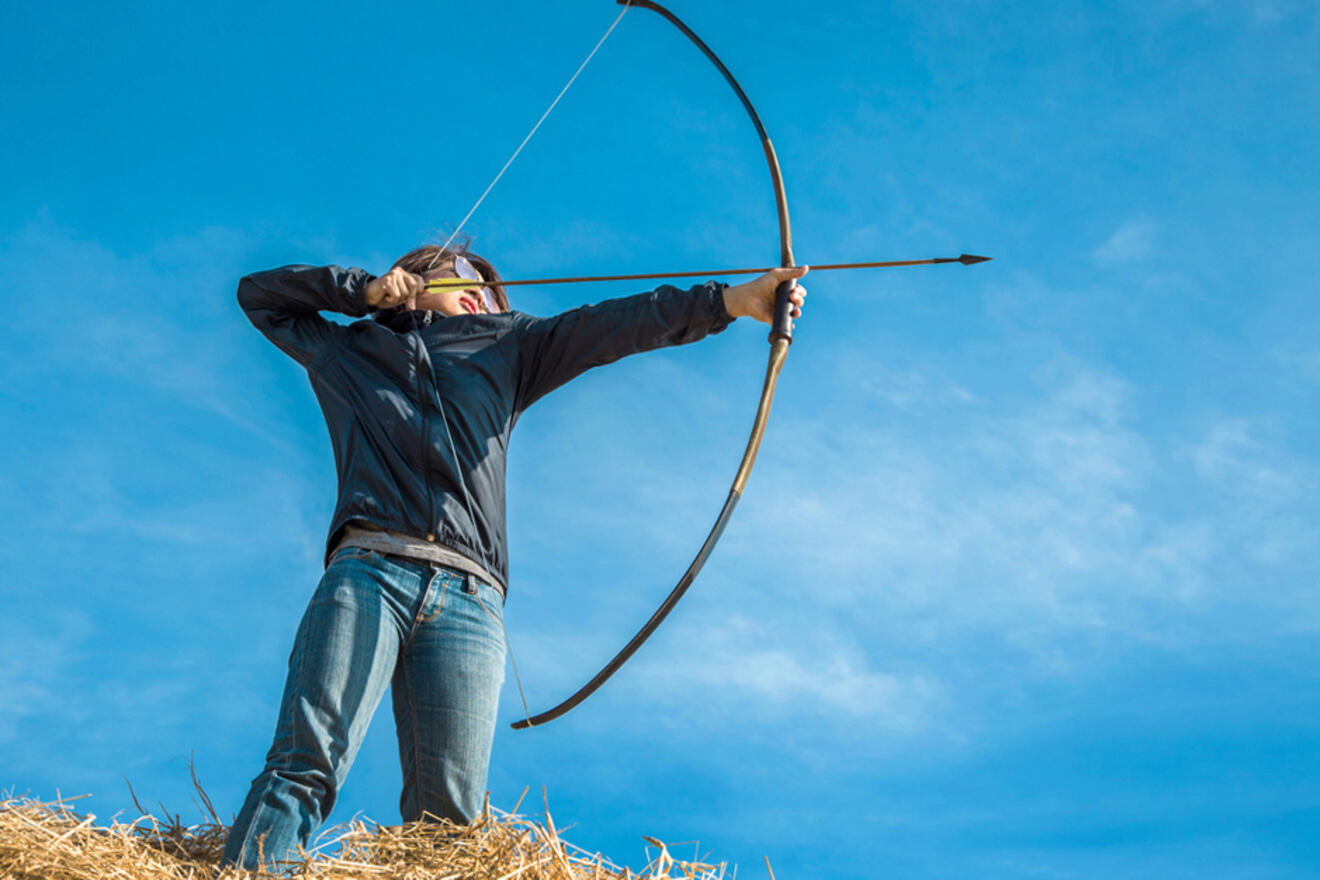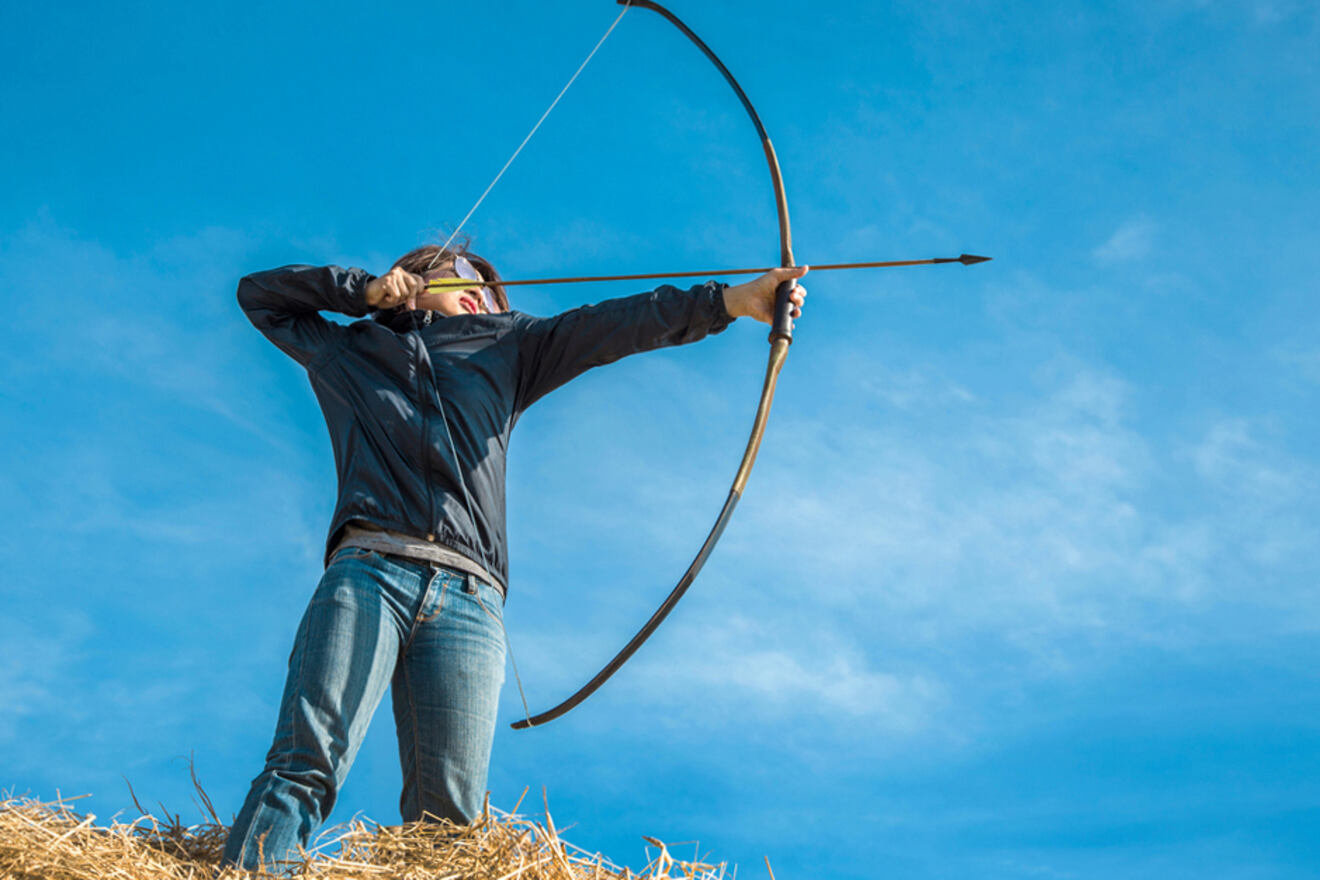 Are you looking for a fun activity you could do with your friends, family or coworkers? Well, I have just the thing for you! 
This 1-hour archery in Coyote Dry Lake Bed is perfect for stirring some action and teambuilding. It's also private so you'll get to bond. The tour is suitable for all levels, and your guide will instruct you on the proper way to aim and shoot, then you'll be ready to start the competition. 
But don't take it for granted, as the levels get more challenging as you win them. 
24. Saddle up for wagon rides and BBQ delights
Embark on a wild 3-hour eco-adventure in the Sonoran Desert, pioneer-style! Hop aboard a mule-drawn covered wagon and ride through a stunning oasis preserve exclusively accessible to these wagons. You'll explore rugged canyon landscapes, palm oases, and local flora and fauna with an onboard naturalist guide and wagon master driver.
You'll also have the option to take a guided nature walk and learn even more about the fascinating wildlife and geological wonders of this ancient desert wilderness created by the mighty San Andreas Fault.
As the day winds down, watch the stunning desert sunset over the San Jacinto Mountains from the best view in the Coachella Valley. Then, continue the evening with games like horseshoes, roping, and cornhole, and enjoy live Western music and a barn dance. Plus, with a fantastic BBQ and dessert included, you're sure to satisfy your cravings.
25. Make memories last with a private photo session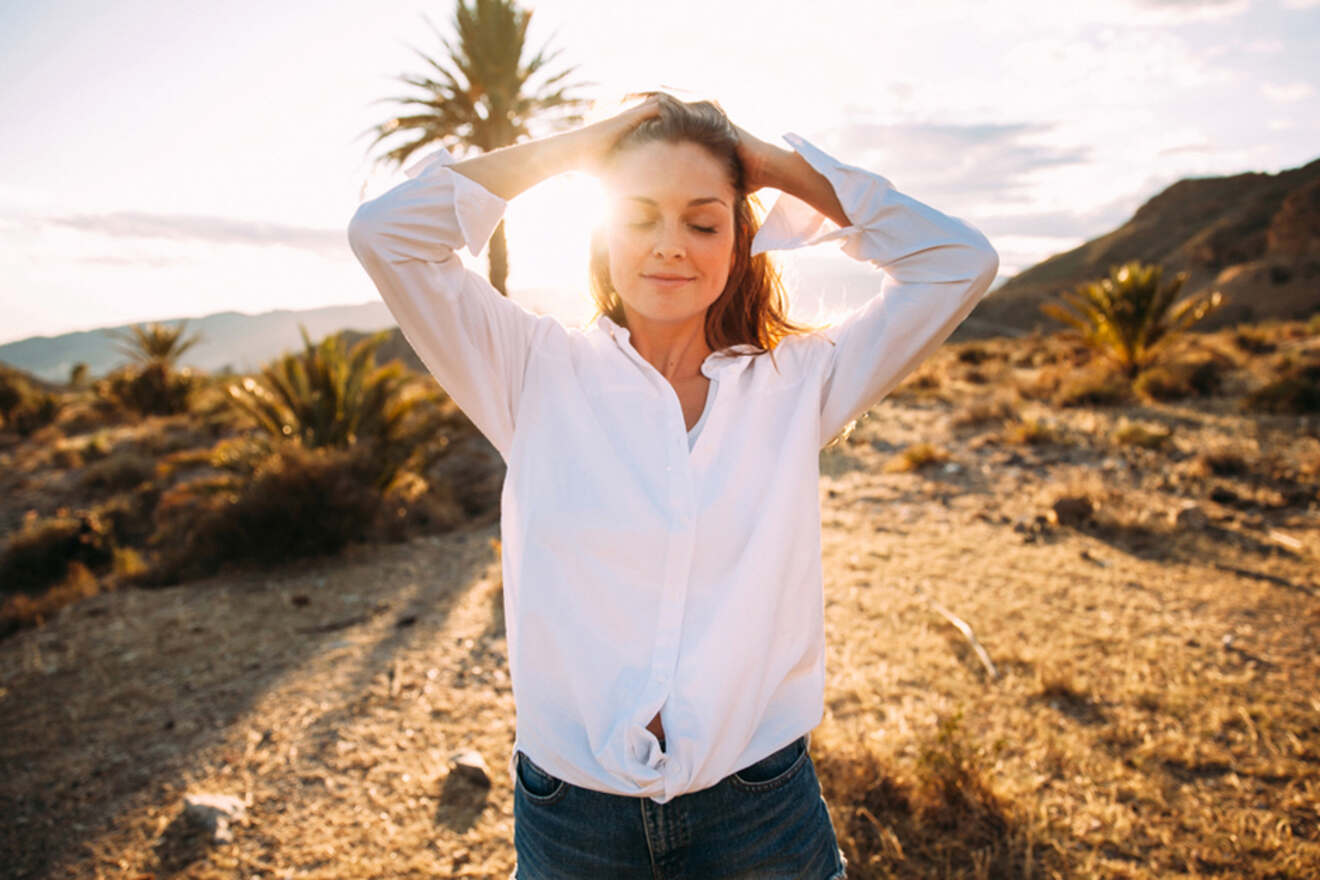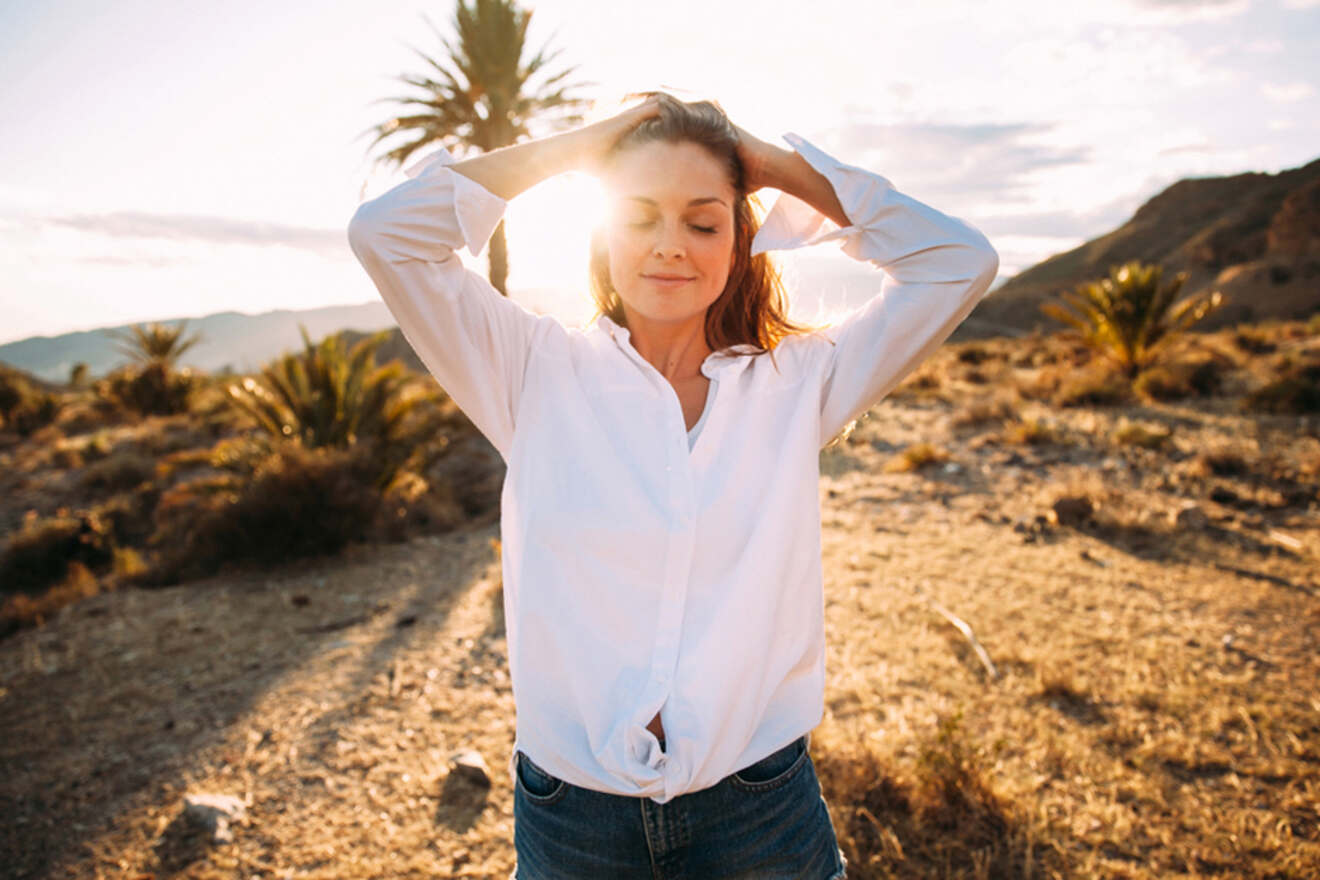 Hey, picture-perfect people! Want to capture unforgettable memories of your Palm Springs trip? Then you must take this 30 min long private photo session with a dedicated photographer. Meet up with your friendly and talented shutterbug at your desired location to kick off your personalized photo shoot.
Get ready for a laid-back and enjoyable experience, with your photographer offering expert guidance to capture both candid and posed shots that reflect your unique style and personality. Whether you're celebrating a special occasion or simply want to remember your vacation, the photographer will make sure to capture your magical moments.
You'll receive your edited photos just a few days after the shoot, so you can relive your memories anytime. Plus, you can choose your location or ask your photographer for some suggestions to make your photo shoot even more special.
Don't settle for generic vacation photos – book your private photographer!
26. Relax in luxury on a Date farm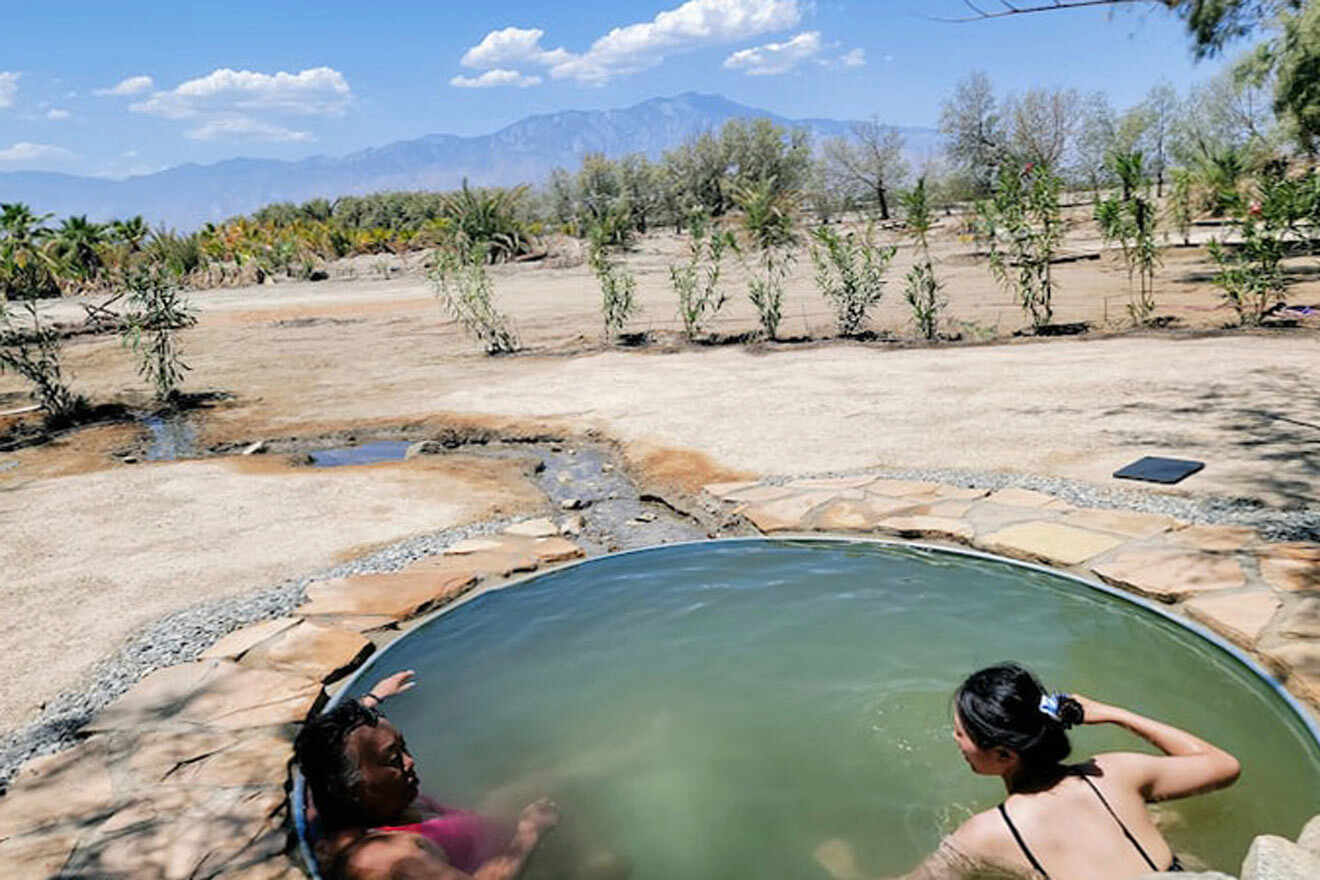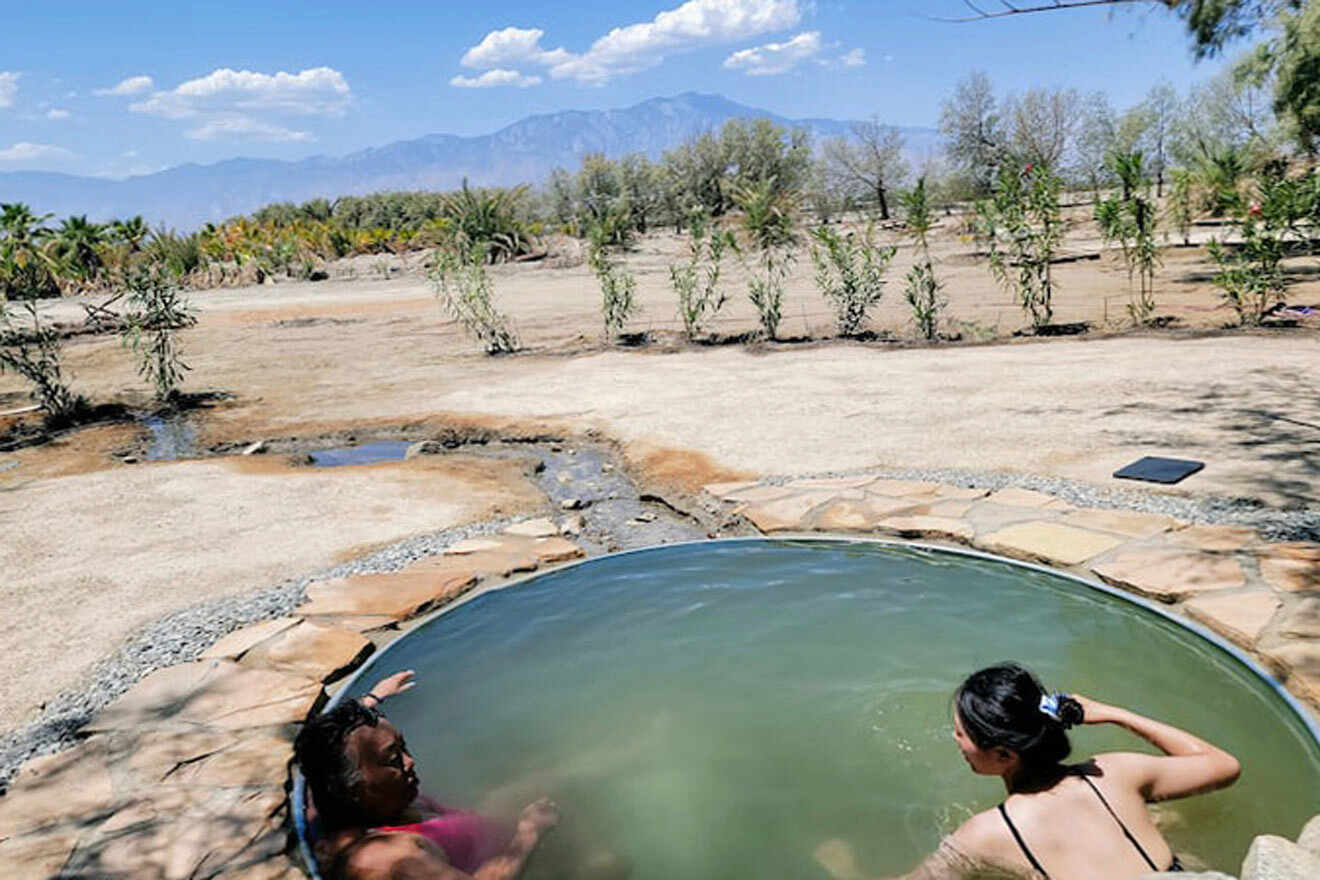 Escape to paradise at the private Palm & Date Tree Nursery, boasting over 1000 Date palm trees. Follow your guide to the thermal mineral springs hot tubs where you can lounge, soak, and float amidst stunning San Bernardino mountain views, all while indulging in delicious date fruit tastings during your 2-hour stay.
As you enter the gate, you'll be led on a path to the serene natural spring water, surrounded by breathtaking views. Within seconds, you'll arrive at your private oasis, complete with pre-filled, comfortable temperature tubs ready for you to slide in and unwind.
Let the magic of an odorless thermal spring work its wonders on your body, delivering life-giving minerals that soothe and relax. You'll have plenty of privacy to enjoy the peaceful surroundings, with hosts nearby if you need anything.
Enjoy tastings of past-season dates, tea, and surprise samples from the farm.
27. Ride like royalty on an electric trike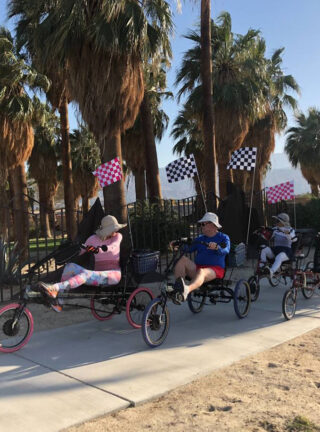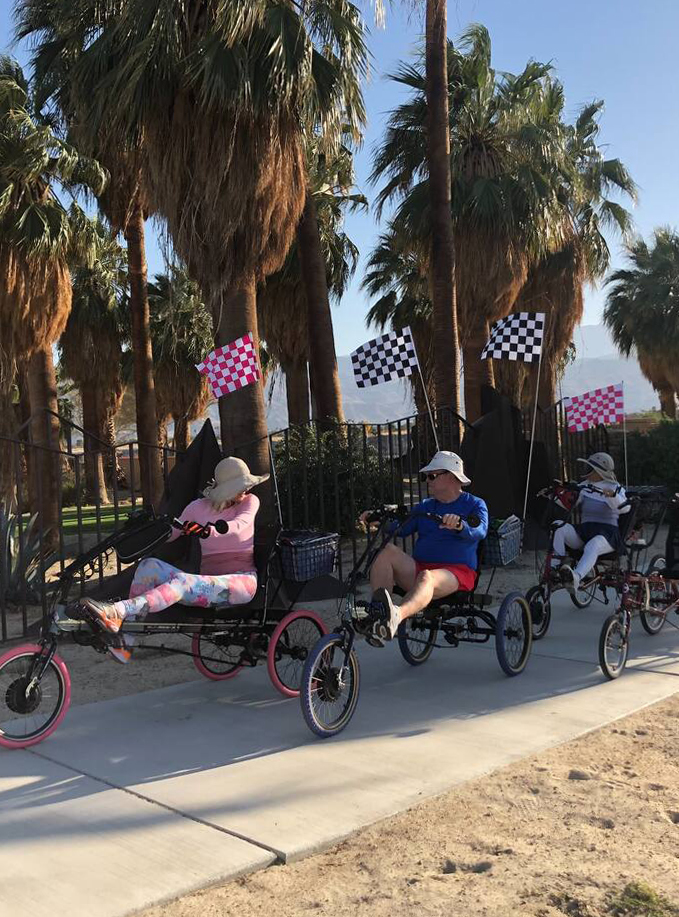 You don't need any biking experience or superhuman balance skills because this 3-hour tour is designed for everyone, regardless of their fitness level.
The tour begins in the charming town of Palm Desert, exploring picturesque neighborhoods and stunning desert landscapes. But that's just the beginning! You'll be taken on a journey through the newly constructed CV Link, where you'll spend time with exotic pink flamingos and discover the awe-inspiring Statue Garden. And if you're up for it, you can explore the trendy fashion, arts, and restaurant scene along El Paseo.
And safety is the top priority – you'll be sticking to sidewalks and designated bike paths for 90% of the ride.
28. Get a glimpse of The Living Desert Zoo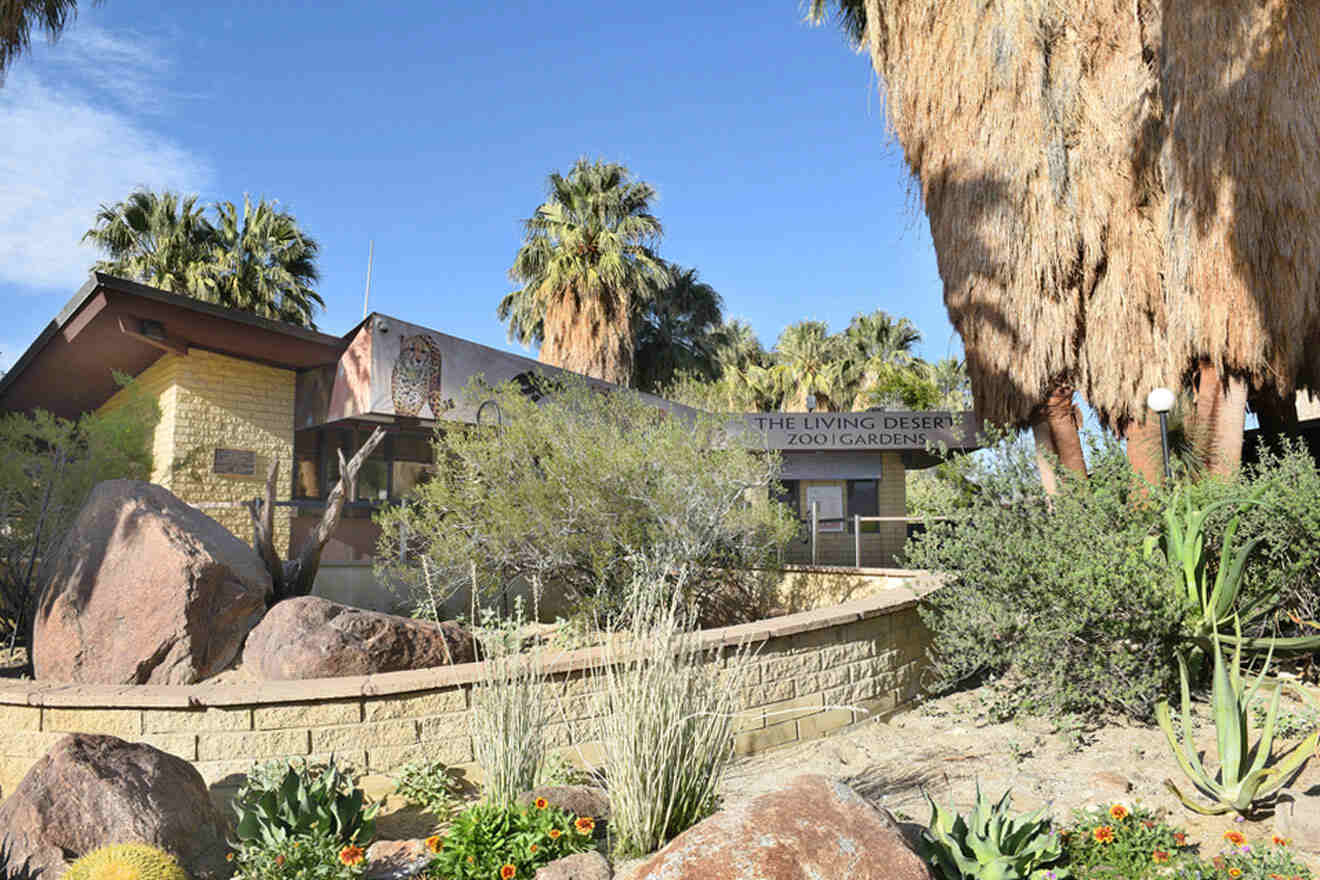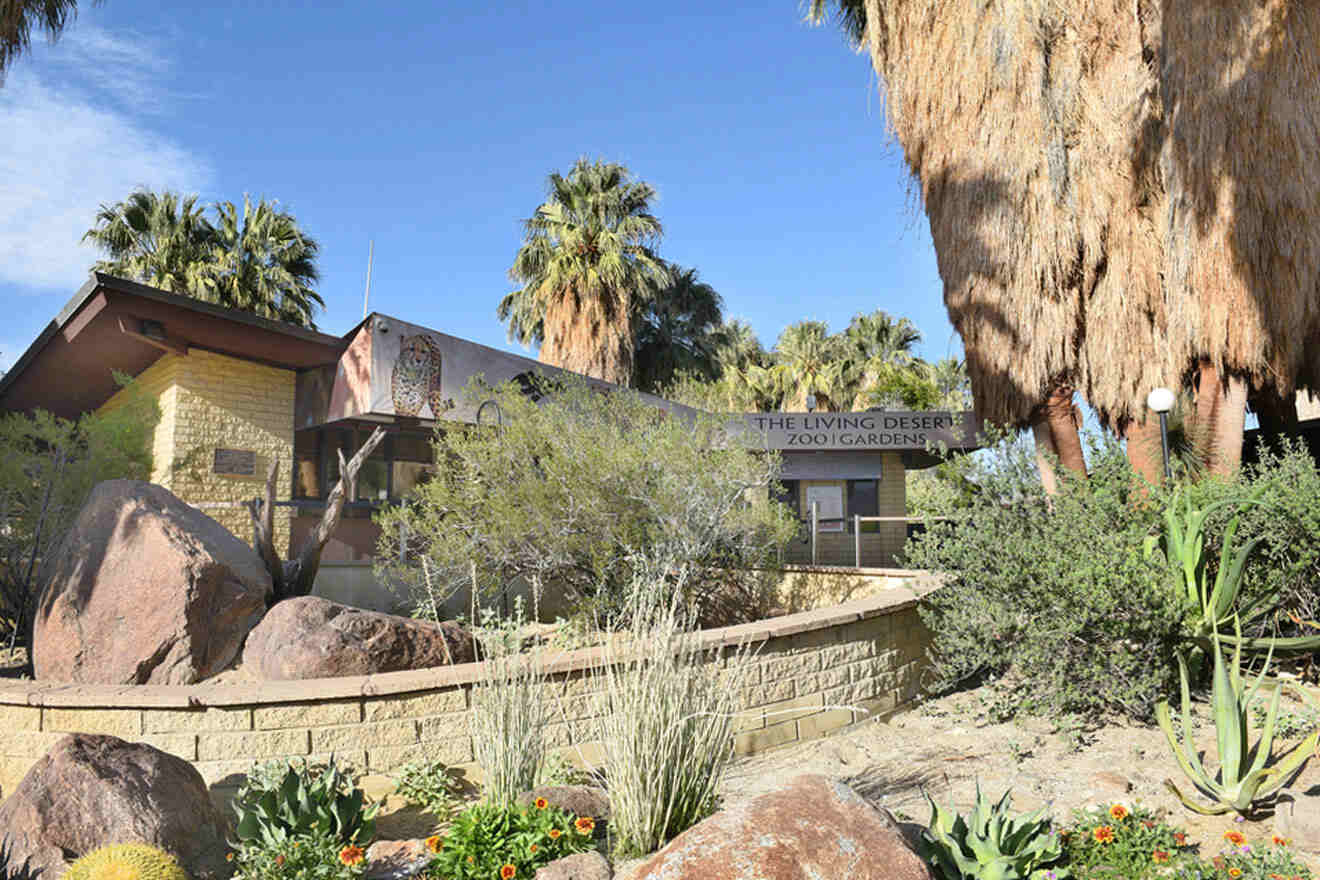 It's time to go wild with The Living Desert Zoo! Visitors can join an epic 30-minute shuttle tour that offers an exclusive behind-the-scenes look at how over 600 incredible animals are cared for.
Guests will get the inside scoop on all the animal care service areas and hear fascinating facts from expert guides about what it takes to make sure furry, feathery, and scaly friends are living their best lives. In addition to animal care, The Living Desert Zoo is dedicated to preserving and protecting natural desert environments all over the world.
As a way of making a difference, the guide will fill guests in on all the ways they can help preserve the environment. Tours are offered throughout the day, making it easy to fit into any schedule.
FAQs about Palm Springs tours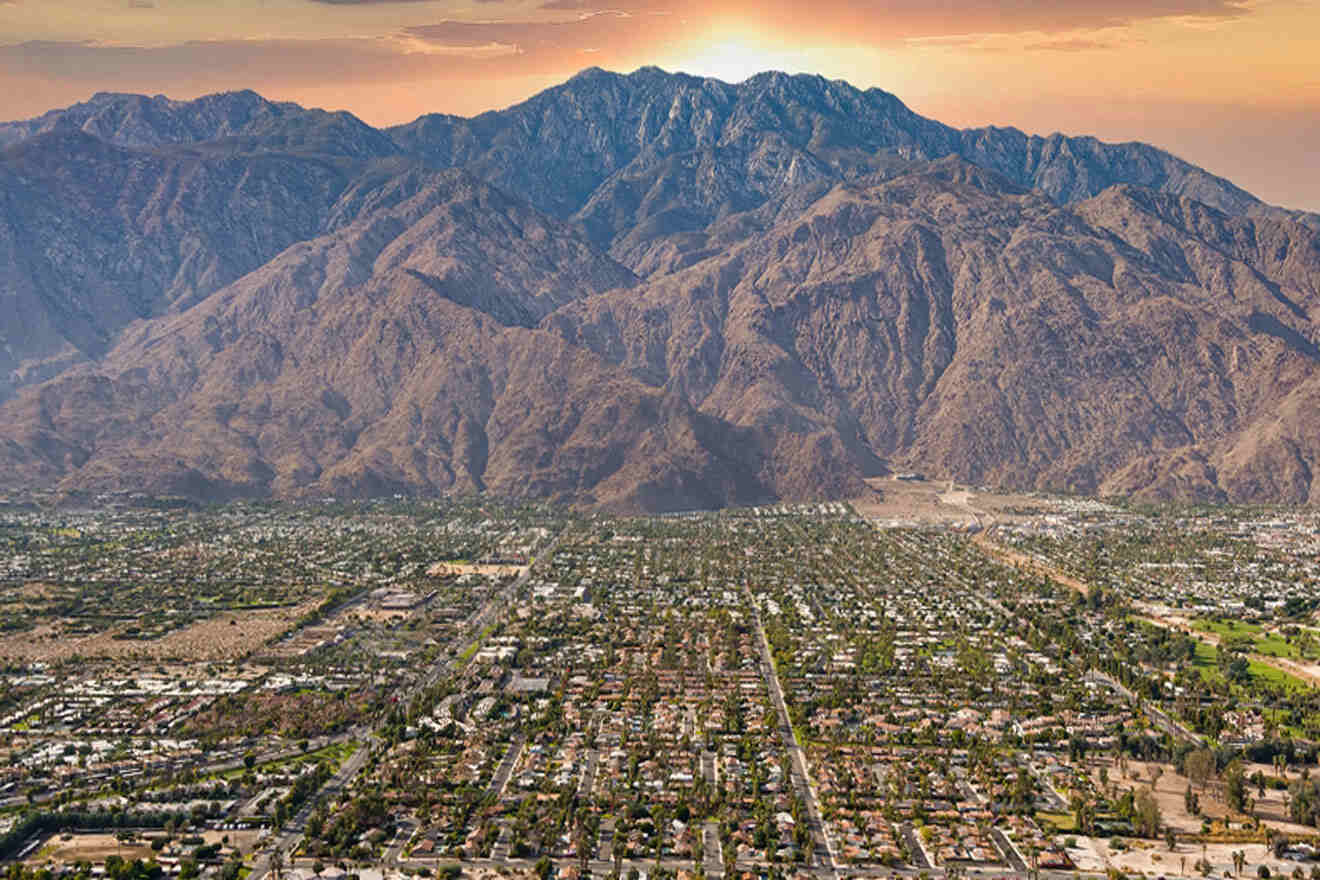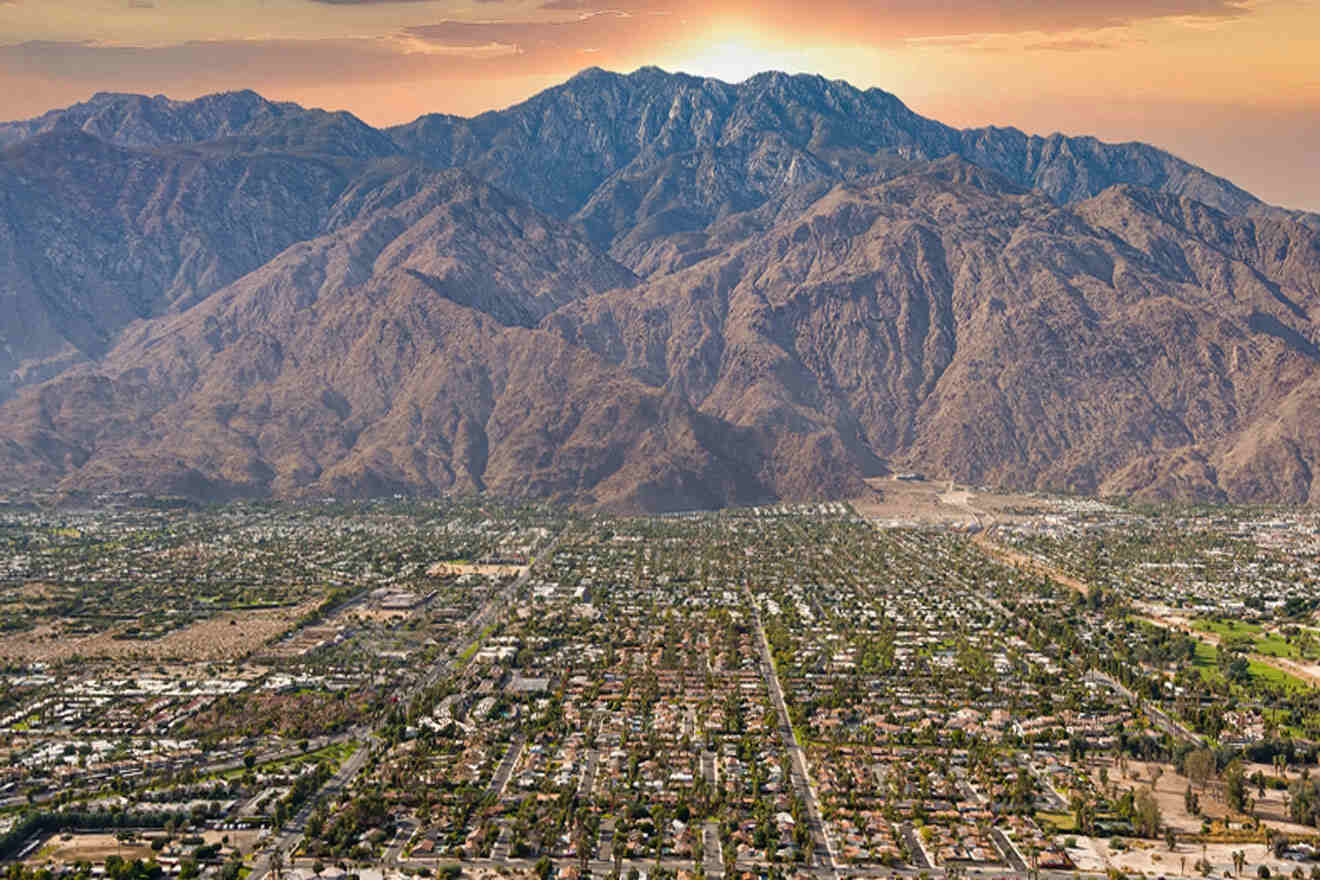 🔭 Are there night tours in Palm Springs?
Yes, there are night tours available in Palm Springs. A night stargazing tour in Joshua Tree can be a truly awe-inspiring and memorable adventure.
👨‍👩‍👧 Are Palm Springs tours suitable for children?
Many Palm Springs tours are family-friendly and suitable for children. The hiking tour and 4×4 vehicle tour are both great options for families to have a great time together.
🗣️ Are self-guided tours available in Palm Springs?
Yes, there are several self-guided tours available in Palm Springs. You can embark on a self-driving tour of Joshua Tree National Park, or you can embark on a self-guided windmills tour and learn a lot about renewable energy.
💪 How much walking or physical activity is involved in Palm Springs tours?
The level of physical activity involved in Palm Springs tours varies depending on the type of tour you choose. It's best to check with the tour company beforehand to understand the level of physical activity involved in your specific tour.
Conclusion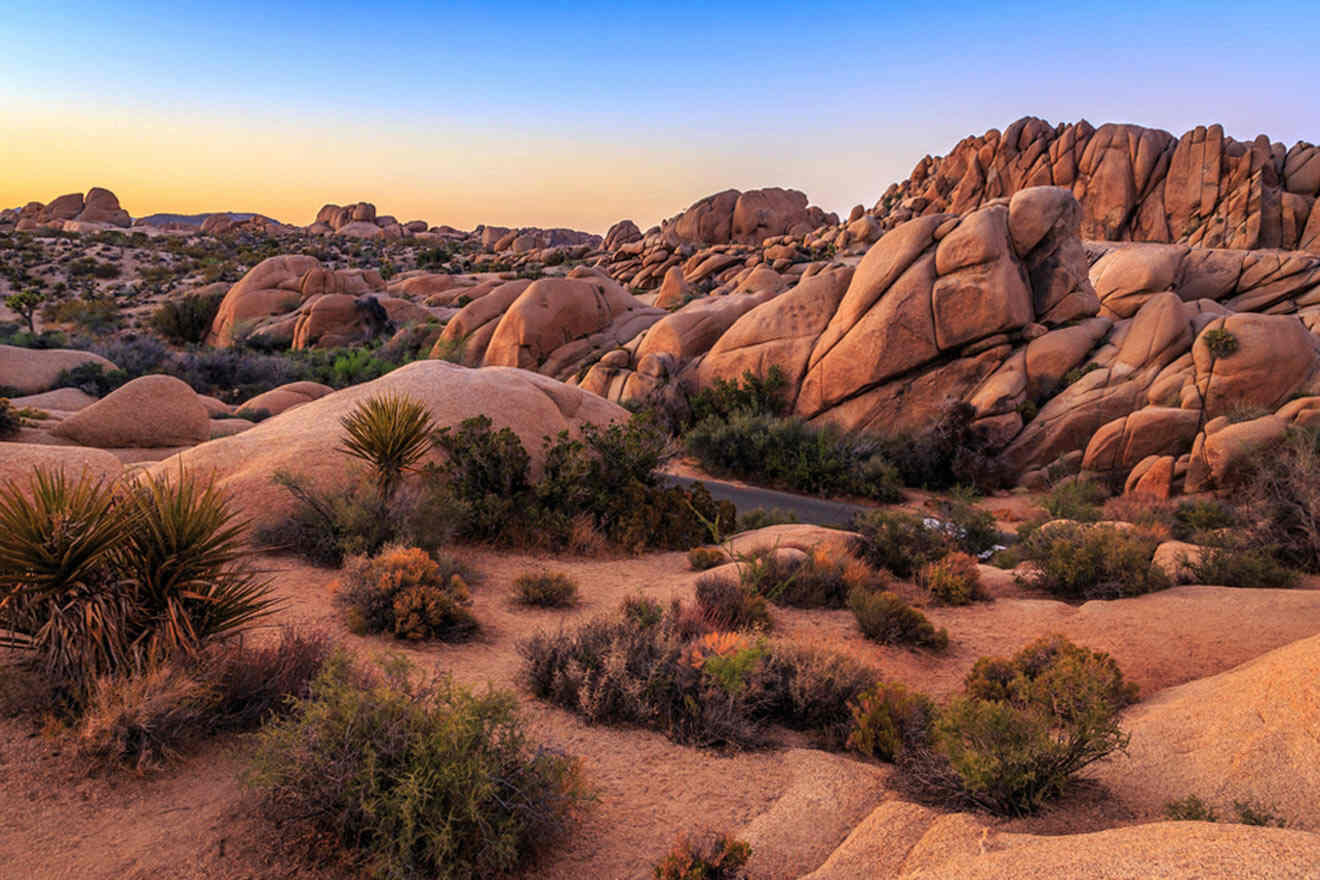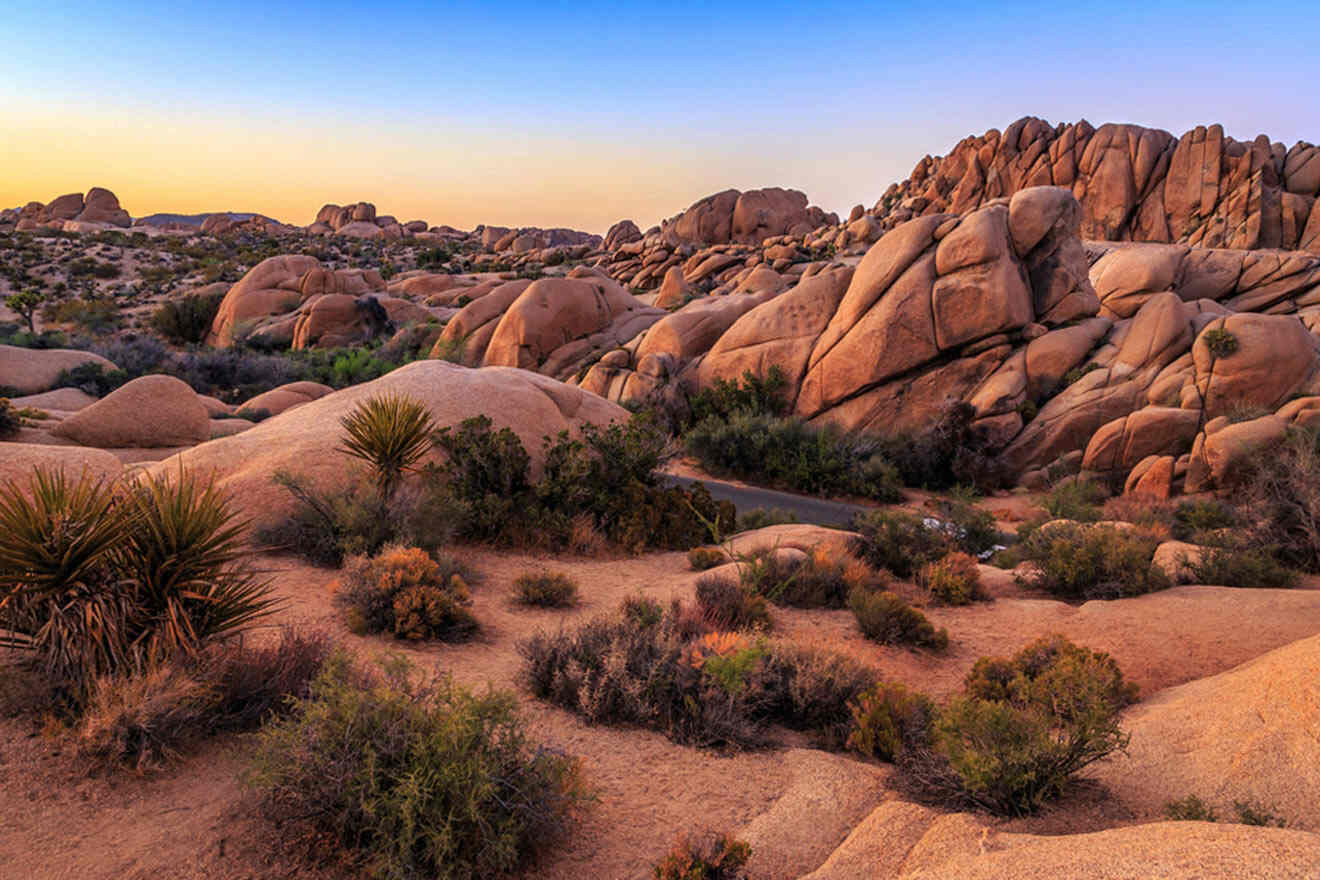 In conclusion, Palm Springs Tours offers an exciting and unforgettable adventure that is not to be missed. With a wide range of tour options available, there's something for everyone in this stunning desert oasis.
For those seeking a thrill, the jeep tours and rock climbing experiences are a must-try. Embark on an off-road journey through the rugged terrain of the nearby mountains, or challenge yourself with a heart-pumping rock climbing excursion that offers breathtaking views of the surrounding landscape.
The list doesn't end there – Palm Springs has much more to offer. Take a historical walking tour to learn about the city's rich past, or indulge in a world-class treasure hunt quest.
But before you go, remember that Palm Springs tours are incredibly popular and tend to sell out fast. So be sure to book your tour in advance to avoid disappointment and secure your spot.
And if you've already had the chance to experience one of the amazing Palm Springs tours, I would love to hear from you! Leave a comment below and share your thoughts and recommendations with fellow travelers. Your feedback can help others make the most out of their Palm Springs adventure.
Safe travels, and enjoy every moment,
Angelina
---
Pin it for later!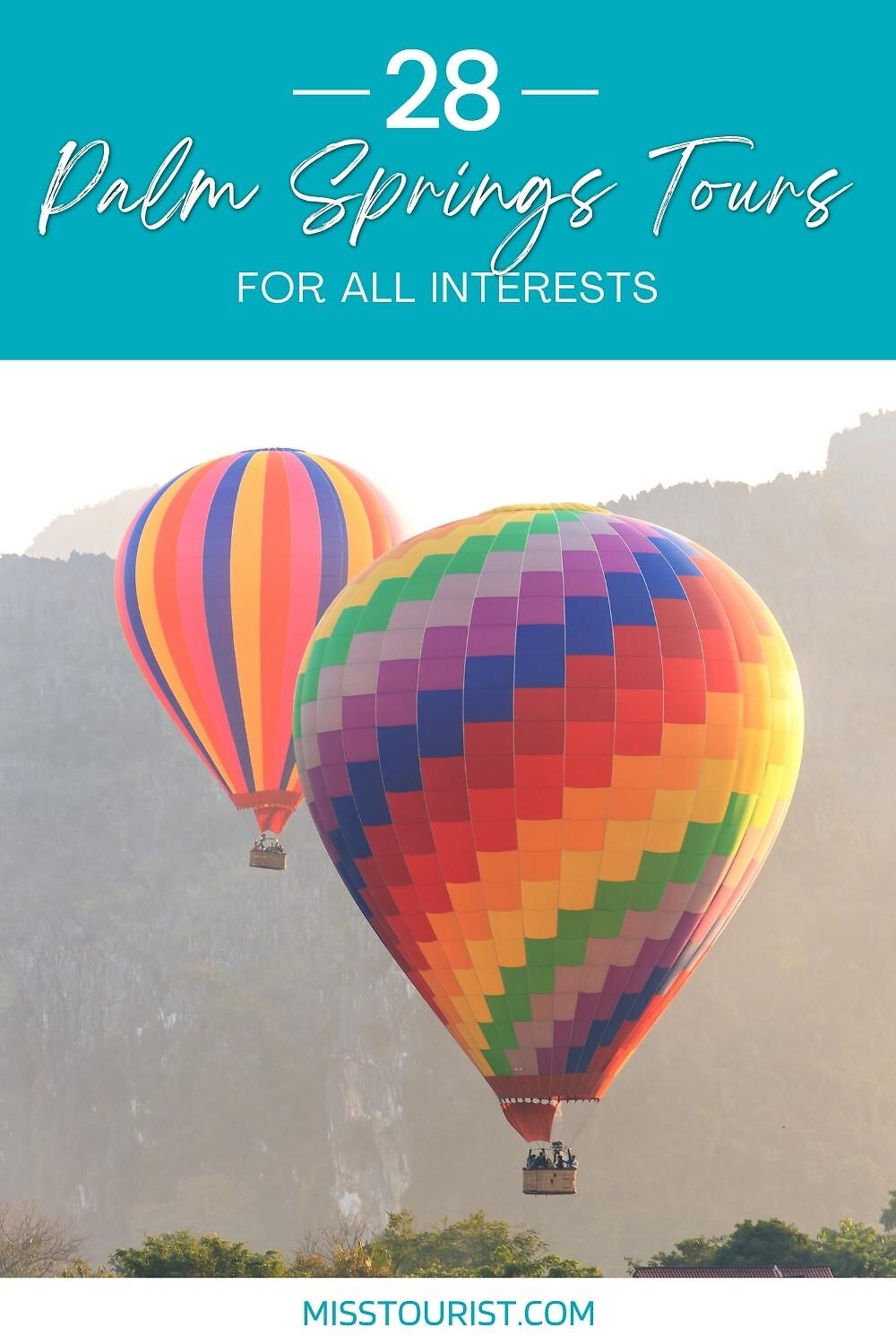 Pin it for later!