How can you access airport lounges without a business class flight ticket?
As air travel returns to, and in some cases exceeds, pre-pandemic levels, airports are getting very crowded. An exclusive poll for The Independent reveals that an increasing number of passengers appear to believe, like Jean-Paul Sartre, that "hell is other people" – and are choosing to pay for a couple of hours in a lounge before their flight.
What is the appeal of spending £30 or £40 – possibly more than the cost of your flight – for the experience? These are the key questions and answers.
How do pay-per-use lounges differ from the departure lounge?
"Departure lounge" is the generic term for the large waiting area close to the boarding gate for your flight. Airport lounges are more exclusive spaces where you typically get complimentary food and drink, more room to relax and a working zone. Some also provide an excellent view over the airfield.
For many travellers, a lounge represents sanctuary from the madding crowd, giving a sense of calm compared with the bustle outside.
In a poll on X (formerly known as Twitter), 27 per cent of the over 13,000 respondents said they paid for a lounge on their last journey through a UK airport. A further 24 per cent said they get free access to lounges.
How do 'free' lounges work?
Not all lounges are equal, and indeed the classiest are those run by airlines for their commercially important passengers (CIPs). The first was opened at what is now New York's La Guardia airport in 1939 by American Airlines. British Airways opened its first Executive Club at London Heathrow in the early 1980s. Concorde passengers were the initial beneficiaries.
You can access them by buying a business or first-class ticket, or by having the right frequent-flyer status after spending a fortune over the years with the airline – or alliance, since status is normally recognised within the Oneworld, Skyteam and Star alliances.
In many parts of the world it is not possible to buy your way into an airline lounge, but in the US I have paid about $60 (£50) to both American Airlines and United to access their lounges during long connections.
What about if I'm flying with a budget airline?
With rare exceptions – such as The Gateway at Gatwick, run by No 1 Lounges for easyJet – low-cost carriers generally don't provide pay-per-use lounges (though they will happily sell access as ancillaries). Passengers travelling on cheap tickets on "legacy" airlines such as British Airways are also unlikely to qualify unless they have achieved elite status, for example through lots of work trips on BA or its Oneworld partners.
The solution is to buy your way into a lounge. The cheapest offer in the UK I have found is £18.99 per person, based on two travelling together, at easyJet's The Gateway at Gatwick North Terminal. That is the rate for the first hour; two hours costs £22.99, and three hours £27.99 per person.
Gatwick – the biggest budget-airline airport – has five pay-per-visit lounges at North Terminal and four at South Terminal, as well as dedicated airline lounges for British Airways and Emirates.
A typical rate is £30 or £40 for two to three hours, with the 1903 Lounge at Manchester airport costing £50. You can get in no earlier than 2h30m before your flight. The promise is: "Attention to detail, sophistication and exclusivity are at the heart of what we do. Enjoy our premium food and beverages offerings, and a conscientiously crafted lounge designed to change the way you see the world." Champagne is on offer, as well as what is claimed to be the "best airfield view".
The premium Clubrooms at Gatwick North clocks in at £45. The offer here includes fast-track security (normally £7) as well as "Hosted table service, a more extensive menu of complimentary food dishes, cocktails". There are no under-12s – and a dress code that excludes tracksuits and replica sports kits. Also, it opens only 6am-2.30pm – reflecting the time when most flights leave the Sussex airport.
My flight is delayed: can I stay on in the lounge?
That depends on the policy of the lounge or, often, on how busy it is. No 1 Lounges offers "guaranteed delay cover", saying: "Stay relaxed in the lounge, right up until the time of your departure."
What are travellers saying?
Among the fans, Kathy Lewis told me: "We always pay for the comfort, calm and less noise. Nice toilets. Food and drink – as much as you want. WiFi. Considering the cost of food and drink in the departure lounge it's reasonable value."
Hannah Rostill added: "Took grandson to Crete flying from Bristol in July, first week of school holidays. I know how busy it can be at the best of times so booked a lounge. Well worth it to have a nice table waiting for you instead of wandering around trying to find a place to sit. Well worth the extra."
But Ian Naylor wrote: "UK lounges compared to the rest of the world are awful. Full of kids and people trying to stuff as much booze and cheap sausages into themselves in 120 minutes."
Shaun Sayers took up the theme: "Not sure they are all enclaves of calm anymore, Simon. Last time I was in one it was like a family fun pub with free unlimited soup."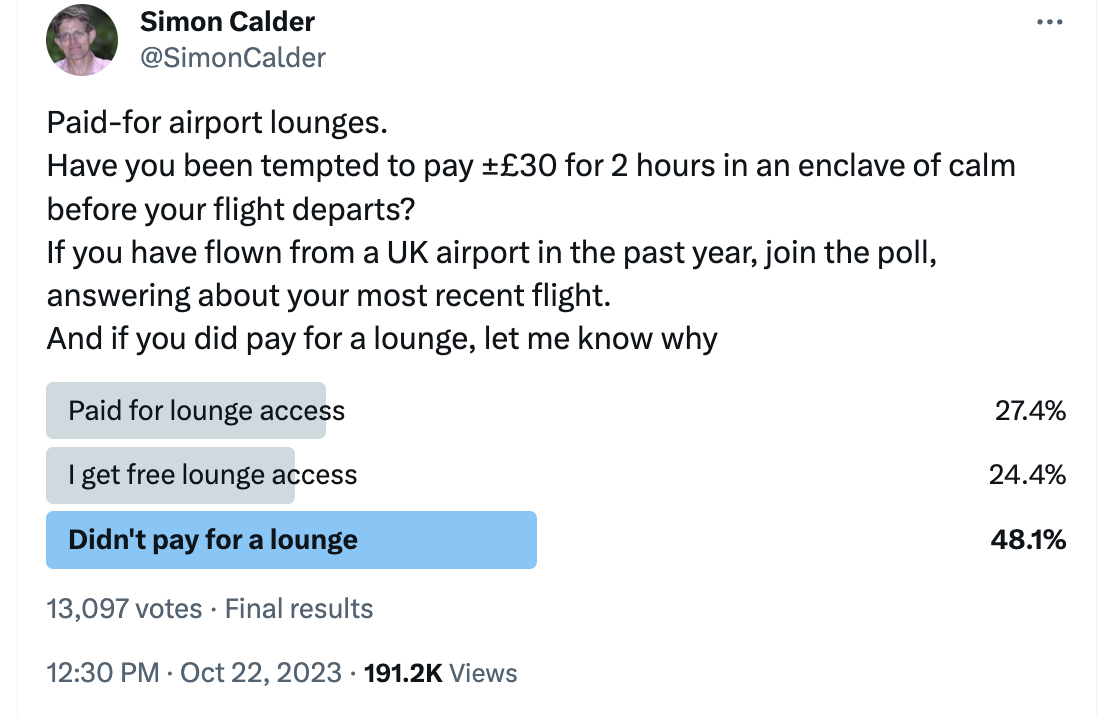 What about subscriptions for airport lounges?
I pay an annual subscription of £650 for an American Express Platinum credit card. A large part of the benefit is comprehensive worldwide travel insurance, but it also gives "Complimentary access to over 1,400 airport lounges across more than 140 countries worldwide" through the Priority Pass programme.
Mostly, this works fine. But as the lounges themselves get increasingly popular, sometimes I simply can't get in: at Toronto and Atlanta the waiting time was so long I would have missed my flight.
Buying direct from Priority Pass, there are three categories of membership:
Standard: Down payment of £69, which allows the member and a guest admission on payment of a further £24 per person.
Standard Plus: £229 buys 10 lounge visits, with additional member and all guests visits at £24 a time.
Prestige: £419 for any number of visits; guests cost an additional £24 per visit.
What alternatives are there if you don't want to invest in access to a lounge?
I am fond of Wetherspoons, whether airside (after security) with a good airfield view at Stansted, or landside (but close to the departure lanes) at Gatwick South. Tea or coffee with unlimited refills costs £3.25.
Chris Dunn says: "I like being in the throng of the main airport. Dublin airport is mint, I could sit with my pint of Guinness at the gate." This does not apply to Ryanair gates, in my experience.
Day rooms at airport hotels provide another possibility. The DayUse site sells a stay at the Delta by Marriott close to Edinburgh airport for £61 for two, including pool access.
At some airports – Madeira in particular – the view from the outdoor terrace is so spectacular that it would be ridiculous to be inside.
What about arrival lounges?
They are almost exclusively for CIPs on long-haul airlines. A day room at an airport hotel is the alternative; Ibis Styles at Birmingham airport costs £55 for two.
What's the best and worst lounge you have experienced?
Worst: I am not a huge advocate of alcohol-free lounges, and the one at Antalya airport in southern Turkey was particularly joyless. At Berlin's shiny new airport, I was told that my card didn't work for the proper lounge, but I could use a QR code to get a beer and a sandwich (both of which, to be fair, were excellent) from the airport cafe.
Best: Until British Airways wisely kicked me out of Silver membership of the Executive Club because I wasn't spending enough on flights, I really enjoyed BA's Heathrow Terminal 5 lounges: an excellent selection of food and drink and good working areas. But the very best was Japan Airlines at Haneda airport in Tokyo, a blissfully calm space with great showers and unlimited sushi.
But rather than taking my word for it, let's hear from the experts instead. Rhys Jones of the website headforpoints.com sets out his advice when the price of a ticket is not a problem: "In the UK we have a very high density of lounges and nowhere is this more true than at Heathrow Terminal 3.
"My personal favourite is Cathay Pacific's First Class Lounge which has spectacular views across the airport and features an intimate dining room serving Asian and Western favourites.
"If you're on the hunt for the best coffee, try the Qantas lounge, whilst Virgin Atlantic's Clubhouse remains the best business-class lounge in the UK.
"My all-time favourite lounge in the world has to be Cathay Pacific's The Pier First Class Lounge in Hong Kong. This beautiful facility ticks all the boxes, from fantastic a la carte dining to beautiful showers, relaxing spa treatments and stunning design."
Head for Points has a comprehensive collection of reviews of UK lounges.
News & Advice,Travel, #access #airport #lounges #business #class #flight #ticket,