Florida East Coast Beaches ✔️ 15 Beautiful Places to Visit!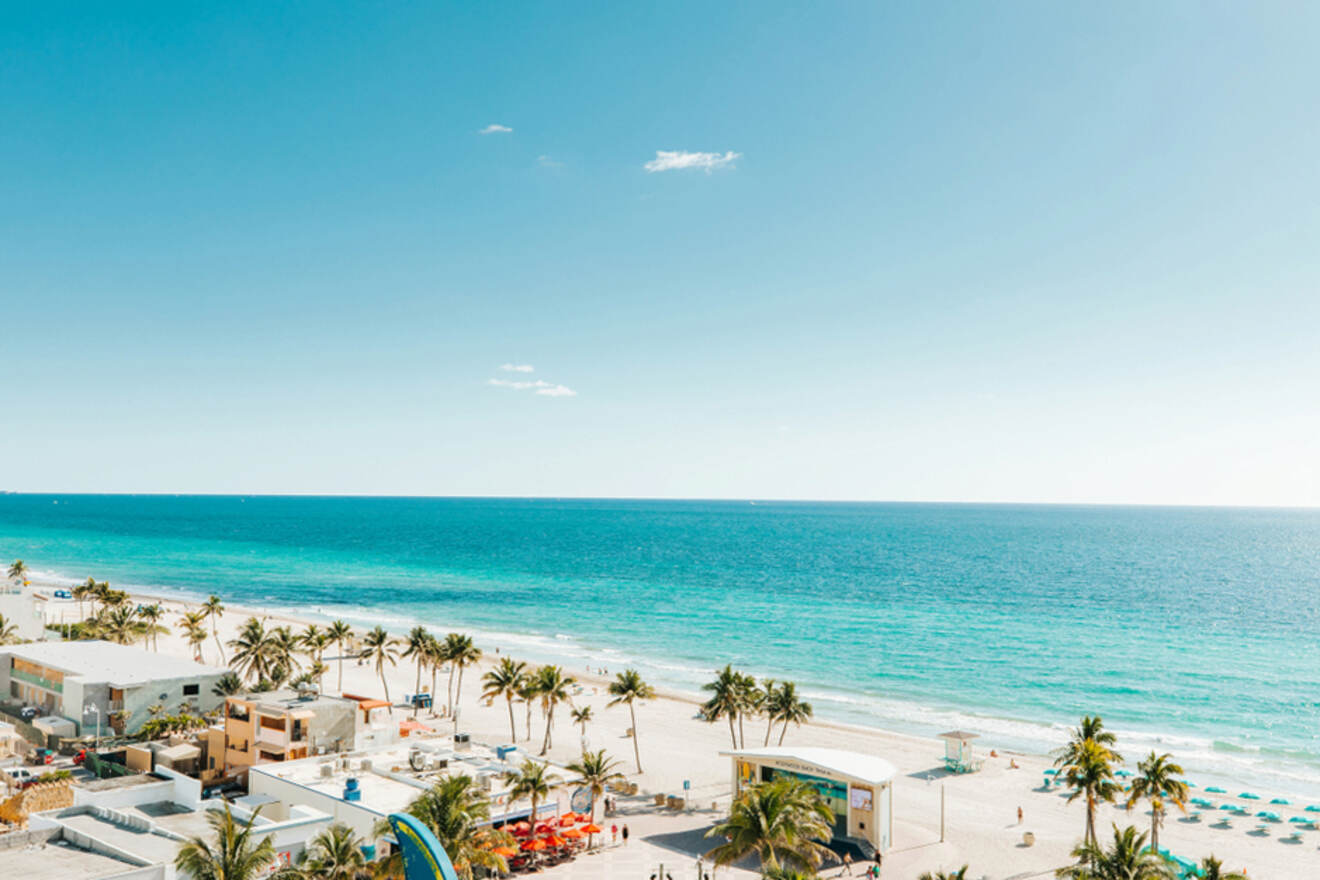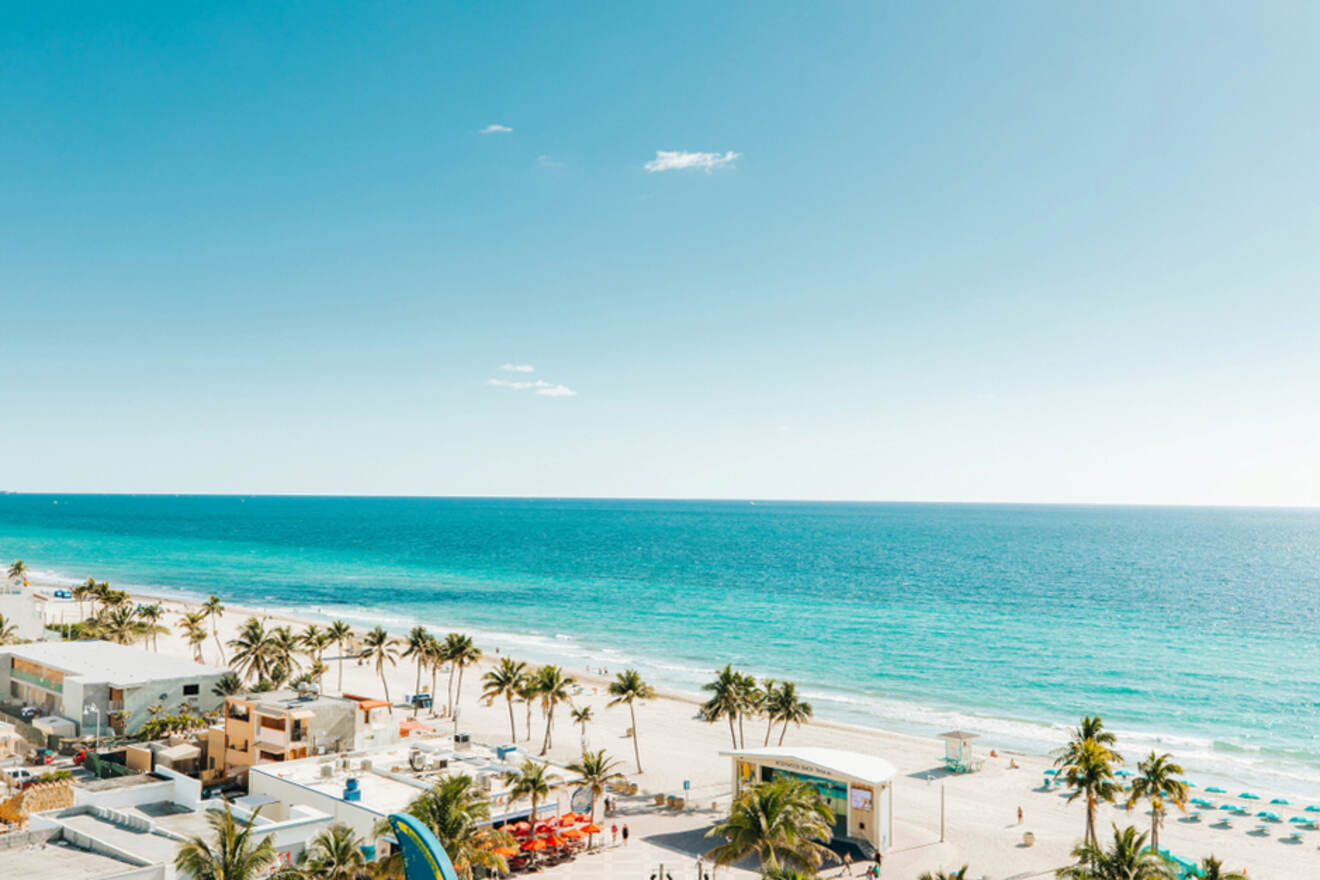 Florida's Atlantic Coast has some incredible beaches with crashing waves, abundant nature, and white sands.
While the West Coast is known for calm, shallow waters, the East Coast is more popular for surfing and playing in the waves!
However, I have had the pleasure of experiencing an East Coast beach that was as calm as a lake with not a wave in sight. It was truly magical!
Most people know about the world-famous East Coast beaches such as Daytona, Cocoa Beach, South Beach, and Miami Beach. However, there are quite a few hidden beach gems in between that are worth checking out!
In this article, as an East Coast Florida dweller and enthusiastic local, I am going to give you the inside scoop on all the best Florida East Coast Beaches!
1. Check out Miami Beach & South Beach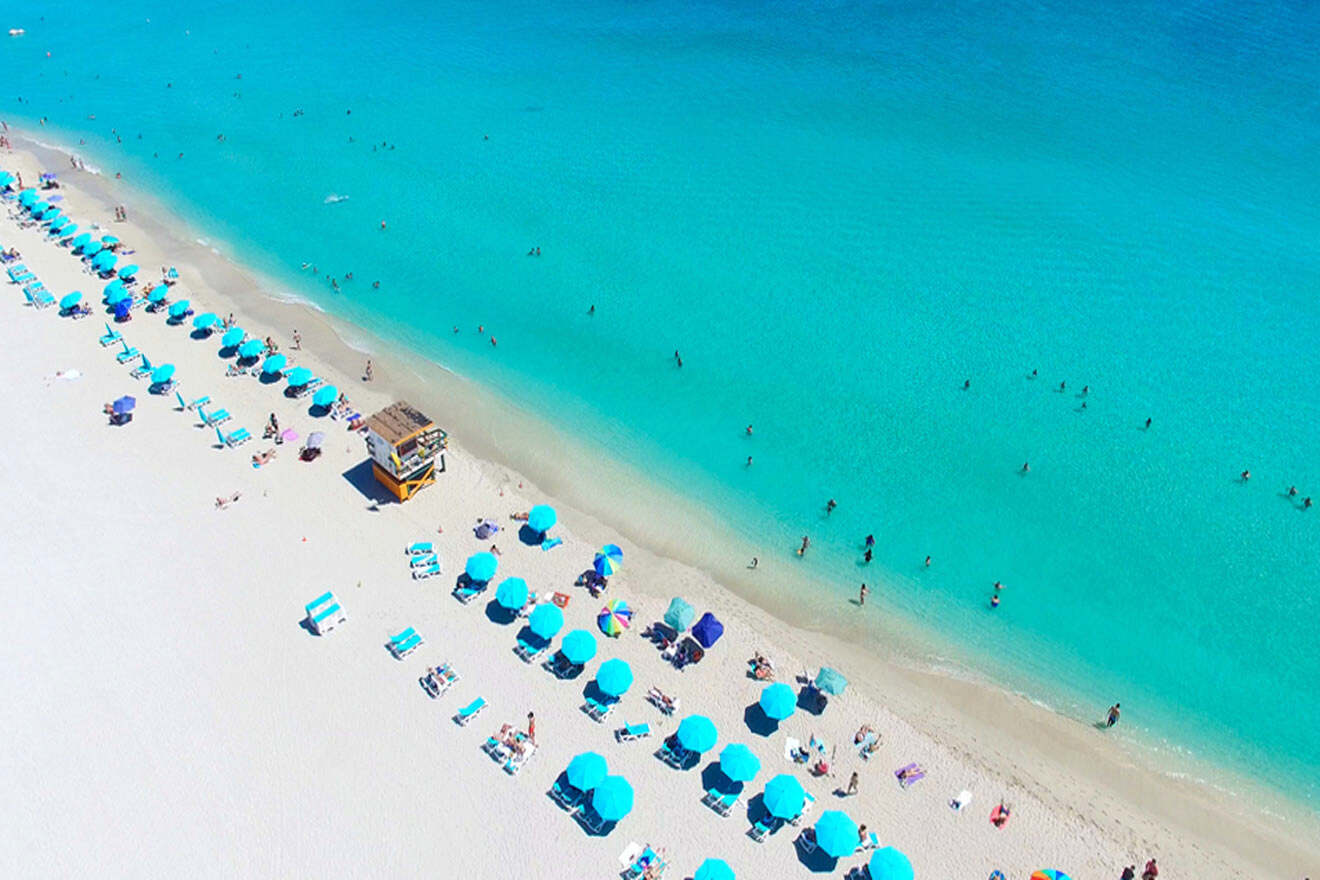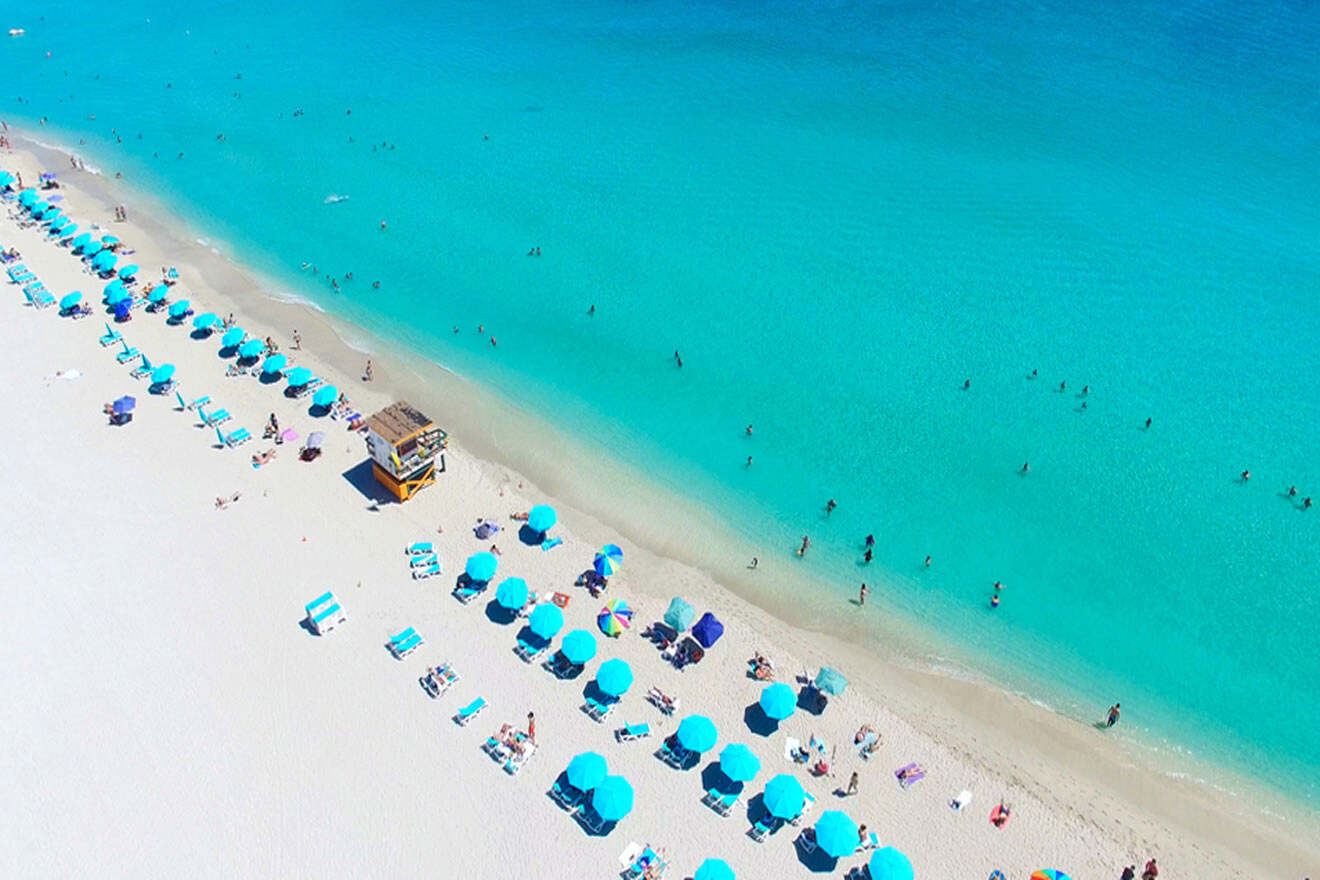 You can't talk about Florida's East Coast Beaches without talking about Miami Beach and South Beach!
Anytime you see Florida portrayed in a movie or show, especially in Miami, it almost always takes place in Miami Beach or South Beach.
South Beach and Miami Beach have all the undeniable Florida hallmarks with gorgeous beaches, powdery white sand, palm trees galore, and a lively tropical vibe.
The feel of Miami Beach and South Beach is unlike anywhere else in the US. Thanks to the influence of its Caribbean neighbors to the south, Cuba, and other Caribbean islands, there is an undoubtedly tropical and infectious vibe that is so much fun to experience.
Locals call South Beach SoBe. South Beach has that quintessential Miami vice vibe as it was the first part of Miami Beach to be developed. The turquoise waters and gorgeous white sands are now surrounded by beautiful art deco buildings that preserve this city's history in an unmistakably charming way.
Known as the Magic City, many people claim that South Beach glitters, both literally and energetically.
Grab a fresh coconut and sip it while soaking up the sun, hearing the waves crash on the shimmering sand, and enjoying the perfect South Beach beach day.
Also, SoBe is THE spot for nightlife, so after spending the day in the sun, hit the streets, grab some yummy drinks, and dance the night away!
2. Explore Cocoa Beach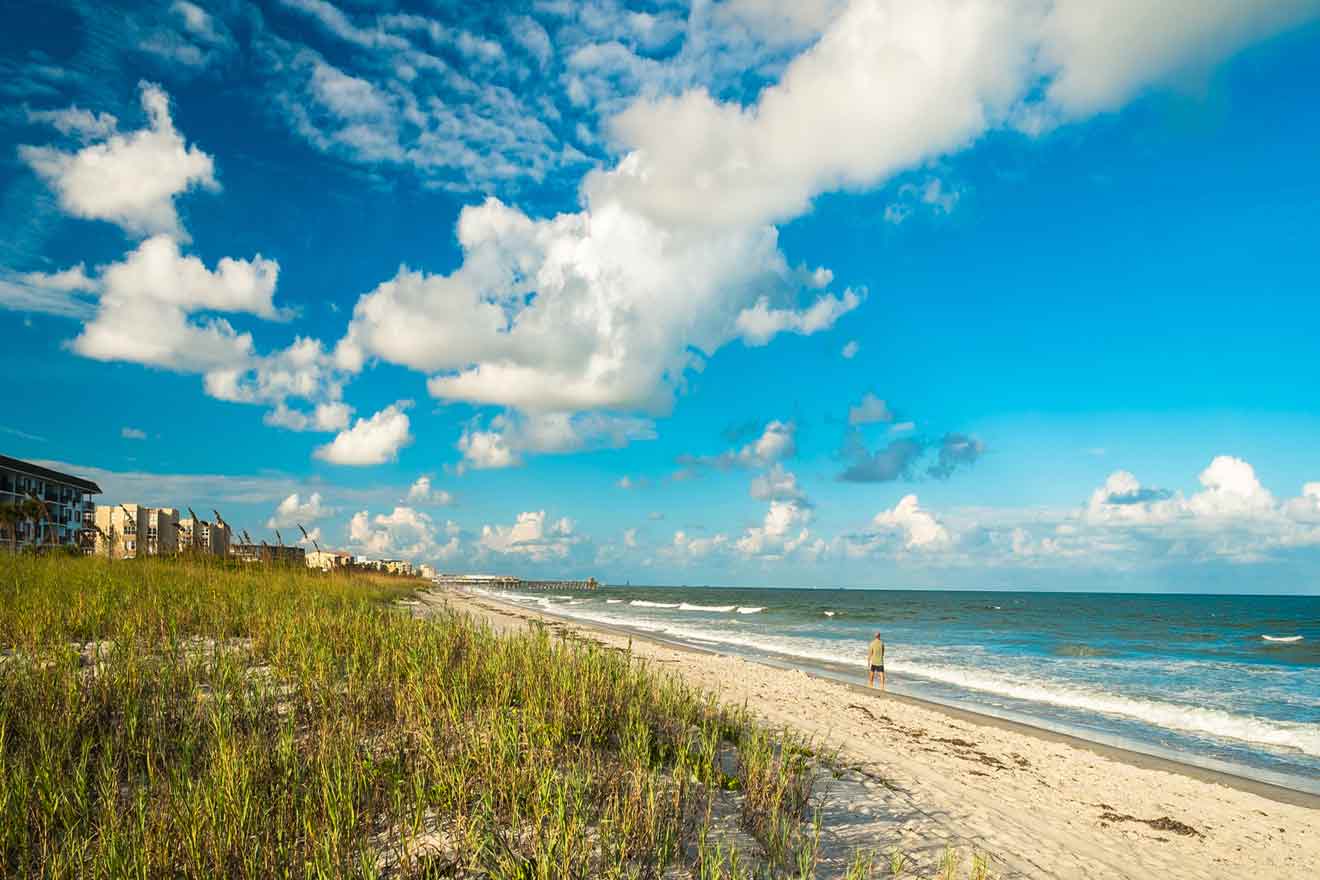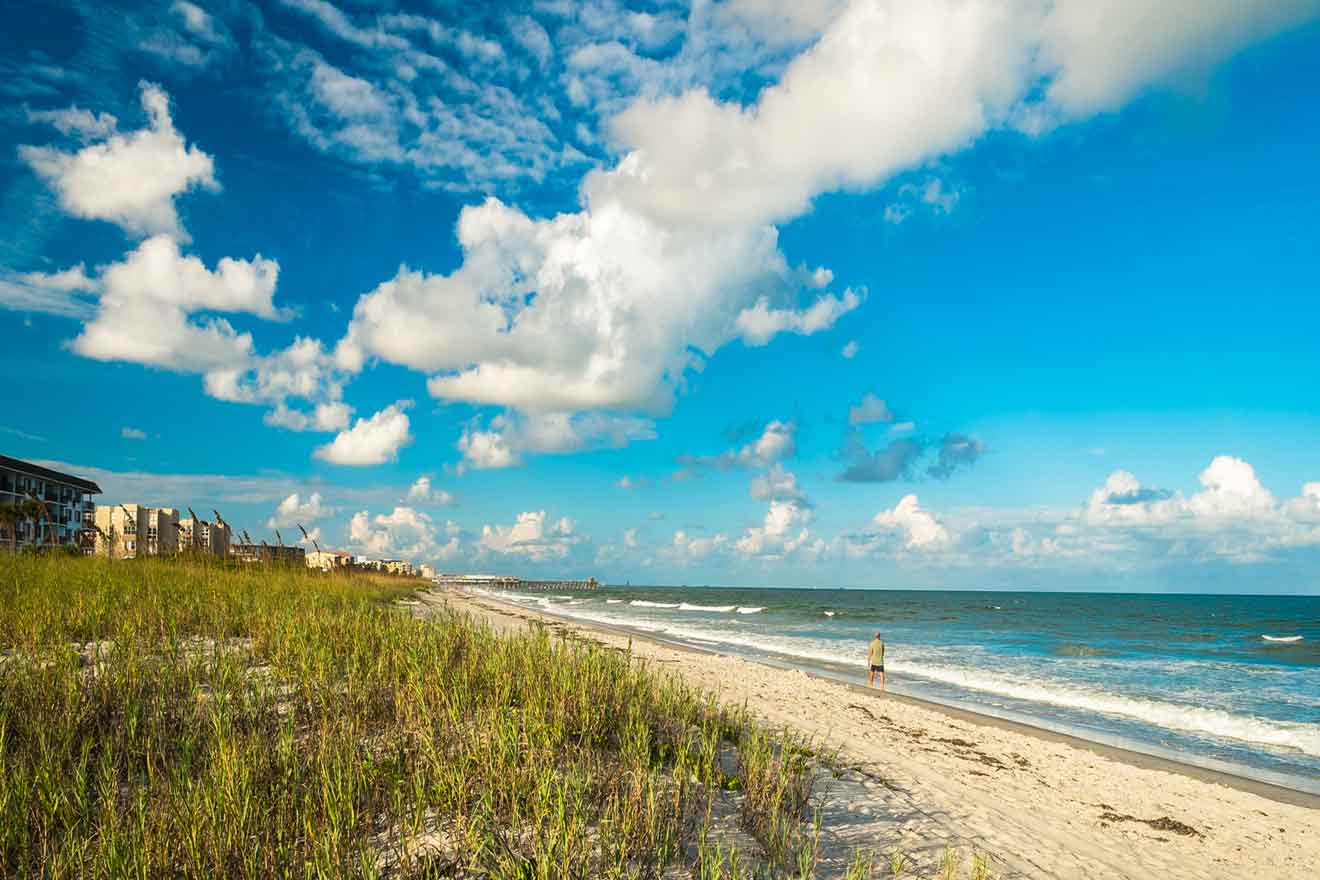 When it comes to Florida's East Coast beaches, Cocoa Beach is a living legend. Cocoa Beach also happens to be the closest beach to Orlando, so it's a popular beach enjoyed by Central Floridians.
Famously home to the 11-times World Surf League #1 Pro, Kelly Slater, and the world's largest surf shop, the Ron Jon Surf Shop, Cocoa Beach has a few claims to fame.
Cocoa Beach is also excellent for beginner surfers as the waves don't get too big here. This beach also has a lot to offer people not into surfing, with a beautiful historical pier and tons of fun beach activities!
Providing an excellent change of pace from the busy theme parks, Cocoa Beach is a great place to unwind in the sun and get some R&R.
The wide beach and pier provide excellent options for fishing and sunset gazing. With tons of beach activities, from volleyball to all sorts of water and wind sports, paddleboarding, surf rentals, and so much more!
Make sure you check out Kennedy Space Center near Cocoa Beach for a great activity to do with the family!
Looking to take your beach day to the next level and explore the mangroves and barrier islands off Cocoa Beach? You'll get the chance to hang out with dolphins and manatees!
3. Soak up the sun in Palm Beach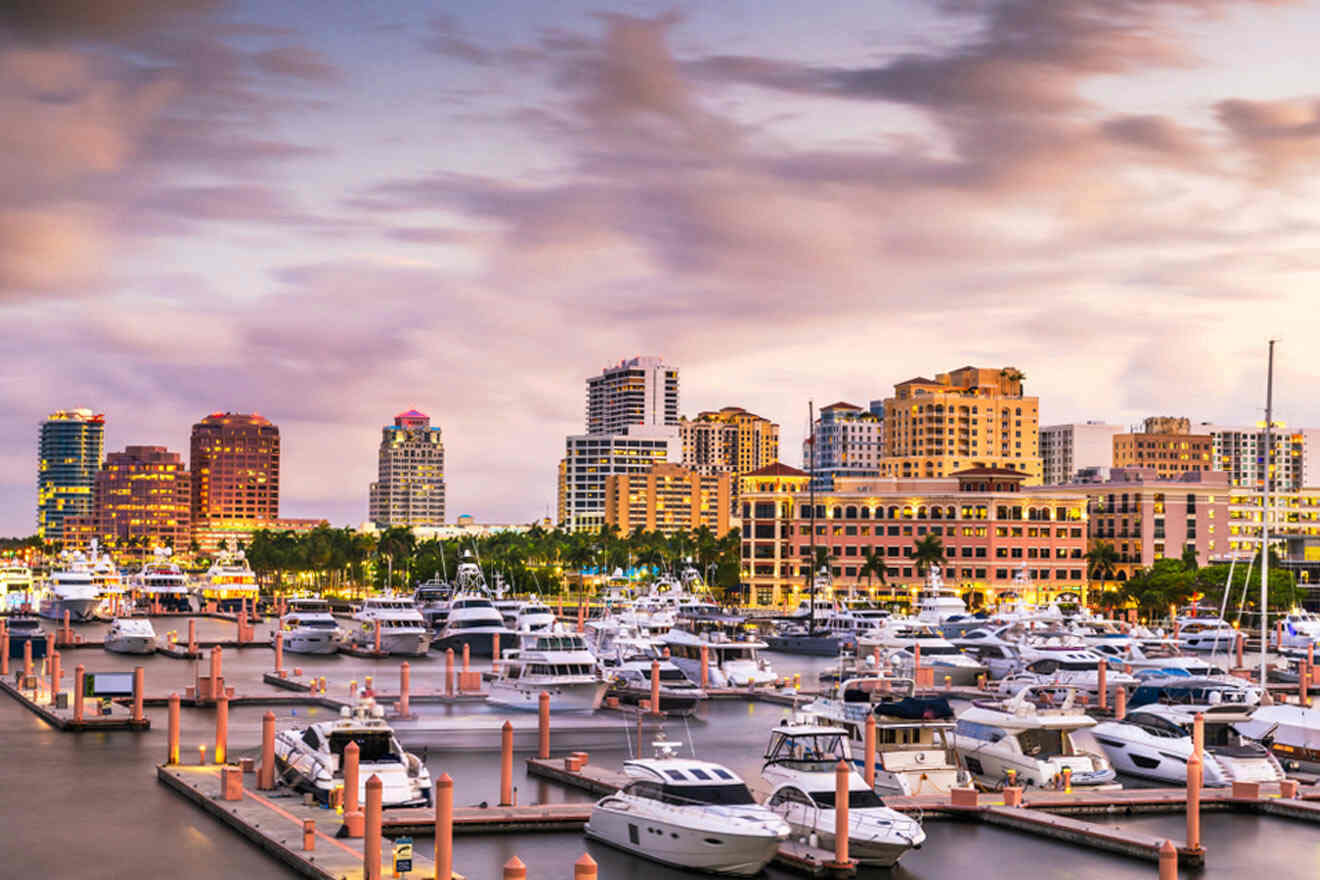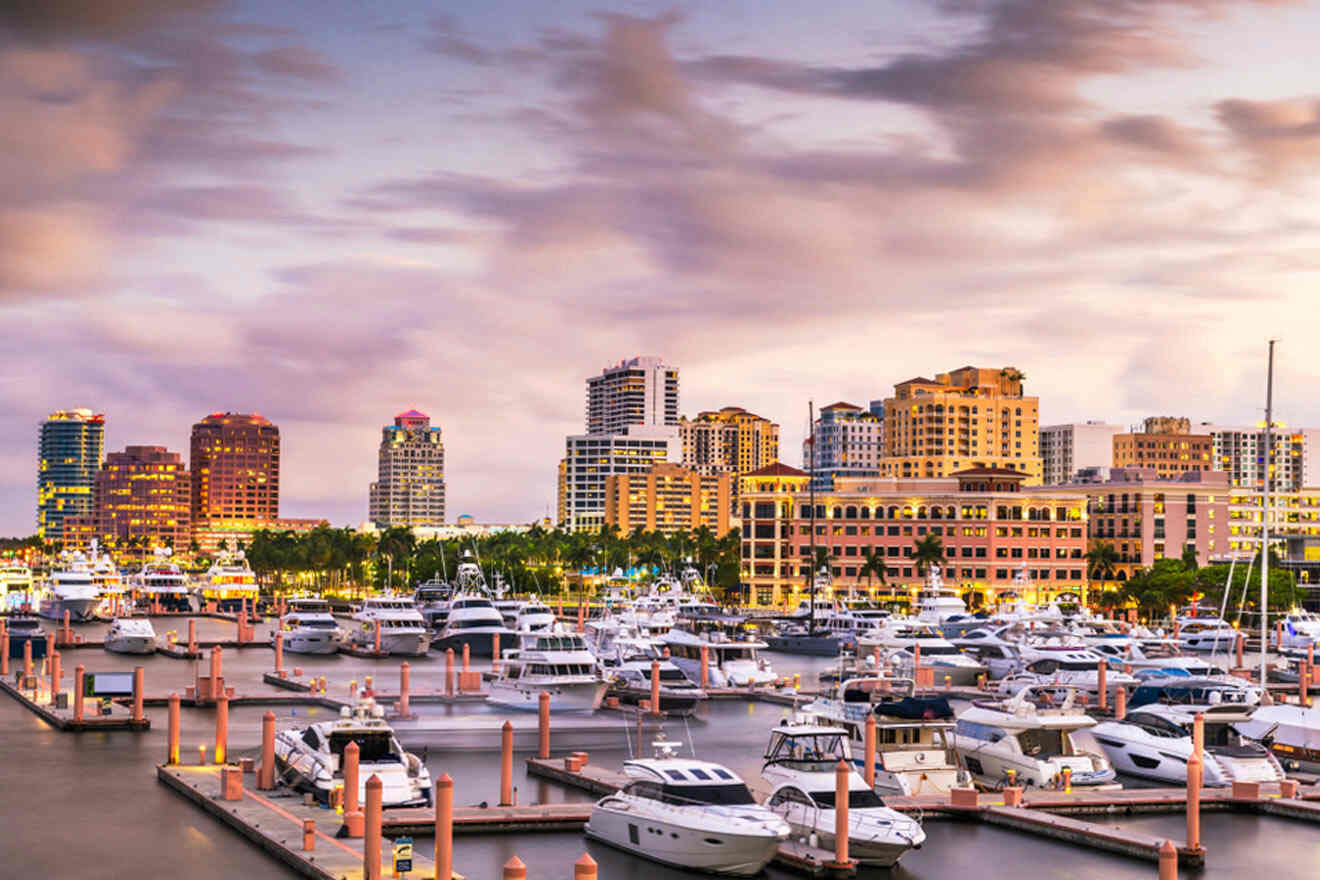 Palm Beach is one of the most popular East Coast beaches. Known for its laid-back yet upscale vibe, Palm Beach is a great place to unwind and soak up the sun while being lulled into deep relaxation by the sound of the waves!
The waters in Palm Beach are crystal clear and make for some incredible snorkeling and water activities.
Palm Beach and West Palm Beach, are famous destinations for vacationers who want all the perks of an East Coast Florida beach but want to escape the typical crowds of Miami or South Beach.
Want to get to know Palm Beach and West Palm Beach more intimately? Check out this sightseeing tour, where you can learn in-depth about the area from a local guide!
Book Your Palm Beach Sightseeing Tour
4. Visit the world-famous Daytona Beach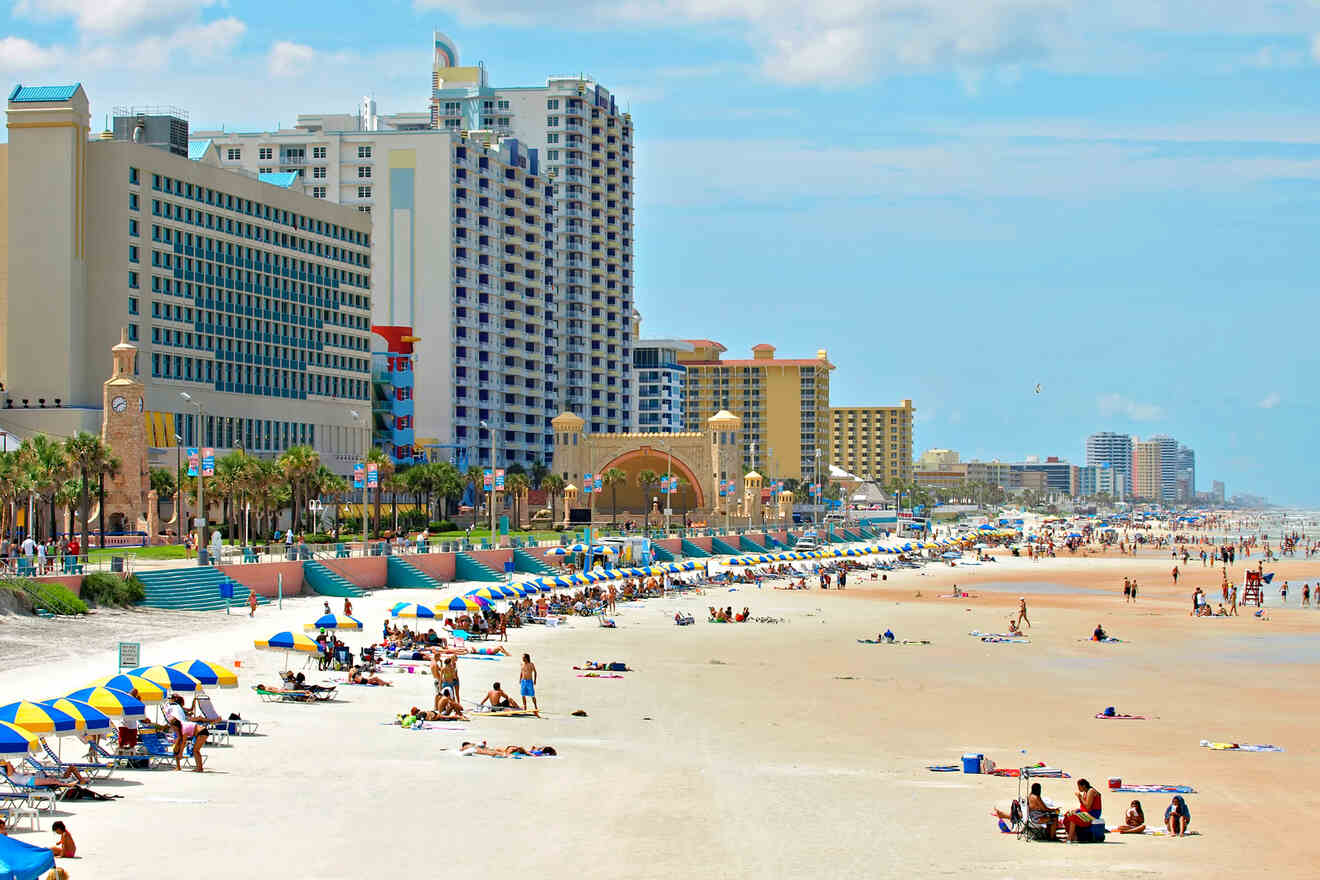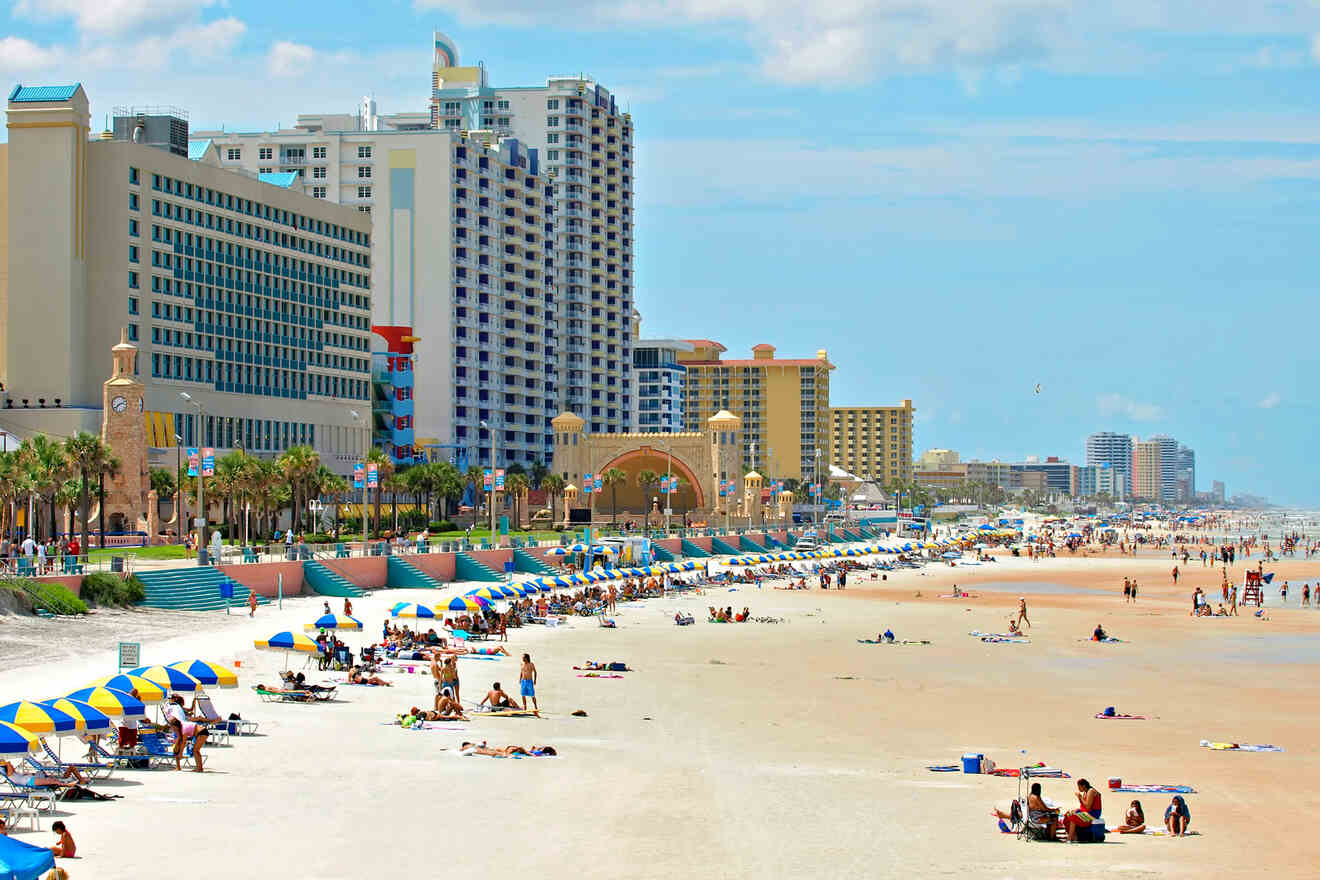 If you're a fan of NASCAR and the beach, Daytona Beach is the beach for you! Located super close to Orlando and home of the Daytona 500, this historically significant beach has so much to offer visitors and locals alike!
Not only is Daytona Beach one of the most famous Atlantic Coast Beaches, but it is also home to the Daytona International Speedway! Come and enjoy the white sand beaches of Daytona Beach and check out the world-renowned home of race cars!
Ponce Inlet is also an awesome local spot in Daytona Beach that most tourists don't know about!
Check out this super awesome experience where you get to paddleboard in the natural home of manatees and dolphins! Beckoning beachgoers off their beach chairs, this is an incredible opportunity to have a one-of-a-kind experience in Daytona Beach!
Book Your PaddleBoard Dolphin tour
5. Splash around in New Smyrna Beach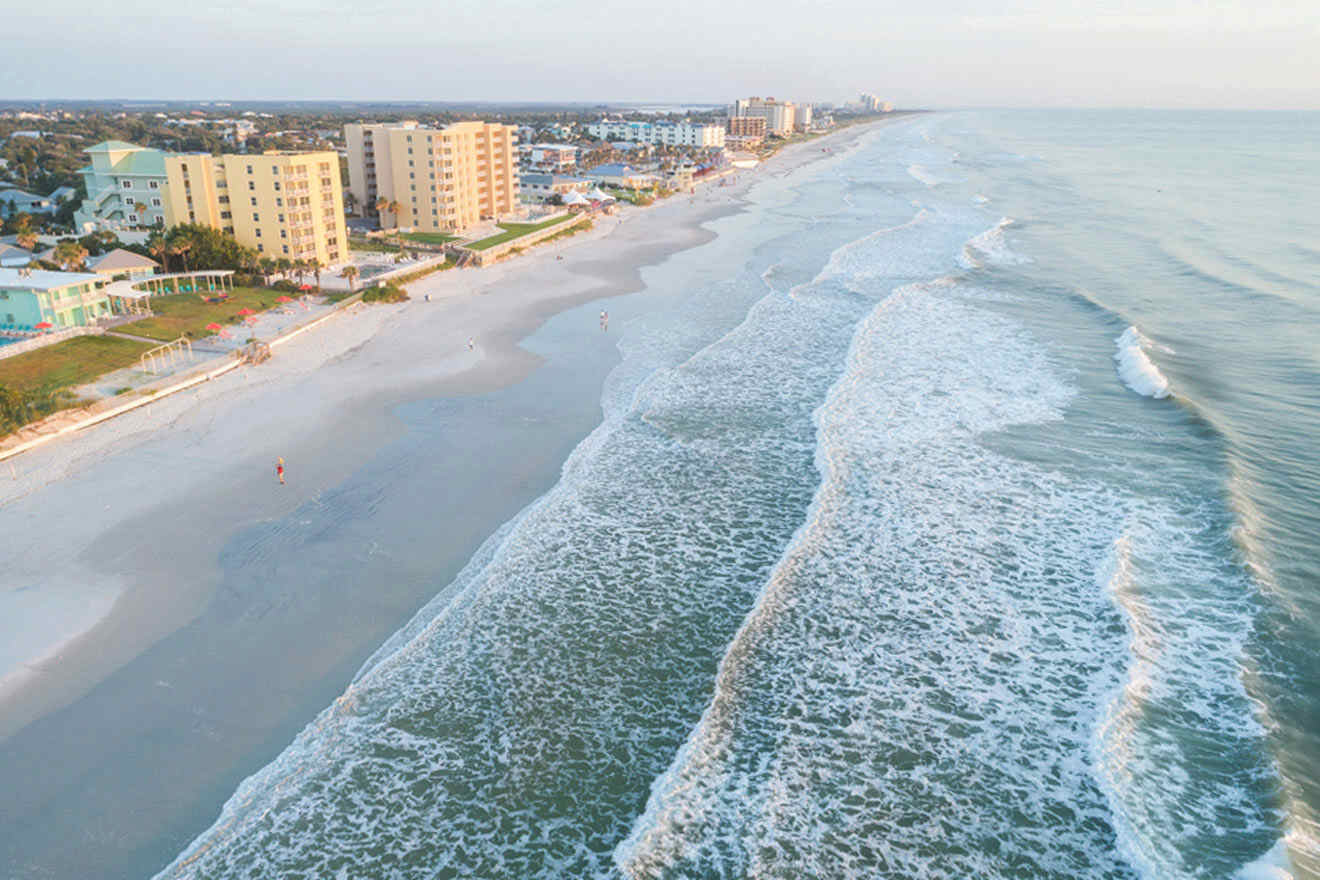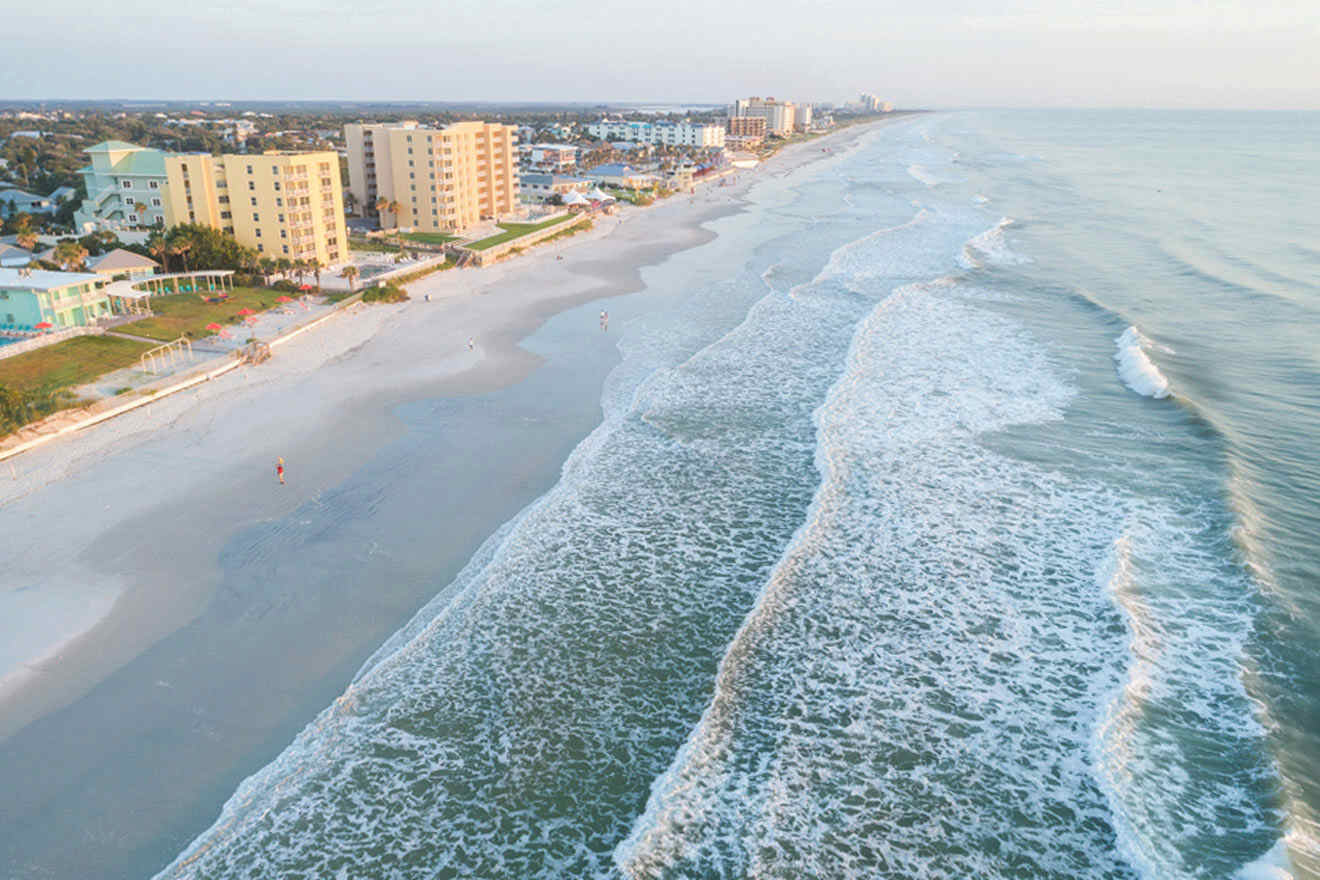 Another famous Florida East Coast beach, New Smyrna Beach is one of the most beautiful Atlantic beaches.
New Smyrna Beach is an excellent surf spot on Florida's Atlantic Coast. However, regular swimmers and beachgoers enjoy it just the same.
New Smyrna Beach is famous for having the most biodiverse estuary in North America. This biodiversity makes for an incredible place to visit and a host of different water activities and fun places to explore via kayak, paddle board, or by boat.
Home to at least 400 different species of birds, manatees, dolphins, alligators, and turtles!
When I went to the New Smyrna/Cape Canaveral area, closer to Merritt Island, on a bioluminescent kayak tour, a pufferfish came right up to our kayak!
New Smyrna Beach is a great beach for nature and wildlife lovers. However, keep in mind New Smyrna is also the shark capital of the world! Due to a mass migration and mating event, New Smyrna is known for having a massive influx of sharks from April through October.
Just be mindful and bear in mind that you are sharing the waters with other wildlife.
6. Be one with nature in Vero Beach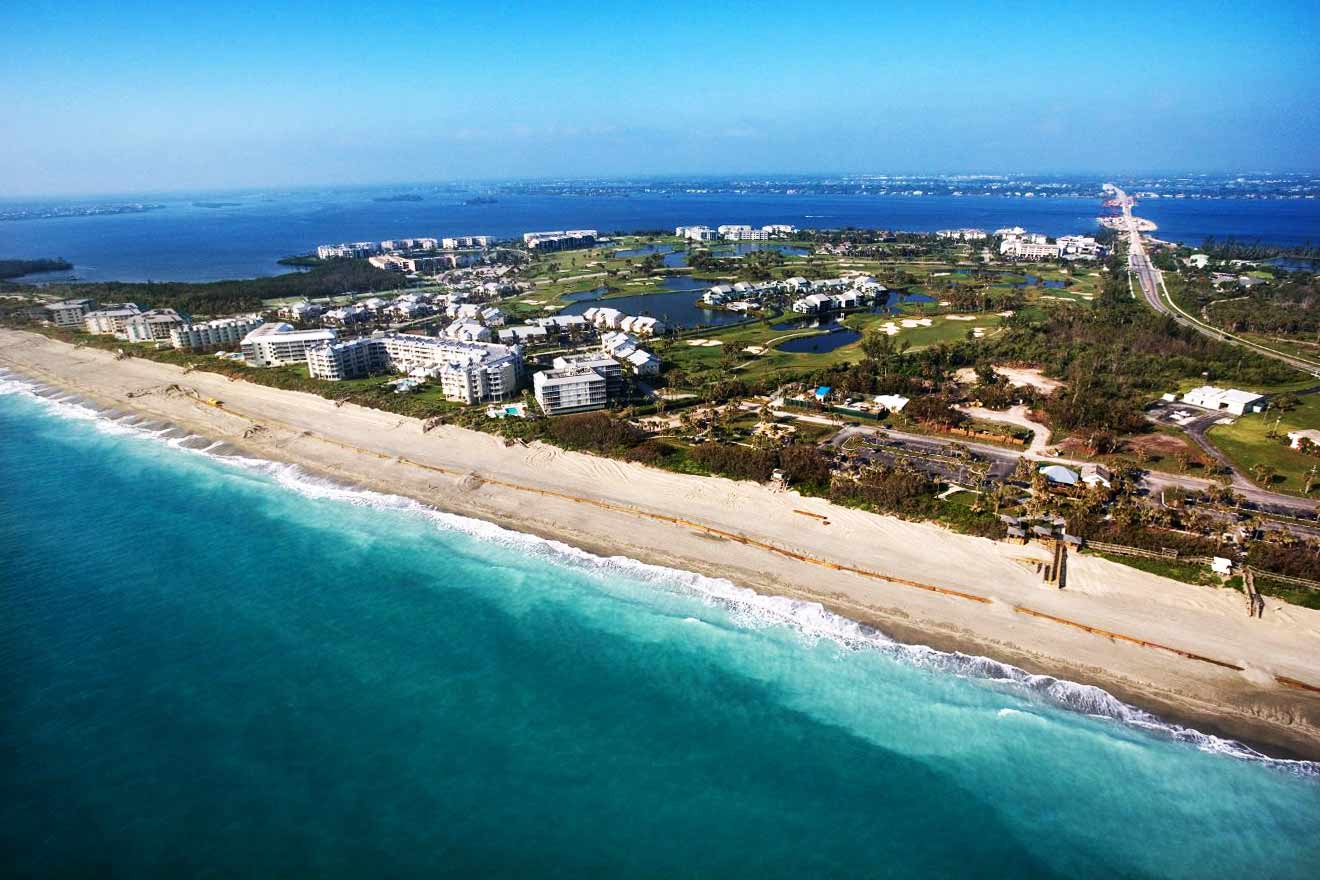 Another beach gem on Florida's East Coast, Vero Beach offers incredible beaches and a lively art scene!
Known as the Treasure Coast, Vero Beach is known for having gorgeous beaches surrounded by lush nature and secluded beaches.
There is also an amazing boardwalk and an awesome shopping center only 10 minutes from the beach. So serial shoppers and beach lovers alike can get the best of both worlds in Vero Beach!
South Beach is a nice beach in the Vero Beach area and the relaxing Jaycee Park Beach. Another beach close to the downtown area is Sexton Plaza Beach.
I guarantee you will have an incredible and beachy time on whichever beach you choose on the Treasure Coast!
7. Check out Las Olas and Fort Lauderdale Beach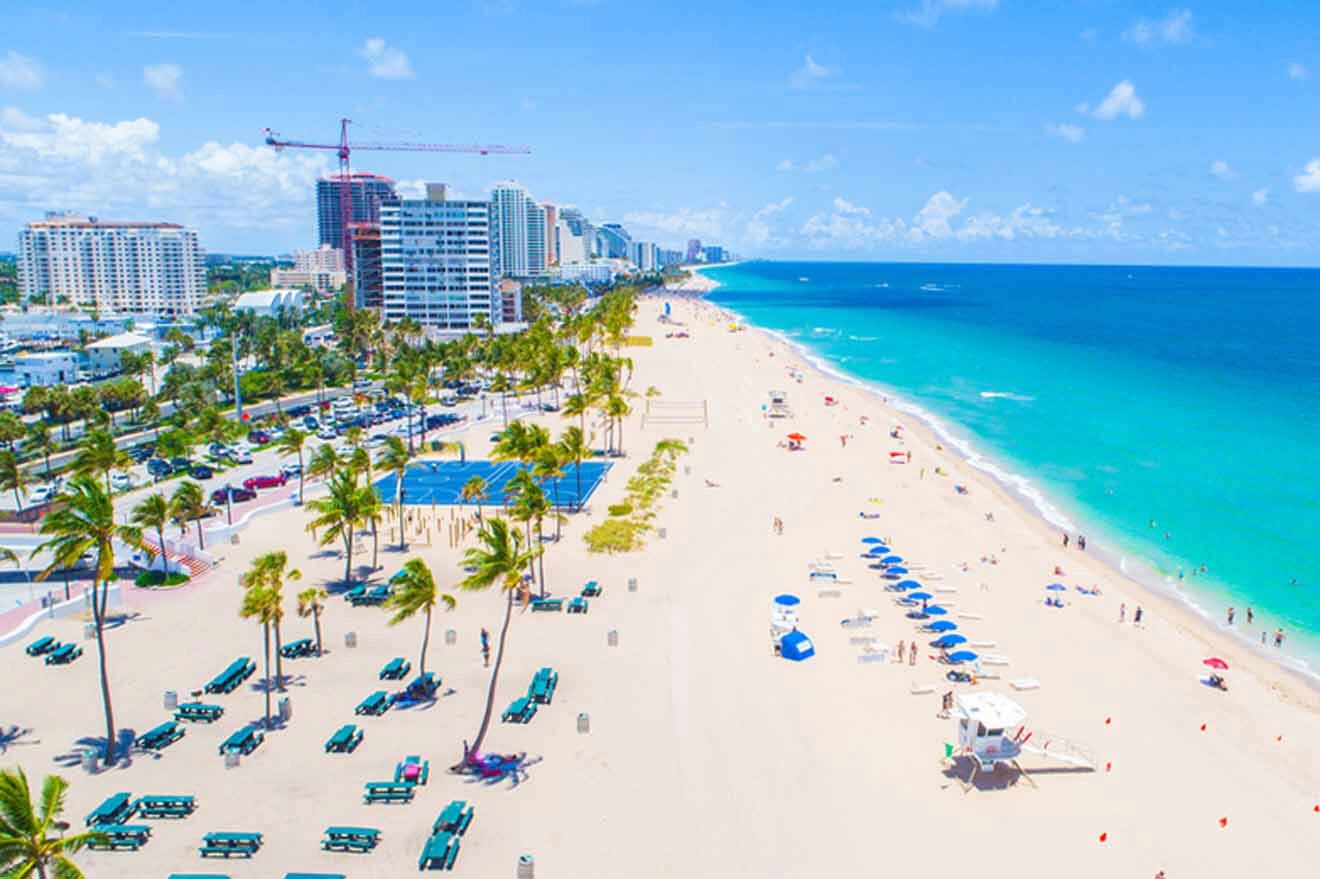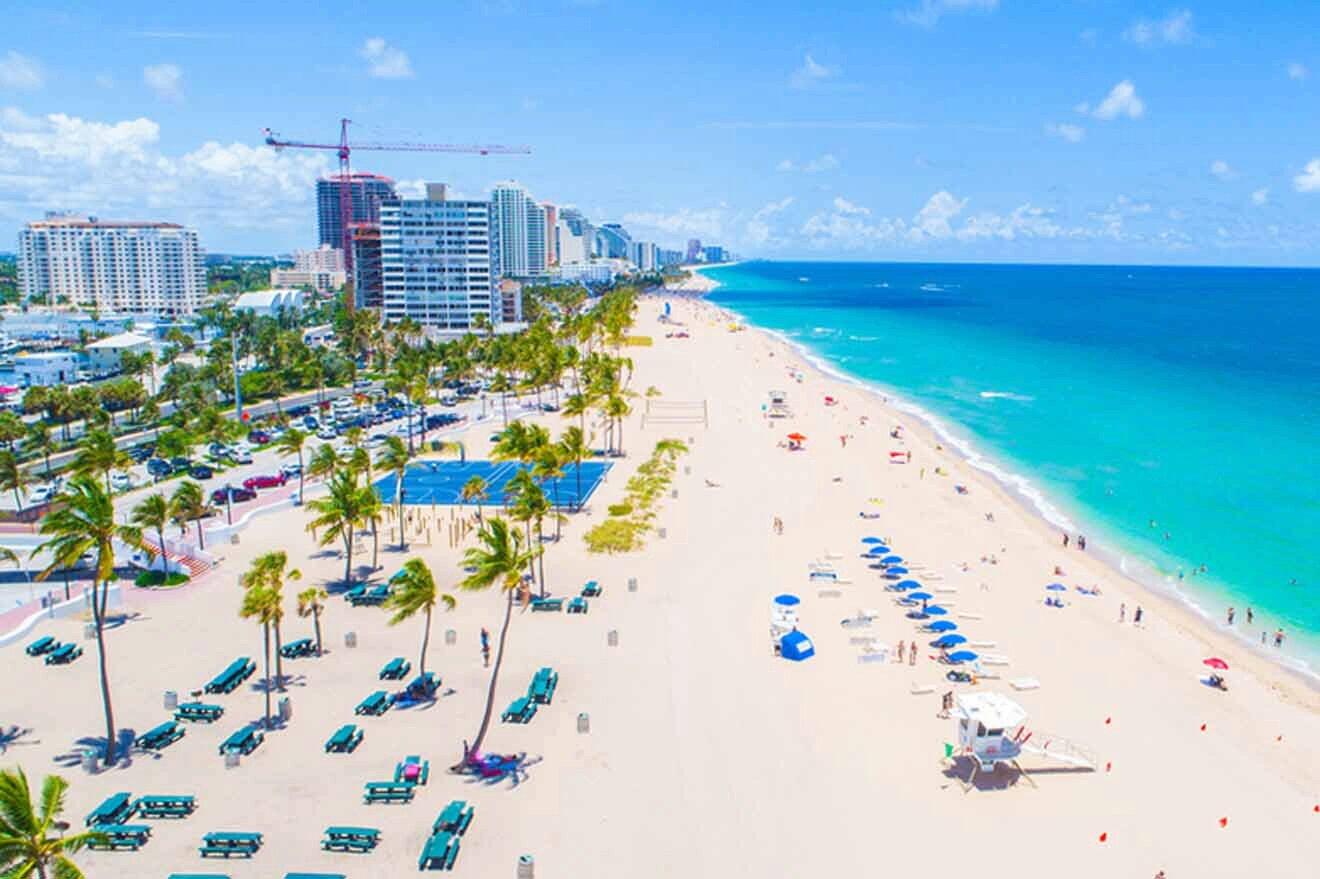 One of the best beaches on the Atlantic Ocean, Fort Lauderdale Beach is an excellent beach with white sands and clear, bright blue beautiful waters.
This is a very safe family beach as it is supervised by Ocean Rescue and has multiple lifeguards on duty year-round.
Aside from the family-friendly nature and beautiful beaches, Las Olas Beach and Fort Lauderdale Beach have a prominent beachfront promenade with many stores, cafes, and restaurants perfect for grabbing a quick bite.
This beach on the Atlantic Ocean is incredible for water sports such as jet skiing, windsurfing, boating, snorkeling, scuba diving, as well as deep-sea fishing!
There are several sophisticated beachfront hotels, lively waterfront restaurants, and bars, places to get fresh fruit and refreshing coconuts, and so much more!
If you want to snorkel a coral reef, head north to Lauderdale-By-The-Sea, where you can swim out to a stunning coral reef.
Want to get to know Fort Lauderdale from a local point of view?
Take a Fort Lauderdale water taxi adventure, cruise through the tidal estuary rivers along the city center, and get to know this area more intimately!
Book Your Fort Lauderdale Water Taxi
8. Adventure to Jacksonville Beach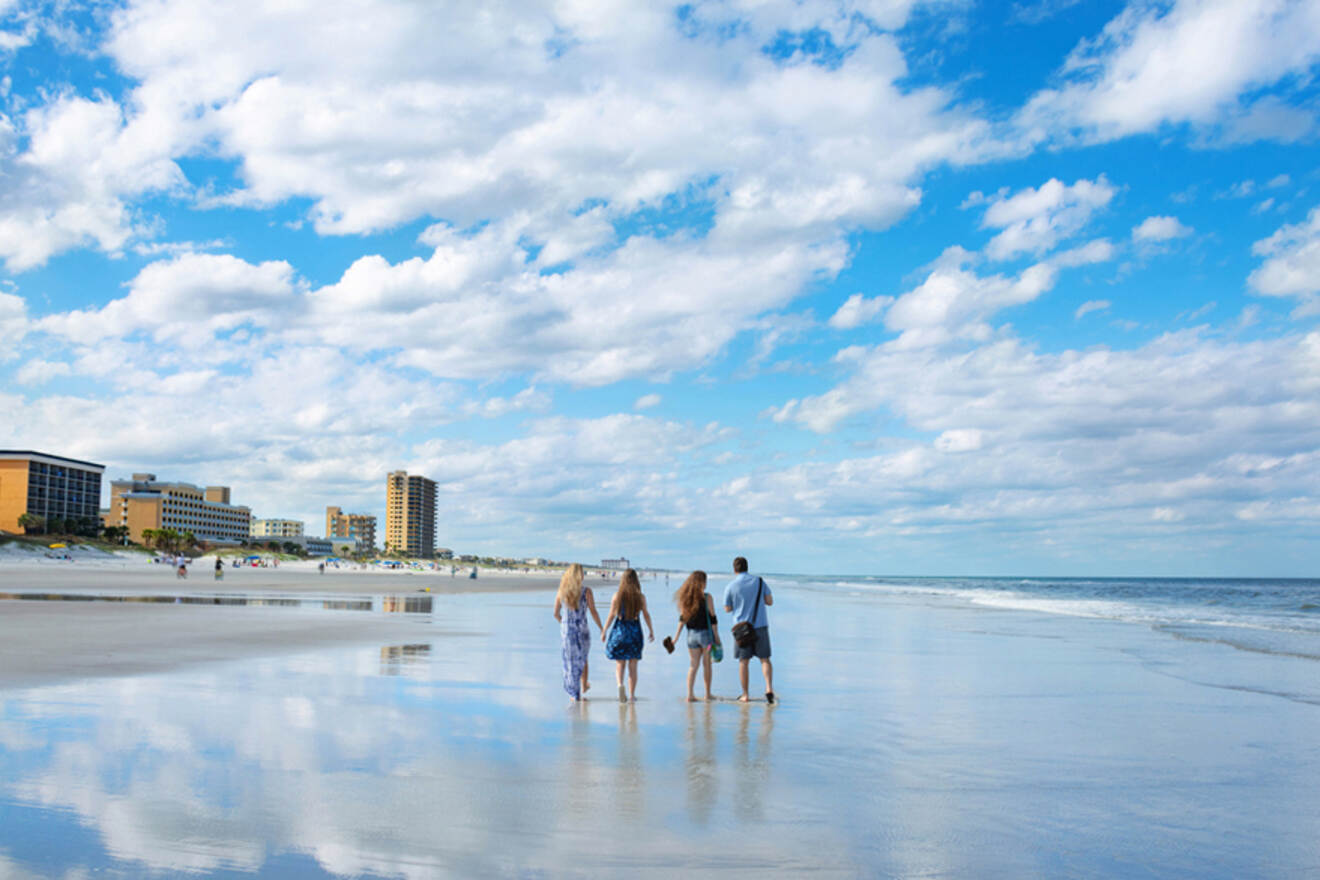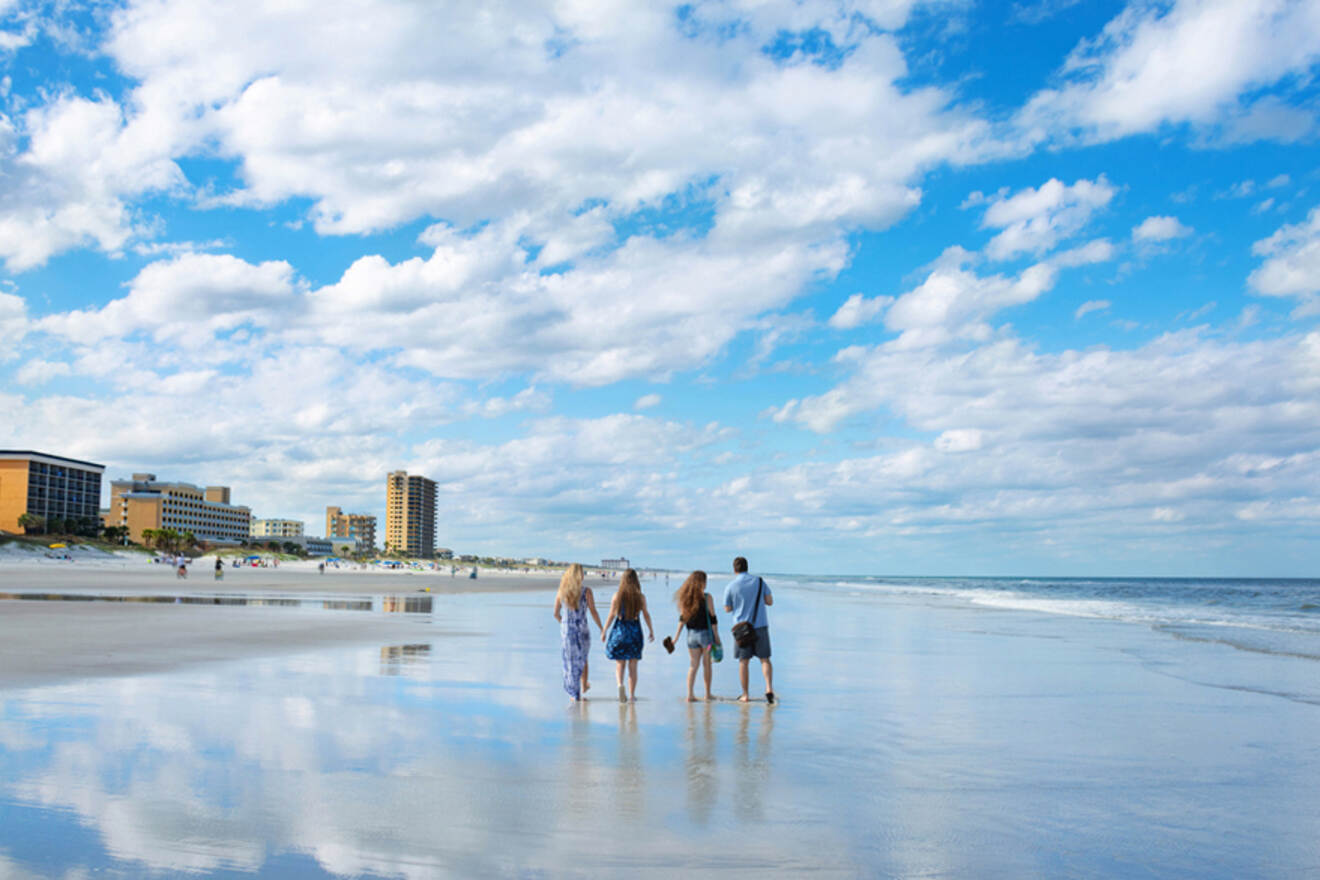 Located on the Northeast coast of Florida, Jacksonville Beach is expansive and beautiful.
With white sand beaches, bright blue waters, and miles upon miles of beachy coastline to explore, Jacksonville Beach is one of the best east coast beaches!
A great beach for families, Jacksonville Beach effortlessly blends together the worlds of history, laid-back beach culture, recreation, and leisure.
Another great beach for surfers, this Atlantic Coast beach has so much to offer couples, families, and solo travelers.
Dolphin sightings are also pretty regular at this Florida east coast gem!
9. See the natural beauty of Melbourne Beach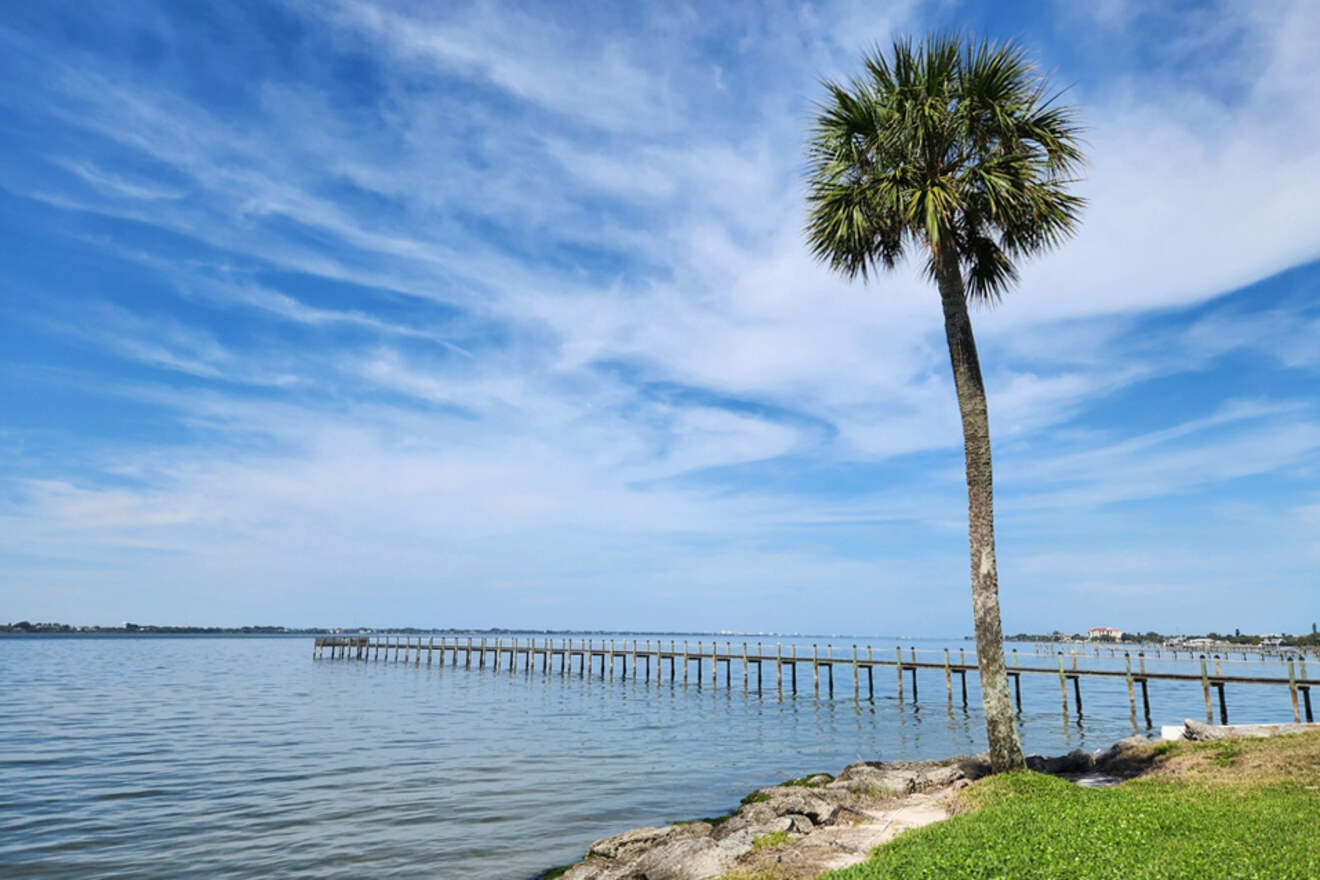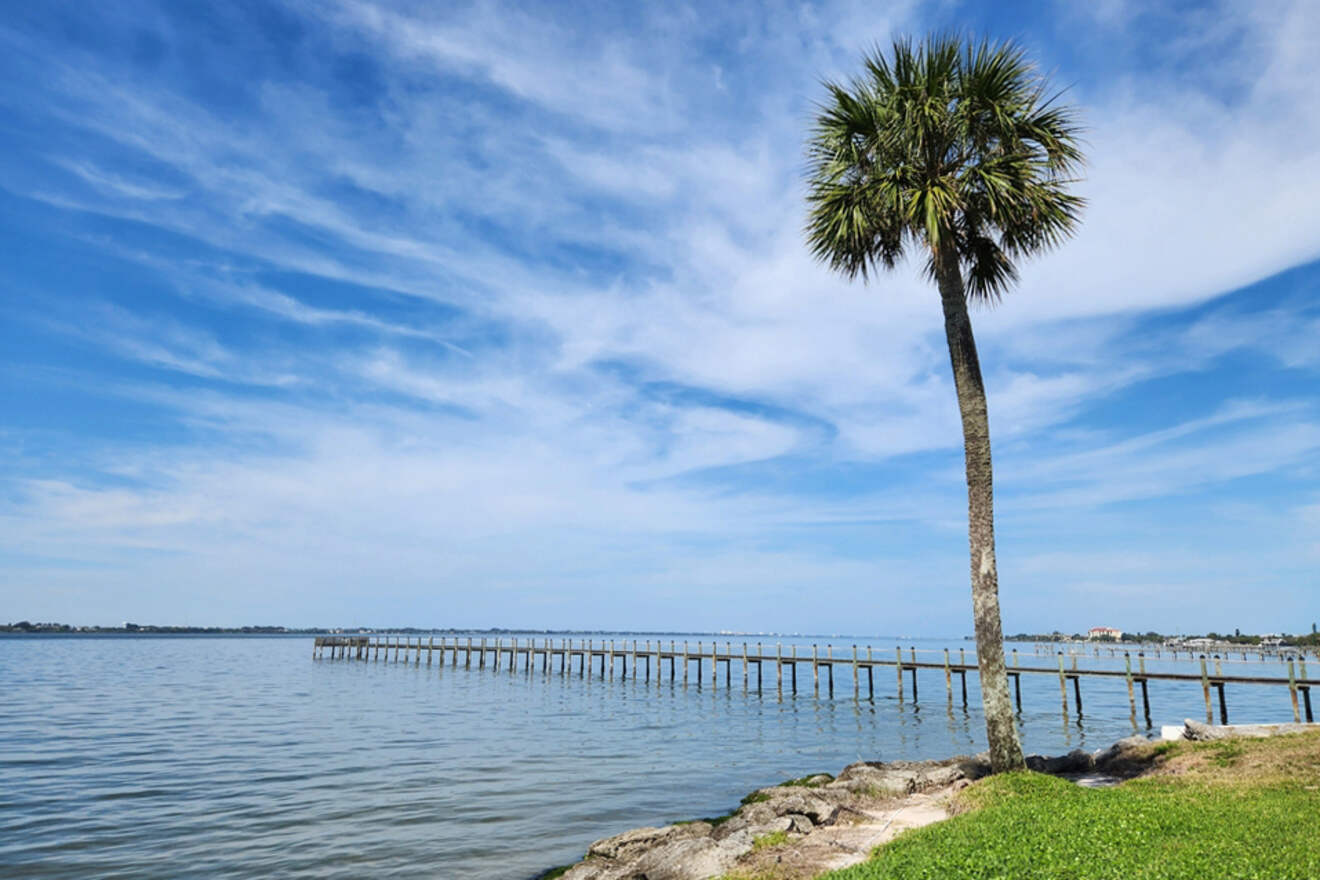 On the southern end of Florida's Space Coast lies Melbourne Beach, an Atlantic Coast beauty.
On a barrier island separated from the mainland by the Indian River, Melbourne Beach is an easy drive from Kennedy Space Center.
This Atlantic beach is excellent for nature lovers as you can find miles of undeveloped beach that make for a particularly authentic and charming Florida beach experience. Melbourne Beach has your typical beach amenities, and the waves are pretty good for surfing here as well.
One of the biggest attractions on Melbourne Beach is the sea turtles! This barrier island plays a vital role in the health of the local ecosystem and provides a nesting ground for sea turtles.
If you happen to be in the area for sea turtle nesting season in the summer, if you take a night tour with an expert, I guarantee it will be a life-altering and super memorable experience!
Book Your Kennedy Space Center Tickets
10. Go horse riding on Fernandina & Amelia Island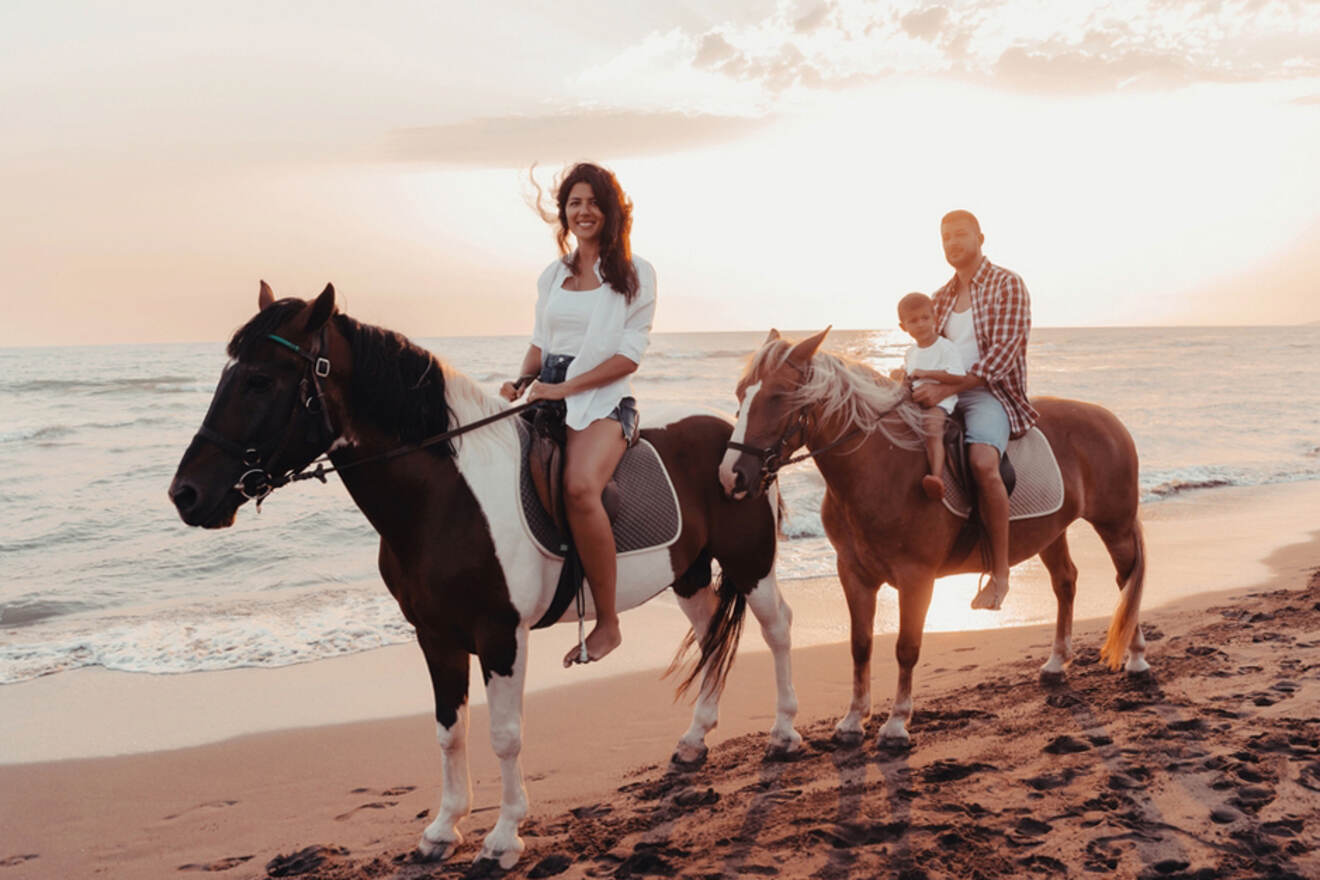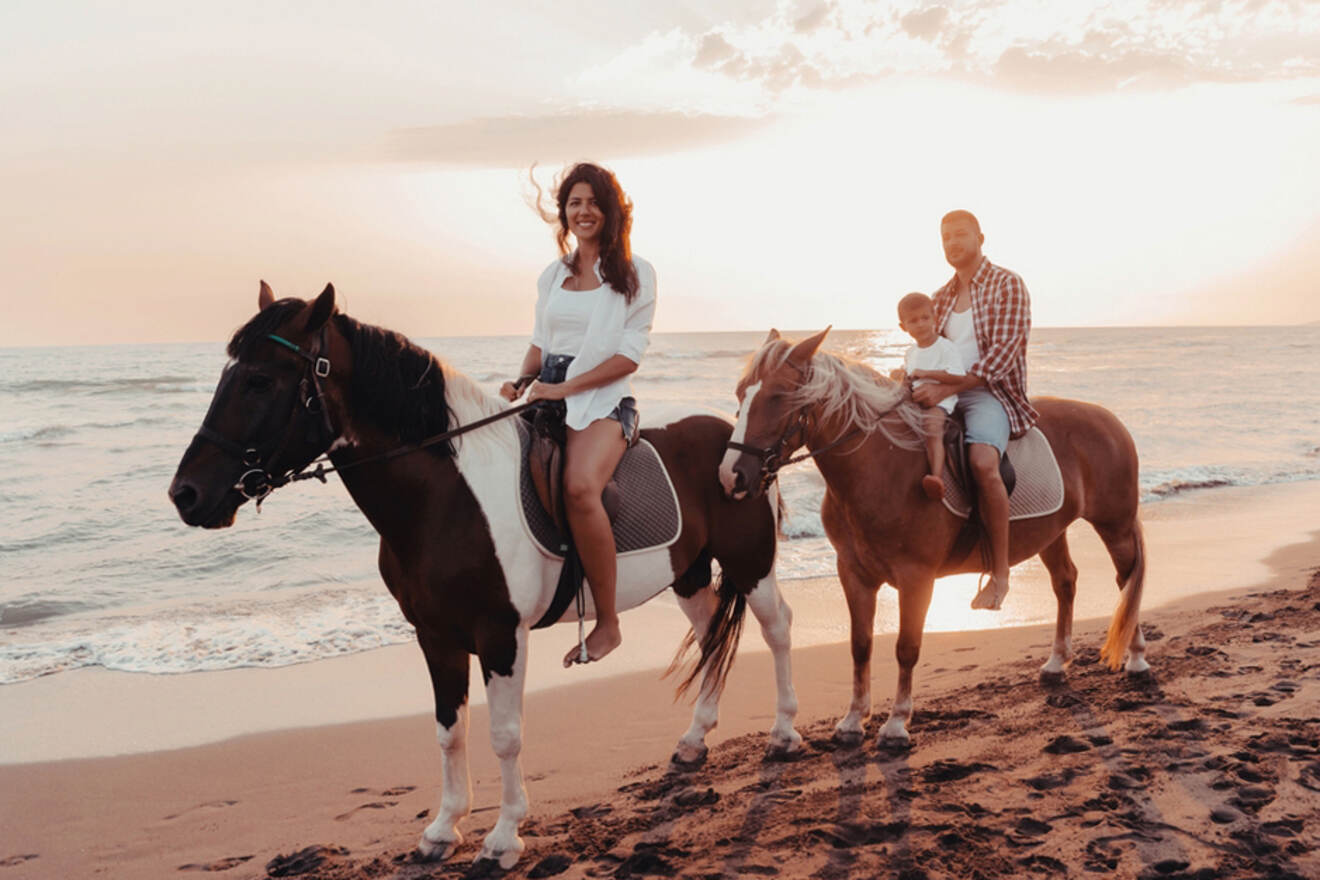 Up north by Jacksonville lies Fernandina Beach and Amelia Island, two of North Florida's best beaches!
Consistently rated one of the US Top 10 islands by Conde Nast Readers' Choice Awards, Amelia Island is well worth the hype.
This charming historic island makes for a romantic and super sweet getaway on Florida's East Coast. Plus, it is one of the only places you can ride horses on the beach in Florida! I mean, how much more charming can this gorgeous island get??
Boasting 13 miles of white sandy beaches, this is one of the most beautiful islands in Florida, next to the many islands of the Florida Keys!
With luxury beach resorts and uncrowded beaches, Amelia Island is perfect for a luxury getaway for couples, friends, or solo travelers looking for some time to reflect and unwind.
Amelia Island has two main beaches, Fernandina Beach and Main Beach. Both are exquisite, but I love Fernandina Beach for shelling, and it is also super family-friendly!
11. Explore the charm-filled town of Delray Beach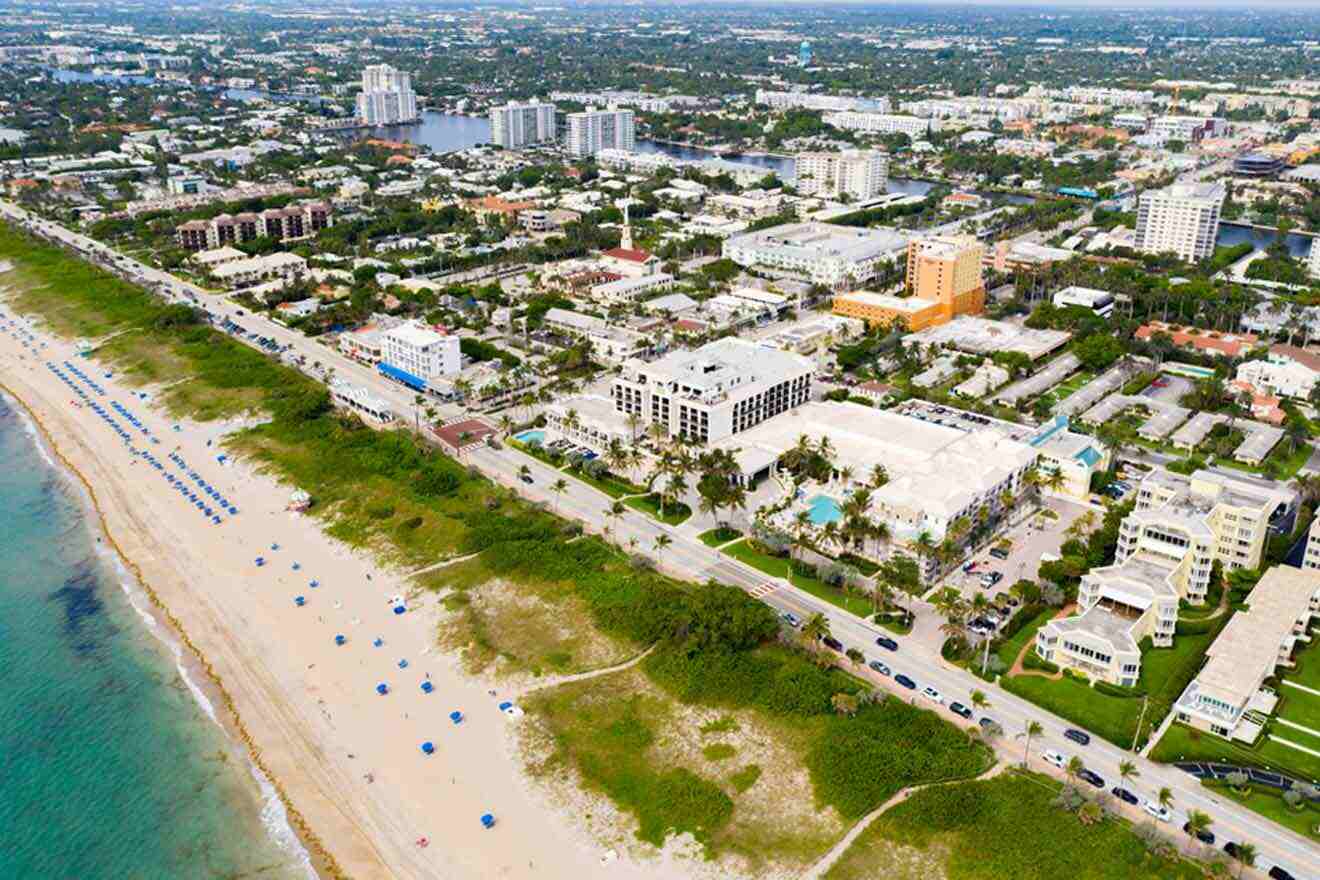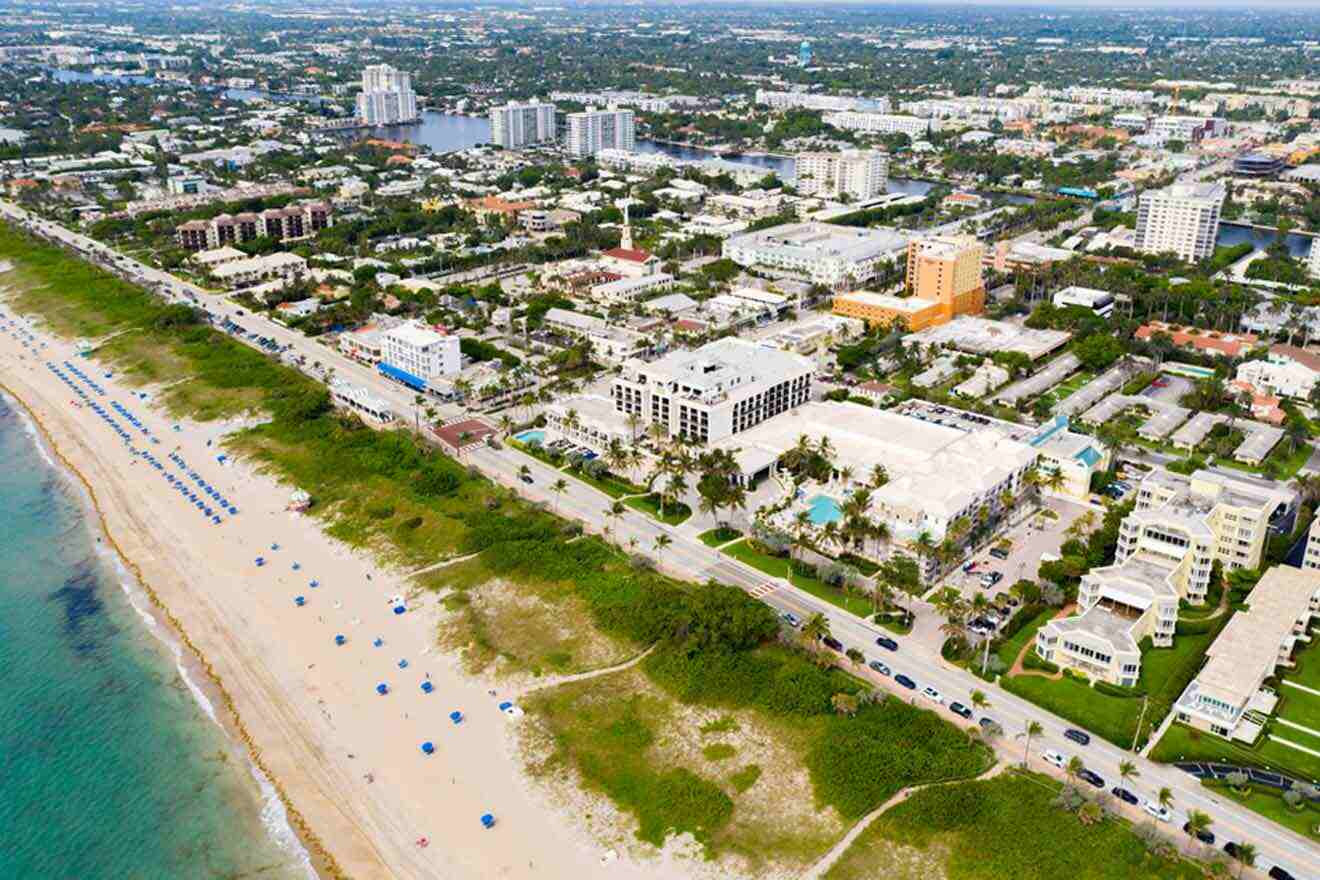 This seaside village known as the "Most Fun Small Town" is an excellent example of Florida's gorgeous Atlantic Coast beaches.
Delray Beach lies between Boca Raton and Boynton Beach and is yet another absolute gem located in Palm Beach County. This charming beach is the recipient of many awards, such as the Coastal Living Top 10 Happiest Seaside Towns as well as the three-time winner of the All-America City Award!
People often describe Delray Beach as a combination of Key West and South Beach. If you ask me, that's the dream combo right there!
While the sandy shores and beach itself are breathtaking, people mostly come to this beach town for the incredible vibes.
With a vibrant arts community, interesting history, and lively culture, this east coast beach has so much to offer.
12. Swim in the clear waters of Jupiter Beach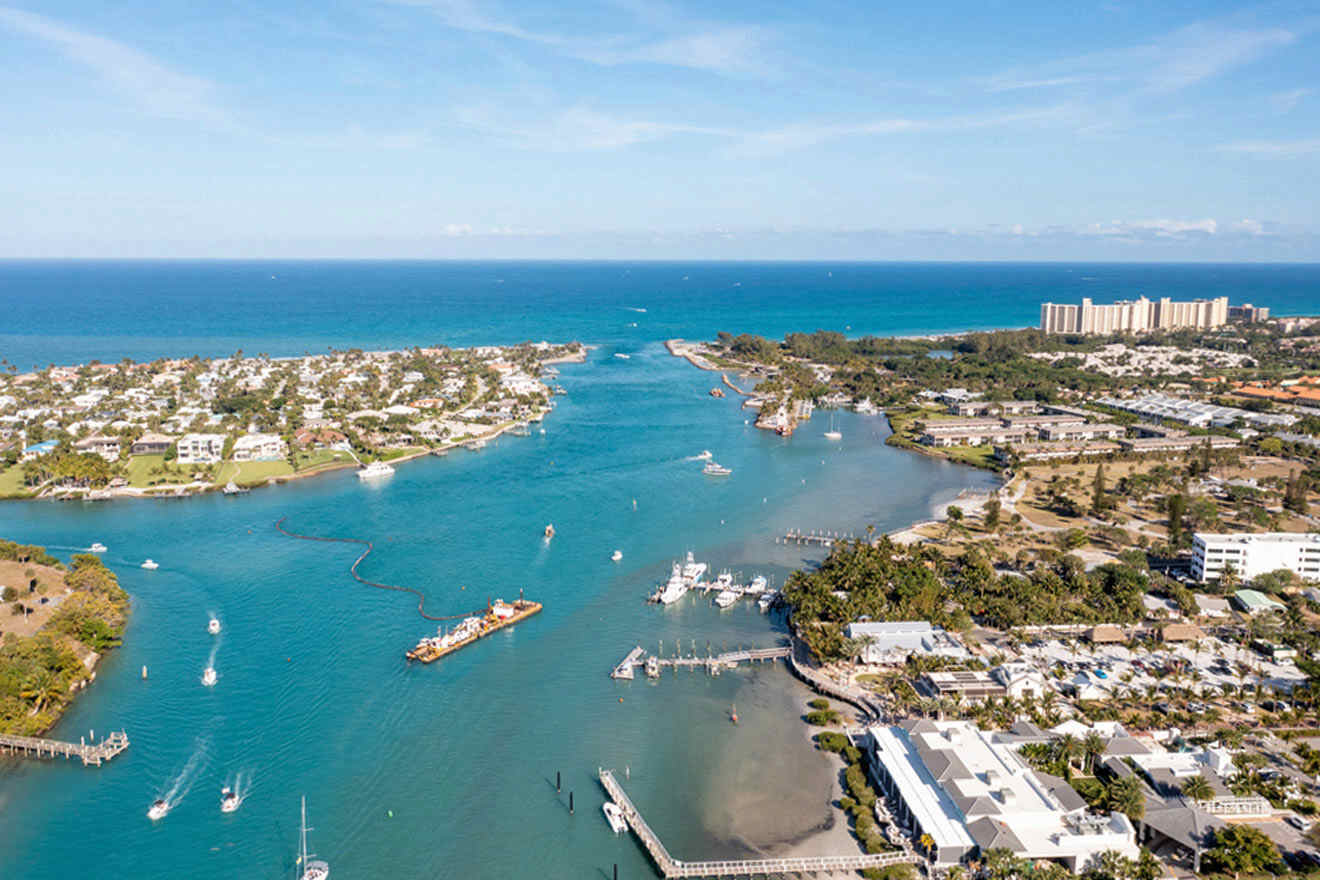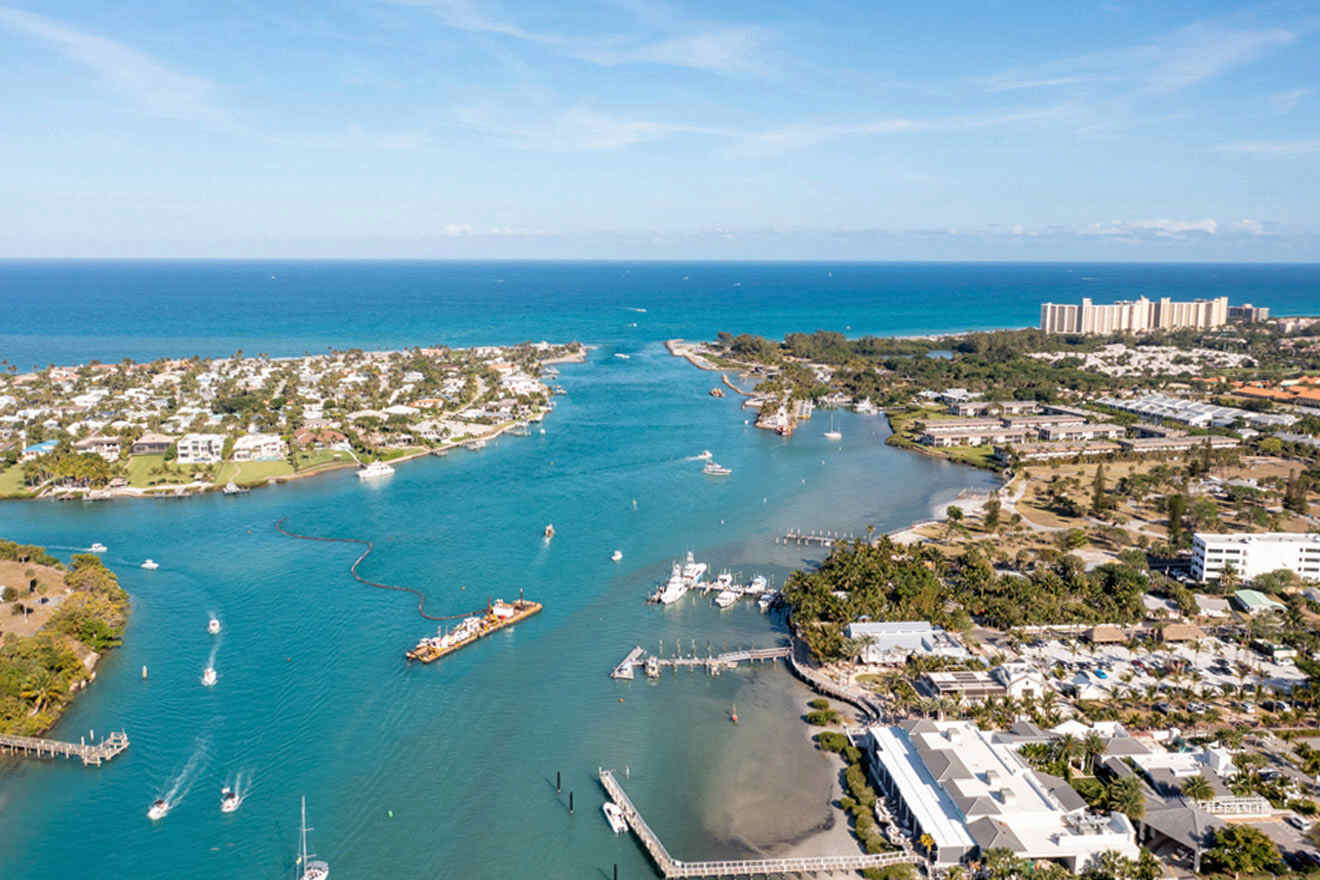 Boasting some of the clearest waters on Florida's East Coast, Jupiter Beach is a really spectacular beach destination for locals and visitors alike.
With a vibrant coral reef right off the beach, snorkeling is a super common activity here. Yet another recipient of the Top 10 Happiest Seaside Towns in the USA by Coastal Living magazine, the charm, and magic of Jupiter Beach is undeniable.
At the intersection of the Loxahatchee River, Intercoastal Waterway, and the Atlantic Ocean lies this incredible beach that is excellent for all sorts of watersports aside from snorkeling.
Jupiter Beach is also popular because it is one of the only places where the Gulf Stream flows closest to the US which makes the water a toasty 78 degrees.
Excellent for families, this East Coast Florida beach should be high on your bucket list of the best beaches in Florida!
13. Check out the cute beach town vibe at Ormond Beach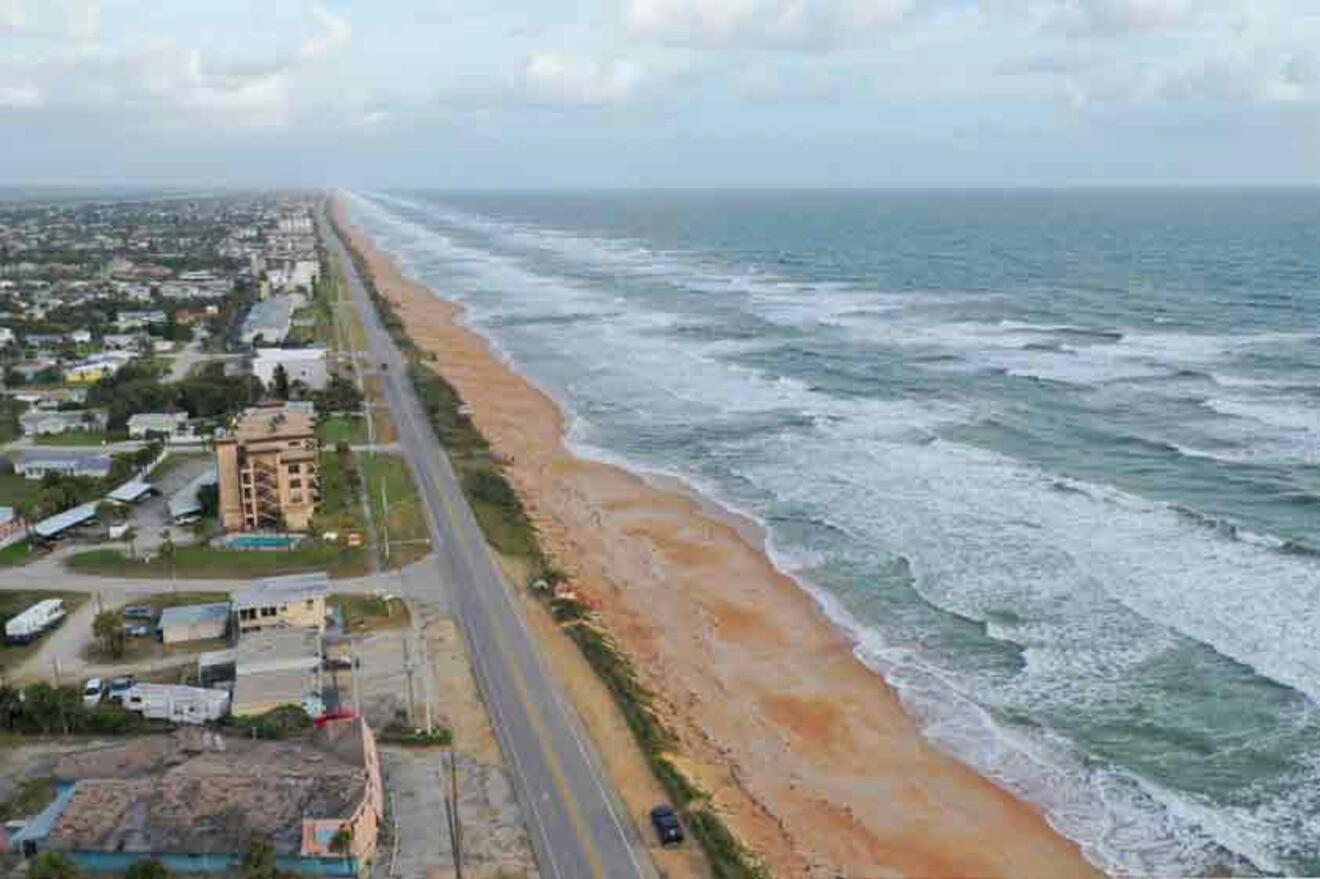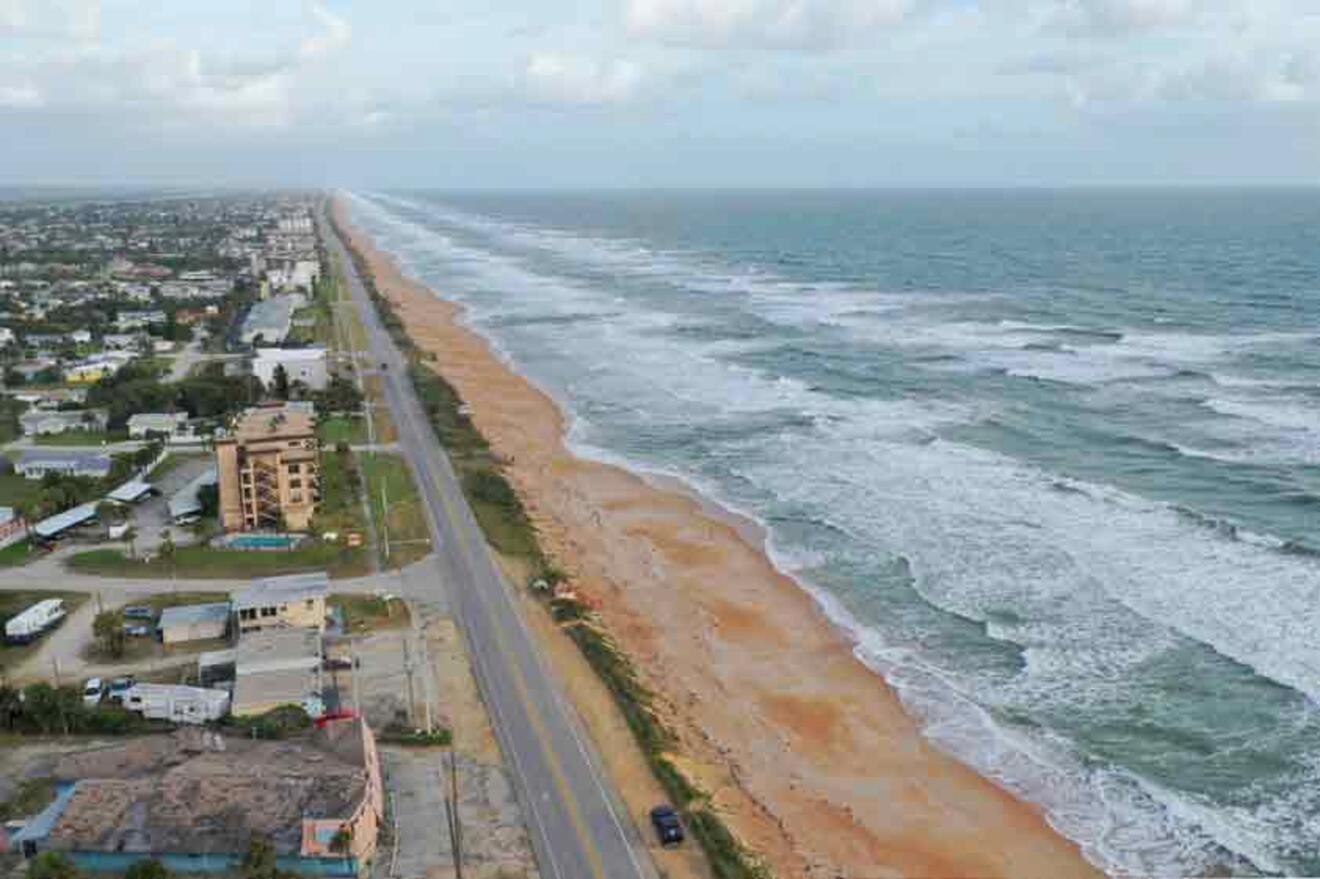 Ormond-By-The-Sea is one of my absolute fav beaches off the coast of Central Florida. This beach town has old Florida vibes that are hard to come by these days.
This quiet beach town has old-school architecture and is not over-developed. All of the buildings are only a few stories high, and they are also all super colorful, giving the cutest beach town aesthetic.
Not only is the architecture super beachy and fun, but there are also miles of coastline to explore with sandy beaches and gorgeous waters.
I like to come here to unwind or bring my pups to play in the sea altogether!
The food in Ormond Beach is really delicious, too, and there are plenty of places to see live music.
14. Relax at Neptune Beach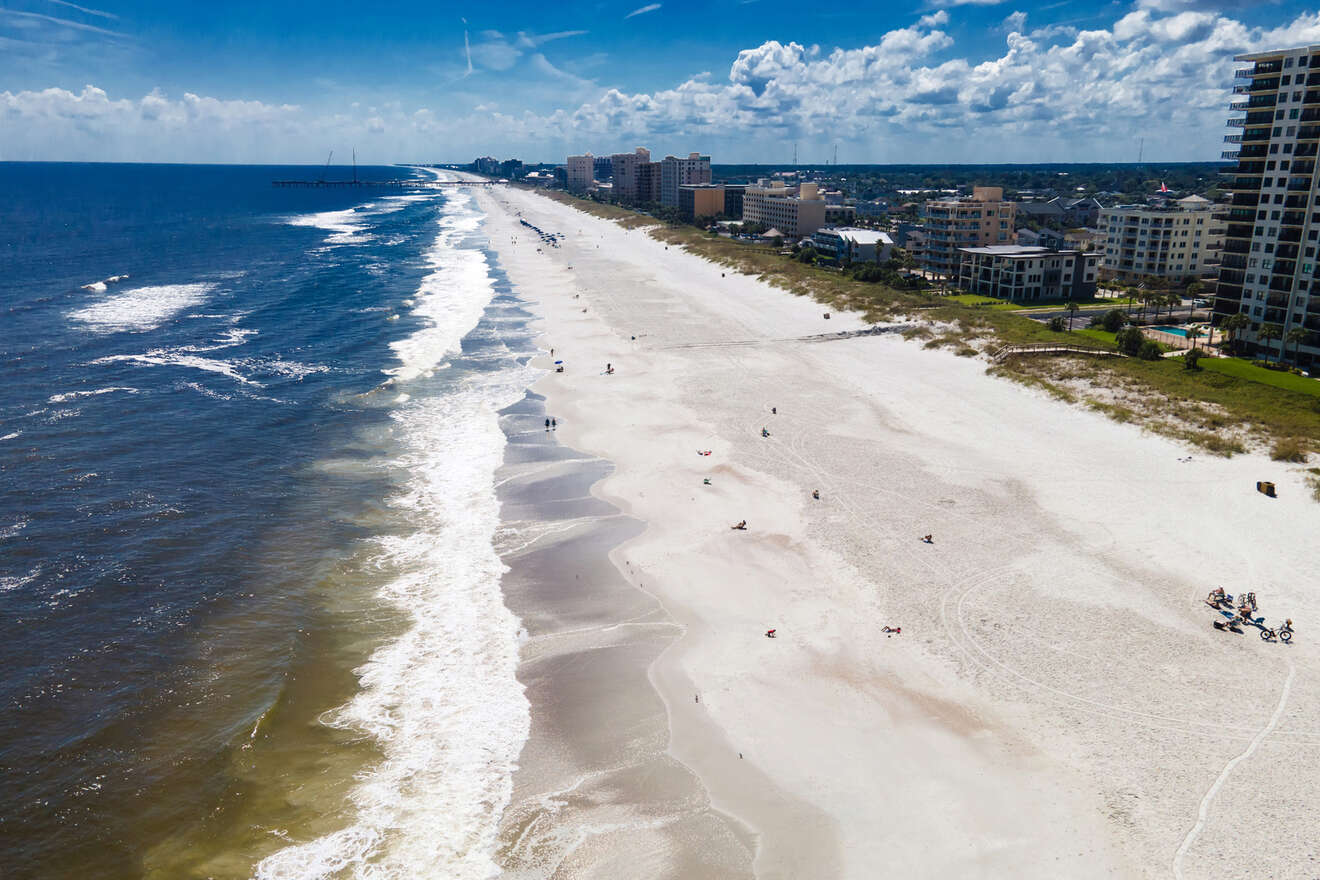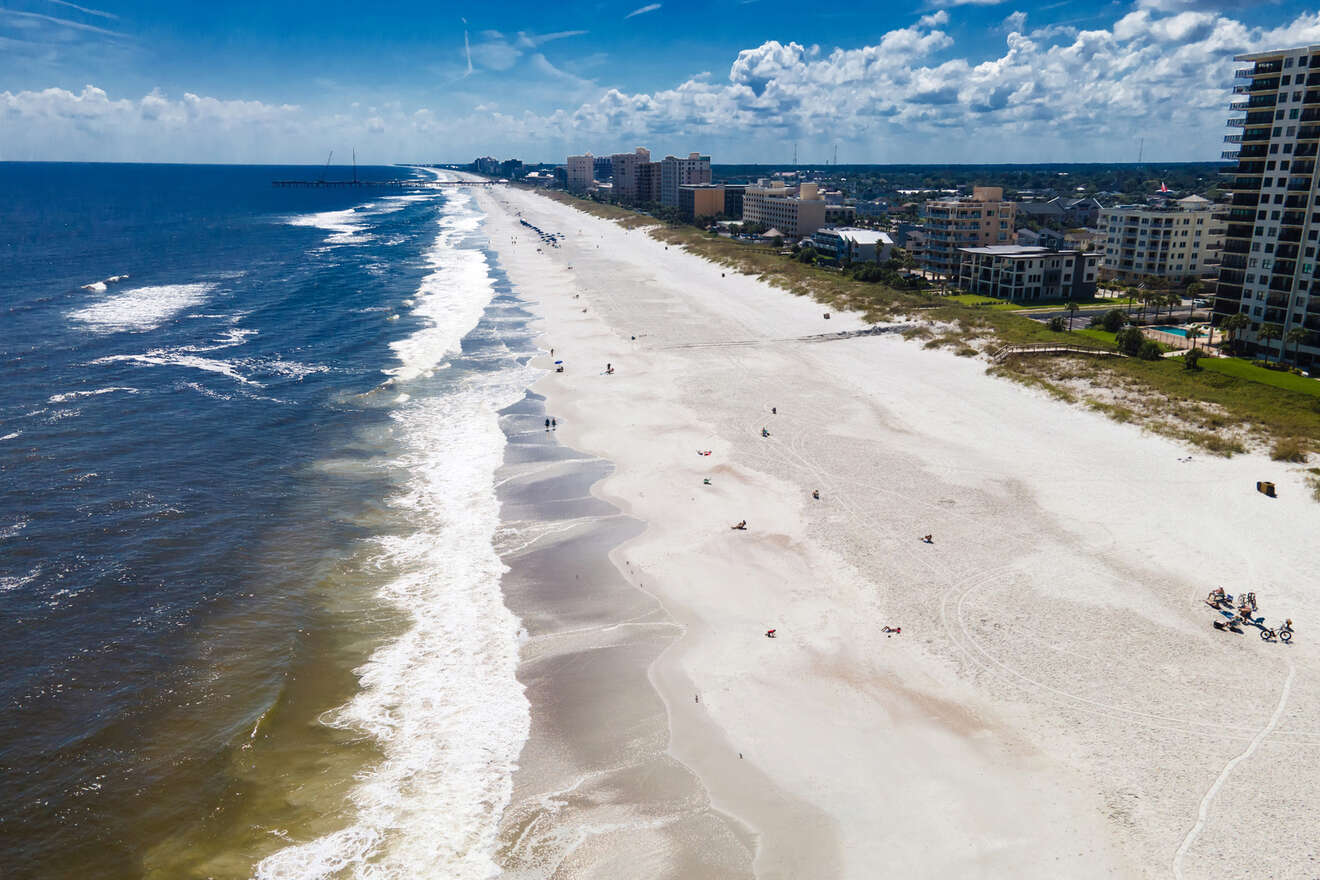 Another gem of a beach out of Jacksonville lies Neptune Beach, a quaint beach with a relaxing atmosphere.
Neptune Beach is also close enough to Jacksonville that you can be in a lively city with tons of food and drink options in a jiffy after spending a lax day by the ocean.
The cute surrounding beach town of Neptune Beach has everything you could want out of a sweet beachy getaway. Swim in the gentle waters, lounge about in the sun, or grab a brew at a local craft brewery in the area!
Not to mention, from here, it is only a quick drive to the gorgeous Talbot Island State Park!
15. See the unbeatable beauty at Anastasia State Park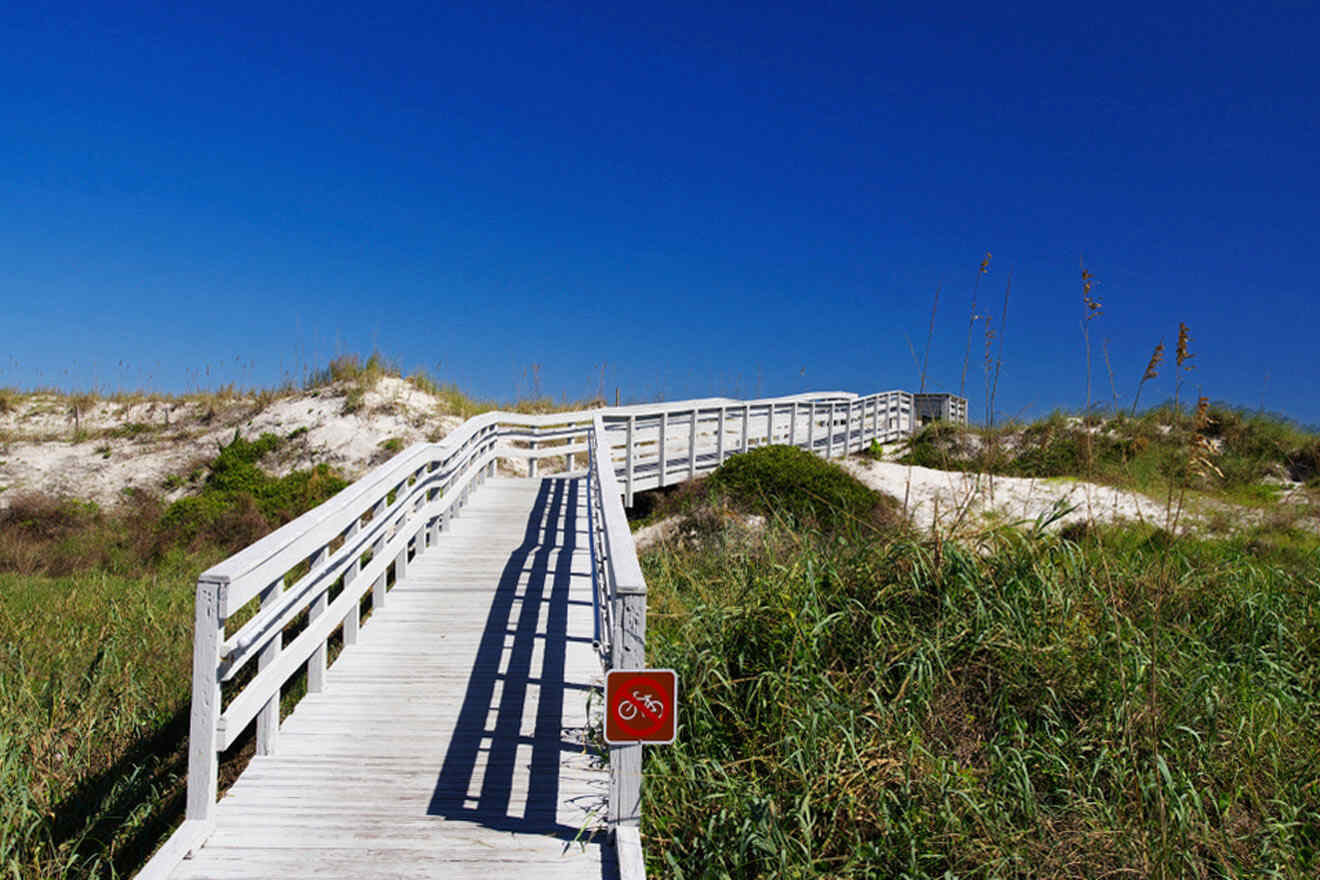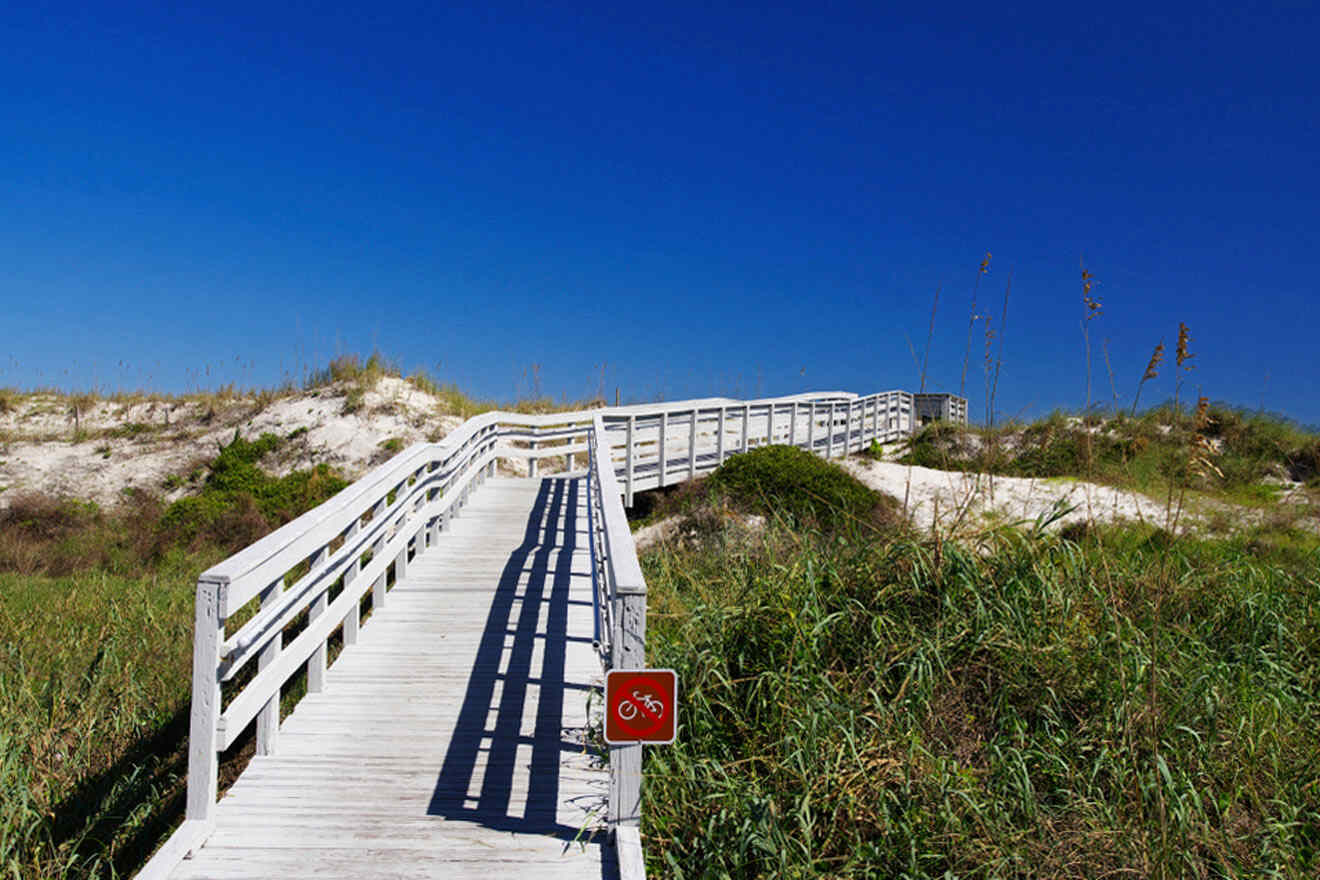 Northeastern Florida does not get as much credit as it deserves, by any means. Anastasia Island is another one of Florida's hidden gems.
Visiting St. Augustine? Don't miss out on this incredibly beautiful state park, only a short drive from the historic downtown area of St. Augustine.
The vast sandy shores have been rated as some of the best beaches in the United States!
Anastasia State Park has so many fun outdoor activities to offer as well as tons of historical landmarks, making for a very enriching experience all around.
Offering many nature trails, this is an excellent beach for nature lovers and outdoor adventures. If you want a more immersive experience and you just can't get enough of this stunning state park, then you can camp out at this gorgeous natural preserve.
Cast a line at one of Florida's most famous fishing piers, and enjoy some fresh catch!
When you've had enough of this beauty, you can head further south to St. Augustine Beach.
| | |
| --- | --- |
| 👪 Family-friendly score: | High |
| 🏛️ Best Beach: | New Smyrna Beach |
| 🎢 Top paid attraction: | Bioluminescent Kayak Tour |
| 👧 Best attraction for kids: | Cocoa Beach |
| 🕺 Nightlife: | South Beach |
FAQs about Florida East Coast Beaches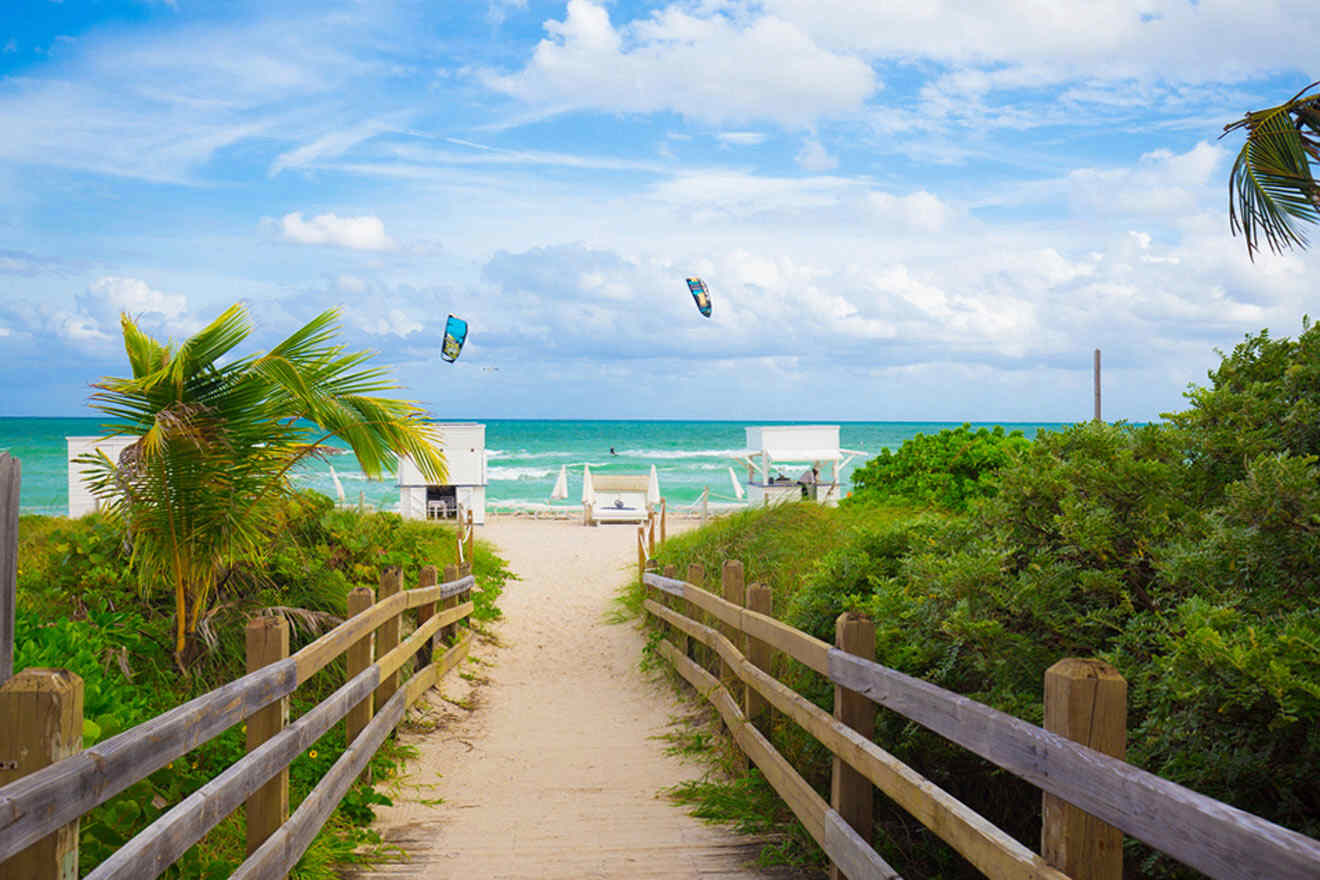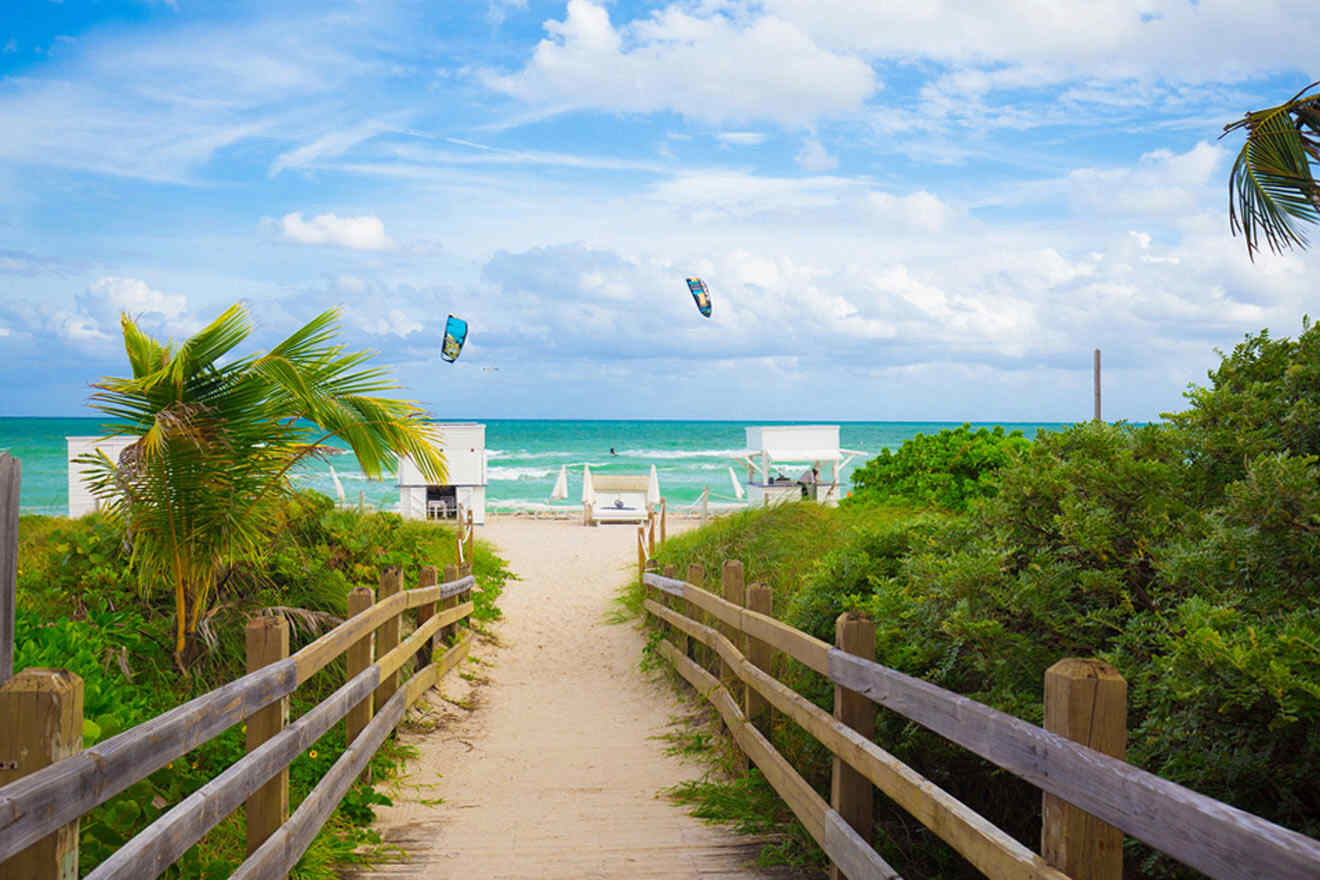 🏖️ What is the best beach on the East Coast of Florida?
While the West Coast is praised for its warm, calm Gulf waters, the East Coast offers cooler beaches untouched by development. Some of the best beaches on the east coast are Miami Beach, Hollywood Beach, Amelia Island, Melbourne Beach, and Cocoa Beach.
🌊What are the prettiest East Coast Florida beach towns?
🌴What are the safest East Coast Florida beaches for families?
Pretty much all of Florida's east coast beaches are prime for families. However, there are a few that stand out. For one, Cocoa Beach is an excellent beach town for families with tons of activities, Hollywood Beach is another great one, Daytona, and New Smyrna.
❣️What are the best East Coast Florida beaches for couples?
Conclusion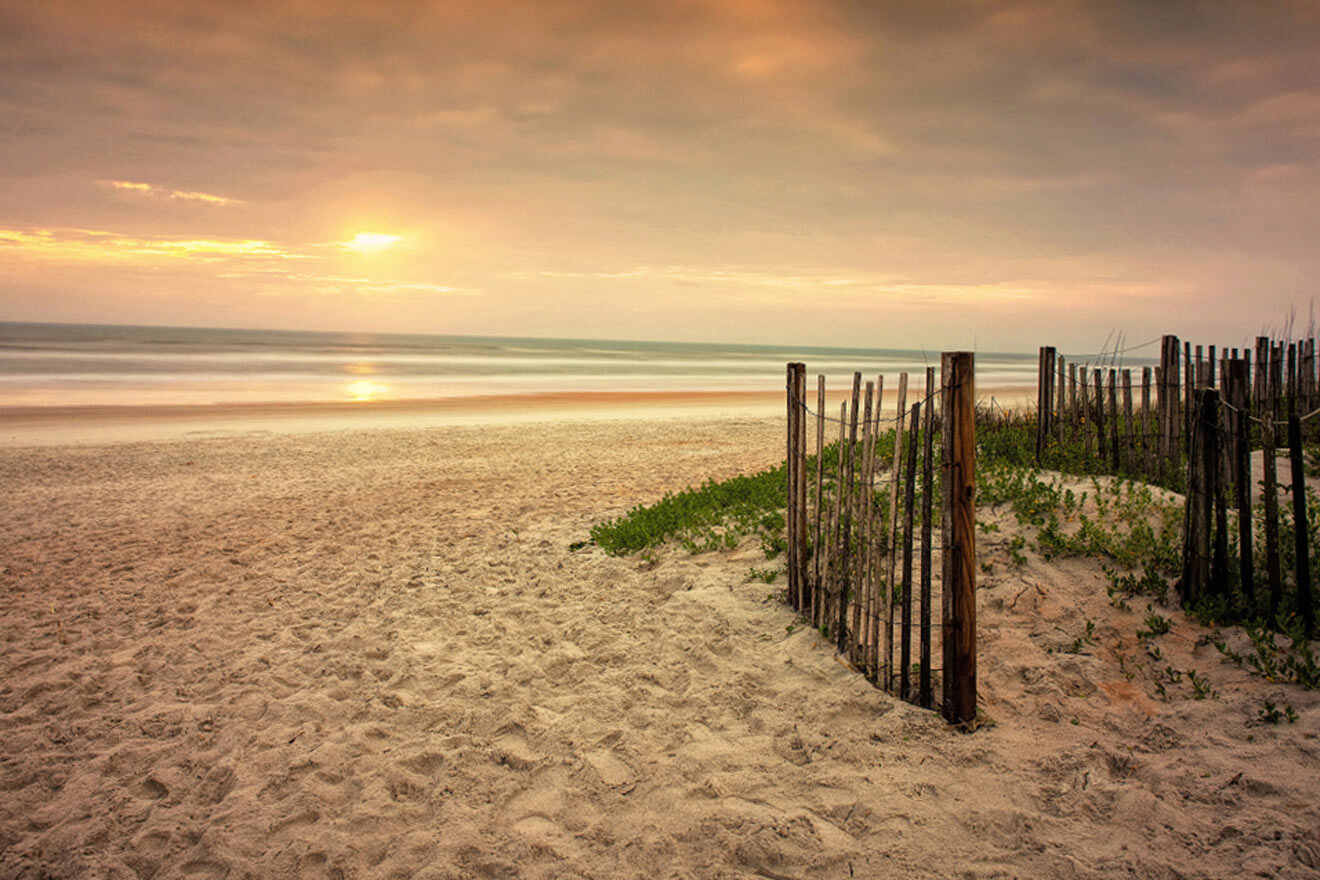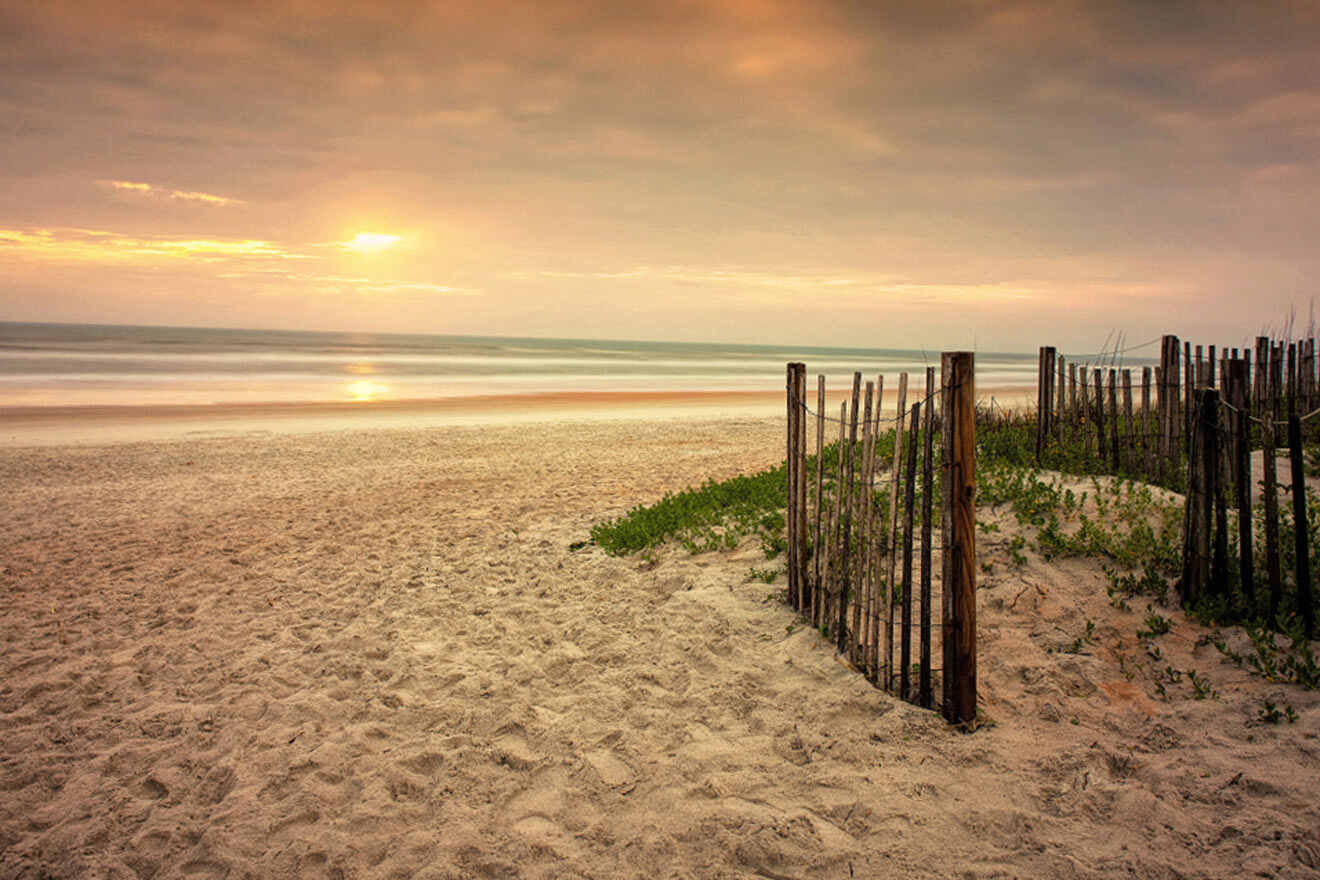 There you have it! An extensive list of Florida's Atlantic Coast beaches. While people love the West Coast, some people prefer the cooler waters of the Atlantic Ocean and Florida's East Coast Beaches.
I for one, absolutely love the coastline on Florida's East Coast. There are so many magical beaches with towering sand dunes to choose from. Here are my 2 favorite beachy activities to do on the East Coast:
I hope you enjoyed this list and made some incredible memories on one of our beautiful east coast beaches!
Love and Gratitude,
Amira G.
---
Pin it for later!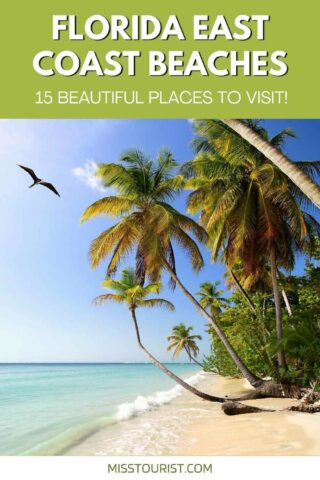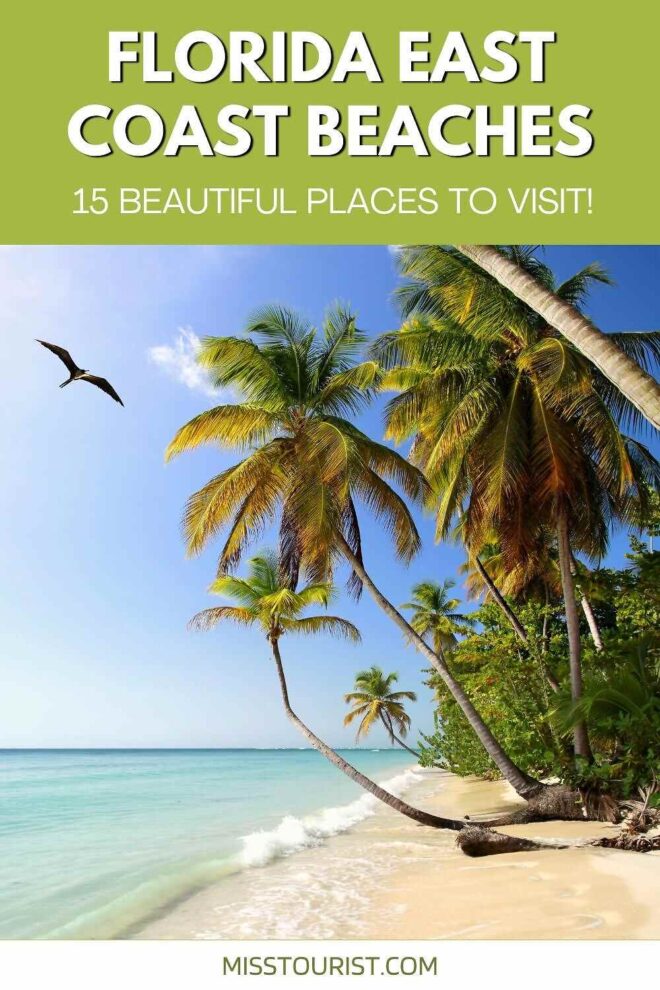 Pin it for later!