EasyJet to send 'rescue flights' for passengers stranded by air traffic control chaos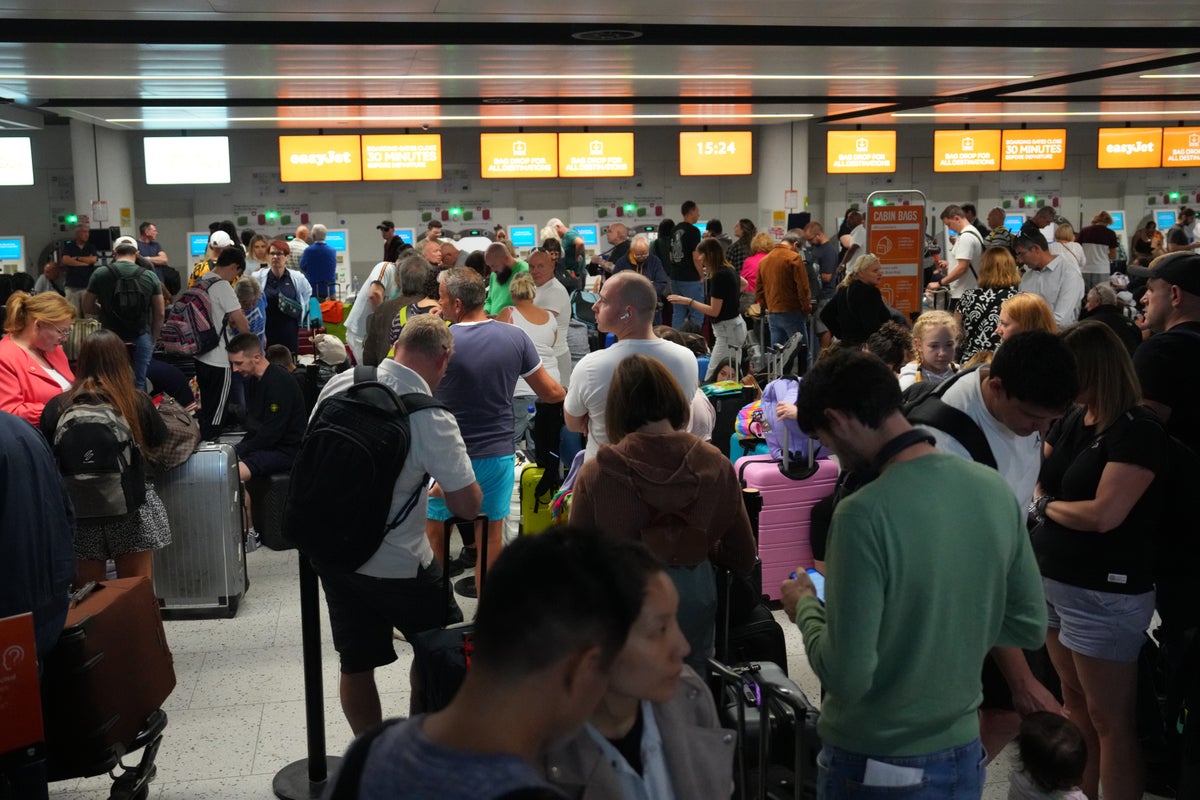 Britain's largest budget airline will send "rescue flights" for passengers stranded abroad by air traffic control chaos.
As hundreds of flights were cancelled on Tuesday, easyJet confirmed it would operate five repatriation flights to London Gatwick over the coming days.
The rescue flights will operate from Palma and Faro on 30 August, Tenerife and Enfidha on 31 August and Rhodes on 1 September.
More than 1,200 flights to, from and within the UK were grounded by the failure at the national air traffic provider Nats, with around 200,000 people sleeping at airports overnight.
Earlier on Tuesday, easyJet grounded more than 80 flights, including three dozen at Gatwick, including those serving popular tourist destinations such as Athens and Venice.
Confirming the rescue flights, an easyJet spokesperson said: "We have been providing customers with assistance and hotel accommodation and advising anyone who has needed to make their own hotel or alternative travel arrangements that they will be reimbursed.
"During this traditionally very busy week for travel, options for returning to the UK are more limited on some routes and so easyJet will be operating five repatriation flights to London Gatwick over the coming days from Palma and Faro on August 30, and Tenerife and Enfidha on Thursday August 31 and from Rhodes on Friday September 1.
"We are also operating larger aircraft on key routes including Faro, Ibiza, Dalaman and Tenerife to provide some additional 700 seats this week.
"Although this situation was outside of our control, we are sorry for the difficulty this has caused for our customers and remain focused on doing all possible to assist and repatriate them. Customers will be moved onto repatriation flights and notified directly."
Meanwhile, National Air Traffic Services (Nats) confirmed that the air traffic control failure was caused by flight data received by the organisation, with both primary and backup systems responding by suspending automatic processing.
A dodgy flight plan filed by a French airline may have sparked the major systems meltdown, sources told The Independent earlier on Tuesday. The new statement appears to corroborate reports that this "dodgy flight plan" was responsible, according to travel correspondent Simon Calder.
"Very occasionally technical issues occur that are complex and take longer to resolve. In the event of such an issue our systems are designed to isolate the problem and prioritise continued safe air traffic control", a statement from CEO Martin Rolfe read.
"This is what happened yesterday. At no point was UK airspace closed but the number of flights was significantly reduced. Initial investigations into the problem show it relates to some of the flight data we received.
"Our systems, both primary and the back-ups, responded by suspending automatic processing to ensure that no incorrect safety-related information could be presented to an air traffic controller or impact the rest of the air traffic system. There are no indications that this was a cyber-attack."
More follows…
News & Advice,Travel, #EasyJet #send #rescue #flights #passengers #stranded #air #traffic #control #chaos,