Brazil's Best Beaches → in the North, South & Rio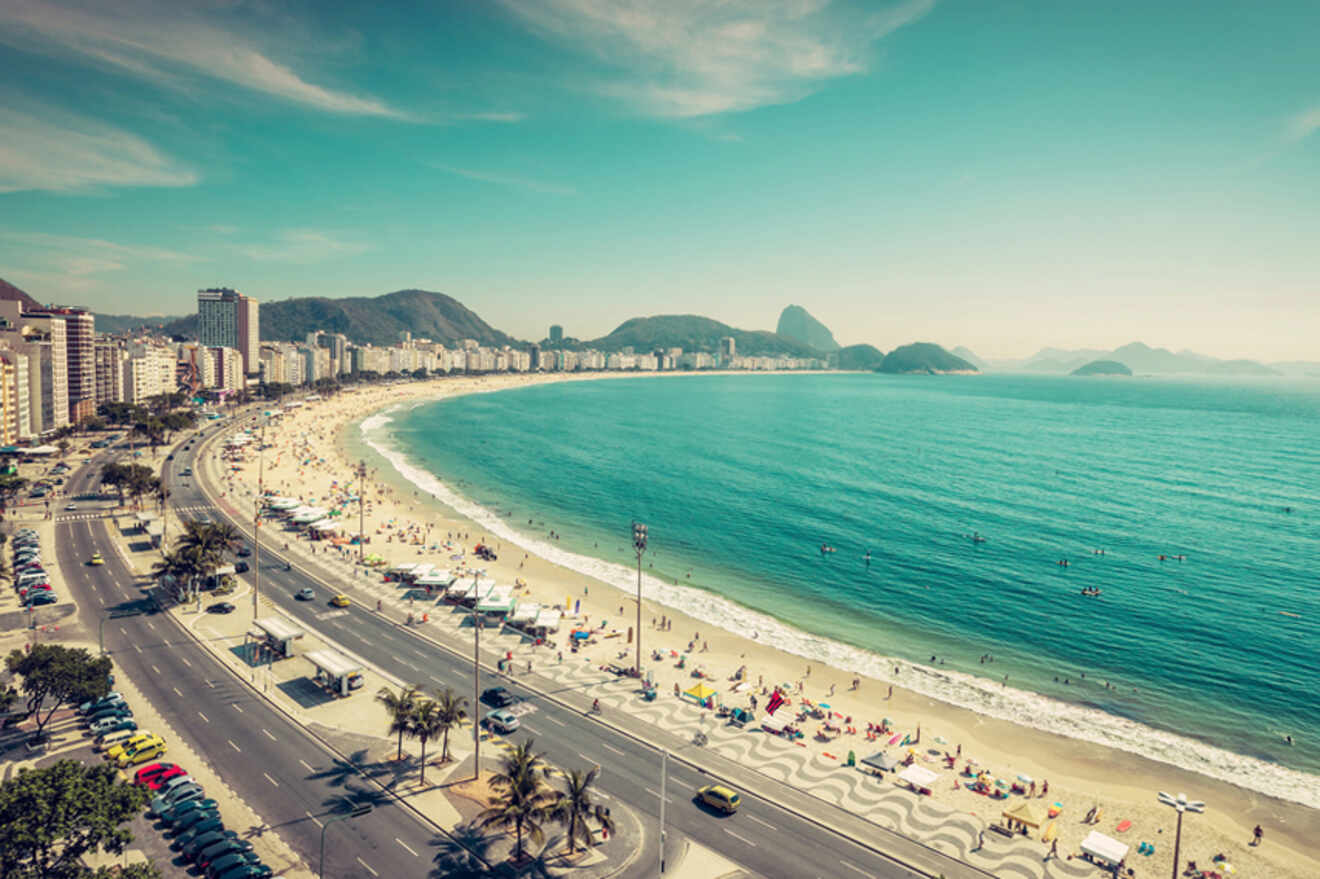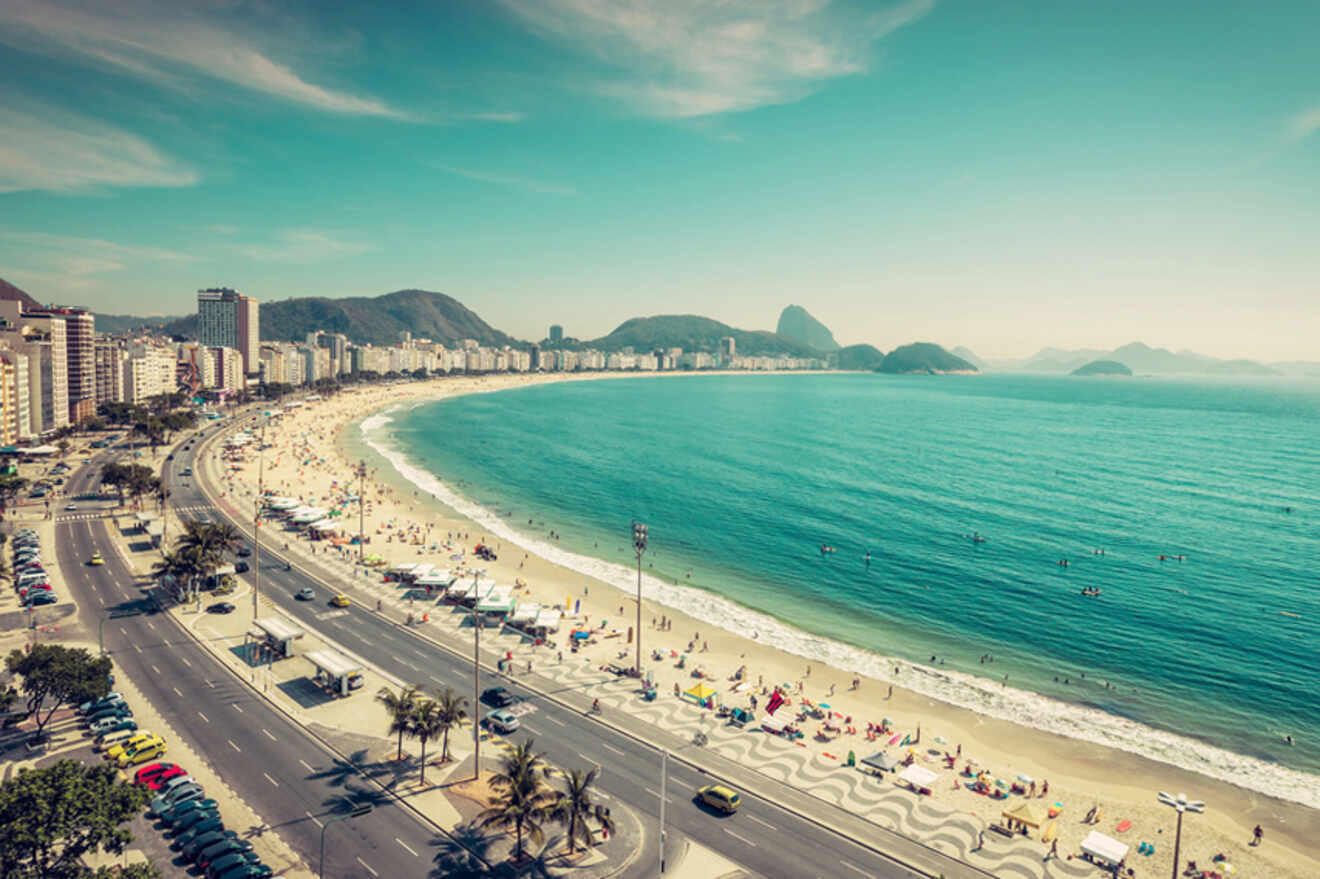 Are you planning your trip to Brazil, and you don't want to miss out on the most beautiful beaches? I cannot blame you! I lived in Brazil for a while, and since I was feeling the same, I decided to make your research easier and write this post about Brazil's best beaches.
Since Brazil is the biggest country in South America, it is quite hard to see all its beaches at once, so I divided the best beaches in Brazil by their location: North, South, and top beaches in Rio, which has quite a central location, and chances are you are visiting the capital city.
Get ready to splash in crystal clear beaches, surf the best breaks in the country, have fresh seafood, gape at the Atlantic Ocean and the surrounding natural beauty, and chill in natural rock pools… Brazil is just like a dream!
Now let's wake up and jump right in!
If you are in a hurry
If you don't have time to read the whole post, check out this quick list of the best beaches in Brazil, divided by location:
And here's a map so you can easily locate each in this list:
Beaches in Rio de Janeiro
Rio de Janeiro is definitely a must-see for your Brazilian holiday, and it has a great location in the country, so it is the perfect starting point to explore either the South or the North right after.
But Rio itself and its surroundings host many incredible beaches, so you actually don't have to leave the city to enjoy them. Let's see the 3 must-see beaches in Central Rio de Janeiro:
1. Copacabana Beach – for leisure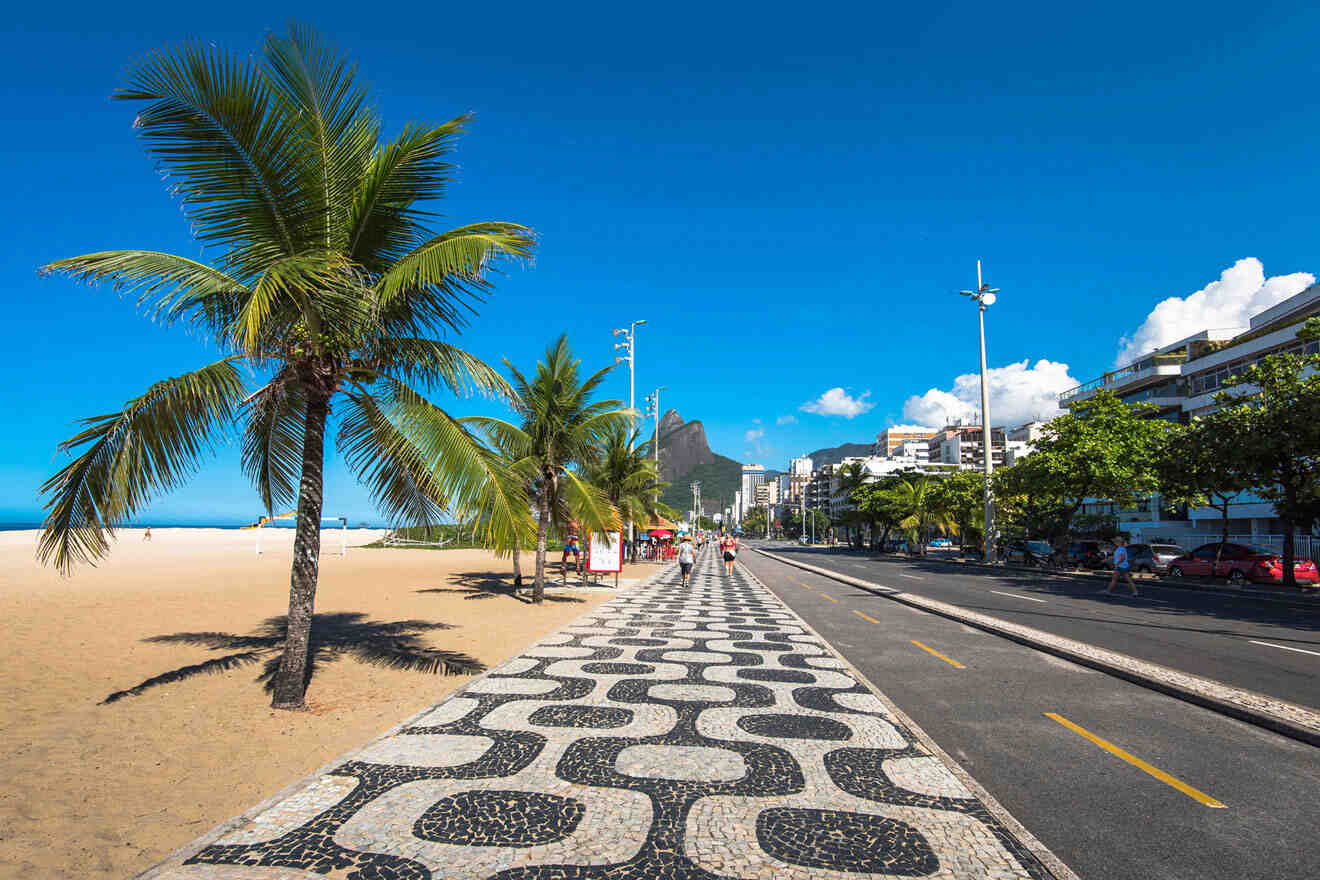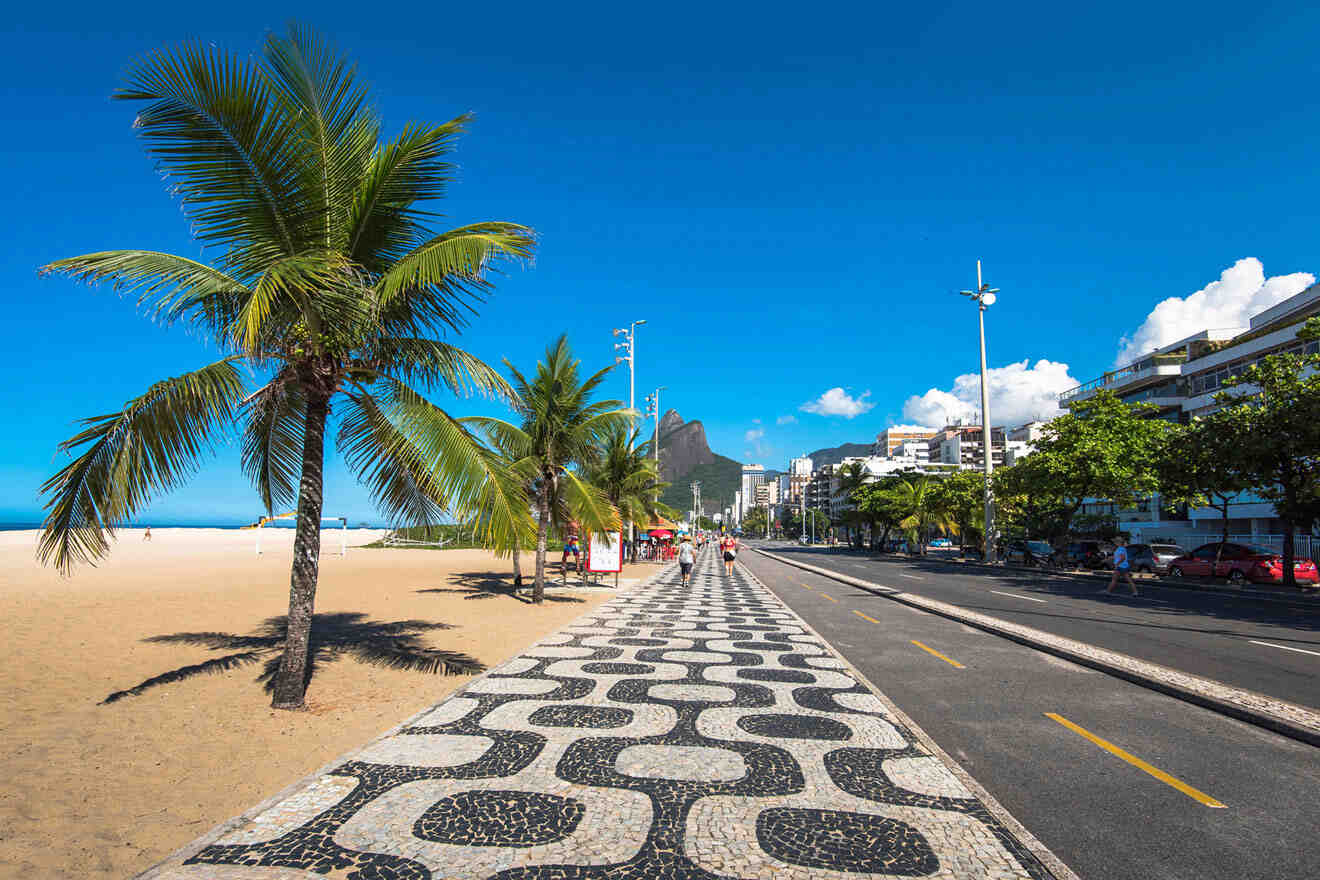 Copacabana Beach is the most iconic beach in Rio, stretching for approximately 3 miles (5 km) in the heart of the city, which makes a cool contrast between the huge buildings and the blue sea.
This beach is always busy with both locals and tourists from all around the world. It also hosts many stands selling clothes or the typical caipirinha (you need to try it, either with cachaca or virgin), bars, and restaurants. Some of them feature really cool parties at night!
This is the perfect place to play beach volleyball, soak up some sun, or take a quick break from the city, but swimming is not ideal here because the currents are quite strong, and waves break directly on the shore.
Copacabana Beach is home to the biggest New Year's Eve parties on the planet when everyone dresses in white colors and gathers there!
You can also visit this famous beach as a part of this full-day walking tour of Rio, perfect if you're coming for the first time and want to get to know the city!
📍 Location: Copacabana Beach
🗺️ Closest area of Rio: Copacabana
2. Ipanema Beach – for shopping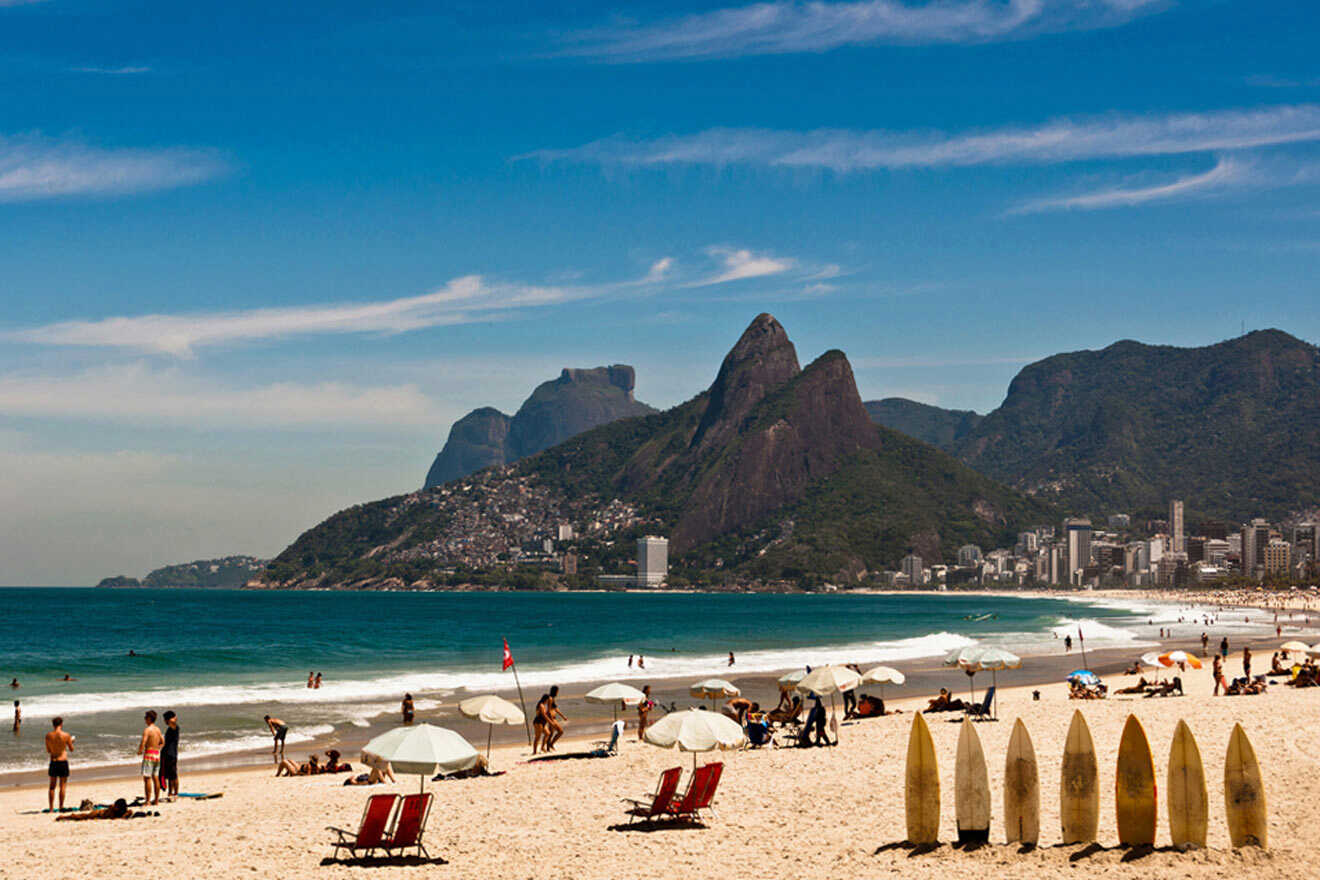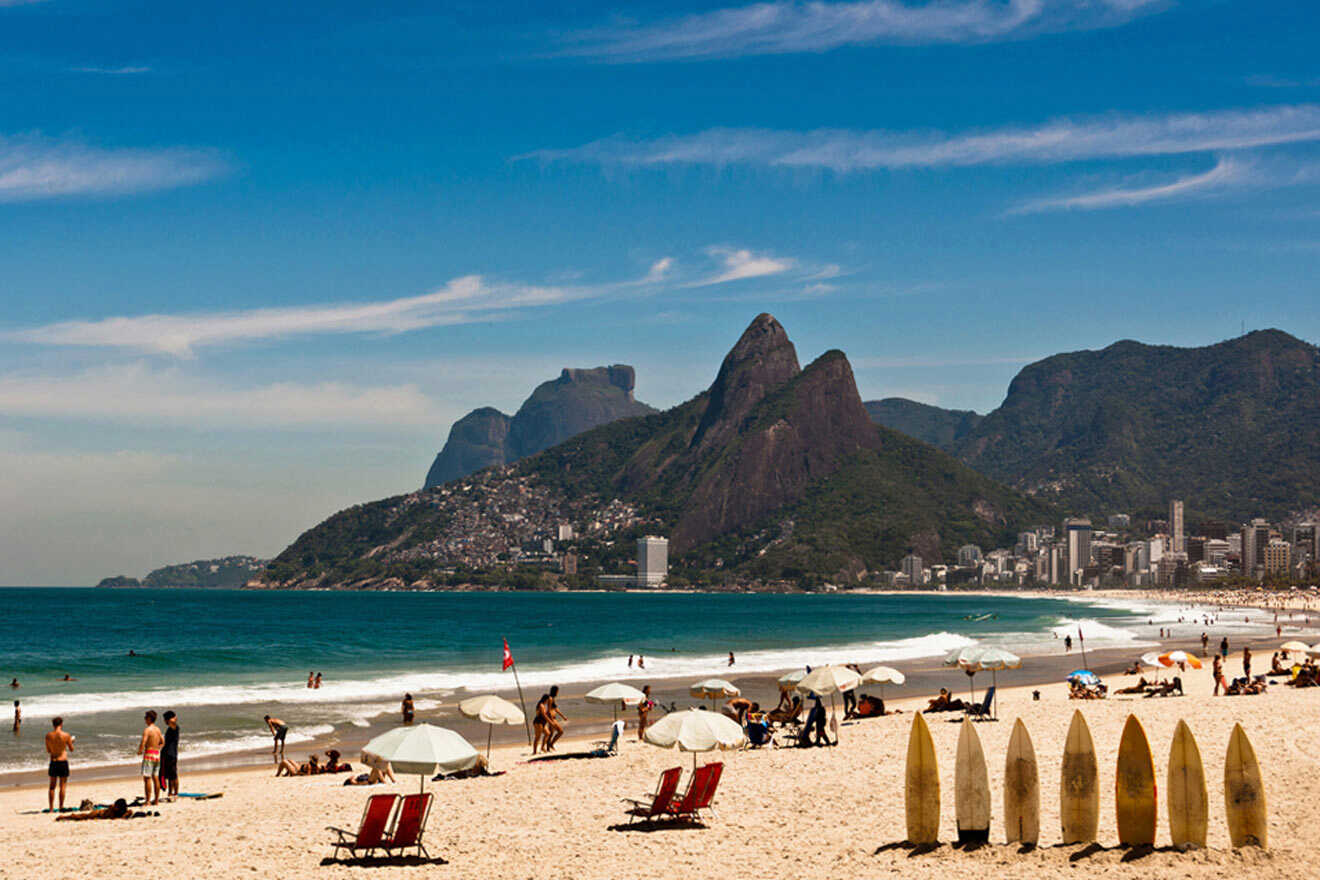 Nestled between the Rio beaches of Copacabana and Leblon, Ipanema Beach lies right in front of one of the upscale South Zone ( "Zona Sul"), one of the richest neighborhoods in Rio, hosting stylish restaurants, cafés, bars, and boutique shops.
This long white beach is quite similar to its neighbor Copacabana, both in the vibe and type of beach, but the difference is that you can directly go shopping after a day soaking up some sun.
Just a few steps from Ipanema, you'll find countless shopping options to enjoy, as well as art galleries, theaters, and clubs hosting the coolest parties. Basically, you'll have everything at your fingertips!
You can visit this beautiful beach either by yourself or as a part of this walking tour, perfect if you're staying in Rio for a few days and you want to make the most out of your time!
📍Location: Ipanema Beach
🗺️ Closest area of Rio: Zona Sul
3. Forno Beach – for families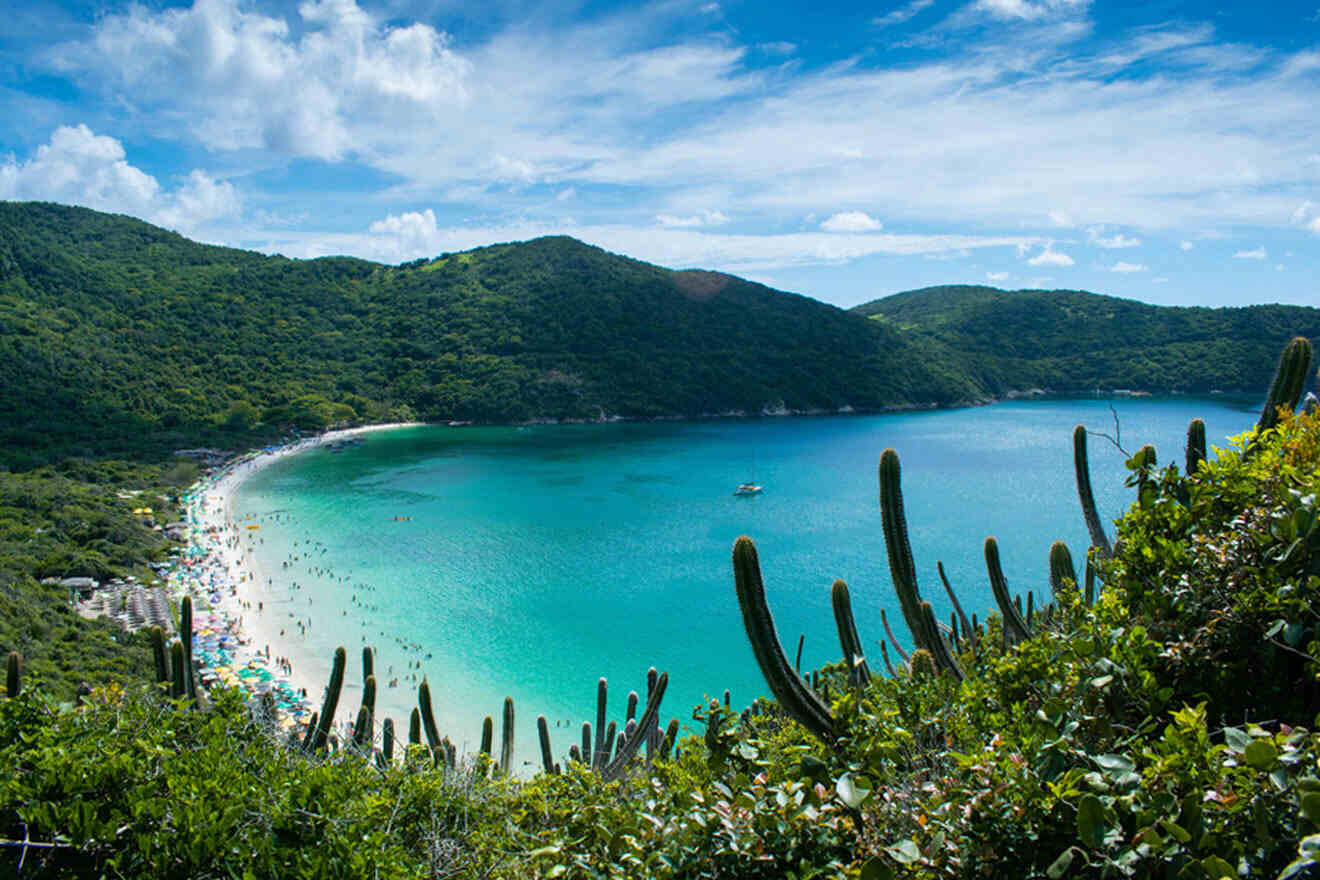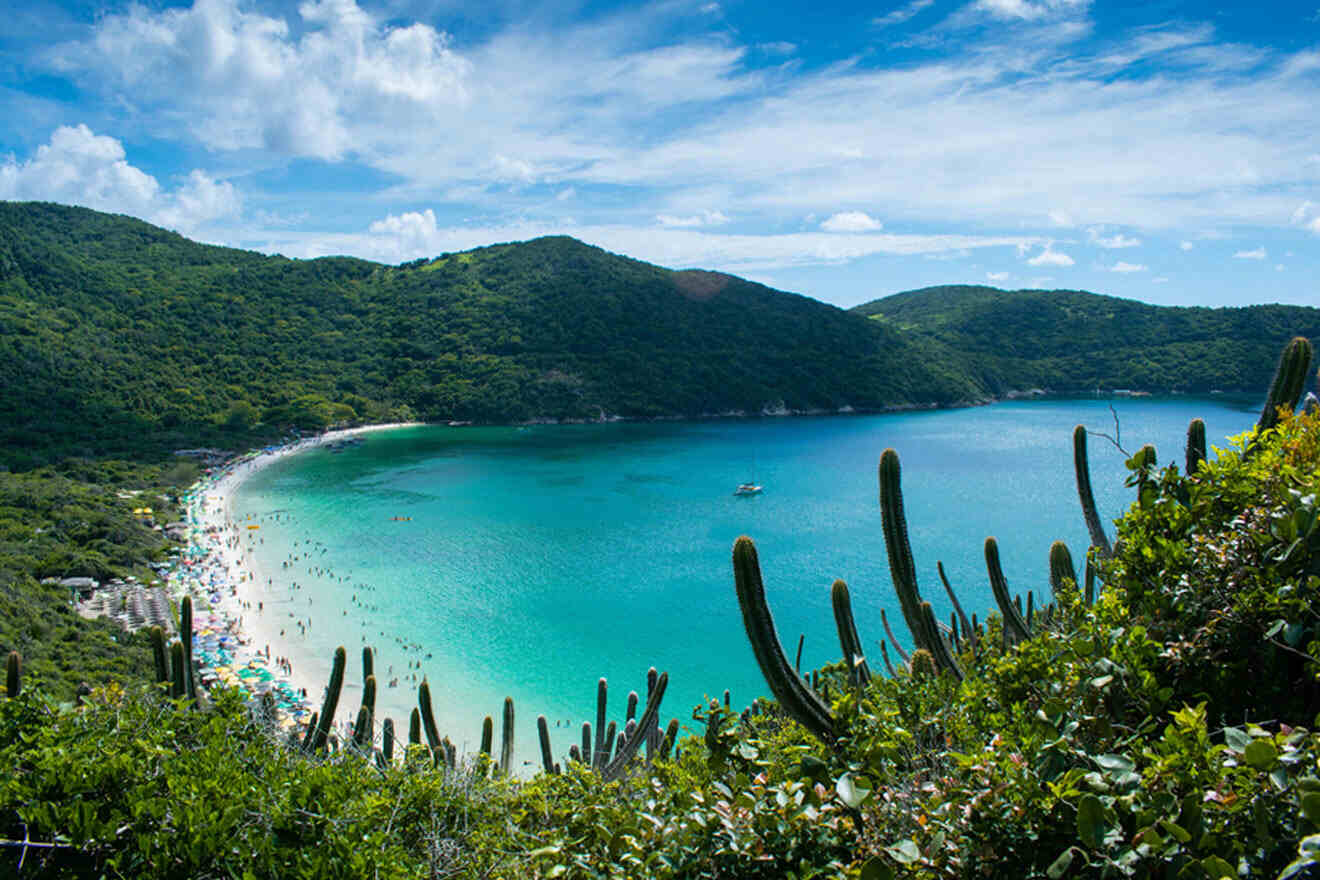 The sandy beach Praia do Forno, located in the coastal village of Buzios, about a 2 hours drive east of Rio de Janeiro, is perfect if you want to escape the big crowds of the capital's busy beaches and enjoy some time with the family.
This secluded beach features calm, shallow waters to dip and swim (the place is perfect for snorkeling), white sand to chill and soak up some hot sun, and even a floating restaurant offering fresh seafood and oysters.
Praia do Forno literally means "Oven Beach." The name comes from the red color of its sand, caused by the abundance of a mineral rich in iron. This makes the sand temperatures super hot, reaching up to 40°C (104°F) in summer!
To reach it you can either do a 15-minute hike down the cliff or take a taxi boat from Marina del Pescador (at Praia dos Anjos), covering an average of 10 reais per person (US$2) and taking about 10 minutes. Both options include stunning views of the beach, so don't forget to bring your camera!
📍 Location: Forno Beach
🗺️ Closest City: Buzios
Beaches in the north of Brazil
The north of Brazil is where you'll find the biggest concentration of beautiful beaches, and the weather is warmer throughout the year. Let's check out the most popular ones:
1. Jericoacoara Beach (Jeri Beach) – for cool activities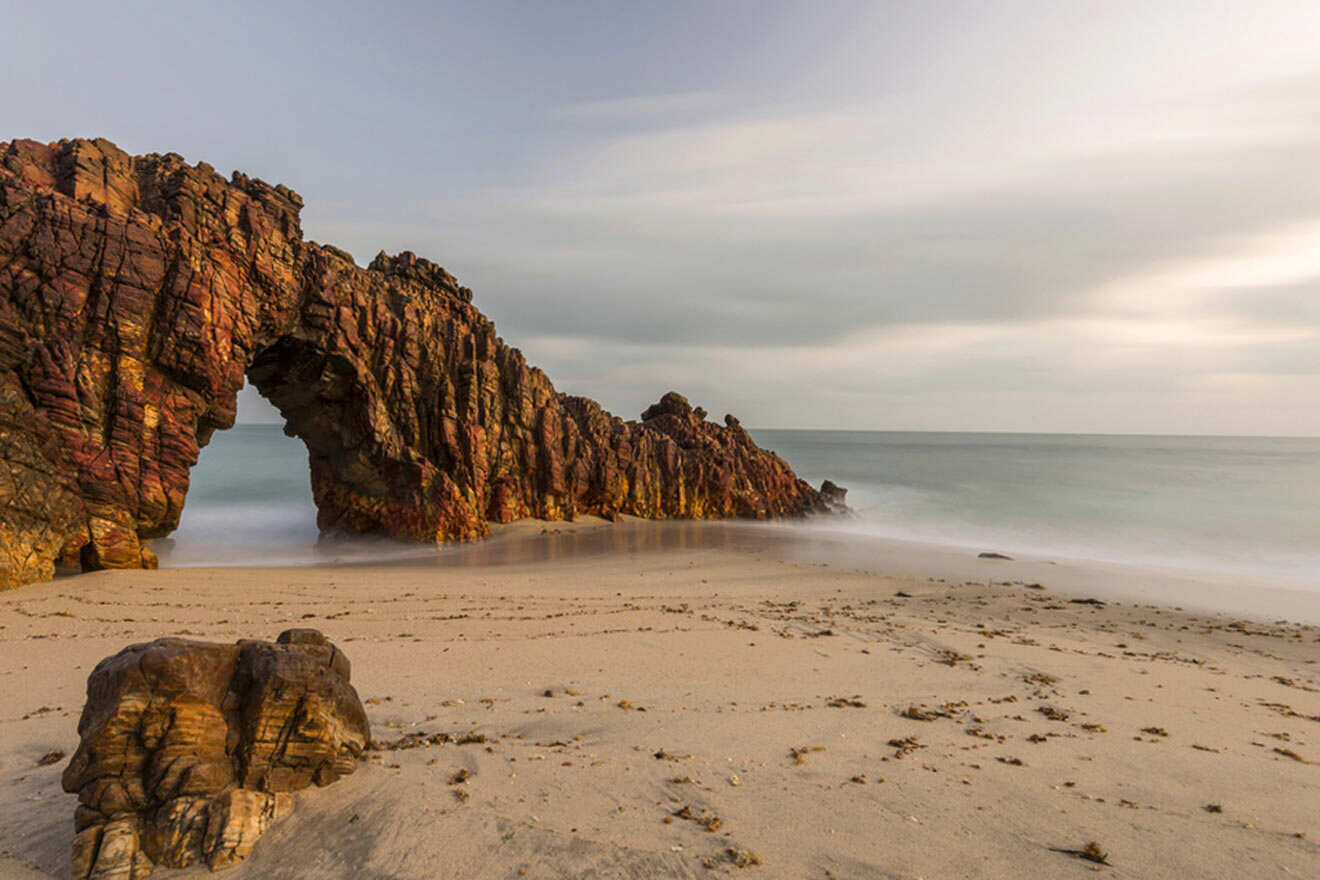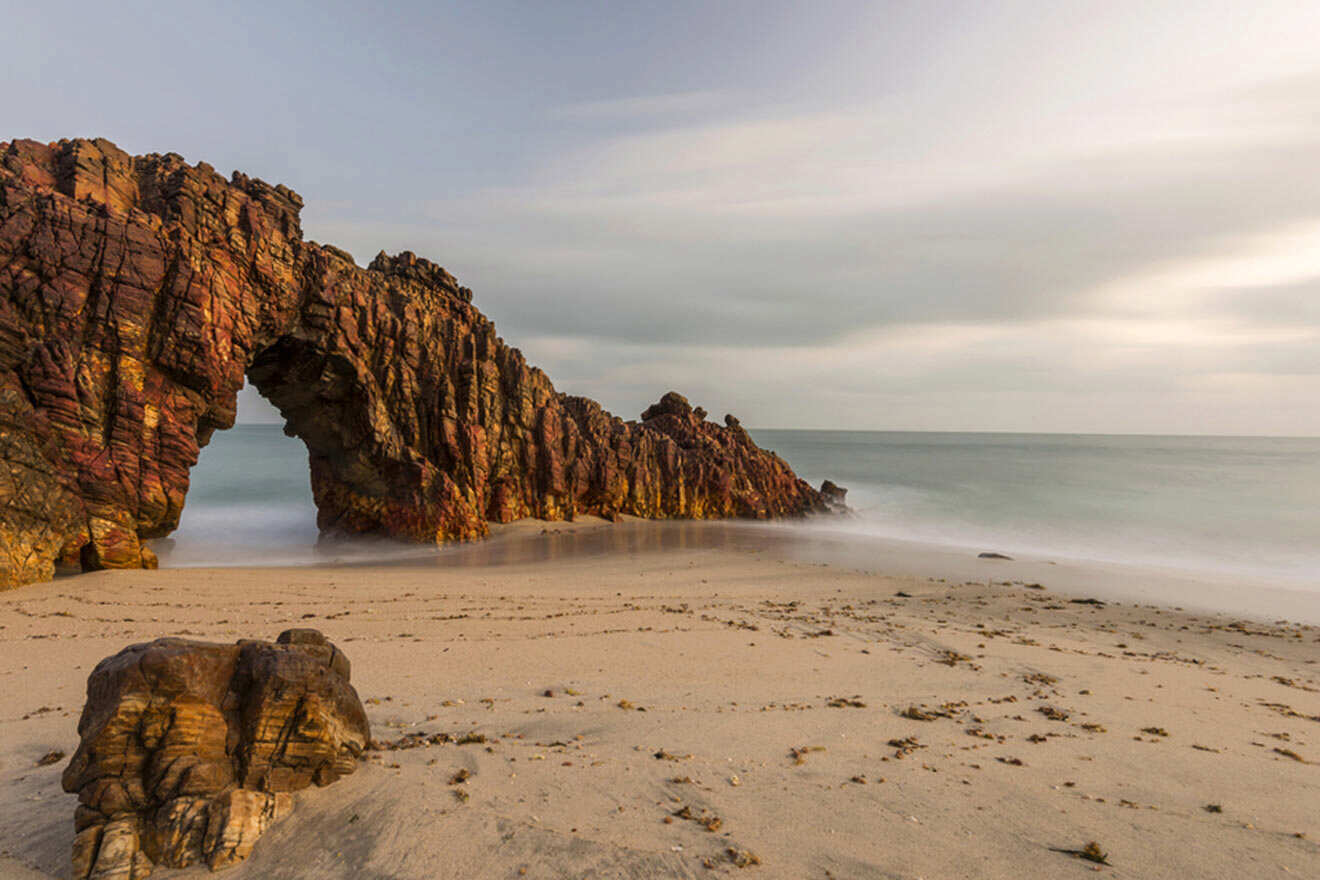 Secluded at the north end of Brazil, right behind a sea of dunes, you'll find Jericoacoara Beach, most commonly known as "Jeri."
To get to this hidden treasure, you will have to sweat a little, passing through unpaved sand tracks, but it will definitely be worth it: once there, you'll have access to white sand, crystal-clear waters, cool restaurants, and nightlife.
Apart from splashing and soaking up some sun on this lovely beach, there are many cool activities you can join, like going on a day trip to explore Jericoacoara's east coast (and sights like Tree of Preguiça Praia do Preá and r Laguna Beach) or this Tatajuba beach tour.
Basically, this beach satisfies the taste of any traveler out there!
📍 Location: Jericoacoara Beach
🗺️ Closest town: Jericoacoara
2. Espelho Beach – top remote beach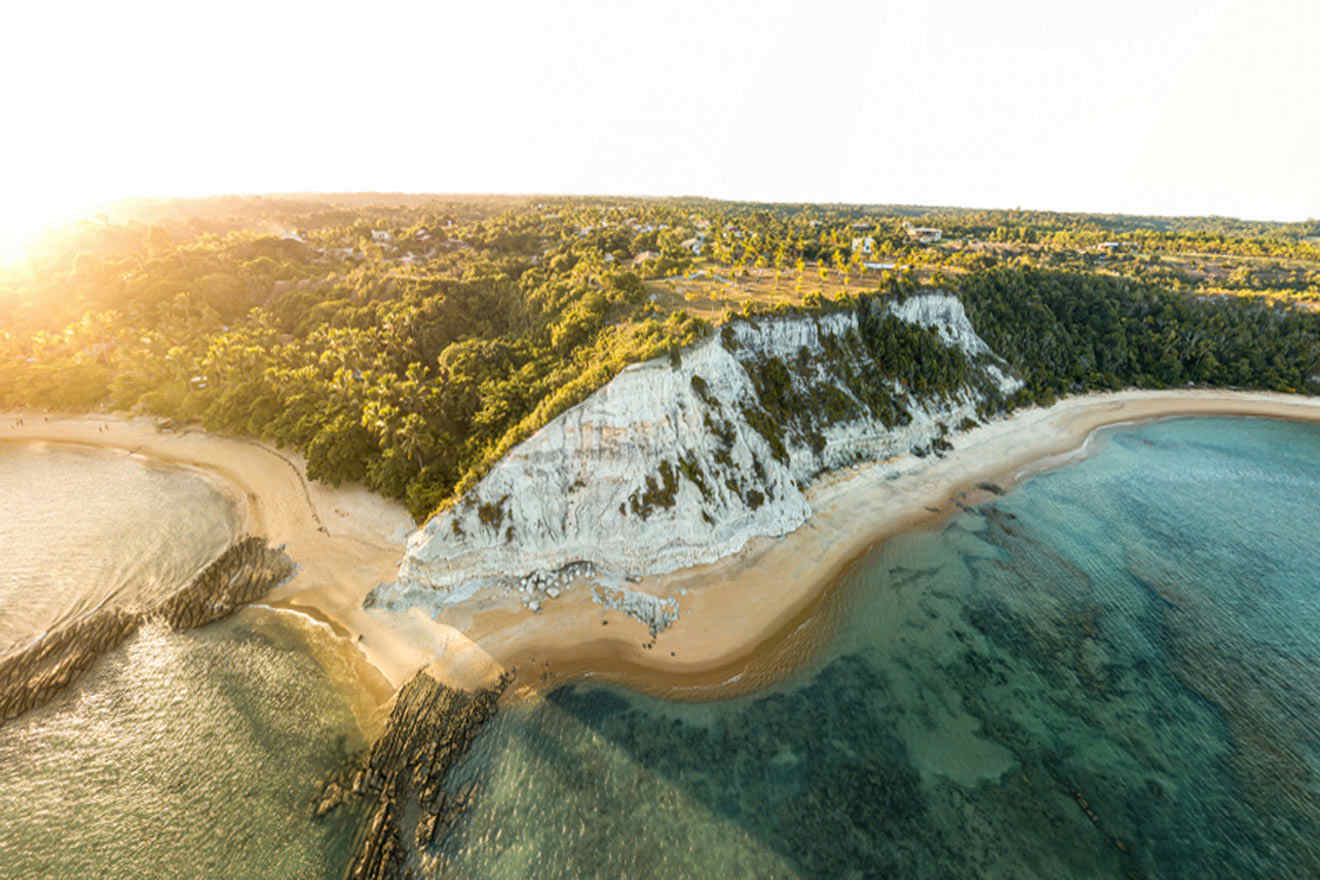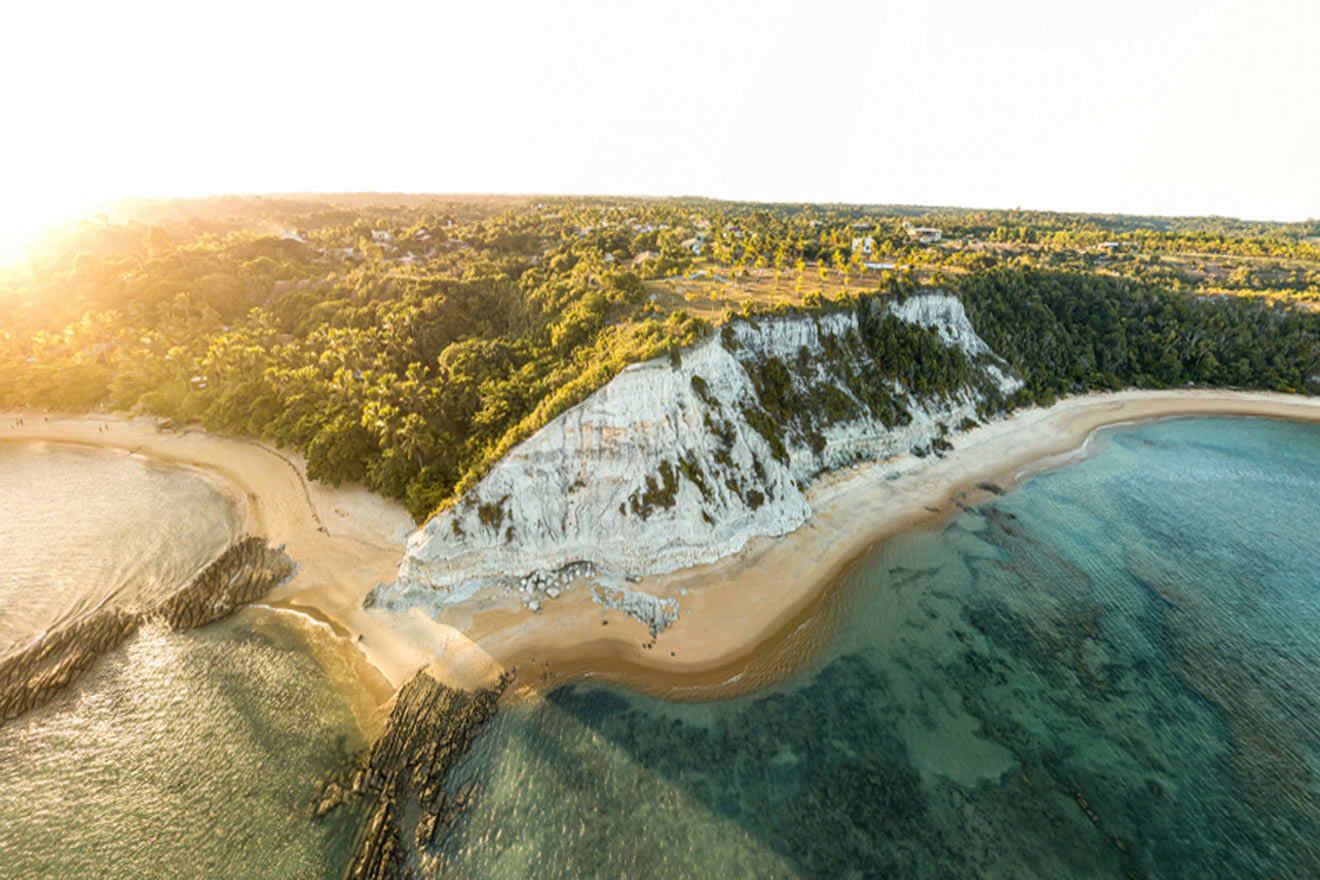 If you're looking for a remote beach where you can enjoy some peace and tranquility, the stunning Praia do Espelho is for you, located 15 miles (24 km) from Trancoso, Porto Seguro, in the state of Bahia.
In fact, Espelho Beach is way less crowded than the other nearby beaches, and this is because the only way to reach it is by a 1-hour car ride through a dirt road!
This hidden treasure is considered one of the most beautiful beaches in Brazil and takes its name (that means "mirror beach") from the mirror-like effect that happens when the tide is low, and the weather is sunny, thanks to the sunlight reflecting off the water.
Espelho Beach is super long, perfect if you're a fan of walks on the beach like me, and also has a few kiosks selling snacks and drinks, but I suggest you bring your own picnic because they are quite expensive!
And if you prefer splashing in the water, make sure you bring your snorkel to explore the corals and tropical fish in the reef pools!
📍 Location: Espelho Beach
🗺️ Closest town: Porto Seguro
3. Praia dos Carneiros – most exclusive beach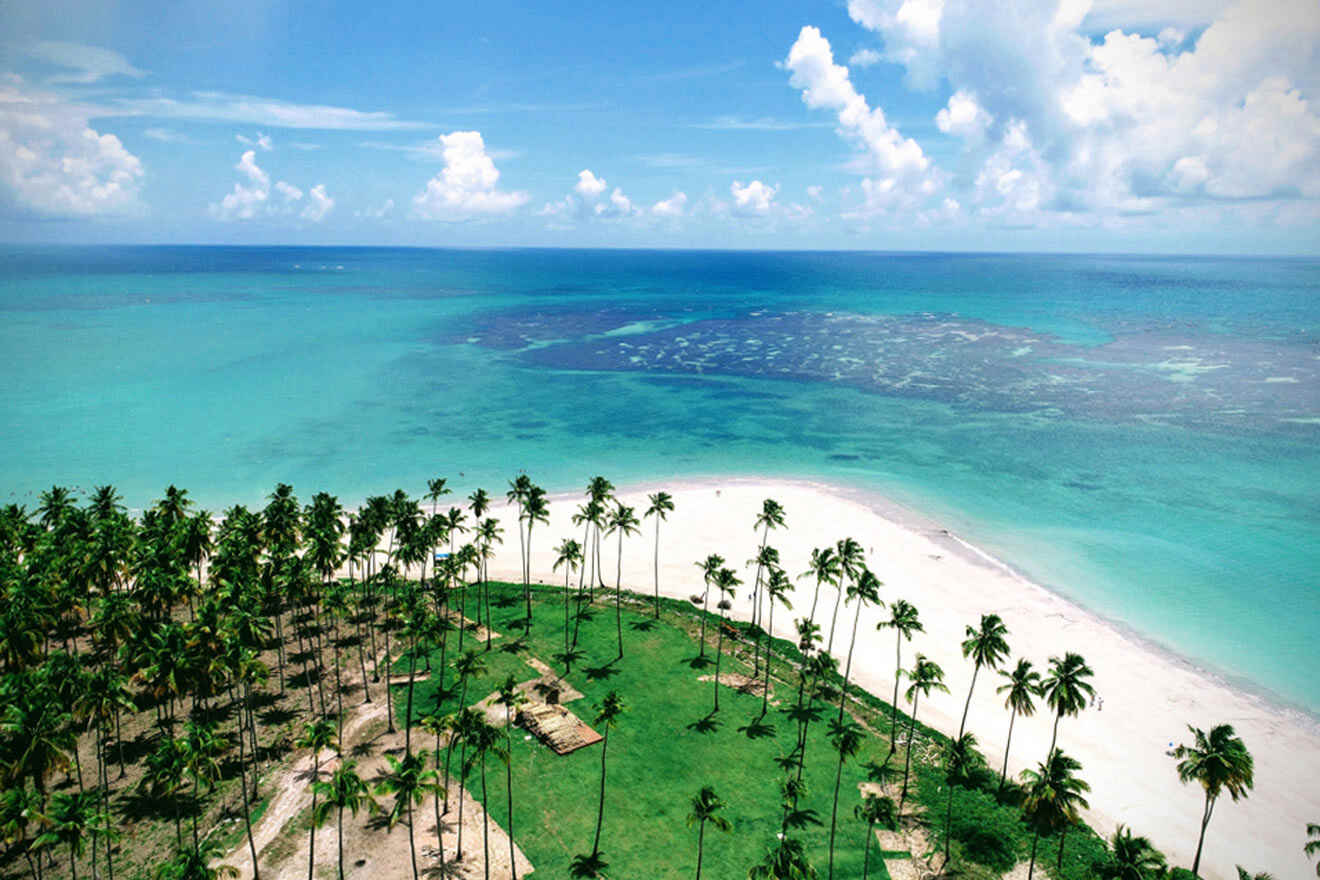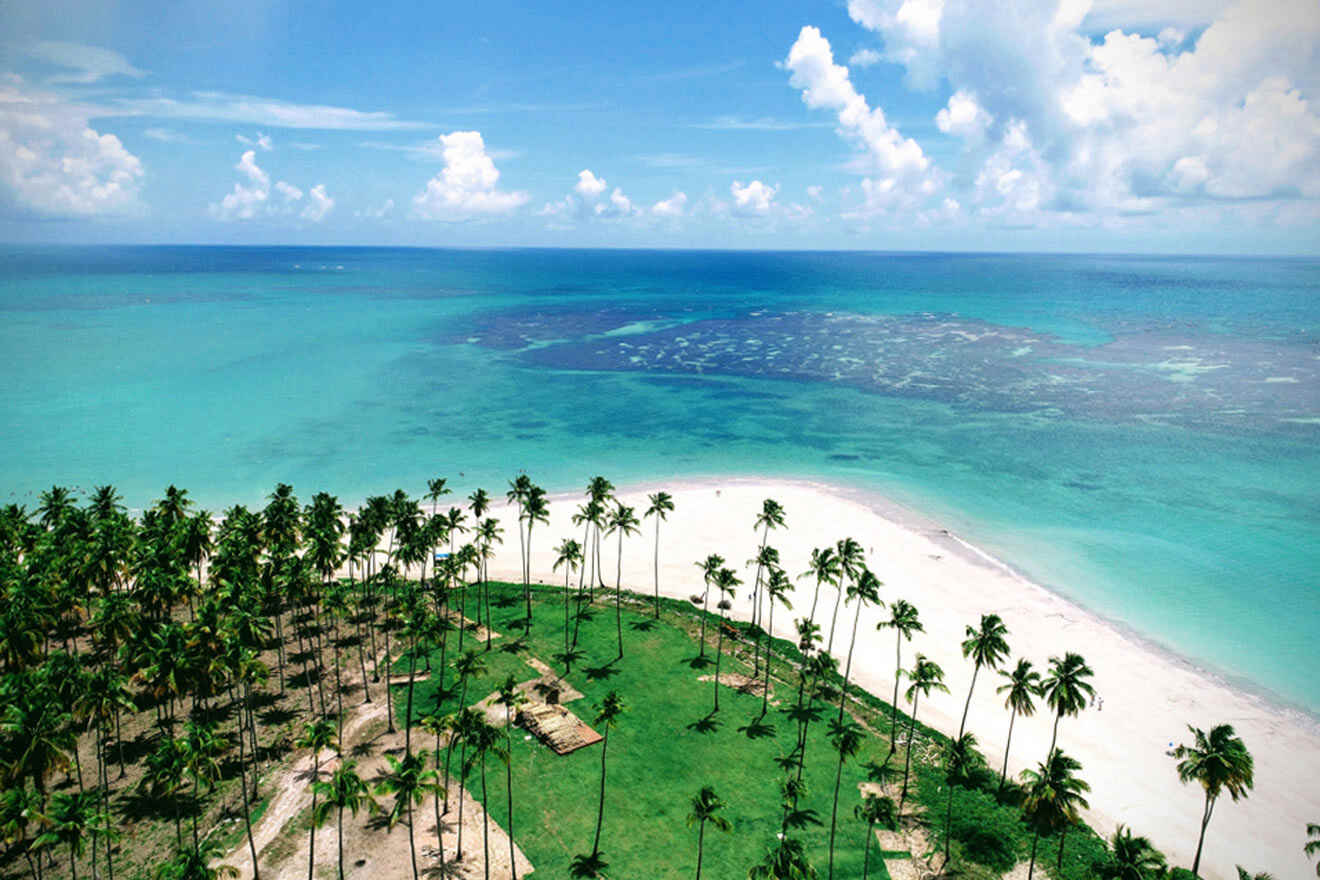 Located south of Recife, Praia dos Carneiros is another beach where you can enjoy some quietness and natural beauty, stretching along miles of white sand and transparent waters.
The beach is family-owned, so you will have to pay about 50 reais (US$10) to access it, but it is definitely worth the money. This place looks like a painting, sitting on a bay, fringed by countless coconut trees (a great spot to enjoy some shade) and hosting natural pools where you can chill during low tide.
You can access Praia dos Carneiros only by taking a boat from Tamandare Beach, located right nearby (you will find many offering the service once you get there). Otherwise, you can join this full-day beach tour with a local guide, leaving daily from the cities of Recife or Porto de Galinhas, and including round-trip transportation from your accommodation!
📍 Location: Carneiros Beach
🗺️ Closest town: Porto de Galinhas
Book a Beach Tour from Carneiros
4. Praia de Pipa (Pipa Beach) – for surfers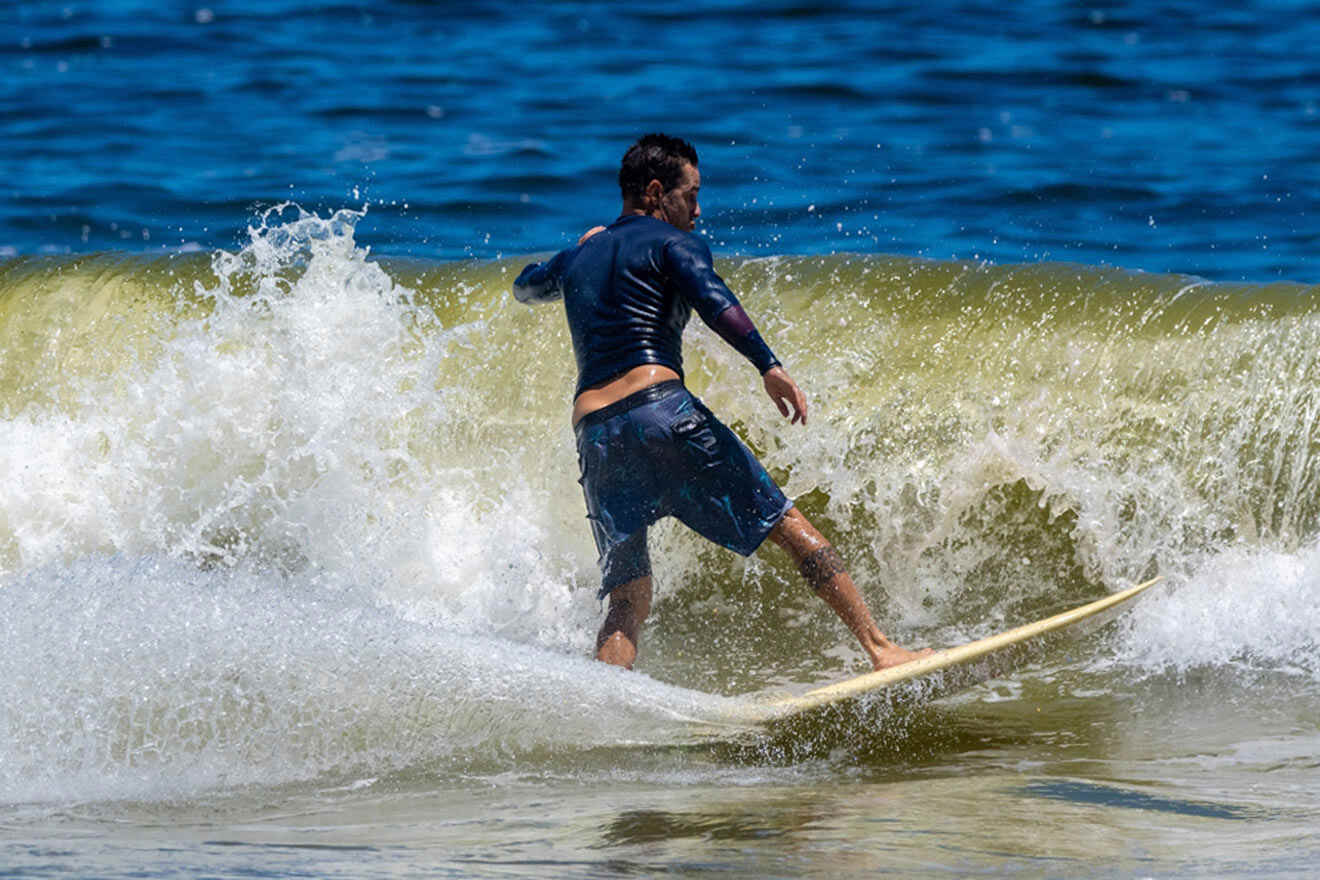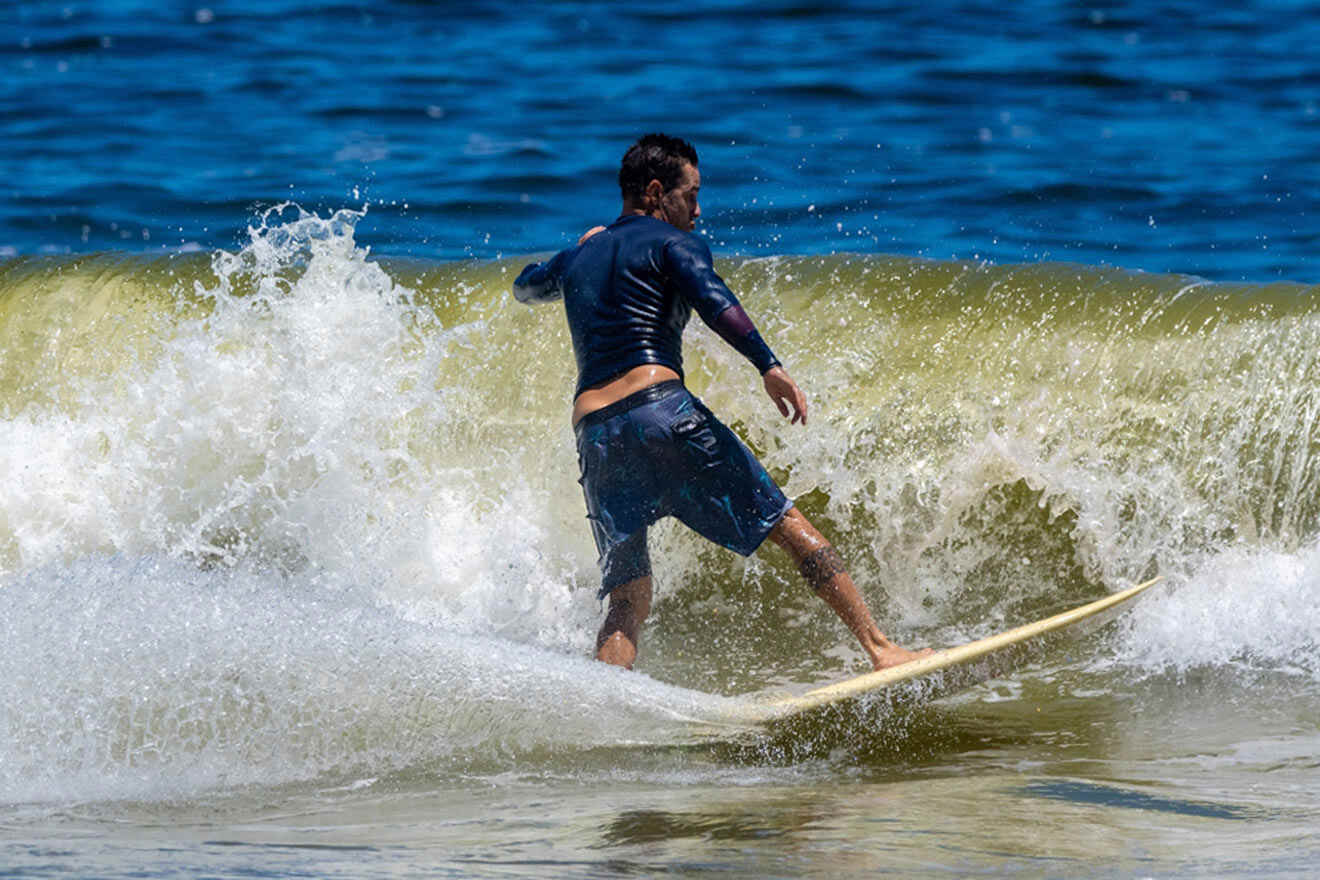 Located in Northeast Brazil, near Natal in Rio Grande do Norte, this sleepy fishing village is a favorite of locals, tourists, surfers, and families… basically everyone, and once there, you'll understand why!
This paradise lies on a breathtaking setting made of pink cliffs, green forest, white sand, and blue sea, and the ocean waters there are rich in marine life. This is actually a popular place for dolphin watching, but you can also spot sea turtles and colorful fish.
Pipa beach town hosts many hotels, pousadas, and restaurants, perfect if you want to spend the night there and enjoy the local life. Otherwise, you can reach the spot on this full-day excursion from Natal, with round-trip transportation included.
The excursion will take you through coves, the Atlantic Rainforest, seaside cliffs, Madeiro Beach, and end in the village of Pipa for some free time to shop and swim in its tranquil waters.
📍 Location: Praia de Pipa
🗺️ Closest town: Pipa Town
Join a Day Excursion From Natal
5. Praia do Sancho (Fernando de Noronha) – top island beach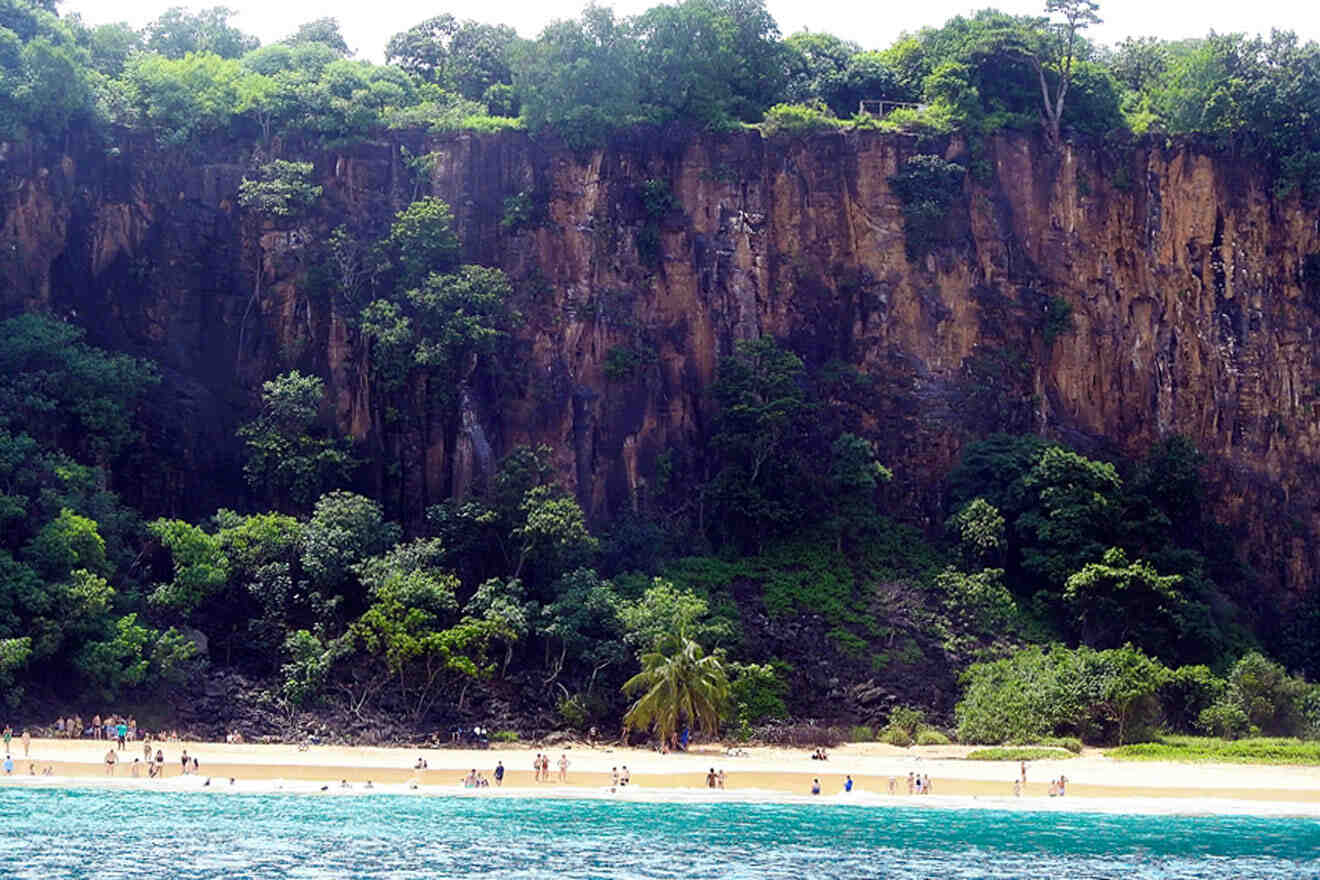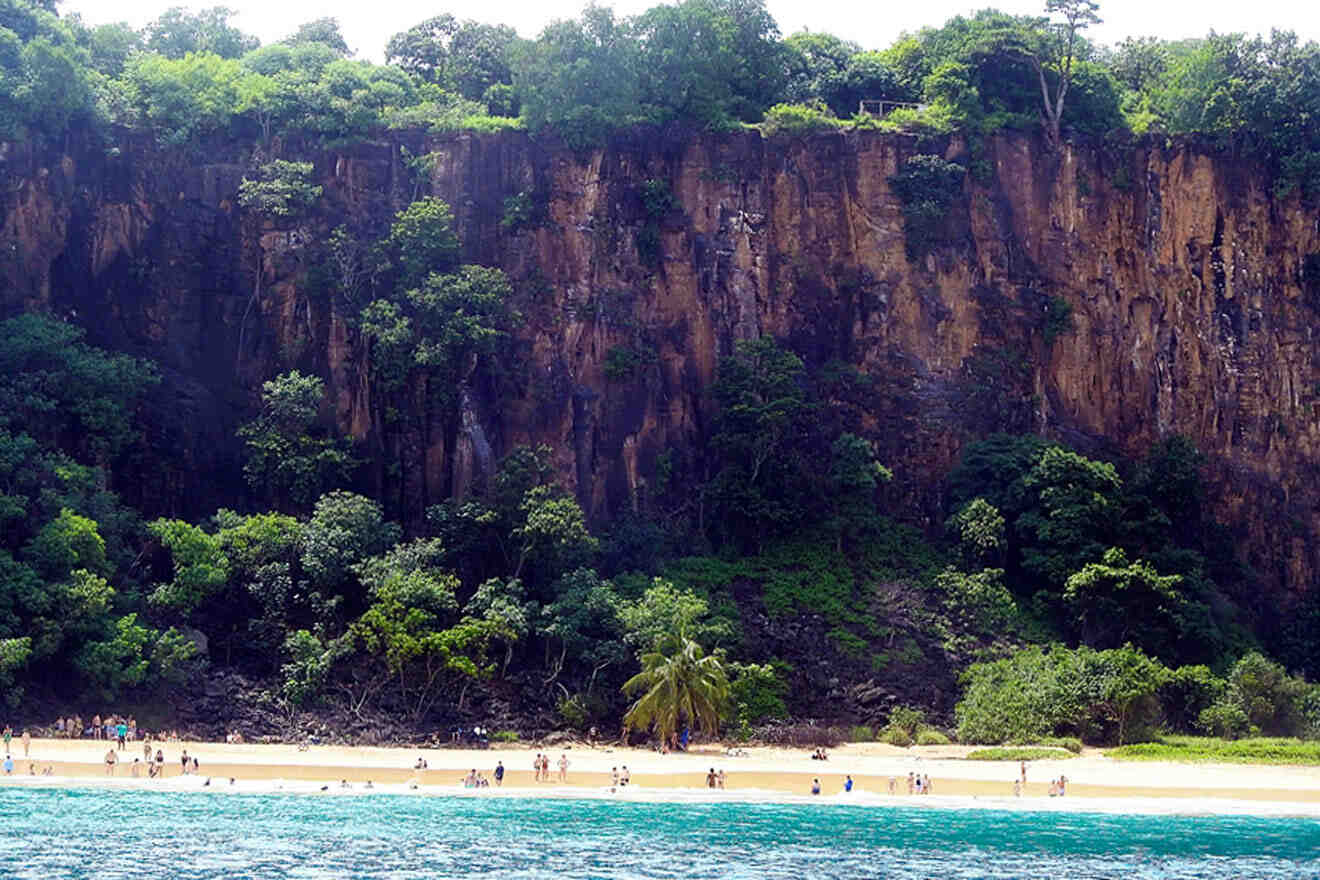 Located on Brazil's northeast coast, on the tropical island of Fernando de Noronha (a protected UNESCO World Heritage Site), you'll find the stunning Praia do Sancho.
Get ready to gaze at green vegetation and rocky cliffs (or climb them if you're passionate about the sport), relax in tide pools, and swim in its crystal clear waters to explore the corals and marine life!
The big Fernando de Noronha's island actually hosts around 20 beaches, but this one is far less accessible compared to the other ones, meaning that you will rarely share this paradise with someone else.
In fact, to access it, you'll either have to hike along a challenging track down the cliff, or you can also explore it on this half-day boat trip from the Port of Santo Antônio, which will bring you also through secondary islands like Morro Dois Irmãos on Cacimba do Padre beach.
This could be a great alternative if you don't have much time in Brazil and you don't want to miss this paradise!
📍 Location: Praia do Sancho
🗺️ Closest town: Natal
Explore Praia do Sancho on a boat
6. Maragogi – for water sports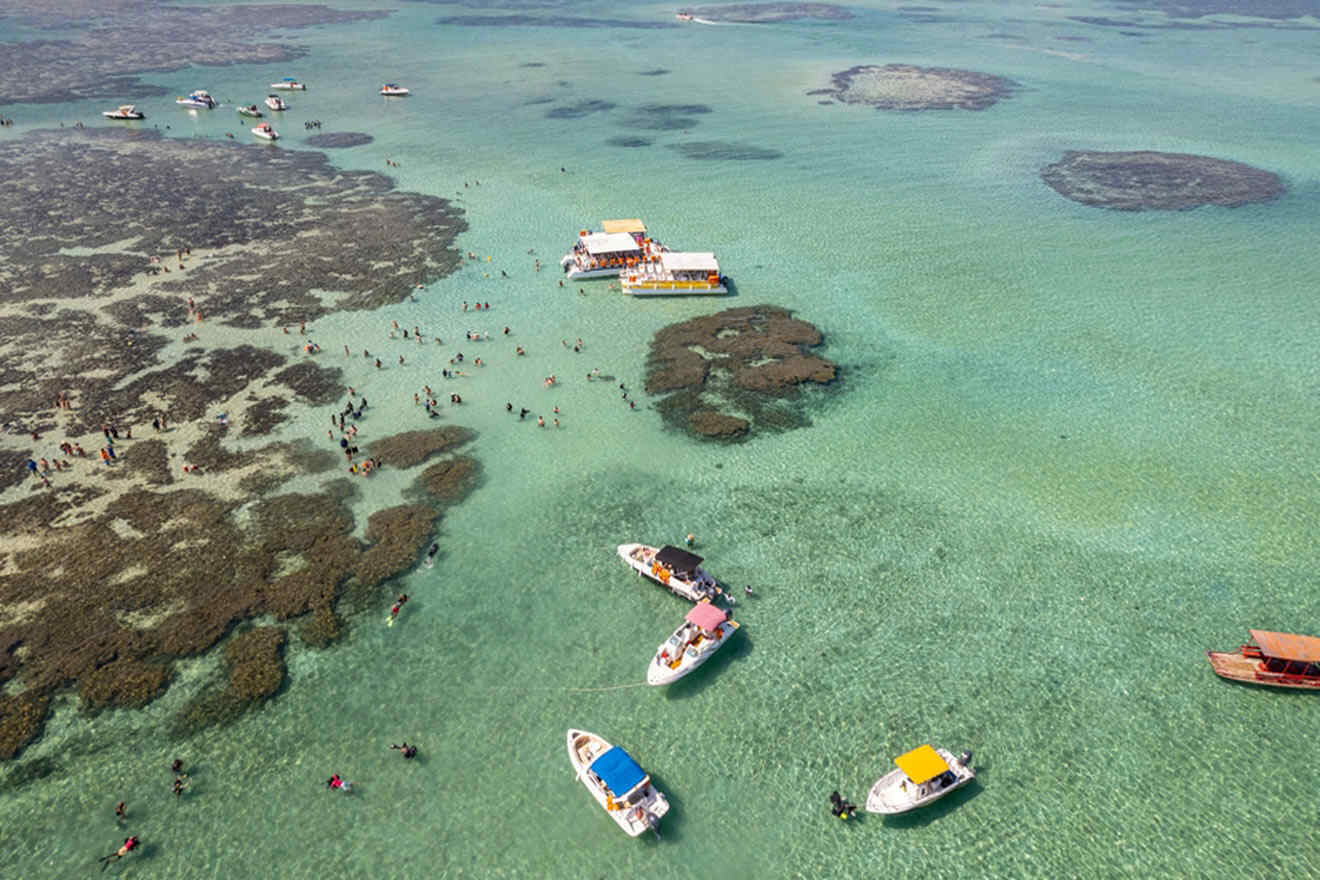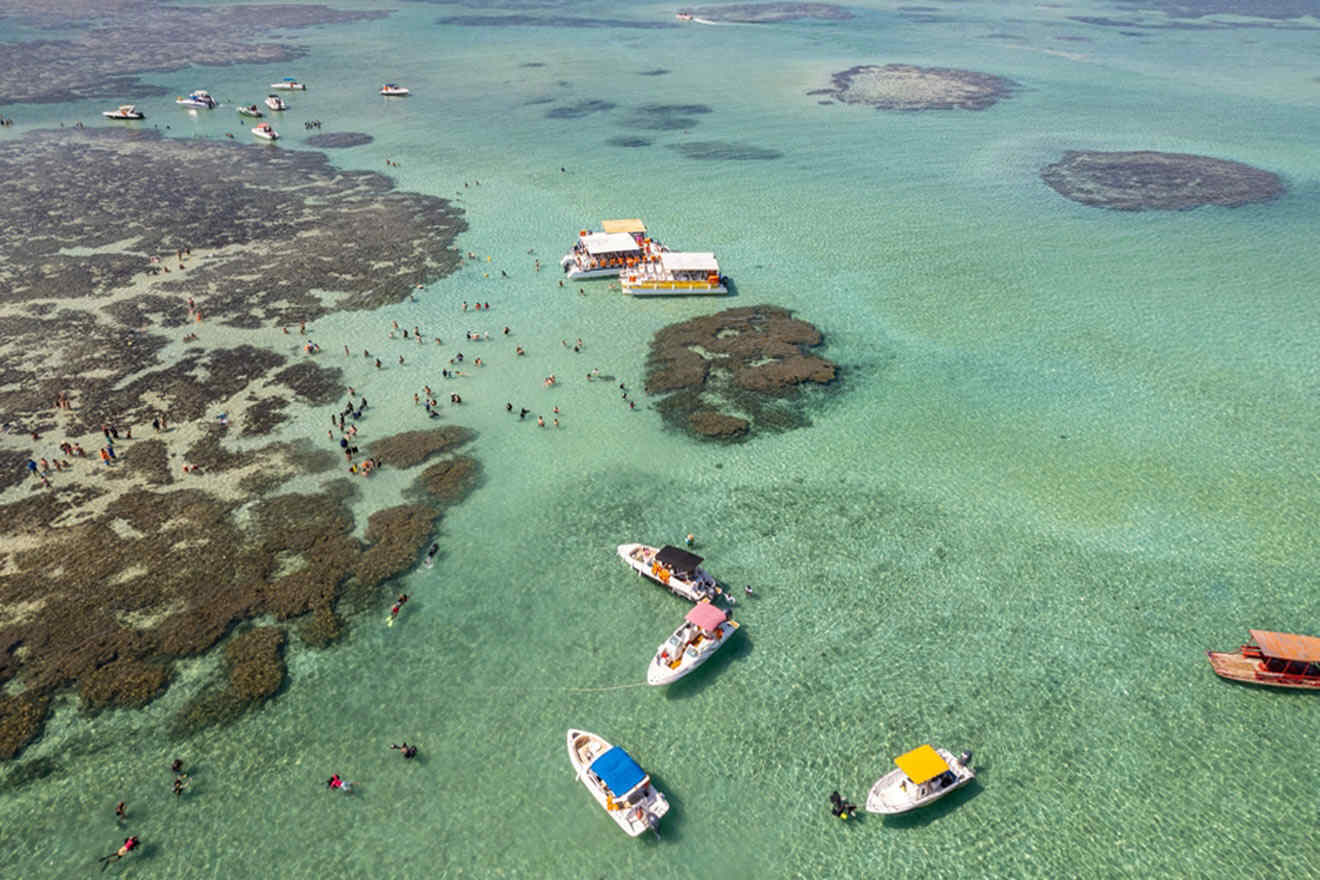 Located in Northeast Brazil, about 2 hours drive from the city of Recife, Maragogi is a paradise for those who are into water sports!
In fact, nestled in a huge nature preserve, this beach meets with a river and is home to the country's largest barrier reef, so get ready to swim, snorkel and see the most beautiful coral reefs and tropical fish!
The beach also hosts some stunning natural pools (named Galés) that are only visible during low tide and accessible via boat. Make sure to join a boat tour to check them out! 
📍Location: Praia de Maragogi
🗺️ Closest town: Recife
Join a Boat Tour from Maragogi
7. Porto da Barra – to have fun!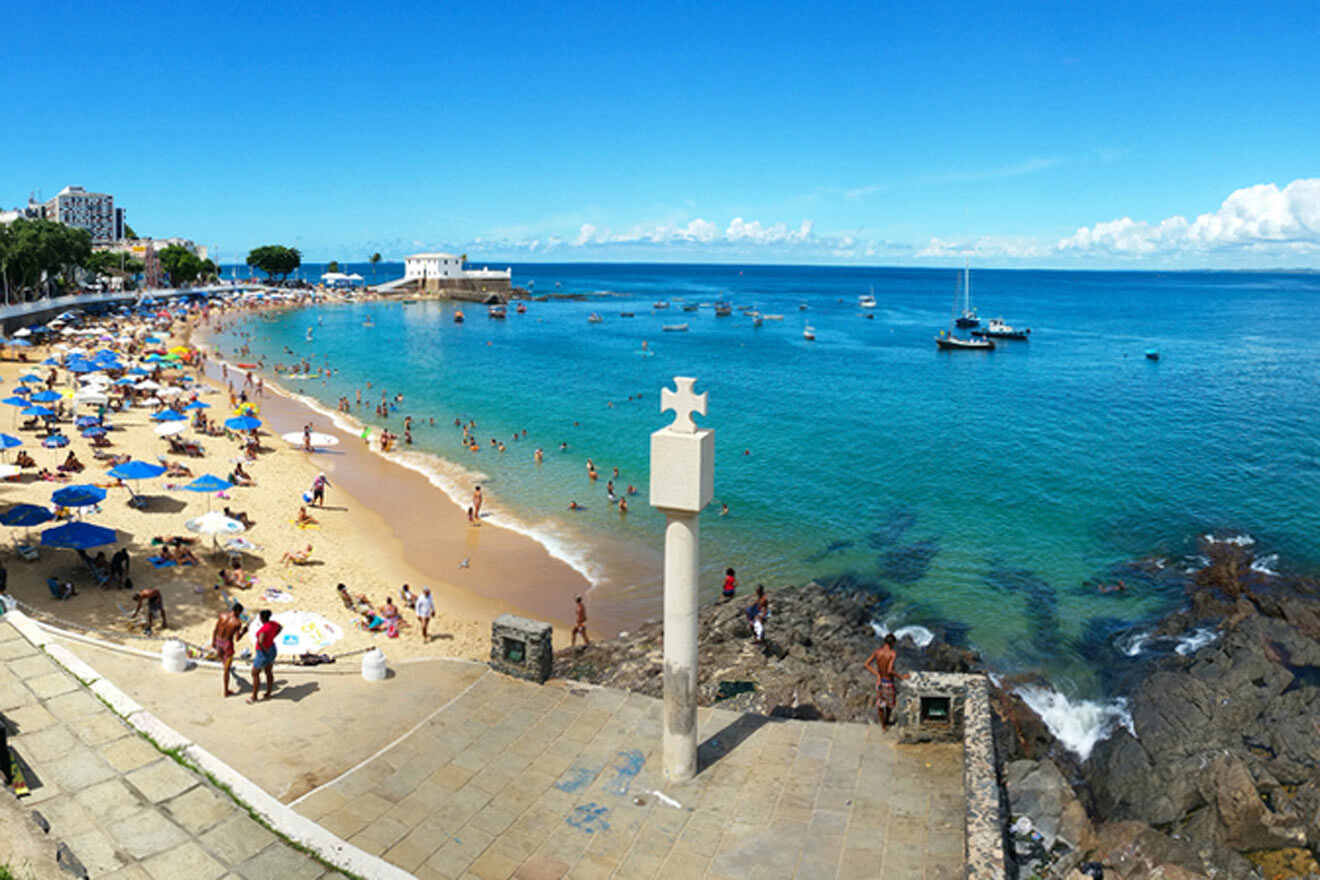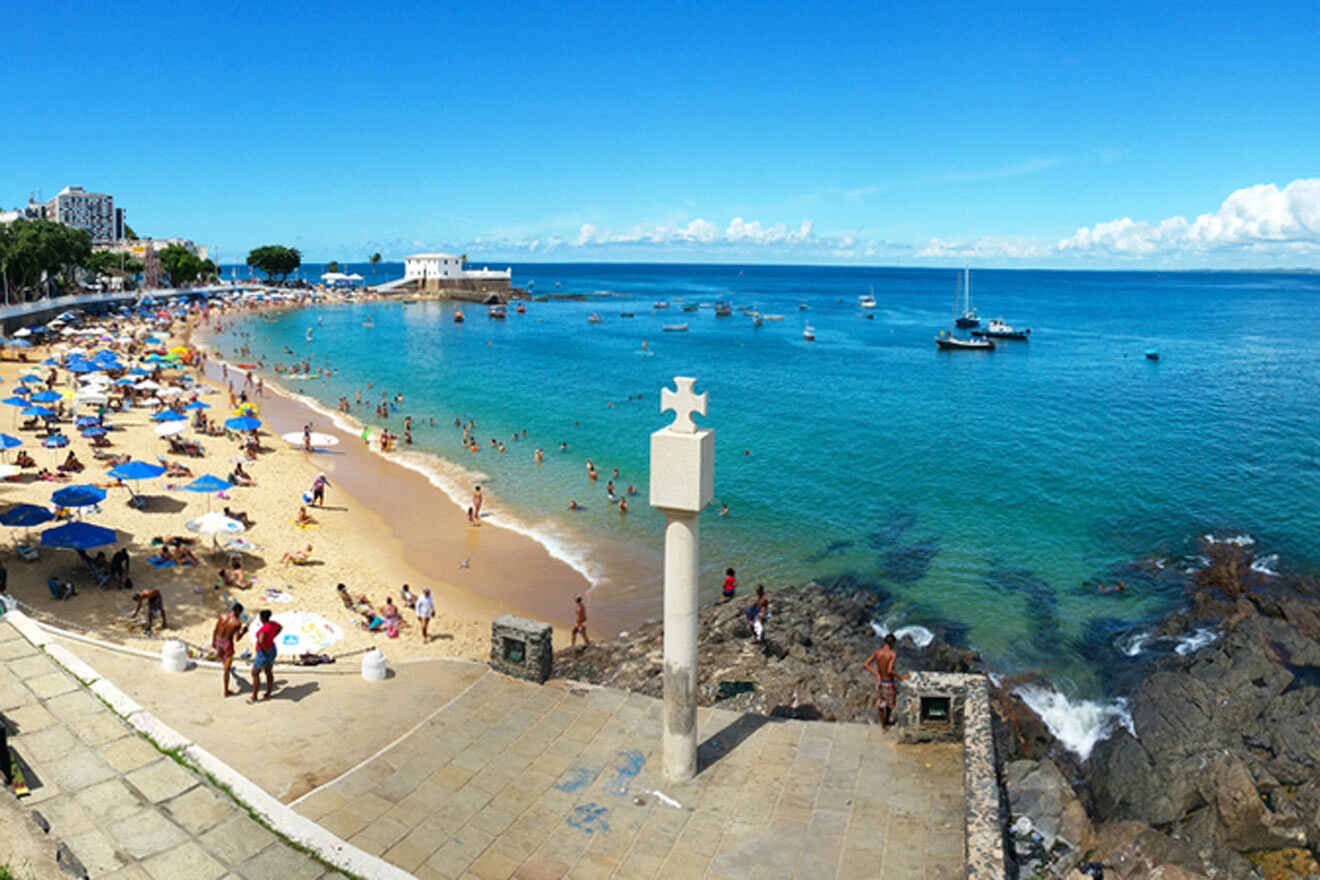 Located in Salvador, the Capital of Bahia, this beach is THE place to gaze at breathtaking sunsets on the horizon, so make sure you don't forget your camera!
This is a local favorite, especially for weekend breaks from Salvador, so it can be busy most of the time. Also, it hosts many lively restaurants and bars facing the ocean – perfect if you're looking for a vibrant beach!
This is the perfect place to go with your friends and spend the day playing beach volleyball, drinking a fresh beer at happy hour, having delicious seafood at the fish market nearby, or just splashing in the water!
📍 Location: Porto da Barra
🗺️ Closest town: Salvador
Beaches in South Brazil
The south coast of Brazil, which is the part I am exploring right now, is a real paradise for beach lovers. Here I saw some of the most spectacular beaches in my life, and I want you to see them too! Let's check them out together.
1. Santos Beach (Praia do Gonzaga) – the coolest beach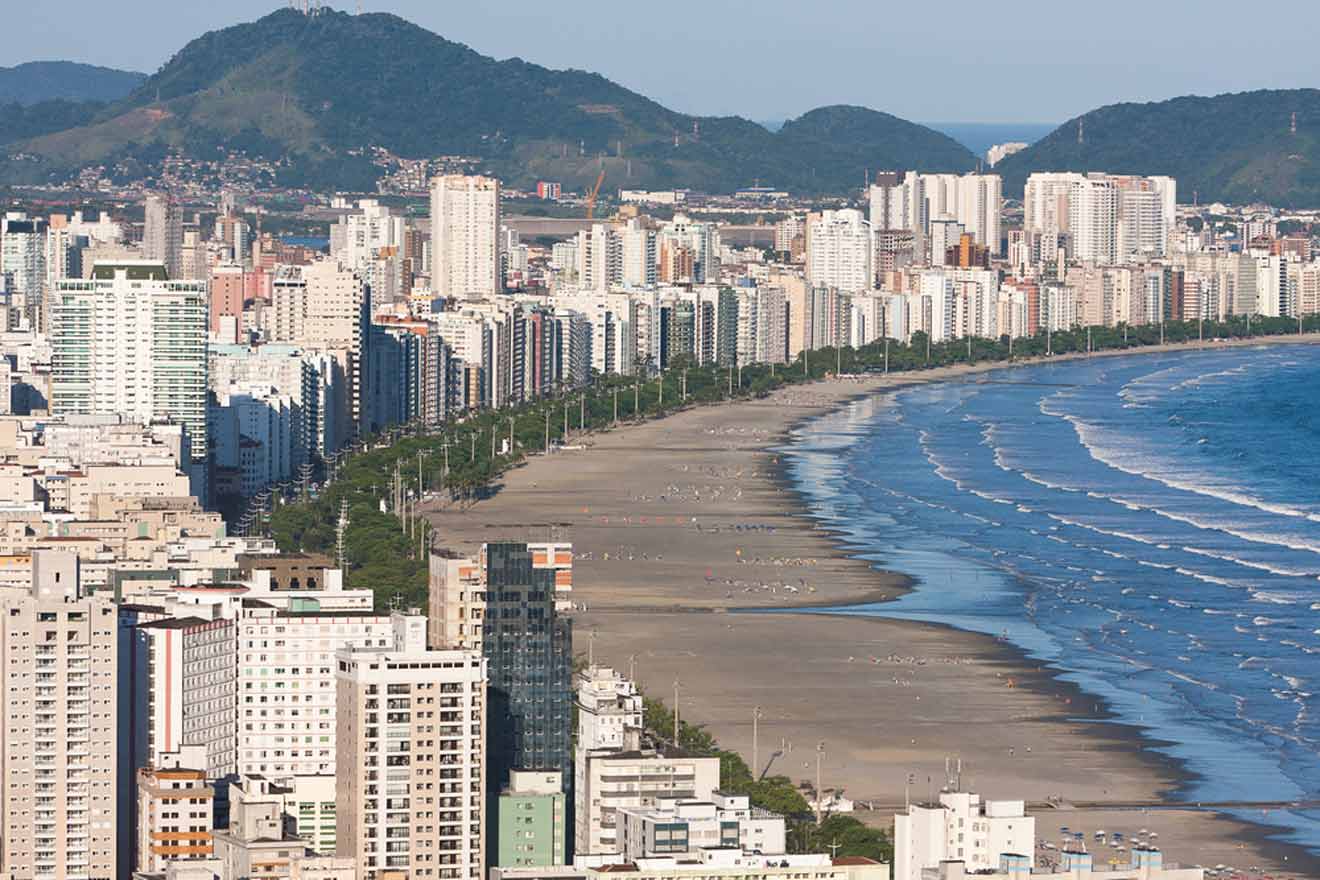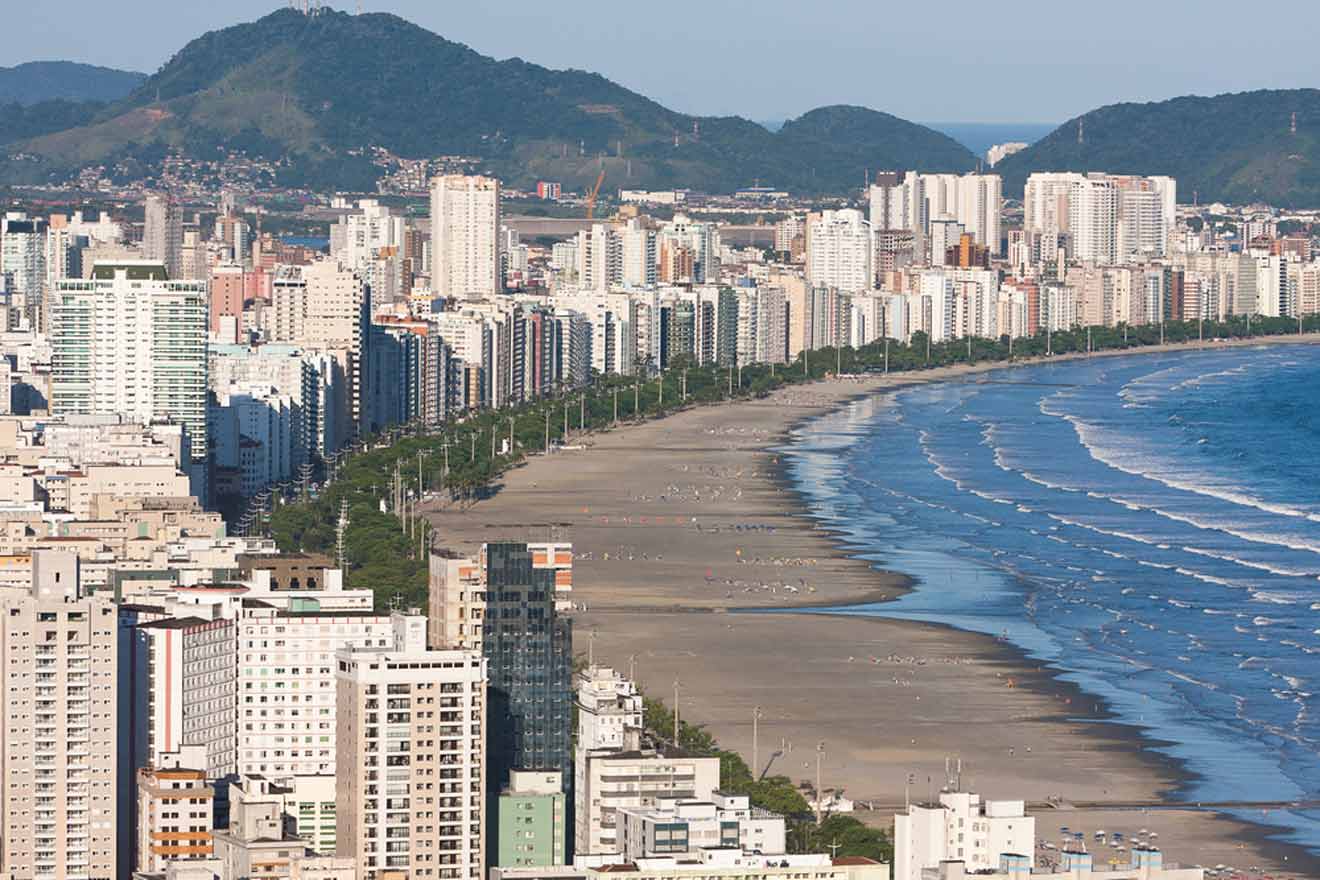 Located about an hour away from São Paulo, Santos Beach, officially called Praia do Gonzaga, hosts the longest beach garden in the world, stretching for the whole length of the beach, which is a bit less than 4 miles (app. 6 km).
Facing the South Atlantic, this beautiful beach attracts every kind of person: locals, tourists, families, couples, active youngsters, and old people just relaxing, so the vibe is super cool and lively here!
And if you want to join a cultural activity after a lazy beach day, the nearby Brazilian Coffee Museum is just a short drive away. You can check it out on this cool day tour through the best attractions of Santos town!
📍 Location: Santos Beach
🗺️ Closest town: Santos
Join a Tour of Santos Top Attractions
2. Lopes Mendes Beach (Ilha Grande) – for surfing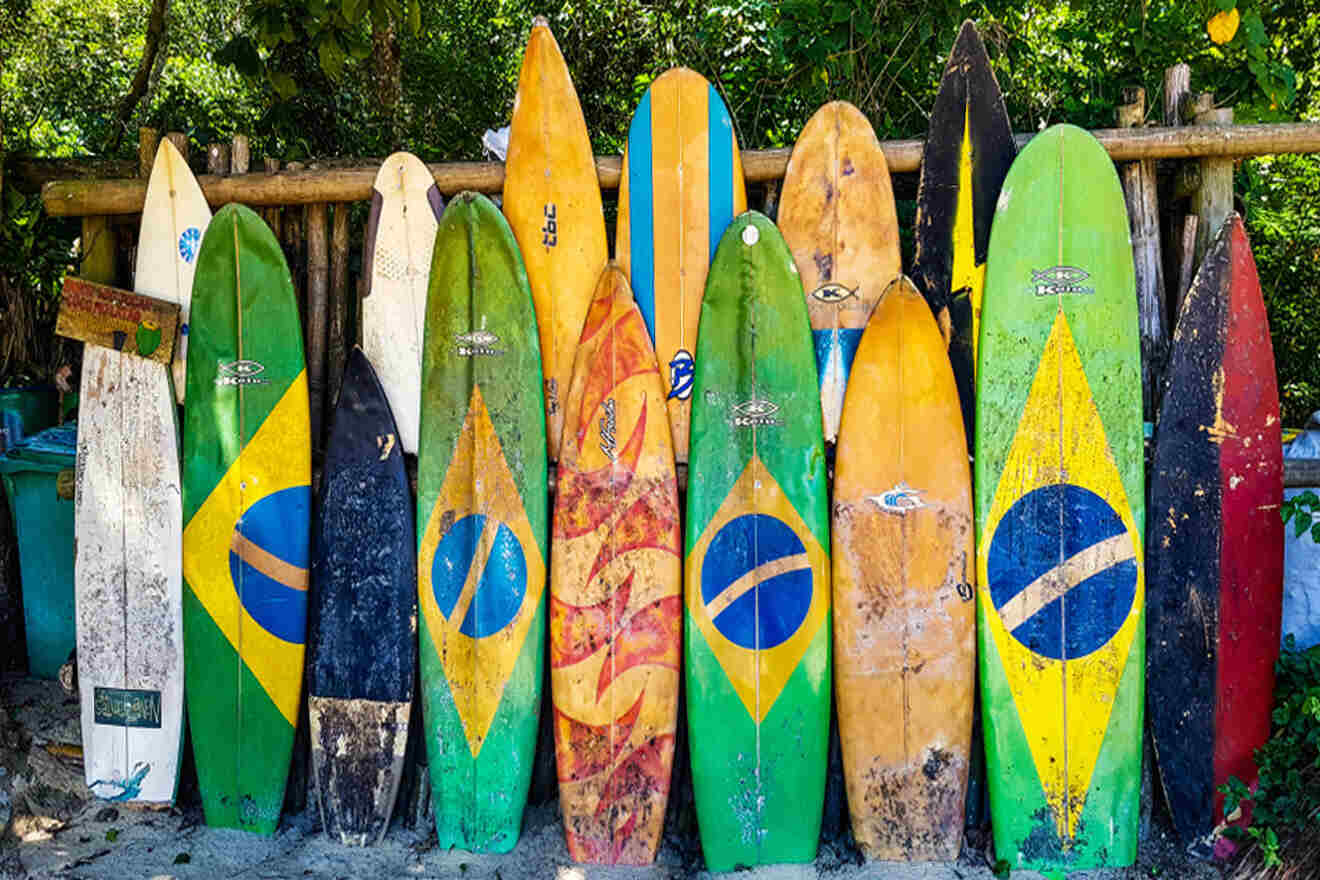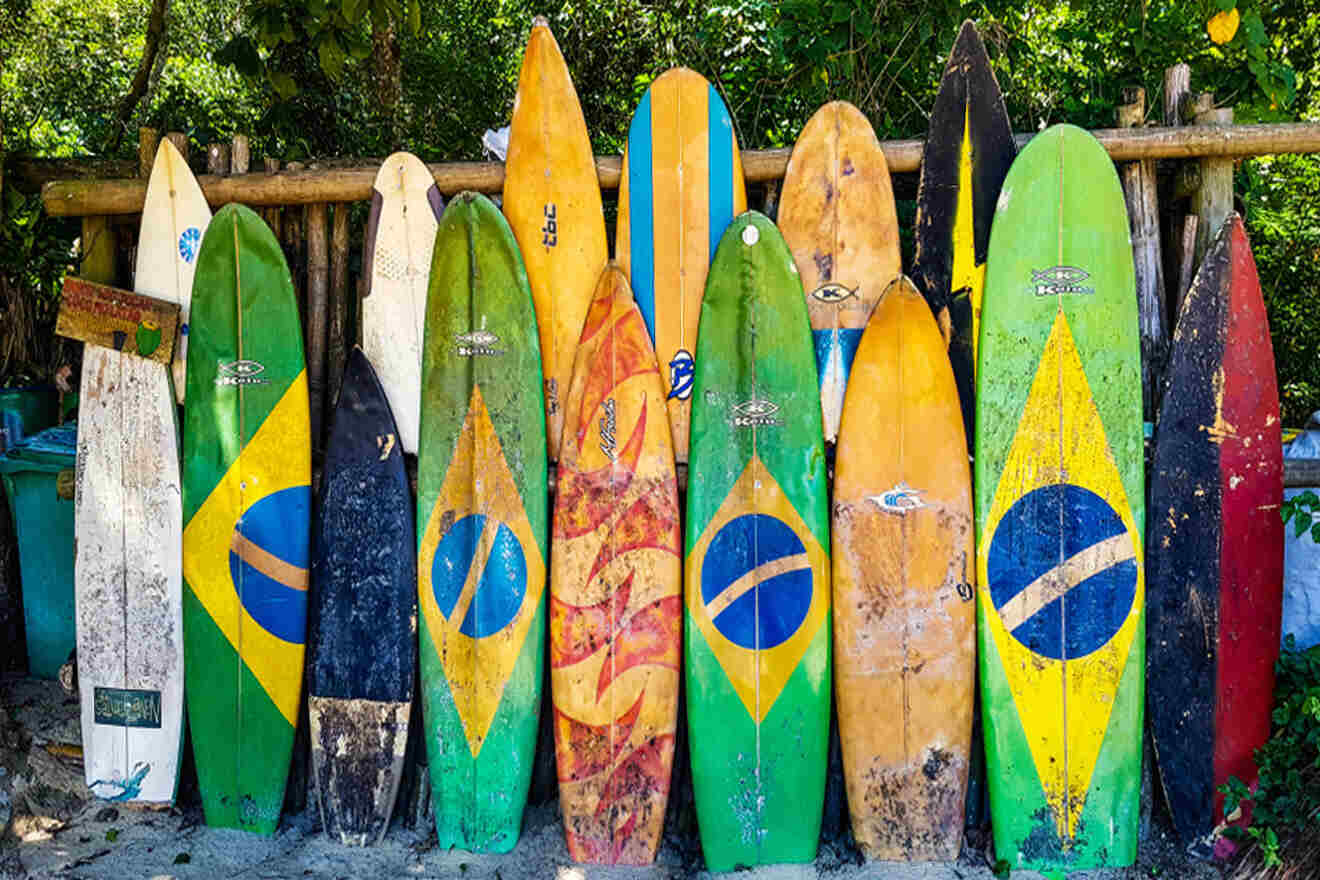 We all know that many islands receive some perfect and clear waves, attracting enthusiastic surfers from all around the world, and Ilha Grande Island, located between São Paulo and Rio de Janeiro, is no exception!
The main beach on the island is the dreamy Lopes Mendes, a pristine beach fringed by tropical palm trees and with transparent waters rich in marine life, coral reefs, and especially great waves for any kind of surfing level!
Getting here is not that easy, and that makes it more exclusive because you won't find any crowds. You can either reach it on a boat trip from Abraão to Pouso Beach, followed by a 20-minute forest hike, or directly from Abraão on an approximately 5-mile (7 km) hike through a lively jungle, perfect for outdoor lovers!
📍 Location: Lopes Mendes Beach
🗺️ Closest town: Abraão
Explore Lopes Mendes on a Boat
3. Praia do Campeche – the longest beach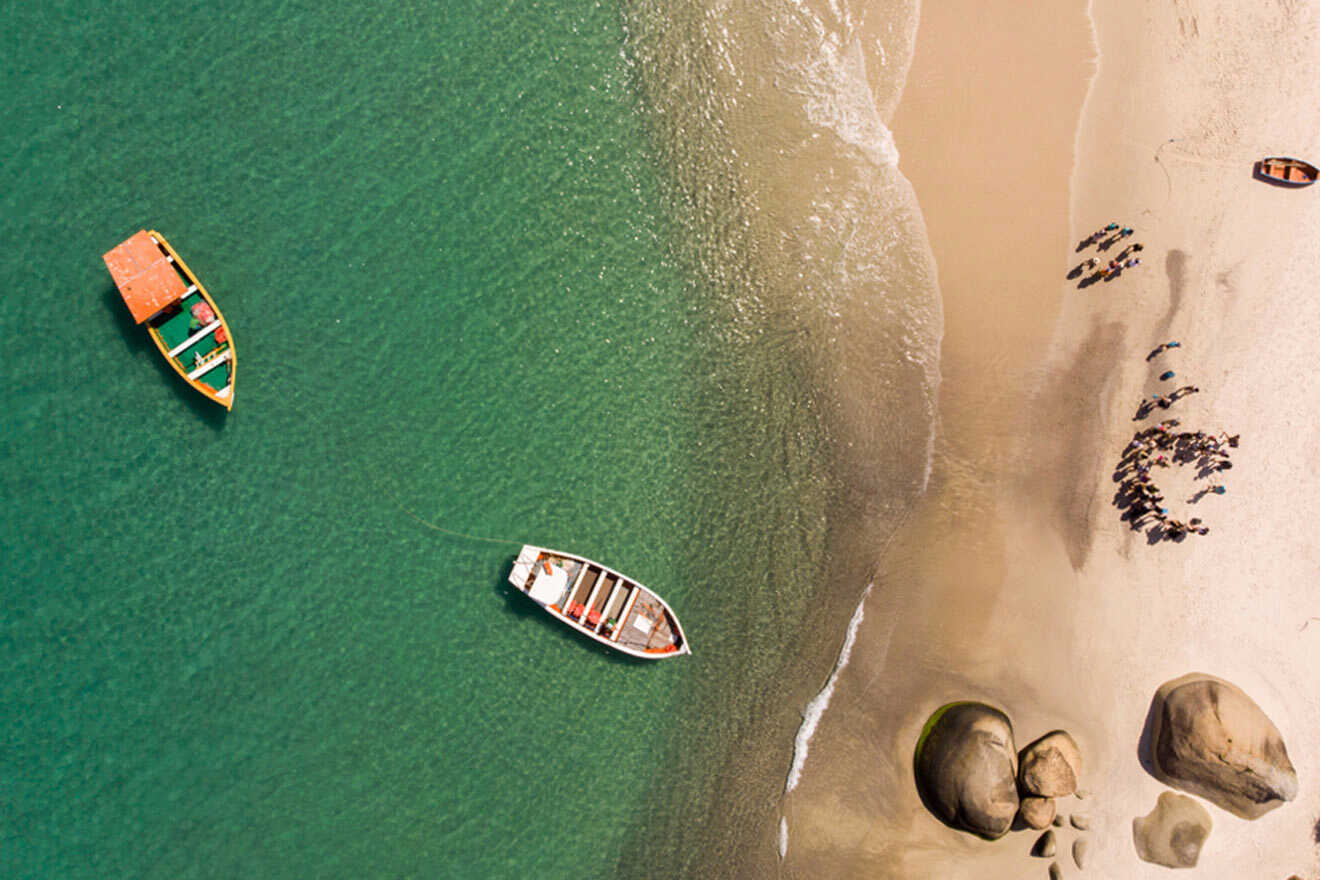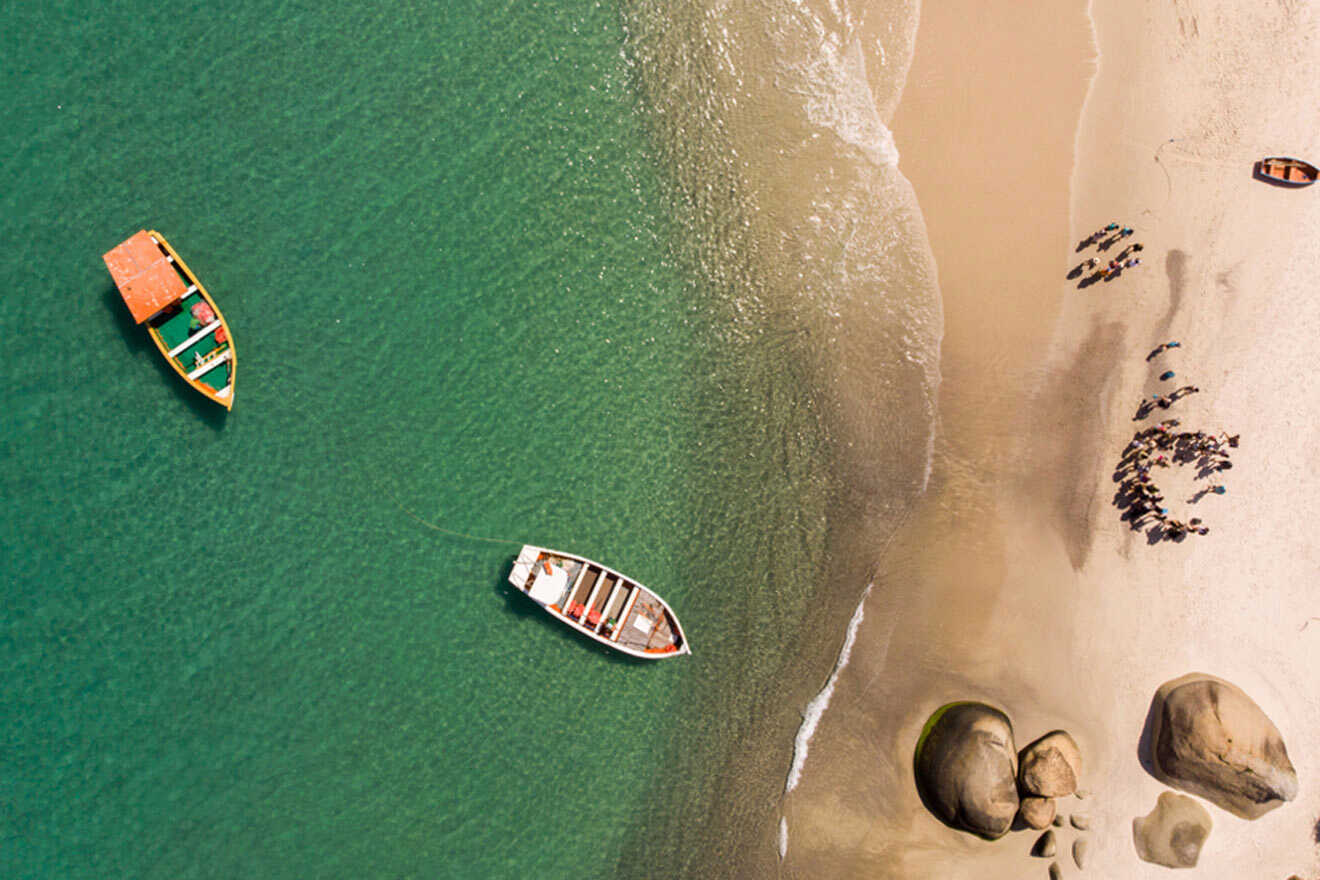 The Coastal town of Florianopolis is definitely one of my favorite cities in the country. Half of the city lies on the mainland of Brazil, while the other one is on the Island of Santa Catarina (called the magic island).
On the southeast side of Santa Catarina Island, you'll find the beautiful Campeche Beach. This beach is so long that it has something to offer to literally any kind of tourist!
If you start walking from Praia do Morro (the real beginning of Campeche), you'll find areas with beach bars and restaurants, as well as other more tranquil areas without any infrastructure, so you can bring your picnic and umbrella and enjoy some peace far from the crowds!
The whole beach is perfect for surfing or kitesurfing when the wind gets stronger, and right in front of Praia do Morro, you'll find Ilha do Campeche Island, rich in green rainforest, warm turquoise waters, and archaeological sites. I suggest exploring it on this cool boat tour!
P.S. If you're a passionate surfer like me, check out other amazing beaches in and around Florianopolis, like the tiny beach of Praia Mole (half an hour from Campeche Beach) and Rose Beach, 1 hour from Florianopolis!
📍 Location: Campeche
🗺️ Closest town: Florianopolis
Join a Boat Ride to Campeche Island
FAQs about Brazil's best beaches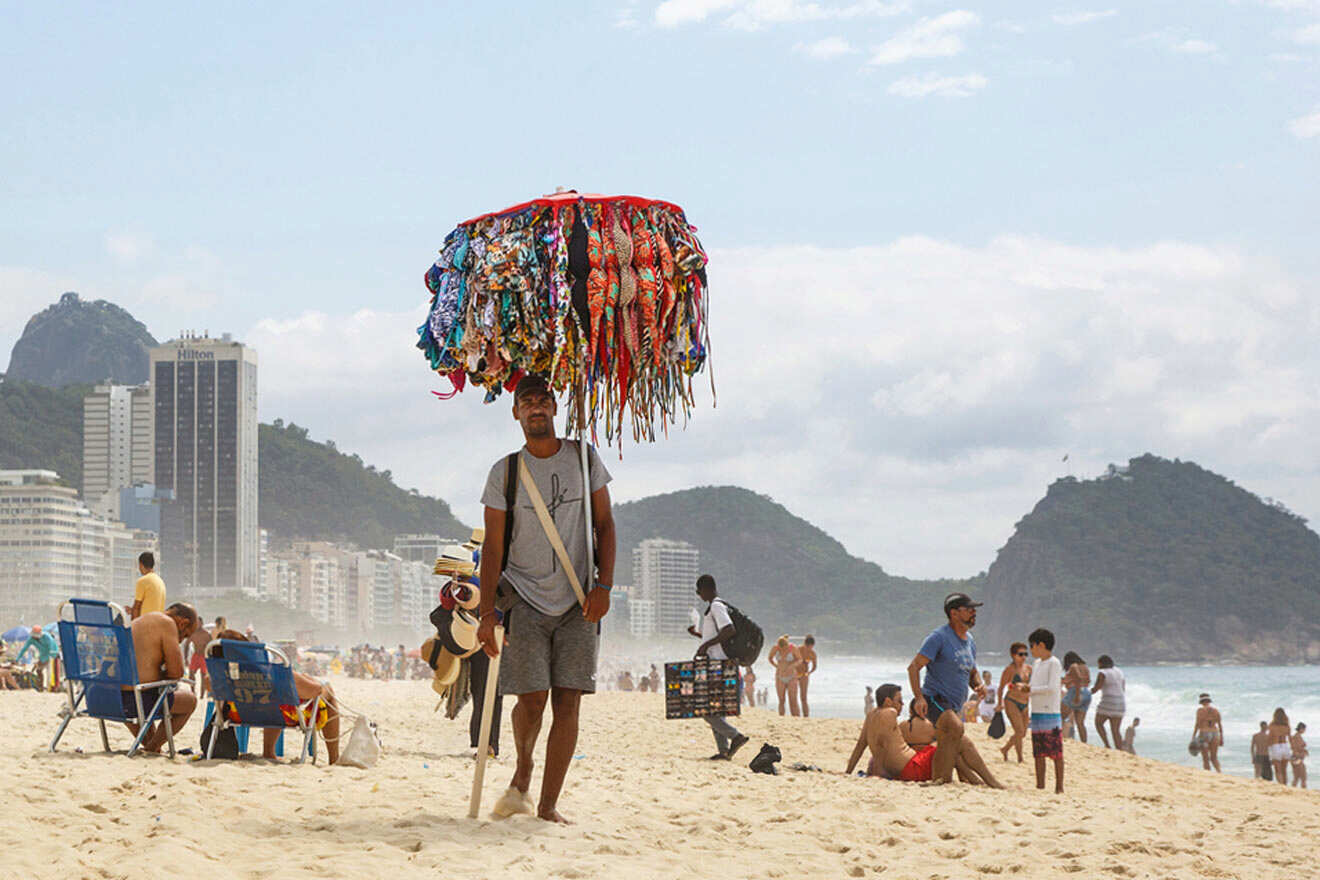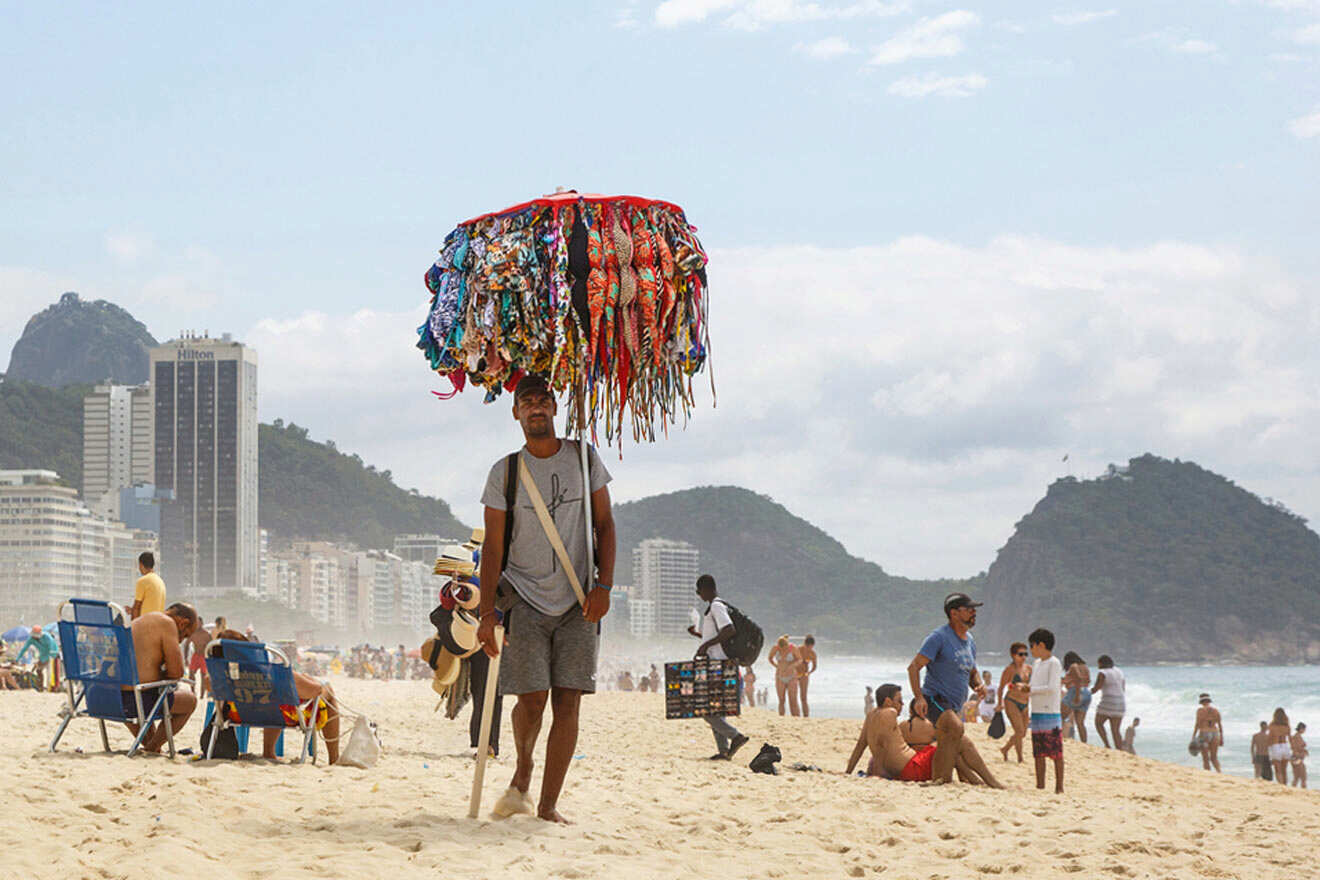 Conclusion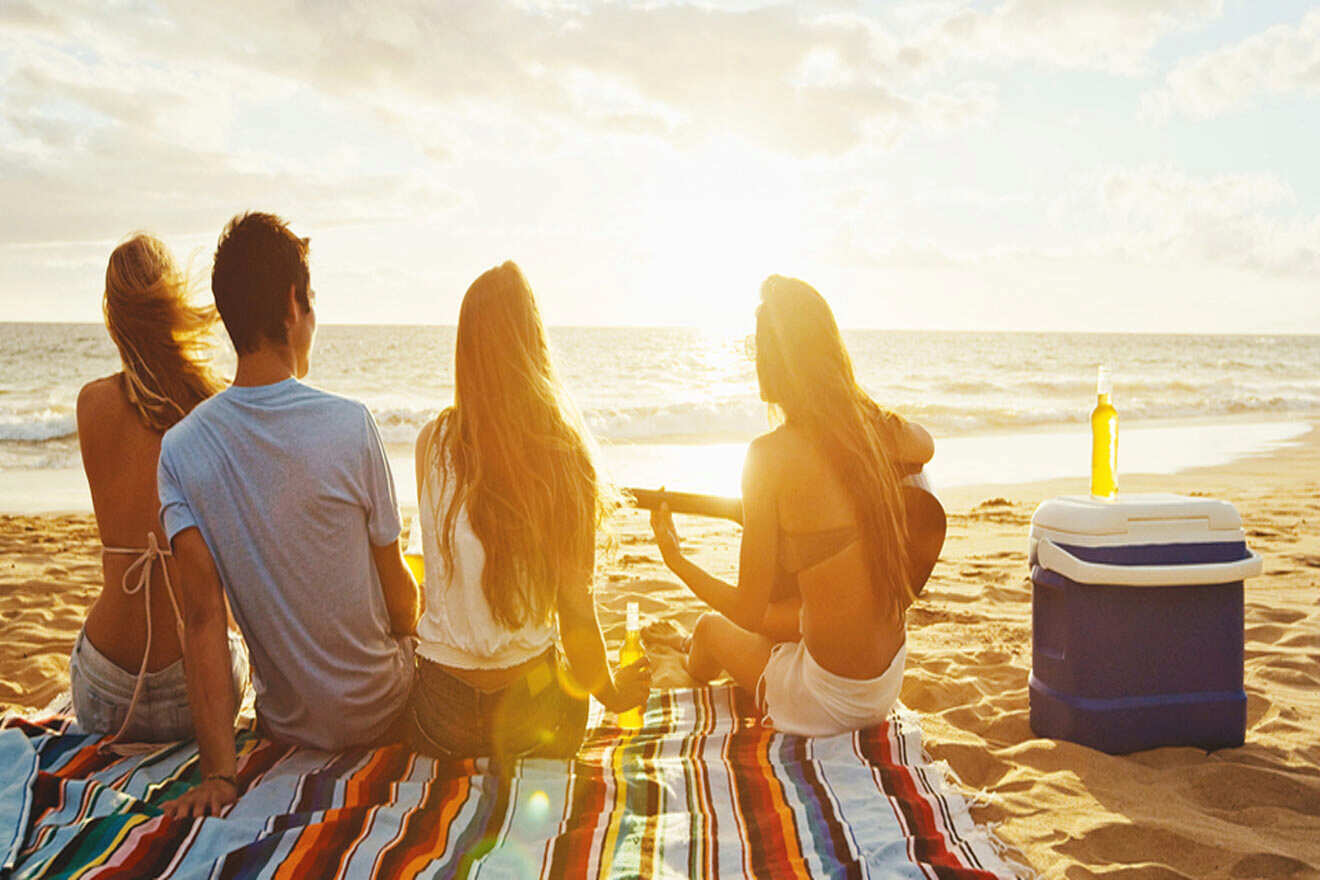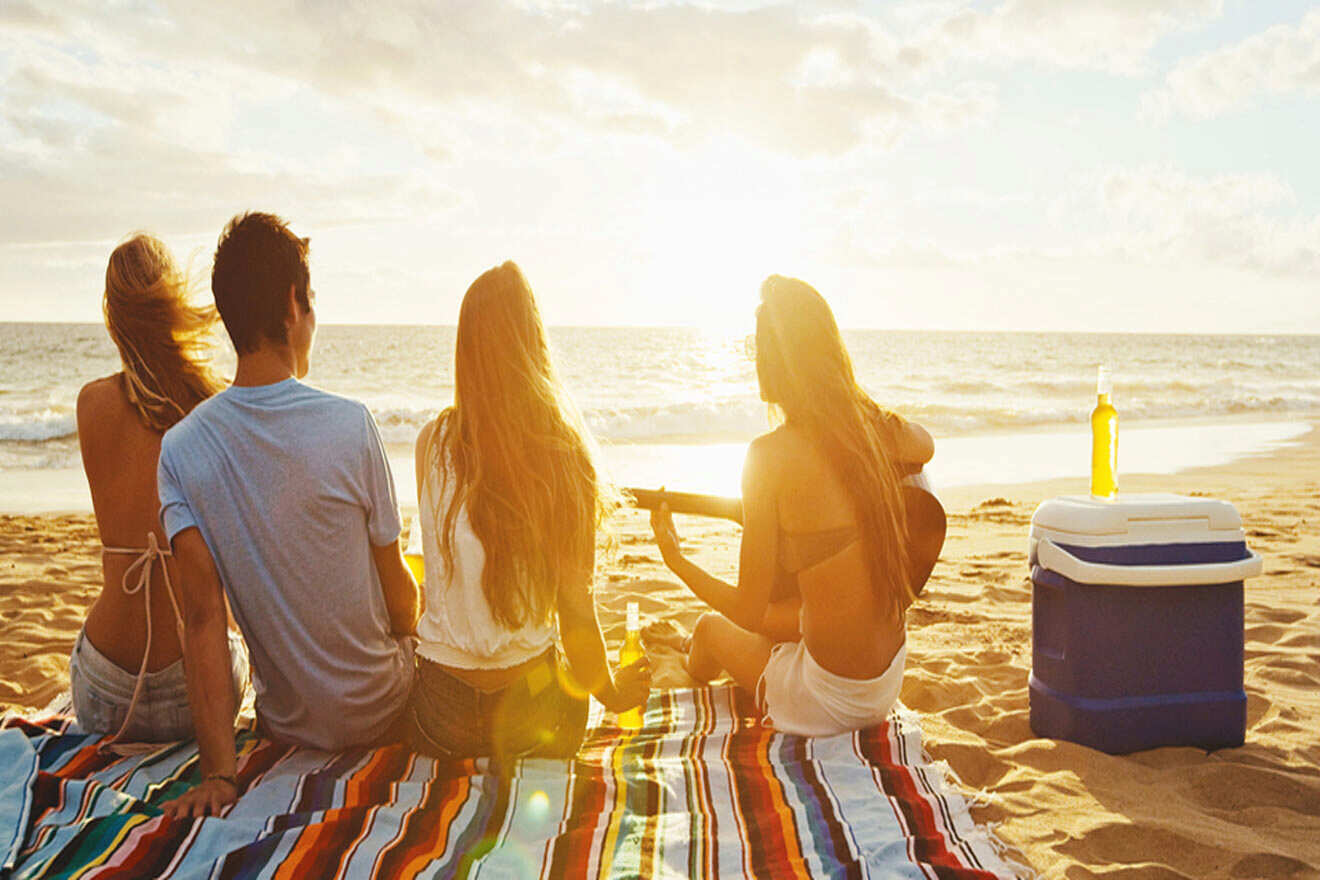 We are at the end of this useful guide about Brazil's best beaches. We saw beautiful beaches in the whole country: in the south, north, and central(ish) of Rio de Janeiro. Which part sounded the most appealing to you?
If you're still undecided, the north of Brazil has the most options for beaches, like Maragogi, a snorkel beach with much colorful fish to explore, or Praia de Pipa for surfing.
And if you are planning on staying only in Rio, you can check out the best areas to stay in the capital of Brazil!
I hope you enjoyed my post, and if you have any questions or beach suggestions for me, please share them in the comments below.
Have an amazing holiday!
Elena
---
Pin it for later!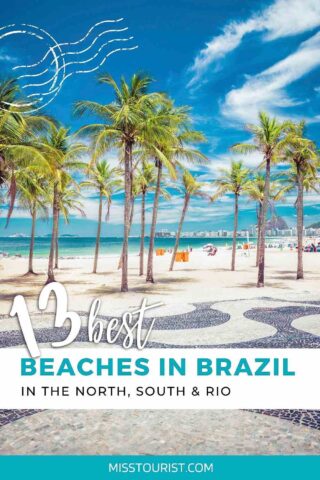 Pin it for later!