6 INCREDIBLE Areas Where to Stay in Hvar (with a Map)!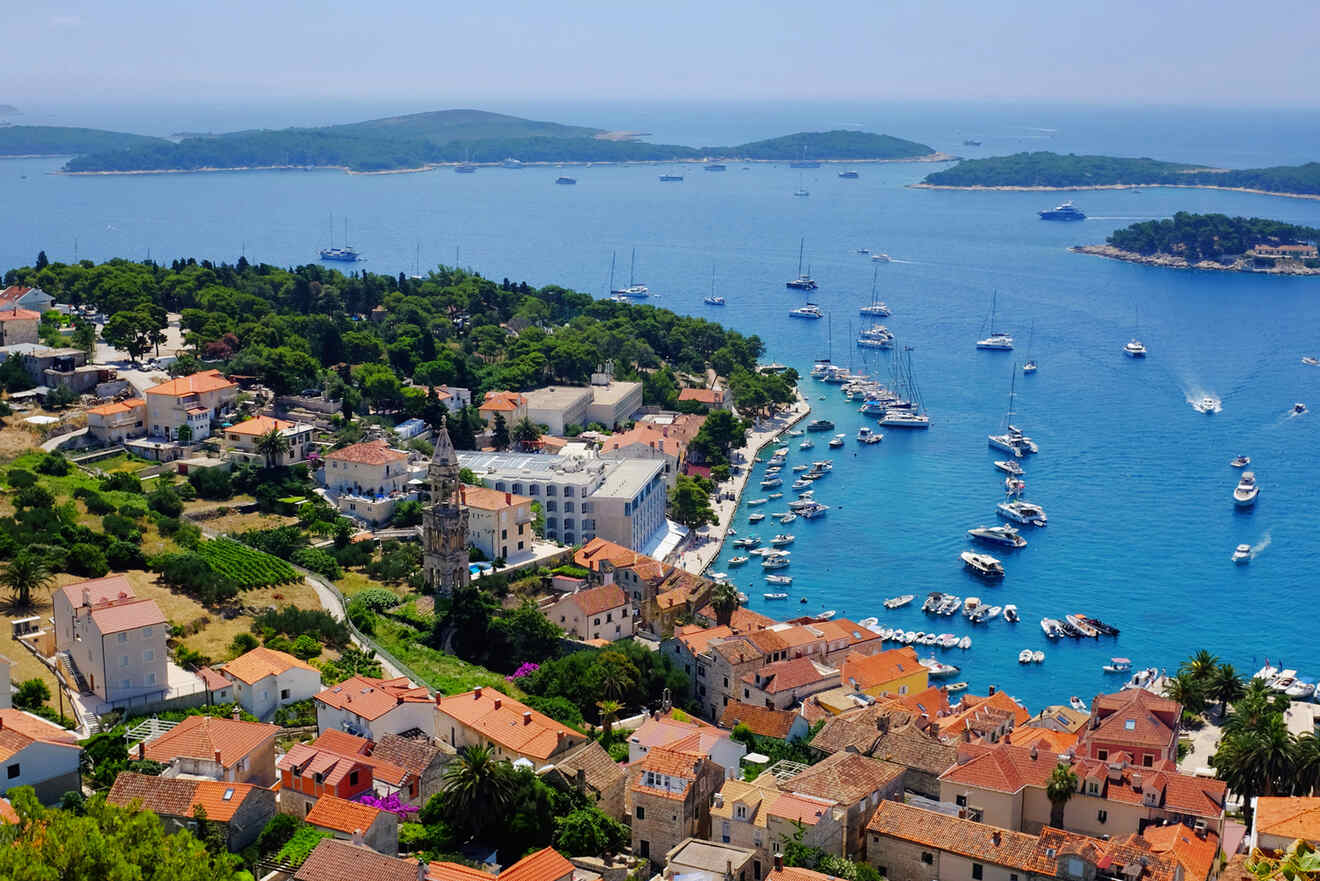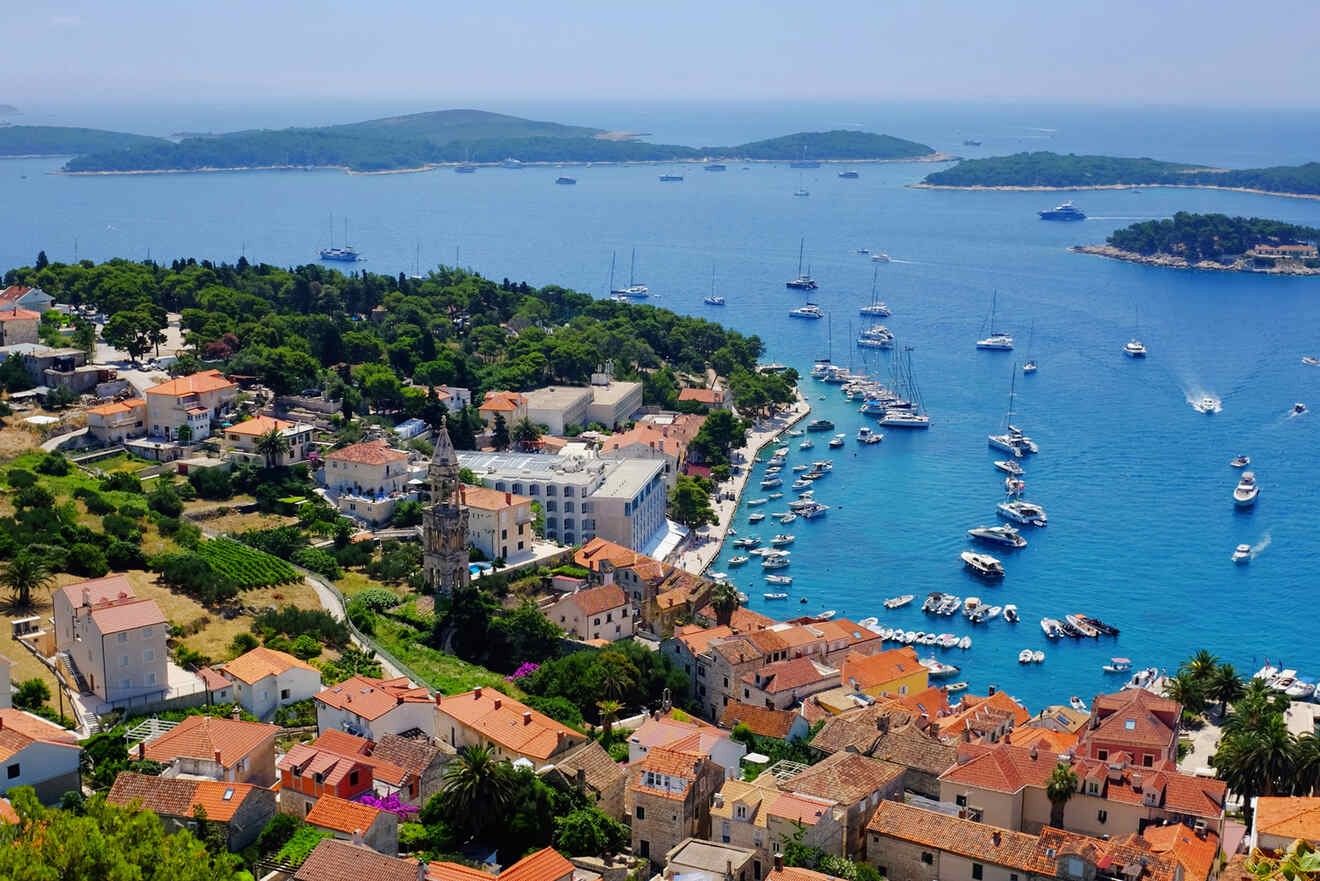 I can only start by saying that once you've read the first few lines on this fantastic island in Croatia and seen a few pictures, you'll book your plane tickets in a second! Hvar has that effect on people!
The best place where to stay in Hvar, is Hvar Town, the capital city of the island and a fabulous place with so many attractions! But since the island is pretty big, there are 5 more great places to stay in Hvar; Jelsa for relaxation, Stari Grad for history enthusiasts, Milna for foodies, Zavala with the best beaches, and Vrboska for families!
Our journey won't end so fast, though, because I also came up with a great bonus that has the best seafront hotels to stay on Hvar island (because who wouldn't want to stay on the water in a place like Hvar Island?)
Whatever you choose, make sure you book your hotels in Hvar, Croatia, in advance! This island is so popular that hundreds of tourists come here every year!
NOTE: The hotel prices in Hvar vary dramatically between seasons with prices up to $400 extra during the high season (July & August). Make sure to factor this into your budget if you are traveling during the summer!
Let's start this show already!
If you are in a hurry
I know many of you are eager to book your Hvar hotels ASAP! So here's a short list of the top places where to stay in Hvar, all located in Hvar Town:
Check out this map with the best areas where to stay in Hvar, Croatia! It will help you visualize all the towns I'll discuss in the post:
1. Hvar Town – the best place to stay for the first time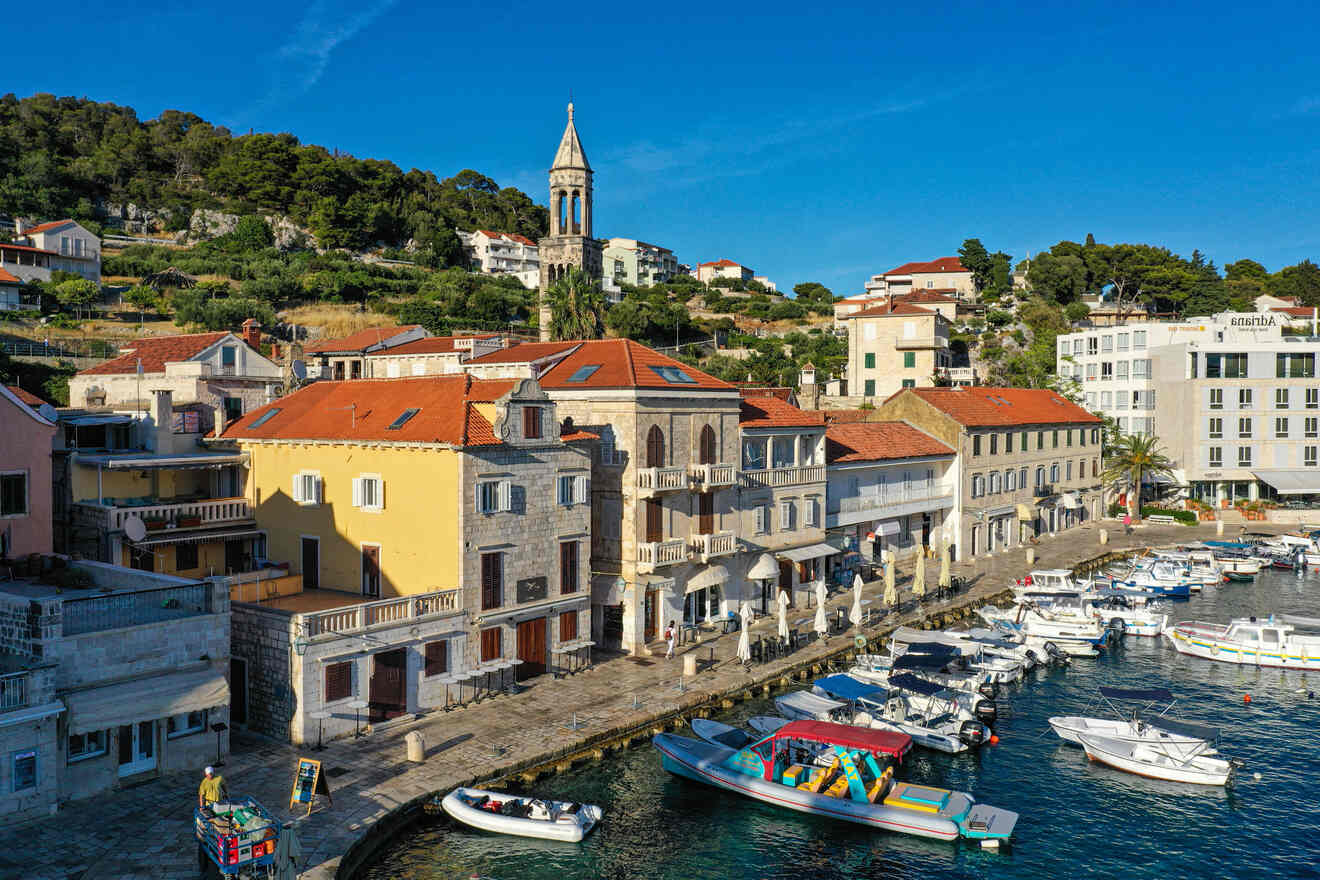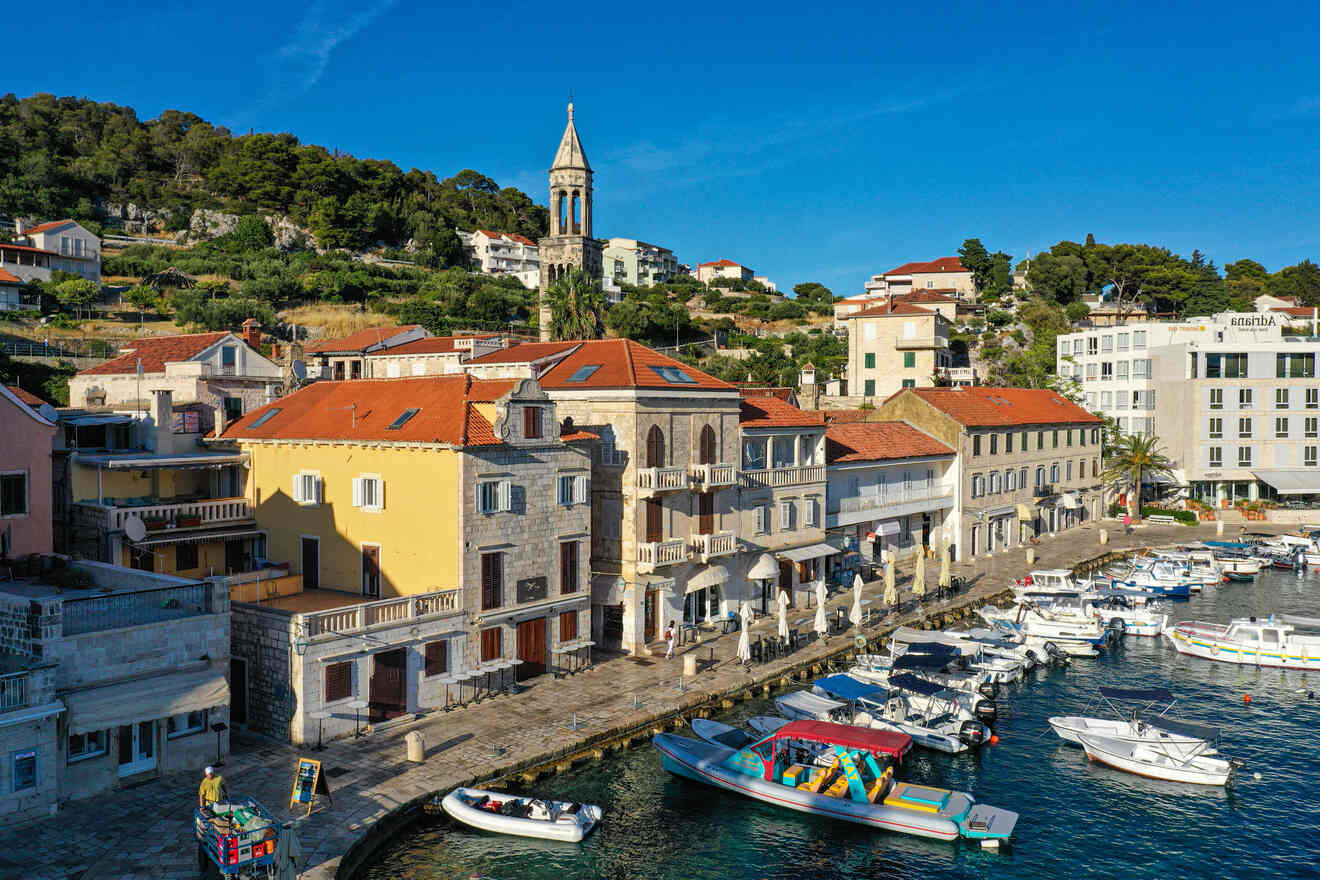 You only need 1 trip to Hvar to fall completely and madly in love with this Croatian Island! A place that looks untouched by modernization and where its history is still so alive!
If you're visiting the island for the first time, there's no better place to stay here than Hvar Town! Set on the Western coast of the island, Hvar is the main town on the island and it's filled with tourist attractions.
Walking around the 13th-century Venetian walls and cobbled streets of this beautiful rustic Meditterean town will feel as if you've traveled back in time! Very similar to the areas and hotels in Dubrovnik!
Let's not forget about the beautiful beaches in Hvar Town though! Most of them are secluded, and if you go super early or during the low season, you might not even find many people there!
Hvar Town also has a large port area and marina from where you can admire the stunning sea views. There you'll find many cafes, bars, and restaurants as well, as the area is known to have a vibrant nightlife.
However, if you want to enjoy the unique perks of Town Hvar, book your hotels in advance. This is a big touristic hub, and accommodations sell out super fast, especially during high season!
Other accommodation options in Hvar Town
As I mentioned earlier, the main town on Hvar island is always packed with tourists. The airport is also set here and there are so many touristic attractions. That can only mean 1 thing! Hotels will sell out fast! That's why I wanted to offer 4 more options besides the main list. For anyone who wants to stay in Hvar Town but may have missed the chance at any of the accommodations above!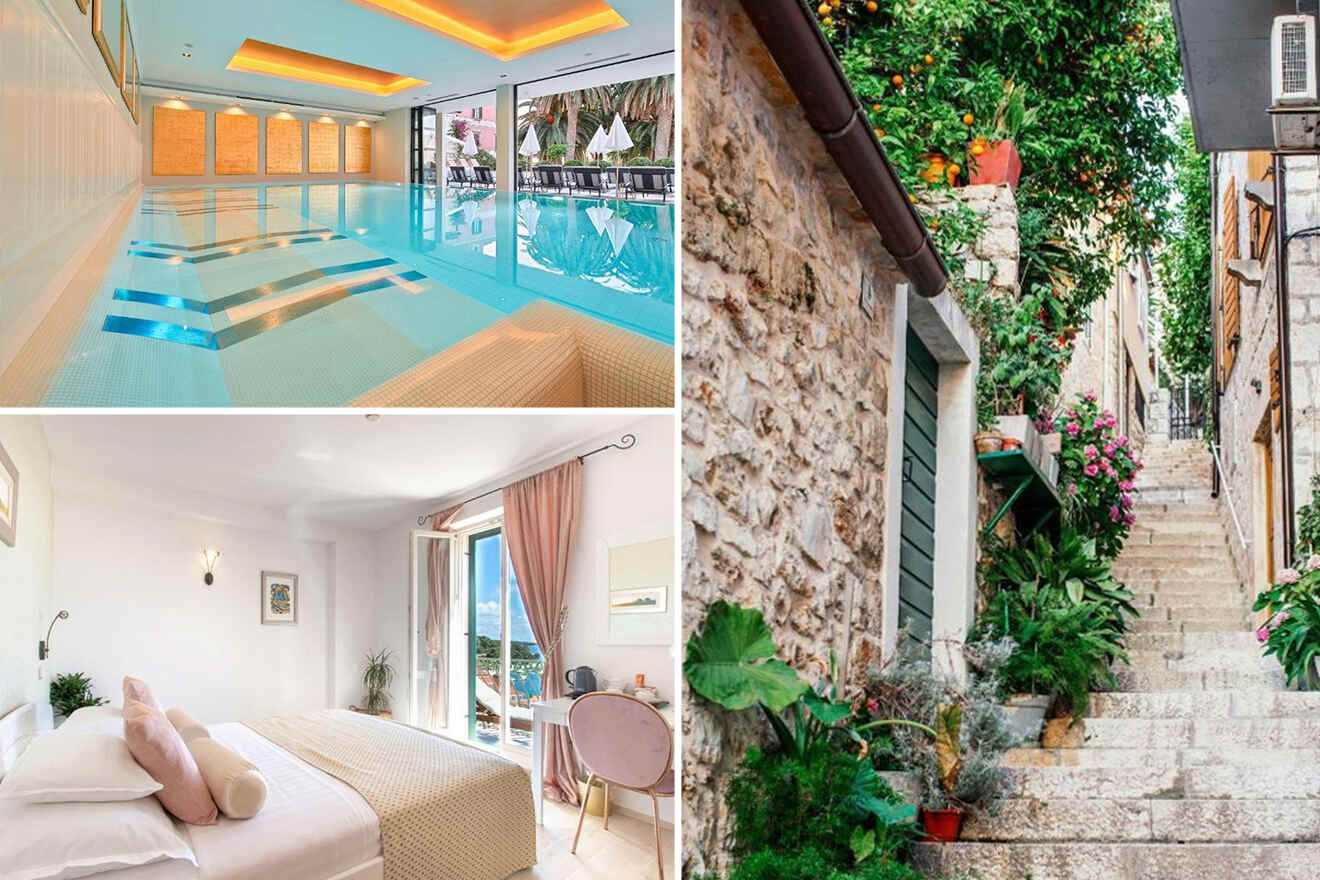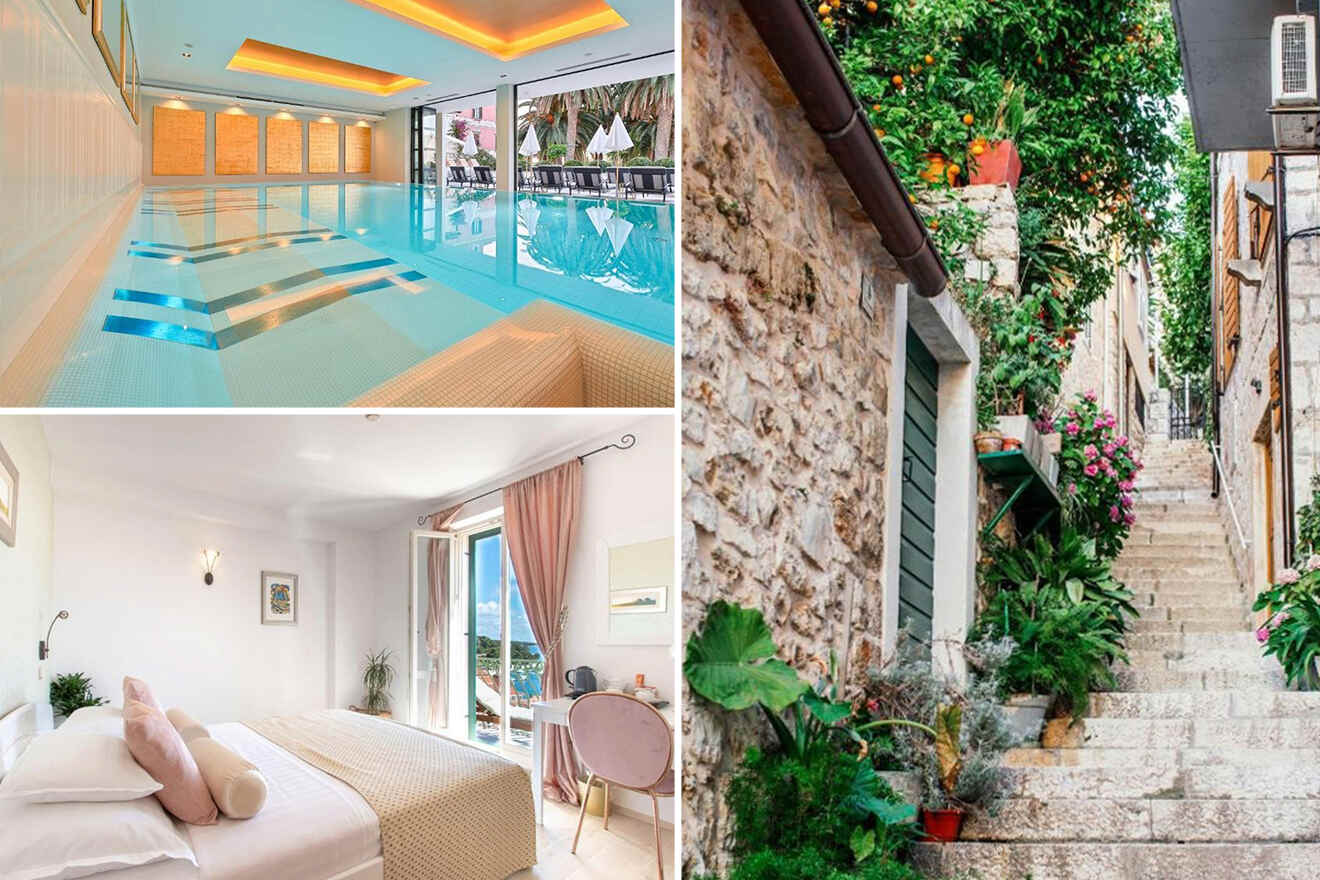 Luxury: Palace Elisabeth – This is one of the oldest hotels in Hvar and it was transformed into a hotel in the 19th century by Empress Sisi! Set within walking distance from the beautiful beaches, the hotel has rooms with vintage aesthetics and all-white decor. Plus a balcony overlooking the sea, a restaurant, and a spa! 
Mid Range: Heritage Hotel Park – Set in a building in the center of Hvar Town, this hotel offers great family rooms with balconies overlooking the marina. Plus, the accommodation has a restaurant, a bar, and a spa on-site.  
Budget: Boutique Room Kaliopi – A comfortable bed and breakfast set within walking distance from the beach that offers a free airport shuttle and different activities like bike and walking tours. 
Things to do in Hvar Town
Explore the island and visit the Spanish Fortress
Admire the beautiful St. Stephen's Cathedral
Go for a swim at Pokonji dol Beach
Learn new things at the Franciscan Monastery
Check out the bars in the ferry port area
Take a boat trip tour to the Pakleni islands
2. Jelsa – where to stay in Hvar for relaxation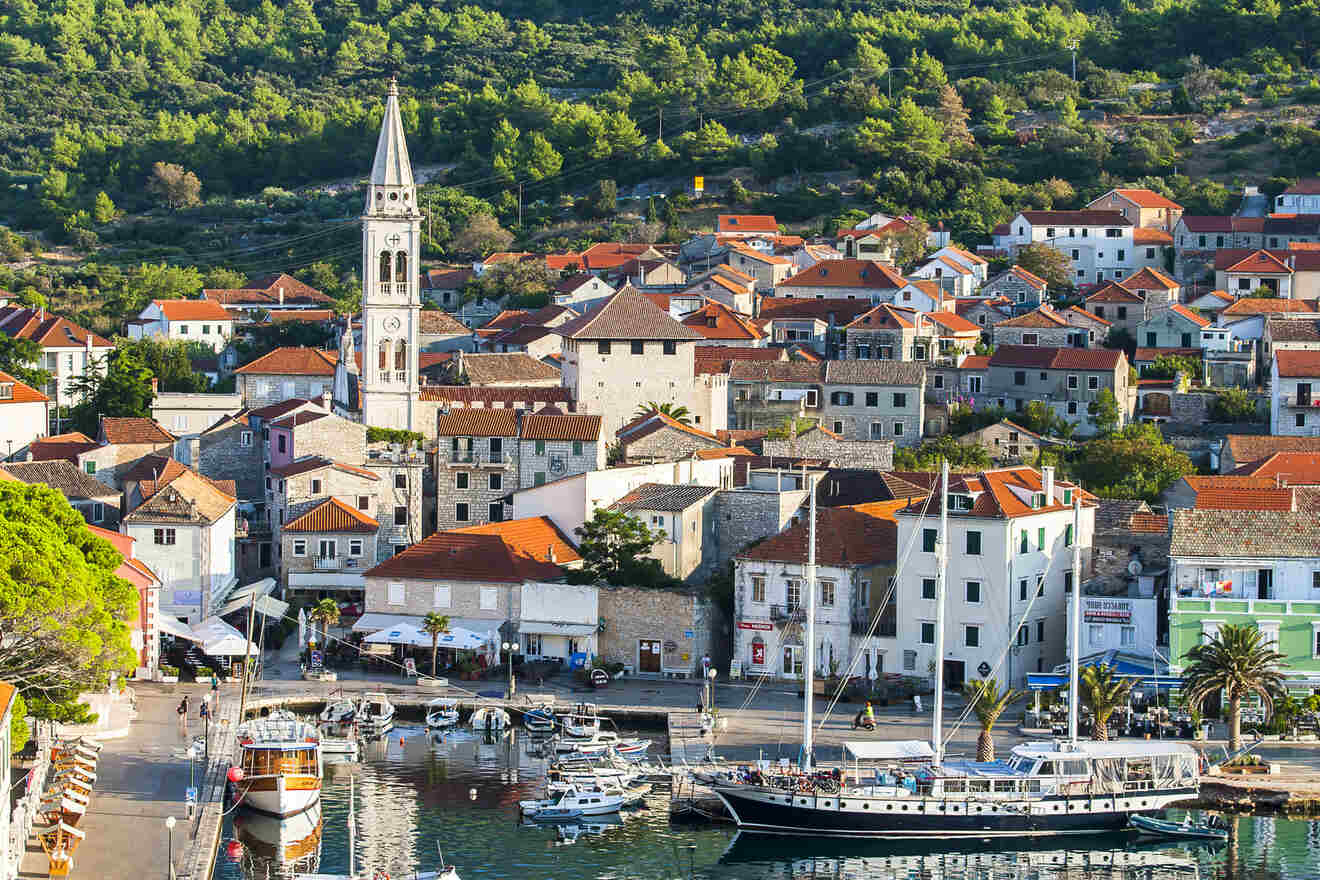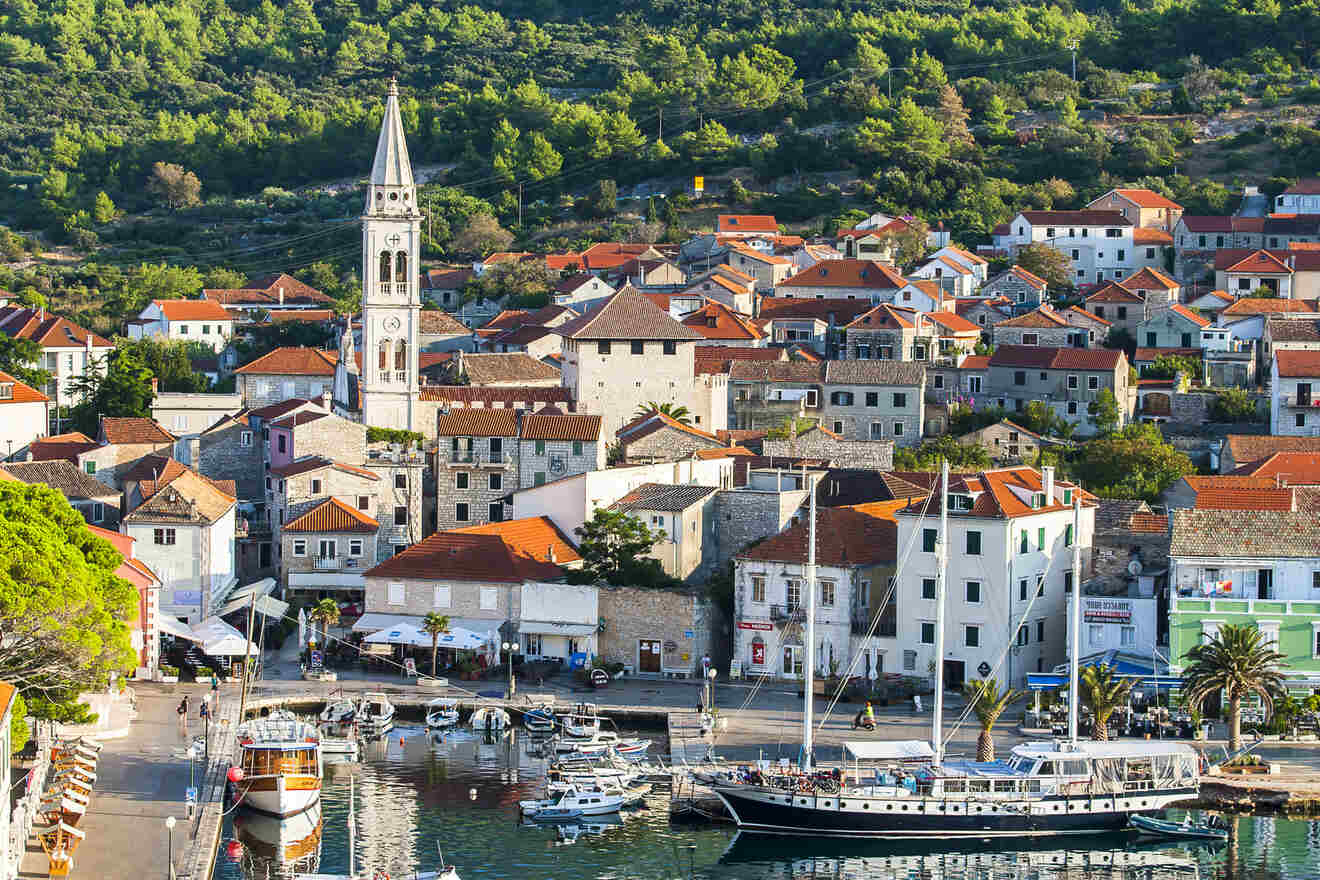 Set on the central north coast of Hvar island, Jelsa is a charming area filled with olive groves, wineries, and a laid-back atmosphere that will help you relax and forget all about your daily chores!
I love these places that make me forget about everything and everyone, and kind of suck me in their atmosphere and lifestyle! The town of Jelsa is pretty old (as most of island Hvar), and that can only make history and culture lovers super happy!
But that's not the only thing that makes Jelsa such a wonderful place where to stay in Hvar. Its atmosphere is super chilled. Luckily, you won't find as many tourists as you would in Hvar Town.
Get ready to admire the centuries-old architecture while exploring Jelsa village and being in awe of the stunning sea views and delightful smells coming from pine forests.
Spend your afternoons exploring the quaint boutique shops, walking on every small, hidden alley, and checking out all the bars and restaurants! Ohh, the good life!
Of course, there are plenty of pebble beaches as well! And if you're up to exploring other areas in Croatia, there are plenty of fantastic hotels in Split as well, which is only a boat ride away!
Unfortunately, there are no luxury hotels to stay in Jelsa, Croatia. But if you've got your mind set on staying in a fancy place, then I recommend the Labranda Senses Resort in Vrboska, a village set a 10-minute drive away from Jelsa.
Other accommodation options in Jelsa
Things to do in Jelsa
Cool off during a hot day at Mina beach
Go on a wine tasting tour in Jelsa
Visit the Jelsa Municipal Museum
Catch a sunset near the port area
Grab a drink at Tirkiz Beach Bar
3. Stari Grad – best place to stay in Hvar for history lovers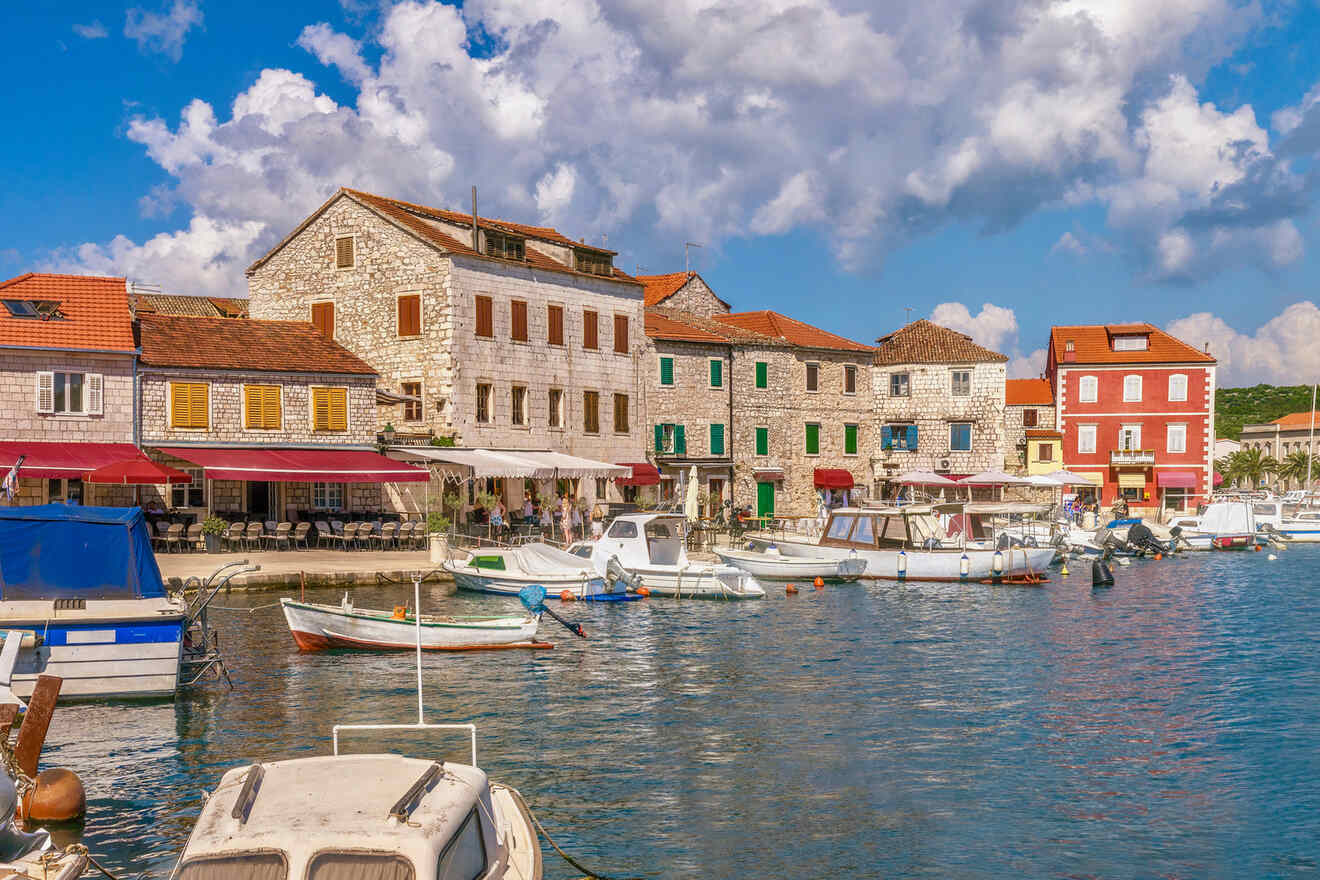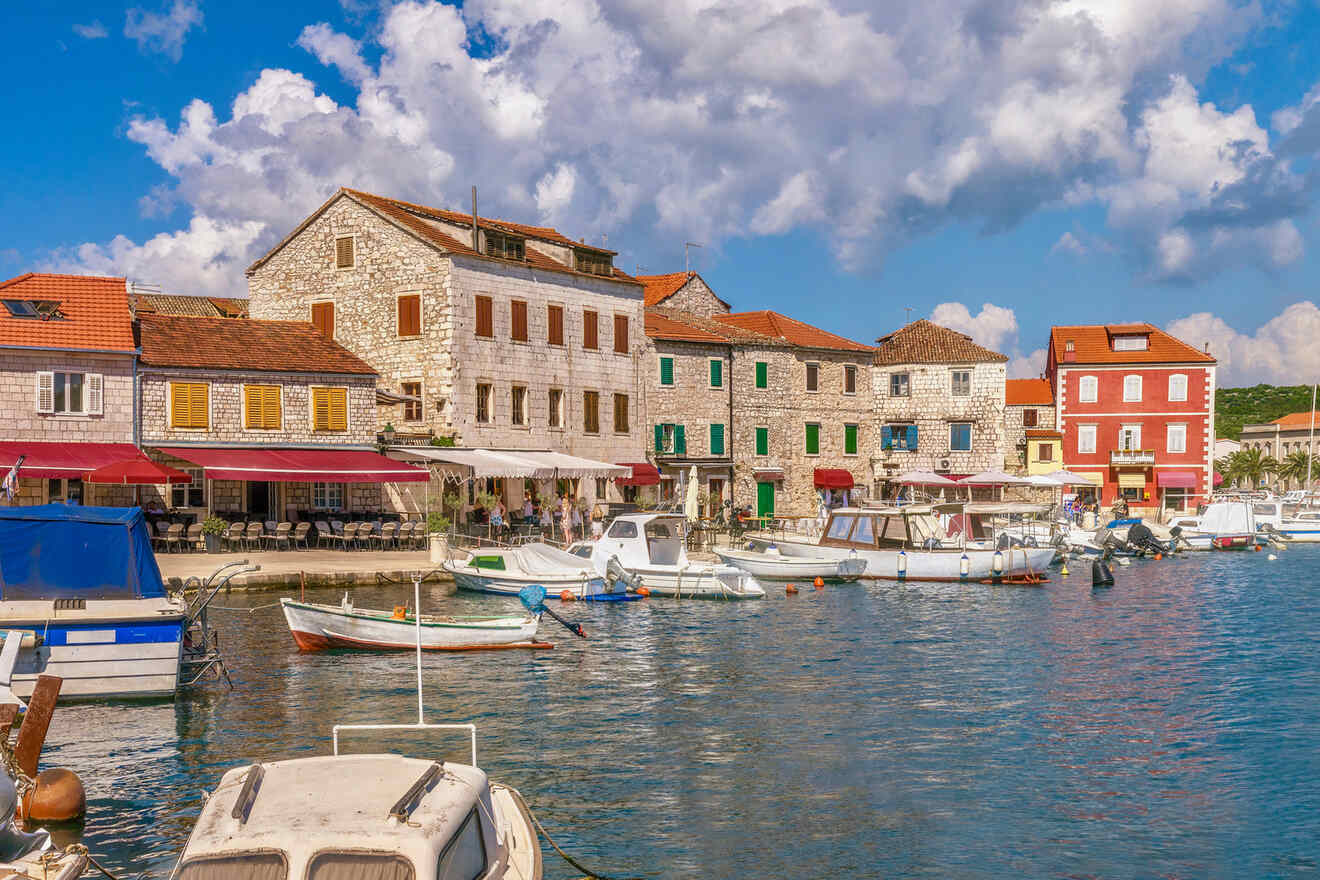 Even though the whole island of Hvar is a paradise for history and culture lovers, I think Stari Grad is the best place to stay in Hvar for people who are interested in those topics.
Stari Grad translates to Old Town, and it dates back to 385BC. It is the oldest town on the island from when Greeks from Faros, on the island of Ikaria, colonized it.
The village is set on the island's northern coast and looks like a history book! The ancient buildings set on each side of the narrow alleys with pine trees and colorful flowers that blossom from every corner are so mesmerizing!
Stari Grad isn't as busy as Hvar Town. The atmosphere is more relaxed, making it great for exploring the village for hours!
Here you'll also find a UNESCO World Heritage site, the Stari Grad plain. This ancient Greek agricultural plain from the 4th century BCE still has its original crops and walls. Wow!
Already impressed? That's not it, though, the list of attractions in the Old Town is super long, but I don't want to give you all the spoilers so let's check out the hotels in the oldest town on the island Hvar!
Other accommodation options in Stari Grad
Things to do in Stari Grad
Visit the ancient Stari Grad Plain
Admire the beautiful Tvrdalj Castle
Learn new things at the Staroga Grada Museum
Check out the bars and restaurants in Škor square
Explore the Stari Grad Marina
Escape the city heath at Stari Grad beach
4. Milna – where to stay in Hvar for foodies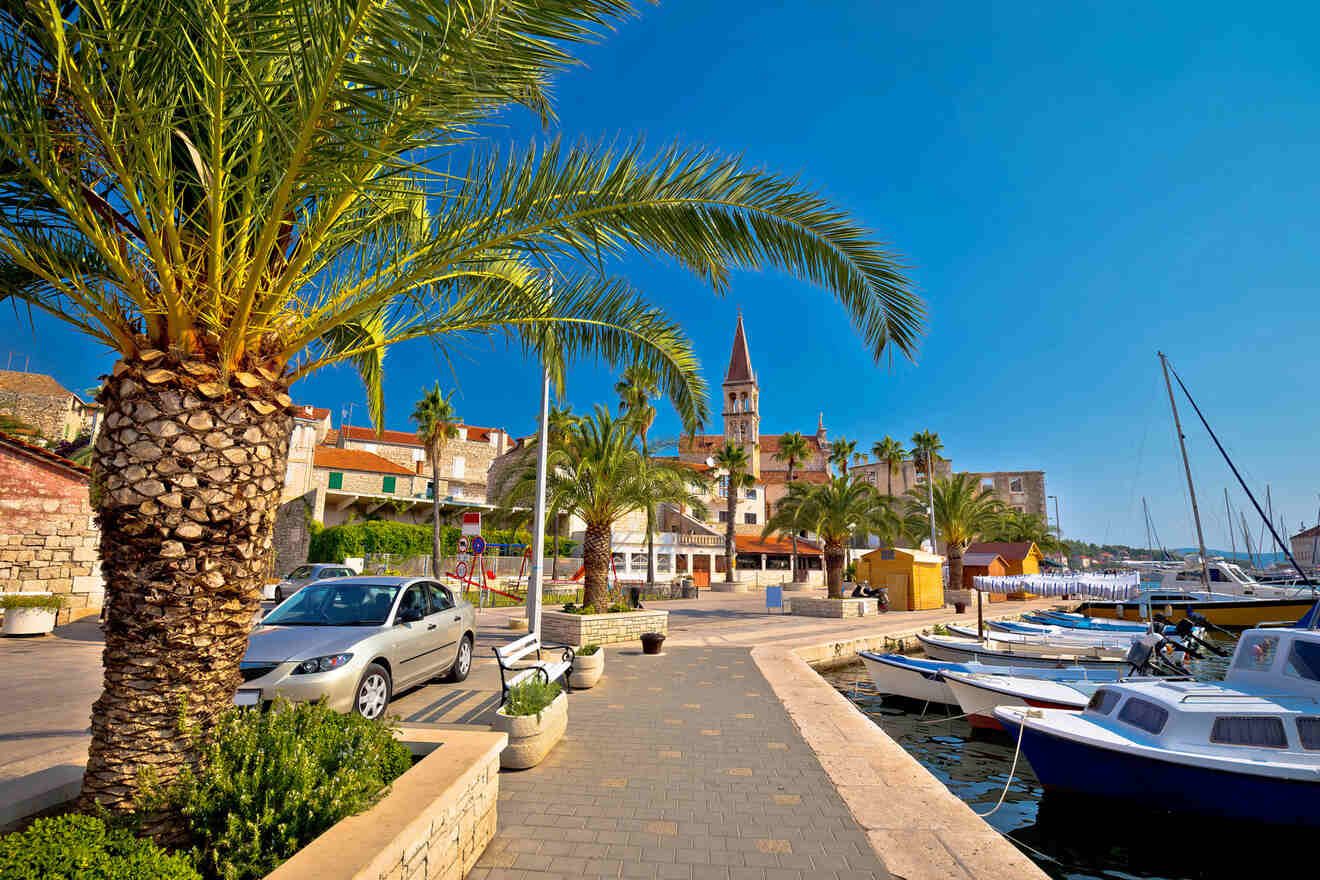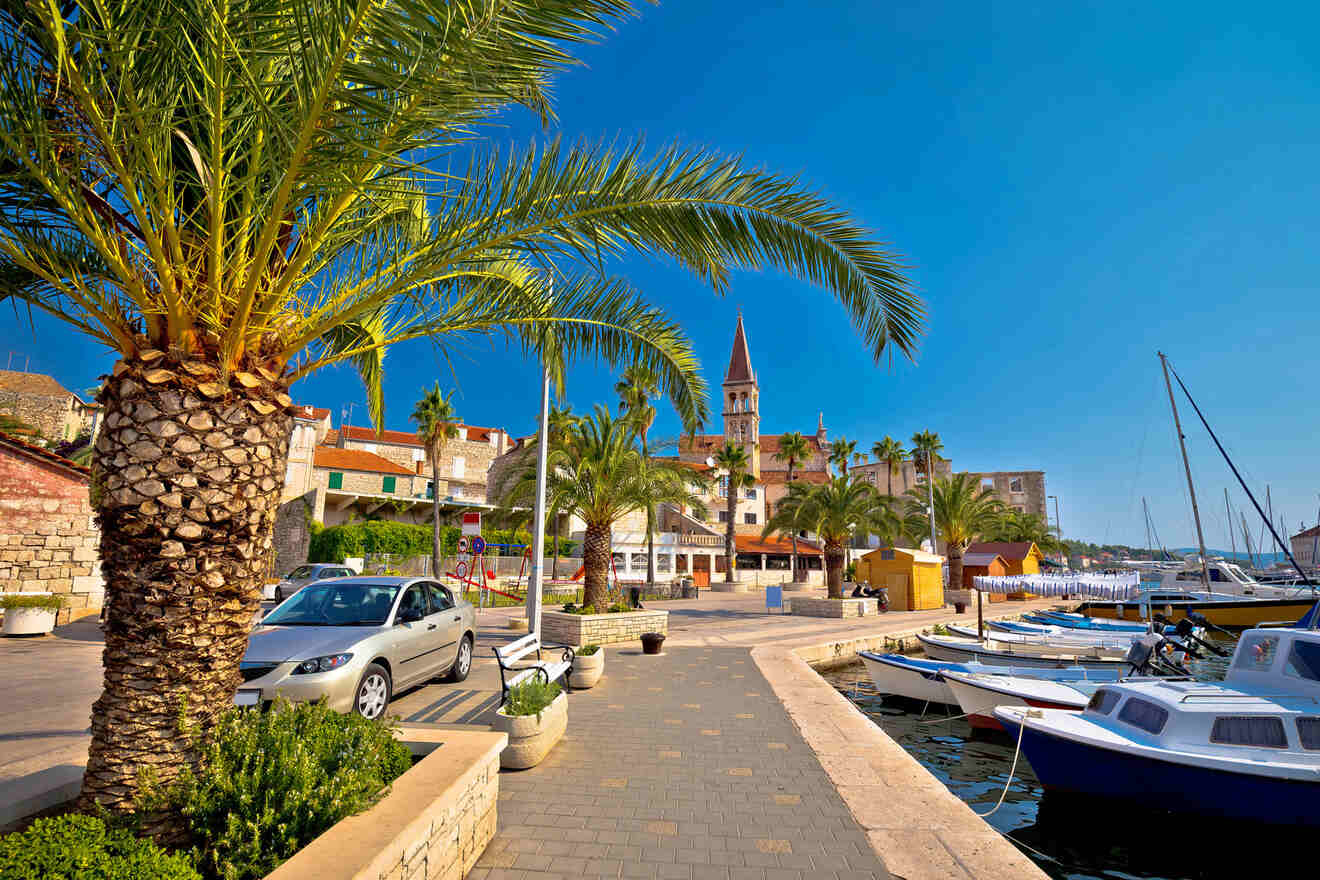 Set right near Hvar Town, Milna is a tiny fishing village, perfect for anyone who wants to be close to the capital city but far enough to avoid the crowds and busy streets!
However, the main reason you should stay in Hvar, Milna, is if you love food as much as I do!
I'm a major foodie, and it's super important for me (as I'm sure it is for many of you) to eat delicious food while on holiday!
This small village is famous for its yummy island food and homemade olive oil! And let's not forget the incredible wine and other traditional dishes.
Milna is located on the south coast of Hvar, just a stone's throw away from Hvar Town, and also has a few pebble beaches that you should check out! But make sure you explore the marina and the western part of the village. There you'll see beautiful examples of Baroque-Renaissance architecture!
FUN FACT: A really long time ago, in the 18th century, Milna was actually used for lavender cultivation, and its oil reaches as far as France, where it was used for perfume making!
Other accommodation options in Milna
Things to do in Milna
Sunbathe on the beautiful Borca Beach
Eat a delicious dinner at Notos Hvar
Visit the Church of St. Theodore
Take a short trip to Hvar Town
Swim in the crystal clear water at Velo Borce
Check out the architecture on the western side of Milna
5. Zavala – best place to stay in Hvar for beach lovers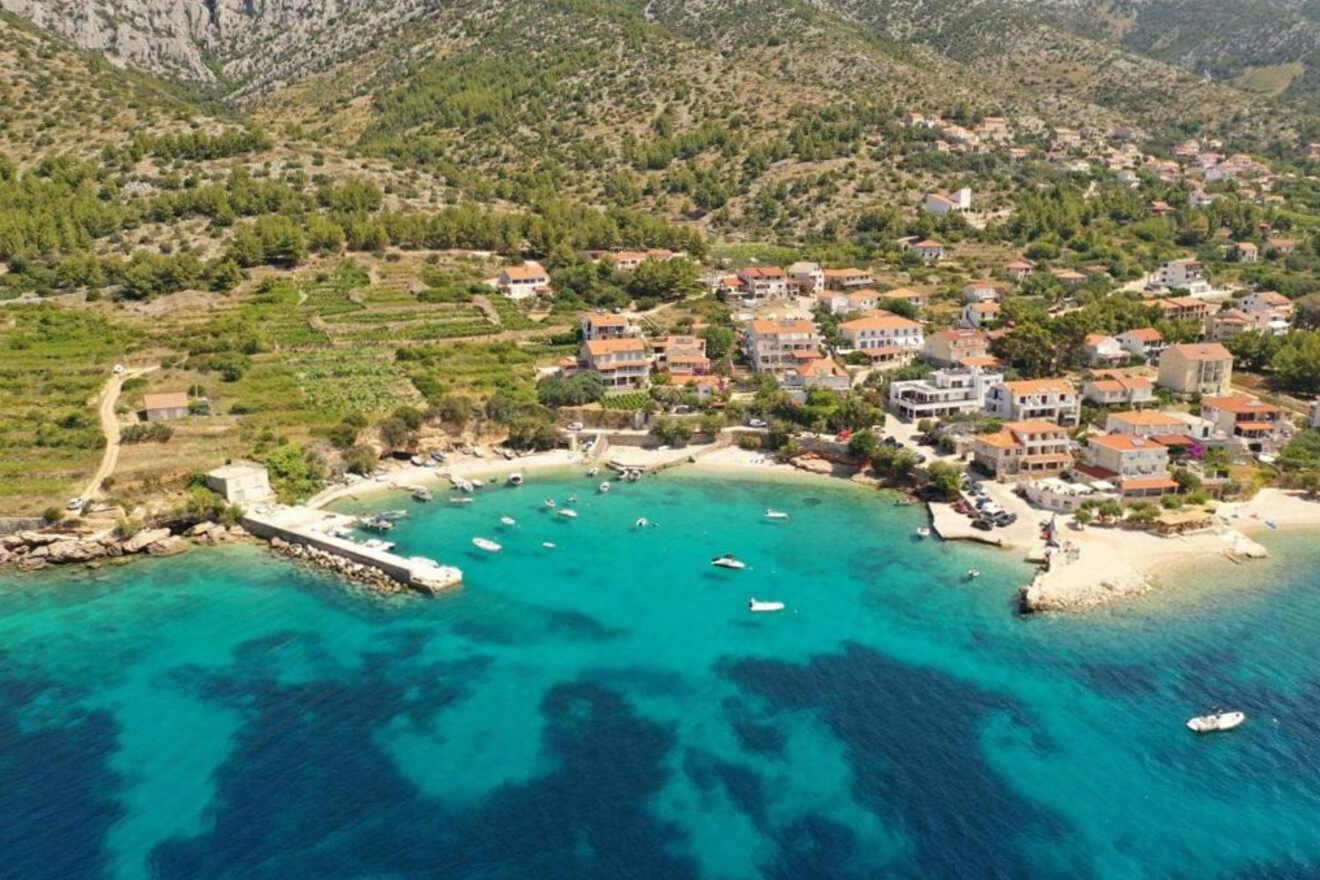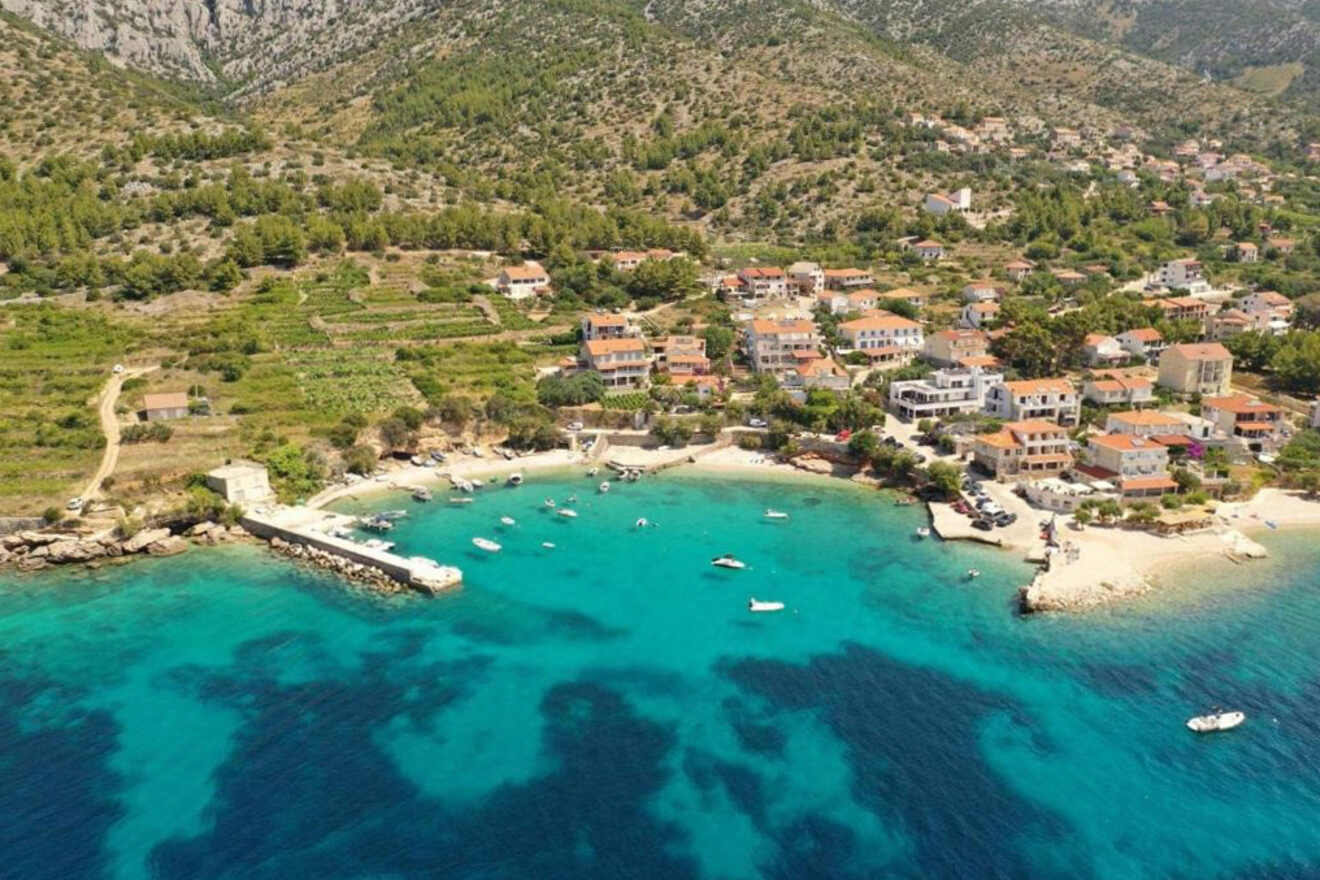 Who's in the mood for a Mediterranean vacation in a small village with tons of beaches, olive groves, and great wineries?
I'm always in the mood for that, and I'm sure you are too!
Zavala is another beautiful village set on the southern coast of Hvar island, in Croatia, and one of the best places to stay on the island for people who want to lay on the beach 24/7, swim in the crystal blue waters every morning, and eat the most delicious food!
Away from all the fuss and buzz in Hvar Town, 20 miles (30 km) to be more exact, Zavala is a small village where you can get a taste of the local life of Hvar. You'll find the harbor just a short walk from the central part of the town.
Get ready for some breathtaking views of the Adriatic Sea. The coastal side of the village is so charming, and as I mentioned its pebble beaches look as if someone took them out of Reinassance painting.
Make sure you stop by restaurants and bars at the harbor! You can't leave the island without eating Hvar's best seafood (or veggies if you're vegetarian)!
Other accommodation options in Zavala
Things to do in Zavala
Go for a swim at Zavala beach
Stop for a drink and scenic sunset near the harbor area
Sunbathe all day long on Stela beach
Visit the beautiful Pekara
Try some baked goods from the Pekarna bakery
Enjoy the coastal views on beach Rarog
6. Vrboska – where to stay in Hvar for families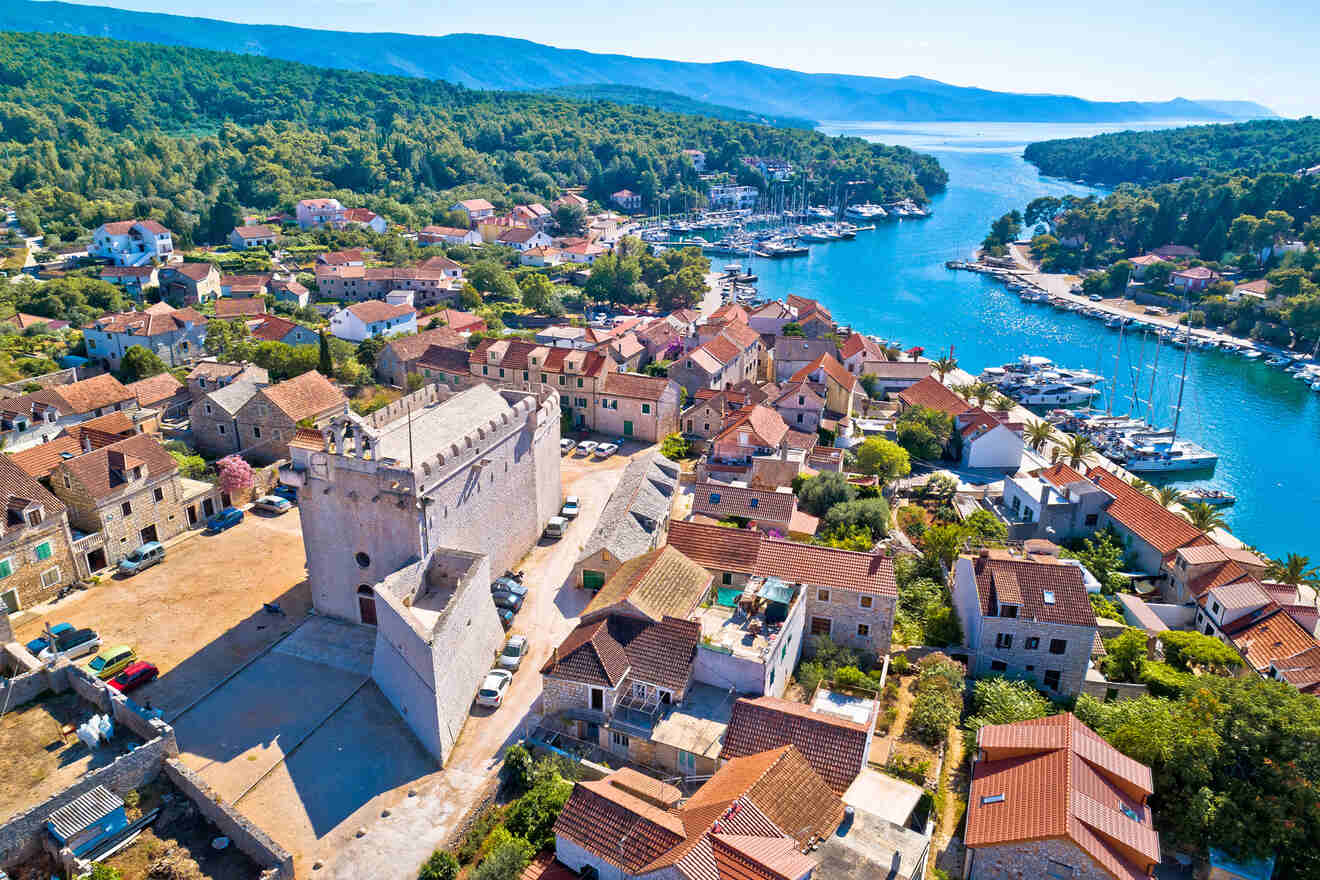 You didn't think I would finish my post with the best places to stay in Hvar without adding an option for families, right?
Vrboska is set on the north coast of Hvar Island. The village was founded in the 15th century as a port, and has developed into the town you see today!
I think Vrboska is a great place where to stay in Hvar, Croatia for families as it is pretty tranquil, it has some beaches, and it's close to Jelsa and Stari Grad in case you want to explore other places as well!
The village is also surrounded by hills, forests, and olive groves, making it the perfect place for nature and outdoor lovers too.
You'll also find plenty of attractions that will make every family member happy! The beach is one of them, and then we also have the St Mary of Mercy Church and the Fisherman's Museum for anyone who's into history.
As for the little ones, they'll probably be super happy if you give them a whole day at Aqua Park Soline!
Now let's see the best hotels in this little town on the island of Hvar:  
Other accommodation options in Vrboska
Things to do in Vrboska
Visit the St Mary of Mercy Church
Take the little ones to Aqua Park Soline
Learn new things at the Fisherman's Museum
Explore the village marina
Spend a fun day at the beach Balun
Grab dinner at Bonaca Vrboska
BONUS: Best seafront hotels in Hvar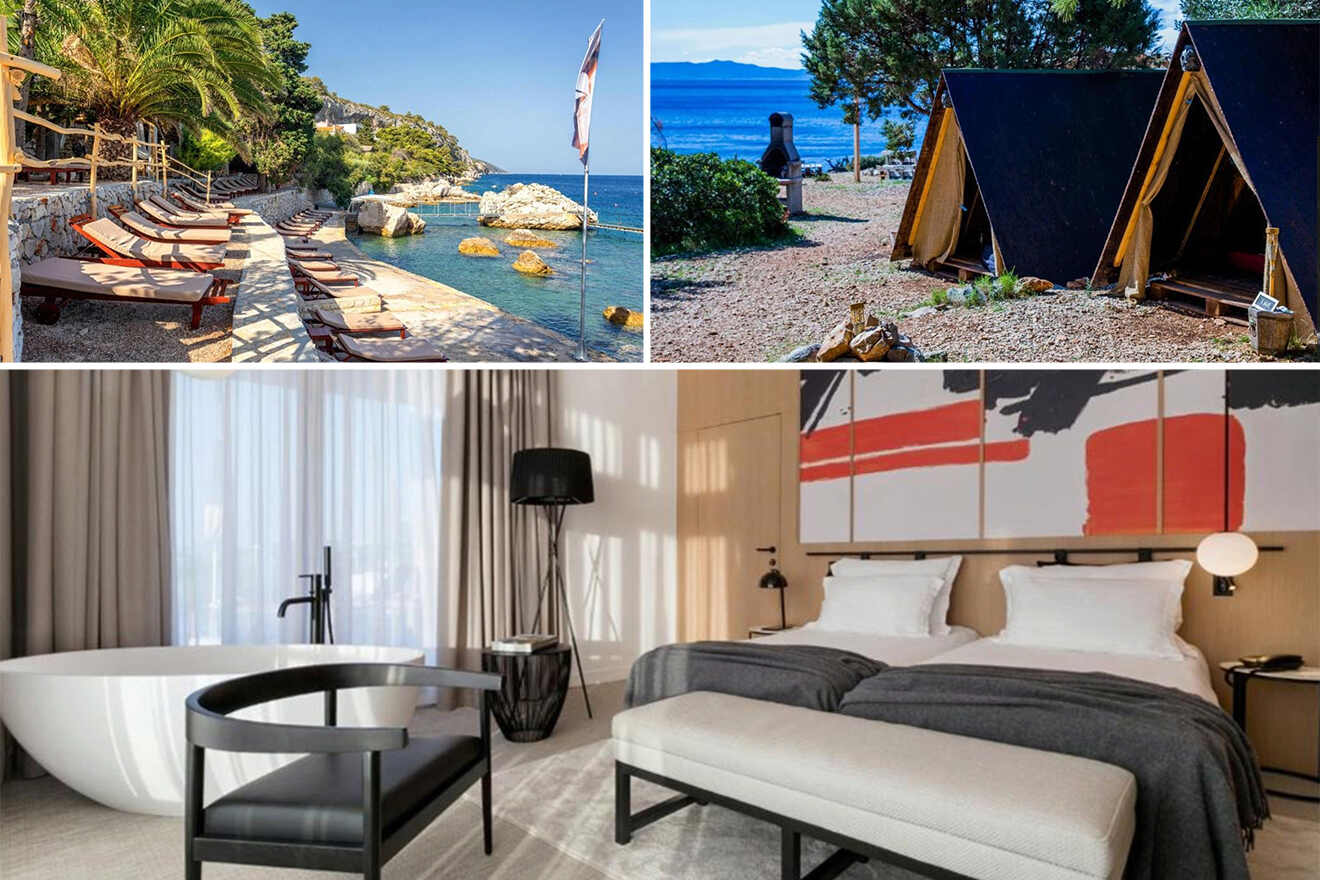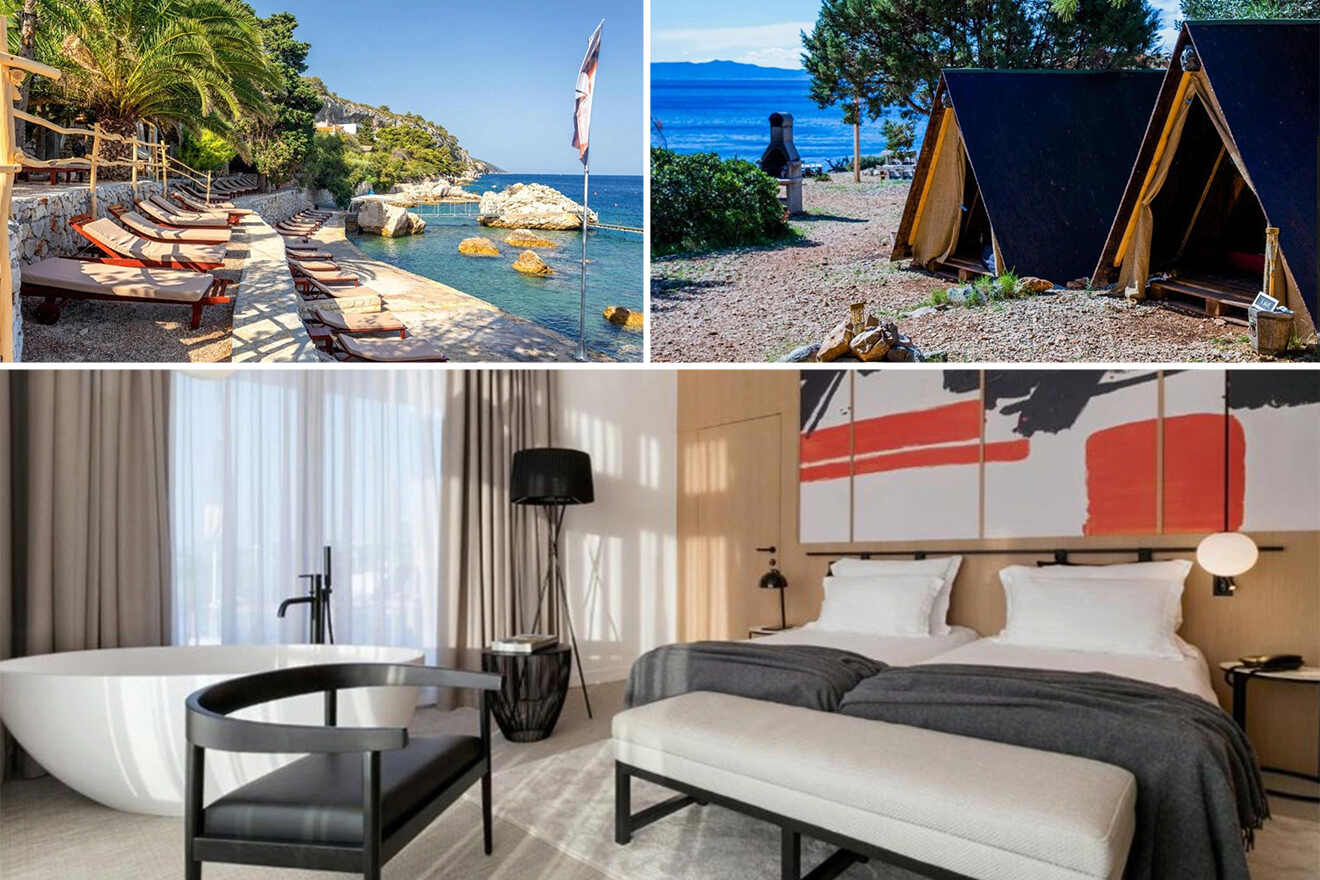 Hvar island is one of the most beautiful places in Croatia! The history, the food, and the incredible beaches will make this holiday unforgettable! I know many of you will want to wake up to the best views of the beautiful shorelines and the Adriatic Sea, and that's why I made this bonus!
If you're looking for the best of the best seafront hotels where to stay in Hvar, then my friend, you're in for a treat! Below you've got 4 fabulous options so let's not waste any more time and check them out!
Luxury (US$350 and up)
Hotel Podstine – Ready to drink your morning coffee on the balcony, while admiring the sea views during your holiday on Hvar island? I know you are! This hotel offers a private beach area in a secluded bay in Hvar Town! Surrounded by palm and pine trees, the accommodation has comfortable rooms, a restaurant, and a pool. After a full day of exploring the town and beaches, you can relax with a massage at the spa center!  
Amfora Hvar Grand Beach Resort – Order your breakfast up to your penthouse suite and enjoy the fantastic sea views! This is one of the best hotels in Hvar and it has super modern rooms, with all the necessary facilities and a balcony. Its rooftop restaurant offers breathtaking views but during the day, you can relax at the lounge bar and drink cocktails by the pool.
Mid Range (US$150 – US$200)
Golden Bay – Loving the local design of this hotel! Everything is so authentic and beautiful! Set in Hvar Town, the aparthotel is set just a 2 minutes walk away from the beach and it offers sea views. Each suite has unique walls made of stone, lots of space, and a small kitchenette. The accommodation also offers breakfast which you can enjoy on the terrace and a children's playground for the little ones!
Budget (up to US$150)
Cast Away – If you love nature and camping, this is your spot! This holiday park is located in Vrboska, and it offers wooden tents equipped with a mattress, pillows, and hammocks! Set right by the sea, this self-sustainable eco-village has all the facilities you need, including a shared kitchen, 2 shared bathrooms, a terrace, and private storage boxes. Disconnect from everything and enjoy this unique experience!  
Frequently asked questions about hotels in Hvar, Croatia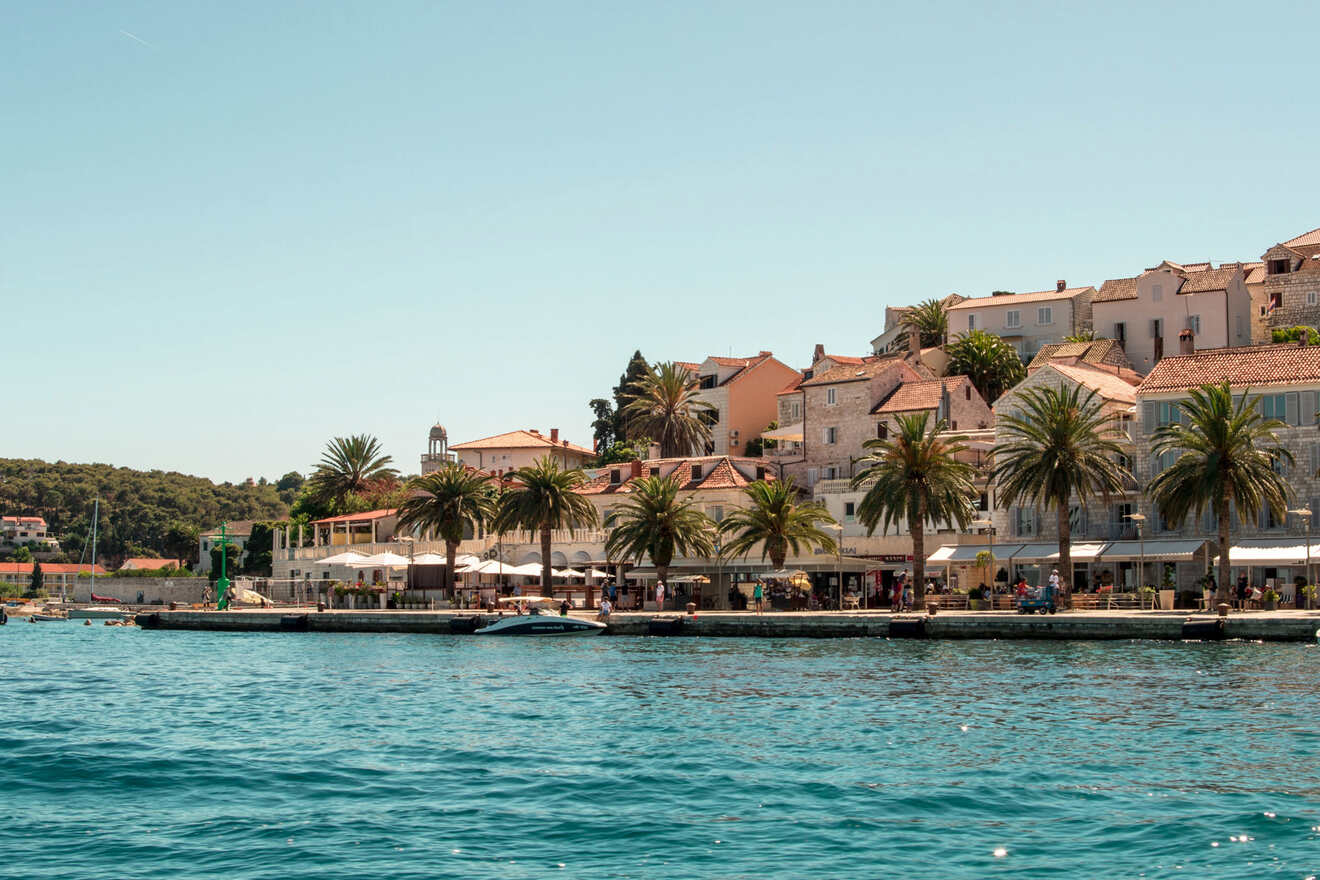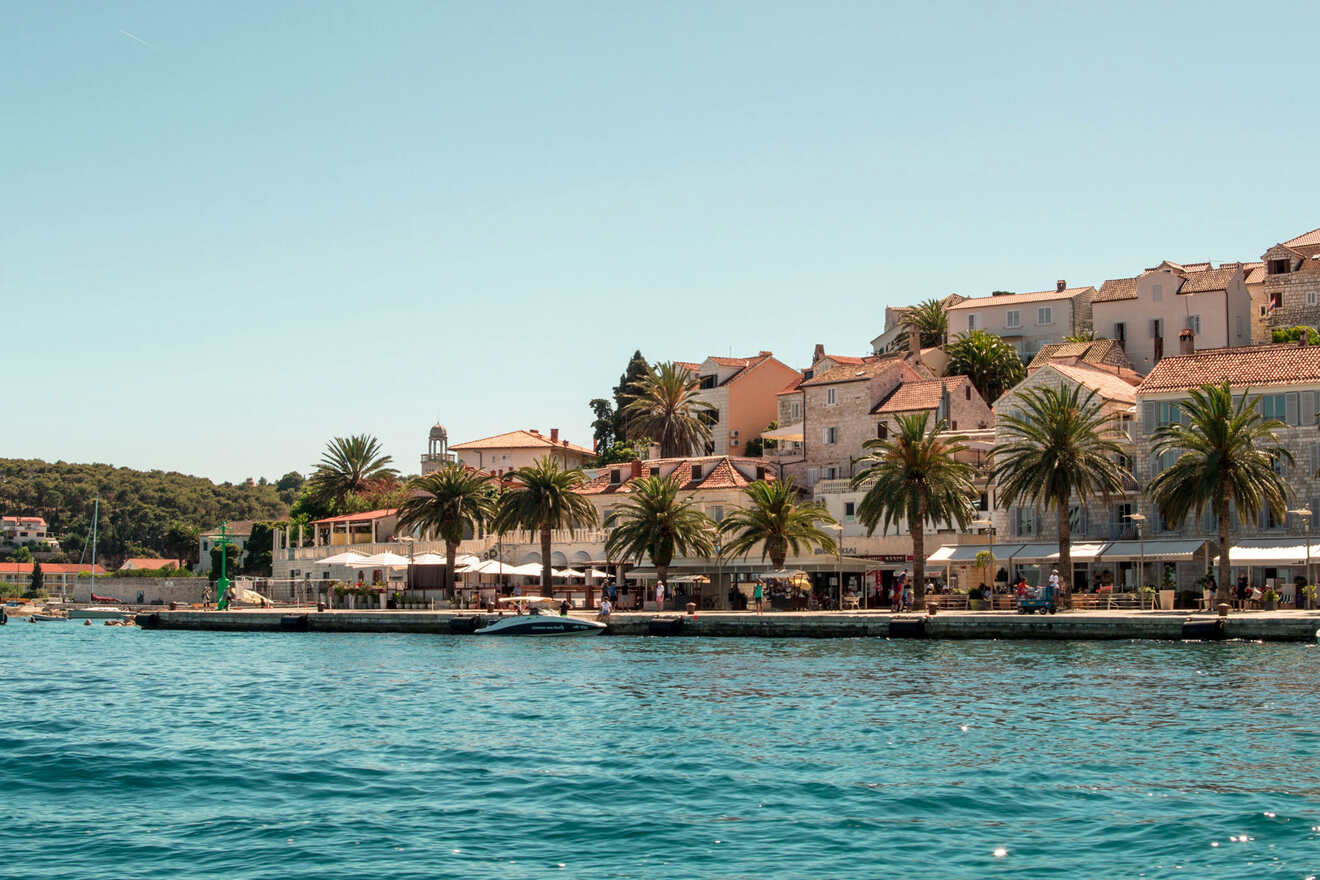 Conclusion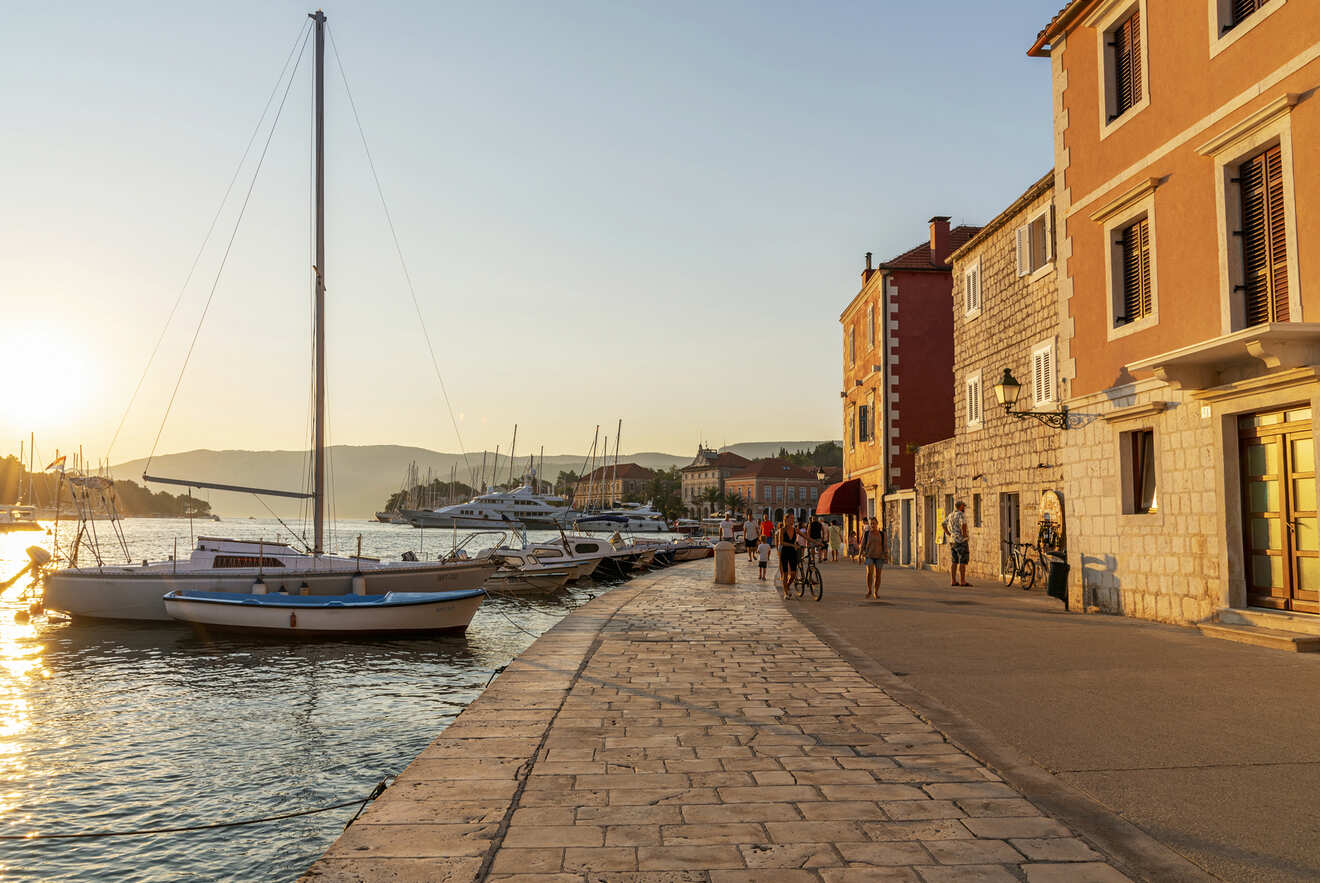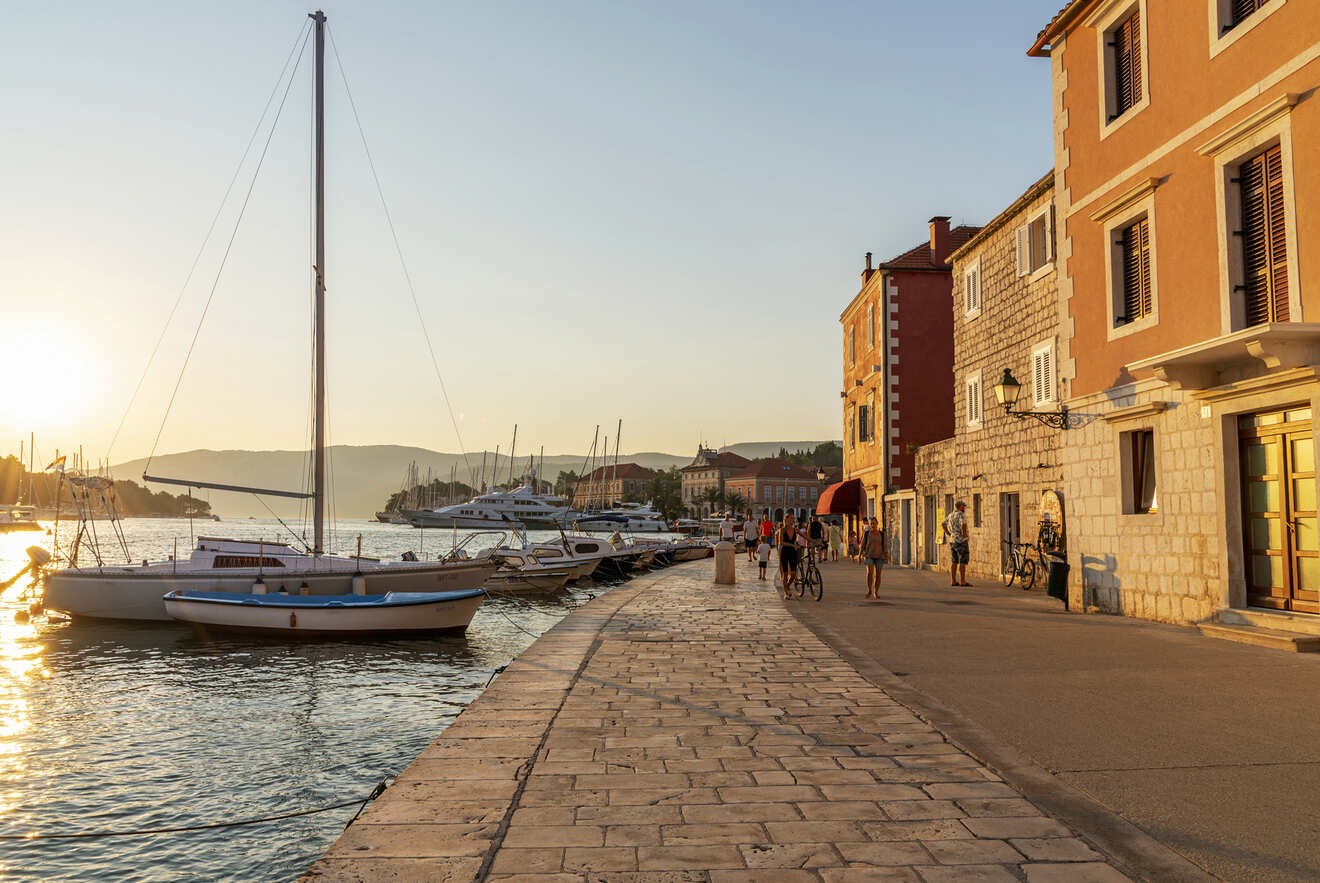 Croatia, you've done it again! You've offered us yet another fabulous holiday location!
I hope this post helped you decide where to stay in Hvar. I've mentioned the best 6 areas on the island, and also added a short bonus at the end with 4 stunning seafront Hvar hotels!
If you find yourself a bit overwhelmed with all these options, don't worry, it's normal! I like to keep my readers informed at all times! But I also want to help you make the best choice so here are my top 2 favorite options, both located in Hvar Town:
Adriana Hvar Spa Hotel – One of the best luxury hotels that offer panoramic city views from the rooftop terrace, a swimming pool, and a space center
Heritage Hotel Dea Hvar – This comfortable and cozy mid-range hotel has a stunning design, a colorful garden, and a restaurant that serves delicious food!
Hvar Town is one of the best places to stay on the island and the most popular with tourists! So book your hotels in advance, no matter which village you choose, but especially in Hvar Town and Stari Grad. Otherwise, you'll risk losing your favorite hotel!
Well, my work is done here! I'm sure you can start planning your stay in Hvar, Croatia properly now that you have all this information! However, if you can't find something specific or maybe you've got other fantastic luxury hotels that you want to suggest, leave me a comment below. I'm here to answer all your queries!
Enjoy your holiday on this beautiful island!
Have a fun trip,
Victoria