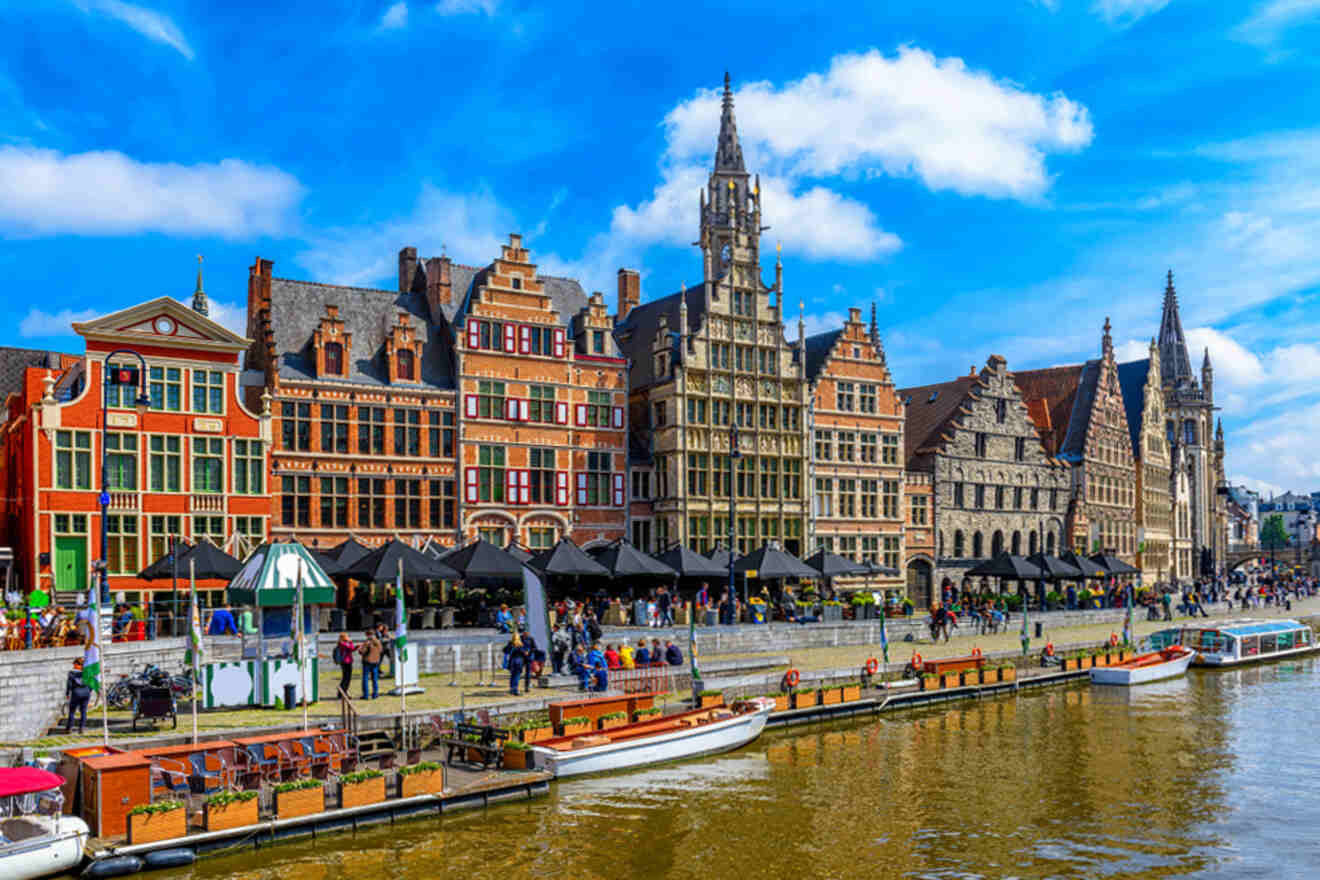 Belgium is always a good idea! So, let's jump straight in and start this guide on where to stay in Ghent! After comparing all the top spots and hotels, I'm more than ready to give you a hand in planning your holiday!
City Center is the best area in Ghent, Belgium, with many landmarks, restaurants, and shops! But fear not! I have 4 more places, each with its best feature: a local atmosphere, near the train station and areas great for relaxation and foodies. In each neighborhood, I've included a top-notch list of hotels with amazing facilities!
Although Ghent is the largest city in the East Flanders province in Belgium, I recommend booking your hotels here in advance as the town gets so popular with tourists!
If you are in a hurry
Don't worry if you can't read the whole post! I always make this short list of the best Ghent hotels, and these are located in the city center:
Here's a map that will help you visualize all the areas that I'll talk about in this post:
1. City Center – where to stay in Ghent for the first time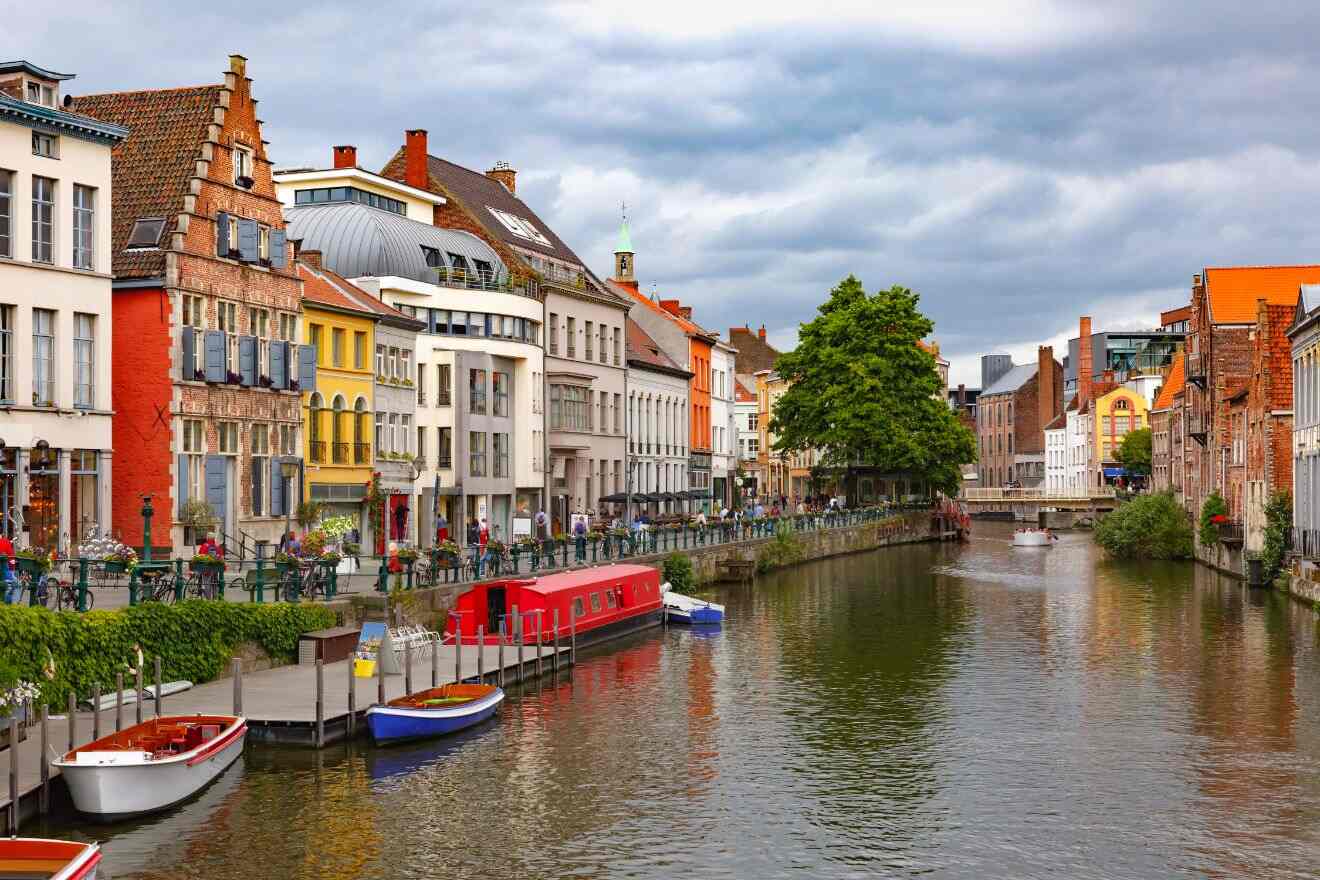 Packed with the main attractions and fabulous hotels, Ghent City Centre is by far the most incredible spot to stay in town!
This is also where you'll find Ghent's historic centre, so if you're into history, definitely have a look at some of the town's attractions like the Gravensteen Castle (a beautiful medieval castle), Ghent Belfry Tower, St. Bavo's Cathedral and many others.
The Ghent Belfry Tower was used as the place where city privileges were kept, and at the peak of the tower, you'll see a dragon, which guards both the belfry safe and the city. This dragon became the symbol of Ghent, and the Ghent Belfry, a symbol of prosperity.
Gotta love a place with a blend of rich medieval history and modern comfort! And Ghent offers just that! In the City Centre, you'll find many hotels just a short walk away from all these iconic sites!
You'll have easy access to great restaurants, as well! I also highly recommend checking out the famous Graffiti Street while you're here, it's a must! (map)
Another thing I really like about this historical City Centre is the incredible architecture! Like in most Old Towns, you can spend hours walking down its streets and not get bored!
Luxury hotel
Stay in this hotel near the Graslei, which offers such a romantic ambiance! Not only is this hotel beautifully decorated, but it also offers panoramic city views, a cocktail bar, and private parking! Its unbeatable location within walking distance of all the attractions makes this place such a keeper!
Other accommodation options in City Center
Mid-Range
Seek out boutique hotels for a unique touch like this one, which has spacious rooms and a rooftop terrace
Budget
One of the best cheap hotels in Ghent that is centrally located and offers rooms with a private bathroom
Airbnb
With a perfect location in the historic City Centre, this spacious place has an indoor fireplace and a patio
---
Hotel Harmony – here's another amazing hotel in the City Center, in a historic building and with an outdoor swimming pool, a fitness center, and a bar.
2. Prinsenhof – best place for the local atmosphere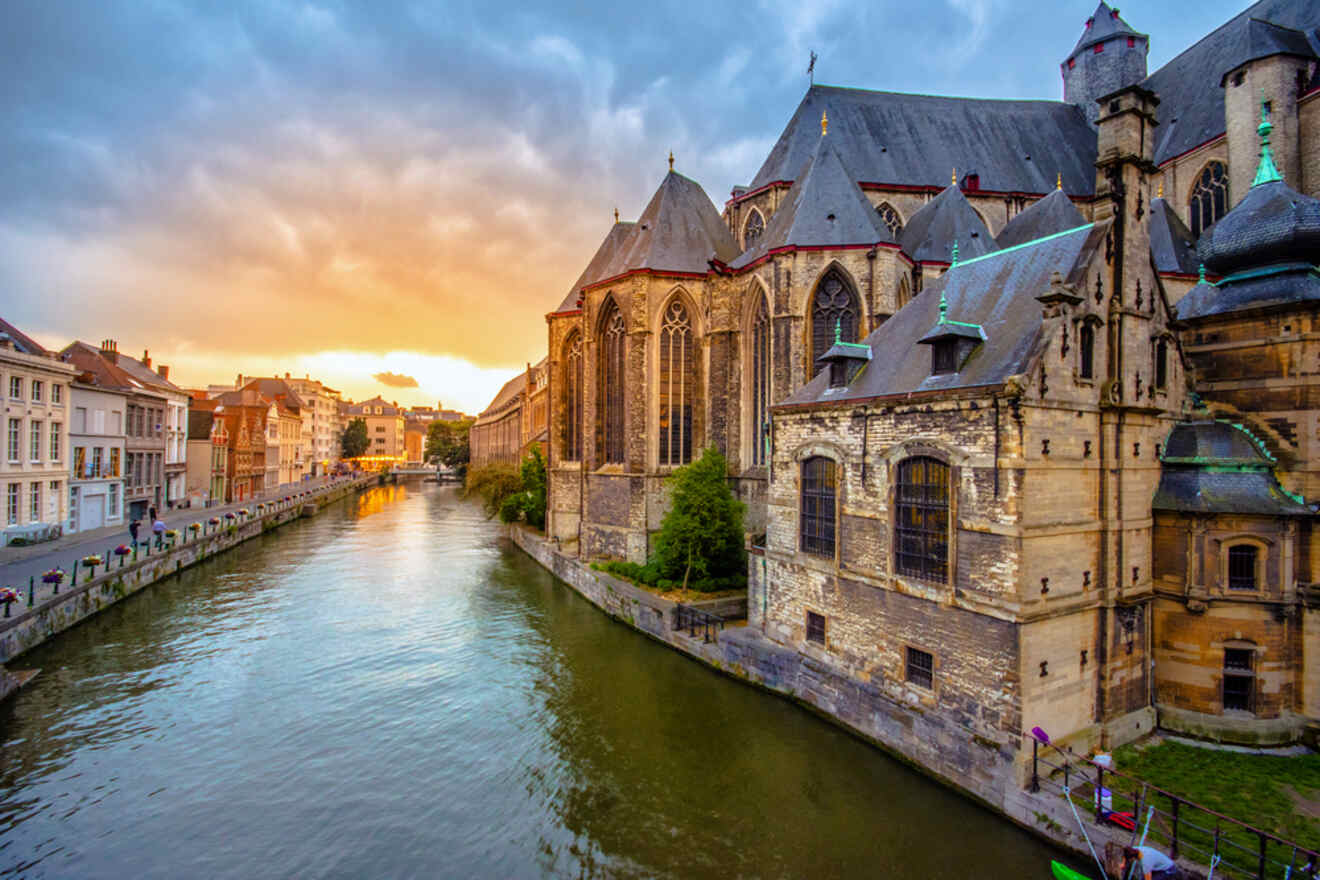 Set right across from the historic City Centre, this small area is perfect for those on a quest to discover charming neighborhoods with an awesome local atmosphere!
Back in time, Prinsenhof was actually a walled castle with a zoo!
Now things have changed, and the residential area managed to keep its authenticity despite how touristic the town has become!
You won't find as many medieval buildings as you would in the Old Town, but the small area still has some attractions like a Theater Tinnenpot and historical buildings. This area is by the Lieve River, where you can catch scenic sunsets!
Given that it's a residential area, Prinsenhof is pretty tranquil and chill, which makes it such a convenient location for anyone who prefers that rather than the busy streets in Ghent City Centre!
Pssst – catch a show at Theater Tinnenpot (map) while you're here!
Luxury hotel
This hotel features everything you need for your holiday in this medieval city! The accommodation offers rooms with a flat-screen TV, and some come with a balcony, too. They also offer a yummy free breakfast every morning!
Other accommodation options in Prinsenhof
Mid-Range
Such a great hotel with a modern design, spacious rooms, free Wi-Fi, and a flat-screen TV
Budget
This budget accommodation features family rooms with a kitchenette, a terrace, and free Wi-Fi
Airbnb
A charming home conveniently located with a balcony, a private backyard, and a kitchen
3. Sint-Pietersnieuwstraat – near the train station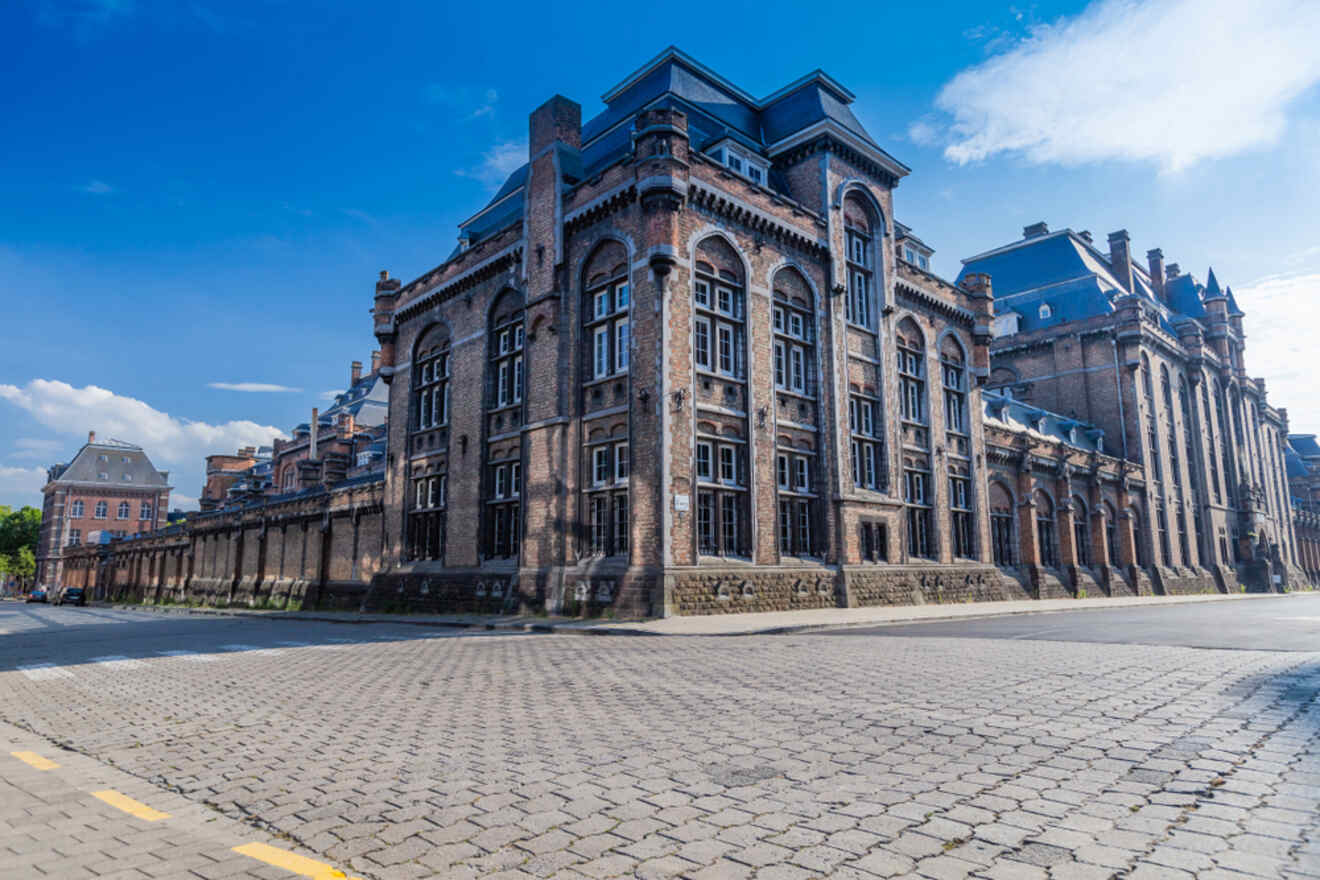 Staying in Brussels and looking for some cool places to stay near the Gent Sint Pieters station from where you can continue your trip? Then check out this amazing area, which is right near the train station!
Perfect for those who want to take day trips during their holiday in Ghent, Belgium, and also for those who want to find some budget-friendly accommodations, this neighborhood has many museums (perfect for those who want a strong dose of art and history).
There are also churches and a big park for anyone who needs a touch of nature in the city! Honestly, it looks like such a fun area as it offers many things to do, plus easy access to public transport and the train station.
Some museums you should definitely check out while you're here are Museum voor Schone Kunsten and SMAK – Municipal Museum of Contemporary Art. You'll leave these places feeling so infused with all the gorgeous art!
Afterwards, you can head to Citadel Park, where you'll find a cool Botanical Garden and many monuments!
Luxury hotel
Prioritize luxury hotels with glowing traveler reviews like this place, located within walking distance of the train station, and offers spacious rooms with a modern design and city views! Don't forget to enjoy the spa and wellness amenities on-site (they do wonders after a long flight)!
Other accommodation options in Sint-Pietersnieuwstraat
Mid-Range
Delight in this bed and breakfast for a personal touch that has a bar and a terrace
Budget
Opt for historic buildings converted into modern stays like this one, which has a terrace and a garden
Airbnb
Perfect for 2 guests, this Ghent accommodation comes with a kitchen, a TV, and free Wi-Fi
4. Sint-Amandsberg – best place to stay in Ghent for relaxation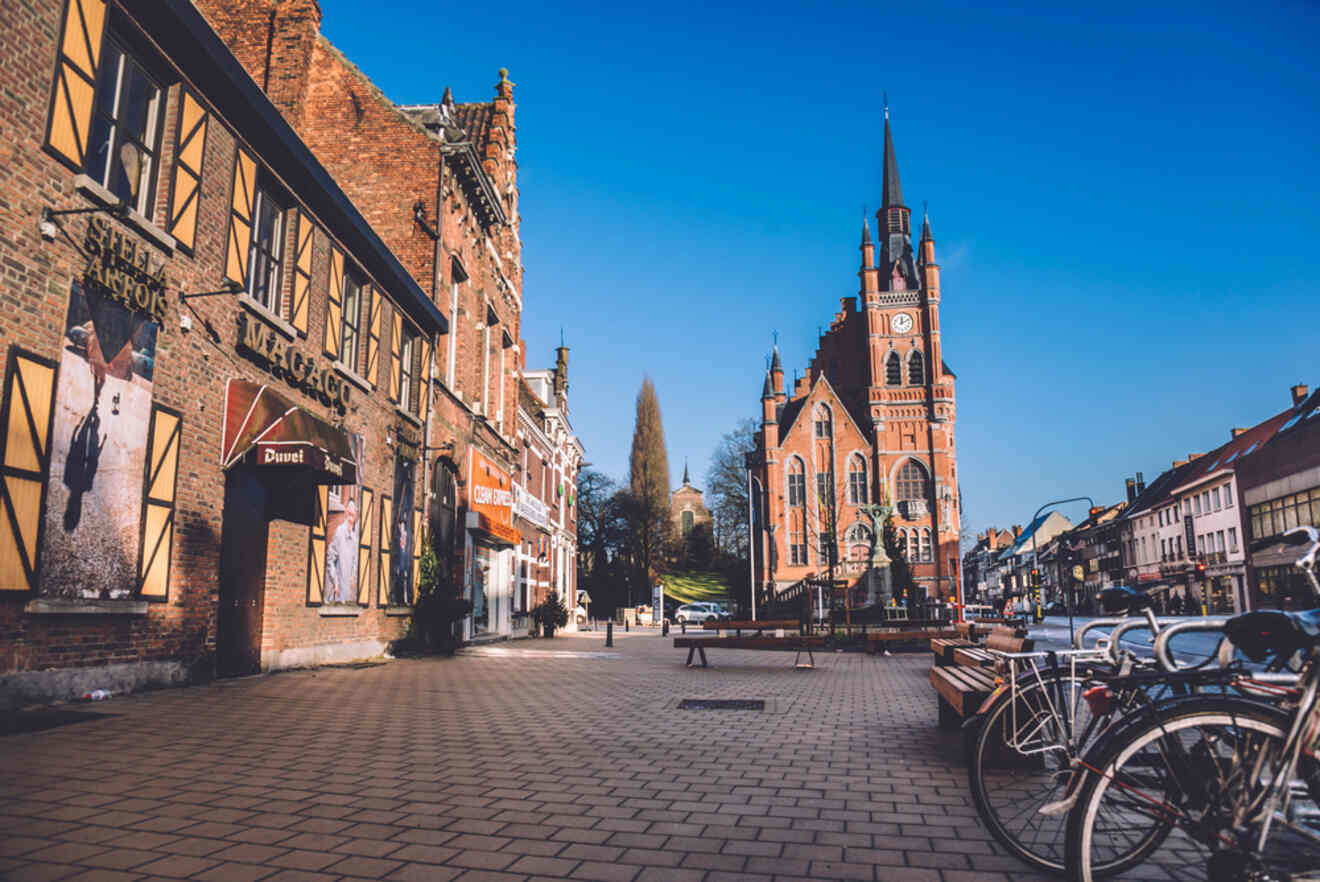 Planning a relaxing, worry-free trip to Ghent?
Then I'm guessing you're looking for a more quiet area to stay in Ghent, Belgium, with some great hotels!
Sint-Amandsberg is a neighborhood that's located a 30-min walk away from the historic City Centre. You'll find really cute historic houses, a very peaceful atmosphere and another train station (called the Gent-Dampoort), which is perfect for those of you who want to take some day trips!
You'll also find some parks in the area and a cool cemetery, Campo Santo Cemetery, with tombs showing Ghent's history!
That's pretty much it in terms of attractions! However, the attractions in the historic City Center, which date back to the Middle Ages, are within average walking distance, but you can also take the bus if you want to use public transport).
Luxury hotel
A great boutique hotel set in a traditional house with gorgeous family rooms with stylish furniture, a private bathroom, and free Wi-Fi. The hotel offers private parking for all the guests and also a delicious breakfast, which you can enjoy in your rooms!
Other accommodation options in Sint-Amandsberg
Mid-Range
This modern hotel comes with family rooms, a free breakfast, bike rentals and a fitness center
Budget
Enjoy your stay in Ghent at this cheaper accommodation that offers games for kids and bike rentals
Airbnb
Such a cool loft that comes with a lot of space and a garden with a hammock where you can relax
5. Hoogstraat – best place to stay in Ghent for foodies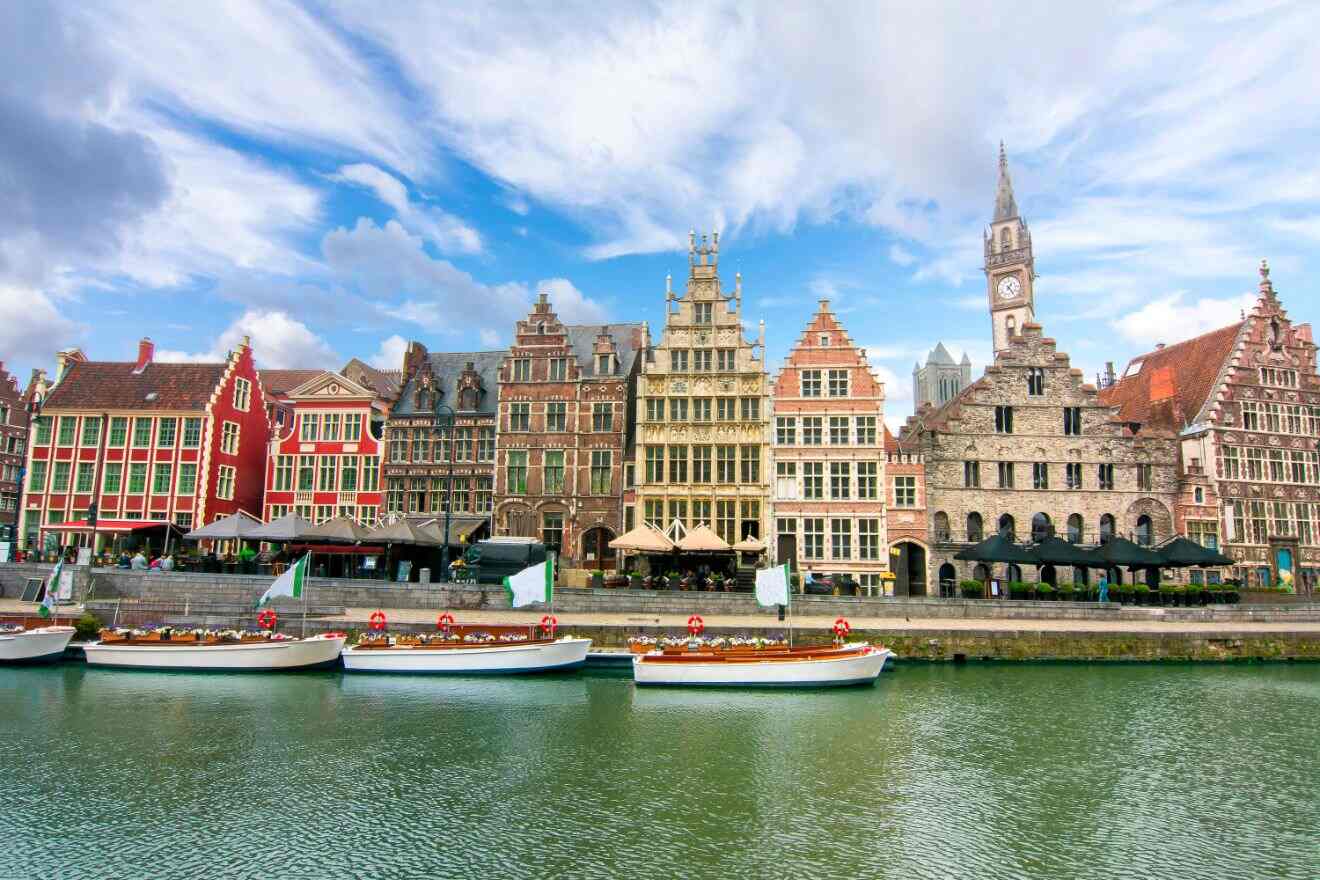 Want to stay somewhere near the main attractions, but you're not a big fan of city centers? Then check out this area, just a short walk away from places like Gravensteen Castle and Graslei Street!
Here, you can feel the exceptional Belgian hospitality, and you'll also find a wide range of hotels, from budget-friendly options to luxury stays.
However, what really makes Hoogstraat so amazing is its abundance of restaurants! Yep, this area is absolutely packed with restaurants where you can indulge in delicious Belgian cuisine! Fancy a fine-dining restaurant? Make a reservation for Oak, and get ready for a tasting sensation!
From this area, you'll also have easy tram and bus access, in case you want to explore other places in town or take any day trips!
Now, let's check out all the hotels you can secure close to Ghent's best culinary delights!
Luxury hotel
Pillows Grand Boutique Hotel Reylof Ghent
By far one of the best luxury hotels in Ghent, Belgium! This hidden gem is set in a historic building that has a gorgeous design! You'll also find a wellness centre where you can relax after a day out, 2 on-site restaurants, and private parking spaces!
Other accommodation options in Hoogstraat
Mid-Range
A beautiful boho-chic hotel that comes with simple yet stylish rooms that have a patio and a terrace
Budget
This budget accommodation offers free city tour bookings, shared rooms with free Wi-Fi, and a bar
Airbnb
You'll love this studio, which is perfect for a city break and has a balcony with a courtyard view
FAQs about hotels in Ghent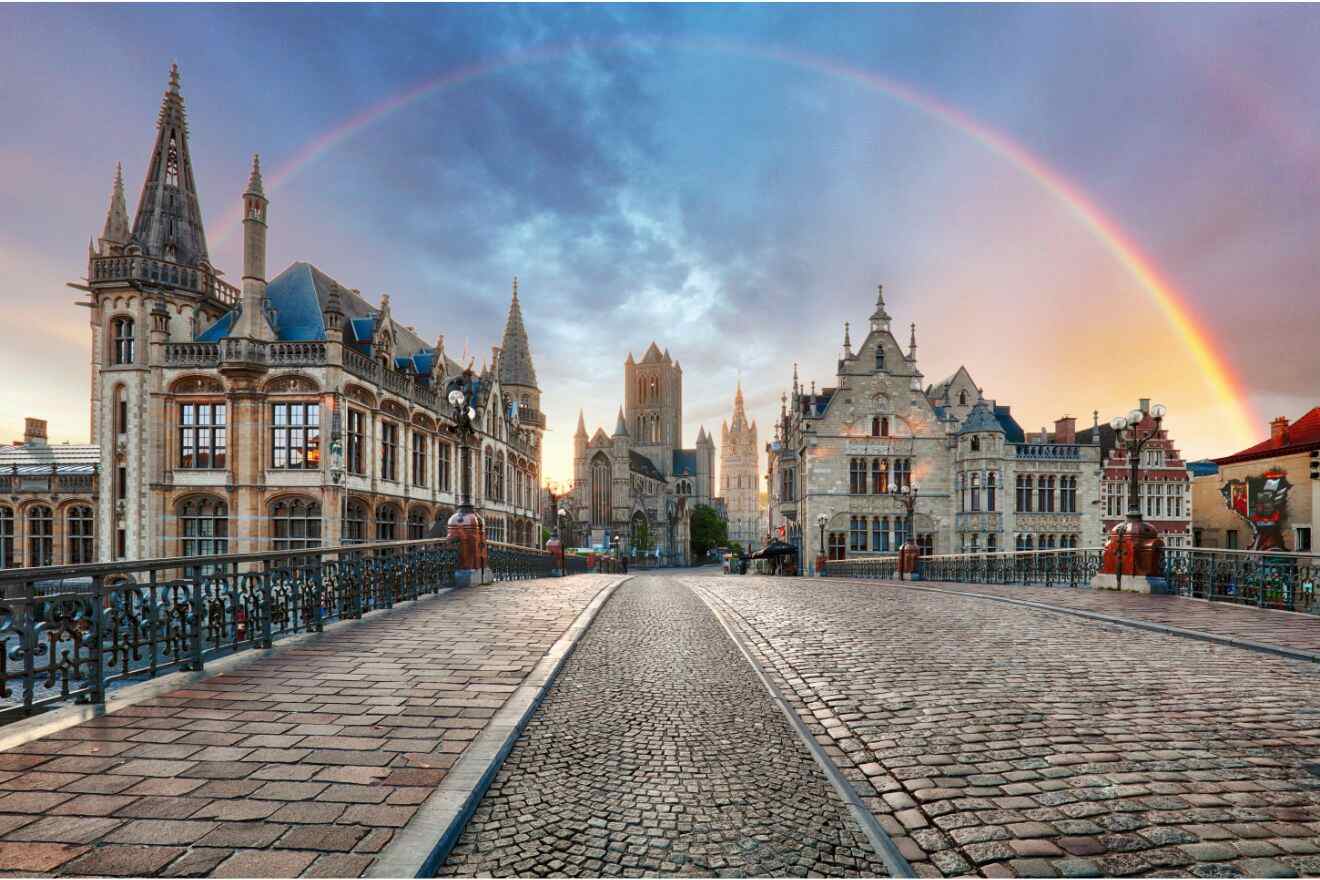 🤩 What part of Ghent, Belgium, should I stay in?
Ghent City Centre is one of the best areas in town! You'll find all the main attractions, the Christmas Market, and some of the best hotels!
🤔 Is it better to stay in Bruges or Ghent?
Both places share a rich history, but if you'd prefer a less crowded city, go with Ghent, as Bruges tends to get packed with tourists all year round! 
🏨 Which are the best hotels in Ghent City Centre?
🔝 Is it worth staying in Ghent, Belgium?
Yes! This amazing city has medieval buildings, beautiful architecture, and fun things to do! 
Conclusion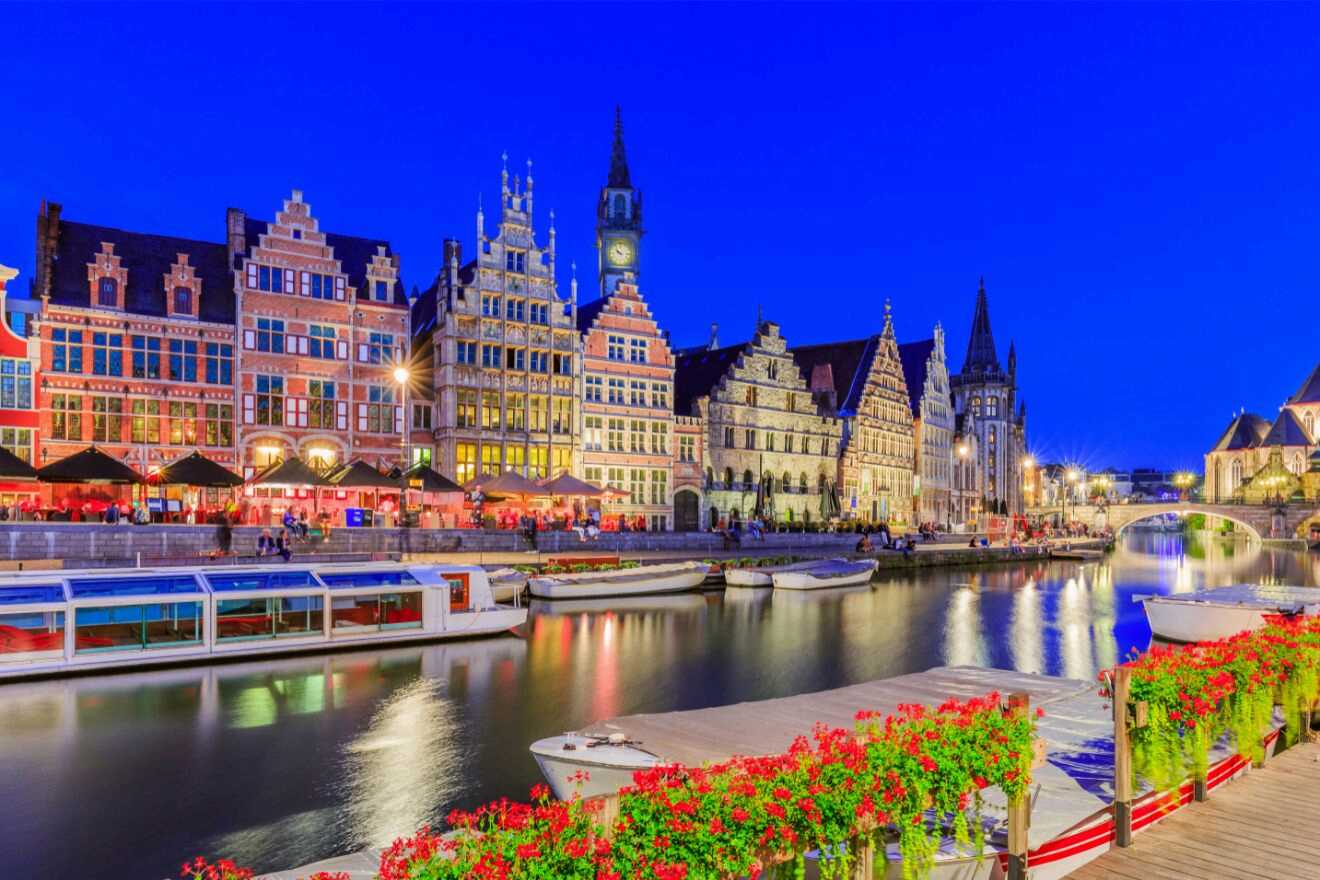 Wow, this city in Belgium is so beautiful!
Just to recap for everyone who might've joined us now, this post covers where to stay in Ghent in terms of areas, plus a short list of amazing hotels in each neighborhood!
I would recommend booking your hotels here in advance, as Ghent is one of the most popular cities in Belgium, and usually, all the great accommodations sell out months in advance!
Talking about hotels, who wants to see my 2 favorite places in the city? Maybe it'll help you when making the final choice:
1898 The Post – a stunning hotel set in a historic building that has antique furniture, a terrace, and a bar.
Yalo Urban Boutique Hotel – how amazing is this hotel that has a rooftop bar, an on-site gym, and a restaurant?!
Voila! The best of the best!
I hope you enjoy your holiday in Ghent, Belgium, and don't forget that if you need more help when planning your trip, you can always ping me in the comment section, and I'll answer ASAP!
Safe travels,
Victoria
---
Pin it for later!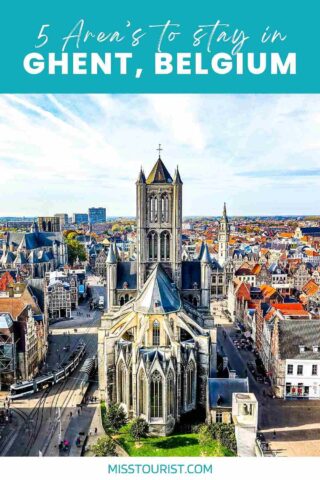 Pin it for later!