25 EPIC Things to Do in Johannesburg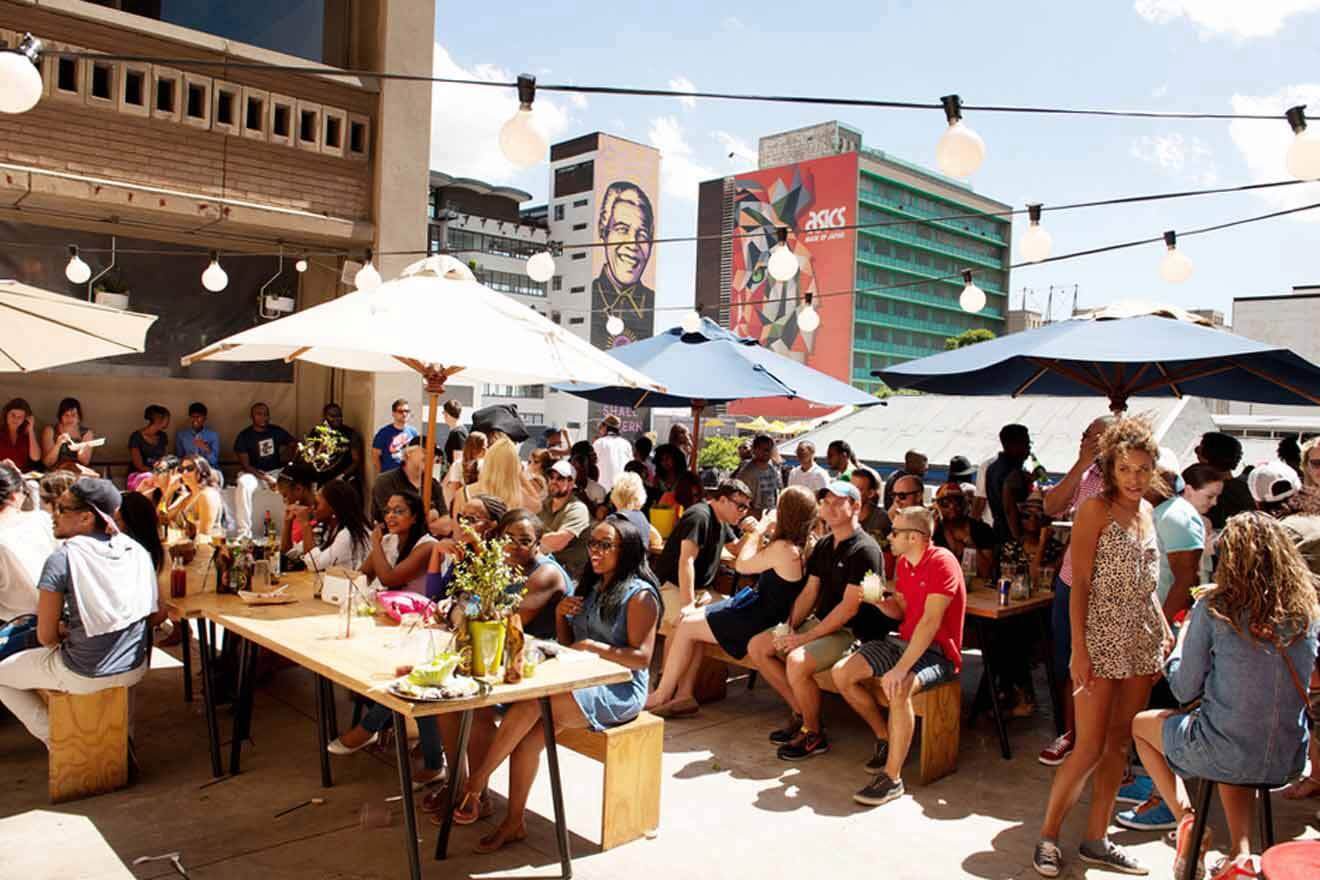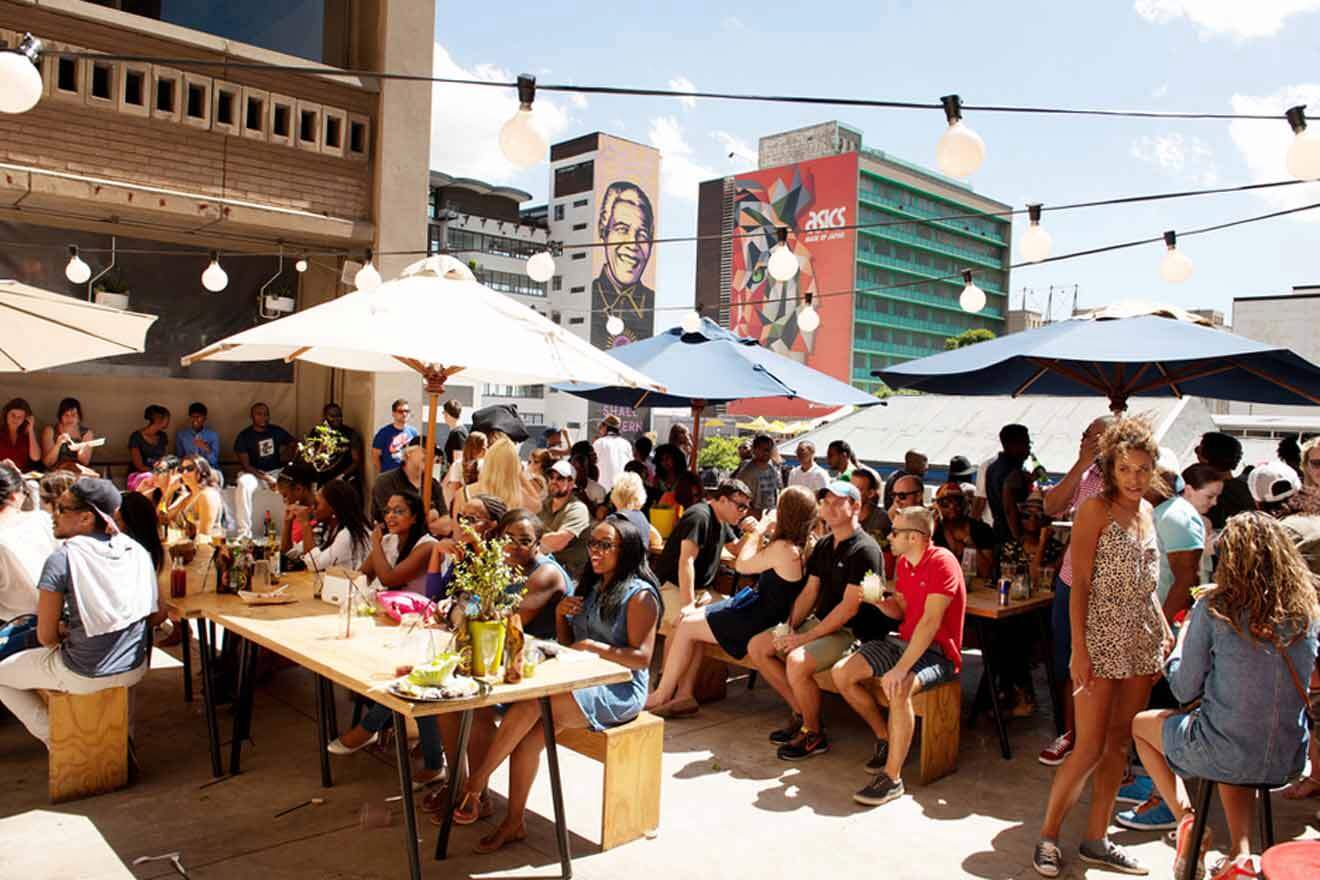 With numerous attractions and a rich history, it's hard to prioritize which places you should visit, but that's why I made this carefully curated guide with the best things to do in Johannesburg!
After a very long chat with Chantelle, one of our team members who lives there, and a thorough search on the web, I made this incredible list that includes the top attractions, tours, hotels, and lots of tips on how to navigate around the town!
Yep, this guide has it all, and I'm super excited to start!
If you are in a hurry
Don't have the time to read the whole post? Then check below the main things you need to book in advance:
And here are the best hotels: Hyatt House Johannesburg Rosebank (luxury), Parkwood Boutique Hotel (mid-range), Home Suite Hotels Rosebank (budget)
1. Visit the South African National Museum of Military History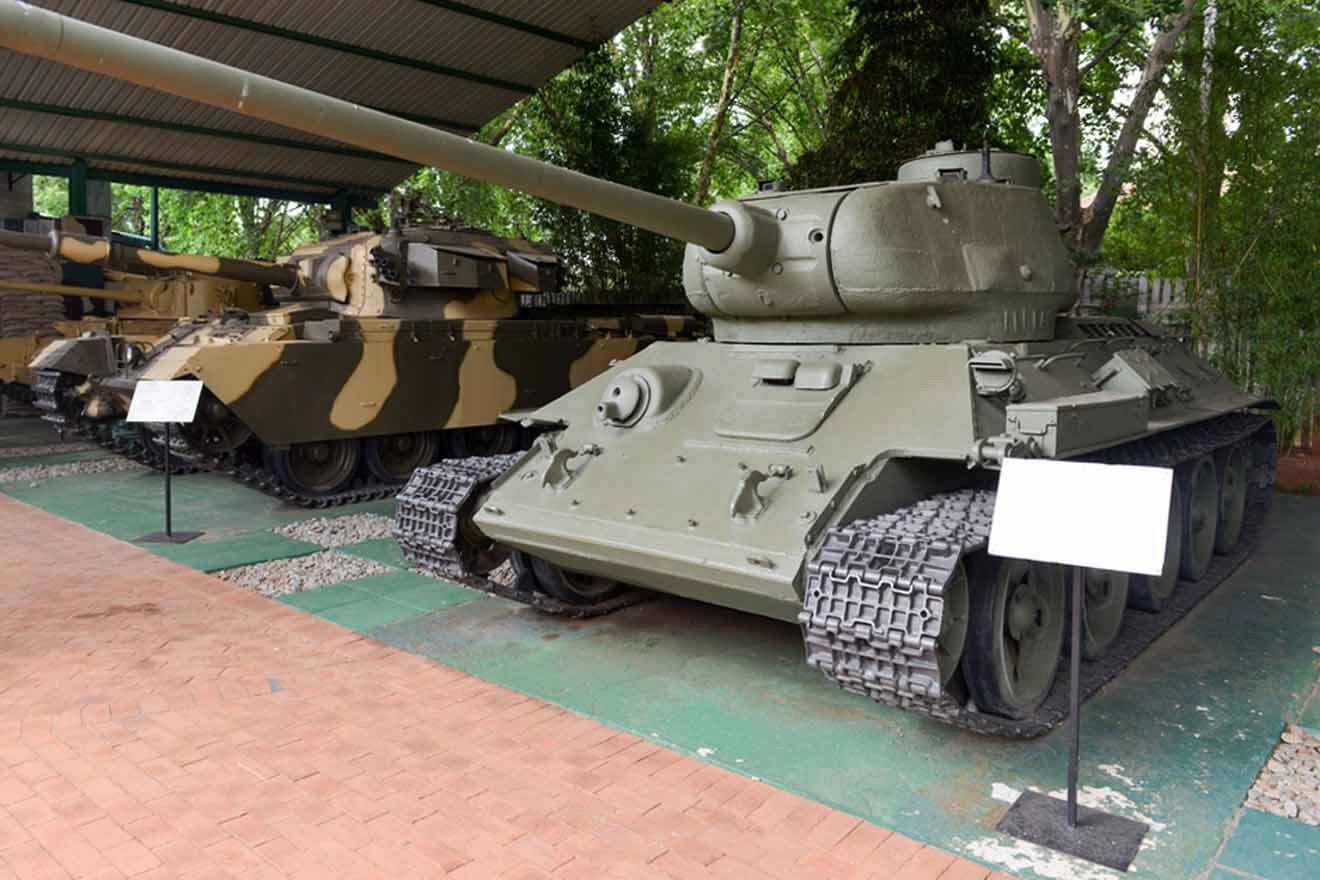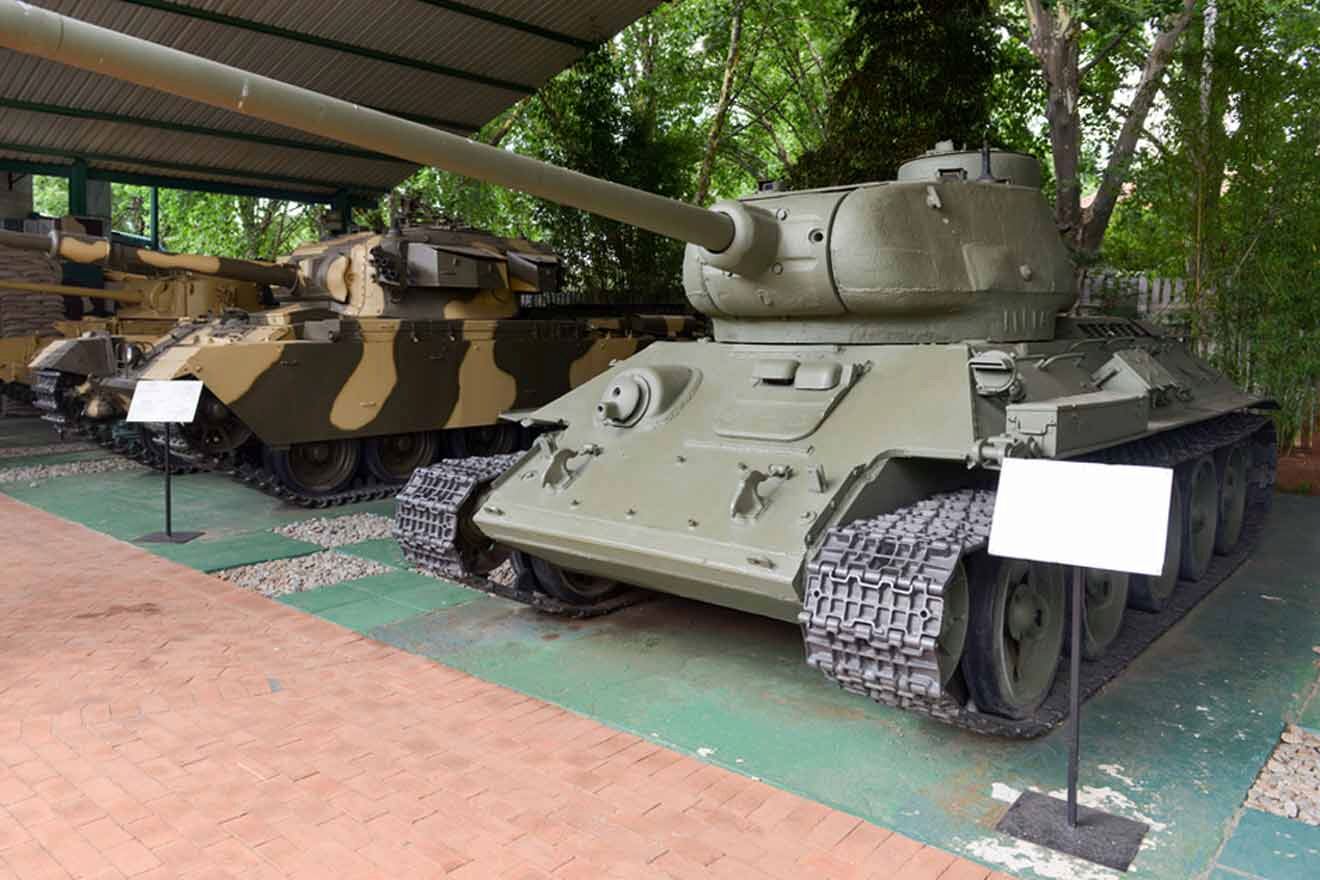 South Africa has such a rich history, and according to Chantelle, this museum is a great starting point on your journey!
Set in Saxonwold right near the Johannesburg Zoo and the Johannesburg Holocaust & Genocide Centre (perfect for a combo visit), this museum boasts a collection of old airplanes, tanks, and lots of other items and information about the country's past and military history!
Chantelle said that all the kids love coming here, and it's a popular destination for wedding photos, so don't be surprised if you spot a bride and a groom!
You'll also find many interesting exhibits, including one on medicine during wartime!
PRICE: US$4 per person
2. Go for drinks at Alto 234
If you're looking for a place to celebrate a special event or just your holiday in Johannesburg, then check out this rooftop that's located in Sandown (map), which Chantelle recommended! She went there for her birthday and had the most amazing time.
Alto234 is the highest rooftop in the Southern Hemisphere, offering the most breathtaking 360º views of the city!
Another really cool thing that she told me about this bar is that they offer the typical red carpet experience, where you go up to the viewing deck through a private elevator and welcome you in with a glass of champagne!
Sounds like such a thrill! Definitely a must-do while you're in Johannesburg!
PRO TIP: you have to book in advance for this place (that's what Chantelle recommended, too), and you can go on their website to do so.
3. Spend a fun day at Prison Break Market
Alright, are you ready for a fun-filled day at an incredible place in Johannesburg? You better be, because this spot is such a gem perfect for making unforgettable memories!
Located in Glenferness, this big market (map) is open every day of the week and is filled with food, clothing, and crafts stands – perfect for getting souvenirs as mementos. There are also cafés nearby and lots of other things.
According to Chantelle, one of the most entertaining things here is Dreambox, a photography studio, within the market. There are many themed boxes with peculiar backgrounds where you can take lots of pictures!
There's everything from upside-down rooms to rooms that will transport you on a white sand beach! If you want to try this out, you can buy tickets through their website, and they start at US$9 per person!
If this is not your cup of tea, Chantelle suggested visiting Create Lonehill (map) where you can enjoy some coffee-cupping mornings and paint cups and plates made from clay! Now that's a fun outing!
4. Join a hop-on/hop-off tour in the city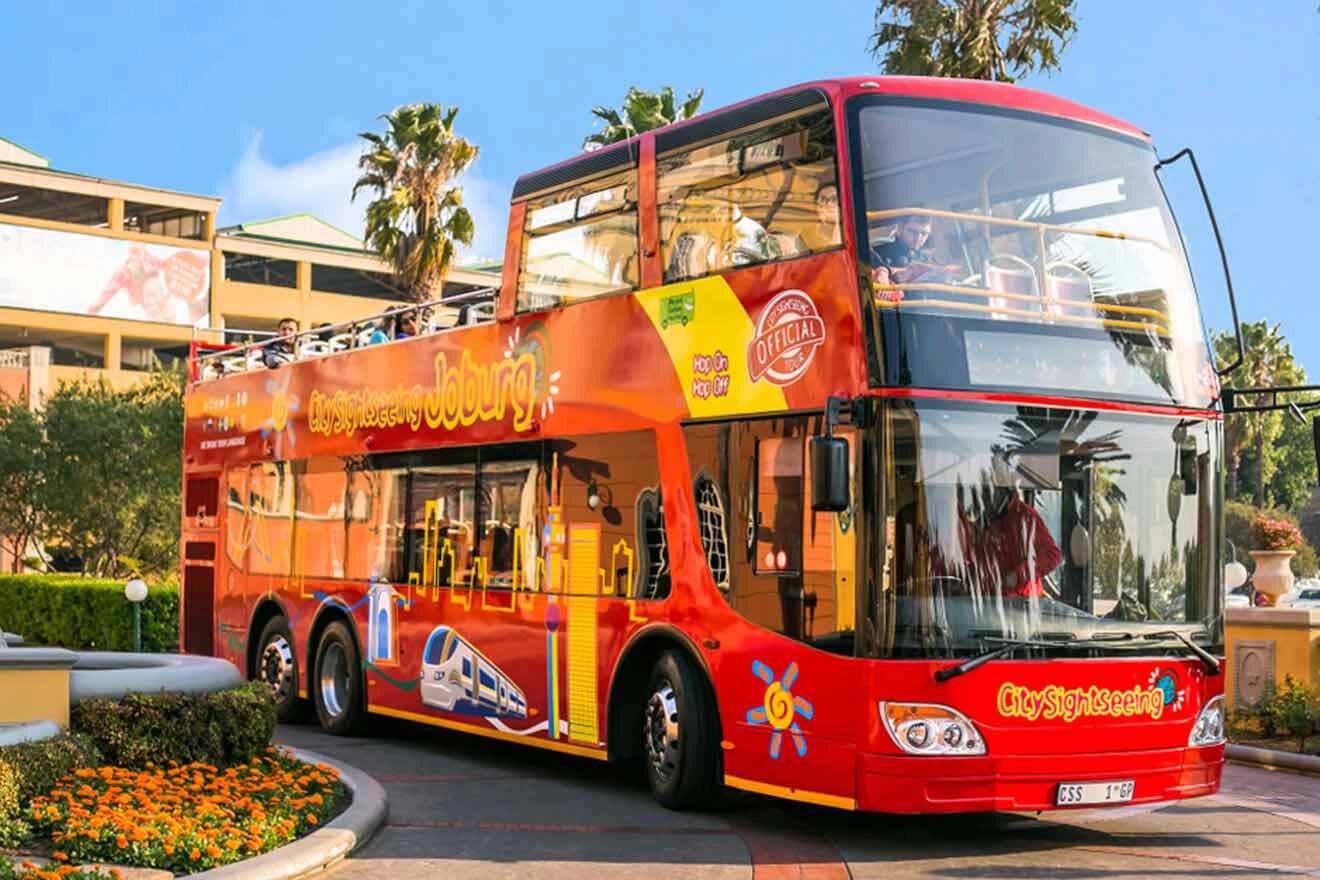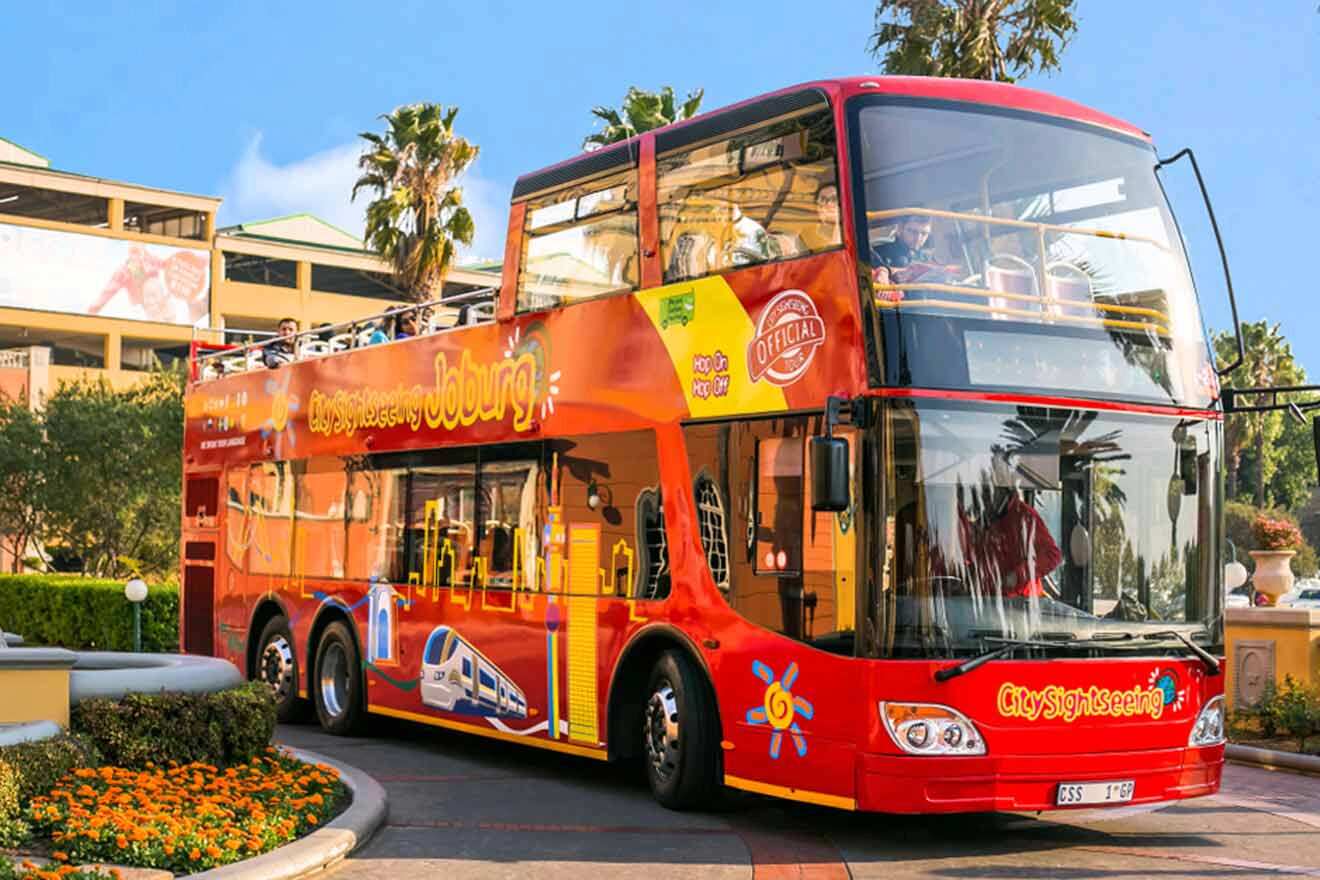 Still looking for some fun things to do in Johannesburg? As a frequent traveler myself, I think that a great (and practical) way to get to know the city and see as many places as possible is by taking a city sightseeing bus tour.
PRO TIP: as a local, Chantelle said it's better to rent a car, go on tours, or use Uber to visit attractions that are too far to be reached on foot. She said it's better to avoid public transport (as it's not reliable) and local cabs as you may have to share it with way too many people.
I found this really amazing hop-on/hop-off bus tour with an audio guide included which costs US$15 and is valid the whole day! During the tour, you'll visit the suburbs and Joburg City Centre, Constitution Hill, the Apartheid Museum, Gold Reef City Theme Park, the Zoo, and many other places!
It's such a great way to discover the city! You can spend as much time as you want at each place and then hop on and hop off wherever you want! Just plan ahead how many sites you want to visit and how much time you can allot to each.
PRICE: from US$15 per person
5. Wander through the Wits Art Museum & Planetarium
Since these 2 are about a 15-minute walk away from each other, I decided to combine them!
Part of the University in Johannesburg and set in the East Campus, the Wits Planetarium is a must-see. It features such fun shows for adults and children that are simulated but realistic. For example, you'll travel through space and forget all about being on planet Earth! Chantelle, our team member, absolutely loves it and encourages you to head there if you've got the chance.
NOTE: at the moment of writing, the Johannesburg Planetarium is closed for renovations, so check for updates on the website before going.
Once you had your fun at the planetarium, you can walk for a few minutes and reach the Wits Art Museum, which is perfect for all the art lovers out there or people who want to see some incredible pieces of African artwork, old and new!
TIP: Chantelle told me that these 2 attractions are in an area where you should be cautious of your surroundings and watch your phone, bag, and other belongings!
PRICE: US$4 for the planetarium, US$5 for the museum
6. Journey through Montecasino's "Little Italy"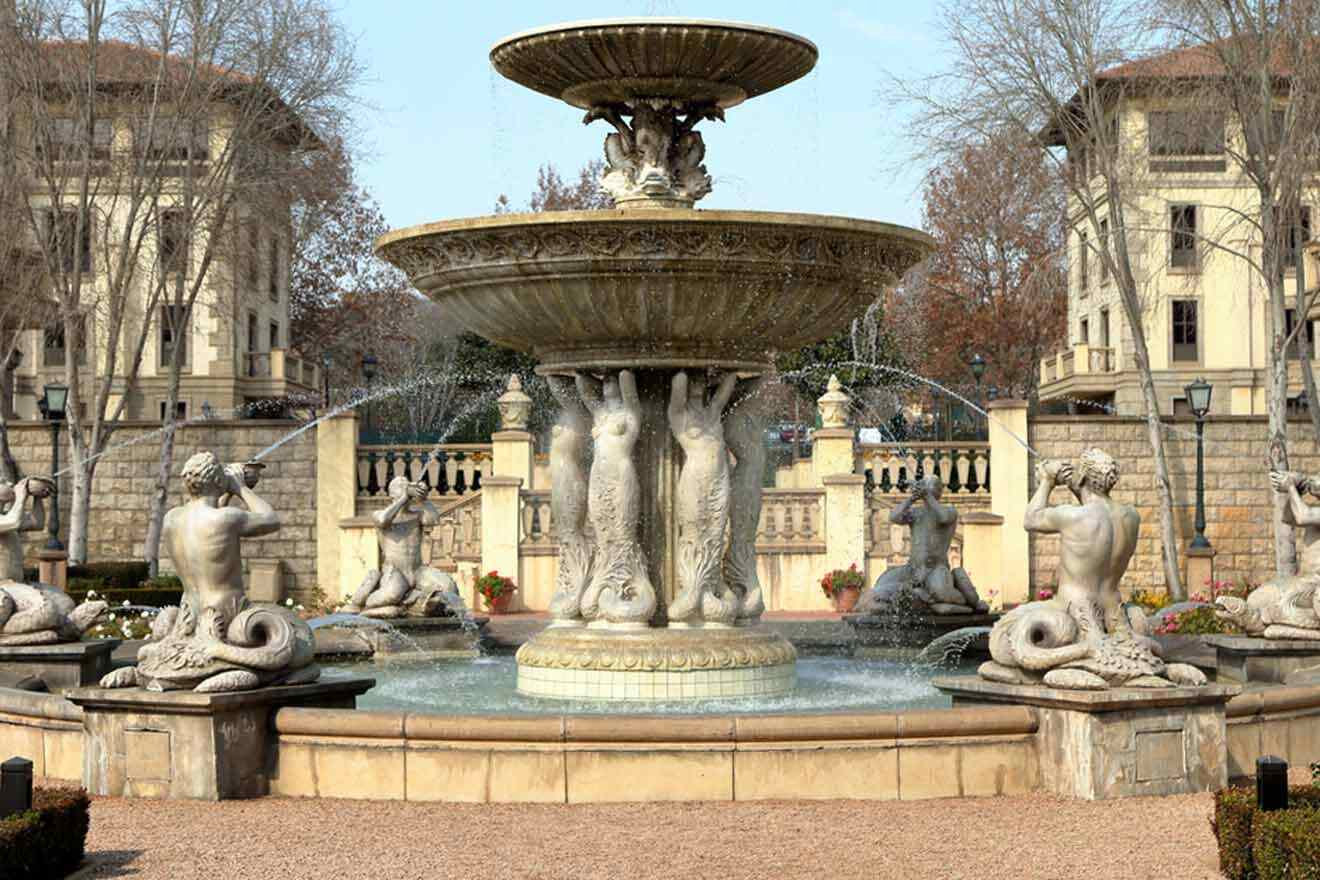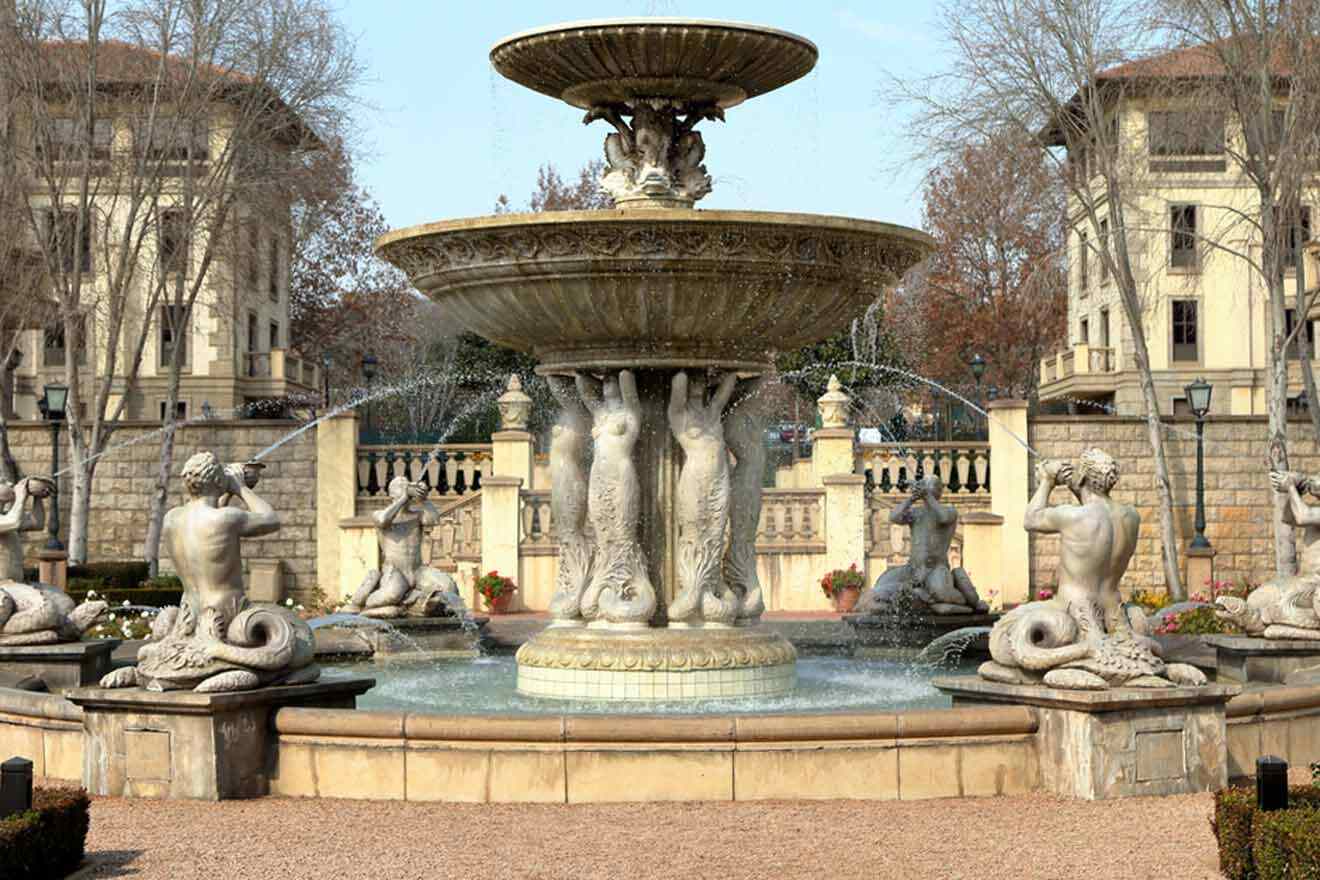 Never been to Italy? Not to worry, as people in Johannesburg found the perfect way to feel like they are in an Italian village without ever leaving their hometown!
Located in the Magaliessig area, this complex features so many incredible things, from a casino to restaurants, a bowling alley, hotels, and a theater where you can catch live shows and plays!
Chantelle raved about this complex and said it's giving off these Mediterranean vibes that we all love! She also warned that you won't feel time passing here, whether it's morning or night! You can spend hours walking around, eating delicious food, shopping, and maybe trying your luck at the casino!
If you get hungry, she recommends a really cool restaurant called the Malt Barrel & Fire Montecasino, and having the Thawk steak or the Gourmet steak – they are absolutely delicious!
If you, perhaps, are a theater fan, you could also check out the theaters. There is the Market Theatre (see what's currently playing here) and the Joburg Theater (see what's on here), but Chantelle recommends catching a show at the Teatro (see events here) as it's a much safer option.
PRICE: free to enter the complex, show prices vary by performance
7. Explore the Apartheid Museum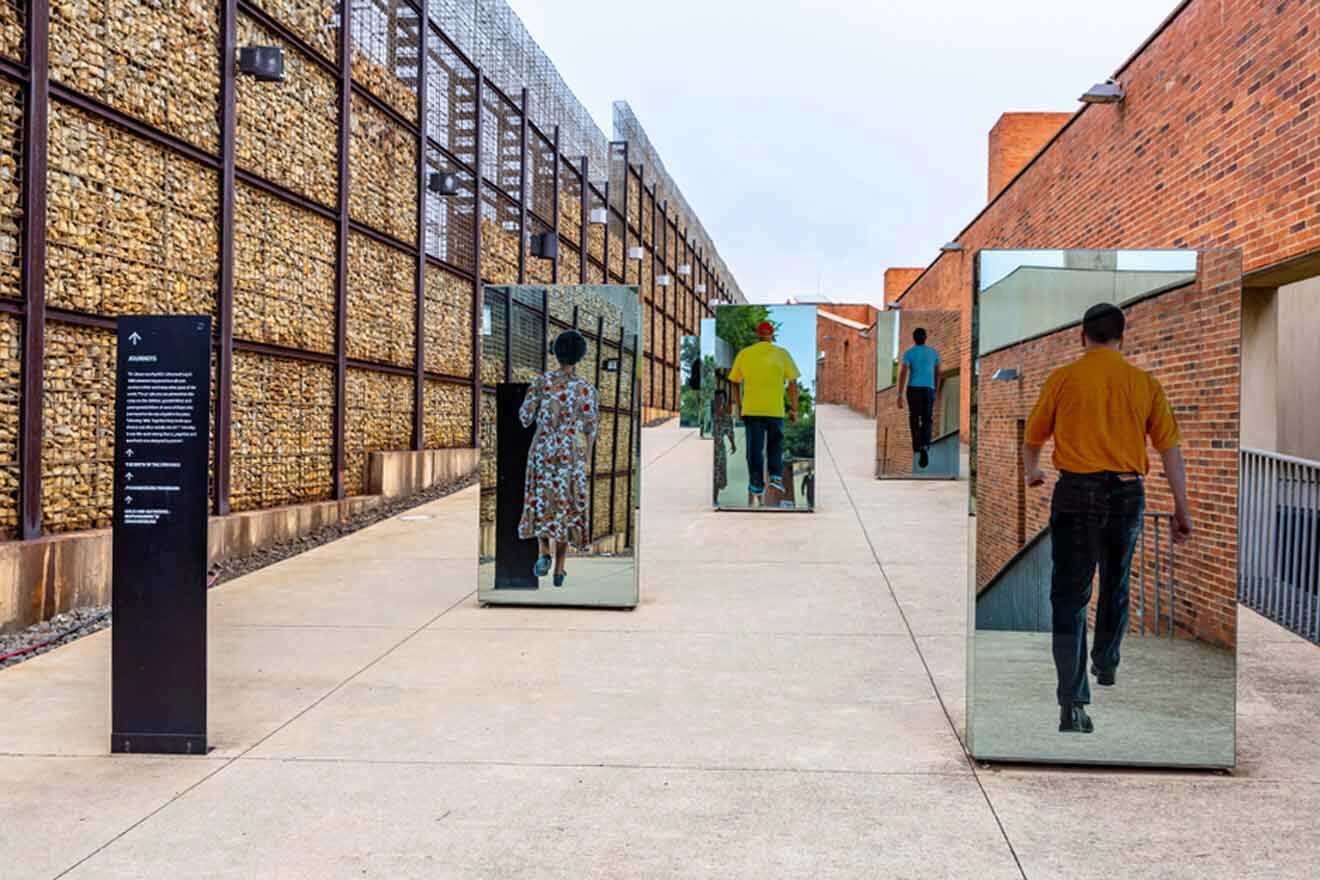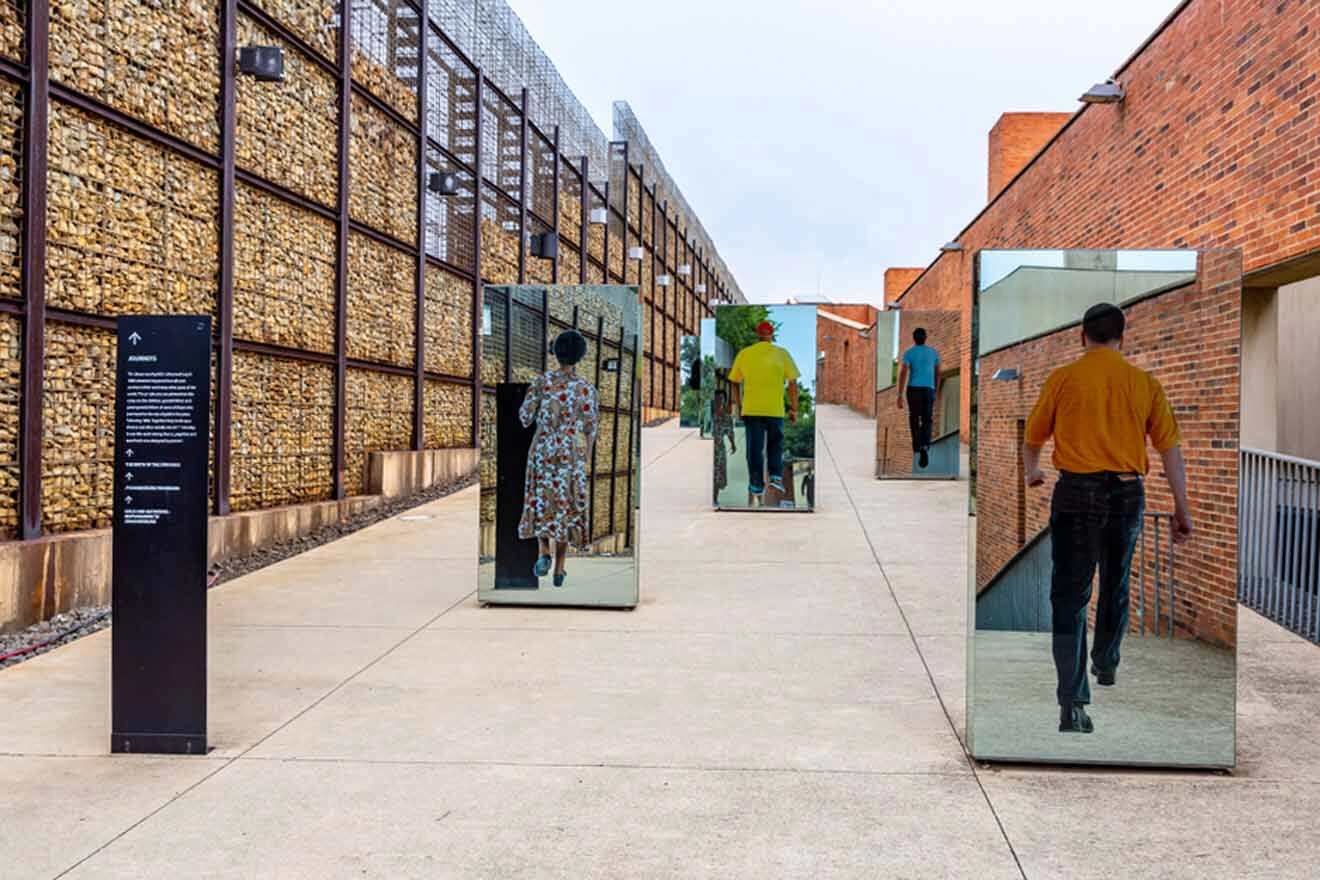 If you want to learn more about South Africa's past, definitely visit this museum (that was Chantelle's advice when talking about this site)!
The museum features lots of pictures, newspaper stories, artifacts, film footage, and other things that give the visitor a glimpse of what it was like living in South Africa during the Apartheid era.
NOTE: take extra precaution when coming into this area as the museum is set on the barrier of a safe and an unsafe area.
PRICE: US$8 per person
8. Visit the Johannesburg Zoo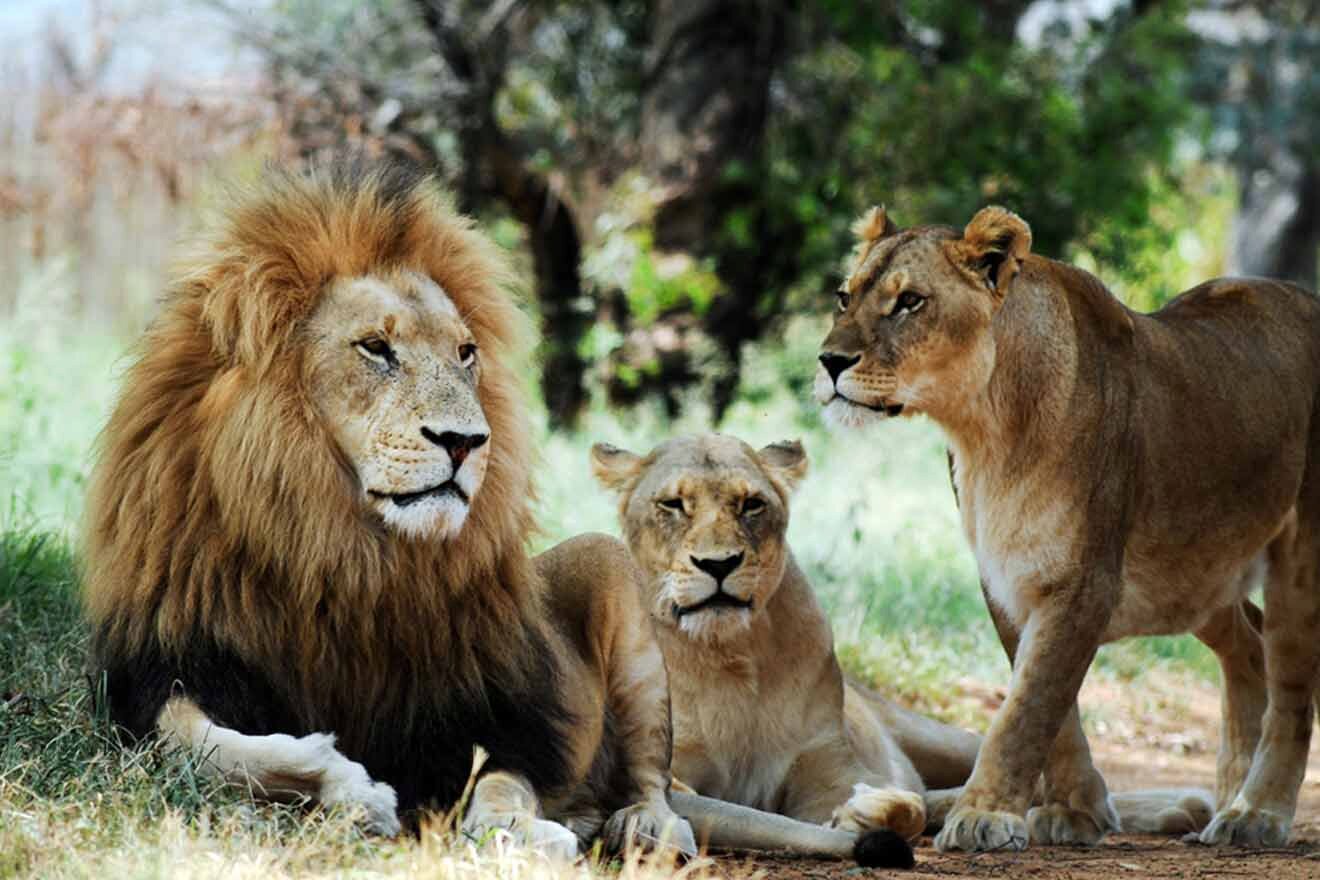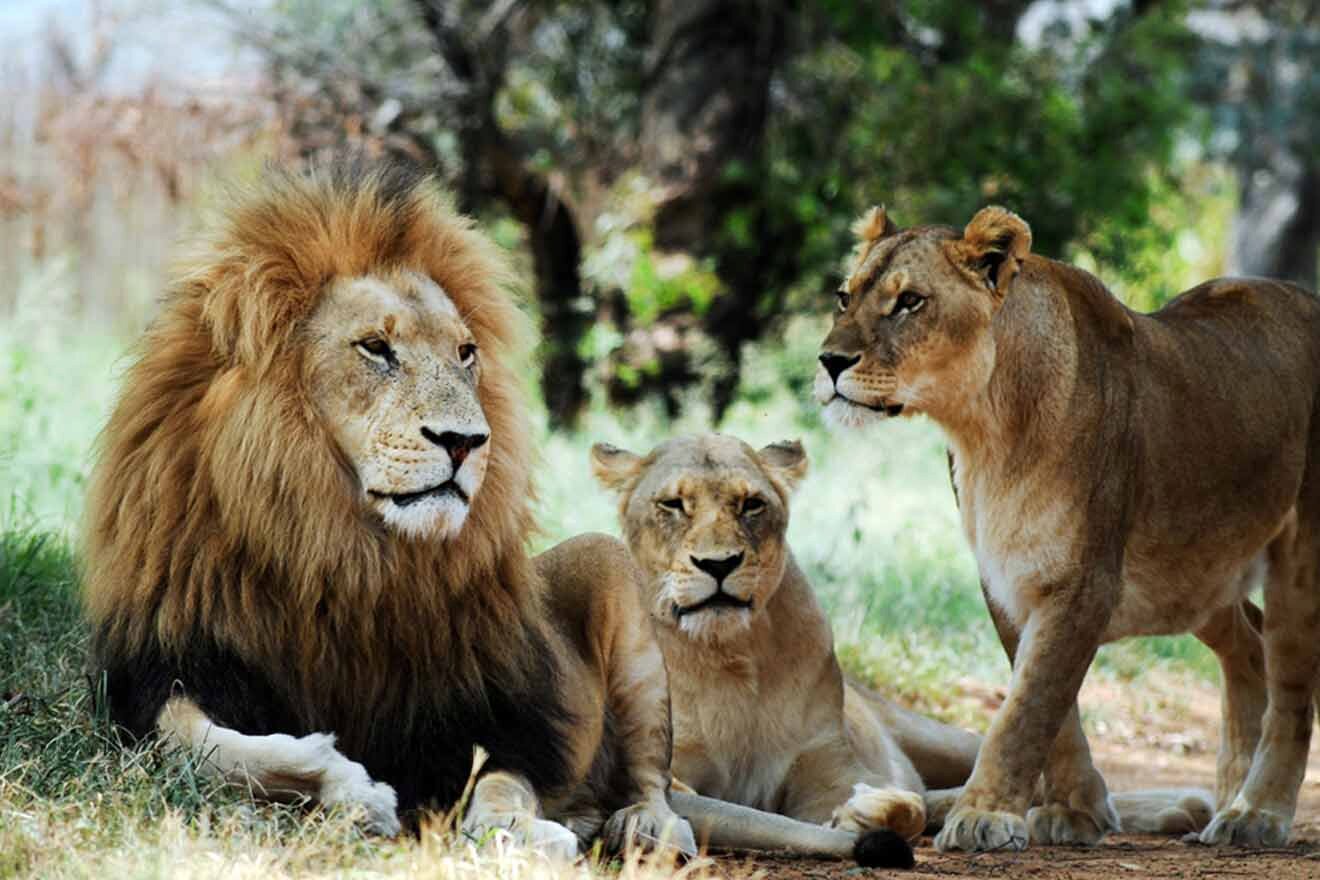 Ready to meet some cute animals?
Chantelle told me that the Johannesburg Zoo is one of the best places to visit in town, near the South African National Museum of Military History that I mentioned in section #1, so you can easily combine the 2.
Located in Johannesburg's north suburb, the zoo is super big, and it's the home of so many incredible African animals, birds, reptiles, some snakes and spiders from Brazil, and many other species! There are around 2,000 animals in total (wow)!
Yep, it's a pretty big place! So definitely consider spending a few hours there!
While you're at the zoo, ask one of the staff members to tell you the story of Max, the gorilla who made headlines in the country! Chantelle told me it's such a cool story, and it definitely sounds much better when you hear it in person!
The zoo is known for working with wildlife conservations, and there is also an educational center for school kids!
TIP: just a 30-minute walk from the attraction, there's a city park called Zoo Lake where you can continue your day and meet more South African birds!
PRICE: US$6 per person
9. Dive into history at Constitution Hill Human Rights Precinct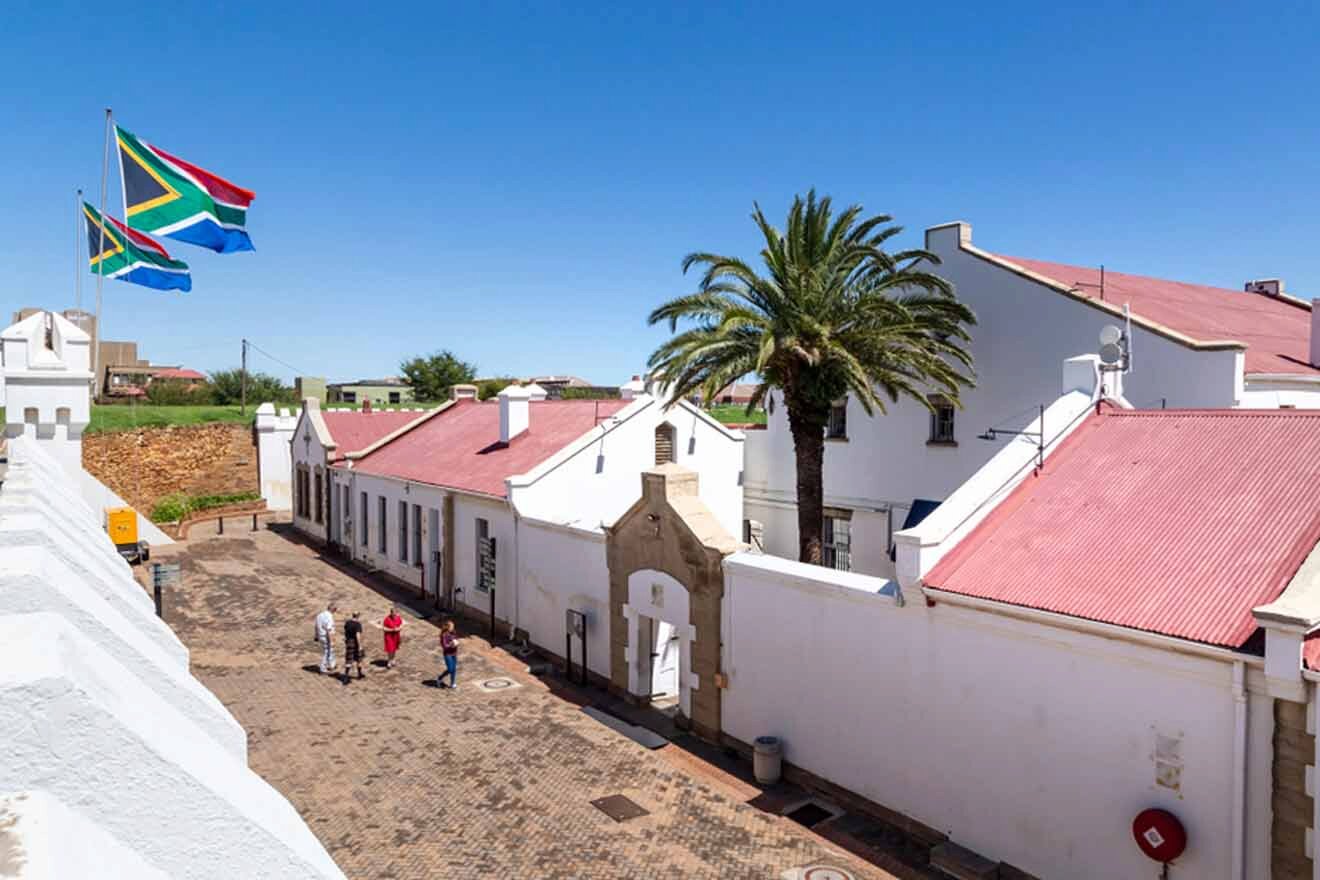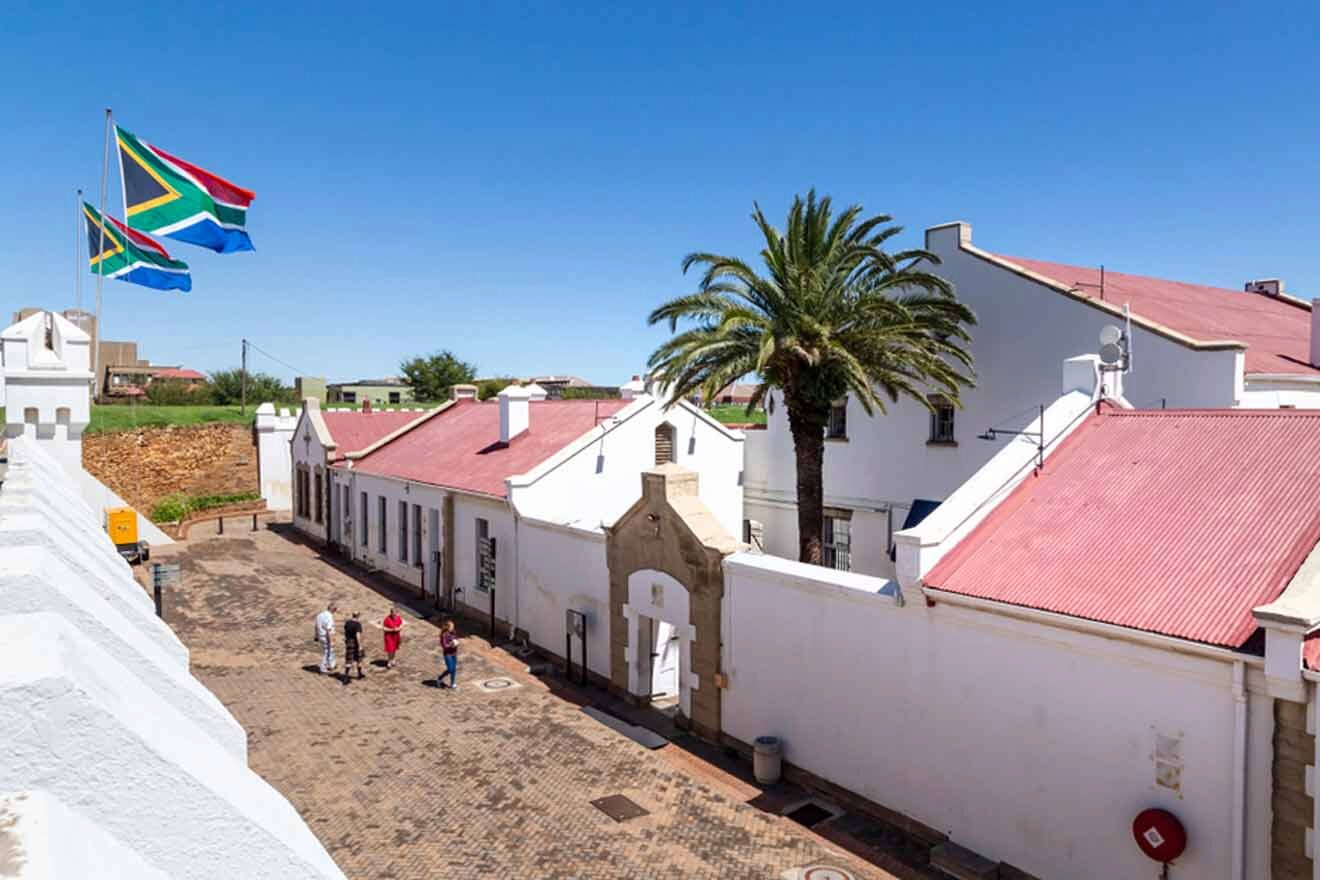 There's no doubt that history lovers will have a blast in Johannesburg! There are many places where you can learn more about South Africa's political history and human rights issues. Still, the Constitution Hill Human Rights Precinct is definitely one of the main ones!
While exploring the former prison and a military fort, you can see prison cells, and exhibitions and even catch some events!
The museum and cultural center really offer such a big insight into the country's past and the South Africans' fight towards democracy, so definitely check it out if you're interested in learning more!
PRICE: US$5 per person
10. Walk through the Johannesburg Botanical Gardens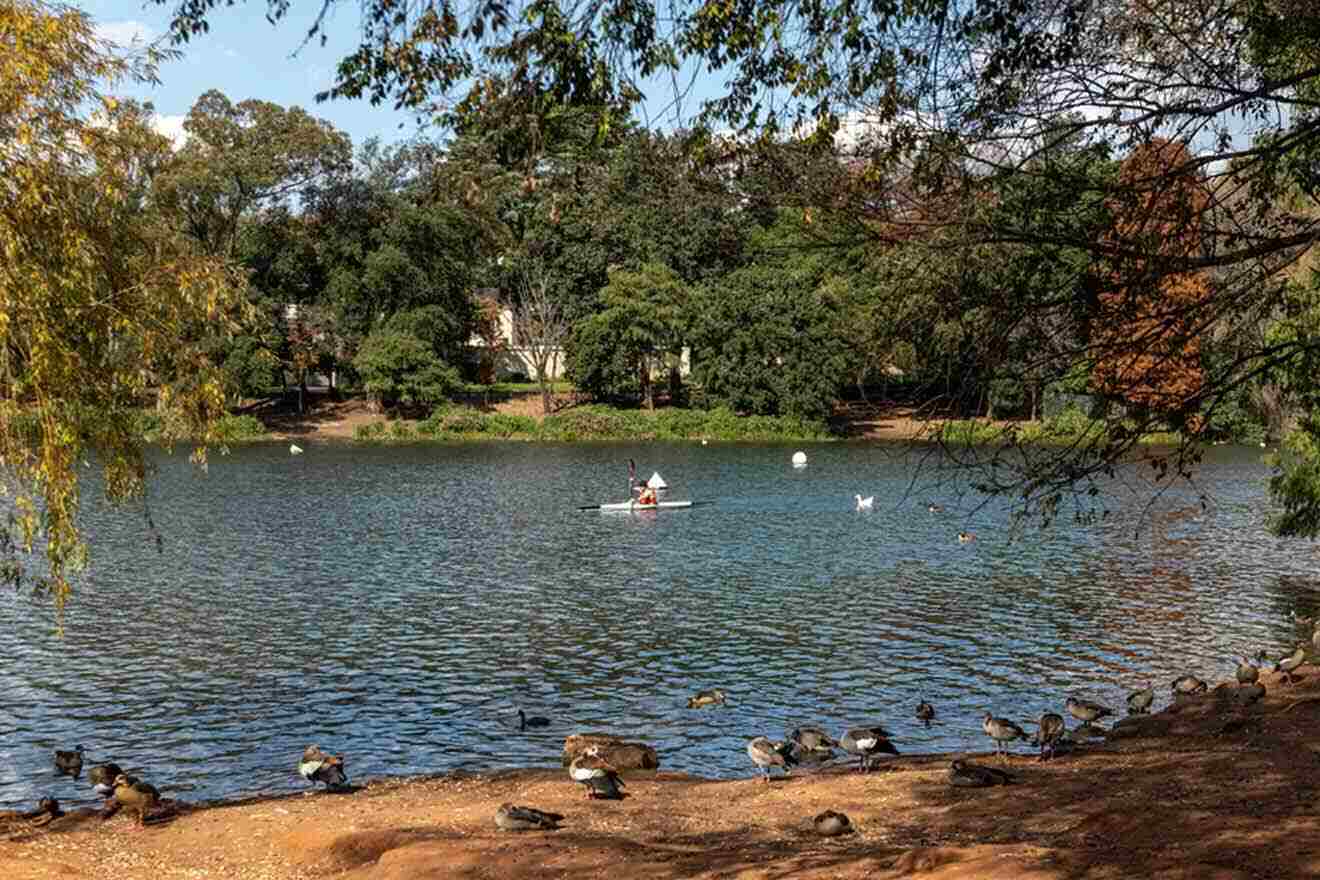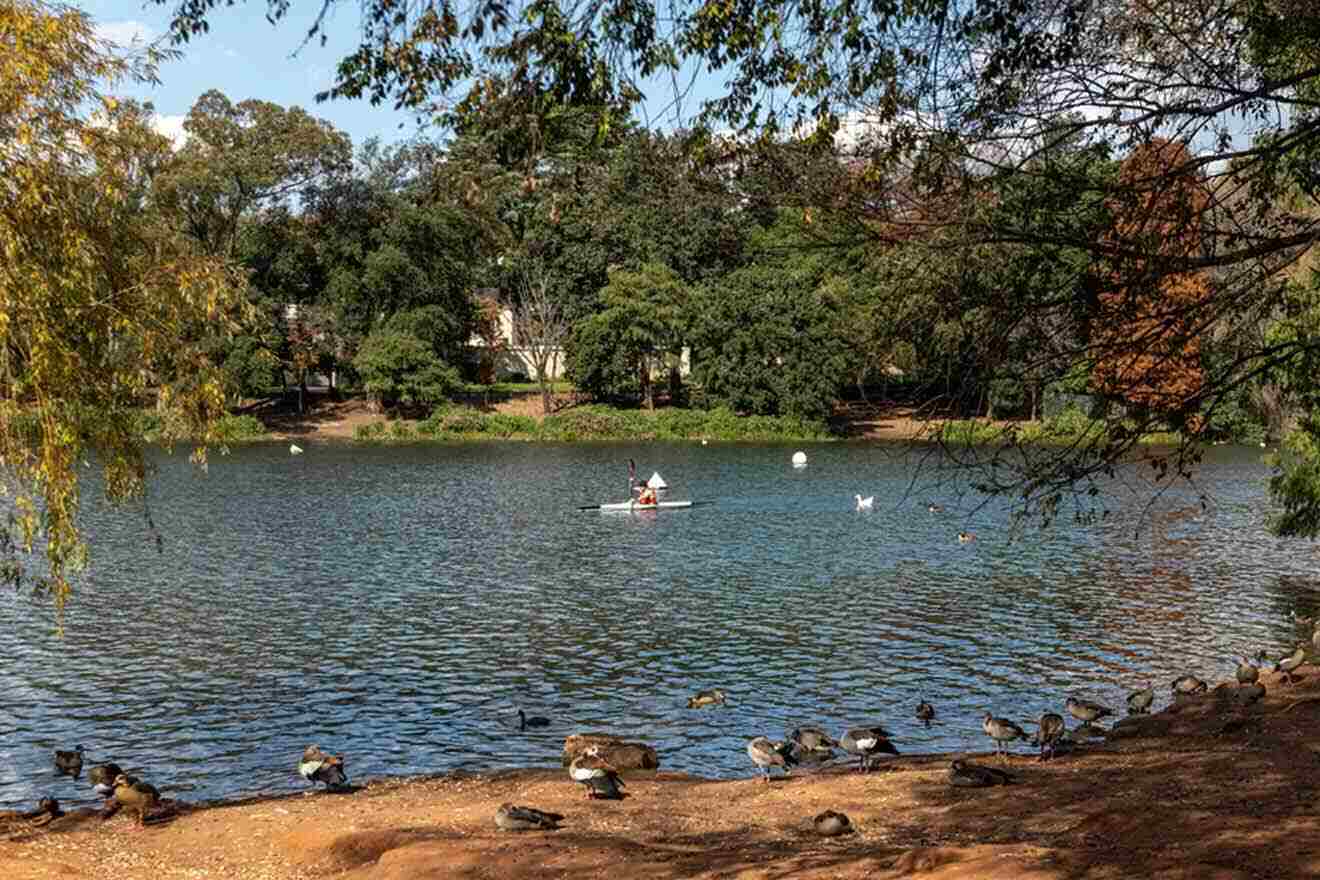 What I love about Johannesburg is that it is so diverse! From what Chantelle told me and what I found while doing my very thorough research, this place is just packed with lots of different attractions!
You can jump from a place that teaches you all about the country's rich cultural heritage to a safari adventure or explore a lush botanical garden!
Chantelle emphasized the beauty of this place, and after seeing the pics, I understand why! She said they host some beautiful exhibits there, and even so, just walking among the colorful flowers and extensive green grounds will be so soothing!
She also mentioned that when she went, you could take picnic baskets in and have a cute lunch out, but definitely double-check on their official website to see if it's still available! But if you're not into picnics, don't worry, there's a restaurant inside the gardens.
TIP: if you're looking for other sites to visit near the garden, you can enjoy the views from Northcliff Hill, and it's only 10 min away!
PRICE: free
11. Relive history at the Mandela House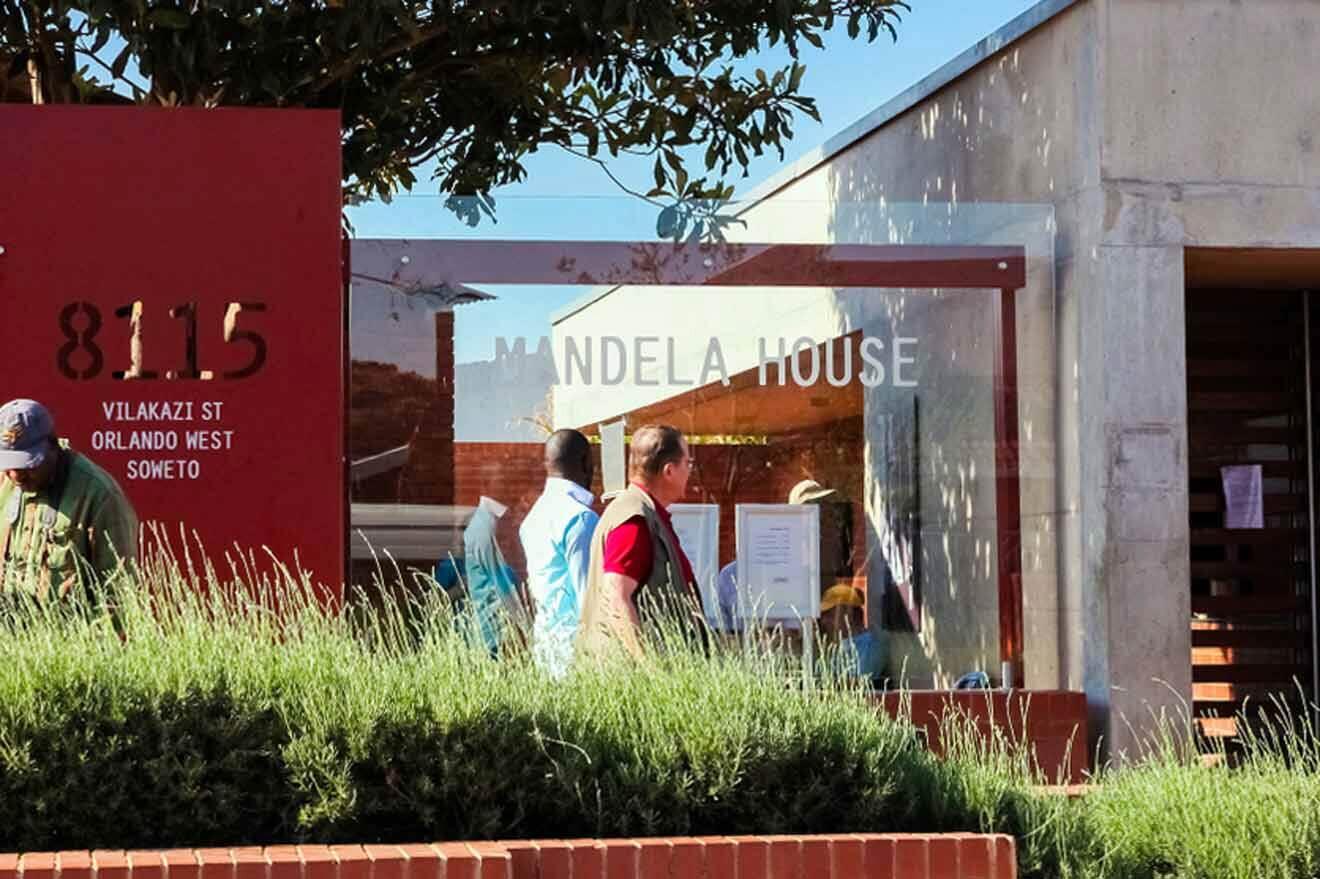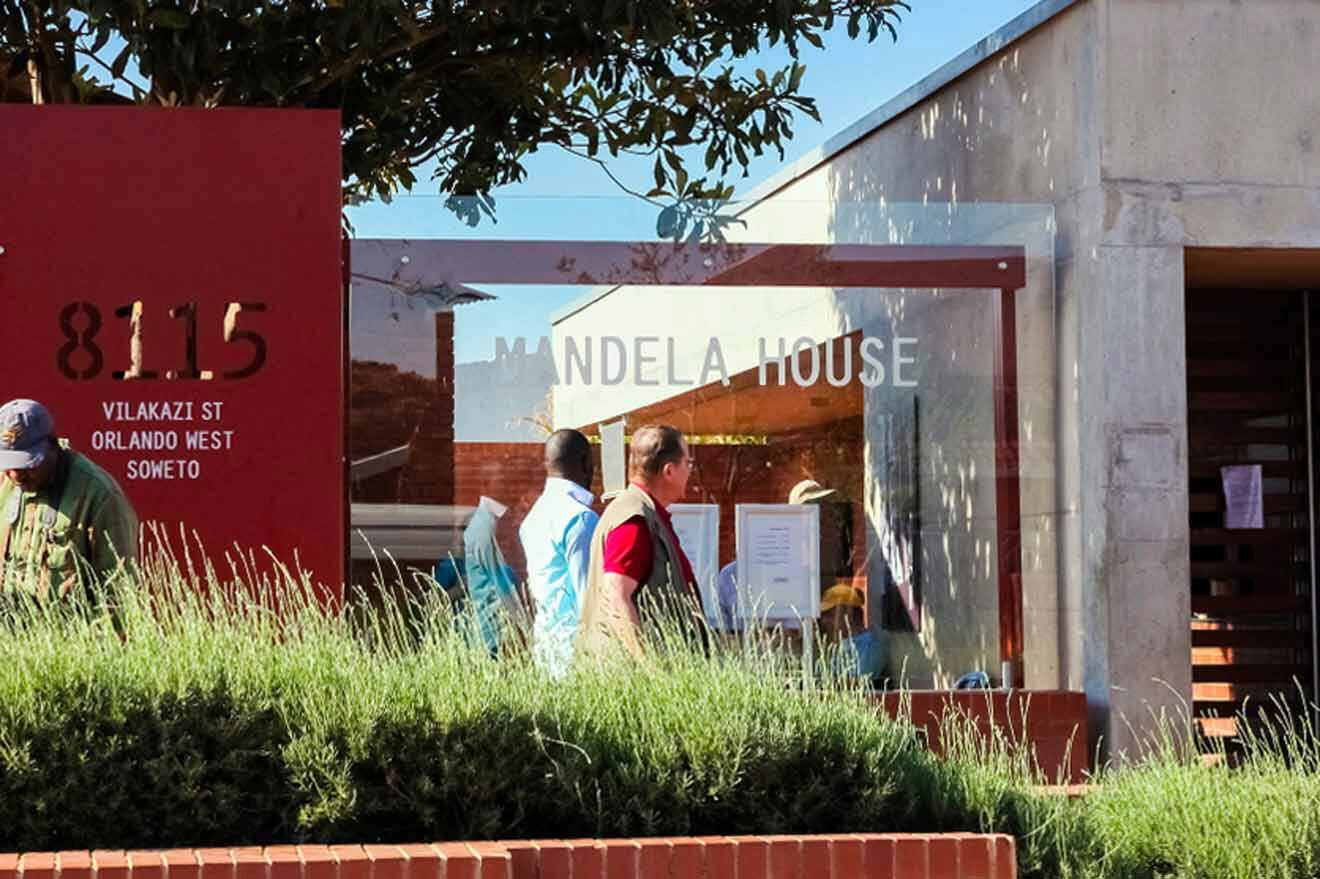 Such a cool place to visit while you're in town!
This house was actually the former home of Nelson Mandela and his family during the Apartheid era. It was later transformed into a museum, which gives a peek into the life of the former president, who was such an exemplary and globally known figure!
Chantelle mentioned the museum is located near business hubs and shopping malls, in case you're looking for something to do afterward!
PRICE: US$3 per person
12. Engage with wildlife at Lion & Safari Park on a tour
According to Chantelle, you can't go wrong with this scenic tour, and I definitely agree!
Since the park is located just an hour's drive away from Johannesburg, I thought you might enjoy joining a safari tour that includes transportation from Johannesburg and lasts around 5 hours in total.
You'll get to go on a 1-hour open vehicle safari inside Lion Park, where you'll see some of these majestic creatures, including the rare white lion!
Hold my purse because this sounds incredible! Pack your cameras and get ready for an unforgettable meeting!
PRICE: from US$80 per person
13. Check out the Origins Centre Museum
Part of the University of Witwatersrand Campus, just like the Planetarium and Wits Art Museum, the Origins Centre Museum is super fascinating, with exhibitions on the history of humankind and the first humans in Africa!
They offer some audio tours, and if you're lucky, you may also catch a lecture, usually in the evening. While here, you'll travel back to 80,000 years ago while admiring some interesting art!
PRICE: US$5 per person
14. Revel in the nightlife of Melville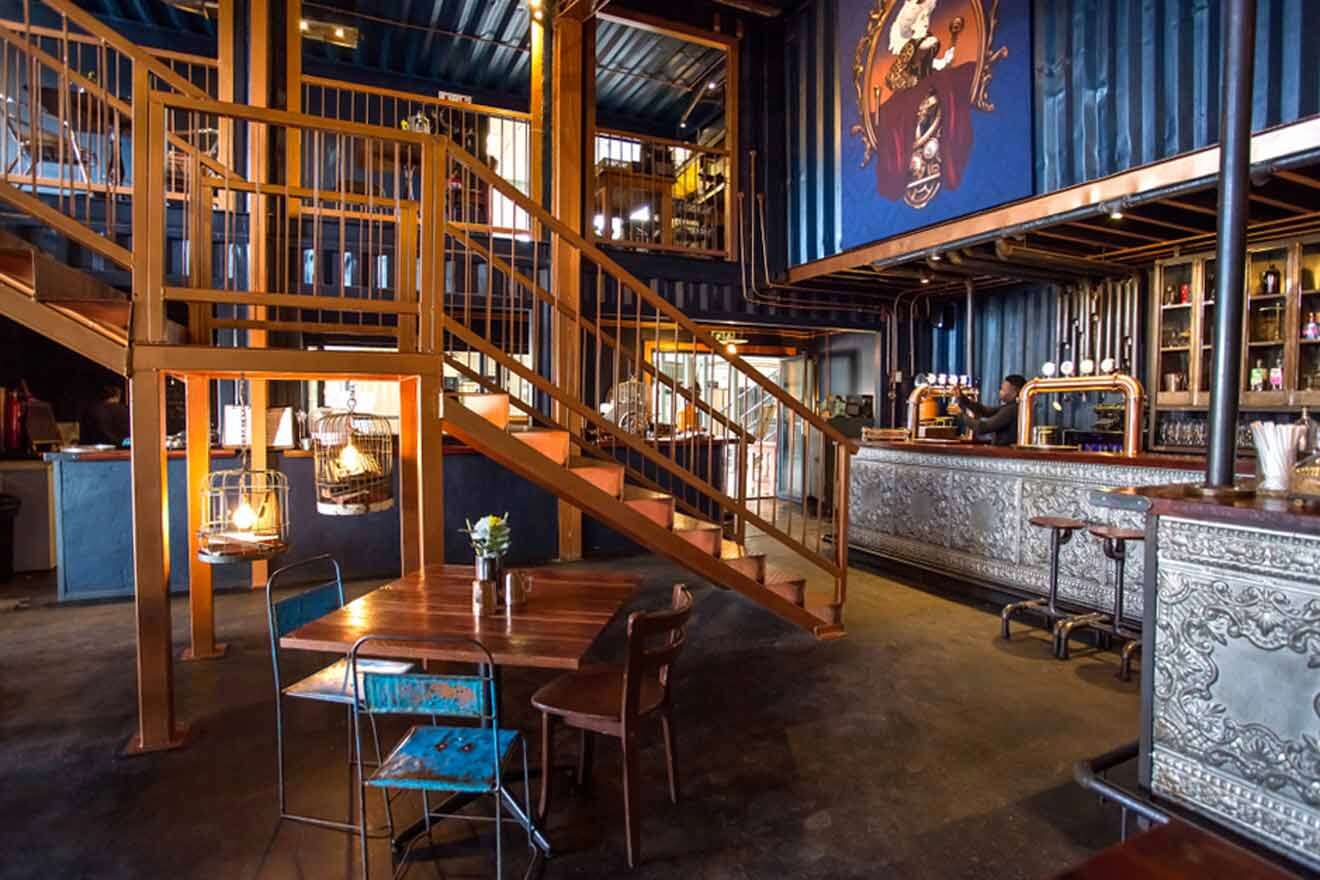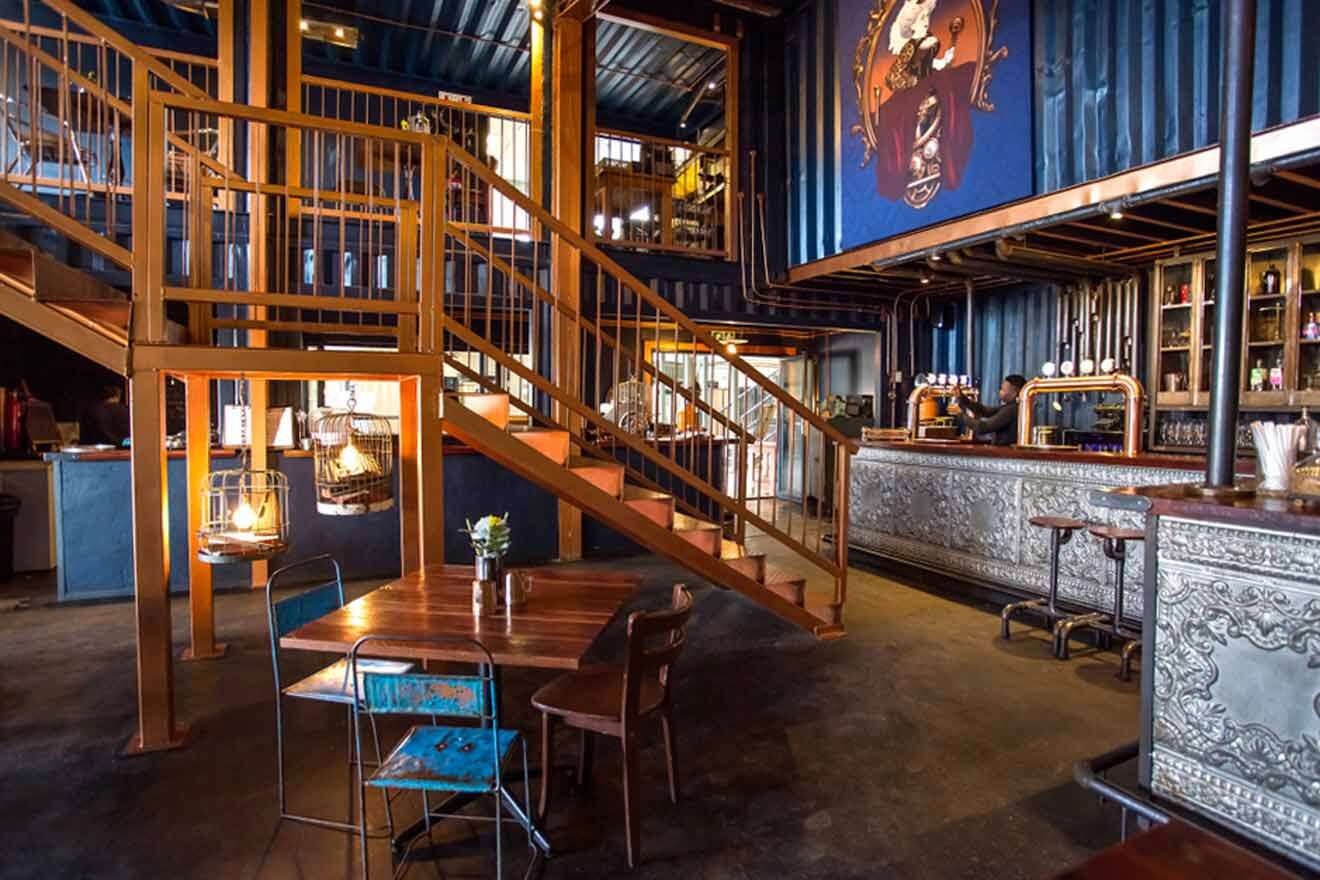 This bohemian suburb is the perfect place for anyone who wants to party while in Johannesburg! Of course, it's packed with bars, restaurants, thrift stores, a shopping mall, and even some hotels!
Chantelle mentioned that there are lots of friendly people here and that there's a fun party vibe in most places!
It's definitely the place where you can make some new friends and have drinks! I heard that Cafe Picobella Trattoria (map) is a fab place to eat some yummy Italian food, and then you can continue with some drinks at Six Cocktail Bar (map).
If you want to spend some time in nature here, you can go trekking in the Melville Koppies Nature Reserve, which is an amazing place that has ruins from the Stone Age! Wow!
15. Try all the rides at Gold Reef City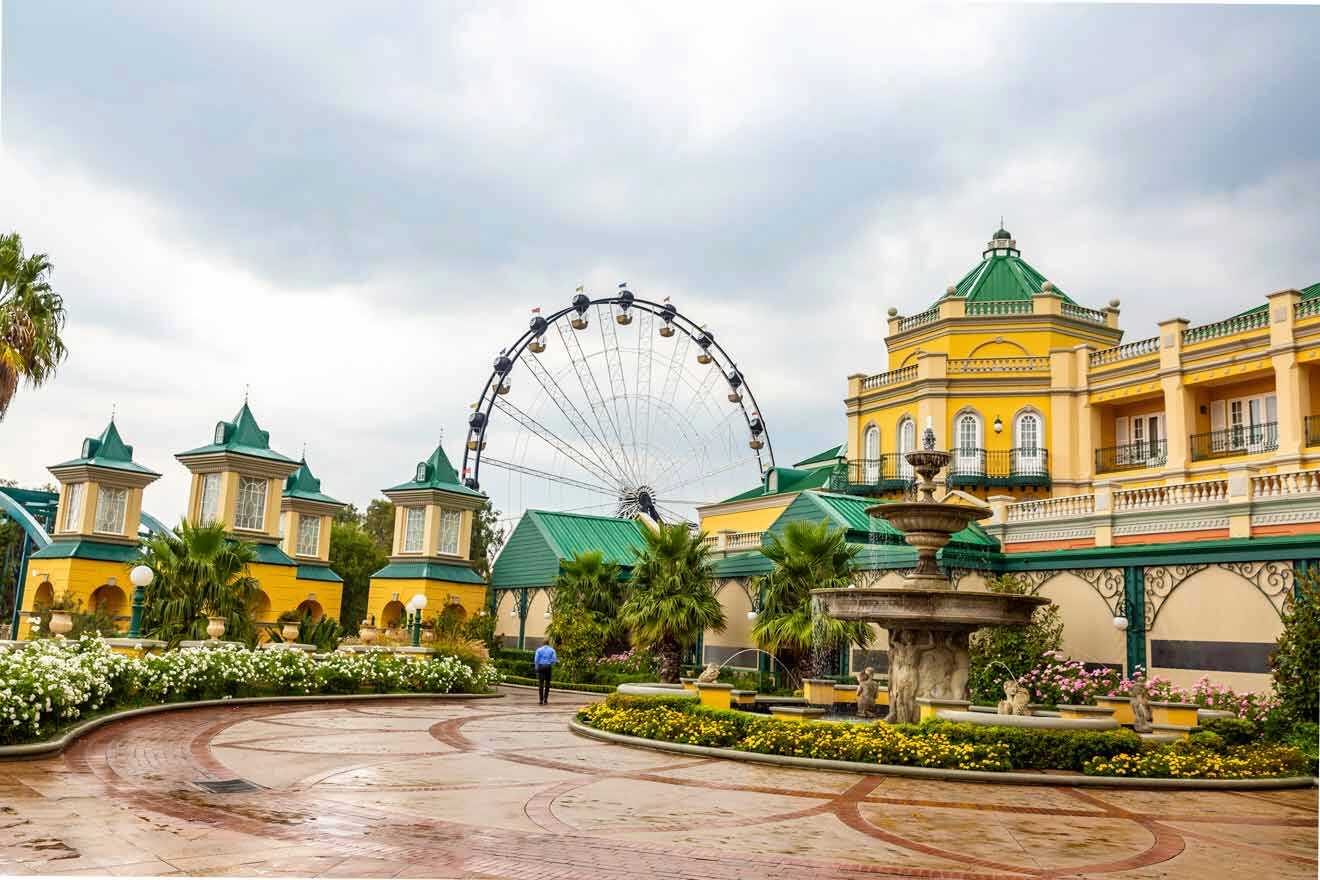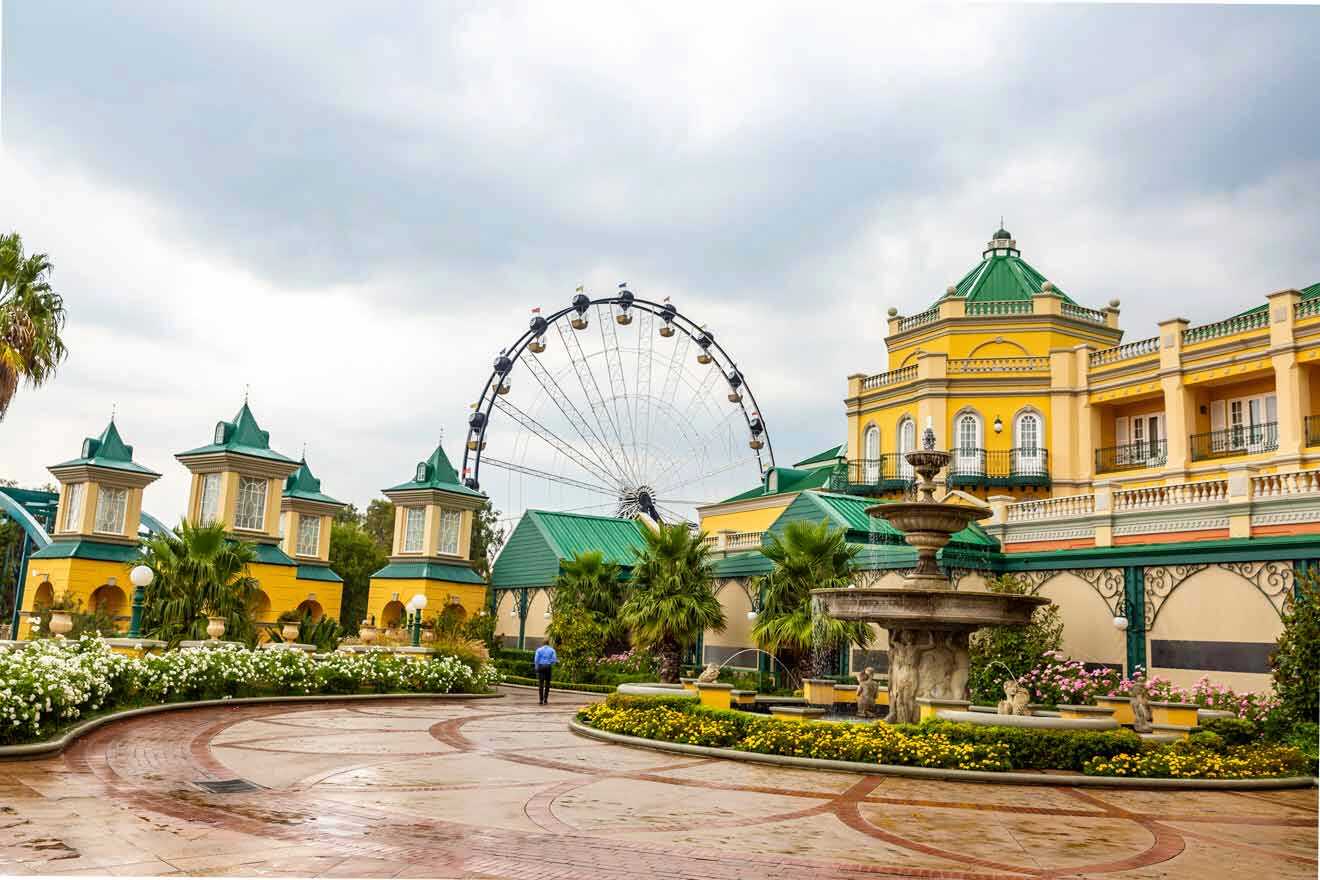 Located near the Apartheid Museum (which I mentioned in section #7), this attraction will be such a thrill for the entire family!
Chantelle told me that the Gold Reef City Theme Park is a must-do for everyone who's coming with their kids or even without, as there are other fun things to do besides the rides!
For example, with the 4D Cinema and all the shows, you'll get to learn a lot about the gold-mining heritage in South Africa (which is a super big thing)!
So get ready to join some mining tours and assist at a gold-pouring demonstration! That sounds like so much fun!
And I'm not even done! Chantelle also mentioned that you can get dressed up in these period costumes and get your pics taken! I'm sold!
Yep, this theme park seems like the place to be in Johannesburg, and don't worry, there are lots of places to eat, as you'll probably be famished after all the fun you'll have here!
There are different ticket options, and you can buy them in advance on this page.
PRICE: from US$13 per person
16. Sample gourmet delights at Neighbourgoods Market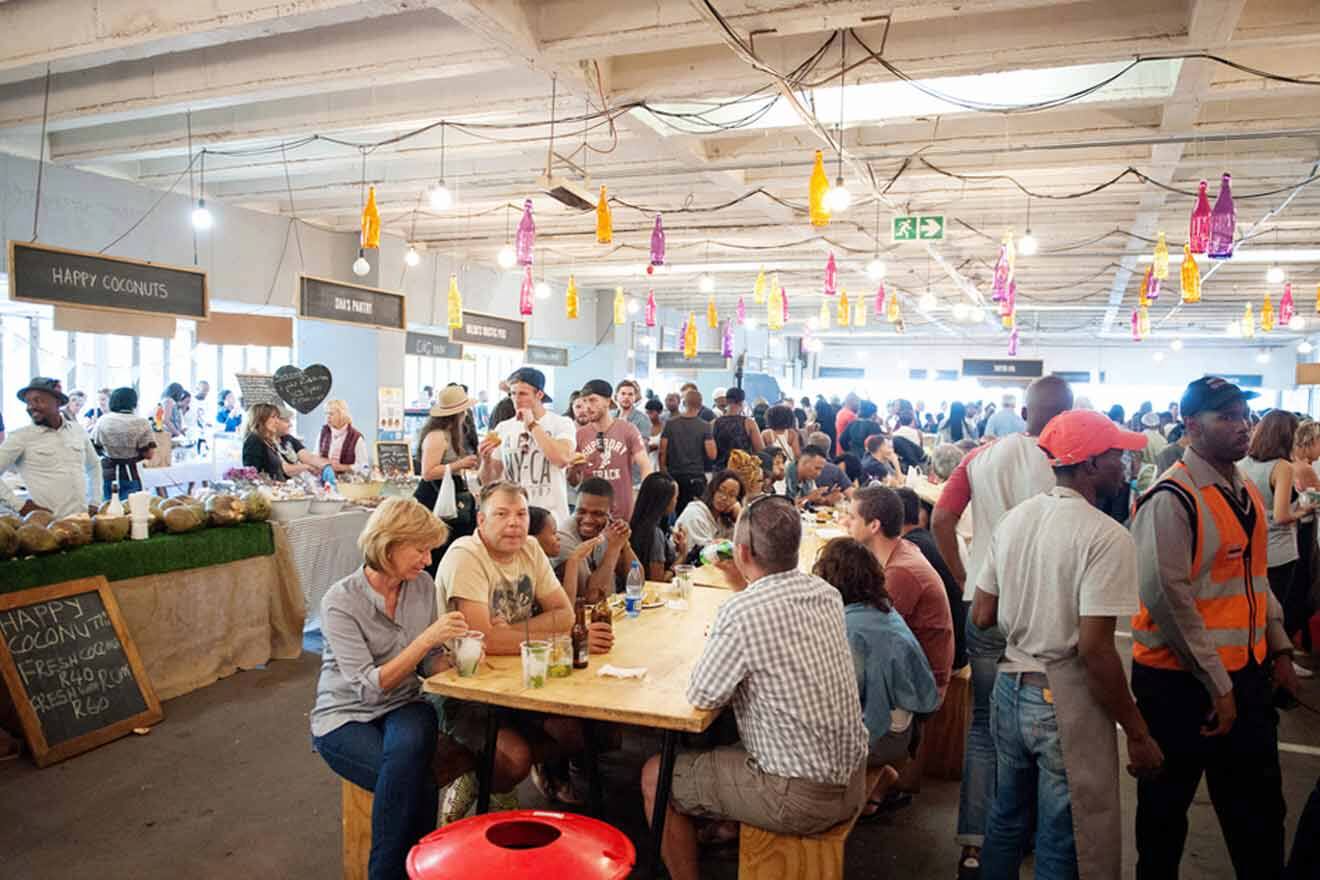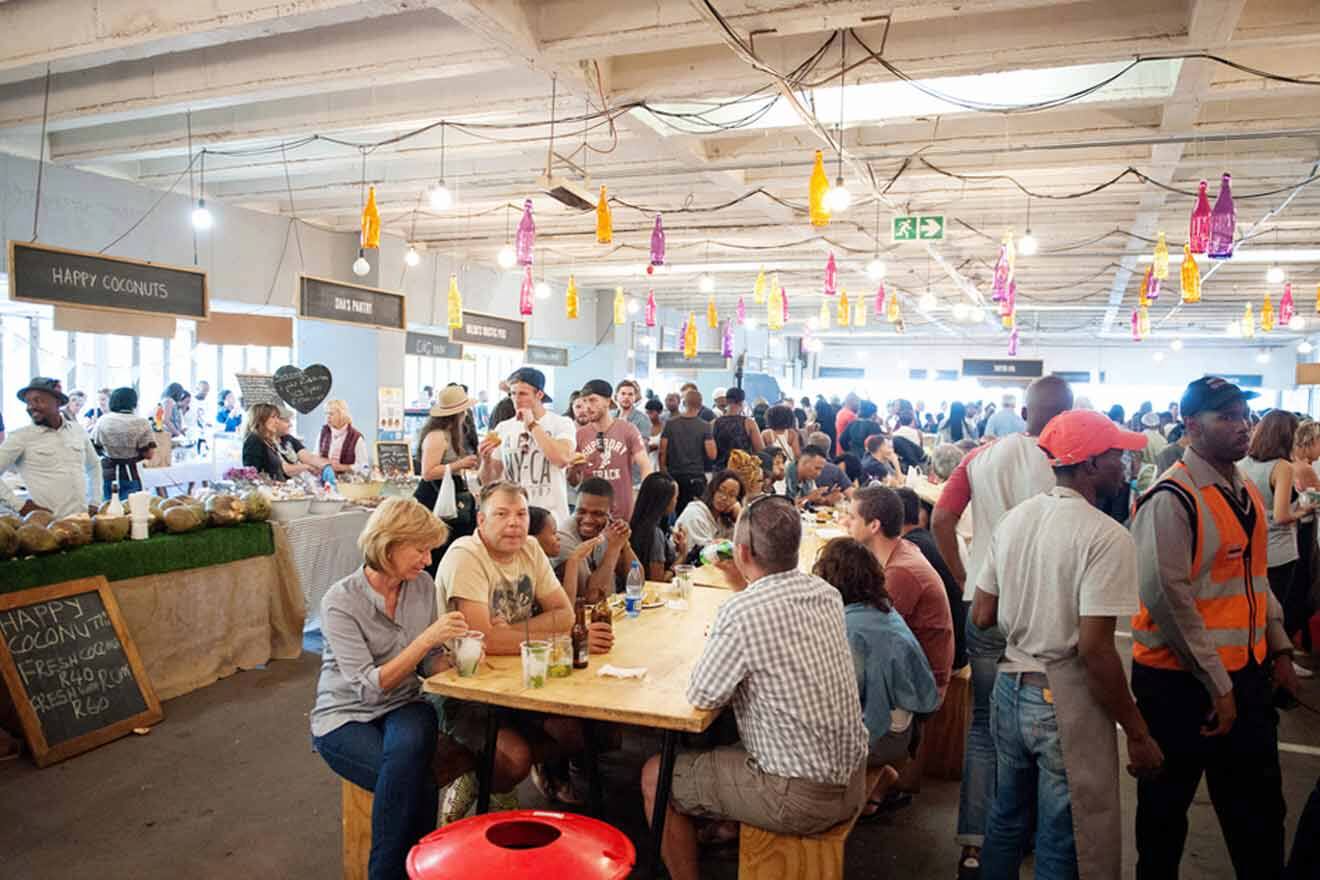 There's no better place to be on a Saturday morning than the Neighbourgoods Market!
Here, you'll find some delicious locally sourced food, so get ready to try some yummy South African dishes, but do mind your belongings as this place can get pretty crowded.
Neighbourgoods Market is all about bringing the community together. Be prepared to listen to live music and indulge in all sorts of sweet and savory dishes! The place is known for its fun ambiance!
17. Visit the artistic Soweto Towers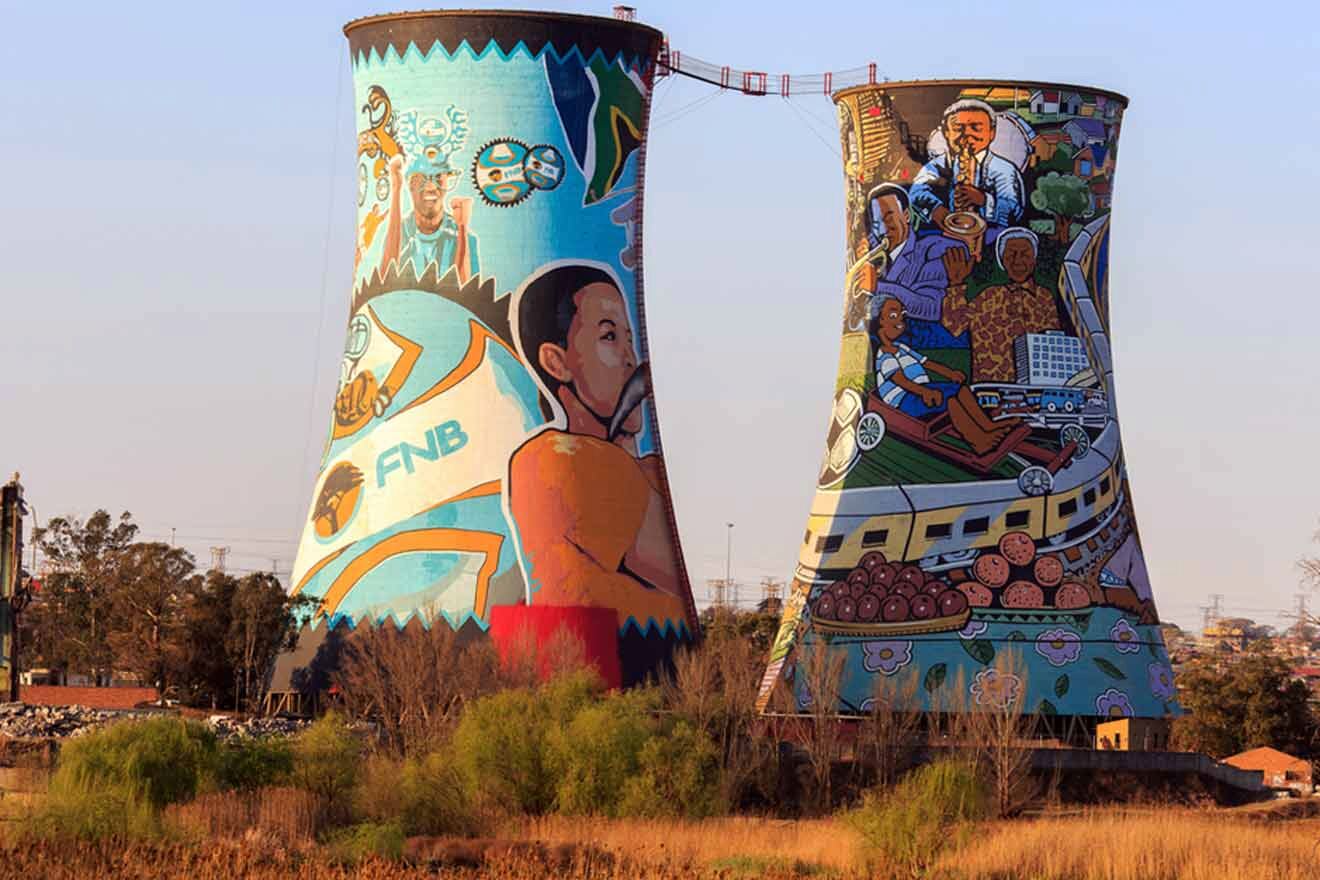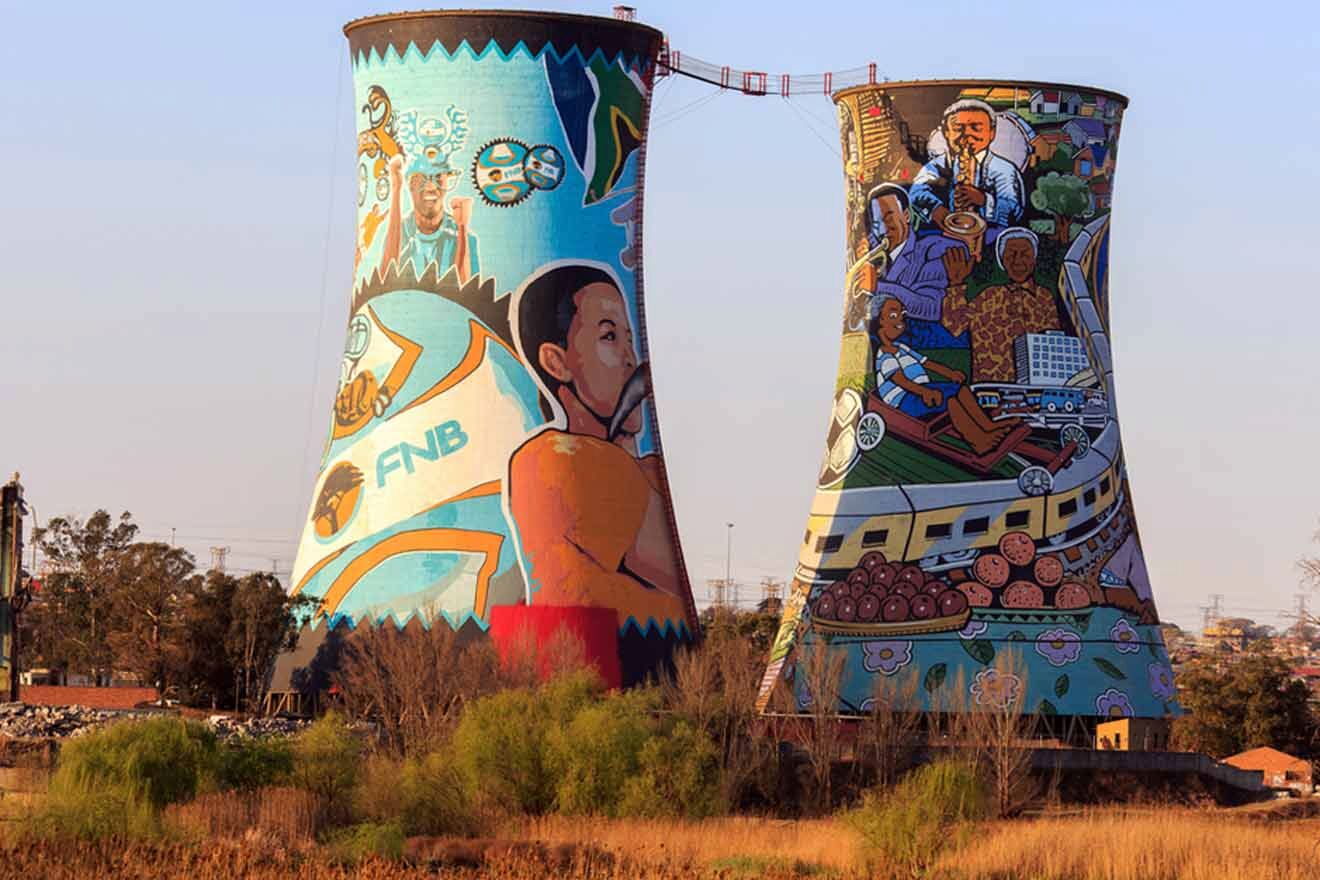 These towers in Soweto (which stands for South Western Townships) look incredible! Both are covered in graffiti and used to be the cooling towers of a decommissioned coal-fired power station.
However, now their roles have changed, and they actually become an extreme sports adventure site where people try bungee jumping!
Yep, you read that right! For all the adventure-seekers out there, this place will be like the Holy Grail of all the attractions in Johannesburg!
But if you're not really a big fan of that, don't worry, you can still go there to see the graffiti art on the towers.
Chantelle doesn't recommend walking alone around this area, so you should definitely join a tour!
I found this great tour, which lasts 4h and costs around US$3. During the tour, you'll explore the area, learn more about its history, and visit places like the Hector Pietersen Museum, the Mandela House, and the towers! Lunch is also included in the price!
TOUR PRICE: from US$30 per person
Join a tour of the Soweto area
18. Join a tour of the Cradle of Humankind & Sterkfontein Caves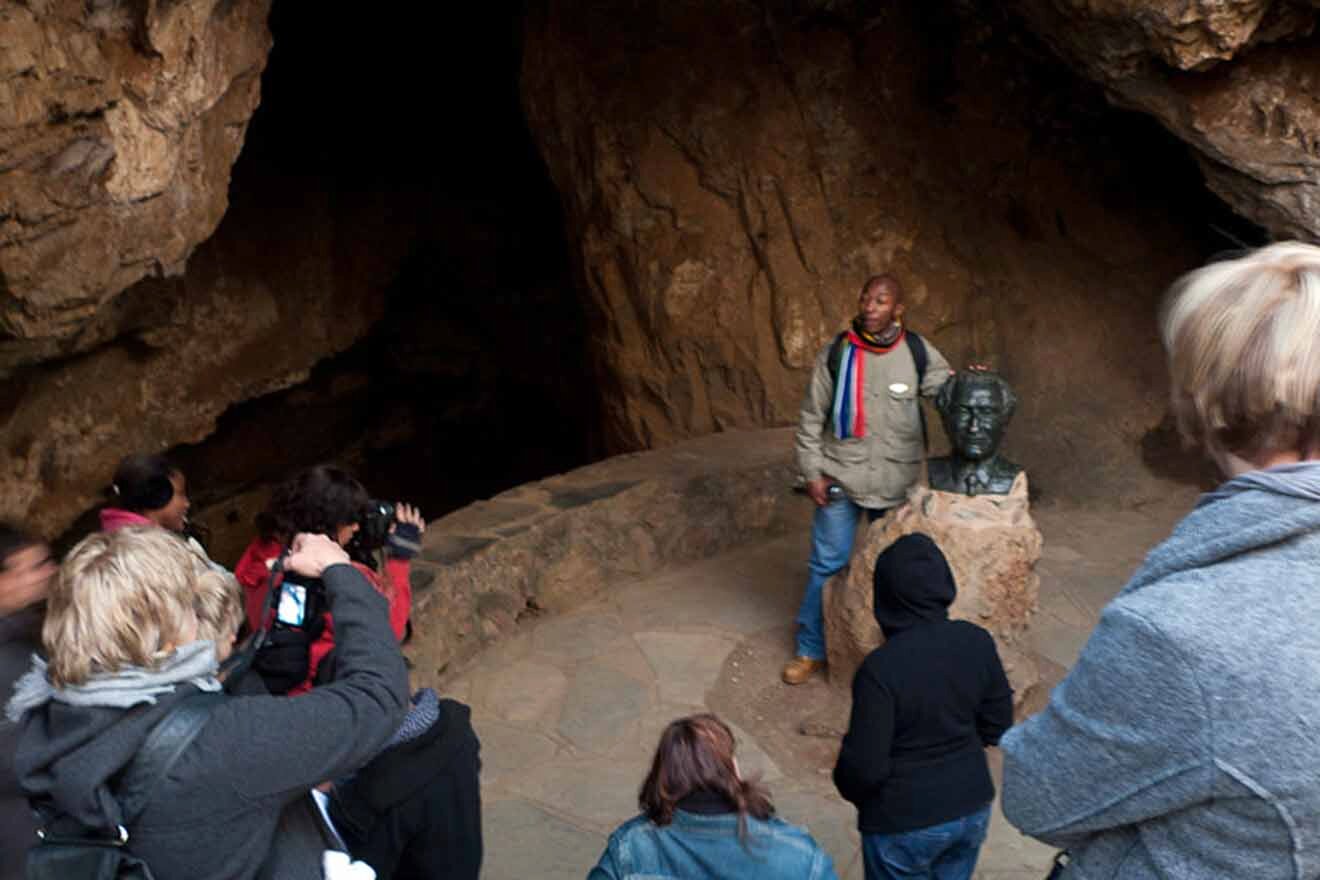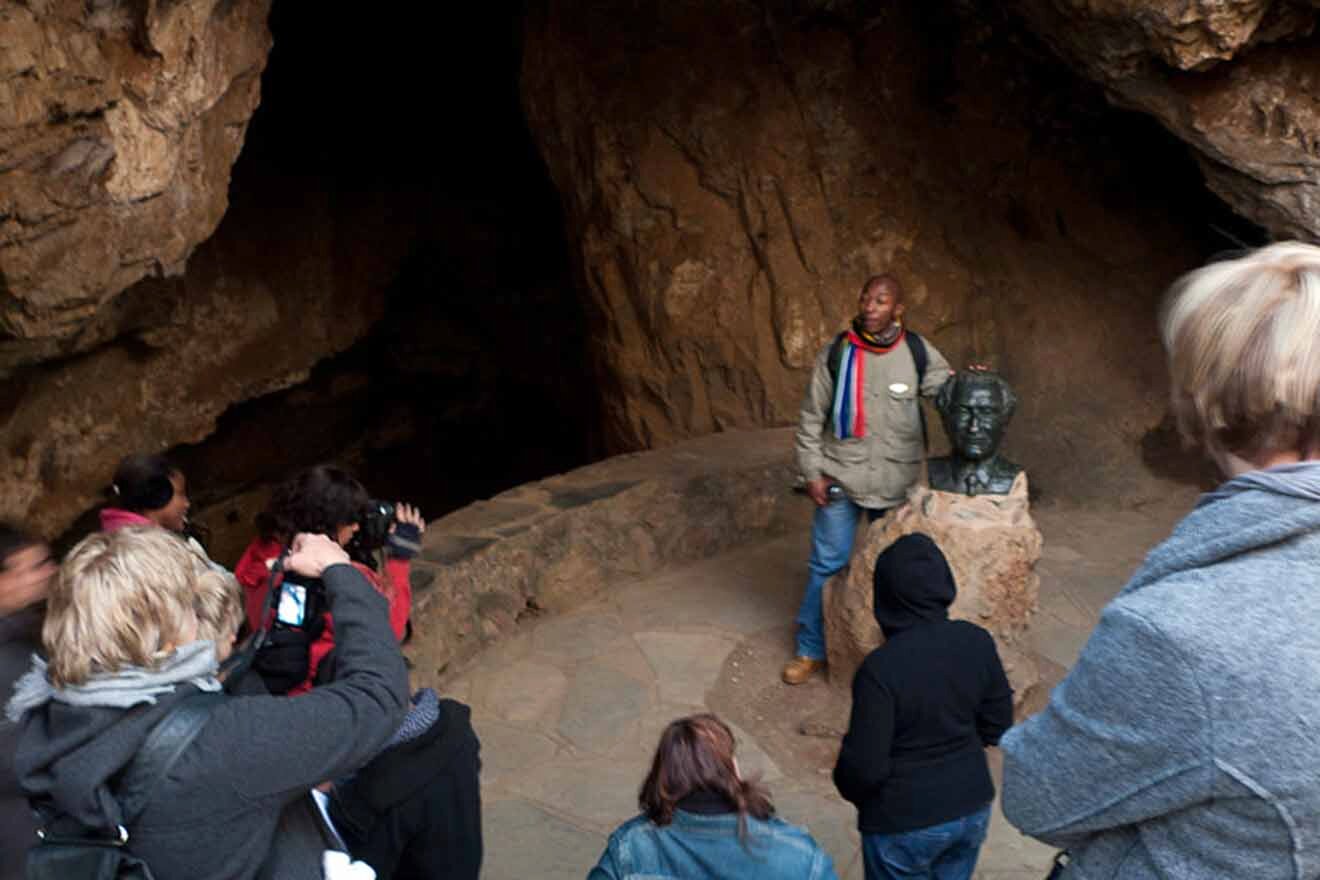 Get ready for an incredible journey in 2 of the most incredible attractions in Johannesburg! These places are among the most popular tourist destinations in South Africa!
I found this amazing tour that will take you to the Cradle of Humankind, which is a UNESCO World Heritage Site, and the Sterkfontein Caves! The tour costs US$90 and lasts around 8hrs. You won't have to worry about transportation as they'll pick you up from your hotel, and you'll get to explore both places!
The paleoanthropological site, The Cradle of Humankind, is home to the largest concentration of human ancestral remains in the world! The Sterkfontein Caves are just as exciting, and apparently, scientists discovered many hominids and other animal fossils, which date back to more than 4 million years ago! Wow!
Honestly, both these places are incredible, and Chantelle said they're definitely a must-see while you're visiting Johannesburg! She also told me that there are lots of cool caves in the country, so if you're exploring other cities in South Africa, make sure to check if there are any caves you can discover!
NOTE: the Sterkfontein Caves are closed at the moment, so double-check if they re-opened before buying the tour!
TOUR PRICE: from US$90 per person
19. Take the kids to Benoni Monkey and Bird Park
Looking for something fun to do with the kids? Then check out this attraction Chantelle told me is great for a family outing!
Located in Benoni (map), the wildlife sanctuary houses many cute birds, white tigers (wow), parrots, and many monkeys!
While here you can walk around the vast grounds and make some non-human friends! There's also a play area for the little ones where they can hang out and make some new human friends (this time).
After all the walking and playing, you'll probably be famished, but don't worry, Chantelle assured me you have a place to eat inside, too. You can check the place and other details on their website.
PRICE: US$3 per person
20. Experience shopping at Rosebank Sunday Market
In town on a Sunday morning and don't know what to do? Why not check out the Rosebank Sunday Market?
Set in a parking lot (map), this lively market boasts food stalls, craft stalls, and sometimes even live entertainment! You'll also find lots of cool antiques and souvenirs.
The market opens at 9 a.m., and it usually lasts until 4 p.m. and is free to stroll around.
21. See old cars at the James Hall Museum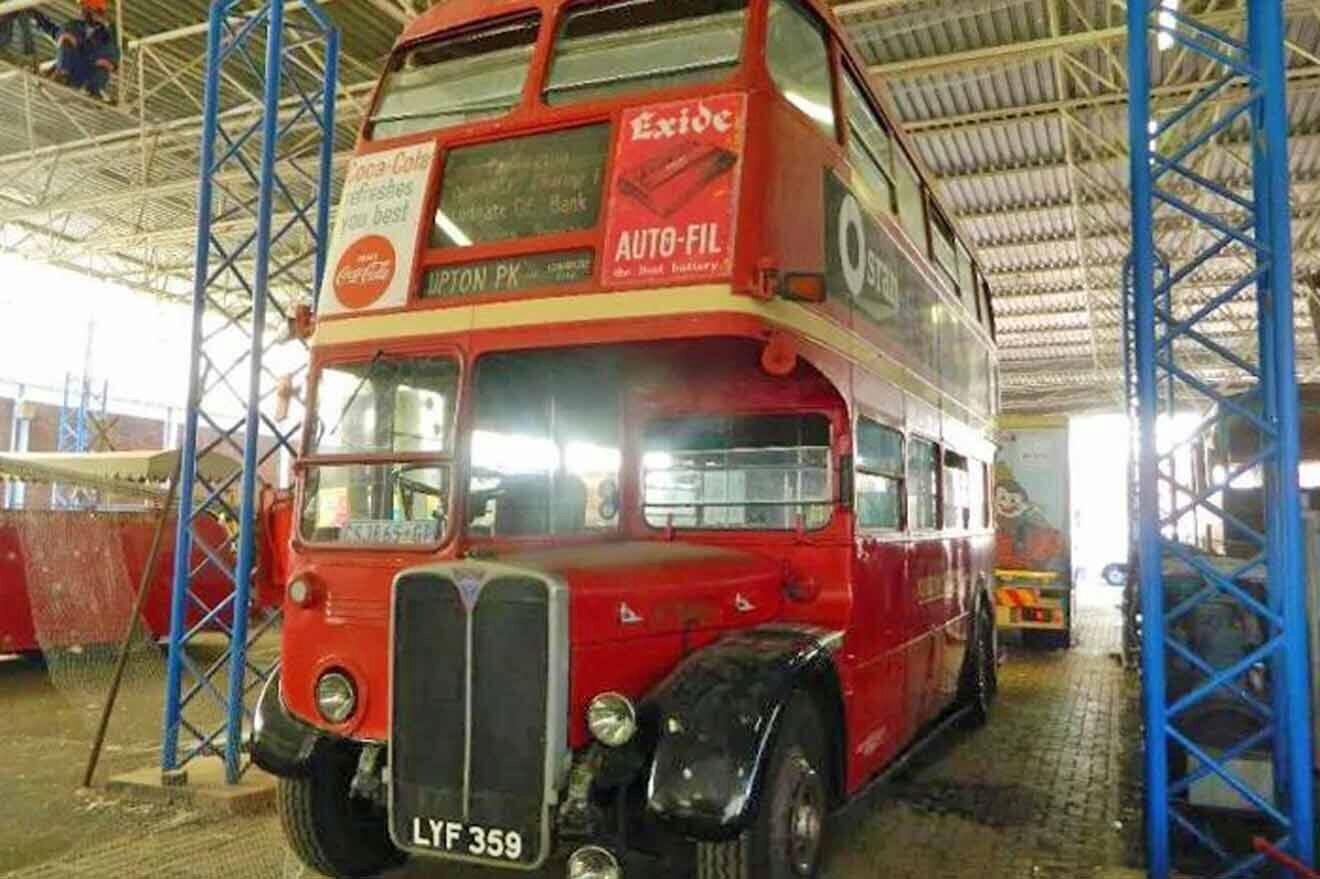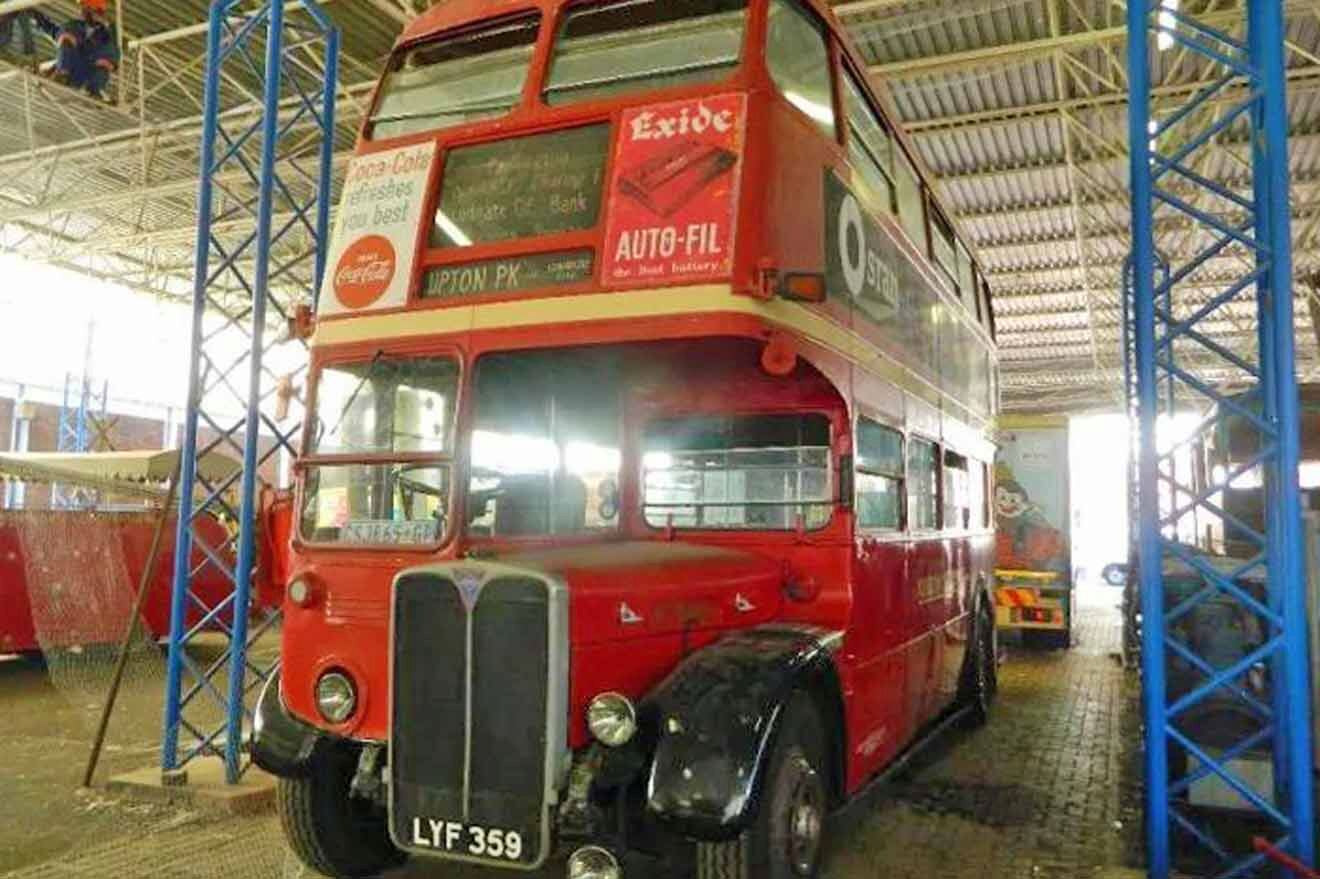 Want to see some really old cars? Then visit this really cool museum in Johannesburg South, where you can explore more than a century of land transportation history and admire special cars like motorbikes, steam locomotives, and electric cars!
Chantelle said she used to go there on school trips and loved it! So, it's definitely a great spot to take your kids!
There's also a gift shop on-site to get some cute souvenirs!
PRICE: free
22. Meet a baby crocodile at Croc City and Reptile Park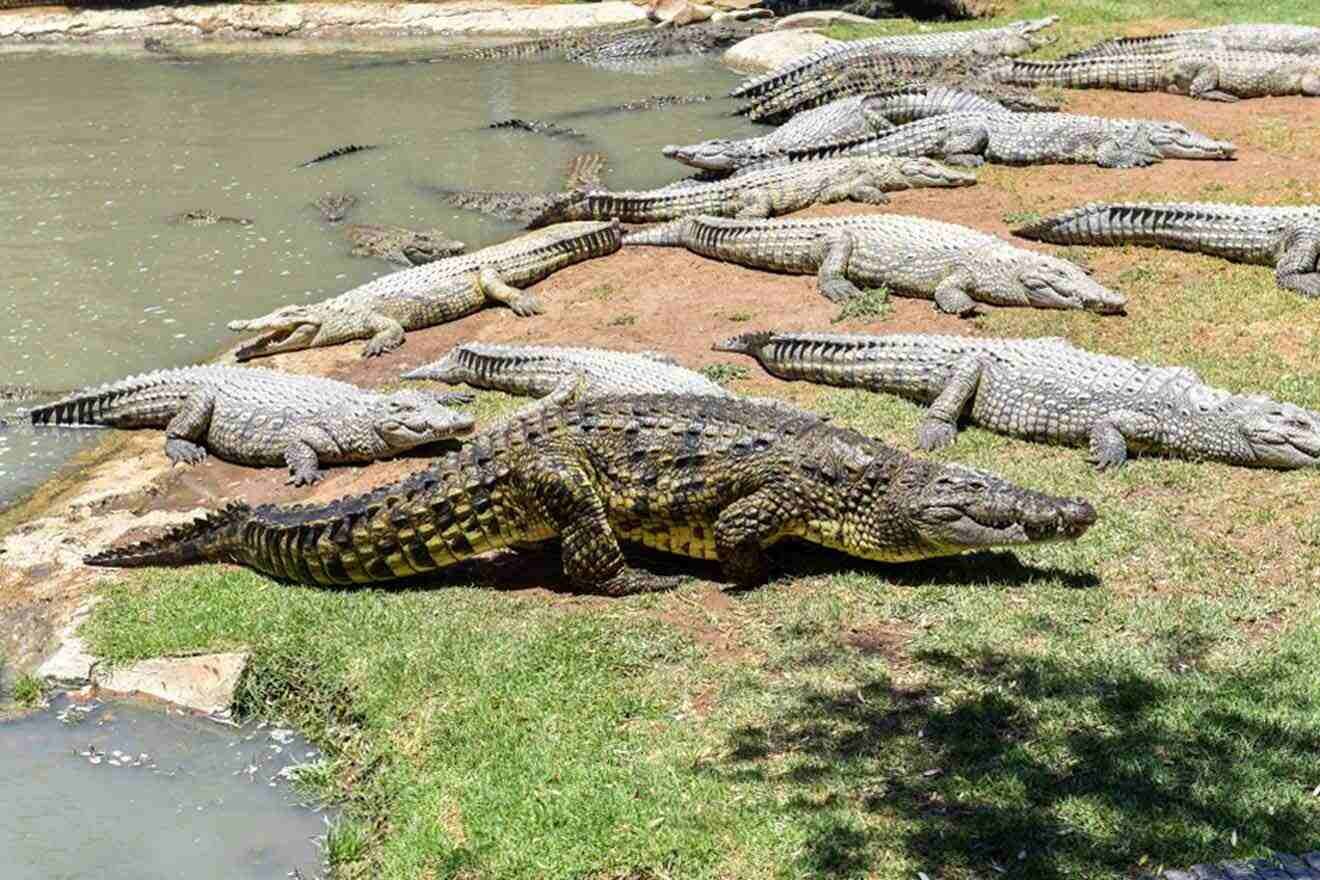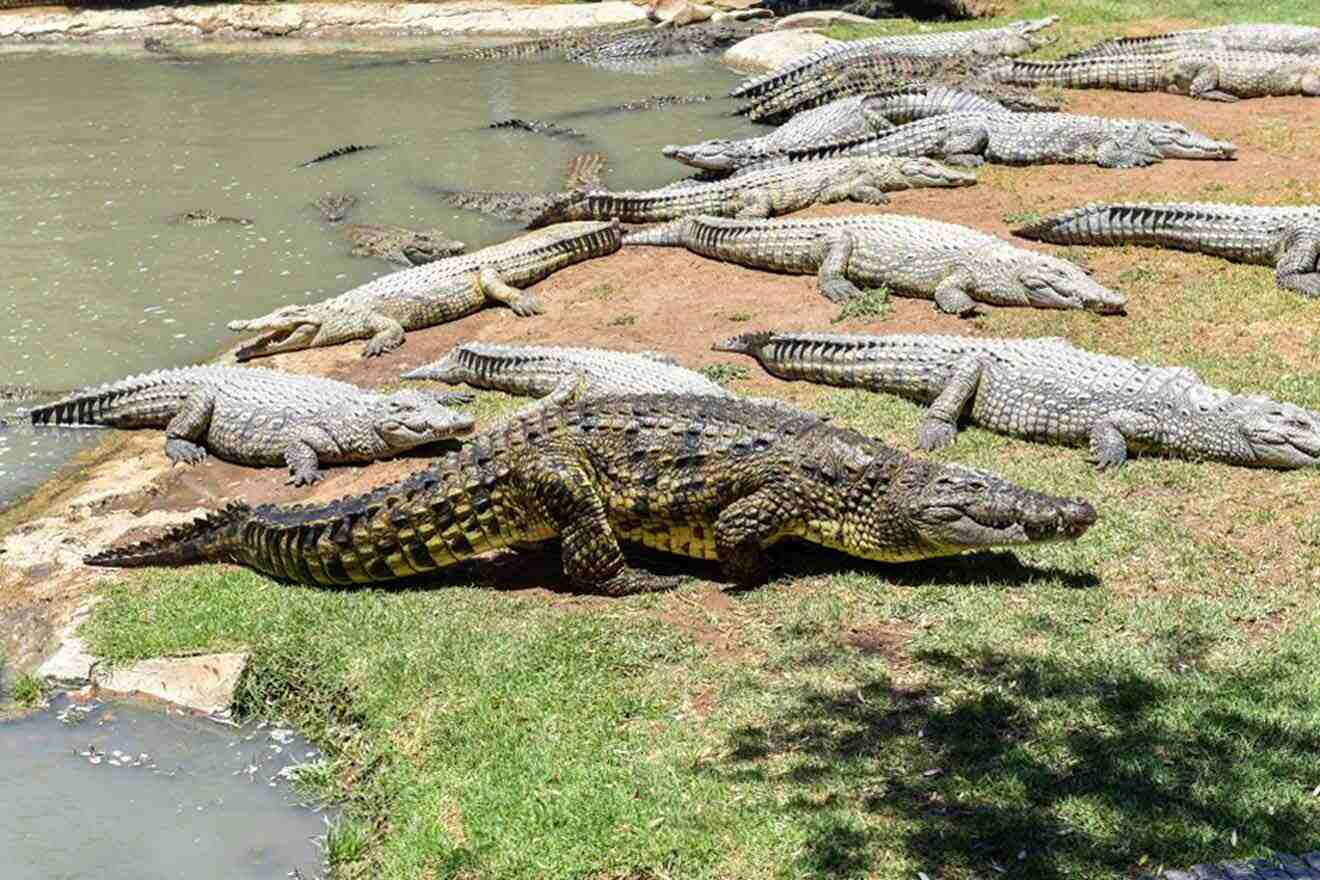 As you've probably guessed by now, Johannesburg is the kind of place where you never get bored!
They have it all! From museums and golf courses to fun theme parks, like this one, just a 45-min drive away (exiting through Johannesburg North).
I hope you're ready to meet some crocodiles! Because that's what you'll be doing when you visit Croc City! And not just that, they also have some snakes and other reptiles!
What makes this place so fun is that it also lets visitors hold baby crocodiles, touch snakes, and get super close to tarantulas! Definitely have a look at their website for more info.
Another exciting thing that you can try here is ziplining! For this, you'll have to pay an additional fee of US$5, but it's definitely a must-do as you'll be going over the ground where all the crocodiles are!
Wow!
PRICE: US$5 per person
23. Stroll through the Maboneng Precinct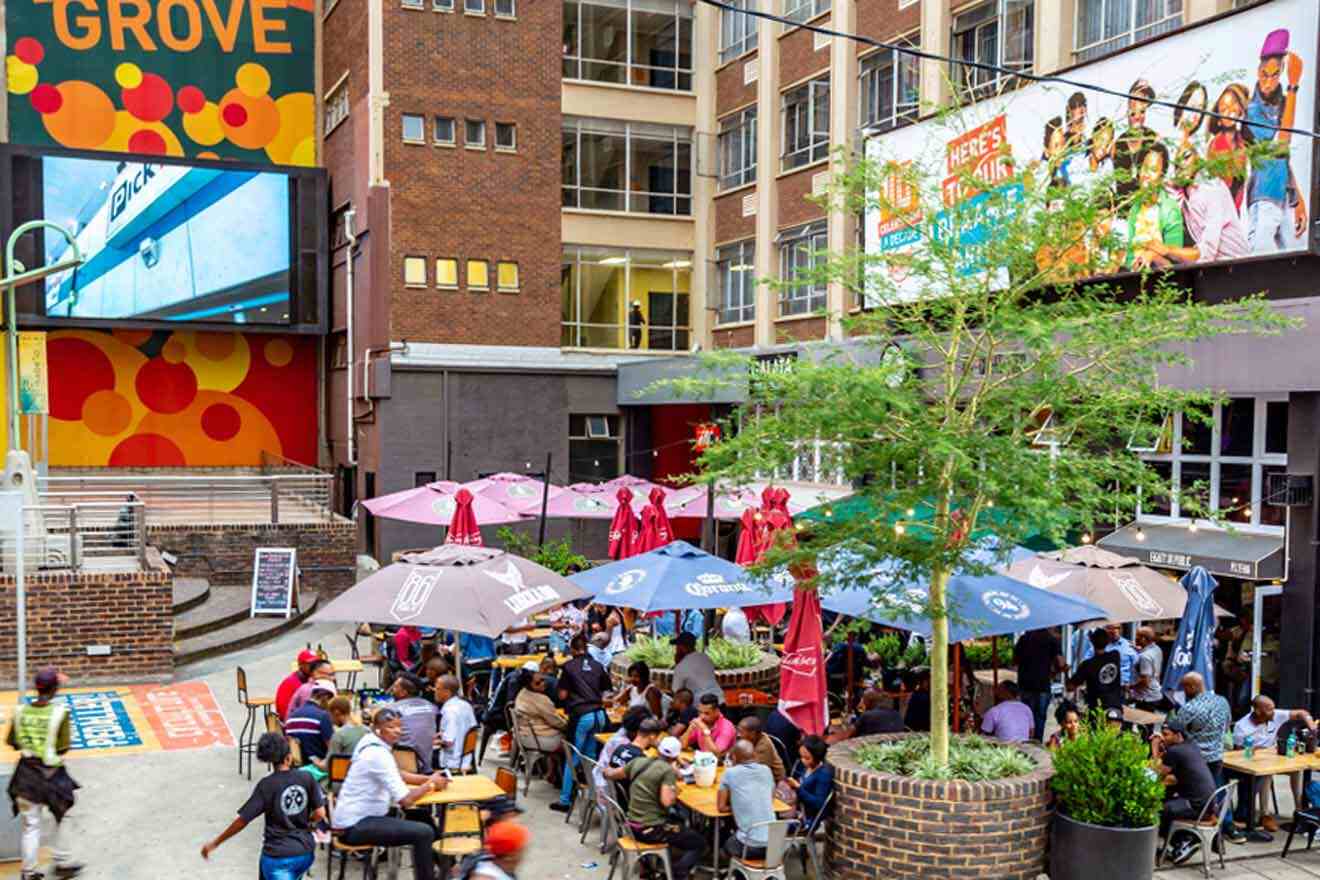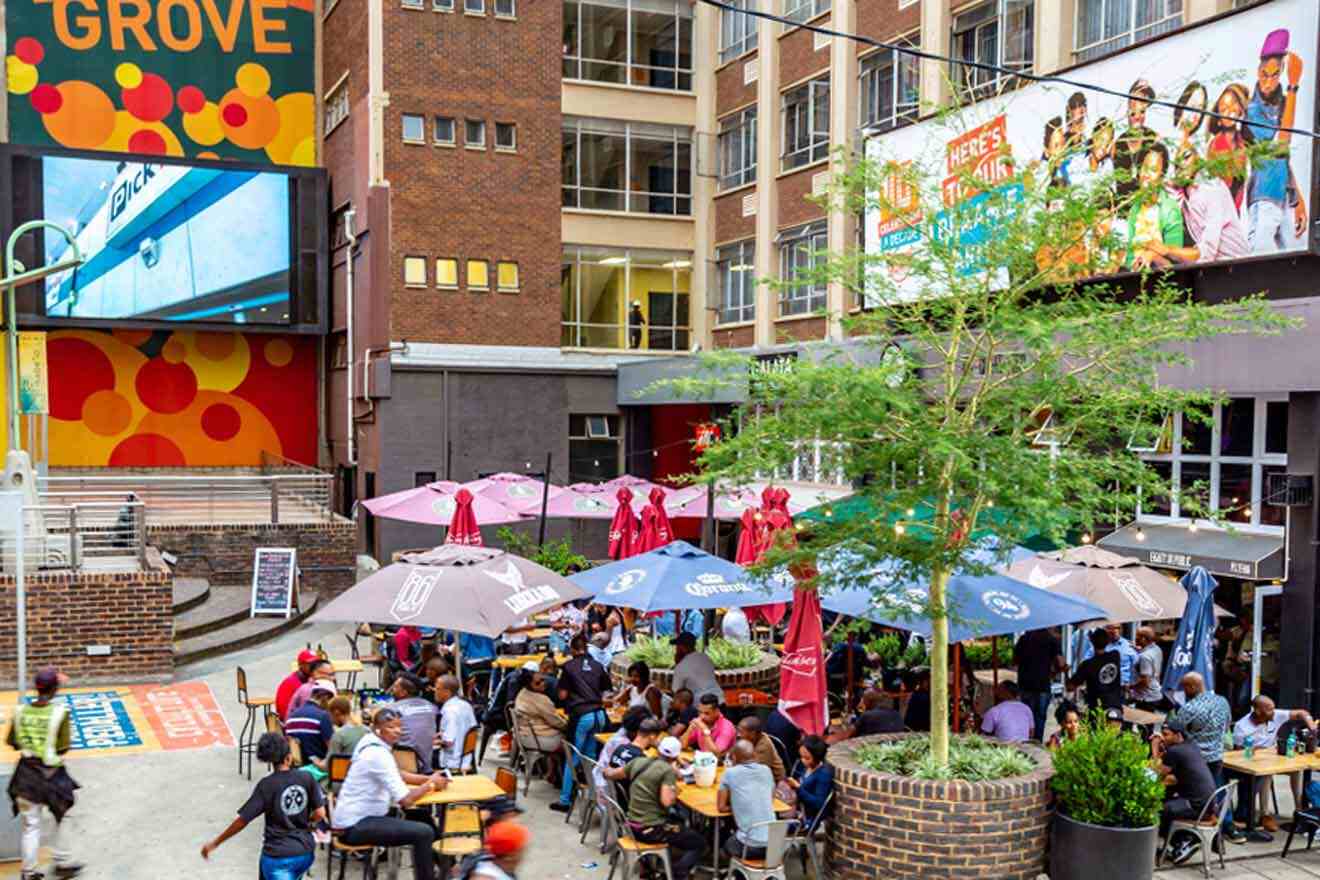 Before I start telling you all about this area, you should know that there are 2 sides to its story! Meaning that many people say it's not such a great area and it's a bit dangerous, and then there are those who had a great time here and felt safe!
So, I leave it up to you, but I wanted you to have all the details on all the major things to do in Johannesburg!
Maboneng (which translates to "place of light") has such a fresh atmosphere, and it might be because of all the modern buildings, the cafés, and the art galleries!
There's also the Carlton Centre, where you can go up to the top floor to admire the city skyline.
You can spend your time here exploring around, walking down the streets as it's the best way to see all the cool things, and, of course, snap some pics of the architecture!
24. Explore the wonders of Sci-Bono Discovery Centre
Still looking for a fun place to take the kids?
Well, then check out this fun attraction: the Sci-Bono Discovery Centre!
Located in Newtown (an area filled with stunning street art), this place offers exhibitions and workshops and even has a planetarium!
You can go on their website to check for what's on at the time of your visit!
PRICE: US$3 per person
25. Visit the Lindfield Victorian House Museum
Gotta love a place with a bit of Victorian flair!
If you're all about this time period and love to see houses designed in that style, then definitely drop in for a visit at the Lindfield Victorian House Museum!
Built in the 1900s, this house features period furnishings, which you can admire during their guided tours. Tour prices vary, and this is the only way to visit the attraction.
It's definitely a fun thing to do if you're into history!
PRICE: US$5 per person
| | |
| --- | --- |
| 🌆 Top attraction with a view: | Alto 324 |
| 🎰 Unique attraction: | Montecasino |
| 🦁 Must-take tour: | Safari park tour |
| 😋 Must-try food: | Bunny Chow |
Where to stay in Johannesburg
Woohoo! You made it until the end! I'm so happy you got to read all about the best things to do in Johannesburg with local tips from Chantelle, who lives in the city.
Now, it's time to move to the next section, where you'll find fabulous hotels for each price range! This is a short list of hotels in Rosebank, but you can also check the Northern Suburbs if you want something a bit more tranquil.
If you want a more extensive guide, check out our post with the best places to stay in Johannesburg.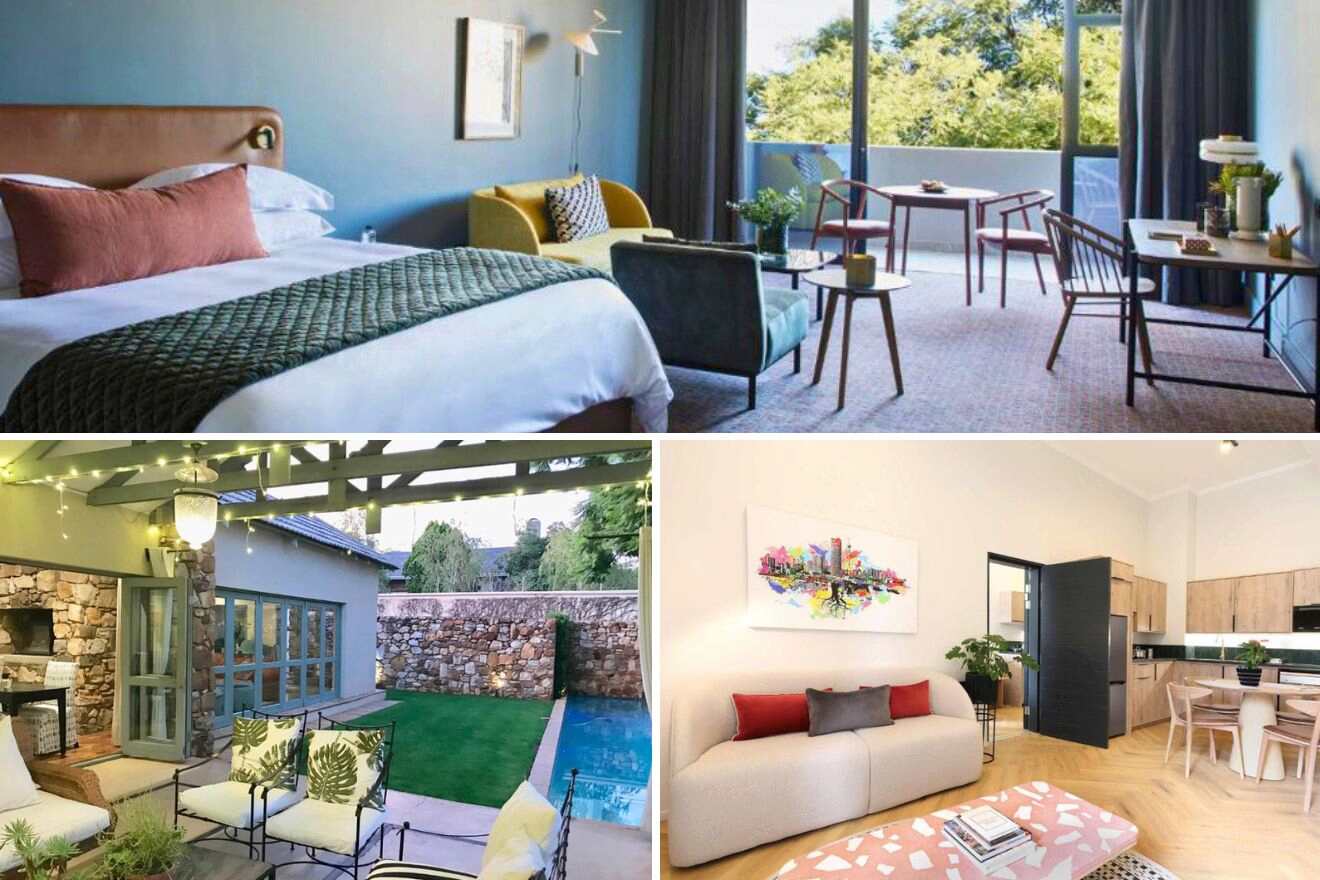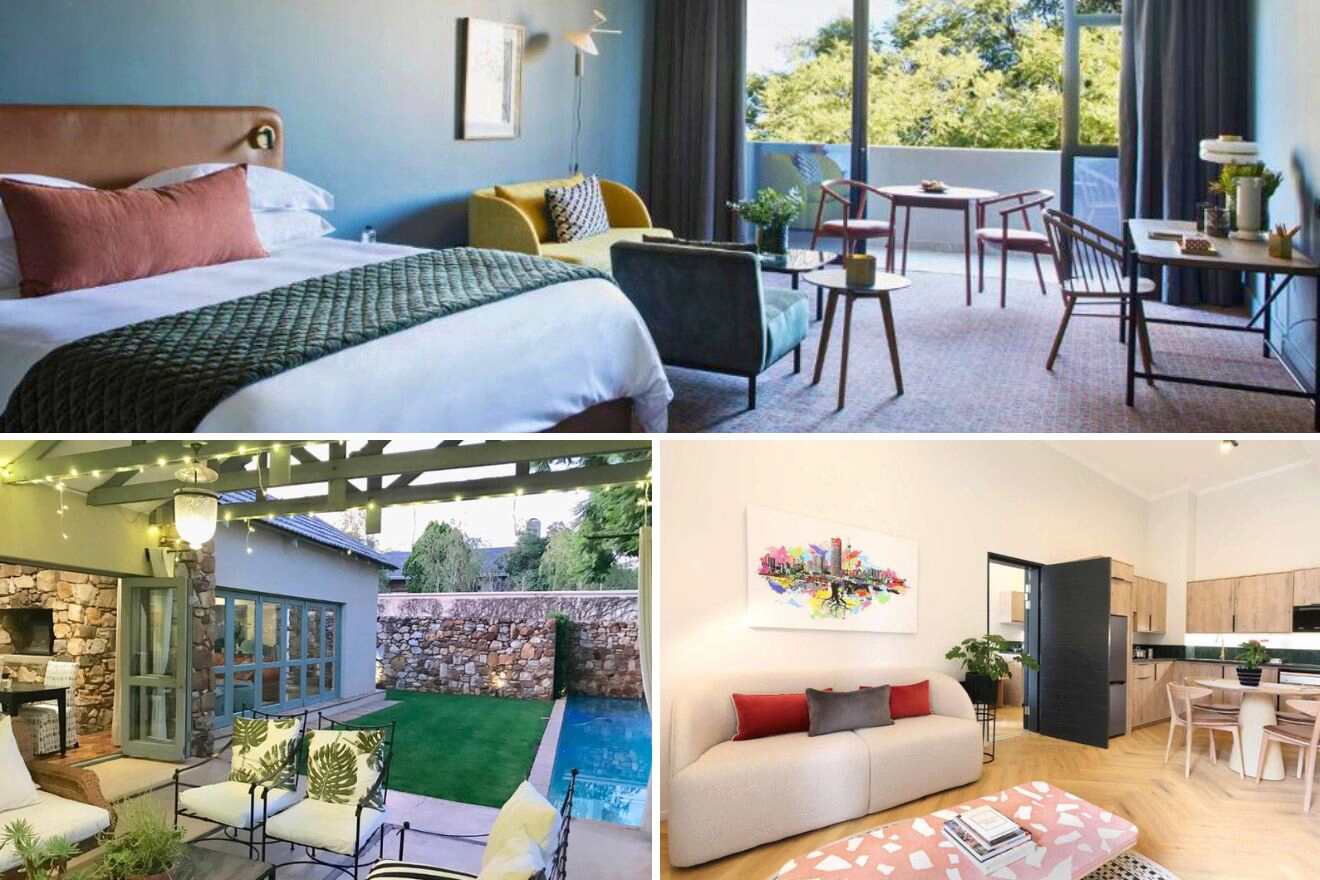 Luxury (from US$180 and above): Hyatt House Johannesburg Rosebank – with a convenient location in Rosebank, one of the areas in town, this fabulous accommodation comes with modern rooms with city views, an outdoor swimming pool, and a restaurant.
Mid-range (from US$100 to US$180): Parkwood Boutique Hotel – here's another amazing hotel set a 30-min drive away from Northgate Shopping Centre that has rooms with a cool design, an outdoor fireplace, and spa facilities.
Budget (up to US$100): Home Suite Hotels Rosebank –looking for something a bit more affordable but just as stylish? Then check out this accommodation that offers rooms with balconies, an outdoor pool, and a restaurant.
FAQs about things to do in Johannesburg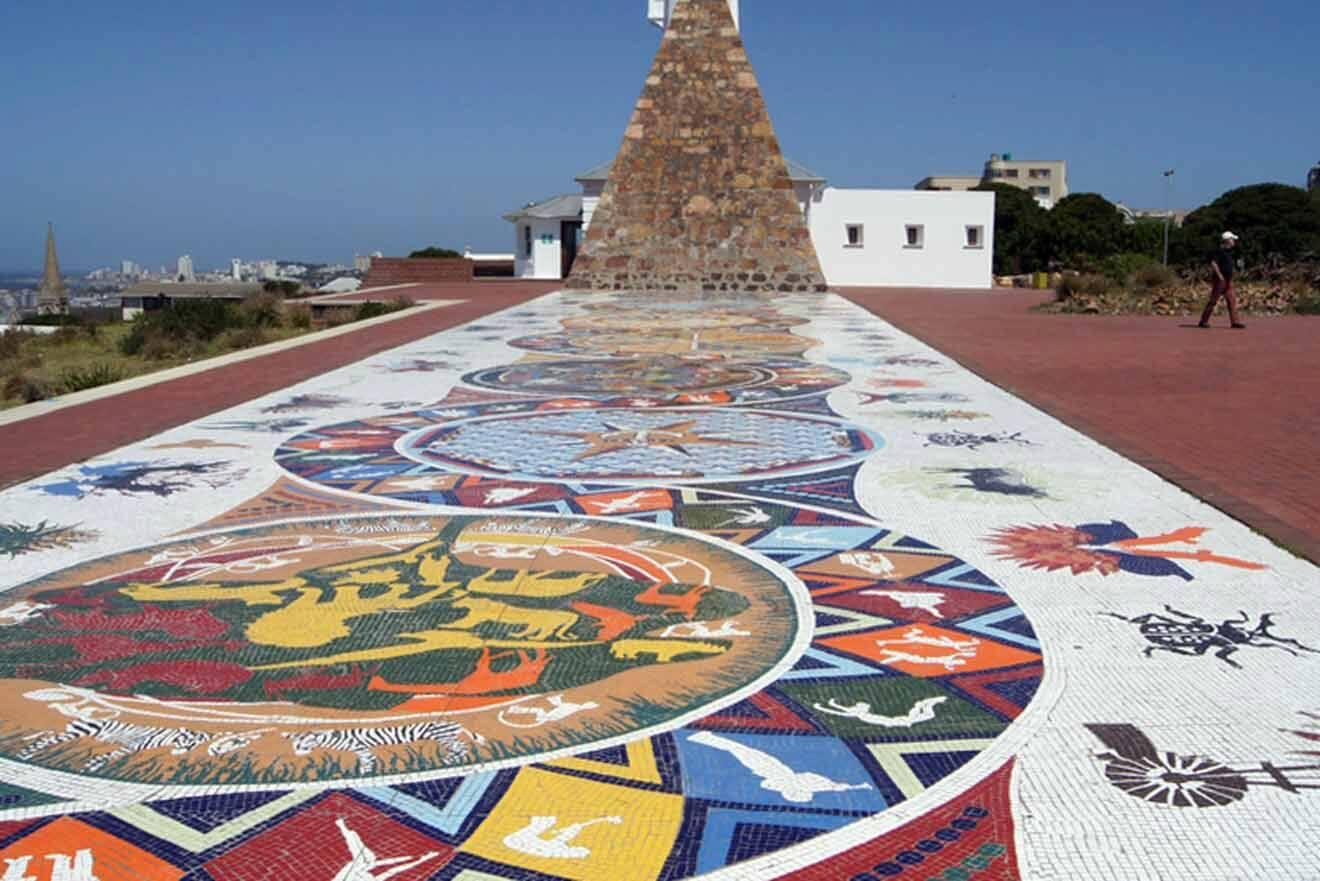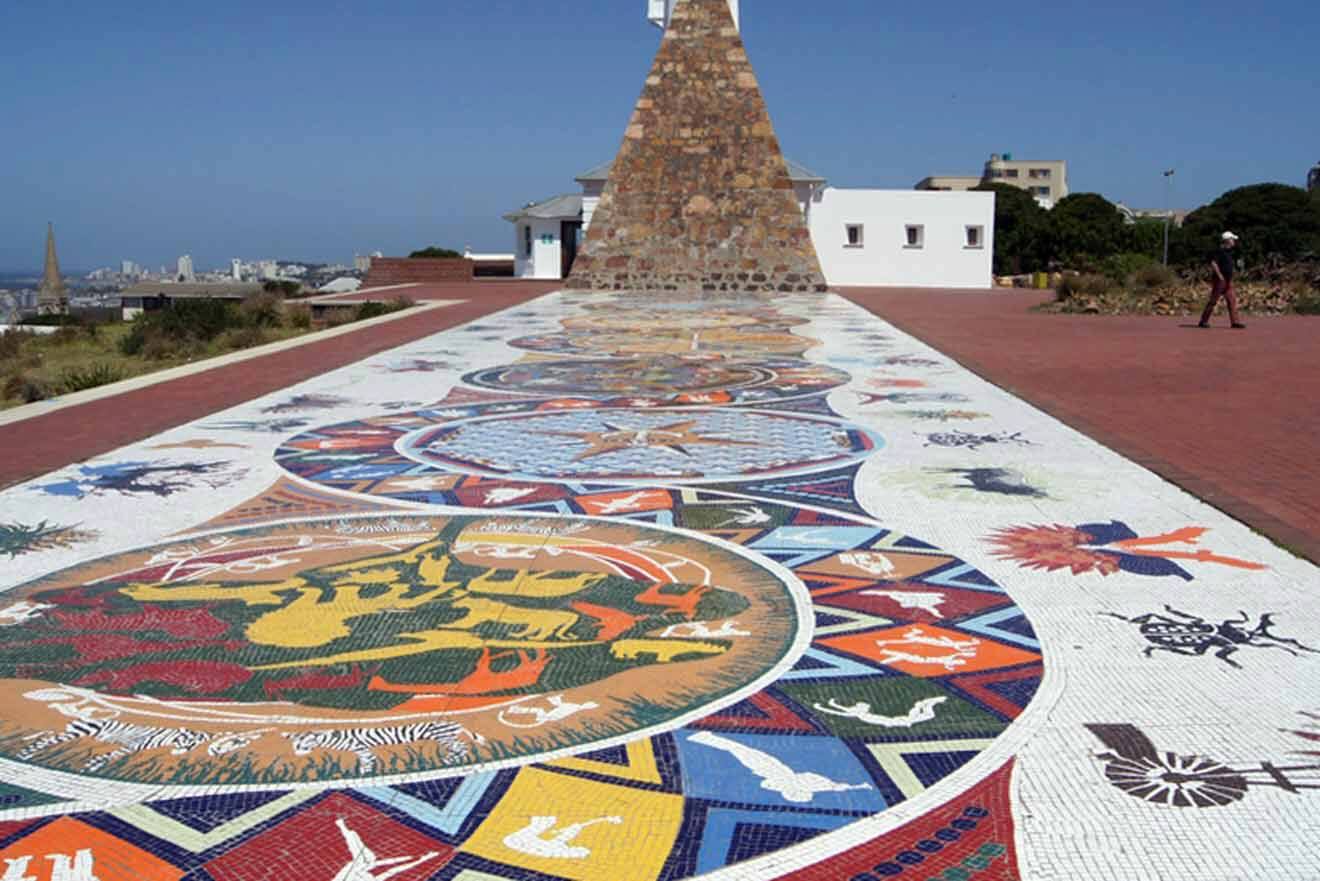 🚌 What to do in Johannesburg for 1 day?
You could join a hop-on/hop-off tour, visit museums like the Nelson Mandela House, and check out the Prison Break Market or the Johannesburg Zoo.
👪 Where can I take my kids in Johannesburg?
You can take your kids to the Gold Reef Theme Park, the Johannesburg Zoo, and the Lion & Safari Park!
⭐ What is Johannesburg best known for?
Nicknamed the "city of gold," Johannesburg is known for its gold-mining history, amazing museums, rooftop bars, and, of course, as the home of Nelson Mandela!
📅 How many days do you need in Johannesburg?
I would recommend spending between 4 to 5 days in Johannesburg! That way you can visit its main attractions, go on some tours and find time to relax!
Conclusion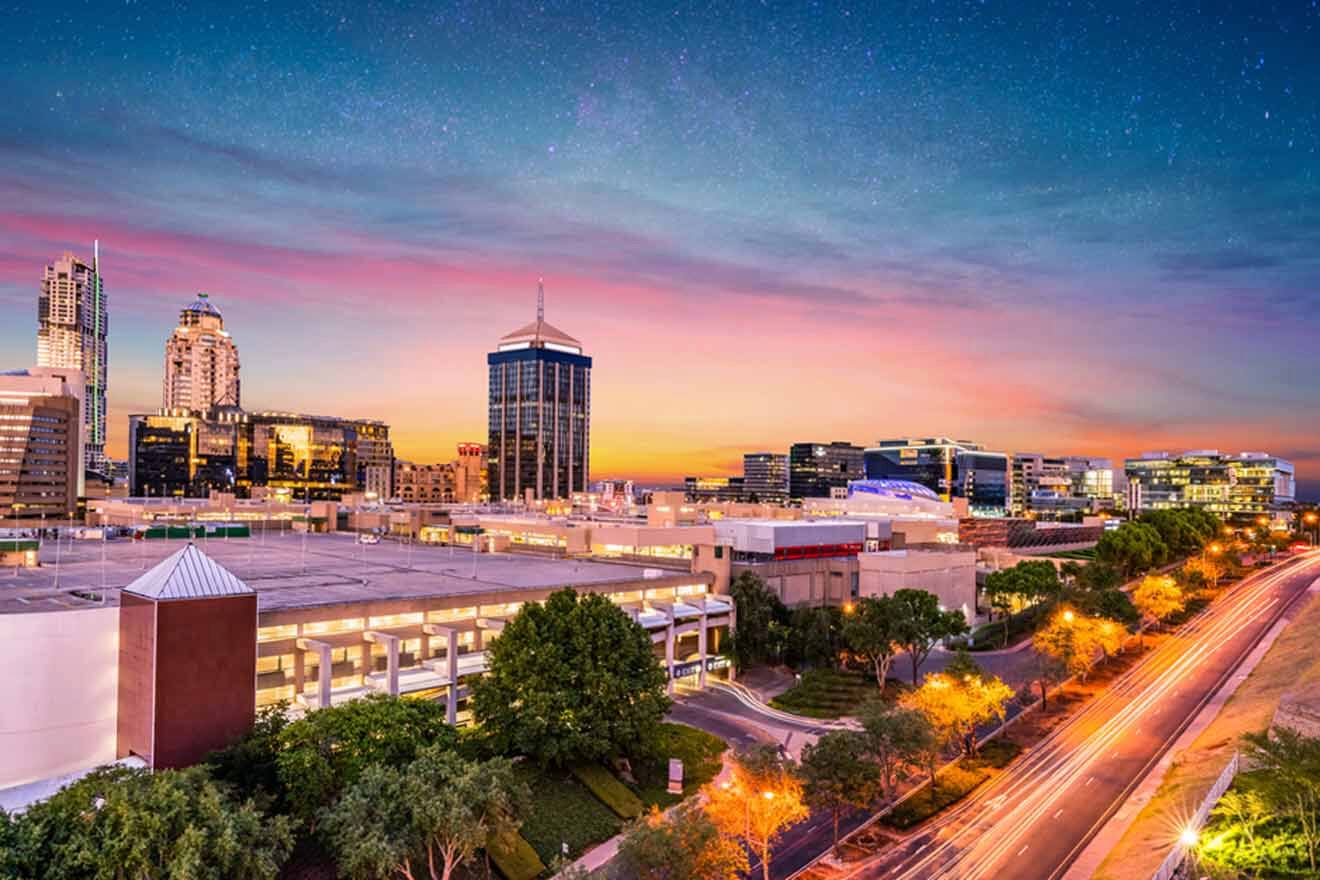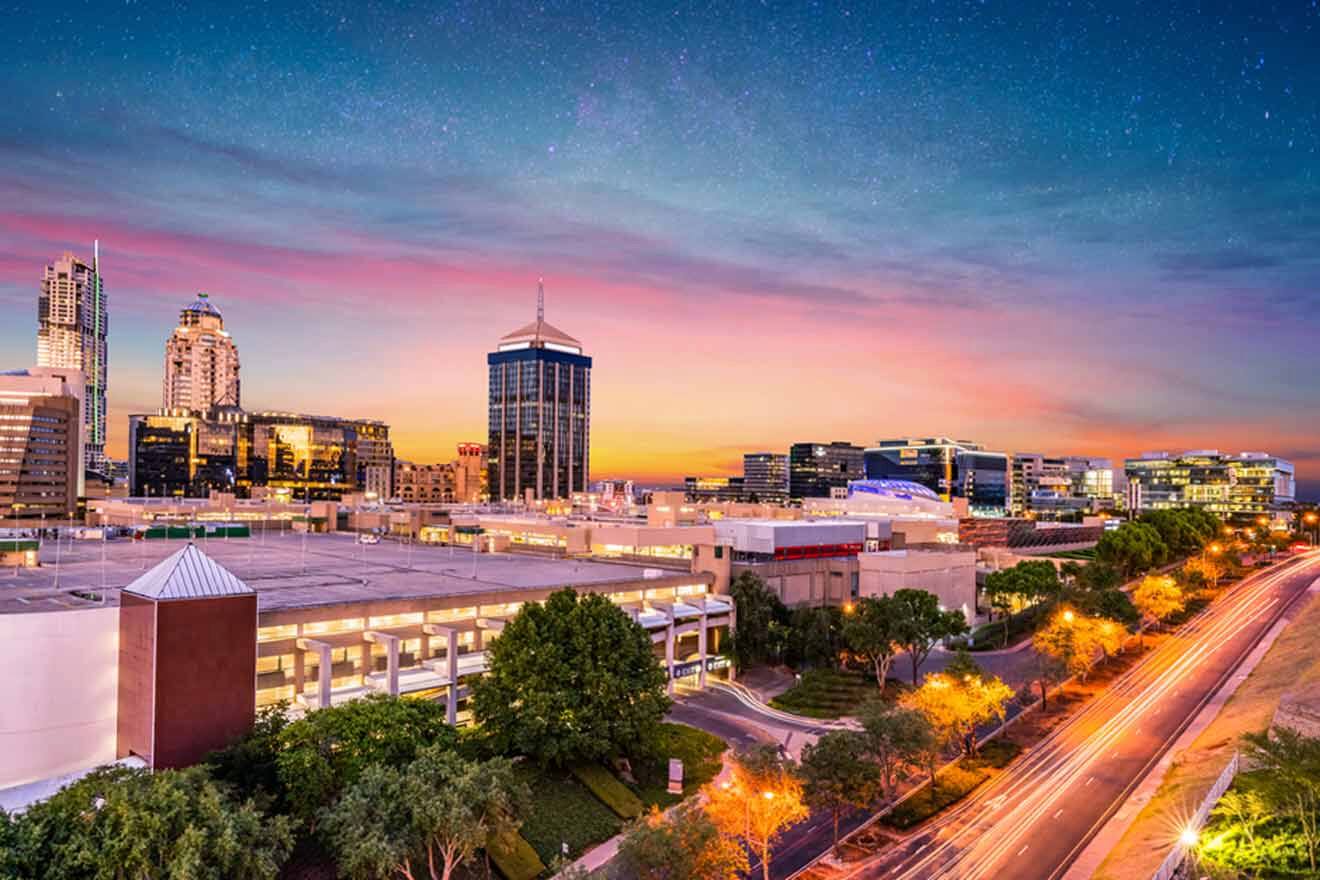 How incredible is this city? It offers so many different attractions, from safari parks to amazing museums where you can learn more about South African culture.
Just to recap, this post has the best things to do in Johannesburg and a short list of hotels for each price range!
And let's not forget that you'll also find a bunch of local tips from our team member, Chantelle, who actually lives there! Trust me, there's nothing better than knowing things from a local when visiting a new city!
So definitely take advantage of that, and drop me a comment below if you've got any questions! I'm sure Chantelle will be happy to help you with more tips!
Have an incredible holiday!
Safe travels,
Victoria
---
Pin it for later!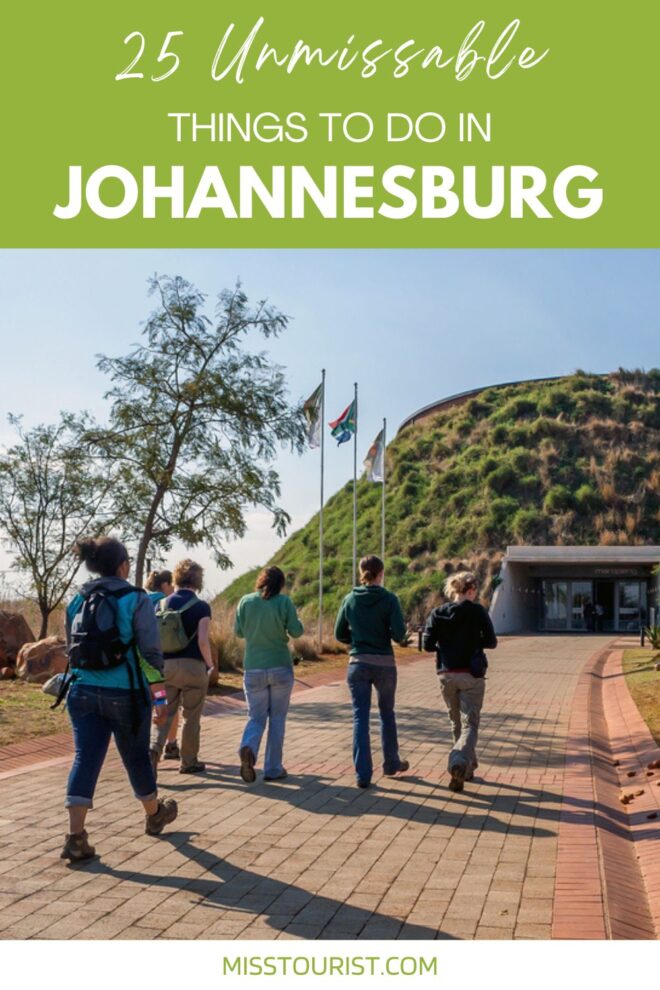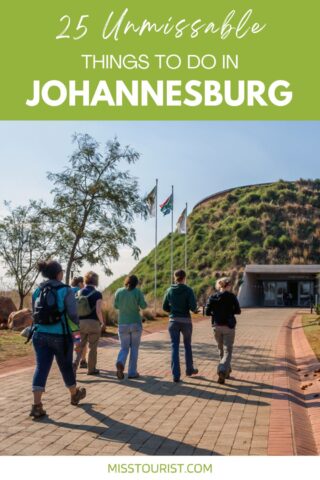 Pin it for later!