19 Things to Do in Lucerne to Fall in Love with the City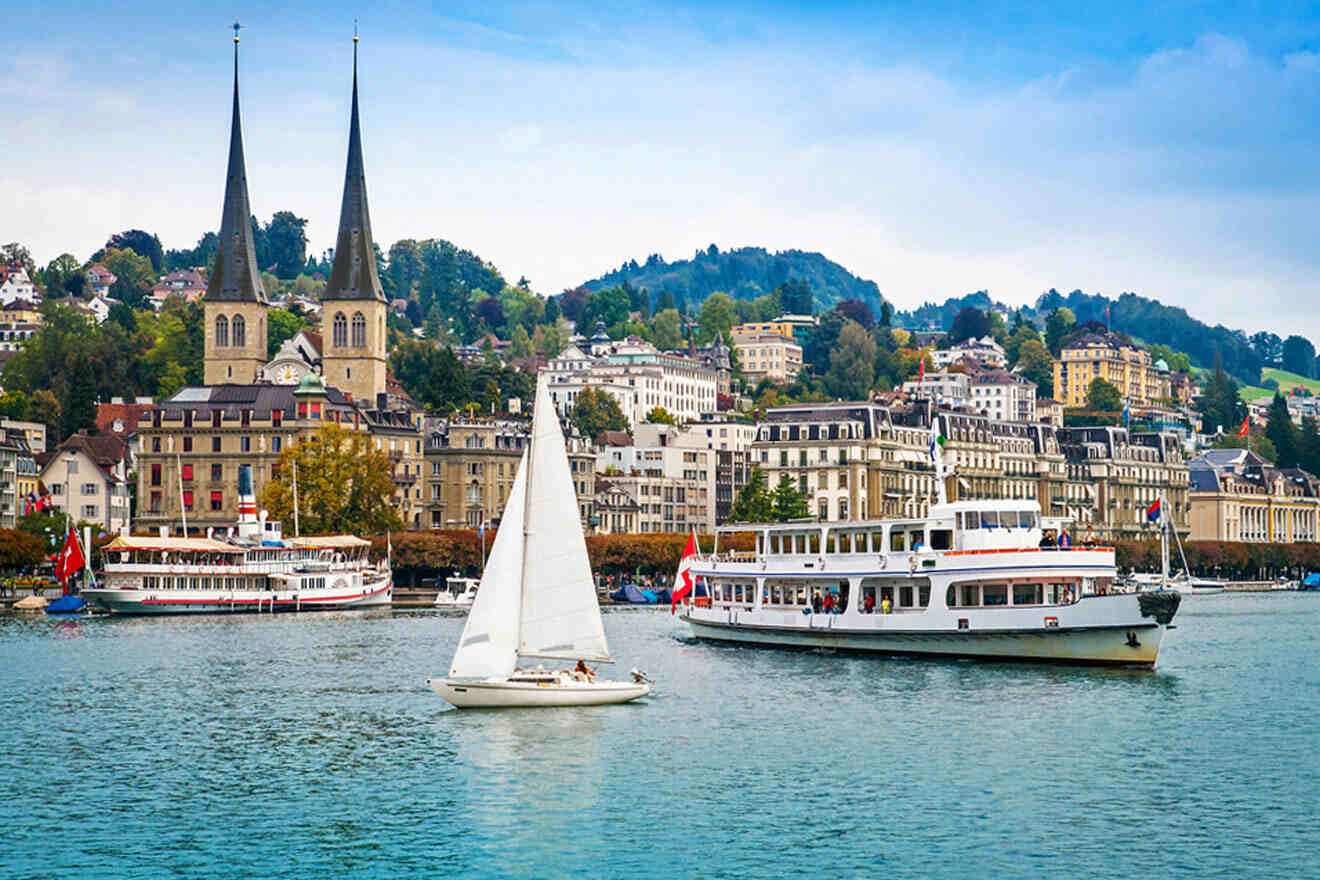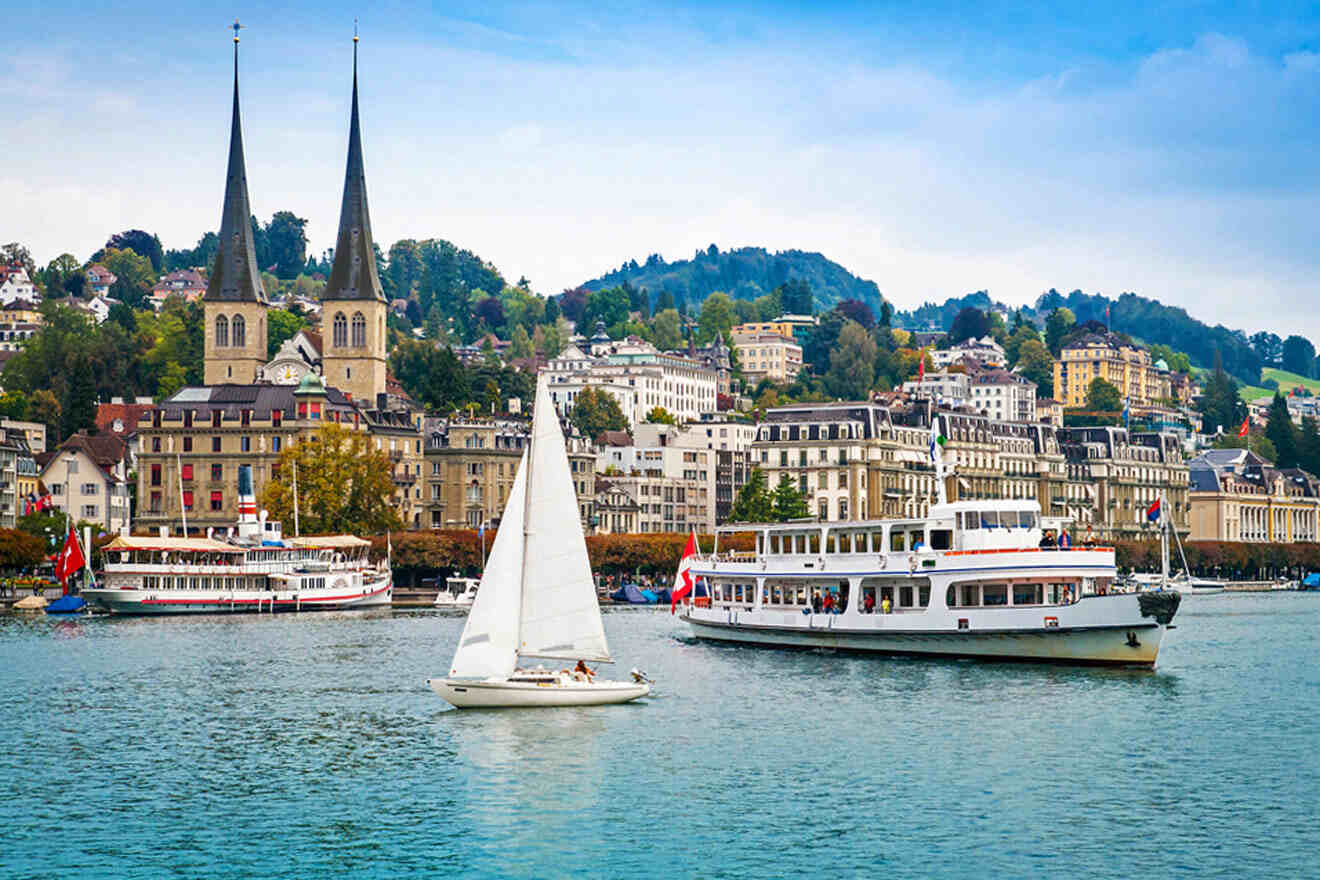 If you're thinking of traveling to central Switzerland and wondering whether Lucerne is worth visiting, my answer would be absolutely!
I had the luck to visit Lucerne, and now it's on my list of destinations I want to come back to again. Old Town charm, a beautiful lake, numerous walking trails, boat trips, mountain excursions, old churches, museums – there are so many things to do in Lucerne! I guarantee you'll never get bored!
I compiled this ultimate Lucerne sightseeing list for your ease. From the most popular Lucerne attractions, you shouldn't miss out on locals' favorite spots and activities, you'll have a blast on this journey.
A friendly piece of advice before we begin: book your hotels and tours in advance. Lucerne may just be the most beautiful city in Switzerland, hence it gets super crowded. So, be practical, and save your spot ahead of time.
Now, come along, and let's explore Lucerne.
If you are in a hurry
If your time is ticking, and you only need the top 3 attractions to book right away, worry not.
Here are the main things to book in advance:
And here are the best hotels: Mandarin Oriental Palace (luxury), Château Gütsch (mid-range), Hotel Anker (budget).
If you're looking for more options, don't forget to check out our post on all the best areas & hotels to stay in for the real lowdown!
1. Walk through the Old Town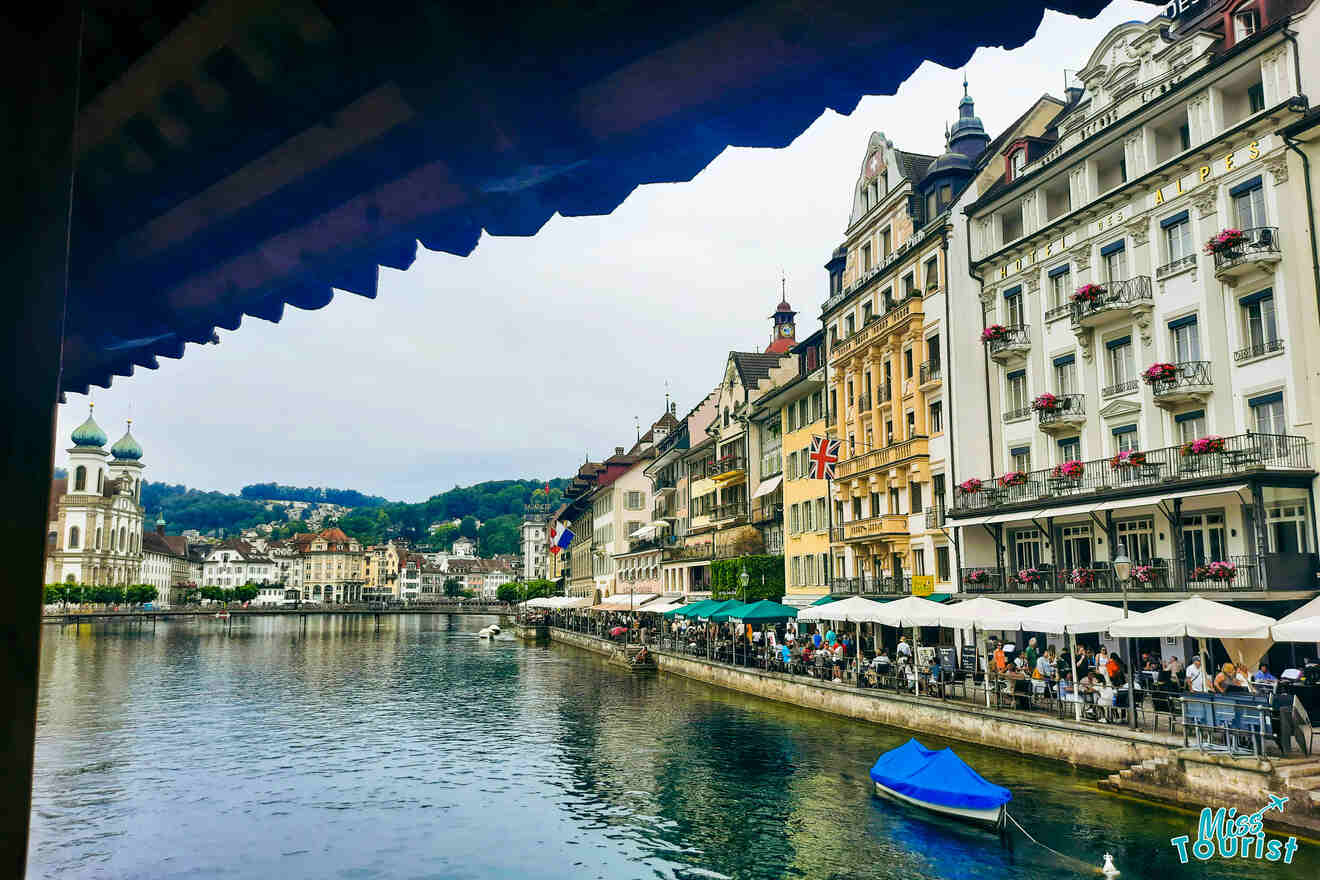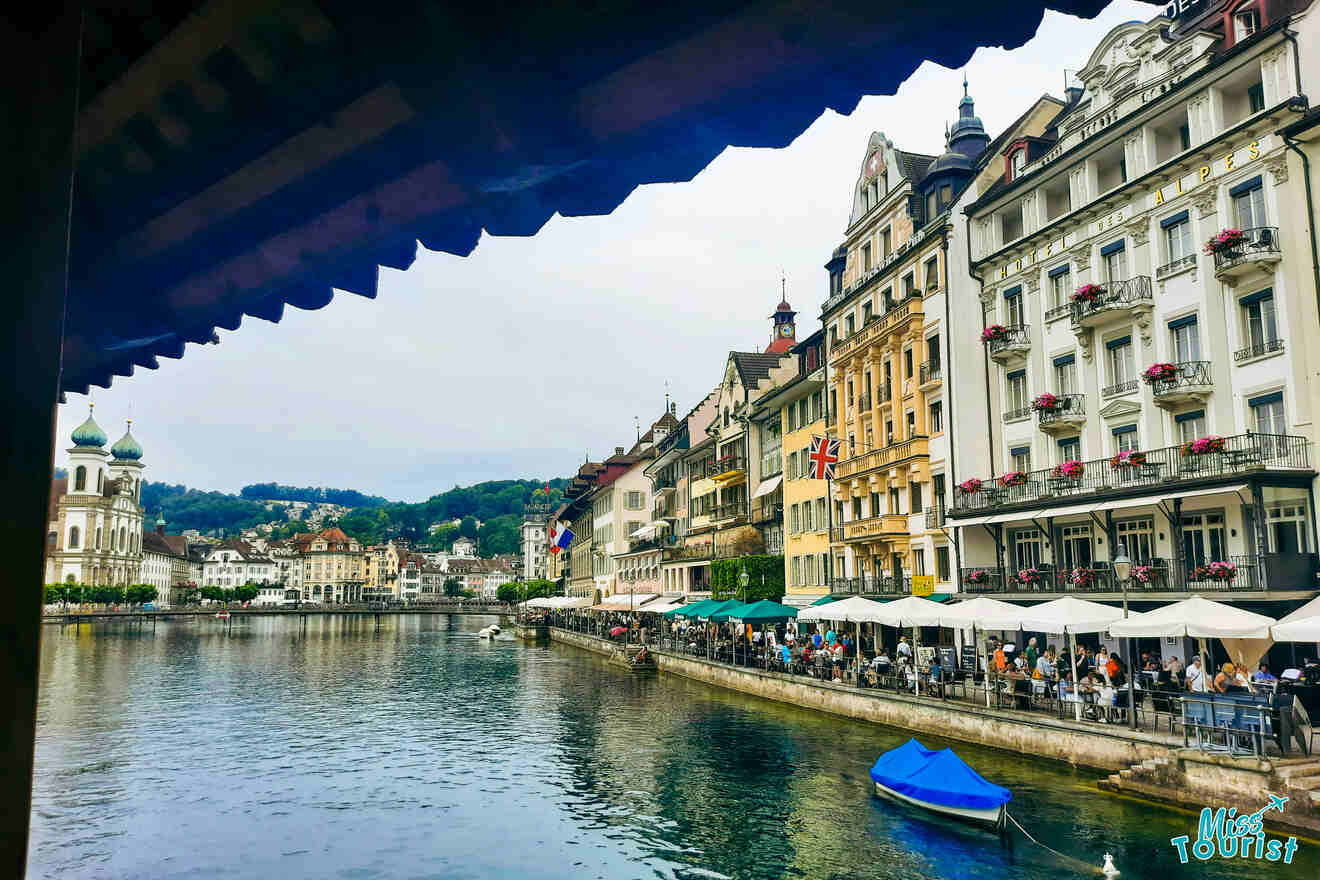 Lucerne Old Town is conveniently located in Lucerne city center. As the name suggests, it's a historic old town with a blend of classical, neo-gothic, and neo-baroque buildings.
It's a pedestrian zone, so you can stroll around the boutique shops and churches carefree. It is here where you'll find Altes Rathaus – the old town hall, the town's fish market, the Chapel Bridge on the Reuss River, Spreuer Bridge, and the Old Town Boulevard, where you can enjoy a cup of coffee with a view.
If this is your first time in Lucerne, Switzerland, I recommend joining a walking tour to learn about the historical significance of each attraction. You'll be in awe of some of the facts you'll hear.
TOUR PRICE: from €21 per person
2. Go on a boat cruise on Lake Lucerne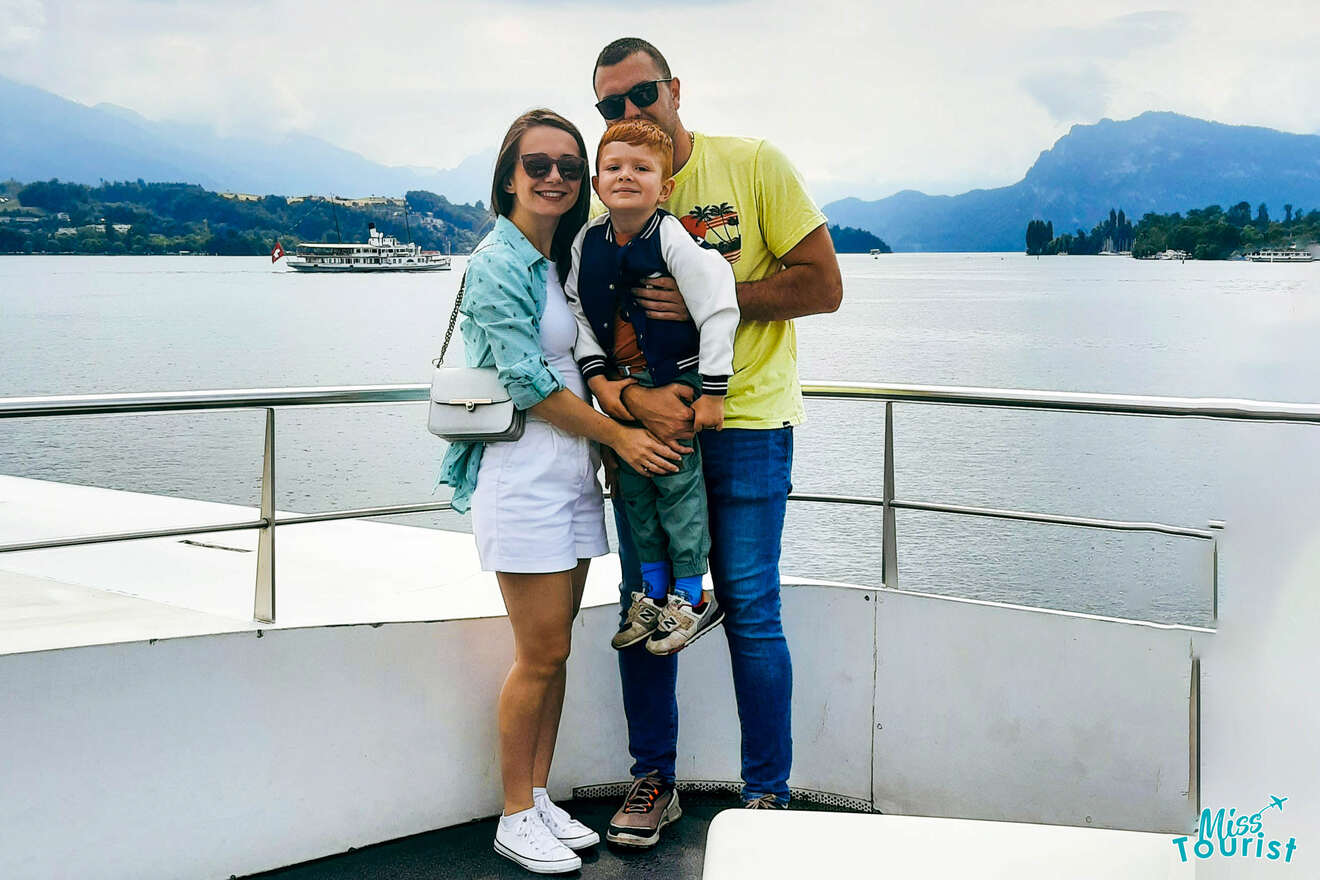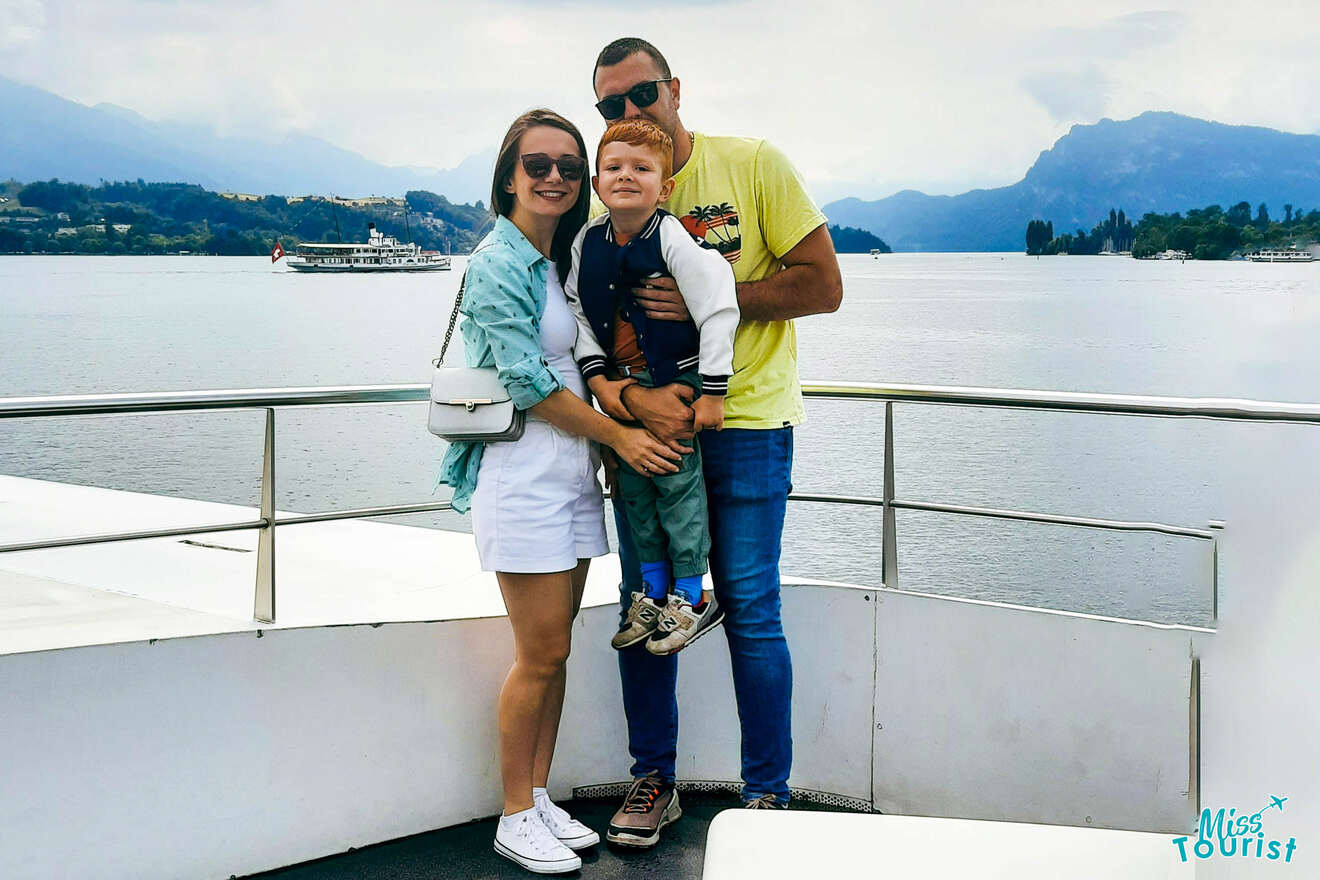 A boat ride on Lake Lucerne is an absolute must-do for everyone visiting Lucerne! You have plenty of choices whether you want to cruise on a catamaran, a yacht, or a regular sightseeing boat, and you can see them all on either Viator or GetYourGuide.
Me and my family went on a 1-hour Lake Lucerne cruise on a yacht, and it was lovely. The yacht departed from Pier 8 from the center (very easy to find) and cruised on the lake with an audio guide available to tell you about significant houses and attractions we passed by or that make Lucerne.
I booked the boat tour for Friday because on weekdays it's cheaper than on weekends. Moreover, on weekends it's incredibly crowded as many tourists flock to Lucerne for a weekend getaway, so expect to wait in line and share the yacht with many other travelers.
NOTE: If you're a Switzerland native, you can use your Swiss Travel Pass to get a reduced fare for boat tours (or any other means of transport, that is). That being said, when booking tours online, pay attention to the tours you choose, as the tour operators highlight the half-fare price by default, which is unavailable to non-residents.
PRICE: from €30 for adults, free for kids
3. Snap a pic at the famous Chapel Bridge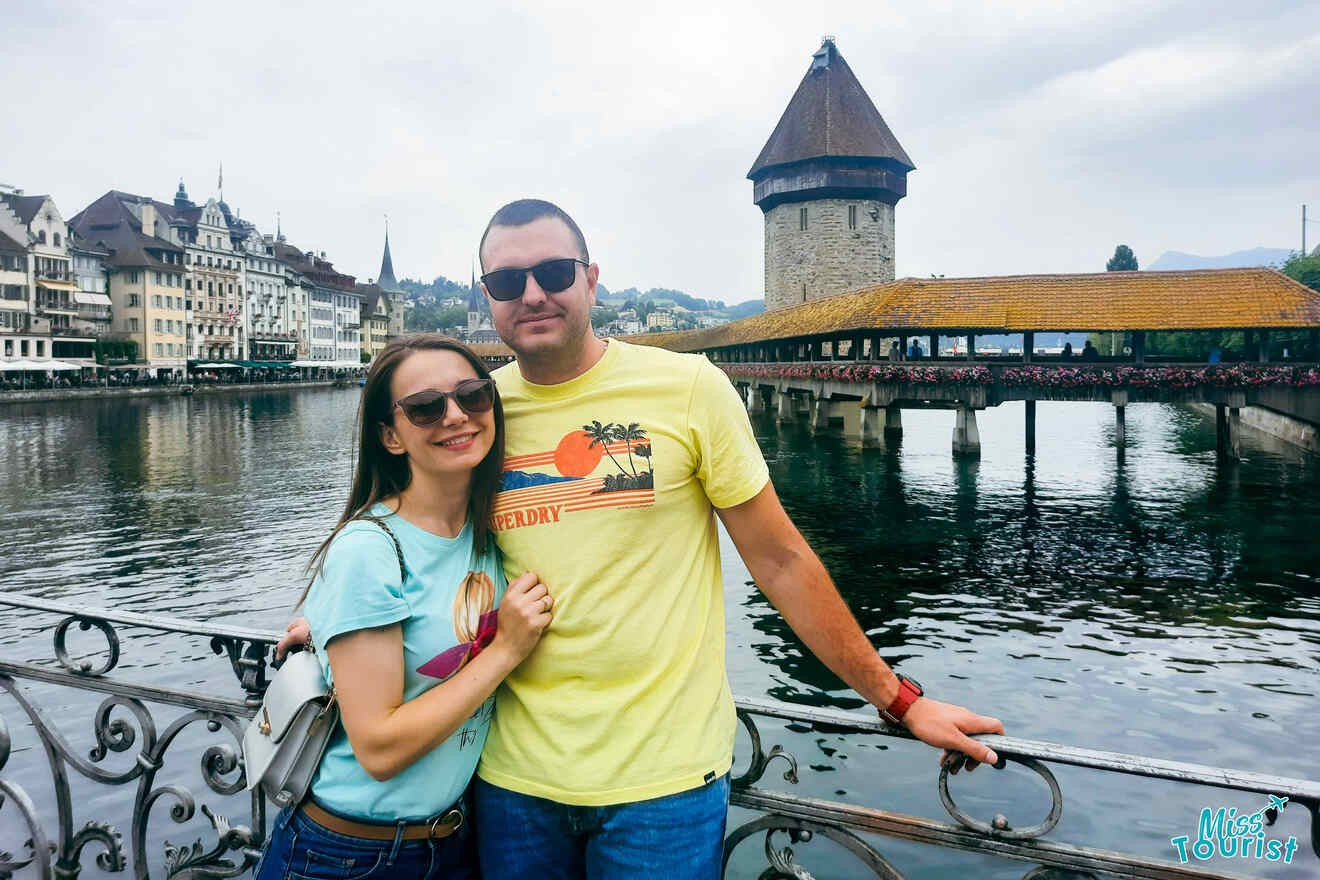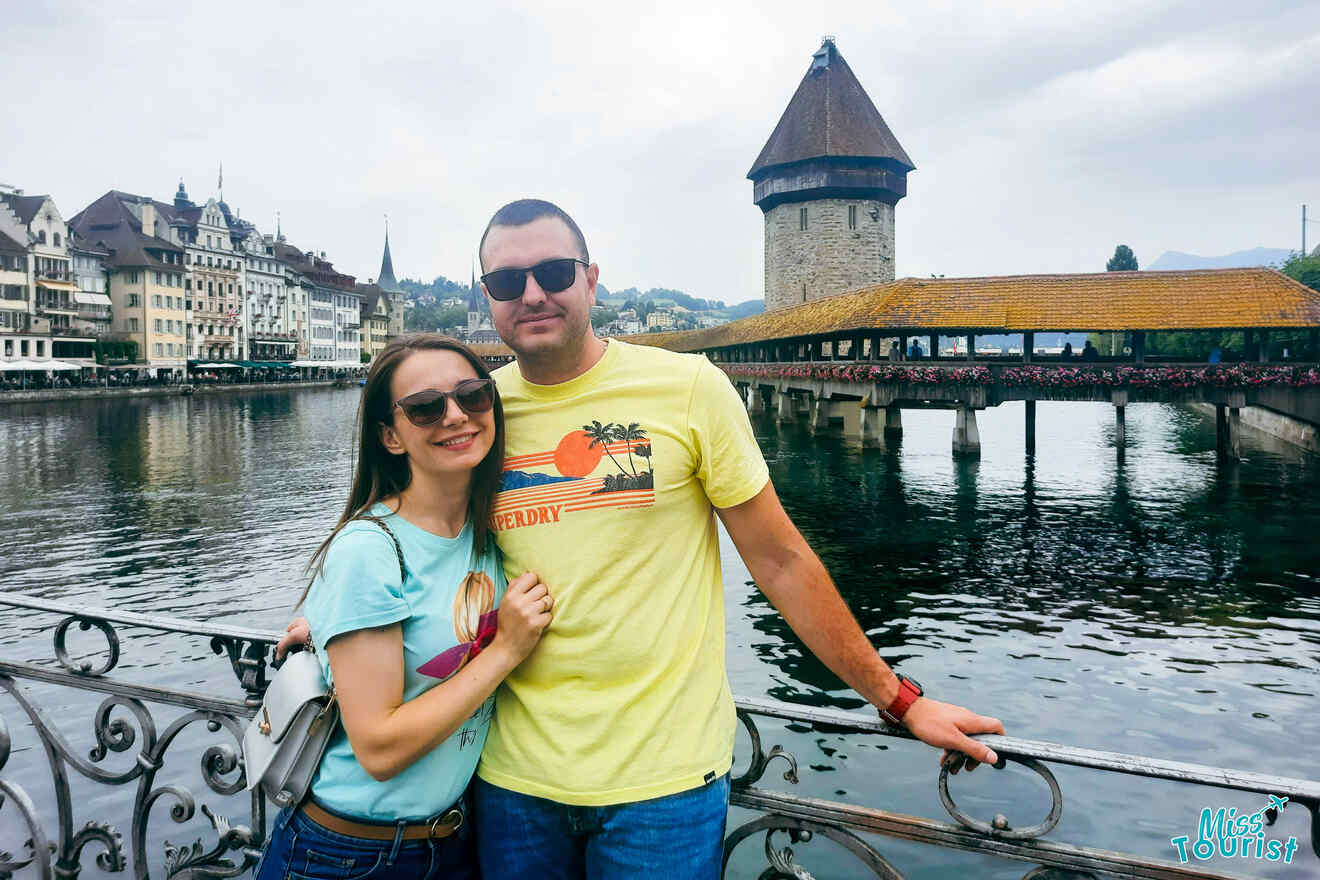 The renowned Chapel Bridge (org. Kapellbrücke) on the river Reusse in Lucerne is Europe's oldest covered bridge and the most photographed tourist attraction in Lucerne.
Chapel Bridge was initially constructed as part of the town's fortification along with the Water Tower that was built about 30 years before the bridge, and throughout history, it served as a prison with a cell below water level, a torture chamber in the attic, and a treasury room and municipal archive – all of which today is closed to the public.
However, what makes this covered wooden bridge most iconic is the cycle of paintings (originally 158) depicting scenes from the history of ancient Switzerland and Christendom. Unfortunately, a fire that broke out in 1993 destroyed a large part of the bridge and the art.
The bridge had been reconstructed in only 8 months, but only 47 of the paintings remained.
PRICE: free
4. Pay your respects at the Lion Monument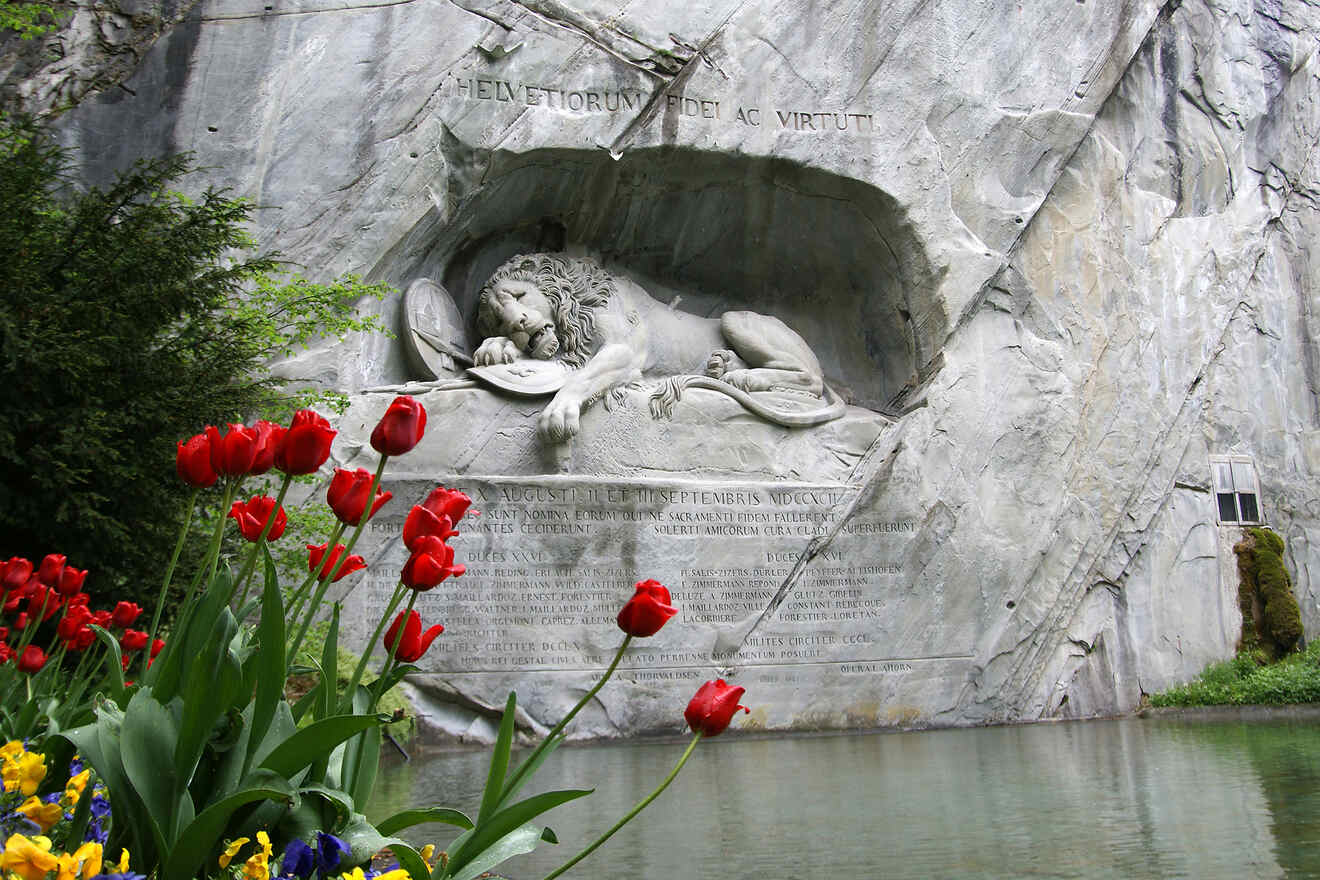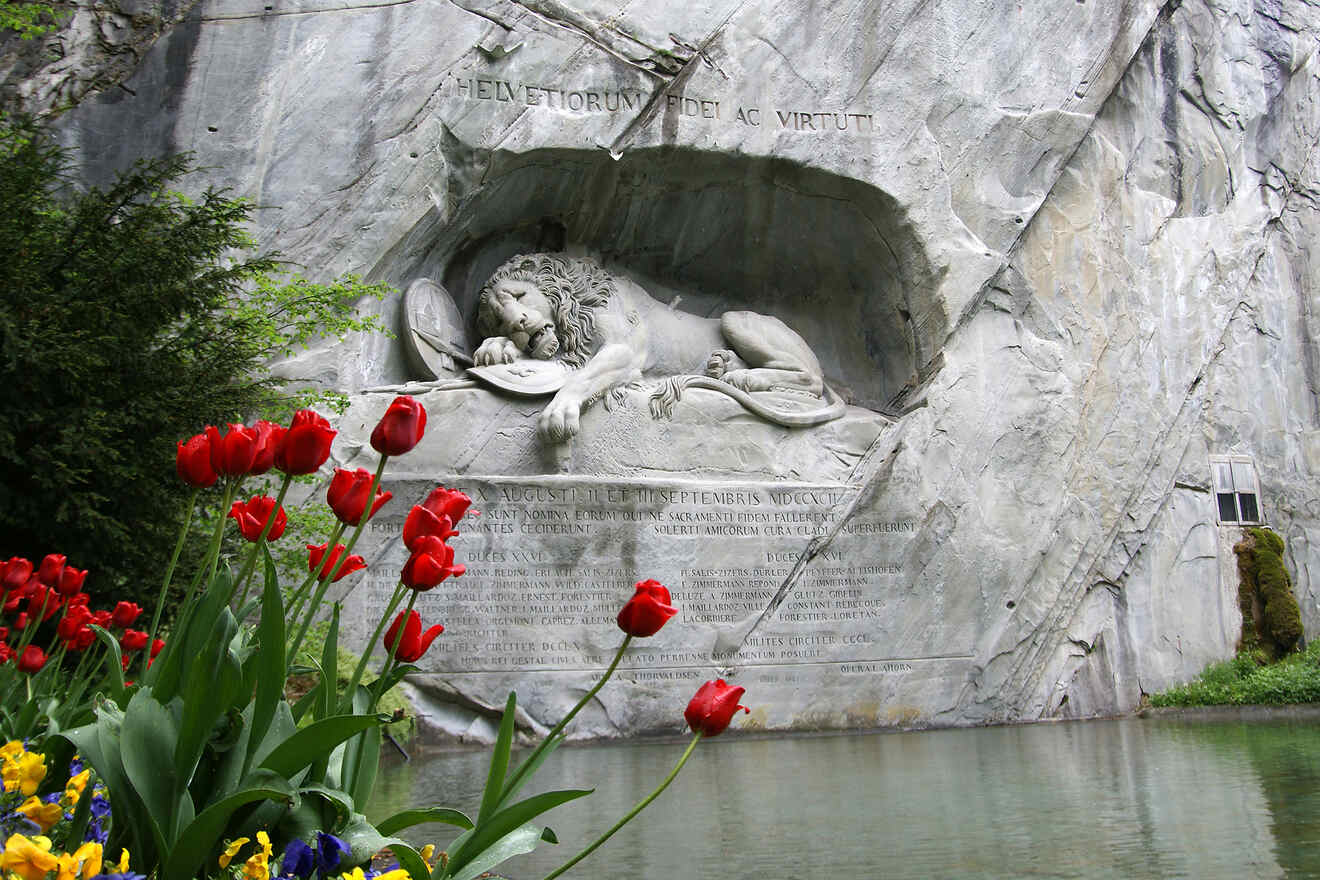 Another one on our list of must-sees is the Lion Monument, located only a short 5-min stroll from the Chapel Bridge.
The touching masterpiece of a dying lion carved into a rock is a memorial to the Swiss Guards who lost their lives defending the French King Louis XVI during the French Revolution in 1792.
The Lion of Lucerne is the most mournful and moving piece of stone in the world. ~ Mark Twain
This one is a saddening sight to behold, with the lion's agony carved so realistically that you almost feel it yourself. The tranquility of the sight, with a small lake beneath the carving, just adds to the general atmosphere.
5. Learn history at the Swiss Museum of Transport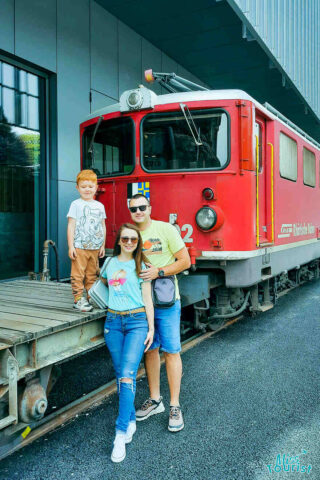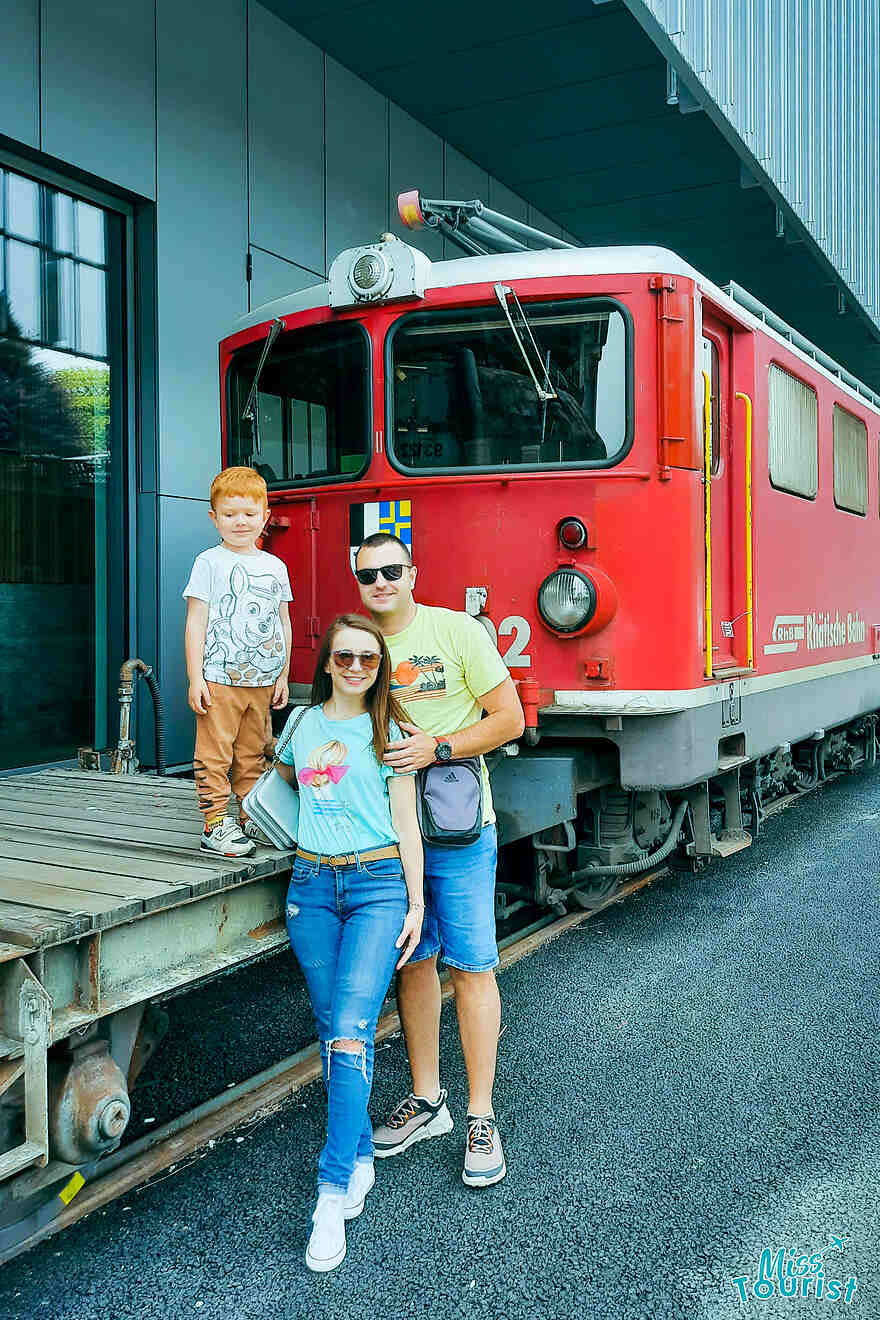 The Swiss Transport Museum opened in 1959 and is one of the most visited museums in Switzerland today.
It features over 3,000 objects and means of transport on road, on rail, and on water, not excluding the air and space.
I highly recommend coming here with the whole family and going for the day pass, which covers everything the museum offers: the regular and interactive exhibits, the film theater, the planetarium, and the Swiss chocolate adventure telling the story of chocolate with a focus on transport.
Yes, the Swiss managed to give a sweet chocolate touch even to transport! Unbelievable!
DAY PASS PRICE: €63 for adults, from €13 for children
6. Hop on a cable car to Mount Pilatus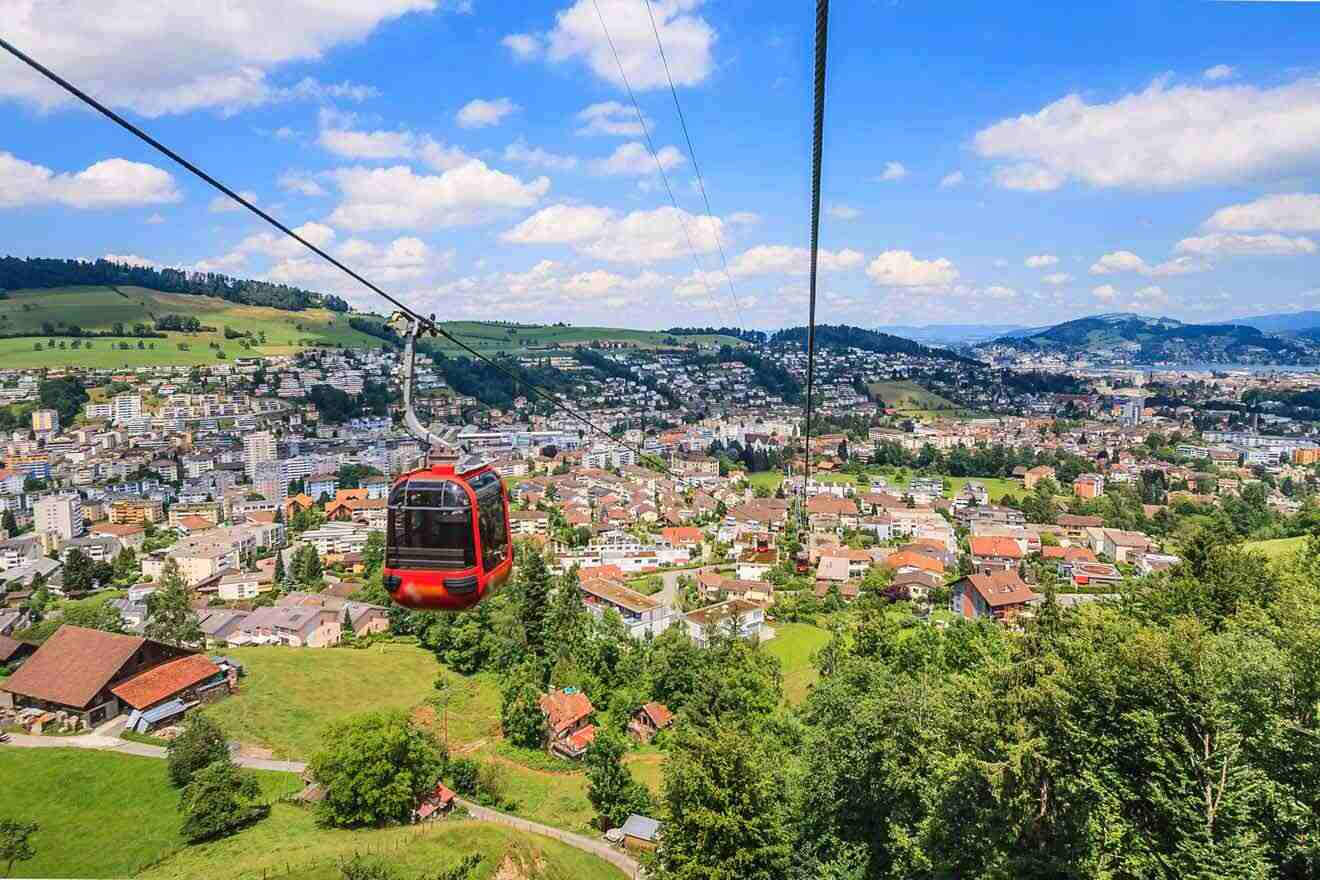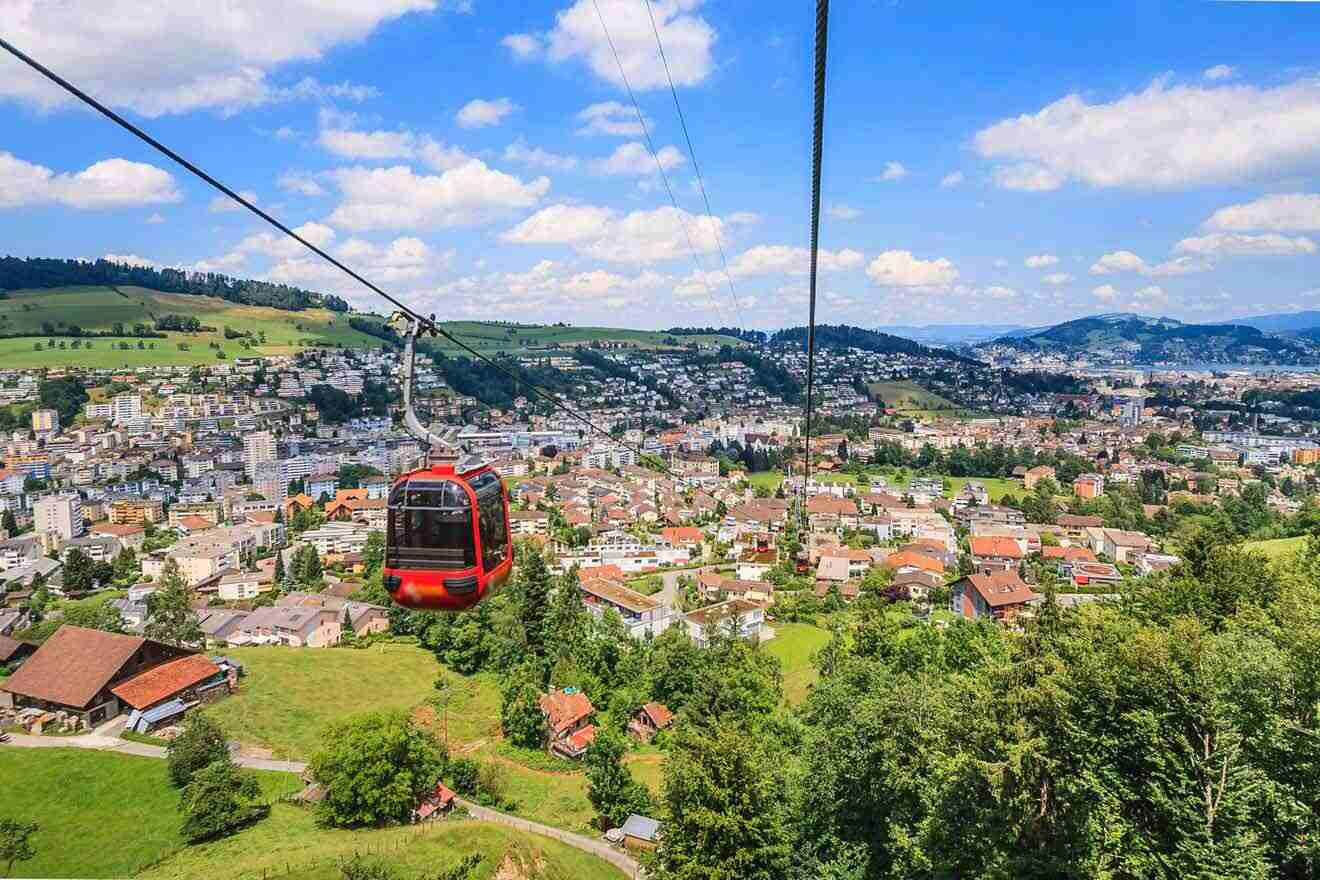 This journey will eat up your whole day, but it's well worth it! The impressive Mountain Pilatus is a massif overlooking Lake Lucerne. But it's not the stunning vistas of the lake that make this attraction rewarding – it's the journey up & down the mountain.
To make things easier (and cheaper) for yourself, join this 5.5-hour tour that starts in Lucerne, takes you up Mount Pilatus on an aerial cable car, and (wait for it…) takes you down the mountain on the world's steepest cogwheel train. Now that's what I call legendary!
You'll wrap up the journey with a cruise on Lake Lucerne and call it a day.
TOUR PRICE: from €148 per person
7. Travel back in time to Glacier Garden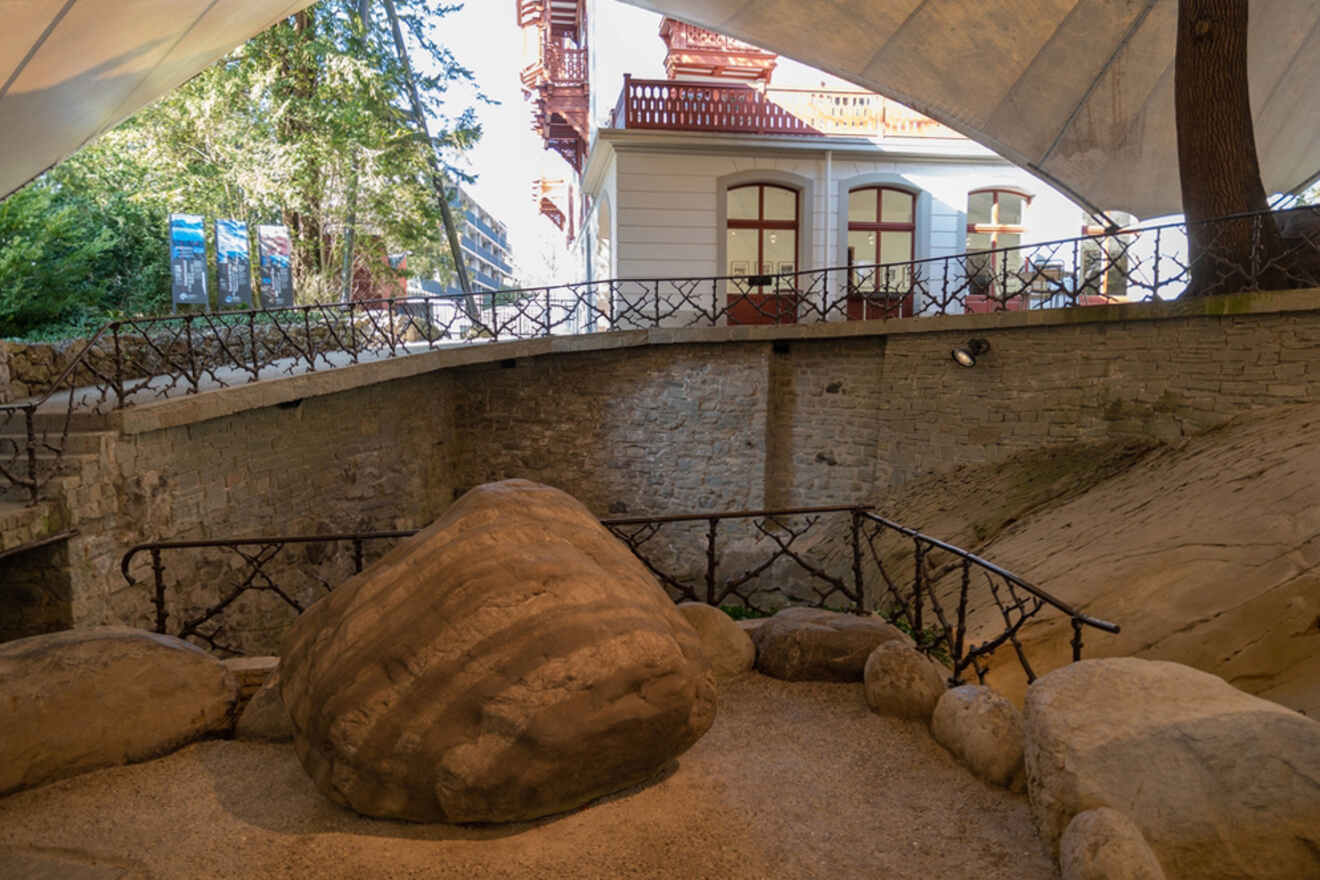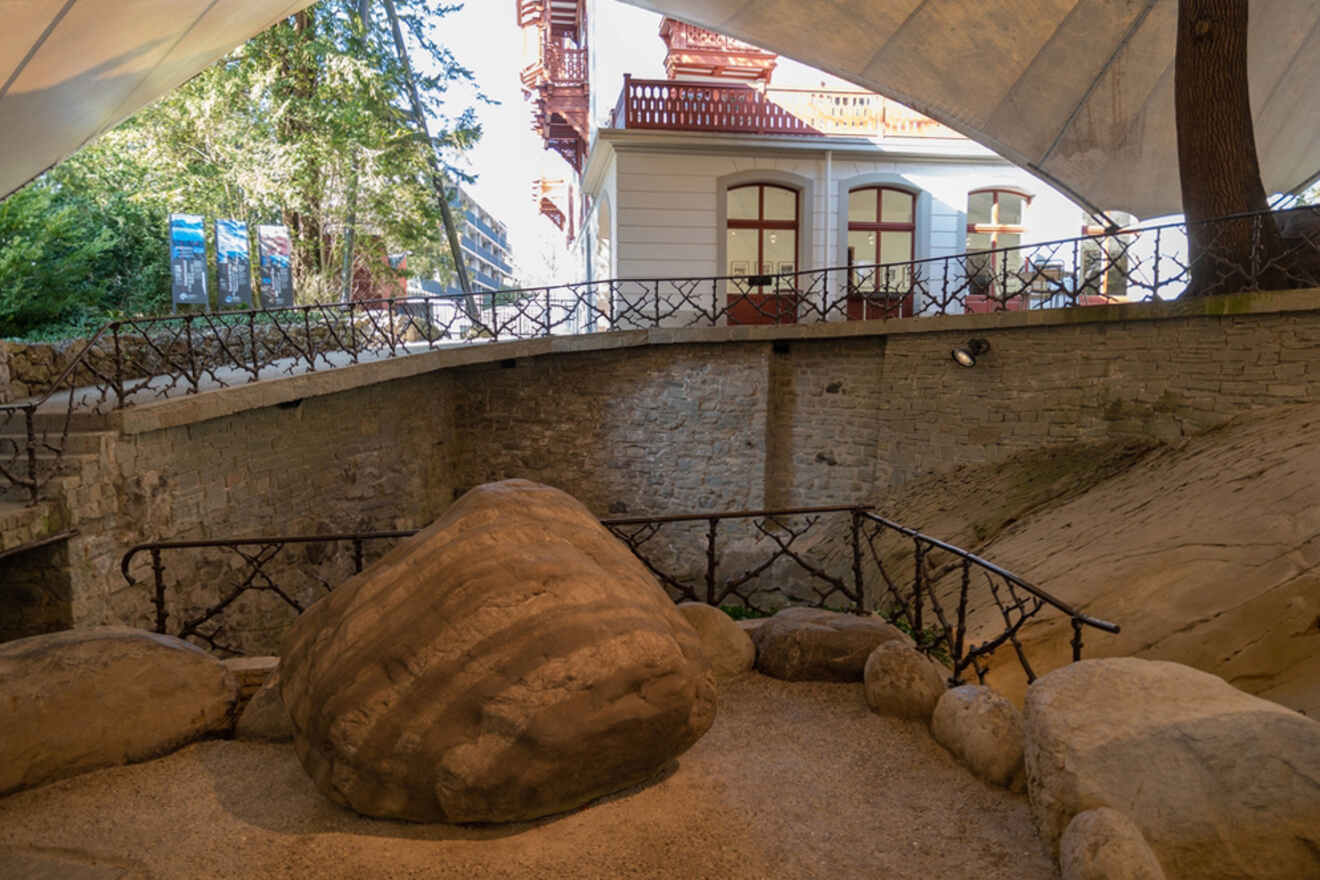 The Glacier Garden in Lucerne is such a fun thing for the whole family to explore. Unlike regular museums, this complex is so varied that everyone is bound to enjoy it.
Here's what you can expect to find and see:
Glacier Garden is located right next to the Lion Monument, and the open hours are April through October from 10 AM to 6 PM and November through March from 10 AM to 5 PM.
PRICE: €23 for adults, €13 for kids
8. Pause for a moment at Hofkirche (Church of St. Leodegar)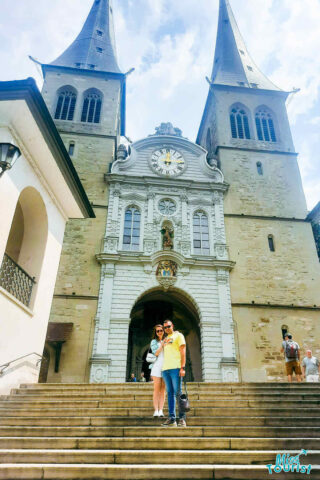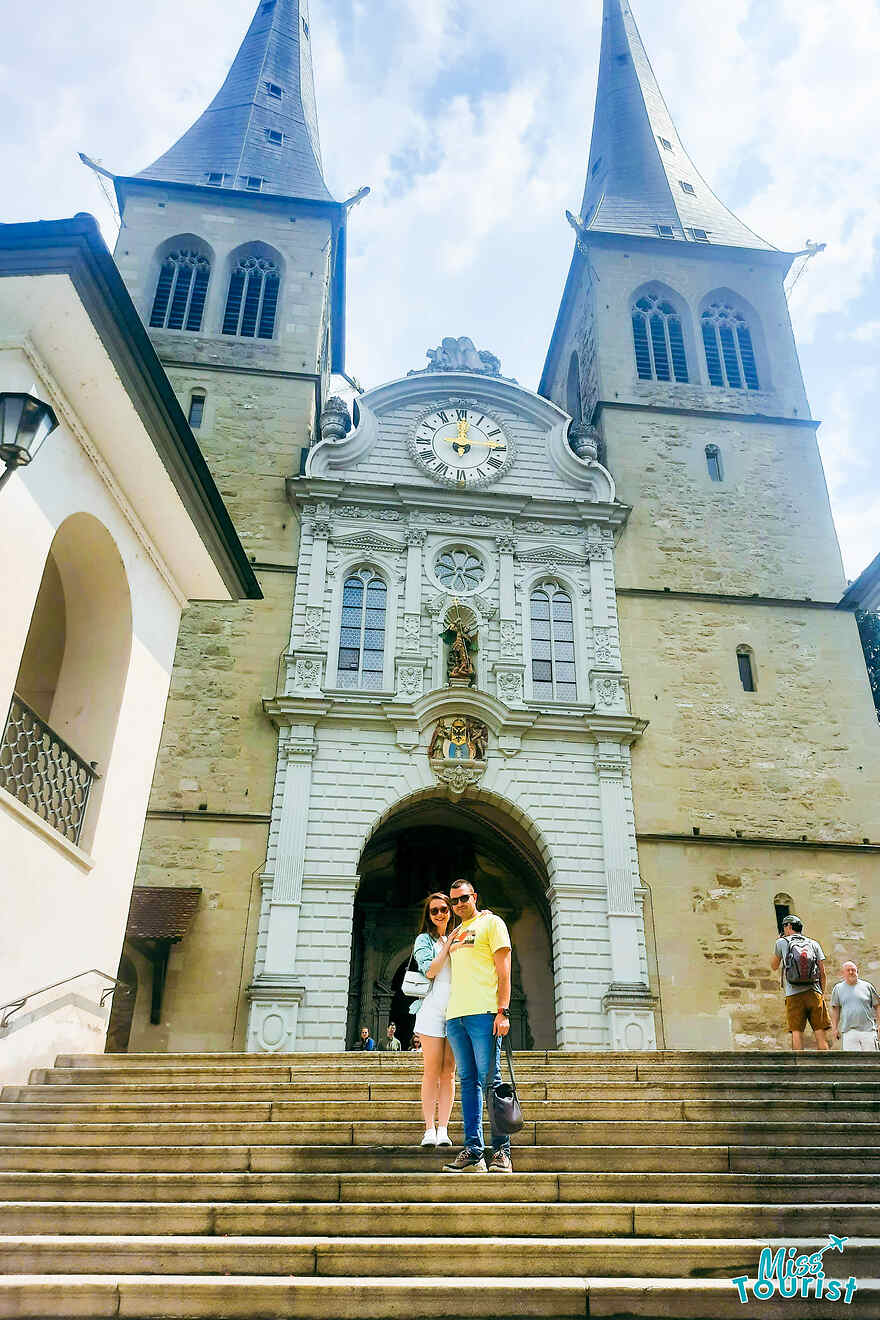 When in Lucerne, it's impossible to miss the Church of St. Leodegar, with its 2 captivatingly high Gothic-style towers visible from different points in town and making you wonder what they are.
To satisfy your curiosity and feast your eyes on splendid Italian Renaissance-style architecture, I advise you to make a plan to find Lucerne's oldest church. It's right in the heart of the city center and a calming place to pause for a moment.
When done, stop for lunch at a restaurant. I recommend Hofgarten or Hotel Restaurant Rebstock, in front of the church. The food was delicious, the staff was very welcoming, and the views of this important Renaissance church were delightful.
PRICE: free
9. Ride the cog railway up Mount Rigi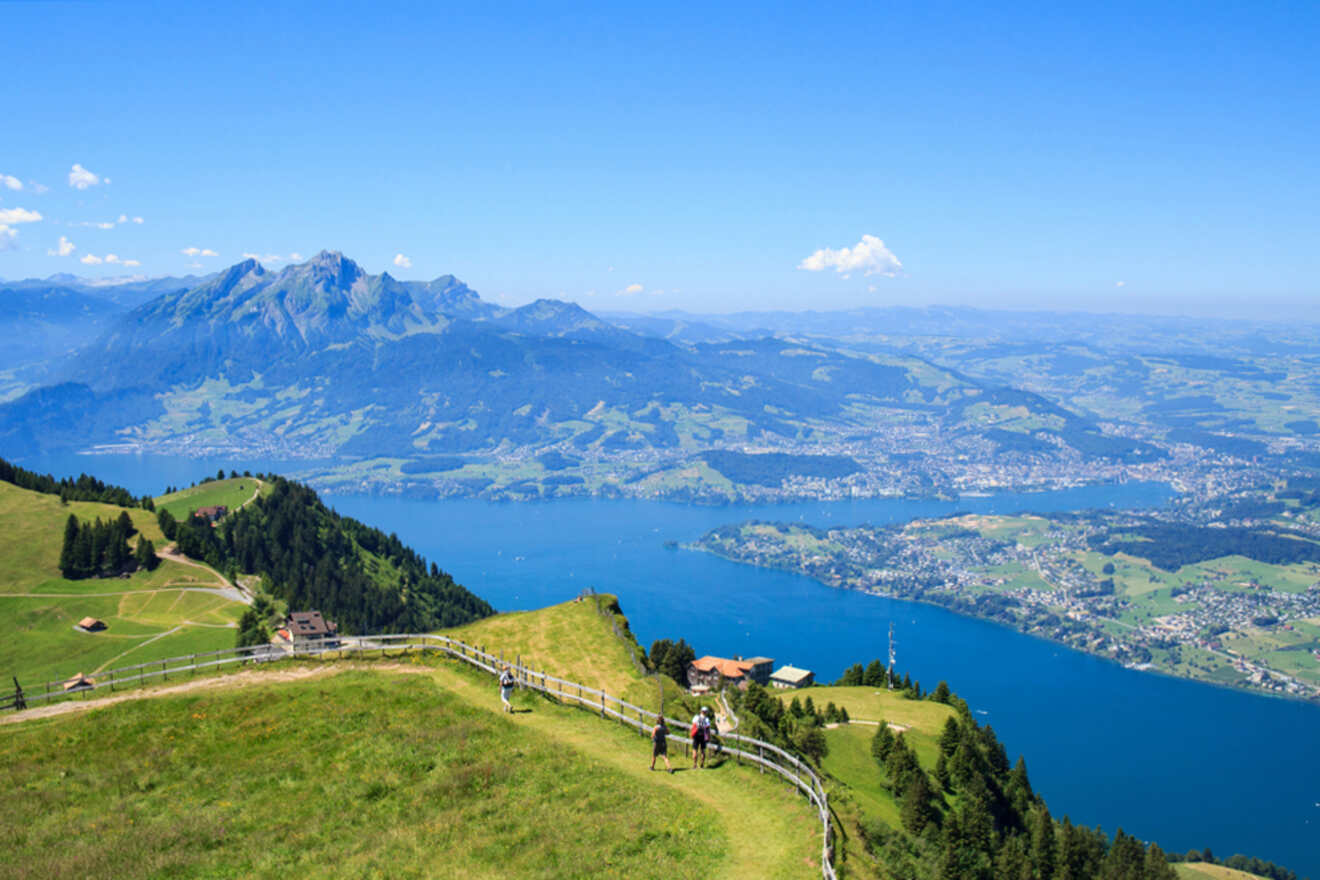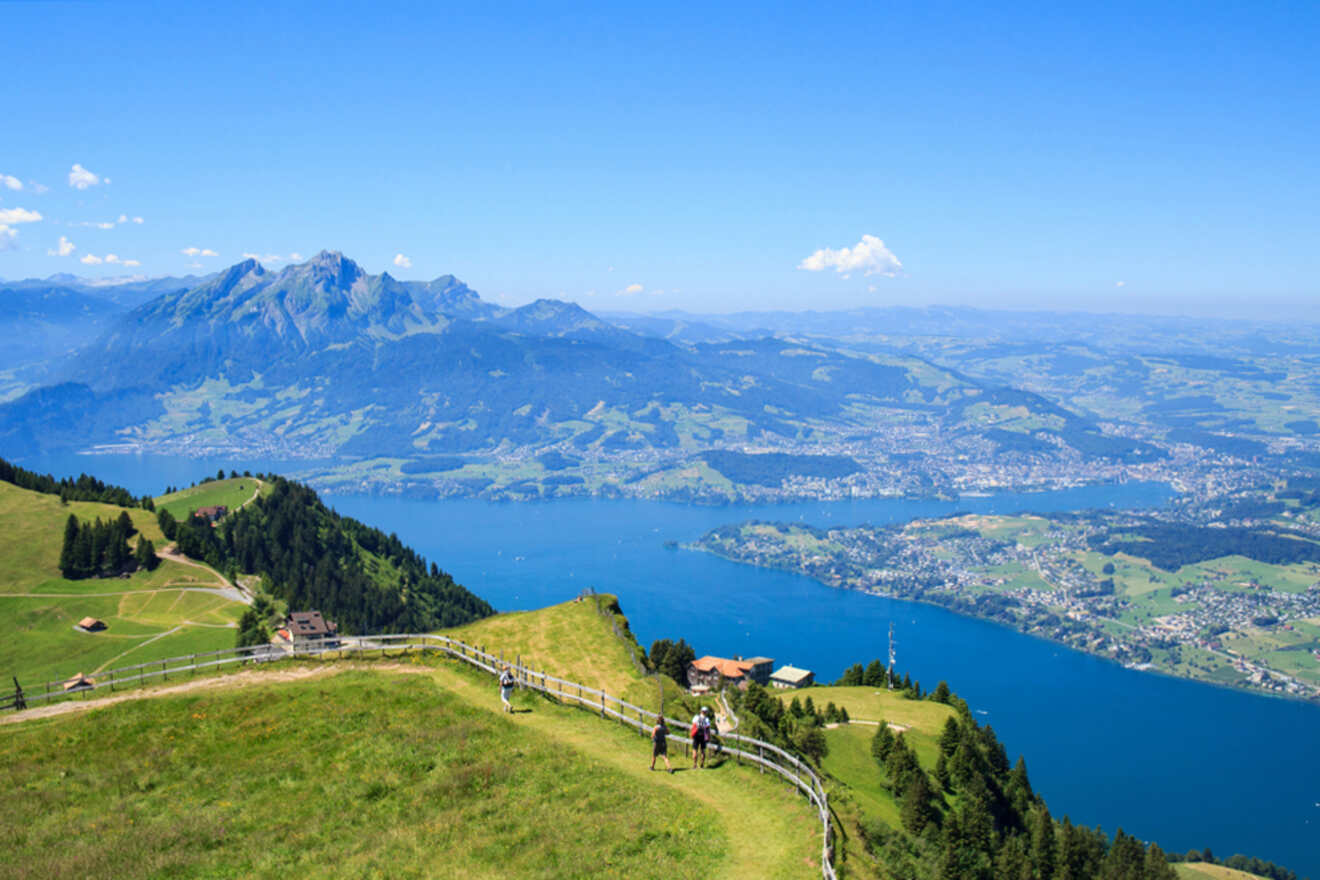 This attraction will take a good portion of your time, but it's well worth it. I mean, isn't the impression everyone has about Switzerland all about mountains, greenery, and scenic rides on trains?
The climb to Mount Rigi, the Queen of the Mountains, is so much more than just a ride. You have different options on how you want to reach the top, some of which include a ride on the first mountain railway in Europe from Vitznau, a combo ride on the rack railway from Goldau and taking a cable car at Kräbel, or a cable car ride from Weggis.
Whatever option you choose, you'll be rewarded with impressive views of the lake and the surrounding mountains that make Switzerland what it is.
PRICE: from €82 per person
10. Admire art at Rosengart Collection Museum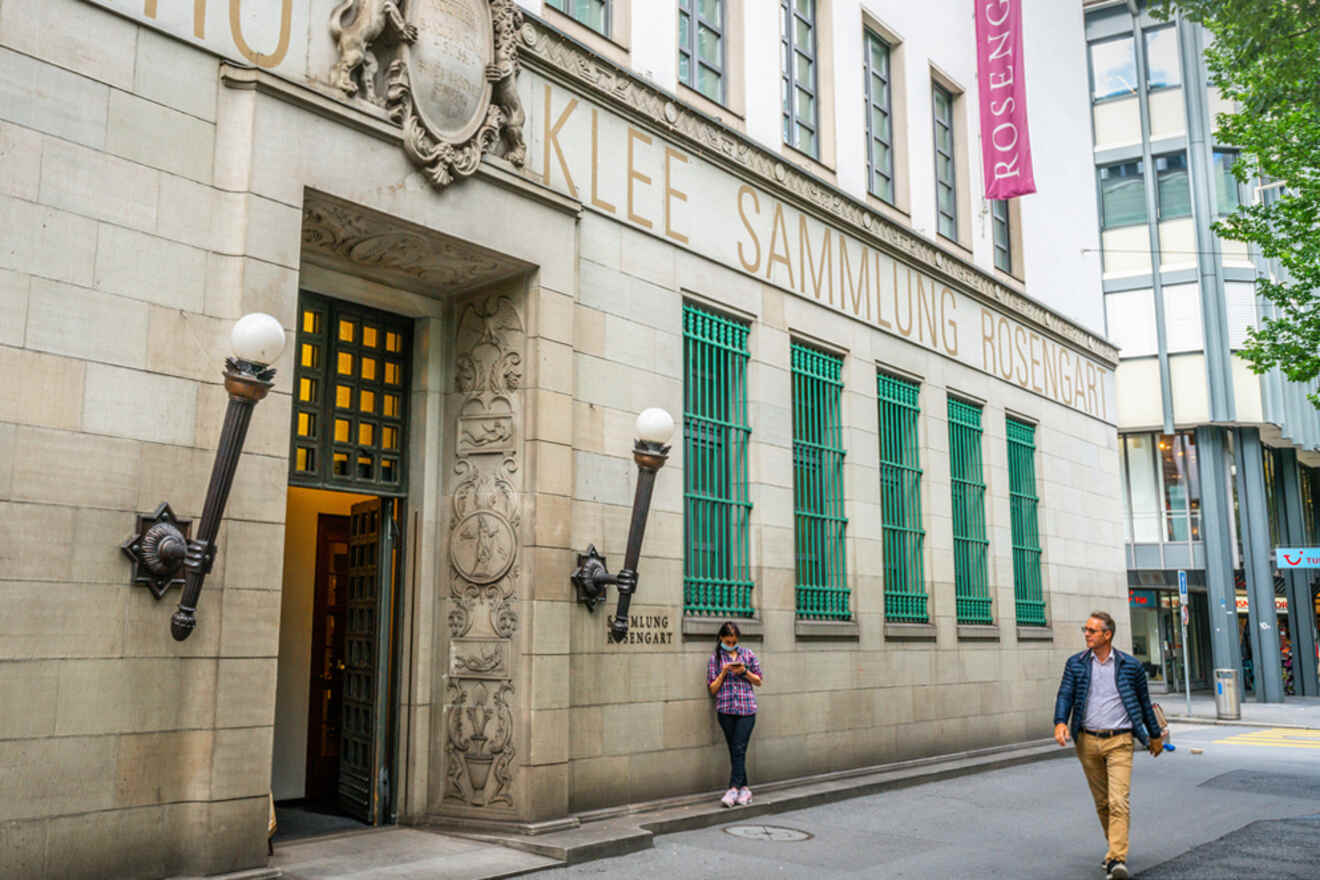 Rosengart Collection Museum (Museum Sammlung Rosengart) is a modern art museum featuring works predominantly from Paul Klee and Pablo Picasso, but you can also find artwork from Pierre Bonnard, Georges Braque, Alexander Calder, Paul Cézanne, and many others.
This museum pays tribute to these amazing artists and is a must-stop for all art connoisseurs and art lovers.
The museum is wheelchair accessible and open from April to October from 10 AM to 6 PM and November to March from 11 AM to 5 PM daily. The only time it closes is during the Fasnacht carnival.
PRICE: €21 per person
11. See Musegg Wall and its nine towers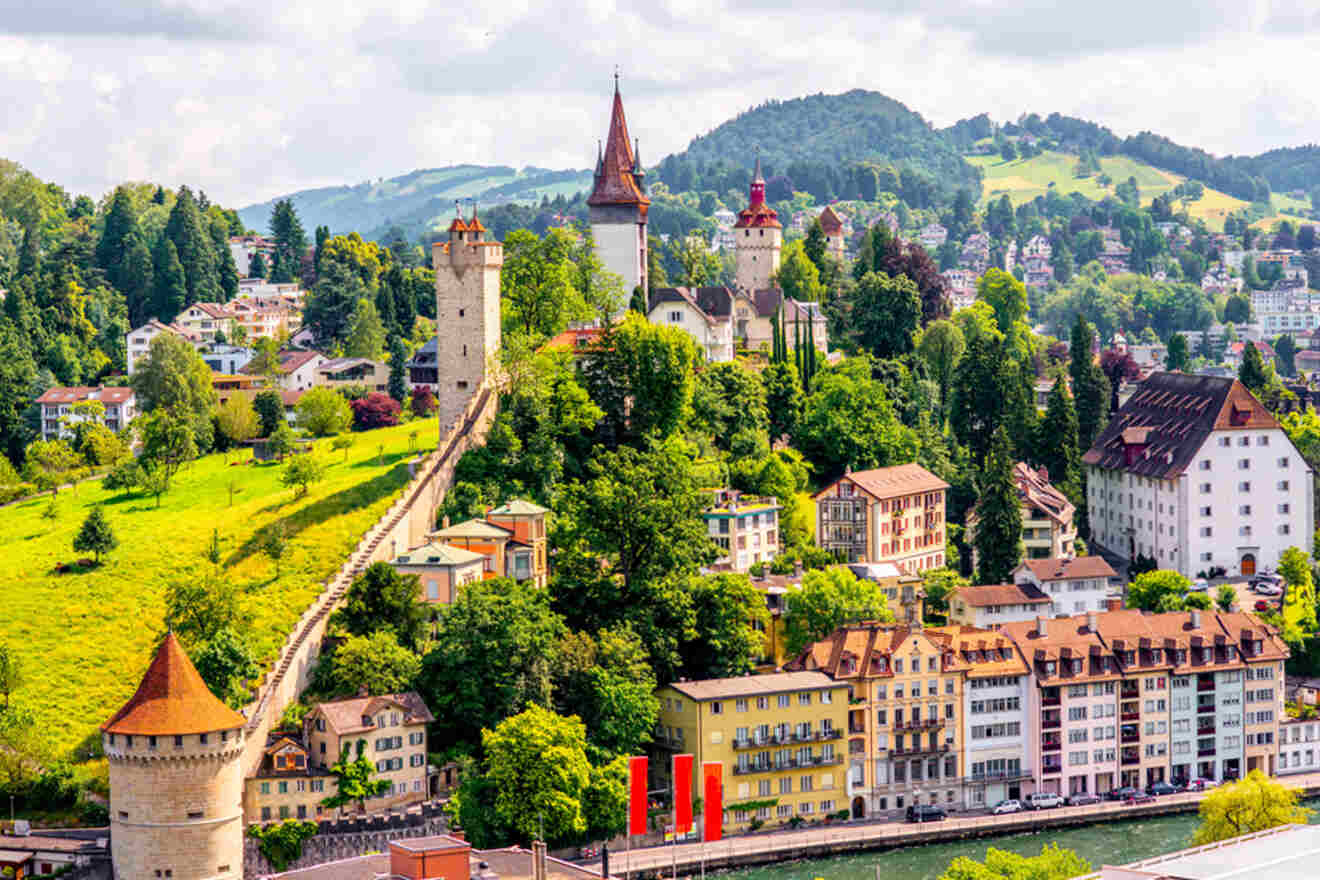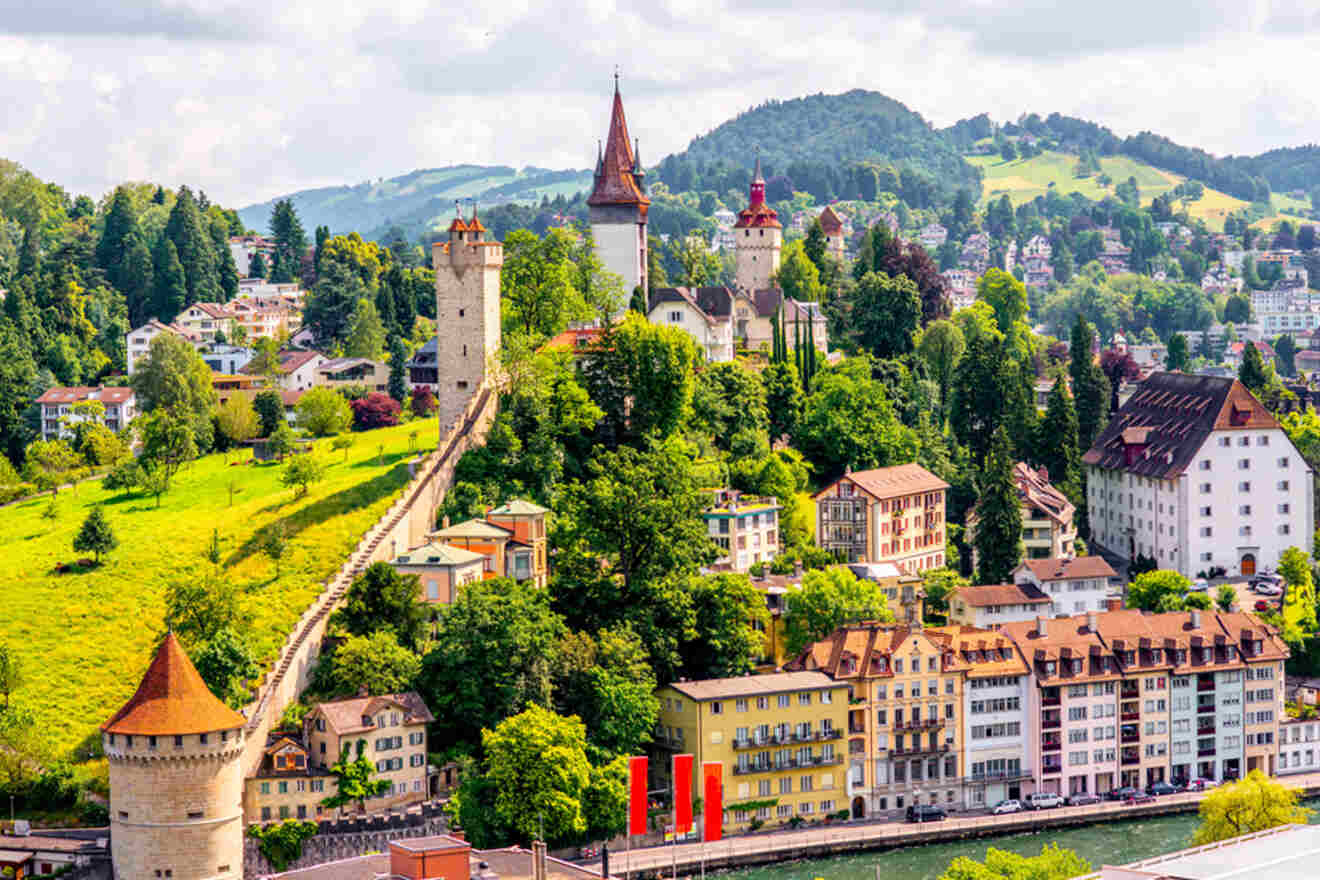 Musegg Wall (Museggmauer) and its 9 towers are a precious gem that you have to hunt down when visiting Lucerne, and I highly advise you to do it on a walking tour.
The historical significance of this attraction is so grand that you'll be glad to learn every single detail. It was part of the city's fortification and a symbol of power back in the Middle Ages. It counts 9 towers, the tallest being The Luegisland Tower which served as an observation tower.
Today, the Musegg Wall is home to rare bird species and incredible flora and fauna, but I'll let you discover more of its secrets on your own.
The opening hours are April through November from 8 AM to 7 PM, and admission to the wall itself is free.
TOUR PRICE: from €310 per person
12. Pay tribute to the maestro at Richard Wagner Museum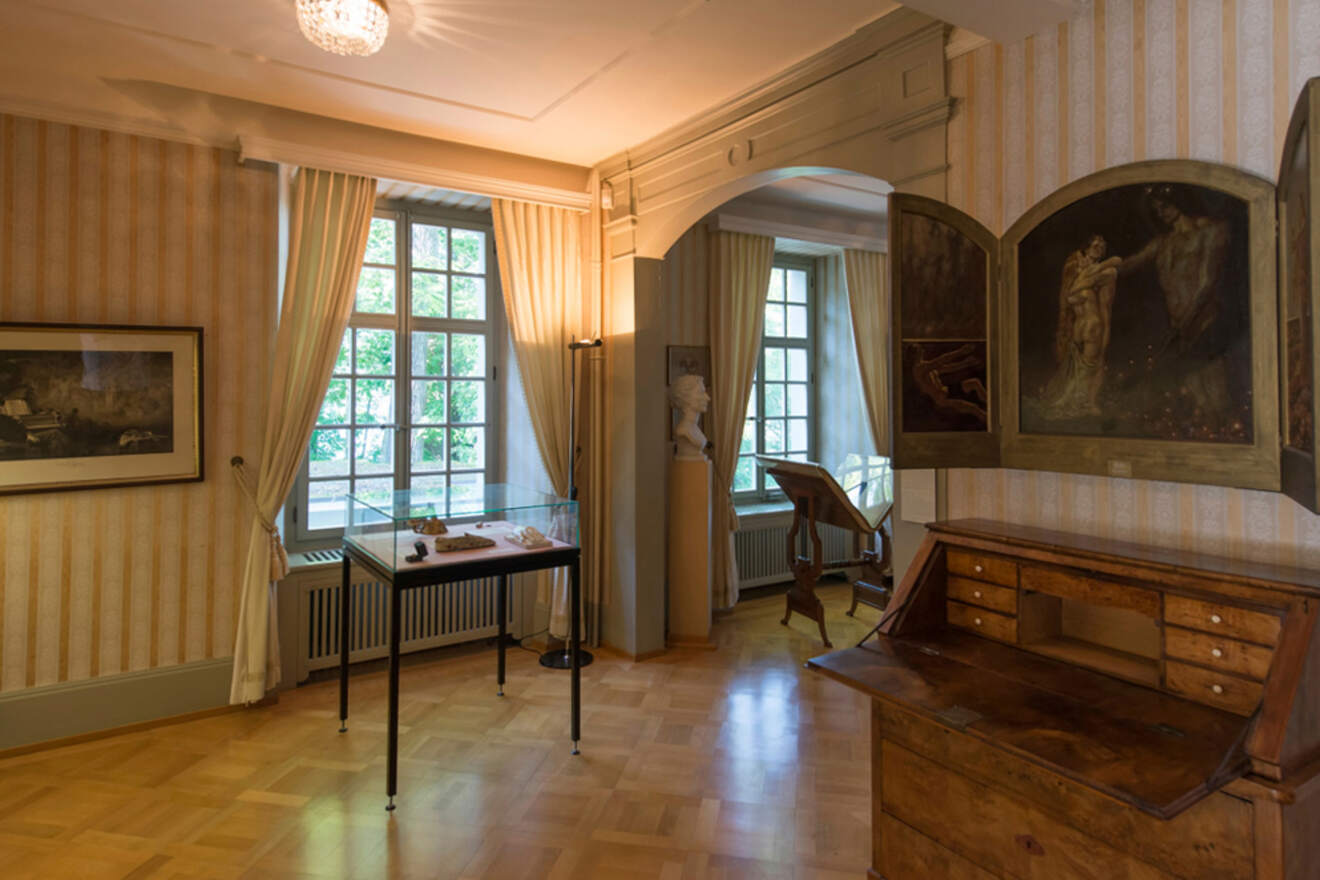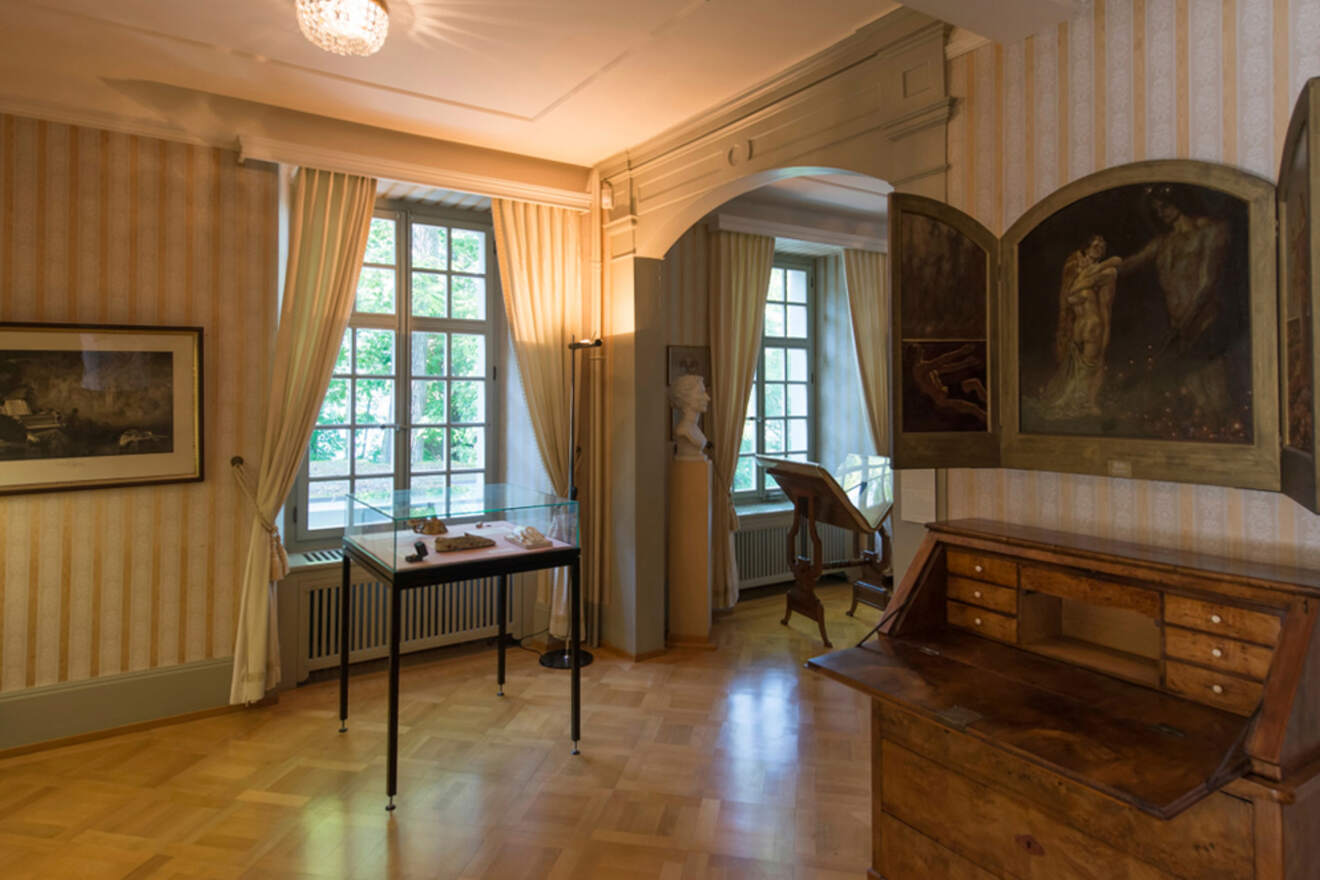 The Museum of Richard Wagner is located in Tribschen, an area of Lucerne, and right on the shore of the lake. It is the very same house that Richard Wagner lived in with his family from 1866 to 1872 and where he composed the operas Die Meistersinger von Nürnberg and Siegfried.
Today, the museum hosts permanent and rotating exhibits and even concerts sometimes. While it is a museum that can be attended with children, I advise you to leave the kids at home because the musical significance of this virtuoso is better understood in silence.
It is open Tuesday through Sunday from 11 AM to 5 PM. Winter break is usually from December to April.
PRICE: €13 per person
13. Visit the Jesuit Church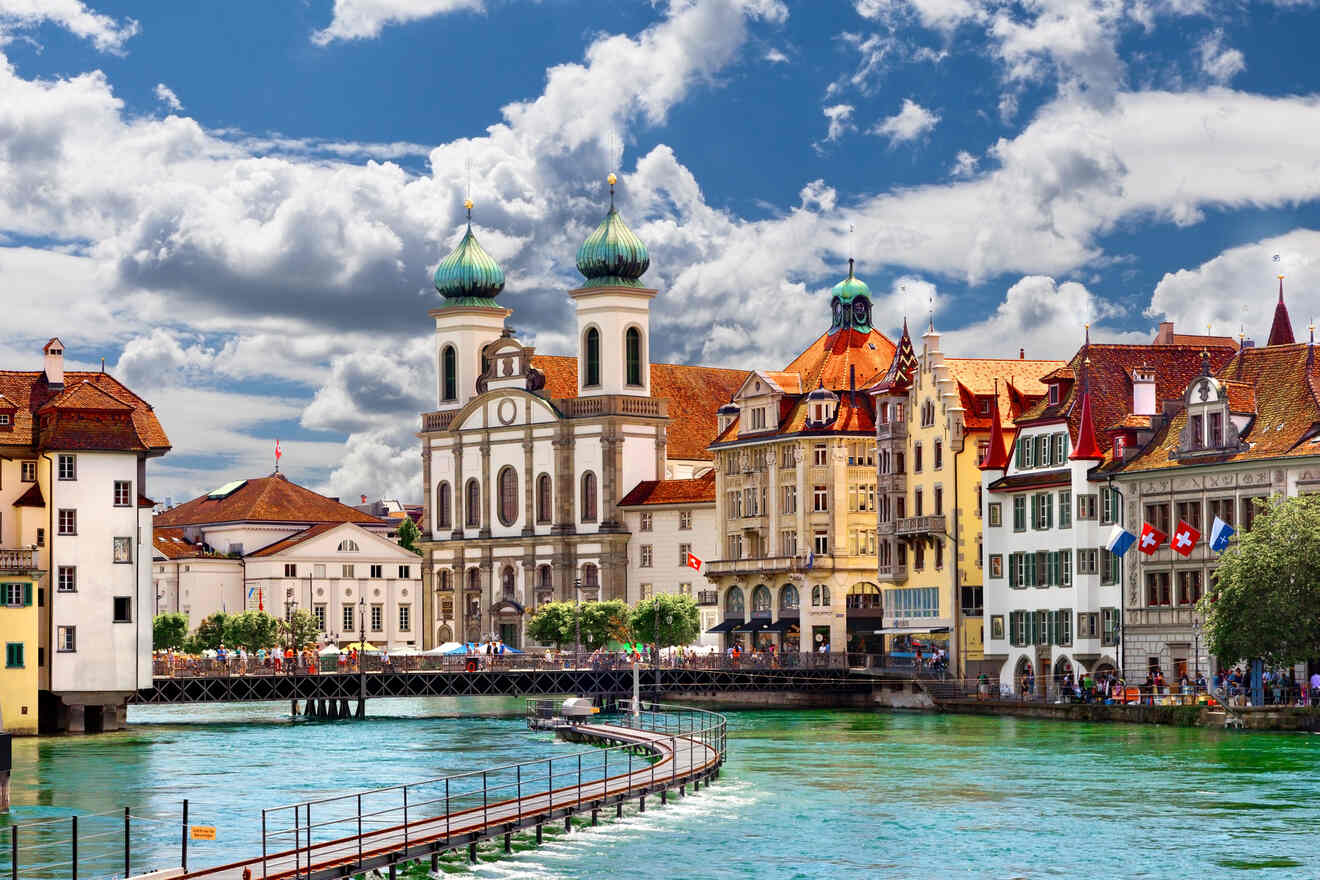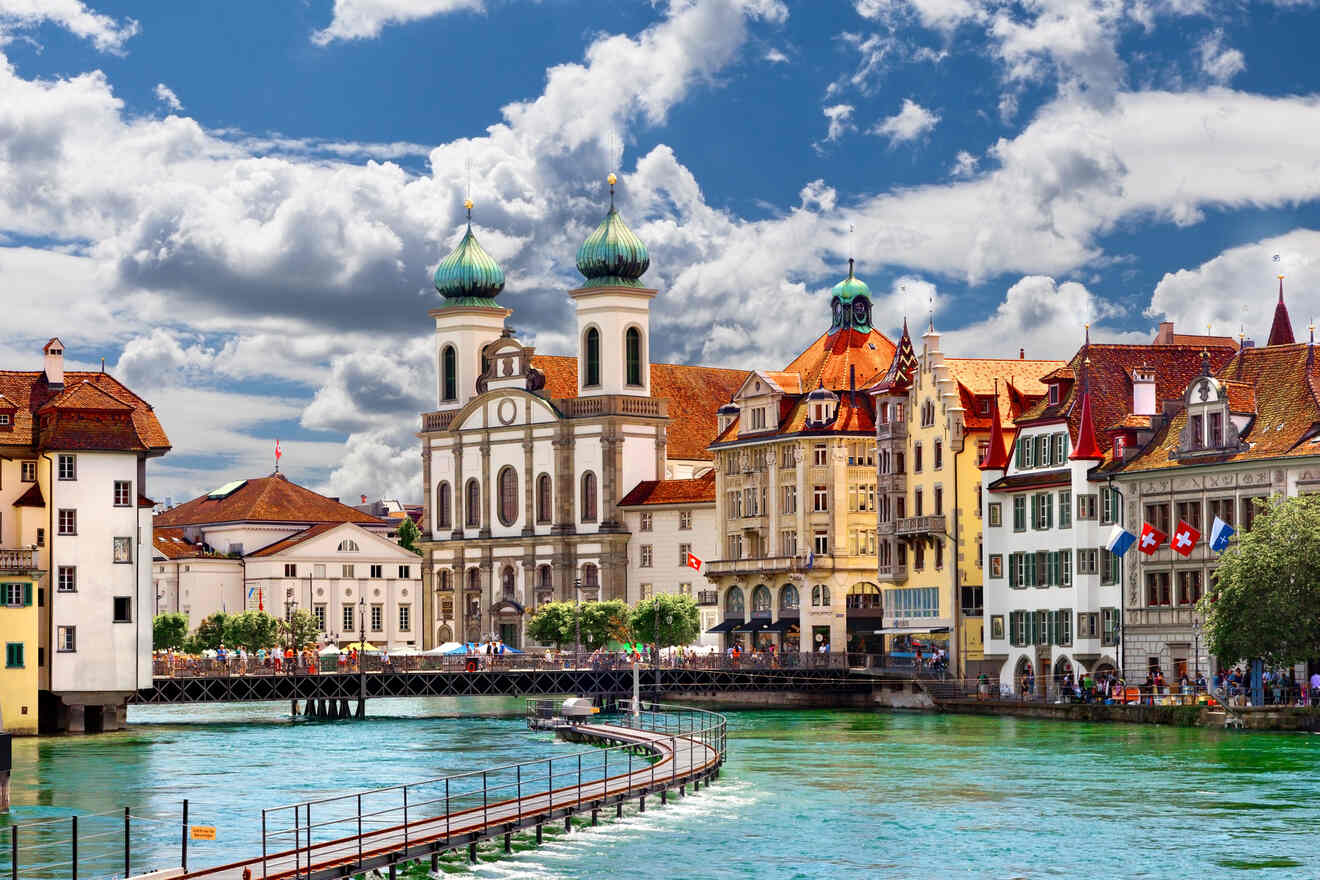 The Jesuit Church is the first Baroque-style holy building not only in Lucerne but in Switzerland. It is located on the bank of River Reuss, and it's an unmissable sight (an amazing photo backdrop, too!).
Nowadays, apart from its regular purpose, the church also serves as a concert venue and a school for organists.
PRICE: free
14. Marvel at the feat of Lucerne Culture and Congress Centre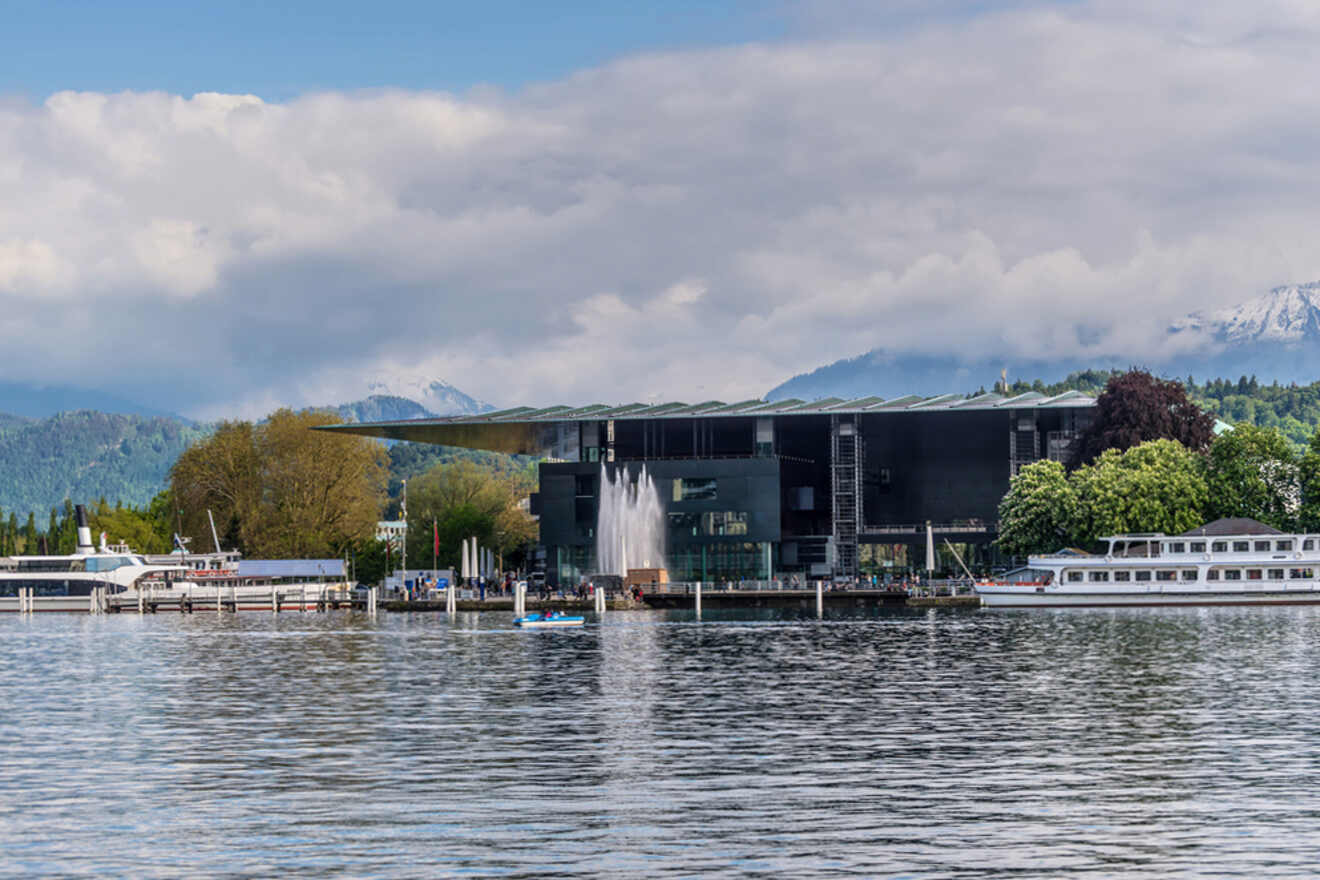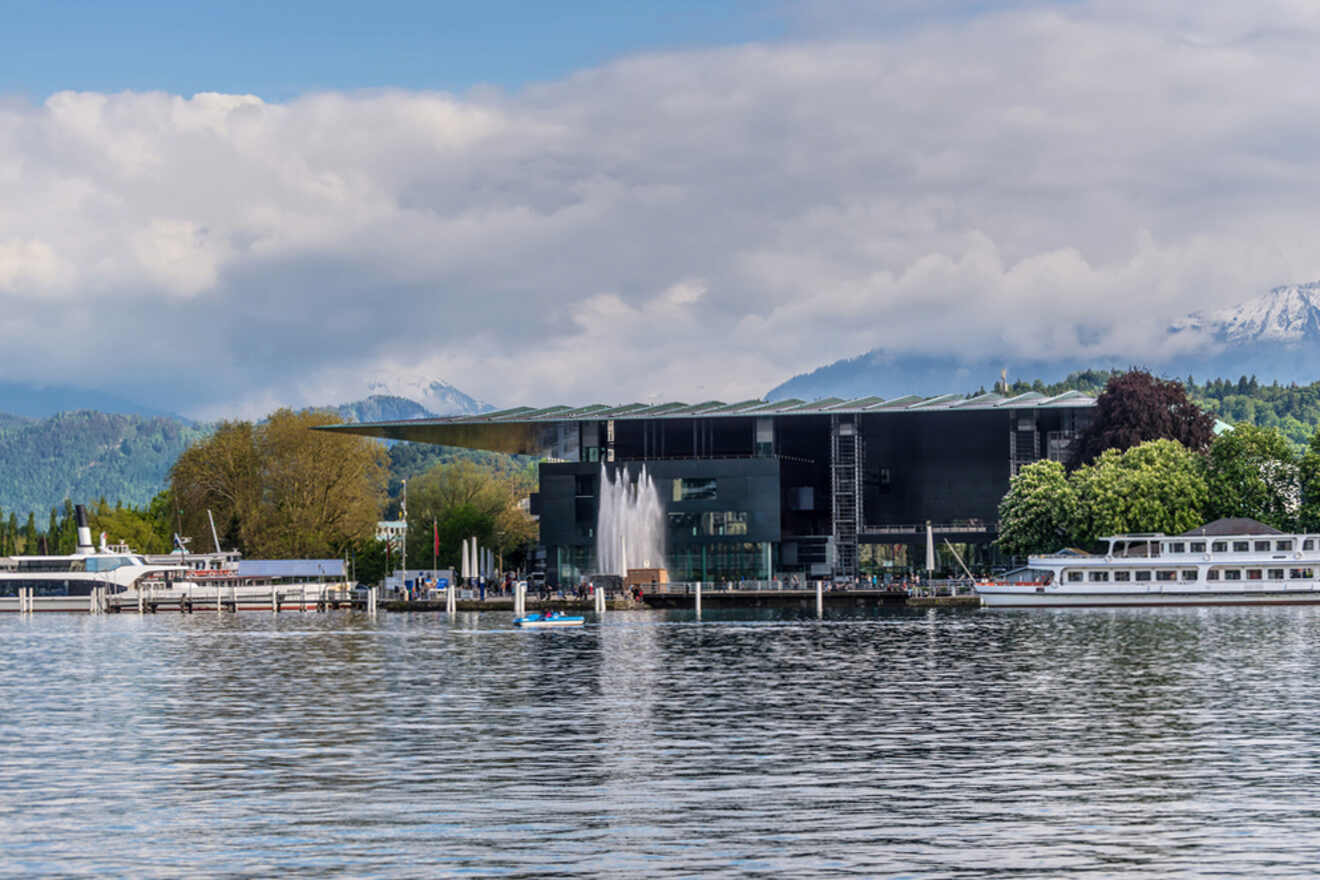 I am sure the architecture souls among you already know of the convention centre and were impatiently waiting to find it on this list. For the rest of you who are wondering why, I'll let you know in a bit.
Apart from being a building of international significance, and hosting many important concerts and events, Lucerne Culture and Congress Center (KKL) is widely known for its high-profile acoustics and is regarded as a magnificent architectural feat.
Designed by Jean Nouvel, KKL lets the water from Europaplatz flow freely into the building, but what's truly incredible about the building is its 45-meter (148 ft) projection on the roof that stands completely unsupported!
You can easily locate it on the shores of Lake Lucerne, right next to the train station.
15. Go back to 1871 at Bourbaki Panorama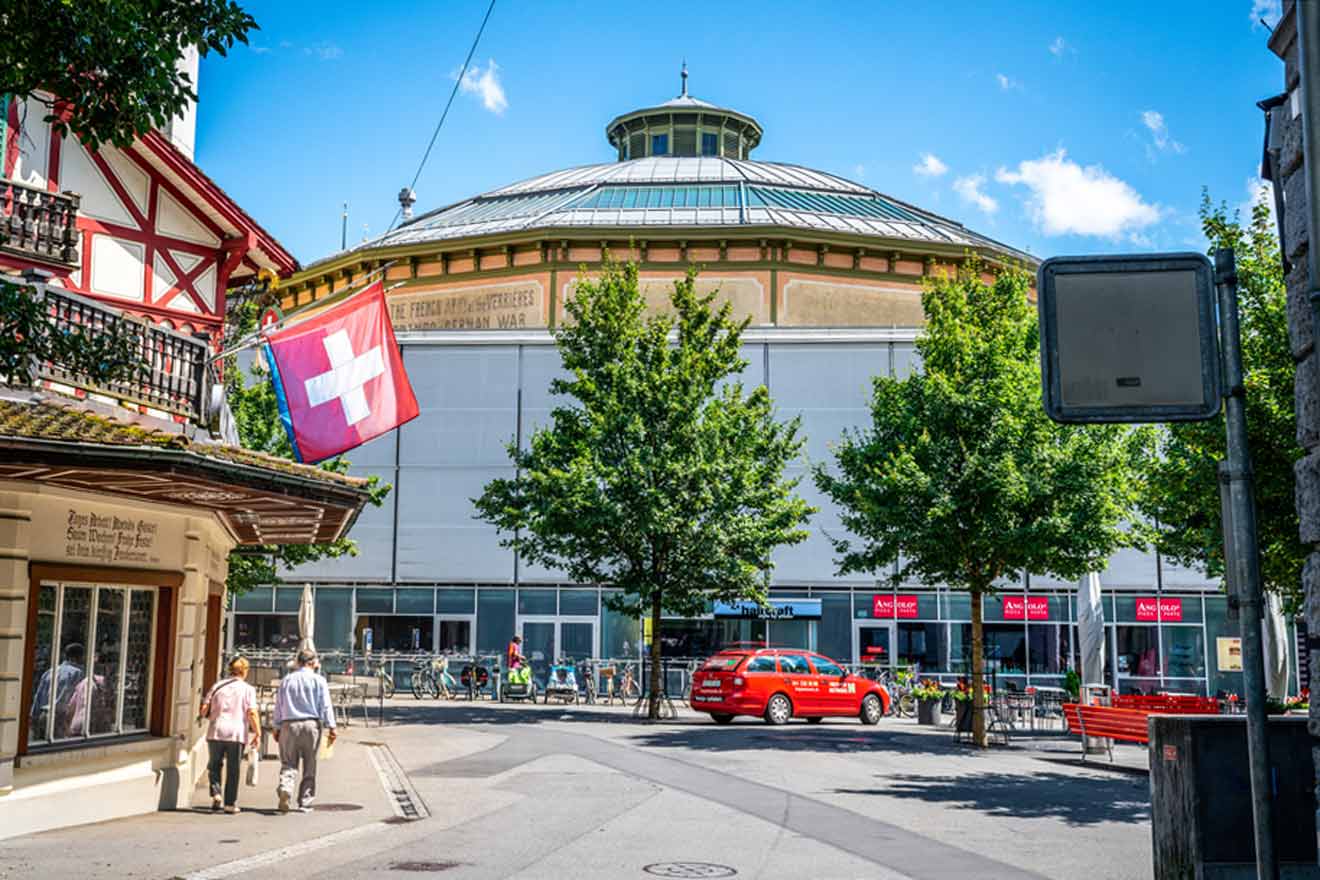 Hidden in plain sight (I literally walked past it a few times without even noticing it 👀), Bourbaki Panorama is a fine blend of pretty much everything: people, politics, art, culture, media, and whatnot.
To be more precise, Bourbaki Panorama features an episode from the winter of 1871, when 87,000 soldiers of the French Army under the guidance of General Bourbaki were fleeing from Prussian forces. They crossed into Switzerland, and I'll let you uncover the rest on your visit there.
Just make sure you register for a tour so that you can better understand the historical, political, and cultural significance of this event. History buffs, do not miss this one!
 It is open from April to October daily from 10 AM to 6 PM, and from November to March daily from 10 AM to 5 PM.
PRICE: €16 per person
16. Taste the finest Swiss chocolates and Alpine cheese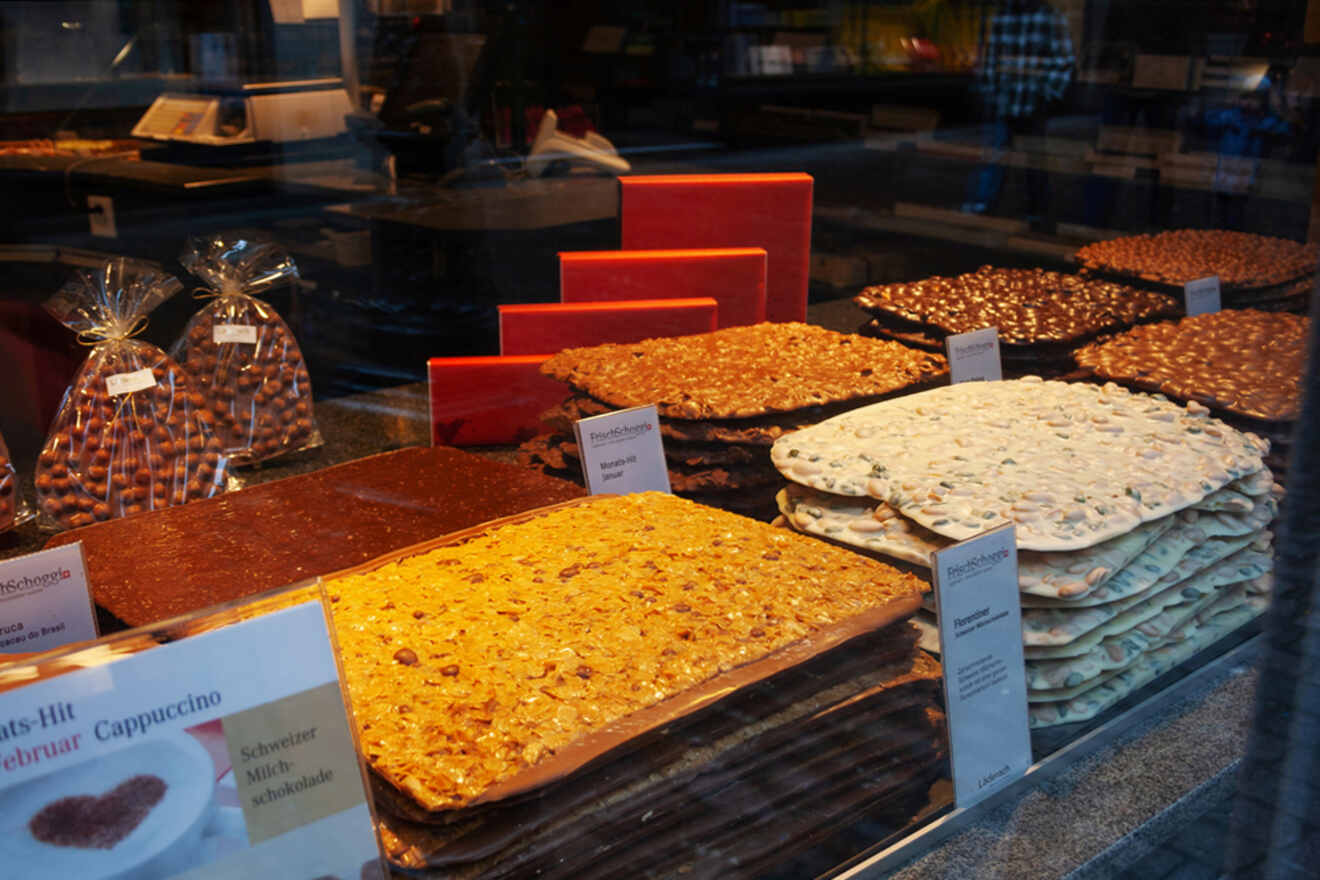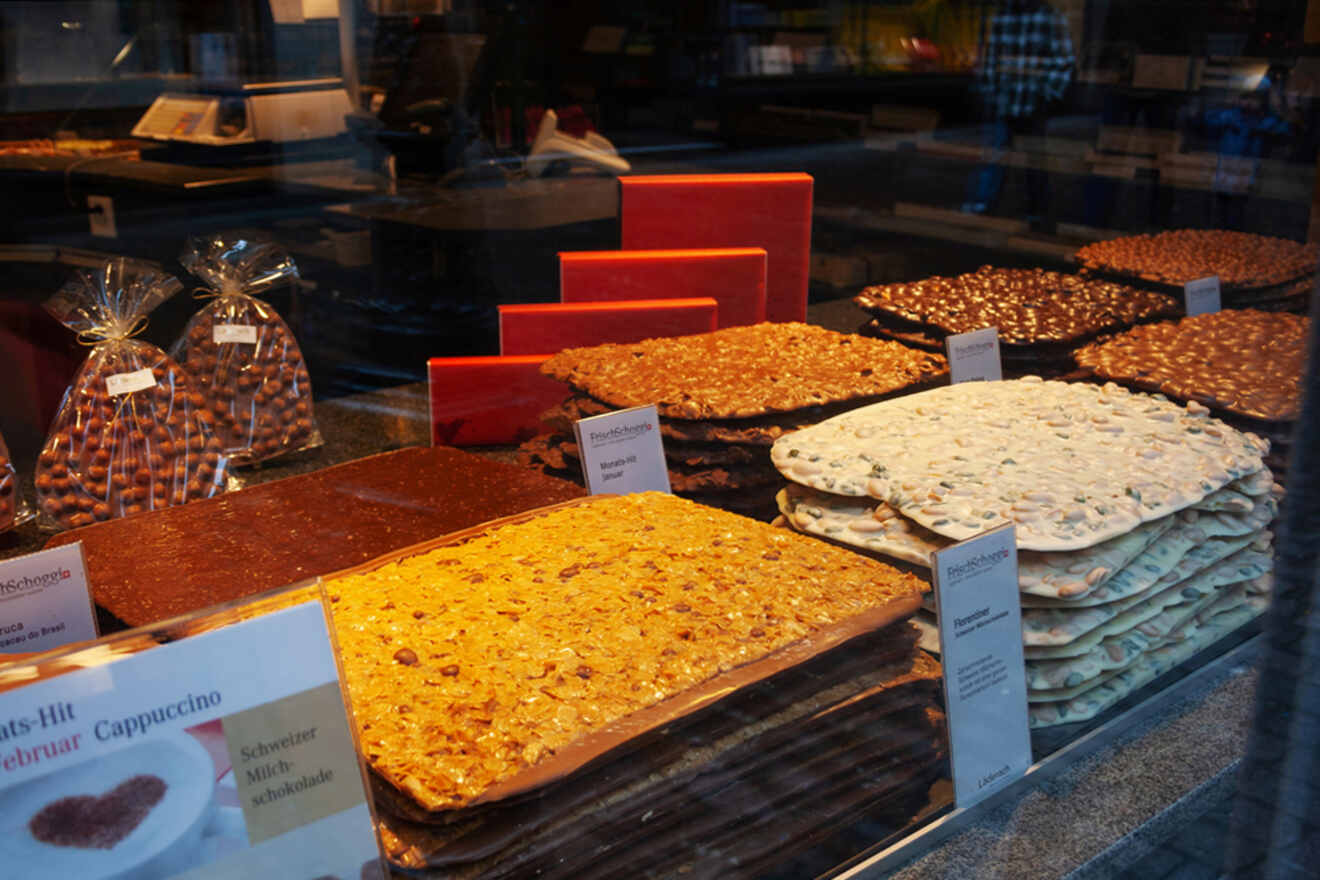 This one is by far my favorite activity on this list! Switzerland is widely known for its milk delicacies made from the finest milk that Swiss cows (like Milka 🐄) produce from the fine pastures in the Swiss Alps. Phew, that was a looong sentence.
Anyways, you can't go wrong choosing any of the many amazing chocolates and cheese options. However, if you want to know which ones are deemed best by the fine taste of Swiss people, then I recommend joining this food tour.
It will take you around the most famous attractions in Lucerne but will sweeten them up with 5 tastings of Swiss chocolate, 3 tastings of Alpine cheese, and a glass of wine. And if you want to make the most out of this tour, you can choose to add on the Lake Lucerne cruise. Now, that's what I call a great deal!
PRICE: from €155 per person
17. Shop for Swiss watches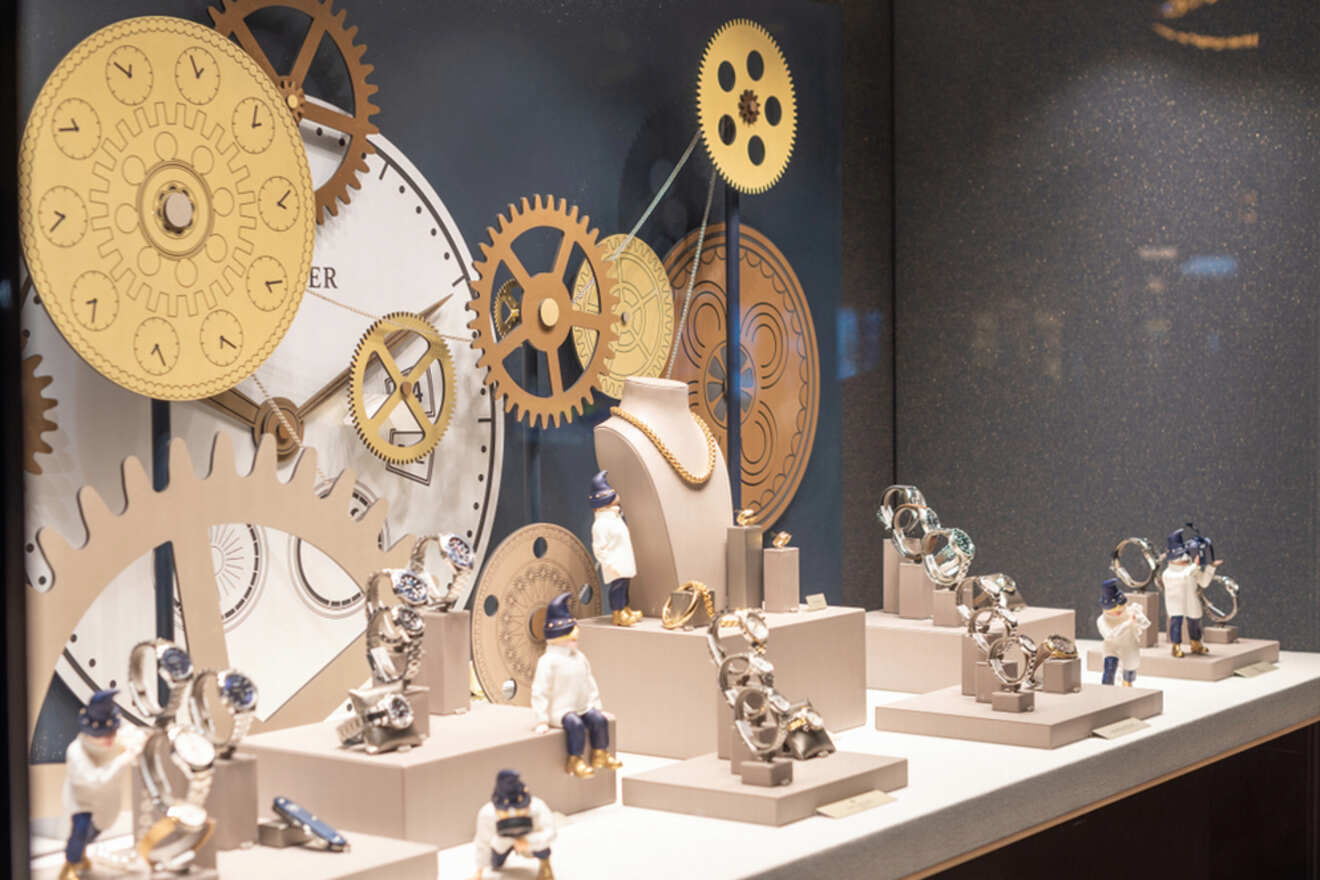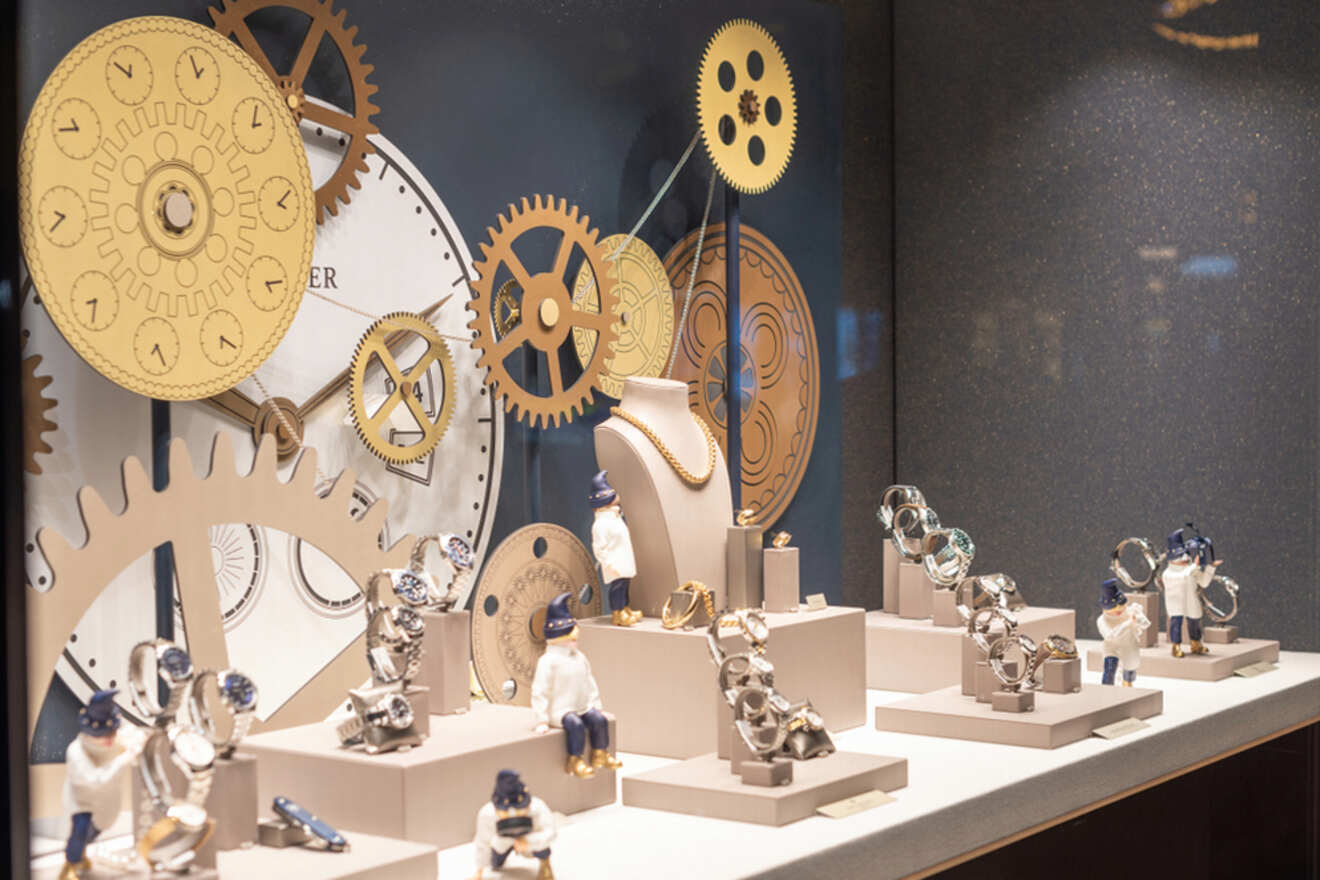 I am not sure if this is an international idiom, but in Macedonia, we have a saying that literally translates to "being punctual like a Swiss watch."
eedless to say, Swiss watch brands are among the highest quality watches recognized globally and pricey. Why, you ask? Well, the idiom that we use is not in vain. It comes to represent the precision and the quality with which Swiss watches were made from their inception til today.
Having an original Swiss watch is a long-lasting timepiece and a symbol of luxury. So, if you're looking to get one, think Rolex, TAG Heuer, Patek Philippe, Tissot, Chopard, and Hamilton are among the best. It goes without saying that luxury comes at a cost, so if you really want a watch from these brands, you better come prepared to spend at least €5,000!
18. Have a glass of wine at Bürgenstock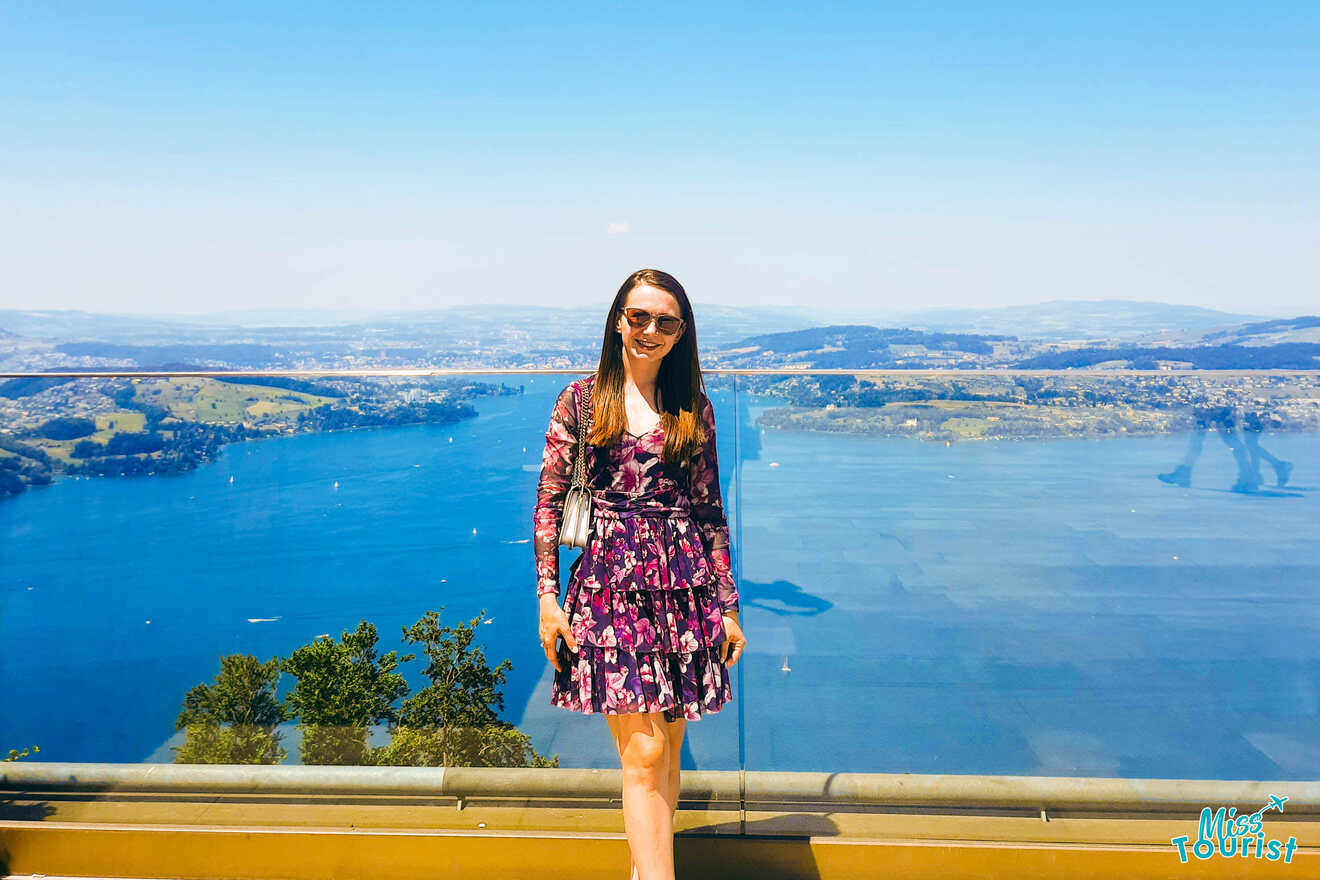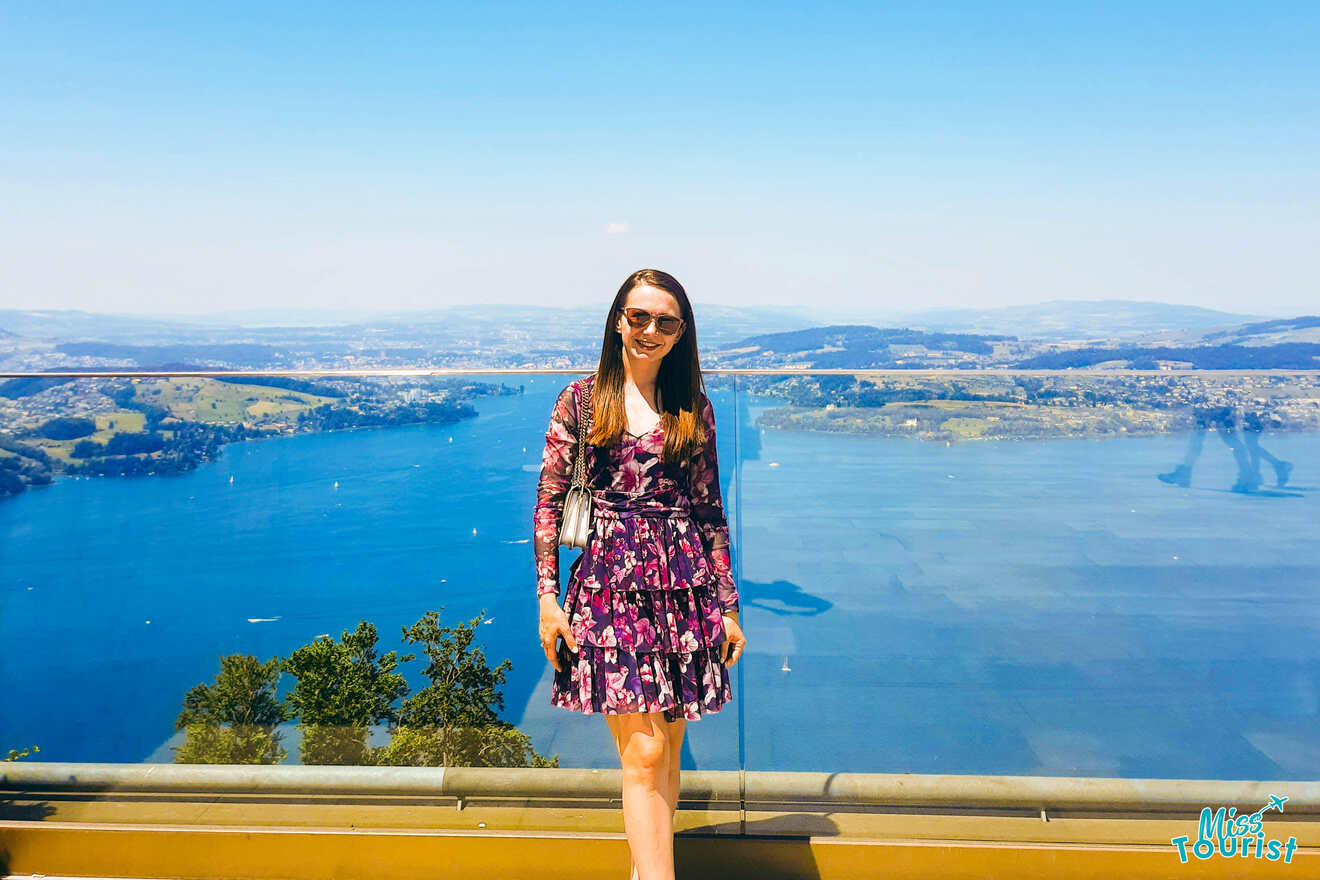 If you happen to visit Lucerne in June like I did, then don't miss out on going on a trip to Bürgenstock. It is a mountain near Lucerne with a complex of 3 different hotels (see them all on Booking) on the very top, with stunning views of Lucerne Lake.
There are a few ways to go there. You can either take the ferry from Europlatz next to Lucerne train station and then take the funicular to Bürgenstock (see & book this option on GetYourGuide), or you can take the train from Lucerne to Stansstad and then take the bus from there to Bürgenstock. I did the second one but was guided by a friend. If you don't have anyone to guide you, go for the first option.
Whichever you opt for is guaranteed to be a fun and scenic ride, but it will take a good amount of time, so you can easily count it as a day trip from Lucerne.
Once you reach the top of the mountain Bürgenstock, check out the restaurants and relish in the vast choice of fine-dining options, or have a glass of wine with a view.
PRO TIP: Make sure you put some sunscreen before you embark on your trip to avoid getting sunburned like I was 🦀
19. Take a dip in Lake Lucerne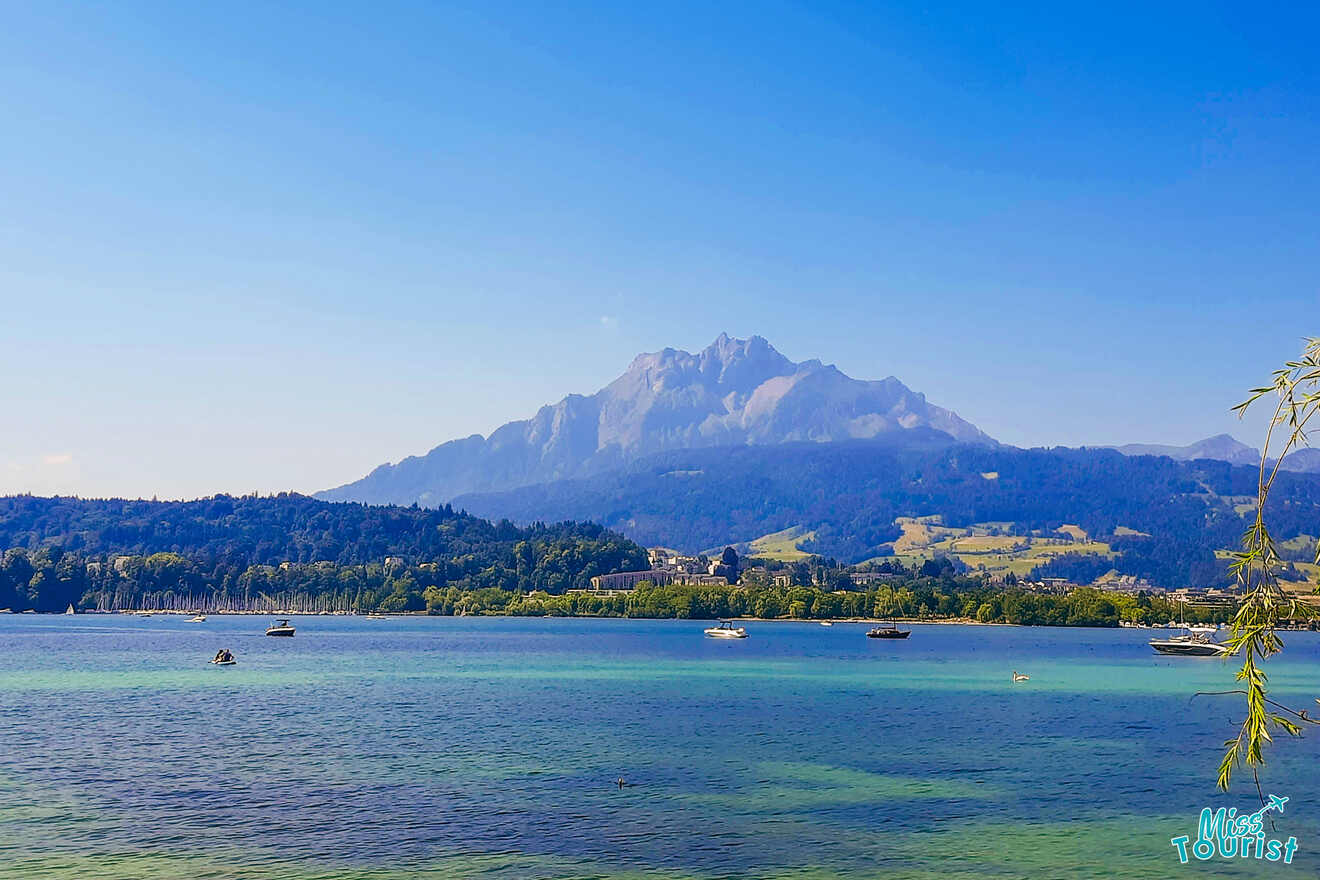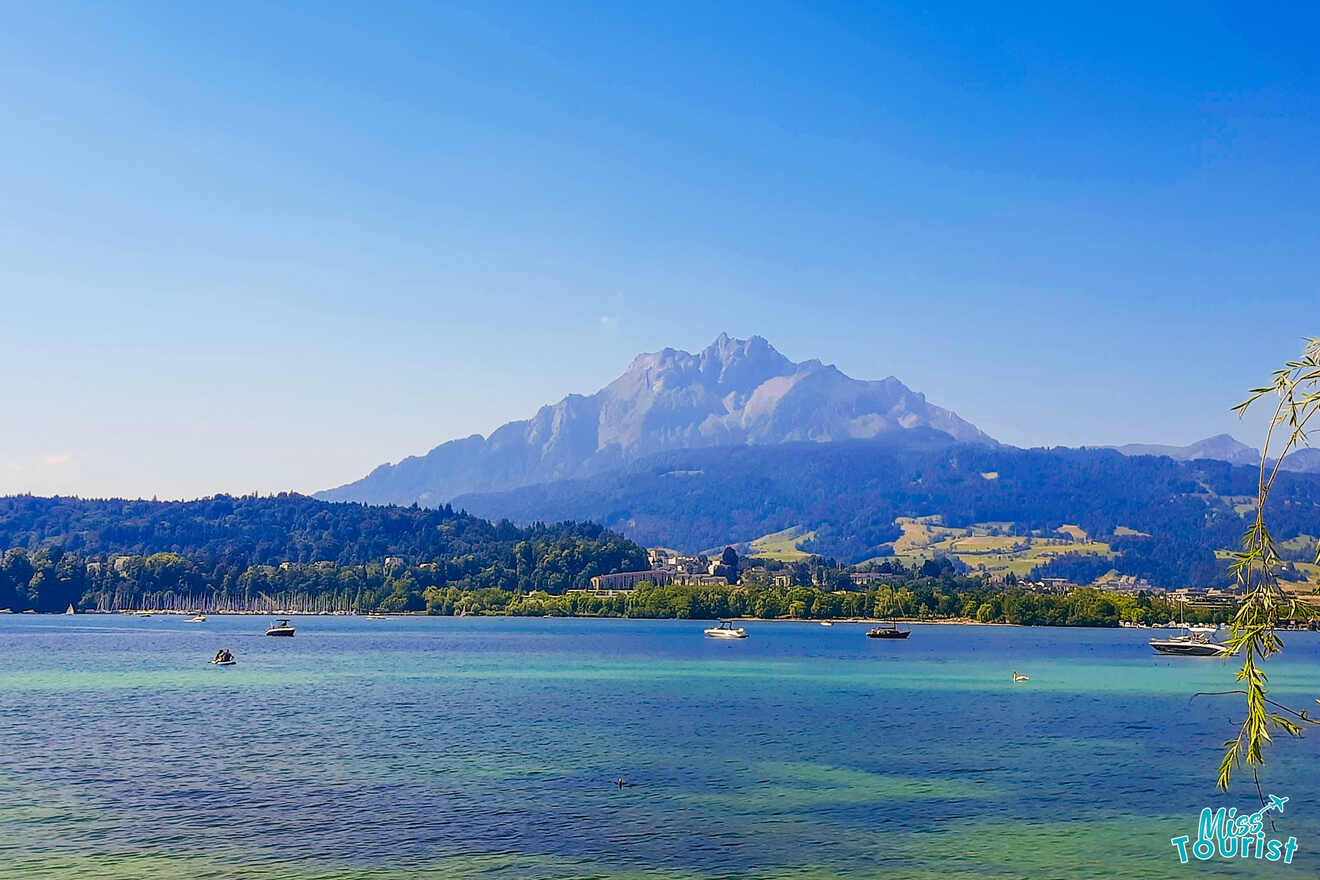 Have you ever been to Lucerne if you haven't taken a dip in the beautiful Lake Lucerne?!
Seriously, if you visit Lucerne during the warmer months, you'll see so many people in bathing suits swimming in the lake. And I highly recommend you do the same. I promise you won't regret it!
PRO TIP: If you want to make it a family fun day, bring a picnic basket and spend quality time with your family out in the sun.
PRICE: free
Where to stay in Lucerne
If I managed to convince you to visit the beautiful city of Lucerne, it's only probable that you'll need a place to stay. But I got ya on this one, too!
Here are my top accommodation picks for all budgets, with prices ranging from €200 to €800 and above. For more options, check out our detailed guide on where to stay in Lucerne.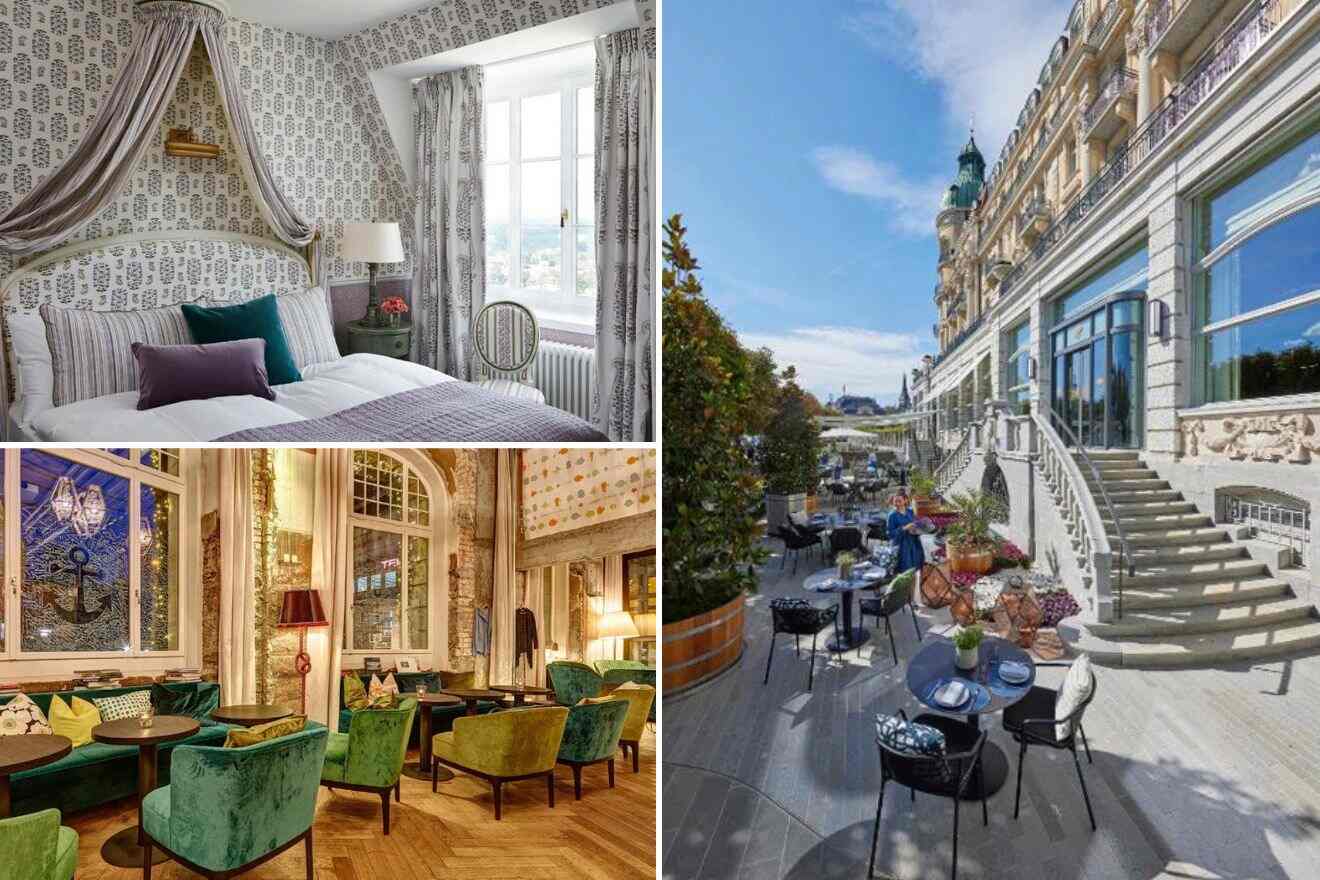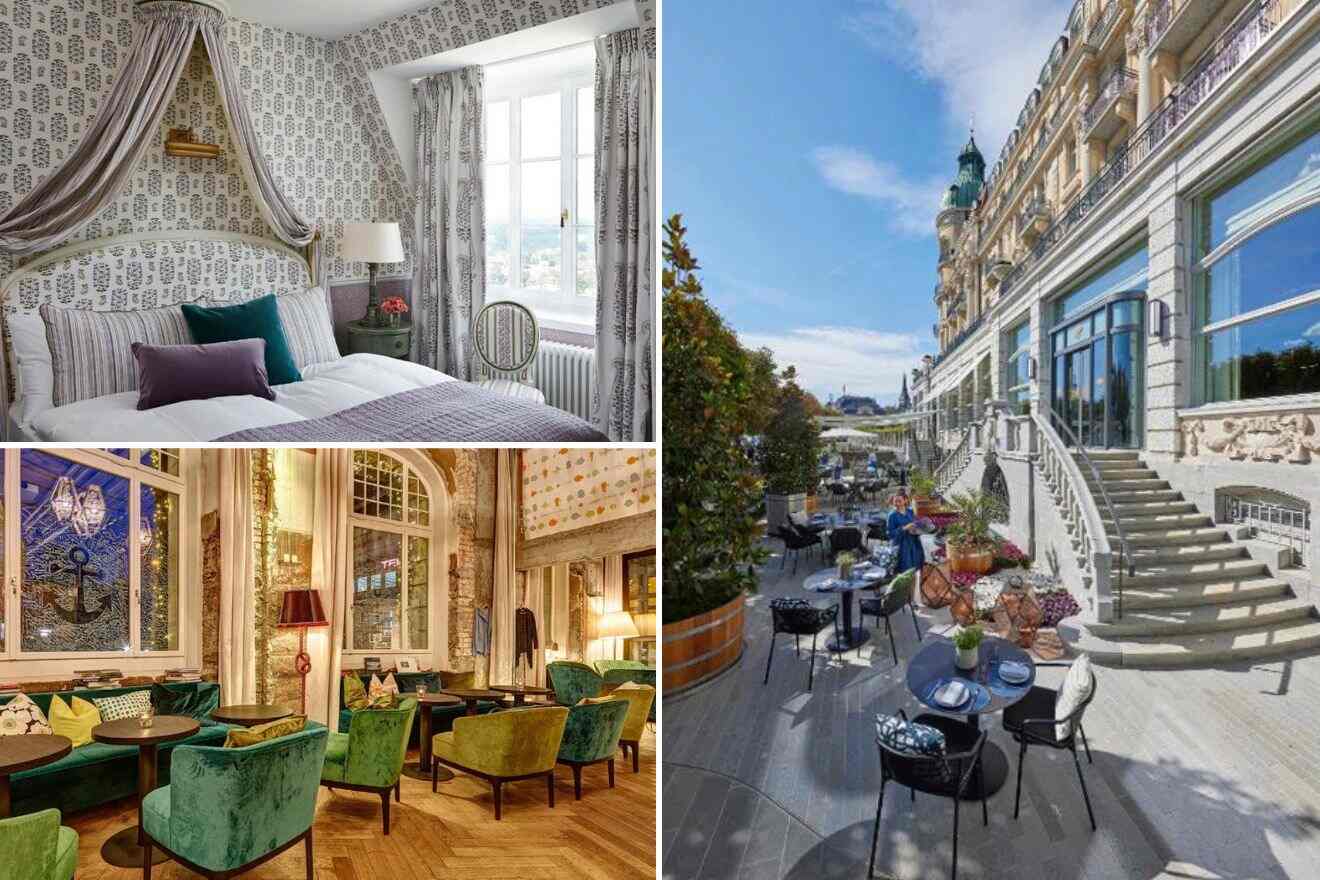 Luxury (€800 and up)
Mid-Range (€300 – €600)
Budget (up to 300€)
FAQs about things to do in Lucerne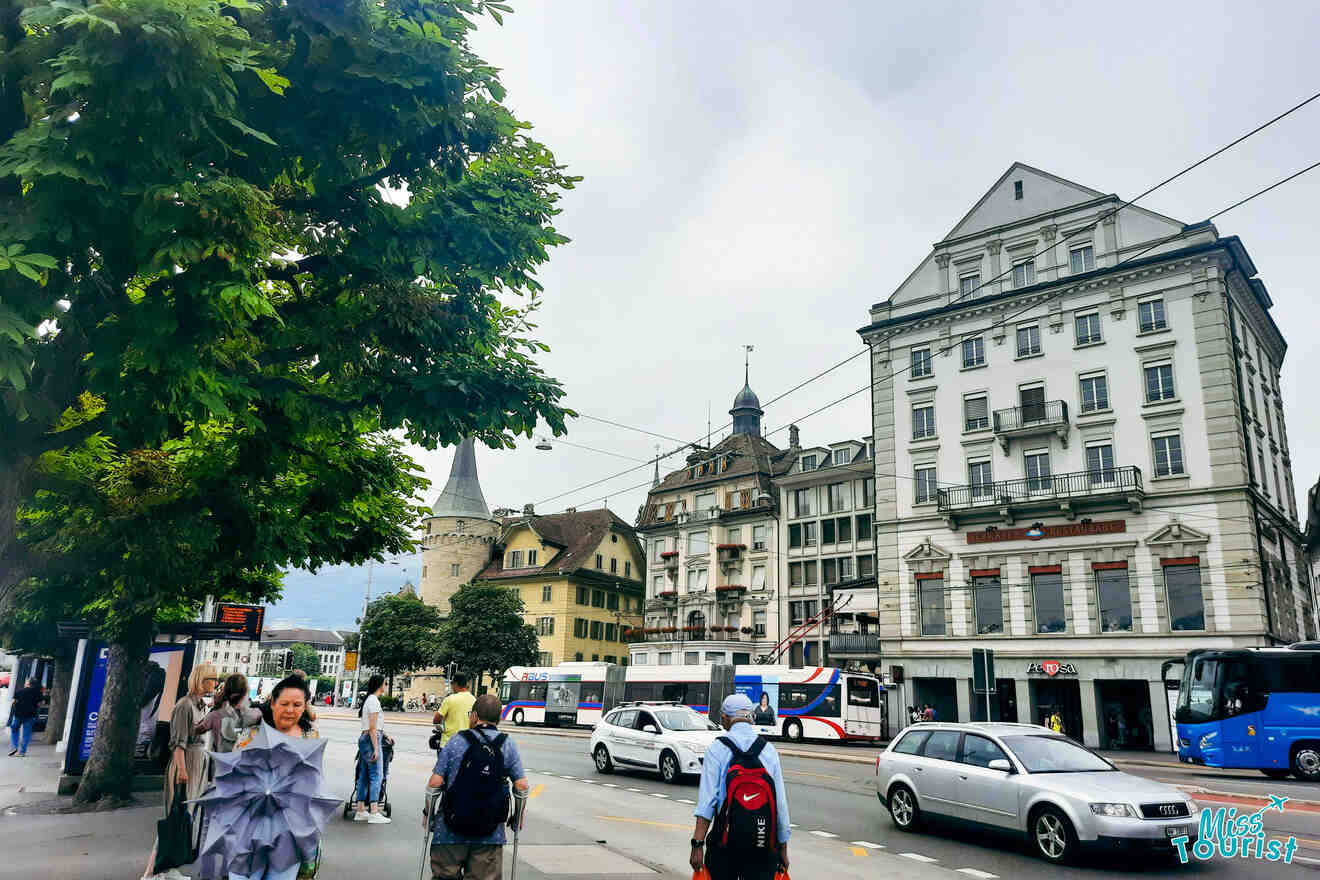 ❤️ Is Lucerne worth visiting?
Absolutely! Lucerne is a real gem, and everyone who has visited it once wants to come back. It's such a serene place that makes you want to move there permanently!
🦁 What is Lucerne, Switzerland, known for?
Lucerne, Switzerland, is known for its lovely Lake Lucerne, the longshore promenade, the Chapel Bridge, the Lucerne Culture and Congress Centre, the Lion Monument, and so many other attractions.
📅 How many days is enough for Lucerne?
It really depends. I stayed for 4 days, and it was enough to see the major attractions and go on a day trip from Lucerne. However, to really be able to explore all that Lucerne has to offer, I suggest staying for at least a week.
🚆 What are some day trips you can take from Lucerne?
Conclusion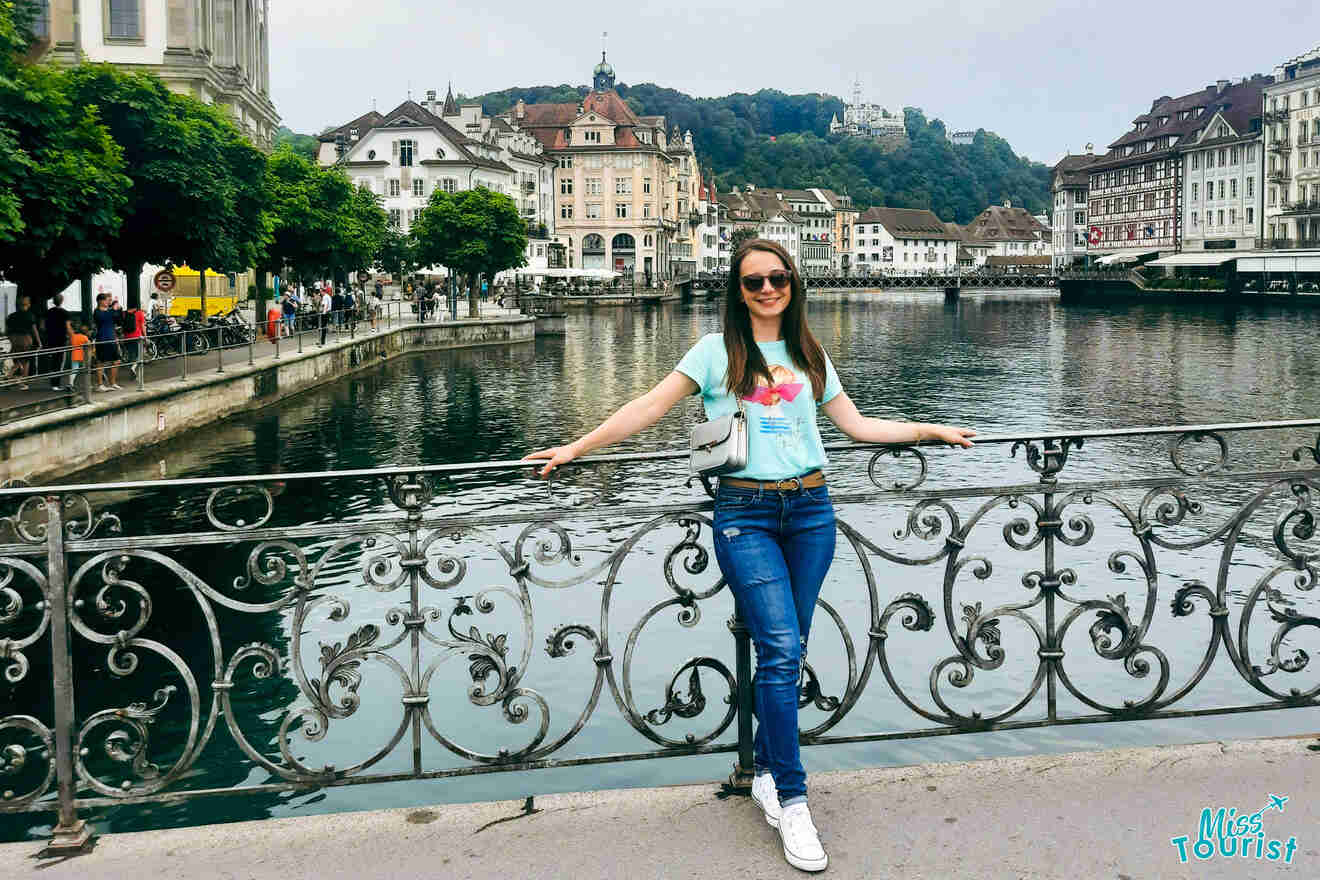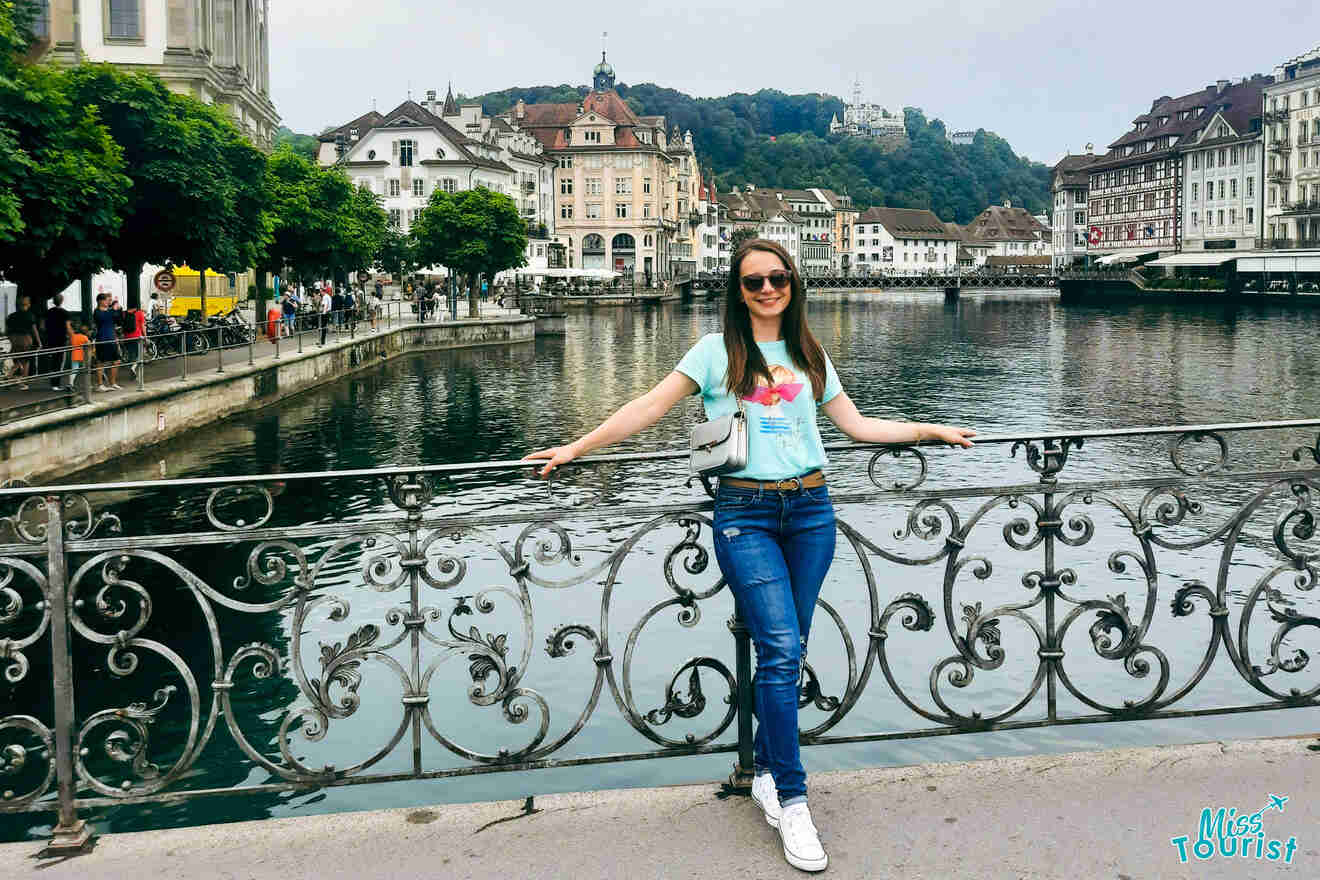 It was a fun ride coming to the end of this extensive guide on things to do in Lucerne, wasn't it?
We walked around the city, we cruised on Lake Lucerne, we climbed the world's steepest cogwheel railway, visited museums, historical monuments attended concerts, and whatnot.
We even managed to find you a place to stay, so I'd say that this journey was successful – at least in theory. If you want to make it as successful in reality, I suggest you book your tours and hotels in advance, and don't forget to let me know how it all went in the comments below.
Enjoy your trip,
Beti
---
Pin it for later!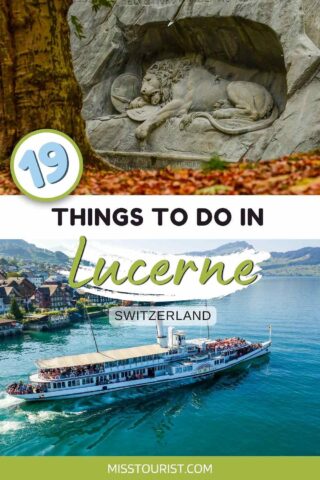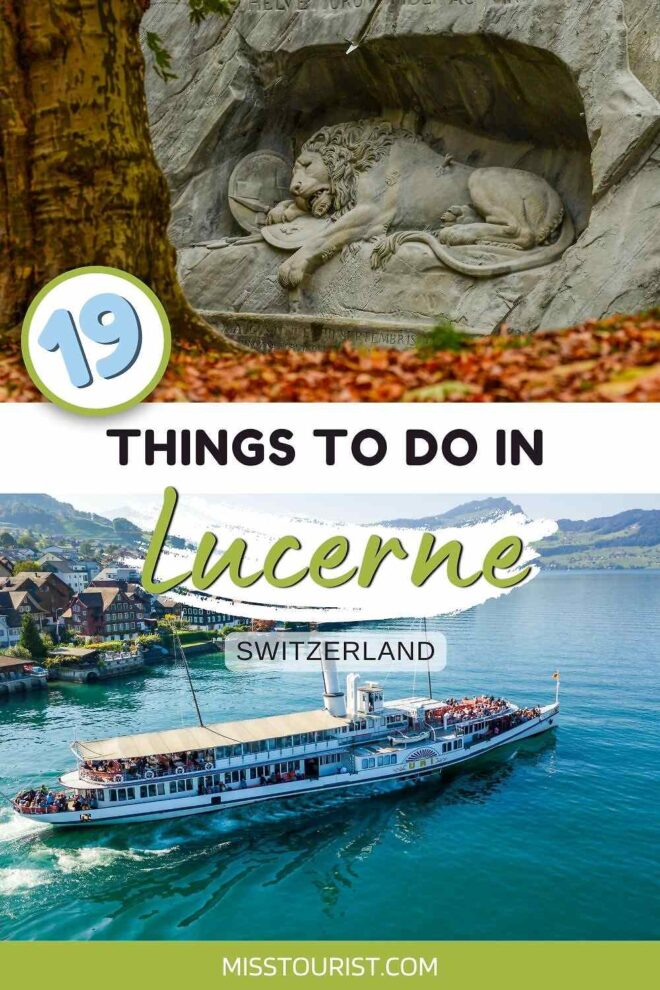 Pin it for later!