19 EPIC Things to Do in Munich (2024): An Insider's Guide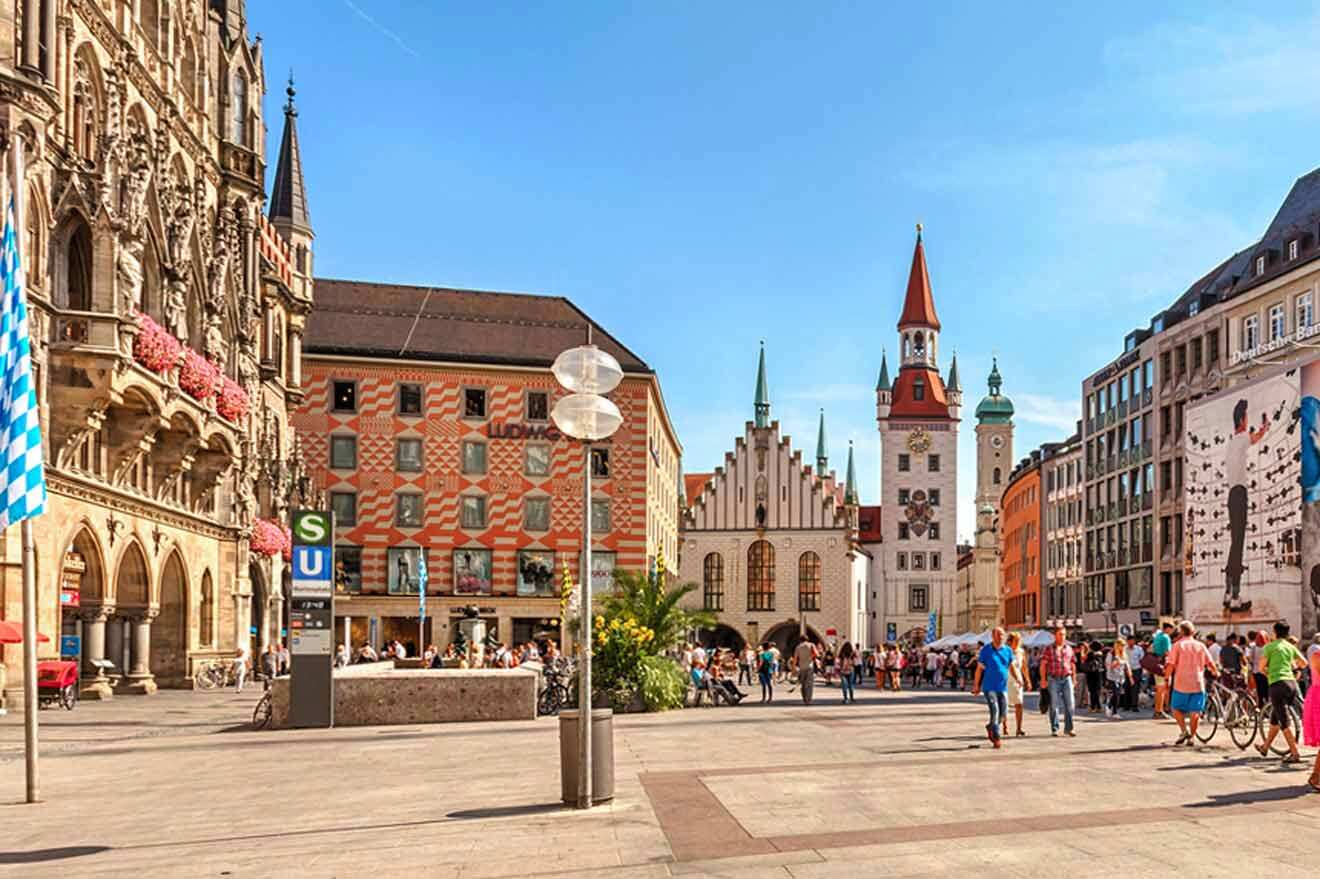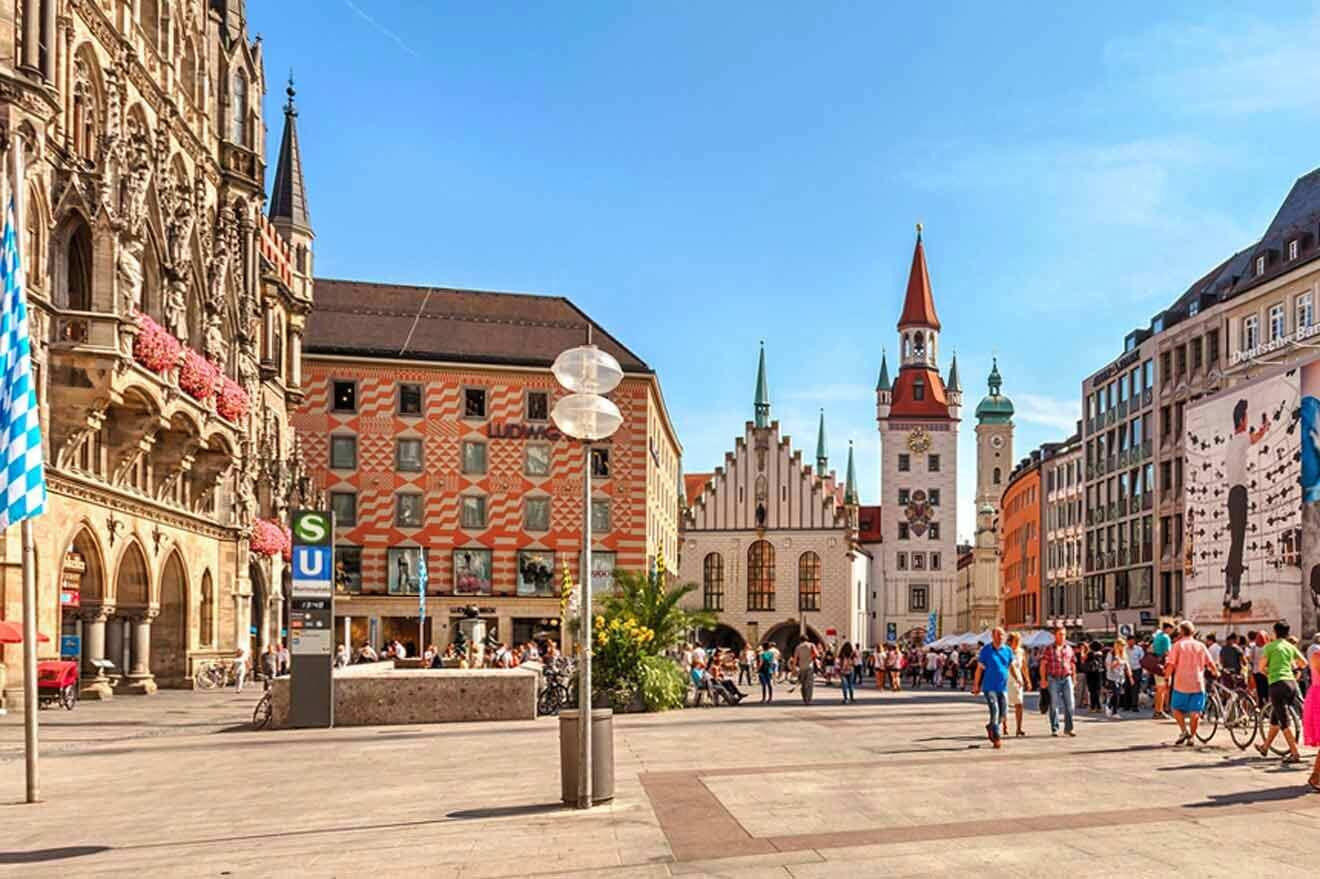 Servus! Are you traveling to the Bavarian capital and looking for things to do in Munich? That is awesome! I lived in this gorgeous city for a few years, and you will be spoiled with the number of things to do and see in this historical and artsy city!
I have gathered 19 stunning attractions and landmarks that you will love and that you cannot miss! At the end of the article, I left a bonus section with a few day trip tours you should book, and above it, you have a few accommodation options. After reading this article, you will be more than ready for your trip!
Are you ready to see the best things to do in Munich?
Let's jump in!
If you are in a hurry
If you don't have a lot of time to read the whole article and you need to book some tours and hotels fast, here you have the top 3 things to do in Munich and 3 top hotels!
Here are the main things to book in advance:
And here are the best hotels: DO & CO Hotel München (luxury), Hotel MIO by AMANO (mid-range), Lizz Hotel Munich (budget)
1. Take a look at the Rathaus-Glockenspiel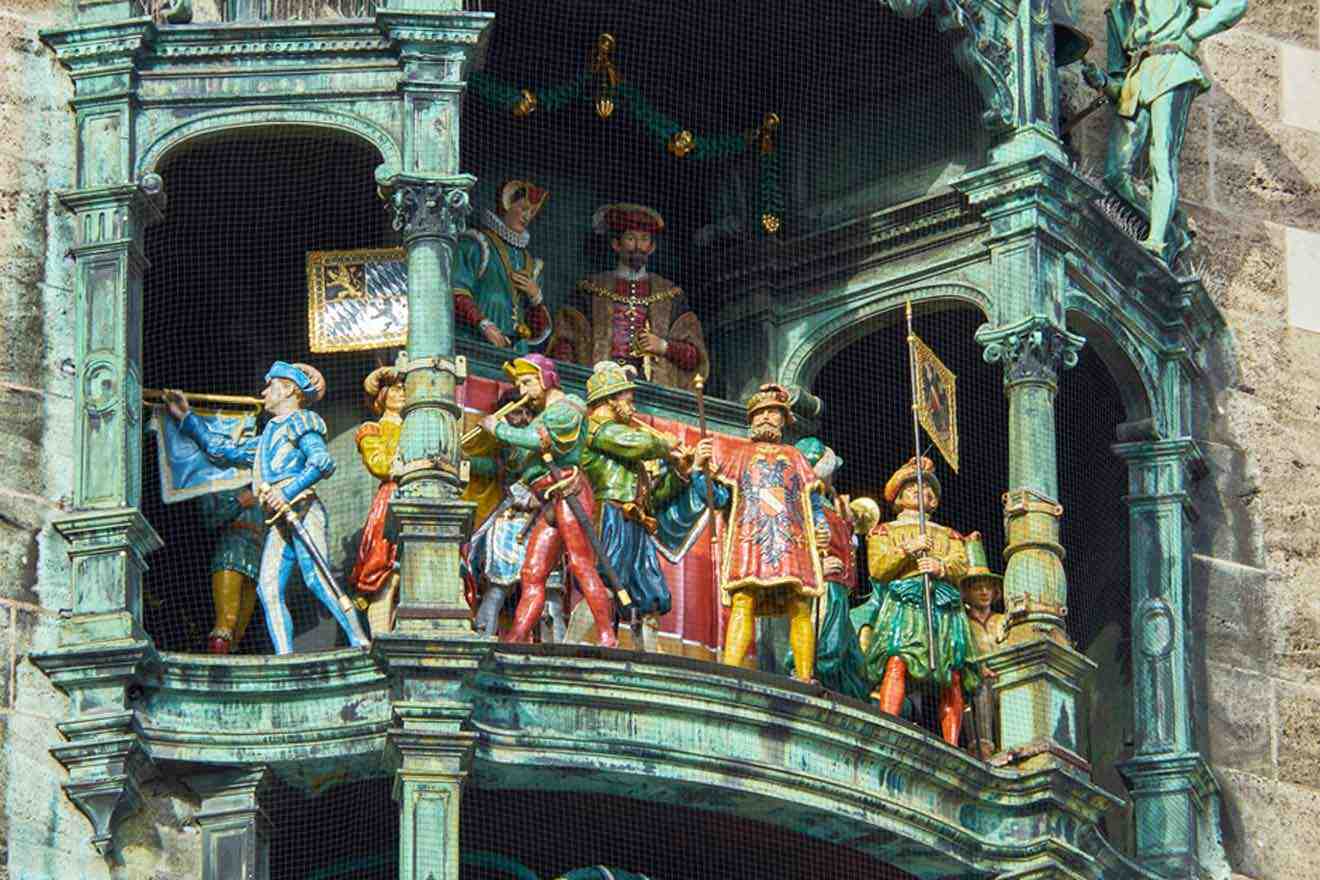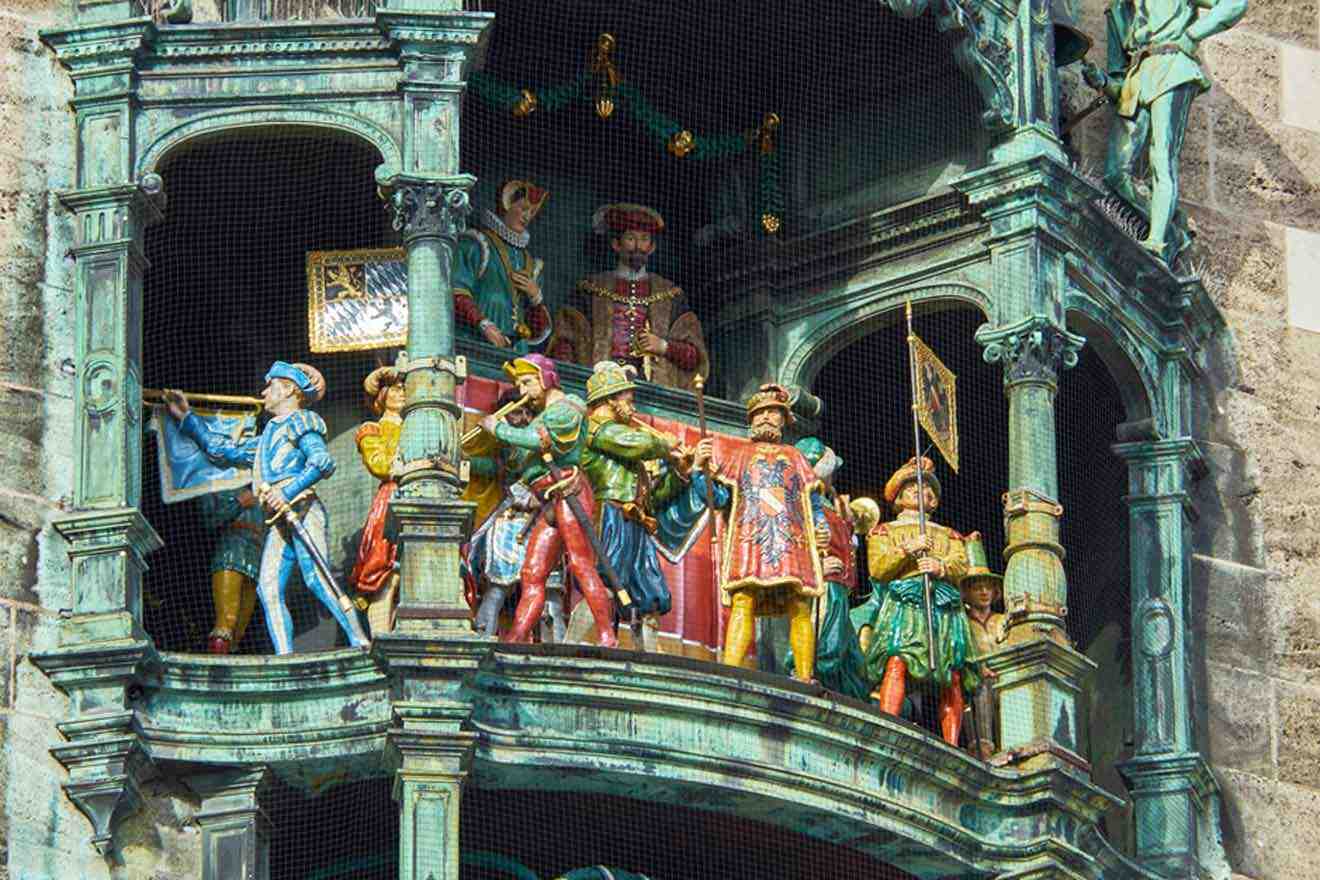 One of the must-sees on your first days in Munich, without a doubt, is going to Munich's central square and checking out the town hall, known as the Neues Rathaus. This stunning gothic-style building was built around 1867 when its construction started, and now is home to the city government and city council.
Something you need to see from outside the city hall in Marienplatz is seeing the spectacle of the glockenspiel! Every day at 11 AM and midday, a crowd of tourists gather in the city square to see it!
The glockenspiel has 3 different sections: a royal wedding, a traditional dance, and a jousting tournament. It is a cute thing to see!
NOTE: You can enter the Rathaus halls and library for free. You only need an entrance ticket to visit the tower.
I highly suggest you book this guided tour that will take you inside the Neues Rathaus and its law library! It's a great way to get more information about the area!
PRICE: from €20 per person
2. Discover the oldest farmers' market, Viktualienmarkt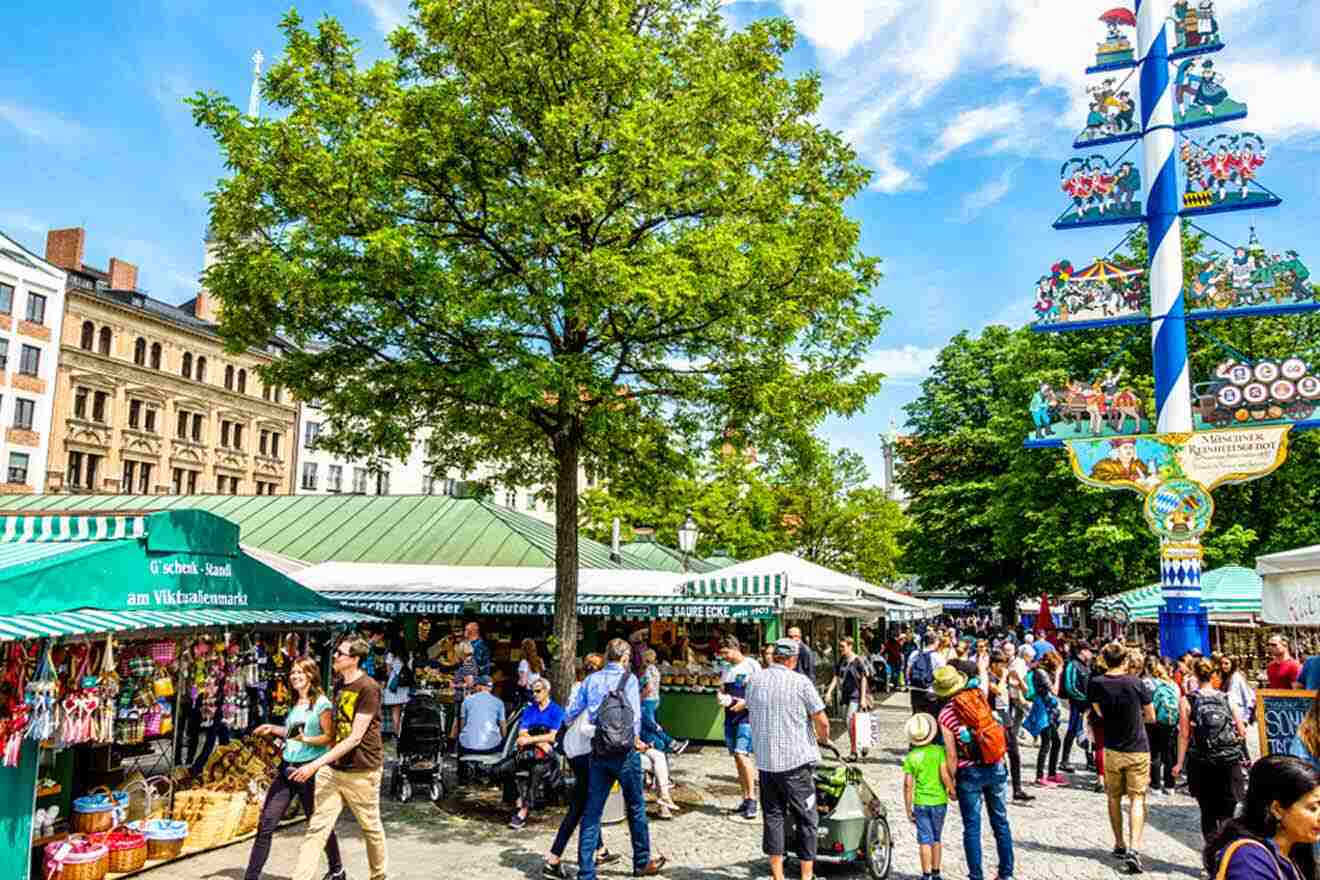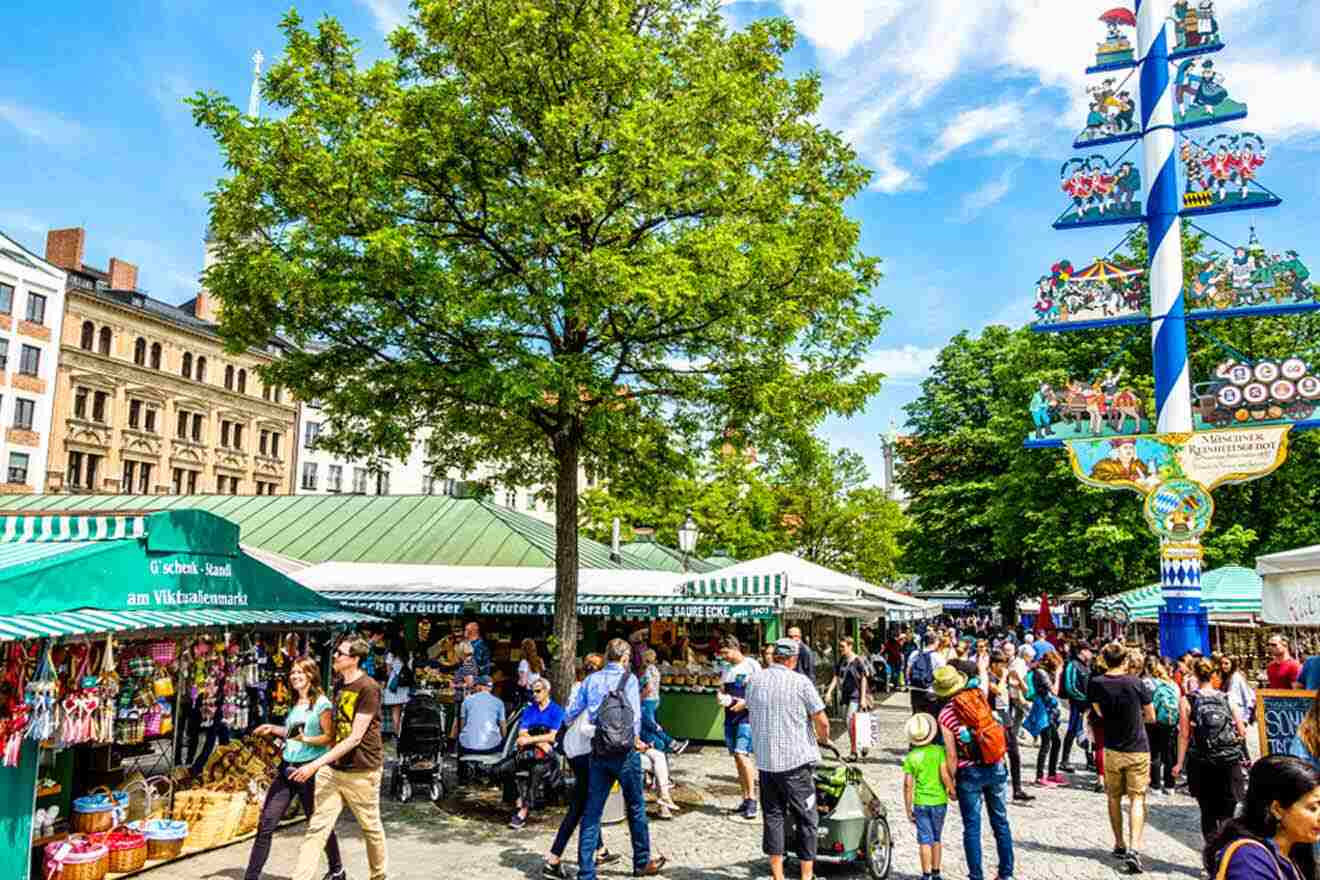 Did you know that the Viktualien name comes from Latin and means food? So the translation would be food market in English! 🍊 🥨
This is one of the most popular food markets in the city and opens Monday to Saturday in the old town. I highly recommend you try traditional Bavarian and street food at Viktualienmarkt. One of the things you MUST try is Weisswurst (sausage) with sweet mustard!
In this market, you can also find fruits and vegetables, as well as crafts. Which will make a great souvenir for friends and family!
Visiting this market is a great way to connect with Munich life, as well as getting to be part of a place that holds a lot of the city's history. It first opened in 1807!
Why not take a fun food tour while you are here?! I have found this amazing guided tour that includes amazing local food tasting and a breakfast guided by a local guide who will tell you all the cool fun facts about the food.
PRICE: from € 40 per person
3. Explore the historic Nymphenburg Palace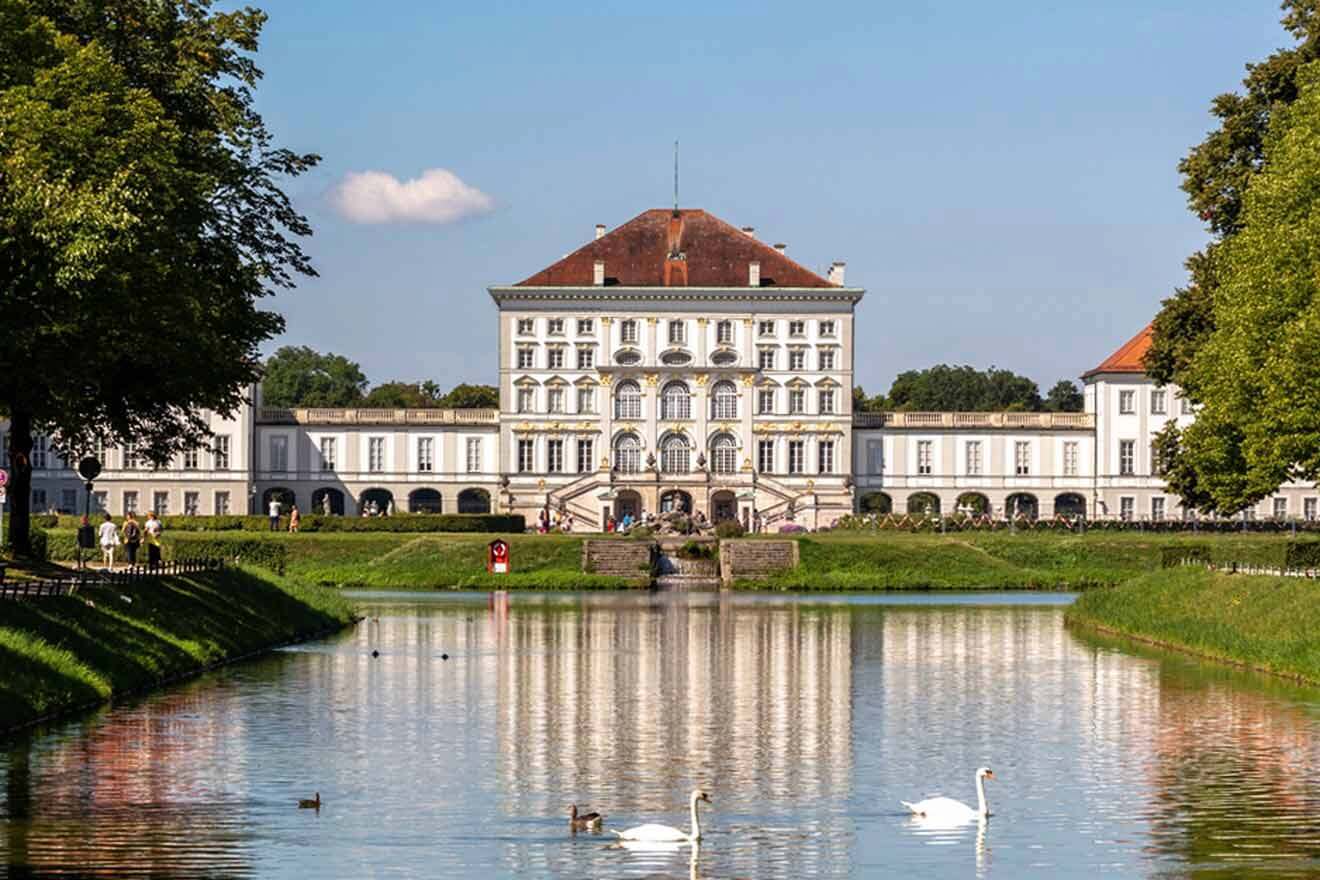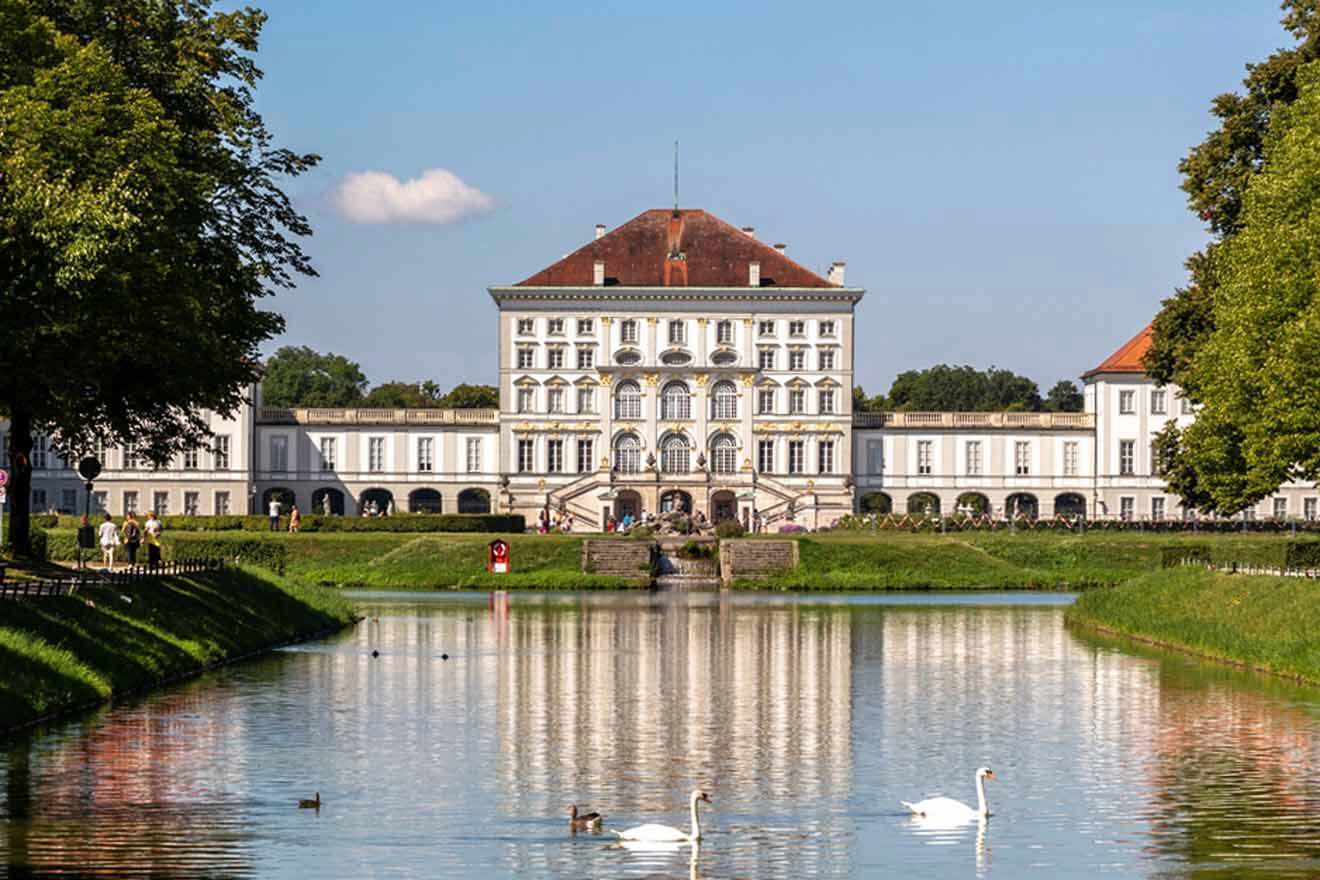 Marvel at Nymphenburg Palace's grandeur!
The English translation of Nymphenburg Palace means "Palace of the Nymph" and was used by the Bavarian Kings and Royal Family as a summer palace!
This palace is located only a 30-minute S-bahn ride from the central station in the beautiful area of Neuhausen-Nymphenburg, which is a residential area in Munich. The times I visit the palace I walk there from the city – it takes an hour, but it is a picturesque walk!
The palace was built in 1664 and features baroque architecture, and the grandeur is still alive! The beautiful paintings on walls and ceilings, the chandeliers, the ornaments, the boating lake. Everything is perfect, that is why it is one of the largest and most important palaces in Germany and Europe.
NOTE: you need to pay to enter the palace, but the gardens around it are free of charge! Buy your tickets here.
PRICE: from €8 per person
4. Explore the Deutsches Museum's exhibits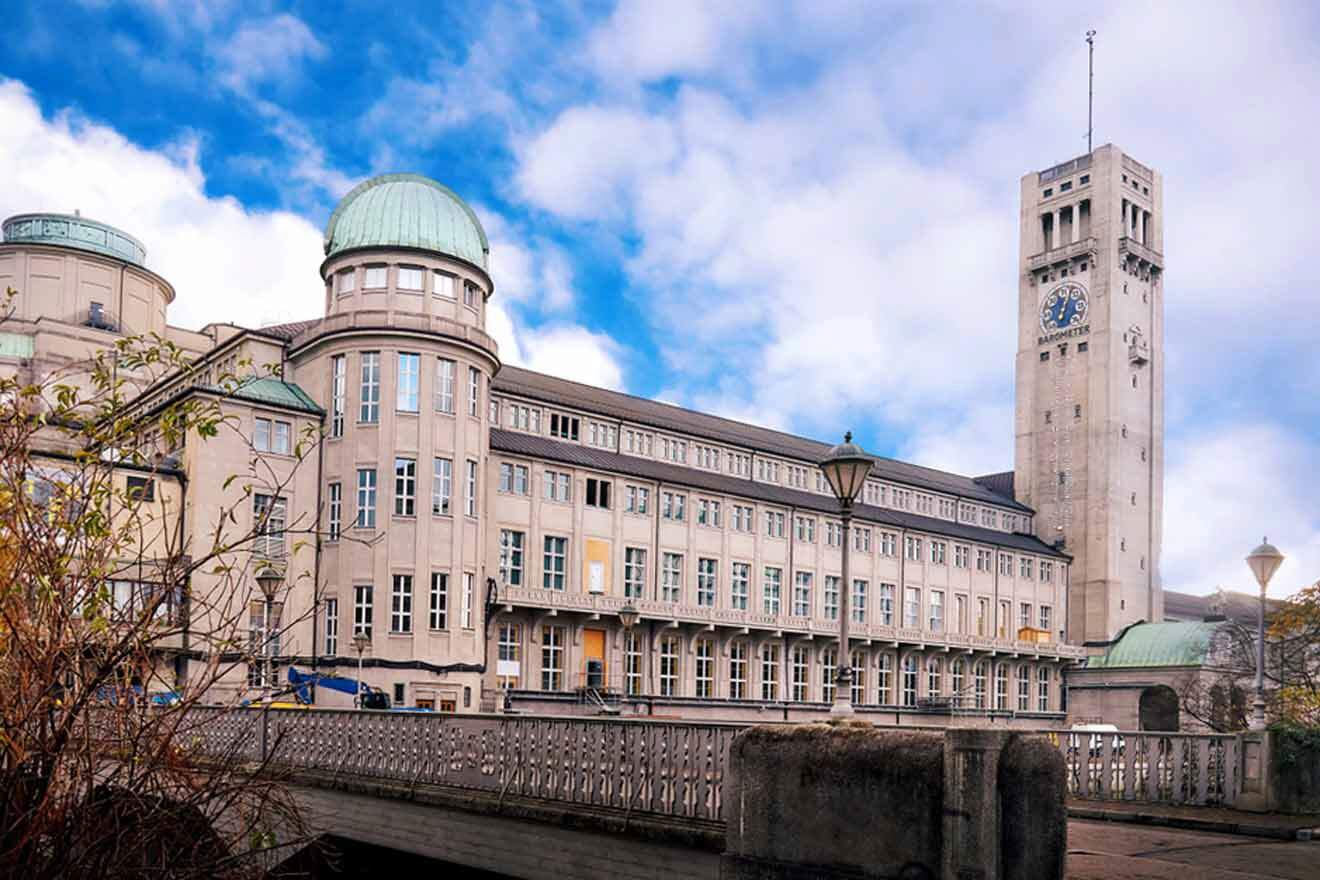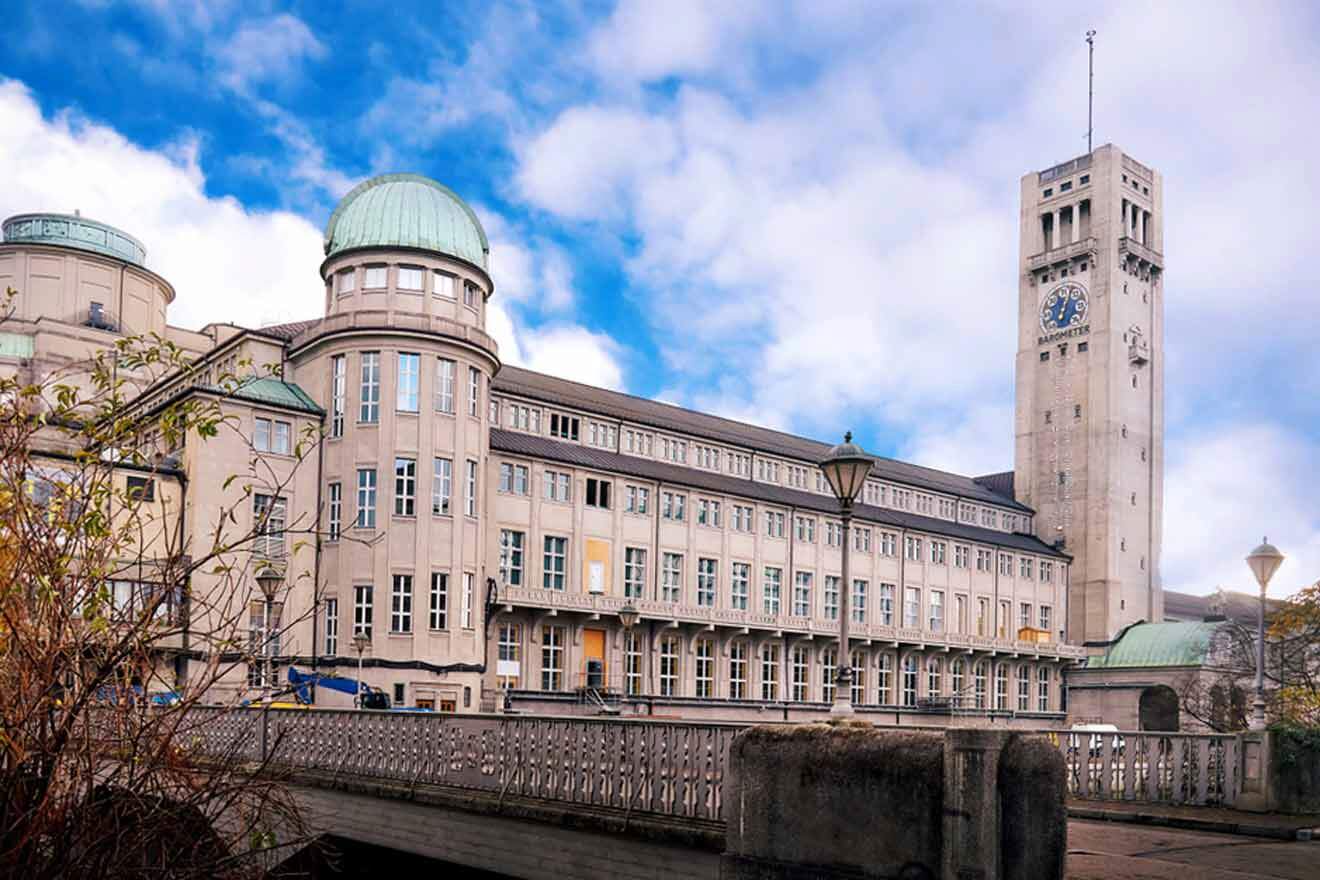 Did you know the Deutsches Museum is one of the best world-class museums and the largest technology museum in the world?
When you visit Bavaria's capital, visiting this museum is an absolute must. It contains over 28,000 exhibitions, from European artifacts, natural science, and materials from energy production, as well as communication and media exhibits!
If you are traveling with kids, they will love seeing all the cool interactive exhibitions; for example, you can try a DA 42 flight simulator! But on top of that, there is a Kids' Kingdom with tours and exhibits tailored for them!
The museum is a few minutes from the old town on an island (Museumsinsel) on the Isar River. A stunning location! Buy your tickets here!
PRICE: from €15 per person
5. Explore the treasures of the Residenz Museum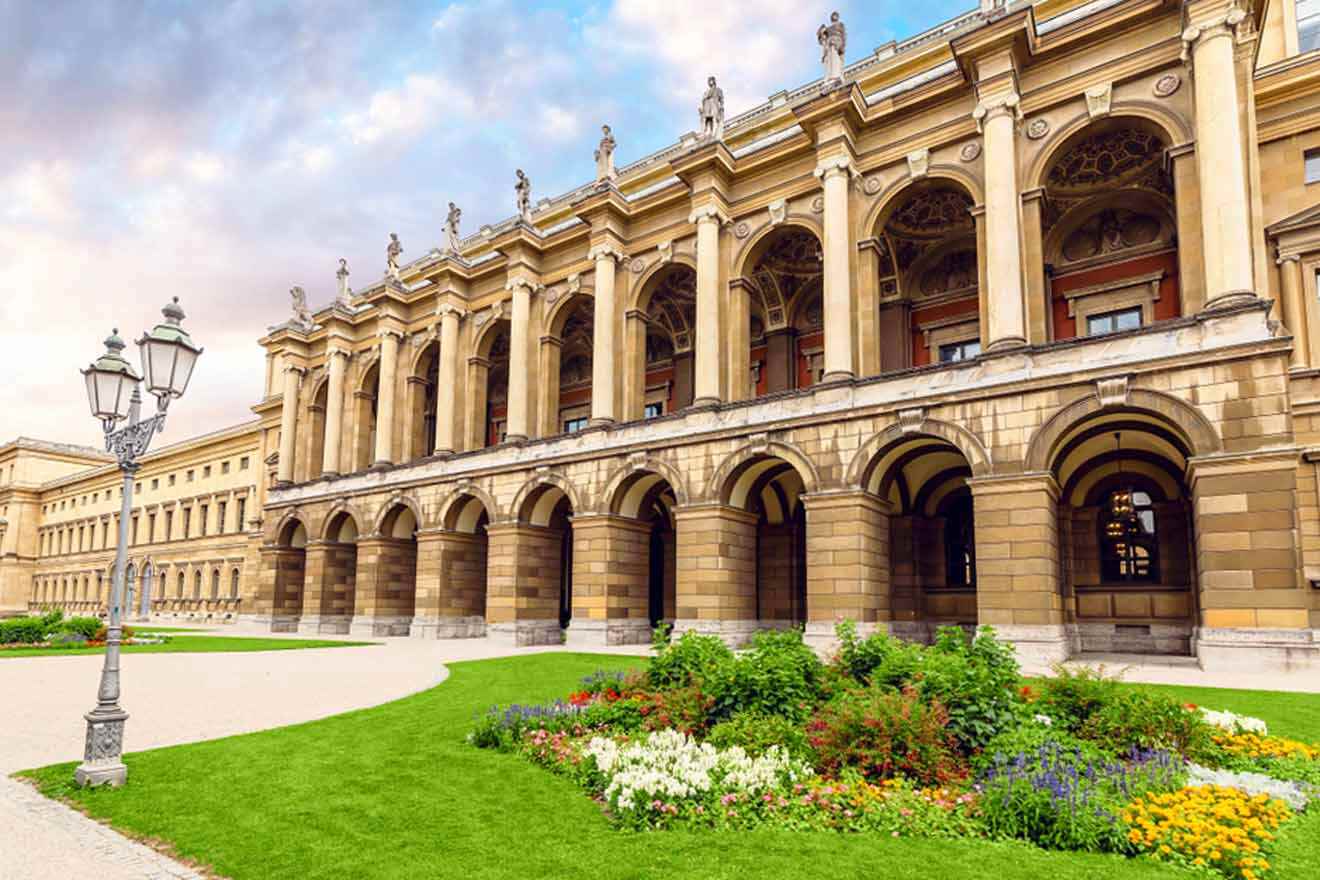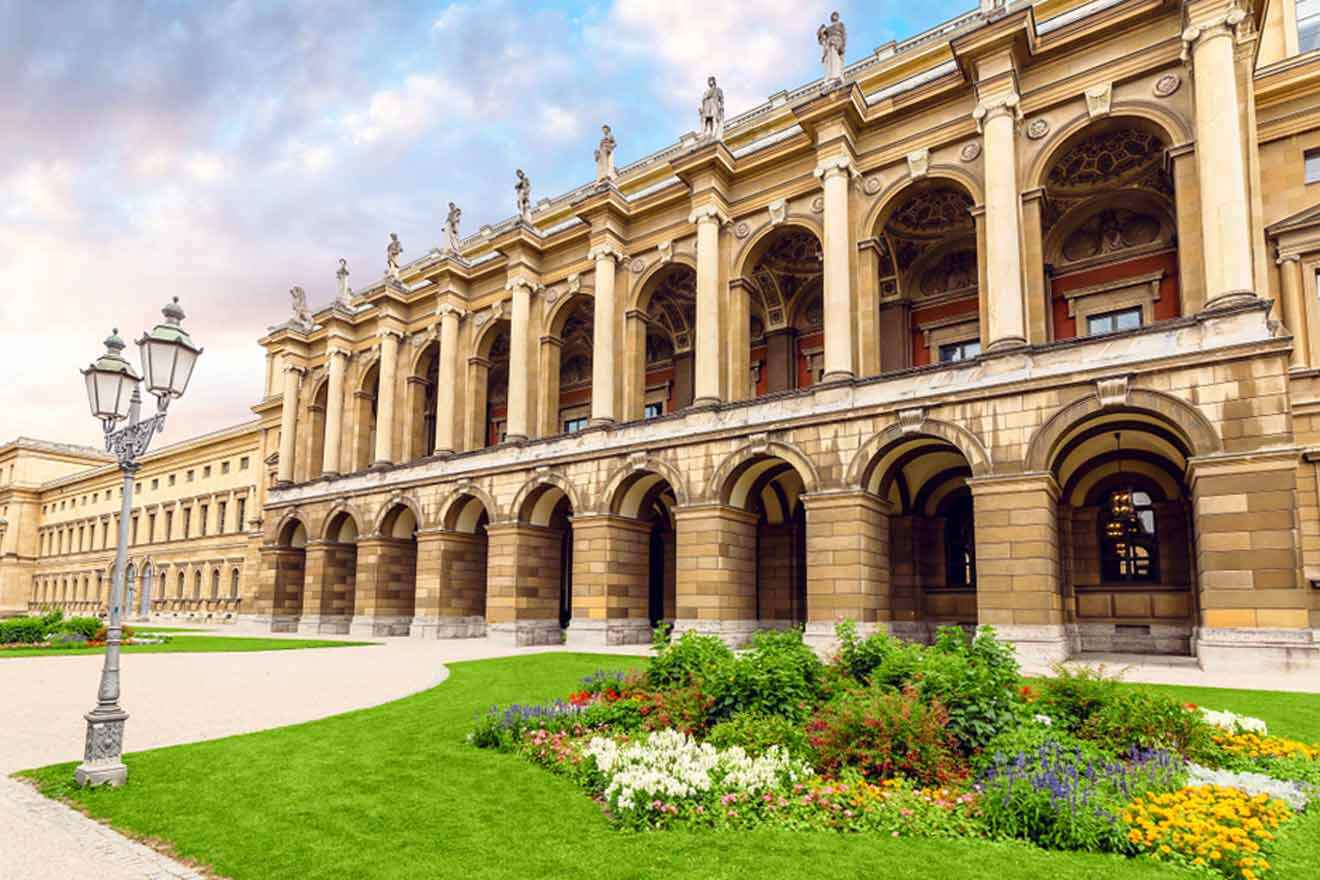 Munich Residence is the largest city palace in Germany! That is why you cannot miss this Munich landmark!
This beautiful palace has many sections; for instance, you can visit the Residenz Museum, which has been open as a museum since 1920 and it is one of the most important museums in Europe. It used to be the home of Bavarian Dukes, and you can still see the furnishings from centuries ago when you visit.
The architecture has so many different styles, making it a wonderful work of art. It features Baroque, Neoclassicism, Rococo, and Renaissance influences.
If, on top of visiting the museum and theater, you want to watch a concert, I have found a very cool tour that lets you watch a concert at Cuvilliés Theatre with classical music by the Munich Philharmonic Orchestra and the Bavarian Radio Symphony Orchestra.
NOTE: If you want to purchase tickets for Munich Residenz and its Cuvilliés Theatre and treasury, you need to purchase them at the venue ticket office, and prices start at €9.
PRICE: from €110 per person for a concert, €9 per person for Residenz Museum
6. Wander through the historic Marienplatz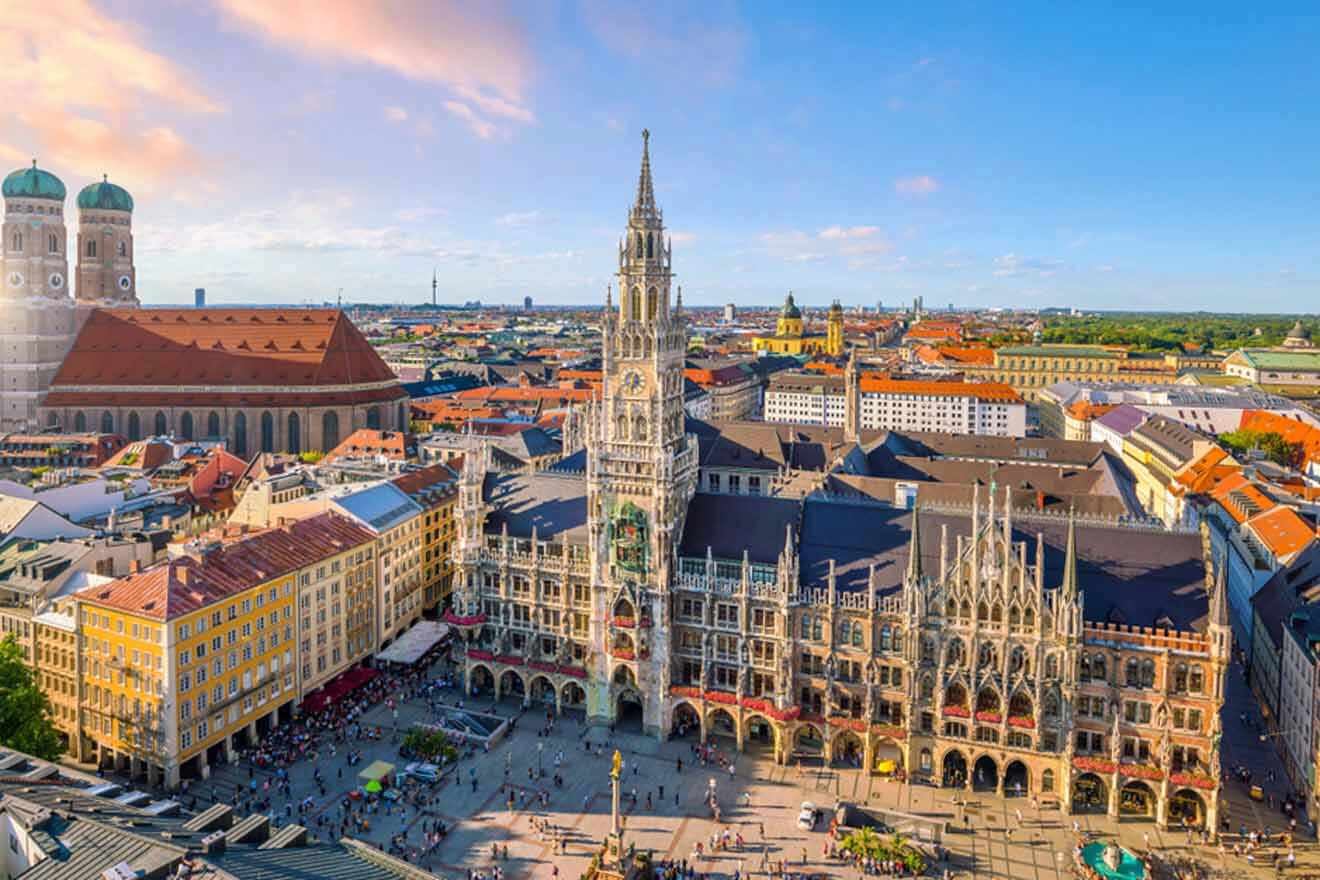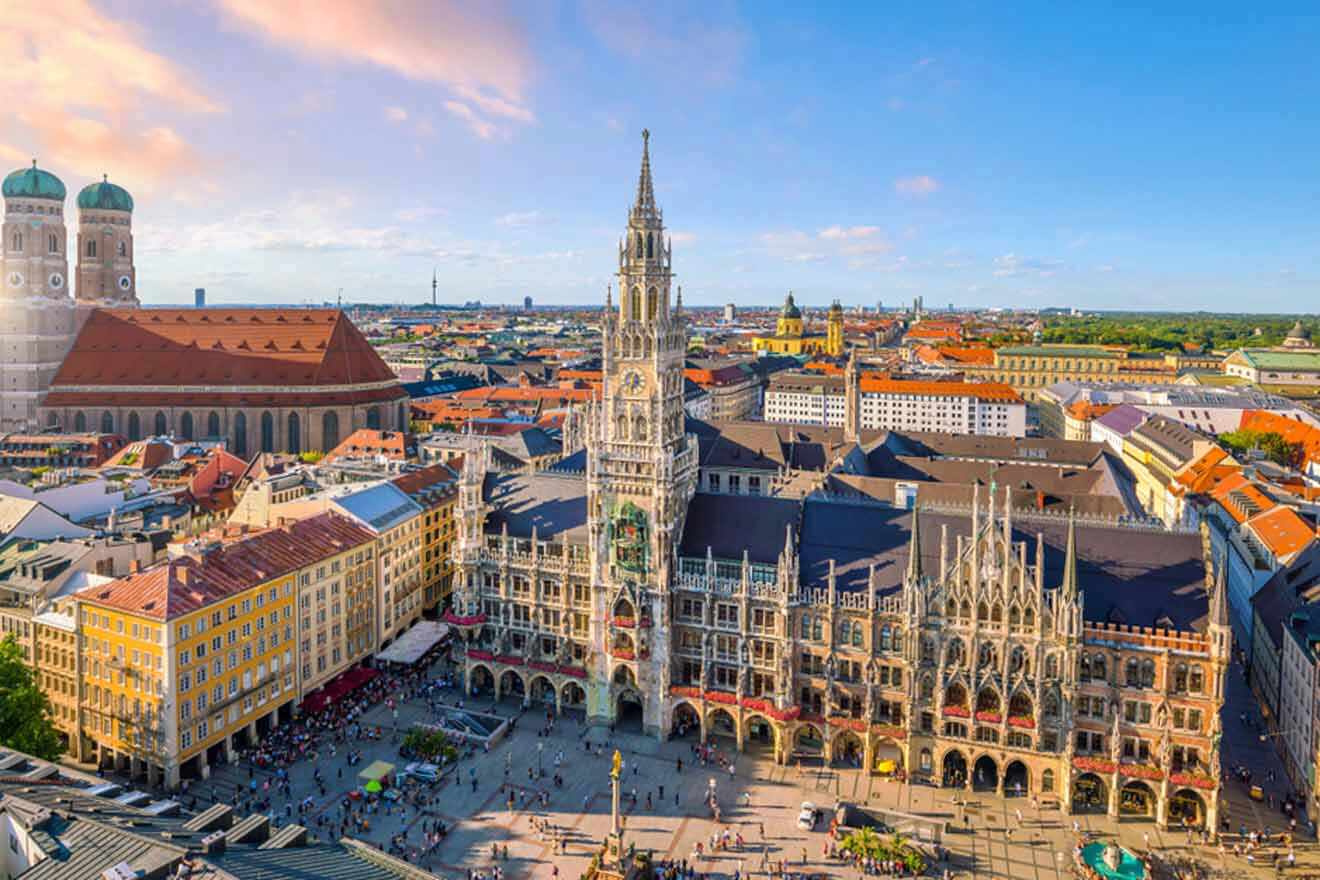 Marienplatz has been Munich's main square since 1158!
Another Munich bucket list is Marienplatz, which is one of the most crowded places in the city! People from around the world gather there during the day and check out the new city hall, the many restaurants and beer halls around the square, and the stands selling fruits and vegetables!
Something cool about Marienplaz station is that it was partially the location for Arctic Monkeys Tranquility Base Hotel & Casino music video.
A fun way to see Marienplatz and more attractions in the city would be with a bike tour, by the hand of a knowledge tour guide! In 4 hours and in a fun way you can see a lot of the city attractions.
TOUR PRICE: from €40 per person
7. Stroll through the Englischer Garten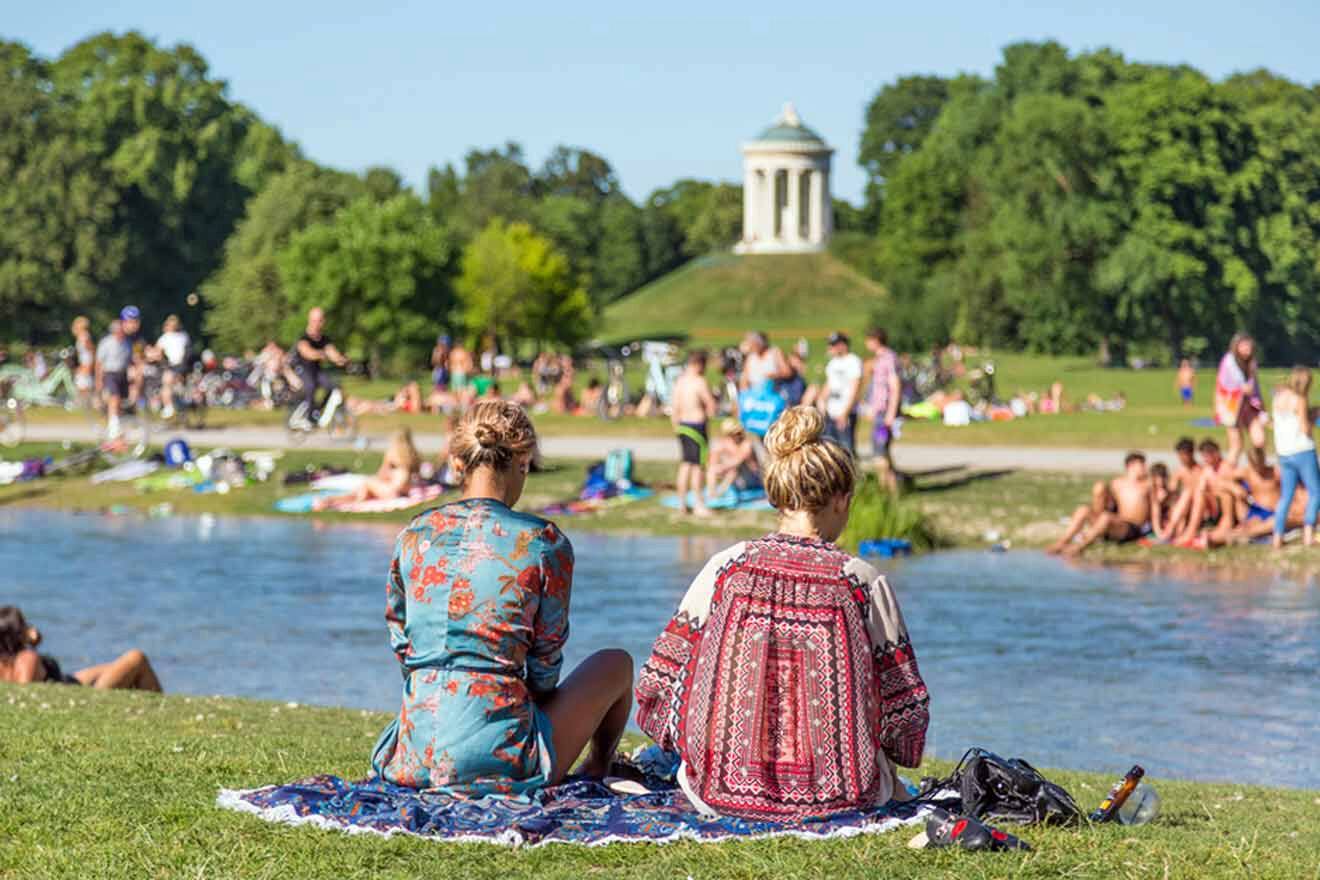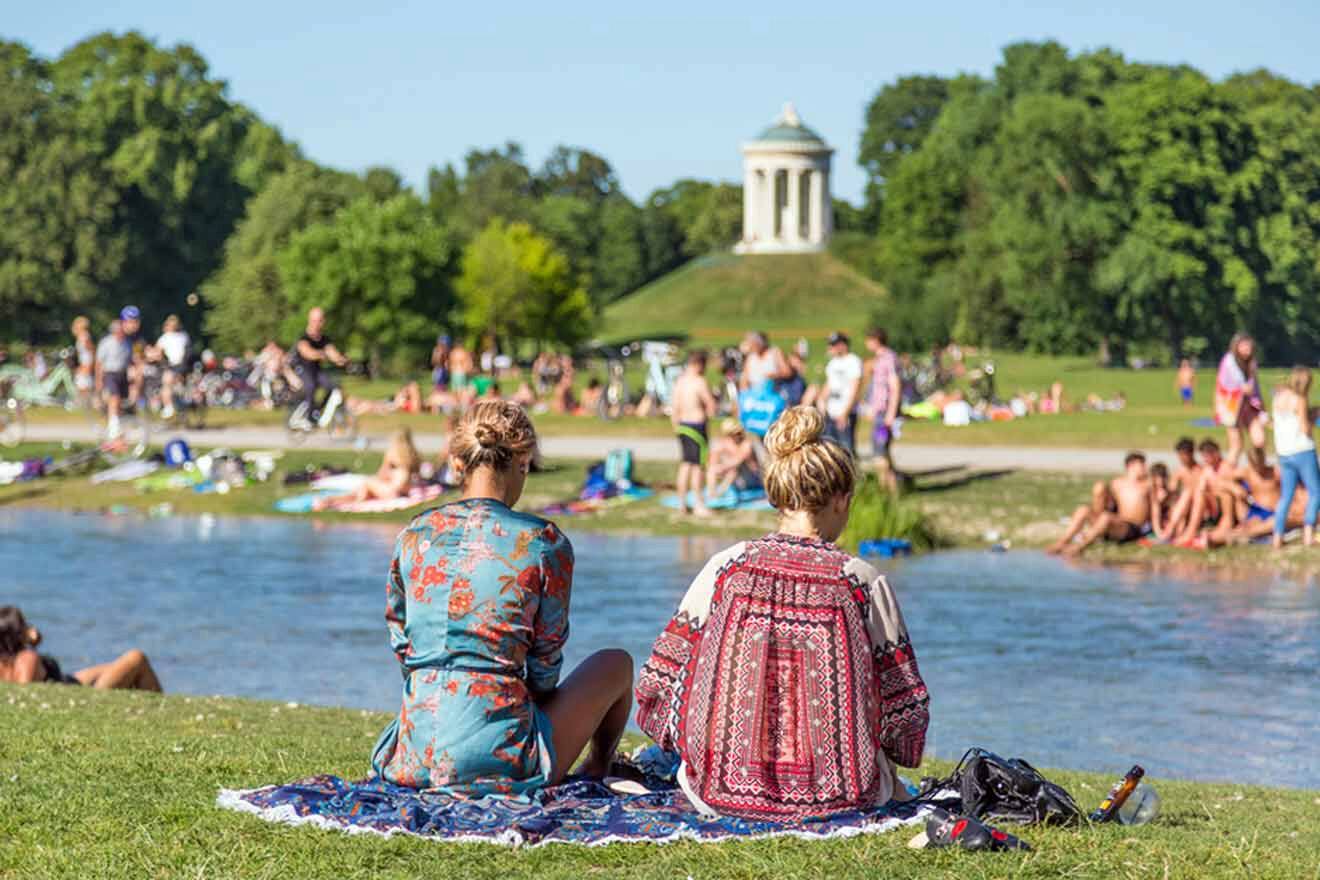 Wander the serene English Garden! When you visit Munich, you cannot miss visiting the English Garden, one of the largest urban parks, with stunning wild nature, cafes, and beer gardens.
You can go surfing at the English Garden! At the end of the park on the Eisbach River, you can ride the Eisbachwelle all year round!
Spend your summer days at the Chinese tower beer garden! This is one of the garden's landmarks; during the summer, you can have beer and pretzels in beer steins while a band plays traditional music at the Chinese tower!
NOTE: be aware it is quite normal for some people during the summer to sunbathe or walk without clothes, as it is one of the city's urban naked zones.
If you want to learn more about the city and all its beautiful neighborhoods, here is a complete Munich area guide.
8. Take a Munich private sightseeing city tour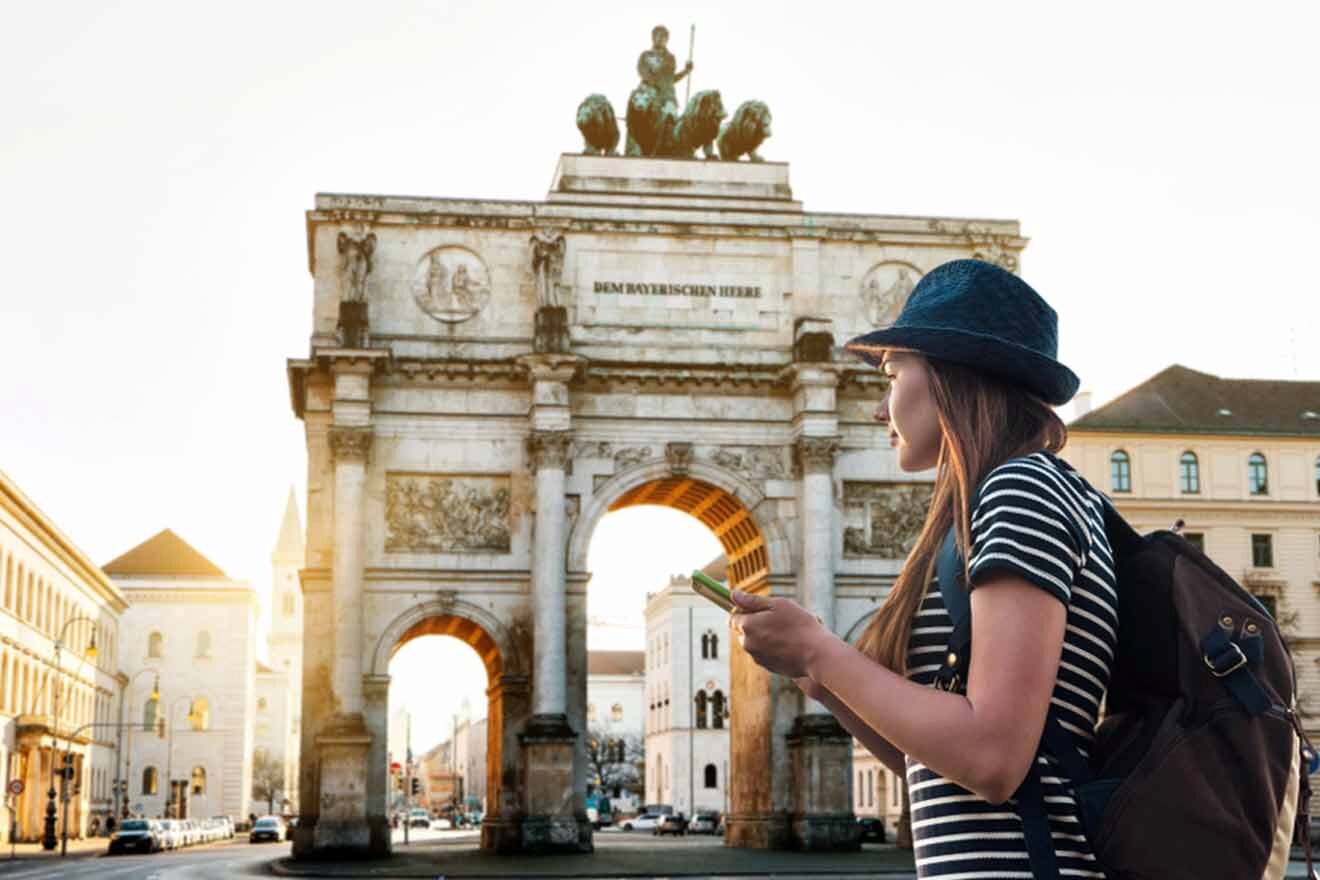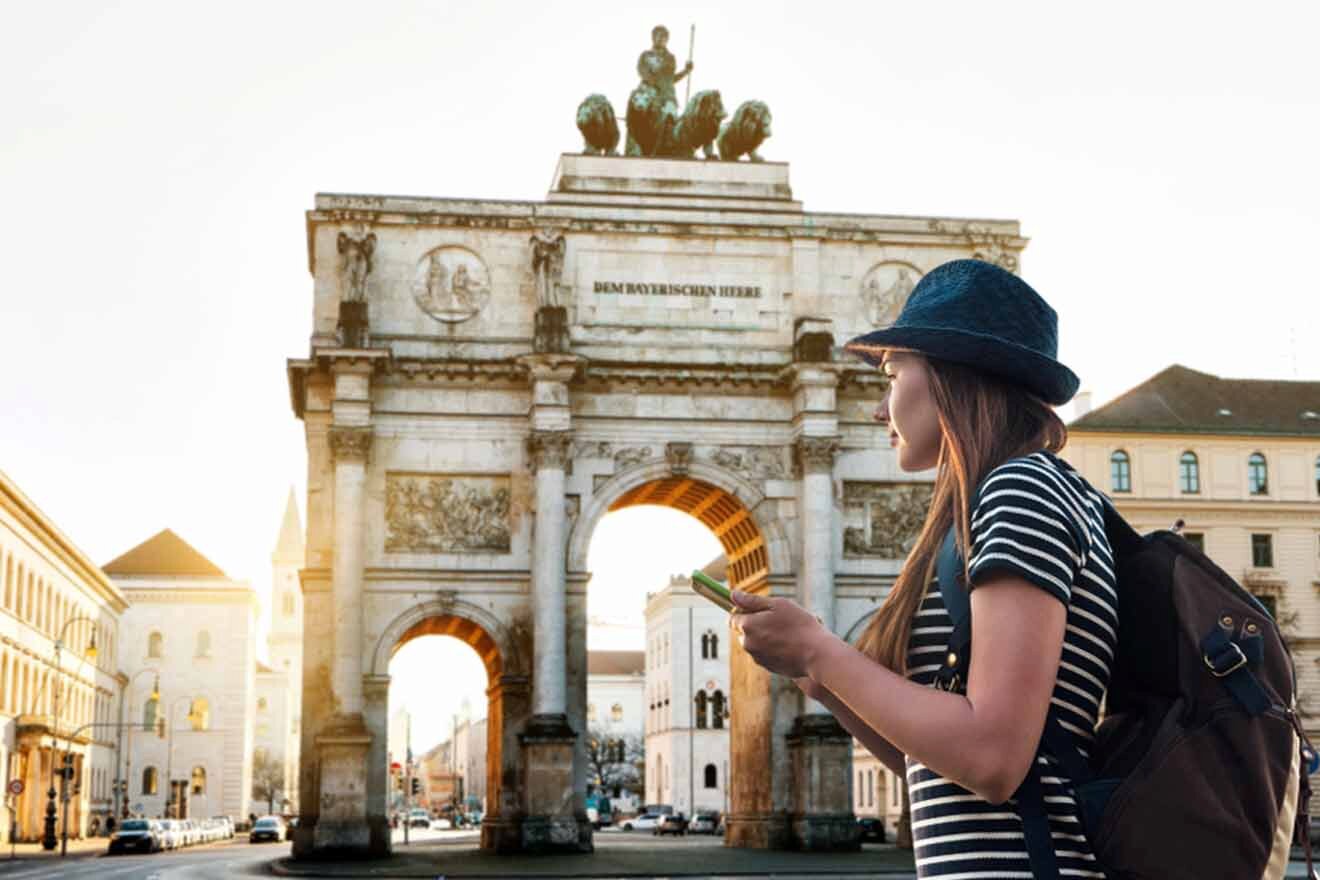 Explore the secrets of Munich's old town and hidden gems with a tour you can customize however you like! What is great about this tour is that you can choose how long the tour will be as well as the landmarks you want to see!
And of course, as it is a private walking tour, the guide will be there with you, answering any questions you have, telling you cool historical facts, and making sure you have the best day ever in the city!
PRICE: from €100 per person
9. Sip local brews at Hofbräuhaus, the ancient beer hall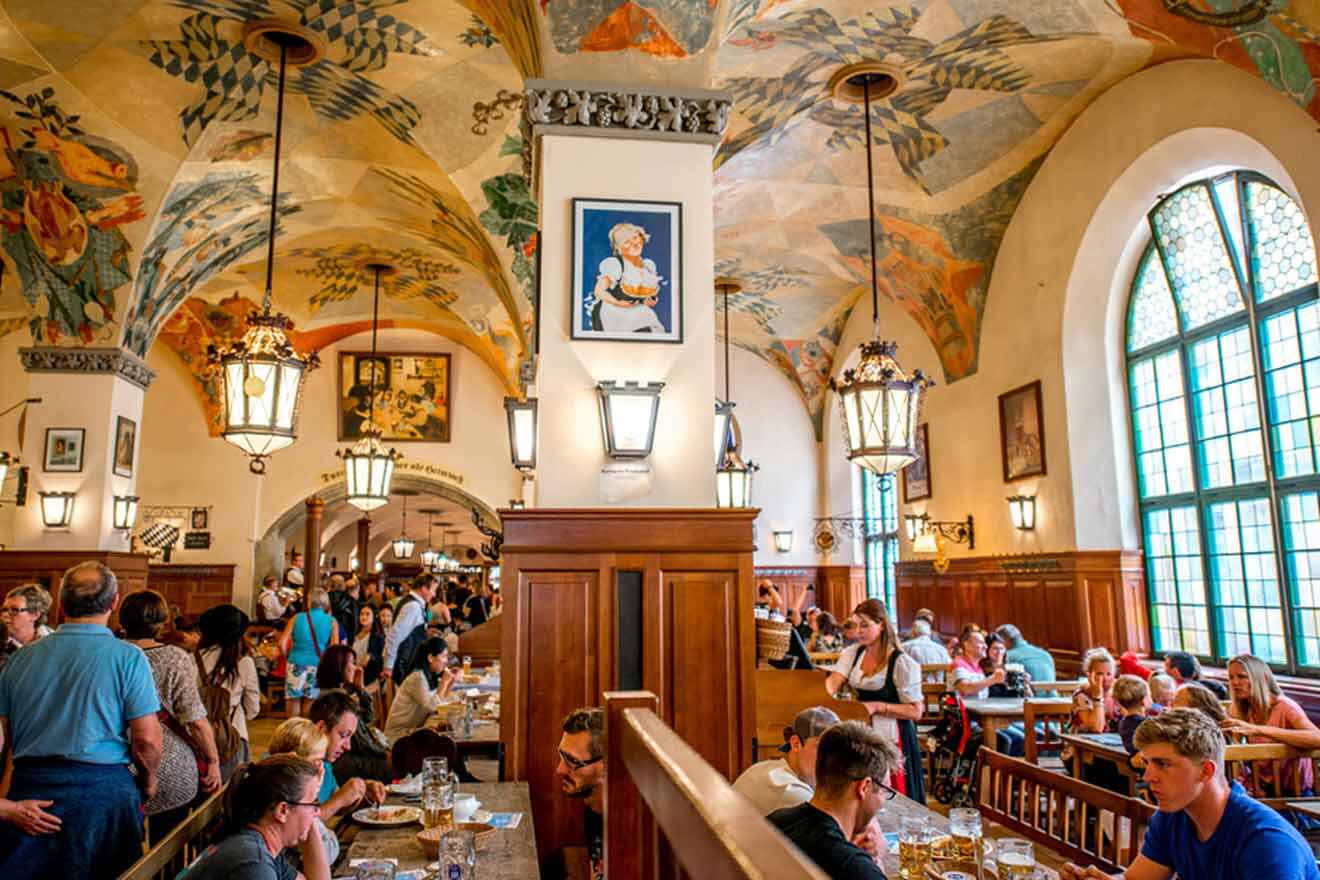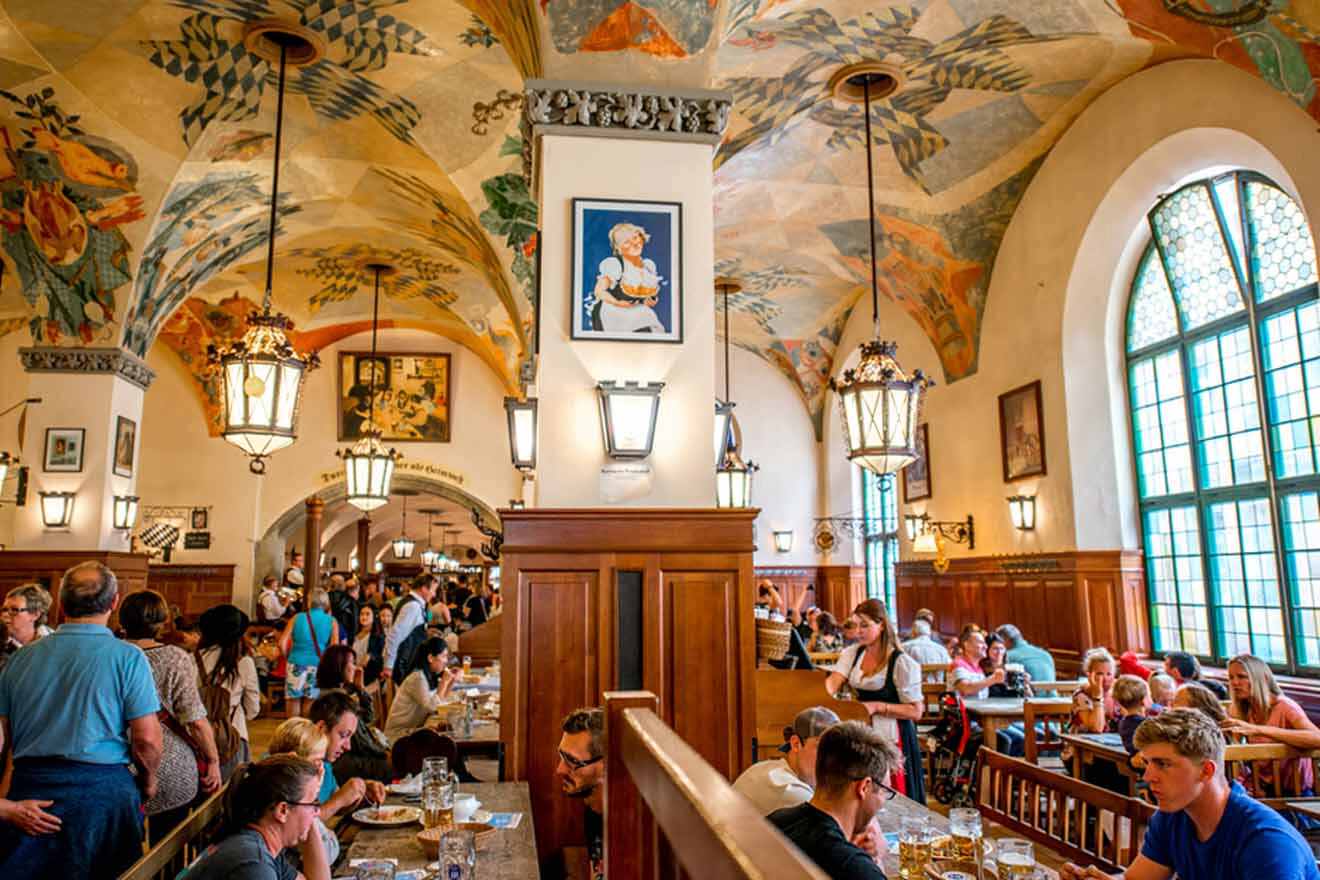 This brewery was founded in 1589 by the Bavarian Duke Wilhelm V! It was founded to serve beer to the Bavarian court, and later on, King Ludwig I in 1828 opened the brewery to the public!
Nowadays, the brewery is still open to the public, and some of the tables date back to its earliest days! The ground floor of the building used to be where they brewed the beer, and now, that room is full of beer garden tables, where visitors can sit for a beer and meal!
The brewery is one of the most famous in the world, so If you want to make sure you can have beer and eat here, I suggest you make a reservation. Reservations are for the second floor of Hofbräuhaus.
If you want to see a few breweries in the city center, with Hofbräuhaus as the final destination, and hear cool stories about the breweries, this tour was made for you!
TOUR PRICE: from €30 per person
10. Discover the beautiful Olympia Park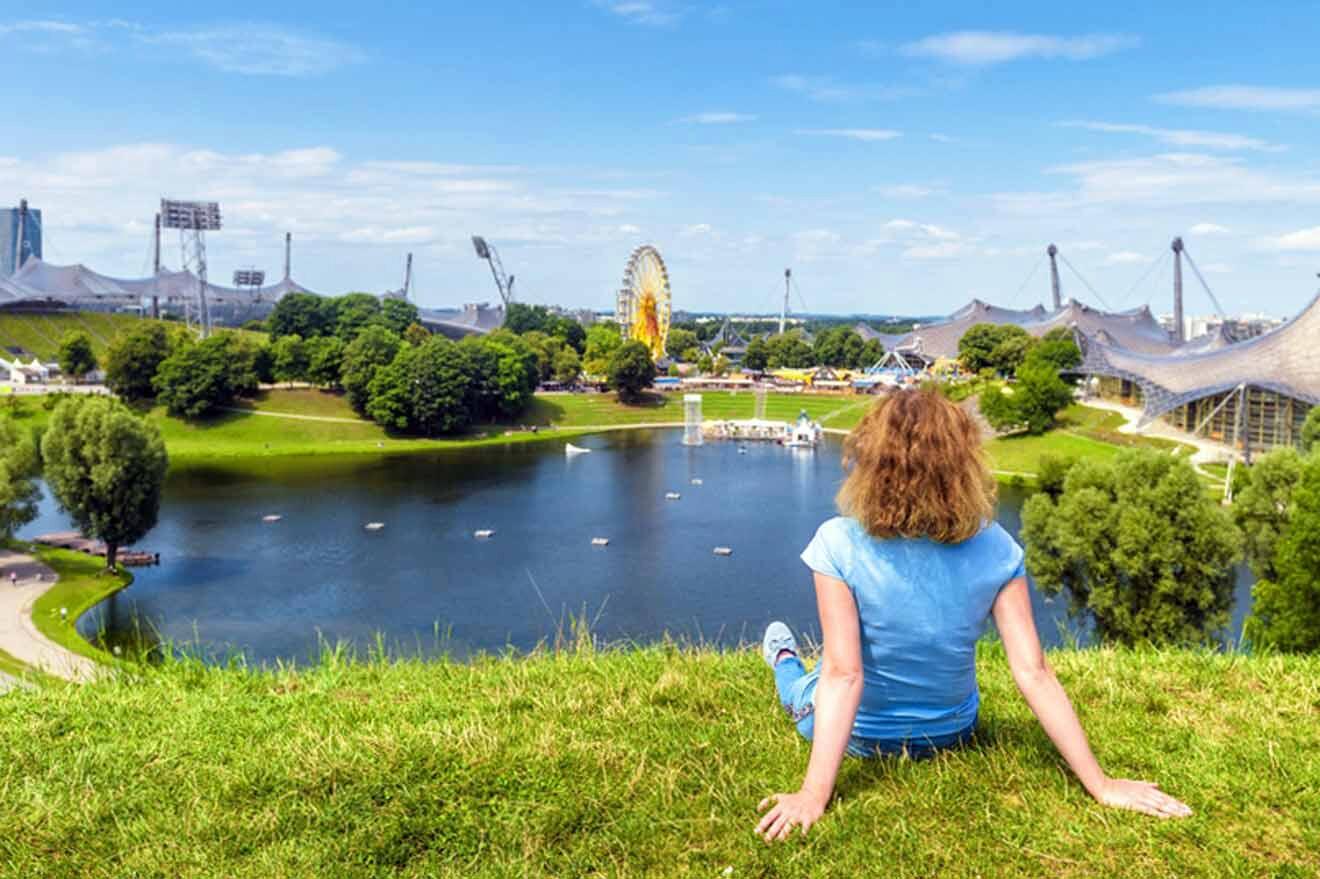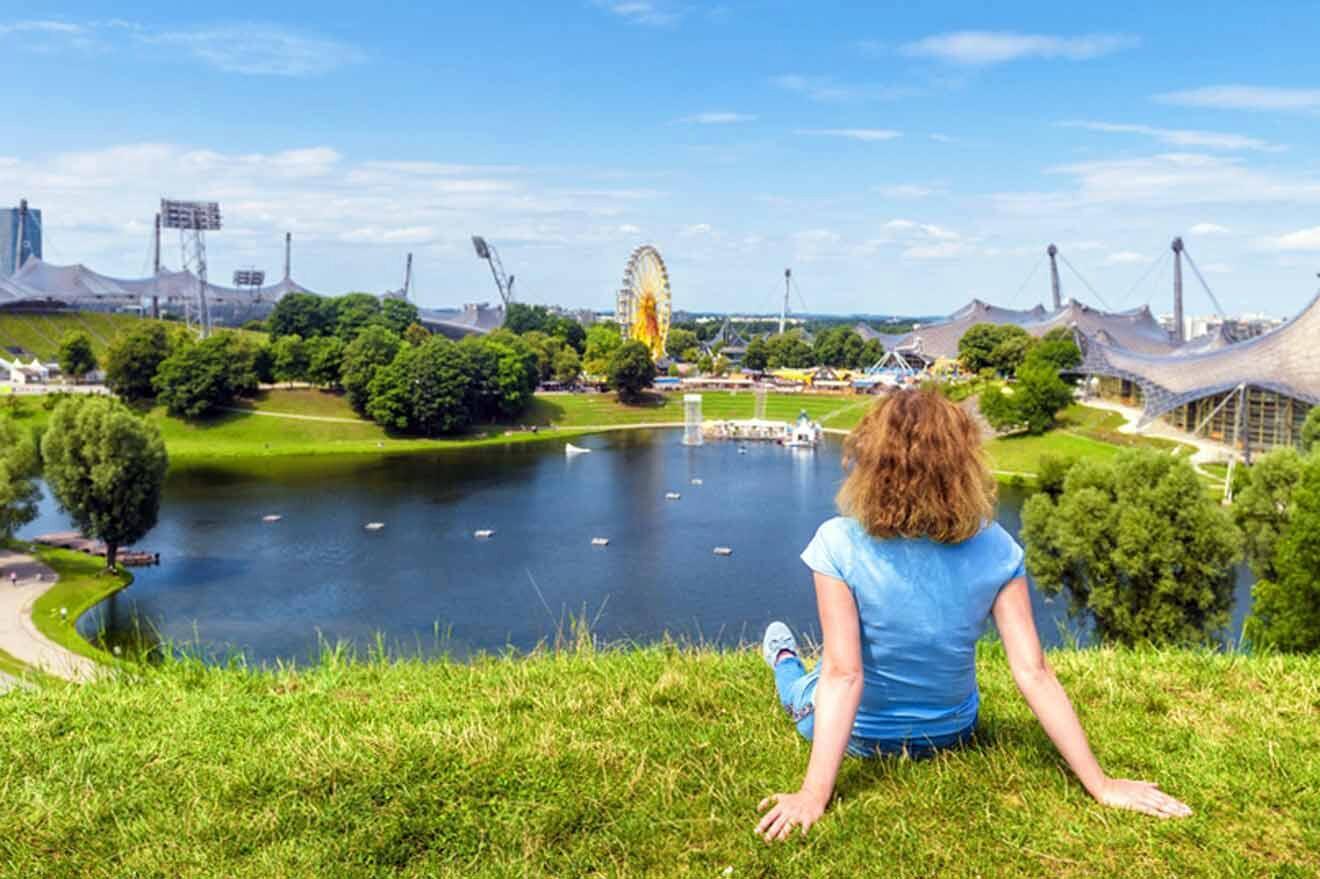 During your time in the park, if you wish, you can visit the Olympic Stadium, which is one of the attractions in the park.
Olympia Park was constructed in 1972 for the Summer Olympics!
This is one of the largest city parks in the city, and it is truly beautiful. It has a beer garden, a beautiful lake, and stunning views. During the summer, people go to the park to bike around, have picnics, and enjoy time under the sun!
This park is quite hilly, and there is a viewpoint that is super popular and has views of the Olympic stadium. I recommend you go to the hill opposite it, which has views of Munich and the Alps!
NOTE: Olympia Park is open to all, and Olympic Stadium has an entrance fee and can only be paid onsite.
STADIUM PRICE: from €4 per person
11. Visit the iconic Frauenkirche cathedral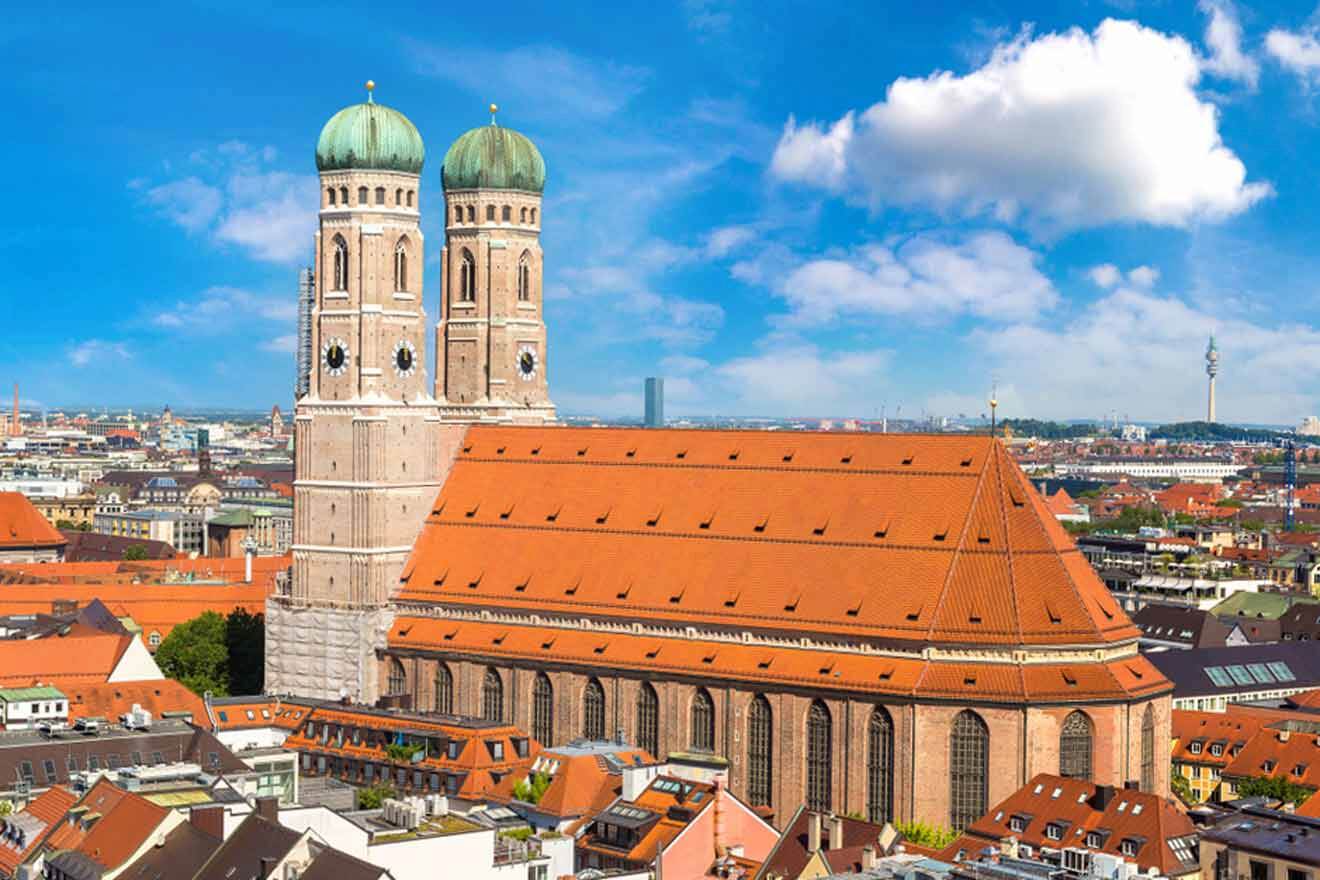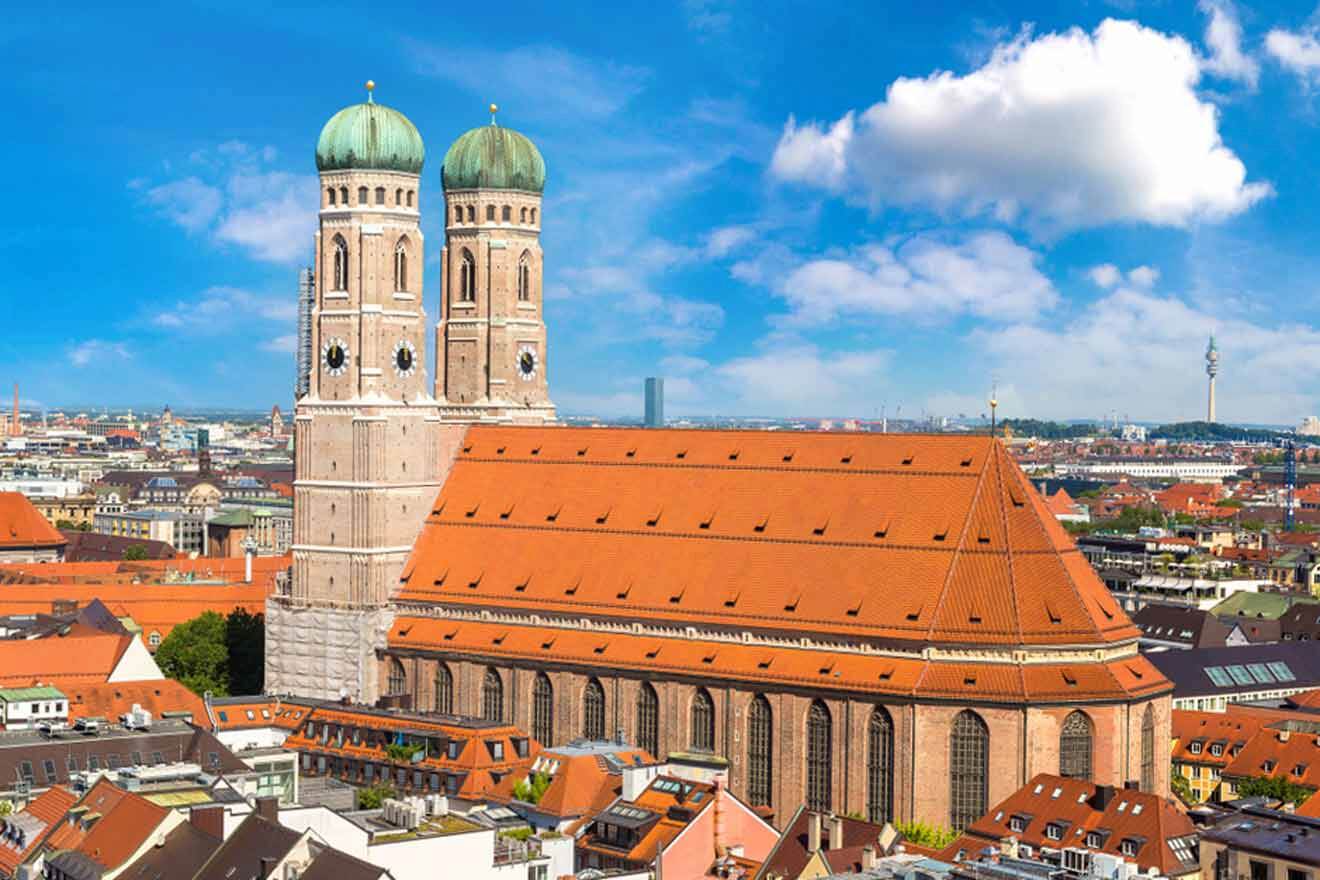 This cathedral was built in 1468 and features a beautiful gothic style. The cathedral's towers are a city symbol you can see all around and represent Munich.
Legend says the Devil was in this cathedral! There is a black footprint at the entrance of Frauenkirche, and it is said it was left by the devil the day the cathedral was finished.
This is definitely a must-visit on your trip to Munich! Plus, it's free!
PRICE: free
12. Stop by the Siegestor, the entrance to the old city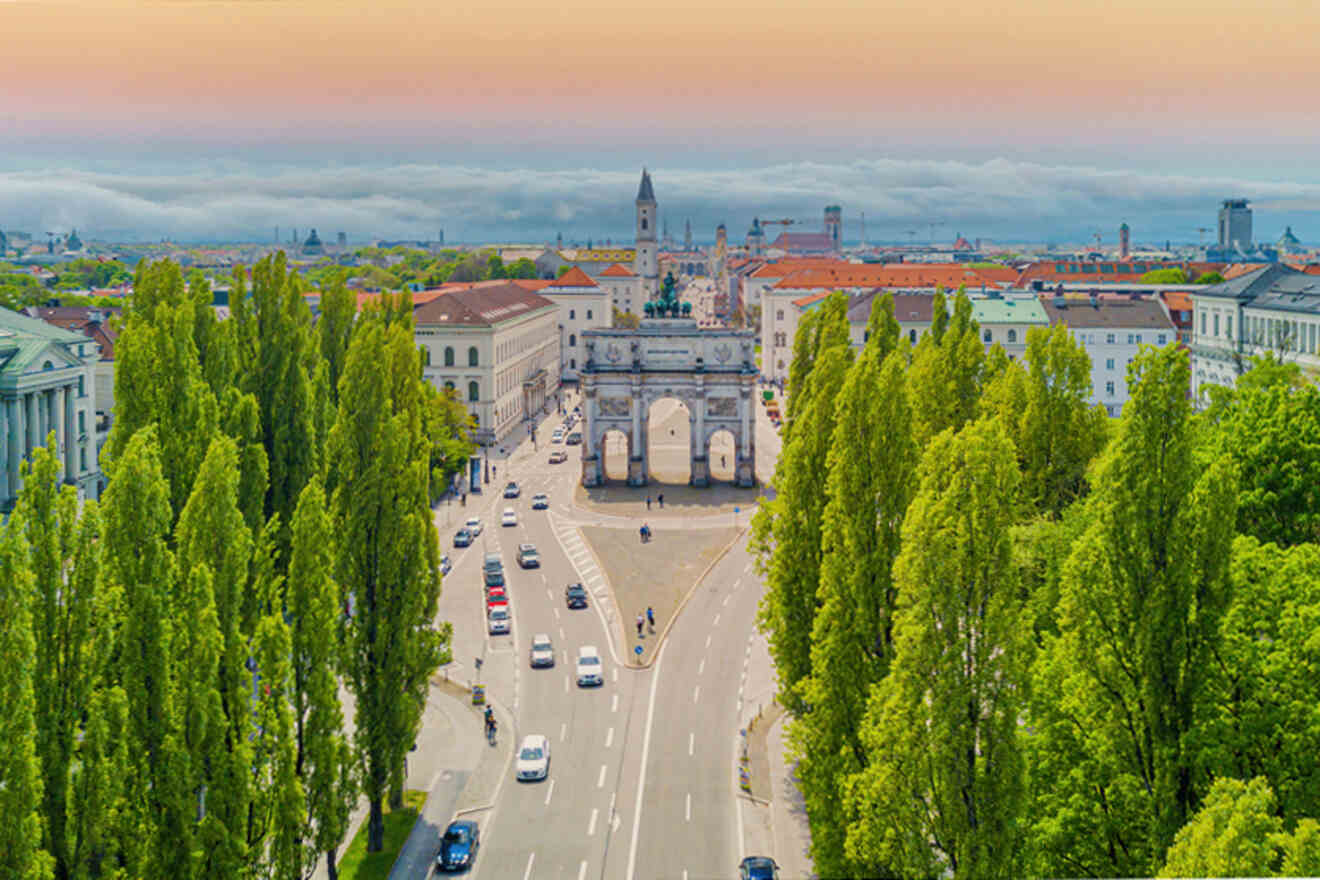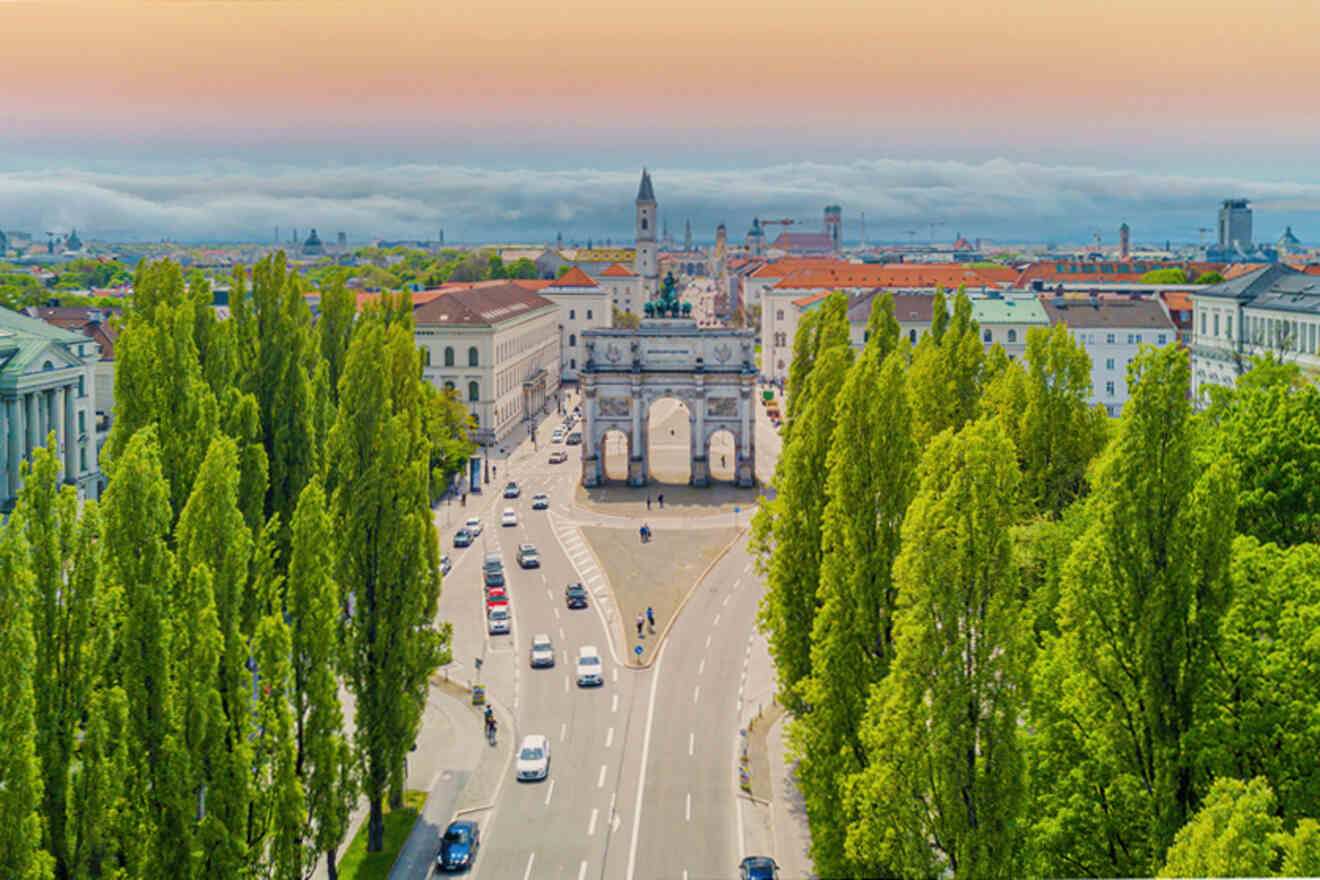 The Siegestor is a stunning triumph arch that marks the entrance to the old city of Munich.
When you stand in front of it, you get the best views of Ludwigstrasse and many landmarks in the back, such as the famous square Odeonsplatz, St. Ludwig München, and Frauenkirche.
This "victory gate" was built between 1843 and 1850 and had to be partially reconstructed after World War II.
This is a great place to take pictures to commemorate your time in Munich!
PRICE: free 
13. Marvel at art in the Pinakothek museums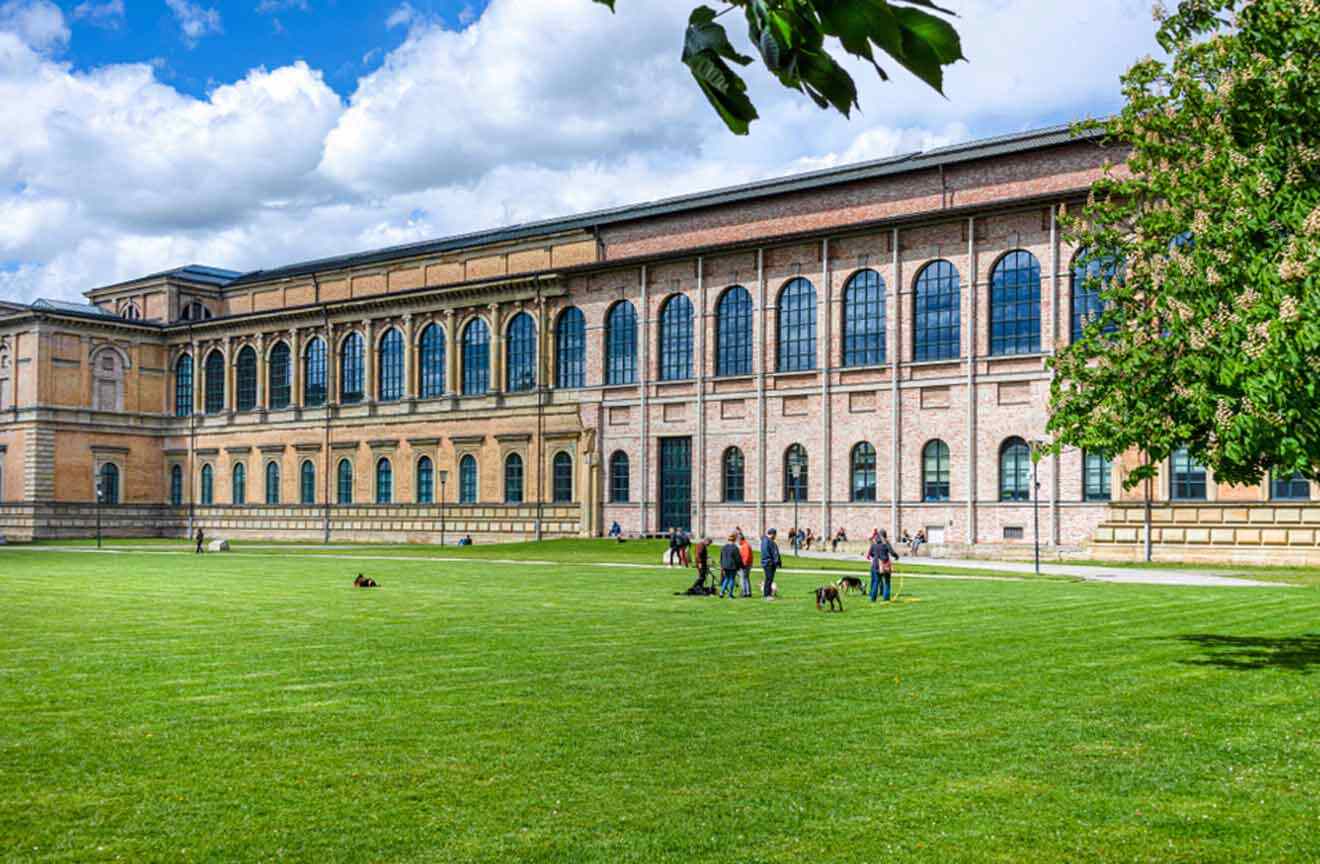 Pinakothek museums in Munich have their entrance at €1 every Sunday!
Dive into art at the art museums! All the museums are pretty close together in the beautiful neighborhood of Maxvorstadt and surrounded by cafés, bars, and bakeries!
One of the Pinakothek Museums is Alte Pinakothek, one of the world's oldest art museums and galleries, and has exhibitions from the fourteenth to the eighteenth century.
Pinakothek der Moderne, the modern art museum, has exhibitions covering design, art, and graphics to architecture! So whether you're into modern art or renaissance, Pinakothek has you covered!
PRICE: from €7 per person
14. Revel in the festivities of Oktoberfest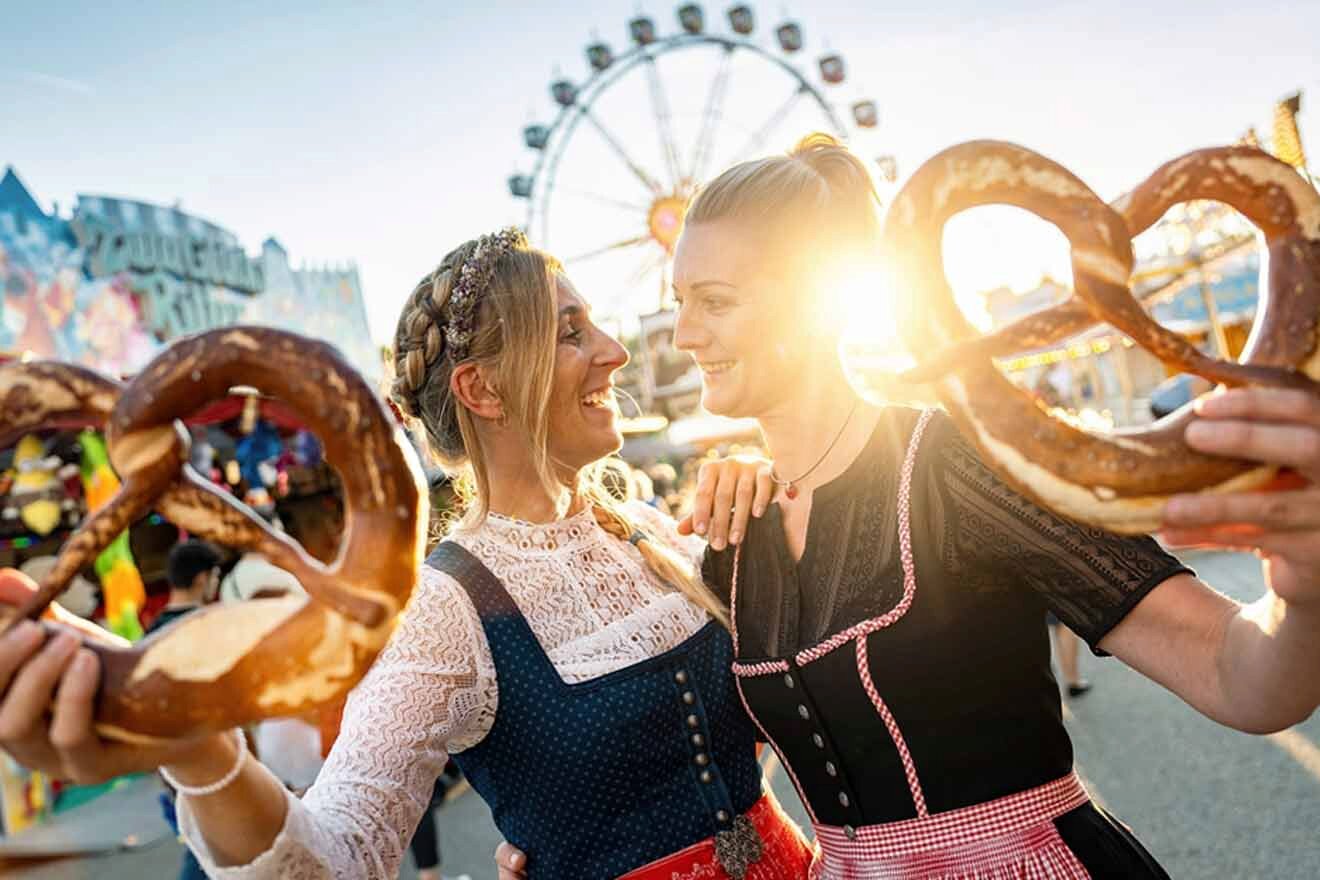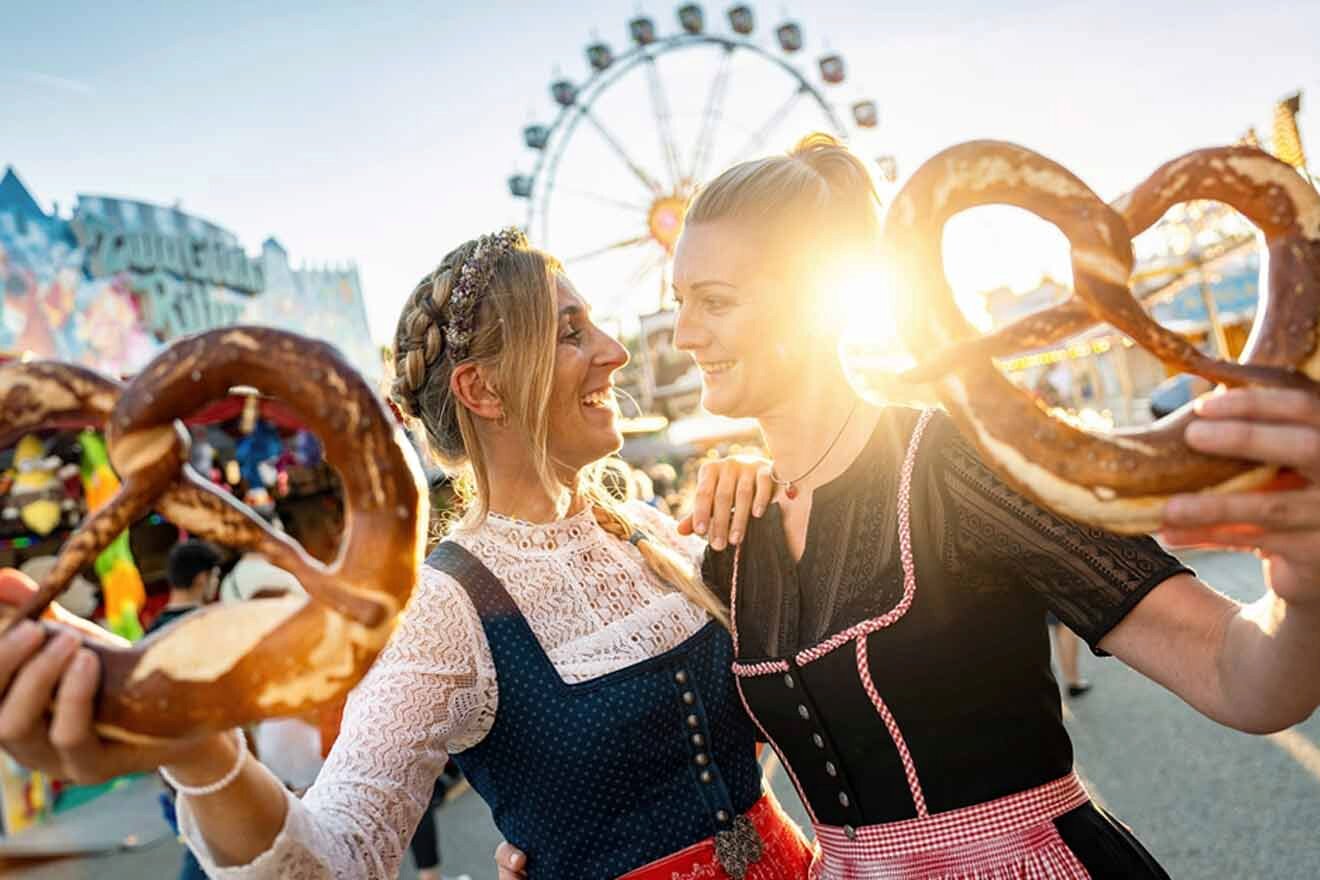 One of the best things to do in any city is attend local festivals, which is why you should 100% visit Oktoberfest, the biggest beer festival in Munich!
Oktoberfest celebration started in 1810 after Prince Ludwig married Princess Therese of Saxe-Hildburghausen.
Every year, by the end of September (I know, it isn't actually in Oktober), Theresienwiese fills up with beer houses, fair attractions, and food stands! Locals and visitors love this beer and folk festival the same, and almost everyone dresses in the traditional lederhosen and dirndl!  
15. Pay respects at St. Peter's Church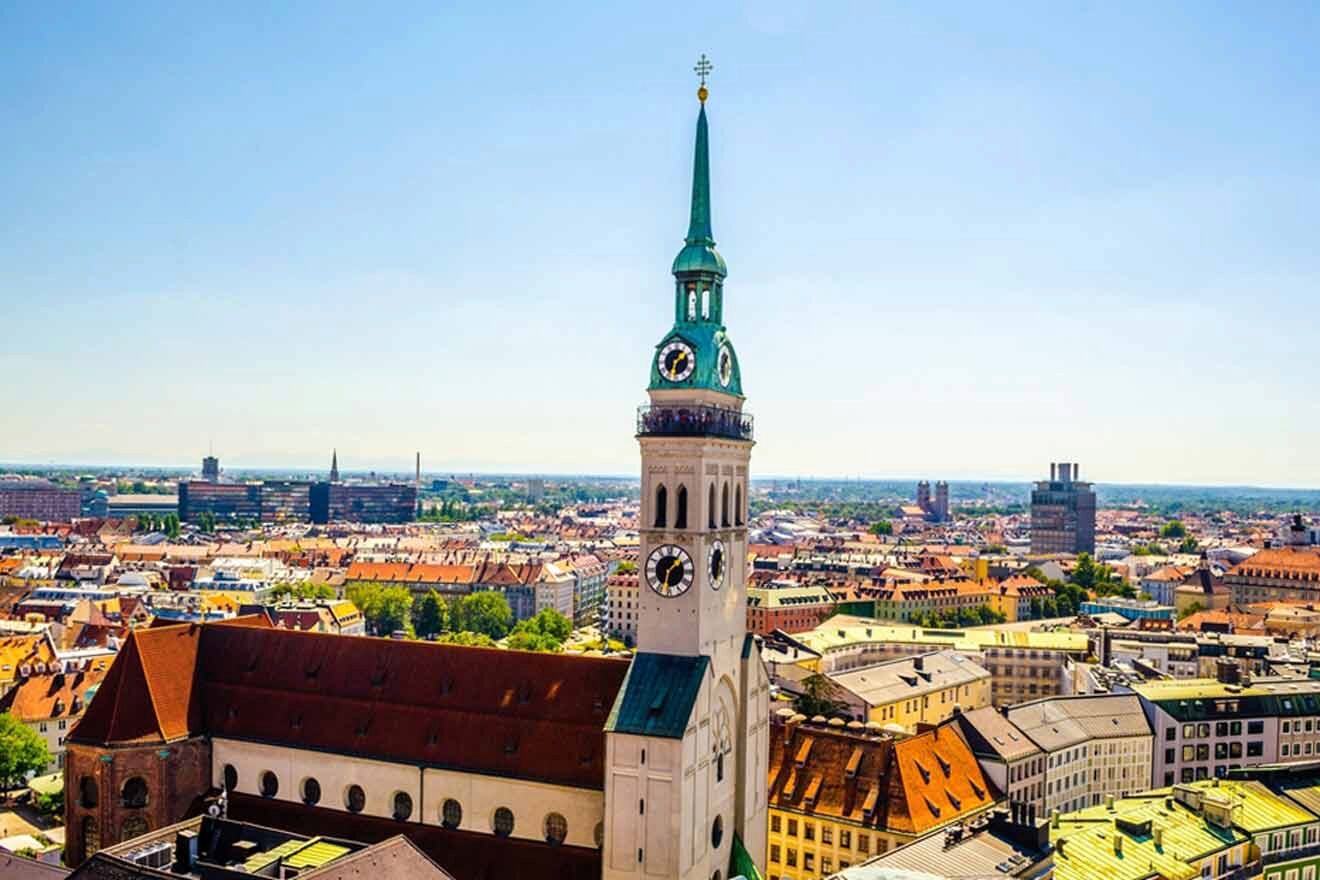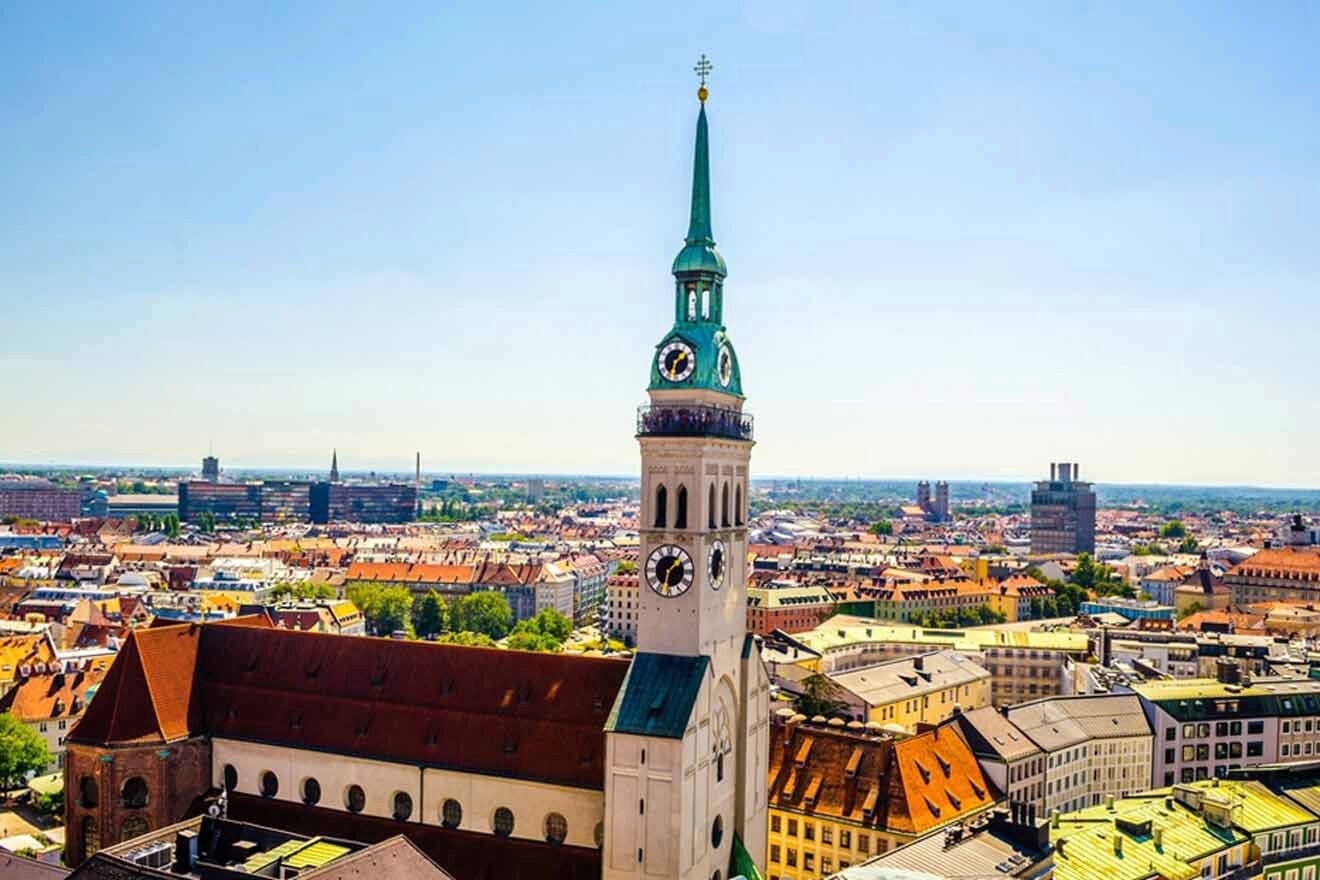 This is another beautiful church in the city, featuring rococo and gothic styles, and it is said it is the oldest parish church in Munich, with the oldest bells.
I highly suggest you visit the St. Peter's tower to see the entire city, including the Bavarian Alps. Just keep in mind the way up this small staircase is a ride! 300 steps up!
NOTE: the entrance to St. Peter is free, but if you want to go to the tower, you need to buy the ticket at the church's info office.
TOWER PRICE: from €5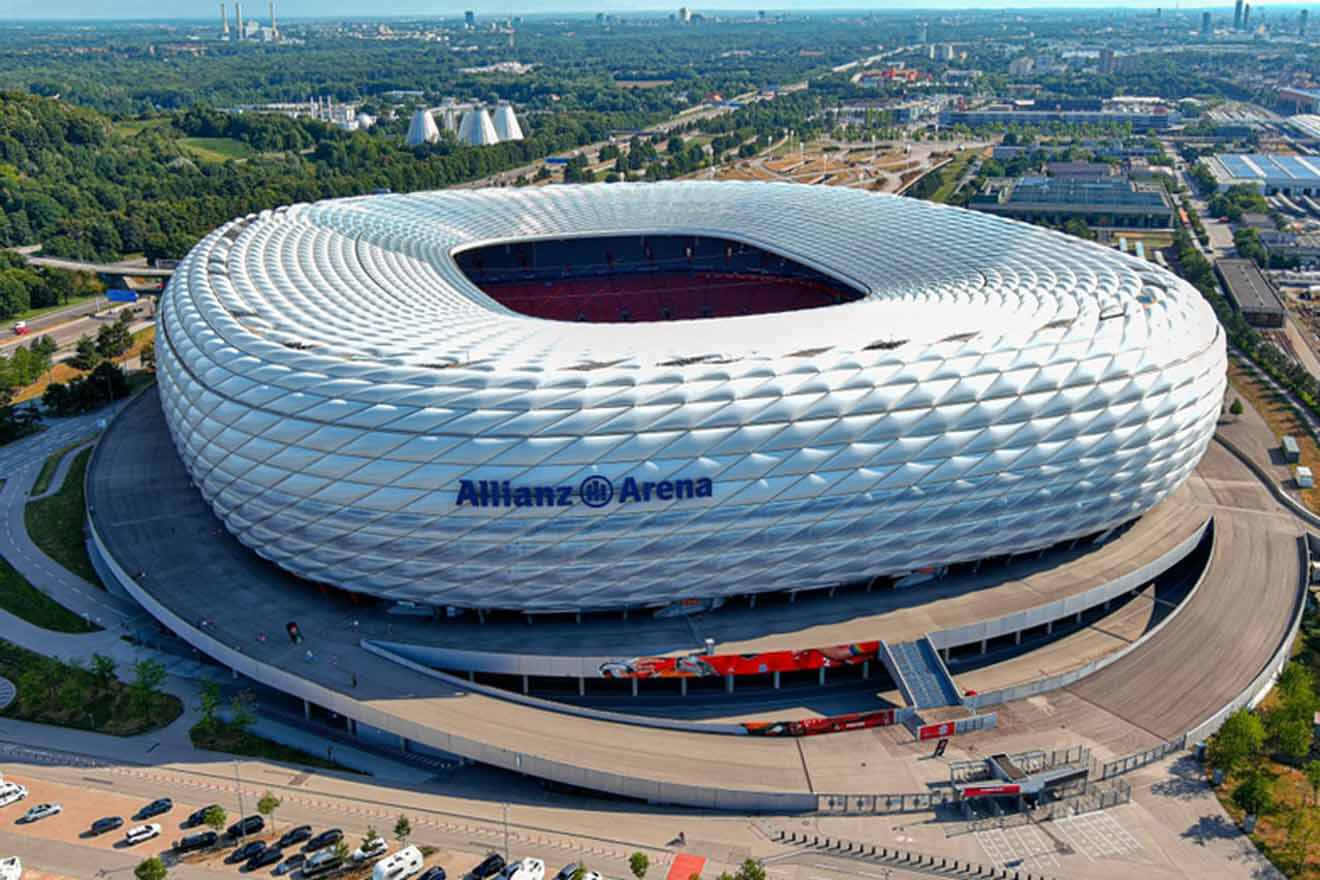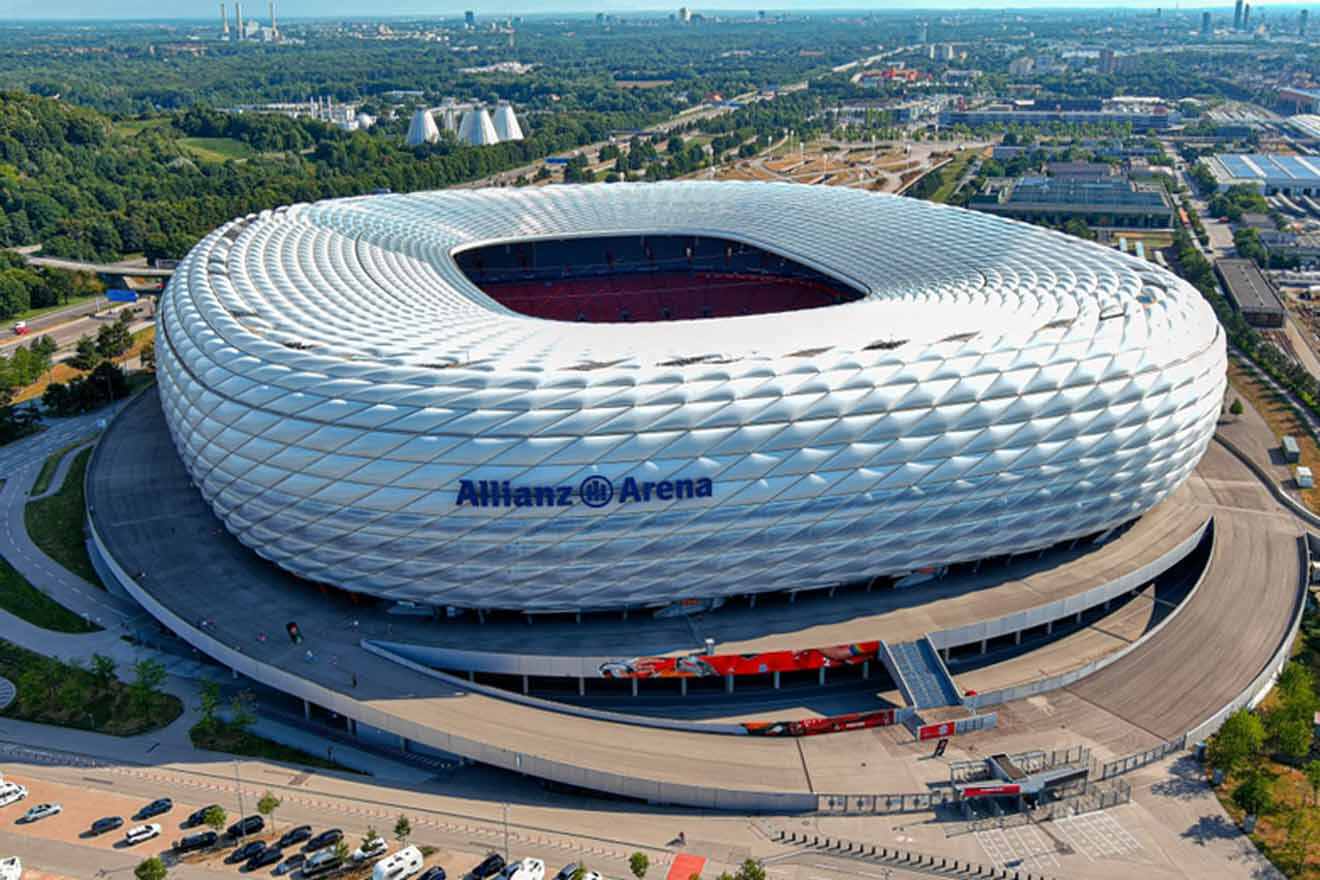 If you are visiting Munich, you must stop by the Allianz Arena, FC Bayern Munich Stadium. Football is the most popular sport in the country, so what better activity than to see one of the biggest teams in the country's stadiums?
The tour will take you to the stadium on a bus so that you will see some landmarks. This tour is a great chance to see Allianz Arena inside and the training field! You will also see the FC Bayern Munich Museum and fans shop.
PRICE: from €40 per person
Book your skip the line tickets
17. Watch a performance at the National Theatre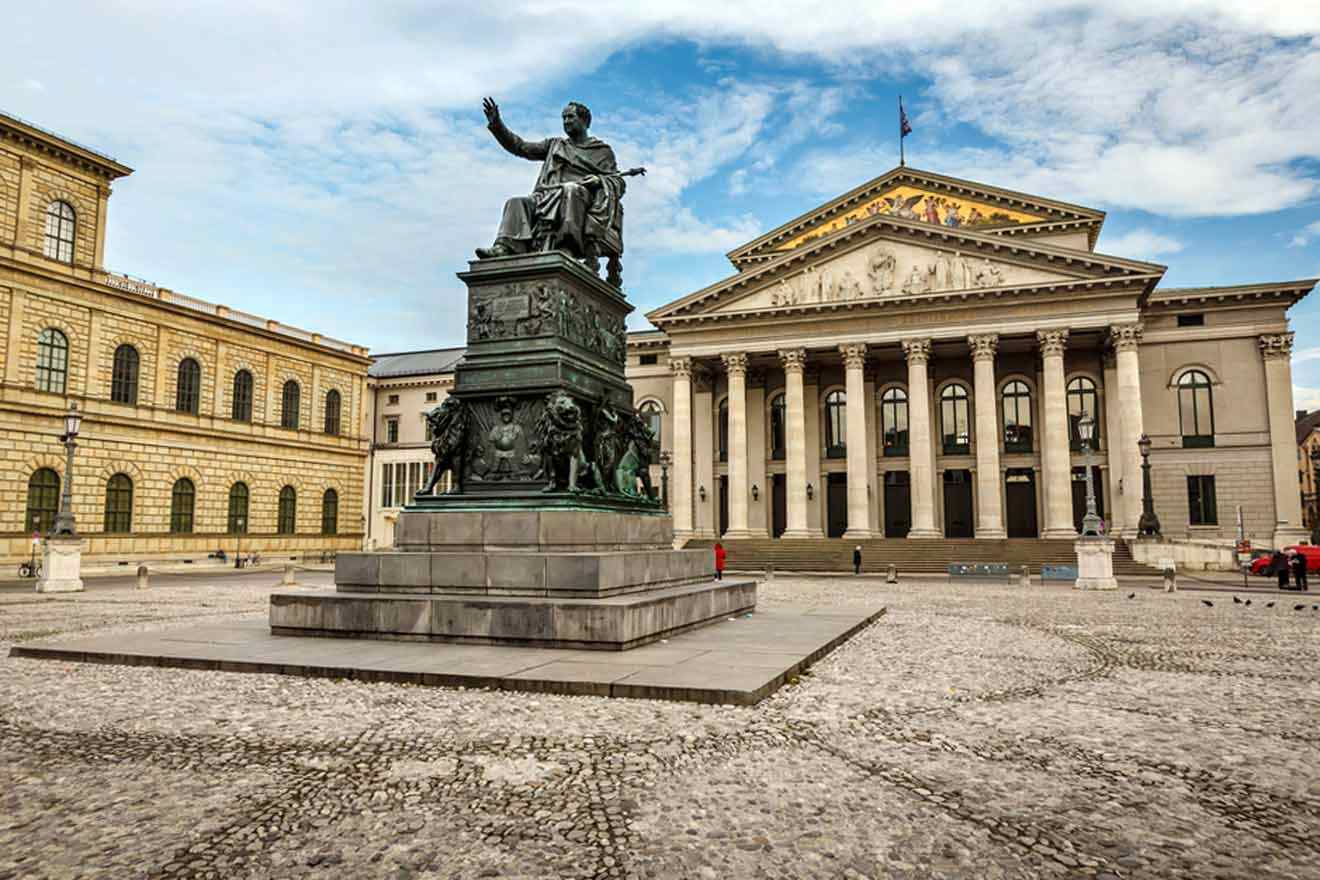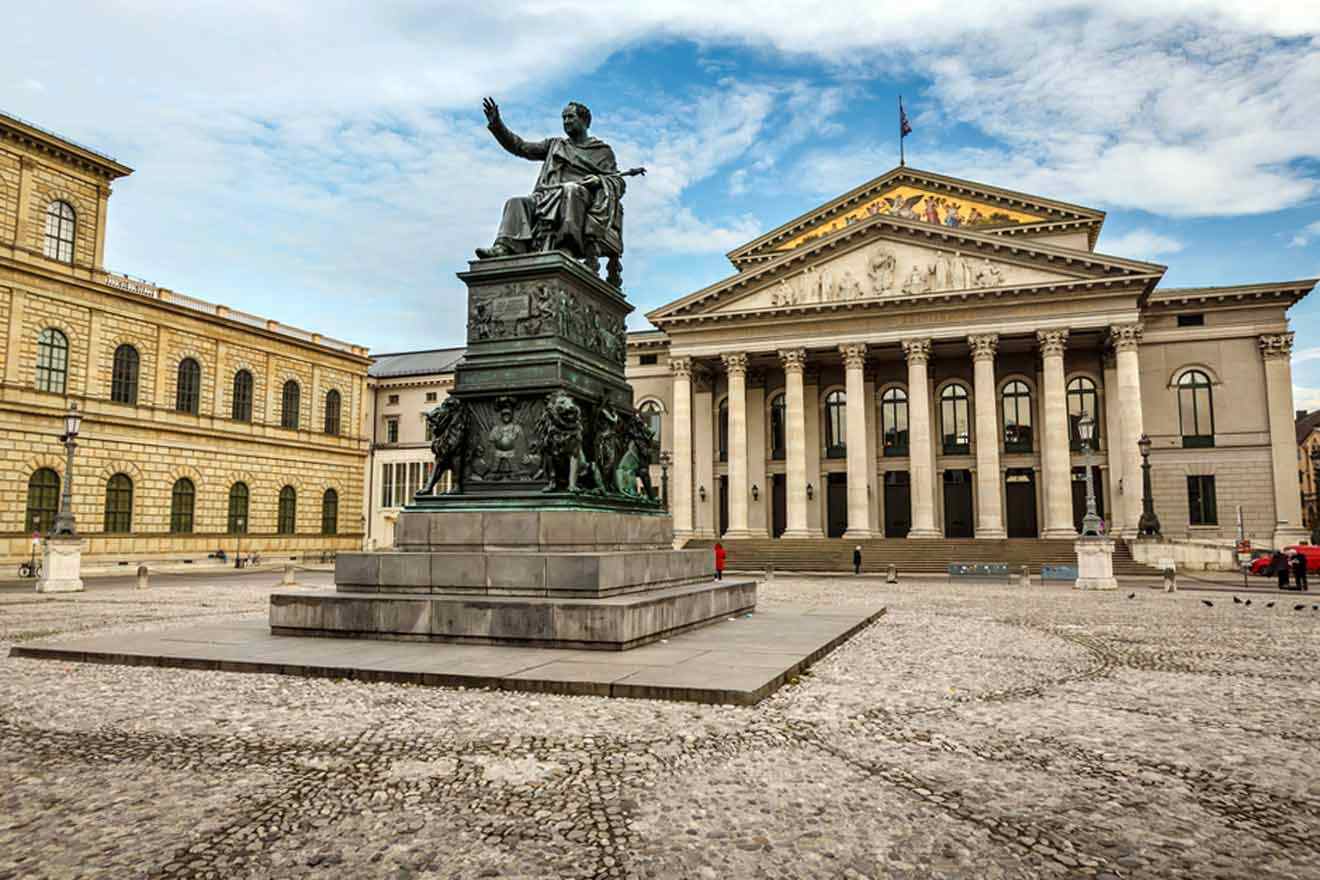 The National Theatre is a historical Opera House built in 1818, and it is home to the Bavarian State Orchestra, Bavarian State Opera, and the Bavarian State Ballet.
They usually put their events and schedules a year in advance, so you can purchase a ticket here if you want to plan ahead!
During the day of a concert, if some seats are not taken, they give the tickets for a very low price! Check out the venue in the early morning and see if you get lucky!
18. Be amazed by the Bavarian National Museum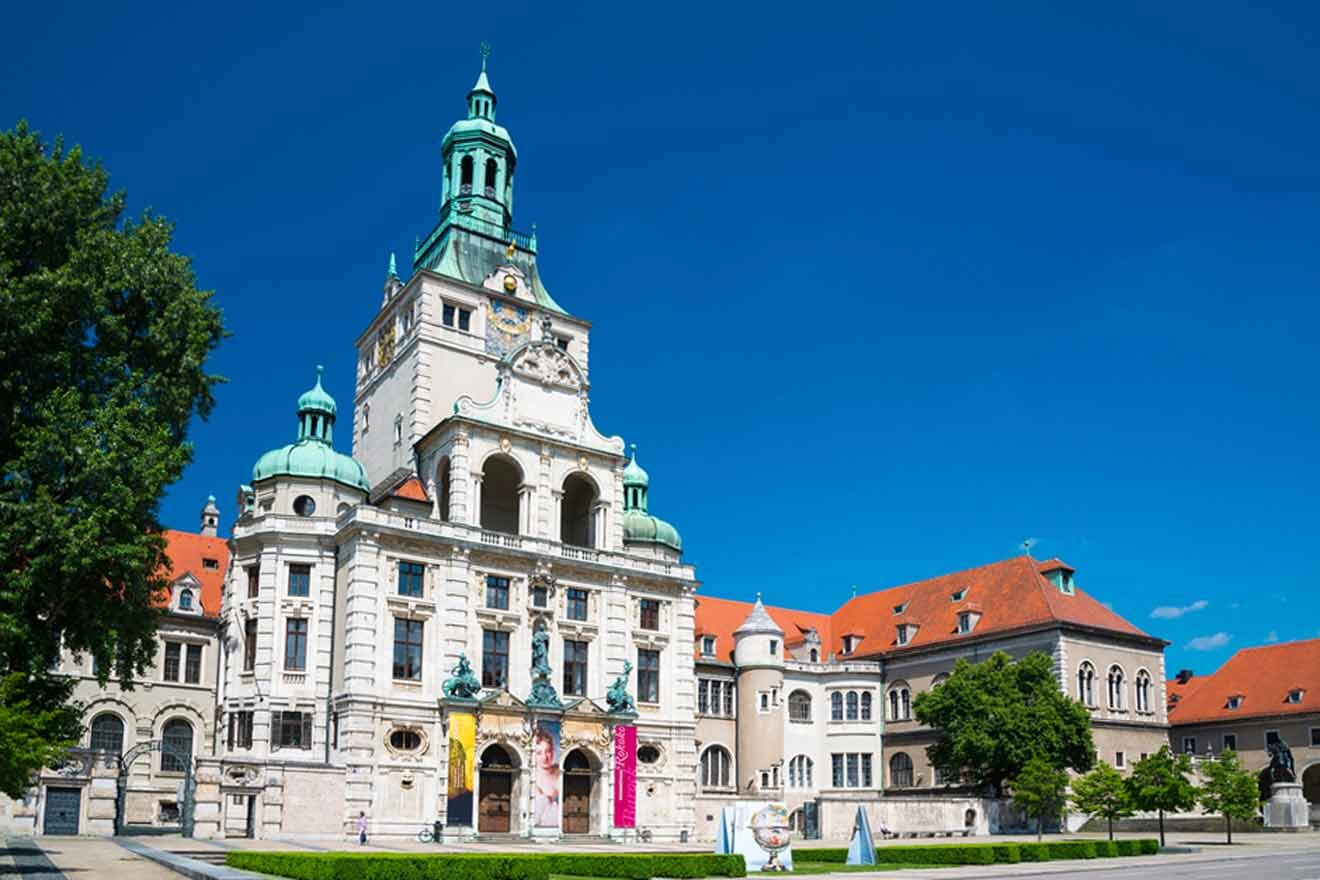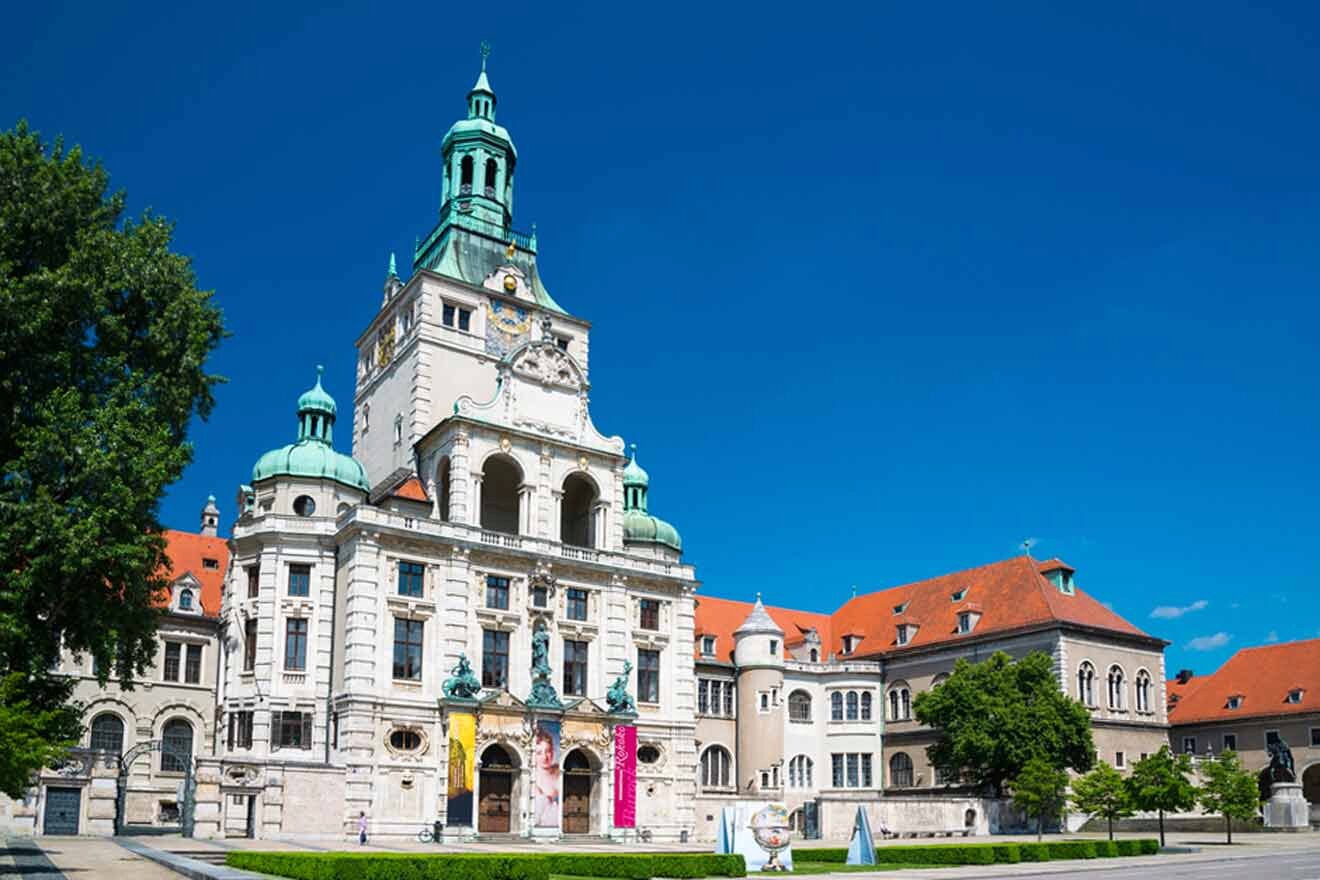 This is one of the most beautiful museums I have been to and one of the largest art museums in Europe. This museum features historical European art, as well as folklore permanent exhibitions.
Most of the pieces of this museum belonged to the Wittelsbach family, who ruled the area for some time. King Maximilian II founded the museum in 1855 in a different building, and it was moved to its current building in 1900.
You will spend a good amount of hours in the Bavarian National Museum and see a wide range of collections and exhibitions.
NOTE: you can purchase the tickets at the museum info desk
PRICE: from €7
19. See the BMW Museum and BMW World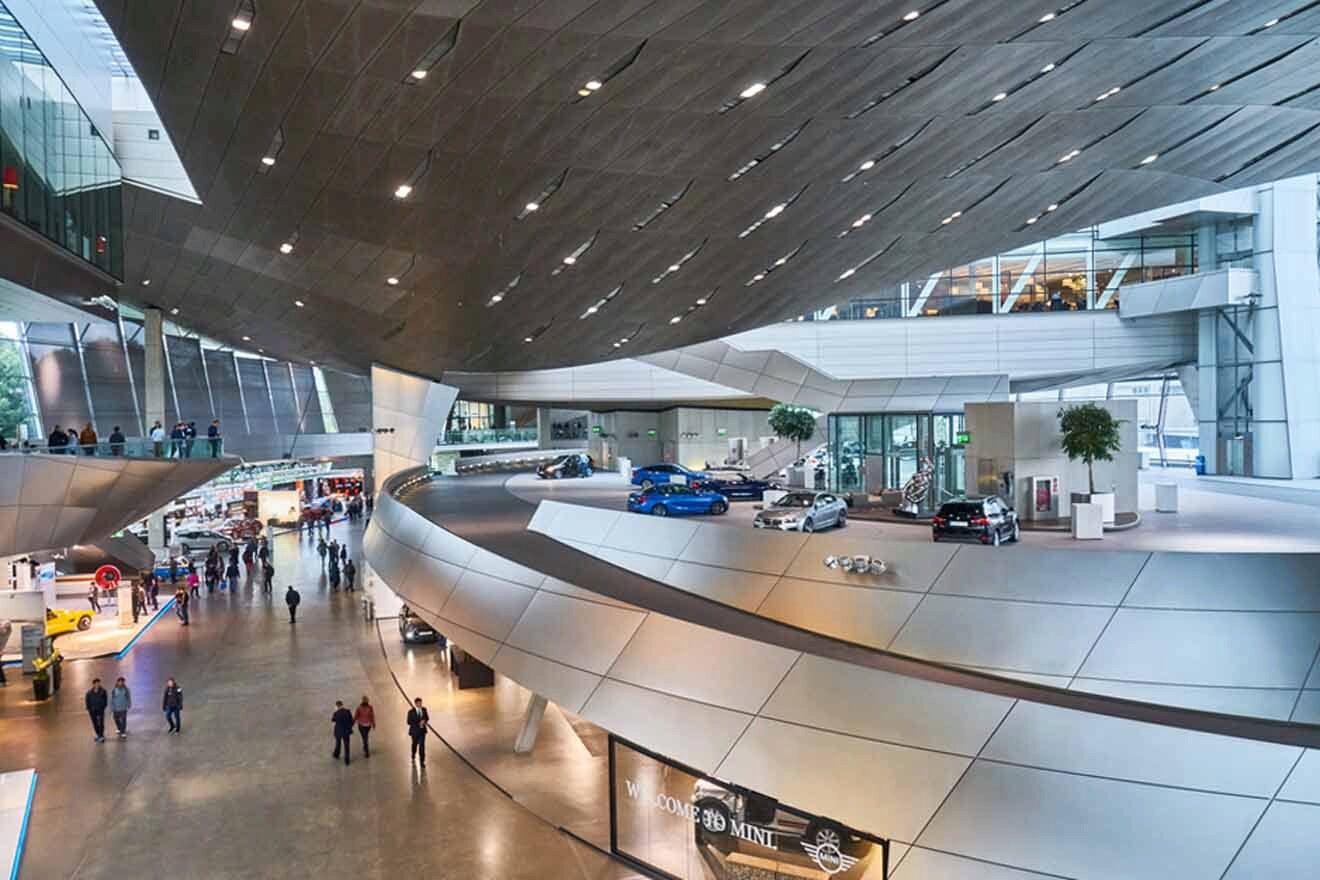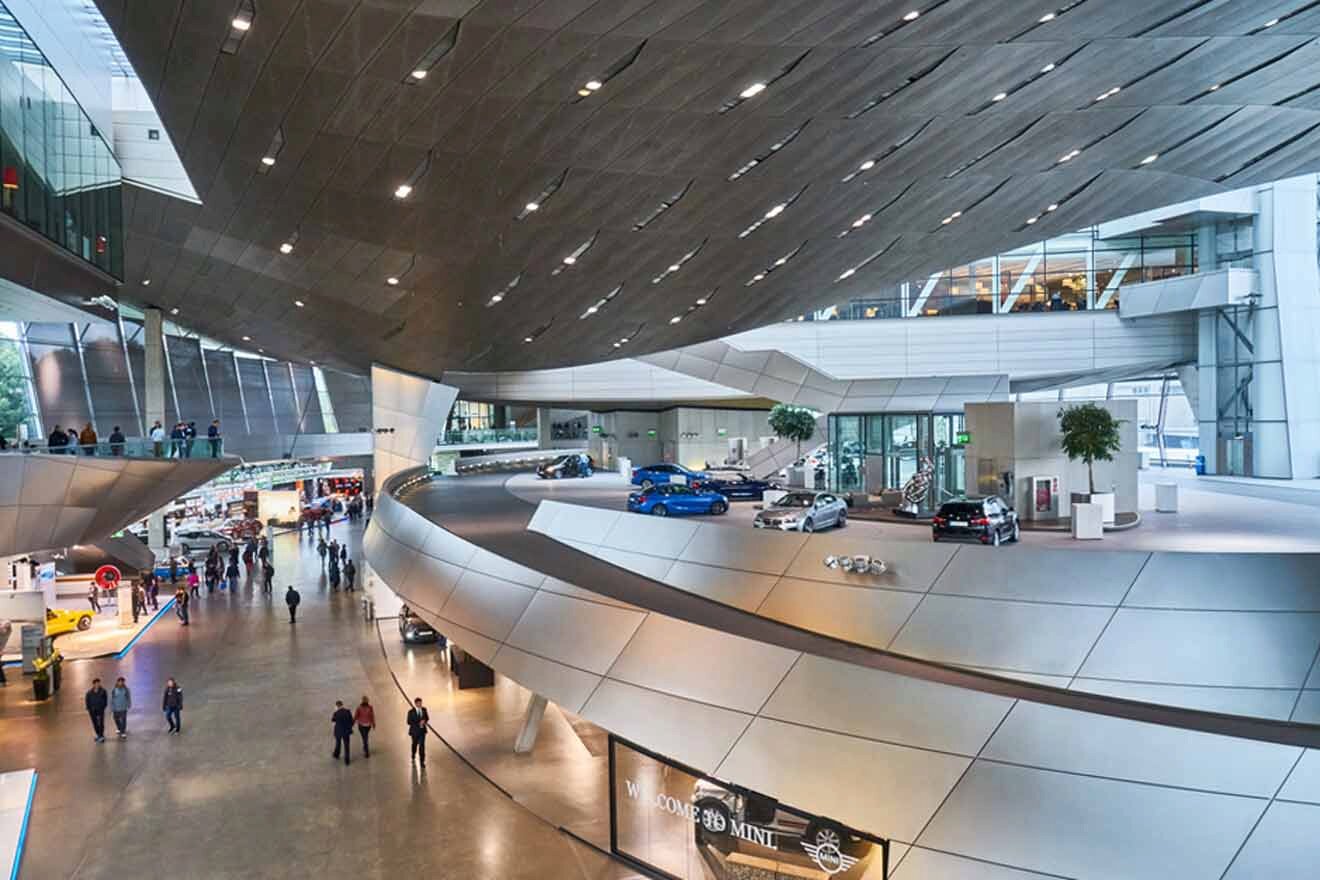 If you are interested in automobiles, especially the brand BMW, you need to visit the BMW Museum, which features exhibitions showing all the different models and the journey of BMW until its present day, which is around 100 years! Get your tickets here.
In BMW Welt, you can see all of BMW's latest models in unique surroundings inside a modern and futuristic building. A cool thing about BMW Welt is that here, visitors can test and interact with the models!
NOTE: you only need to buy a ticket for the BMW Museum; BMW World has free entry.
PRICE: from €10 per person
| | |
| --- | --- |
| 🏛️ Best museum: | Pinakothek Museums |
| 🎢 Top paid attraction: | Munich Private Tour |
| 🚶🏽‍♂️ Best free activity: | English Garden |
| 👧 Best attraction for kids: | Deutsches Museum |
| 🕺 Nightlife: | Maxvorstadt |
| 🥟 Must try food: | Pretzels and Weisswurst |
BONUS: Day trips from Munich to nearby gems
If you want to explore more wonderful places and landmarks in Bavaria, here you have some amazing day trips you can take during your visit!
If you want more options, our comprehensive guide to the best day trips from Munich has even more options to choose from!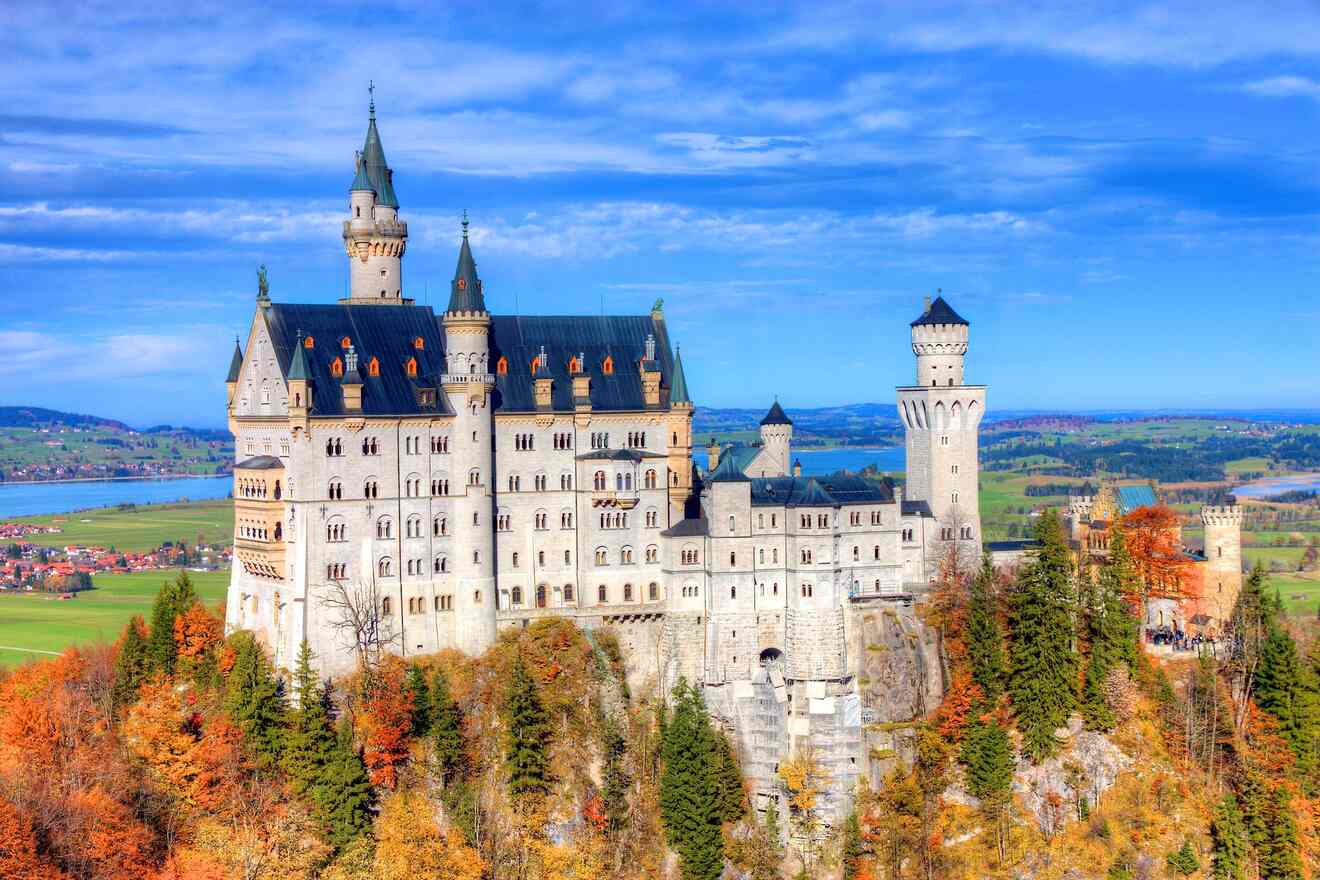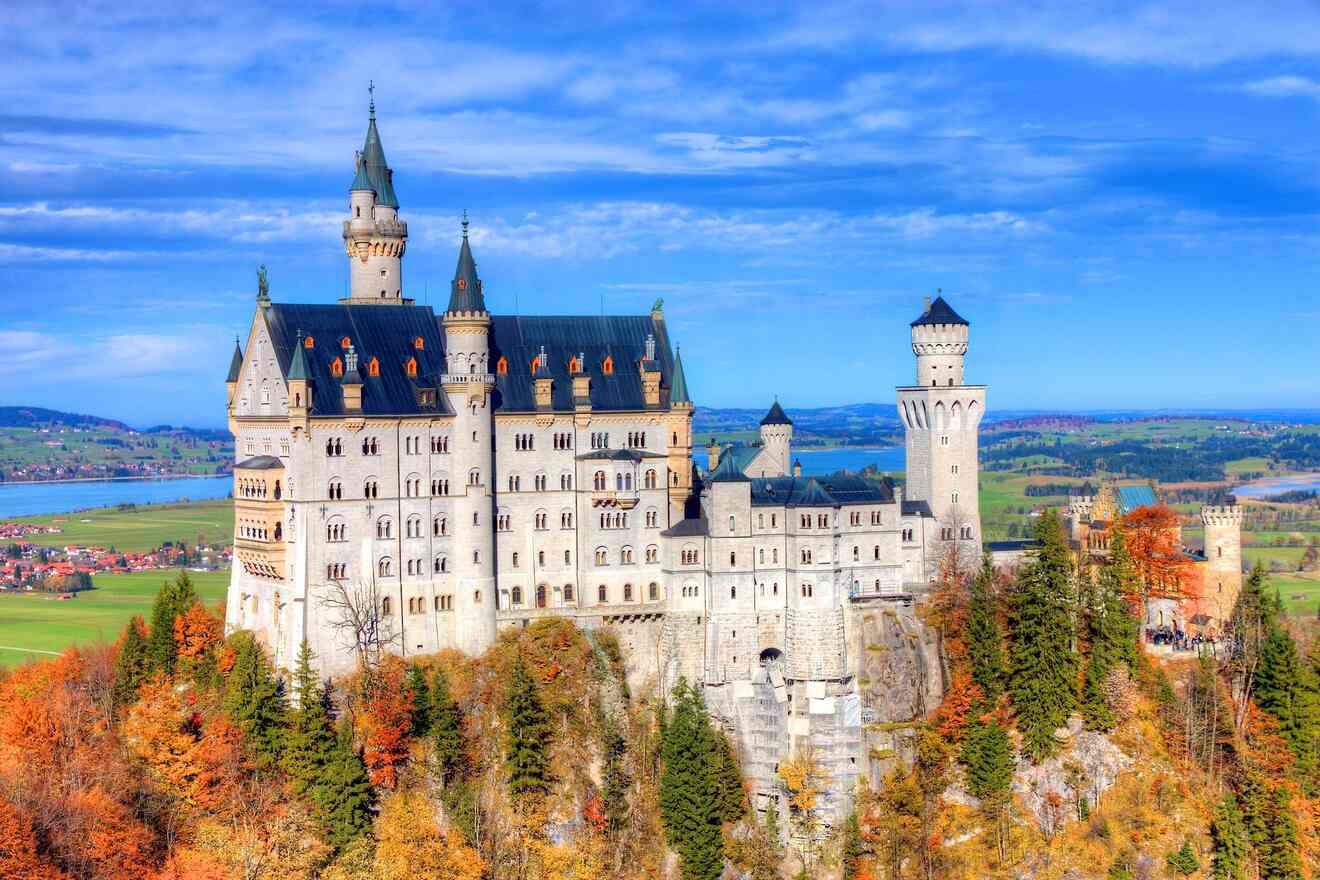 Neuschwanstein Castle – Take a day trip to the Bavarian countryside and visit one of the most iconic castles in Europe! This castle is located around 3 hours away from Munich and was built in the 19th century for King Ludwig II. A cool thing to note is that Disney Classics like Cinderella and Sleeping Beauty's castles were based on Neuschwanstein Castle!
Linderhof Palace – This palace is located in Garmisch-Partenkirchen, and it takes you around an hour from Munich city center. The town the palace is located in is worth a visit since it is full of hiking paths and scenic views. This castle belonged to King Ludwig II as well; this one was the smallest of his castles and the only one he saw completed.
Salzburg – Salzburg is located in Austria, and a short 2-hour trip will take you there from central Munich. This beautiful medieval town is where Sound of Music was filmed and the birthplace of Mozart. Here, you can visit Hohensalzburg Fortress, Mirabell Palace, and St. Peter's Abbey monastery.
Where to stay in Munich
I didn't want to end this article without giving you some accommodation options in Munich for all budgets. If you want to get to know the areas of the city better for your stay, check out our neighborhood guide!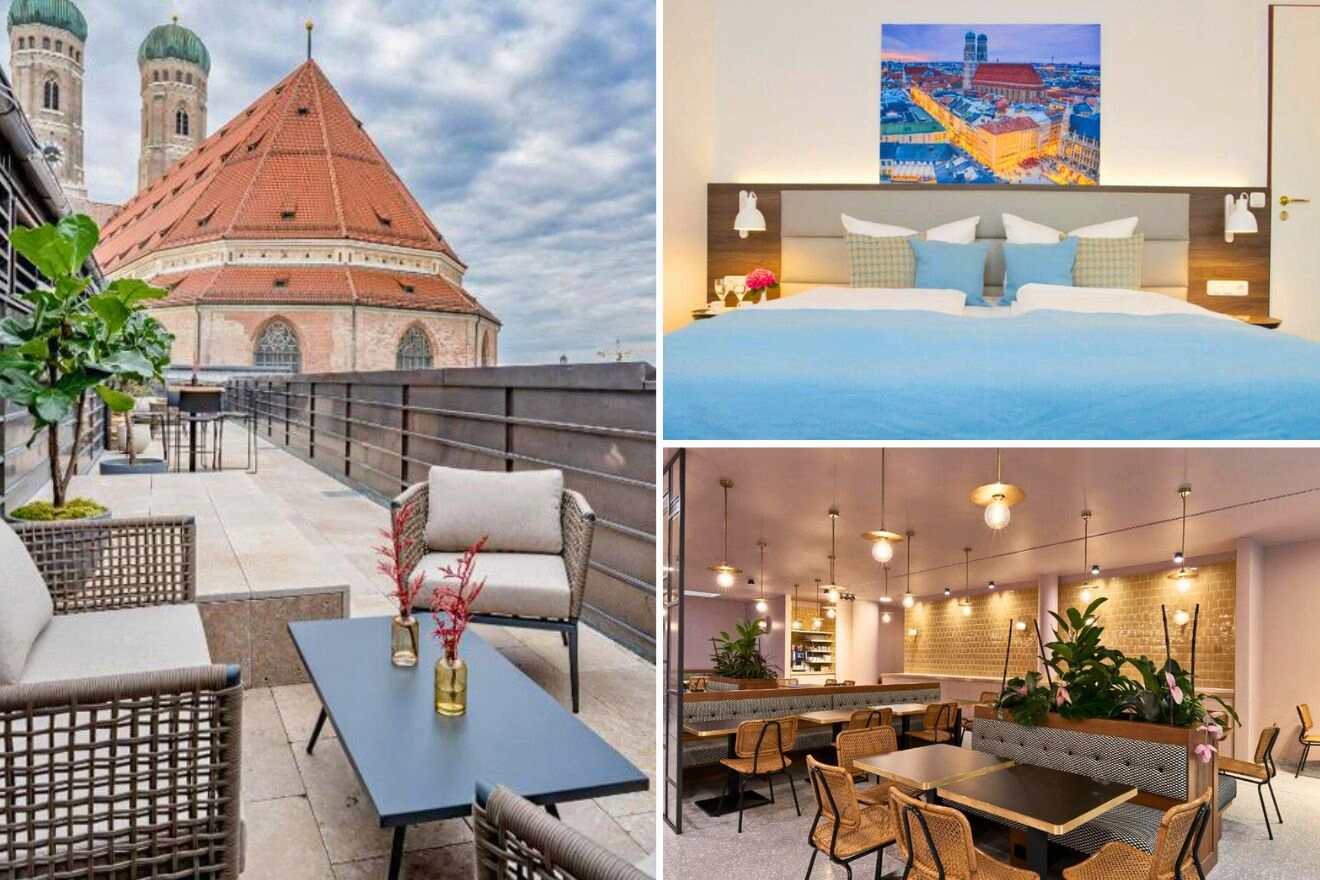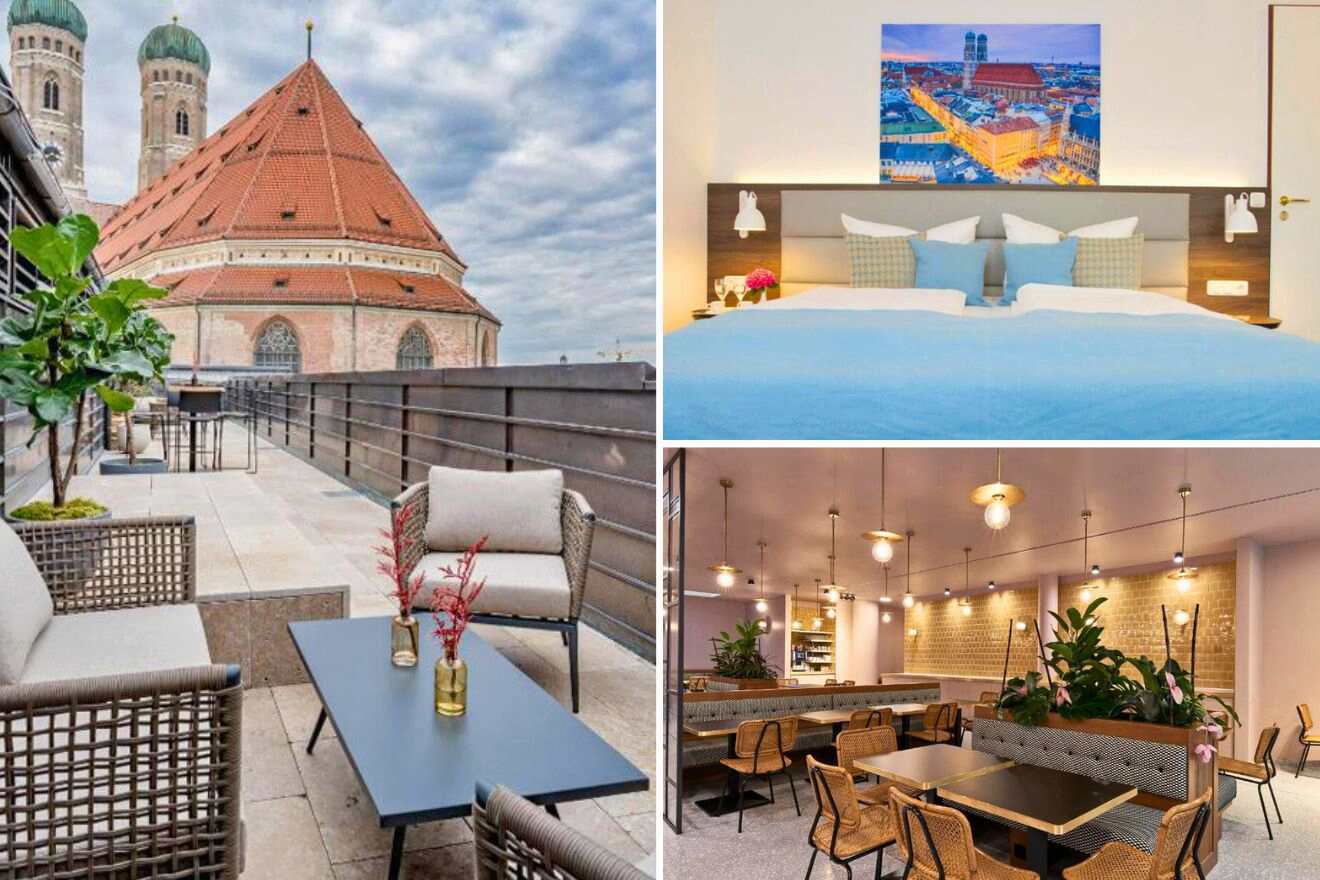 Luxury (from €350 per night): DO & CO Hotel München – Located right in the old town, this hotel looks elegant and luxurious. It offers a free breakfast every morning with vegan and vegetarian options. Rooms like the Deluxe Junior Suite come with views of the Frauenkirche.
Mid Range (from €200 per night): Hotel MIO by AMANO – If you want to stay right in the old town, this hotel is for you, located steps away from Asamkirche. The property looks trendy and young. It offers a free breakfast and a bike rental service for a fee!
Budget (from €160 per night): Lizz Hotel Munich – This hotel is located near the U-Bahn station of Goethenplatz and features a modern style! One of the cool things about this property is the roof terrace, where you can relax and have a meal or the complimentary breakfast the hotel serves every morning.
FAQs about things to do in Munich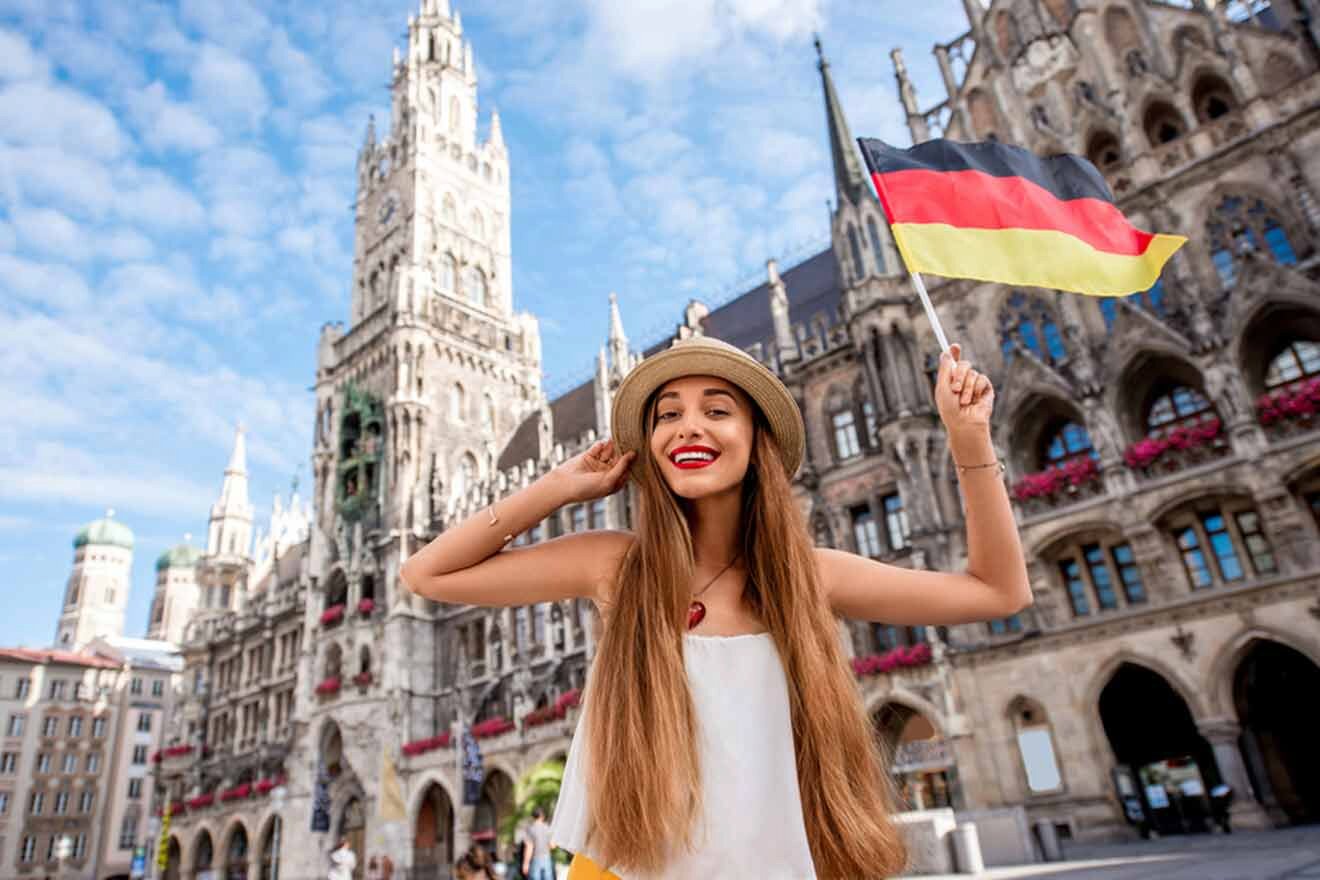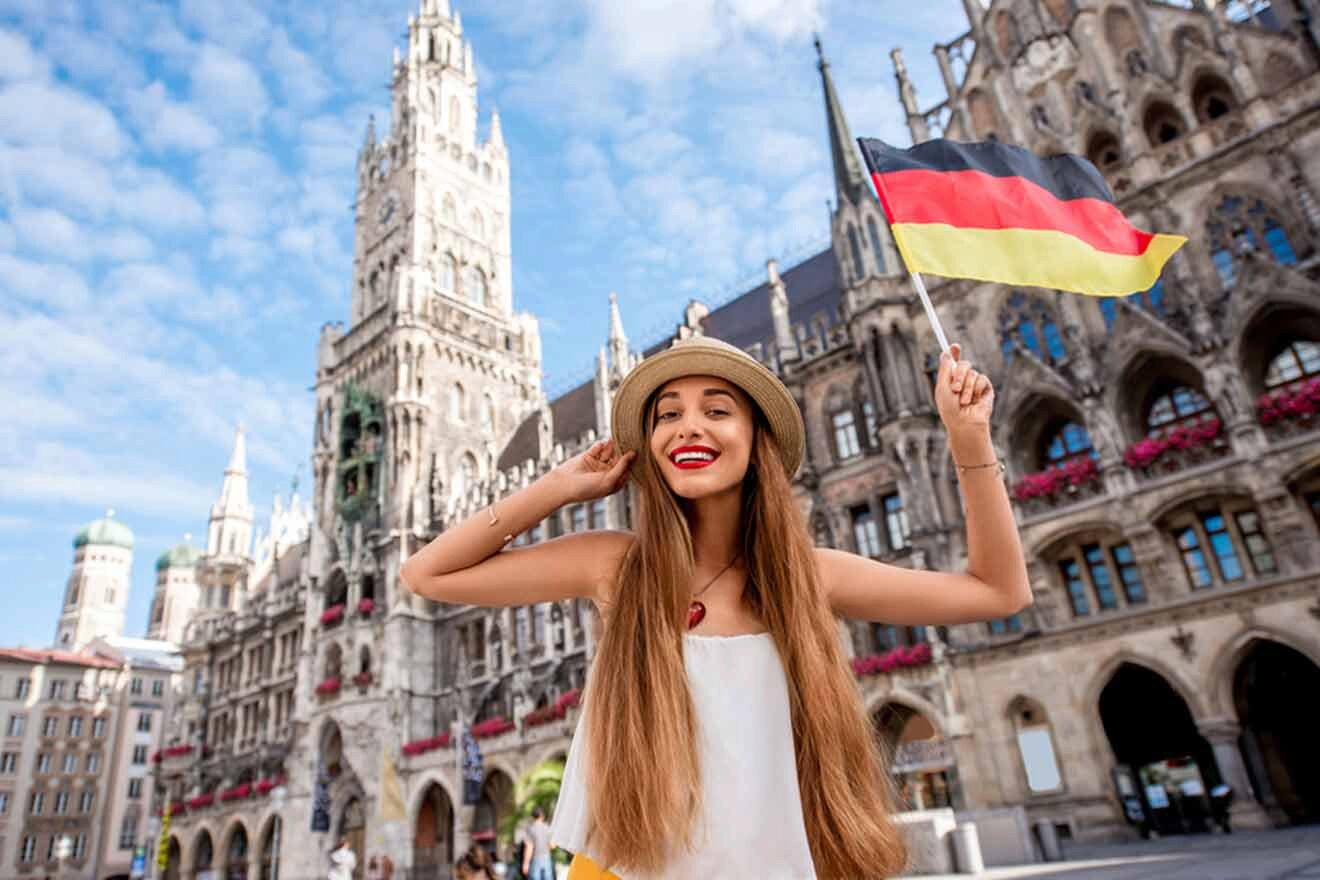 🦄 What are some lesser-known attractions to visit in Munich?
One of the best attractions in Munich that is loved by locals is Residenz Munich! Don't miss out on this epic local gem!
👛 What is the best thing to do in Munich on a budget?
If you are on a budget and traveling to Munich, I recommend visiting the Pinakothek museums on Sunday, which are only €1, walking in the English Garden, and Olympia Park. Don't forget to wander around the stunning old town as well!
🗺️ Where is the best area to stay in Munich?
The best area to stay in Munich for the first time is the old town, a beautiful and convenient area to get around! If you want to know what each neighborhood in Munich offers, check out our area guide.
📆 How long should I spend in Munich?
Conclusion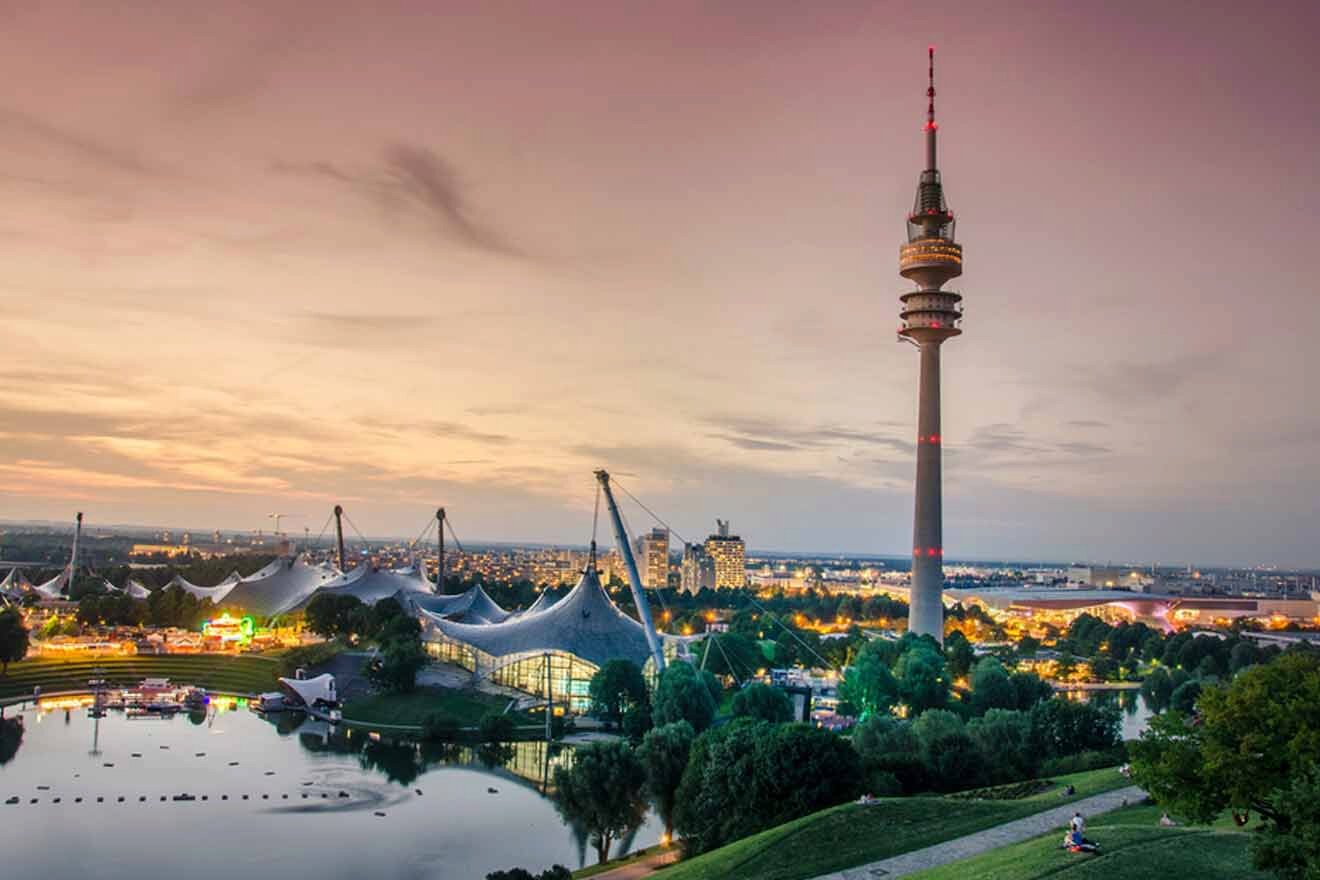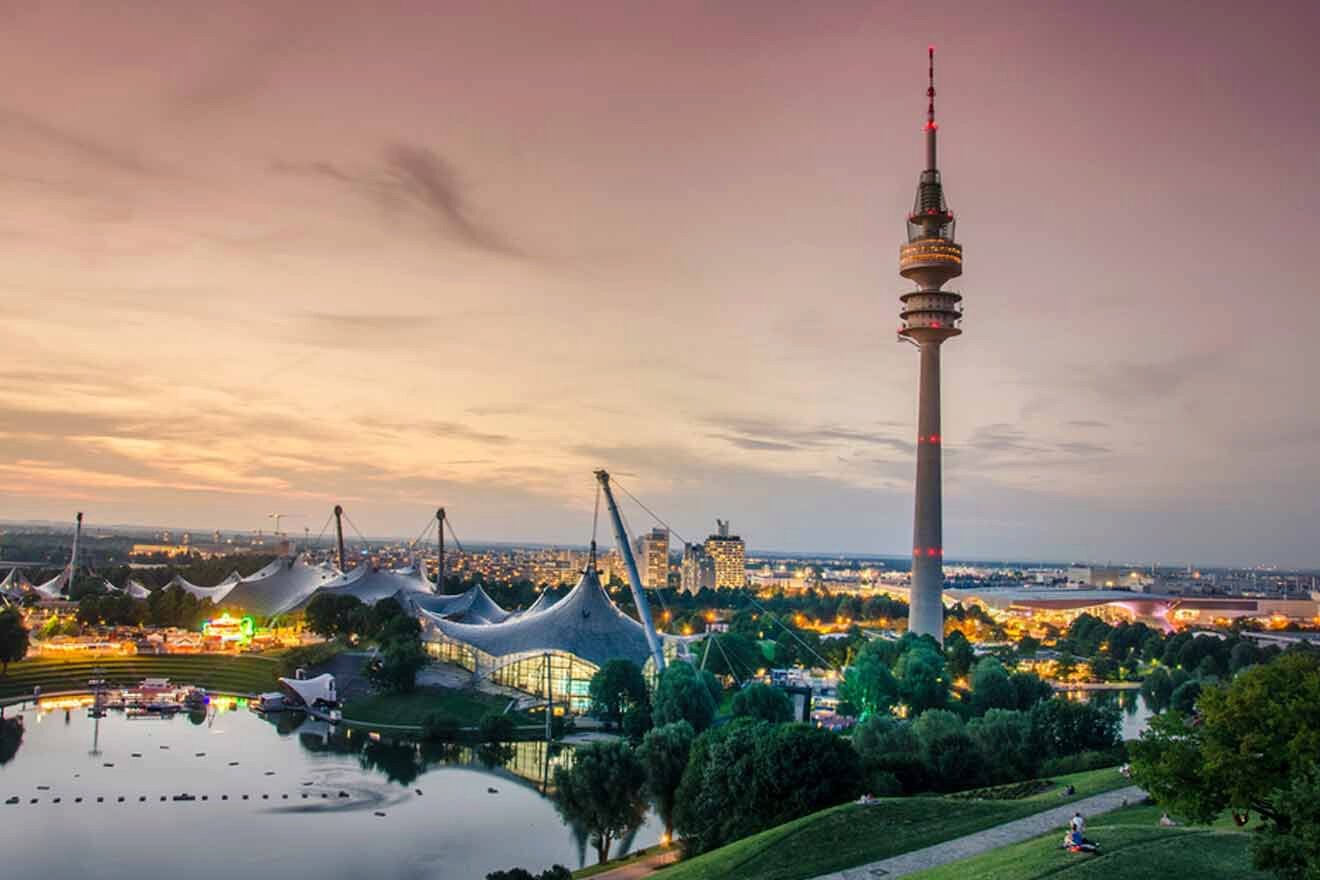 That is all for today, my lovely travelers! Those were the top things to do in Munich. I lived there for a few years, so I have all the attractions I am recommending I have tried and been to!
In the end, I added a bonus with 3-day trips and a where-to-stay section with hotels for all budgets.
Which of these attractions are you more excited to visit? Let me know in the comments! If you have any questions for me, just let me know and I'd be happy to help!
Prost!
Daniela
---
Pin it for later!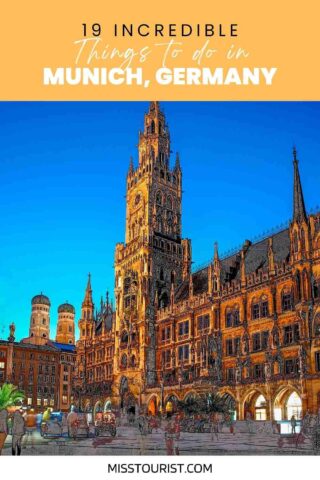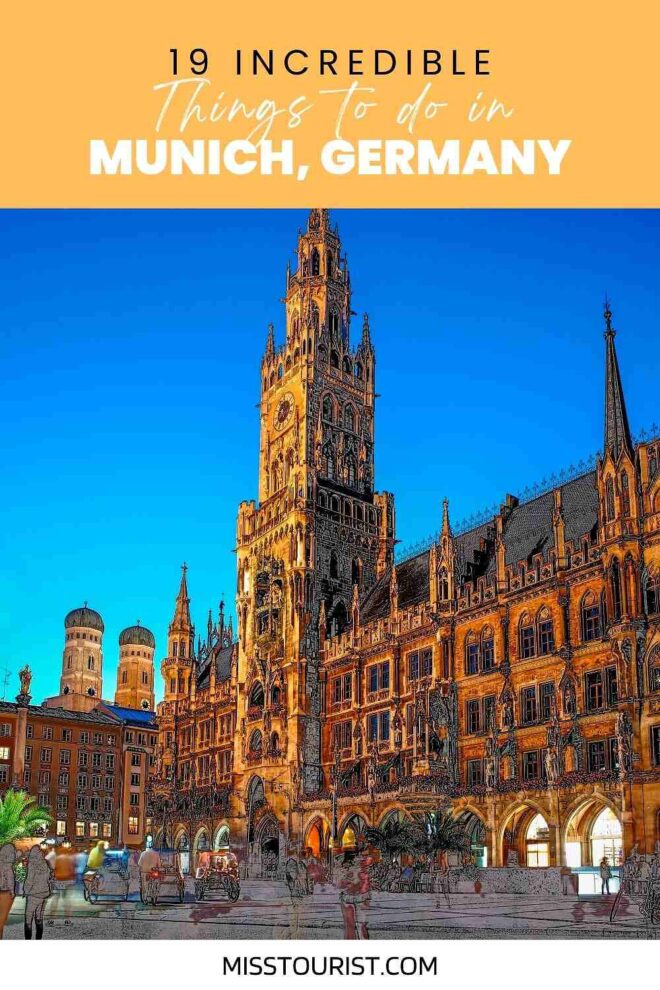 Pin it for later!