15 Hip Hotels in Austin ✔ to Slay During Your Stay!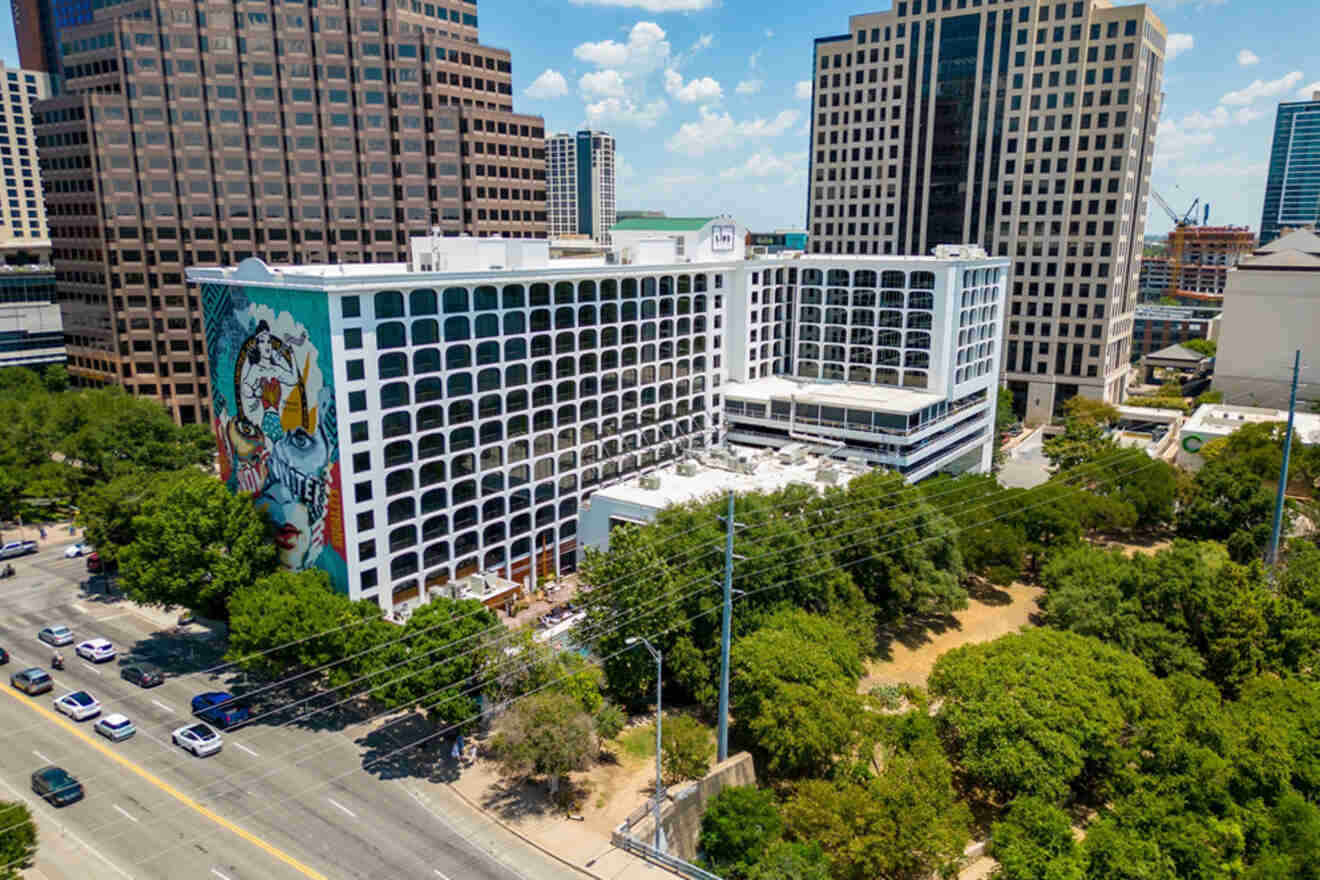 If you are planning a trip to Austin, Texas, and searching for the coolest accommodation in the city, know that I have been searching, too! So, I made your quest easy by gathering the 15 hip hotels in Austin, ordering from the most to the least expensive, and your only task is to pick and book your favorite – literally!
All the hotels are a dream, have great amenities, and are located in stunning areas of the city! You can relax and unwind in the hotel after long days of seeing all the things this artsy city has to offer! But if you want to stay at the hotel of your dreams and get good deals, you have to book in advance!
Without further ado, let's dive in! 😎
If you are in a hurry
If you don't have a lot of time to read the whole article and need to book your hotel room fast, here you have the top 3 options for hip hotels in Austin:
Since all the hotels I'll be talking about in this post are located in different areas, I suggest you take a look at our post on the best areas to stay in Austin.
1. Hotel Saint Cecilia – cool Jazz-age design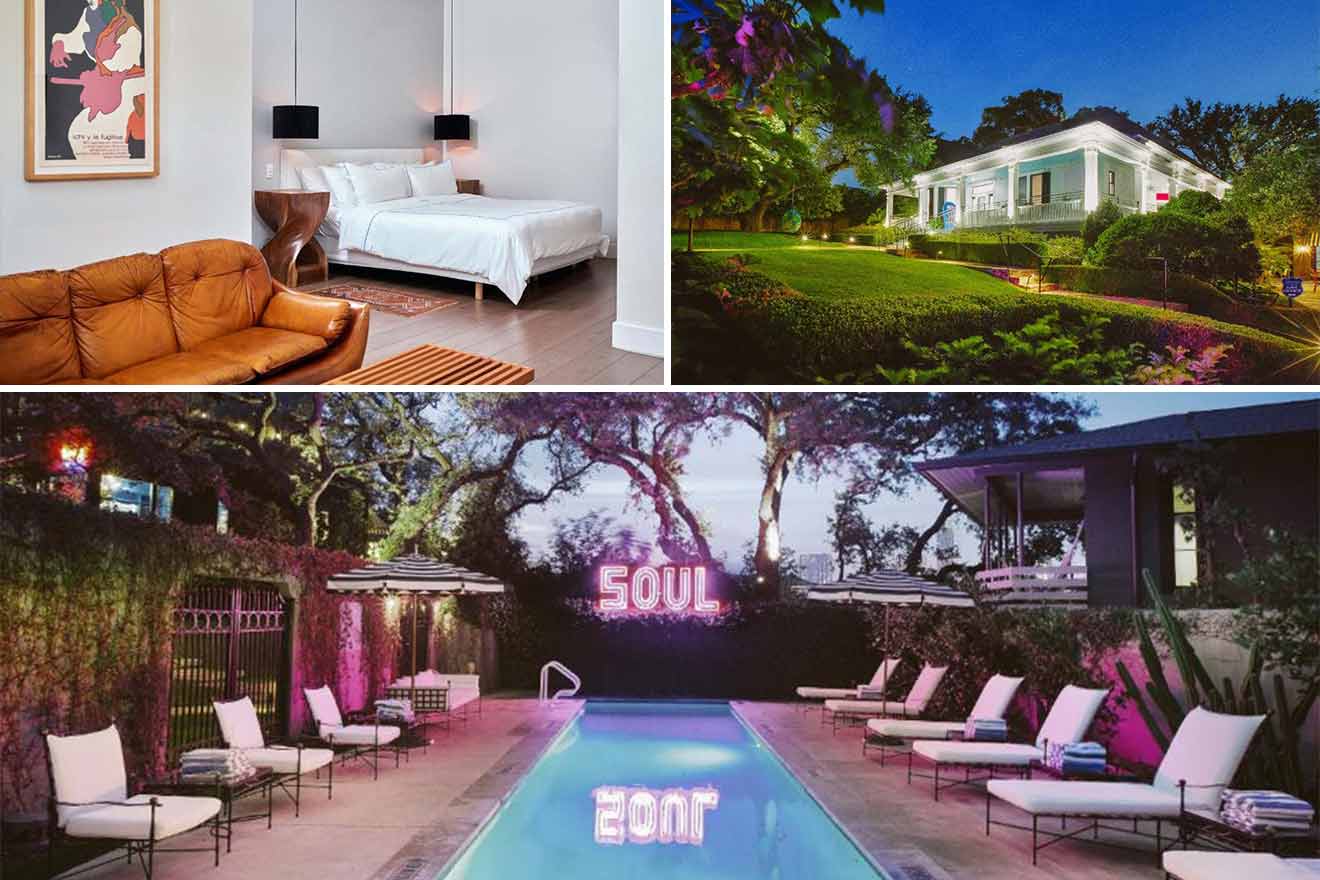 Sip craft cocktails at trendy in-house bars! If you want to feel like a fancy socialité member and have delicious drinks in a speakeasy-style on-site bar, then this property is perfect for you. It is located in the cool area of SoCo (South Congress), with downtown Austin a 30-minute walk away. You can ride around town with complimentary bike rentals and discover what Austin has to offer.
The property comes with a heated outdoor swimming pool, open all year round, and there is complimentary breakfast served every day at the hotel. Enjoy rooms with quirky, eclectic designs, and relax in style after a day in the city!
2. Commodore Perry Estate – to feel like royals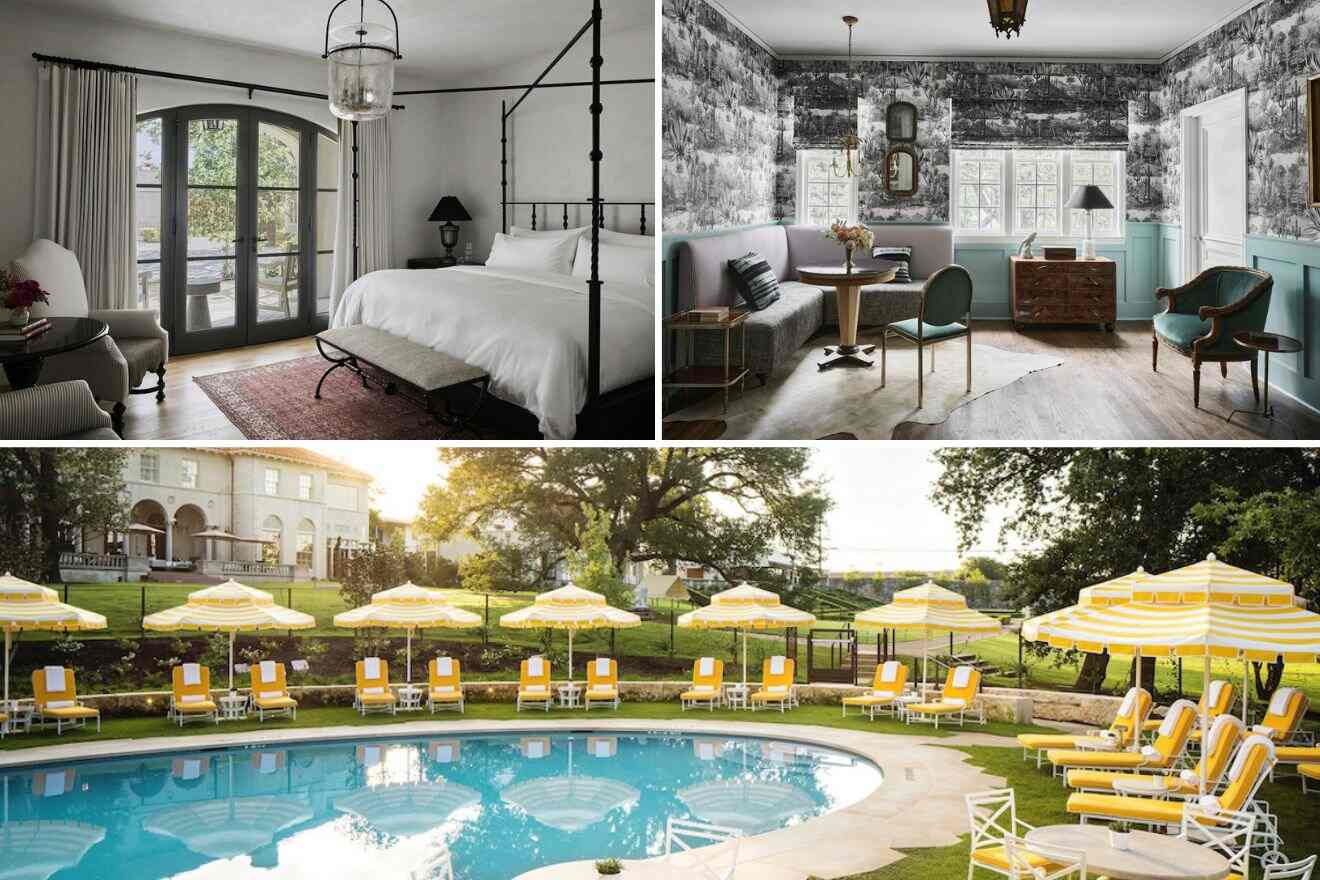 Oh, la la! Discover innovative design and unique amenities! Is this place even real? Located in Hancock, a 10-minute car drive from downtown Austin, staying at this hotel, you will feel like you are Marie Antoniette, surrounded by art and luxury and a royal-like garden. If, like Marie Antoinette, you have a dog, you can enjoy pet-friendly amenities and perks for a fee.
You can dine at trendy on-site restaurants and bars after a day, enjoying the city, the outdoor swimming pool, and the fitness center. The rooms are tasteful and amazingly decorated. I recommend booking the suite LaVerne, with its old pink theme, wooden furniture, and stunning wallpapers.
3. The Loren – stay steps away from vibrant nightlife
This hotel is the perfect place to experience a blend of comfort and modernity in the heart of the city. You can dive into rooftop pools with city views and relax in a luxurious setting. The hotel is located across the bridge from downtown Austin, perfect for exploring Austin's vibrant neighborhoods from a central location.
I suggest indulging in the on-site spa center with any of their amazing body treatments, and right after, go and enjoy a fantastic meal in their on-site restaurant. All the rooms are modern and feature floor-to-ceiling windows. For fantastic views, book any of their rooms with a lake view.
4. Hotel ZaZa Austin – explore nearby iconic music venues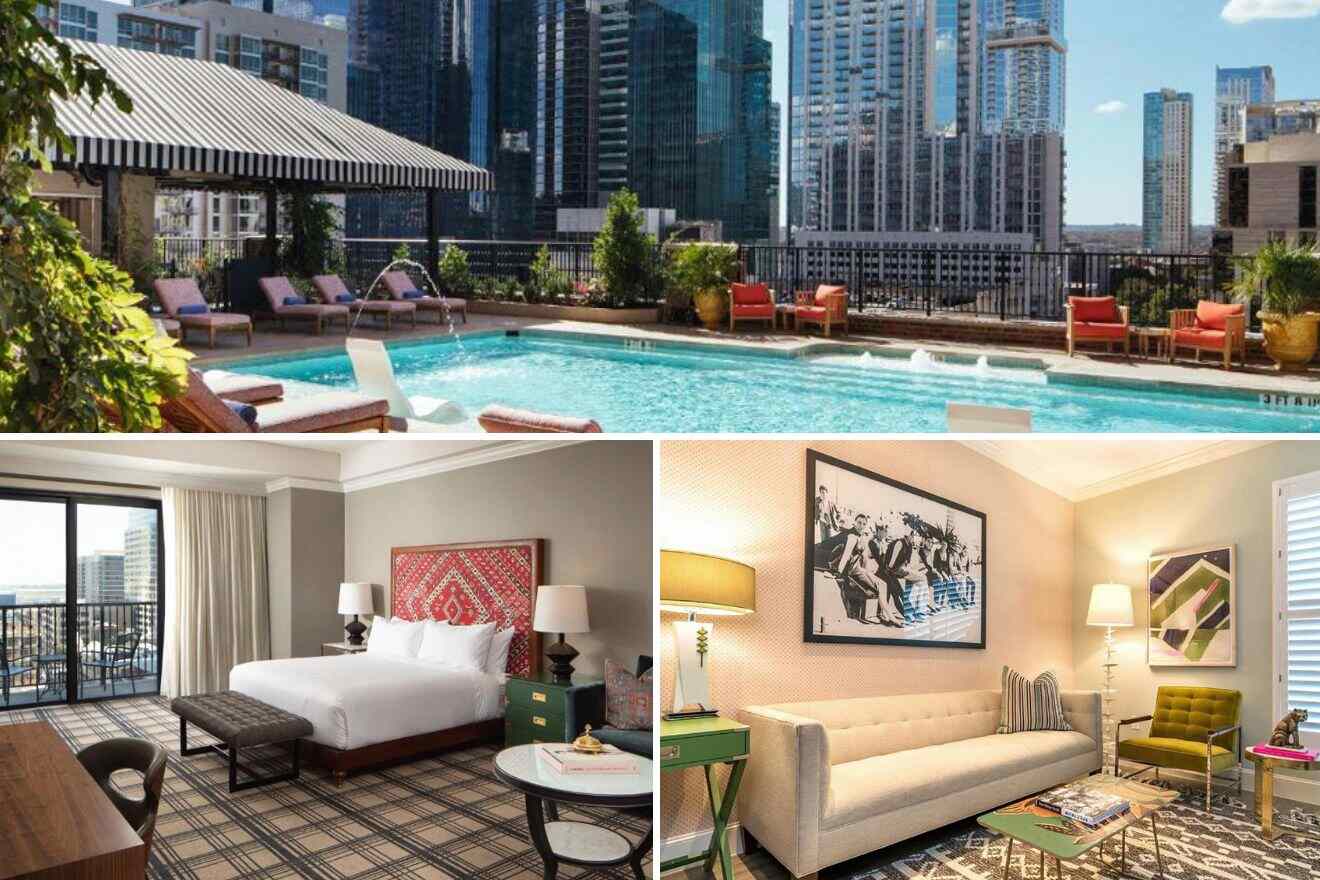 Experience a fusion of modern and retro aesthetics! This hotel has an incredible old charm and is filled with modern amenities, which is the perfect combination. The property comes with a great spa and wellness center to relax after a long day in the city and a swimming pool with a lounge area so you can enjoy the sun and refresh.
The hotel's location is central, making it the perfect place to enjoy live music and local art in a stylish city setting! On the other hand, main attractions such as the capitol are only a few minutes walk away. All the rooms have an elegant style, but if you want to enhance the experience, book a room with a balcony!
5. Austin Proper Hotel – for a live music lounge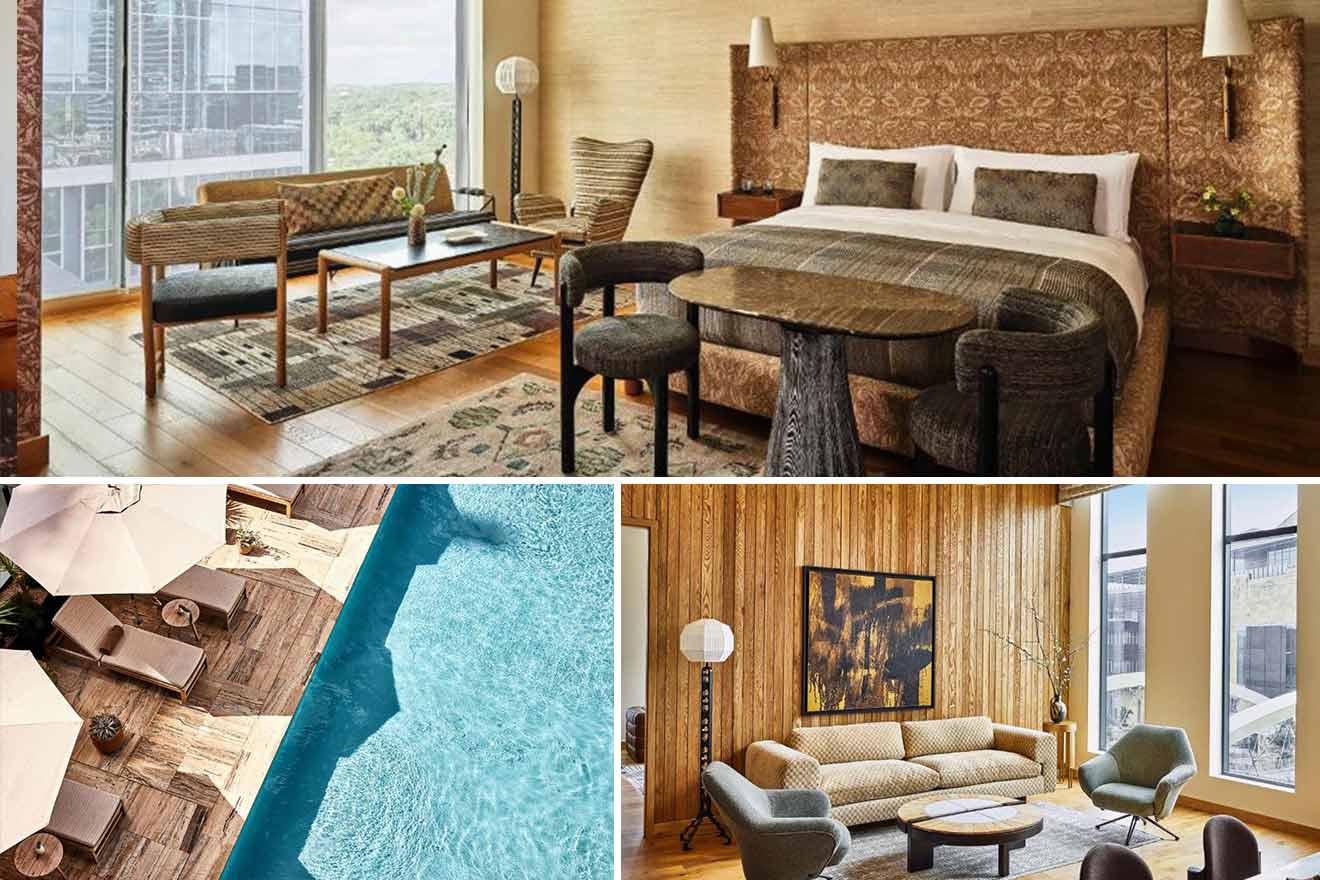 Located in the Second Street District, this hotel has a unique warm style. The wallpapers, the dark furniture, and the high ceilings give the property a certain charm. The hotel's roof terrace features a big swimming pool with a lounge area where you can sip a drink while admiring the stunning city views.
There is a spa center where you can join in-house yoga sessions with a twist. There is a fitness center, so if you want to indulge in personal trainer sessions, this is the place! All the rooms at the hotel have marble bathrooms and stylish furniture. The biggest room can host parties of 4.
6. Kimber Modern – discover local art adorning the walls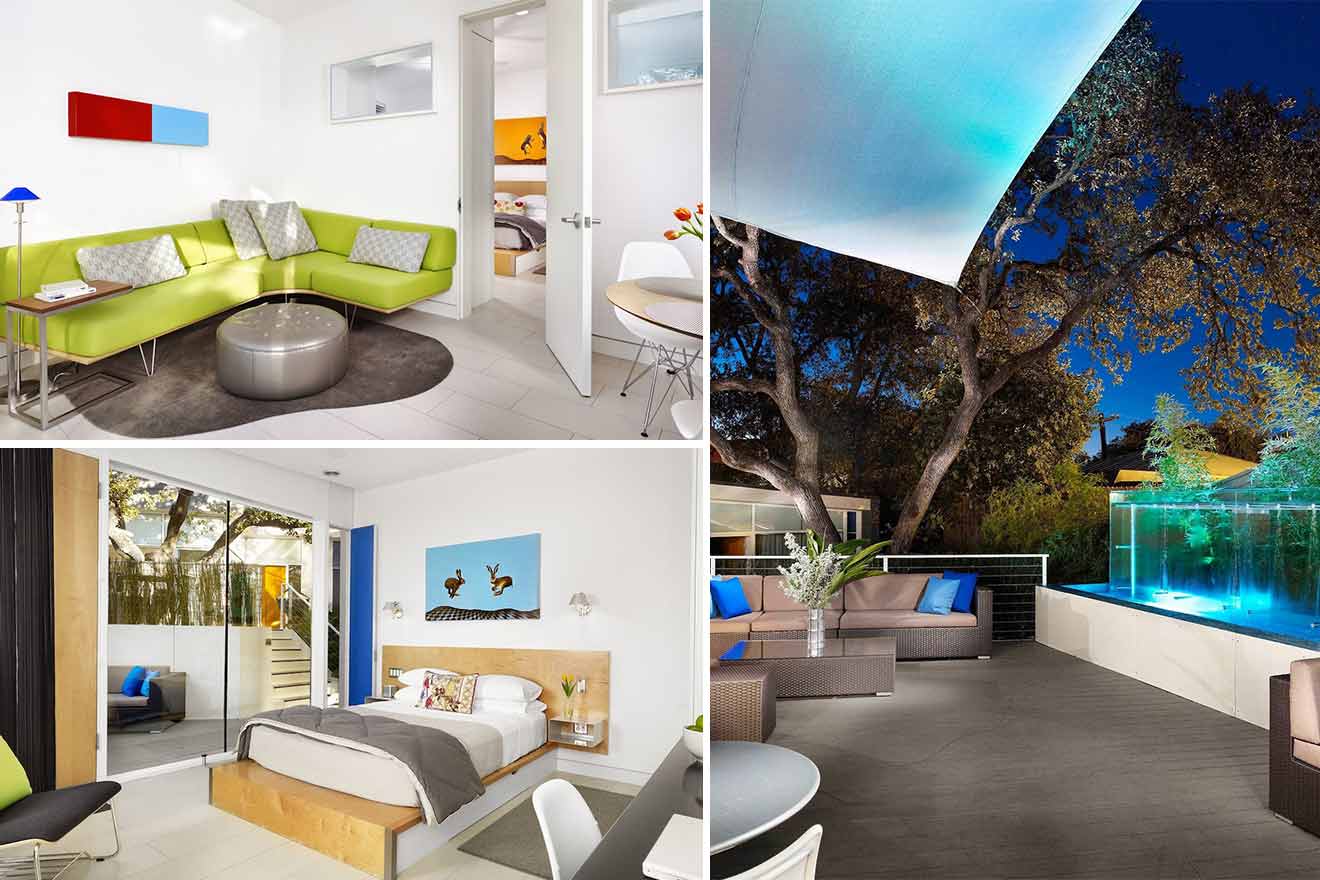 Located in the stunning area of SoCo, this hotel looks like a museum of modern art. Not only does it feature art pieces of local artists on the wall, but the whole hotel and rooms are the perfect display of design! There is no front desk in this hotel, so be ready for a futuristic experience with tech-friendly rooms and smart controls.
Wander in courtyards with fire pits and hammocks, or relax in the privacy of your air conditioning room. All the rooms and suites come with a balcony or a terrace, and they can host 2 to 3 guests.
7. Hotel San Jose – for a bohemian stay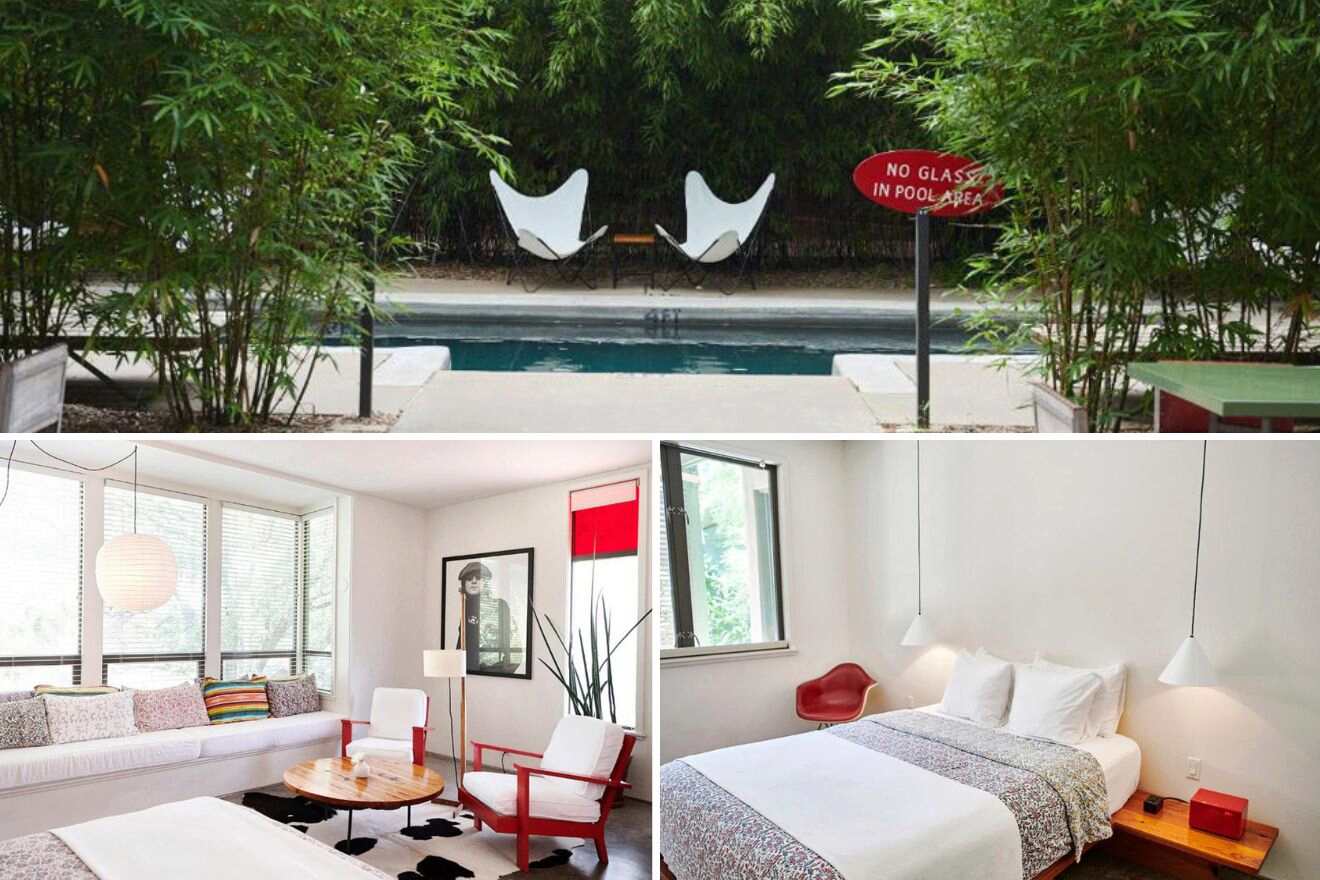 I am obsessed with this hotel! It is a nice mix of elegance, modernism, and an industrial design, the perfect hotel for the artsy people among you! The hotel comes with an outdoor swimming pool and a lovely patio for relaxing after a long day in the vibrant city. Every morning, there is a free breakfast available for guests.
The hotel features an on-site restaurant and bar, and sometimes, live music events are happening on the property grounds! All the rooms are stylish and minimalistic. Rooms like the suite come with a roofed terrace, perfect for enjoying a drink with your fellow travelers. This hotel is rated lower than I'd usually recommend, but I still think it's a great option, so I added it to the list.
8. Hotel Magdalena – engage in vintage vinyl listening sessions
If you are a music lover, you will surely appreciate this hotel located in the trendy area of SoCo. The hotel has a unique style, mixing 60s' furniture with modernity and rock and roll photography on the walls! The hotel comes with an outdoor pool, a restaurant, and a lovely garden where you can read and let go of all your worries.
All the rooms come with different color themes, which mainly show in the stylish, colorful tiles in the bathroom. Rooms like the Deluxe Suite come with a spacious balcony with comfortable furniture, a complete treat! The biggest room is the Deluxe Double Room, and it can host 4 guests.
9. Heywood Hotel – discover East Cesar Chavez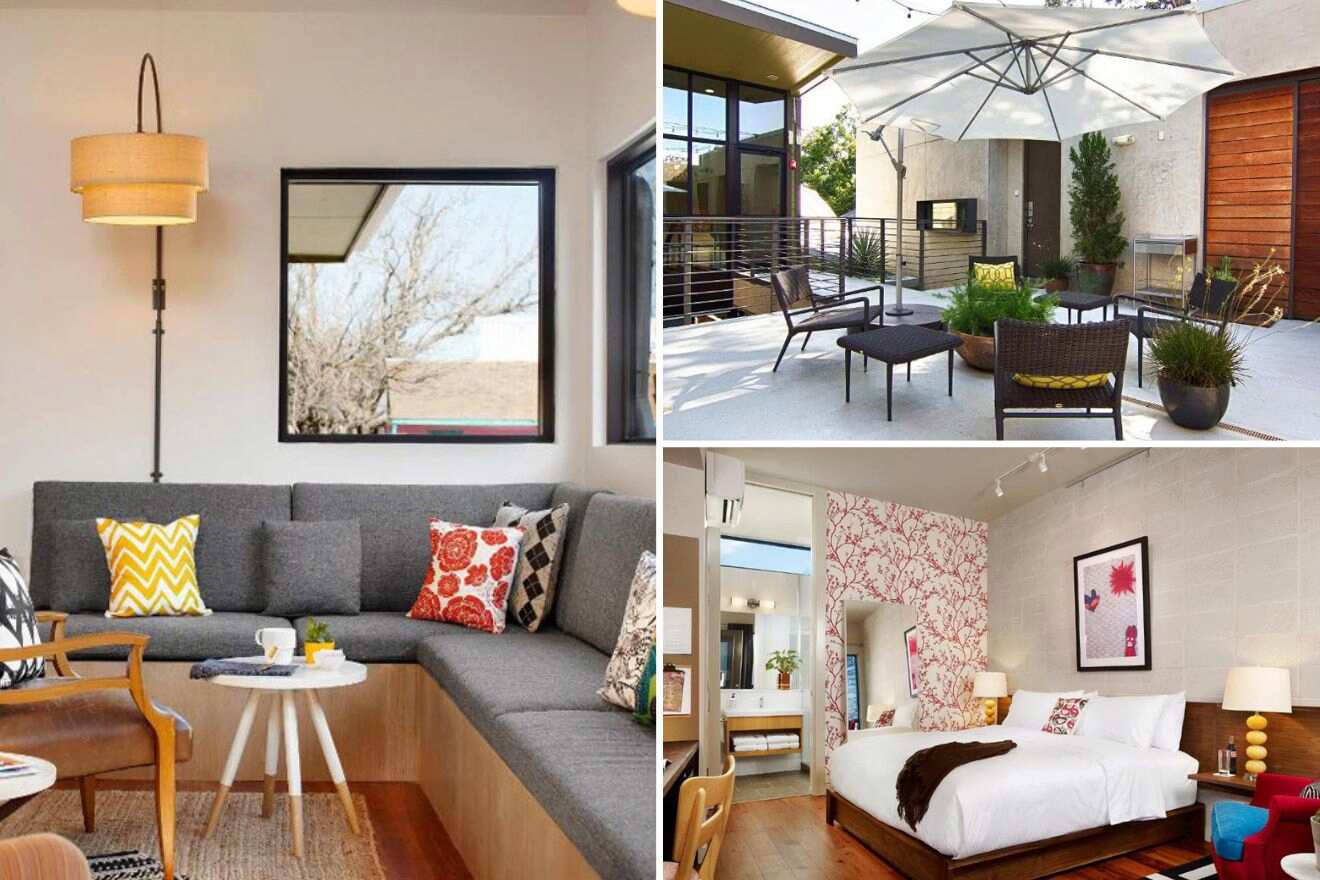 This stunning boutique hotel is located in the cozy area of East Cesar Chavez, only a 40-minute walk or a 10-minute drive away from the Austin downtown area. If you want to feel pampered and taken care of, this hotel is for you. The staff will make you feel right at home from the moment you check in, going above and beyond to help you with everything you need.
There is a complimentary bike service available for all guests, which is an awesome activity for exploring the area. I highly recommend the Deluxe Room with a Balcony or the King Room with a Spa Bath to enhance the vacation. All the rooms at the hotel can host 2 guests.
10. Hotel Ella – stunning elegance in Austin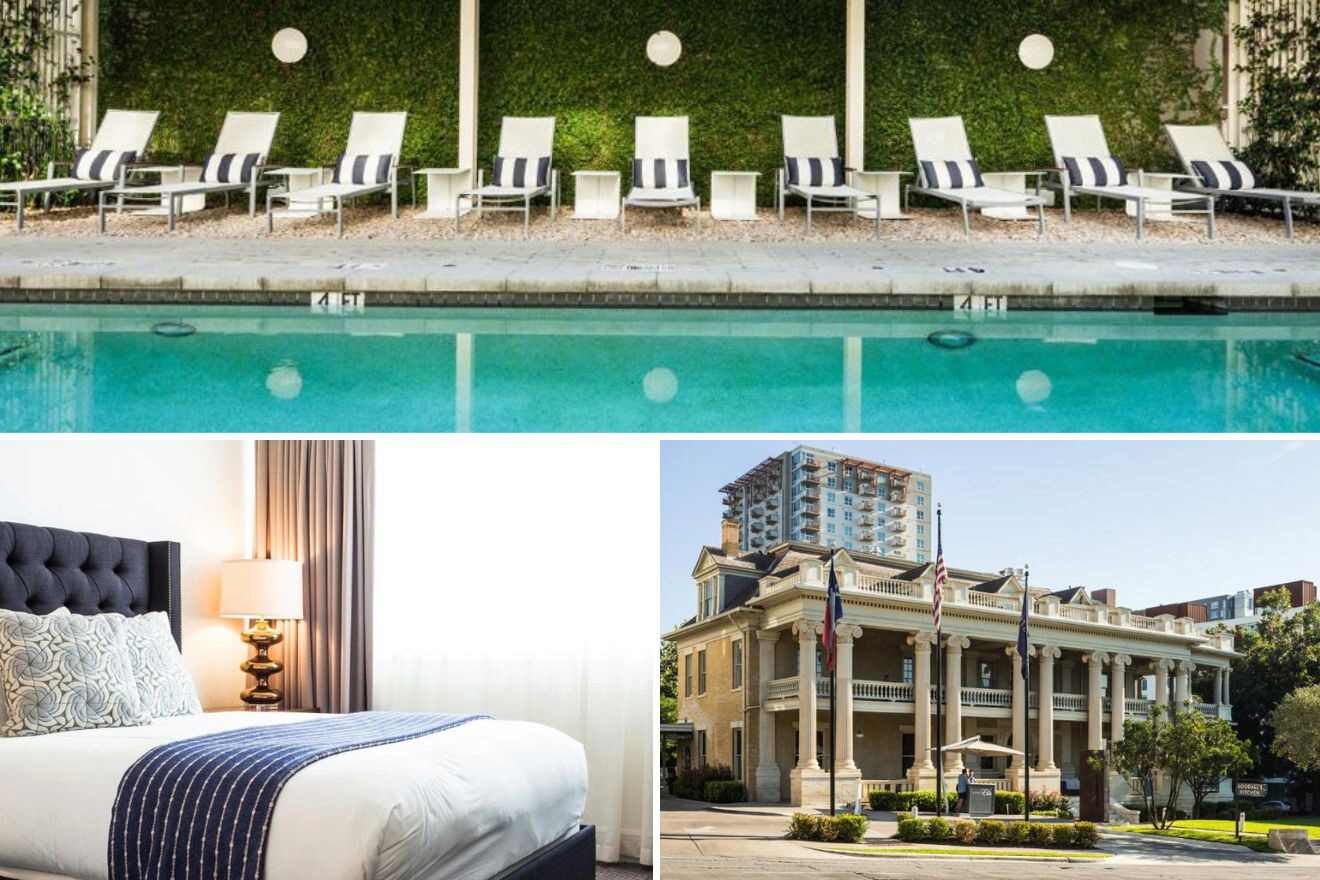 Located just a few minute's walk away from Blanton Museum of Art, this hotel features an elegant style and deluxe decor that will make you feel like a superstar! The property features an outdoor swimming pool with a greenery area, an elegant terrace where you can enjoy breakfast, and a fitness center to keep fit even during your vacation.
All the rooms come with beautiful art hanging on the walls and upscale furniture. The bathrooms are bright and feature beautiful tiles and marble sinks. All the rooms can host up to 2 guests, except the double rooms, which can host 4 guests, which would be perfect for families! Just note that even though this hotel is rated lower than I'd usually recommend, I still think it's a great options, so I added it to the list.
11. The Carpenter Hotel – Austin hotel with a hipster vibe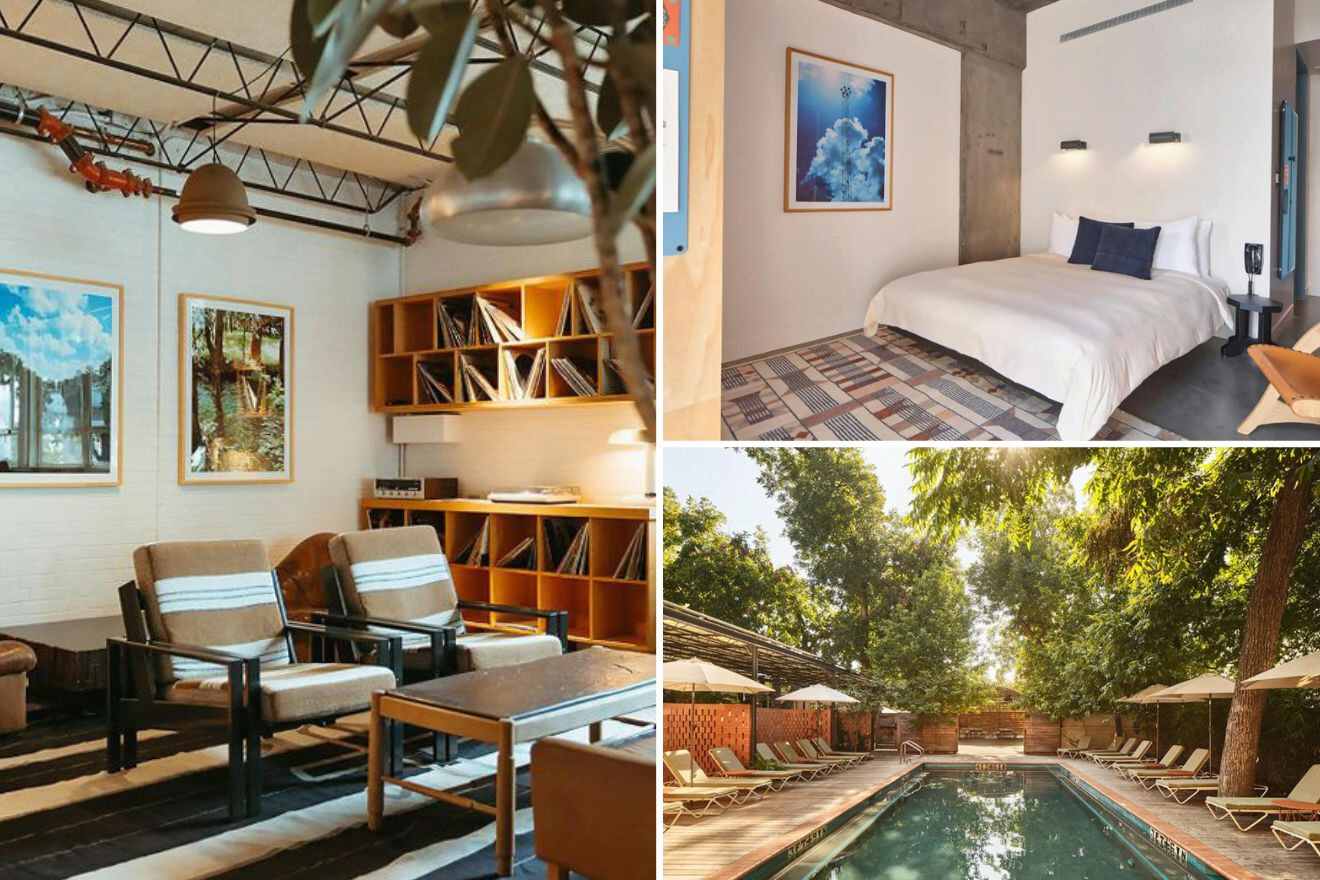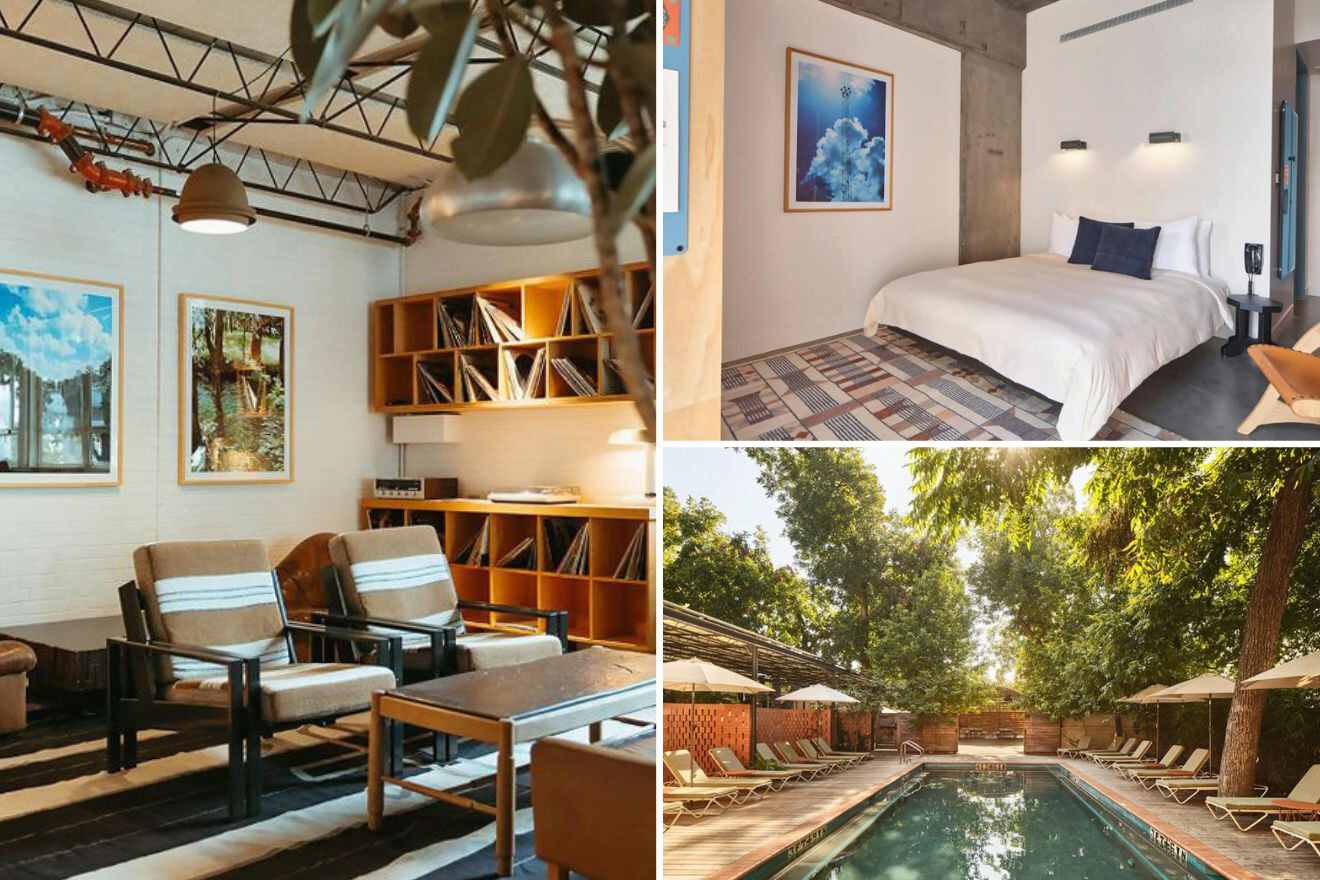 How amazing is this hotel? It feels so fresh, so trendy! I imagine young families and friends would love to stay in such a modern and stylish hotel. The hotel is located a short walk away from Butler Pitch & Putt Golf Course and is super near SoCo and downtown Austin. It comes with an outdoor swimming pool and 2 on-site restaurants. So, you better be ready to relish farm-to-table Texan cuisine.
They offer 4 different types of rooms, all of them with a modern and minimalistic style, cool art on the walls, air conditioning, free Wi-Fi, and flat-screen TVs. All the rooms host 2 guests except for the Standard Quadruple Room, which hosts 4.
12. Archer Hotel Austin – visit North Austin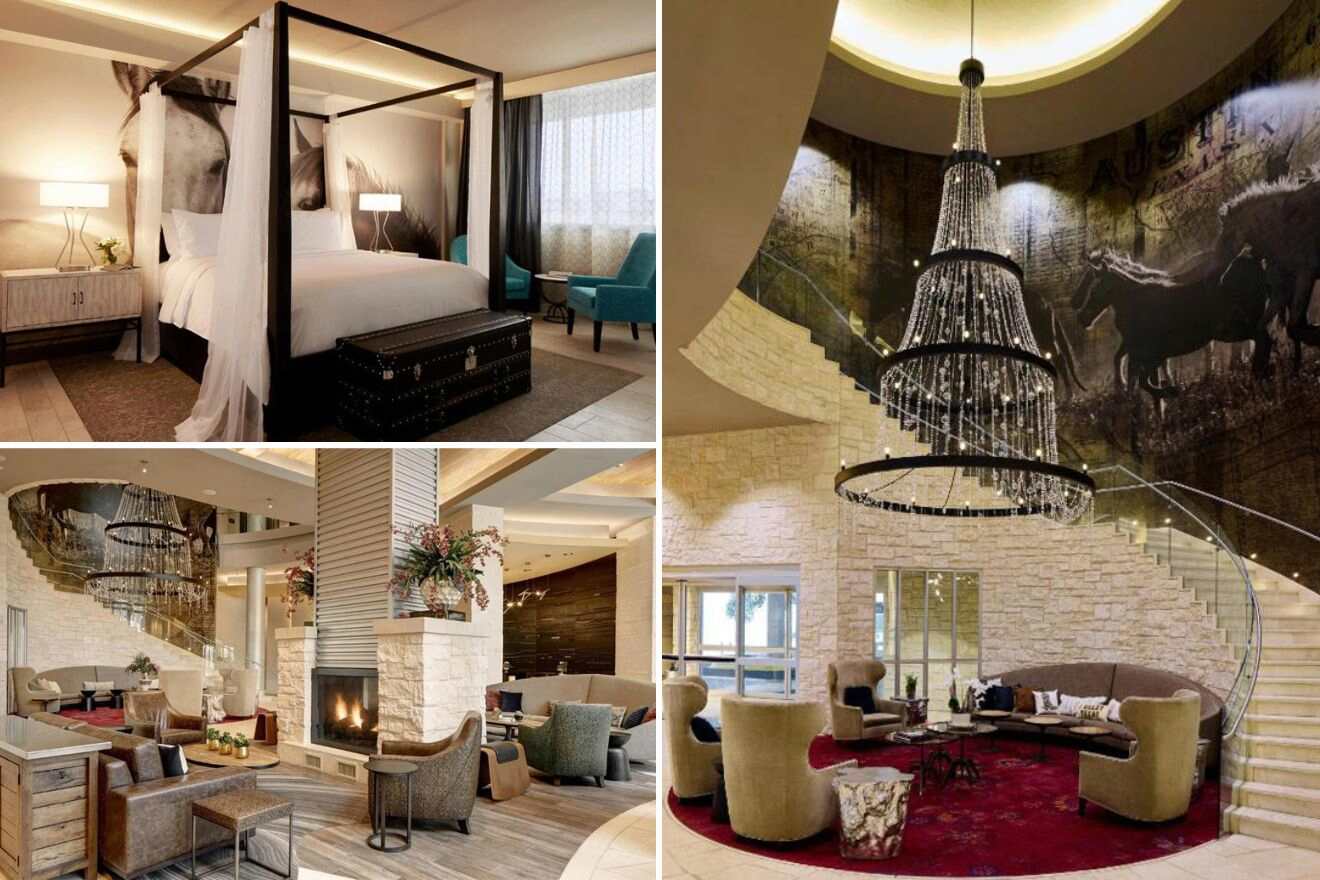 I am in awe of this cool hotel in North Austin's residential area! The property has many stores and restaurants nearby, and downtown Austin is only a 20-minute car drive away. The classy and modern style gives the place a fresh vibe, the perfect place to relax while having the busy city just a few minutes away!
The Archer Hotel comes with an outdoor swimming pool so that you can feel like a new person after a long day visiting the city's attractions. The rooms come with a flat-screen TV and satellite channels, air conditioning, and room service so that you can have a cozy time in the privacy of your room.
13. Colton House Hotel – a hip hotel with beautiful decor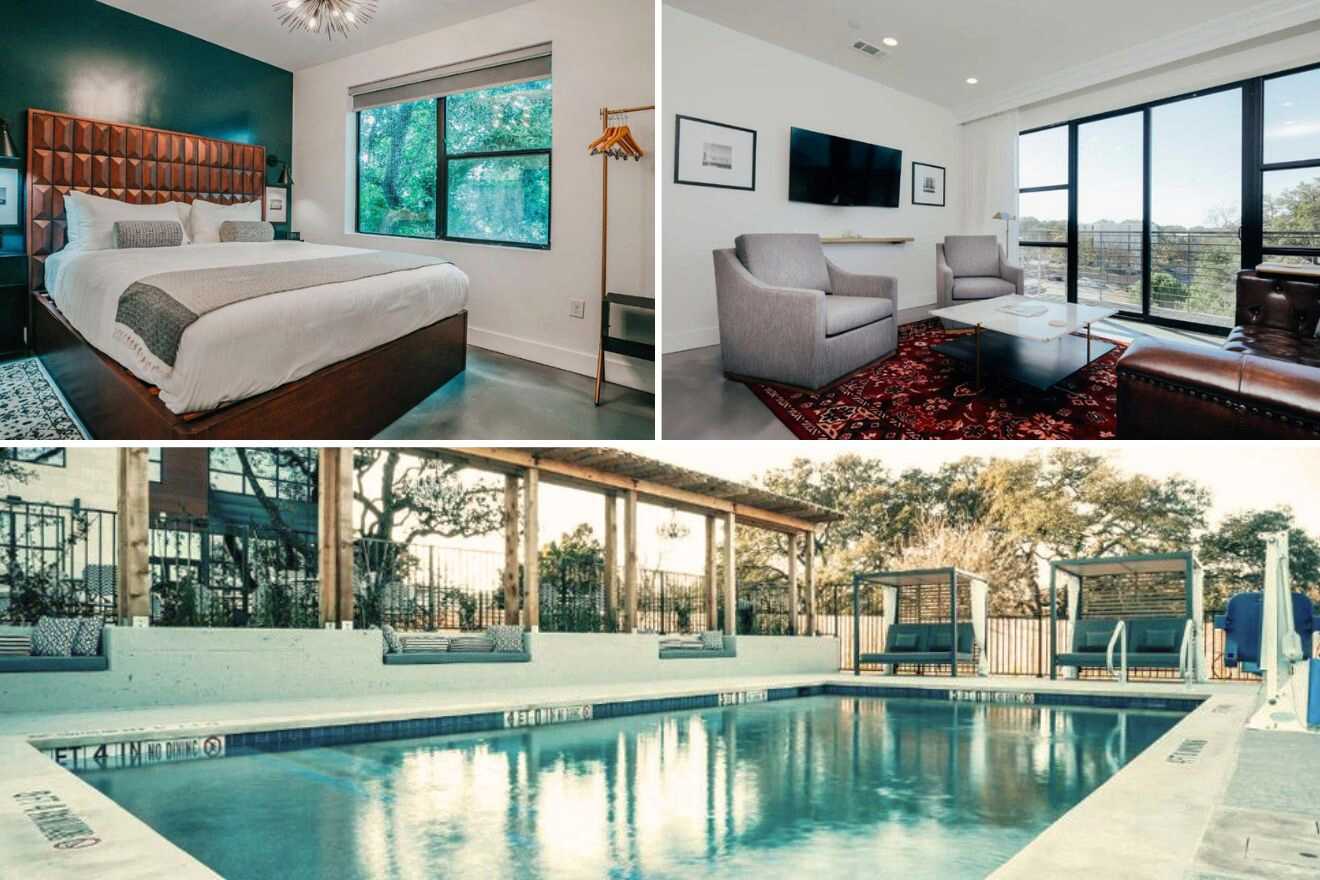 Located near St. Edward's University, this beautiful boutique hotel features an incredible vintage style with great modern amenities. The hotel's staff will make you feel taken care of during your stay, and you can use the outdoor swimming pool and the fitness center as much as you like. There is also a coffee shop and bar on-site, in case you want a treat or to relax with a drink.
If you are traveling with your family or a big group, you will love the suites. Some come with 3 separate bedrooms, 2 bathrooms, a spacious kitchen to cook during your days in Austin, and a nice balcony. These types of suites can host 6 guests.
14. The Driskill – an actual landmark of a hotel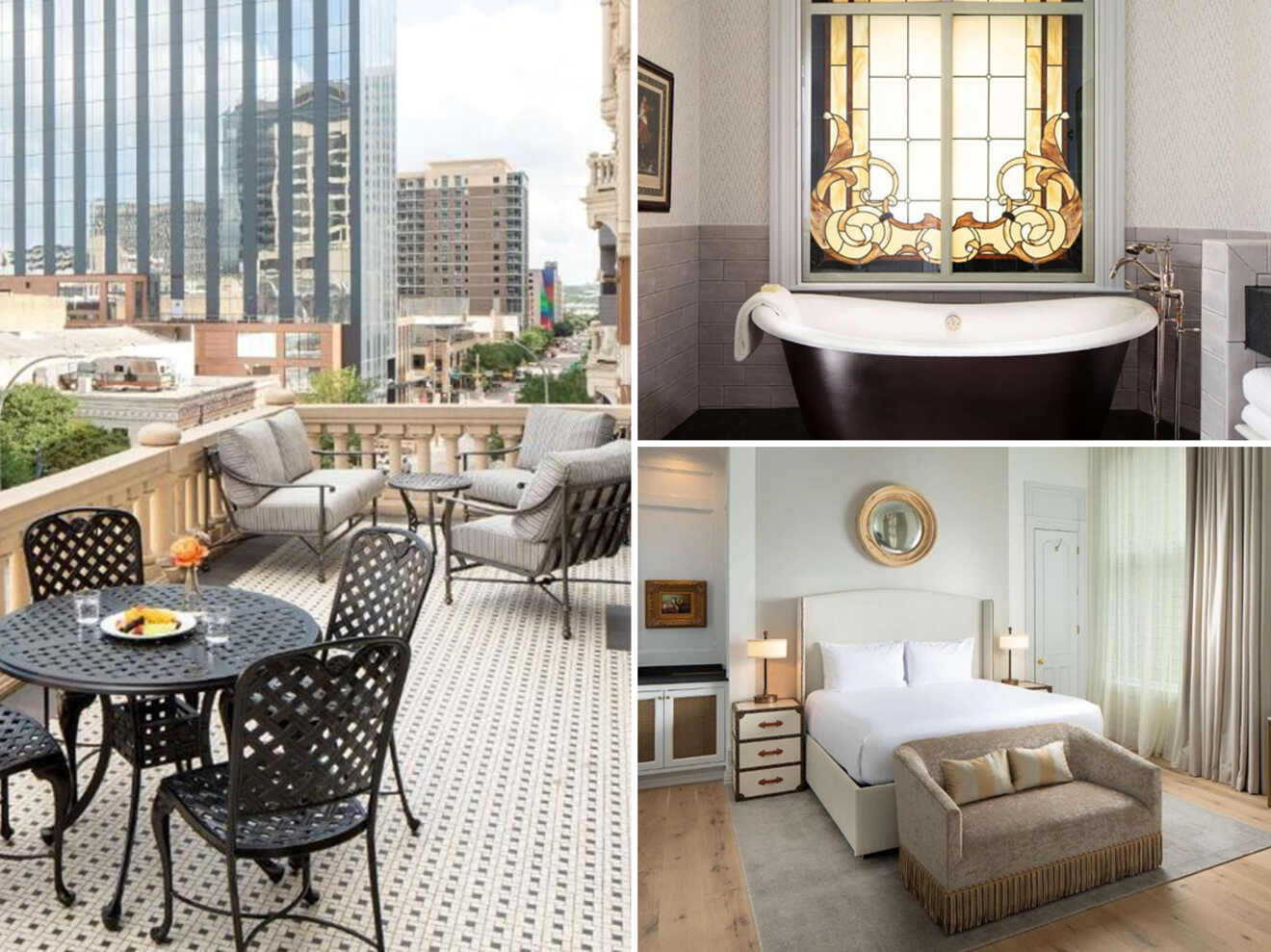 Did you know this hotel is an actual landmark in Austin? Imagine how exciting it would be to stay in a historic hotel with beautiful art on the walls, vitraux windows and ceilings, and luxurious furniture. Apart from being an important building in Austin, this hotel is in the middle of the city, so you can visit all the city's main attractions, bars, and restaurants within steps!
All the rooms are elegant and feature a classic style. Some rooms, like the Basic Suite, come with a balcony and views of landmarks. This room can host 2 guests. If you are traveling with a big group, ask for the rooms that can host 4 guests.
15. Austin Motel – fun and young hip Austin hotel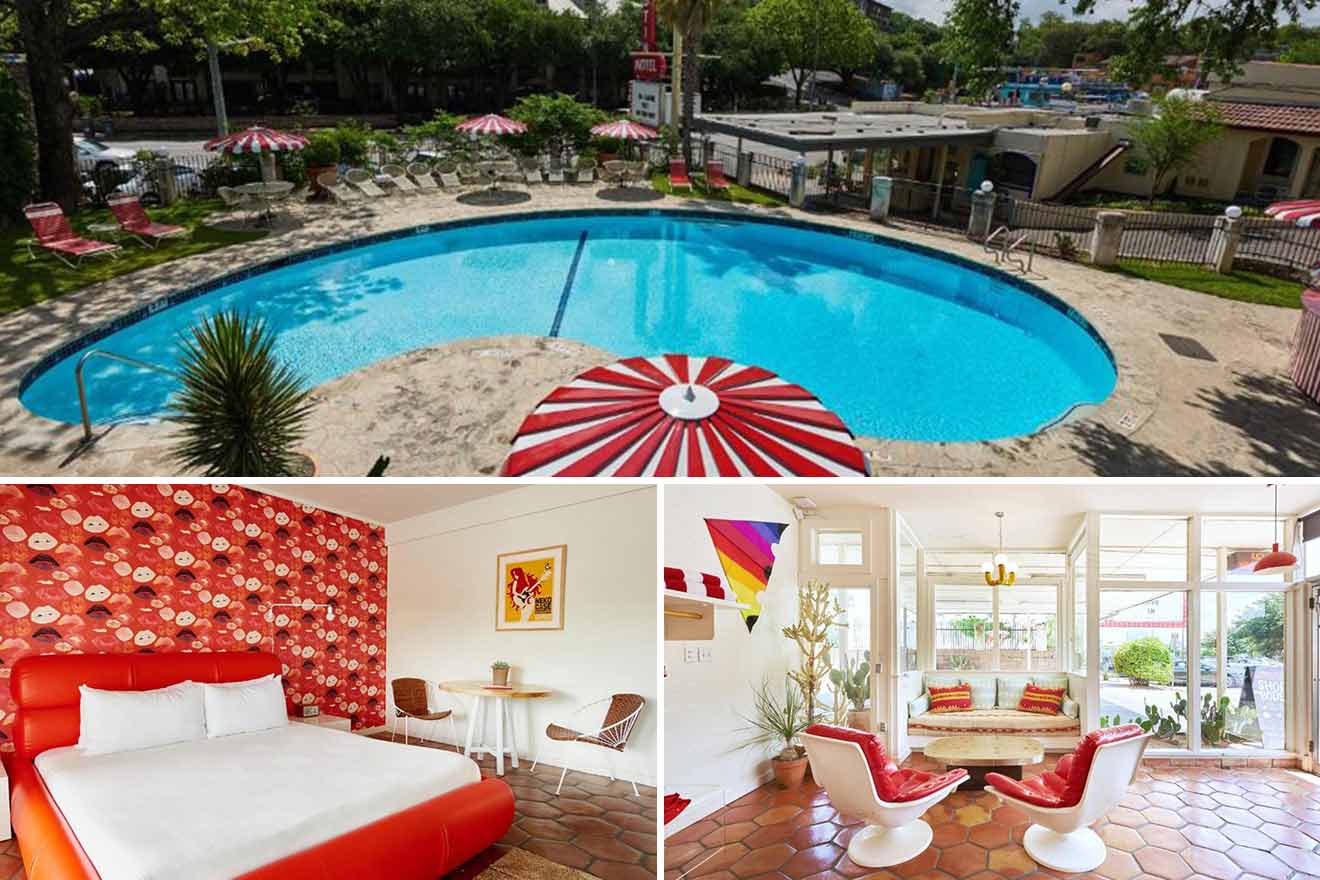 The hotel is located in SoCo, so you'll have many amazing bars and restaurants nearby, but if you don't feel like leaving the hotel, you can have a nice meal at the on-site restaurant and try craft beer! There is also a nice swimming pool to freshen up during the hot summer, and free parking in case you are traveling with a car.
What I love the most about this hotel is that it features colorful vintage furniture and fun themes in the rooms. I highly recommend this hotel to couples or friends, just keep in mind the biggest room can host a maximum of 4 guests.
FAQs about hip hotels in Austin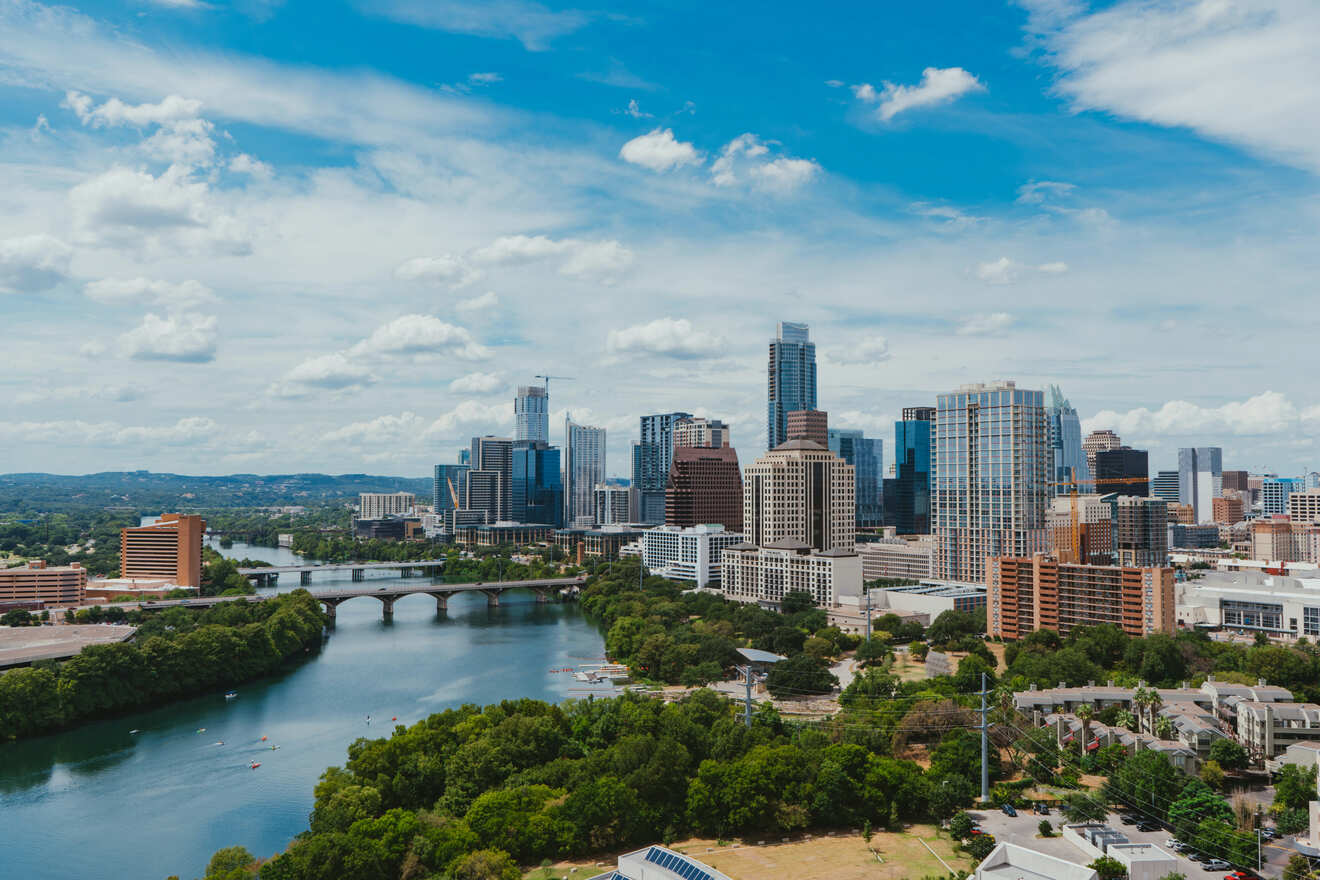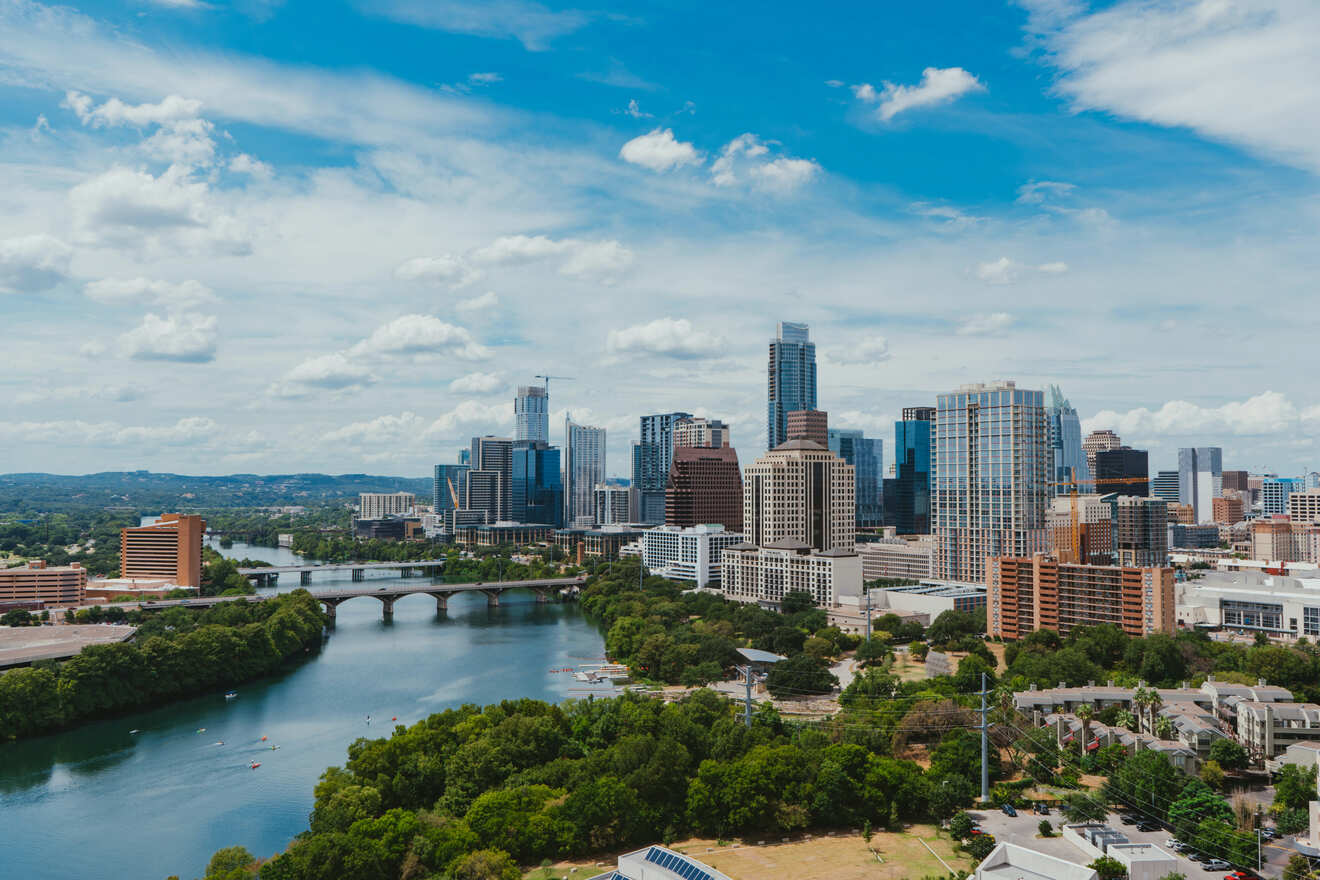 🌃 What is the best area in Austin for a night out?
If you want to enjoy live music and local art in a stylish setting on a night out, staying in SoCo is the best choice. Great hotels in the area are Hotel Saint Cecilia and Kimber Modern.
😎 What is the coolest neighborhood in Austin?
For the coolest neighborhoods, you need to stay in the heart of Austin's cultural districts! SoCo is the perfect place to attend curated events showcasing local talent or mingle at hip rooftop parties. Some great hotels in the area are Hotel Magdalena and The Carpenter Hotel.
👑 Which are the best luxury hotels in Austin?
🏨 Are there any boutique hotels in Austin, Texas?
Conclusion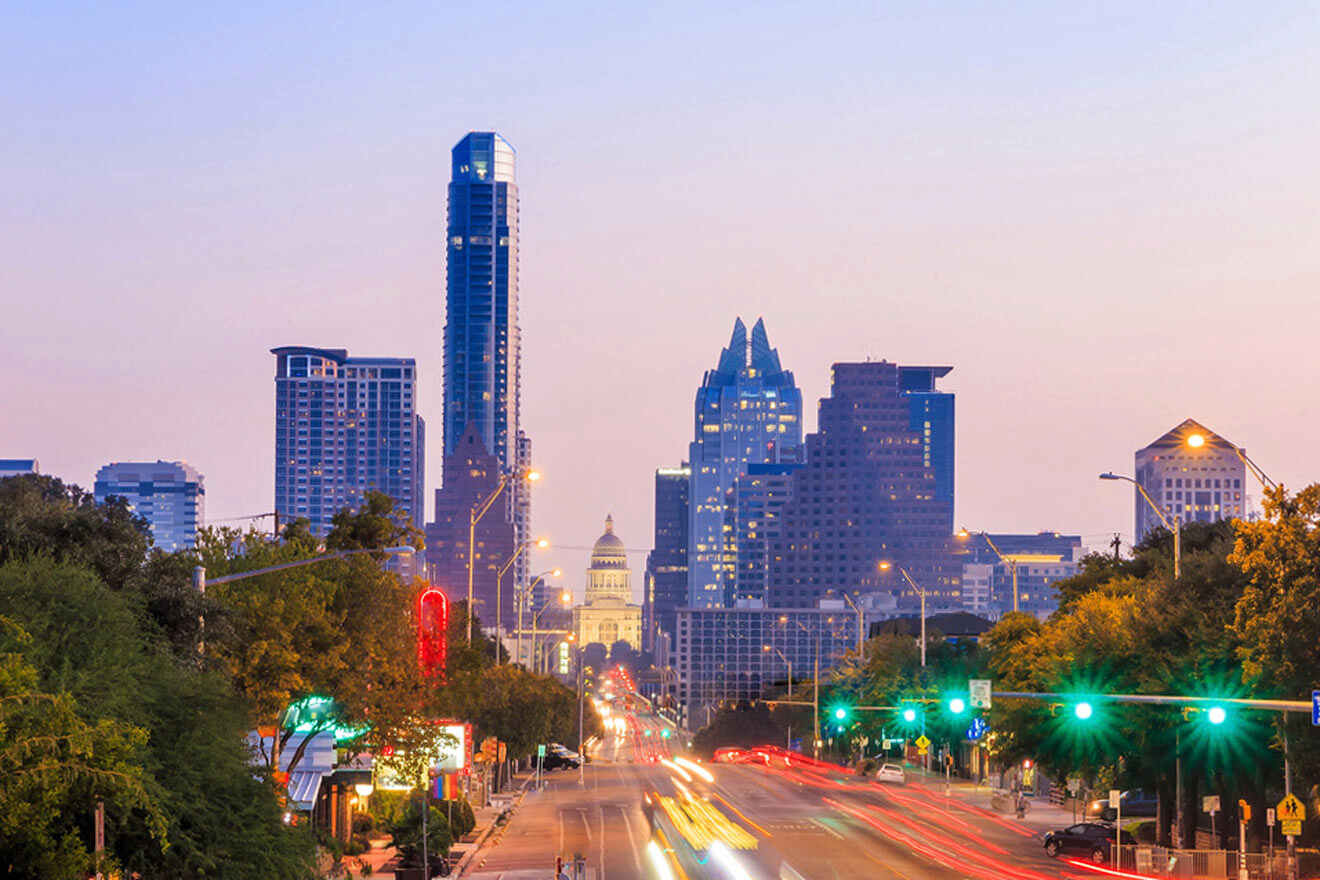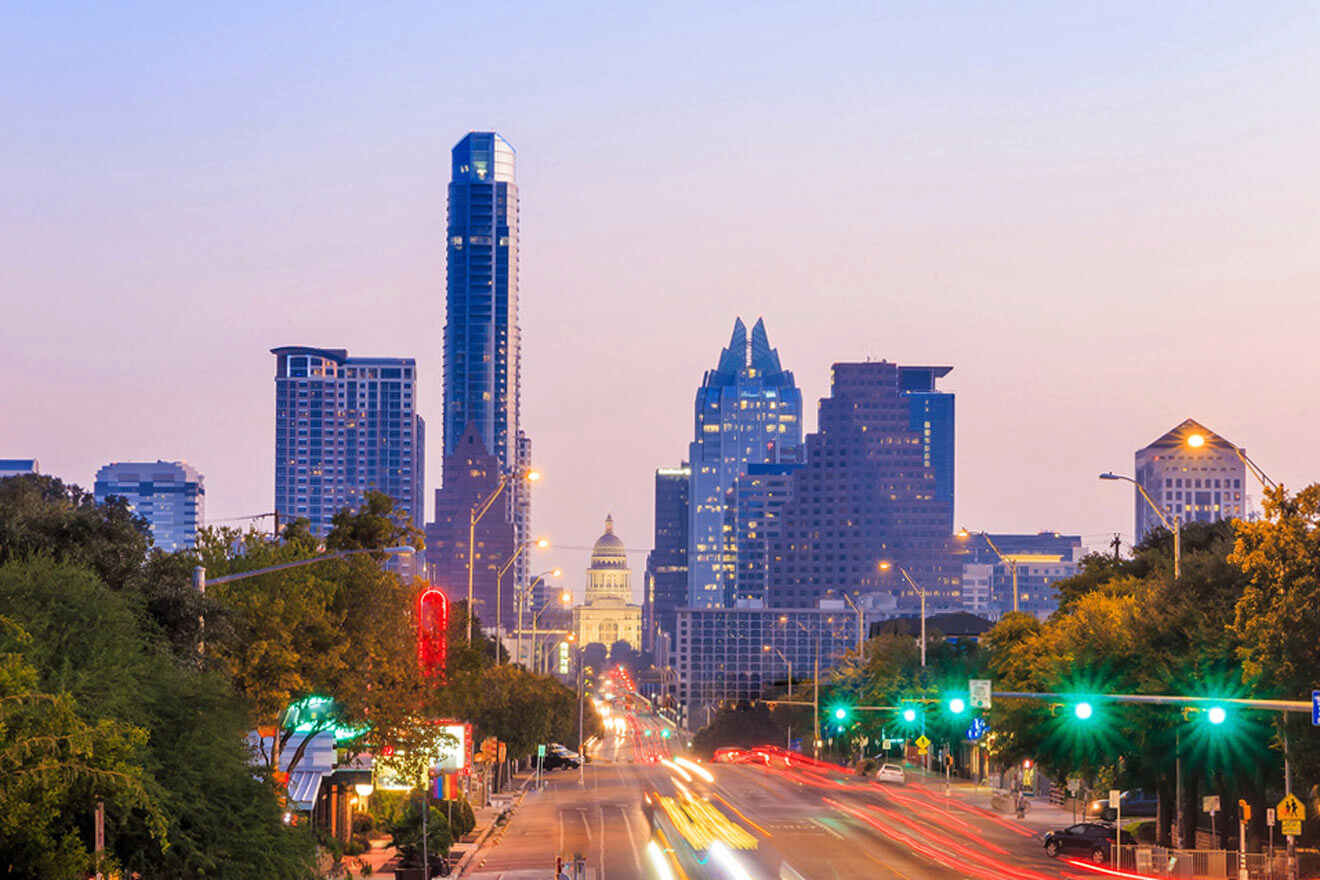 That is all for today, fantastic travelers! Those were the best 15 hip hotels in Austin, Texas! What an amazing wide range of options and styles! I am sure you found the hotel room of your dreams for your trip that fits your preferences!
Honestly, all the hotel rooms in this article are stunning, and I would be more than happy to stay in any of them, but my 2 favorites were:
Commodore Perry Estate – I love the Victorian style, and I need to sleep in the LaVerne room, it's so beautiful!
Hotel ZaZa Austin – it is located in downtown Austin, so amazing cool venues are only steps away from the property!
Which one was your favorite hotel in Austin, Texas, featured in this article? Let me know in the comments! And don't forget to book your hotel room as soon as you make a decision to get the nicest rooms and the best deals.
Until the next one,
Daniela
---
Pin it for later!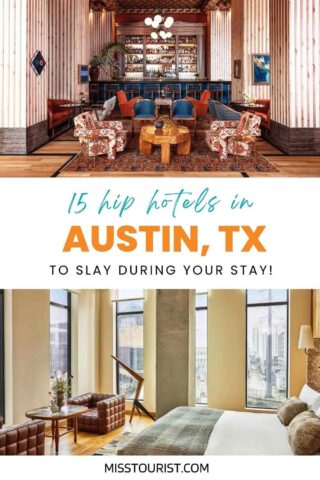 Pin it for later!