13 Delicious Vegan restaurants in Prague ✔ Your 2024 Update!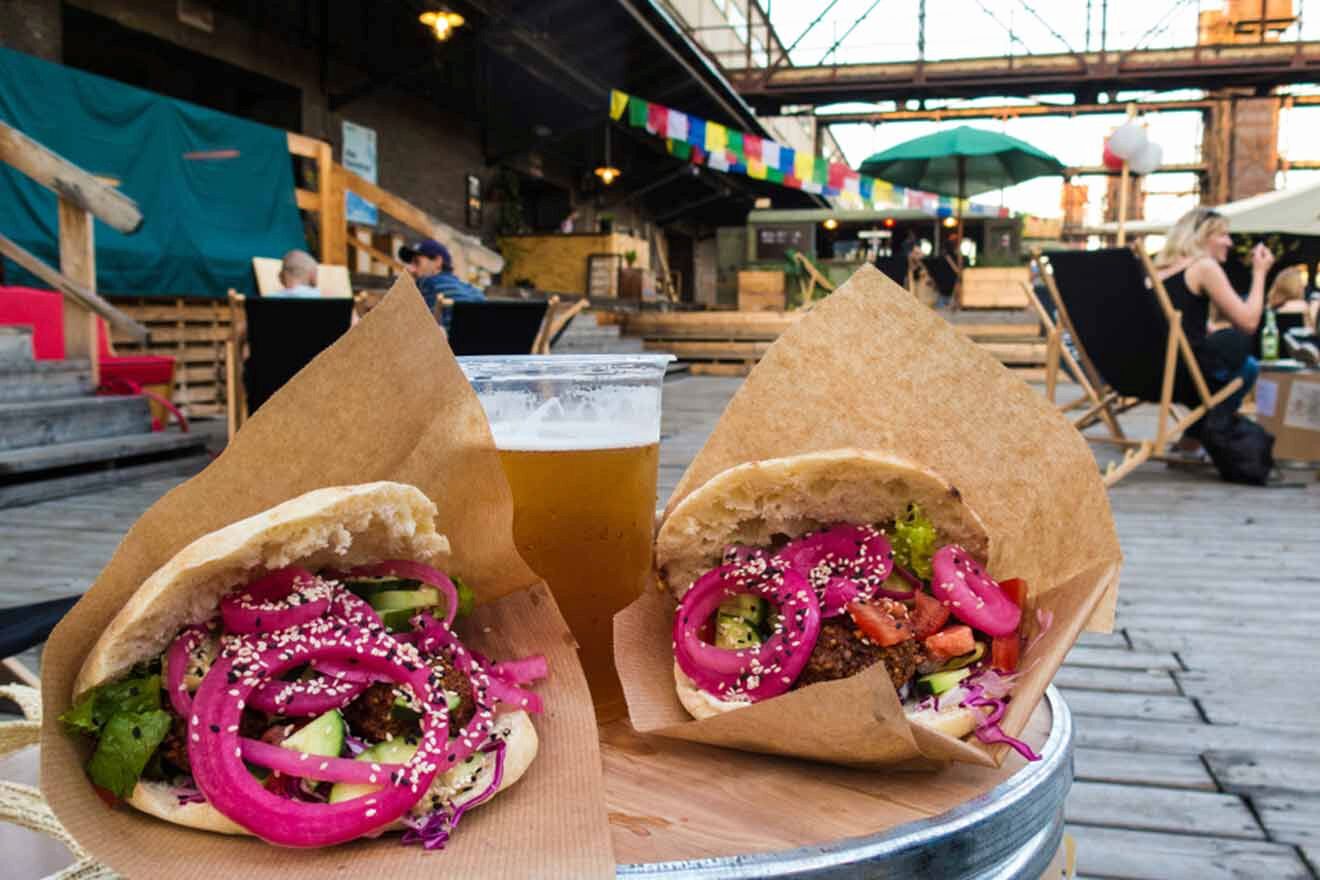 Are you looking for vegan restaurants in Prague, Czech Republic? Cool! As a vegan who's been in Prague trying out the best vegan restaurants, I'm your gal for the BEST spots to try!
As well as the most gorgeous vegan restaurants, I've also gathered a few vegetarian restaurants with vegan options to die for!
I have to tell you that the vegan scene in Prague is huge. I have organized this article starting with the most popular restaurants in the area. But to be honest, all of them have excellent reviews! Spoiler alert: Vegan's Prague is the best one for Czech cuisine!
If you are in a hurry
If you want to find a vegan restaurant fast because you need some vegan yum ASAP, here are the top 3 vegan restaurants in Prague:
Here, you have a map with all the vegan restaurants in Prague's exact locations if you want to jump to the one that's closest to you quickly!
1. Maitrea Restaurace – a cozy meal by the old town
Here, you can delight in global vegan cuisine! This is probably the most praised vegan and vegetarian restaurant in Prague. It is located only a 2-minute walk from the old town square, and it is open from lunch service on!
The restaurant comes with a cozy atmosphere; it has two floors, and everyone agrees that the basement is the coziest! The decor includes Buddha sculptures, fountains with water, and cozy chairs.
Here, you can experience a fusion menu with fresh ingredients. They offer, on one hand, a daily lunch menu. This one comes with vegetarian and vegan dishes, the perfect spot for a quick lunch.
And on the other hand, they offer a regular menu with delicious dishes. They have vegan burgers, pad thai, buddha bowls, and Spanish and Mexican-inspired dishes. And of course, some traditional options! If I were you, I'd ask for some vegan wine pairings.
For the cherry on top, here you can relish in cruelty-free desserts and pastries! They have so many yummy options on the menu. My favorite is tapioca pearls in coconut milk with grilled mango and passion fruit.
2. Loving Hut – for Asian-inspired meals
This is a vegan restaurant chain, so if you are a vegan, you might already know about this one! They have a restaurant in almost every single city! They have many locations around the city center, so wherever you are, you will find a Loving Hut!
In this all-vegan restaurant, you can explore a vegan self-service buffet and all-you-can-eat options. So, basically, if you choose this option, you pay per 100gr. This is usually only available during lunchtime. But if you prefer, you can choose a dish from the menu.
The restaurant offers mainly Asian-inspired dishes, but sometimes they have some other options. For example, this one has schnitzel with mashed potatoes on the menu!
The ambiance is super laid back. It is the perfect place to sit down and relax while organizing the rest of the day with your fellow travelers.
3. Vegan's Prague – for traditional food
Savor traditional Czech dishes, veganized! This is my favorite vegan restaurant in Prague. If you are visiting Prague, you need to stop by this joint for some delicious vegan food.
This restaurant is a bit hidden; it is in Hradčany, on an uphill street, and a little door will take you up into the building, and there you are!
The ambiance in this restaurant is super chill, and if you are lucky, you will find a table to sit on the terrace, which comes with unbeatable views of Prague Castle.
To be completely honest with you, I had most of my meal at this restaurant, and oh boy! The food slaps! You can try the vegan versions of traditional Czech cuisine here. The first time, I tried the goulash with cabbage and dumplings, together with a beer, and then I had a piece of salted caramel cake (they have different cakes depending on the daily menu).
They also have international cuisine, so the second time, I had a vegan burger with homemade fries and a homemade lemonade with berries. It was a complete success, and I would recommend it 100%. Especially with those views, it's perfect to relax for a bit!
If you want to master Prague and choose the best area for your stay, check out our Prague area guide!
4. Sandokan Vegan Bistro – for lunch or early dinner
Come to Sandokan to indulge in gourmet plant-based meals! Oh my god! This vegan spot looks so good! I haven't tried this one, but my mouth is watering just looking at the food. The restaurant offers a buffet-style lunch, and you pay depending on the weight of your plate.
Here, you can experience international vegan delights; for example, most of their dishes are inspired by Indian cuisine, but they also have some other Asian-inspired meals, Buddha bowls, traditional Czech dumplings, and fresh salads with vegan cheese. Yum!
Oh, they also have gluten-free options!
I would say this is the perfect place for a quick lunch or a brunch spot since it doesn't stay open until super late. The ambiance is super friendly, and most people agree that the staff is super nice and helpful! The eatery is located near Perunova tram station!
5. The Satsang Restaurant – for a trendy brunch
Want to chill at a place with cool music and awesome vegan food? This place looks completely stunning. The ambiance reminds me of all the cool brunch spots you see in NYC or Brooklyn. The restaurant owner lived there for a while and served him as inspiration. As well as vegan twists on global street food!
They have music playing, and the vibe is cozy with great lightning. It is the perfect place to spend a long time relaxing and eating good food!
On their menu, they have vegetarian dishes and vegan meals. The vegetarian products come from approved local farmers.
Enjoy the wide range of options in the seasonal menu as well! Here, you can dive into extensive vegan burger varieties, as well as quesadillas, fair trade coffee, and soft drinks.
I highly recommend you have the vegan scrambled eggs with bottomless mimosas or the fluffy pancakes with bottomless coffee they offer on their brunch menu! The restaurant is located near Ruská station.
6. Country Life – for healthy food and goods
Opt for eateries promoting local produce in the new town! This joint has it all, so, on one hand, this restaurant is also a health food store with vegan products. They sell from vitamins to beauty products to treats and regular food. From organic fruits and veggies to cookies and plant-based takes on Czech pastries – whatever you fancy, they have it!
The restaurant offers a buffet that is 100% vegan, and they have a wide range of food. From cold salads to soups, warm meals, veganized traditional Czech food, and sometimes even vegan pizza!
Save room when you are at the buffet because they also have an amazing dessert section. So don't leave the restaurant before having a big piece of cake. And the location is unbeatable, right in the middle of the old town.
7. Lehká Hlava (Clear Head) – for a vintage feel
Explore this eatery with historical settings! I highly recommend this restaurant if you want to have an experience while having a meal. It is cozy and simply unique!
It is decorated with vintage wallpapers, and other areas of the restaurant have a starry night sky theme on the ceilings and walls. The lighting is perfect, and some areas have a setting with comfy booths.
This is one of the nicest vegan-friendly restaurants, without a doubt! And the menu is super. They have a weekly offer with vegan and vegetarian dishes, plus a regular menu with appetizers, main dishes, and desserts.
You can try Asian-inspired meals like Udon noodles and international dishes like burgers and sip on plant-based lattes and juices while enjoying a nice piece of cake!
8. Blue Vegan Pig Shop – for vegan donuts
I'm telling you now: if there are vegan donuts involved, I am in! The donuts look so delicious, and they have rotating flavors and some house flavors. But, of course, the flavors may include chocolate, berries, and lotus biscoff! Nom! They have coffee and soft drinks as well.
The ambiance is super relaxed. They have a bar setting where you can eat your donuts and a few tables. While it is a cozy, laid-back place, you wouldn't stay here for hours. It's more of a pitstop kind of place!
The restaurant is located only steps away from Krymská, making it the perfect place for a late vegan breakfast before seeing all the beautiful city attractions!
9. Linh's Vegan Corner – heartwarming vegan meals
I love this restaurant. It looks so wholesome, so cute! The cuisine is a mix of international cuisines. They have soups, from ramen to Pho. If you feel like having curry or udon noodles, there are plenty of options on the menu.
If you want something closer to street food, they have the classic banh mi, burgers with Belgian fries, and bao buns. If you want something lighter, they even have sushi. The dessert options are always changing, but they usually have several types of cakes.
The location is super convenient, as it's literally a 2-minute walk from the old town central square and the city's main attractions.
10. Palo Verde Bistro – for the ultimate vegan breakfast
This restaurant is located in the New Town area of Prague. The building looks super young and trendy, and definitely, the perfect place to sit down for a while and talk with your fellow travelers over some tapas and beers (yes, they have tapas).
Definitely the place to indulge in vegan breakfast and brunch options. The menu offers avocado and tofu toast, scrambled eggs, and smoothie bowls, which are great for breakfast. As well as empanadas and nachos, which can be great for a midday snack.
If you want a proper meal, they have main courses, which include pasta, salad bowls, and burgers.
11. Forky's – for delicious street food
If you are looking for a fast food restaurant offering real street food, this restaurant is perfect for you. The ambiance of the building is super laid back, and everything looks super clean. The location is super good, too, since it is located in the old town.
They have hot dogs, vegan kebab, shawarma, salad bowls, you name it! What's better than accompanying a burger with a shake or a cold beer? I know. It is just awesome. That is why this restaurant is the perfect place to freshen up after walking around in the old town!
12. Pastva – with an Italian touch
If you are looking for a restaurant in the Smíchov, Pastva has all the vegan goods you need! The ambiance is super cool; it has that trendy Soho vibe we all love. I would recommend going there for a late lunch or an early dinner so you can relax in between exploring.
On the menu, you can find appetizers, soups, and yummy main courses that go from udon teriyaki noodles, risotto, pea burger, and quesadillas to pumpkin pie. A super varied menu, which we all love traveling with other people!
They serve Czech beer, wines, and spirits. This is how I picture it: you sit by the window and have the bolognese lasagna with red wine or the quesadillas with a traditional Czech beer. Now relax and enjoy Prague's view!
13. Pizza Letná – the best vegan pizzas in town!
This restaurant is in Prague 7 district, and it is only a 30-minute walk from the old town, or 15 minutes if you take public transport. The restaurant is 100% takeout. So, I suggest after you buy it you walk to the river and have it by the river with a view! That's a good plan!
The restaurant is not 100% vegan or vegetarian, but they offer a lot of veggie-friendly pizzas, and one of them is fully vegan which is the margherita. I am pretty sure if you ask nicely, they might be able to add vegan cheese to some of the vegetarian versions! If it is not possible, the vegan margherita is a hit anyway!
FAQs about vegan restaurants in Prague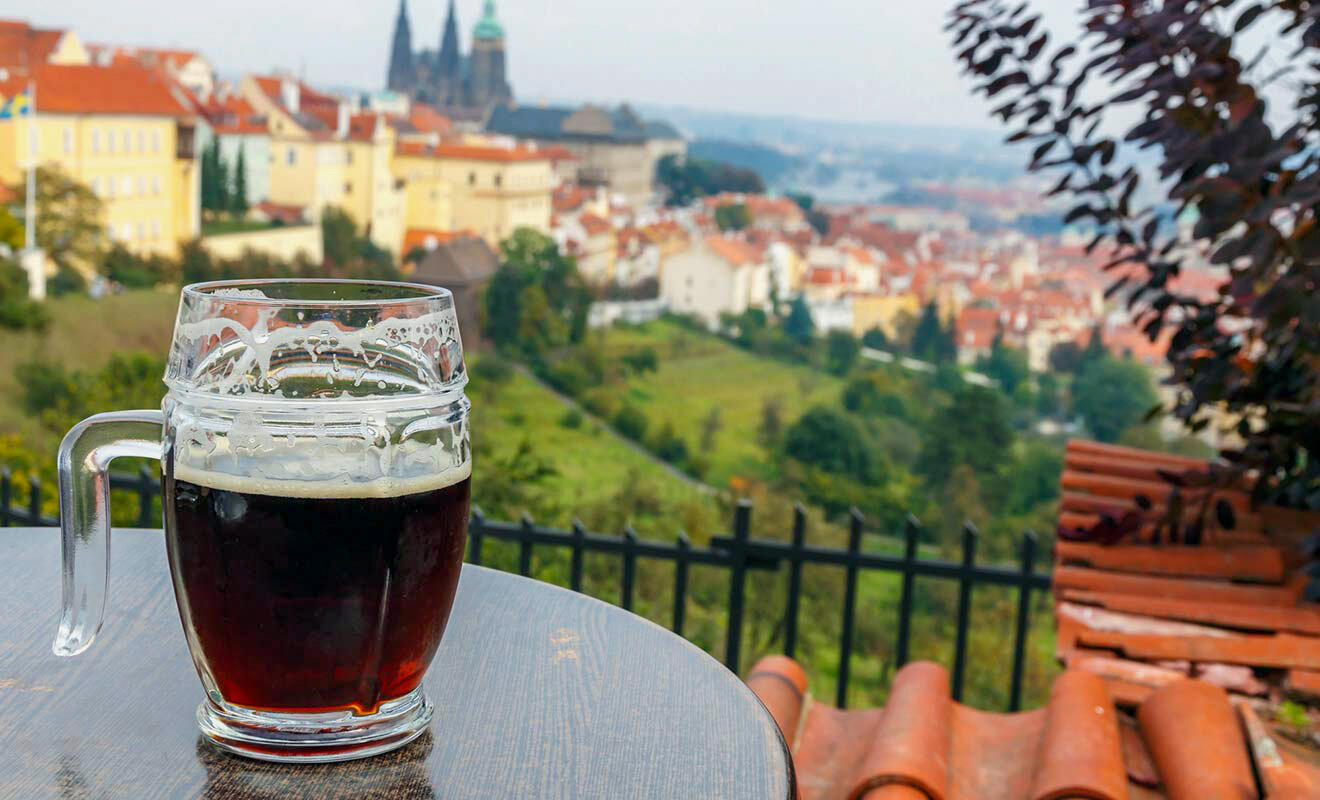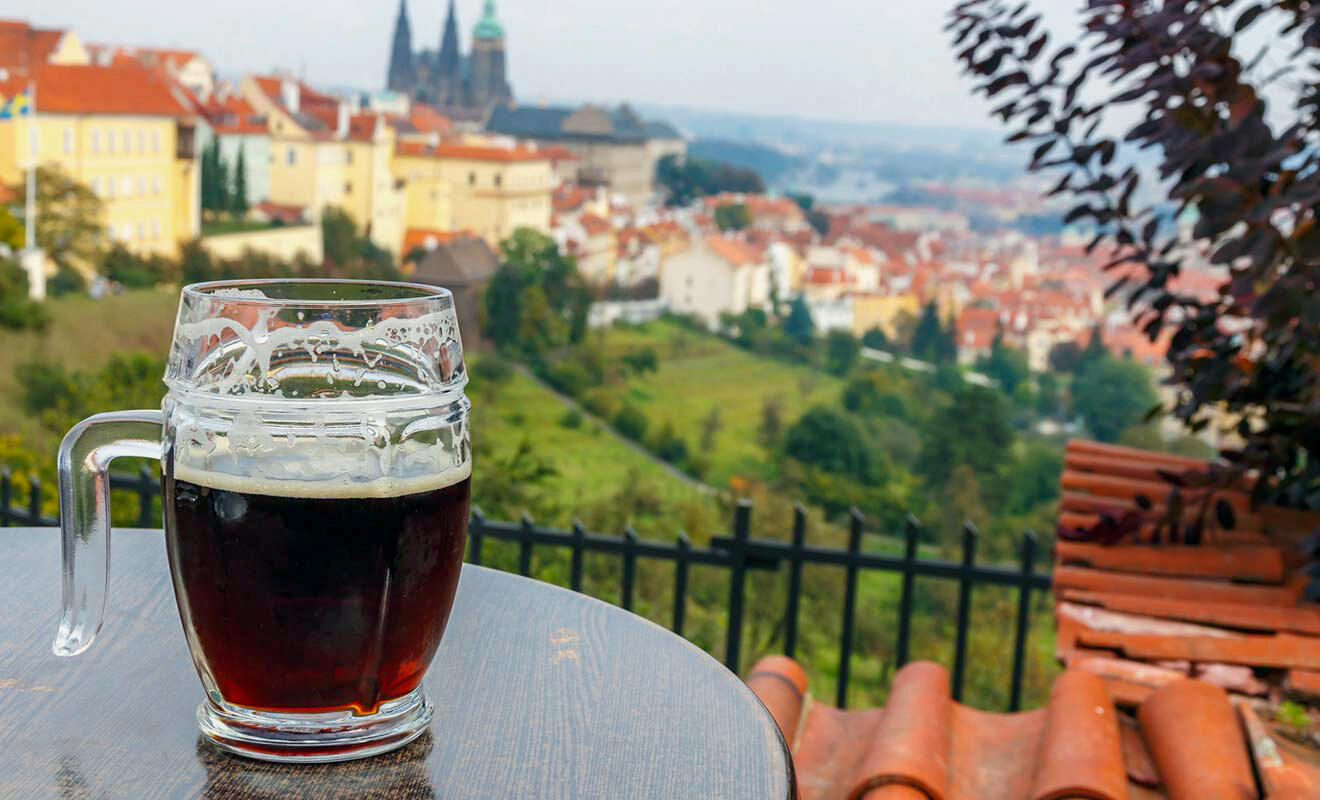 🌱 Is Prague a vegan-friendly city?
Yes! The city is super vegan-friendly, with many 100% vegan spots and some other vegetarian restaurants offering vegan dishes.
🏛️ Which is the best vegan restaurant near the Old Town?
The best vegan restaurants near the Old Town are definitely Maitrea Restaurace and Country Life.
☕ Which is the best vegan breakfast spot in Prague?
If you're looking for the best vegan breakfast spot, I definitely recommend checking out Palo Verde Bistro and Blue Vegan Pig Shop!
🇨🇿 Which is the best vegan restaurant for traditional food?
If you want to try traditional Czech food, I highly recommend Vegan's Prague, which by the way, is in an ideal location!
Conclusion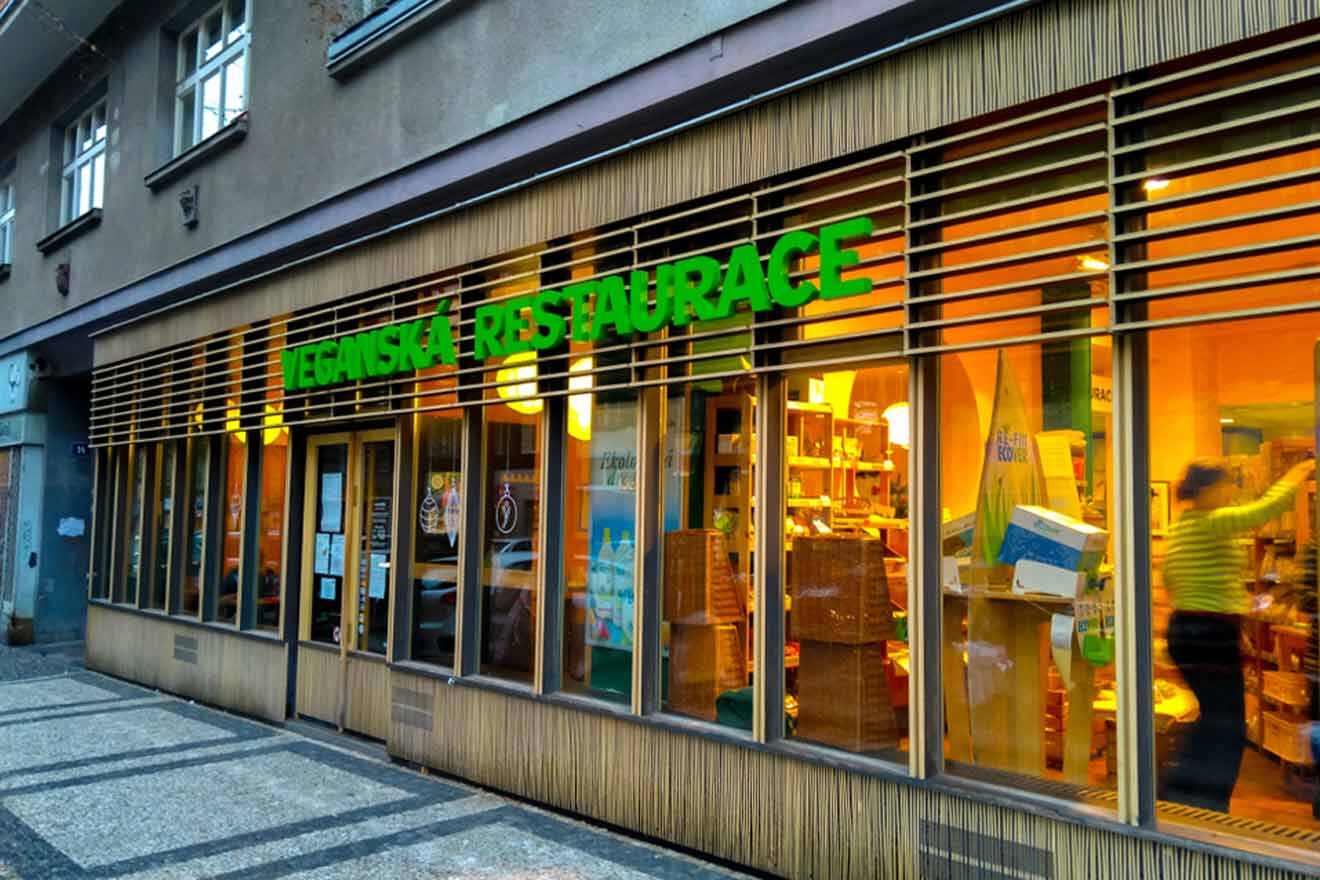 That is all for today, my sweet angels! Those were the top 13 vegan restaurants in Prague! Some of the restaurants are vegetarian and offer a wide range of vegan options, so whichever you decide to go to, your tummy will be thankful!
As you can see, options go from fast food, including vegan hot dogs, burgers, and kebabs, to delicious desserts like vegan donuts. And since we are in Prague, it is great to know Vegan's Prague has all the vegan versions of Czech classics!
Which vegan restaurant in Prague are you most excited to try? Let me know in the comments, and if you need any other assistance, I'll be happy to help out!
Until the next meal, vegan friends,
Daniela
---
Pin it for later!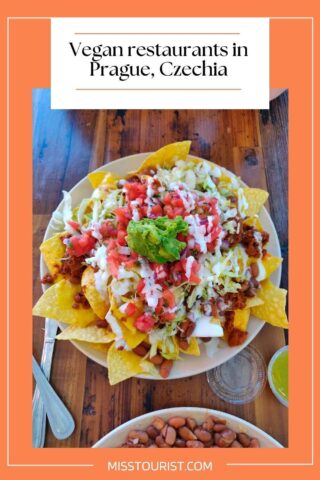 Pin it for later!