13 BEST Places to Spend Christmas in the US + Events (2024)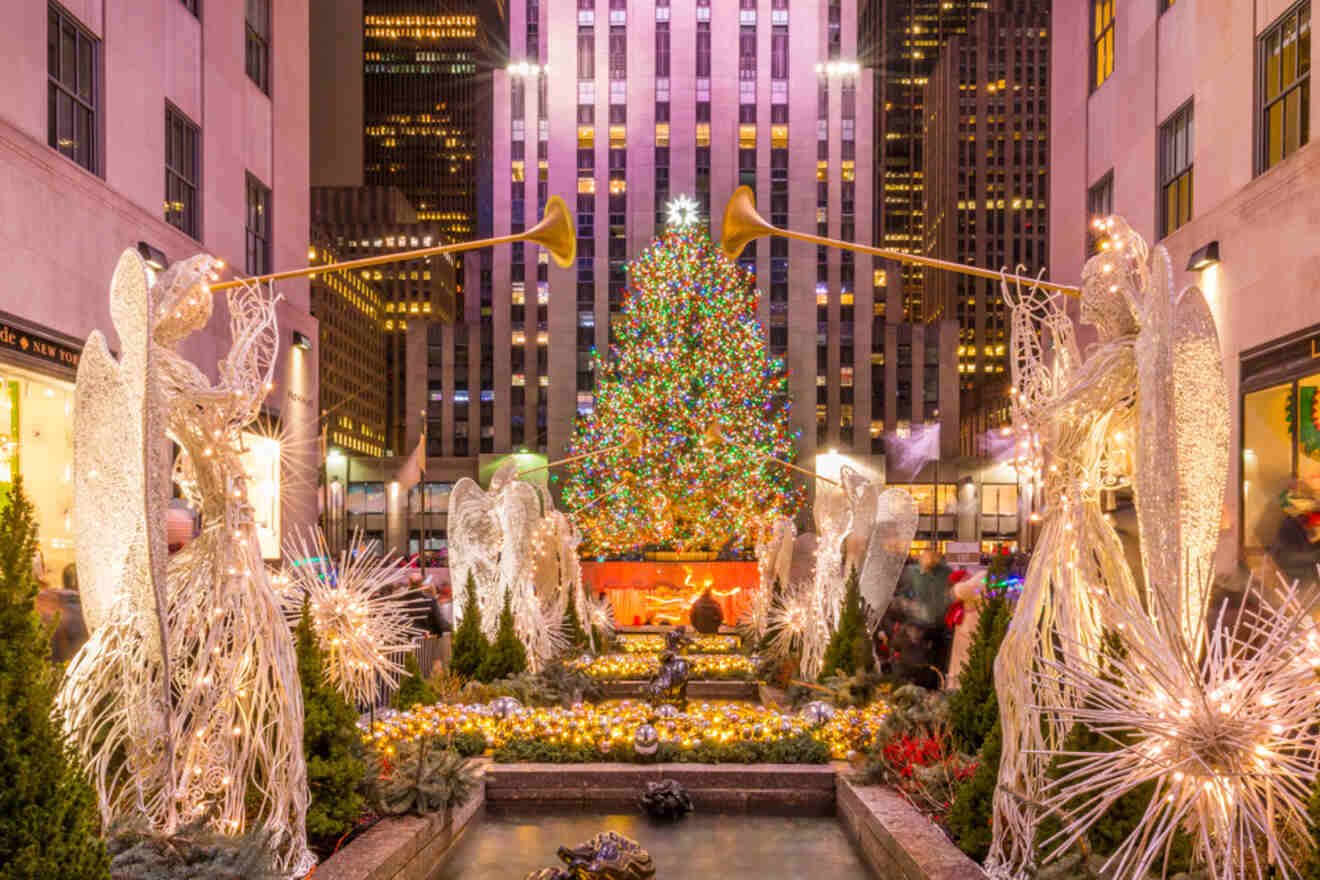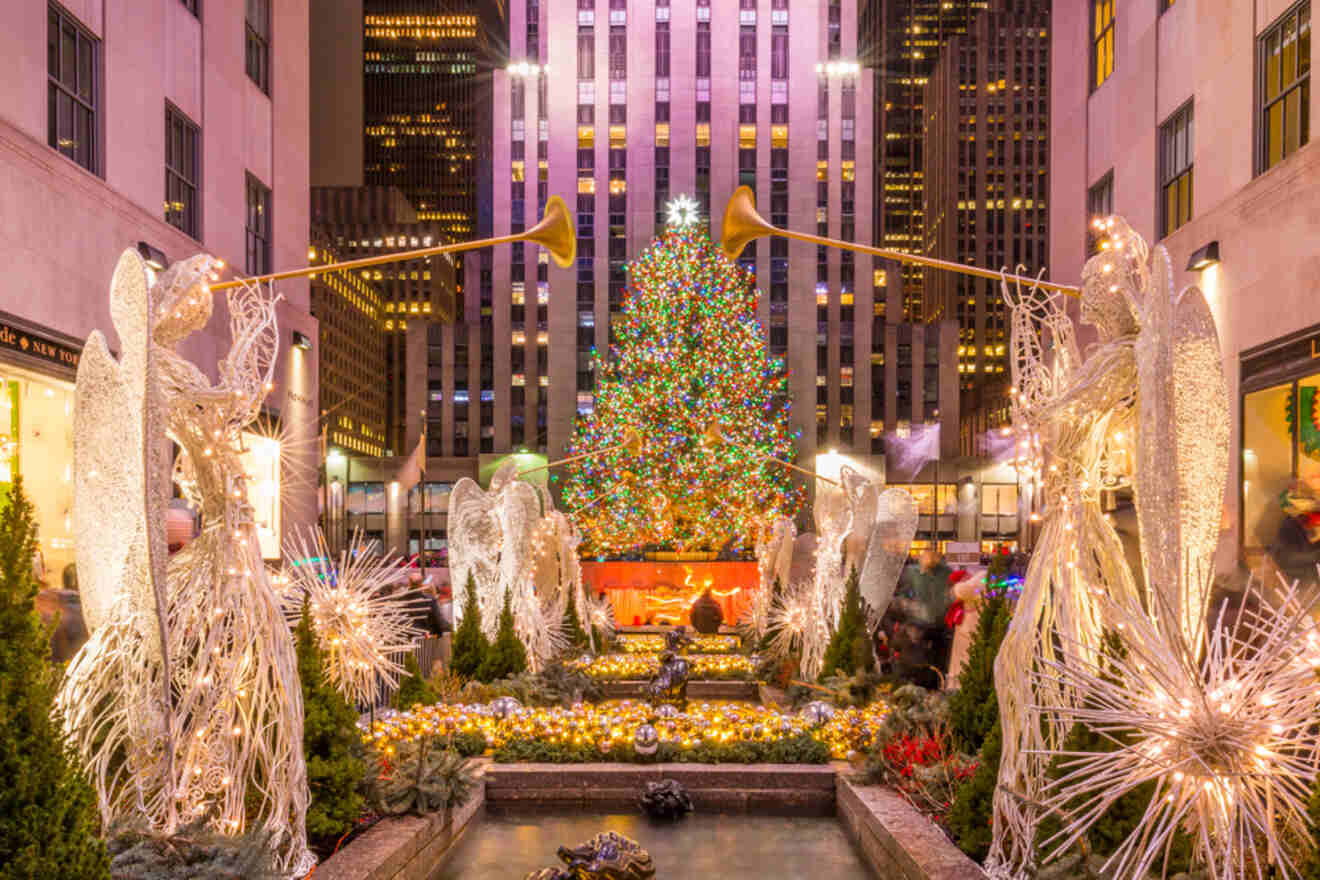 Looking for the best places to spend Christmas in the US? I have all the insider tips for you!
It is quite true that "there is no place like home" to spend the Christmas holidays. But Christmas is also a magical time to go on an adventure and spend the festive season in cities that will make you believe in the spirit and magic of the holidays.
If you would like to do that but you are not sure which destination to choose, look no further! I have prepared for you the ultimate list of the best places to spend Christmas in the US this year.
After extensive research and comparing all the best places, I can say that New York City has Christmas magic that is exceptional, but there are many other cities in the US that look just like out of a Hallmark movie.
1. New York City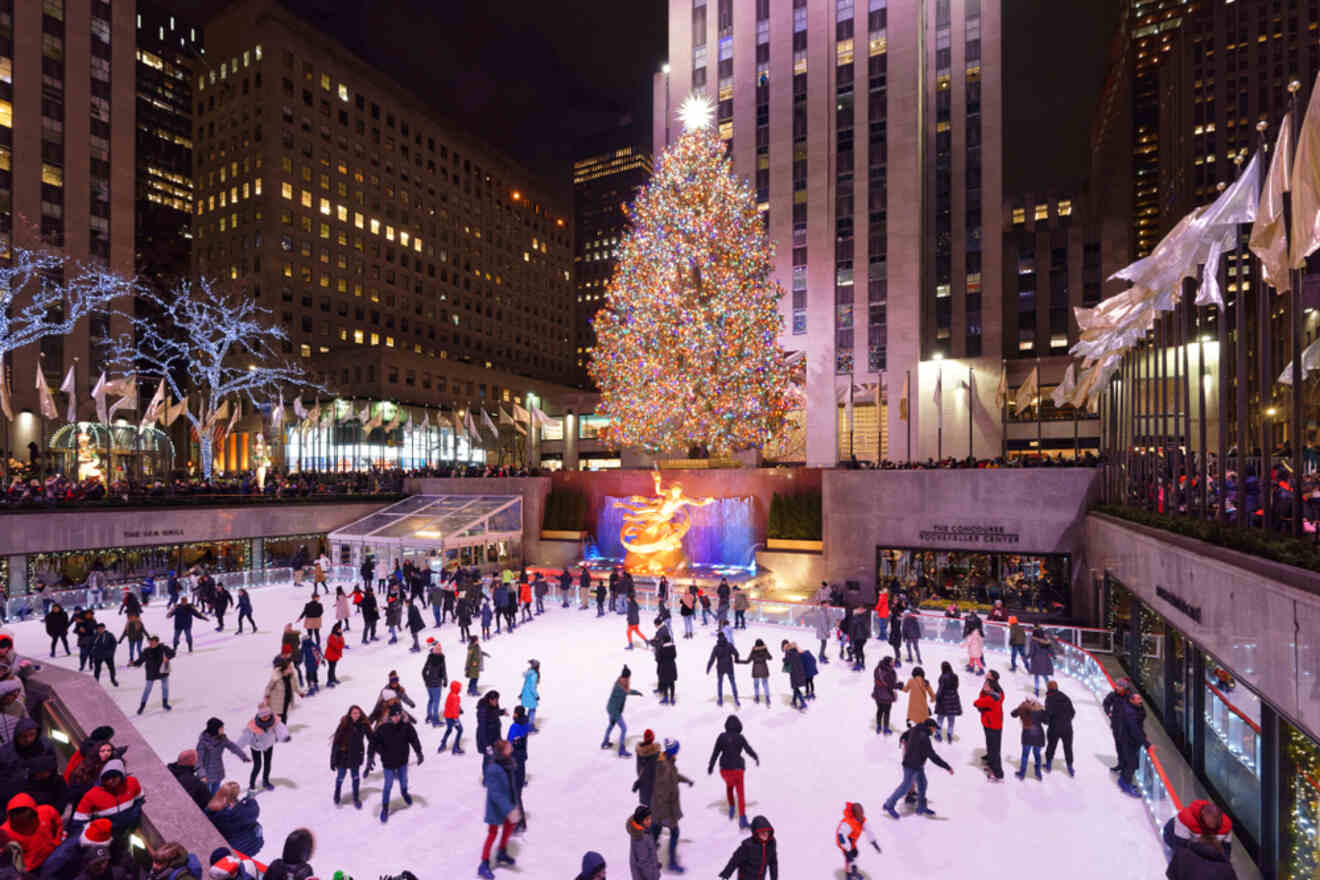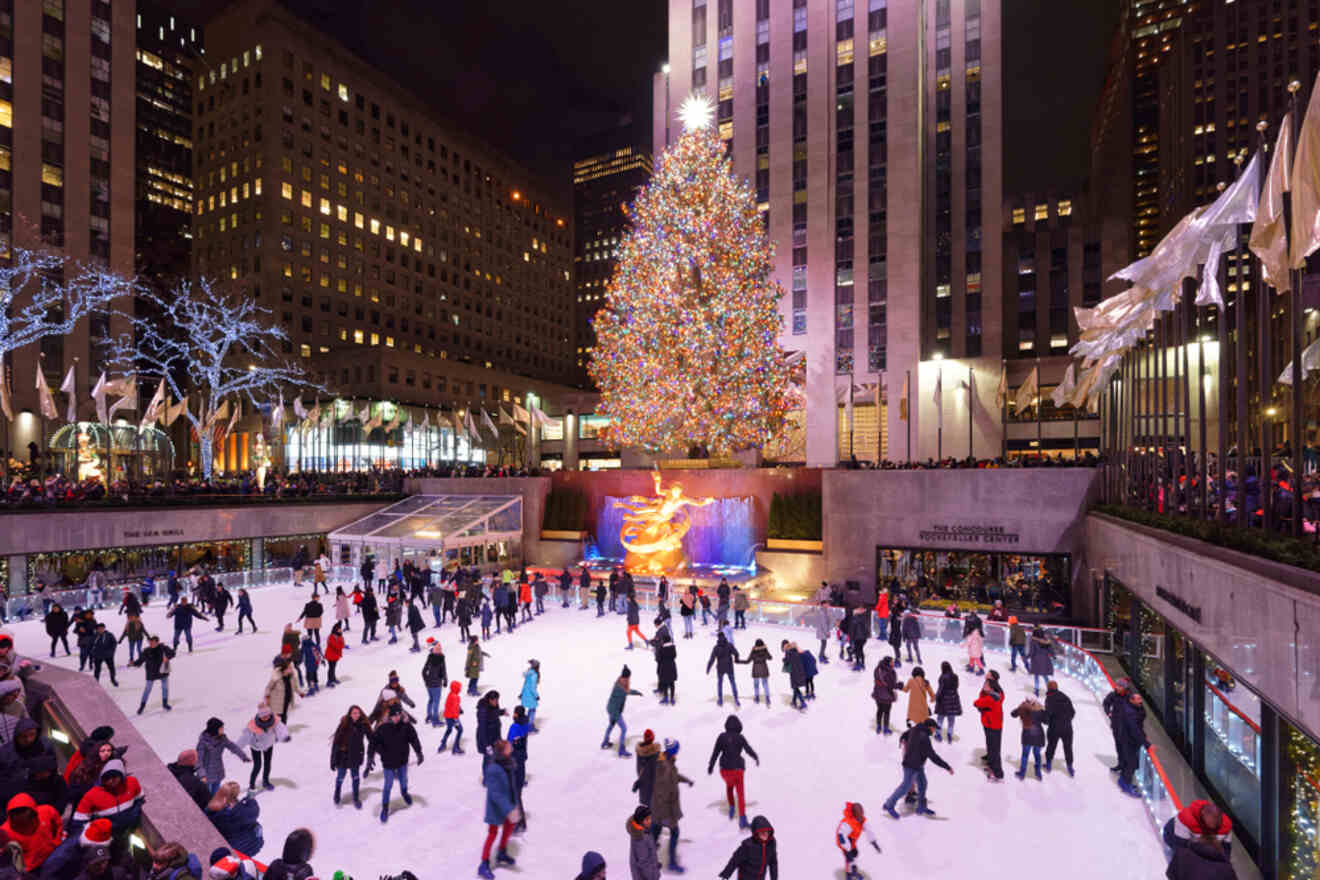 No city in the US is as magical as New York during the Christmas season. The city turns into a magical winter wonderland that enchants visitors with its dazzling lights, holiday decorations, and contagious Christmas spirit.
You must visit the iconic Rockefeller Center Christmas Tree, adorned with thousands of twinkling lights. The tree will be put up on 29 November and is open from 5 AM to 12 AM until 13 January. Apart from admiring the beauty of it, you can also ice skate on the rink right next to it.
Among other amazing things to do in New York during Christmas, you should also get a ticket to watch the Christmas Spectacular Show starring the Radio City Rockettes, stroll around the beautifully decorated Christmas market at Union Square and eat some delicious food, or go window shopping to check out the amazing store displays all along Fifth Avenue.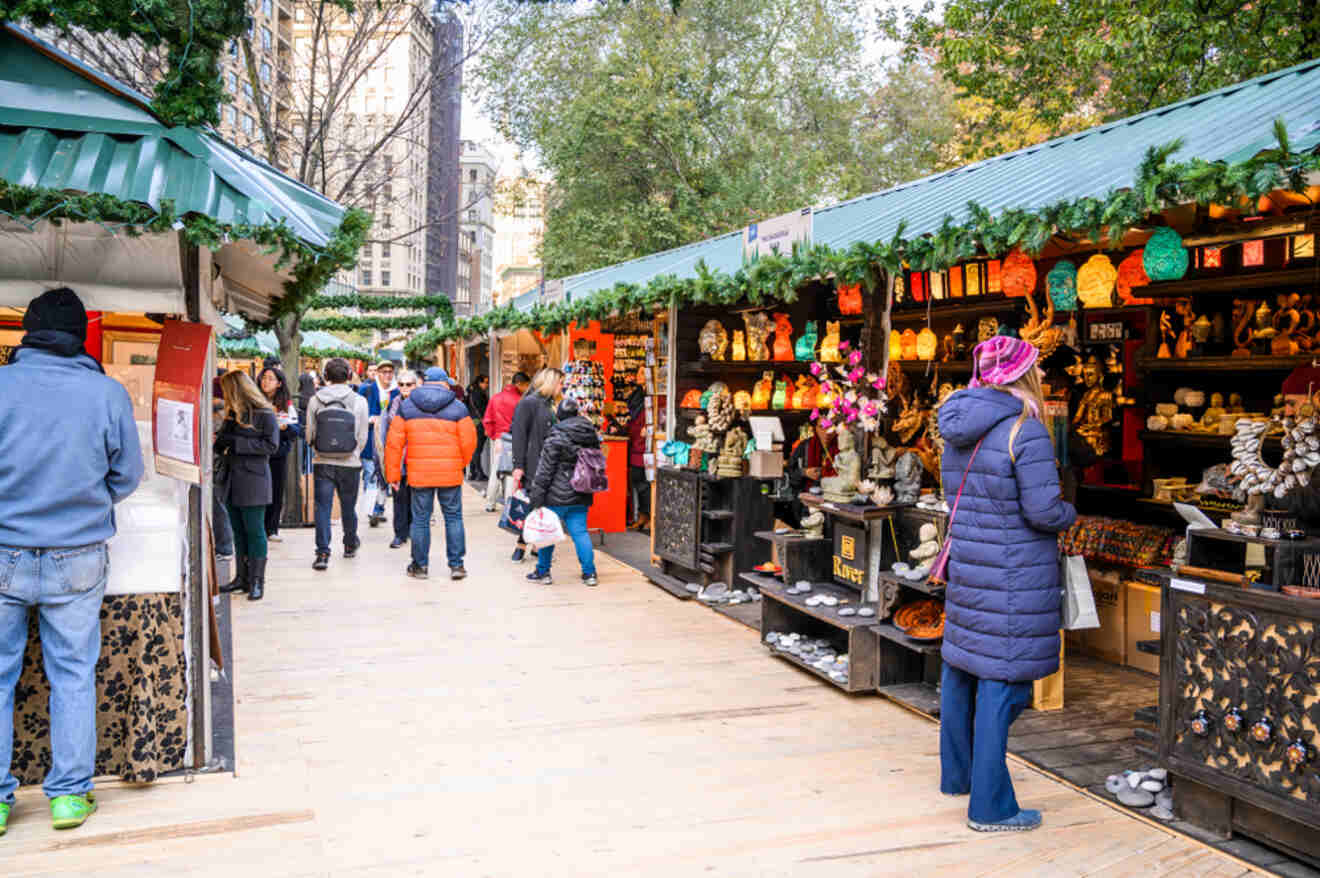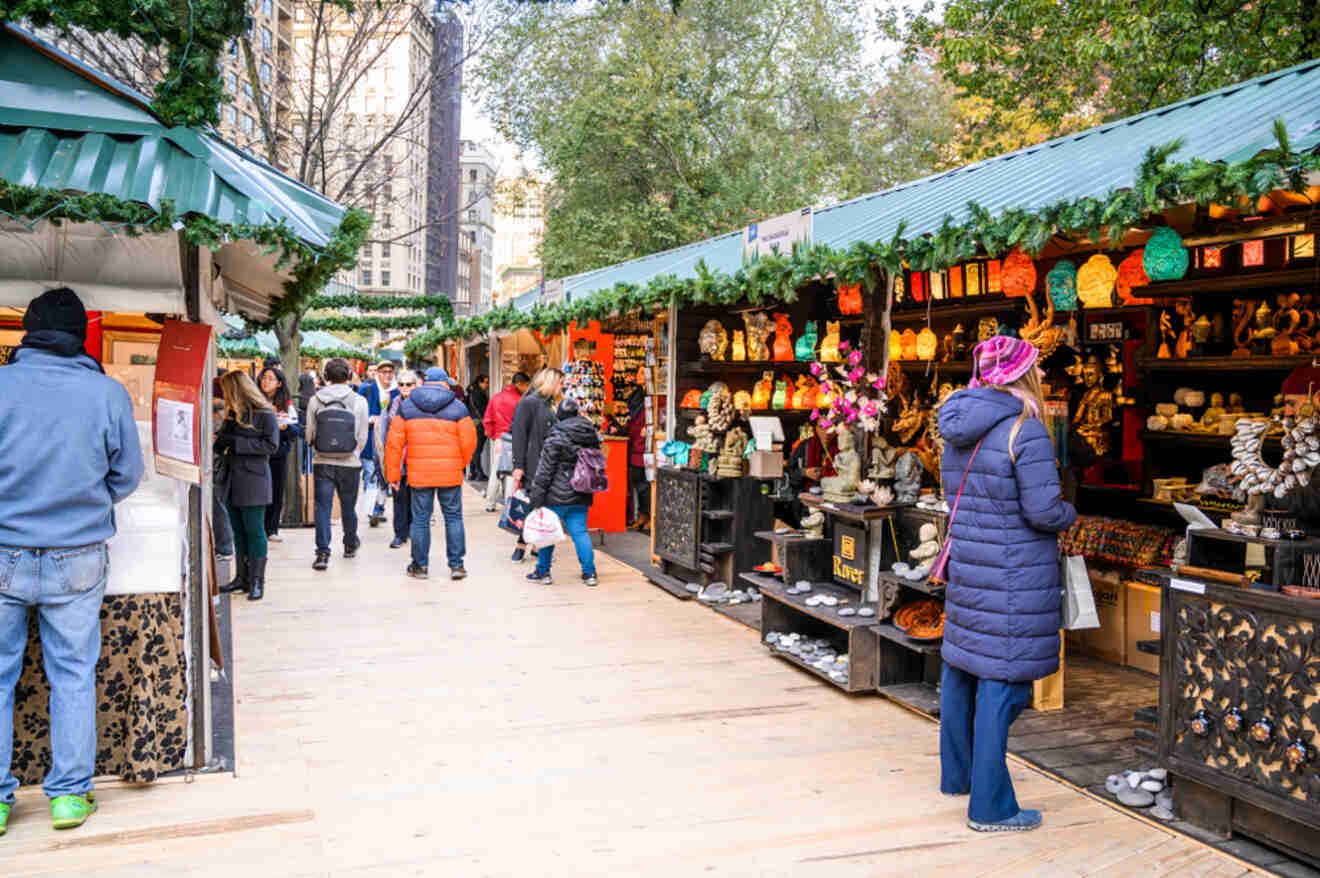 If this convinced you to spend Christmas in New York but don't know where to stay, I've got you covered. You can check out our guide on the best areas to stay in New York City to find the best accommodation that suits your needs.
Here are my top hotel recommendations: The Jewel Hotel (near the Rockefeller Center), Moxy NYC East Village (near Union Square), Romer Hell's Kitchen (in the city center)
2. North Pole, Alaska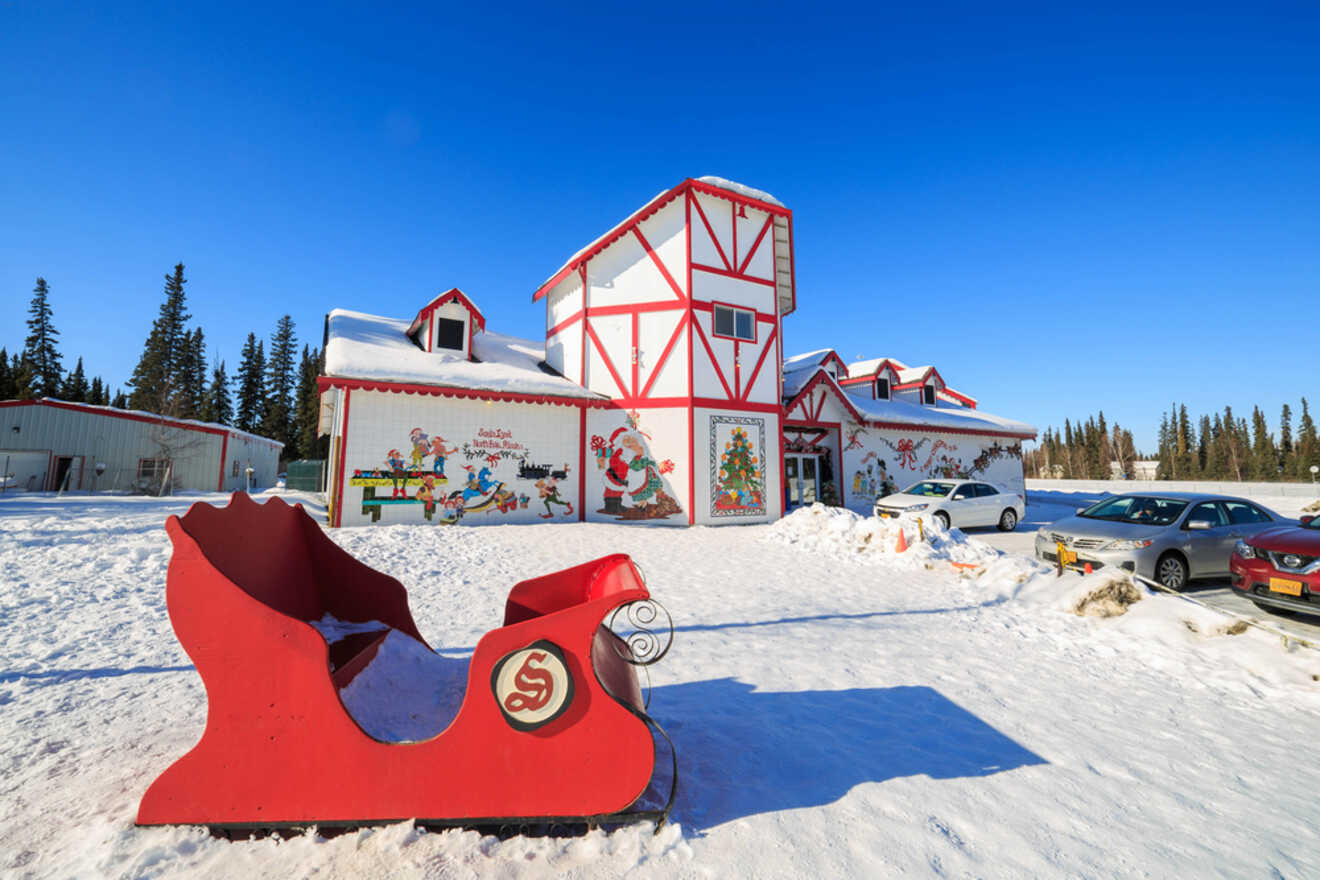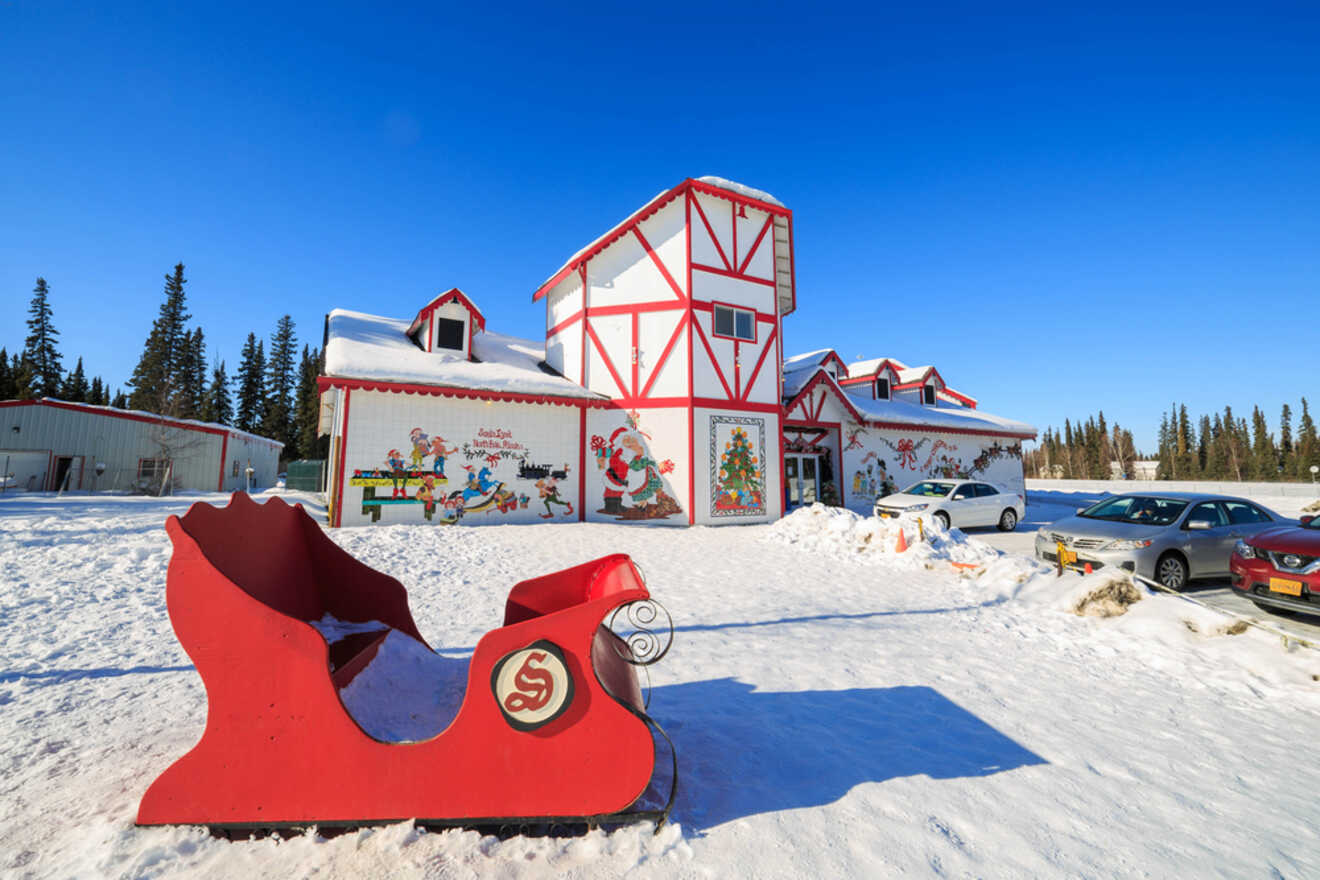 This little Alaskan town is not exactly on the North Pole, but it's pretty close (1,700 miles/2,735 km to be exact), yet still in the US. If you have kids and you're looking for Christmas destinations that are perfect for a family, then look no further.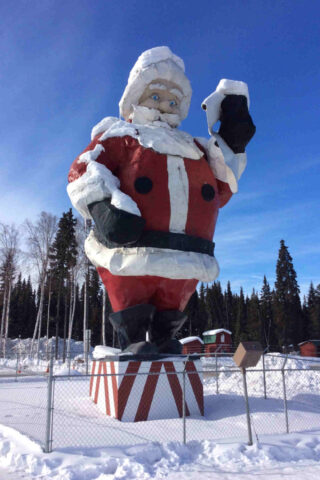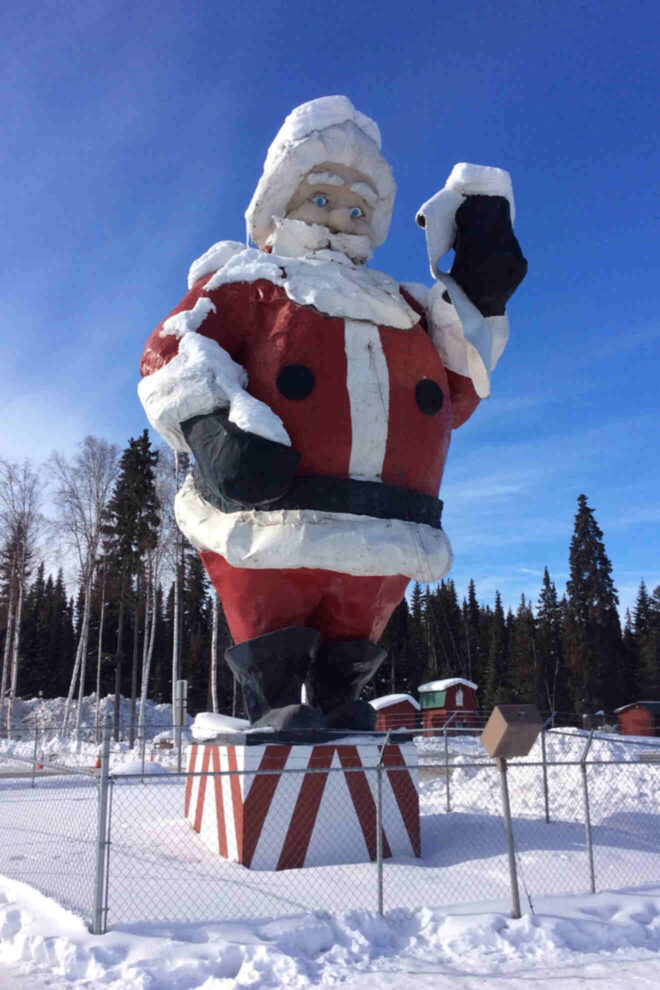 North Pole, Alaska, proclaims itself to be the "official" home of St. Nick, so here you can visit Santa Claus House, stroll down Santa Claus Lane, and check out the post office where thousands of letters addressed to Santa Claus get delivered.
Here, you can also see the largest Santa Claus statue! That's right, the 3-dimensional Santa Claus statue at the North Pole is 42 feet (13 m) tall and weighs 900 pounds (408 kg).
Here are my top hotel recommendations: Hotel North Pole (near Santa Claus House), Bear Paws (a family cabin), Convenient to ALL things "North Pole" (in the city center)
3. Park City, Utah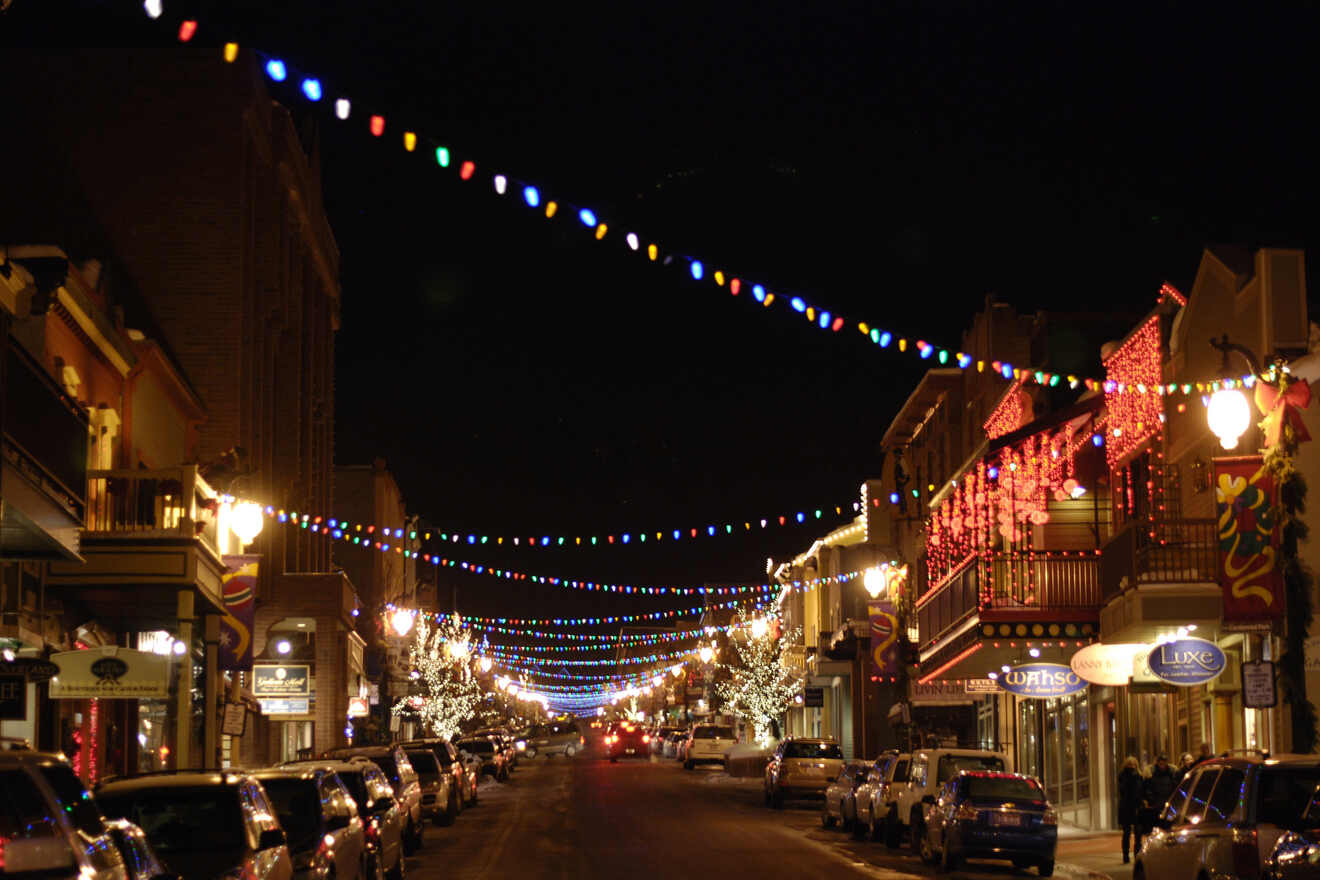 If you are dreaming of a white Christmas, then consider spending the holidays in Park City, Utah.
This gorgeous resort town is the perfect destination if you are looking for some holiday spirit but also want to spend some time doing winter sports. This resort town is 30 miles (50 km) from Salt Lake City and an unparalleled location for those who want to go skiing or snowboarding.
If you decide to ski or snowboard here, you'll be going down a 155-mile (250 km) slope, which is actually the largest ski resort in the United States of America.
Apart from this, what also makes Park City the perfect Christmas destination are the parades. The 2 best ones are the Park City Electric Light Parade and the Christmas Eve Torchlight Parade.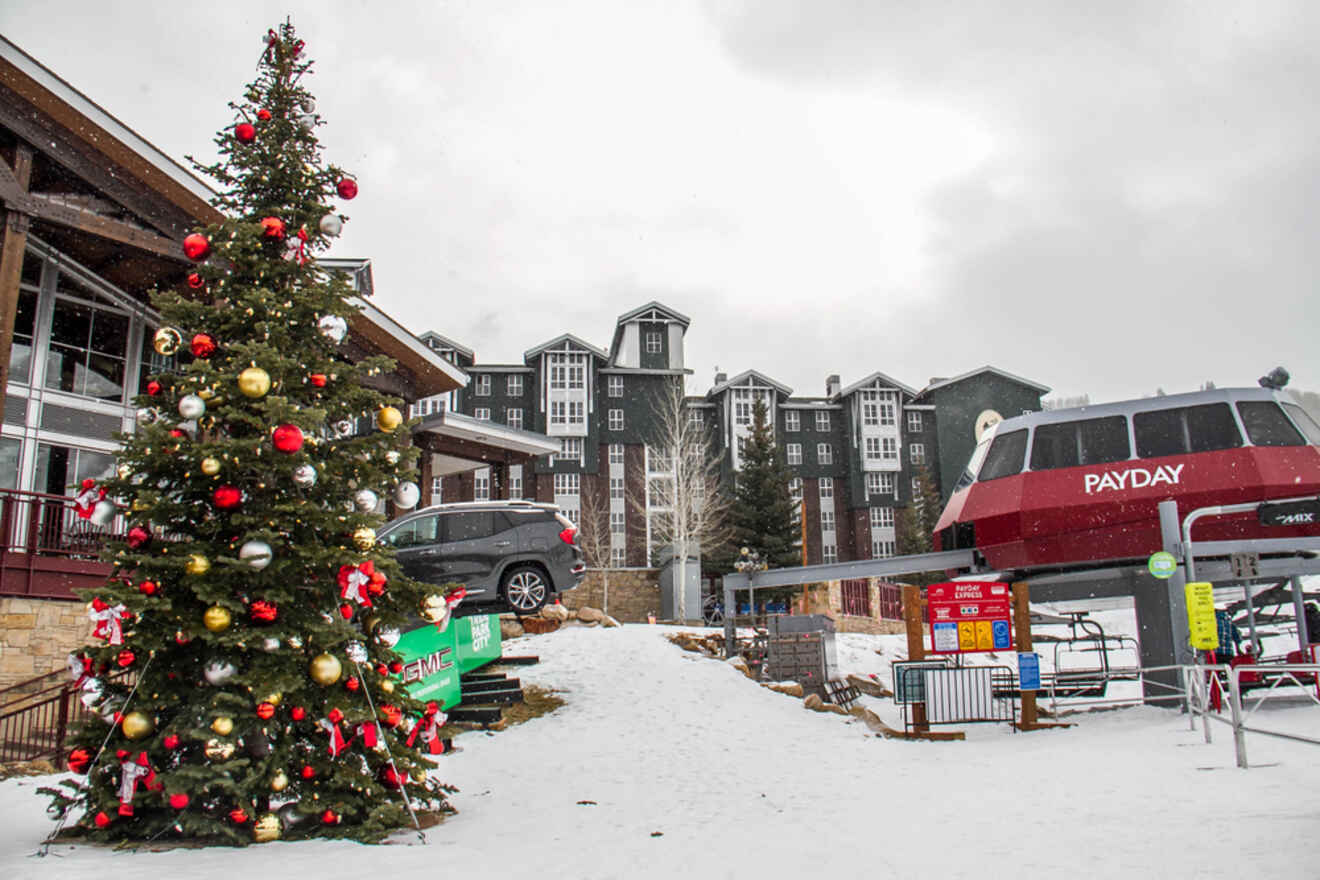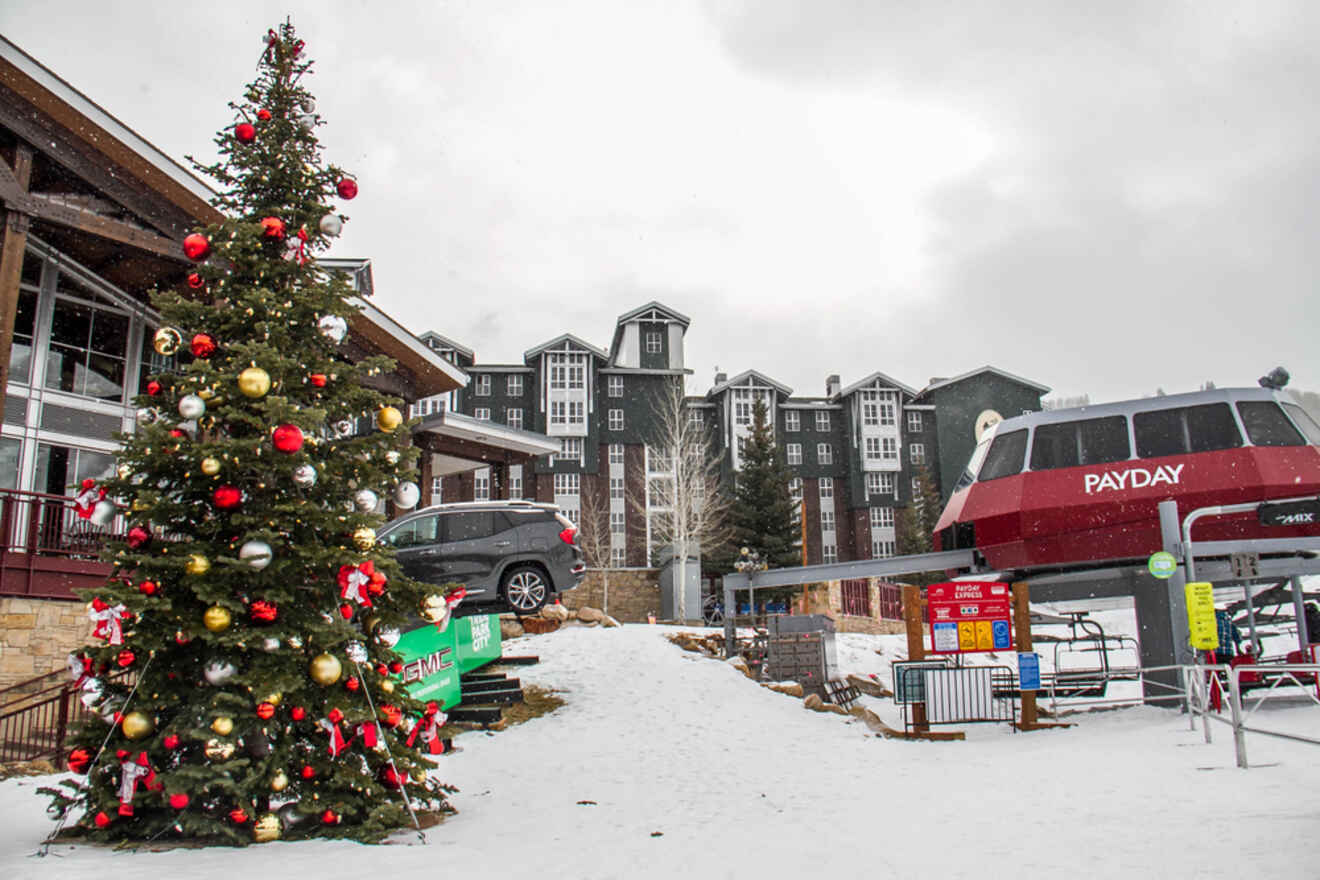 If you are around on Christmas Eve, you might also notice Santa skiing the slopes and leading a parade down the PayDay trail.
If you want to visit Park City during the holidays but don't know where to stay, take a look at our article that covers the best areas to stay in the city and some amazing hotel options.
Here are my top hotel recommendations: Marriott's MountainSide (in Park City Mountain Resort), Luxe Deer Valley Condo (in Deer Valley Resort), Marriott's Summit Watch (downtown)
4. New Orleans, Louisiana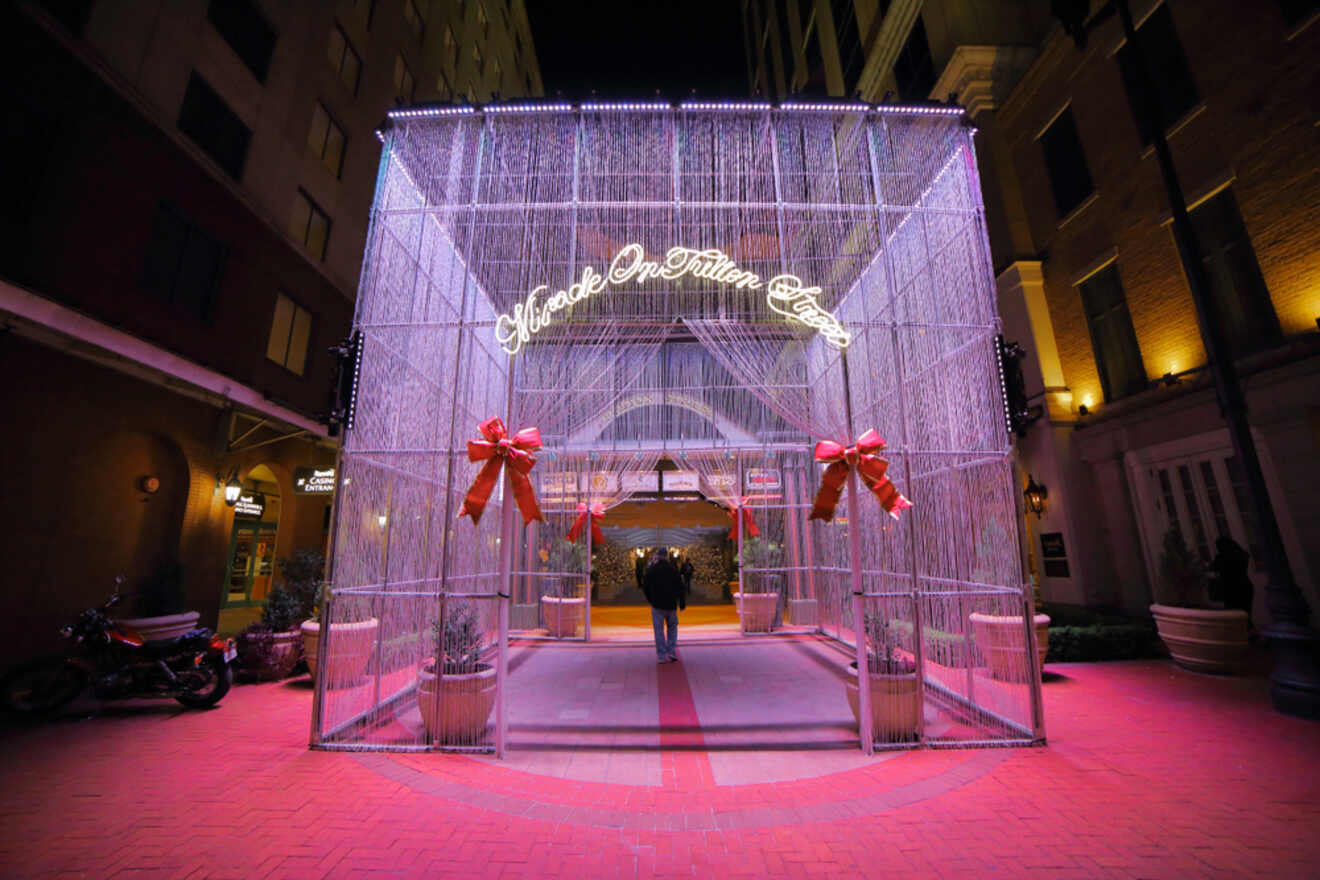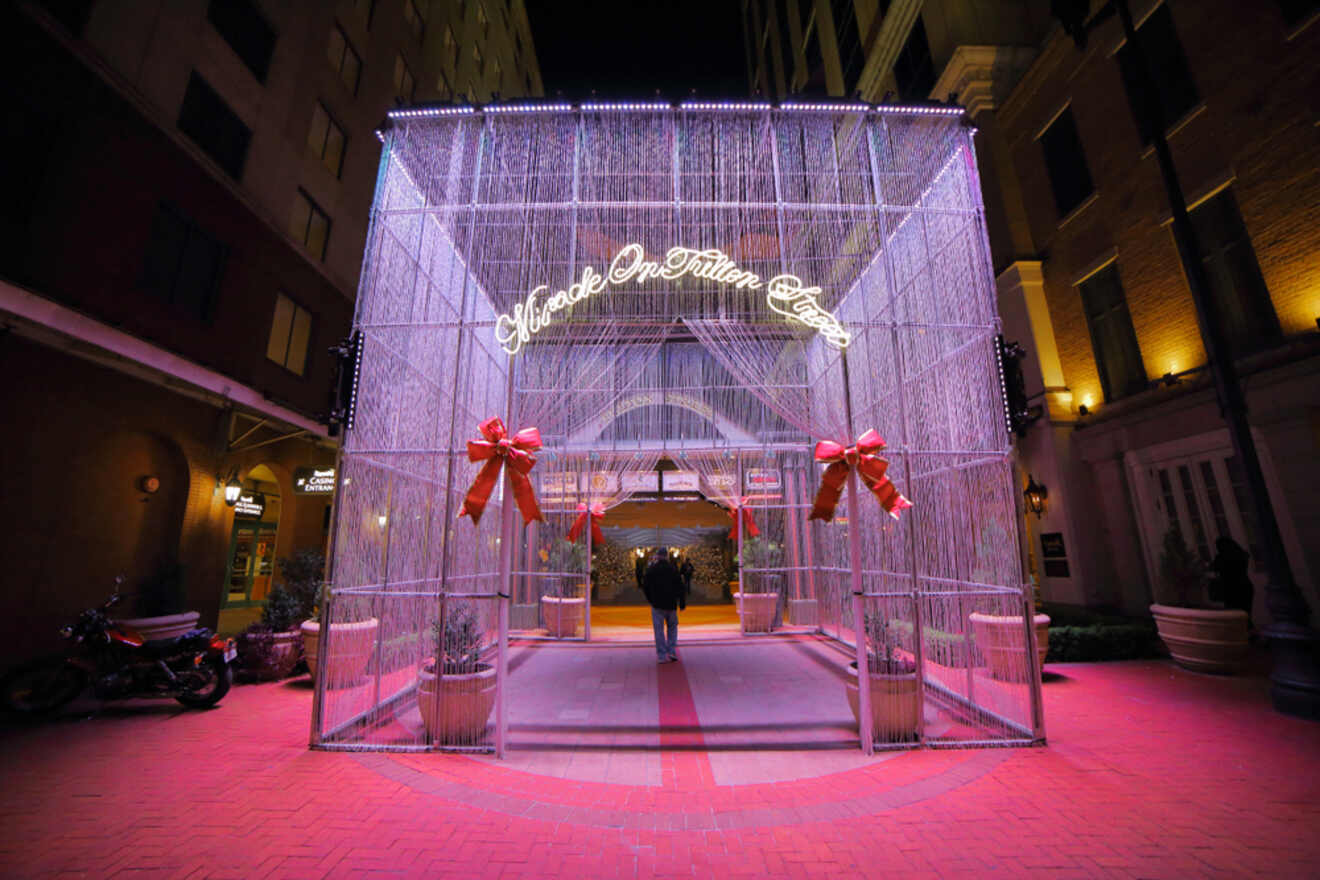 New Orleans is the perfect place to spend Christmas in the USA for those looking to escape the harsh cold winters to a warmer location.
There are many amazing things to experience during Christmas in and around this city. First of all, you must check out the city's iconic Christmas Eve Bonfires on the Levee, a holiday tradition dating back to the earliest Cajun settlers of the region. On 24 December, you'll see hundreds of bonfires along the river's bank in St. James parish, located 30-40 miles (50-80 km) upriver from New Orleans.
A second amazing holiday tradition here is the Celebration in the Oaks in City Park (from 25 November to 2 January). It's an enchanting light festival dating back to the 80s where you get to see over a million Christmas lights through the 2-mile (3 km) driving tour or the reimagined walking tour.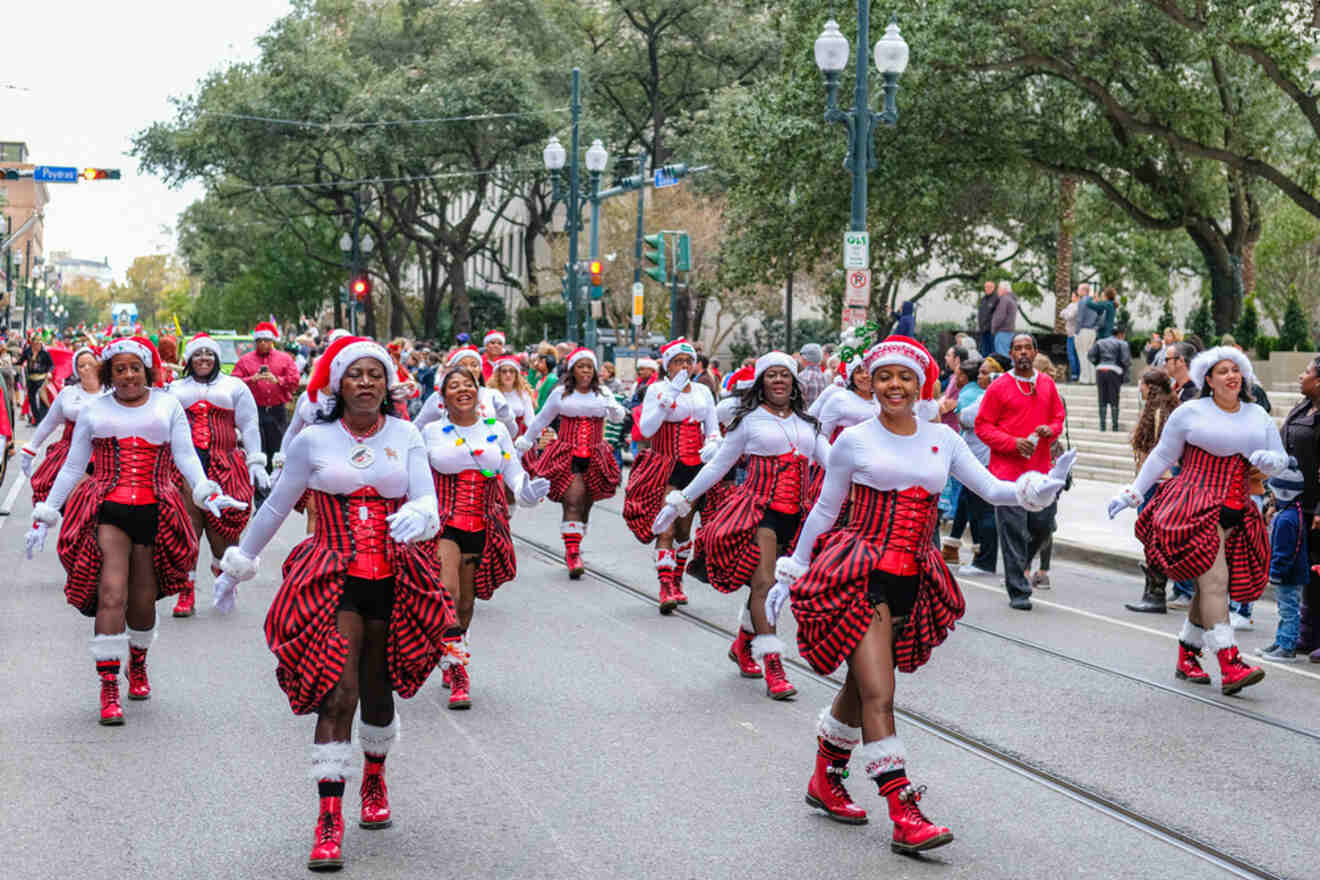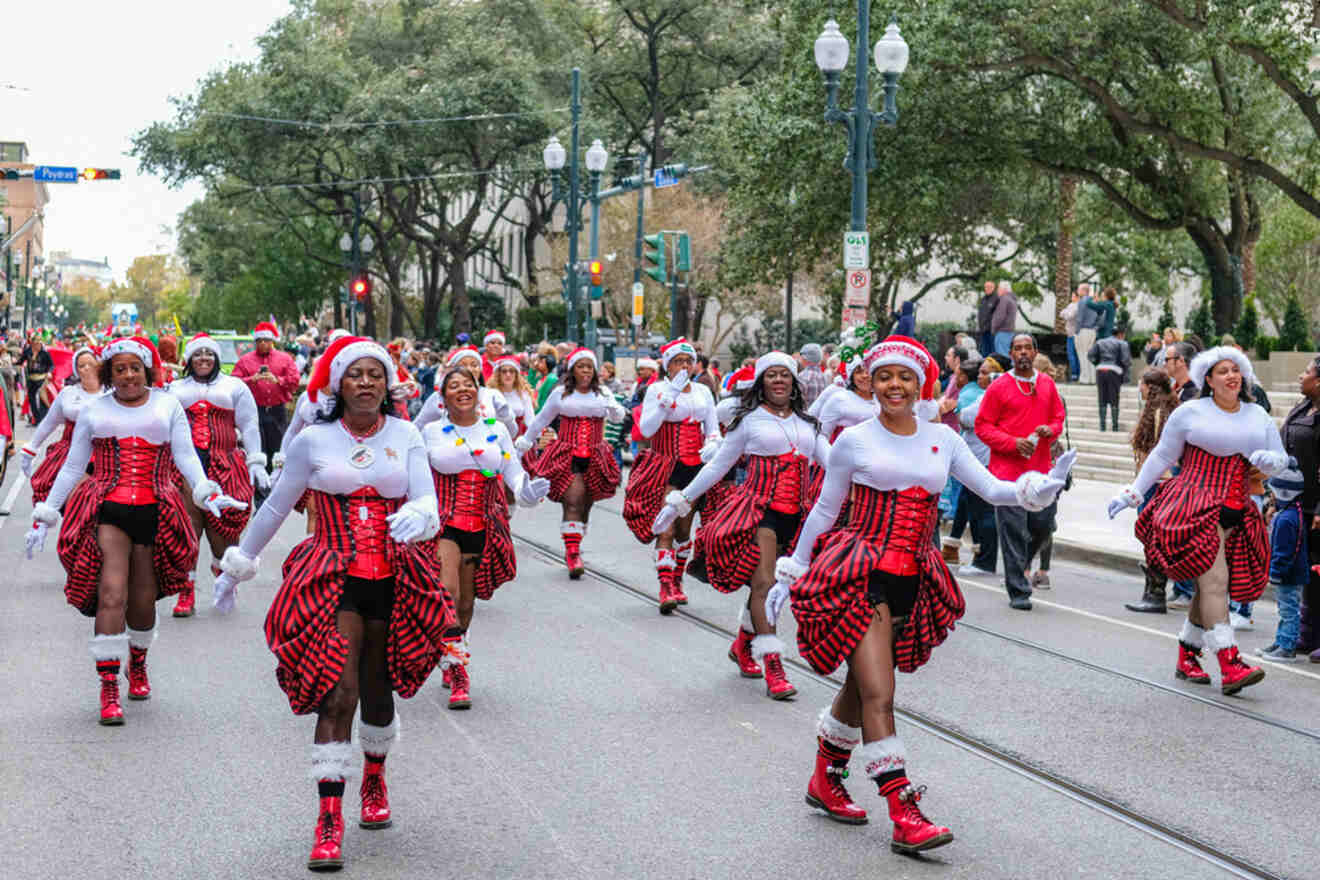 Last but not least, you should also check out LUNA Fête, New Orleans' Annual Festival of Light, Art, & Technology, to see some amazing light-based artworks by artists celebrating costumery and culture.
If you're planning to celebrate Christmas in New Orleans and you need accommodation, then you should definitely take a look at our detailed guide about the best neighborhoods in the city, including luxury and budget-friendly hotel options!
Here are my top hotel recommendations: Fairfield Inn & Suites by Marriott LaPlace (near St. James Parish), Rose Manor Bed & Breakfast (near City Park), Drury Plaza Hotel (in the city center)
5. Chicago, Illinois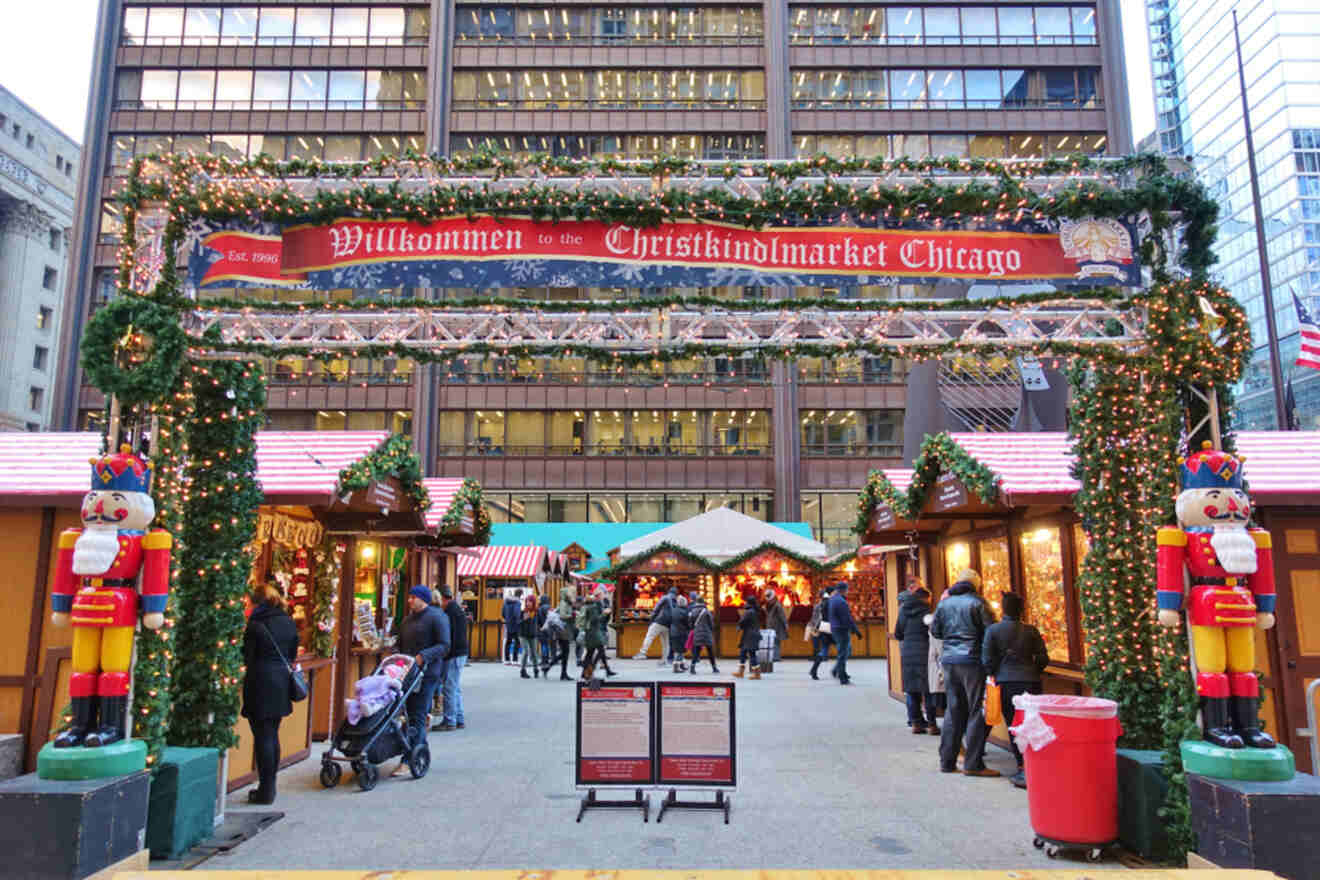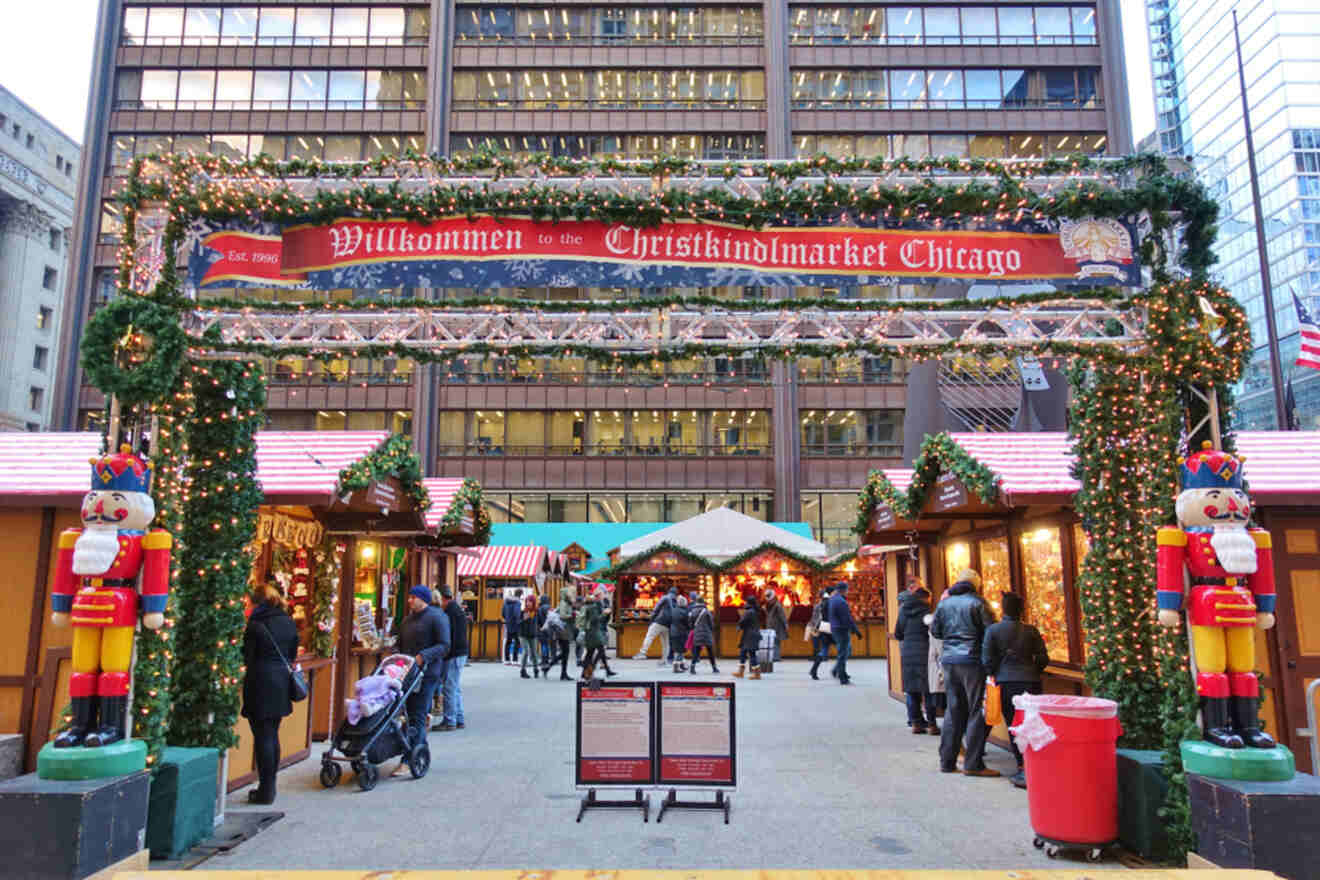 If you are looking for a place to spend Christmas with a European feel, then Chicago is the best choice for you.
The Windy City is home to Christkindlmarket, a traditional German Christmas market open from 17 November to 24 December, where you'll find plenty of wooden stalls to buy traditional food, drinks, and Christmas gifts.
Apart from that, Chicago also boasts amazing kid-friendly activities, such as the Christmas tree exhibition at the Museum of Science+Industry, and on 18 November, you can even attend the Tree Lighting Festival.
On the same date, you can also watch the Magnificent Mile Lights Festival, where 1 million lights will be illuminated by Mickey Mouse and Minnie Mouse from Walt Disney World® Resort.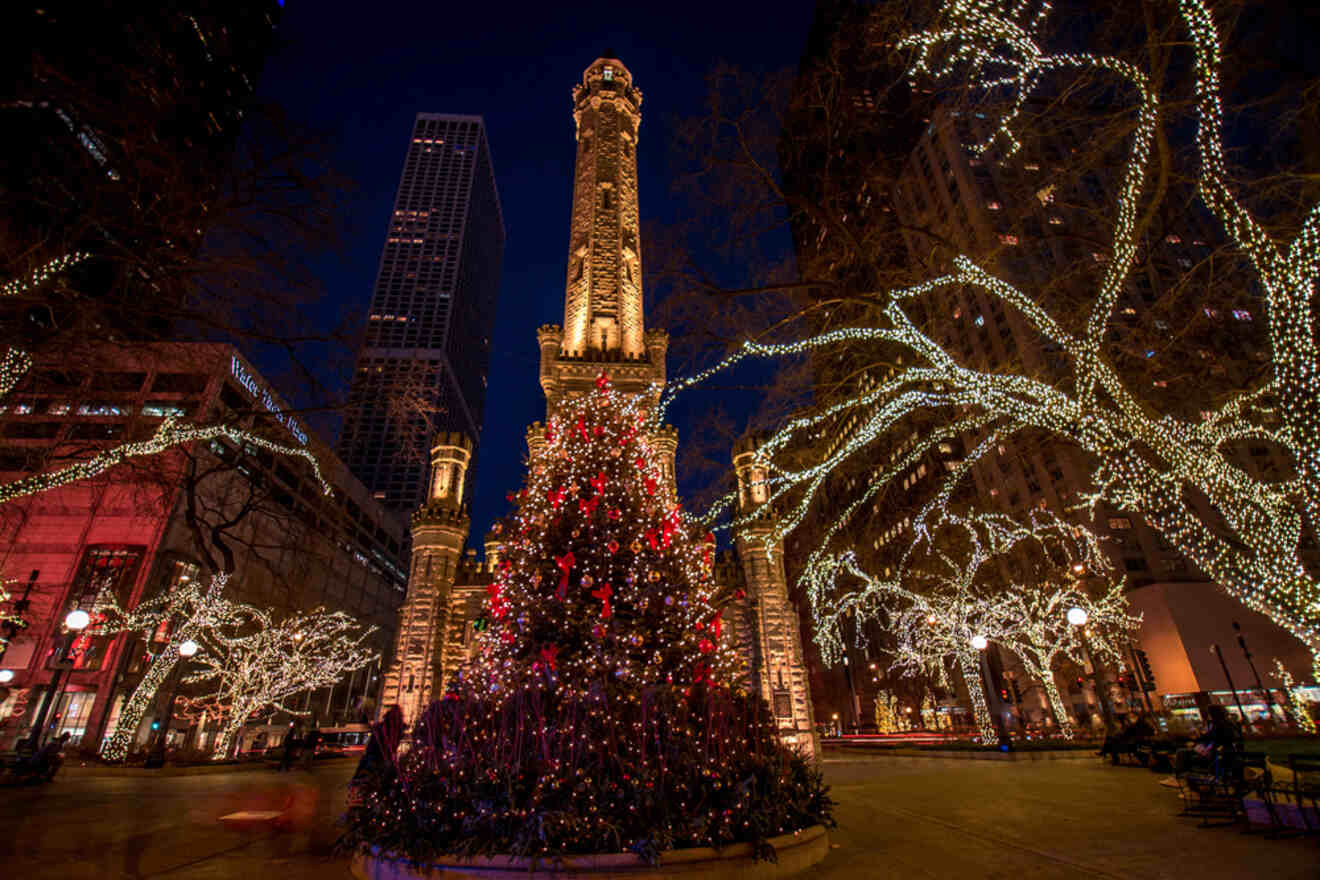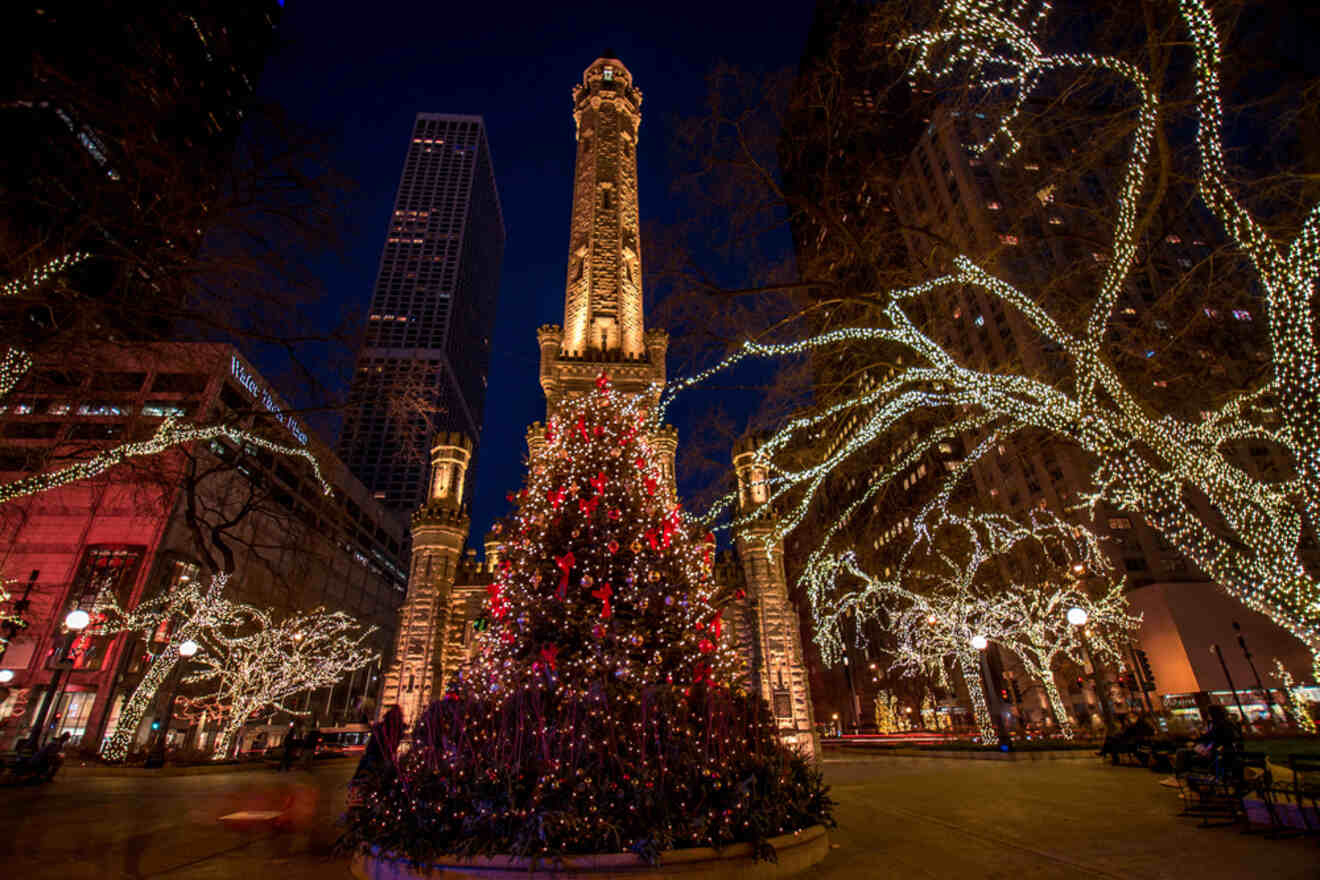 If you are looking for a fun winter activity, then you should definitely try ice skating at the rink at Maggie Daley Park, open from 17 November to 20 March.
Are you considering spending the holiday season in Chicago but don't know where to stay? In that case, our article can guide you in choosing the best areas and accommodations.
Here are my top hotel recommendations: Staypineapple, The Loop (near the Christmas market), Sophy Hyde Park (near the Museum of Science and Industry), Sentral Michigan Avenue Apartment (downtown)
6. Leavenworth, Washington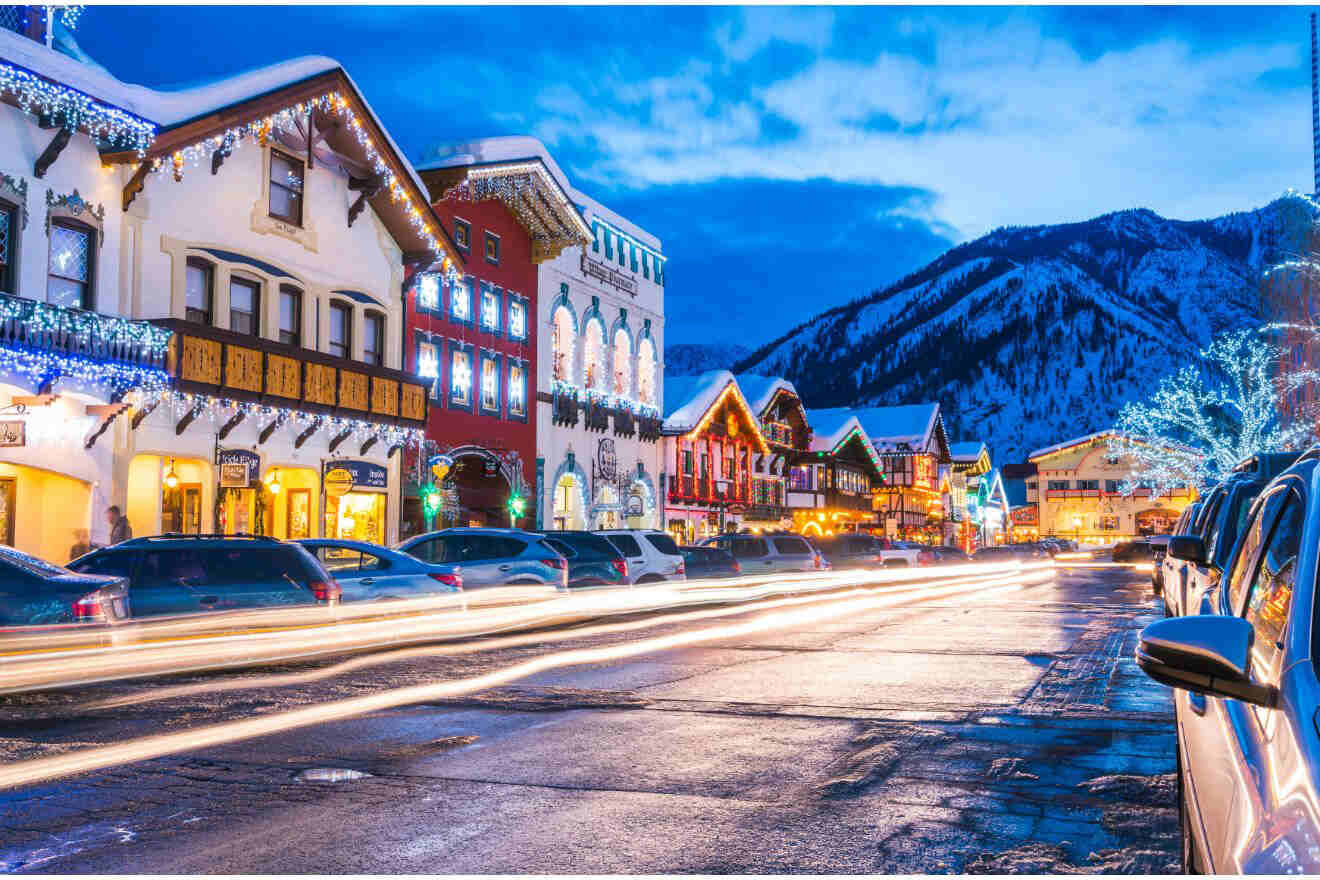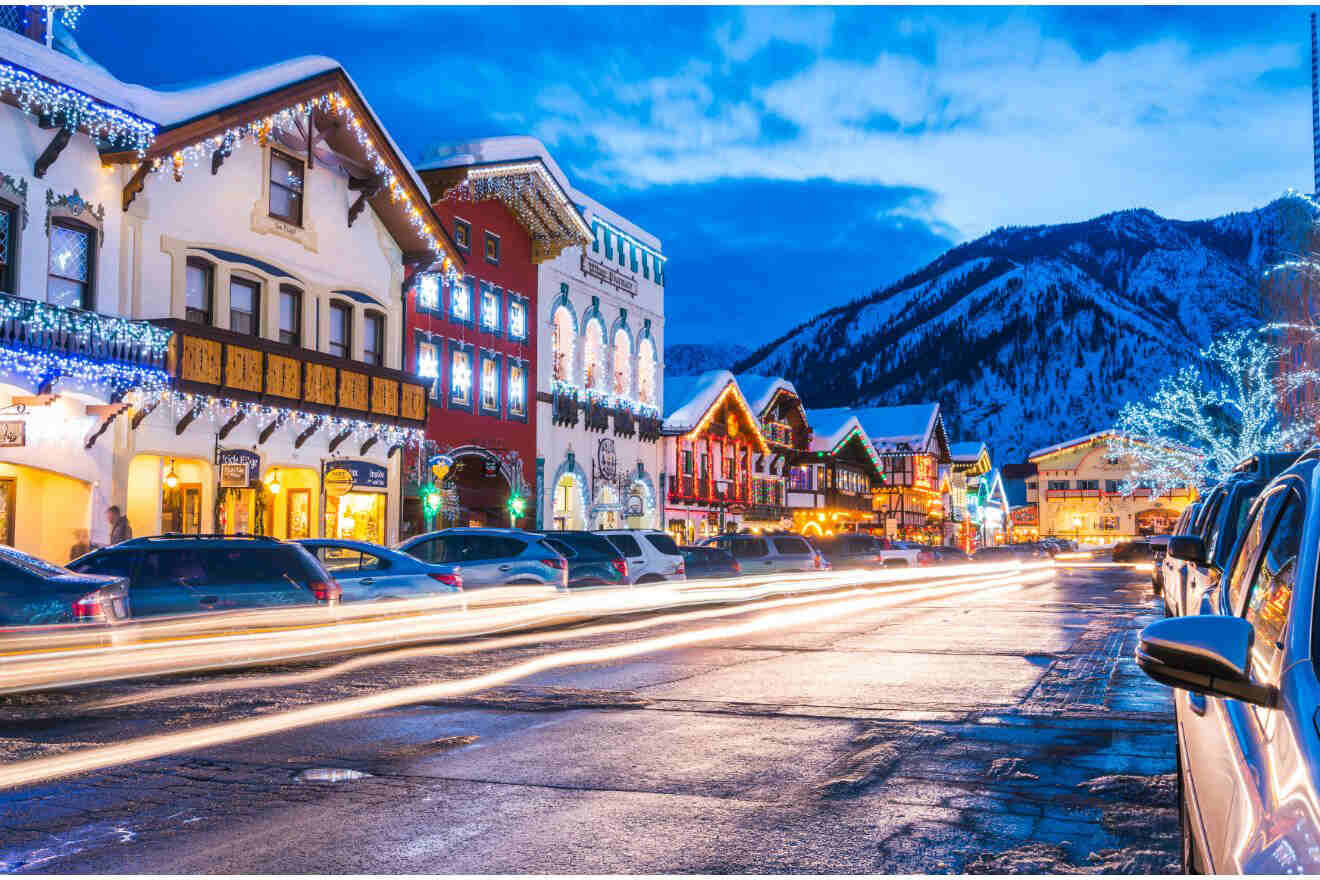 Have you always dreamt of spending Christmas in the beautiful Bavarian Alps but can't make it to Germany?
Well, you don't have to because you can find an amazing Bavarian-inspired architecture and atmosphere right in Leavenworth in the US. How amazing is that?
This small city doesn't have any Bavarian roots, but since it was a dying lodging town in the 60s, the leadership decided to take a leap and turn it into a Bavarian village, and, boy, did they not go wrong!
Since then, the town has attracted many visitors, especially during the Christmas season when you can experience the Village of Lights in its full glory. Namely, from Thanksgiving to February, half a million lights glow all around the town.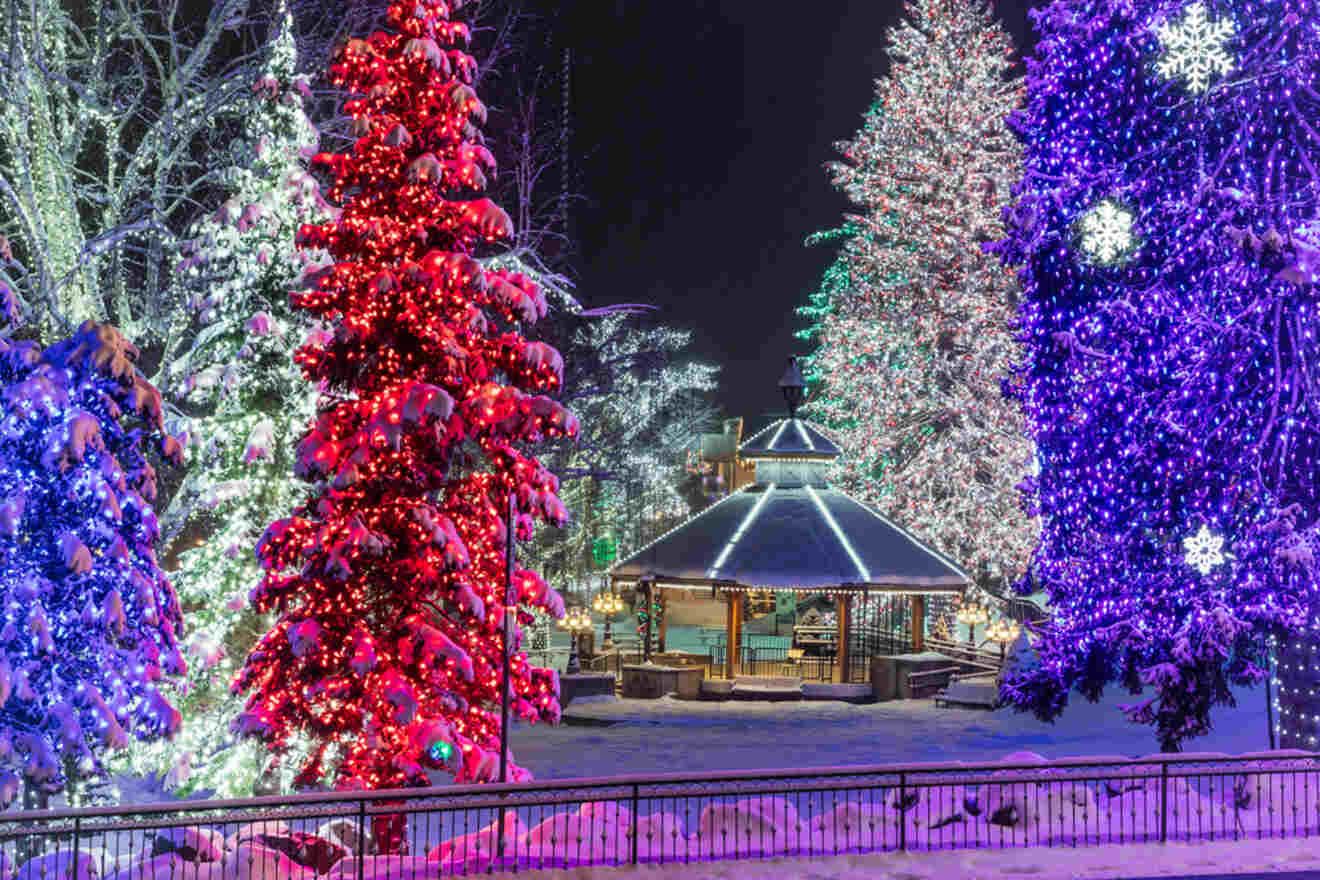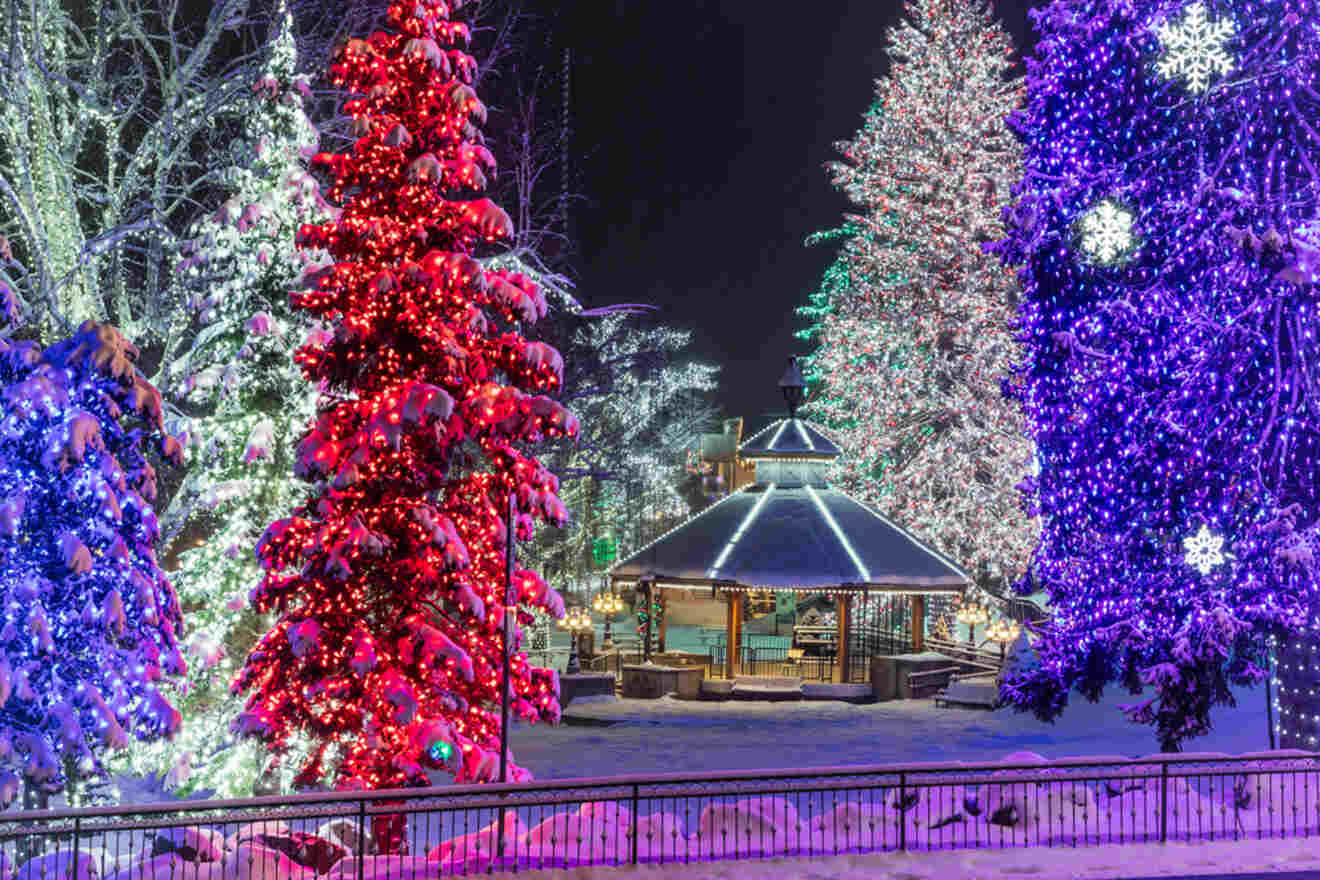 Apart from that, the town also has 2 amazing Christmas Town locations, one at the Gazebo, where you can watch live entertainment shows, listen to choirs, carolers, and bands, and say hello to holiday characters.
The other Christmas Town is located at the Festhalle, and here you can take photos with Santa, do some kid activities such as crafts, story corners, letters to Santa, see Santa costumes from around the world, take family photos, and buy Christmas presents. What more can you want for your family Christmas trip?
Here are my top hotel recommendations: Bavarian Lodge (near Gazebo), Leavenworth Village Inn (near Festhalle), Enzian Inn (in the city center)
Check the rates for your dates
7. Jackson Hole, Wyoming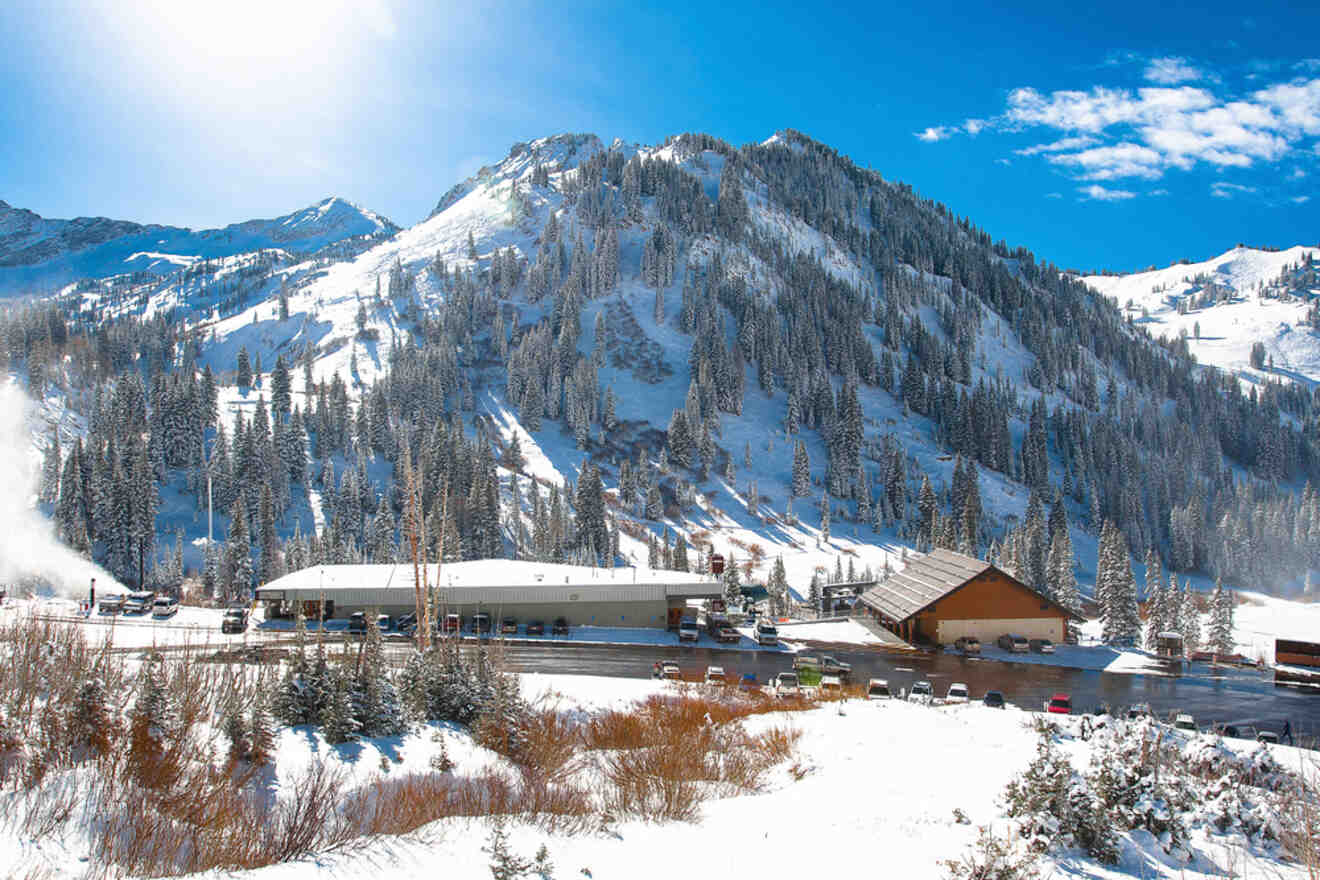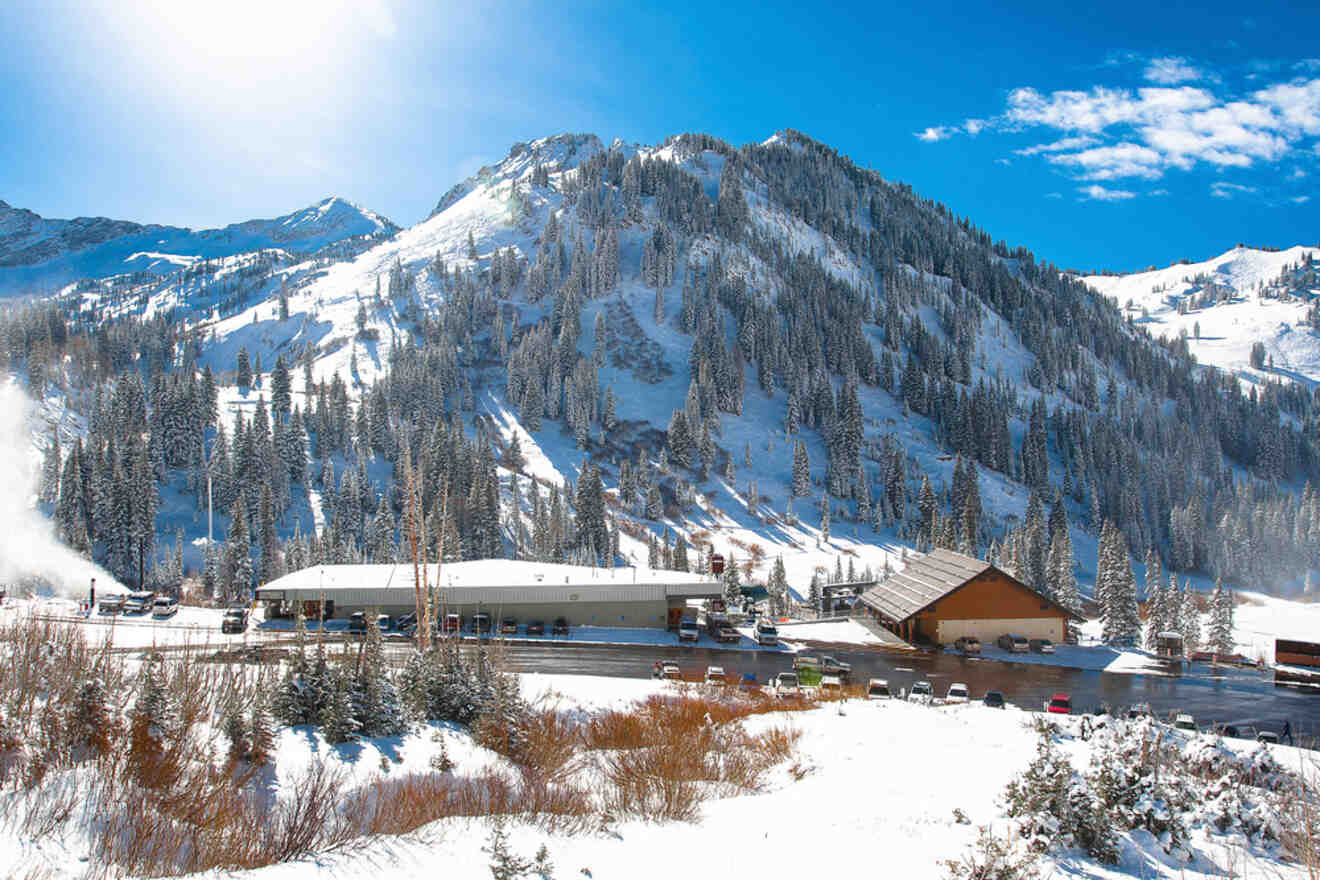 Are you looking to stay close to national parks so you can have the chance to enjoy the Christmas spirit and explore a real-life winter wonderland?
Well, one of the best places to spend Christmas to be able to do just that is Jackson Hole, Wyoming. Located right next to Grand Tetons National Park, where you'll have plenty of opportunities for outdoor activities, such as hiking or skiing.
Additionally, there are many other great activities for couples and families, such as:
But, when you are not out and about exploring the beautiful nature surrounding Jackson Hole, you can check out the historic Town Square, which is filled with beautiful Christmas decorations and Christmas lights.
Who knows, you might even get a sight of Santa during one of his drop-ins in the square!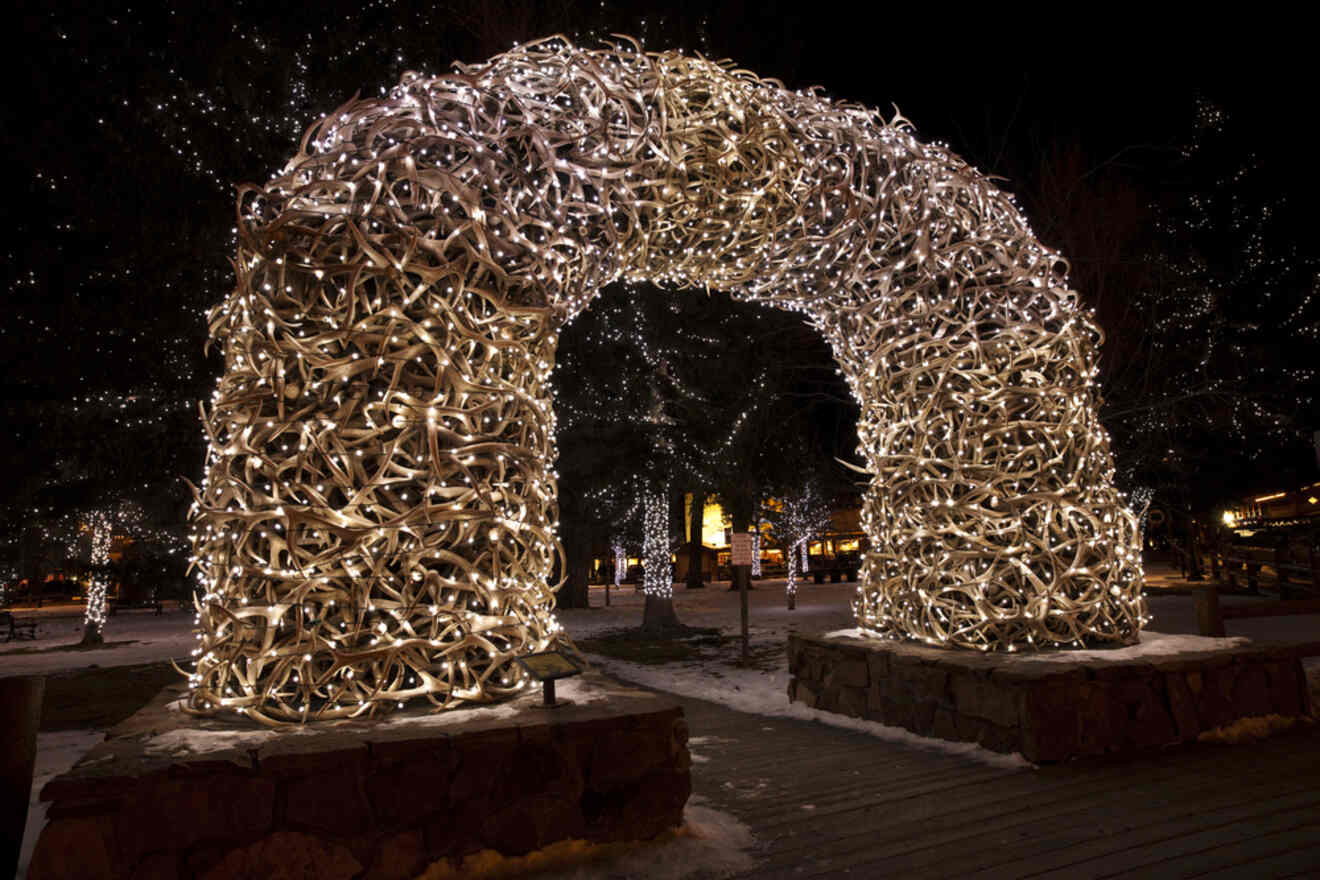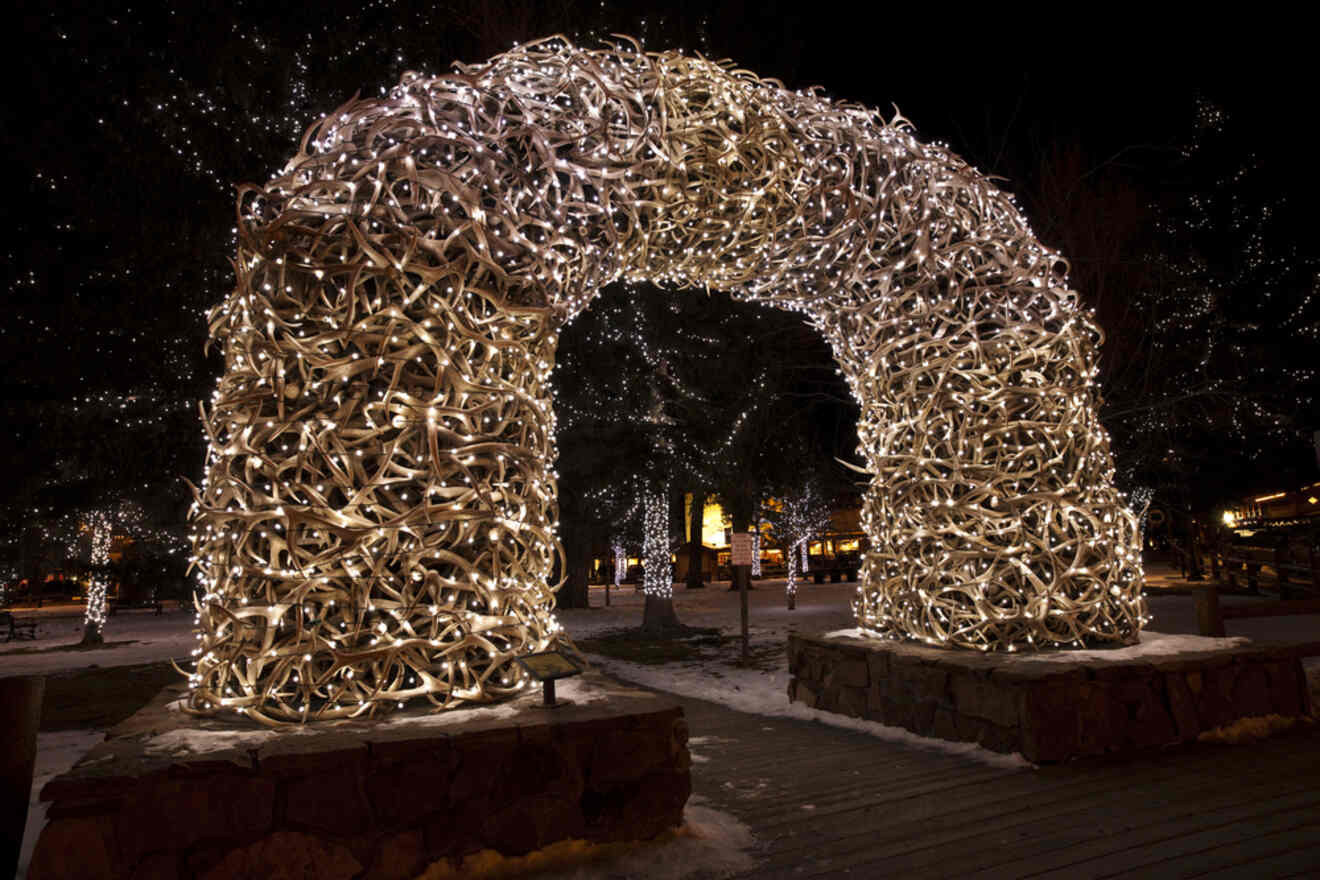 Do you need suggestions on where to stay in Jackson Hole during the holiday season? Then check out our article outlining the best neighborhoods in Jackson Hole, with affordable accommodation options in each!
P.S. If you'd like to experience an extraordinary Christmas just a 2-hour drive from Jackson Hole, plan to visit the Christmas celebration in Old Faithful, in Yellowstone National Park. It takes place in August!!!
Here are my top hotel recommendations: The Cloudveil (near Town Square), Teton Mountain Lodge and Spa (in Teton Village), SpringHill Suites by Marriott (in the city center)
8. Orlando, Florida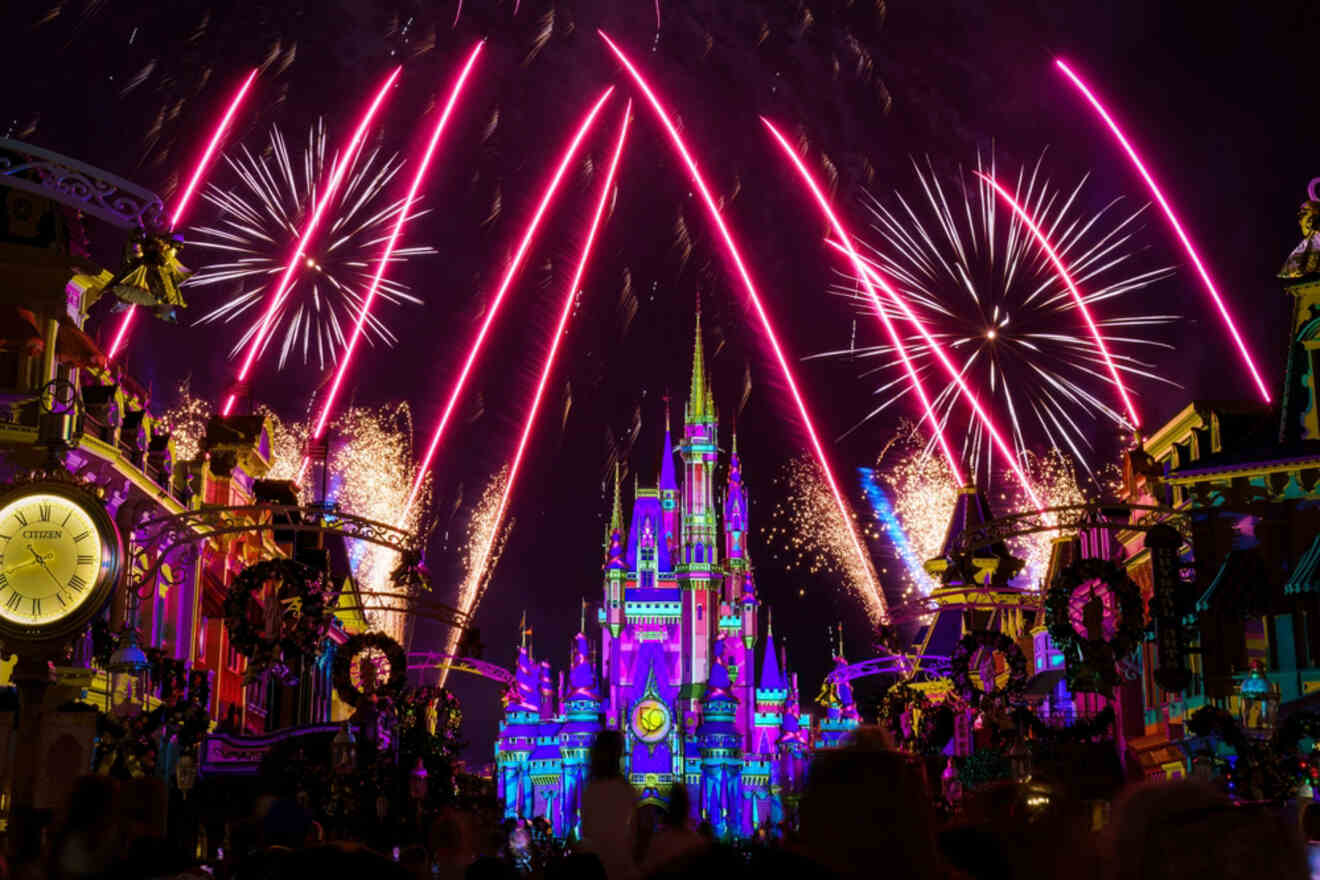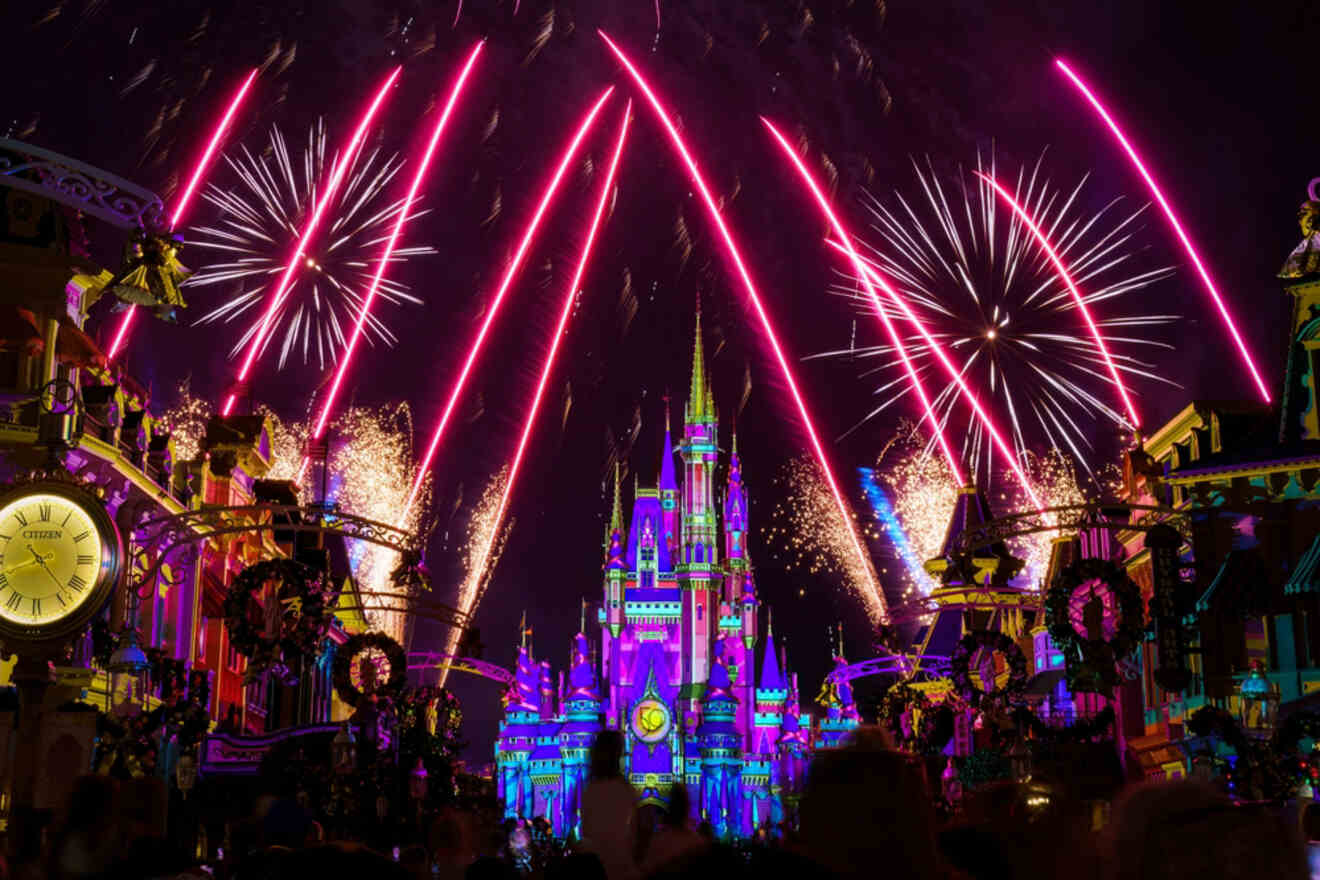 Is there a better place to experience the holiday spirit than in the magical land of Disney World? Well, I don't think so, and it should come as no surprise that the nation's best theme park is among the most festive locations to visit over the holidays.
During the holiday season, the whole park has Christmas decorations and holiday lights turning into a magic wonderland filled with holiday cheer. What's more, there are also a ton of amazing holiday events, including Mickey's Very Merry Christmas Party (9 November – 22 December) and Disney Jollywood Nights (11 November – 20 December).
If you're staying in Orlando during the festive season, you can also visit the Universal Orlando Resort, where you can watch Universal's Holiday Parade Featuring Macy's famous balloons! It's also the best time to check out The Wizarding World of Harry Potter (see our guide for details) to see it all lit up and decorated.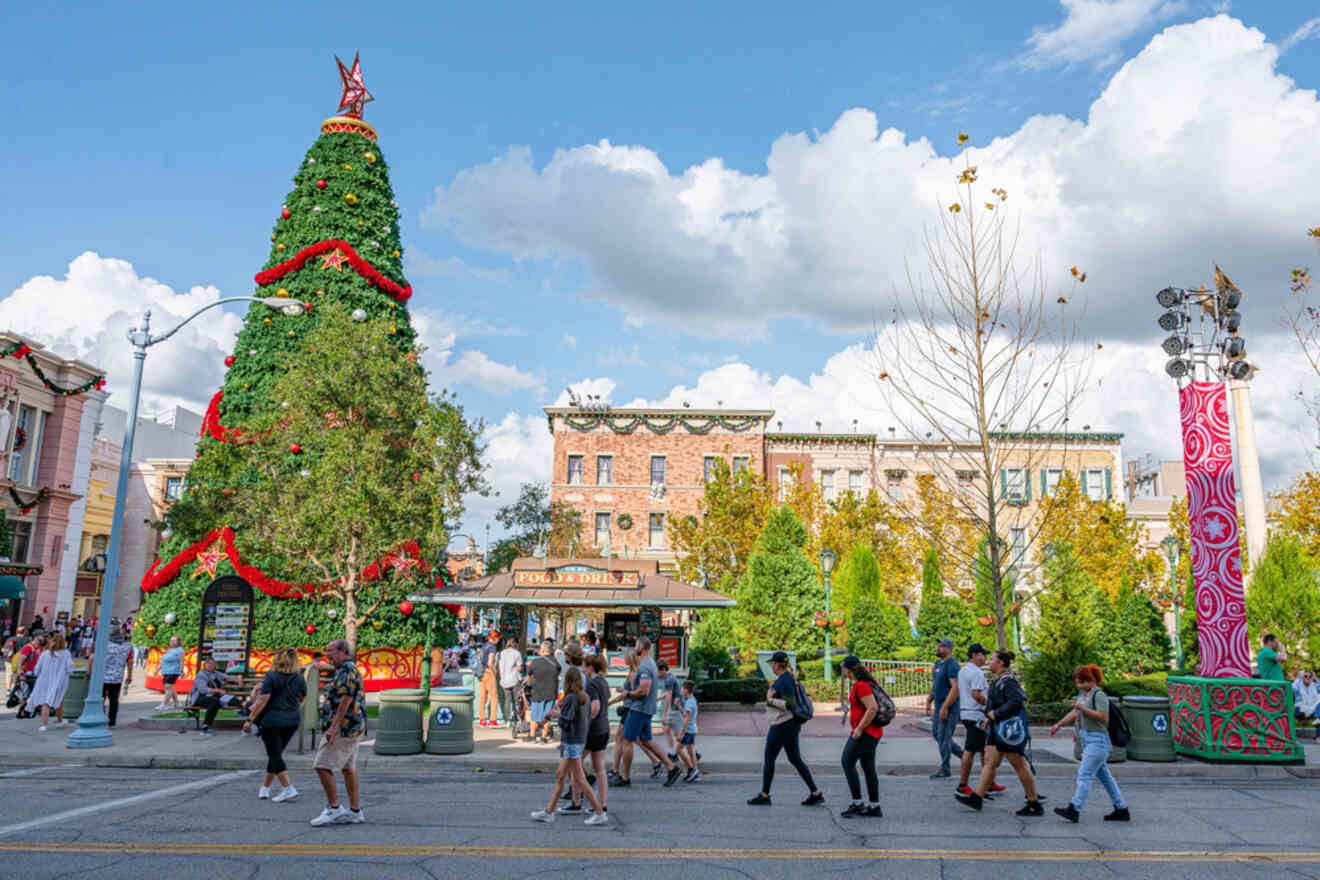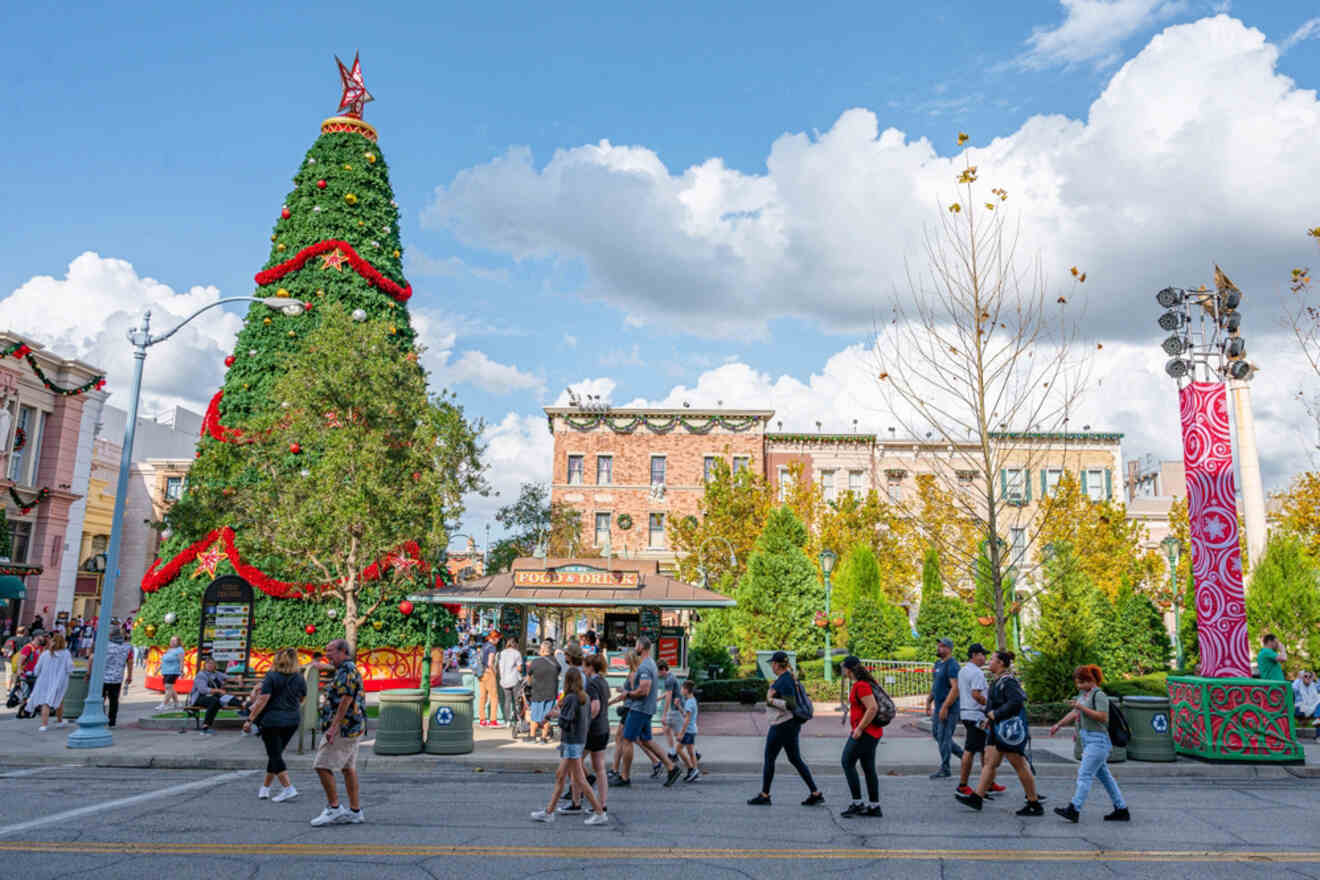 Do you want to celebrate Christmas in the most magical place on Earth? Then read our guide to Disney World written by an insider, and check out our ultimate guide on the best places to stay in Orlando, including recommendations for hotels!
Here are my top hotel recommendations: JW Marriott (near Disney World), Universal's Aventura Hotel (near Universal Studios), TownePlace Suites by Marriott (in the city center)
9. Bethlehem, Pennsylvania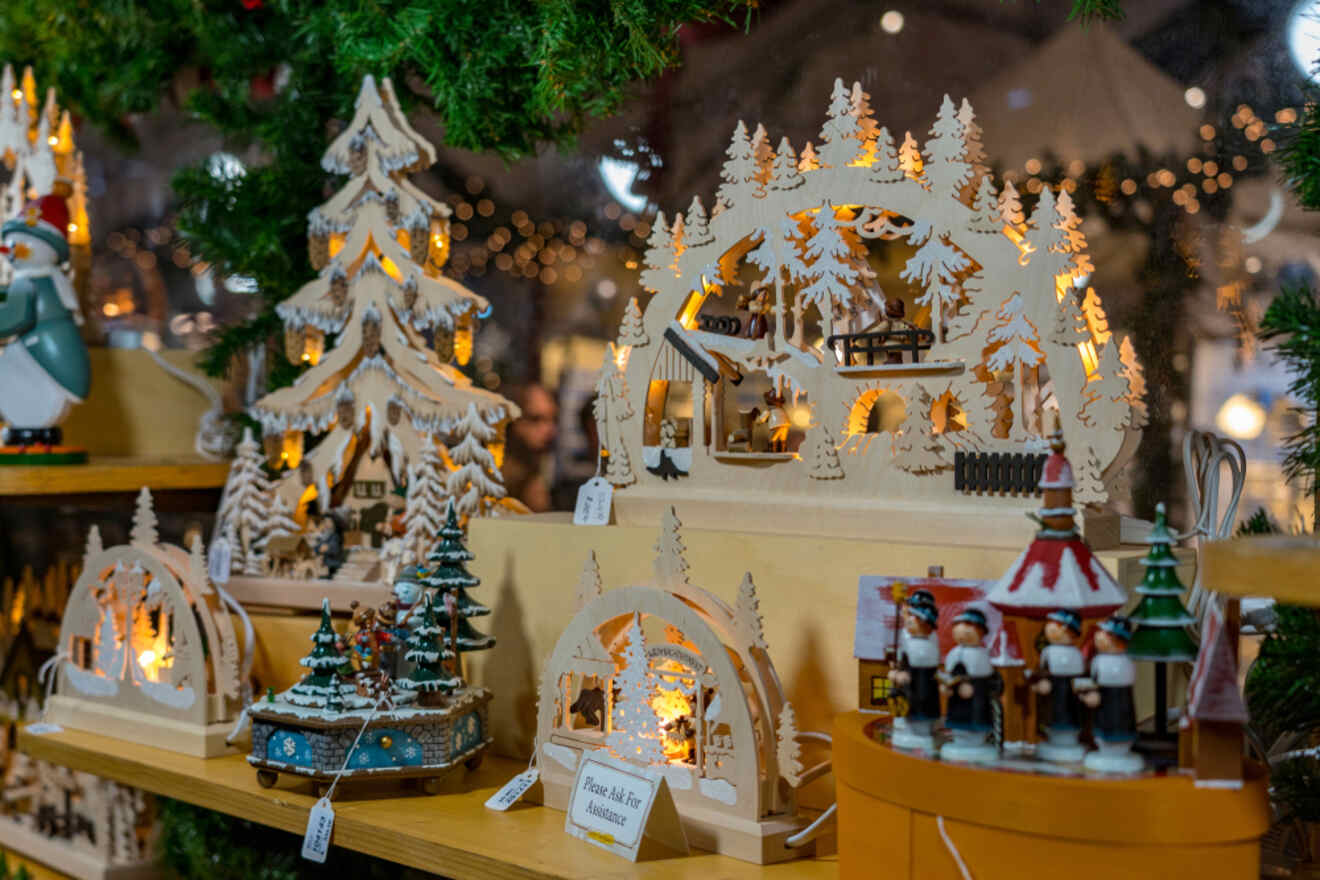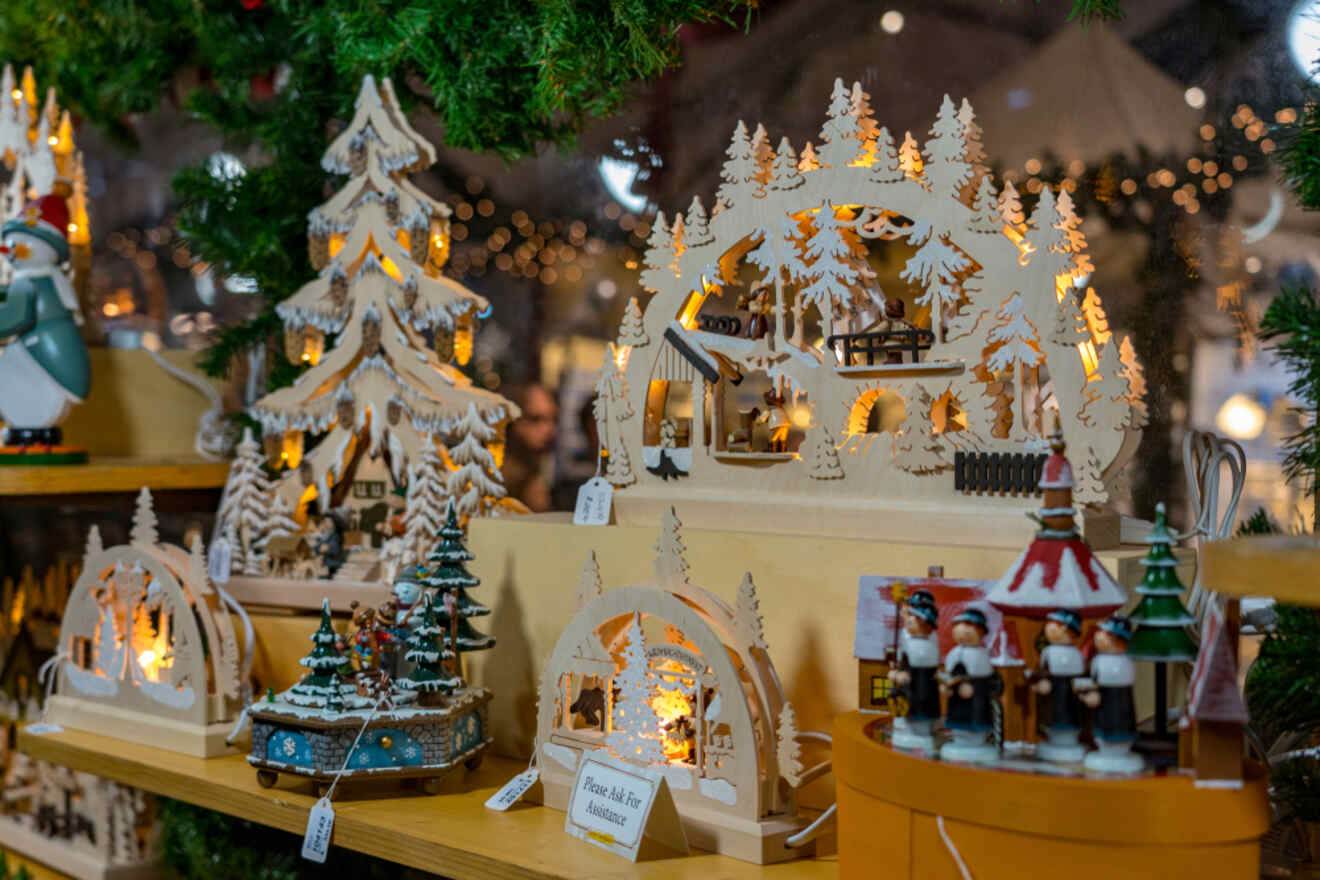 Unsurprisingly, Bethlehem, Pennsylvania, is also known as the "Christmas City USA". This little town is one of the best places to spend Christmas in the US.
To start, the town has some amazing Christmas traditions, such as putting up candles on every window and singing traditional Christmas carols including Jingle Bells, O Holy Night, and O Little Town of Bethlehem.
Next are the 2 amazing German-inspired markets that invite you with their European Christmas spirit. The first one features Christmas Huts on Main Street (10 November – 23 December) in Downtown Historic Bethlehem, and it's the best place to find handmade Christmas gifts and souvenirs.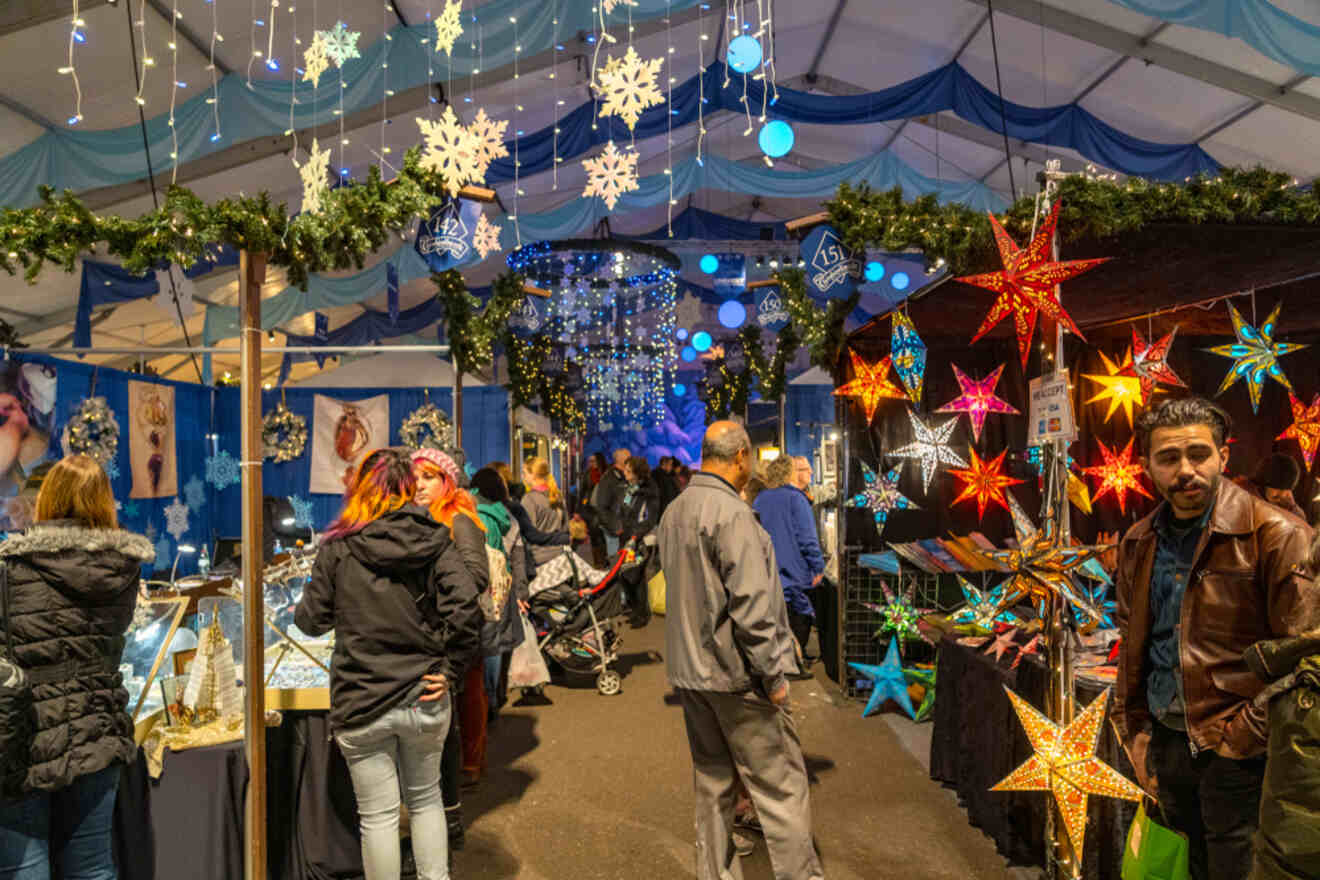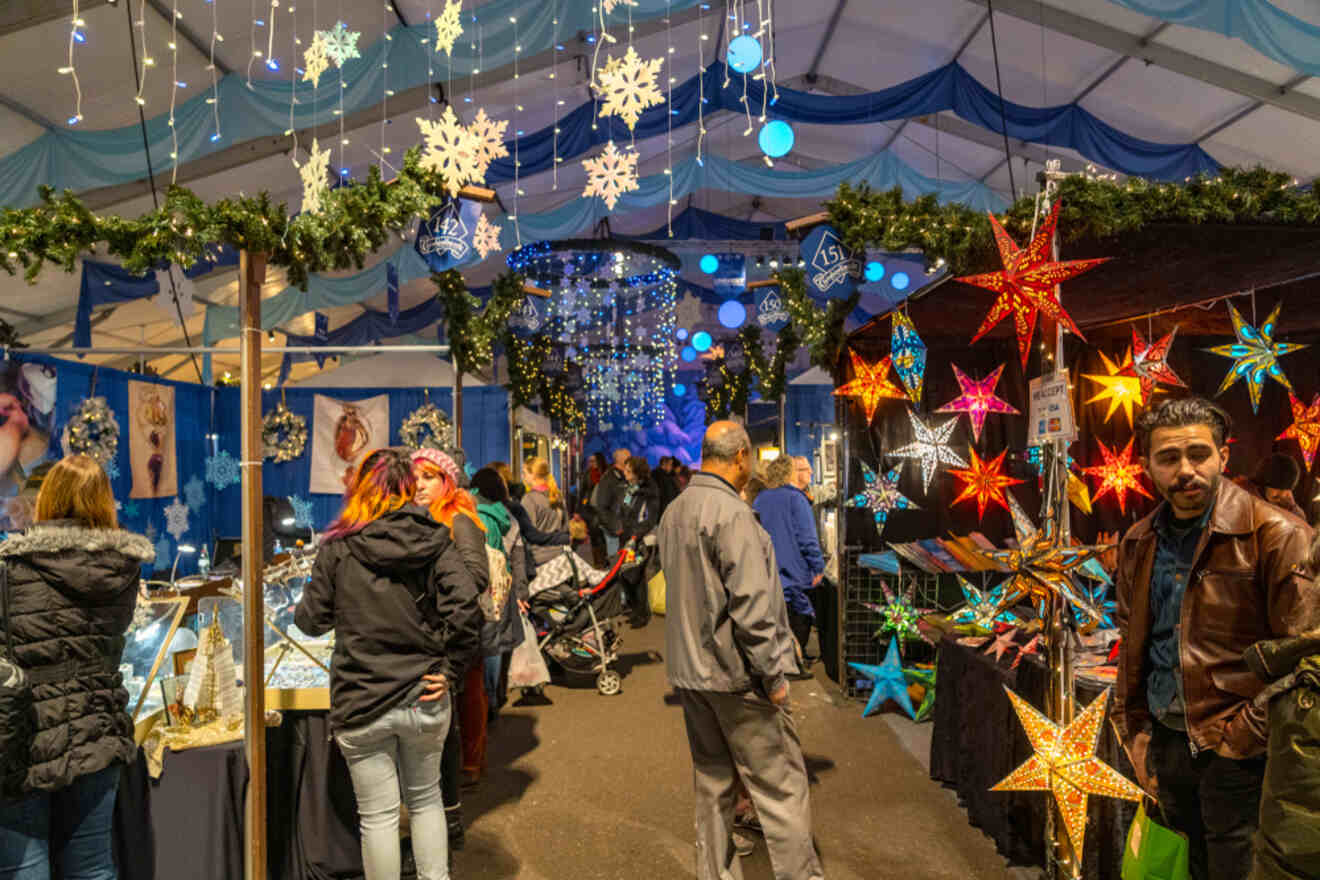 The other, Christkindlmarkt, is a closed market where you can catch live performances and ice skate at the rink!
Finally, from 1 to 31 December, the city hosts a Live Advent Calendar event at the historic 1810 Goundie House in the city, with a variety of activities such as musical performances, creative workshops, seasonal food giveaways, and more.
Here are my top hotel recommendations: Historic Hotel Bethlehem (near the Christmas Huts), The Sayre Mansion Inn (near Christkindlmarkt), Hyatt Place Bethlehem (in the city center)
10. Las Vegas, Nevada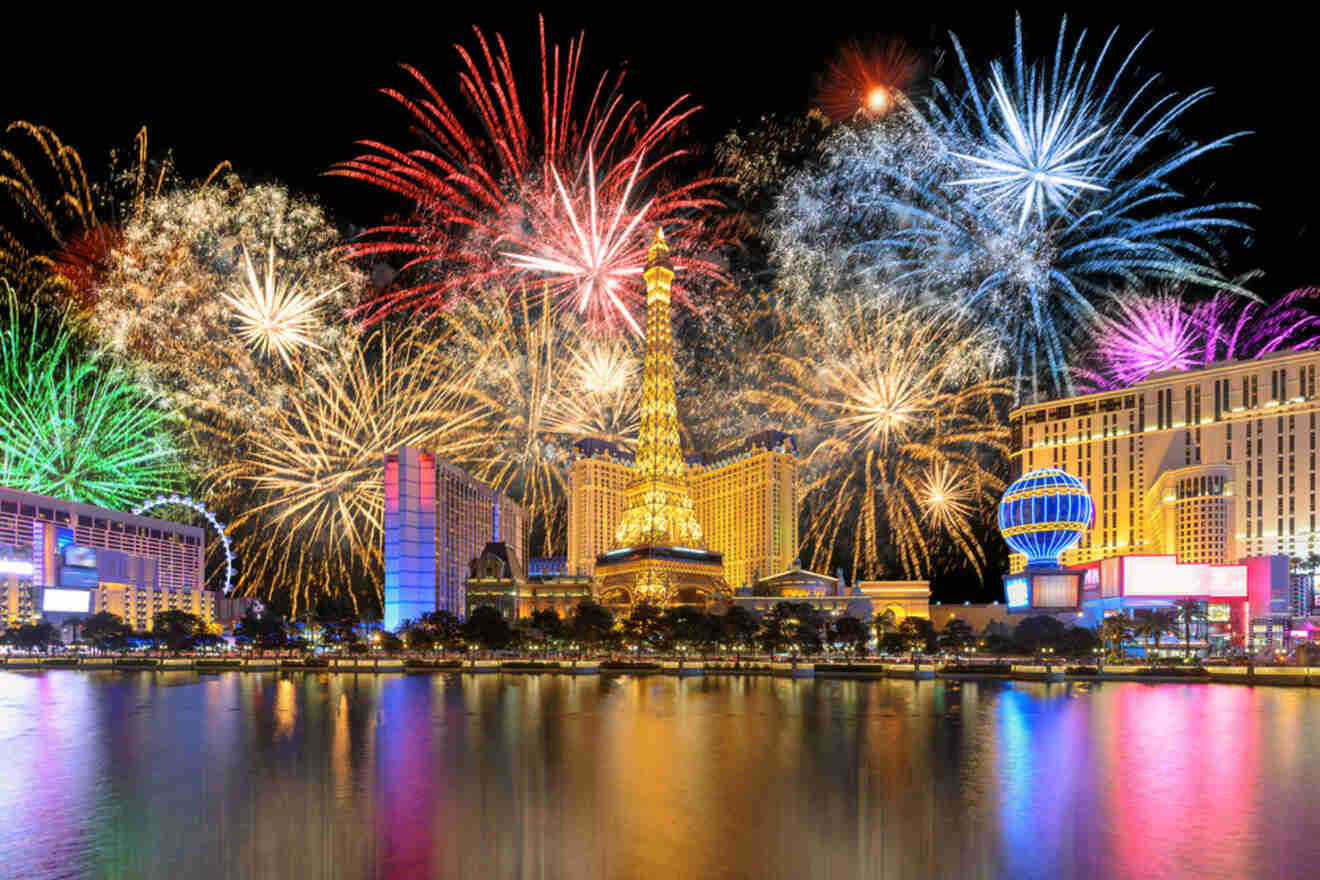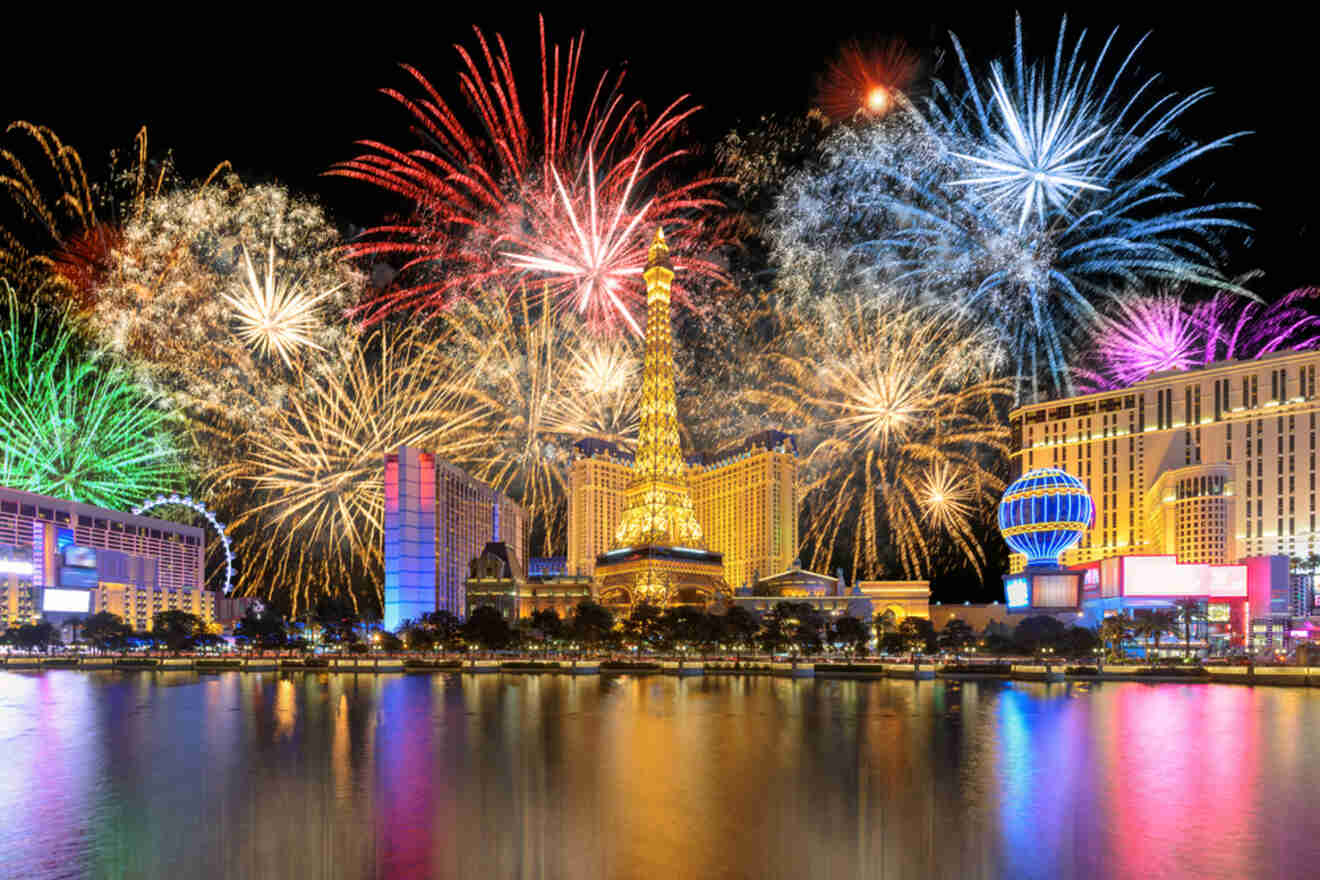 While it may seem like an unusual choice to spend Christmas in the USA, Las Vegas really celebrates Christmas in style. Just think about how dazzling the entire town is throughout the year, and now imagine what it must be like at Christmas. Pretty amazing, right?!
The hotels on the Las Vegas Strip, especially the themed hotels, create their own interior magic fairy tales. Everything inside and out is styled with holiday decor, so make sure that you wander around to enjoy the holiday spirit.
TIP: definitely check out the Bellagio Conservatory & Botanical Gardens at their hotel. The entrance is free, and they completely decorate the garden with Christmas-themed installations. The garden features a 42-foot (13 m) tall Christmas tree, nutcrackers, and Christmas decor made with plants and flowers.
There's also an abundance of holiday events and activities that you must try, such as ice skating at the rink at The Cosmopolitan, which opens on 2 December, and visiting the free Cactus Garden Lights at the Ethel M Chocolates Factory (3 November – 31 December), or window-shopping at the amazing displays on LINQ promenade.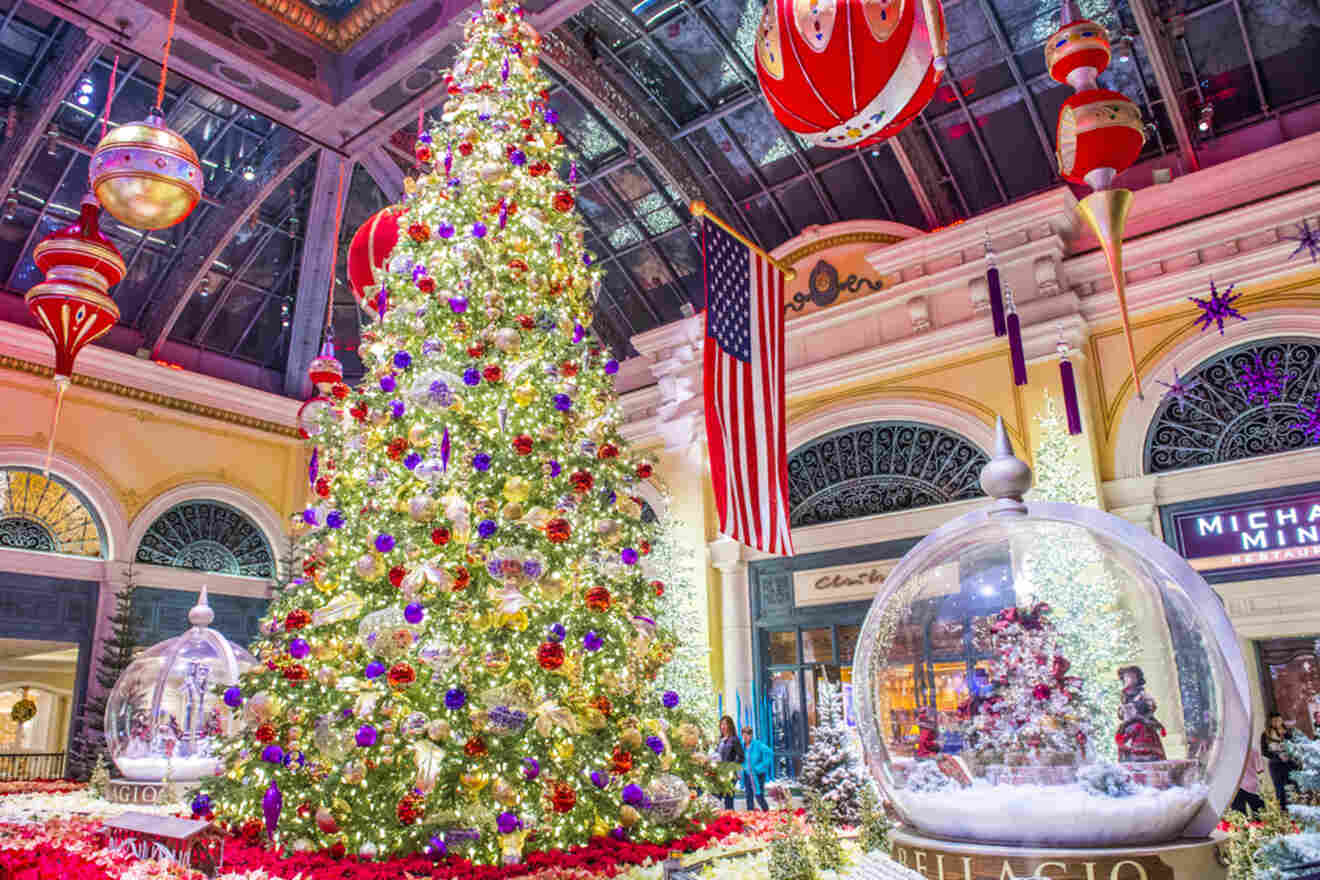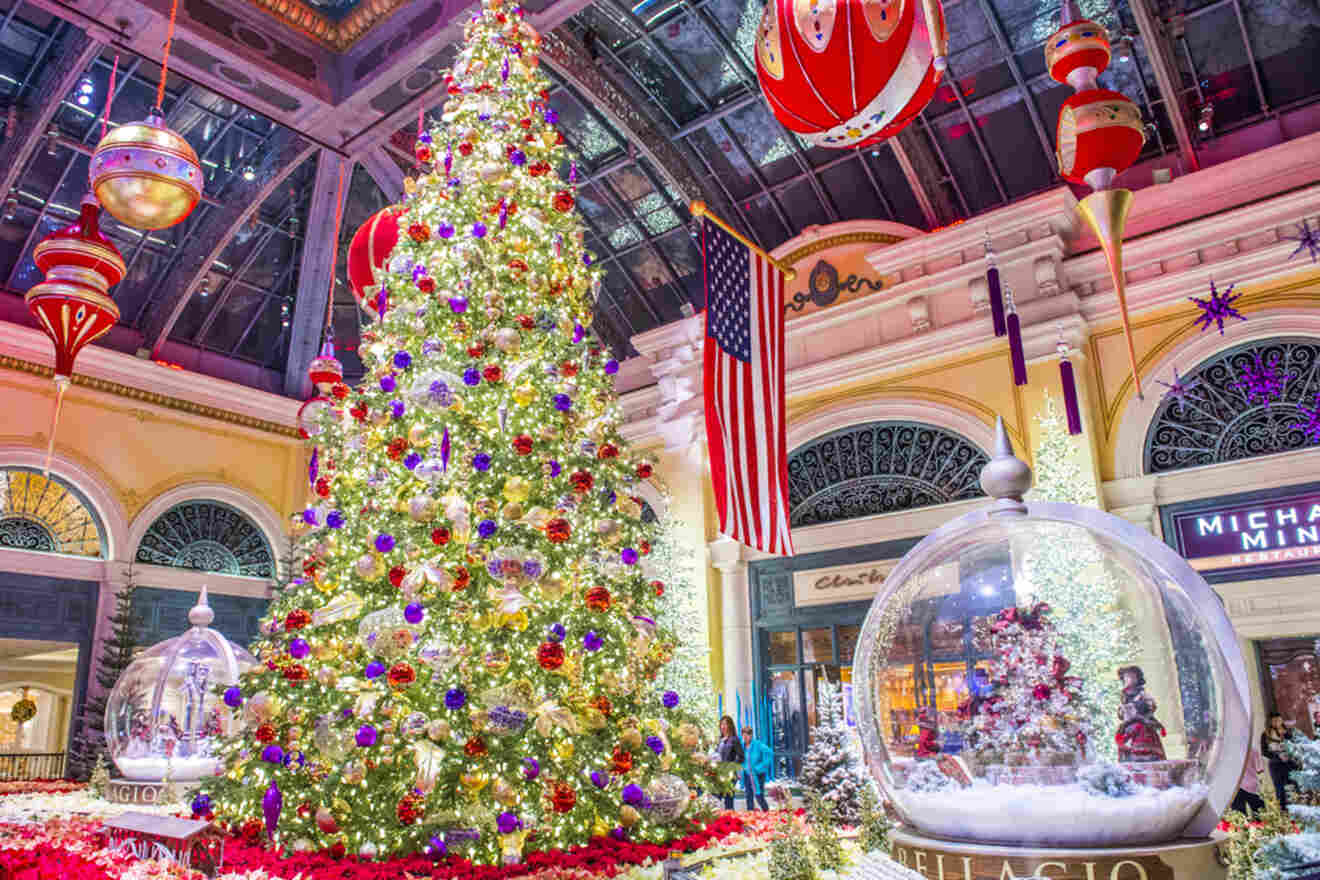 What's most amazing about Las Vegas during the holiday season is that the weather is pretty warm (average of 60°F/15°C), so you can leisurely walk around and soak in the Christmas cheer.
Ready to spend your Christmas vacation in Las Vegas and need a place to stay? Check out our guide on where to stay in Las Vegas, or for a quick grab and go, see below!
Here are my top hotel recommendations: Marriott's Grand Chateau (near Bellagio Garden), The Venetian® Resort (on the Strip), Circa Resort & Casino (downtown)
11. Washington, D.C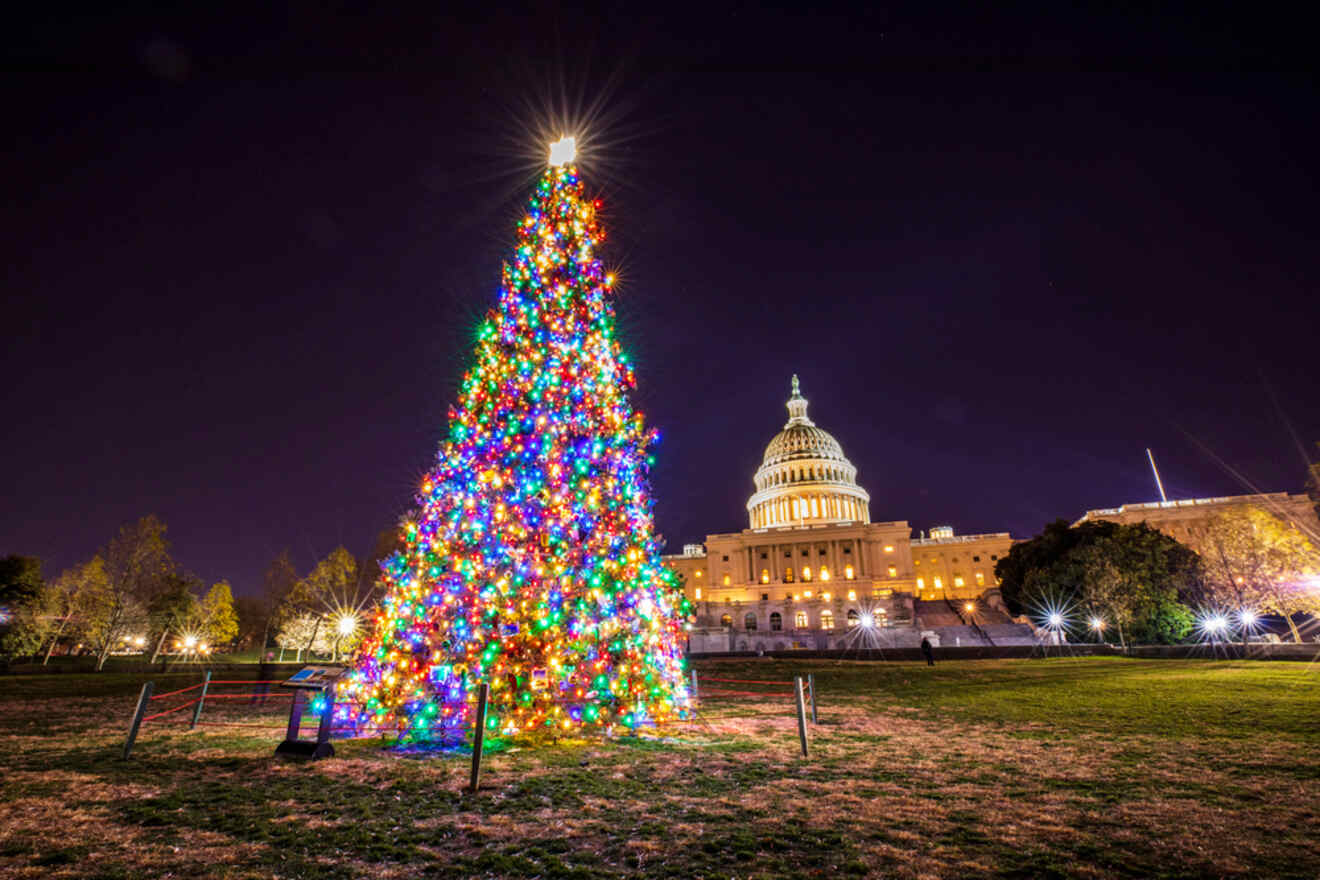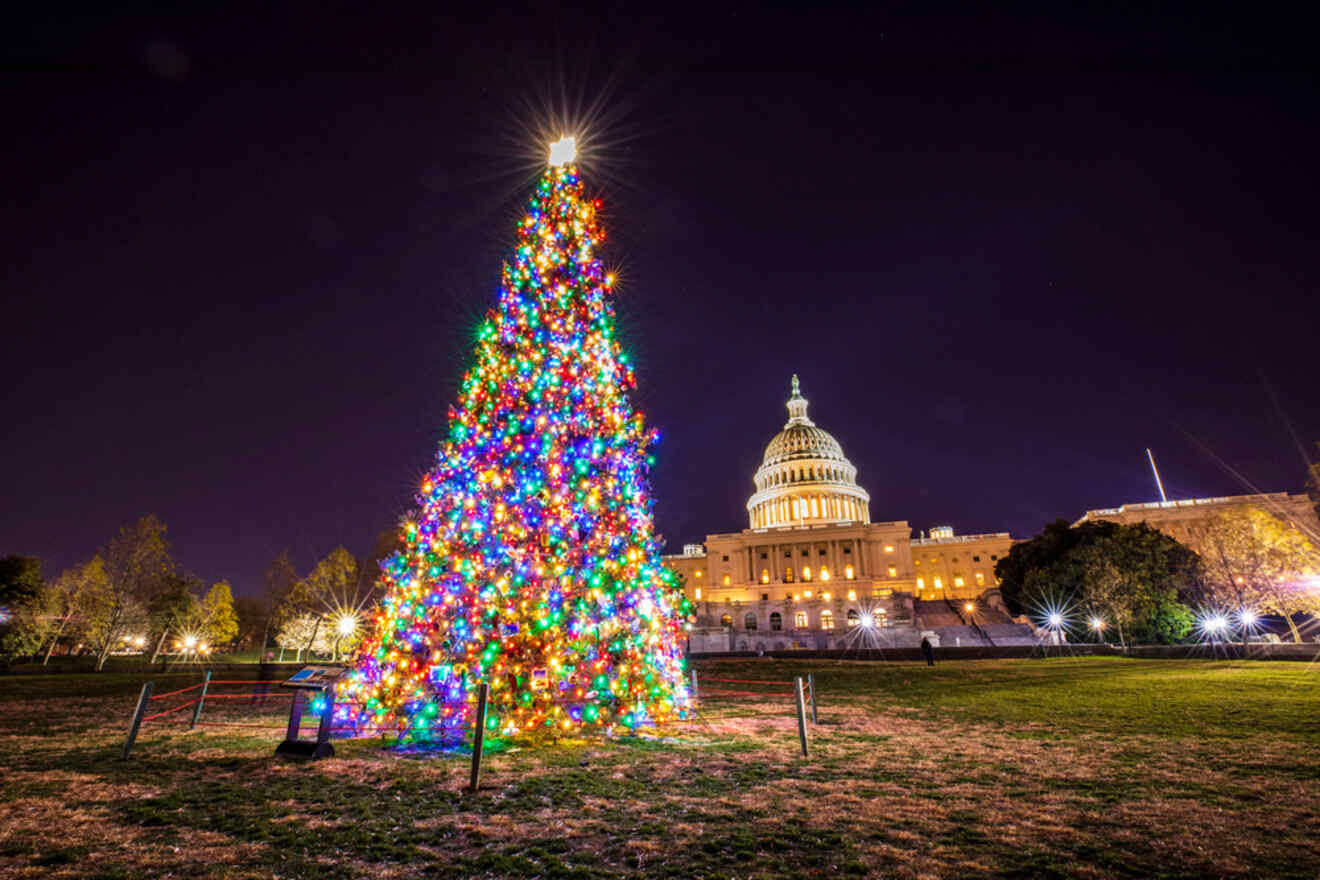 Being the capital, Washington DC has a lot to offer its visitors during Christmas time.
If you love Christmas trees, then this is the perfect destination for you. Each year, the National Christmas Tree comes to life just south of the White House.
Here are some fun facts that may surprise you:
Each year, the tree is decorated with handmade ornaments from artists all over the country. 
The National Christmas Tree is surrounded by 56 smaller trees representing the states and districts of the US. 
The tree has been lit up by the President each year since 1923.
You can tell that even during the holidays, Washington is brimming with history. That's why another thing you should do is visit Mount Vernon, the former estate of George Washington, where you can learn history and at the same time enjoy the Christmas Illuminations.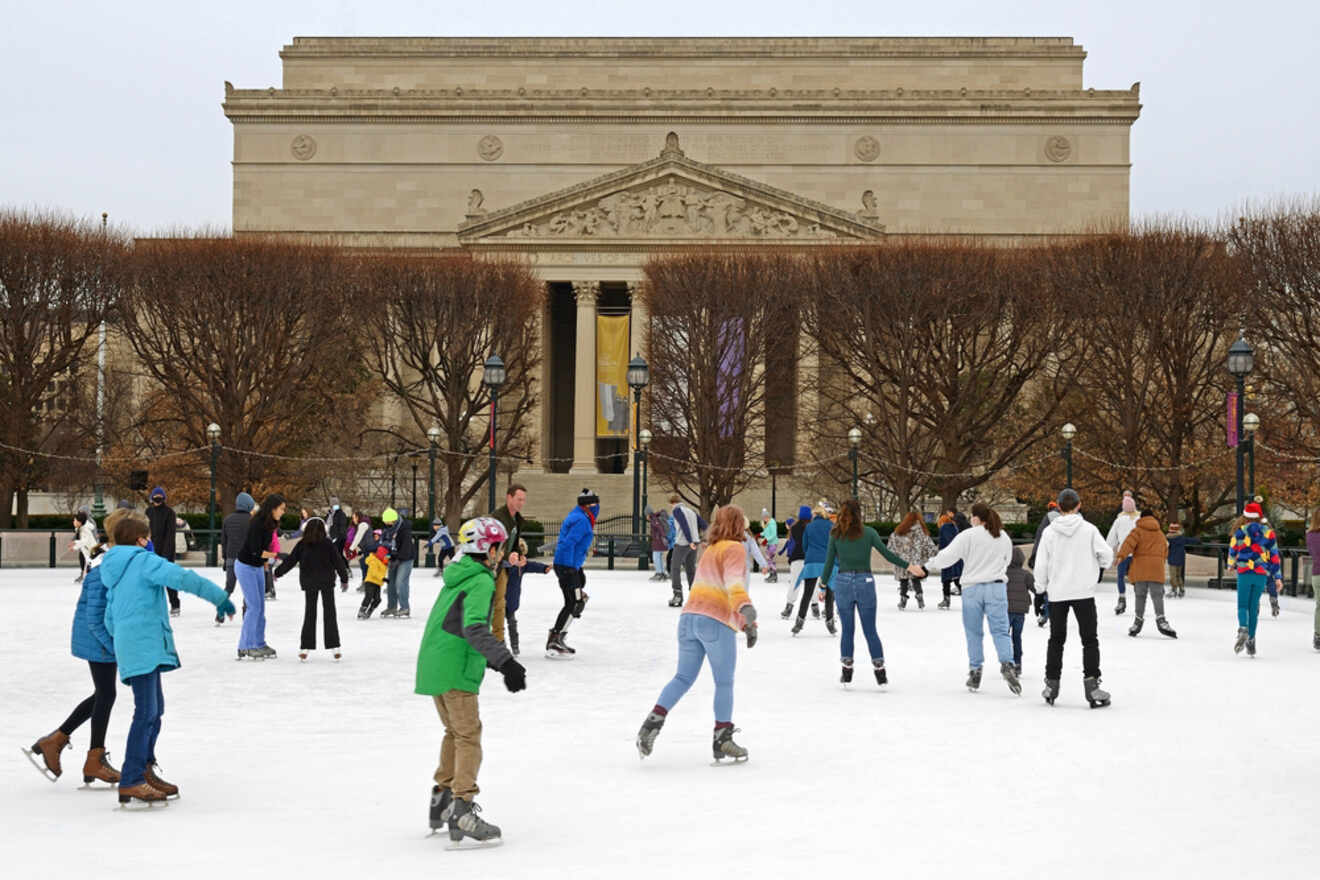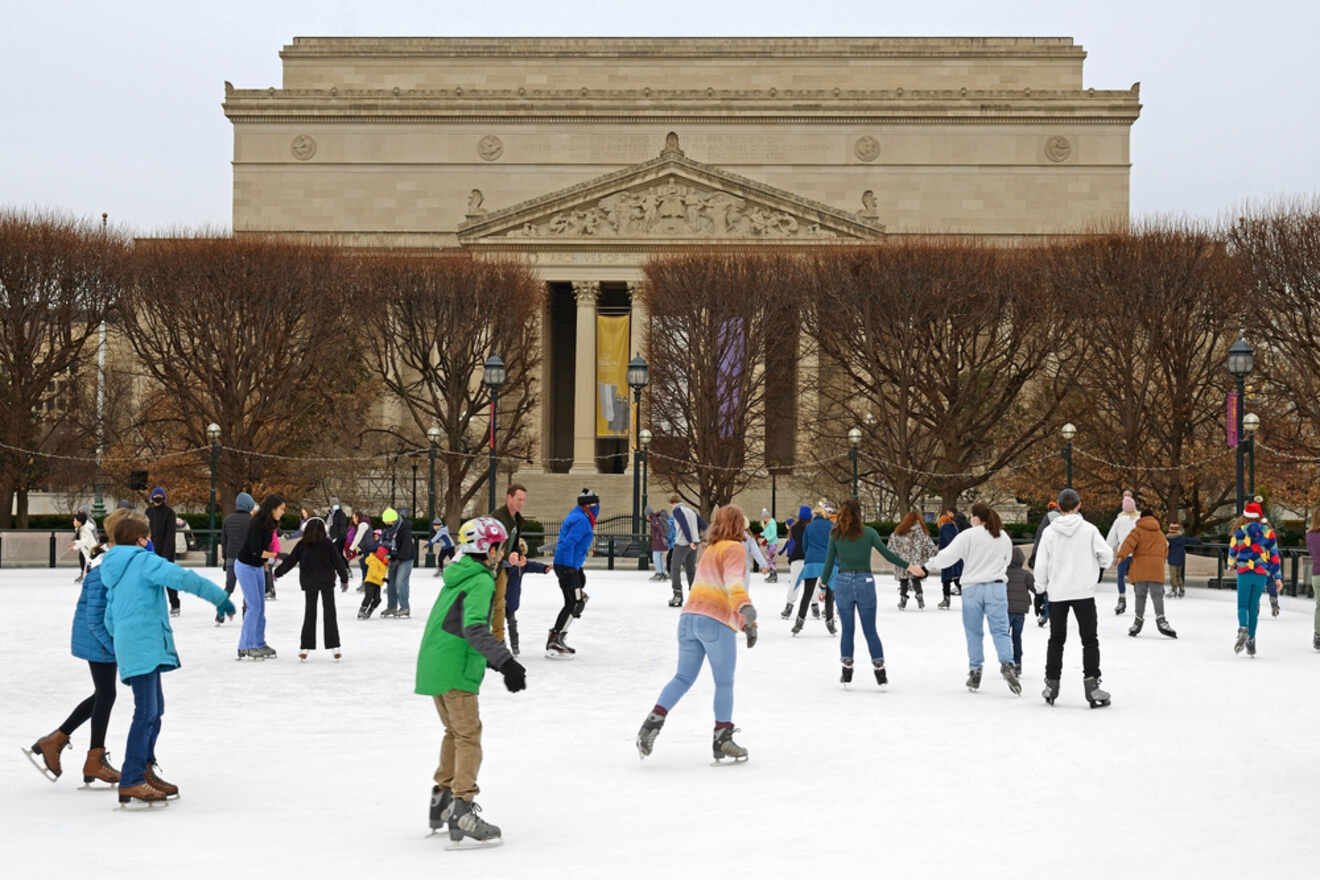 Apart from that, you can also head to the Downtown Holiday Market, where you'll find plenty of wooden houses selling all kinds of arts & crafts, food, treats, and gifts.
You should also check out the ZooLights at the Smithsonian from 24 November to 30 December. You won't see the animals since it'll be dark and they'll be resting, but you can enjoy the dazzling half a million lights and illuminations made with them.
Last but not least, you must visit the world's largest light maze at Enchant Christmas (24 November – 31 December), where you'll also find an ice-skating rink and a kids' zone. The perfect adventure for families!
If you are considering staying in the city during the holiday season, our article can help guide you in choosing the best areas and hotels in Washington D.C. for the perfect Christmas vacation.
Here are my top hotel recommendations: Waldorf Astoria (near the Smithsonian), Capitol Hill Apartments (near Enchant Christmas), Riggs Washington DC (downtown)
12. Asheville, North Carolina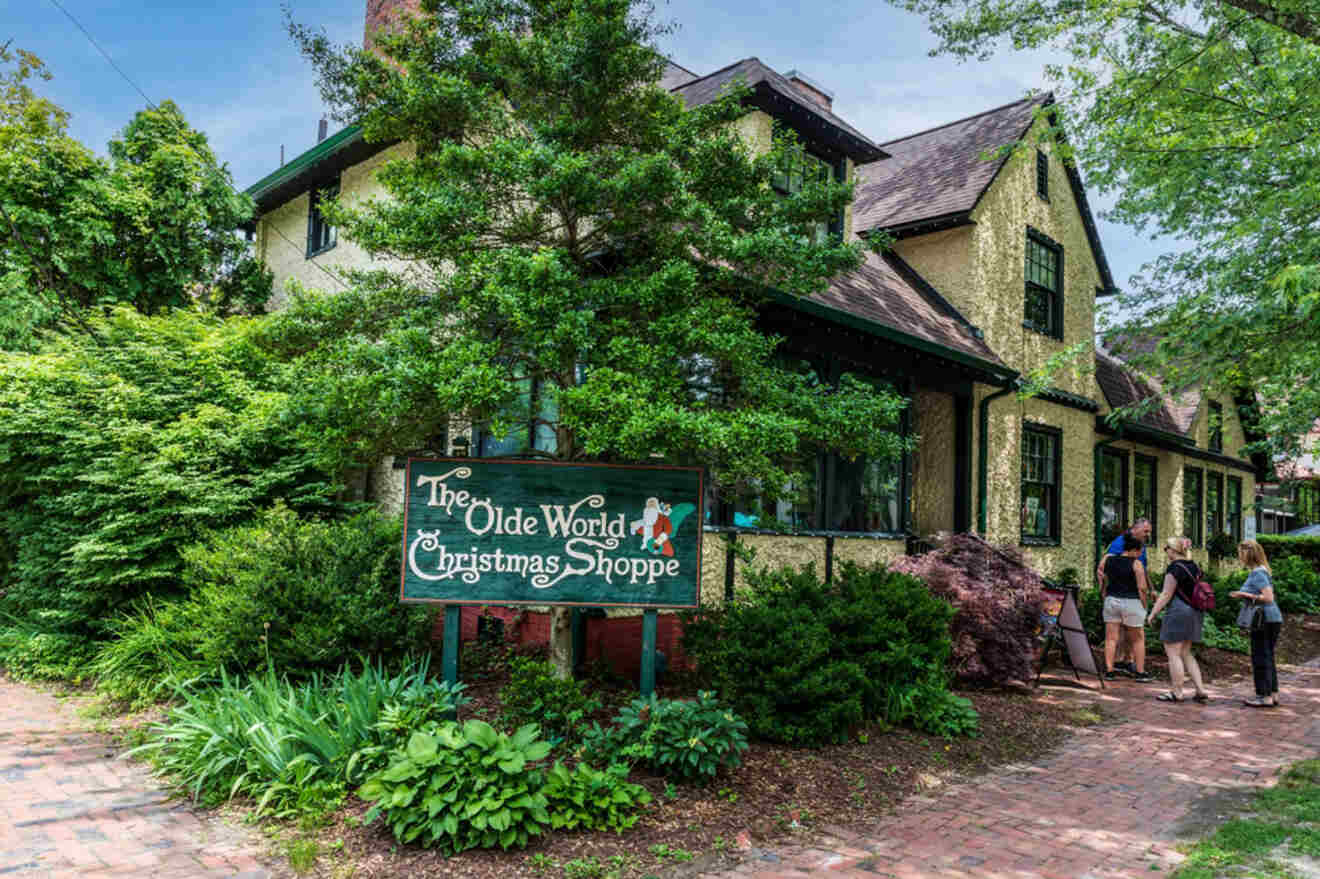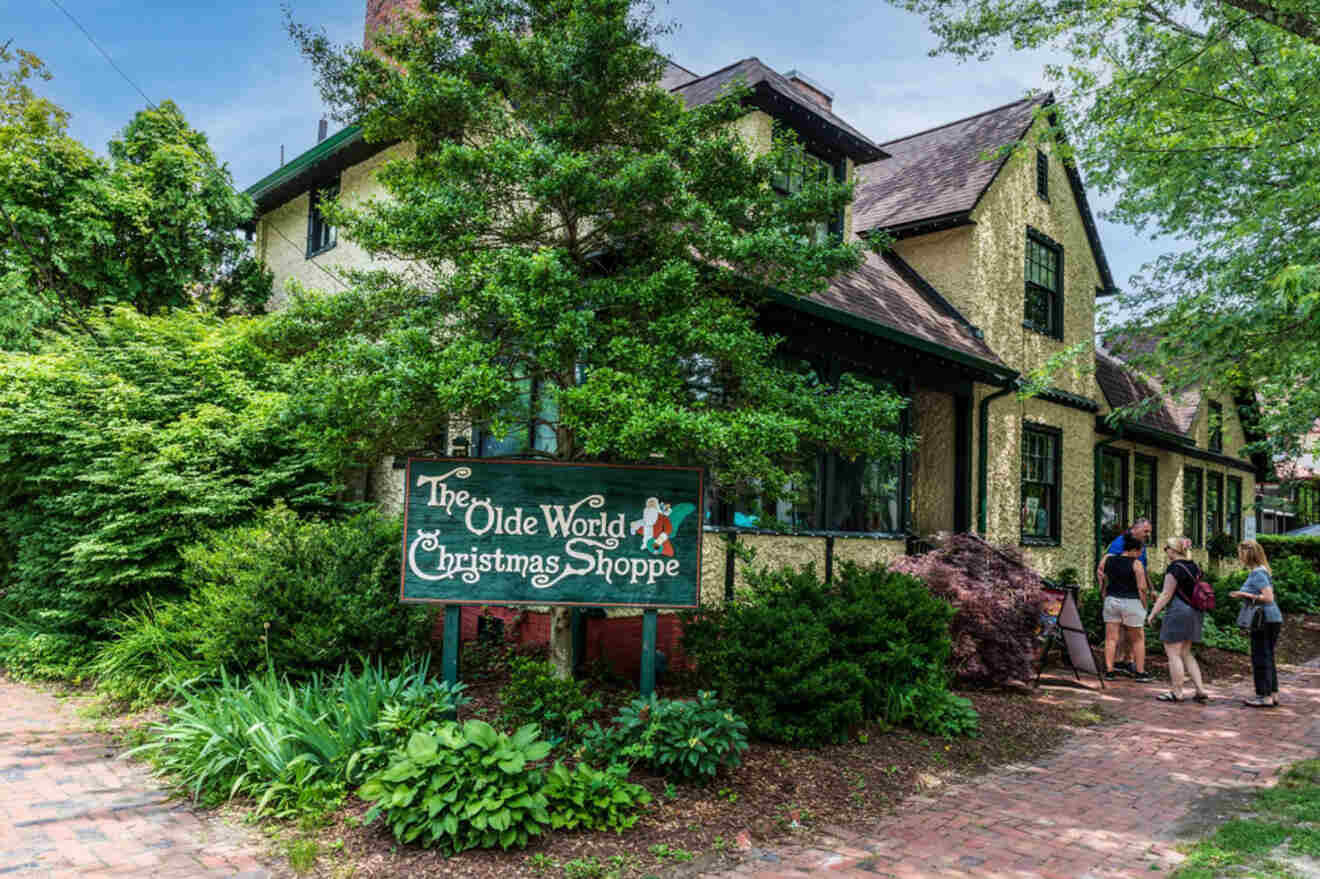 Asheville is no doubt one of the best places to spend Christmas in the USA! Tucked away in the Blue Ridge Mountains, this place turns into a storybook with a plethora of Christmas festivities.
The most popular thing to do in Asheville during the Christmas celebrations is to visit the world-famous Biltmore mansion.
Can you believe that the whole place is packed with over 25,000 holiday decorations, 100 Christmas trees, and over 100,000 twinkling lights?
Additionally, there are 2 amazing events you can enjoy at the mansion from 3 November to 7 January:
Christmas at Biltmore Daytime Celebration – you can see the elegant rooms shimmer, beautifully bedecked with Christmas trees, ribbons, garlands, and thousands of Christmas lights.
Candlelight Christmas Evenings – you can soak in the atmosphere created by the candlelight, glowing fireplaces, and live music.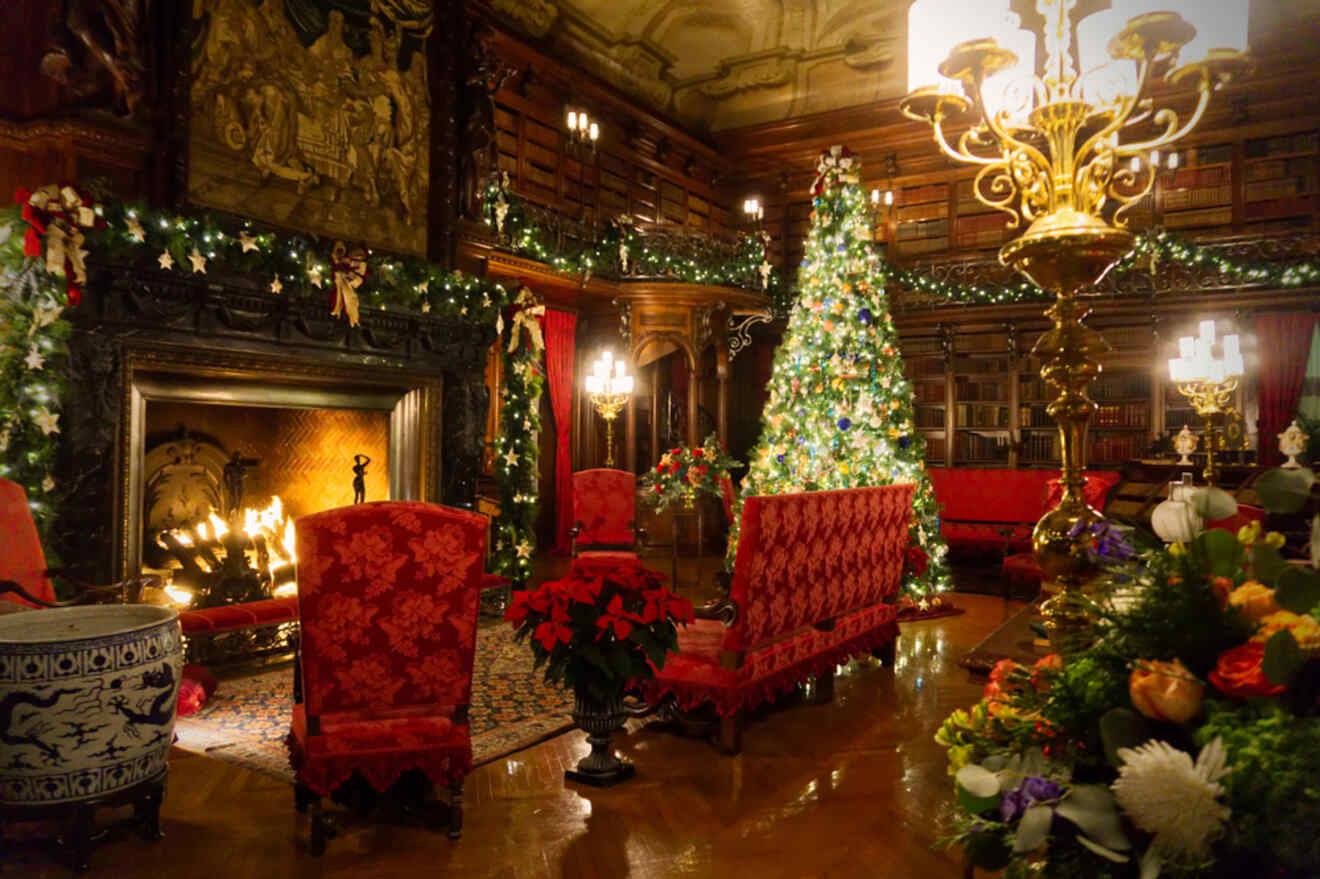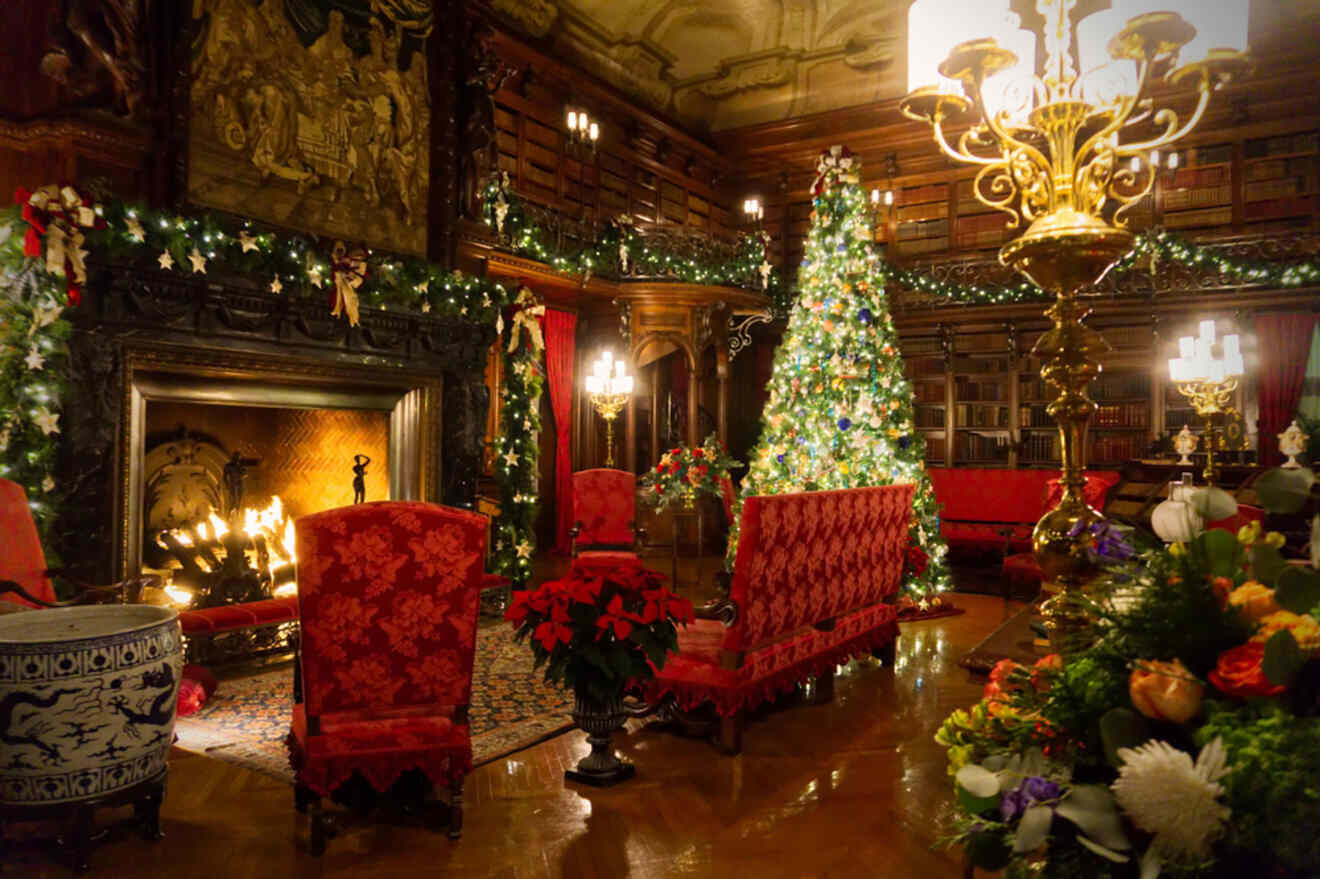 But there's more to do in Asheville during this time besides the Baltimore house. You must also check out the Winter Lights show (17 November – 31 December) featuring a million Christmas lights at the North Carolina Arboretum and admire the displays at the National Gingerbread House Competition at the Omni Grove Park Inn (27 November – 2 January).
Considering visiting Asheville during the festive season but don't know where to stay? Explore our article that features the best neighborhoods to stay in and provides some wonderful lodging options.
Here are my top hotel recommendations: Village Hotel (near Biltmore), Asheville River Cabins (near the Arboretum), Kimpton – Hotel Arras (in the city center)
13. McAdenville, North Carolina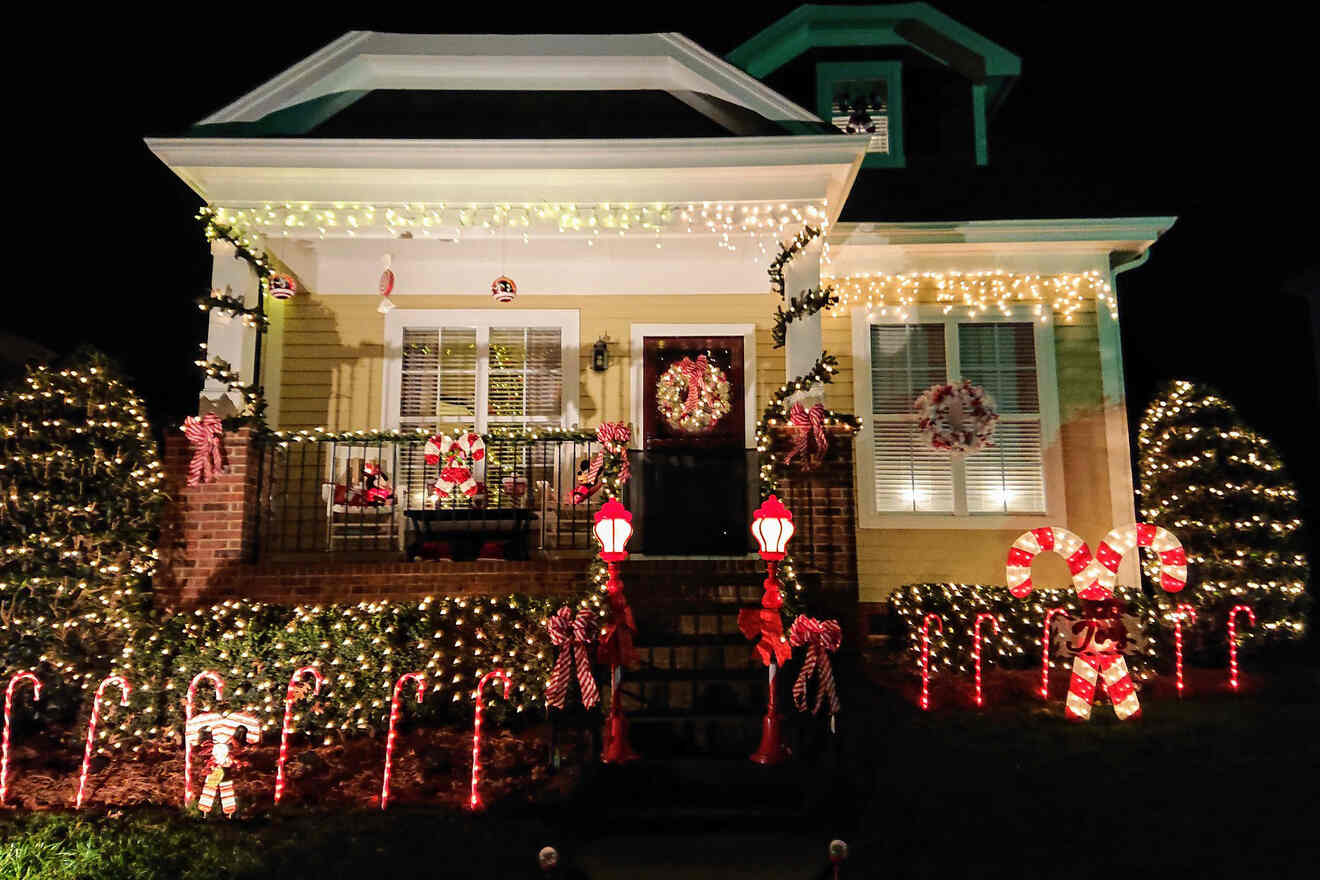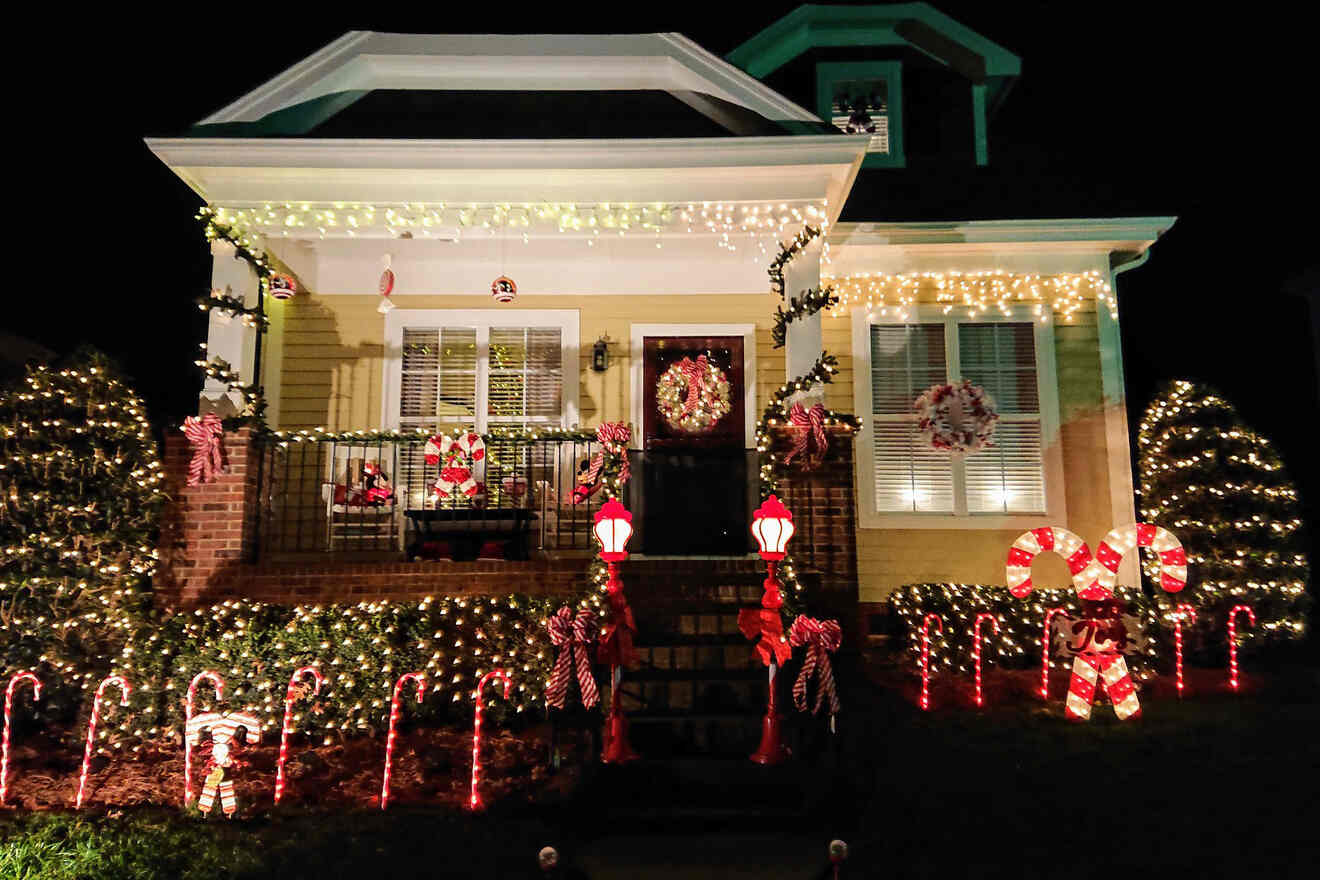 What better way to finish our list than with the town that, during the season, changes its name to Christmas Town USA?
McAdenville, for the last 60+ years, has had a 'secret identity' of Christmas Town, USA. And it's well-earned since this little town looks just like those cozy little towns in the Christmas Hallmark movies!
The entire town is covered with over 450,000 Christmas lights, so wherever you go, you can feel the holiday cheer. Around the lake, there are over 375 trees that are also decorated with shining lights.
Each night, they give out free hot chocolate and kettle corn to the first 1,000 people who attend the festivities in the town.
And it's not just the city that gets decorated. Each year, more than 100 families decide to put up decorations and lights to celebrate Christmas with a magical atmosphere.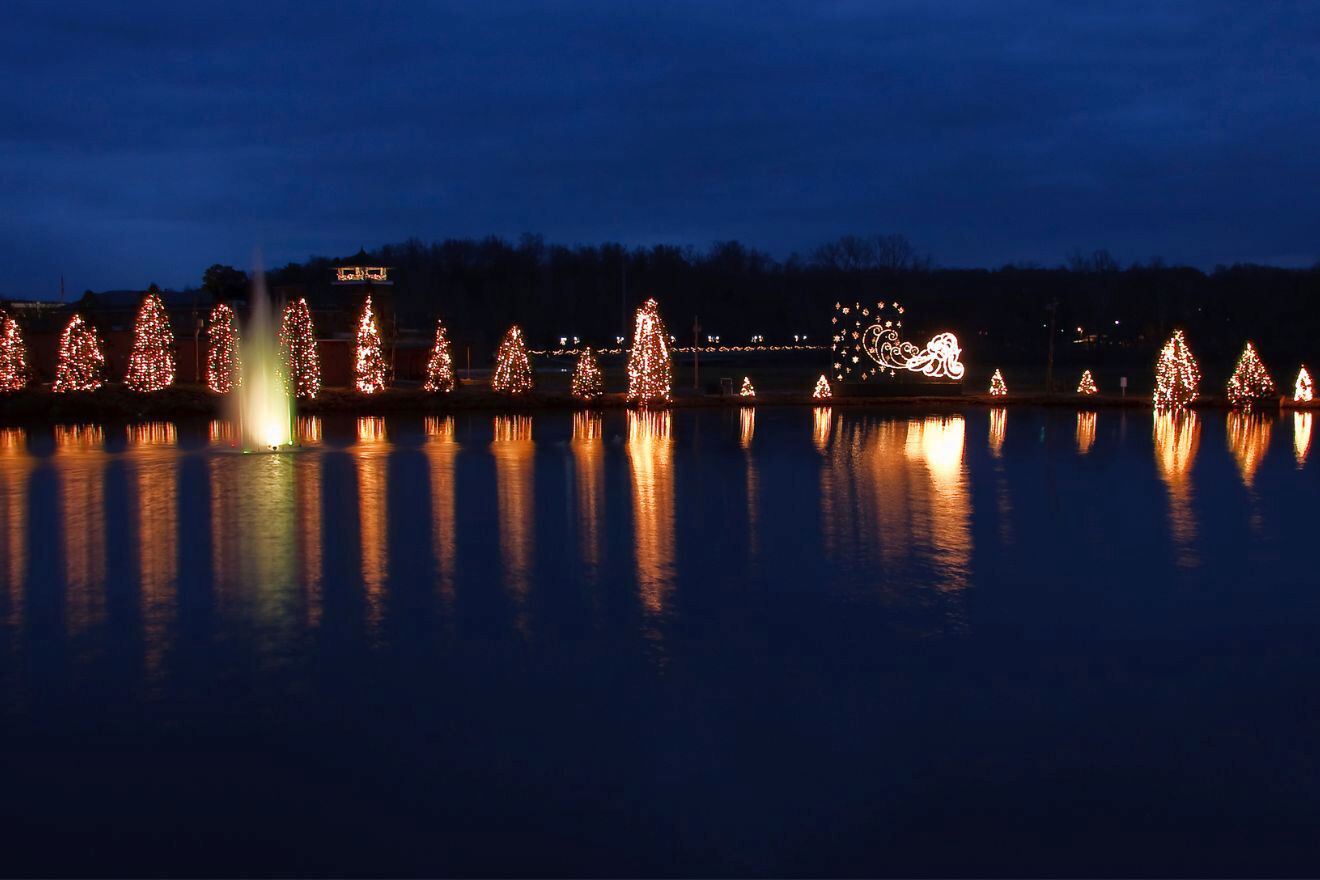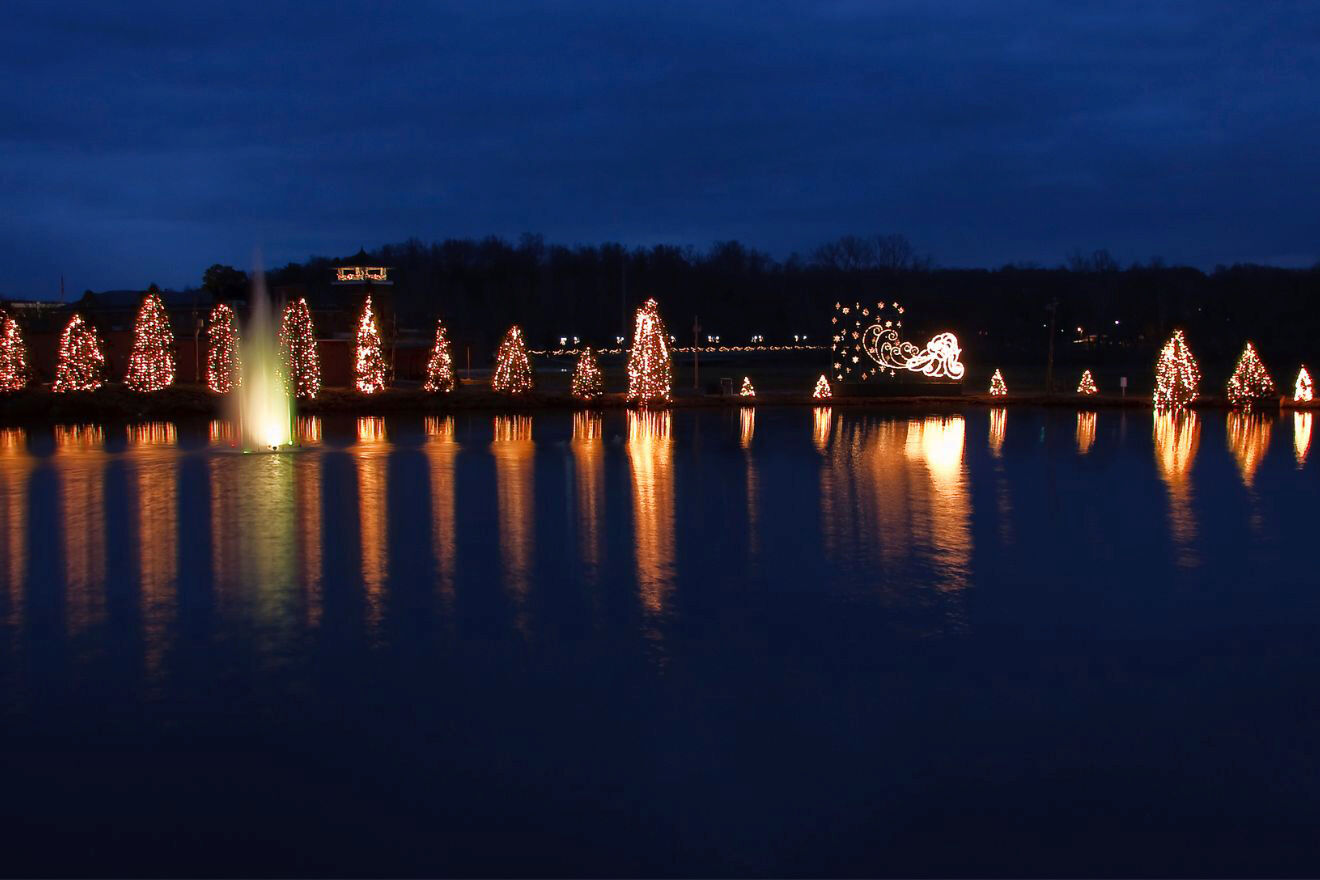 If you are visiting the town on 14 December, you'll also get to take part in the Yule Log Parade, dating back to 1949, where children pull the yule log through town on a sled, scrambling to get hold of the rope.
If you are going to celebrate Christmas in McAdenville, keep in mind that you'll probably have to stay in or close to Charlotte since there aren't many accommodations in the city.
Here are my top hotel recommendations: Hampton Inn Belmont (near the town), Holiday Inn Charlotte Airport (near Charlotte Airport), AC Hotel by Marriott (in Charlotte city center)
FAQs about the best places to spend Christmas in the US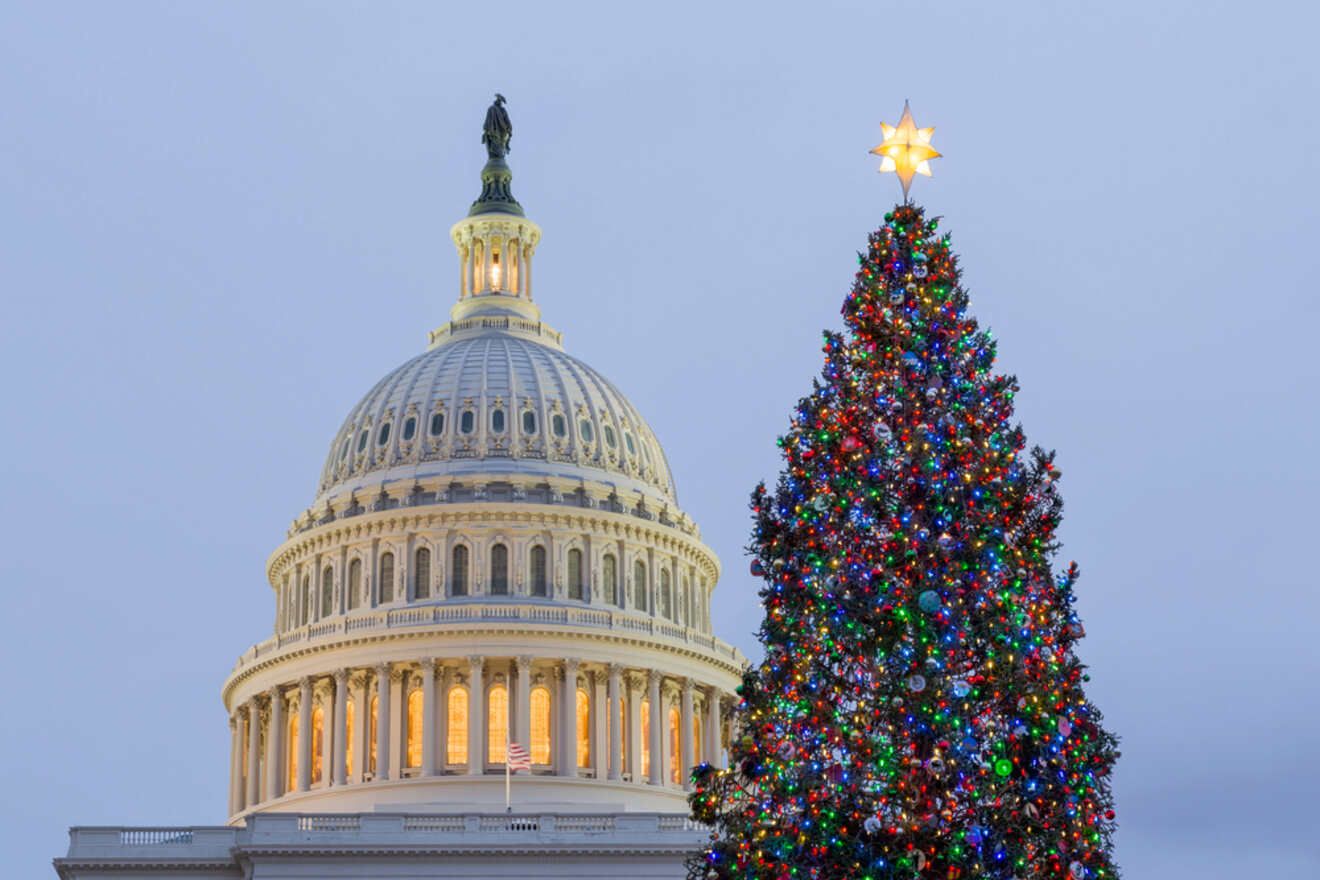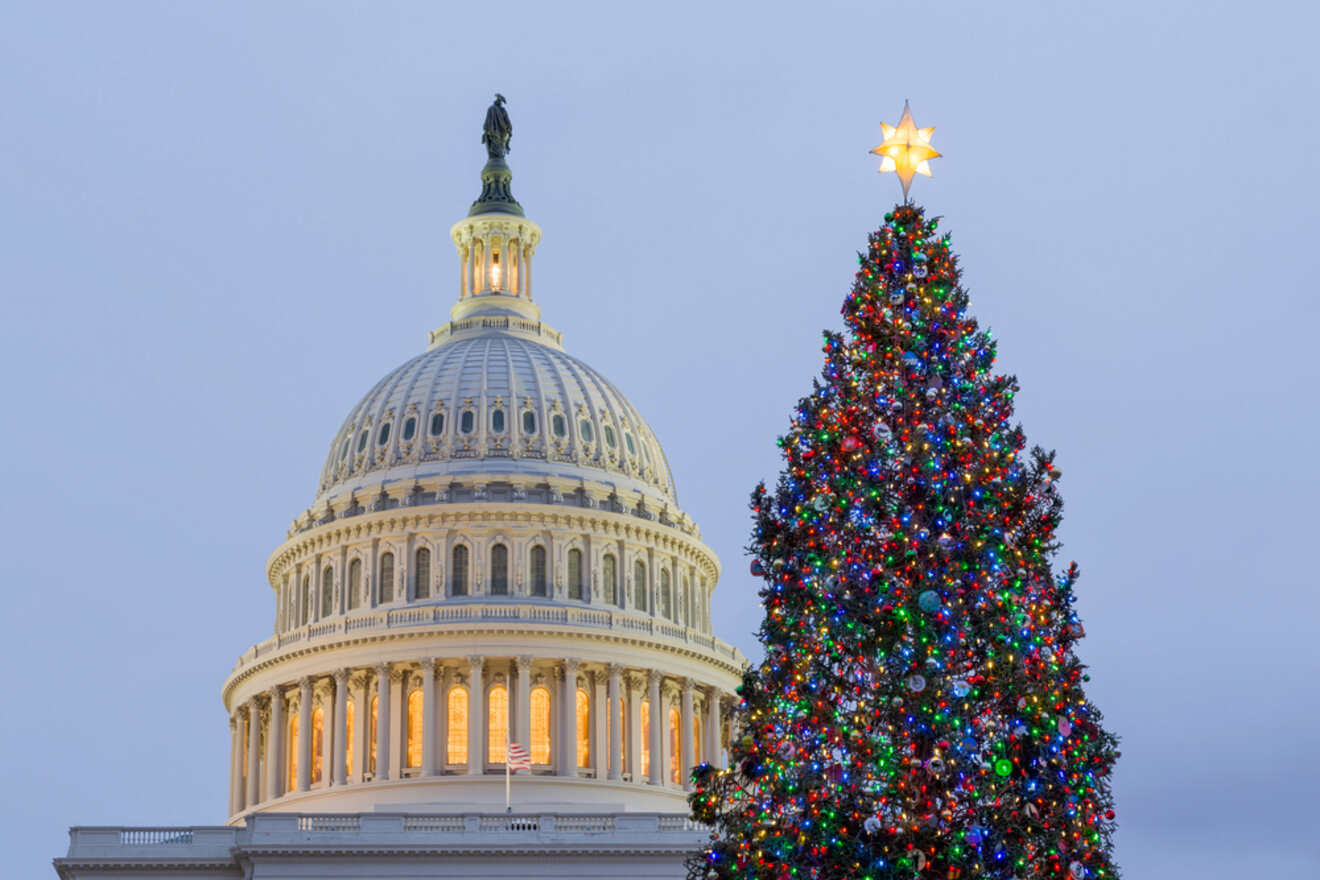 🎄 What is the #1 Christmas town in the US?
The best city to spend Christmas in the US is undoubtedly New York City. With its magical atmosphere and incredible decorations, it attracts visitors from all over the world.
🎅 Where is the most Christmassy place to spend Christmas in the USA?
If you are looking for a town with an unparalleled Christmas spirit, then you should visit Bethlehem, Pennsylvania. The city has so many Christmas events and holiday festivities you'll be amazed by the cheer and atmosphere.
💑 What are the best places to spend Christmas in the US for couples?
The best places to spend Christmas as a couple are Las Vegas if you are looking for something more dazzling or Park City if you are also interested in doing winter sports.
👪 Which are the best towns for a US Christmas vacation for families?
The best towns for a family Christmas trip in the US are the North Pole in Alaska, the home of Santa with so many Santa-themed activities and attractions, and Washington D.C., the capital filled with great Christmas decorations and fun events and activities.
Conclusion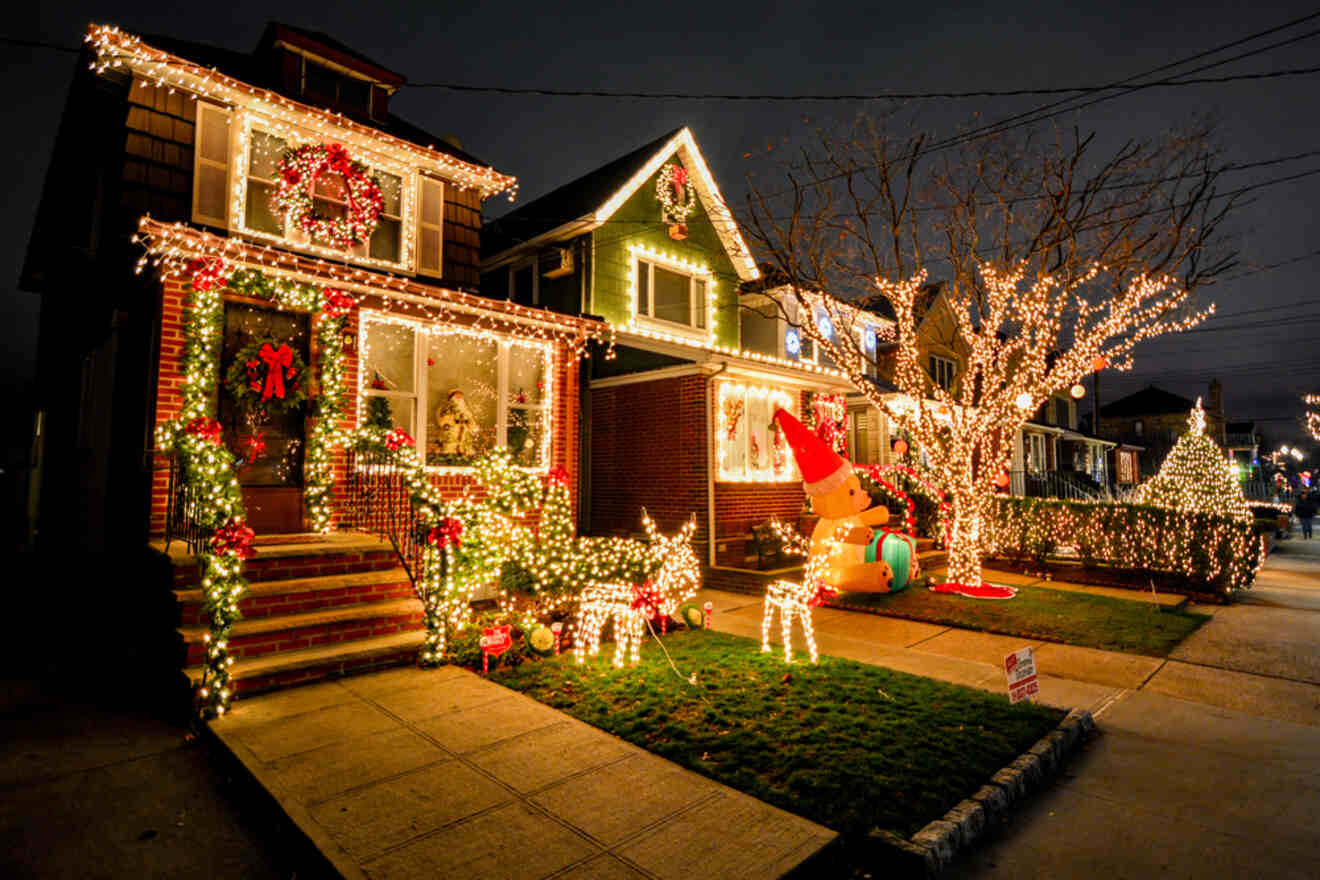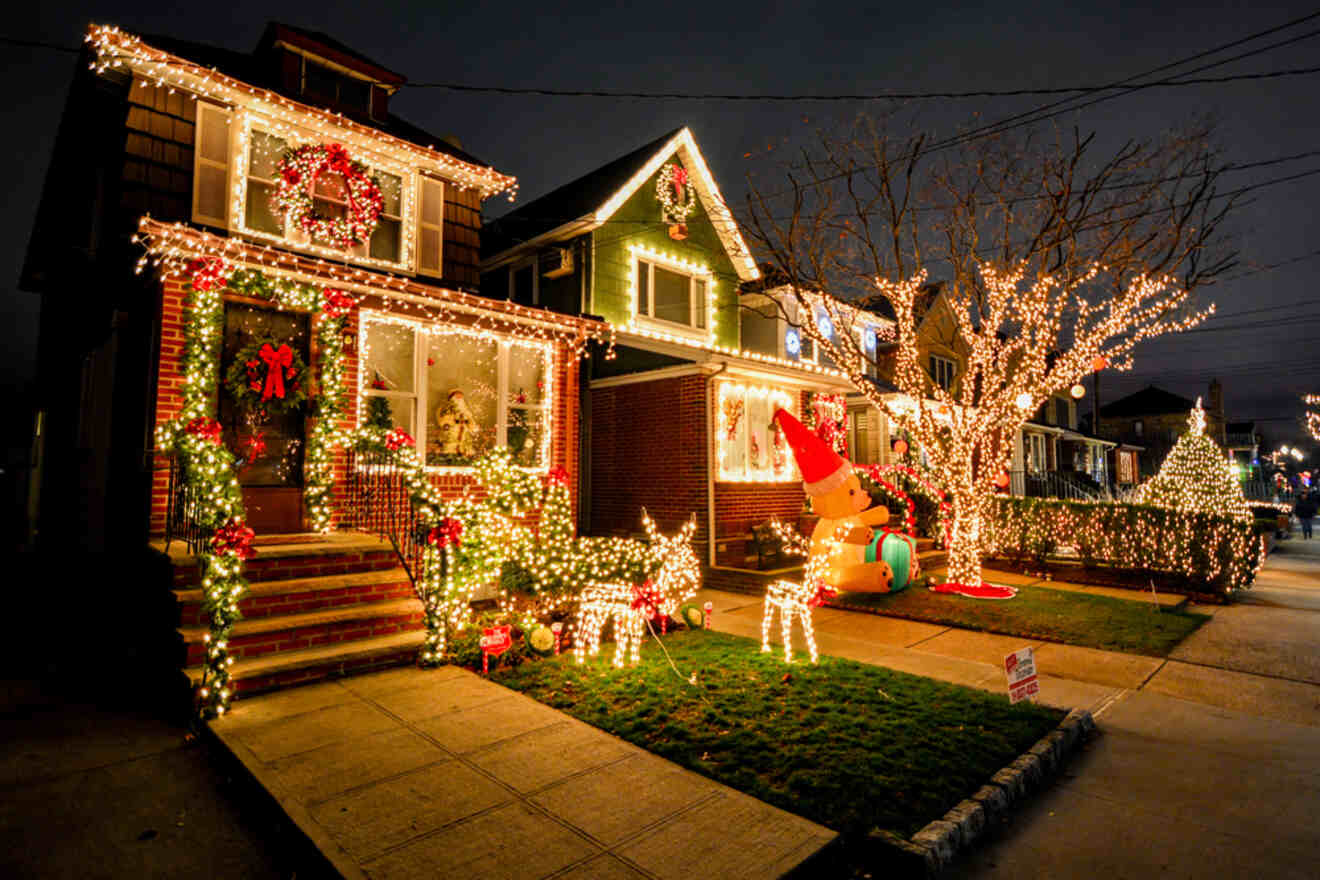 We finally made it to our ultimate list of the best places to spend Christmas in the US. It's been a magical sleigh ride to the end, don't you agree?
I've mentioned more secluded, charming towns to spend the holidays brimming with Christmas atmosphere, as well as some big cities filled with many events and holiday celebrations for the whole family.
From what I researched, I am definitely putting New York City on my list of must-visit Christmas destinations since I imagine it must be like a fairy tale!
What about you, which place in the US would you like to spend Christmas in? Let me know in the comments, and if you have any questions, feel free to reach out as well!
Have a magical Christmas season!
Marija
---
Pin it for later!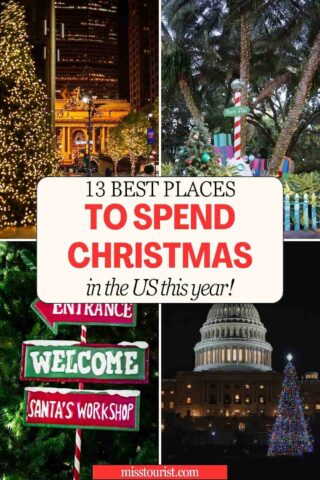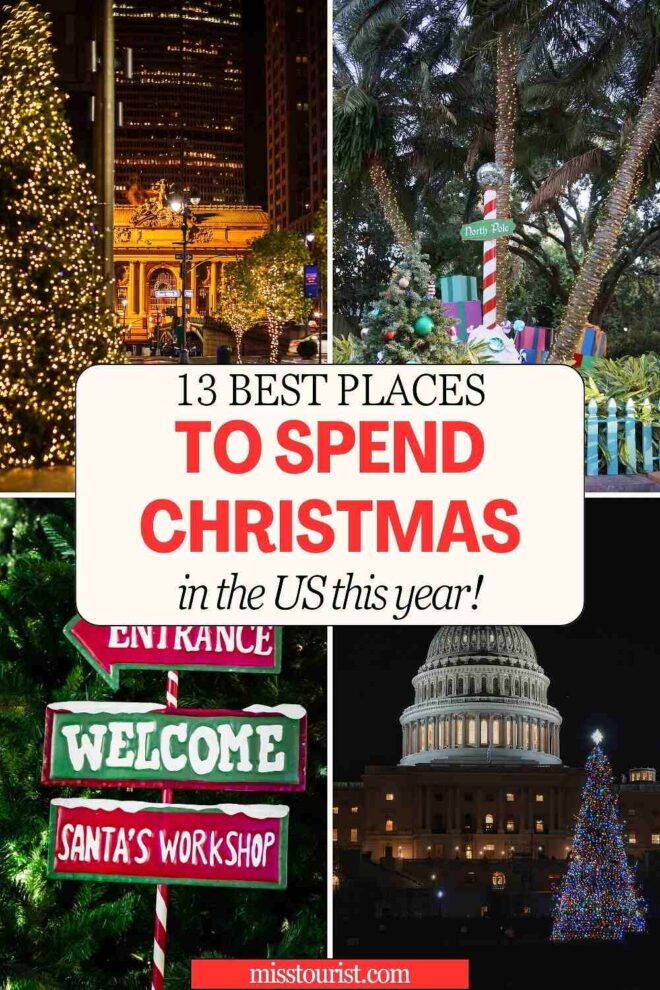 Pin it for later!